We may earn income from links in this post. Please read this Disclosure for details.
Summer in Montreal feels much like going to Paris. You can practice your French, indulge in buttery croissants, shop at outdoor marchés (markets), get inspired by art and dine al fresco on fabulous cuisine.
Canada's second largest city offers the joie de vivre of the City of Light minus the hassles of an overseas flight.
It's a quick and easy weekend trip from Toronto, Ottawa, Québec City and New York.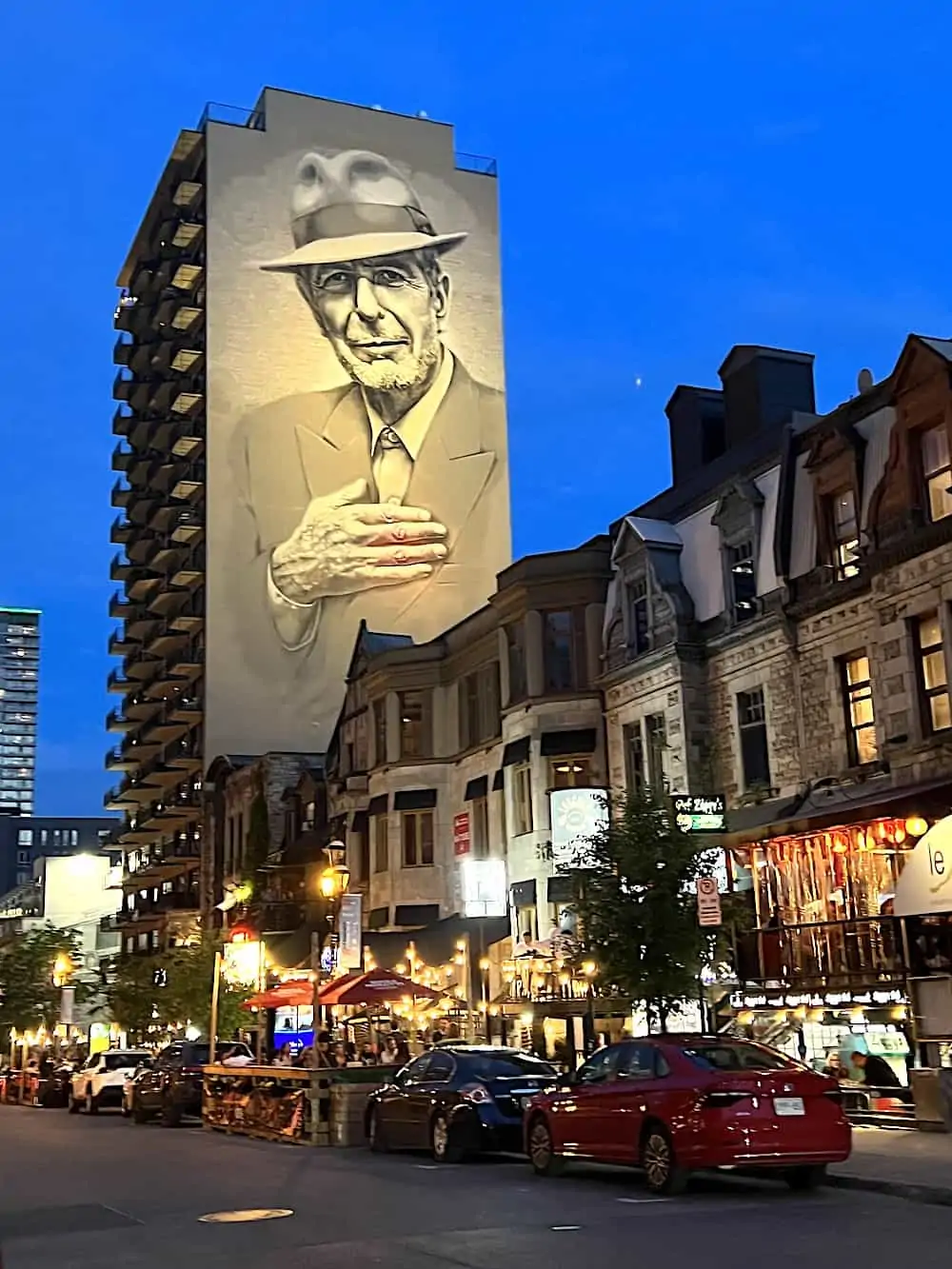 I just returned from a girls' getaway to Montreal and it was so wonderful to return to this art-filled city.
Maybe it's my happy memories from living here as a child or my post-pandemic rose-tinted glasses, but the people seem friendlier, the bagels tastier and the traffic less congested than in my Toronto neighbourhood.
To help you make the most of your own trip to Montreal, I'm sharing my fave things to do in Montreal in summer.
This summer itinerary sets you in the heart of the city's vibrant action and, like all of our destination guides, includes lots of amazing food and drink.
Because not only does Montreal celebrate the French art de vivre, it's a food lovers' paradise.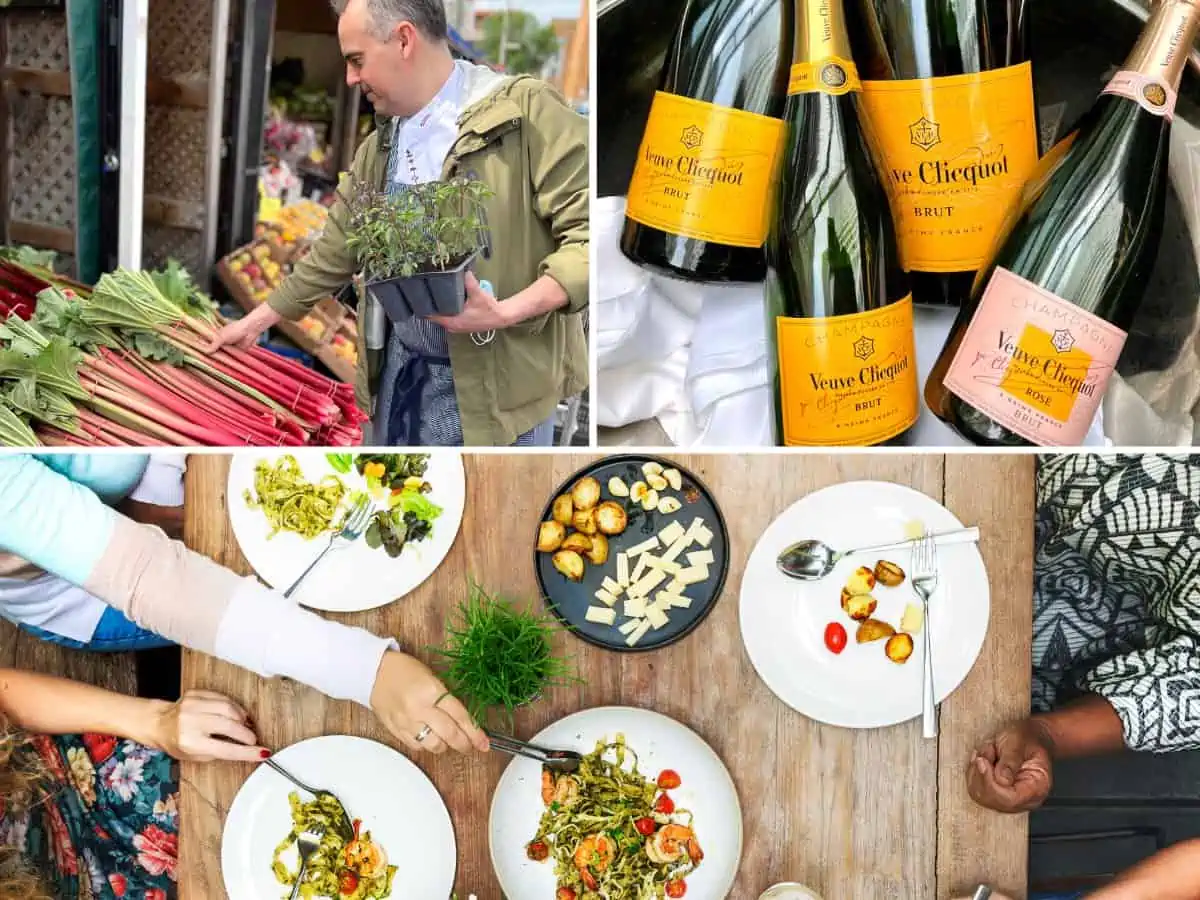 This guide to the best things to see and do, where to stay and top places to eat (and drink) in Montreal is ideal for a couples vacation, a solo trip or a girls' getaway.
It's also the perfect launching point for a Quebec road trip that stops in Quebec City, and continues through to Bas-Saint-Laurent Gaspésie.
Best of all, you can easily fit all of these amazing things into a 3-day Montreal itinerary!
1. Live the French Way in the Heart of the City
One of the first things to consider when planning a weekend in Montreal is deciding where to stay. Hotel prices in Montreal offer great value so it's worth a mini splurge to stay at a centrally-located, luxury hotel.
You won't be disappointed with the Sofitel Montreal Golden Mile. This 256 room hotel (including 17 suites) offers the perfect marriage of French art de vivre, Quebec hospitality and cosmopolitan sophistication.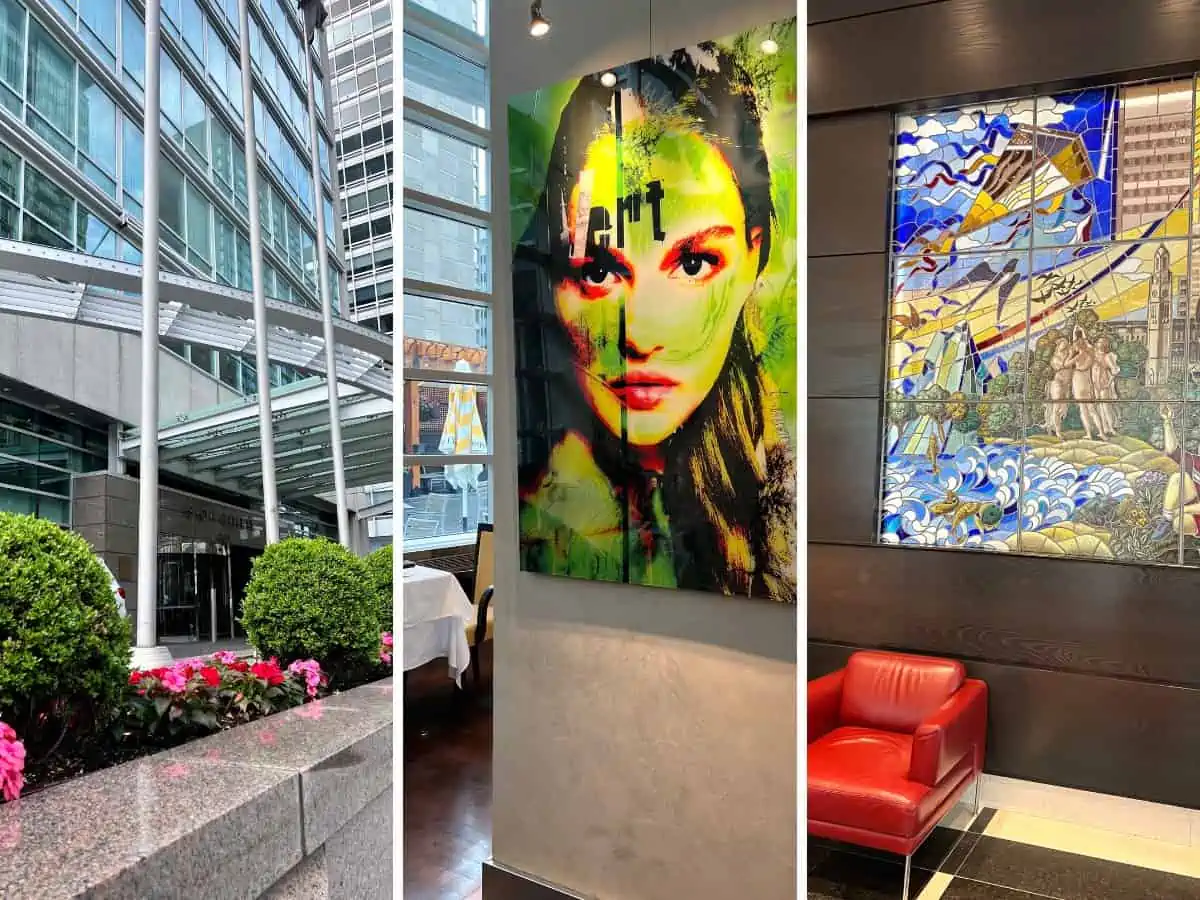 With its prime setting overlooking Sherbrooke Street in the fashionable heart of the city, it feels very European to be able to stroll a few minutes to dining, shopping and museums.
You can even walk from the Via Rail station – it's a few blocks away.
At nightfall, a special candle ritual that involves lighting candles in the lobby provides a memorable atmosphere. On warm summer evenings, the flickering glow of the candles is complemented by soft illumination in La Terrasse at Le Renoir, the hotel's outdoor dining oasis.
Begin by kicking off your evening in style with French champagne and aperitifs such as parmesan truffle frîtes, a charcuterie platter or Niçoise salad from the summer bar menu.
You can also relax and unwind at Le Bar, a chic retreat serving cocktails (and mocktails) curated by creative mixologists.
The expansive Luxury category guest rooms come equipped with Nespresso machines, a premium minibar, marble bath complete with soaking tub and luxurious Balmain bath amenities.
To add to the resort vibe, there's even evening turndown service.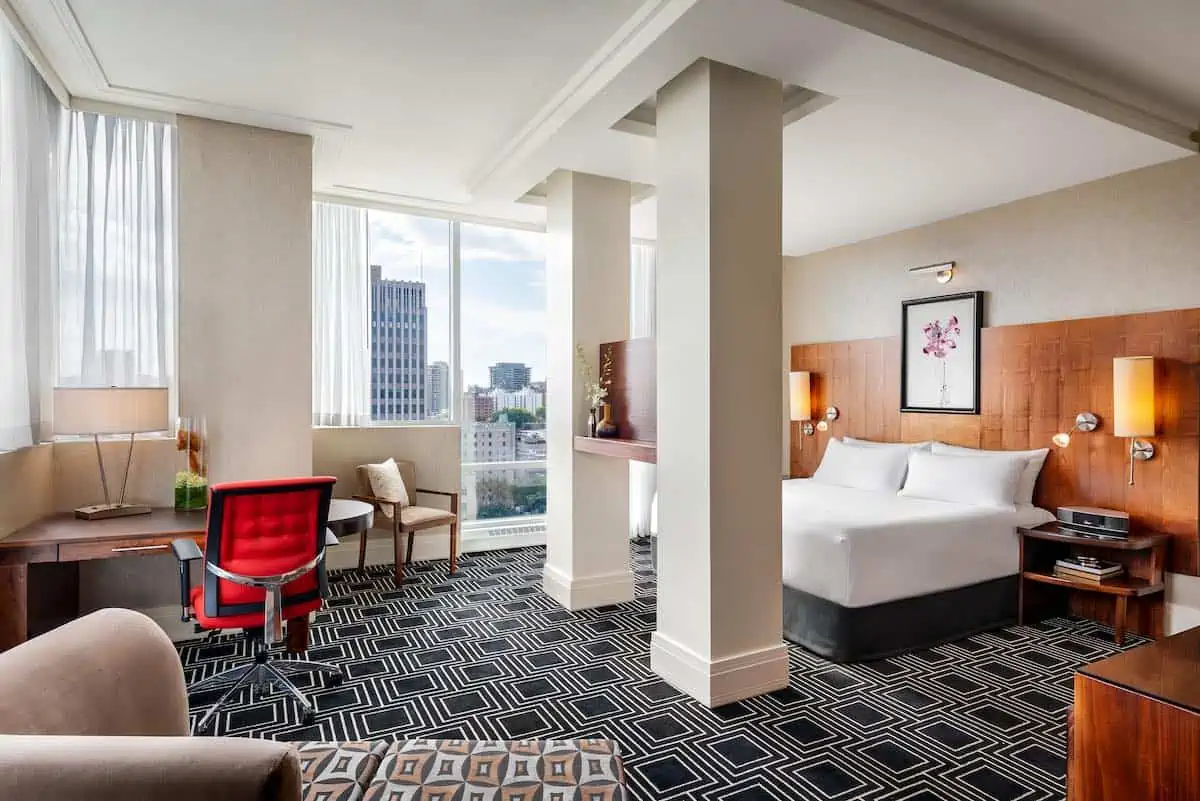 You can also experience timeless French cuisine at Renoir, the Sofitel Montreal Golden Mile's elegant restaurant under the creative direction of acclaimed Executive Chef Olivier Perret, who holds the elite title of Maître Cuisinier de France.
His seasonally-inspired menu features local ingredients such as Quebec asparagus, maple syrup, market greens, wild blueberries and Atlantic salmon.
2. Get Inspired at the Montreal Museum of Fine Arts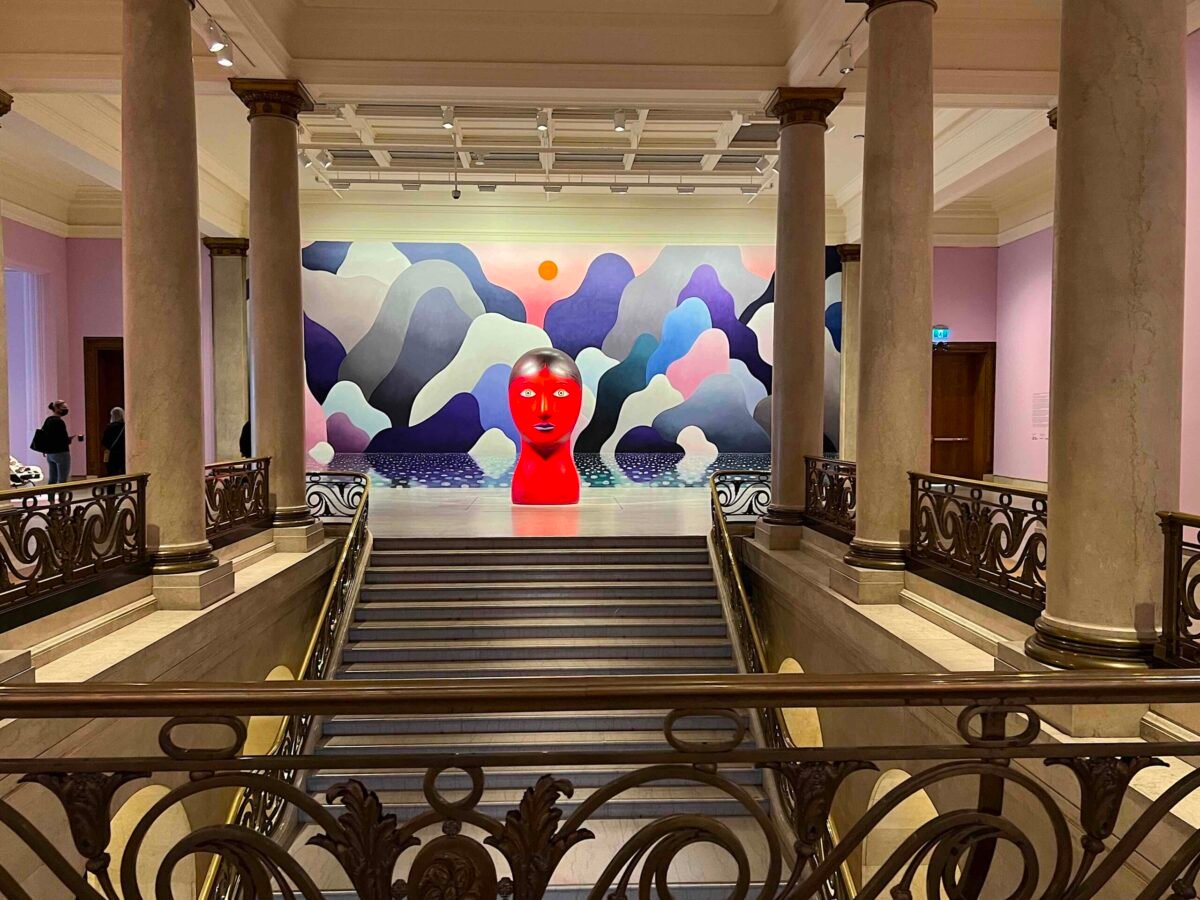 One of the top things to do in Montreal is to spend a few hours at the Montreal Museum of Fine Arts. While this museum's vast collection (the third largest in Canada) is a must-see any time of year, it's especially enjoyable in summer.
Get there by strolling along Sherbrooke Street in the heart of the Golden Square Mile, a fashionable district named for its glittering mansions.
From 1850 to 1930, this residential area at the foot of Mount Royal was the home of Canada's wealthy elite. Today, the stately buildings make for architectural eye candy with examples from Beaux-Artes, Arts and Crafts and Romanesque styles.
Insider Tip: While in the 'hood, check out the free Barbie Expo, the world's largest permanent collection of Barbie dolls, at Les Cours Mont-Royal Shopping Mall (1455 Peel St.). You'll see fashions by top designers such as Kate Spade, Bob Mackie, Dior and more.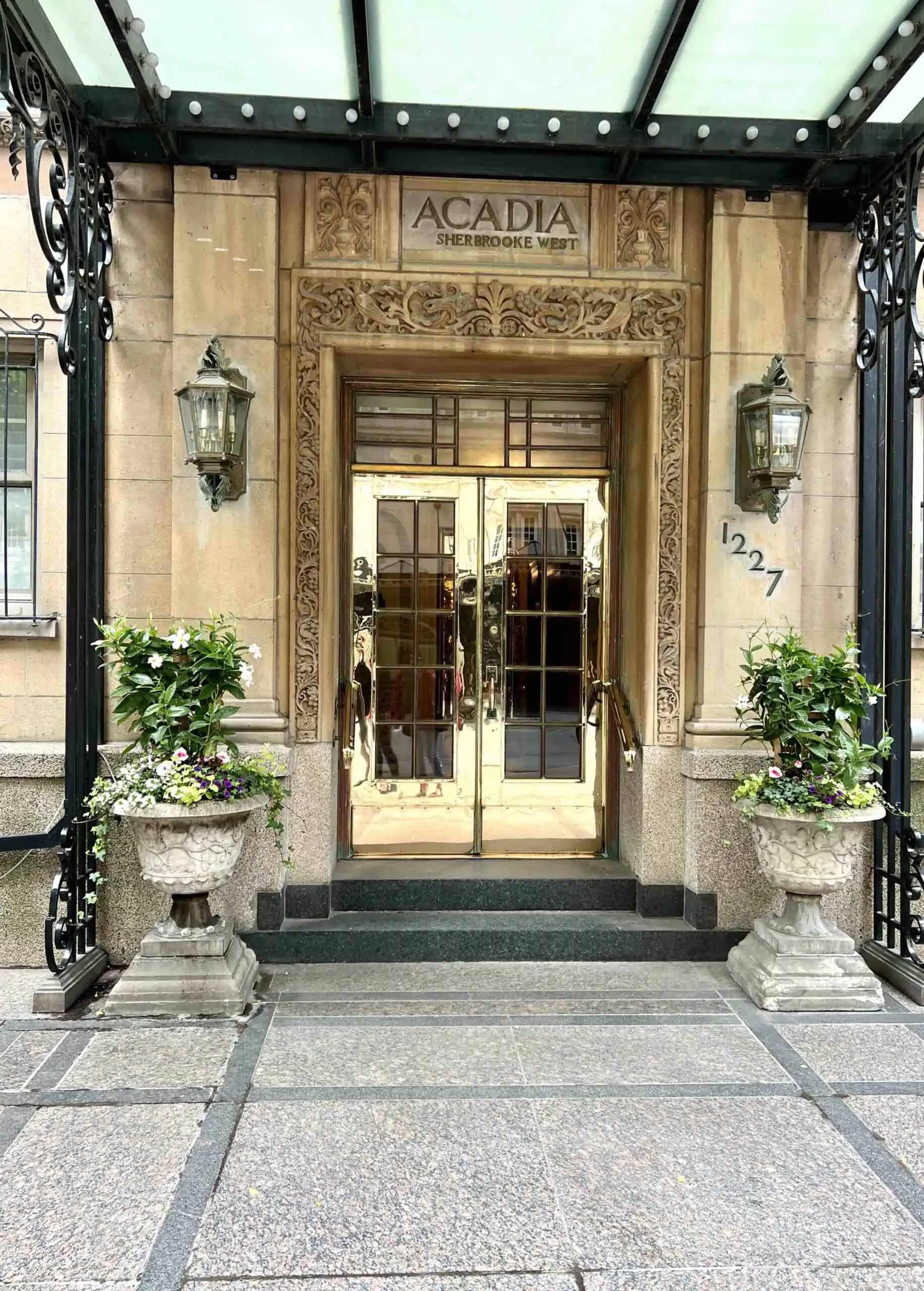 Many former residences are now fashionable boutiques, part of the McGill University campus or museums such the McCord Museum of History (690 Sherbrooke St. West) and the Montreal Museum of Fine Arts (1380 Sherbrooke St. East).
The Montreal Museum of Fine Arts is actually housed in six buildings. In addition to its pieces by Rembrandt, Peter Paul Rubens, Goya and other Old Masters, the collection includes works by prominent Quebec and Canadian artists.
There's also a regular schedule of visiting exhibitions from luminaries such as Nicolas Party, whose apocalyptic Mauve Twilight (paintings, sculptures and installations) is on display until October 16, 2022.
Pro Tip: On Wednesday nights, admission is just $12 for visitors age 21 years and over and free for those 20 years and under.
3. Go Terrace Hopping in Downtown Montreal
With terraces tucked into every corner of the city, you could actually go terrace-hopping all summer long.
For light and healthy fare, a favourite restaurant in Centre-ville (downtown) is Mandy's Gourmet Salads on Crescent Street just steps from the Montreal Museum of Fine Arts.
This Montreal-based chain features craft-your-own salads as well as smoothies in a carefree, boho beach decor that screams summer.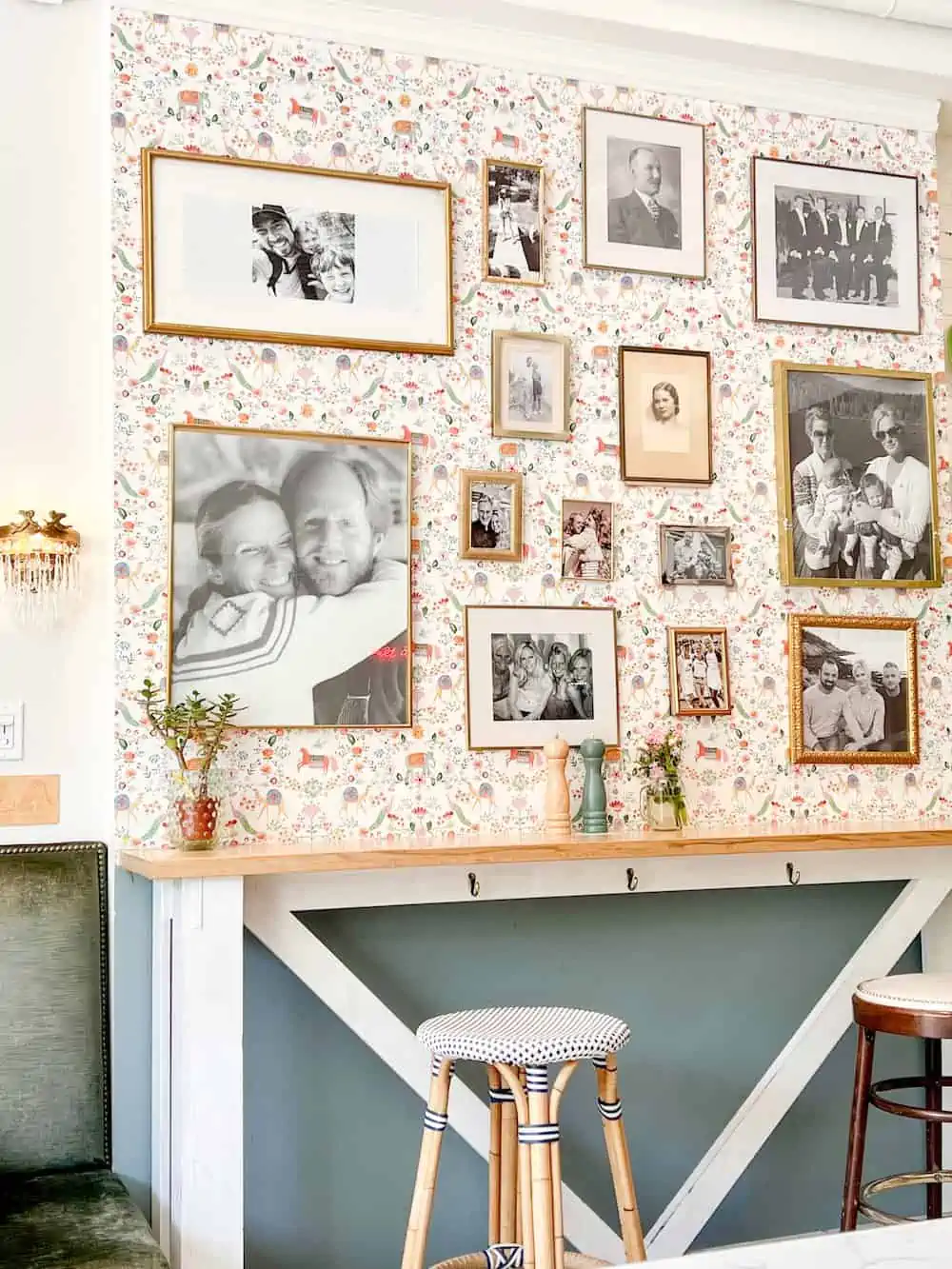 Another popular terrace is McKibbin's Irish Pub at 1426 Bishop. The roots of the Irish run deep in Montreal. Between 1816 to 1860, over a million immigrants (including my great-grandparents) passed through the ports of Quebec City and Montreal. 60% of those immigrants were Irish and their cultural legacy lives on in Montreal.
The city's St. Patrick's Day parade is the third biggest in the world!
While there are several locations of McKibbin's to choose from, the Bishop location is set within a red sandstone mansion and contains memorabilia of the founding family's history.
Enjoy traditional Irish dishes such as Guinness-battered fish and chips, Irish stew and shepherd's pie along with live music.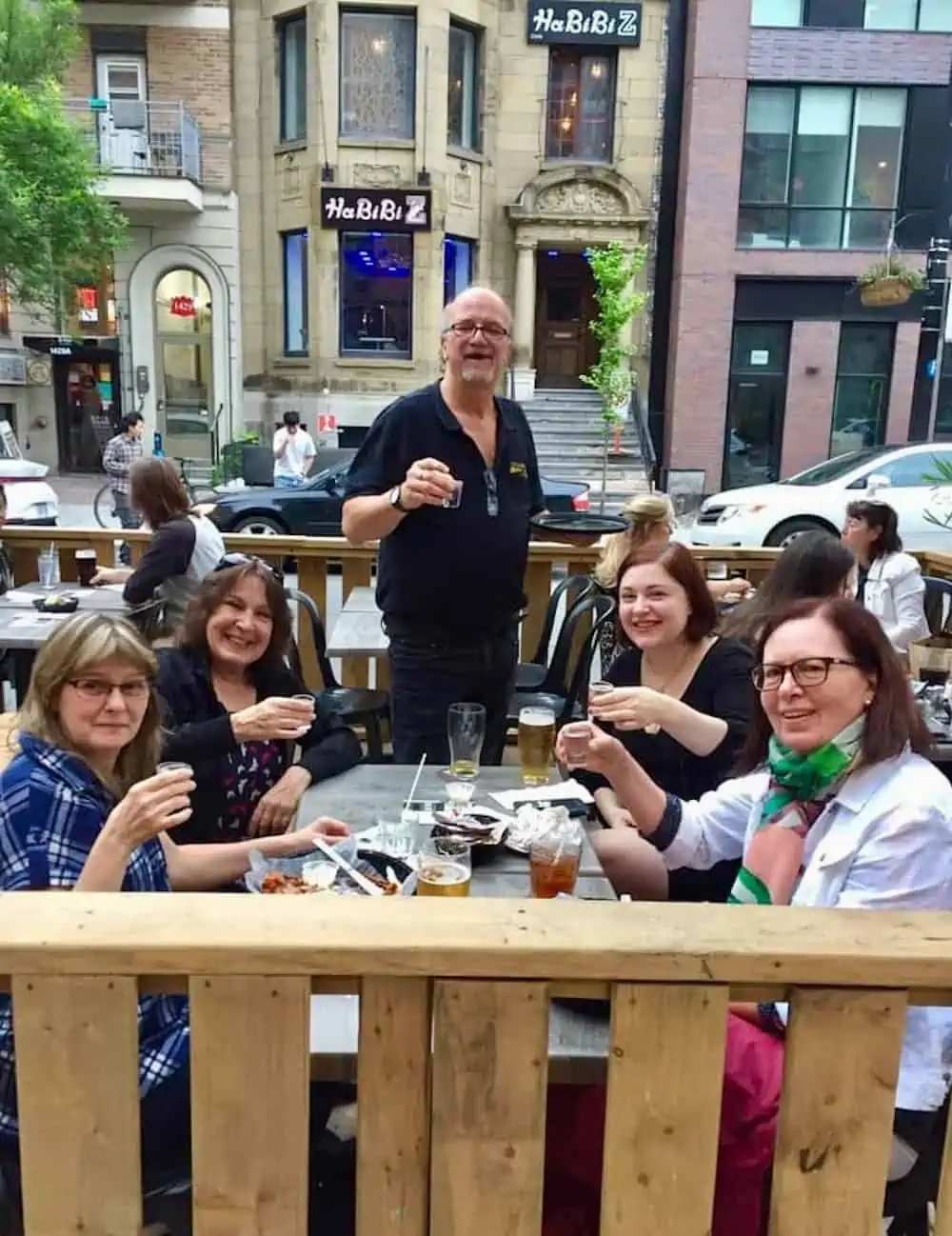 Fun Fact: A Taste for Travel columnist Jessica Percy Campbell once worked at McKibbin's in the basement Speakeasy Bar alongside Kevin Grace. Grace is known as Montreal Irish bartending royalty, working downtown for over four consecutive decades and developing a loyal following of regulars.
Seek him out at the front terrace and ask for a kamikaze shot, the most popular shooter of the 1980's in downtown Montreal.
(Editors note: Unfortunately Kevin Grace passed away suddenly following a tragic accident shortly after this article was published. He'll be greatly missed.)
Another option for nightlife in Montreal is Thursdays (1449 Crescent) a happening bistro, bar and club with DJ nights. The terrace faces the landmark Leonard Cohen mural.
4. Get Immersed in a Luminous World at Oasis Immersion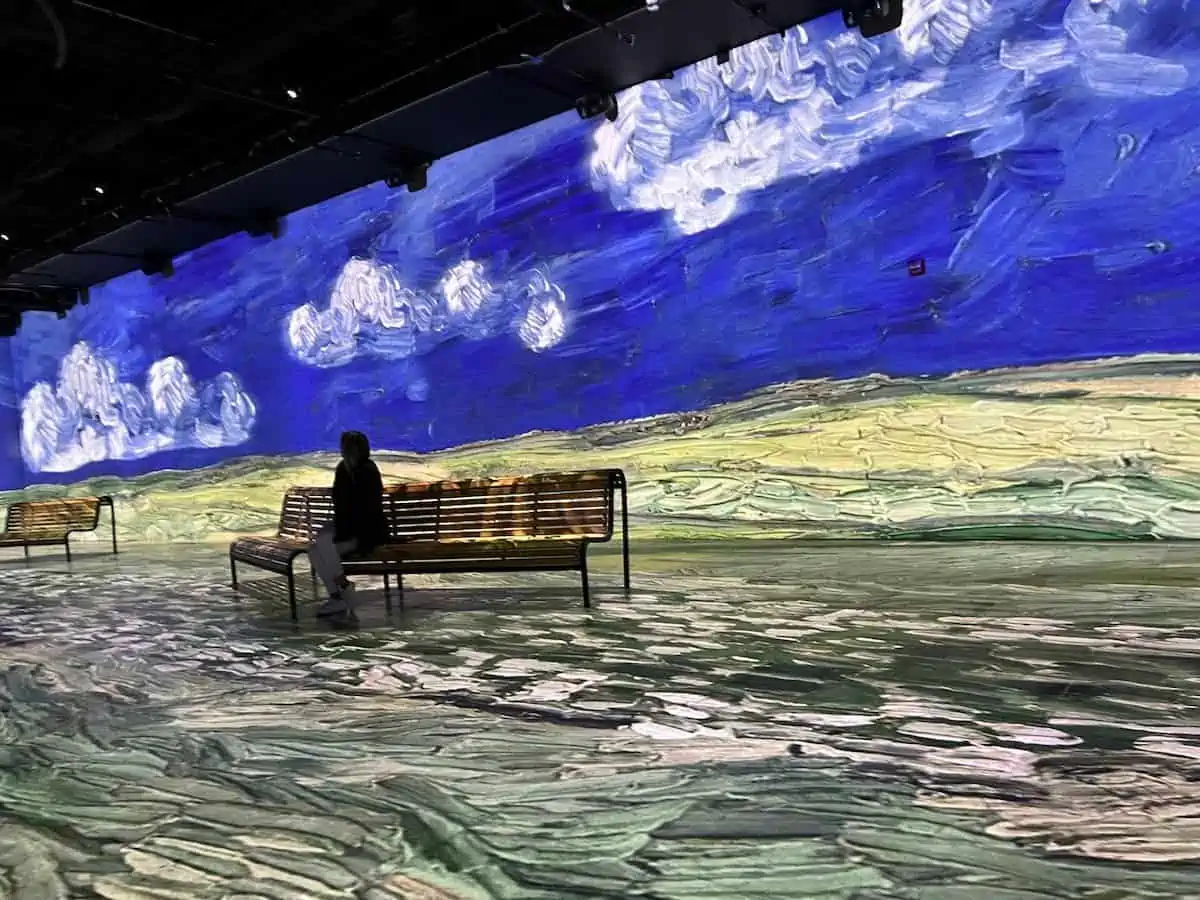 Set on the ground floor within the soaring space of the Palais des Congrès de Montréal convention centre, OASIS immersion offers a sensory journey into the world of creativity.
This summer you can take in RECHARGER/Unwind featuring digital artists from around the world, as well as VAN GOGH – Distorsion an immersion into the masterpieces of the famous Dutch artist.
The brush strokes of Vincent Van Gogh's paintings seem to come alive as you progress through the three rooms of strobing lights.
You'll be blown away by the dynamic floor, one of the world's largest interactive surfaces.
5. Relax with a Spa Treatment at Bota Bota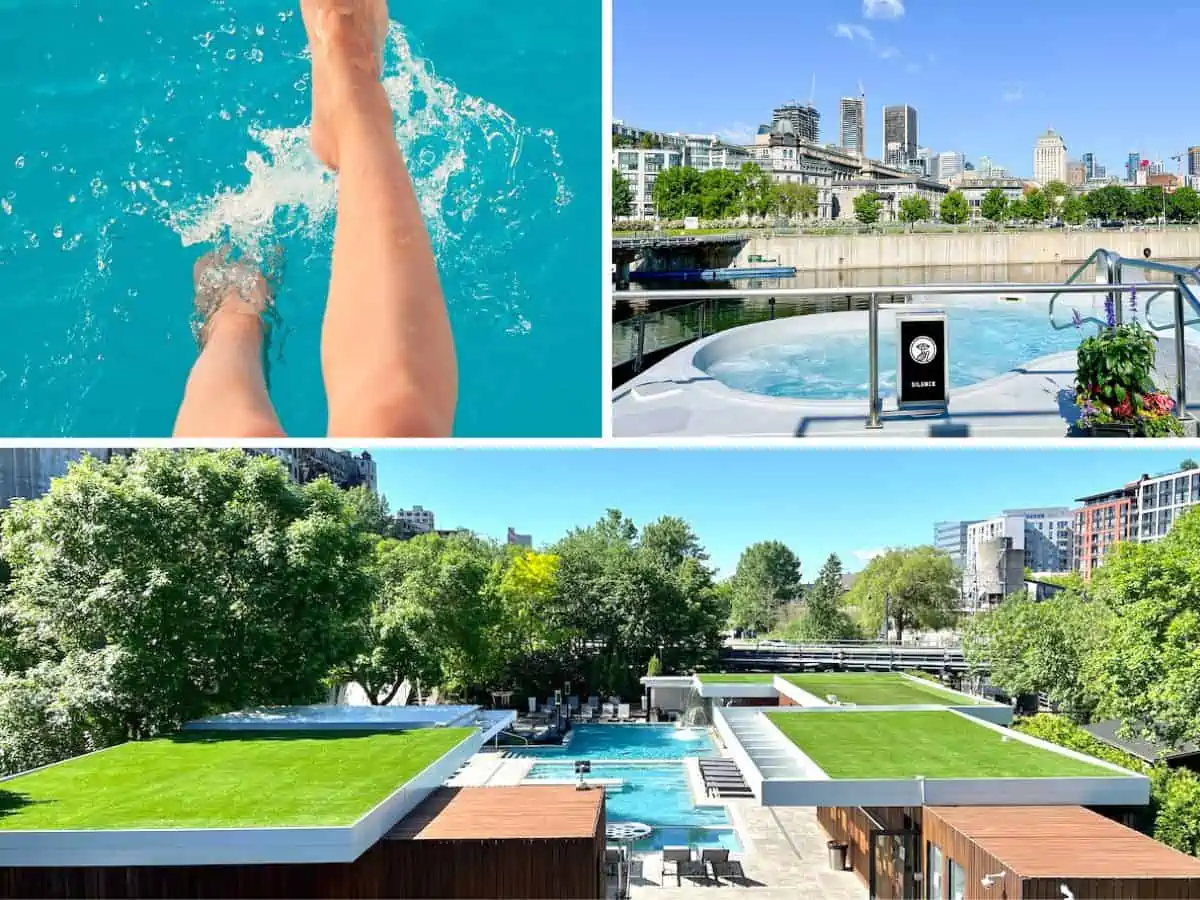 From Nordik-Spa Nature in Gatineau to Spa Eastman in the eastern Townships, Quebec's incredible spas take full advantage of their natural settings and rich heritage.
One of the province's most unique spas is Bota Bota, set within a converted ferryboat anchored at the mouth of the Lachine Canal in the St. Lawrence River in the Old Port of Montreal.
Related: Take a cruise along the St. Lawrence River on a Canada & New England Cruise with Holland America.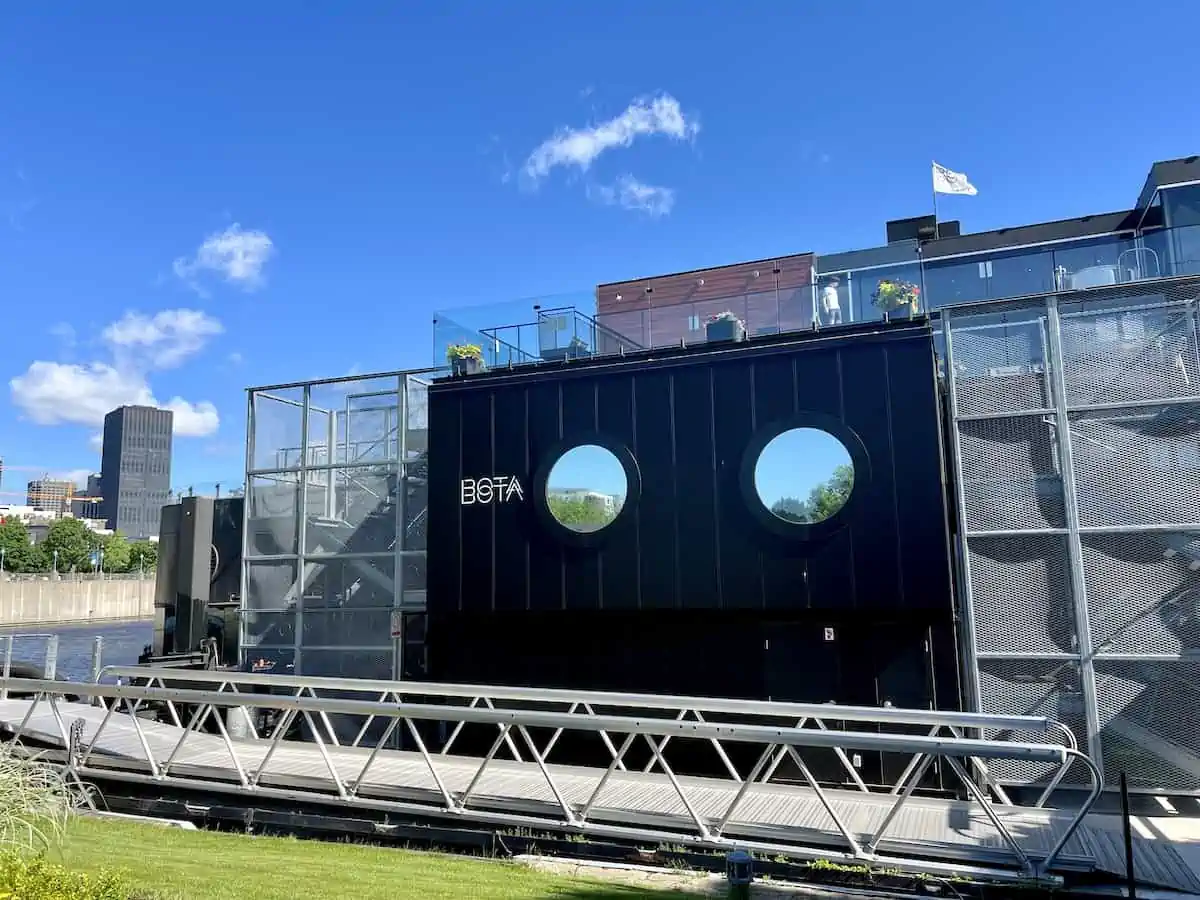 Plan to spend at least half a day at this extraordinary facility. The water circuit follows the principles of Nordic spa bathing with the alternating stages of hot, cold and relaxation providing a boost of wellness.
The boat structure has been cleverly designed to capitalize on its urban setting. It offers panoramic views from its various relaxation zones, platforms, sun decks, bridges and plunge pools.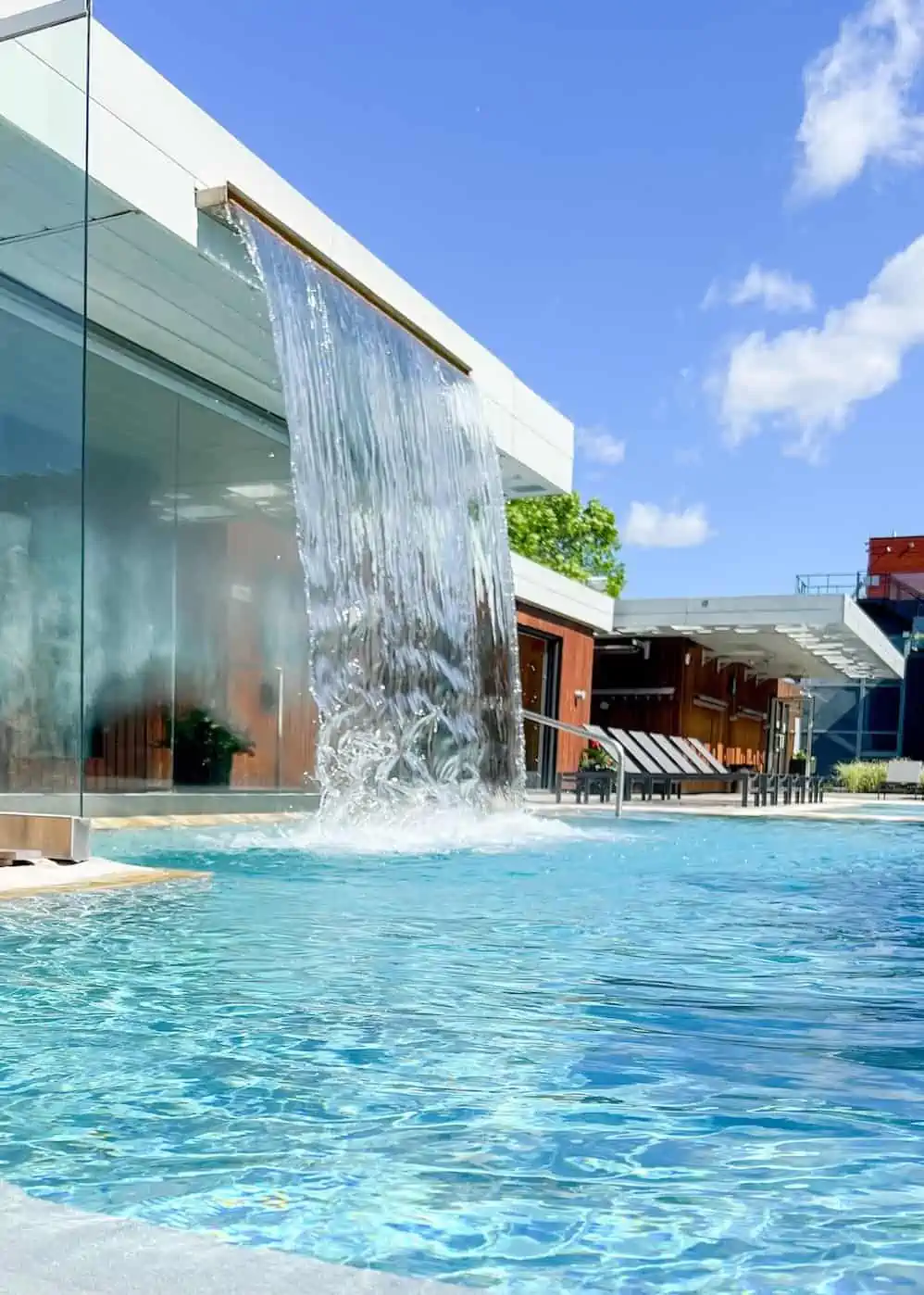 The garden zone set in the shadow of Silo No. 5, a massive grain silo, features a river sauna, a steam bath, fire pits, and loungers for indoor and outdoor relaxation. Come for the water circuit alone or book a body or facial treatment.
It's quite possibly the most unique thing to do in Montreal in summer!
Pro Tip: Bathrobes and towels are provided but don't forget to pack a pair of flip flops (and your bathing suit).
6. Hang Out in the Great Outdoors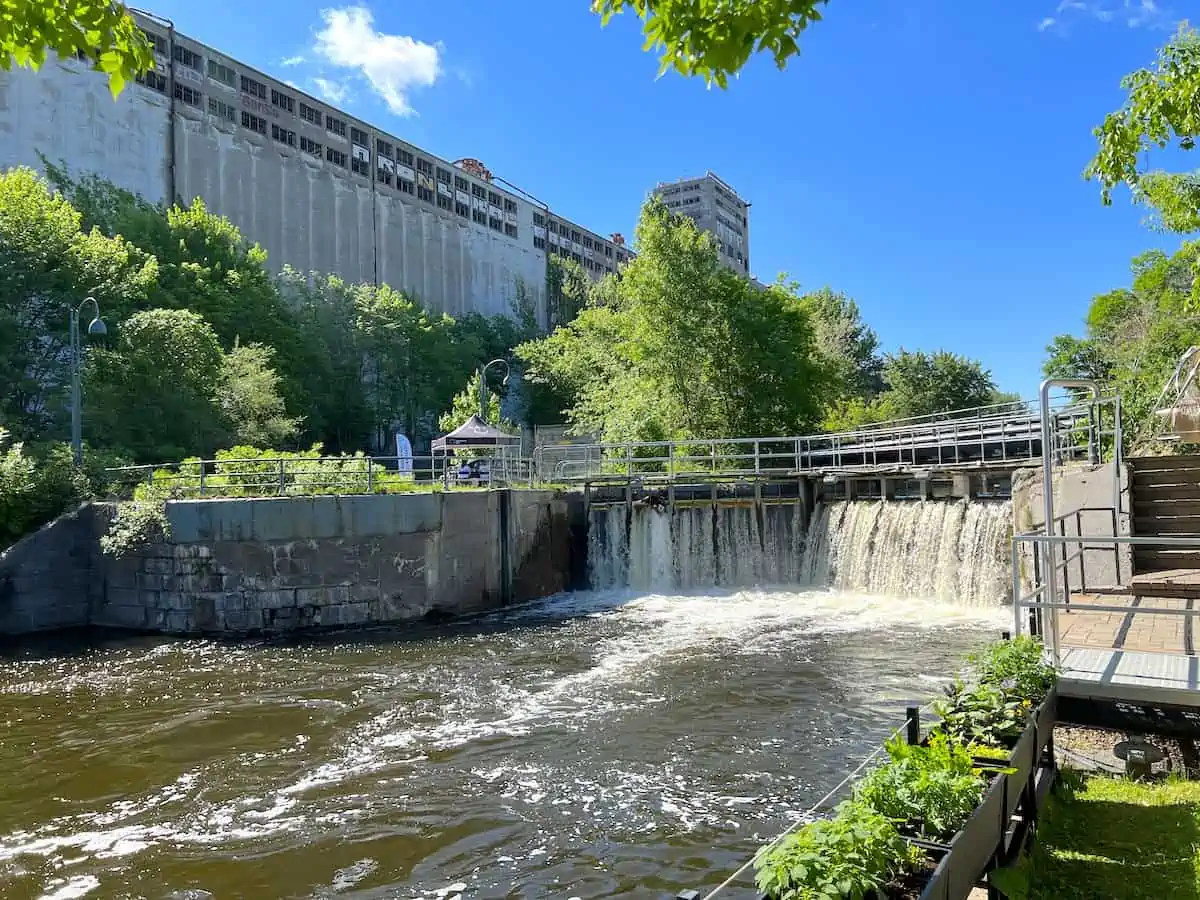 It's not summer in Montreal without spending time in the great outdoors. Following your spa time at Bota Bota, it's well worth exploring the waterfront in the Old Port, one of the top places to visit in Montreal.
Top things to do include wandering the atmospheric cobblestone streets and narrow alleyways, climbing the 192 steps of the Old Port Clock Tower, taking a spin on the giant Ferris Wheel and zip-lining.
For a more active adventure, you can even go sailing on the St. Lawrence River Learn the basics of sailing in a 3-hour sailing lesson at Ohana Sailing. From the helm of a 35-foot sailboat you'll soak up fantastic views of Montreal along the way.
If you'd rather take to the water in a more leisurely way, there are several sightseeing cruises of the St. Lawrence that glide along the mighty waterway. They come with or without dinner.
Another major Montreal summer must-do is witnessing the spectacular Kooza show by Cirque du Soleil. This extravaganza of theatre, sound and acrobatic wonder is held under the Big Top in Old Montreal.
Pro Tip: Sofitel Montreal Golden Mile offers a Sailing Overnight Package. If you join the Accor Live Limitless loyalty program you can save 5%. Not a member? Enroll here.
7. Eat Your Weight in Quebec Cheese at Jean Talon Market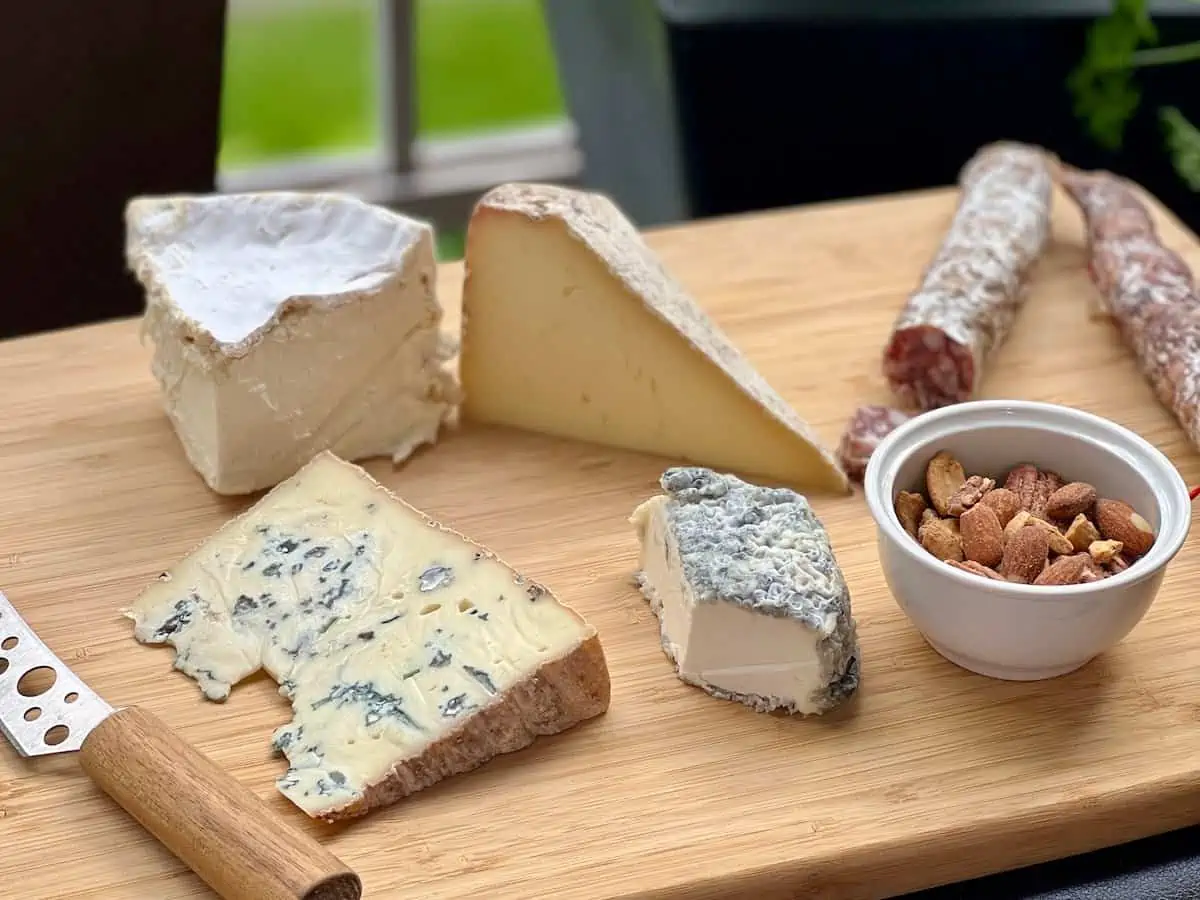 No trip to Montreal is complete without a trip to one of its markets. There are six main public markets in Montreal but if you have time for only one then head to Marché Jean Talon Market in Little Italy.
This sprawling covered market is a Montreal landmark, featuring permanent and seasonal vendors as well as restaurants, independent coffee shops and more.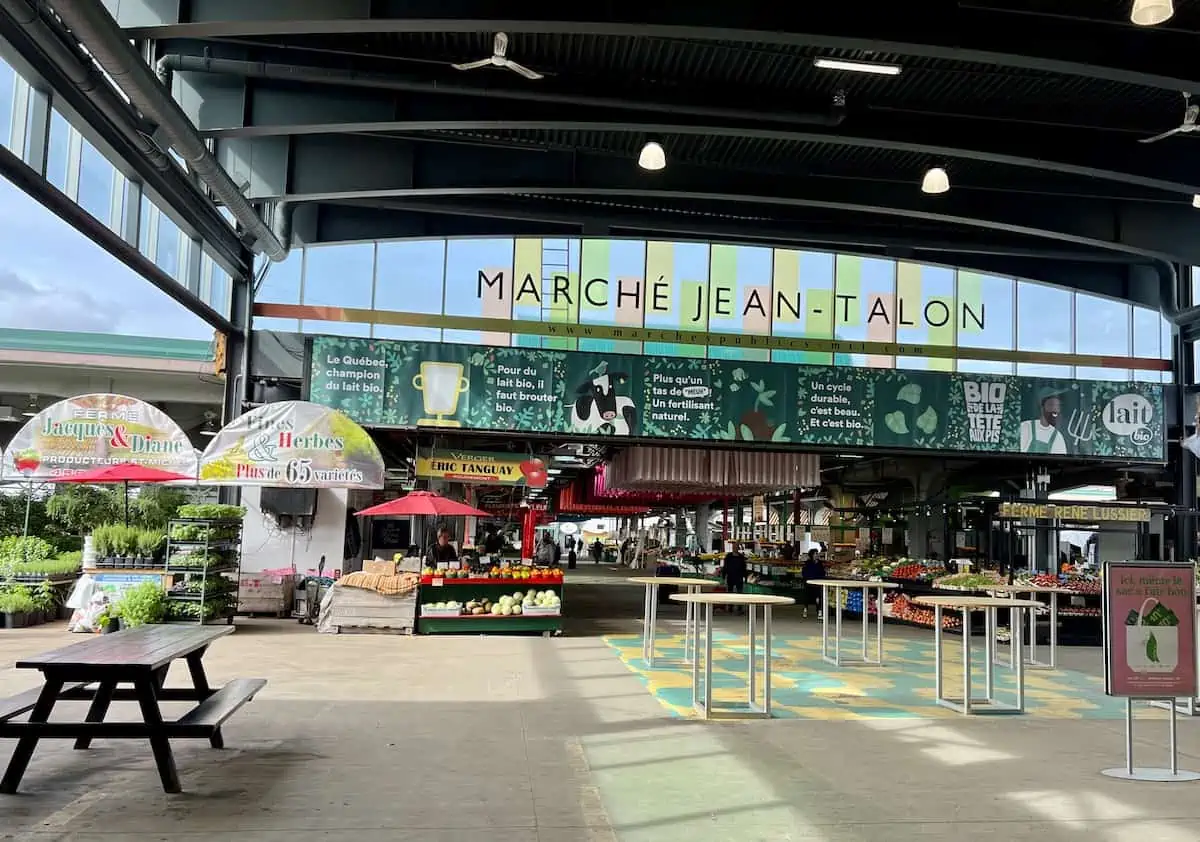 What are the top things to do in Jean-Talon Market?
Spend a morning browsing the fresh flowers, cheeses, sausages, fresh fruit and vegetables.
Eat lunch at a local restaurant. Don't miss the crepes topped with chestnut cream at La Creperie du Marche. Or the barbacoa tacos at El Rey del Taco.
Browse the street art and food emporiums — such as La Fromagerie Hamel (220 Jean-Talon Est) a cheese boutique — on the streets flanking the perimeter of the market.
Get inspired by a new cookbook or pick up some locally-made cards at the Librairie Gourmande bookstore.
Pick up some foodie souvenirs such as Quebec cranberries, maple syrup and canned preserves.
Eat your weight in croissants, macarons and Quebec cheese. My favourite cheeses to buy at Jean Talon Market are the triple cream Nuage de Bourgogne, Bleu de la Moutoniére blue cheese and Sein d'Helene.
8. Take a Cooking Class or Montreal Food Tour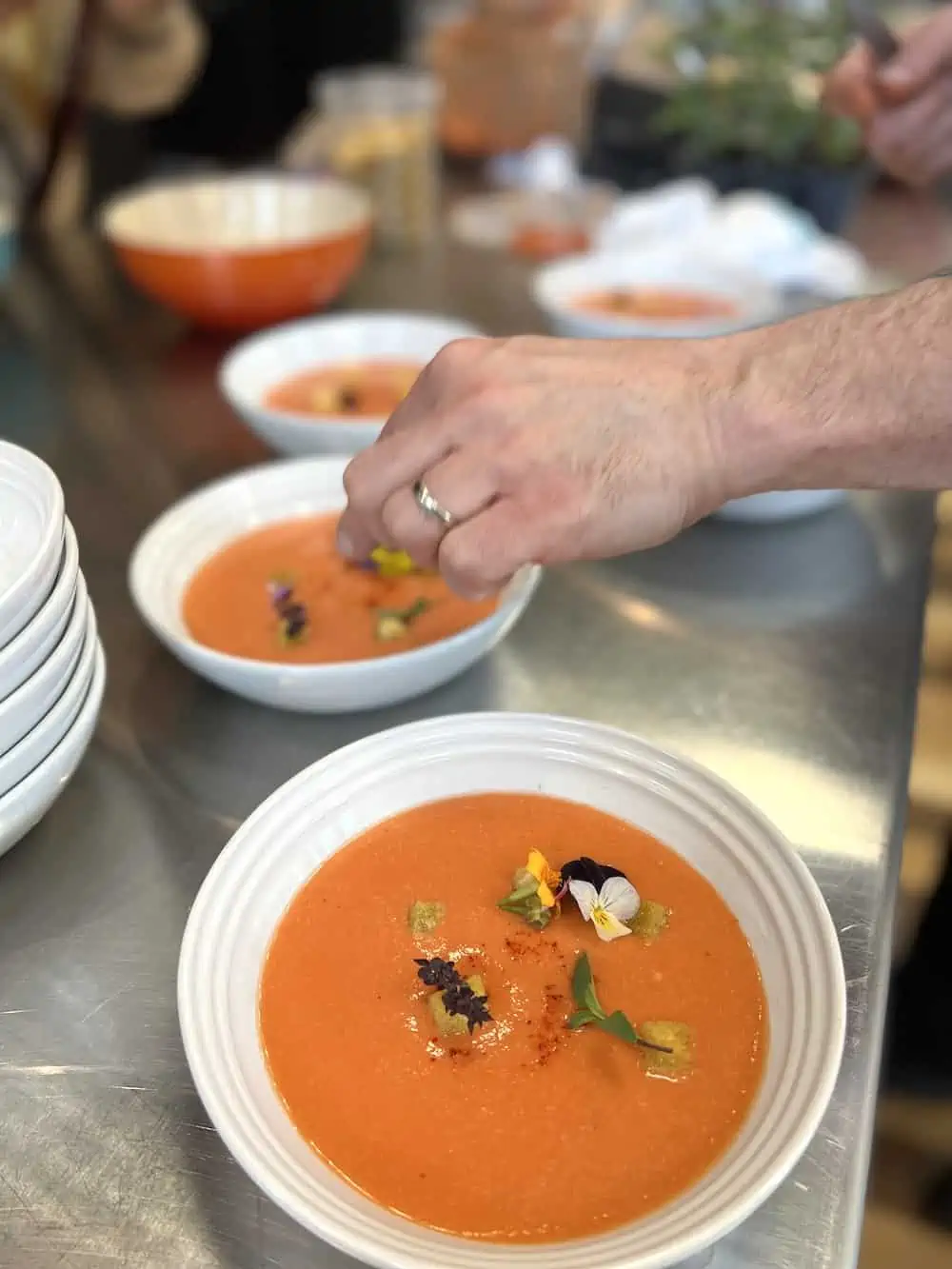 Another top thing to do in Montreal is take a cooking class. Again, while it's possible to sign up for a culinary class year round, it's so much more pleasant to take a walking tour in the sunshine and cook with seasonal vegetables direct from local farmer's markets.
Ever tried a Montreal-style bagel? Baked in a wood-fired oven, these distinctive, handmade bagels are chewy, compact and utterly addictive.
Master the art of making these warm, toasty bites in a 2-hour, hands-on, small-group Bagel-Making Workshop. Combine it with a Food Walking Tour of the Mile End Neighbourhood, a multicultural district of Montreal.
9. Hit a Festival or Two or Three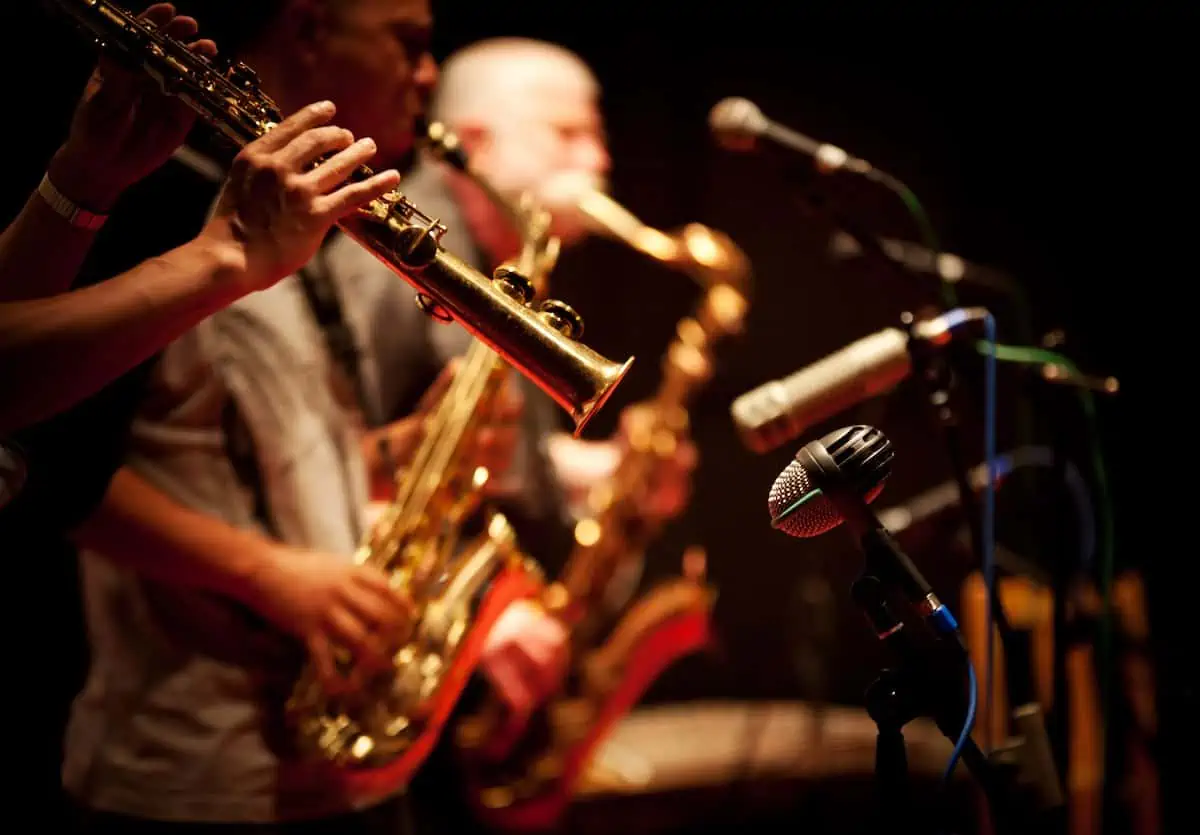 The days are long in a Montreal summer. This means there's extra time to go hopping from festival to festival.
Some of the major special events taking place in summer include the Montreal International Jazz Festival and Just for Laughs, the world's largest comedy festival.
This high-energy laugh fest features rising stars as well as big name comedians such as Kevin Hart, Amy Schumer and Chelsea Handler.
Along with the popular tried and true festivals, there are lots of new festivals and foodie themed events to discover. Watch for the Montreal Heels Festival (a dance extravaganza) and the Soif de Cidre (produced by Québec's craft cider-makers),
Many of the events take place in the Quartier des Spectacles, Montreal's major cultural and entertainment district.
This historic area is bordered by Saint-Hubert, City Councillors and Sherbrooke streets, and René-Lévesque Boulevard.
It features performance stages, light installations, theatres and as well as 14 outdoor terraces, each with its own unique and fun vibe.
Another major summer event in Montreal is the Canadian Grand Prix motor racing event. Part of the Formula One World Championship it takes place in mid-June. Find a hotel near the Circuit Gilles Villeneuve.
Check the official Tourisme Montréal website for a complete listing of events, festivals and happenings.
10. Marvel at the Aura Experience at Notre Dame Basilica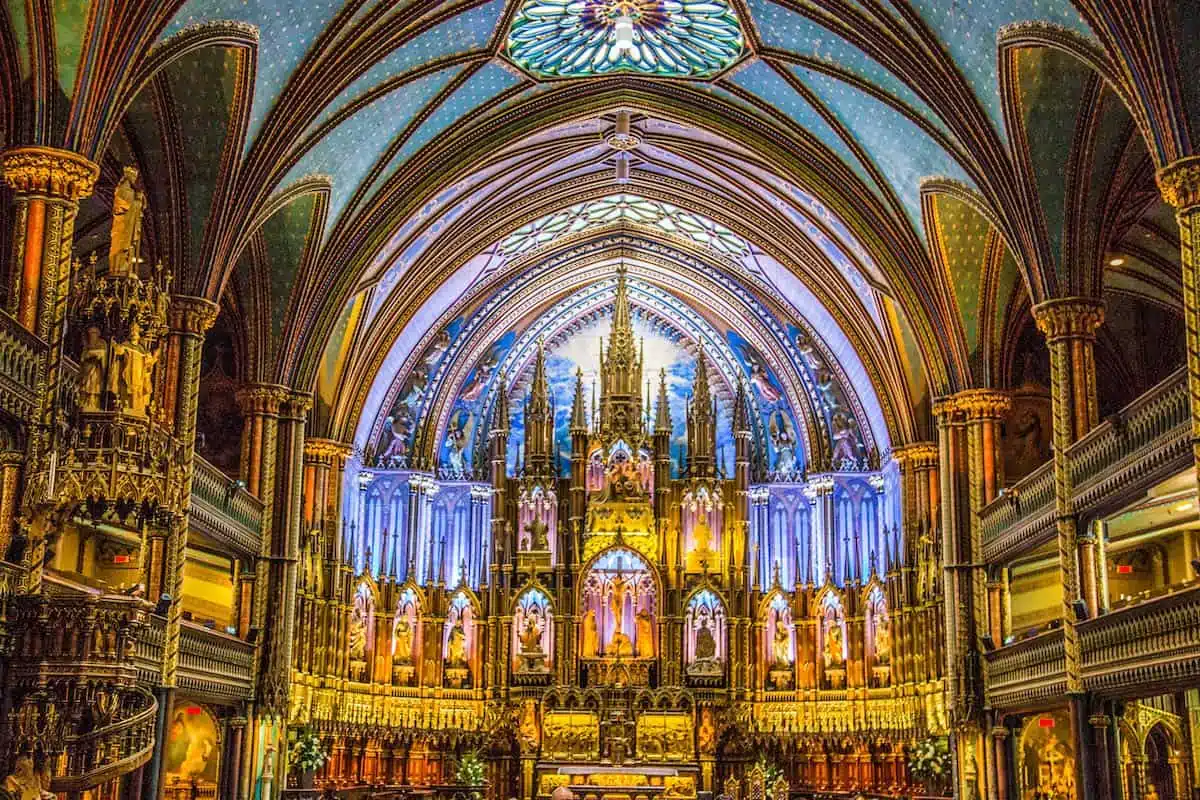 Built between 1824 and 1829, this landmark cathedral is a working church that also serves as a major Montreal sightseeing attraction due to its unique architecture.
While the Notre-Dame Basilica demonstrates many of the beautiful characteristics of Gothic Revival architecture such as pointed arches, steeply pitched roofs and decorative elements it also has its own distinctive features.
You'll be amazed by the stained glass windows made in Limoges, France and portraying scenes from Montreal's history. Depicting the heavens, thousands of 24 karat gold stars stud the indigo blue ceiling. The imposing altar features a relief of The Last Supper and The Crucification.
To get the most out of your visit, book a self-guided tour and the AURA Experience. This immersive multimedia projection on the church's nave brings this treasure to life with music and lighting.
Tips on Enjoying Montreal in the Summer
The Sofitel Montreal Golden Mile is conveniently located less than a five-minute walk to the Peel Metro station that will connect you to all the other stations throughout the central grids of the city for shopping, dining, and exploring.
Check rates and availability at Sofitel Montreal Golden Mile on Booking.com
Getting To Montreal
Sure you could drive or fly, but it's a little over 5 hours from Toronto to Montreal by VIA Rail. Not only is taking the train less stressful than flying, but the journey is the perfect way to unwind.
The route passes along the shores of Lake Ontario and through pastoral farmland. You'll enjoy a slideshow of blue water and verdant green fields as you pass by.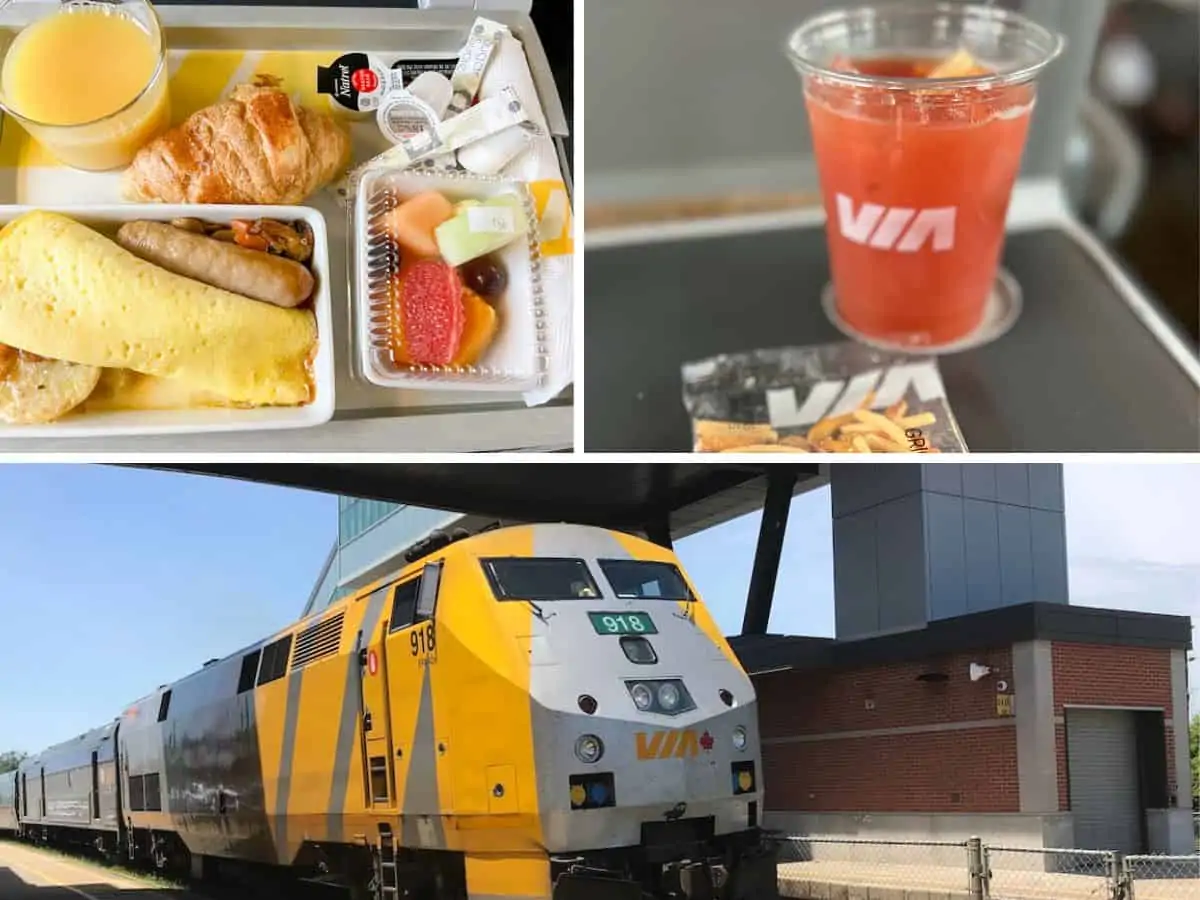 Book Business Class and you can sip a cocktail along with your hot meal. You'll also score access to the VIA Rail Business Class Lounge ( with complimentary drinks) and priority boarding.
Insider Tip: Book your VIA Rail ticket on a Discount Tuesday to enjoy the lowest fares and last minute deals. CAA members and seniors (60+) also get discounted rates.
FAQs
Is the Montreal Metro good?
Yes, it's considered one of the best cities in the world for public transit. The Metro is safe, reliable and economical. It connects to entertainment districts like Quartier de Spectacles (outdoor festivals), Old Montreal and Place des Art for indoor concerts. Plan your route, get service updates, fares and more at the Société de transport de Montréal (STM).
Is three days enough in Montreal?
There's so much to see and do in Montreal, you could easily spend a week here and not get bored. But the city is quite compact so it's quite possible to experience the highlights, see the major attractions, eat well and soak up the vibe of its unique neighbourhoods in three days.
Is Montreal worth visiting in summer?
Although Montreal can be hot and humid from June to August, it's well worth visiting during the summer months. The streets are filled with festivals, the cafes and bars are buzzing with people and its waterfront and city parks are bursting with foliage, flowers and places to relax, cycle or enjoy the outdoors.
Other Summer Getaways We Love
Save to Pinterest!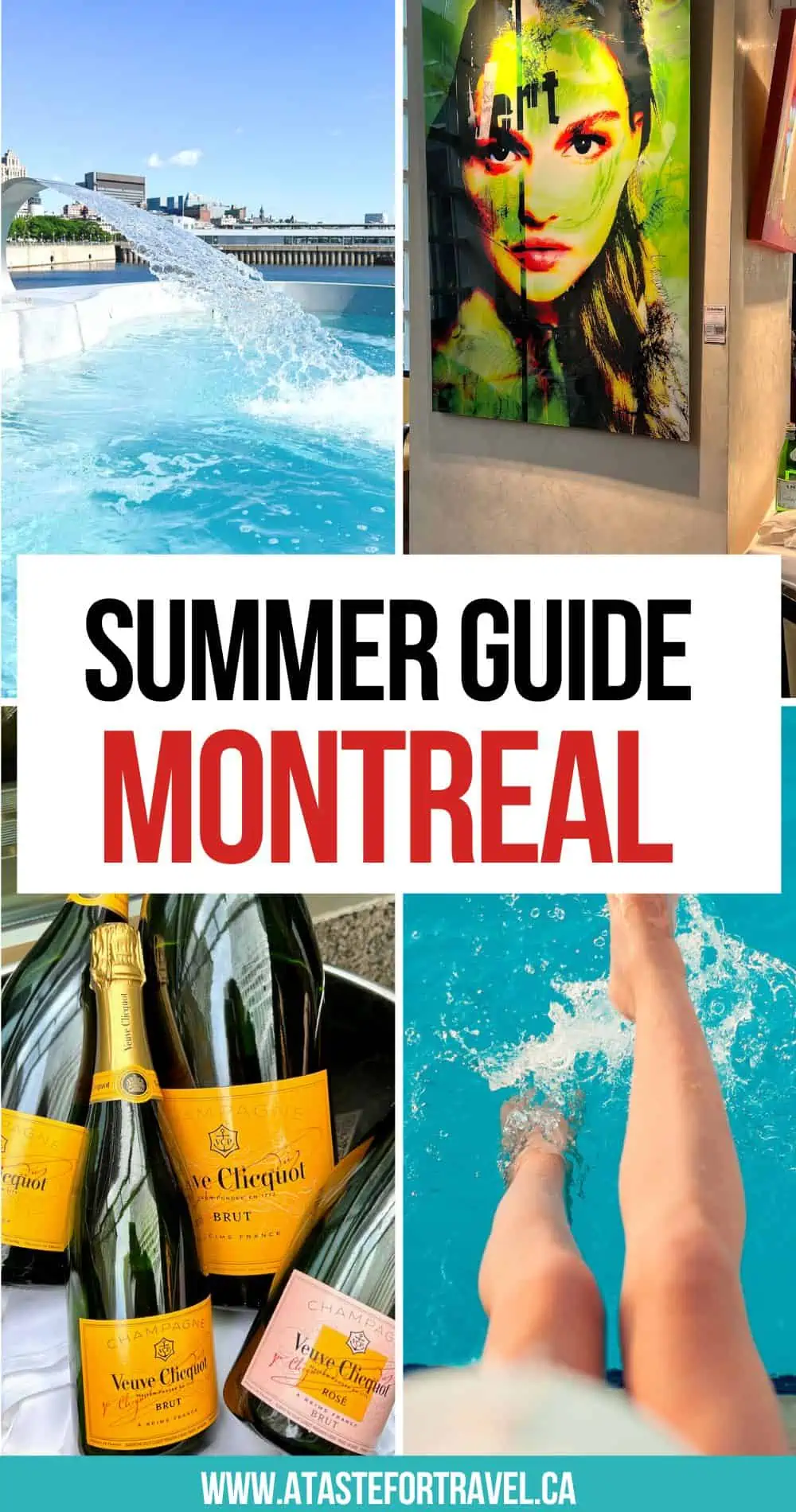 Dividing her time between Canada, Guatemala and Mexico (or the nearest tropical beach), Michele Peterson is the founder of A Taste for Travel. Her award-winning travel and food writing has appeared in Lonely Planet's cookbook Mexico: From the Source, National Geographic Traveler, Fodor's and 100+ other publications.
Read more about Michele Peterson.