We may earn income from links in this post. Please read this Disclosure for details.
Looking for exciting things to do in Whistler this summer? Look no further. While it might be best known as Canada's most popular ski resort and as the host of the 2010 Olympic Winter Games, it's also a fantastic year-round tourist destination.
Whether you're a foodie, an adventure seeker, or just looking for a relaxing vacation surrounded by nature, you've got a wide-range of fun activities to choose from in this mountain town.
Since living in Vancouver for the past few years, I've heard great things about winter Whistler activities from my snowboarding and skiing friends.
Like many, I hadn't realized that there were so many fabulous Whistler summer activities to choose from as well.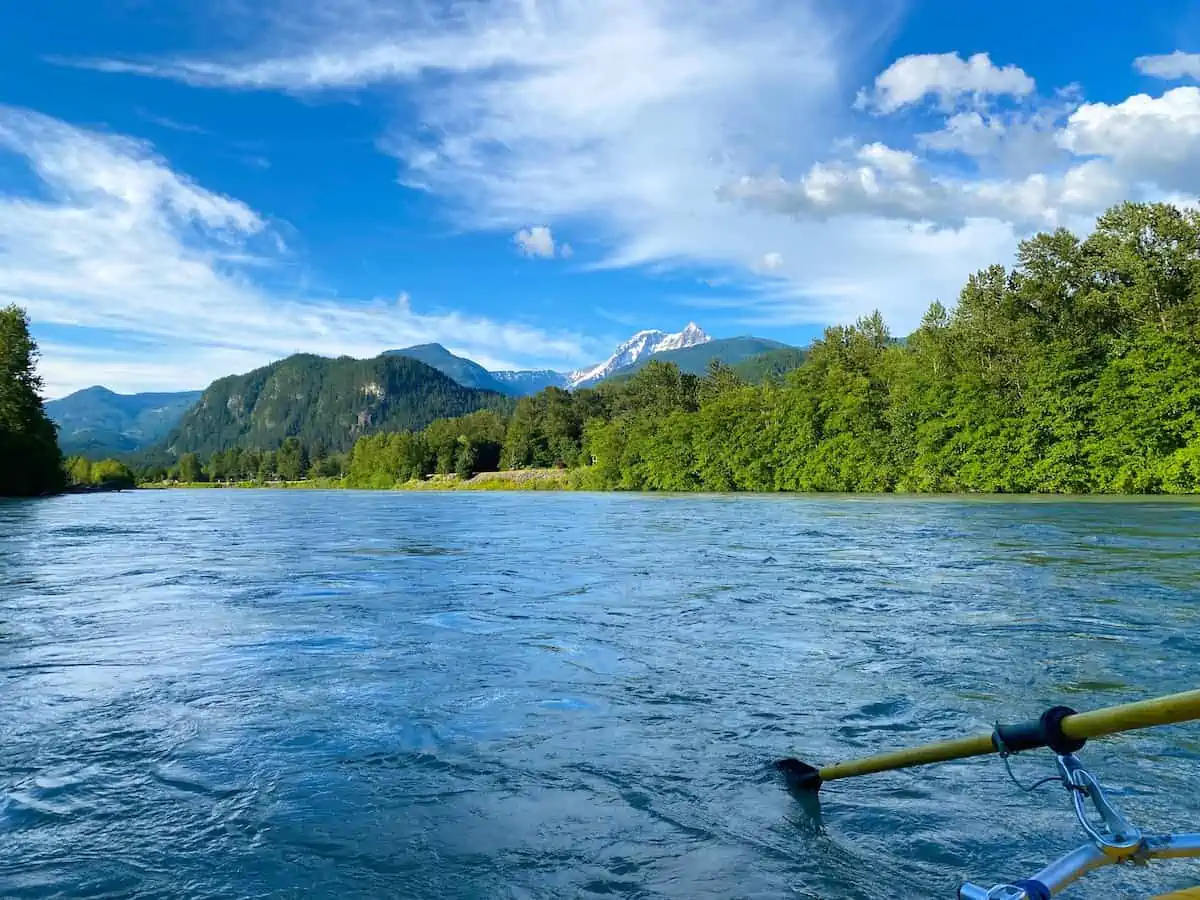 Was I ever wrong!
With Whistler so close to home, (only about an hour and a half drive from Vancouver, British Columbia), my partner and I jumped at the opportunity to pop in for a couple nights and experience the area and some Whistler adventures for ourselves.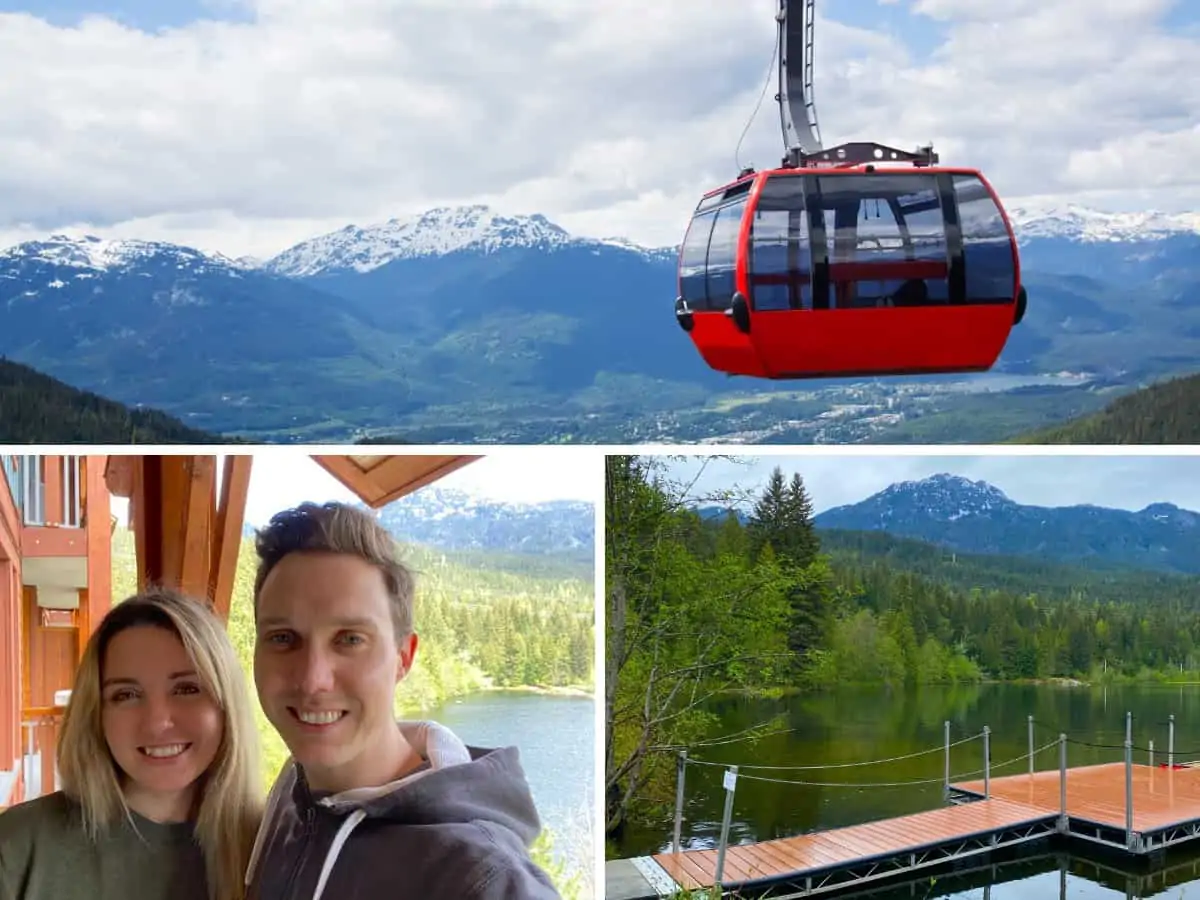 Not only were we in awe at the natural beauty (hello gorgeous snow-capped mountains and endless evergreen forests), we were extra impressed with the vegan food scene, the choice of activities (including free things to do) and our charming accommodations.
Read on to discover why Whistler should be high on your bucket list to visit this summer.
1. Soak Up the Views at Nita Lake Lodge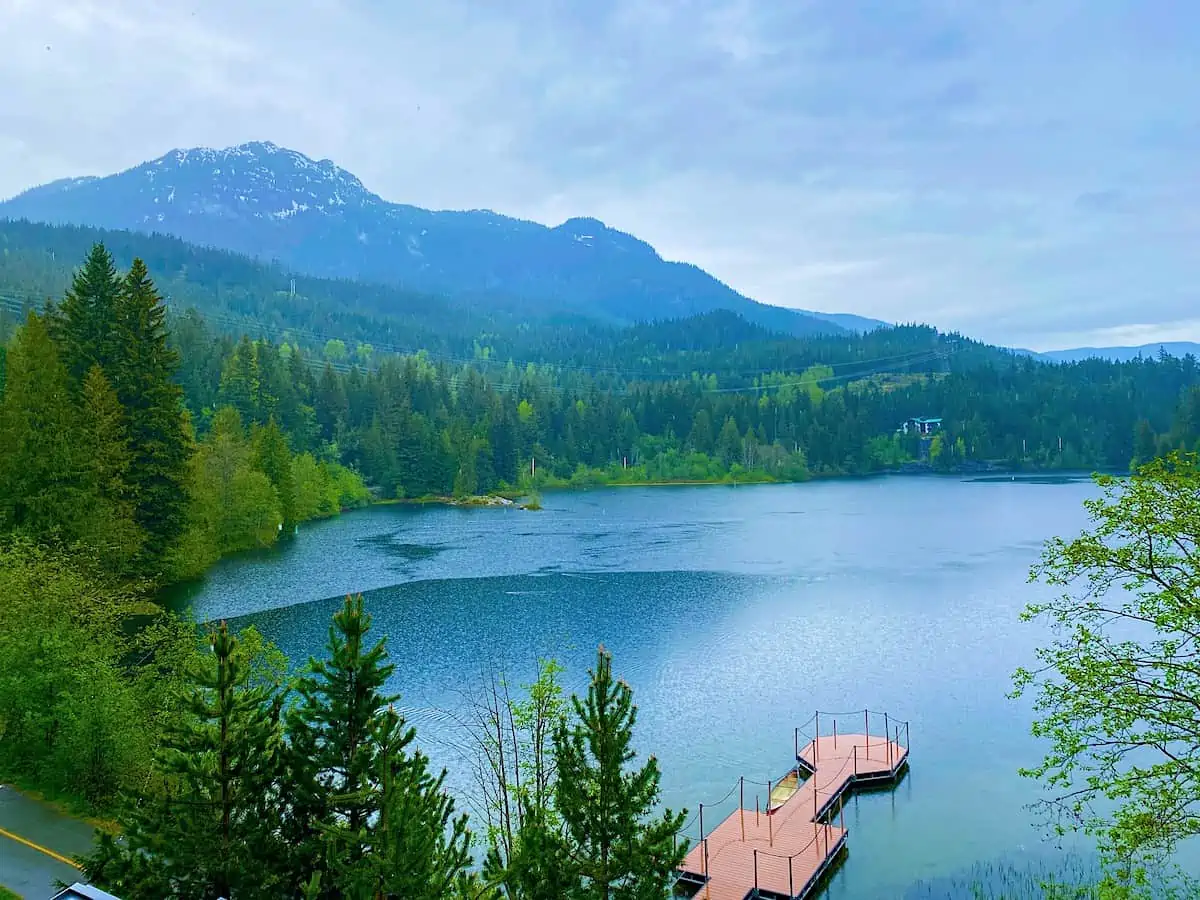 We started our mini vacation getaway by checking in to a lovely boutique hotel, the Nita Lake Lodge. The first thing we noticed is that they have the cutest dog beds in the lobby for those traveling with pets.
Our roomy suite included a large soaking tub, a luxurious king-sized bed, and a cozy sitting area with a fireplace.
I enjoyed my morning coffee on our private balcony, taking in the surreal lakeside and mountain views. I watched as guests leisurely rode complimentary trail bikes around Nita Lake.
One could easily spend a full day on the lake. Complimentary canoes, kayaks, and stand-up paddle boards are also available at the lodge.
We were delighted with our vegan breakfast at the Lakeside Restaurant downstairs. We both opted for the tofu scramble with vegan sausage and iced oat milk lattes.
The portions were quite large and the food was fantastic. We also loved the modern take on rustic décor: colourful knitted deer busts mounted onto the walls and faux fur throws on the chairs.
The lodge itself is so beautiful you may never want to leave.
However, when you're ready to explore Whistler Village (less than a 10 minute drive away), a free shuttle is available upon request.
Check rates and availability of Nita Lake Lodge on Booking.com.
2. Get a Wellness Boost at Scandinave Spa Whistler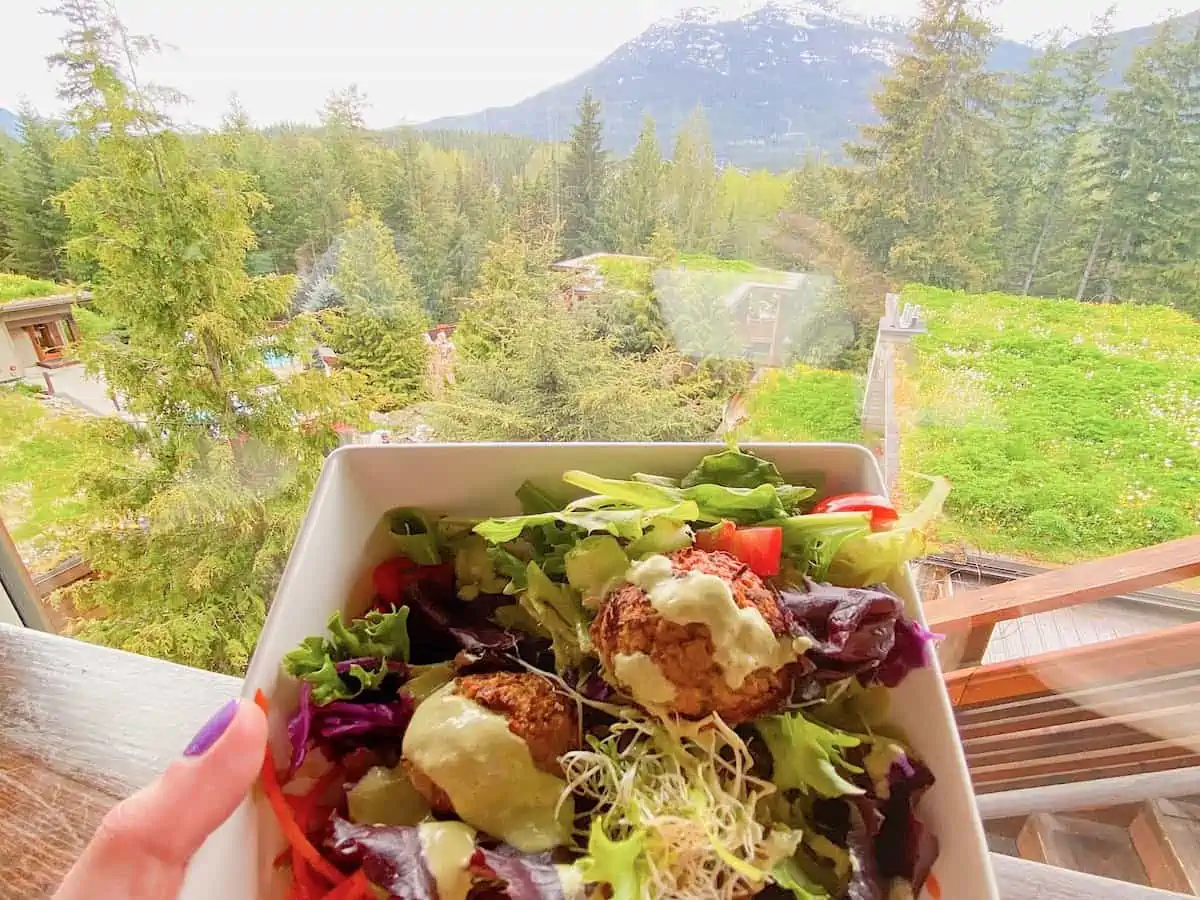 With multiple locations across Canada, you may have already heard about the legendary Scandinave Spa.
Tucked away on a mountain of trees, the Whistler location is the ideal spot to experience their Scandinavian Bath circuit.
For the uninitiated, the premises are designed to lead you through a water circuit that is series of hydrotherapy hot tubs, steam rooms, and cold tubs. Not only is this hot-cold cycle said to promote calmness and relaxation, it boasts numerous other health benefits as well.
🌟 Pro Tip: Book yourself in for a massage which then includes bath access as well.
The nature spa also has a number of relaxation rooms, outdoor firepits, hammocks and lounge chairs. This is the perfect opportunity to unplug and unwind, as digital devices are not allowed on the premises.
Many choose to curl up with a good book or bask in the sun to their heart's content. After the hot tub, I took a long nap to the sound of a trickling nearby waterfall. The result? True bliss.
Afterwards, we enjoyed a light lunch (falafel bowls and vegan Rolo squares) at the spa café.
We were pleased to learn that they serve select items from the Green Moustache Organic Cafe: a whole foods plant-based café with multiple locations, including one in Whistler Village.
We ate next to the lobby fireplace, overlooking the mountains and spa area below. What an absolute treat.
3. Get an Adrenaline Rush at The Adventure Group: Superfly Ziplines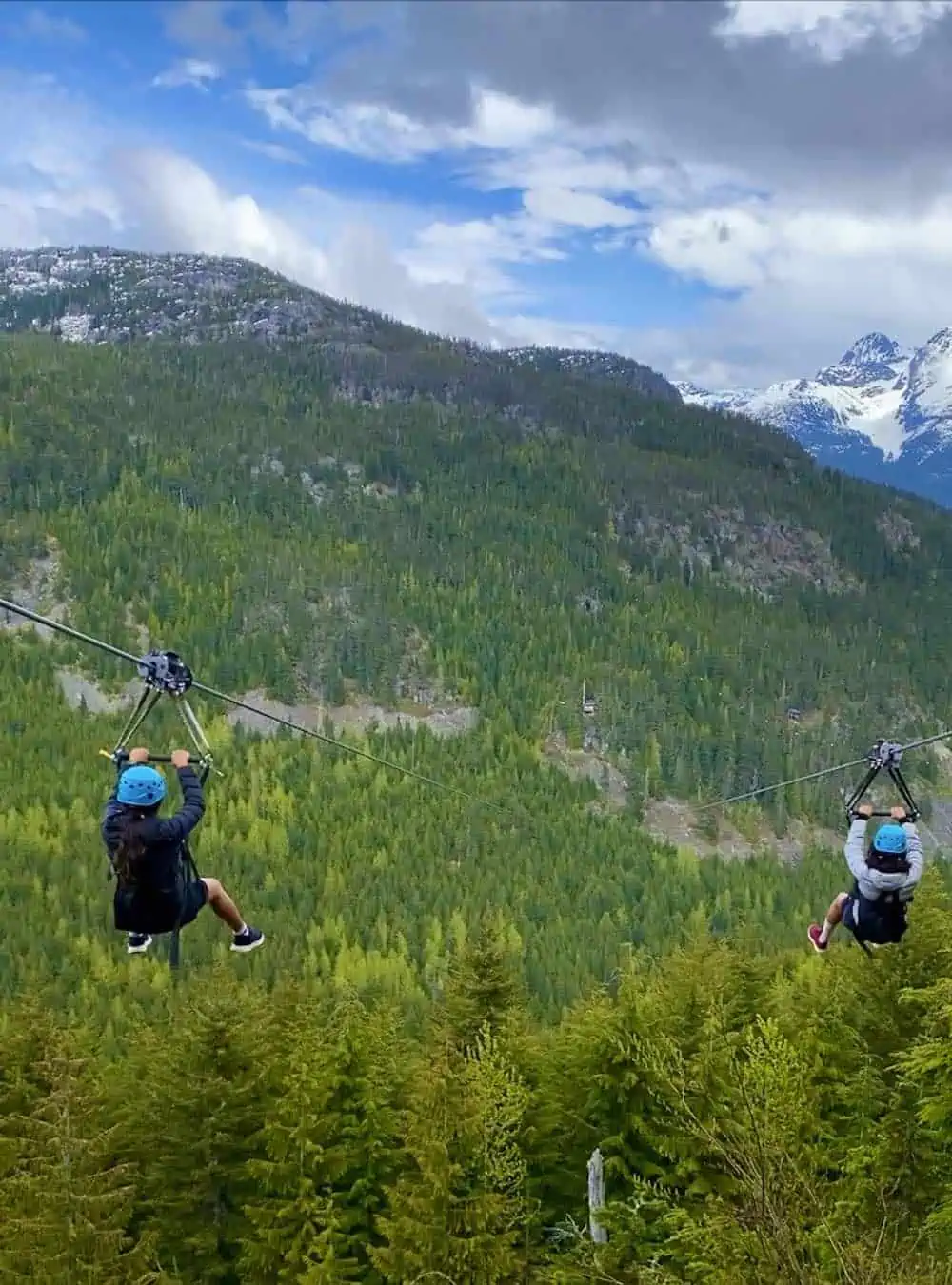 Open year-round, The Adventure Group hosts exhilarating Whistler tours in summer. After all that relaxation, we decided we were ready for an extreme rush. We booked an unforgettable adventure tour called Superfly Summer Ziplines.
If you decide to go this route as well (and I recommend you do), you'll reserve a ticket and then meet your crew on Cougar Mountain, an 8 minute drive from Whistler Village.
The guides will then take you up to the platform via an ATV ride: a big thrill in and of itself.
You'll get to try four different ziplines, each a little different but all with breathtaking forest and mountain views. Not for the faint of heart, these ziplines are some of the longest in Canada (one is 1.3km long).
If you're up for it, you'll be soaring through the air at 100km per hour and over 200 metres in the air.
The guides did a phenomenal job at making us feel secure and comfortable throughout our tour. For the thrill-seekers out there, this is a must-try activity while visiting the Whistler area. To avoid disappointment, it's best to book your Whistler ziplining experience in advance.
Check prices and availability of the Whistler Superfly Ziplines on Viator.com.
4. Ride the Peak 2 Peak Gondola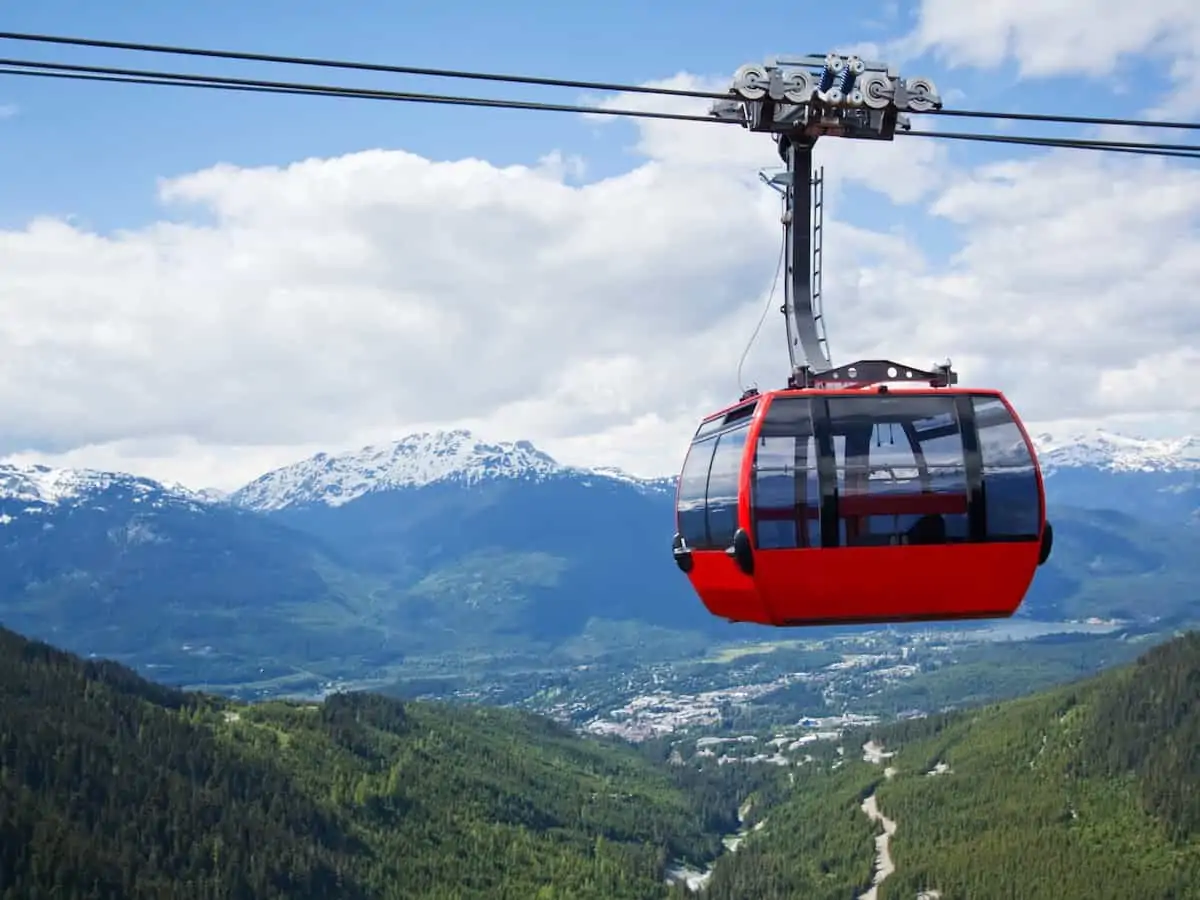 If you're slightly terrified at the thought of ziplining across mountains at 100km per hour, you may consider opting for something with equally gorgeous views at a more leisurely pace. The Peak 2 Peak 360 Experience is just what you need.
To begin, start in Whistler Village and get your Peak 2 Peak Pass. This will include access to the Whistler Village Gondola which takes around 25 minutes to reach the end.
You can then board the Peak 2 Peak Gondola, which takes you across to Blackcomb Mountain within 11 minutes for an amazing sightseeing experience.
In the winter, this area is a favourite spot for backcountry skiing but in the summer there's plenty to do on both mountains, including a few small souvenir shops and chalet-style restaurants. Note that all mountain activities are cashless.
For scenic photo ops, endless hiking trails and opportunities to spot wildlife such as bears, this is a top place to go in Whistler in summer.
Once you've explored both mountains, you can eventually ride the Blackcomb Gondola right back down back to the Whistler Village, where you can continue exploring or take a breather at one of the many local businesses in the area.
🌟 Insider Tip: If the line up to ride the gondola up Whistler Mountain is long, there's often no wait to go up the Blackcomb side, a 5-minute walk away. At the top of Blackcomb, aside from the reservation-only restaurants, there's also a canteen selling fast food.
This is a must-do activity in Whistler as the mountain views are absolutely breathtaking. Book your tickets in advance so you don't miss out.
Check prices and availability of the Whistler Peak 2 Peak Gondola on Viator.com.
5. Go Exploring via E-bike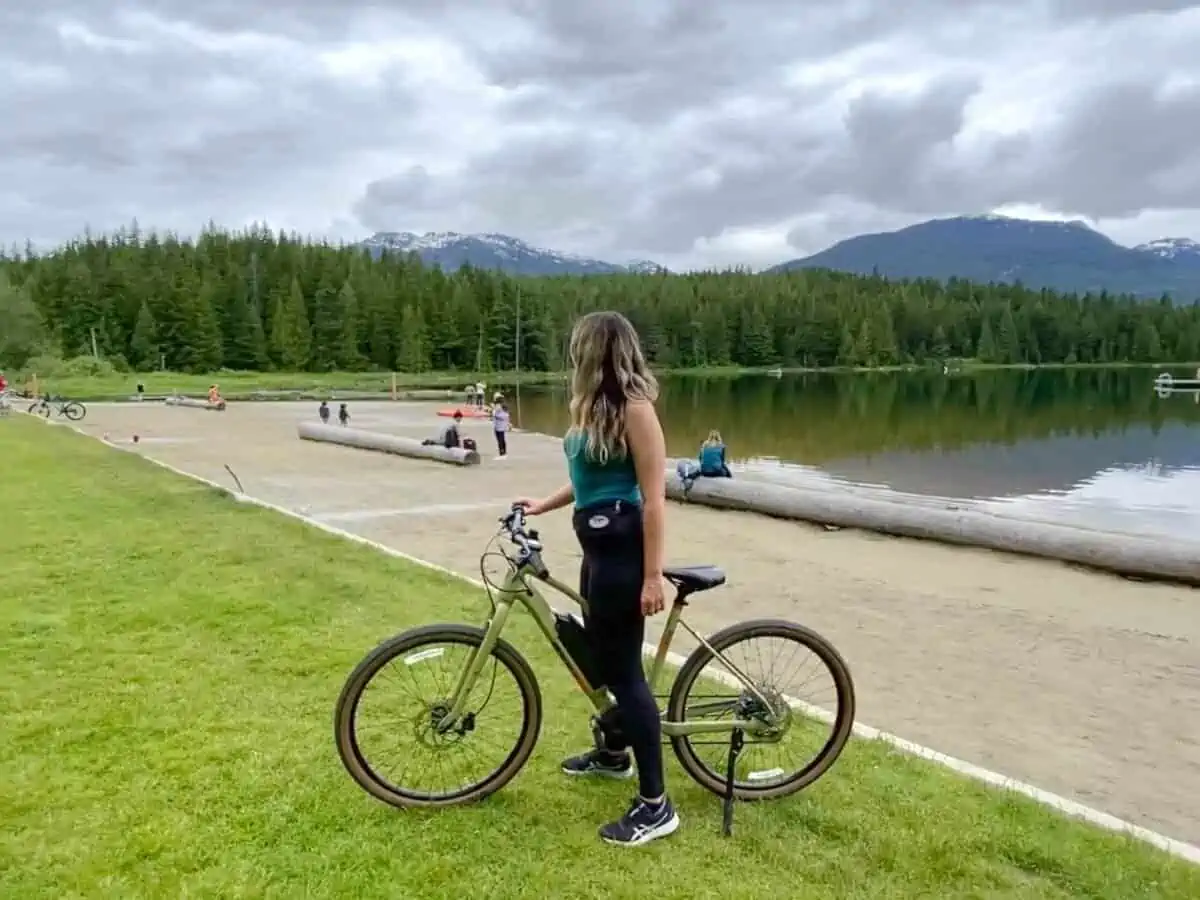 One of the most rewarding things to do in Whistler in summer is to go exploring by e-bike. An eBike Adventure is the perfect combination of exercise and sightseeing.
We rented a pair of Ebikes and took them out for a quick and easy ride to Lost Lake, which is a pretty spot for a picnic.
It was our first time trying Ebikes, (yes, we still had to pedal), but only with minimal effort as the bike does most of the work for you. So fun!
🌟 Pro Tip: Be sure to familiarize yourself with how the Ebike battery turns on/off while you're still at the shop. The batteries can sometimes turn off when not in use after a while to conserve energy.
After relaxing at the lake, you'll want to know how to turn the battery back on for your return to Whistler village or it will be quite a workout.
Check prices and availability of a Whistler ebike Adventure on Viator.com.
6. Indulge in Seasonal Vegan Cuisine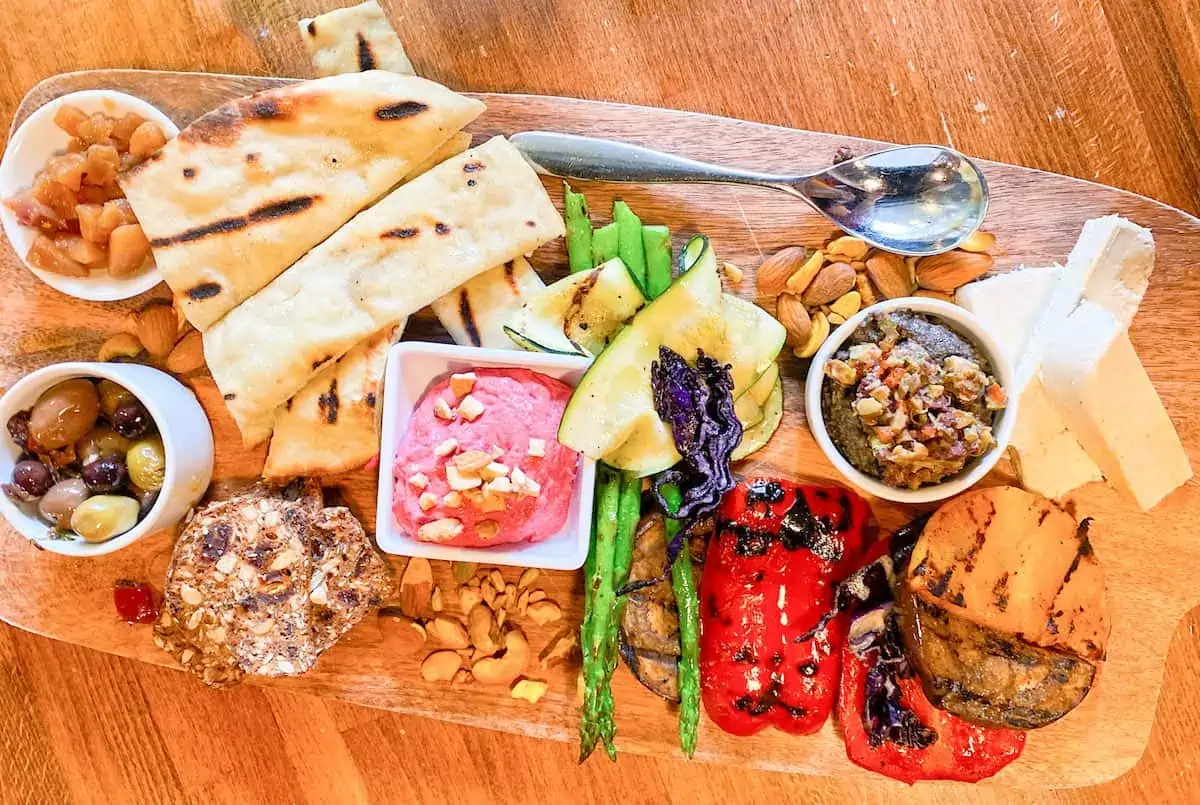 After all of those activities, it's likely time for another bite to eat. Whistler's summer food scene offers lots to choose from from brew houses to Alpine cuisine.
Conveniently located in Whistler Village North lies the best little urban tapas and wine bar: Elements.
Think friendly small town service with a next level menu. This is a great spot for boozy cocktails and delicious appetizers after a busy day of exploration.
We were excited to try their brand new menu and shared the most incredible vegan antipasti platter. The platter came with a tasty assortment of grilled seasonal vegetables such as zucchini and red pepper, a nut-based vegan brie, house-made olive tapenade, beet hummus, roasted nuts, gluten-free crackers, and warm bread.
We also enjoyed a great grilled cauliflower "steak" with tempeh and grilled vegetables as the main.
The menu seemed to have something for everyone. Overall, we truly appreciated the well-thought out vegan options at Elements.
Check prices and availability of a Whistler Food Tour (stops for craft beer, tapas, coastal cuisine and chocolate!) on Viator.com.
7. Learn About First Nations Culture at Squamish Lil'wat Cultural Centre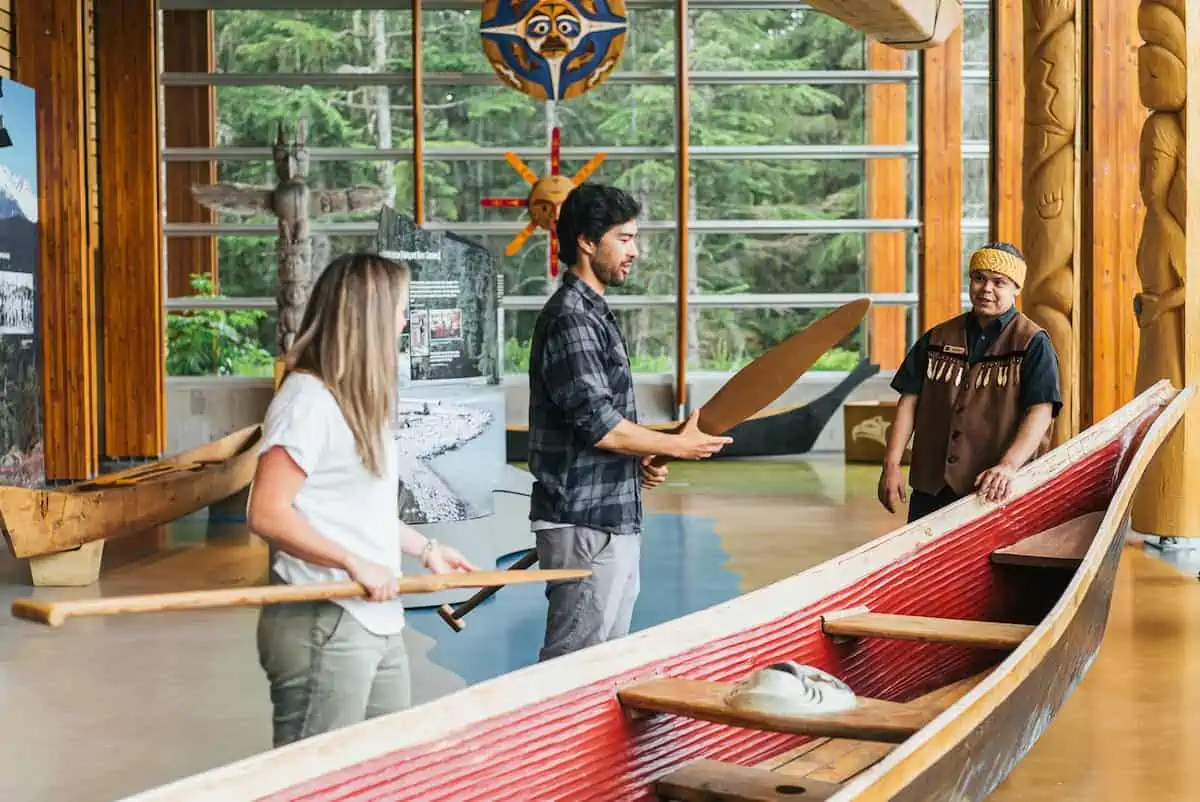 Many visitors may be unaware that Whistler is located on the traditional territories of the Squamish Nation and Lil'wat Nations.
The Squamish Lil'wat Cultural Centre (SLCC) offers a variety of illuminating educational experiences to teach guests of all ages about the traditional lands and practices of both Nations.
A museum admission ticket gives you access to various tours. Check out the Paddling Through the Nations tour (available Wednesdays – Sundays until September 4th).
Here, you can join an interactive live carving of the Community Reconciliation Canoe and learn from the best: Master Carver Chief Ray Natraoro (Ses Siyam) of the Squamish Nation.
Young children will be invited to sign one of the canoe paddles and may collect cedar shavings as a keepsake.
Enjoy a hand drum welcome song, a short educational film, shared stories and fantastic art exhibits with the What We Treasure Tour.
The Interpretive Forest Walk tour through old growth cedar is also not to be missed. All guided tours are led by cultural ambassadors from each Nation. For more daily tour information, visit the SLCC website.
Pro Tip: Last but not least, don't forget to stop by the authentic gift shop and the Thunderbird Café which features an Indigenous-inspired menu.
8. Ride the Trails at Whistler Bike Park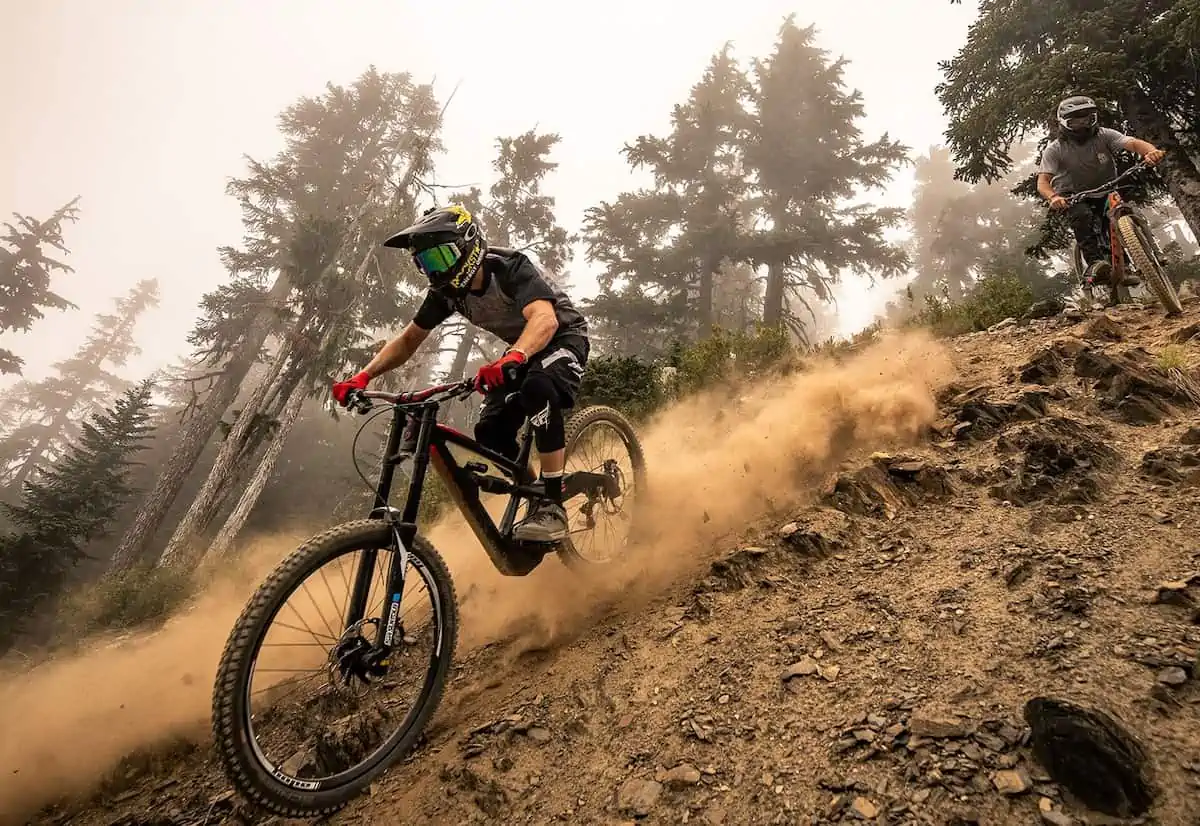 Another fun thing to do in Whistler Village in summer time is rent a bike and hit the trails. Mountain biking is an activity for all ages as Whistler Bike Park has a range of trails for riders all levels. There are also Bike Park lessons available.
Black Diamond Bike Rentals offer a variety of bike rentals depending on what type of adventure you're looking to have.
One popular activity is to explore the Valley Trail, which is a network of paved paths that go to various parks, lakes and through the Whistler Village.
Still unsure of where to go? The friendly Black Diamond Bike Rental crew members are more than happy to suggest the bike best routes based on extensive experience.
Or, go with a pro and take a guided half-day Mountain Bike Tour through the Whistler Valley with an expert guide.
Check prices and availability of a Half-Day Mountain Bike Tour on Viator.com.
9. Explore a Self-Guided Trail in Whistler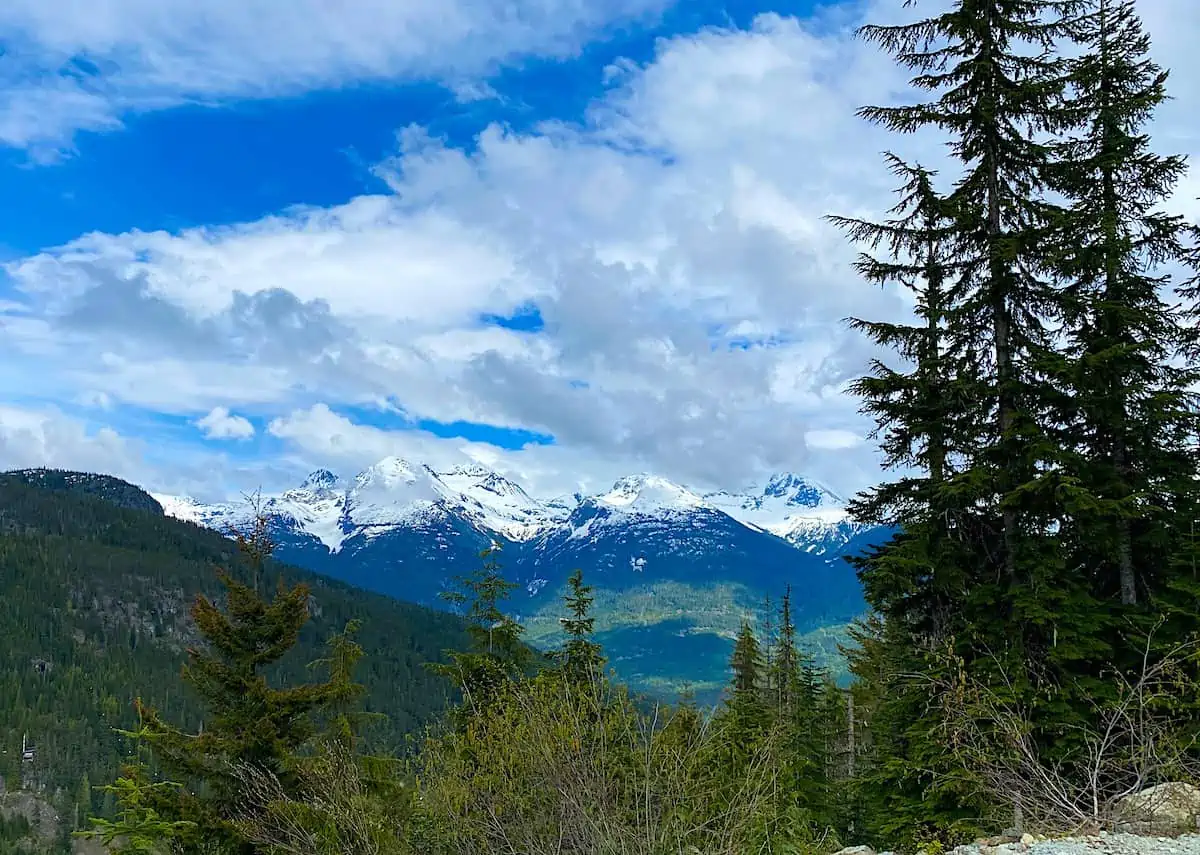 You might think self-guided tours are all about biking and hiking, but you'd be sorely mistaken. Although there are some great self-guided biking tours such as the Half Day Loop (a 12K adventure through the Valley Trail mentioned above), there is also a self-guided Craft Beer Tour for the IPA connoisseurs out there.
Or, maybe you'd prefer the 10-stop Sweet Treats Tour where you can rank your favourite baked goods, ice cream, crepes and more. Yes, please!
For an educational hike, try the Lost Lake Nature Walk, hosted by the Whistler Museum. At each stop along the 500 metre trail, visitors can play an audio or video clip to learn about the vast biodiversity of the rainforest.
Those looking for an even more leisurely experience can still enjoy the nature trails. Check out the half mile Fitzsimmons Creek Accessible Nature Trail which also includes educational clips about the cedar trees, local bears, the wetlands and more.
If you're looking for free things to do in Whistler in summer, all of the self-guided trails are free and can be accessed via the Go Whistler app or website.
10. Splash Out with Canadian Outback Rafting Tours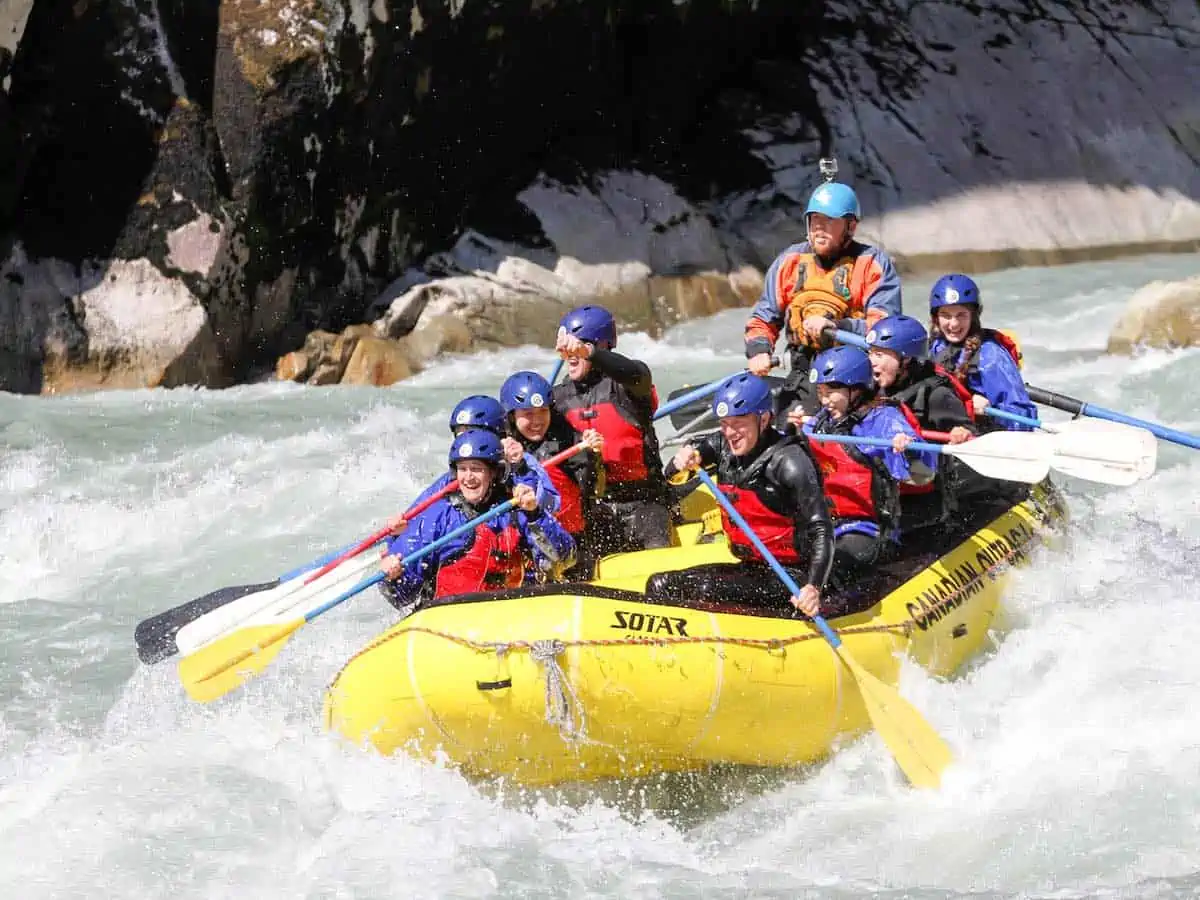 If you really want to enjoy all the natural beauty area has to offer, book yourself a tour with Canadian Outback Rafting. Their shuttle brings guests from Whistler to the rafting base at Squamish River.
Ready for another major thrill? The Wet & Wild Elaho Exhilarator takes you through intense rapids where you'll get to enjoy waterfalls, old-growth forests, local wildlife (if you're lucky) and much more.
The full trip takes around 5.5 hours and is reserved for guests aged 13 and up. Beware: they don't call it "wet & wild" for nothing.
Those looking for a more relaxed experience such as guests traveling with young children are welcome to book the Cheakamus Splash rafting tour (3.5 hours total).
This is a more gentle ride that still allows you to experience the unreal scenic beauty of the area.
Pro Tip: Remember to wear water-friendly shoes or flip flops as your feet do get wet when getting in and out of the water.
And don't forget the insect repellent! There are mosquitoes on the side of the river where you get in and out.
11. Dine Outdoors at Cure Lounge & Patio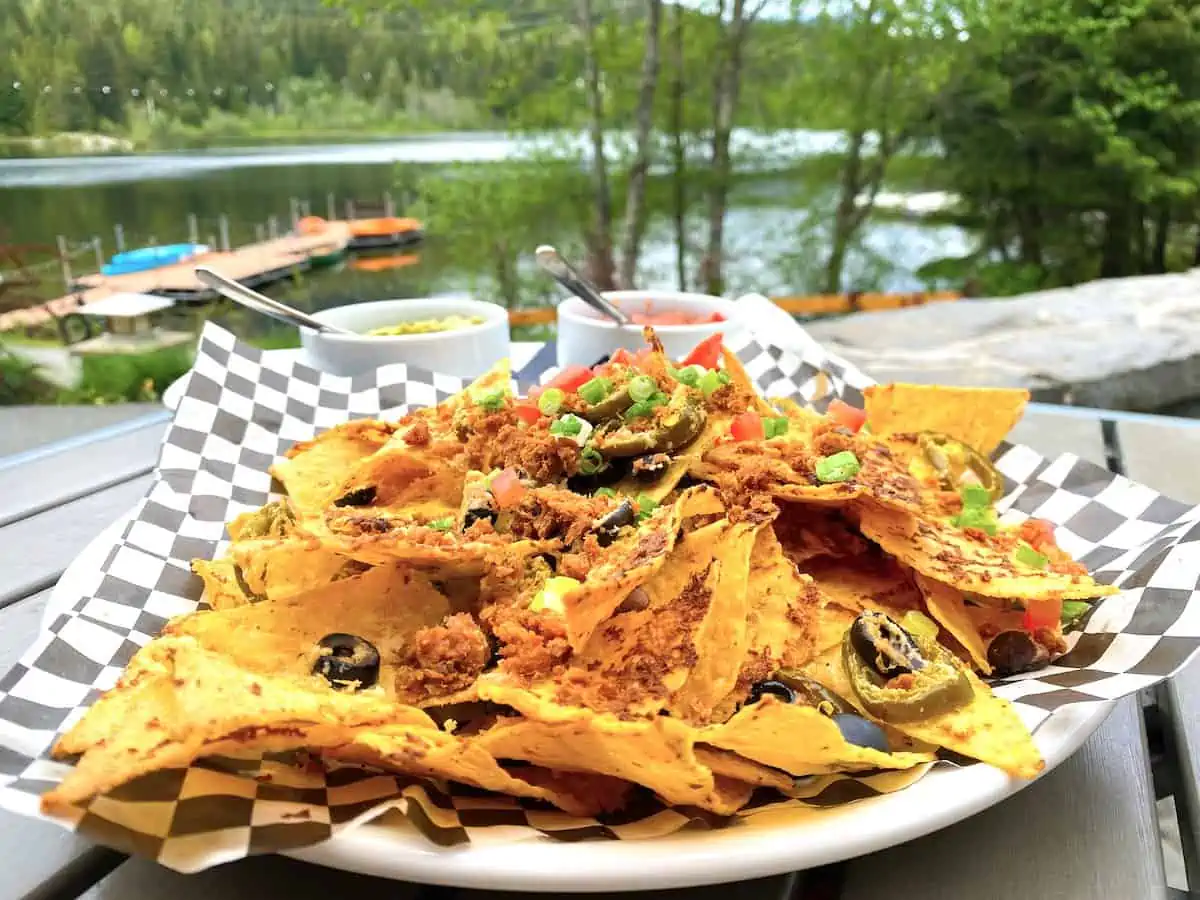 Dinner and drinks with a view anyone? With its stunning views at every turn, Whistler dining is at its best in summer.
Although Nita Lake Lodge has many wonderful amenities and views, Cure Lounge & Patio is certainly one of its best features. Cure has plenty of indoor and outdoor seating with heaters, and it's right on the lake.
I was excited about the vegan options on the menu, such as their house made Vegan Cheeze Board and the nachos (pro tip: ask your server to add vegan Modern Meat crumble and thank me later).
My partner also enjoyed his rigatoni dish with vegan meatballs.
Pop in for their daily Happy Hour from 2-4PM for great deals on appetizers. If you're lucky, you might even arrive in time to hear some live music.
Bonus: they also make the perfect Aperol Spritz.
12. Spot Some Black Bears in Whistler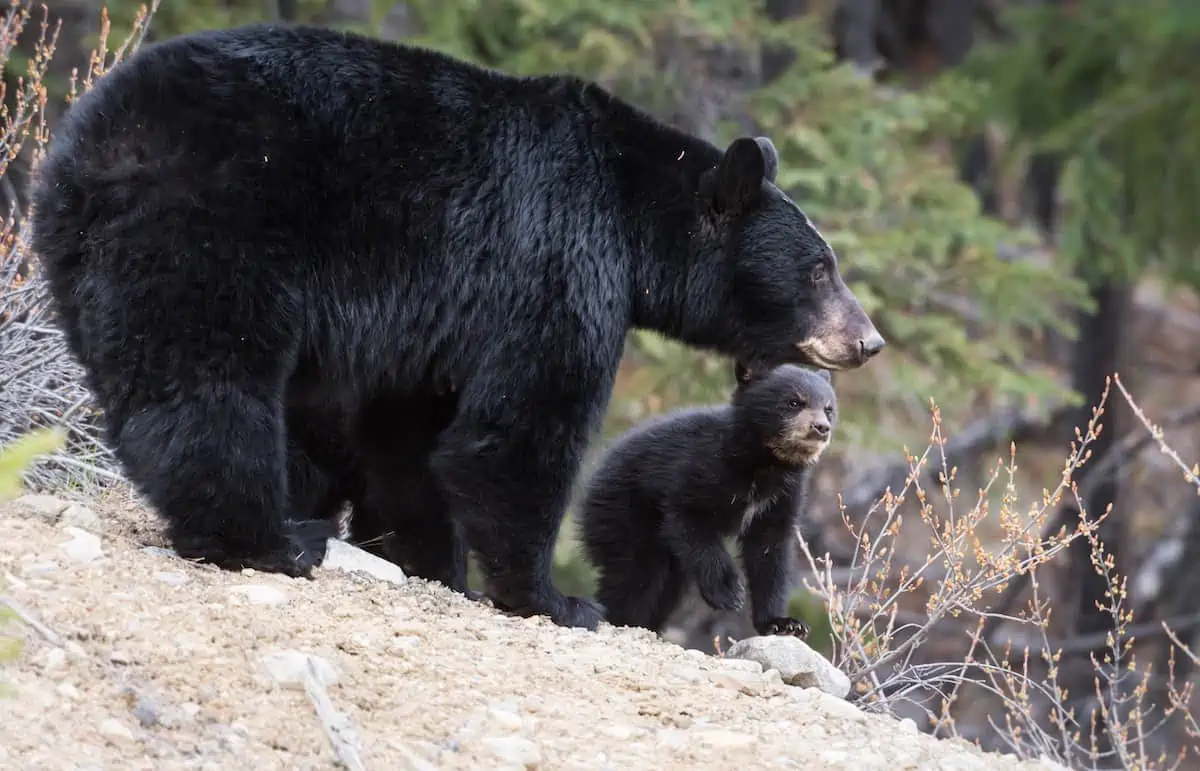 Keep a lookout for wildlife, especially bears, while playing a round of golf, hiking or even while riding the gondola.
The Whistler and Blackcomb mountains are home to two bear species — black bears and grizzly bears. They hibernate in the winter but by mid-April they emerge from their den, so summer is a prime time to take a bear viewing tour or catch a sighting of the
bears in Whistler.
Bears are most active at dusk and dawn. But you can see them any time of day in the forest and the valleys, especially below the ski lifts and at Whistler Olympic Park.
During our weekend in Whistler, we were lucky enough to see six black bears in total — including one mama and her cub.
It was the highlight of our trip!
Summary of the Best Things to Do in Whistler in Summer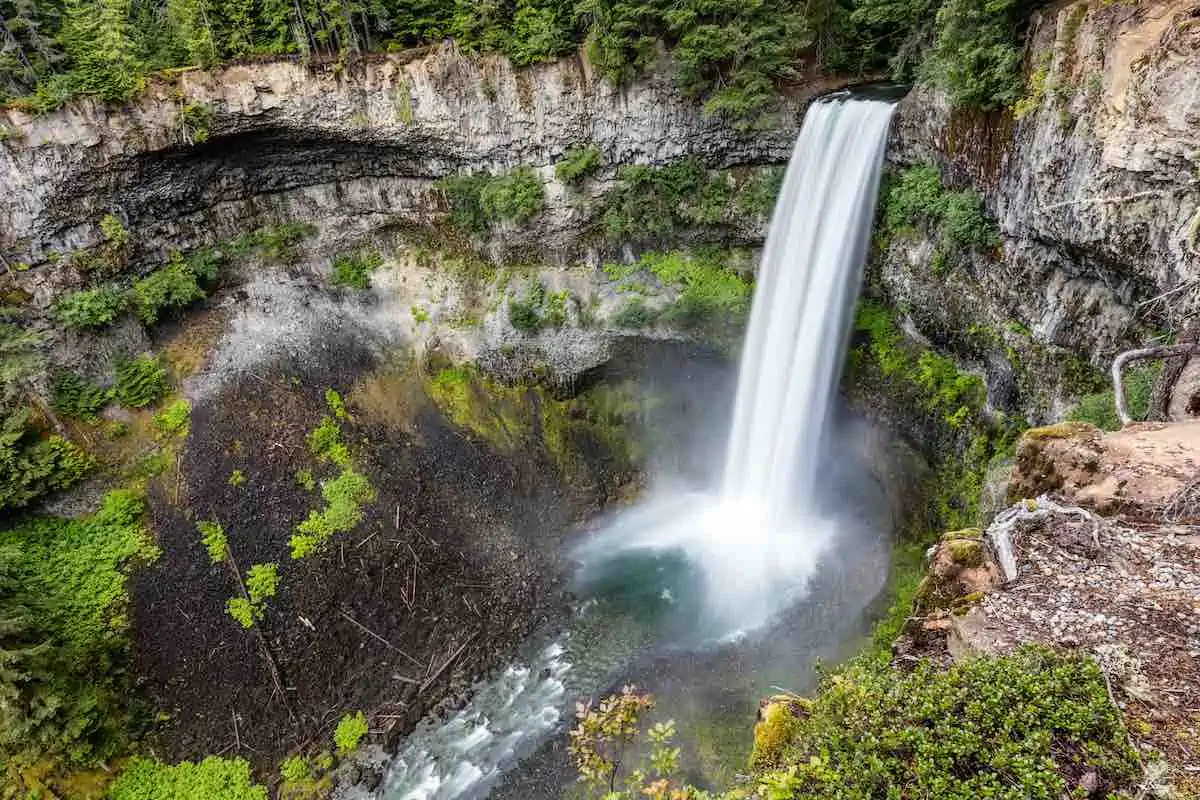 For more information about summer vacationing in Whistler, visit the Tourism Whistler website.
Where to Stay
Nita Lake Lodge: This luxury boutique resort is located in Whistler Creekside and offers incredible lake, mountain, or valley views.
Check rates and availability at Nita Lake Lodge on Booking.com
Getting to Whistler
Vancouver to Whistler Tour
The easiest way to get to Whistler is to take a Full-Day Vancouver to Whistler Tour. It includes hotel pick-up and drop off, round-trip shared transportation and a Sea to Sky Gondola ticket.
Driving to Whistler
Driving to Whistler from Vancouver is a scenic drive on the Sea to Sky highway (Highway 99). It takes a little over an hour and a half.
If you rent a car you can also stop and spend some time at Brandywine Falls and other beautiful landmarks. If you have time, Squamish is another great tourist area to explore along the way.
Get information about the types of cars available, tips on saving money on your rental car and reserve online at Discovercars.com.
Check for the best car rental rates at Discovercars.com
Shuttle Service
If not driving, you can book a shuttle service from YVR airport or downtown Vancouver to visit by coach bus. Get the schedule, fares and booking instructions on at Vancouver to Whistler Shuttle.
By Air
You can also travel from Victoria and Vancouver to Whistler by floatplane from May to October. Flight time is one hour (Victoria Harbour – Whistler) and 45 minutes (Vancouver Harbour – Whistler).
Helicopter service is available year round.
FAQs
Is it worth going to Whistler in the summer?
While it's not possible to ski or snowboard, Whistler is a fantastic destination for outdoor adventure in the summer. Go zip-lining, hike a mountain trail, splash through waterfalls, ride an e-bike, see the sights on the Peak to Peak gondola and enjoy some high-adrenaline whitewater rafting.Summer is an exciting time to visit Whistler.
What is the best month to visit Whistler in the summer?
July is the best month to visit Whistler as it receives 11 hours of sunlight a day and the average temperature is 19°C (66°F). August is the next best month.
More Ideas for Summer Travel in Canada
Save to Pinterest!
Jessica Percy Campbell is a world traveller currently based out of beautiful British Columbia. She loves to experience the latest and greatest of plant-based alternatives wherever she goes. Always venturing off the beaten path for unique local businesses and the hidden gems of vegan life, you can keep up with @veganvacationista on Instagram.
Learn more about Jessica Percy-Campbell.