We may earn income from links in this post. Please read this Disclosure for details.
Worried about seaweed in Punta Cana? Trying to decide on the best beach resort or the best beaches in Punta Cana for your vacation? We've got an update on seaweed conditions in 2020, advice about clean, calm beaches for swimming and other tips for planning a getaway to the east coast of the Dominican Republic.
The beaches in Punta Cana are world famous for a reason. Not only do they have all the natural ingredients – clean white sand, tall coconut palms and turquoise blue waters – for a perfect Caribbean getaway, but there's a wealth of all-inclusive resorts and things to do for adults-only, couples and families.
Read on for an in-depth look at what to consider when planning a vacation in Punta Cana, Dominican Republic.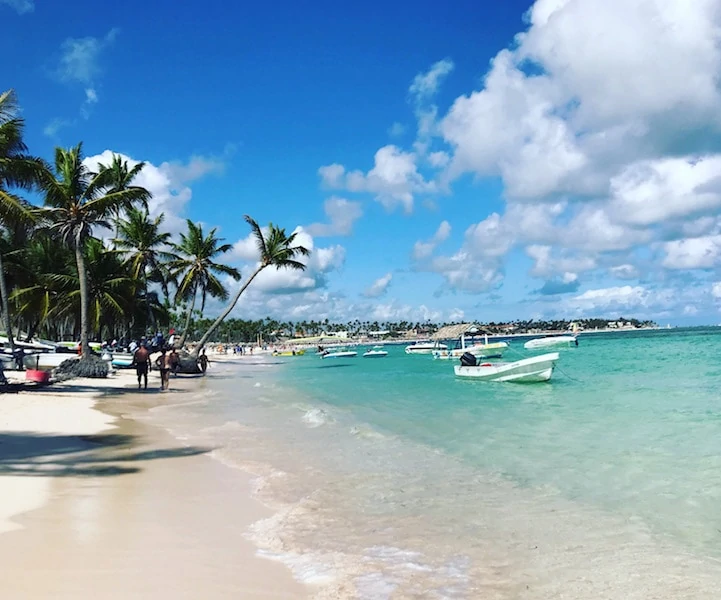 Where are the Beaches in Punta Cana?
As you can see in this map of Punta Cana created by The Orange Backpack, the beaches stretch along the eastern coast of the Dominican Republic facing the island of Puerto Rico and north of Aruba.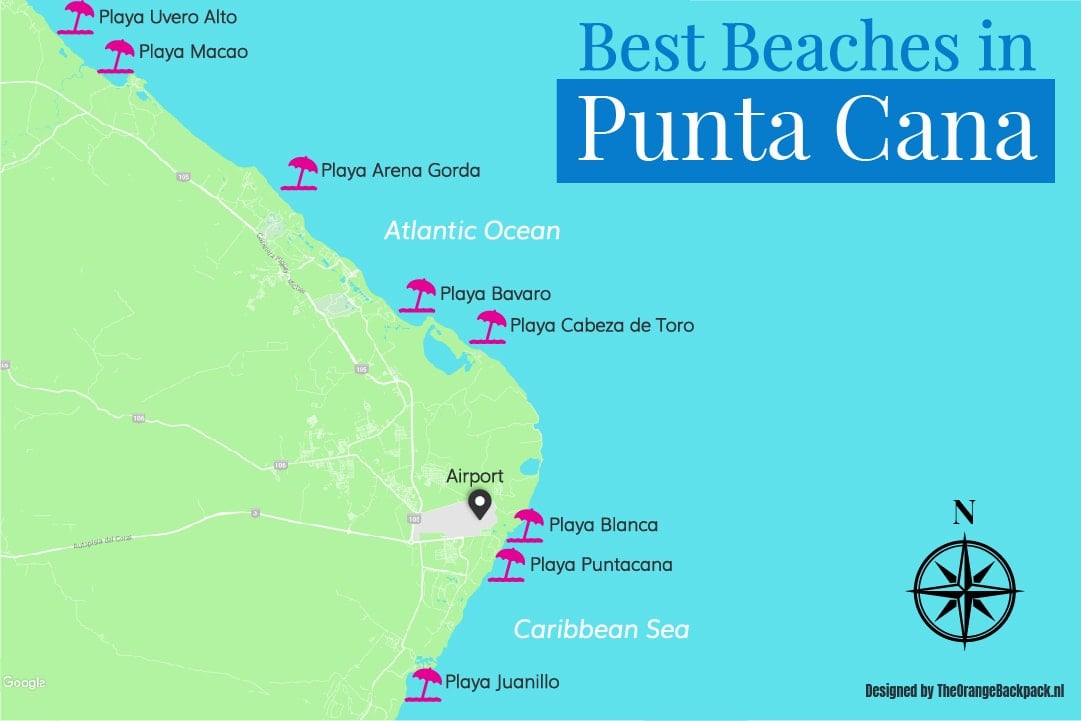 The Dominican Republic shares the island of Hispaniola with Haiti. And, Punta Cana is not in Mexico — although photos of its white sand and blue water make it easy to confuse Punta Cana with Cancun!
Although there are shopping centres, local restaurants and residential areas in the Bavaro Beach area, there's no actual city named Punta Cana.
It's actually a string of beach zones and resort areas accessible via Punta Cana International Airport. The airport code is PUJ.
While some beaches face the Atlantic Ocean and others the Caribbean Sea, the coastline is also known as the Costa del Coco or Coconut Coast, named for the tall palm trees lining the shores.
Are the Beaches Clean in Punta Cana?
The Dominican Republic is known for its unpolluted and clean beaches. Many of its beaches have awarded Blue Flag status which means they've been recognized by the Foundation for Environmental Education (FEE). Punta Cana is home to several (and a growing number of) Blue Flag beaches.
Considerations for Blue Flag status include the implementation of recycling programs, toilet facilities with environmentally responsible waste disposal and several other factors in management of the beach and coastal zone to reduce pollution and preserve beach quality.
However, Blue Flag status is based on the control of man-made pollution so does not assess or rate beach quality when it comes to sargassum seaweed or other natural materials.
If you read news reports of waves of garbage washing up on the beaches of Dominican Republic, note that this incident occurred at Montesinos Beach in Santo Domingo and is far away from Punta Cana.
Juanillo Beach – Playa Juanillo
Swing in a hammock set in a coconut grove, walk barefoot on the sandy beach at sunrise and sip coconut water from a fresh coconut at beautiful Playa Juanillo and you might feel as though you're a castaway on a fantasy island.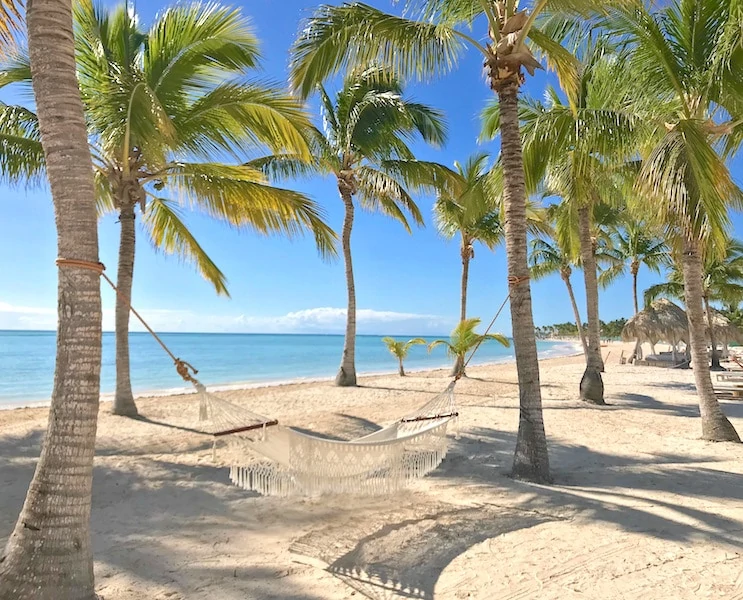 Yet despite the abundance of tropical seclusion, Juanillo Beach is actually located in the exclusive gated community of Cap Cana just 20 minutes from Punta Cana International Airport. It's one of the most southern stretches of beaches in Punta Cana and is wide and flat, as well as long enough for great morning or evening beach walks.
For swimming, it's wise to wear water shoes as there can be the occasional piece of coral or pebbles in the sand. However, the waters are generally calm enough for swimming and water sports as there is an offshore breaker.
If visiting independently, you'll need to provide identification at the security gate when you enter the Cap Cana development. However, if you're staying in one of the upscale resorts or visiting the Scape Park theme park on an organized tour, your transportation provider will take care of the entrance process.
There's also a beach club on Playa Juanillo that's part of the Scape Park. This adventure theme park features includes zip-lining, the hoyo azul (blue hole), cliffs, a playground, bat cave and more. Admission is pricey but the park gets favourable reviews, apart from their controversial use of captive animals in its attractions.
The restaurant Little John at Juanillo Beach, located in the middle of the beach zone, is a popular spot to stop for ceviche, mangú and other traditional Dominican food.
Most people who visit this beach generally stay at one of the luxury resorts. Top resorts in Juanillo Beach include Secrets Cap Cana Resort & Spa, the newest resort in Cap Cana. Although a small amount of seaweed was visible in January 2019, it was confined to a narrow band along the shore and swimming conditions were very good.
At the opposite end of the beach is Sanctuary Cap Cana Resort with the newly-built Hyatt Ziva and Hyatt Zilara in between.
Secrets Cap Cana features 457 suites offering views of the ocean or gardens. Luxury travellers should upgrade to one of the Preferred Club suites with swim-out in an oceanfront bungalow directly on the beach.
Learn more and check prices at all-inclusive Secrets Cap Cana Resort & Spa.
Learn more and check prices at all-inclusive Sanctuary Cap Cana
Playa Bavaro – Bavaro Beach
Bavaro Beach is generally considered to be the best beach in Punta Cana and the Dominican Republic overall. Lined with tall coco palms, its soft, white sand stretches for 10 kilometres (6.2 miles), with a flat slope to the water edge, which makes it perfect for long beach walks.
The majority of Punta Cana's most popular all-inclusive resorts are located on Bavaro Beach which does make it one of Punta Cana's busiest beaches.
If you're looking for outdoor adventure, parasailing, glass-bottom boat tours and other activities are also available on this action-packed beach.
If you enjoy swimming in the ocean, Bavaro Beach is your best choice for a beach vacation in Punta Cana as it has calm waters and Blue Flag status.
However, because Bavaro Beach is so long the quality of the beach, amount of seaweed and swimming conditions varies considerably.
Bavaro Beach is quite narrow at the public beach access road Marcio Veloz Maggiolo near Lio Beach Club. There's quite extensive seaweed and dredging taking place in this stretch of beach.
A good alternative is to stay in one of the resorts further south on Bavaro Beach. On this wide stretch of sand you can easily walk to whichever part of the beach you choose.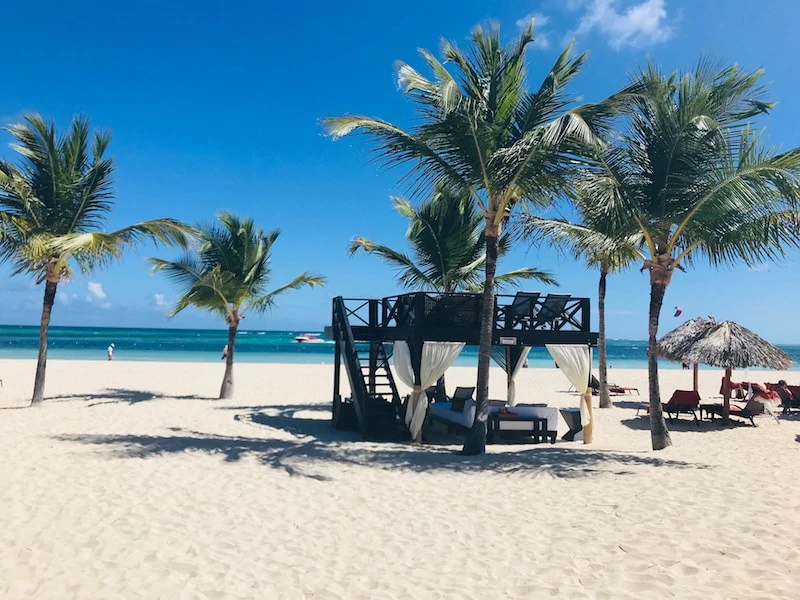 The top rated, family-friendly, all-inclusive resorts located on the wide stretches of sand at Bavaro Beach include Paradisus Palma Real, Melia Caribe Tropical and Now Larimar, known for its Core Zone, for teens ages 13-17 and featuring entertainment, daily activities as well as sports and games.
Next door is Secrets Royal Beach Punta Cana, an adults-only, 464-suite resort where guests enjoy garden, pool and ocean views as well as a free form pool that winds its way through lush gardens like a lazy river, handy if big waves or seaweed are present.
Learn more and check prices at Now Larimar Punta Cana.
Learn more and check prices at Secrets Royal Beach Punta Cana (adults-only).
Learn more and check prices at Paradisus Palma Real Golf & Spa Resort Punta Cana.
Playa Cabeza de Toro
Although Playa Cabeza de Toro is a popular beach it's not quite as action-packed as Bavaro Beach. This white sand beach surrounded with palm trees and tropical vegetation, is a great beach for snorkelling, swimming and walking.
There are two Blue Flag beaches in the Cabeza de Toro area. Grand Oasis Grand and Cabeza de Toro Natura Park are among the 21 (and growing) number of beaches in the Dominican Republic recognized by the Foundation for Environmental Education (FEE).
Cabeza de Toro is also close to the Bavaro Lagoon, a small wildlife refuge featuring mangroves that's popular for eco-tourism activities such as bird-watching, kayaking and wildlife spotting. This makes it a good beach for nature-lovers and families.
Learn more and check prices on Dreams Palm Beach Punta Cana.
Macao Beach
While many of the beaches in Punta Cana are highly developed with all-inclusive resorts and organized beach activities, as you move beyond the hotel zones, it's still possible to discover secluded, still-wild beaches.
Those looking for seclusion in the Punta Cana area, head 30 minutes north of Bavaro Beach to Macao Beach. This beach is quite undeveloped and is popular for surfing, windsurfing and parasailing. It sees considerably more wave action than other beaches in Punta Cana so is not ideal for swimming.
The closest major resort is the Hard Rock Hotel & Casino. The beaches are generally free of seaweed beyond the Hard Rock Hotel to Macao Beach.
Playa Arena Gorda – Fat Sand Beach
One of the most popular beaches in Punta Cana, this white sand beach is located between Playa Bavaro and Playa Macao. Wave action is slightly higher at Arena Gorda Beach than at Playa Bavaro but is still fine for swimming depending on ocean currents for seaweed. Playa Arena Gorda is also a designated Blue Flag beach.
Public access can be found via the KUKUA Restaurant and Beach Club beside the Bahía Príncipe. Popular all-inclusive resorts in the Playa is area include the Hard Rock Hotel & Casino and Riu Republica.
Learn more and check prices on Hard Rock Hotel & Casino.
Uvero Alto Beach
Popular among locals as well as visitors, still-wild Uvero Alto beach is located northwest of Bavaro Beach along the coast. The powerful undertow and strong wave action of this beach makes it important to choose a hotel with a swimming pool as water conditions often aren't suitable for swimming if you're not a strong swimmer.
However, if you're interested in water sports, Uvero Alto might be the perfect beach for you. You can go surfing, windsurfing and kitesurfing so it's the perfect place if you want to take surfing lessons in Punta Cana as it receives a variety of types of wave breaks suitable for all levels.
The most highly-rated school is the Uvero Alto Surf School, Escuela del Marullo as they comply with the guidelines of the International Surfing Association (ISA). Classes are available on an individual or group basis.
Grand Sirenis Punta Cana Resort Casino & Aquagames is a popular hotel at Uvero Alto Beach.
Click here to see a map of the resorts in Punta Cana
Seaweed in Punta Cana
Is there sargassum seaweed in Punta Cana? Will it ruin my holiday? What should I do if there is seaweed on the beach at my resort?
These are the questions I get asked most often by people planning a winter vacation trip to Dominican Republic and other countries in the Caribbean and Mexico.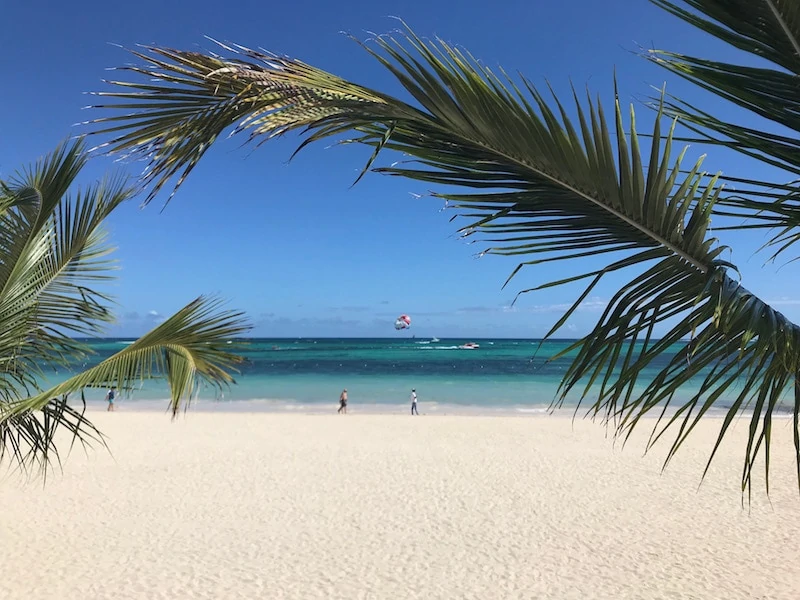 The beaches recovered quite quickly from the historic influx of sargassum during the seaweed seasons of 2015, 2018 and 2019. On many beaches in Punta Cana, the seaweed actually disappeared more quickly than in other parts of the Caribbean.
Check out our article on Caribbean beaches that historically receive little or no sargassum seaweed.
Sargassum Seaweed Facts
What is sargassum seaweed and why is it a problem? Sargassum also known as sargasso or sargazo is a naturally occurring brown algae generally found in the open ocean in the Sargasso Sea in the North Atlantic.
Wrapped by ocean currents, this mat of seaweed with pods floats on the surface of the water. It serves as a resting area and spawning ground for a vast array of life from eels to sea turtles. It's also a valuable food source for coastal birds.
While sargassum seaweed is a natural occurrence and serves as an important ecosystem, the influx of sargassum in recent years have been larger, thicker and more widespread.
Since 2011, blooms of sargassum seaweed have been appearing in the tropics sweeping up from South America through the Caribbean along the coast of Mexico from Cancun along the Riviera Maya to Tulum .
The large quantity of the sargassum seaweed, combined with differences in the composition of the seaweed itself, has posed problems for many Caribbean destinations.
This is because the seaweed not only floated offshore on the surface of the water but began washing up on beaches, trapping marine life and garbage in the seaweed itself and choking off oxygen that the fish need to breathe.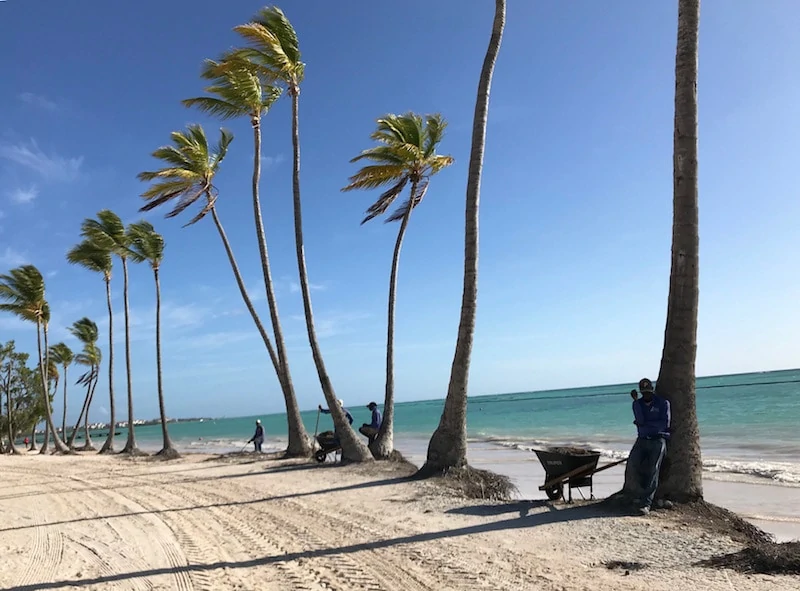 Various strategies and solutions have been developed to deal with the unprecedented waves of seaweed that have been washing onto beaches in the Caribbean and Mexico. Ideas include removing it and using barriers to catch the sargassum before it reaches the shore.
Is Sargassum Seaweed Dangerous?
Sargassum seaweed in itself doesn't pose a problem, says Dr. Jeffrey Rapaport at Holy Name Hospital in Teaneck (Emeritus head of Dermatology). Instead, it's what the seaweed harbours that can cause skin irritations and other risks.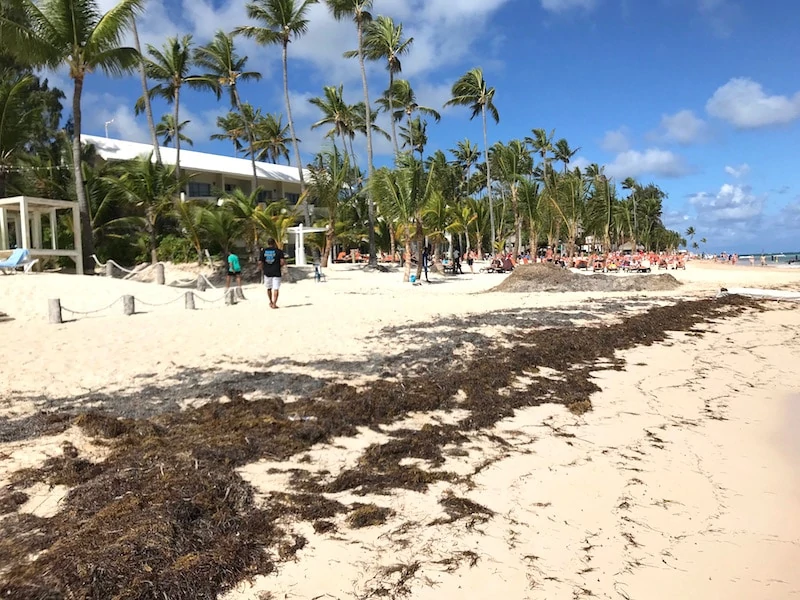 The seaweed when floating at the top of hot, shallow waters, can start to play host to microbes and strains of bacteria the skin is not accustomed to coming in contact with.
Also, you have to remember that fish normally use sargassum as a breeding grounds — leaving toxins and eggs in seaweed. Avoid stepping in or allowing children to play in the mounds of sargassum seaweed collected for disposal.
Important Facts about Seaweed in Punta Cana
It's important to consider all the facts when choosing a beach destination. Seaweed is a natural part of the marine environment and has always been present in one form or another.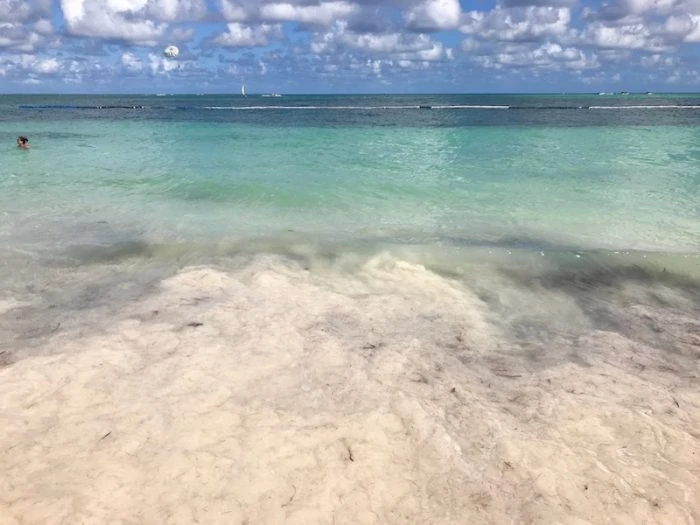 There are many beaches around the world without seaweed that you wouldn't want to spend a vacation at. For example, while I loved the atolls and islands of Tahiti, I rarely swam in the ocean as there were so many sharks.
Punta Cana has an admirable safety record (consult the U.S. Department of State for the most up to date travel advisories), a wide range of world-class resorts and is within easy flying distance of most US and Canadian cities. It also has few hazards such as jelly fish, biting sand fleas, strong ocean currents or other annoyances.
Here are some factors to consider about seaweed in Punta Cana:
Unlike other Caribbean destinations where sargassum seaweed can arrive and not wash away, thanks to the ocean currents on the northeast coast of Dominican Republic the quantity of seaweed varies daily. Some days in Punta Cana, you might see no seaweed on the beach and on other days more.
The quantity of seaweed even varies along each specific beach. This means that avoiding seaweed can be as simple as taking a walk along the beach to a section that's clear.
When considering which resort to choose for your vacation in Punta Cana, it's wise to look for resorts with large swimming pool zones and/or multiple swimming pools. On days when there's seaweed or the water is choppy ( yes, that does happen!) then you've got the option to enjoy a sunshine in a tropical atmosphere without swimming in the ocean.
Just because there is seaweed doesn't mean you can't swim. Quite often, there is a band of sargassum at the edge of the shoreline but beyond it clear waters.
On days there's seaweed you can take an excursion and explore coffee plantations, go zip-lining, climb waterfalls and immerse yourself in Dominican culture.
Another option is to look for a resort with a hydrotherapy circuit. The use of water for therapeutic purposes draws on the healing powers of alternating temperatures to boost health and wellness. The best hydrotherapy circuits feature hot and cold plunge pools, saunas, aromatic steam baths and ice caves. Both Secrets Cap Cana Resort & Spa and Secrets Royal Beach Punta Cana have hydrotherapy circuits. Secrets Royal Beach Punta Cana also happens to have a lazy river, a freeform swimming pool that meanders through the entire property.
Snorkeling excursions such as the full day snorkeling trip to Catalina Island can also be another great option.
Seaweed Forecast for 2020 in the Caribbean
What is the sargassum seaweed forecast for 2020? Based on an analysis of data issued by the Sargassum Watch System (SaWS) at the University of South Florida's Oceanography Laboratory, the forecast for the seaweed season in 2020 is optimistic. There is potentially good news.
According to satellite tracking of sargasso seaweed in the Caribbean Sea, Gulf of Mexico and central West Atlantic by the University of South Florida, the quantity of bloom observed in December 2019 was much lower than it was in previous years.
According to the Optical Oceanography Laboratory, high quantities of seaweed in November and December generally leads to high seaweed in the spring.
The relatively lower amount of seaweed in the Atlantic in late 2019 suggests that the amount of seaweed during seaweed season in 2020 might not be as large as it was in previous years.
So, continuing to monitor the current amount of seaweed MAY help predict the general quantity of seaweed in spring and summer. However, much is uncertain and it's impossible to accurately future bloom probability for the Caribbean Sea or for a specific location including Punta Cana.
The Sargassum Watch System cautions that conditions can change quickly and information is simply a general outlook. It should not be used to predict seaweed conditions on any island or any specific beach.
Sargassum Seaweed Maps
What does this mean for seaweed conditions in the Dominican Republic? It's difficult to predict but one valuable resource is the Sargassum Early Advisory System (SEAS), a forecasting project based in Texas intended to help predict the movement of sargassum blooms.
It was originally created in 2013 to help with forecasting of the large Sargassum landings in Texas. But by 2017 the SEAS project had expanded to provide eight-day forecasts of sargassum seaweed masses for the Gulf Coast, Mexico, Grand Cayman, Jamaica, Saba, Puerto Rico and many other Caribbean islands.
Another resource is the Sargassum Watch System (SaWS) developed by the University of South Florida's Oceanography Laboratory. It uses satellite data from NASA and mathematical models to detect floating algae and track the movement of sargassum in the Atlantic, the Caribbean Sea and Gulf of Mexico. You can view SaWS maps online and track the presence of seaweed and its movement.
Resources specific to the beaches in Punta Cana include the Live Webcams operated by the Palladium Group.
If you enjoyed this post, please subscribe to our free monthly newsletter. It often contains updates on the beaches in Punta Cana and other beach destinations in the Caribbean and Mexico.
Dividing her time between Canada, Guatemala and Mexico (or the nearest tropical beach), Michele Peterson is the founder of A Taste for Travel. Her award-winning travel and food writing has appeared in Lonely Planet's cookbook Mexico: From the Source, National Geographic Traveler, Fodor's and 100+ other publications.
View more posts by Michele Peterson Read more