We may earn income from links in this post. Please read this Disclosure for details.
It's easy to get swept up in resort food and high-end dining when visiting Punta Cana. But this beach destination on Dominican Republic's northeast coast has a hidden secret.
It also happens to be a hot spot for la cocina Dominicana – authentic Dominican food.
During my dozens of visits to this stretch of coastline, one of the first things I do after walking its beautiful beaches is go exploring the Punta Cana food scene at one of the many local restaurants and street food stands.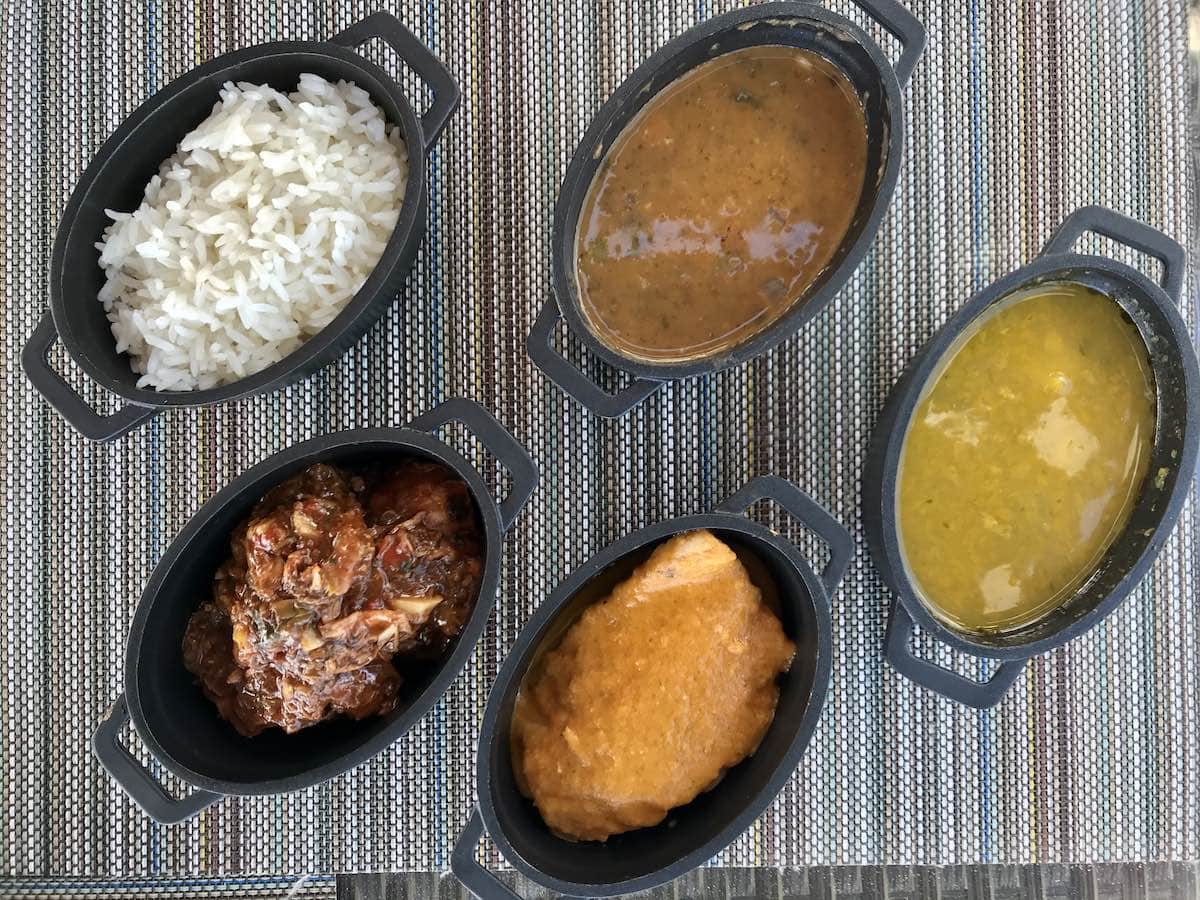 Dominican Republic food is a mix of African, Caribbean, Spanish and Taino indigenous influences. It's a melting pot of unique and delicious flavours.
So be sure to factor in some time to enjoy some of the most popular authentic Dominican food in Punta Cana.
Here are some of the top dishes and best food in Punta Cana, Dominican Republic to add to your must-try list.
1. Mangú – Mashed Plantain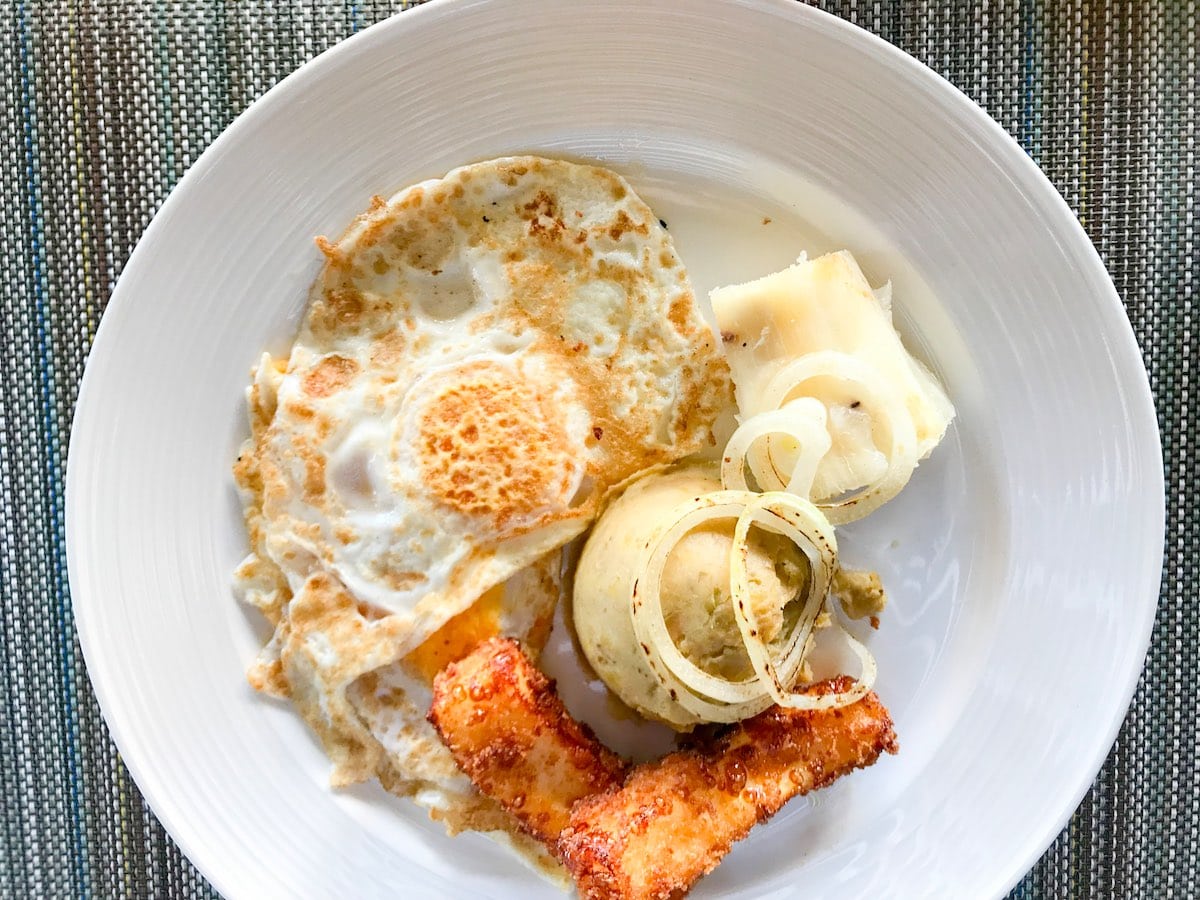 One must-try food in Punta Cana is mangú or mashed plantain. Although it's also popular as a side, this staple of Dominican cuisine is most often served for breakfast.
To make this powerhouse of a breakfast dish, green plantains are boiled and then mashed in the water they have been cooked in. To enhance the flavour, sautéed red onions cooked in apple cider vinegar (similar to the pickled onion dish siboyo tempera of Aruba) are added to the top.
Another variation of mangú includes a topping of queso frito (fried cheese), fried salami (yes, you read that right!) and fried eggs.
Try it: You can find mangú on the breakfast menu at Little John at Juanillo Beach, a Punta Cana restaurant popular for casual toes-in-the sand beachfront dining.
2. Ceviche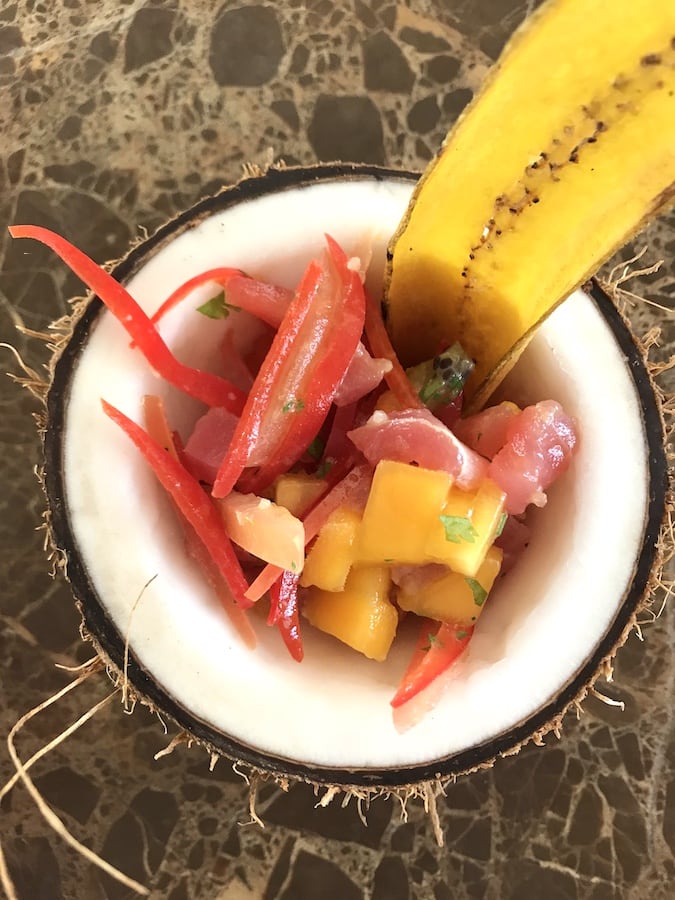 Popular throughout Latin and South America, ceviche features fresh seafood such as shrimp and tuna "cooked" in lime juice. It's enjoyed as an appetizer and as a beach snack.
Unlike Guatemalan ceviche which is most often served with saltine crackers, in Punta Cana, you'll have the opportunity to enjoy your ceviche with tostones.
These twice-fried plantains are exceptionally delicious…you definitely won't be able to stop at just one!
3. Sancocho Soup – 7 Meat Stew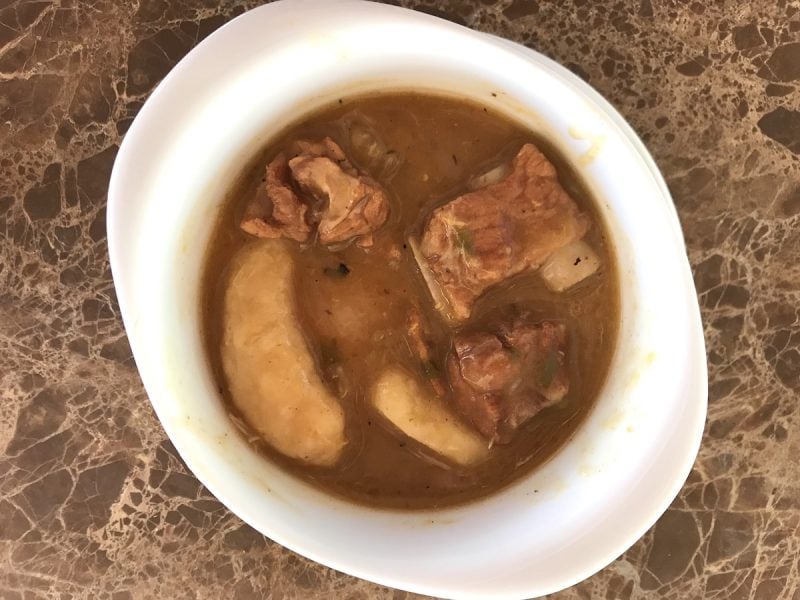 In the Dominican Republic, sancocho soup is considered one of the national dishes. So it should definitely be on your list to try.
While variations of this soup are found throughout Latin America — sancocho soup in Panama is a brothy chicken soup flecked with culantro (also known as chadon beni) — in the DR it's more like a meaty stew.
Much like oildown –the national dish of Grenada — Dominican sancocho features meat, tubers (or provision) and other vegetables as the basic elements.
It also has white rice, red beans, and chicken, although sancocho can also be found with pork, sausage, goat or beef meat, as well.
Try it: Sancocho with 7 Meats is one of the most popular dishes on the Sopas y Caldos menu at La Casita de Yeya in Punta Cana Village near Punta Cana International Airport.
4. Lechon Asado – Grilled Pork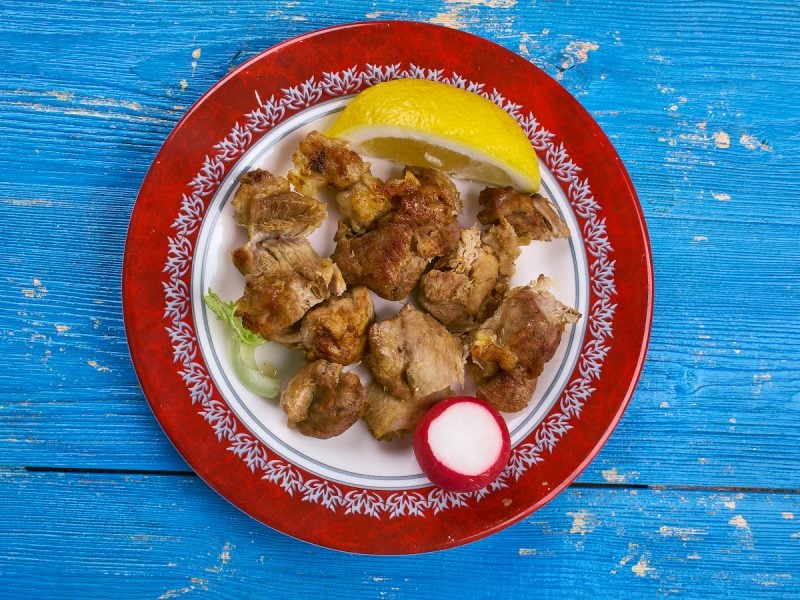 One of the most popular Punta Cana foods at Christmas is lechon asado – roast suckling pig that's been marinated in a mix of olives, garlic, naranja agria ( bitter orange juice), oregano and other spices. It's then roasted until crispy tender.
Perfect for serving a crowd, it's often the centerpiece of entertaining Dominican style.
5. La Bandera Dominicana
Plenty of people proclaim La Bandera to be THE national dish of the Dominican Republic. It's also a staple at many lunchtime meals where it appears as el plato del dia or daily special on restaurant menus.
What makes up La Bandera? Named after the Dominican Flag, it's a trio of three main things – white rice, red beans and stewed meat — plus a salad.
First, the red kidney beans are cooked in a savoury tomato sauce fragrant with garlic, onion and green pepper. It's often served beside the rice but may also be served on top of the white rice.
The meat is usually pollo guisado (stewed chicken) or chivo guisado (stewed goat) but pork and beef are also popular.
Finally, there's almost always a simple fresh salad with lettuce and tomatoes, a slice of avocado or some crispy tostones – fried green plantain.
6. Bifongo or Mofongo
One of the most famous Dominican dishes also happens to be well-known on the Caribbean island of Puerto Rico. Both bifongo and mofongo are made with fried plantains, garlic and chicharrones (deep fried pork skins) that are mashed together in a mortar and pestle.
The mixture is then shaped into a bowl and filled with meat and topped with crema.
You'll often see bifongo served as a side dish, but if you'd like to try a version that's a showpiece on its own head to Foodie's Truck Bavaro where Platanos food stand serves a spectacular version of this famous Dominican dish.
While there, you can try several other typical local dishes as well as popular international foods such as pizza, burgers and kebabs.
Try it: Foodie's Truck Bavaro is located overlooking the mangroves on Avenida Alemania on the way to Los Corales Beach in the Bavaro Beach area of Punta Cana. Note that COVID-19 restrictions may affect hours of operation.
7. Yaroa
This popular street food originates from Santiago (full name is Santiago de los Caballeros) near Puerto Plata in the northern part of the country.
It's grown in popularity so you can now find it throughout the Dominican Republic sold by street vendors or casual eateries. It's famous as a late night snack after partying.
Almost like a cross between nachos and French Canadian poutine, it features French fries or mashed plantain, slathered with layers of meat and melted cheese. You add your own mayo, ketchup or mustard as you like.
High in fat, carbs and calories, this messy Dominican delicacy is a must-try!
Try it: Get an order of las yaroas Santiagueras to take-away or enjoy it with a cold beer on the patio at La Casita de Yeya in the Punta Cana Village. Choose from chicken or beef or mixed!
8. Empanadas
While empanadas are a typical food enjoyed throughout the Latin world, in the Dominican Republic they are especially popular. You can find empanadas served warm at parties, street vendor stalls and in bakeries/stores.
Perfect as a filling snack, this popular Punta Cana food is made of a buttery, pastry-like dough and comes packed with savoury spiced meat (usually beef). But you can also find chicken, vegetarian or cheese empanadas.
You won't be able to stop at just one!
9. Paella or Locrio
One of the best foods to eat in the Dominican Republic is locrio, the island's equivalent of paella, the famous dish of Valencia, Spain.
This delicious traditional Dominican food is made by cooking seasoned rice and chicken (or seafood) in a large pan.
It's perfect for serving a crowds so is ideal for parties and special occasions. Everyone get a generous scoop of the meats and the crispy crust of flavourful rice baked on the bottom of the pan.
10. Grilled Spiny Lobster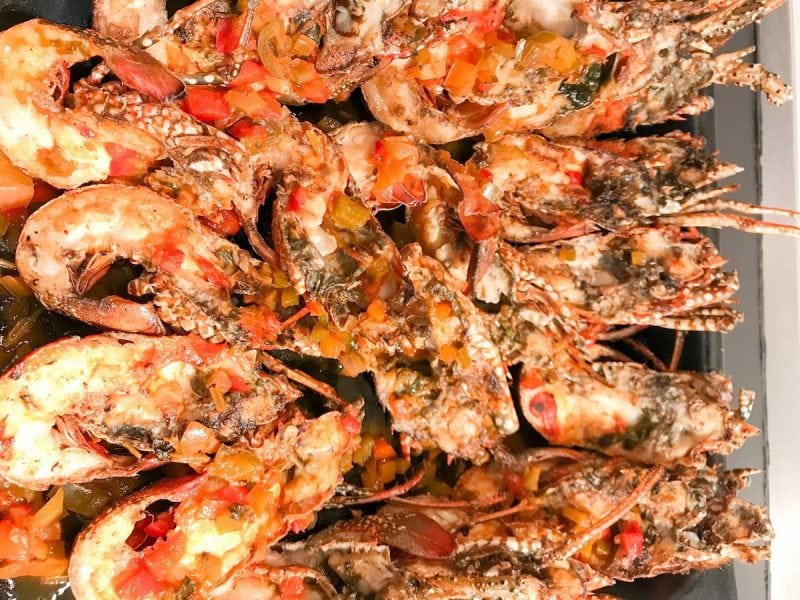 Popular throughout the Caribbean and the Bahamas, spiny lobster is usually enjoyed plucked fresh from the sea and grilled quickly over hot coals.
It's often served with rice and a simple lettuce salad.
Grilled lobster is Caribbean beachside eating at its delicious best!
11. Pica Pollo – Deep Fried Chicken
If you can imagine a cross between fried chicken and chicharrón de pollo, then you'd be close to describing pica pollo.
This popular Dominican dish is made by deep-frying chicken in a savoury, spiced coating. It's crispier and more golden in colour than everyday fried chicken.
Enjoy this typical Dominican cuisine with fried green plantain and french fries, then start your diet the next day!
12. Pescado Frito – Whole Fried Fish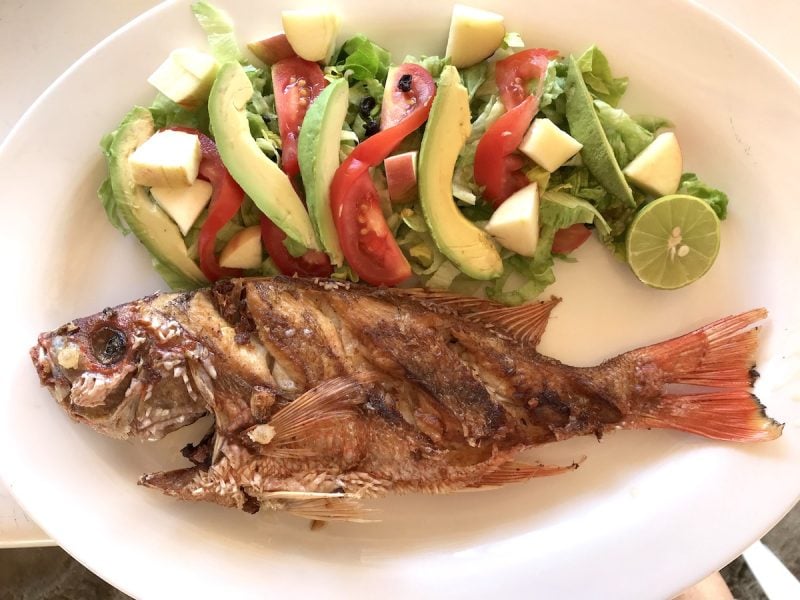 If you're headed to one of the beautiful beaches in Punta Cana then you've got the ideal setting to enjoy fresh-caught whole, fried fish.
If you have time for only one day trip to a beach restaurant, then head to Restaurante El Morro at Macao Beach.
One of the best casual beachfront restaurants in Punta Cana, they serve jumbo-sized lobster, fresh-caught mahi-mahi and other grilled foods with sides of crispy tostones, hot sauce and of course, a chilled Presidente beer.
13. Pastelitos – Hand Pastries
Everyone loves finger food, and odds are good that you'll end up falling in love with pastelitos on first bite. Call them hand pies if you will.
These delicious snacks are made tiny, so you'll feel less guilty eating ten.
There are dozens of ways to make them. The variations begin with what flour is used for the dough and continues with the filling. Savoury meat fillings are common, but sweet guava or mango-filled pastelitos are also popular.
The good news about this popular Dominican food is that you don't have to look hard to find it!
In Punta Cana there might even be a vendor around the corner from your hotel.
13. Habichuelas con Dulce – Sweet Cream of Beans
This is a popular Lent and Easter dessert in Dominican Republic and the recipe for habichuelas con dulce varies among families. While many Dominican dishes have variations in the Latin world, this one stands alone as being especially unique.
With a mixture of red beans, sweet potatoes, cinnamon, raisins, coconut milk, and more, you might be surprised by the final outcome. Muy delicioso!
14. Dominican Cake or Bizcocho Dominicano
Dominican cakes are similar to pound cakes but a bit lighter and include fruit, most commonly pineapple. Layers are important: the more layers, the bigger the occasion.
Butter is also a very important component, giving it a rich taste that only butter can give. Frosting is another thing that sets it apart. No buttercream here, instead the frosting is meringue-like for a light and airy effect.
15. Jalao
For a final sweet treat, why not savour some jalao? This honey and coconut candy is a very simple dessert, but you might have to get in good with a Dominican family to enjoy it.
It's an everyday dessert that's rarely sold in stores or available in Punta Cana's all-inclusive resorts. How simple you're asking? It's honey and coconut, really that's it!
Other Authentic Dominican Food and Drink to Try in Punta Cana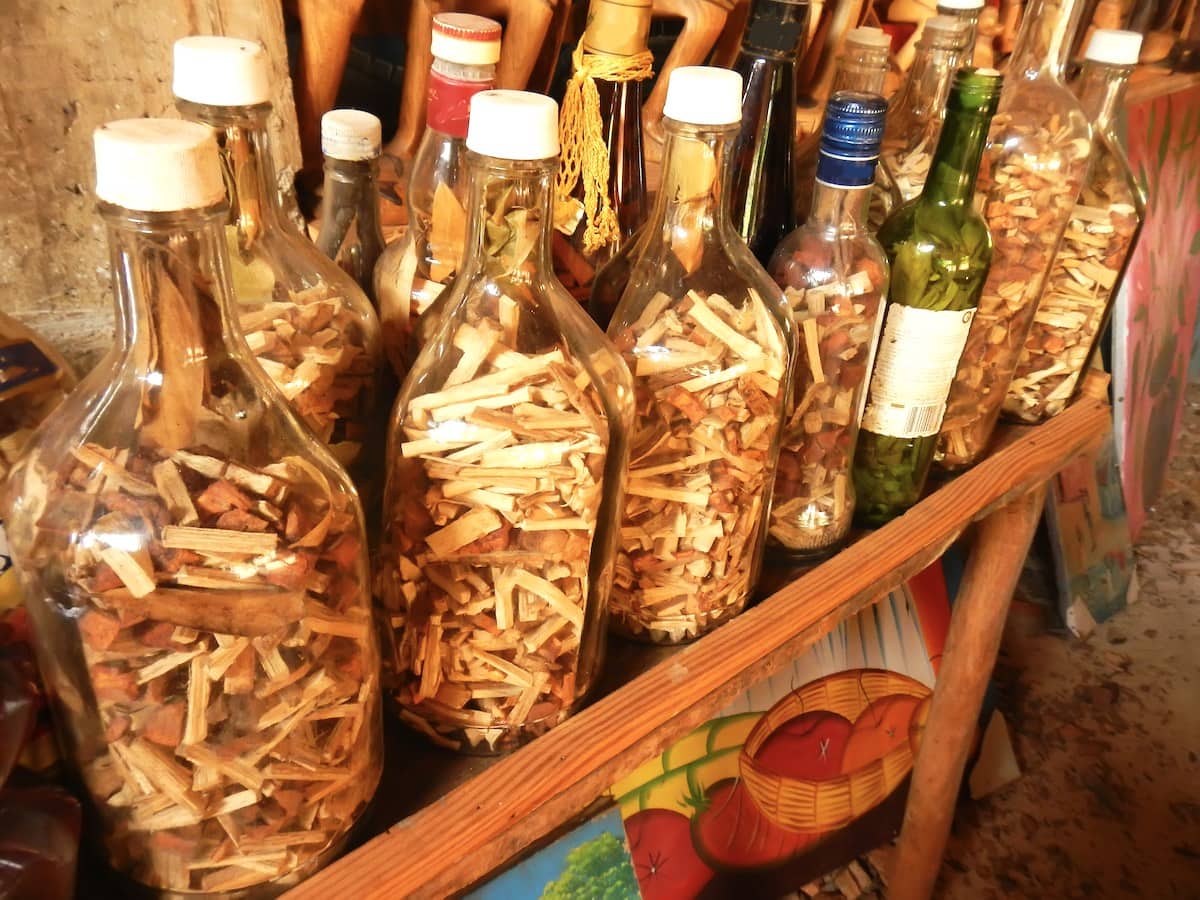 Mama Juana – A Famous Dominican Drink
No trip to Punta Cana would be complete with sampling mama juana, an artisanal product that's best described as a medicinal tincture. The stuff of legends, it's allegedly an aphrodisiac, sexual potency boost and a cure for whatever ails you.
Although the recipe varies by who ever is making it, mama juana is generally made with rum, red wine and honey infused with tree bark, roots, spices and herbs such as milkberry, cinnamon, cloves and star anise. Much like "under the counter" rum of Grenada or "bush rum of Monterrat, the longer it steeps the more potent it becomes!
Try it as a shot and you can say you've sampled the national drink of Dominican Republic and survived!
Is mama juana dangerous?
If you have allergies or sensitivities of any kind, it's best to avoid drinking mama juana unless you can determine exactly what's in the concoction.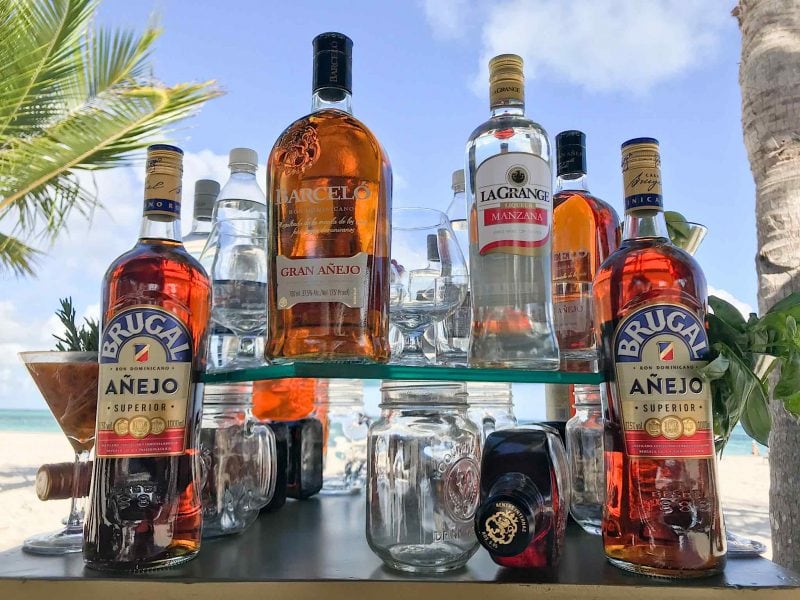 Dominican Rum
Another must-try drink in Punta Cana (or anywhere else in the country) is Dominican rum.
One of the best known brands of rums is Barceló produced at its distillery in San Pedro de Macorís. Also popular is Brugal, founded in 1888 and famous for being the first aged rum in the Dominican Republic.
The best way to appreciate the fine qualities of aged Dominican rum is to enjoy it straight.
But mixed drinks such as mojitos (made with a variety of fresh fruits as well as mint) and classic tropical cocktails such as piña coladas are a must-try at a beach bar in Punta Cana.
If you're looking for an all-inclusive resort with a great selection of local Dominican rum, you won't be disappointed with Secrets Royal Beach Punta Cana on Bavaro Beach. They often offer tutored tastings and mojito classes so you can learn while you sip.
Save to Pinterest!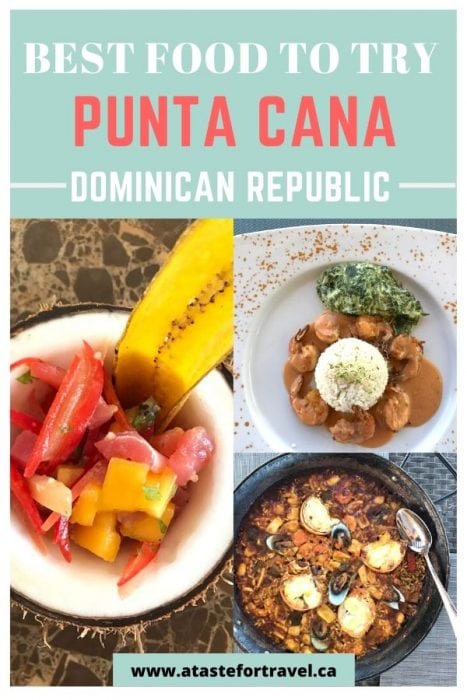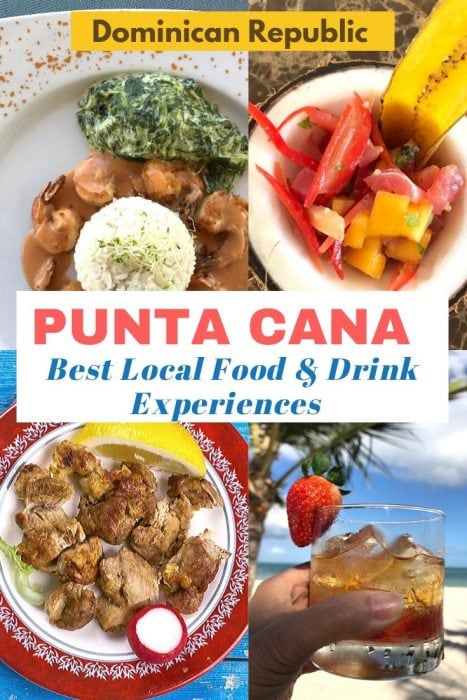 Dividing her time between Canada, Guatemala and Mexico (or the nearest tropical beach), Michele Peterson is the founder of A Taste for Travel. Her award-winning travel and food writing has appeared in Lonely Planet's cookbook Mexico: From the Source, National Geographic Traveler, Fodor's and 100+ other publications.
Read more about Michele Peterson.