We may earn income from links in this post. Please read this Disclosure for details.
This 3-day Puerto Rico Itinerary highlights the best things to do in Puerto Rico as well as some insider tips on sights, restaurants and activities for the trip of a lifetime.
I fell in love with this magnificent island the second I laid my eyes on it and have returned to vacation here many times over the past several years.
In this Puerto Rico itinerary, I'll share details on the best things to do in Puerto Rico as well as some insider tips for you to have the ultimate Caribbean vacation on this beautiful island.
Located in the Caribbean Sea, east of the Dominican Republic and west of the British Virgin Islands, the island archipelago of Puerto Rico will steal your heart the second you step foot on its soil!
Is Three Days Enough in Puerto Rico?
If you're wondering how many days to spend in Puerto Rico, it's worth considering that while there's lots to do on the island, it's relatively compact.
This means that while there is plenty to keep you busy for 10 days, it's possible to have a great vacation in Puerto Rico even if you just have three days or a long weekend.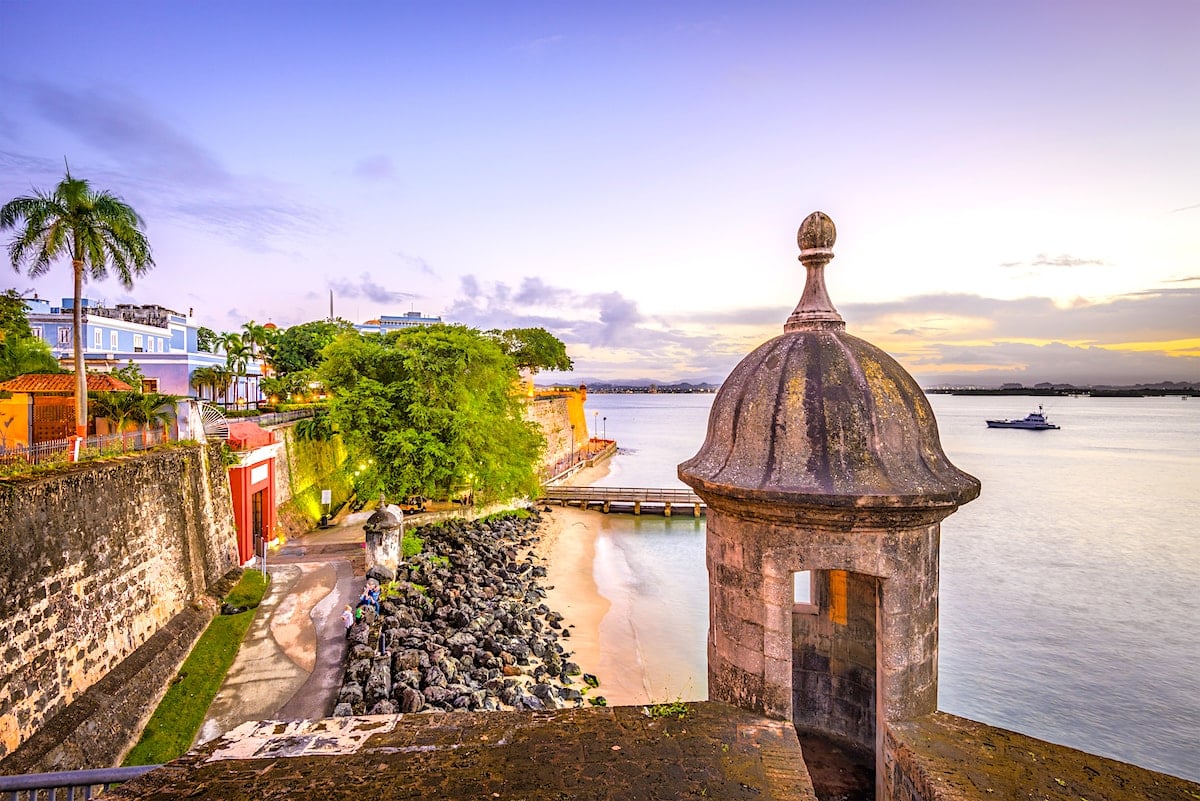 If this is your first time visiting Puerto Rico, I recommend staying in the capital city of San Juan.
More people know English in San Juan (and in Old San Juan specifically) than in the outskirts of the city.
That was important for me as I'm not fluent in Spanish.
Also, most of the major tourist sights are located in San Juan which makes transportation and getting around fairly easy.
If you'd like to go exploring further afield, check out these suggestions for a 3-day Puerto Rico road trip.
Day 1: Relax in San Juan
Breakfast
Start your day right with the most important meal of the day – breakfast!
If you're staying near the Condado area of San Juan I would recommend grabbing breakfast at Pannes (Google Map).
This little breakfast joint has amazing food to kick off your day the right way. And they serve breakfast all-day to no need to rush down. All at a great price too! Try a breakfast scramble with a cappuccino and fresh-squeezed fruit juice.
Also, make sure to try the tostones. Tostones are deep-fried plantains chips that are extremely popular in Puerto Rico as well as the Dominican Republic.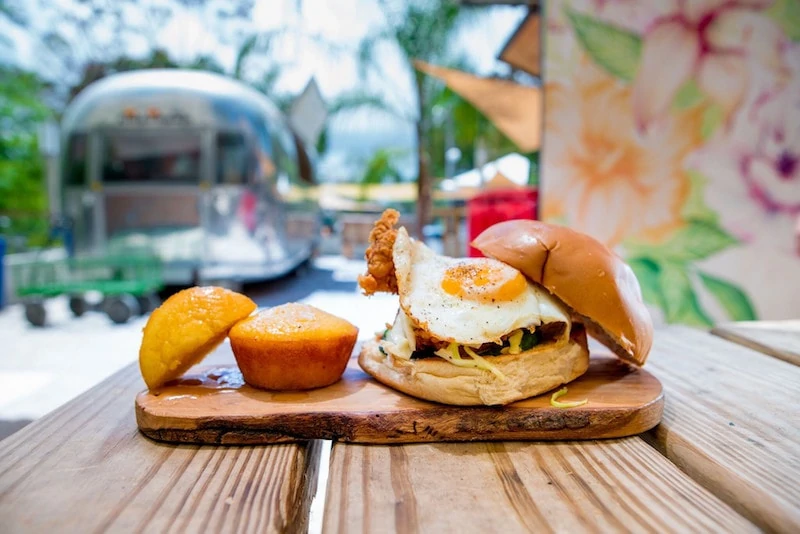 Soak Up Some Sunshine on a San Juan Beach
I don't know about you but when I think of the perfect way to relax, sipping a cocktail or cool drink on the beach always comes to my mind.
So one of the first things on your Puerto Rico must-do list is to head to either Condado Beach or Isla Verde Beach. They're two of the best beaches in San Juan!
I spent my day on Condado Beach and loved how they delivered food and drinks while I relaxed to the backdrop of the waves.
If you're feeling the heat, be sure to grab yourself a Coco Rico while you lay out on the beach.
Coco Rico is a traditional Puerto Rican coconut soda drink, also known on the island as the Coke of Puerto Rico. It tastes like carbonated coconut water and is super thirst quenching.
Another option if you're up for some outdoor adventure is to do some snorkeling.
There are lots of guided snorkeling tours in Puerto Rico but one of the best happens to take place on Escambron Beach in San Juan.
On this guided snorkeling adventure you'll be accompanied by a professional diver who will help you discover Puerto Rico's fantastic underwater marine life.
You may encounter eagle rays, blue tang, dolphins and many other species such as sea turtles in these coastal waters.
Hawksbill, leatherback and olive ridley sea turtles are often seen nesting on local beaches between February and August.
Check rates and availability of a Guided Snorkeling Tour (including snorkel equipment) on Viator.com.
Afternoon: Take a Mixology Class at Casa Bacardi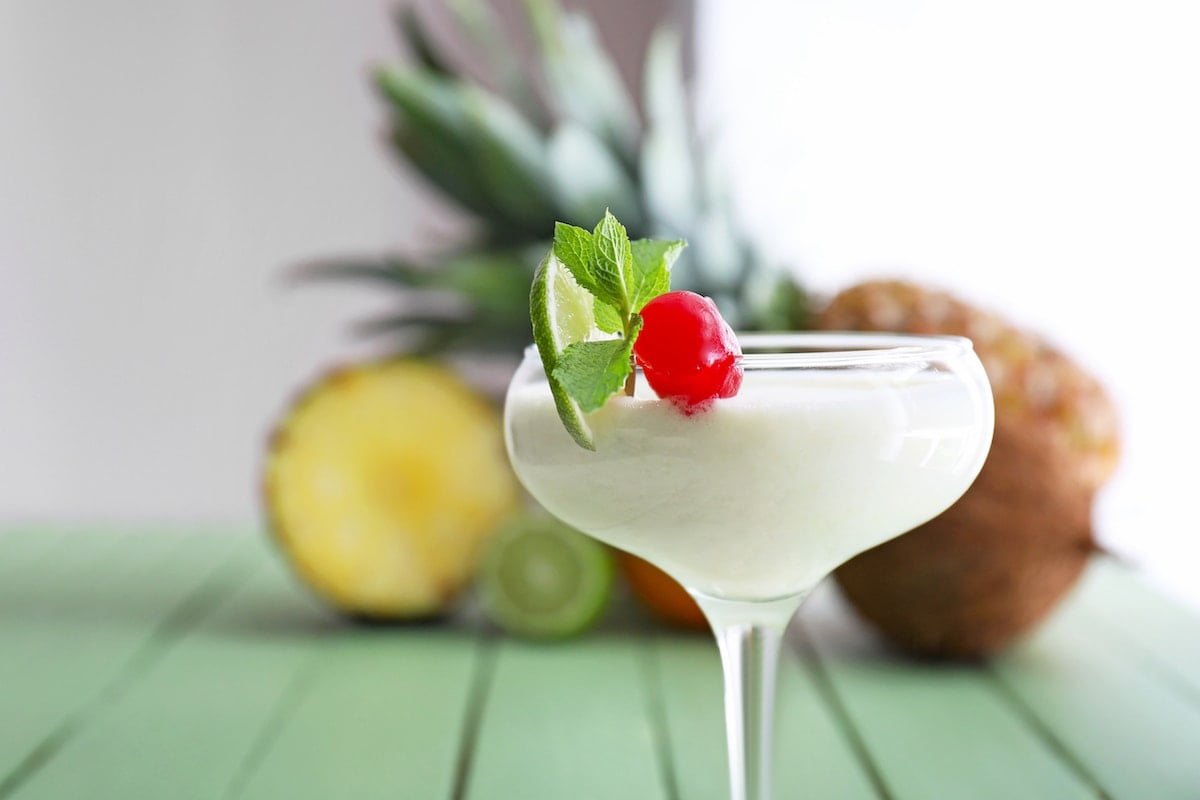 Puerto Rico is world famous for its rum cocktails. So a must-do on every Puerto Rico itinerary is to take a Mixology Class and Tour of Casa Bacardi, the island's historic rum producer.
During this 1.25 hour tour you'll enjoy a welcome cocktail, tour the Bacardi Visitors Centre and then learn how to make classic cocktails like mojitos and piña coladas.
It's a fun way to soak up some history and get out of the sun.
Check rates and availability of a Mixology Class at Casa Bacardi on Viator.com.
Grab Dinner in San Juan
Okay, I will let you in on a little secret, Di Zucchero (Google Map) is hands down one of the best Italian restaurants I have ever been to.
If you love Italian food (Who doesn't love Italian?) then this place is for you!
Although, they have more to the menu, the pizza at this restaurant is absolutely delicious! I highly recommend the 4 queso pizza or the John Gotti pizza. Yum!
Another option for dinner if you're with a girls getaway in Puerto Rico is Atelier at Cocina Abierta.
This cool space in San Juan (Google Map) offers interactive cooking classes where you'll have fun learning how to make unique Puerto Rican drinks and dishes.
Many of the ingredients are sourced from Frutos del Guacabo, a sustainable Puerto Rican farm.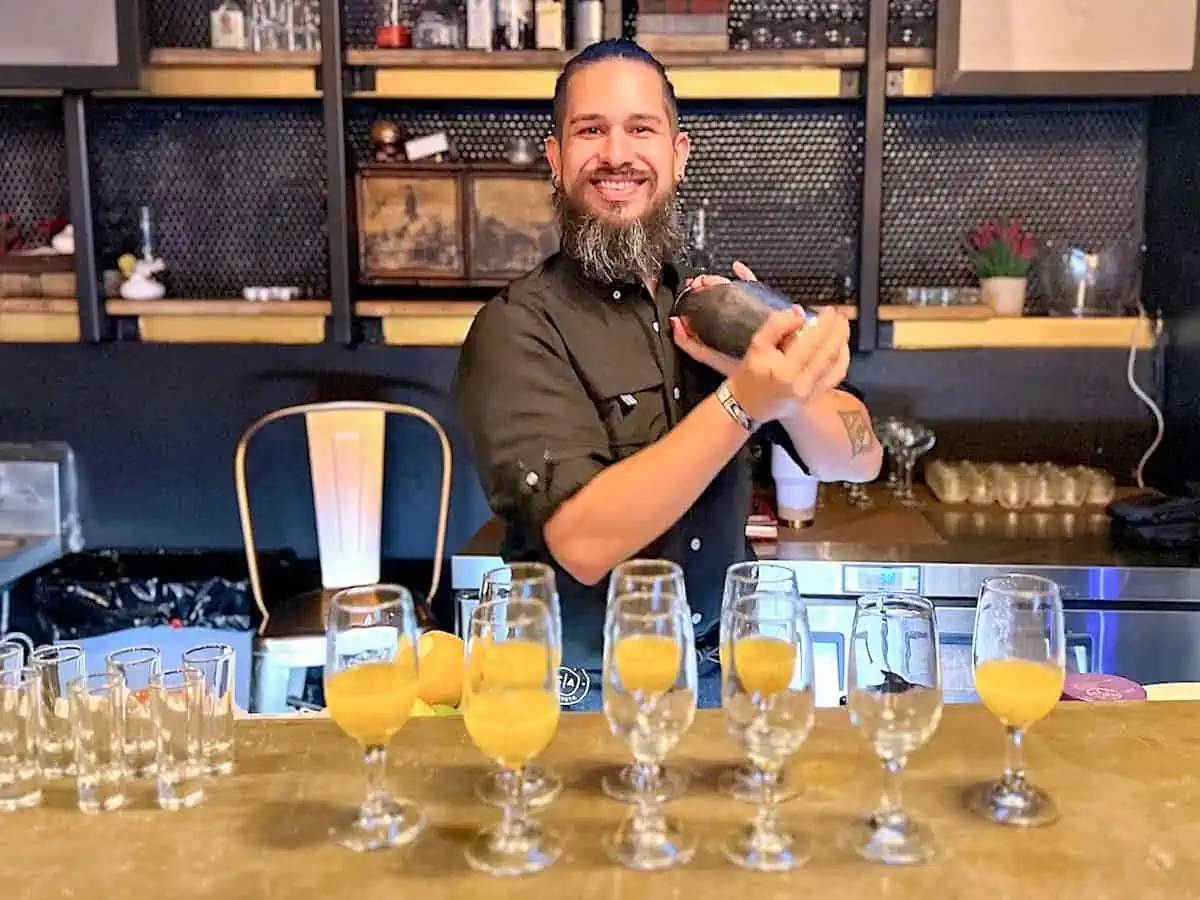 Day 2: Explore Old San Juan
From the beautiful Spanish styled architecture, the cobble stoned streets and vibrant colored buildings, Old San Juan will forever hold a piece of my heart.
A must-add to any Puerto Rico itinerary is spending a day in Old San Juan.
There are so many different things to do in Old San Juan, whether you're looking to shop till you drop, indulge yourself in some authentic Puerto Rican cuisine or just let your wanderlust run free.
Old San Juan is where it's at!
It's also the best place to capture some photos to remember the memories of your trip. The colourful buildings in Old San Juan make the perfect backdrop for photos.
For the best results, hire a professional Puerto Rico photographer to spend a few hours and take some expert images.
Not only will they know the best locations (away from the crowds) but a pro can help with posing so the photos look natural.
Don't Forget Breakfast!
Again, breakfast is the most important meal of the day. Before wandering the streets of Old San Juan, grab a hearty, healthy breakfast at Genesis Restaurant (Google Map). I ordered a vegetable omelet and it surpassed any and all expectations.
🌟 Insider Tip: On my trip I tried for the first time empanadallas, another popular Puerto Rican dish, and they were absolutely delicious.
I highly recommend trying them during your time on the island. They are almost the same as empanadas but empanadallas have a thicker crust.
Explore the Major Attractions in Old San Juan
Alright, now that you got your hearty breakfast out of the way, it's time to explore the beautiful attractions around Old San Juan.
With so many different things to do in this colourful city, to make the most of your three-day itinerary you need to narrow it down to the very best.
The historic section of the island's capital is rich in history and culture. Here are my favourite activities, attractions and places to see in the cobbled streets of Old San Juan.
Photograph the Architecture
The colorful doors, balconies and windows of the colonial buildings of El Viejo San Juan are eye-catching and memorable. The Puerto Rican Flag Door (Google Map) is one of Old San Juan's most famous landmarks for photographers.
Visit La Fortaleza and San Juan National Historic Site
The Castillo San Felipe El Morro is a fort built by Spain to protect Puerto Rico from attacks and unwanted visitors in 1843.
It is 140 feet above sea level and offers a gorgeous, panoramic view of the vast ocean. It was created with different levels including towers, tunnels, dungeons and more.
It's definitely a sight worth adding to your itinerary. Fort San Cristóbal, also built by the Spanish, is another popular attraction at this UNESCO World Heritage Site.
Shop (and eat) on Fortaleza Street
One of the most famous streets in Old San Juan, Fortaleza Street is filled with all kinds of shops, boutiques and outdoor restaurants.
It's the perfect place to soak up some of Puerto Rico's distinctly unique culture.
Visit a Market
Browse the bright regional fruits, spices, fish and flowers in lively regional markets such as Plaza Mercado and Mercado de Rio Piedras.
Lunch: Explore the Flavors of San Juan
For an immersion into the flavours of Puerto Rico, take the Flavors of San Juan Food Tour. There is no better way to learn about the island's distinct cuisine than going on a food tour.
During the Flavor of San Juan Food Tour, a local guide will take you around Old San Juan on a 1-3 hour food tasting excursion.
Not only will you learn about the city's history during your walk but you will be taken to different establishments to sample the best authentic food on the island.
Get a taste of Puerto Rican cuisine by tasting vegetable-stuffed fried plantains to mofongo and so much more!
Check rates and availability of the Flavors of San Juan Food Tour on Viator.com.
Dinner at Punto de Vista Rooftop Restaurant and Cocktails
End your night by grabbing dinner and a cocktail at Punto De Vista (307 Calle Fortaleza, San Juan). This rooftop restaurant located in Old San Juan is a popular spot for pre and post-dinner cocktails as well as dining.
Make sure to try some pastelon, pastelon is pretty much Puerto Rican lasagna and it is to die for!
The mojitos in Puerto Rico are absolutely DELICIOUS and there are many hidden bars and cool places for sipping craft cocktails in Old San Juan.
Puerto Rico also happens to be the most gay-friendly Caribbean island. And Old San Juan is home to tons of welcoming bars, nightclubs, restaurants and cafes.
So plan to spend some time exploring it in the evening.
Day 3: Explore El Yunque Rainforest on Your Puerto Rico Itinerary
Spend last of your three days in Puerto Rico exploring Puerto Rico's east coast, home to El Yunque Rainforest.
Located a 45-minute scenic drive from the capital city of San Juan, El Yunque National Forest is one of the most beautiful places in Puerto Rico.
This treasure is a must-see on everyone's Puerto Rico itinerary.
Be sure to wear good hiking shoes. The ground will be slippery in the forest and it's easy to fall.
Hike Beneath a Rainforest Canopy at El Yunque National Forest
You'll be glad you added El Yunque National Forest to your Puerto Rico trip. The East Coast of Puerto Rico is one of the most beautiful wild spaces in the Caribbean and El Yunque is its crown jewel.
Featuring a lush landscape dotted with beautiful waterfalls, tree ferns and 240 tree species of which 23 are found only here, this one-of-a-kind rainforest requires a full day to experience fully.
The easiest way to see is to take a full-day El Yunque Combo Excursion that includes pick-up at your hotel.
You'll travel in an air-conditioned vehicle, hike a nature trail in El Yunque rainforest, zoom down the Natural Rock Slide and relax at a pristine beach in Luquilla.
Your day wraps up with drop-off at your hotel.
There's even time to do some shopping in Luquillo, the popular beach town.
Check rates and availability of El Yunque Full Day Tour with Natural Rock Slide, Beach & Shopping on Viator.com.
Lunch is on your own so is a prime time to try the traditional Puerto Rican dish asopao de pollo.
It's a deliciously spicy blend of chicken, rice and olives in a broth of oregano, onion, tomato and garlic. Yum!
If you rent a car, it's also possible to visit El Yunque independently while exploring the island's east coast. Our top pick for a renting a car is Discovercars.com.
It's an online car rental booking site that compares rates to find the best deal!
When I visited much of the forest was closed to the public due to damage from Hurricane Maria. But there were still hiking trails to explore and waterfalls to see.
I hiked La Coca Trail which was gorgeous but a tad strenuous.
Revered as a holy place for over a thousand years by the indigenous Taino inhabitants, there are five endangered species in this rainforest but no large mammals.
For a thrilling experience don't miss making a stop at Las Paylas, a natural rock slide hidden in the jungle at the edge of El Yunque National Forest (Google Map).
Also known as Las Pailas, it's a thrill to splash and slide your way through a series of slippery rocks to arrive in a cool pond of calm waters. This rustic attraction can be very slippery so wear water shoes.
🌟 Pro Tip: Be sure to pack insect repellent as mosquitos can be brutal.
Get our 12 tips on avoiding mosquito bites and mosquito-borne viruses such as dengue fever, zika and chikungunya.
Dinner at Marmalade Restaurant and Wine Bar in San Juan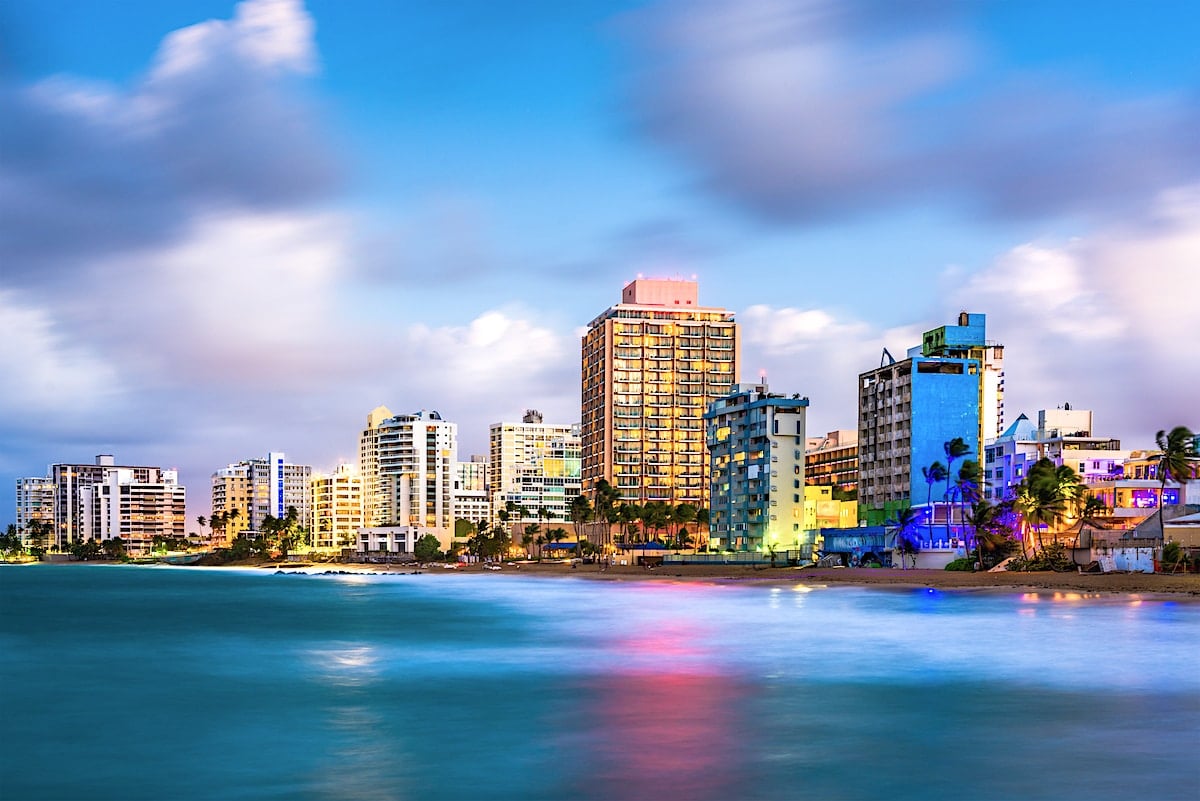 After an eventful day of hiking in the forest, head to San Juan and relax over dinner at Marmalade Restaurant and Wine Bar (Google Map). This stylish, fine-dining restaurant is very popular for special occasions.
The 5-course tasting menu features Caribbean cuisine with an international twist.
Begin with appetizers such as popcorn shrimp glazed with anejo tequila or bite-sized paella, inspired by the classic dish of Valencia, Spain.
Mains opt for inventive choices from the sea such as halibut with grits or beef tenderloin.
Although the tasting menu is a bit pricey (especially if you opt for the wine pairings), the quality and presentation of the food makes it worth the splurge. It's one of the most romantic restaurants in Puerto Rico.
Later take a short walk to enjoy the ambiance from the twinkling lights in San Juan. There's nothing quite as magical as listening to the waves crashing on the shore.
Marvel at Nature on a Nighttime Kayak Tour to a Bioluminescent Bay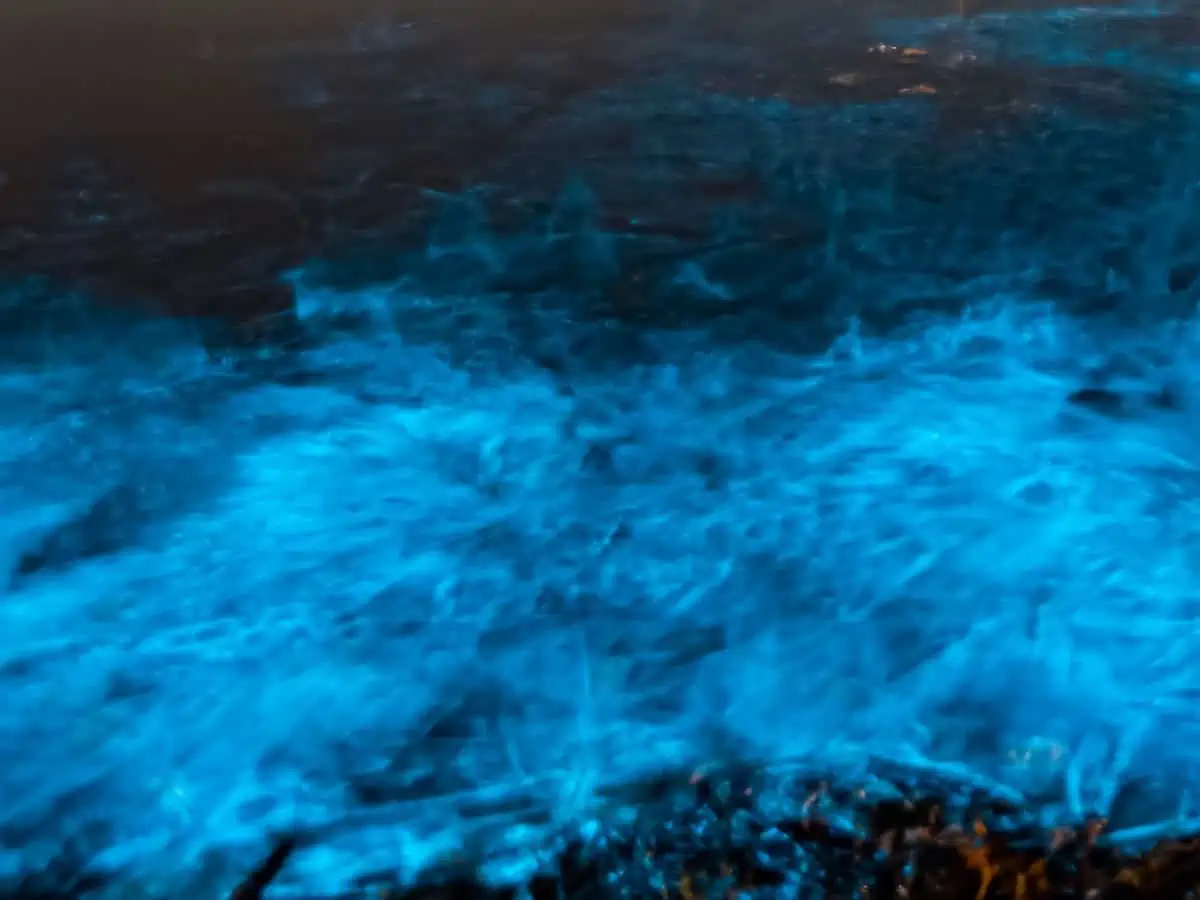 Wrap up your vacation in Puerto Rico by taking a nighttime kayak tour to a bioluminescent bay.
Puerto Rico is home to three bioluminescent bays out of the 35 or more (such as Manialtepec Lagoon in Mexico) in the world.
The blue lights that emerge from the water are caused by microorganisms that inhabit the water. When these organisms are disturbed, they glow briefly in an eerie blue light.
It a magical experience to take a kayak tour to witness the incredible natural phosphorescence phenomenon. The best bioluminescent tour takes just 2 hours. So even factoring in travel time, it's easy to fit into a three-day visit.
Another memorable experience in Puerto Rico is to take a tour in a clear-bottomed kayak during the afternoon. While you won't have the opportunity to see the phenomenon in the same way as you would at night-time, it's still a unique experience to witness the marine life beneath your boat as you paddle the bay.
Check rates and availability of a Bio Bay Kayak Tour in Puerto Rico on Viator.com.
Check rates and availability of a Clear-Bottomed Kayak Tour on Viator.com
Final Thoughts on This 3-Day Puerto Rico Itinerary
I hope you enjoyed this 3-day itinerary for Puerto Rico! It can easily be adapted to be a 2-day itinerary by omitting the excursion to El Yunque National Forest. If you're on a cruise and have only one day to spend on the island, focus your time in Old San Juan.
What I learned on my recent three days in Puerto Rico was that the local food is fresh, authentic and delicious, the people are welcoming and it's a great place to relax and unwind if you're looking for a close-to-home, affordable Caribbean vacation.
Author Biography
Caresa Lamers is an actor, traveler, fashion lover and adrenaline junkie who sold everything in July 2018 to travel the world and live her dream life. Ever since then she has been traveling full time with Vegas as her home base.
For more destination tips, lifestyle guides and travel posts to inspire you to live your dreams, visit her blog at This Spontaneous Life and follow her on Instagram.
All photos by Caresa Lamers unless otherwise noted.
Travel Guide to Planning this Puerto Rico 3-Day Vacation
Passport Documentation
You do not need a passport if you're flying to and from the continental United States. A passport will only be required if you are using Puerto Rico as a port of entry.
Canadian citizens using Canadian passports do not require a visa to enter Puerto Rico for tourism or business stays under ninety (90) days. They do require a valid passport.
Tourism Information
For more information on travel to Puerto Rico, including details on attractions, hotels, popular restaurants and more, visit SeePuertoRico.com.
Islands of Puerto Rico
If you get the chance to stay longer than 3 days, then visit one of the surrounding islands like Isla de Vieques or Palomino Island on a 7-day itinerary.
Puerto Rico is comprised of over 140 islands and they are all just a short ferry ride away. The most popular islands include Isla de Vieques, Cayo Icacos, Culebra, Caya de Muertos and Desecheo Island. Only Culebra and Vieques are inhabited year-round.
Where to Stay in Puerto Rico
Best Budget Hotel
I stayed in the Sandy Beach Hotel (4 Condado Ave, San Juan, 00907, Puerto Rico) in San Juan. I was looking for more of a budget hotel so it definitely wasn't a five star hotel.
But I highly recommend it for anyone looking for a good deal. All for $80 a night, I was right on the beach, was offered free breakfast throughout my stay and the customer service was exceptional!
Check availability and prices for Sandy Beach Hotel on Booking.com.
Best Luxury Hotel
If you're on the hunt for a luxury hotel, right next to the Sandy Beach Hotel, you will find the San Juan Marriott Resort.
This swanky hotel has everything from a pool with a water slide attached to it, a gym and a wonderfully indulgent spa to really get the most out of your vacation.
Check availability and pricing for the San Juan Marriot Resort & Stellaris Casino.
Save to Pinterest!
Getting Around
We rent our cars on Discovercars.com. It's an online car rental booking site that compares rates from several companies to find the best deal.
Check for the best car rental rates at Discovercars.com