We may earn income from links in this post. Please read this Disclosure for details.
Looking for the best paella in Valencia, Spain? Read on for an insider's look at authentic Paella Valenciana – what it is, where to find it and how to make it.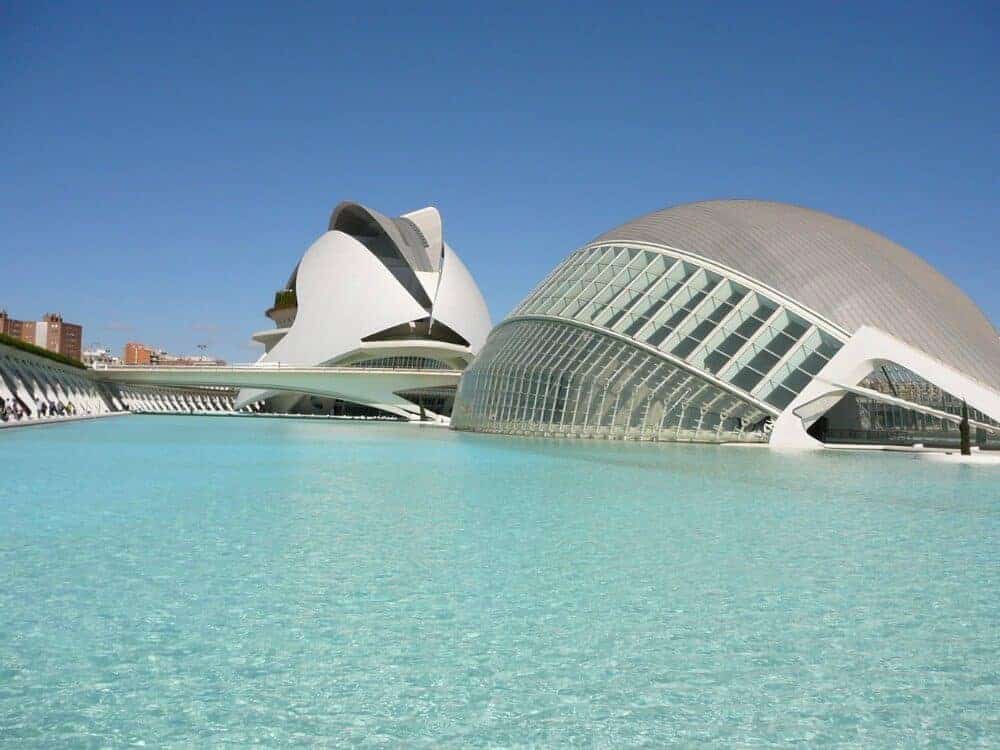 The seaside town of Valencia is Spain's third-largest city and offers everything you could wish for in a vacation destination — a temperate climate, brilliant sandy beaches, a wealth of green spaces and chilled atmosphere — packed into one awesome place. No wonder it's considered one of the most beautiful places to visit in Spain.
Valencia also happens to be a top destination for food lovers.
In addition to its great cafes, bars and lively street life, it's also the home of paella, the world-famous Spanish dish.
Although you should also be sure to try a traditional dishes such as gazpacho, if you have time to try only one food in Spain it should be paella!
Here's everything you need to know about this traditional Valencian dish including where to find the best paella in Valencia, the types of paella you can expect to find and the best paella restaurants for every budget.
What is Paella?
Paella is Spain's most popular rice dish and the most iconic of its cuisine. The warm orangey-gold glow of the rice, the strips of verdant vegetables and juicy prawns or chicken, is what makes this delicious dish extra special.
When it comes to its history, paella originated in the eastern coastal Spanish city, Valencia in the 1800s. It was originally a dish created by peasants, humbly using leftovers from celebrations and simple ingredients to create tasty meals.
The word paella itself means "frying pan" in Valencian-Catalan and refers to both the dish and the pan it is cooked in.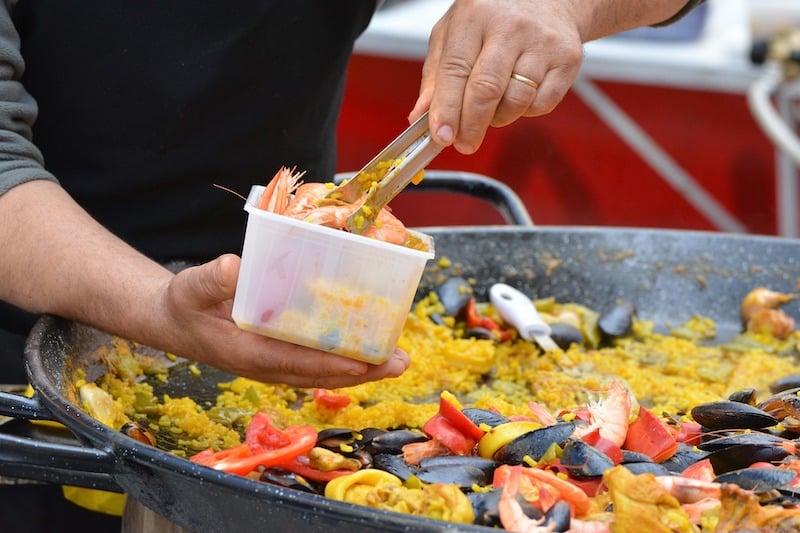 Traditionally, paella is eaten year-round, however, it is frequently served in restaurants on Thursdays. The reason being that seafood from the coast harvested on a Monday would take a few days to make its way inland.
By the time Thursday rolled around, the seafood would need to be cooked so that it wouldn't spoil.
Paella is one of the most popular foods to enjoy at parties with friends or family as well as during major celebrations such as Las Fallas Festival in March.
It's also a popular dish to make a road trip for. Popular day trips from Valencia include visits to the famous Spanish walled city of Peniscola or one of the nearby beaches.
It's considered the most typical food of Spain and if you ask anybody "What is Spain known for?", their answer will most likely be "PAELLA!".
How to Find the Best Paella in Valencia
Although it would be tempting to think that everywhere you go in Valencia, you'll find a deliciously authentic paella, unfortunately the truth is that it's possible to have a disappointing or even bad paella.
Here's what to consider when choosing a paella restaurant in Valencia or even making this traditional dish at home.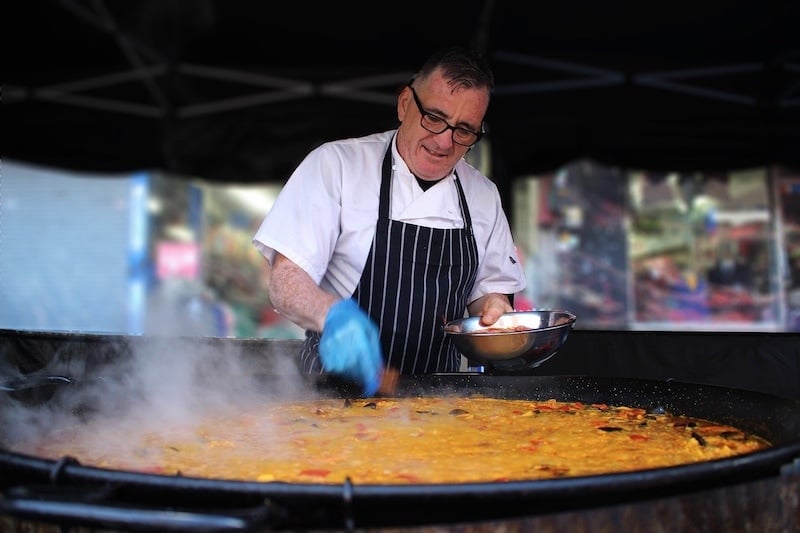 First, the proper equipment is needed for an authentic paella. The best paella is made in a paella pan, a wide, shallow and flat-bottomed pan set on a gas grill or an outdoor paella ring. The next important requirement for a traditional Spanish paella are the ingredients.
These are the most typical ingredients for paella:
Spanish bomba rice (the best type of rice for paella is a short grain white rice or arroz redonda)
Chicken or Rabbit or Vegetables
Broad green beans or bajoqueta
Salmorra (blend of Nora chile peppers, tomatoes, and garlic)
Olive oil
Dried oregano
Salt and black pepper
Crushed garlic
Saffron
Bay leaves
Italian flat-leaf parsley
Lemon zest
Chicken stock
Spanish onion
Bell peppers
Crumbled sausage
Shrimp
Steps in Making an Authentic Paella
In addition to the requisite ingredients, there are also specific steps involved in making an authentic paella. If you take a paella cooking class in Valencia, you'll learn the secrets of making real paella – such as snapping the beans not cutting them – but it's possible to make it anywhere in the world.
First, the chef or home cook will first marinate the chicken pieces in olive oil and oregano. Then, they'll heat the olive oil in a paella pan over medium heat and stir in the garlic, Salmorra, and rice, stirring lightly to coat the rice with the other ingredients, and cooking it for 3 minutes.
Then, they'll add in the saffron, bay leaf, parsley, chicken stock, and lemon zest, bring it to a boil and then reduce the heat to medium-low. It will then be covered and left to simmer for 20 minutes.
Meanwhile, in a separate skillet, the cook heats 2 tablespoons of olive oil over medium heat, stirs in the marinated chicken or vegetables and onions and cooks it for 5 minutes. Then, they add the bell peppers and sausage and cook for another 5 minutes. Finally, they add the shrimp turning until both sides turn pink.
Then they spread the rice mixture onto the serving tray and top it off with the meat and seafood mixture. That's when the magic happens. The key to a delicious and authentic paella is in the process of cooking it. The pan should be shaken gently while the paella is cooking to evenly distribute the ingredients, allowing all sections to cook evenly.
The secret to the most delicious paella? The best paella features a firm socarrat, the crust of crispy rice stuck to the bottom of the paella pan. This slightly scorched rice crust adds a deliciously satisfying layer to a plate of rice.
Without a socarrat, it's not an authentic paella and instead is a just a rather soggy mixture of rice and meat or seafood.
Types of Paella
Although the most traditional Valencian Paella was originally prepared with rabbit and snails (and even eel), as eating habits became more sophisticated and other ingredients more readily available, Valencians started adding other types of meat and ingredients to their rice dishes.
Now you can find butter beans, paprika, and saffron appearing in the many versions of paella in Valencia. Expect to see seafood paella, mixed paella, black paella, vegetarian paella, white paella, lobster paella, and fideua, a noodle paella on menus around town. There's even a paella with pork in beer!
Let's take a closer look at some of the variations of paella you'll find in Valencia restaurants.
Seafood Paella (Paella Marinera)
This one best defines Mediterranean cuisine as the seafood imparts a taste of the ocean. This paella is usually prepared with prawns, squid, mussels and clams.
It's the most popular dish in Spain's coastal areas and in summer it is very commonly eaten at beach bars. You can't visit a beach in Spain without trying seafood paella.
Meat Paella
A meat paella is a typical Sunday paella in Spain. It's cooked with chicken and a generous amount of black pepper and paprika as well as red peppers and peas so that the meat absorbs all the flavours. It is easy to cook at home and if you come to Spain, make sure to order it with a side of olives.
Fideua or Noodle Paella
Fideua is essentially paella made with short spaghetti noodles instead of rice. Like rice paella, it is also cooked in a big paella pan. The base of this paella is a wonderful mix of fish
stock and tomato-pepper sauce that the spaghetti noodles soak up as it cooks.
Then fish and seafood are added. Fideua is a comforting dish in cold weather but also light enough for warm weather.
The Best Paella Restaurants in Valencia
Valencia is not only one of the best places to spend a winter holiday in Spain, but because it's considered the birthplace of paella, it's also home to what's arguably the best paella in the world.
Given the amount of work involved in making an authentic paella, you won't find a super cheap paella but there are definitely some affordable options if you eat like the locals do and avoid the tourist traps.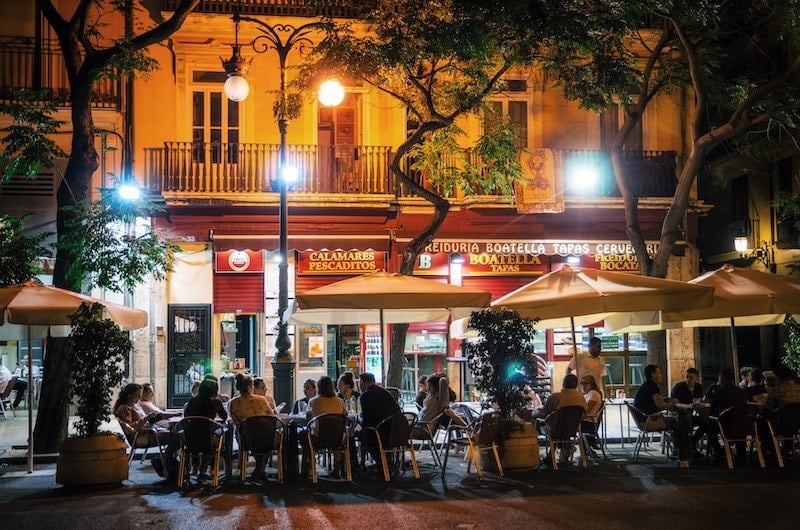 Here are some of the top choices for the best paella restaurants in Valencia.
La Pepica
Walking down Valencia's Malvarrosa beachfront, you can find La Pepica restaurant at Paseo Neptuno 6, Spain. It is a perfect place to eat paella by the beach with friends and family on a terrace overlooking the Mediterranean.
La Pepica opened its door to the public in 1898 and was Ernest Hemingway's favorite spots to eat paella. This stunning restaurant does serve the traditional Valencian paella, but the star attraction is the special Pepica's paella.
This dish was created for famous painter Joaquin Sorolla which is generously filled with peeled seafood and fragrant spices. The cost of a paella dish here is approximately 25€.
Restaurante Levante
Located in the quaint little town of Benisanó, Comunidad Valenciana, 46181, Spain, Restaurante Levante is said to have the best Paella in Valencia. This restaurant is a little off the usual tourist-path but is visited by locals to fulfill their cravings for paella. Their star dish is traditional Valencian paella, prepared with chicken, rabbit and a wonderful mix of local beans.
Good paella is incomplete without a delicious glass of red wine, so Restaurante Levante offers that too. You can choose from among 10,000 bottles of Spanish wines available in the restaurant's cellar.
This historic restaurant opened up in 1968 and since then it is serving people with authentic traditional Valencian Paella. The price of the paella here is around 23€.
Casa Roberto
In the lively and vibrant part of bohemian Ruzafa district just a short walk from the Old Town, Casa Roberto is one of the best-known and best-loved paella restaurants. Opened in 1986, it offers one of the best paellas in Valencia. The recipe followed here is the classic adding in slightly more snails and a good portion of vegetables.
Beyond paella, it serves all kinds of traditional Valencian rice dishes, as well as popular tapas, including a famous jamon serrano. Casa Roberto offers a truly Valencian environment. The paella served here is a bit pricey at 40€.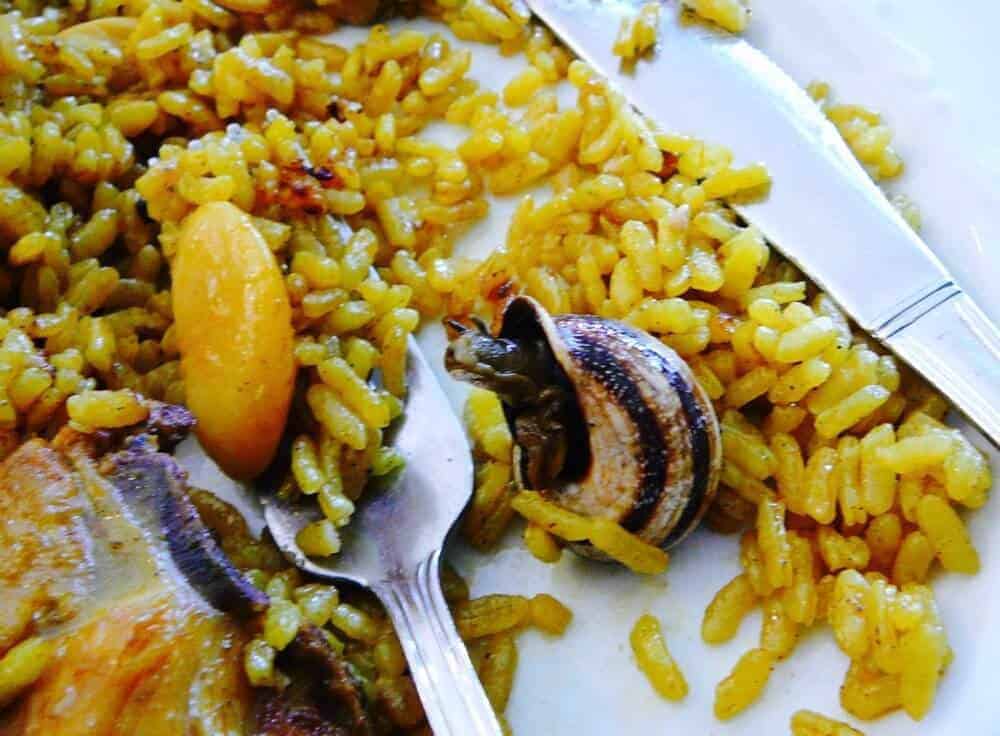 Casa Carmela
When it comes to family-run restaurants, you won't be disappointed with Casa Carmela. This family-run restaurant has been delighting customers for nearly 100 years.
It originally started as a small shack near the beach where swimmers could change their clothes and rest. The dining experience offered at Casa Carmela is unique in that everyone in one party eats the paella directly out of the pan it was cooked in.
So, if you plan to eat here it's best to go with a group. Here, paella is made to order, so it may take some time to arrive at your table after ordering. The price of paella is 21€ to 40€.
La Riua
Located in Valencia's picturesque historic centre, La Riua is a family-run establishment offering fantastic paella at an affordable price. The restaurant's signature dish is Paella Valenciana, but they serve more than a dozen different varieties of the famous rice dish.
Locals consider it the best restaurant in Valencia for Arroz Negro, the black paella made with cuttlefish or black squid ink. The price of paella here is around 24€.
Note: Arroz Negro from Spain is quite different than Arroz Negro from Guatemala. The Guatemalan version features black turtle beans rather than squid ink to achieve the characteristic black colour.
BIO of Paulina on the Road
Hola! I am Paulina, a fervent travelette who crossed the Atlantic Ocean by Boat HitchHiking. Bloggin' in English & Español since 2015. Originally from the small country of Luxembourg, I want to share with you my passion for sustainable travel like hiking, cycling or sailing.
Let's hit the road together at paulinaontheroad.com. Get inspired by my wanderlust photos on Instagram.
You Might Also Like:
Save to Pinterest!
Note: All Photos credited to Pixabay and Deposit Photos unless otherwise indicated.