We may earn income from links in this post. Please read this Disclosure for details.
Discover what to eat and drink with our guide to must-try traditional food in Barcelona and Catalan cuisine. Plus the best places to find it!
Spain is a fantastic destination for food lovers. It's where I first tried Andalusian gazpacho and seafood tapas featuring juicy shrimp plucked fresh from the sea.
Since then, I've returned many times to explore its cuisine from the pintxos bars of San Sebastián to cooking classes in Barcelona.
From cheap eats in a taverna to haute cuisine in one of the city's 26 Michelin-starred restaurants, Barcelona is one of my absolute favourite food destinations in Spain.
Read on to discover why!
What is Traditional Catalan Food?
Heavily influenced by its location on the Mediterranean coast, Catalan food is a fusion of slow-cooked meats, heartily spiced one-pot stews, ultra-fresh seafood and seasonal ingredients.
Not only is it influenced by neighbouring France as well as historic trade routes with Venice, the Ottoman Empire, Asia and the Americas but Catalonia is fiercely protective of every facet of its culture including its cuisine.
"There are links…between the artistic anarchy of Antoni Gaudi, the icon-tumbling surrealism of Salvador Dali and the movement led by the world's most praised culinary alchemist Ferran Adrià," says Elizabeth Luard in her book the Food of Spain and Portugal.
So, along with visiting the city's iconic attractions, museums and beaches, a top thing to do in Barcelona is to try some traditional Catalan food and drink.
To help you plan your Barcelona culinary adventure, we've created a list of the best Catalan cuisine to try, including appetizers, main dishes, desserts and drinks.
You'll also see our original photos of most dishes so you know what to expect.
We've also included recommendations for the best restaurants, markets, food tours and cooking classes to find these specialties.
1. Pa amb Tomàquet (Bread with Tomato)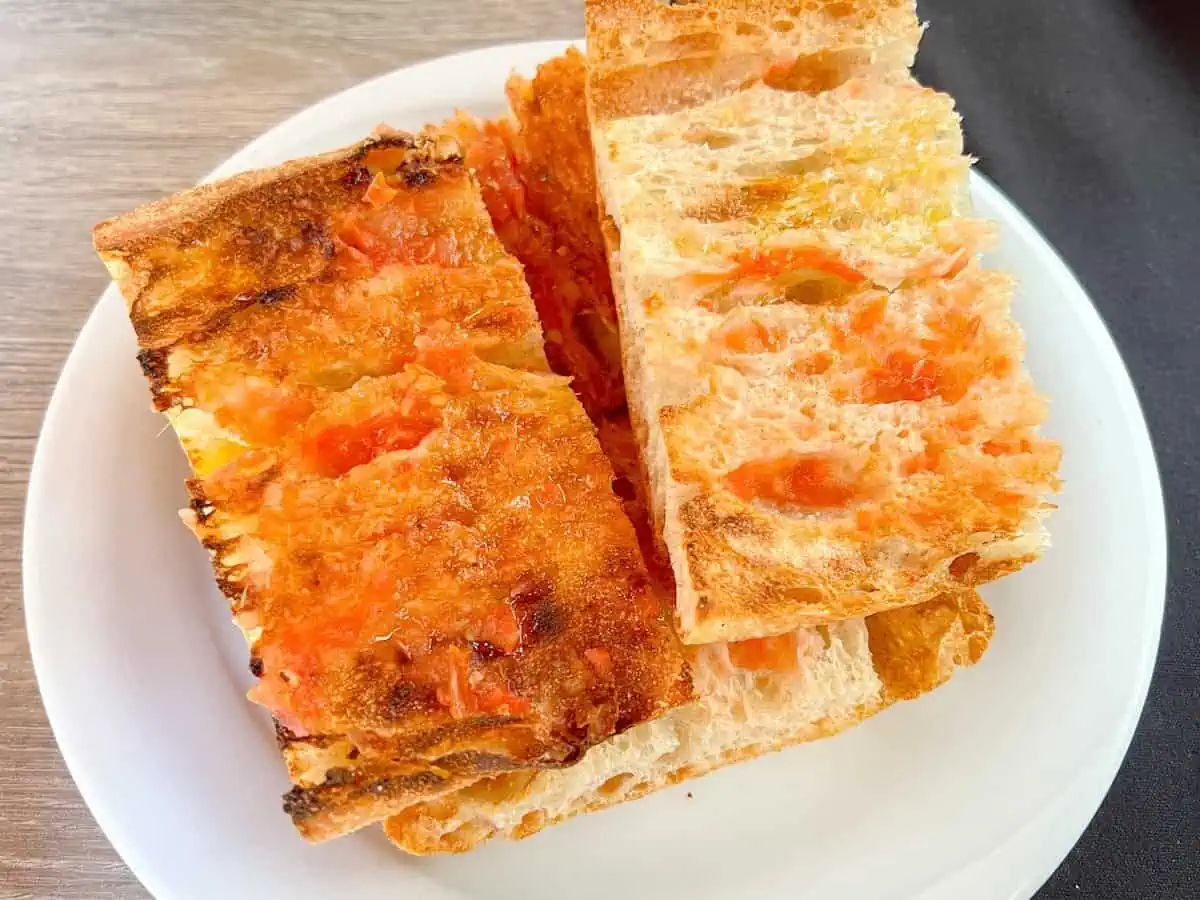 If you've eaten tapas in Barcelona you'll almost certainly sample pa amb tomàquet or pan con tomate. It's likely the first thing you'll eat in Barcelona because it's often served at breakfast!
At my favourite Barcelona hotels — Hotel Majestic & Spa and Melia Sarria — there are even make-your-own pa amb tomàquet stations at the breakfast buffet.
One of the easiest Spanish recipes to recreate at home, pa amb tomàquet brings together four ingredients: toasted slices of rustic country bread, ripe fresh tomatoes, good quality extra-virgin olive oil and salt.
Some Barcelona restaurants serve it with fresh sweet garlic, either rubbed, slivered or chopped. Think of it as the Catalan version of Italian bruschetta.
The key to the success of this staple of Catalan cuisine is the tomatoes. Tomaquets de ramellat are vine tomatoes with a fleshy pulp that's sweet, juicy and fragrant, perfect for rubbing on the wide slices of bread.
You'll find pa amb tomàquet served as a snack, appetizer or side dish, particularly in the summer months when tomatoes are in prime season in Spain.
🌟 Try It: It's hard to go wrong with this Catalan bread. But don't miss the pa de coca de Folgueroles am tomàquet at the award-winning Tapas 24 (original location Google Map), where Chef Carles Abellan does it up with fermented artisanal bread in the original way.
2. Botifarra (Catalan Sausage)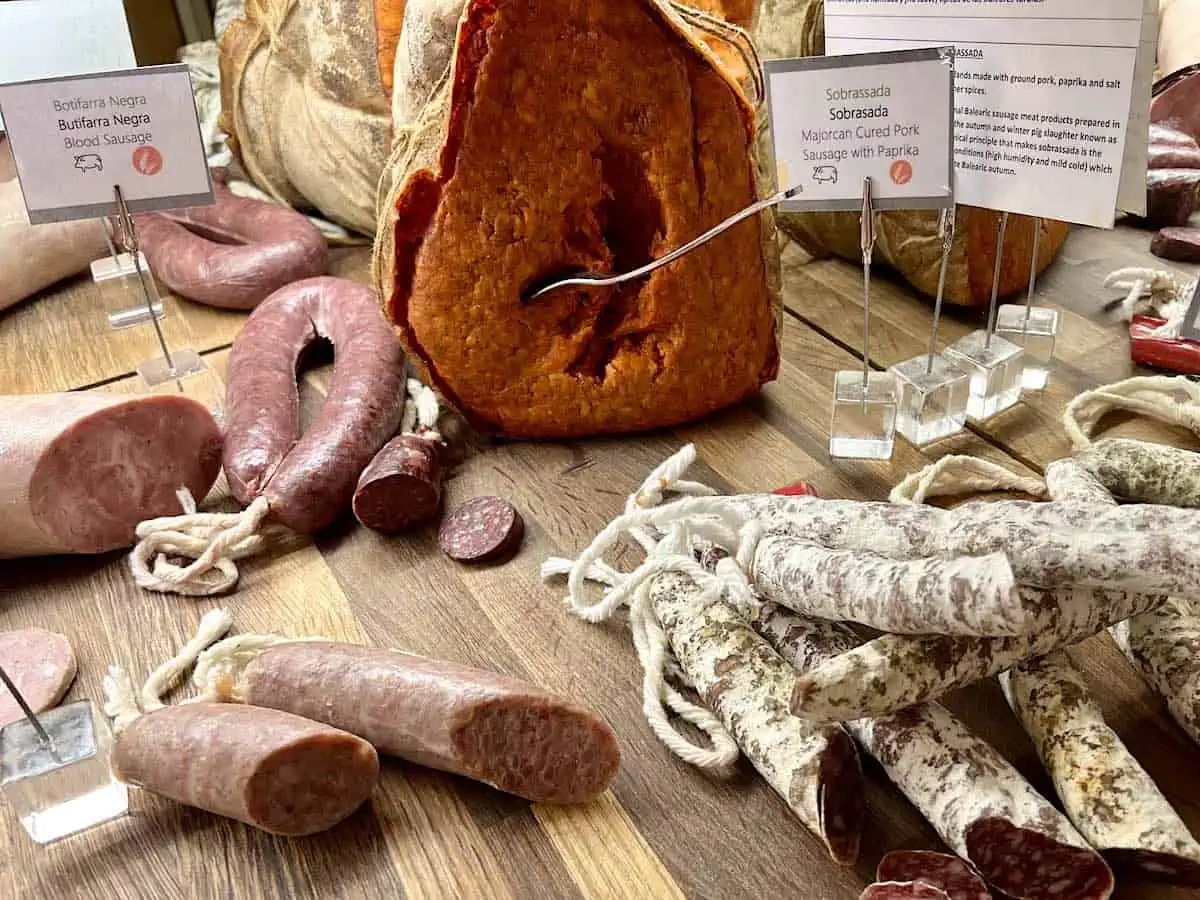 Botifarra is a grilled or fried sausage made from ground pork that's seasoned with spices like pepper and nutmeg.
Botifarra can be found throughout Barcelona at many Catalan restaurants, traditional and modern. It's somewhat akin to the boudin you'll find in Quebec City, the Acadian towns of Nova Scotia and New Orleans, Louisiana.
A few must-try variations of botifarres include:
botifarra blanca (white sausage) the most popular sausage,
botifarra negra (black sausage) made with pig's blood,
botifarra perol, a twice-cooked sausage containing stewed pork.
Botifarra negra also plays a starring role in botifarra d'ou (a dish made with egg) that originates from Girona, just outside of Barcelona.
🌟 Try It: Sample botifarra at a Catalonian restaurant that specializes in pork, such as PORK … boig per tu located in the Born neighbourhood (Google Map).
The menu at hip Barcelona eatery features several wood-fired meats and veggies, stews and salads. Pair the food with a chilled glass of Txapeldun Pale Ale, their excellent craft beer.
3. Calçots (Grilled Onions)
Calçots are such a staple Catalan dish that there are multiple festivals (known as calçotadas) that celebrate their arrival in late winter.
The Catalan spring onion is long, sweet and far more subtle-tasting than traditional green onions. It's grilled slowly until the outsides are charred and the insides are almost sticky sweet.
While some Catalan dishes come served up in a variety of ways, calçots usually follow the same method of preparation and presentation.
Once grilled, they're wrapped in newspaper to keep them warm and are served up on a terracotta roof tile.
Dip them in rich romesco sauce (a zingy tomato and almond salsa) after peeling back the charred outer layers.
The calçot season runs from November to April, so you'll have to time your tasting for this period to sample the best ones.
🌟 Try It: A top spot to try calçots is at the ever-trendy Can Martí Restaurant.
4. Escalivada
Another grilled food, escalivada is a simple yet delicious traditional Catalan dish that's especially popular during the summer months.
Made from roasted vegetables (usually red bell peppers, eggplant and onions but sometimes also tomatoes, artichokes and courgette), escalivada is made by peeling vegetables into thin strips.
Then charring them over an open flame before seasoning with salt, pepper and olive oil.
Its name comes from the Catalan verb "escalivar," which means "to roast over embers" a nod to its cooking method.
This light dish is usually served as an appetizer. It's served either cold or at room temperature.
The tradition is to eat escalivada as part of a pica-pica, a handful of small plates similar to Cypriot or Turkish mezes enjoyed before a main meal.
🌟 Try It: Looking for an authentic food experience? Head to Can Cortada. This historic manor house is famed for its atmosphere.
The upscale version of escalivada at La Comité comes served with a deliciously addictive romesco sauce.
5. Tortilla Catalana
This egg and potato-based Spanish frittata is popular on tapas menus.
It's served hot or at room temperature as an appetizer as well as a light lunch or dinner throughout Spain.
The version in Cataluña is unique in that this traditional Barcelona food features egg along with butter beans (lima beans), Catalan onion and often botifarra sausage.
🌟 Try It: Head to Cerveceria Catalana (Google Map) one of the best tapas restaurants in the Eixample neighbourhood.
6. Esqueixada de Bacalao (Marinated Cod Salad)
Salted cod is popular throughout the Iberian peninsula from the Basque stew bacalao a la vizcaína to the buñuelos de bacalao (cod fritters) of Barcelona.
In this traditional Catalan salad salt cod joins an assortment of summertime-friendly vegetables like tomatoes, onions, peppers and black olives.
The name esqueixada comes from the Catalan word "esqueixar", which means "to shred" which gives you a clue as to how it's traditionally made.
Found in the cold tapas section on menus in Barcelona restaurants, this light, refreshing salad is made by finely chopping the ingredients and then dressing them with olive oil, vinegar, sea salt and freshly-ground black pepper.
The salted cod is desalinated by multiple soaking but isn't cooked by heat. So it retains its fresh-from-the-sea flavour.
If you like ceviche de pescado from Mexico, you'll love esqueixada de bacalao.
It's usually served as an appetizer with coca de recapte, a Catalan flatbread topped with vegetables and anchovies.
🌟 Try It: The best restaurants for esqueixada de bacalao?
Old-school Taberna del Bierzo in Cortes (Google Map) and the small but welcoming Taverna El Glop in the Gracia neighbourhood (Google Map).
💡 Get an authentic (and easy) recipe for esqueixada de bacalao and make it at home!
7. Arroz Negro con Sepia (Black Rice with Squid Ink)
During the paella cooking class at Gastro Lab Barcelona, we were especially careful to remove the ink sacs when cleaning the squid so that the black ink wouldn't discolour the paella.
However it's the black ink that's the prized ingredient in arroz negro con sepia!
It often comes topped with shrimp or strips of red pepper for a pop of colour.
It's often the rarest and priciest dish on restaurant menus and is shown alongside paella and fideua.
🌟 Try It: La Paella De Su (Google Map) in the Eixample district near Gaudi's La Pedrera and La Sagrada Familia features La Negra (black rice) topped with gamba (shrimp).
🌟 Pro Tip: Note that on restaurant menus the price for arroz con sepia is per portion. There's usually a minimum of two portions per order. Plan on 45 minutes for preparation.
8. Galets Soup
Christmas Day is an especially popular time to enjoy a steaming bowl of galets soup with family and friends.
Sopa de galets features a vegetable and/or beef broth with pasta. The best versions of this Catalan specialty brim with lots of the small ravioli-type pasta.
The carn d'olla, the meat reserved from making the broth, is served on the side.
This soup is also known as escudella after the clay pot it was originally made it. Terra d'escudelles is a type of sand used in the countryside to clean kitchen utensils.
🌟 Try It: Catalan restaurants often include escudella de nadal on their Christmas menus. Make reservations well in advance.
💡 From Wednesday to Sunday during the winter months you can find escudella and carn d'olla on the daily menu at Estevet, a Catalan restaurant (Google Map) that's been in operation since 1890.
9. Cabreaos Eggs (Angry Eggs)
Many Spanish tapas feature eggs as they are plentiful and make a simple, satisfying snack.
In Barcelona, cabreaos eggs appear atop thinly-sliced spiced potato sticks.
They're prepared broken and sunny-side up hence the name 'angry eggs' because they're smashed and slightly spicy.
Along with patatas bravas and ensaladilla rusa, you'll find cabreaos on tapas menus in Barcelona.
🌟 Try It: At Cerveceria Catalana (Google Map) in the Eixample neighbourhood.
This popular tapas bar doesn't take reservations and is packed especially on weekends. But you can often get a seat at the bar.
10. Cap i pota (Head and Foot Stew)
While cap I pota might not be the first dish you rush to try in Barcelona, this rich, garlicky, comforting stew is a Catalan classic.
Cap I pota literally translates to "head and paw" in English, which refers to the two main components of the dish: boiled beef (or veal) head and feet.
A lesson in slow cooking and the wonders of seasoning, this hearty Catalan favourite is made by simmering meat in spiced, salted water for hours.
As the collagen melts into the broth it creates a satisfying gelatinous base for the stewed meat and vegetables.
It's traditionally served with garlicky pil pil sauce as well as potatoes, chickpeas and more vegetables.
🌟 Try It: A top place to try cap I pota is at Restaurant Can Ros paired with one of their Catalan wines.
11. Espinacs amb Panses i Pinyons (Catalan Spinach)
This simple Catalan side dish blends sweet and savoury to delicious perfection.
Espinacs amb panses i pinyons (spinach with raisins and pinenuts) is such a famous Catalan side dish that it's also known as espinacas a la Catalana.
The preparation is relatively simple. Fresh spinach is steamed and then sautéed in olive oil with garlic, sweet raisins or currents and toasted pine nuts. Sometimes it comes topped with an egg sunnyside up.
Enjoy espinacs amb panses i pinyons as a side to grilled meats.
🌟 Try It: You'll love the classic version served at Estevet, a Catalan restaurant (Google Map) that's been in operation since 1890.
12. Fideua (Noodle Paella)
Fideua is a close cousin of the more popular paella. But while paella uses rice as its base, fideua features toasted noodles.
The noodles are mixed with onion and garlic, juicy tomatoes, seafood mixture (clams, mussels, and prawns), saffron-infused water, sweet pimenton, and fish stock inside a paella pan.
As the noodles cook in the stock, they soak up the flavour, creating a rich and aromatic dish.
Some variations include asparagus, red peppers or green peas.
Enjoy it with a dollop of garlicky alioli. This simple sauce is made by crushing garlic cloves with salt in a mortar and pestle. Once it's ground to a paste, olive oil is drizzled in a thin stream until a thick sauce forms.
🌟 Try It: La Paella De Su (Google Map) in the Eixample district near Gaudi's La Pedrera and La Sagrada Familia is best known for its paellas. But their menu also features three types of fideuas including a vegetarian version.
🌟 Pro Tip: Note that on restaurant menus the price for fideua are per portion. There's usually a minimum of two portions per order. Plan on 45 minutes for preparation.
13. Fricandó
Traditionally prepared for special occasions or family gatherings, fricandó is a beef stew that's simmered for hours and served with potatoes or crusty fresh bread.
You'll find variations of fricandó served up throughout the Catalan region. But three ingredients always remain the focal point of the dish: thin slices of beef, broth/red wine and mushrooms, preferably wild-harvested.
While the tender, slow-cooked beef may be the star of the show in fricandó, the mushrooms play an almost-as-important supporting act for flavour and texture.
Fricandó is often called the national dish of Catalonia.
🌟 Try It: You'll want to try this comfort food somewhere with a bit of history. Can Vilaró restaurant located in front of Sant Antoni market (Google Map) is a good choice.
This third-generation family-owned eatery specializes in heritage dishes made of offal, sweetbreads and humble fare such as pig's trotters and rabbit with herbs.
But their fricandó (served Saturdays) is a stand-out.
🌟 Pro Tip: If you're visiting the Barcelona Museum of Contemporary Art, you can stop at Can Vilaró for lunch. They close at 3:30 pm. Closed Sundays.
14. Pollastre amb Prunes (Chicken with Prunes)
One of the unique characteristics of Catalan cuisine is the how they blend sweet and savoury flavours, creating exquisite taste combinations.
For example, pollastre amb prunes, country-style chicken with prunes (soaked in brandy and wine)with pine nuts is a must-try in Barcelona.
Your best bet to find this Catalan specialty is during the Christmas season, when it's also known as Rostit de Nadal.
🌟 Try It: 4Gats restaurant is the place to go for many traditional Barcelona foods. You'll find this dish listed as pollastre rostit del Penedès on the menu.
15. Seafood Paella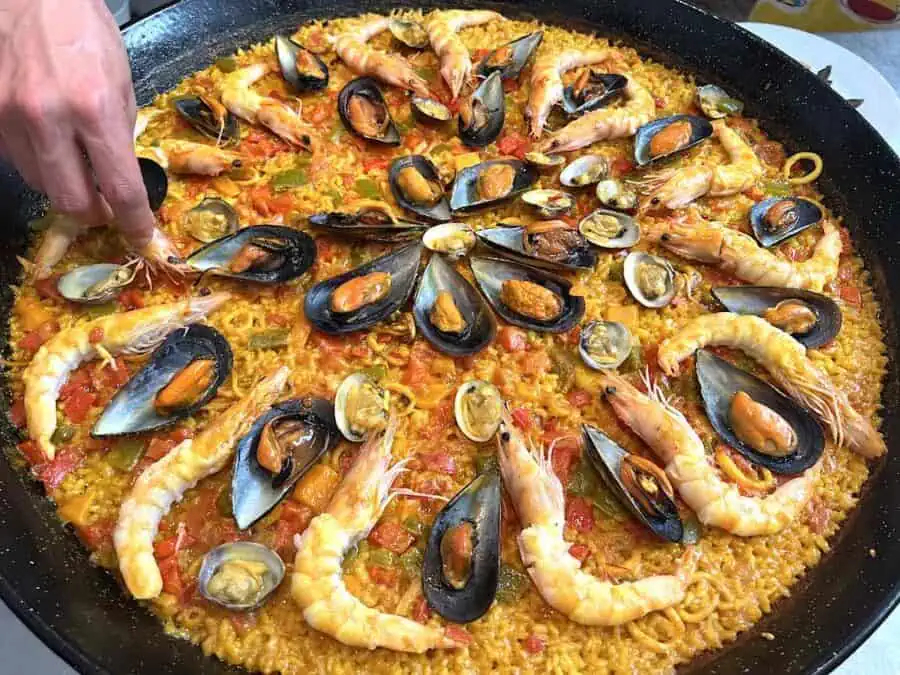 Paella is Spain's most popular rice dish and the most famous of Valencian and Catalan cuisine.
The glow of the rice, the caramelized crispy crust and juicy seafood is what makes paella a traditional Catalan food that's well worth seeking out.
When it comes to its history, paella originated in the eastern coast of Spain in the 1800s. The word paella itself means "frying pan" in Valencian-Catalan.
The main difference between paella in Barcelona and Valencia is that Barcelona paella typically features seafood while paella Valenciana contains rabbit and snails.
The secret to every paella? The best paella features a firm socarrat, the crust of crispy rice stuck to the bottom of the paella pan.
This slightly scorched rice crust adds a deliciously satisfying layer to the rice.
Without a socarrat, it's not an authentic paella. Instead it's just a rather soggy mixture of rice and seafood. Enjoy paella with sangria, cava or a Spanish gin & tonic.
🌟 Try It: You can find prepared paella at the Mercado de la Boqueria but your best bet is to get it at a restaurant specializing in seafood.
The seafood doesn't get any fresher than at family-run La Maroteca (Google Map) where you can chat with the fisher/owner. See the day's catch on ice at the restaurant entrance. Then, cooked-to-order on your paella 30 minutes later.
🌟 Pro Tip: Note that on restaurant menus the prices for paella are per portion. There's usually a minimum of two portions per order. Plan on 30-45 minutes for preparation.
16. Suquet de Peix (Catalan Fish Stew)
The most famous of Catalonia's seafood dishes, this is a very popular Barcelona traditional food to try.
Suquet de pesh (pronounced "soo-ket day pesh") is a fish and potato stew that's often enjoyed with crusty bread.
There are many variations of fish stew. But some of the most popular versions include littleneck clams, mussels, smoked paprika, garlicky mayonnaise, saffron and/or chorizo along with the filets of white fish.
17. Crema Catalana (Catalan Cream)
This Catalan version of crème brûlée is distinct from other flans in Europe as it contains the essence of Valencian oranges.
🌟 Try It: A top spot to try it is at Petritxo Cafe, located on Carrer de Petritxol. This narrow street near La Rambla (Google Map) is devoted to chocolate and desserts.
This café looks tiny from the outside but has quite a bit of seating inside.
18. Mel i Mató (Cheese with Honey)
Another popular but simple traditional dessert is mel i mató. This delicious Catalan dessert made from mató, a fresh cheese (requesón) found in Catalonia made from cow or goat's milk without any added salt.
🌟 Try It: Mel i mató is on the dessert menu at Estevet, a Catalan restaurant (Google Map) that's been in operation since 1890.
19. Pijama
This vintage Catalan dessert is meant to be shared as it contains something for everyone!
Loosely inspired by peach melba, pijama features creamy flan in the centre of a large plate surrounded by scoops of vanilla ice-cream, peaches in syrup, maraschino cherries, pineapple and a few carquinyoli (Catalan almond biscuits).
🌟 Try It: This Barcelona dessert is considered rather old-fashioned so can be difficult to find. But pijama is still on the dessert menu at Estevet, a Catalan restaurant (Google Map) that's been in operation since 1890. Get it while you can!
20. Cava
Catalonia is renowned for its production of Cava, a sparkling wine made using the traditional method (Méthode Champenoise), where the bubble-creating secondary fermentation occurs inside the bottle similar to French champagne.
Unlike Italian prosecco where the second fermentation takes place inside stainless steel tanks and produces large bubbles, cava has smaller bubbles.
As a result cava is typically dry, crisp, and effervescent, with flavour notes of green apple, citrus and pear. It's often enjoyed as an aperitif or for toasting on special occasions.
The best place to sample cava (and other traditional Catalan drinks) is in the bohemian neighbourhood of El Born.
This district is best explored on foot and with a local guide. Not only can a local expert help decipher the menus (there often isn't one) but you won't get lost while exploring the narrow streets!
We really enjoyed the Gourmet Tapas & Wine Tasting Tour with Devour Tours. During the 3-hour, small-group tour you'll stop at three tapas bars to sample Catalan food paired with regional wines, sparkling cava and vermouth straight from the tap.
Restaurant Santagustina in el Born (Google Map) is a prime place to begin a cava crawl.
Also don't miss the sparkling house-made cava at El Xampanyet (Google Map). This old-school tapas bar, located near the Picasso Museum, is also famous for its anchovies. The salty briny fish pair beautifully with the citrusy minerality of the bar's namesake cava.
21. White and Red Catalan Wines
Beyond cava, there are other types of wines from Catalonia worth seeking out.
Priorat is known for its bold and full-bodied red wines. These wines are characterized by intense dark fruit flavours like blackberry and plum, along with mineral notes and a robust tannic structure.
Penedès is a versatile wine region producing both white and red wines. White Penedès wines are typically fresh, with citrus and floral aromas.
Red Penedès wines can range from light and fruity to more complex with notes of red berries and a smooth finish.
Similar to Priorat, Montsant is known for its red wines, which are rich, concentrated, and spicy. They often showcase intense dark fruit flavours like black cherry and blackcurrant.
🌟 Try It: Situated in a historic stone building in the Gothic Quarter, trendy Bar Pla B, has an extensive list of wines of Catalunya at affordable prices. The fun tapas menu features many skilfully prepared Catalan dishes. Don't miss the braised galta de vella.
Alella specializes in bright and aromatic white wines of primarily the Pansa Blanca, Garnacha Blanca and Viura grapes. These white wines are crisp and refreshing, featuring notes of green apple, pear, and sometimes subtle floral hints.
This wine-growing region is located just outside Barcelona overlooking the Mediterranean Sea.
So it's actually very easy to take a Catamaran, Alella Winery and Wine Tasting Tour from Barcelona, walk the vineyards and learn about three Alella wines from a sommelier.
Check prices and availability of a Catamaran, Alella Winery and Wine Tasting Tour from Barcelona on Viator.com.
22. Vermouth From the Tap
Another must-try drink in Barcelona is vermouth. This fortified wine infused with various botanicals, herbs, and spices has a long history in Barcelona and Catalonia. Vermouth bars, known as "vermuterias" offer a wide selection of brands and varieties featuring distinct flavours.
When ordering vermouth in Barcelona, you'll often be presented with the vermouth bottle along with a glass of ice and a slice of orange and /or a green olive. Many Vermouth Bars also offer special tapas plates and potato chips.
🌟 Try It: The atmospheric Bastaix Bar in La Ribera (Google Map) offers their house crafted vermouth paired with tapas such as creamy manchego cheese, artichokes, briny clams and anchovies.
Sipping vermouth within the exposed brick and stone walls of this medieval building makes exploring the Barcelona vermouth scene not just a drink choice but a cultural experience.
🌟 Insider Tip: Pause at the eternal flame, part of the Fossar de les Moreres memorial (Google Map). This historical landmark is a tribute to the Catalan people killed during the 1714 Siege of Barcelona and buried in the plaza. It's a symbolic place for Catalans.
23. Xocolata (Hot Chocolate)
The cacao tree originated in Latin America and appears in traditional Oaxacan cuisine and many Guatemalan dishes.
Cacao was distributed around the world after the Spanish Conquest.
That explains why today you'll find hot xocolata (chocolate) served throughout Spain.
Thick, creamy hot xocolata is often enjoyed with churros much as it is on a Sunday in Mexico City's Historic Zone.
In Barcelona there's even a whole street devoted to xocolaterías (chocolate shops). Carrer de Petritxol aka Chocolate Street is a narrow street in the Gothic Quarter (Google Map) that's paradise for chocolate lovers.
In between browsing the independent art galleries, indulge in boxed bonbons as well as hot xocolata with or without whipped cream.
🌟 Try It: Granja Dulcinea and Petritxo Cafe, both located on Carrer de Petritxol (Google Map) are top spots to enjoy a mug of authentic xocolata.
Or for an upscale interpretation, head to Petit Comité where their 'textures de xocolata' presents chocolate served three ways.
🌟 Pro Tip: Founded in 1775, confectioner Torrons Vicens has a long history of producing premium handcrafted nougat and chocolate specialties.
Many of their 15 shops in Barcelona serve hot xocolata in various intensities. This is the place to buy the perfect Barcelona souvenir for foodie friends and family.
Final Thoughts on Exploring Barcelona's Traditional Food and Drink Scene
This list is just the beginning of the fantastic Catalan food and drink you can try in Barcelona. It would take a lifetime to discover it all!
With so much diverse and delicious food to try, hopefully we've convinced you to include plenty of time in your Spain itinerary to explore Barcelona's culinary scene independently or on a guided food tour.
Whether you're a meat or seafood enthusiast, you're sure to find a Catalan dish that will make you want to revisit Barcelona again and again.
Official Barcelona Tourism: Turisme de Barcelona
More Spain Food and Travel Inspiration
Save to Pinterest!
Dividing her time between Canada, Guatemala and Mexico (or the nearest tropical beach), Michele Peterson is the founder of A Taste for Travel. Her award-winning travel and food writing has appeared in Lonely Planet's cookbook Mexico: From the Source, National Geographic Traveler, Fodor's and 100+ other publications.
Read more about Michele Peterson.