We may earn income from links in this post. Please read this Disclosure for details.
While many people travel to Istanbul to explore its fascinating historic sites and colourful bazaars, the Ciragan Palace Kempinski hotel offers special appeal for culinary travellers.
Its Tuğra Restaurant on the first floor of the original Çırağan Palace features a fine-dining experience with a menu of classic Turkish and Ottoman dishes based on recipes from the Ottoman Empire.
A meal here is also a rare opportunity to dine in a real Ottoman palace!
I've visited Istanbul multiple times in recent years and have stayed at the Kempinski twice and dined there both for brunch and dinner.
On my first visit to Turkey it was my top choice as I was travelling solo and wanted to splurge on a splashy resort with views of the Bosphorus.
During another visit to Turkey, my husband and I stopped over while enroute to the beach destination of Bodrum. Its magical marriage of history, culture and sumptuous luxury makes it ideal for a couples getaway or honeymoon.
But because of its expansive swimming pool, kids menu and convenient location it's also a good family-friendly hotel for a visit to Istanbul with kids.
And if you're looking for the best place to enjoy Sunday Brunch in Istanbul, Ciragan Palace should be at the top of your list.
The fine cuisine and views are so beautiful, it should be on everyone's bucket list to experience at least once in their lifetime.
History of Çırağan Palace
Constructed between 1863 and 1867 on a site overlooking the Bosphorus, Çırağan Palace served as the residence for several sultans of the Ottoman Empire.
The area surrounding the palace was known as Kazancıoğlu Gardens during the Tulip Period ( 1718-1730), a time characterized by a love of flowers and music. Today, you can still see the remains of the lush greenery that once stretched from Besiktas to Ortakoy.
In addition to serving as an Ottoman palace, in 1909 the stately building was used as the Turkish Parliament Building.
In 1910, a fire destroyed the interior and many priceless art works and books from the library of Murad the V, an Ottoman sultan who reigned in 1876.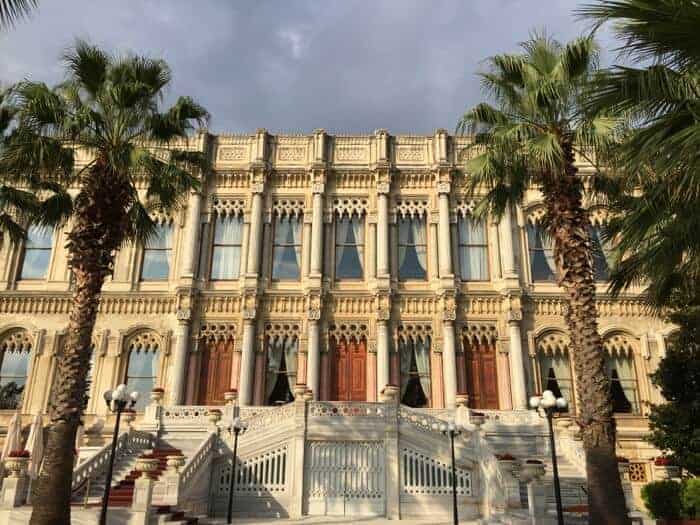 The buildings have since been carefully restored and in modern times, the Imperial rooms within Ciragan Palace serve as guest suites and restaurants.
Interior of Ciragan Palace Kempinski Istanbul
In addition to being Istanbul's top luxury dining destination, the Ciragan Palace Kempinski is widely considered the best luxury hotel in Istanbul. It's the perfect hotel for solo travellers, business travellers or couples.
Service is exceptional. It's the only hotel I've ever checked into where I was presented with a hand bouquet of fresh flowers.
Wrapped in silk, it was a posey fit for walking down a wedding aisle. I felt very special indeed carrying it to my suite.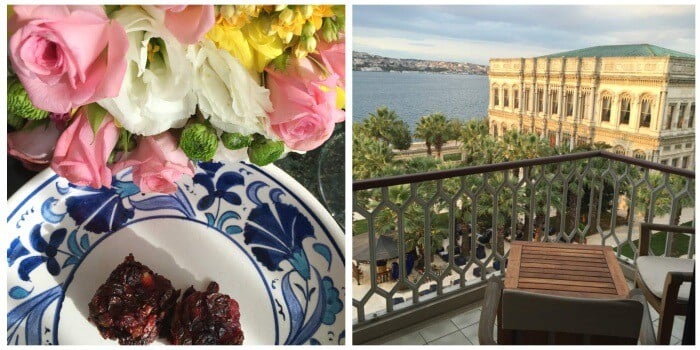 My spacious room on the 5th floor overlooked the Bosphorus and featured double doors that opened onto a terrace that was ideal for enjoying a morning coffee or sipping tea while watching the sun set.
Each evening, a culinary treat such as Turkish Delight, was presented as an amenity which added an authentic local touch.
Ciragan Palace Restaurants and Menus
As you might expect for a five-star hotel, the Ciragan Palace offers a wealth of dining options. Be sure to reserve in advance at diningreservations.ciraganpalace@kempinski.com
Tuğra Restaurant
Tuğra is quite possibly the most famous restaurant in Istanbul. It's deservedly remarkable both for its menu featuring classic Turkish and Ottoman dishes, views of the Bosphorus and wine list featuring Turkish wines.
It's located on the first floor of the historic palace building. The best tables are those on the balcony set overlooking the promenade and sparkling waterfront. It's truly a magical setting.
It's worth the splurge to marvel at the opulent interior, soak up the elegant atmosphere and sample dishes you'll likely never find anywhere else.
The dishes are unique in that they are recreated from recipes from Topkapi Palace, archeological treasures that capture the spirit and flavours of a bygone era.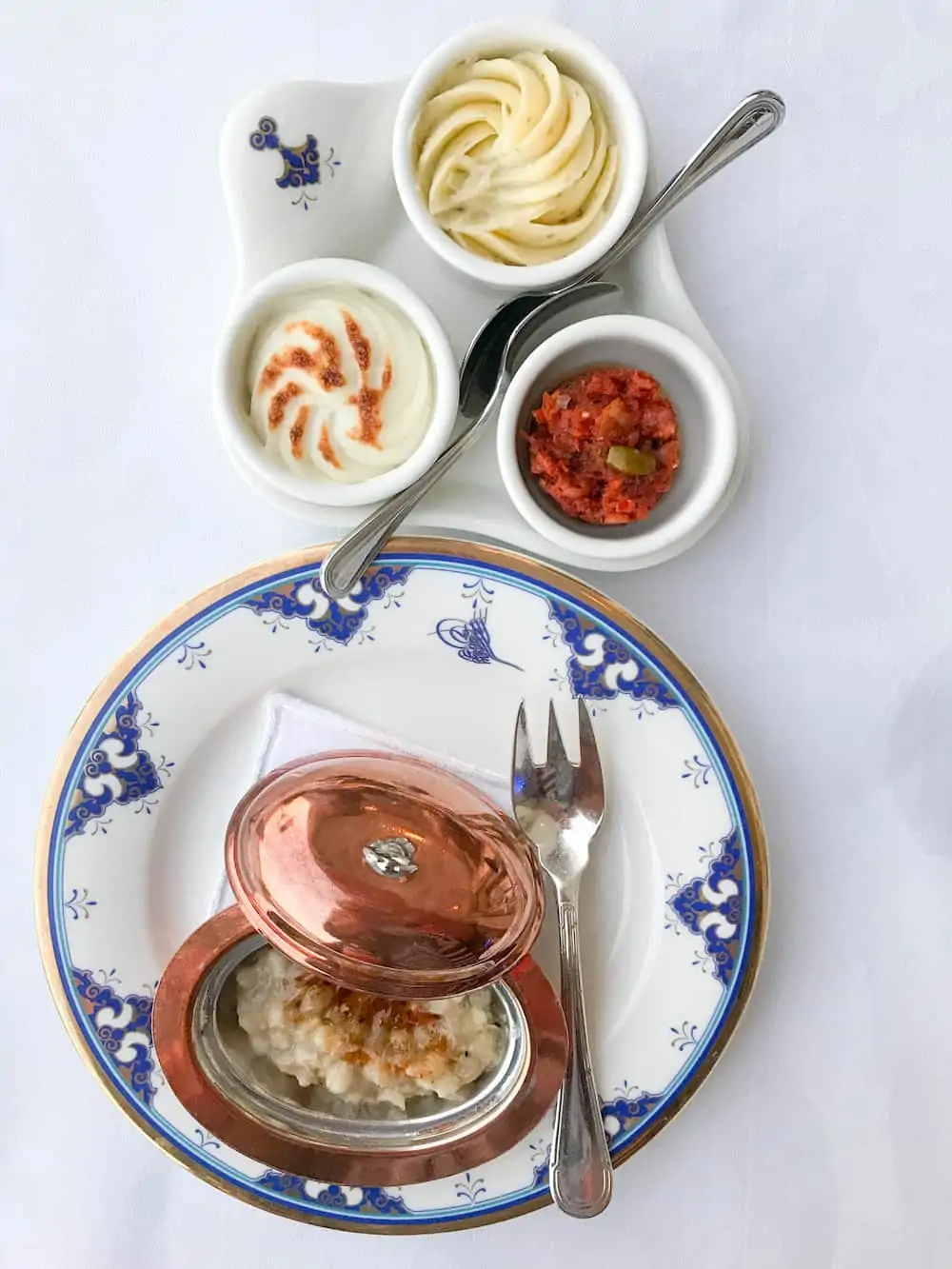 One must-try dish from the menu at Tuğra is the Lamb Testi, a method of cooking in a clay pot that can be traced back to the Hittites of north-central Anatolia around 1600 BC.
It's presented at the table with a piece of baked bread sealing the top of the clay pot, a method originally designed to ensure the sultan could not be poisoned. Serving staff then lop off the top of the pot with a special copper tool, breaking the seal when it's ready to serve.
For another memorable entree, try the sea bass in rock salt dough, a dish that serves two and is based on a recipe dating to 4th century BC.
The fish comes encased in crystalline crust and is served with tender asparagus, rice pilaf and a creamy sauce.
Brunch at Laledan Restaurant
A highlight of the Sunday Brunch menu at Ciragan Palace Kempinski is the setting. Brunch takes place between 12 and 4 pm on Sundays at Laledan Restaurant within the main building overlooking the gardens, swimming pool and the Bosphorus.
It features expansive food stations brimming with Turkish cheeses, fresh fruit, nuts, olives, salads, smoked meats and cereal. Plus, there's a wide range of classic hot options such as Eggs Benedict and omelettes.
Insider Tip: The Sunday Brunch (and daily breakfast buffet) offer a fantastic selection of gluten-free, lactose free and vegetarian options.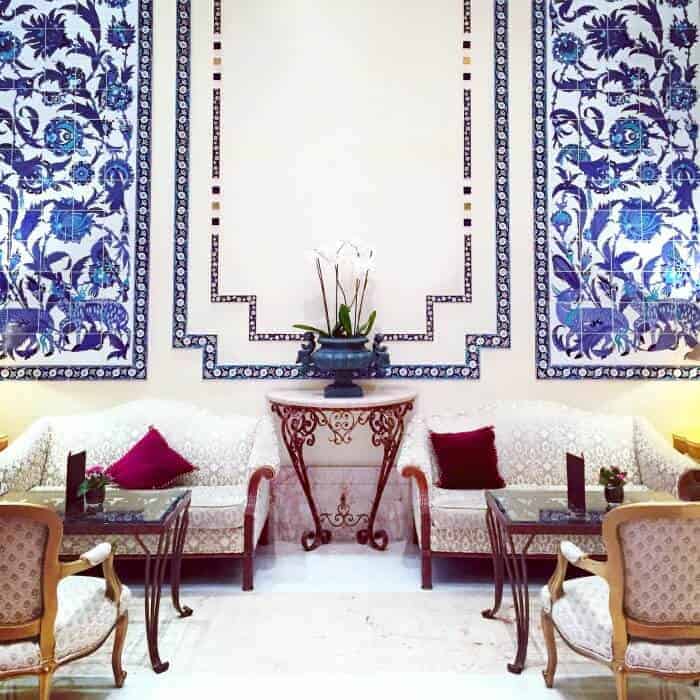 For travellers with dietary restrictions, the Ciragan Palace Kempinski is definitely the best luxury hotel in Istanbul to choose.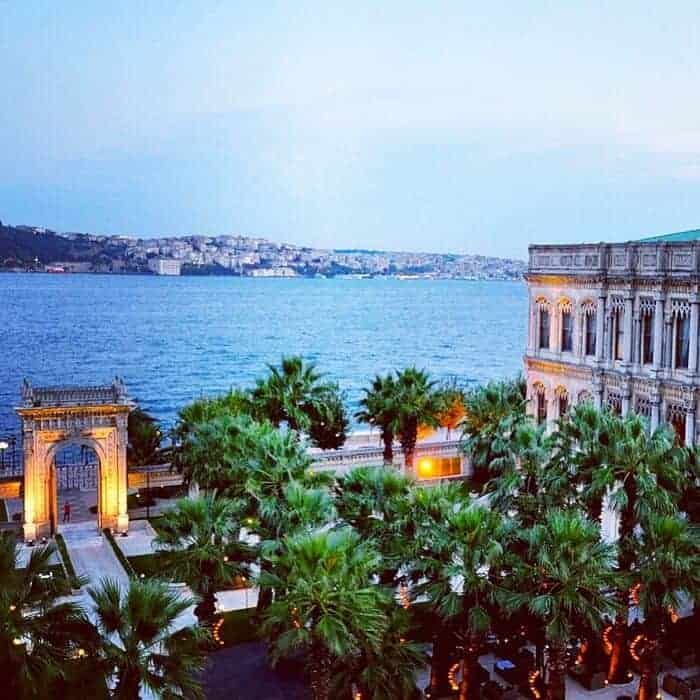 Spa and Swimming Pool at the Ciragan Palace Kempinski
To further complement a fit, healthy and active vacation, Ciragan Palace Kempinski features a fully-equipped fitness center.
There's also a Sanitas spa complete with a hammam Turkish bath, indoor swimming pool and luxurious treatment rooms.
The lush gardens wrap around an outdoor pool overlooking the Bosphorus offering views of yachts, freighters and boats of all sizes and shapes gliding along this important waterway.
If you're travelling with kids, the Ciragan Palace Kempinski's large outdoor infinity swimming pool, butler service in all room categories and concierge team make it one of the best hotels for families in Istanbul.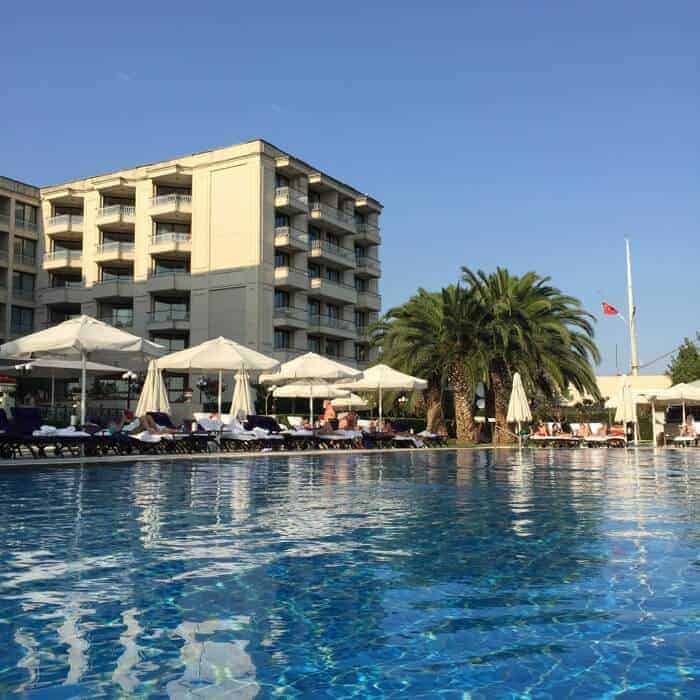 Security and Safety in Istanbul
During my visit, security was evident at both check-in and on the grounds. All visitors at the Ciragan Palace Kempinski undergo a mandatory scan and check of bags and luggage before entering.
Judging from the photo gallery, the hotel is popular among celebrities, dignitaries and royalty. Oprah, Princess Caroline of Monaco, Linda Evangelista, Robert DeNiro and Bono have all enjoyed a stay here.
Things to Do – Visit Ortakoy Mosque Istanbul
Although the hotel isn't located within walking distance of Turkish landmarks such as the Blue Mosque, the Grand Bazaar and Topakapi Palace, it still makes a fine base for explorations of Istanbul.
During my visit, I participated in a walking tour of the Old Quarter with Culinary Backstreets. I highly recommend them if you're a food lover up for an adventure that spans 2,000 years of culinary history.
During this 4-hour tour hosted by a local resident and passionate foodie, we sampled several traditional Turkish dishes.
We enjoyed everything from pide to Konya wedding soup to kororec (a snack made of intestines and offal said to cure even the worst hangover) and met many fascinating local producers, chefs, cooks and residents along the way.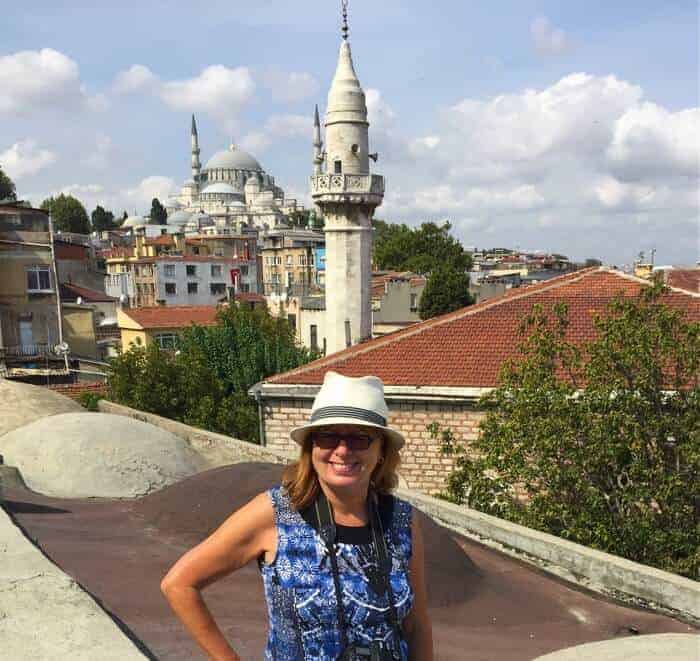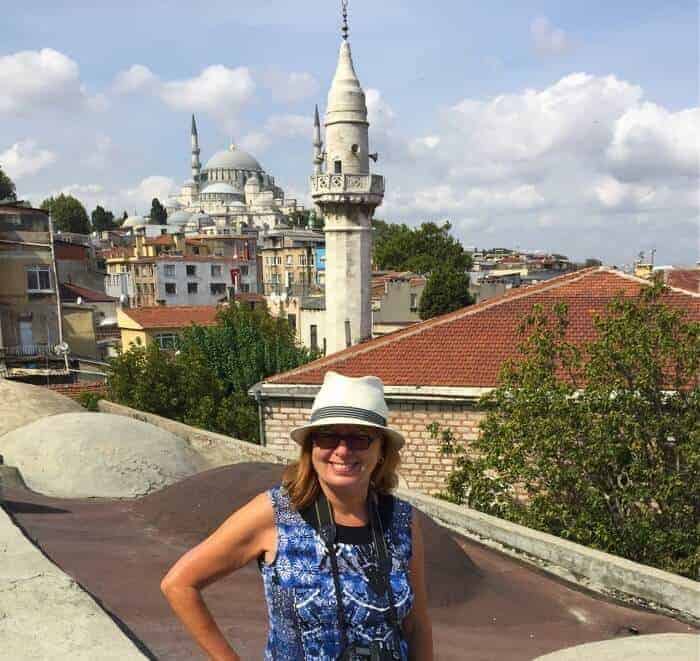 Located in the heart of Istanbul on the European shores of the Bosphorus, the hotel also happens to be an easy 10 minute walk to the beautiful Ortakoy mosque.
Built in 1855, this impressive building sits at the edge of the waterfront of the Bosphorus. It anchors İskele Meydanıa, a lively square popular with locals.
It's also home to a Sunday Flea market brimming with sachets of lavender, jewellery and hand-knitted wool mittens.
The beautiful architecture and setting of Ortakoy Mosque makes it a must-see on any visit to Istanbul. Consult this 5 Day Istanbul Itinerary to make sure you don't miss any of the major sights and experiences.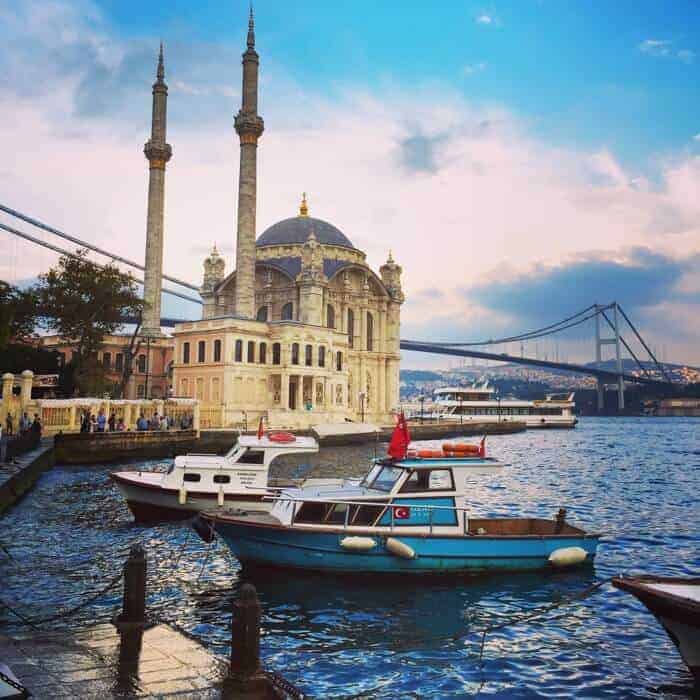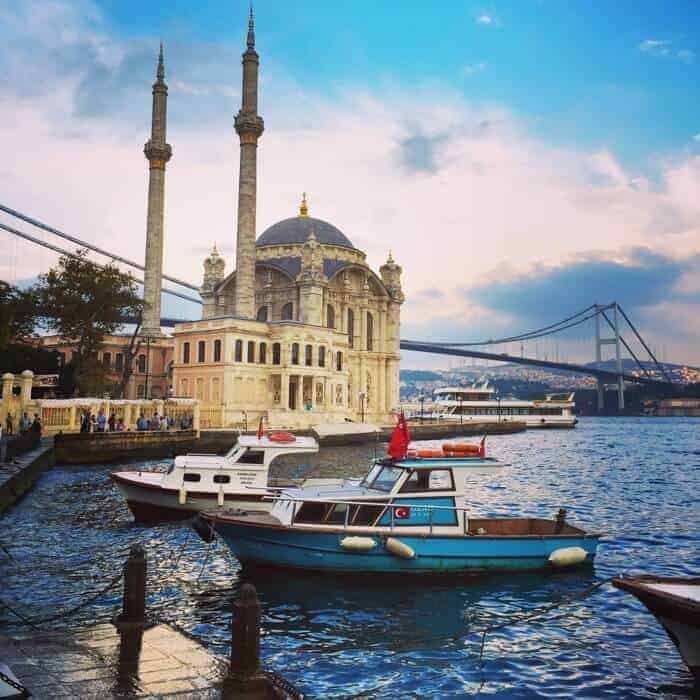 The Ortakoy Pier is one of the busiest in Istanbul. It offers several restaurants, bars and food stands where you can lounge and watch the beautiful sunset.
I travelled there solo, enjoyed a chilled Efes Pilsener and felt very safe even after dark.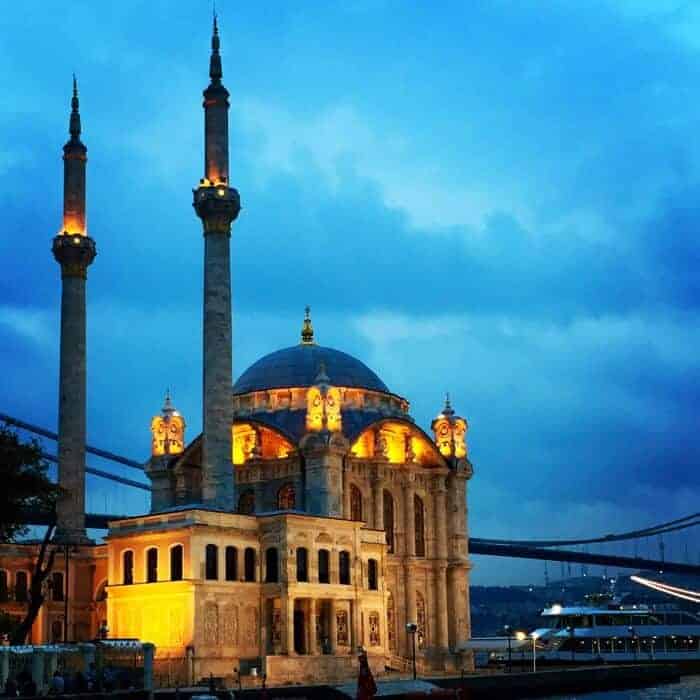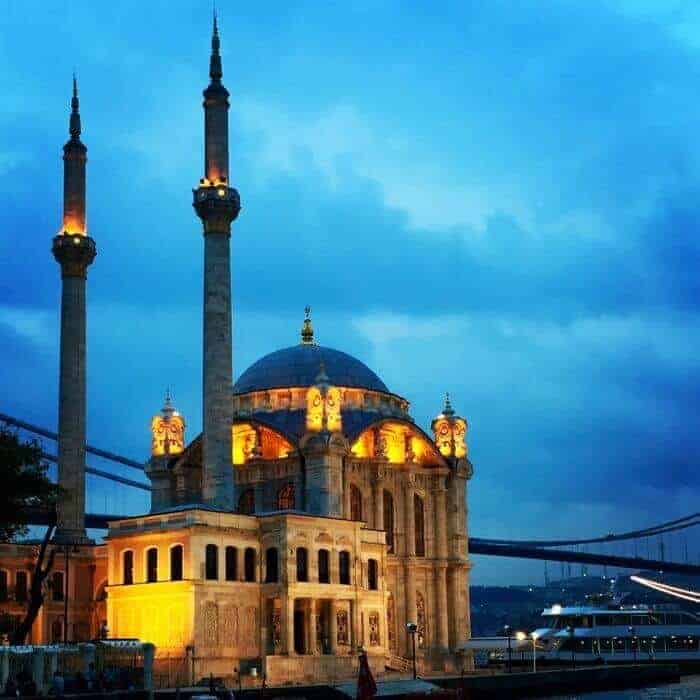 Although most people visit Istanbul in the summer, it's also possible to explore its many sights in the winter. Check out this Istanbul Winter Travel Guide for suggestions on things to do.

Istanbul Travel Planner
More info: Learn more about the Ciragan Palace Kempinski Palace by visiting the Kempinski Hotel website.
If you're planning a bucket list getaway you can't go wrong with the best luxury hotel in Istanbul.
Check rates and availability of Ciragan Palace Kempinksi on Booking.com
Turkey Visa Requirements: Note that if you're from Canada (and many other countries) you need a visa to travel to Turkey. Fortunately you don't have to stand in line at an embassy to get one. You can get one online at the Republic of Turkey official e-Visa website at www.evisa.gov.tr/en/
If you're looking for a country where you don't require a visa, check this list of visa-free countries for Canadian Passport Holders.
If you're interested in spas and thermal waters, it's worthwhile to take an overnight bus or fly to the Travertine Thermal Pools in Pamukkale Turkey for an unforgettable experience.
Looking for More Bucket List Luxury Hotels in Europe?
Save on Pinterest: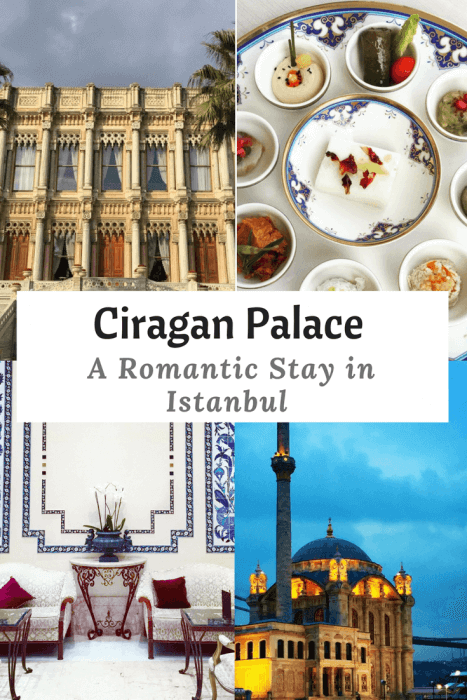 Dividing her time between Canada, Guatemala and Mexico (or the nearest tropical beach), Michele Peterson is the founder of A Taste for Travel. Her award-winning travel and food writing has appeared in Lonely Planet's cookbook Mexico: From the Source, National Geographic Traveler, Fodor's and 100+ other publications.
Read more about Michele Peterson.