We may earn income from links in this post. Please read this Disclosure for details.
If you're planning a vacation in Turkey, you don't want to miss sampling the top traditional Turkish food.
Because not only is this country rich in history, filled with stunning architecture and graced by some of the world's most beautiful beaches, it also happens to be one of the most incredible countries for food.
Turkish cuisine reflects the legacy of the Ottoman empire as well as the flavours of Asia, the Mediterranean, Aegean, Balkan, Arabic, Slavic and Western worlds.
It's diverse, complex and regionally varied in ingredients and cooking methods.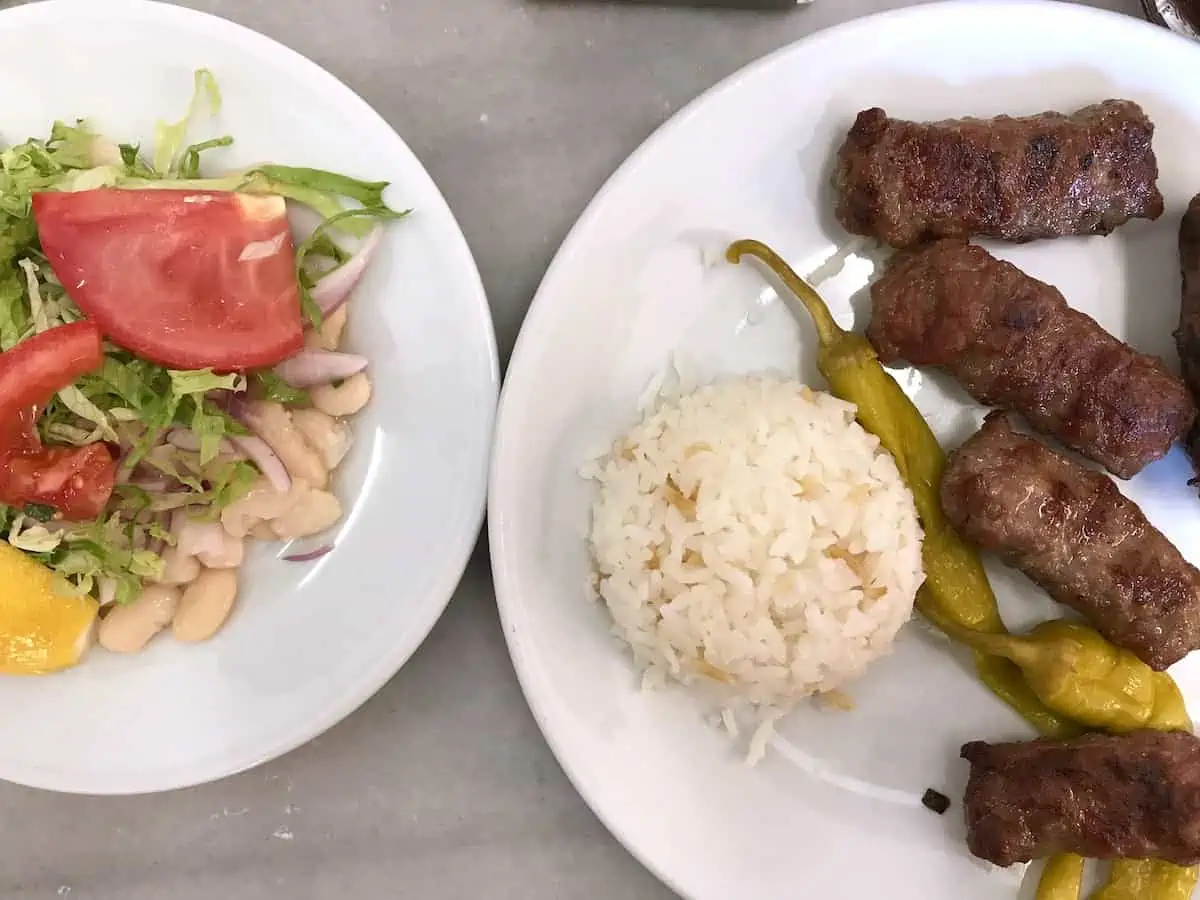 Food in Turkey
All this diversity makes visiting Turkey a memorable experience for food lovers.
It's complemented by the passion of local cooks, producers and other culinary ambassadors who are often willing to introduce you to their favourite restaurant, share a recipe or give advice on cooking regional ingredients-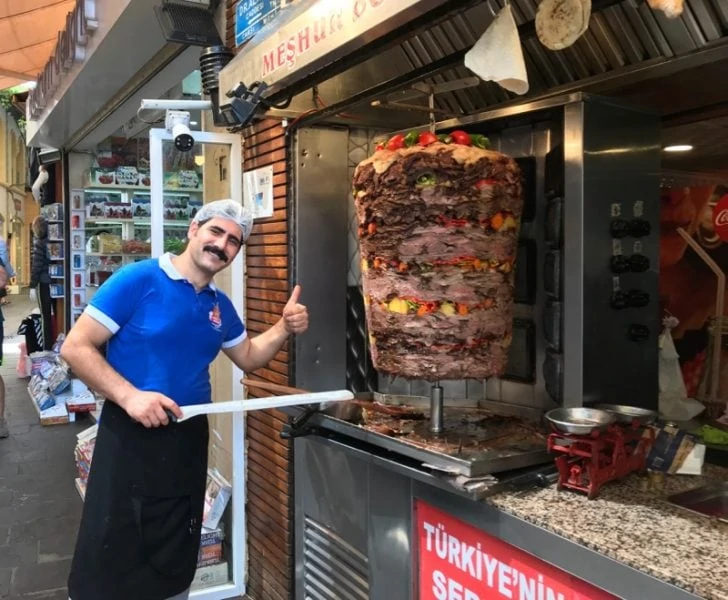 Over the past several years, I've travelled through Turkey (now spelled Türkiye and pronounced "tur-key-yay") from bustling Istanbul to its coastal beaches to its inland villages.
Turkish food has become one of my favourite world cuisines. It would take a lifetime to experience every traditional Turkish dish and drink.
From sampling organic olive oil on the Bodrum peninsula to enjoying a traditional lunch in a lokantasi (casual eatery), there's so much Turkish cuisine to explore it's easy to become overwhelmed by all the choices.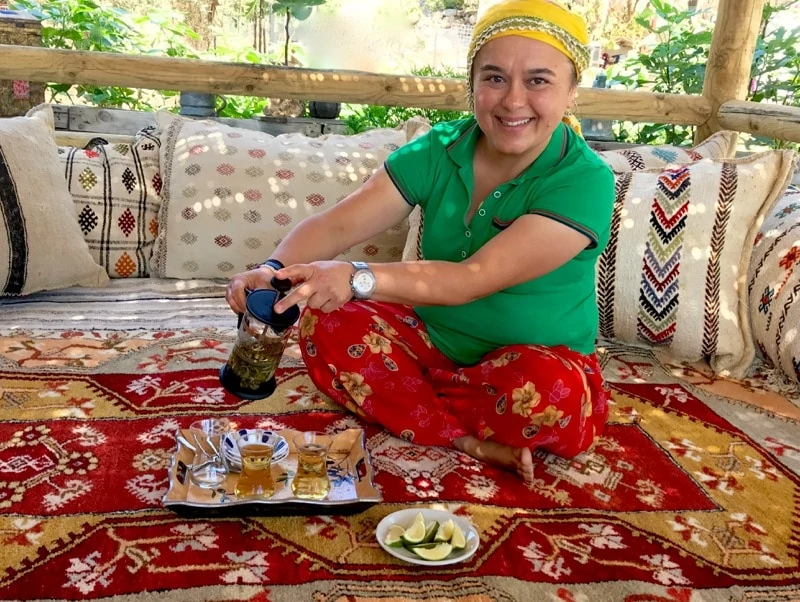 So, whether you have a limited amount of time or a full month in Turkey, it's wise to make a plan about which foods you're going to try.
To help select the best food to try in Turkey, I asked my food and travel colleagues to share their favourite Turkish dishes. Here's our ultimate list of must-try Turkish dishes everyone should try on a visit to Turkey.
More than just a list of famous dishes, this Turkish food guide dives into the history, culture and stories behind the most country's most intriguing foods.
It even includes insider tips on the best places to find them!
Baklava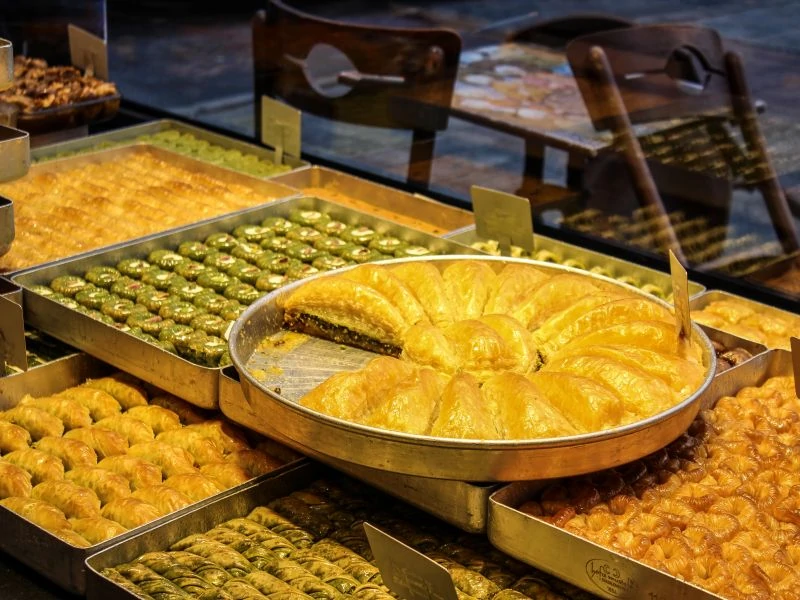 What probably originated from the kitchens of the Topkapi Palace in Istanbul is one of the best dishes in Turkey – Turkish Baklava. It's one of the most popular desserts in Turkey and is available everywhere from small cafés to fine-dining restaurants across the country.
While baklava is a typical dessert across various Balkan states as well as in Cypriot cuisine, it originated from the Ottoman Turks.
Fragrant with cinnamon, nutmeg and cloves, baklava is a sweet pastry with a filling of honey and chopped nuts which leave a delectable taste as they melt in your mouth.
The variations of this dessert come from the variety of nuts used in the filling. While walnuts, almonds, and pistachio are commonly used, some parts of Turkey use hazelnut for the filling.
In Istanbul, the famed Hafiz Mustafa in Istanbul is the best place to sample authentic baklava. They've been making it according to the same recipe since 1864.
There are many branches of Hafiz Mustafa in Istanbul and it's fun to try their many variations.
By Parampara, Awara Diaries
Börek
Börek is one of the national dishes of Turkey and quite possibly best Turkish snack. Börek is delicious for breakfast, as a snack, but also for your lunch or dinner – it's simply a perfect allrounder of the Turkish cuisine.
A must-try taste of Turkey, börek is basically a baked, filled pastry made of a thin flaky dough known as phyllo of Anatolian origins. While this famous dish is also popular in other regions (like the Balkans), it has its origins from the Ottoman Empire.
In most regions of Turkey you can enjoy börek with a variety of fillings including potato, meat, cheese, spinach and much more. For house-made börek, head to a traditional restaurant or coffee shop with a demitasse of Turkish coffee.
Enjoying a piece overlooking the Bosphorus is one of the top things to do in Istanbul.
By Michael, Michael Gerber.com
Cig Kofte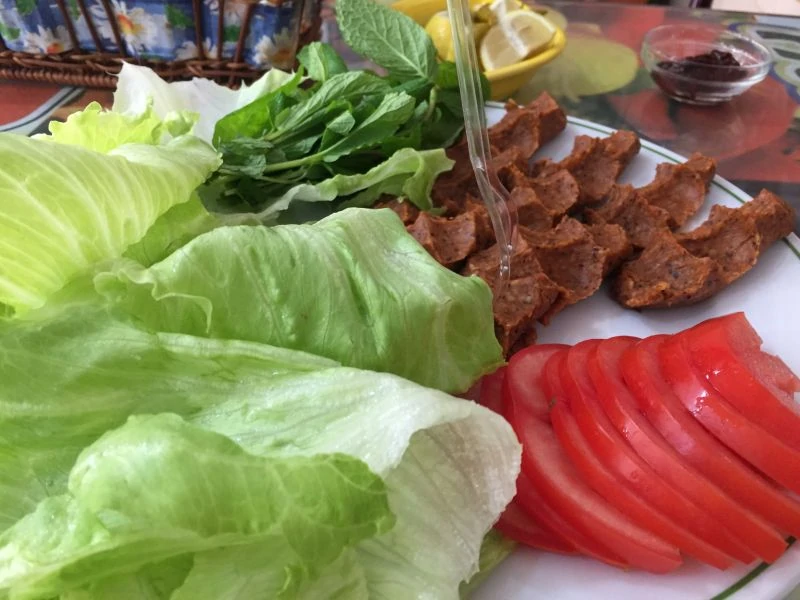 If you Google cig kofte, you'll see the first few results describing it as a raw meatball dish. As a vegan, this can be confusing.
Never fear, as it's a delicious Turkish food made from bulgar wheat, that looks very similar to raw meatballs!
There are some places that serve cig kofte in a wrap, but the most common way you'll see it is served alongside a mixture of vegetables, mint, and lemon.
The lemon adds a wicked taste to the bulgar wheat, which usually is combined with tomato, onion, chili, and salt.
It's a satisfying meal for lunch, and affordable too, with a plate costing anywhere from 4 TL – 12 TL at an average restaurant. Note: it is not always easily found, but if you look online you'll find a restaurant that serves it.
If you want a unique cig kofte experience, head to Çiğ Kofteci Ali Usta in Istanbul. It'll be the most entertaining 4 TL you'll ever spend.
By Jub Bryant, Tiki Touring Kiwi
Cacik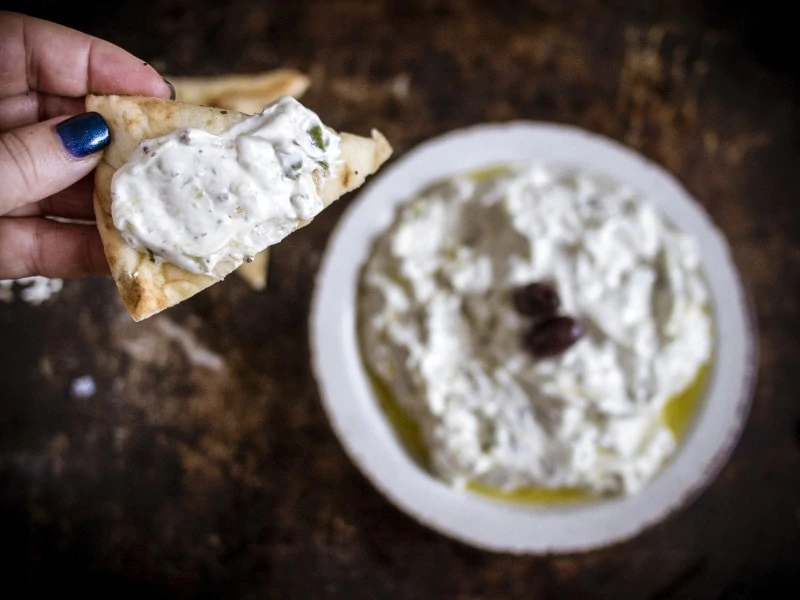 Although most people know Greek tzatziki well, few have heard of its Turkish cousin, cacik.
It's a yogurt cucumber dip that you can find throughout Turkey and actually there are versions of this dish around the world. Many cultures have created a yogurt dip, like raita in India or mast-o-khiar in Iran.
You can find cacik at any restaurant that serves mezzes (small dishes). But you'll also find it in many Turkish homes as the recipe is so easy to make. It's basically full fat yogurt, shredded cucumber, lemon juice and mint or dill.
While tzatziki and cacik appear to be the same the difference is in the yogurt. Greek tzatziki often uses goat or sheep dairy while a traditional cacik recipe uses yogurt from a dairy cow.
It is served thick as an accompaniment for grilled meat or meat balls but sometimes it's served a bit thinner as a cold soup.
By Ayngelina, Bacon is Magic
Coban Salatsi – Shepherd Salad
Often served as a side with meat and vegetarian mains, this crisp and refreshing salad features chopped cucumber, green pepper, tomatoes, salty feta cheese, red onion and briny olives in an olive oil and vinegar dressing.
It's very similar to the classic Greek and Cypriot salads as it doesn't generally include lettuce.
Get this recipe for coban salatsi and make this healthy Turkish salad at home!
Dolma – Stuffed Grape Leaves
Dolma, also referred to as dolmades, is a common food in Turkey. Made with the leaves of the narince grape vine, not only is it fairly easy to make, but it's also healthy! Traditionally, the leaves were stuffed with lamb and rice. However, many modern variations call for the use of vegetables, fruit, offal, or fish.
Dolma is best enjoyed cold or warm with your favourite sauce. Many people eat it as a main dish with salad or plain yogurt. Others eat dolmas as the side dish for main courses such as grilled lamb chops, chicken, or souvlaki.
Many restaurants in Turkey, such as Ficcin (90 212 293 37 86) near the Galata Tower in Istanbul, have dolmas on the menu. Ficcin restaurant serves both meat-based option and a vegetarian option.
Dondurma – Turkish Ice-cream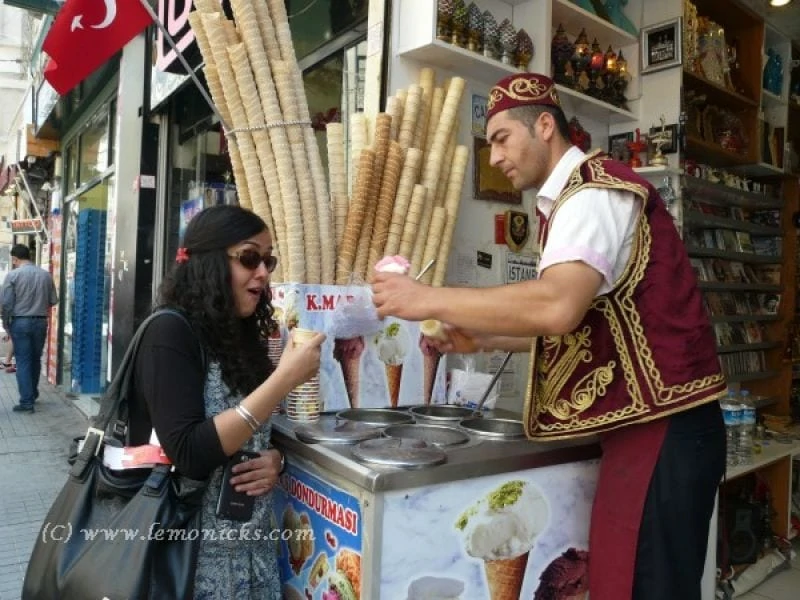 Among all the dishes, snacks, drinks in Turkey, Dondurma, the Turkish ice cream takes the cake when it comes to dramatic presentation.
In order to attract patrons they actually tease the customer by serving the ice cream with tricks. Their most famous lines are "Ice cream, you scream, we scream !!!"
Dondurma is also consumed in northern parts of Greece where it is called "Dudurmas" or "Kaimaki". Dondurma literally means 'freezing' in Turkish. Two qualities that differentiate this ice cream from others are texture and density. It does not melt!
It is served cold but not frozen and it is dense and chewable and has great elastic powers. It does not come even close to the ice cream we normally eat except that it's also served in a cone.
Sometimes it is so sticky that it's eaten with a knife and fork!
By Nisha and Vasu, Lemonicks
Doner
When asked to name a famous Turkish food, most people would say doner, or doner kebab. This dish is a popular fast food and street food item in Turkey and the word translates to "meat cooked on a rotisserie."
Doner is made with seasoned meat that's cooked on skewers and is then eaten alone or served over rice or in flatbread sandwiches.
In Turkey, there are many varieties of doner kebabs available but traditionally, lamb and beef are the main ingredients.
In Turkey, particularly in Istanbul, you'll find doner almost everywhere, but if you're looking for the best doner in town, check out Metet Kozde Doner (Kuzguncuk Mah, İcadiye Cd. No:39, 34674 Üsküdar).
It's located in the Kuzguncuk district on the Asian side of Istanbul.

Gozleme
Gozleme is one of the most common foods in Turkey. You can find it as a street food or in restaurants, and it's perfect for children and adults alike, mainly because it's so easy to eat just with your hands.
Gozleme is a flatbread that after being rolled out is baked on a rounded grill.
In bigger cities like Istanbul, the ladies who make it are often seated in restaurants and will not only make you a fantastic treat, but will happily pose for a photo or two.
There are all kinds of fillings, like cheese, hamburg, spinach, and even potato. It's extremely cheap, and will only cost you a dollar or two, depending on where you are.
And when it's cold outside it will warm you up quickly.
Don't miss out. Gozleme is a must-try in Turkey. I'll bet it quickly becomes one of your favourite Turkish foods.
By Corinne, Reflections Enroute
Gullac – Rosewater Pudding
All this talk about main courses must have you wondering about Turkish desserts. Well, there are many but one of the most popular ones is gullac, or rosewater pudding.
This sweet treat is most commonly eaten during Ramadan and other special occasions and it's made with milk, sugar, walnuts, and rosewater.
The finished product is almost like a pastry and is light and refreshing.
İmam Bayildi – Stuffed Eggplant
While the name "The Imam Fainted" doesn't sound like the name of a traditional Turkish dish, it's actually quite popular. It's said that the name of the dish came about when the first person who ate it fainted because it was so delicious.
This tasty Turkish dish features tender eggplant stuffed with savoury onions, tomatoes and garlic. The finished creation is then simmered in olive oil.
Imam Bayildi is best served warm or at room temperature.
In Istanbul, Kandilli Borsa Restaurant serves a version of Imam Bayildi widely considered to be among the best around. They even have a vegan option.
Iskender Kebab
The Iskender Kebab is one of the best known Turkish dishes of North-Western Turkey. You'll find this in many places in Istanbul, look for a doner kebab rotisserie near the front of the restaurant.
The Iskender Kebab takes its name from its inventor, Iskender Effendi who lived in the Ottoman Empire in Bursa in the 19th century.
You may also find it in Istanbul restaurants as "Bursa Kebab" after its creator's home. It's quite a bit different than Pottery Kebab, the famous version baked inside dough that you'll be sure to experience if you travel to Cappadocia.
An Iskender kebab consists of doner kebab – thinly sliced rotisseried lamb topped with hot tomato sauce, served on pieces of pita bread. It's also served with generous helpings of butter and yoghurt.
It's a Moorish, filling dish, comfort food for cold nights, although we also enjoyed it on hot days too!
By Sarah Carter, ASocialNomad
Kapuska – Cabbage Stew
For many people, cabbage is an acquired taste. But even if you're someone who turns your nose up at this vegetable, kapuska just might be the dish that changes your mind about cabbage.
Considered a comfort food in Turkey, this cabbage stew is delicious, healthy and easy to prepare.
To make this dish, beef, onions, vegetables (spinach) and spices are simmered in tomato sauce. Some recipes call for lamb but many people enjoy it without meat for a hearty vegetarian dish.
Kokoreç – Lamb or Goat Intestines Wrapped around Offal
Whether you get it from a vendor on the street or order it in a gourmet restaurant, there's no doubt that Kokorec is a very popular food in Turkey.
If grilled lamb or goat intestines sound unappealing to you, I recommend you set judgement aside and give this fabulous dish a try. You won't be disappointed!
The intestines, which are wrapped around offal, are dressed in tomatoes, peppers, onions and spices. It's usually served with bread.
Kokorec is tricky to prepare because the meat needs to be cleaned properly, so preparation is best left to someone familiar with the process.
In Istanbul, Kral Kokorec (Hobyar, Büyük Postane Cd. No 26/1, 34112 Fatih/) specializes in this barbecue dish.
Kumpir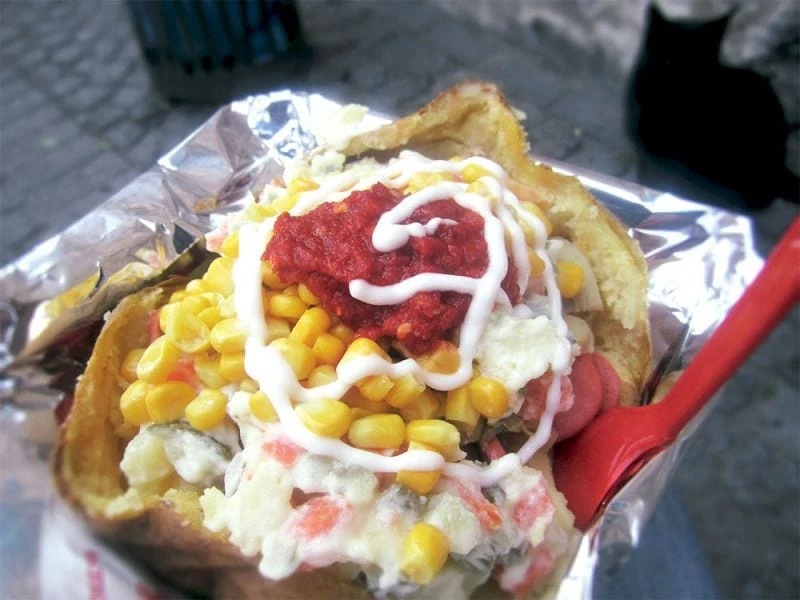 A popular street food in Turkey is Kumpir, or stuffed baked potato. It's no ordinary baked potato though.
Kumpir typically uses huge potatoes that are stuffed to bursting with all manner of ingredients, and it's a colourful, decadent treat.
The baked potato is actually mashed with butter and cheese within its jacket, and then you can load it up with a plethora of fillings and toppings, much like at a Subway shop. This makes it a great option for vegetarians.
Typical options include sweet corn kernels, olives, sausages, pickled beet, mushrooms, and more but don't be too greedy! Four or five toppings is a good number. Top it off with yogurt and bulgur salad, and you have a really satisfying meal.
Kumpir can be found just about anywhere, but it is most famous in the Ortaköy neighbourhood of Istanbul, which lies along the Bosphorus.
Here, a line of kumpir and waffle kiosks colloquially known as "Kumpir Sokak" (meaning "Baked Potato Street") serve piping hot kumpir for you to enjoy along the waterfront.
By Brooke, Roamscapes
Kuzu Tandir – Slow Cooked Roast Lamb
Turkish cuisine has many lamb-based dishes, but one of the most beloved of them all is kazu tandir which is slow-cooked roast lamb.
Some versions of this traditional food in Turkey is cooked using an ancient method that sees the meat cooked in a unique oven that's a pit in the ground lined with mud and goat hair.
The lamb shanks are cooked slowly over a few hours until the meat becomes so tender that it melts in your mouth!
Lahmacun – Turkish Flatbread
Lahmacun is Turkish flatbread that's like a pizza without the cheese. This much-loved Turkish street food is made using a thin flatbread that is topped with minced lamb or beef, onions, garlic, eggplant, tomatoes, peppers, parsley, and spices.
This dish is often served with turnip juice, or ayran the popular traditional Turkish drink.
To try it, head to Halil Lahmacun situated in the Kadikoy district of Istanbul. They've been serving lahmacun for more than 35 years.
Lokum – Turkish Delight
Turkish food is one of my favourite of the Balkan cuisines, and a good part of that is due to their delicious desserts! While of course I love baklava and halva, another tasty Turkish dessert is Turkish delight (lokum).
Made of a jelly of starch and sugar, these candies are given various flavourings such as walnut, pistachio, and rose.
Often, chopped nuts or fruits will be added as well. They're typically dusted in a fine powdered sugar, but you can also find specialty Turkish delight that is coated in coconut, rose petals, crushed nuts, and other coatings.
My favourite way to enjoy Turkish delight is to have a few with a cup of strong Turkish coffee.
And because they are a jelly candy, they stay fresh for quite a while which makes them the perfect gift to bring to loved ones back home. So be sure to buy a few boxes as souvenirs to bring back!
By Allison, Sofia Adventures
Menemen – Scrambled Eggs with Tomato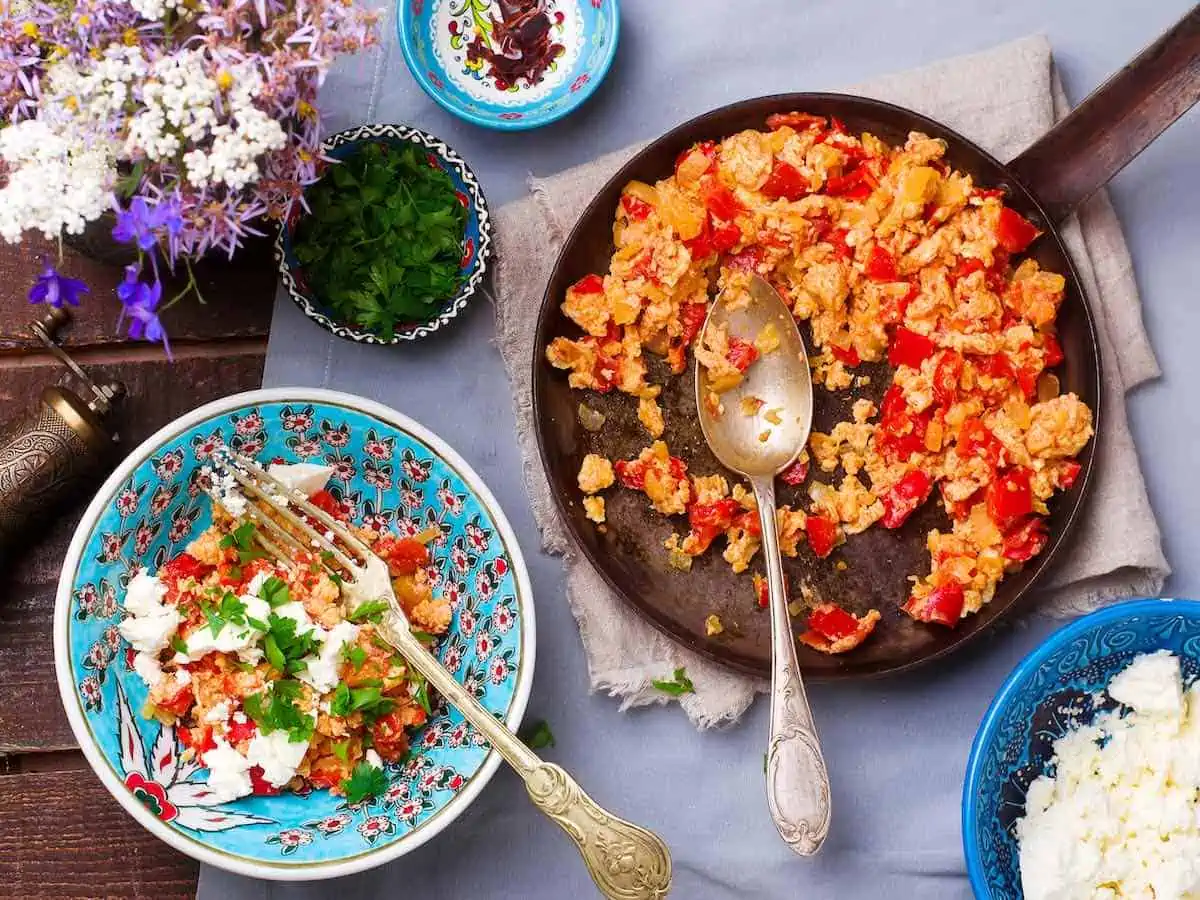 If you love scrambled eggs and tomatoes then you'll love menemen. This legendary breakfast dish has been popular in Turkey for centuries.
Other ingredients (besides tomatoes and eggs) include green pepper, olive oil, onions, black pepper and various spices. The mixture is a marriage of flavours you'll be craving even after you've returned home!
Another famous dish enjoyed as part of a traditional Turkish breakfast is shakshuka. It features basically the same ingredients as menemen but the eggs are served intact rather than scrambled.
Some variations of menemen use sucuk, which is a type of sausage, and mushrooms and minced lamb.
Naga Putrika in the Moda district of Istanbul even has seven different variations of menemen available on their menu!
Related: For a Latin American version of this dish, try our recipe for Guatemalan Scrambled Eggs with Tomatoes.
Mercimek Corbasi – Lentil Soup
Delicious, creamy, comforting, widely available and loaded with delicious ingredients. This is how one might describe mercimek corbasi.
This lentil soup has been enjoyed around dinner tables in Turkey for hundreds of years and it's still a very important part of traditional Turkish cuisine.
The dehydrated mint and mix of spices are what makes this soup so flavourful, but the red lentils, tomatoes and red peppers help! This dish is most commonly served with pide bread and lemon juice.
Put Deniz Lokantasi restaurant in Istanbul on your itinerary if you'd like to try some of the best mercimek corbasi in Turkey.
Mezze Platter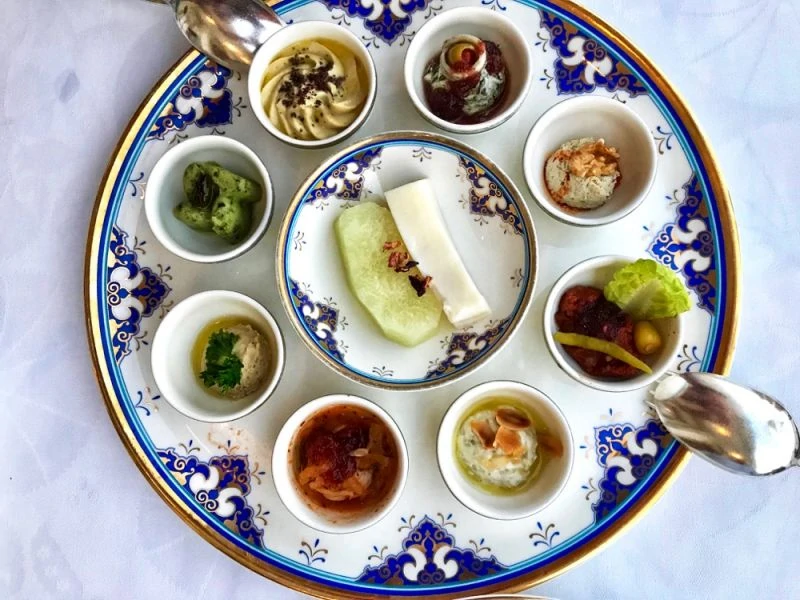 Similar to tapas, mezzes are a selection of small appetizers served at the beginning of a meal or as an accompaniment to a drink.
While you'll often see cheese and cacik (noted in more detail on our list) appear as snacks, there are many other delicious tapas you'll typically see on a mezze platter in Turkey as well as Cyprus.
Some of my favourite meze are dolmas (grape leaves stuffed with rice), Patlican saltais (eggplant salad), grilled calamari and lamb meatballs.
One of the most interesting mezze platters I discovered was at Tuğra Restaurant and Lounge on the first floor of the original Çırağan Palace in Istanbul.
Set overlooking the Bosphorus, this fine-dining restaurant serves classic Ottoman specialties like Lamb Külbastı and Testi Kebab and is widely considered Istanbul's most romantic and luxurious dining experience. If you're in Istanbul for a special occasion, you won't be disappointed with an evening at Tuğra.
Their Tuğra platter features several unique bites including Iskenderan prawns "pilaki", marinated anchovy 'mastave", hummus, rose flavoured melon, Circassian chicken with walnut and more. It's truly a remarkable taste of the ancient world.
They also offer a dolma platter that looked equally enticing.
Pickles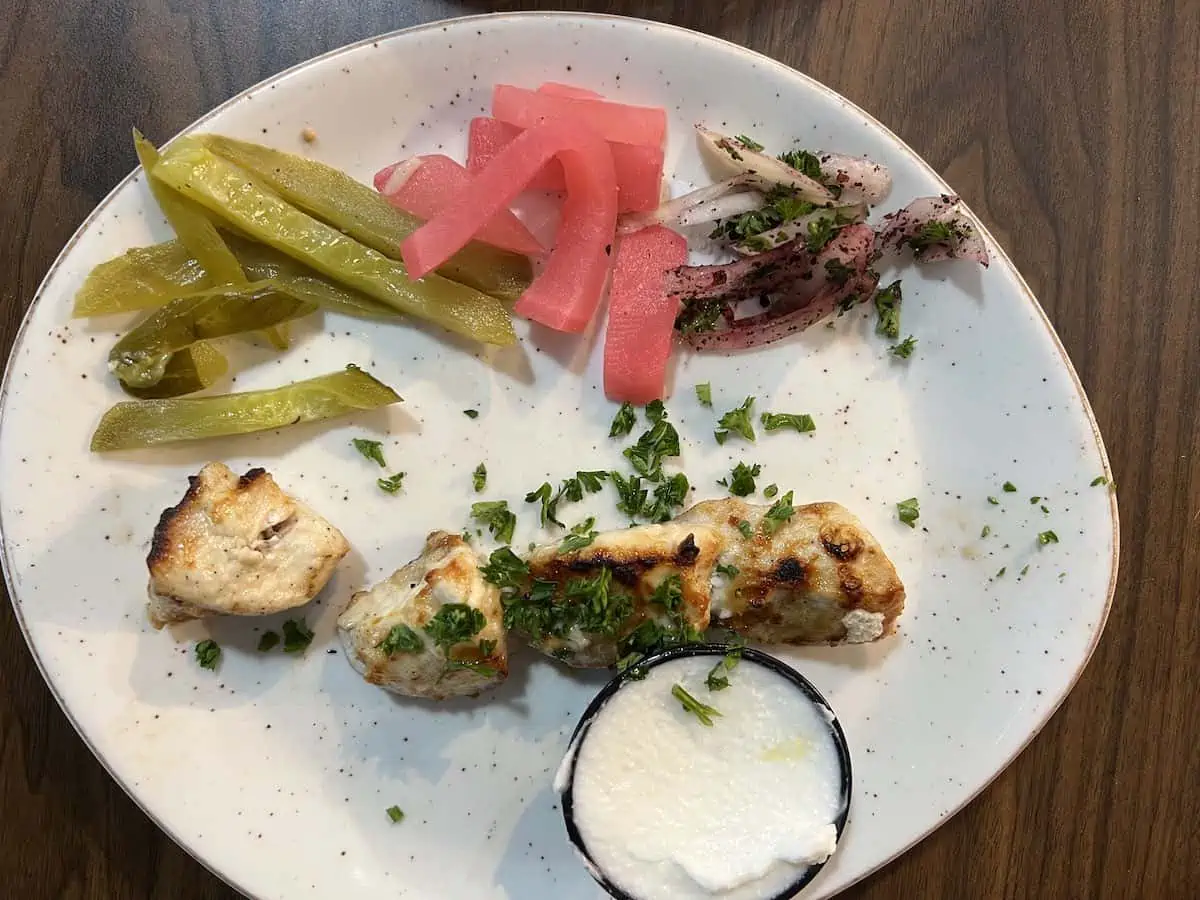 If you encounter pickles as a side on almost every Turkish plate, don't be surprised. Pickling is an ancient culinary tradition throughout Anatolia.
Not only is it a typical way to preserve summer vegetables for the winter but the pickling process itself is said to provide health benefits.
Green beans (of the flat variety) are especially popular and are served with many traditional Turkish meals.
In the region surrounding the Black Sea, you'll even see pickled green beans, cabbage and beets served pan-fried as a side dish.
Simit
Simit is ubiquitous in Turkey: similar to a pretzel or bagel and covered in sesame seeds, this delicious bread is sold in carts all over cities and towns in Turkey (especially in Istanbul!), and is easily one of the most popular breads in Turkey.
Any trip to Istanbul will undoubtedly involve passing dozens of busy simit carts, with locals lined up (especially in the morning) to buy simit–some picking up just one for a snack, and others buying entire bagfuls to take home for the day.
Chewy, filling, and tasty, simit can be eaten alone as a street food snack, served alongside a sit-down meal at lunch or dinner, or dipped into everything from hazelnut butter to honey to olive paste with a classic Turkish breakfast (personally, I think this is the very best way to eat simit).
While traveling through Turkey, be sure to try simit both on its own and with a meal–your taste buds will thank you for it!
By Kate, Our Escape Clause
Turkish Cheese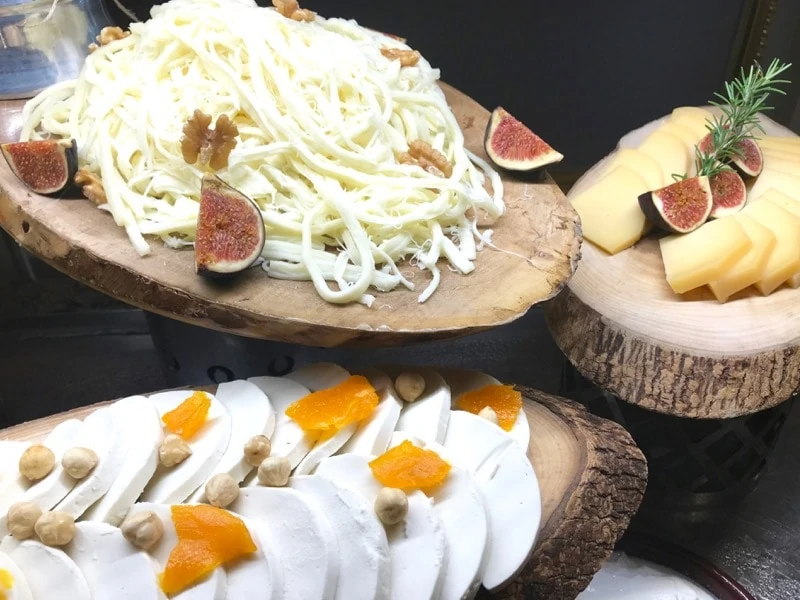 Turkey really is a country for cheese lovers. There are roughly 1,000 different varieties of cheese produced in the country!
Turkish cheese is an important part of a traditional Turkish breakfast. If you're staying at a fine hotel such as the Ciragan Palace Kempinski the morning cheese station will offer a dizzying variety of tempting cheeses, served along with an equally enticing array of olives, dried fruit and nuts.
The types of cheese you'll see most often include white cheese, which looks similar to feta cheese as it's salted in brine.
You'll find this white cheese as an ingredient in popular Turkish dishes such as börek as well as an appetizer with a glass of raki.
Other must-try cheeses include dil cheese, which, when braided is known as örgü cheese. In addition to the typical cheeses available, you'll also encounter some truly unique cheeses including one variety that comes packed in the hide of an entire goat skin.
Sampling even a small variety of Turkish cheeses is definitely a highlight of any visit to Turkey.
Final Thoughts on Turkish Cuisine and Travel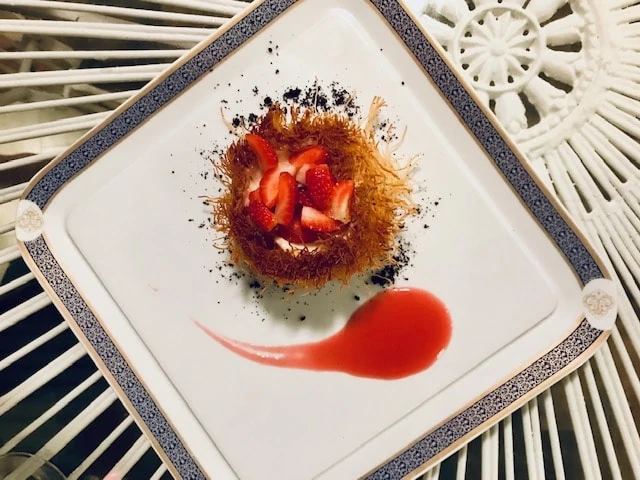 There are so many more dishes I would have loved to include in this list of Turkish dishes to try.
You don't want to miss deliciously creamy halvah. And, of course, the many varieties of seafood and fish you'll see such as snapper, red mullet, mackerel and sardines, available almost everywhere and served many ways.
It's well worth picking up a can of Turkish tinned sardines so you can try them in one of these international sardine recipes. They're of excellent quality and quite inexpensive.
Official Turkey Tourism website: www.turkeytourism.com
How to Get to Turkey: A member of the Star Alliance network, Turkish Airlines offers direct flights to Istanbul Atatürk Airport from Canada and 304 destinations served in 122 countries. Business Class passengers enjoy Skychef-prepared meals, priority check-in, access to the award-winning Turkish Airlines Flagship CIP Airport Lounge, the latest in-flight entertainment system, fully-reclining seats and many other advantages. www.turkishairlines.com
Visa Requirements: Canadians need a visa to travel to Turkey. Get an e-visa online at www.evisa.gov.tr/en
Istanbul New Airport: Istanbul New Airport, the new Turkish gateway, opened for passenger flights on October 31, 2018 with the existing main city gateway, Atatürk closing the same day.
Professional Tour Guide in Bodrum: Derya Tok deryacanbakan@gmail.com
Exclusive Concierge in Bodrum: For assistance in planning travel to wineries, olive groves, archeological sites and carpet shops in Bodrum Turkey, contact this company at www.bexclusive.co or via info@bexclusive.co
Save to Pinterest!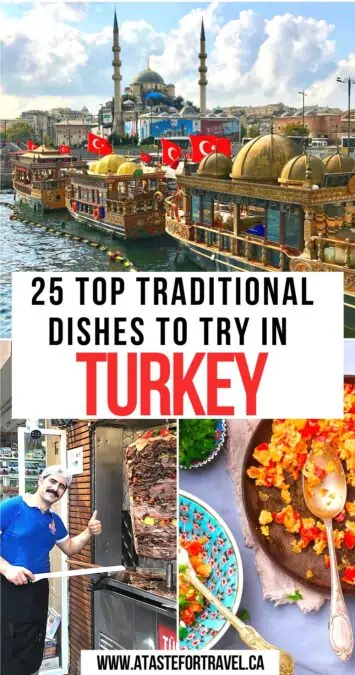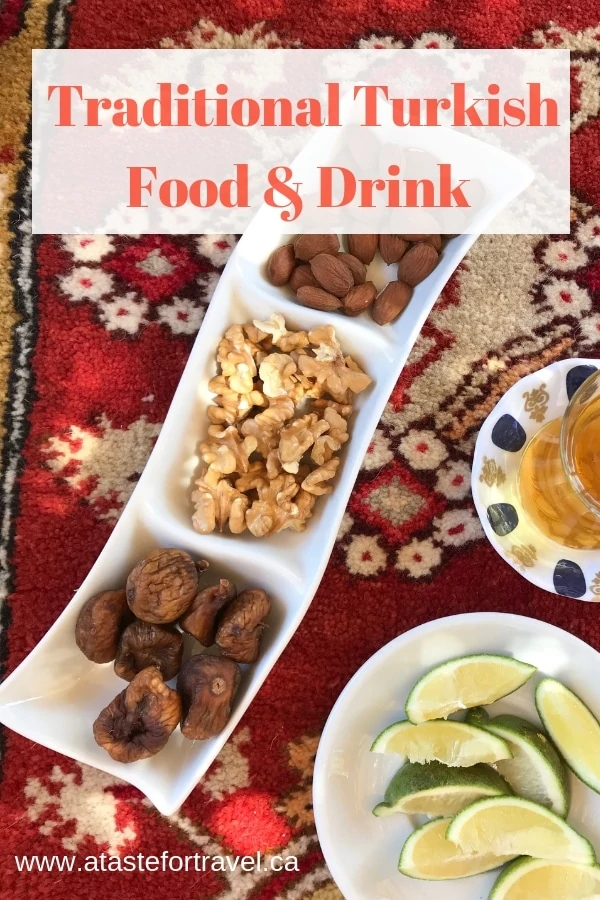 Dividing her time between Canada, Guatemala and Mexico (or the nearest tropical beach), Michele Peterson is the founder of A Taste for Travel. Her award-winning travel and food writing has appeared in Lonely Planet's cookbook Mexico: From the Source, National Geographic Traveler, Fodor's and 100+ other publications.
Read more about Michele Peterson.