We may earn income from links in this post. Please read this Disclosure for details.
Discover the best traditional food in Cyprus with our ultimate guide to top Cypriot cuisine everyone should try.
For such a tiny Mediterranean island, Cyprus has a fascinating culinary history and culture. Because of its position at the crossroads of three continents, it's been ruled by many empires.
All have had an influence on the traditional food of Cyprus.
The cuisine of the Republic of Cyprus features many elements of the healthy Mediterranean diet. But it's also influenced by Greek, Turkish, Arabic, African and European ingredients and culinary traditions.
From fruit to unique vegetables to savoury meats and seafood, there's a bounty of foods from land and sea to try in Cyprus.
While some dishes may resemble those from other countries, they all have a Cypriot twist.
One of the first things we noticed when we moved to Paphos was how delicious nearly all Cyprus foods are. The fruit and vegetables burst with the flavours I remember as a child from my grandmother's garden.
Here's what to expect:
Typical Daily Cyprus Food Menu
Cypriot Breakfast Menu
The traditional Cypriot breakfast is a great start to the day. It's a healthy balance of protein, vegetables and carbs with a coffee that will wake up anyone.
The meal may vary, depending on where you get it, but will contain most, if not all, of the following:
fresh bread
olives
Halloumi cheese
eggs (hard boiled or fried)
tomato
cucumber
lountza (cured pork loin)
butter, honey and jam
This is accompanied by orange juice and Cypriot coffee, brewed from fresh Brazilian beans in the small, long-handled copper pot called a mbrikia.
This breakfast should keep you going till lunchtime!
Lunch – Street Food in Cyprus
With so many things to do in Paphos and around Cyprus it's sometimes hard work being a tourist. You'll soon need to stop for a tasty lunch.
Pick a cafe with outside seating so you can people-watch while you drink your coffee, sip your Keo beer or enjoy a glass of Cyprus wine.
Here are a few things to look for at lunch. Dinner is still a long way off , so don't hold back:
lountza and halloumi cheese sandwich (on fresh bread with tomatoes and cucumber)
gyro/doner kebab (sliced pieces of chicken or beef served in pita bread with salad and dressings)
souvlaki (skewers of grilled meat)
tiropita (a filo pastry with cheese filling pie)
koupes (Middle Eastern finger food is a bulgar wheat crust stuffed with meat and spices
Recharged, you can go back to exploring or sunning on one of the beautiful beaches in Cyprus.
Or, do what Cypriots do, have a nap in the hottest part of the afternoon.
Typical Dinner Menu in Cyprus – Cypriot Meze
Finally, it's evening and approaching twilight means it's time to experience a custom Cypriots have been enjoying for centuries. It's part of Cypriot culture.
At tavernas in city and country, people gather around outdoor tables for companionship, drinks and meze.
Meze are small savoury appetizers served in the tradition of Spanish tapas. Designed to whet the appetite, meze can include from 10 to 20 small plates of different foods.
The array will include dips, spreads, vegetables, seafood and meat served slowly one at a time or in small batches.
Traditional meze to look for include:
village salad
grilled bread (village or pita) with olive oil, vinegar and garlic
olives
beetroot
tirokafteri (feta cheese, olive oil, hot green peppers and vinegar)
talatouri (Cyprus tzatziki made of yogurt, cucumber, olive oil, dill, mint, lemon juice)
taramosalata (cured cod roe, olive oil, lemon juice, bread/potatoes)
tahini (crushed sesame seeds and oil)
soup can be an appetizer or a light meal. Look for magiritsa (rice, vegetables and lamb giblets) or avgolemono (rice, chicken, eggs and lemon), especially popular at Easter
Then, at dinner do as the locals do and linger over a long meal with friends or family. Have the owner pick a good Cyprus wine for you.
Here are some of the top foods of Cyprus you don't want to miss. You can find them served in the countless restaurants, cafes and tavernas scattered across the island.
1. Halloumi Cheese
Halloumi cheese is unique to Cyprus where it has been made for centuries. The salted, semi-hard cheese is hand-made from goat and sheep milk according to a traditional recipe.
This white, unripened cheese has a high melting point which makes it very popular to serve grilled.
In 2021, the European Commission granted halloumi cheese the protected designation of origins status (PDO) which means the label halloumi (and the Turkish term 'hellim') can only be used on cheese produced in Cyprus.
You will find it in almost all meals. Try it, you'll like it.
2. Cyprus Village Salad
This simple salad accompanies almost every meal.
It's made with tomatoes, cucumber, bell pepper and white onion and tangy feta cheese dressed with local olive oil and red wine vinegar.
For the crowning touch, fragrant oregano is sprinkled on top.
3. Fasolada
Fasolada is a hearty white bean and vegetable soup/stew often considered the national dish of Cyprus (and Greece).
Potatoes, carrots, celery, onions, tomato sauce, fresh dried beans and lots of olive oil make this beloved dish an important part of the Mediterranean diet.
Usually served in the winter, this ancient soup has a long history as it was served as an offering to the god Apollo.
As it's hard to find in most restaurants, ordering it the day before would probably be a good idea.
4. Hummus
This creamy mix of chickpeas and tahini (crushed sesame seeds and olive oil) is one of the world's oldest known dishes.
It's an important part of Middle Eastern cuisine and can be found in Egypt, Jordan, Palestine, Israel and Syria as well as Turkey and Greece.
In Cyprus it's often served with pita, bread or as part of a meze platter.
5. Soulva
This popular traditional food of Cyprus is usually prepared for a Sunday dinner, party or holiday celebration. It's made with large chunks of pork shoulder, lamb or chicken.
To make soulva, first the meat is marinated in olive oil, lemon juice and herbs (oregano, thyme, bay leaves).
Then, it's skewered and placed high over charcoal coals set within a foukou (traditional Cyrpriot rotisserie grill) to roast slowly.
As it cooks, the skewers are turned and lowered in order to brown the meat. Rosemary and bay leaves are sometimes added to the grill contributing to the aromatic experience.
Unlike a souvlaki BBQ which features smaller pieces of meat cooked quickly, grilling the meat for soulva is a slow operation and can take up to 3 hours.
The result is especially tender and juicy grilled meat.
6. Grilled Swordfish and Other Local Fish
For quintessential experience in Cyprus, there's nothing quite like enjoying a meal of fresh seafood at a table overlooking the Mediterranean Sea.
Surrounded by the sea, fish and seafood are in abundance in Cyprus. Both ancient and modern Cypriots have been devoted to the sea and cooking its gifts.
You can expect to find eel, bream, grey mullet, octopus, calamari, swordfish and more on the menu.
Potatoes are a popular accompaniment to nearly every main course including fish. Much as in the Greek island of Naxos, the potatoes of Cyprus are delicious.
They're especially tasty when made into chips (french fries).
7. Keftedes
Keftedes are fried meatballs usually made from pork and potatoes instead of bread. Cinnamon and mint give it the unique Cypriot flavour.
These delicious savoury bites are usually served with a village salad and fried potatoes or French fries.
8. Kleftiko
Kleftiko is very moist and tender roasted lamb or goat cooked slowly in a sealed container.
Its name meaning 'stolen' was given this name because thieves in the hills used to steal a lamb and cook it in a sealed pit so that the smoke and smell would not be discovered.
Now, the meat is marinated overnight in wine, lemon juice and other herbs and spices. It pairs well with spiced roasted potatoes.
This traditional meal will melt deliciously in your mouth and is definitely a must-try food in Cyprus.
9. Koupepia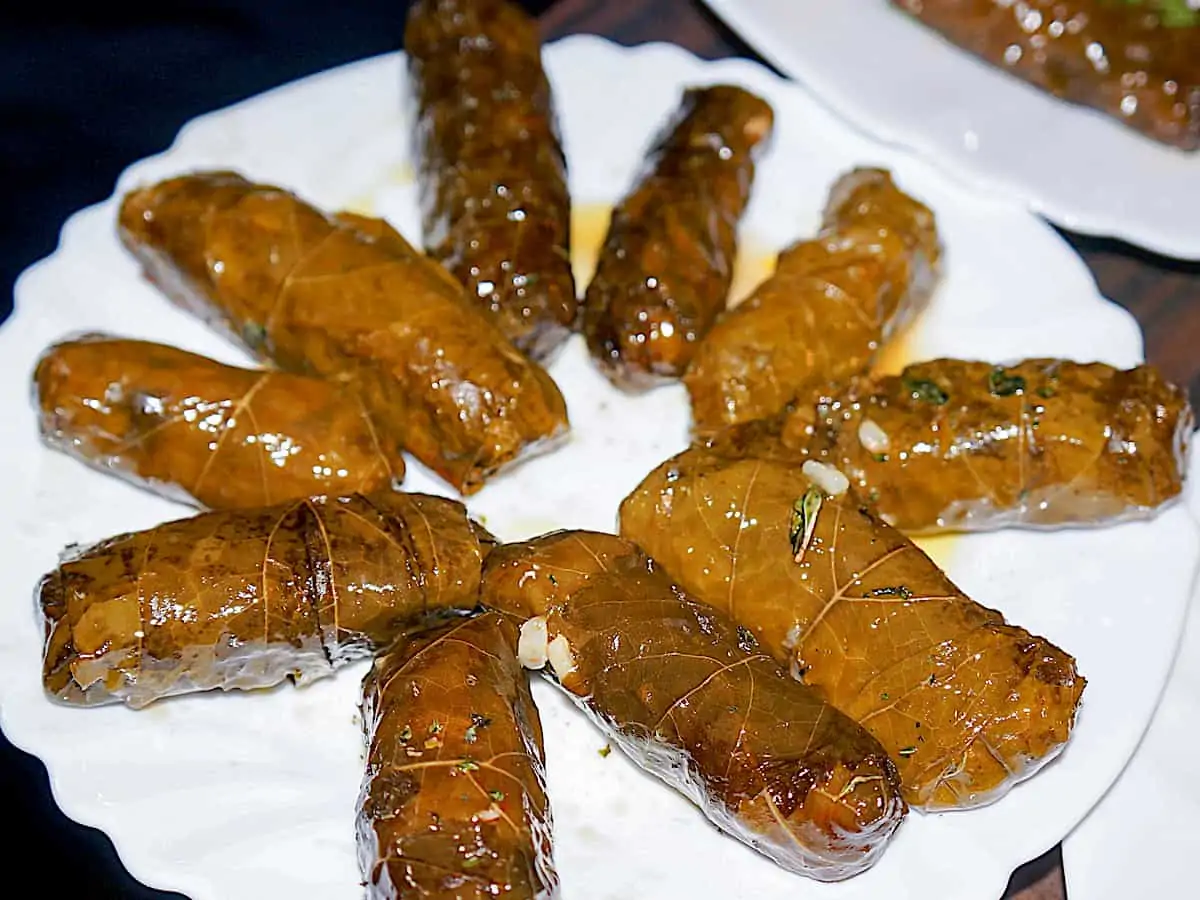 Koupepia are stuffed olive leaves. Served as a finger food, a side dish or part of a meze platter.
The stuffing is made with minced pork or beef, rice, onion, parsley, mint and the chef's choice of spices.
Stuffed grape leaves are popular throughout the Middle East under different names. The Cypriot version is served with a sauce of tomatoes and cinnamon.
10. Louvi
The vegetarian dish louvi (black eyed beans) are a Cyprus staple because they can be eaten on religious fast days as a meat substitute.
During hard times, louvi was appreciated as a protein replacement for meat.
Louvi is eaten with vegetables, olive oil, salt, and lemon. Most typically served as one of the dishes in meze, it's usually served with sardines or tuna, olives and fresh onion as a meal.
Olives are cultivated in Cyprus both for everyday use as table olives and for olive oil. Both green and black olives are hand-harvested and prepared in a brining process similar to kalamata olives rather than the Spanish method that involves lye curing.
11. Moussaka
One of the most popular traditional dishes in Cyprus, moussaka is a baked vegetable and meat casserole. It consists of minced pork, beef or lamb or even a combination of these.
This baked casserole is built with layers of sliced eggplant (aubergine), potatoes and zucchini (courgettes).
The cream sauce on top is mostly butter and cheese (usually halloumi). The cheese, local spices and herbs give Cypriot moussaka a uniquely delicious flavour.
12. Makaoronia Tou Fournou
Makaoronia tou fournou is an oven baked pasta dish that's very similar to lasagna, but features different ingredients.
In Cyprus they use penne instead of lasagna pasta, minced pork, not beef and the creamy cheese sauce is made with halloumi and butter.
The sauce doesn't contain tomatoes but is flavoured with onion, garlic and local herbs such as mint and parsley.
It's best served warm from the oven.
13. Sheftalia
Sheftalia is a juicy Cypriot sausage that's a must-try food in Cyprus. Every chef has their own recipe so the flavour is never quite the same twice.
They consist of minced pork and/or lamb mixed with salt, pepper, parsley and diced onion and garlic, spices and herbs to taste.
A tablespoon of this mixture is wrapped in caul fat and roasted on the grill for 15 minutes. It's a great starter or main course with chips and salad.
14. Souvlaki – Pork, Chicken or Lamb Kebab
Souvlaki are grilled screwers of chicken, goat, lamb or pork stuffed into pita bread or served on the stick with salad and dressing.
The meat is tender and juicy, even more so when grilled with Cyprus spices and herbs.
Cattle are rare on the island. If you want beef, it's usually is imported, expensive and not as good as the local meats.
15. Stewed Pork – Afella
Unique to Cypriot cuisine, afella is a family meal made from small pieces of pork. To make this recipe, the meat is marinated overnight with wine, pepper, coriander, cumin and bay leaves.
Then, the meat is sautéed in olive oil. Finally, it's simmered again with the spiced marinade, water and sometimes mushrooms.
This folk meal is served with roasted potatoes or a fluffy bulgur pilaf.
16. Stifado
One of the most popular traditional dishes in the cuisine of Cyprus, stifado is a comfort-food stew made with rabbit or beef and onions.
In this recipe — which varies depending on the chef or household — the meat and whole, small onions are first browned.
Then, water, wine, vinegar, cinnamon, sea salt and freshly-ground pepper are added.
The pot is left to simmer for 2 to 3 hours under a watchful eye. Stifado is most often served with fresh-baked bread for a hardy, satisfying meal.
17. Ttavas
Ttavas is a slow cooked, one-pot meal that's been enjoyed in the mountain villages for centuries.
Lamb or goat meat is placed in a clay pot. On top of this, they layer rice, onions, tomatoes, potatoes, artichoke and zucchini.
It's then covered with olive oil and water, sealed and cooked for 3 to 4 hours. All the flavours merge to wonderful perfection in one clay pot.
18. Yemista
Yemista are stuffed, roasted vegetables, usually tomatoes or green peppers. The insides are carved out and filled with rice, meat and spices.
The caps are put back on the vegetables and roasted in the oven. Enjoy them warm from the oven with fresh bread and feta cheese.
Cypriots have a sweet tooth and love their desserts. Here are a few we can all enjoy.
19. Loukoumades or Honey Balls
Loukoumades are akin to doughnuts but the dough is shaped into little balls and deep fried.
They're often served hot after a meal, bathed with honey and sometimes atop ice cream.
20. Baklava
Baklava is found throughout the Middle East from Sparta, Greece to Akko, Israel.
The Cypriot version has coarsely-ground pistachios, almonds and walnuts in filo pastry and soaked in honey.
Oh, so sweet.
21. Koulourouthkia
Besides the everyday cookie ingredients, it has the unique flavour of Cyprus brandy and citrus orange blossom water.
They're highly addictive. It's very likely you won't be able to stop at just one.
22. Galaktompoureko
Served at room temperature, this traditional dessert of Cyprus features a pillowy, custard pudding layered in crispy, golden phyllo pastry topped with sweet, scented syrup.
It's also popular in Greece and Turkey.
23. Soutzoukos
Likely the country's oldest traditional sweet, soutzoukos is made by repeatedly soaking a string of softened almonds or walnuts in boiled grape juice in a process similar to dipping candles.
The strings are then hung to dry for several days.
This unique natural delight has been a Cypriot sweet for over 200 years. It's said to originate in the wine-producing regions of Troodos and Pafos.
Look for it sold at festivals or served with zivania, the local brandy.
24. Cypriot Beer and Wine
Cypriot Beer
Beer making equipment dating back 3,500 years has been found in Cyprus. Enjoying a local brew on a hot sun afternoon is one of the islands great pleasures.
The bright yellow labelled beer, KEO is the national beer of Cyprus. It's been brewed in Cyprus since 1951.
A very good second choice is the Danish beer Carlsberg. In 1967 Cyprus became the first country outside of Denmark to brew this refreshing pilsner.
The inhabitants have been making wine for at least 4,000 of years. The current vintages have been receiving worldwide acknowledgement and international prizes.
Commandaria Dessert Wine
This amber coloured dessert wine is considered one of the world's oldest wines. It is made from the indigenous mavro and xinisteri grapes which is aged for at least 2 years in oak barrels.
Named for the region around their 'command' castle north of Limassol, only 14 designated villages are permitted to make this wine.
Described as the wine of kings by Richard the Lionheart it was very popular with the Knights Templar in the 12th century.
🌟 Pro Tip: Learn more about Mediterranean dessert wines at Santa Anna winery on Naxos in Greece.
Cypriot Wines
It is unfair to name the 'best' wines from the 52 wineries of Cyprus because this is a matter of taste and there are so many to choose from.
Beside its indigenous grapes, the island has been producing outstanding wines from Shiraz, Cabernet Sauvignon, Chardonnay, Muscat and others. The Moshato from Ayia Mavri Winery has won a double gold award.
The Shiraz from Kolios Winery is another big medal winner. Unless you are a sommelier, the local wine recommended by the restaurant owner is usually very good.
🌟 Insider Tip: Don't miss the Limassol Wine Festival. It takes place in October and is one of the biggest festivals in Cyprus!
25. Liquors, Brandies and Distilled Spirits of Cyprus
Restaurant owners often offer a complimentary glass of traditional liqueur at the end of a meal.
This is similar to the custom in Greece and Turkey where hosts offer guests a shot of raki, that country's anise-flavoured national spirit.
Please keep a look out for some of the following traditional Cypriot drinks and give them a try as many are unique to Cyprus.
Zivana
Zivana or zivania is another protected product of Cyprus (like Halloumi cheese). This strong spirit has been produced for hundreds of years on Cyprus.
It's a distilled mixture of pomace (grape must) and wine made from Xynisteri and Mavro grapes.
It has the fragrance of raisins and is usually served chilled with meze or the soutzoukos sweet.
Filfar
This is an artisanal mandarin orange flavoured liqueur. It's based on an old family recipe passed down from mothers to daughters but was originally made by the monks at Kantara in the 13th century.
Brandy Sour Cocktail
Unofficially known as the national cocktail of Cyprus, an authentic Cypriot taverna brandy sour is made with brandy (such as the Haggipavlu Anglias brand), lemon cordial, a few drops of aromatic bitters (usually Angostura or locally-produced brand) and fresh-squeezed lemonade or soda.
This refreshing drink is usually served in a tall glass filled with ice topped with a maraschino cherry or slice of lemon.
Final Thoughts on Traditional Food in Cyprus & Places to Eat
While Paphos food is deservedly famous, the best place to find traditional foods is in the villages away from the larger centres.
Many of the pictures here came from the tavernas in the village of Kathikas, north of Paphos, such as Yiannis Taverna and To Stekki Tou Panai . They offer some of the best traditional food in Cyprus.
The family-owned Olive Tree Tavern in Polemi (357 26 632309) is also well worth seeking out. It's popular among locals and visitors for its traditional grilled meats, house-made bread and outdoor terrace draped in vines.
Check holiday hours, times and working hours on the official Cyprus Tourism site.
Cyprus has so many traditional foods that we cannot cover them all.
For the best produce (including organic) try one of the farmer's markets that take place once or twice a week (or month). You can find whatever is currently in season (and in Cyprus, that's a lot), at reasonable prices.
You'll also see trucks and food stands loaded with whatever is in season (watermelon, cantaloupe, grapes, cabbage, almonds) on the side of the roads selling produce directly to passerbys.
If you are eating in a taverna in a village, ask your host if they have a unique specialty or seasonal dish you can try. I have never been disappointed with this strategy.
If you aren't sure what to order, go for the meze and a good bottle of local wine!
Save to Pinterest!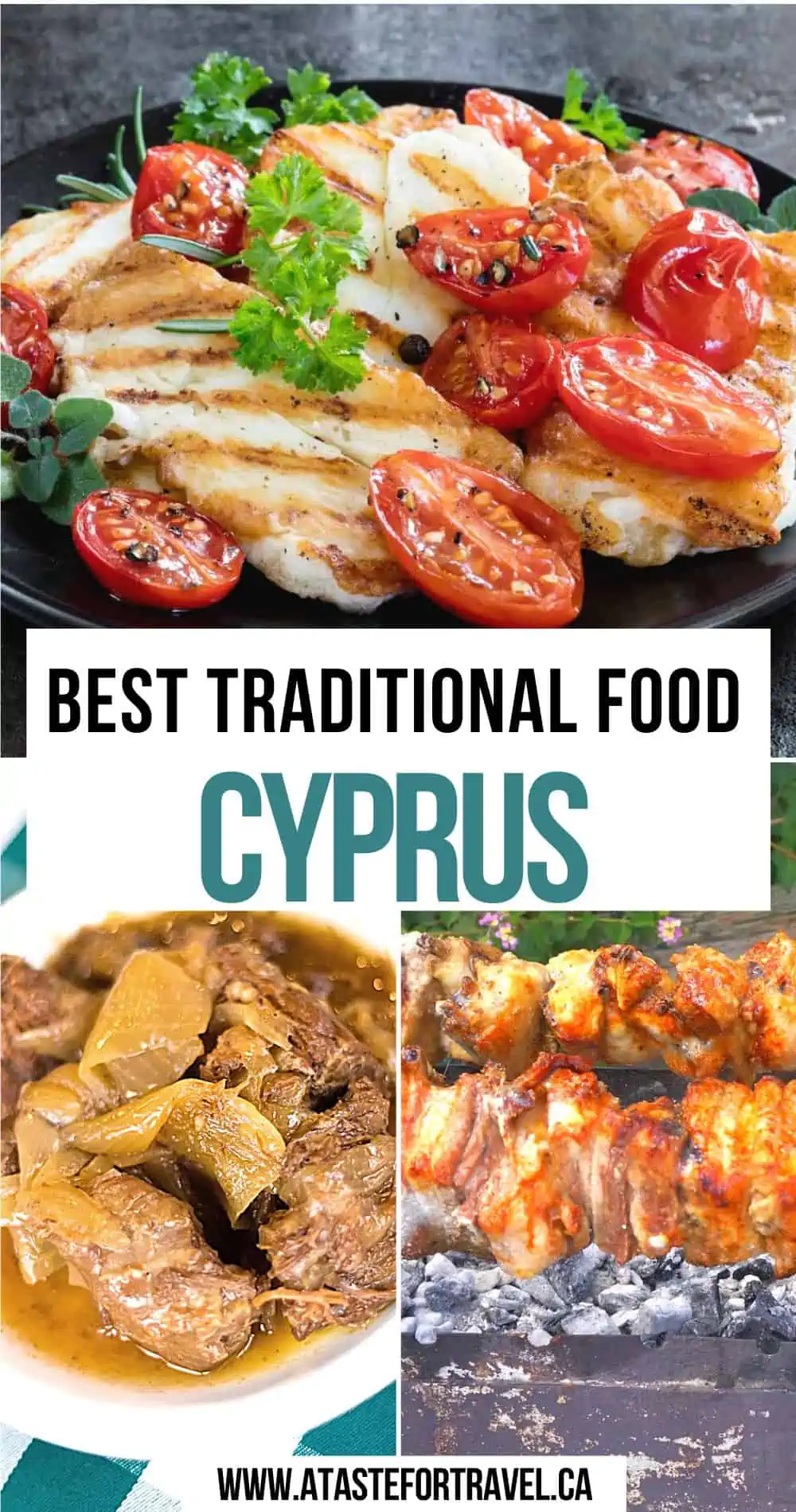 More Mediterranean Food and Travel
Canadian by birth, Rick Powell has lived in Vancouver, in England and most recently in Cyprus. His writing includes fiction and non-fiction, as well as articles for international and local magazines. Stane Street, his historical travelogue, was recently published in England and his first historical mystery thriller, The Missing Prisoner, is available on Amazon. Learn more about Rick Powell.