We may earn income from links in this post. Please read this Disclosure for details.
Thousands of visitors come to the beaches in Paphos, Cyprus every year to enjoy a week or two of rest and relaxation.
Soaking up the sun, enjoying the sand and playing in the crystal clear waters of the warm Mediterranean Sea are the biggest reasons they keep coming back year after year.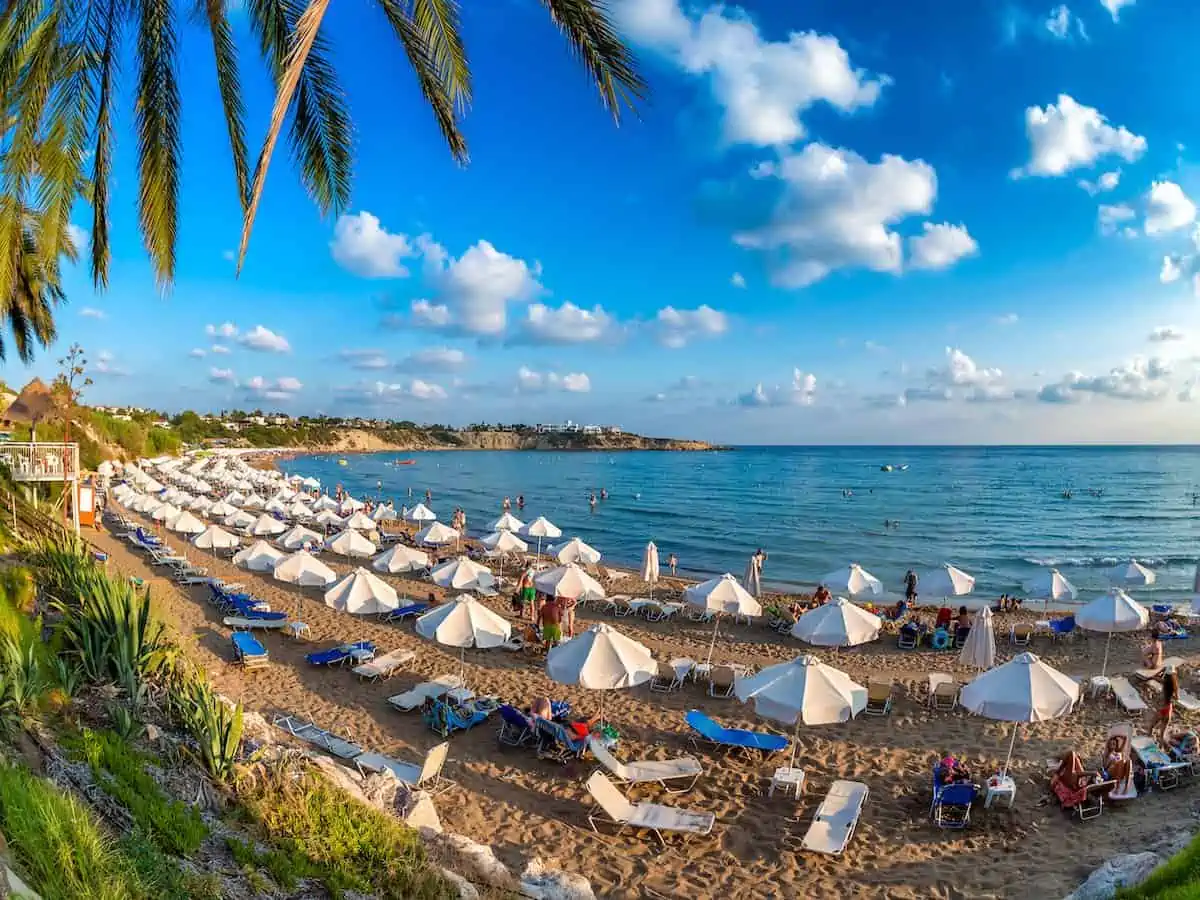 Like many others, the beaches of Paphos are among the top reasons my wife and I fell in love with Cyprus on our first visit to the island six years ago.
Even now, as full time residents and Canadian ex-pats, after a day of exploring the ancient ruins, attending one of the many festivals in Cyprus and other fascinating things to do in Paphos, there's always another hidden beach to discover.
To help you make the most of your visit to Cyprus, here are our top picks of the 15 best beaches in the Paphos area, organized geographically. Each one has a different character and something to experience.
The first set of beautiful beaches on our list are closest to Paphos Harbour and the hotels in Kato Paphos or Lower Paphos. They're sometimes called the Municipal Beach Baths.
1. Alykes Beach
One of the most popular beaches in Paphos is situated right in the heart of the tourist district. There are plenty of bars, tavernas and restaurants right behind it.
While the beach is a bit rocky it does feature soft sand as well. When it comes to visitor facilities, the beach amenities include sun beds, umbrellas, showers, toilets, change rooms and lifeguards.
Breakwaters ensure that the water is usually calm and safe. For some excitement, try the water sports offered from the small pier on the south side.
Where to Stay: The luxurious Annabelle Hotel features fantastic views, a posh spa and well-appointed rooms.
Check for the best rates and availability at Annabelle Hotel on Booking.com.
2. Vrysiudia A & B and SODAP Beach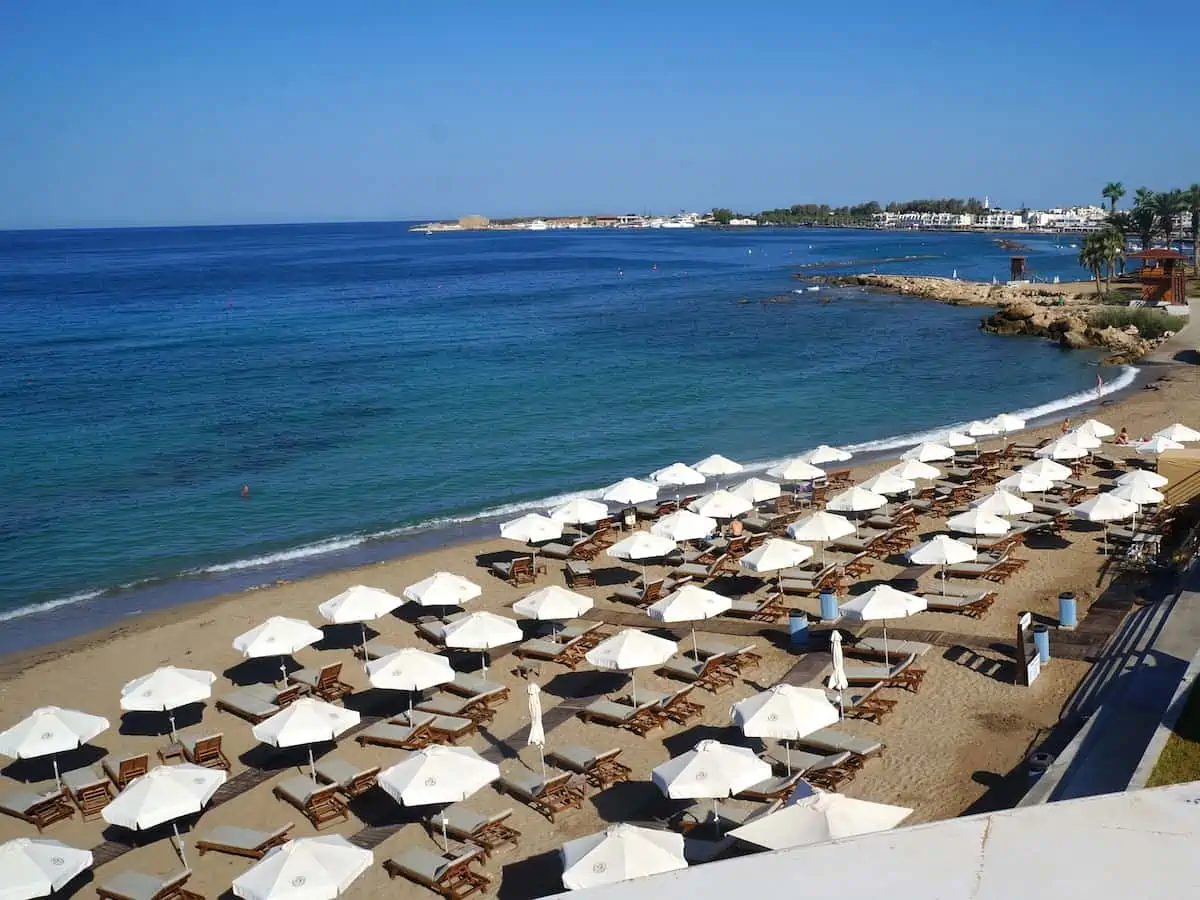 Just a 10 minute walk further along the seawall, there are several lovely sandy beaches along the waterfront maintained by the municipality. They're bigger and less crowded than Alykes beach.
Don't be confused by the rather official-sounding names of Vrysiudia A & B and SODAP Beach. Sometimes they're actually referred to as Paphos Municipal Beach.
Considered the best beaches in the lower Paphos area, they're just off the main road Avenue of the Posidonos which gives easy access by car, bus or by foot.
The breakwaters slow the big waves so the beach is popular with families. Loungers, umbrellas, showers, toilets, change rooms and lifeguards make this a lovely place for a day of relaxing.
Where to Stay: Set on a sandy beach, Alexander The Great Beach Hotel is a luxury beachfront resort that's a 10 minute walk to Paphos harbour. It features two swimming pools, multiple restaurants, a kids club, fitness centre, tennis court, spa and games room.
Check rates and availability at Alexander The Great Beach Hotel on Booking.com.
3. Geroskipou Municipal Beach (Riccos)
Just outside of Paphos, in the village of Geroskipou, the municipality deposited tons of sand on a rocky shoreline and created a 400-metre sandy beach. It's now one of the most popular beaches in the area.
Visitors love it not just because of its clear water and facilities, but because of the surroundings. In 1975, a local named Ricco set up a beach bar featuring a restaurant set amid a lovely garden with big shade trees, grassy areas and tables.
Both tourists and locals come here to get away from the crowds in Paphos and enjoy a spacious family-friendly beach.
---
This next collection of beautiful beaches is located southeast along the coastal road from Paphos.
4. Aphrodite's Rock – Petra tou Romiou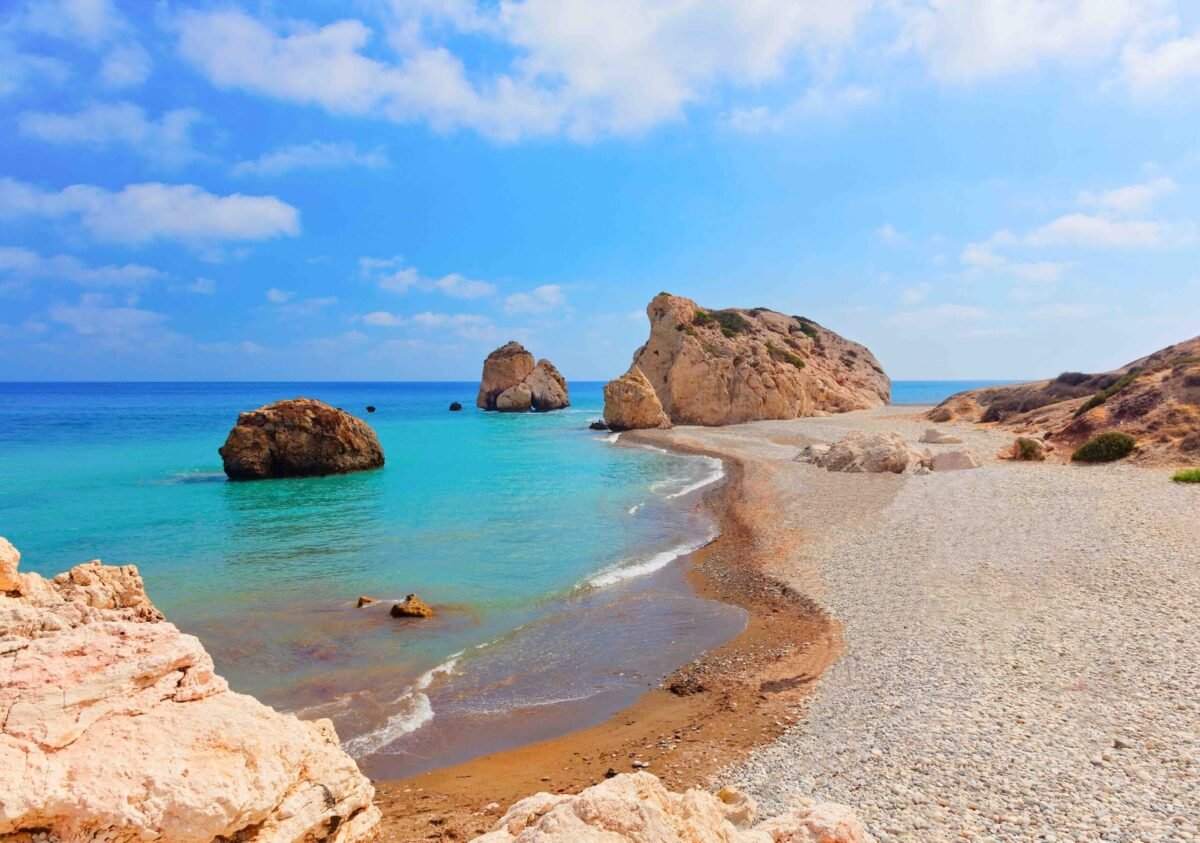 Legend has it that Aphrodite transformed into human form here, rising from the sea on a clam shell. The goddess of beauty has been worshipped on Cyprus ever since.
Turning off the highway at the well marked exit, you can park and follow the path down to the beach through a tunnel under the road to the rock sitting in the middle of the beach.
The beach at Aphrodite's Rock is pebbly on the left and sandy on the right. It isn't maintained and the waters can be rough. There are no lifeguards so use caution when swimming.
Thousands of people visit here every year because of the belief that if you swim around Aphrodite's Rock three times you will have eternal youth, beauty, and find true love.
This is a very popular sightseeing attraction in Paphos. You'll often see wedding and photo shoots here.
---
North of Paphos Heading out the coast road toward the village of Peyia and beyond you will discover some of the most popular and interesting beaches on the island. The Akamas peninsula area with headland and cape is an area protected by UNESCO.
5. Sandy Beach
Sandy Beach is located in Chloraka just outside of Paphos. As the name implies, there is lots of golden sand plus a few sun beds, a lifeguard and a casual little beach bar.
Because it is exposed, stormy weather can bring high surf. This makes it a popular place for surfers. But this can also create riptides and dangerous swimming conditions.
On quieter days kids love all the sand, paddling in the waves and playing in the little creek that flows through. This beautiful little beach also appeals to the locals who like to keep it a secret from crowds of tourists.
Where to Stay: Units at family-friendly Helios Bay Hotel and Suites come equipped with kitchenettes. It's just steps from Sandy Beach.
Check rates and availability at Helios Bay Hotel and Suites on Booking.com.
6. Potima Bay
Another couple of kms toward Peyia and you find a large sweeping bay that's ideal for surfing. The long beach is a mix of stone, pebble and sand.
Potima Bay is open to the sea which creates some massive surf. The mist from these waves sometimes blows over the road giving it an especially eerie look.
The beach is rarely busy except for surfers. On calm days, it is a great beach for families.
There's lots of free parking, sun beds and a lifeguard. Facilities are a bit limited but it is home to the Sea You Beach Bar one of the most popular beach bars in the Paphos area.
In the evening there's often live acoustic music and it's a wonderful place to watch the sunset over a Cypriot cocktail or beer.
Where to Stay: The Anna Hotel and Apartments is a hidden gem located a five minute drive to the beach. Owned and operated by local Cypriot family, it's clean and the service is friendly.
Check rates and availability of Anna Hotel and Apartments on Booking.com.
7. Coral Bay
Undoubtedly the most popular beach in the district. The calm and shallow sea with an abundance of golden sand makes Coral Bay Beach a safe choice for most people.
This Blue Flag beach also has wheelchair accessibility. Plenty of free parking and a bus stop makes it extra easy to get to.
Many beaches on Cyprus have been awarded the
Blue Flag status
, a designation recognizing compliance with strict criteria for water quality, environmental management, environmental education, safety, accessibility and services.
The facilities include sunbeds, umbrellas, showers, water sports, toilets, cafes and bars. While this popular Paphos beach can get busy it never feels too crowded.
Coral Bay Resort is only a 10 minute walk away and has great international and Cypriot restaurants, bars, shops, amusements and nightlife.
Where to Stay: Neptune Hotel & Apartments is located right in the resort town of Coral Bay. The place is clean and relaxed, the staff is friendly and Stavros the owner is a great cook.
Check rates and availability at Neptune Hotel and Apartments on Booking.com.
8. Corallia Beach – Laourou Beach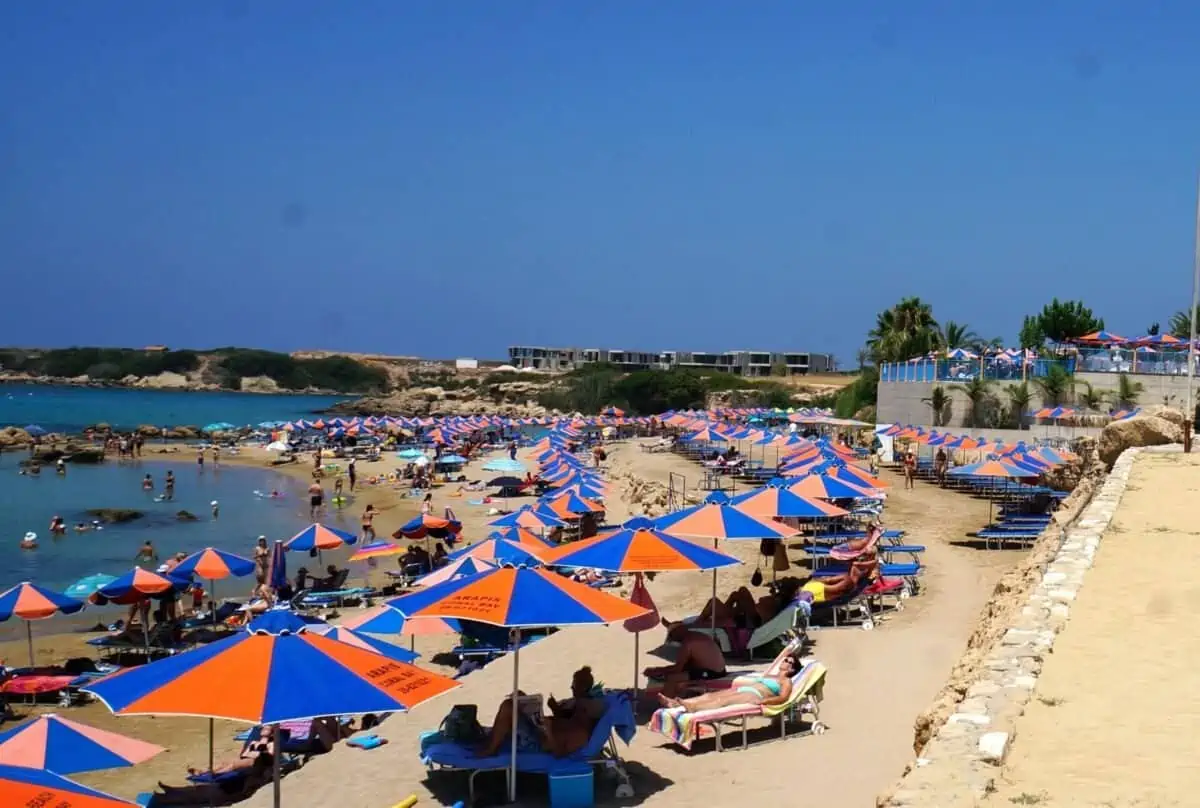 Just around the north side of the headland from Coral Bay is dreamy Corallia Beach (also known as Laourou Beach).
Smaller than Coral Bay but with an abundance of golden sand, Corallia is very popular with tourists staying in the nearby resorts and villa.
The breakwater provides a calm swimming area. One of the most popular beaches in Paphos Cyprus , this Blue Flag, family-friendly beach can get crowded in the high season.
Beach facilities are excellent good with sunbeds, umbrellas, two large restaurants, lifeguards, showers and lots of paved parking.
You can even take public transit to get to this beach. The No. 615 bus to Paphos turns around here in the parking lot.
Where to Stay: The Coral Beach Hotel & Resort is a sprawling luxury resort set between Corallia Beach and Coral Bay Beach. Rooms offer panoramic sea and beach views or mountain vistas of the village of Peyia.
Check rates and availability of Coral Beach Hotel and Resort on Booking.com.
9. Agios Georgios Beach – St. George's Harbour
At the end of the main road past Coral Bay (E701), is St. George's Harbour. Few people know about this hidden beach, so let's keep this secret patch of perfect sand to ourselves!
This quiet little harbour with a manmade breakwater has room for a dozen moored boats.
Here you will find a small sandy beach with a few sunbeds, umbrellas, and parking, plus the Mandoulis Beach Cafe and the Turtle Beach Bar. The water is clean, clear and calm.
Insider Tip: For those with an interest in history, it's worth making a visit to the Agios Georgios Pegeia Archaeological Site across from the lovely Orthodox St. George's church at the top.
The stone church itself is a pilgrimage site while the atmospheric archeological site consists of the ruins of three early Christian basilicas dating back over 1500 years plus remains of an even older Roman town.
10. White River Beach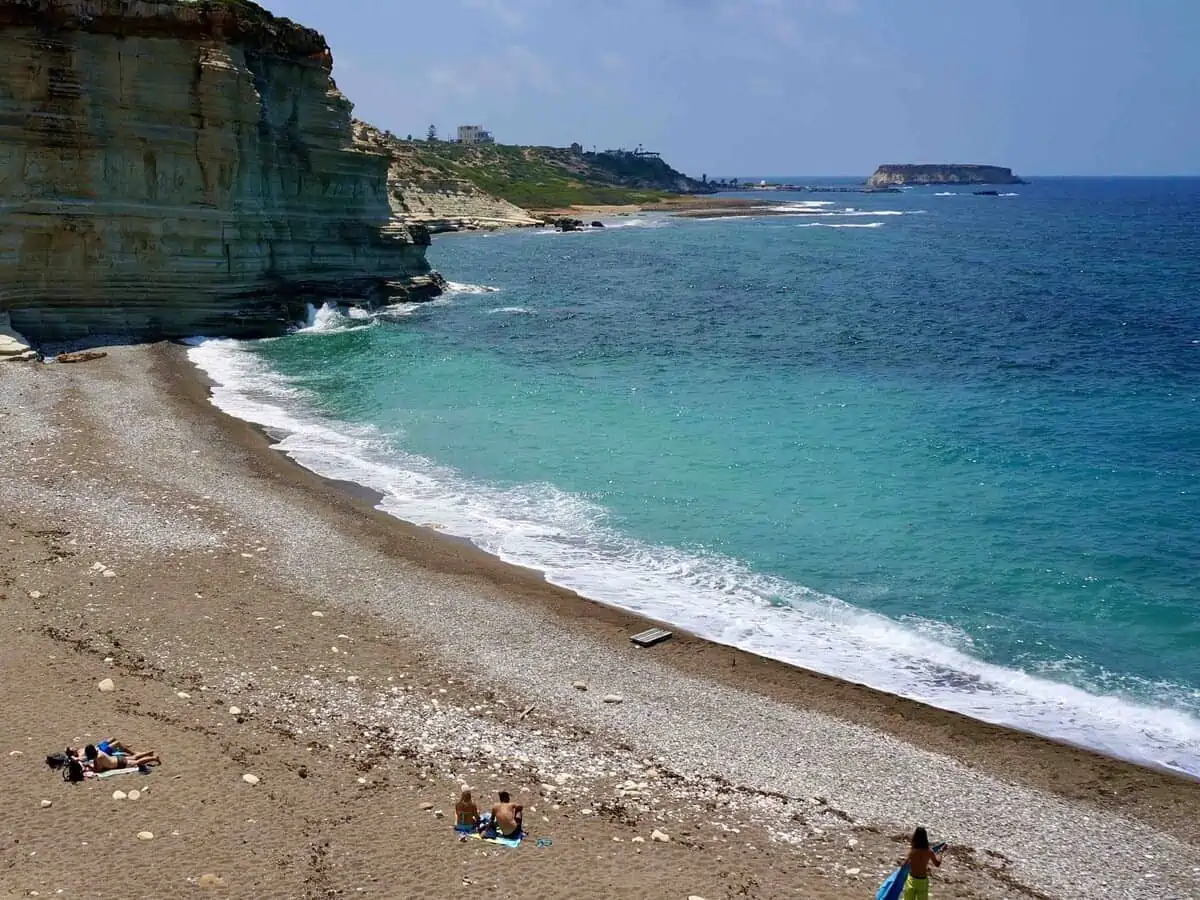 Take a turn off the coast road before getting to Agios Georgios and it will get you onto the road where you'll find White River Beach and another beautiful hidden beach.
There are no facilities here so you'll have to carry in everything you need, but it's well worth the effort. The 100 metres of sand and pebble beach is set between soaring rocky cliffs on both sides. Watch for the goats!
The water is warm and clear so fine for snorkelling. This is a turtle nesting beach so be careful where you sit. At the right time of year you can watch the just-hatched baby turtles struggling to get to the sea.
White River Beach is another one of the best beaches to watch a sunset, too.
11. Lara Beach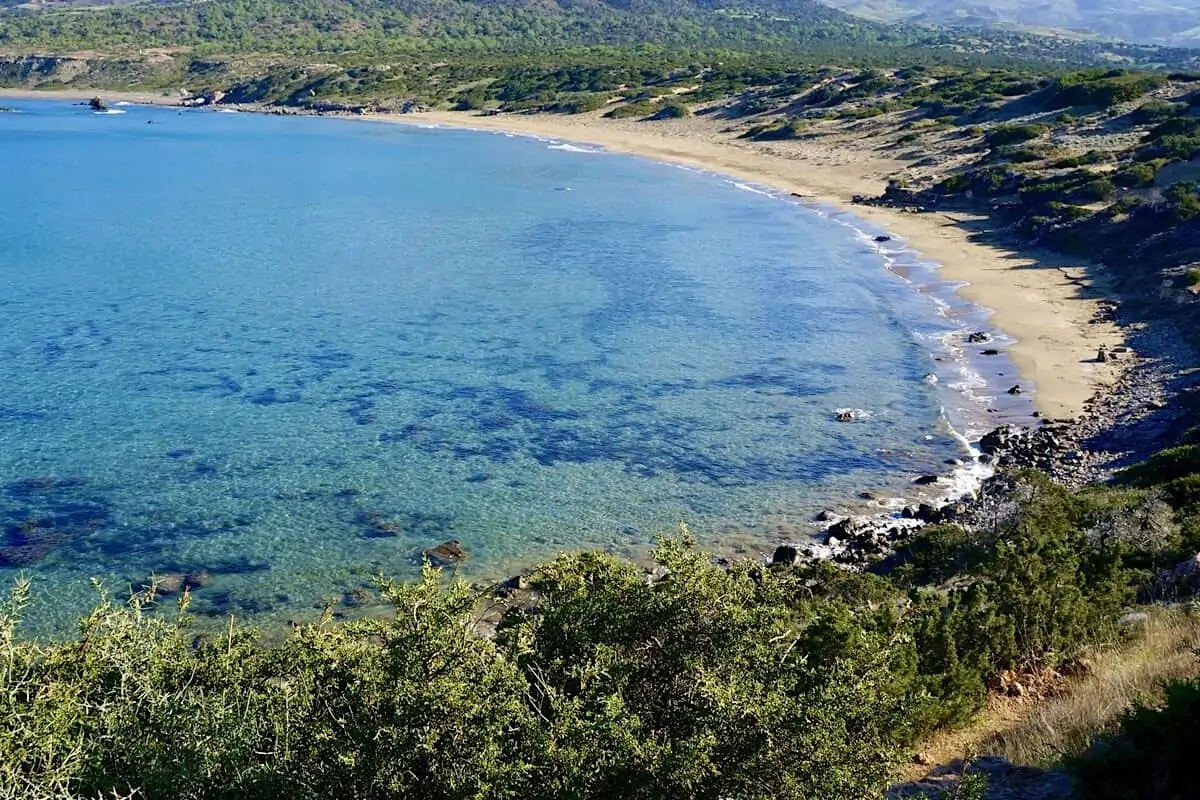 Getting to Lara Beach is not for the faint-hearted! A 4WD vehicle is your best friend for this trip.
The first of the two beaches is the one most people stop at. Also known as Turtle Beach, this broad expanse of sand is the nesting area for the endangered loggerhead and green turtles.
No sunbeds or umbrellas are allowed on the beach. The water is clear and clean but drops off quickly. This is the best Paphos beach for snorkelling and scouting for giant sea turtles.
A traditional Cypriot restaurant on the cliff at the south end of the beach provides a wonderful view of the beach and sunsets.
The second beach, a few kms further north, is more secluded and also protected for the turtles. Set in its own cove, it is simply breathtaking.
Local volunteers have set up an information centre here explaining about the turtles. Taking a day trip to Lara Beach is a fantastic outdoor adventure.
---
Going north over the central ridge on the B7 from Paphos gets you to the town of Polis on Chrysochou Bay. The pleasant 35 km trip takes about ¾ hour through villages and steep valleys.
There is 10 km of beach from here to Pomos on the right and Latchi on the left.
12. Polis Municipal Beach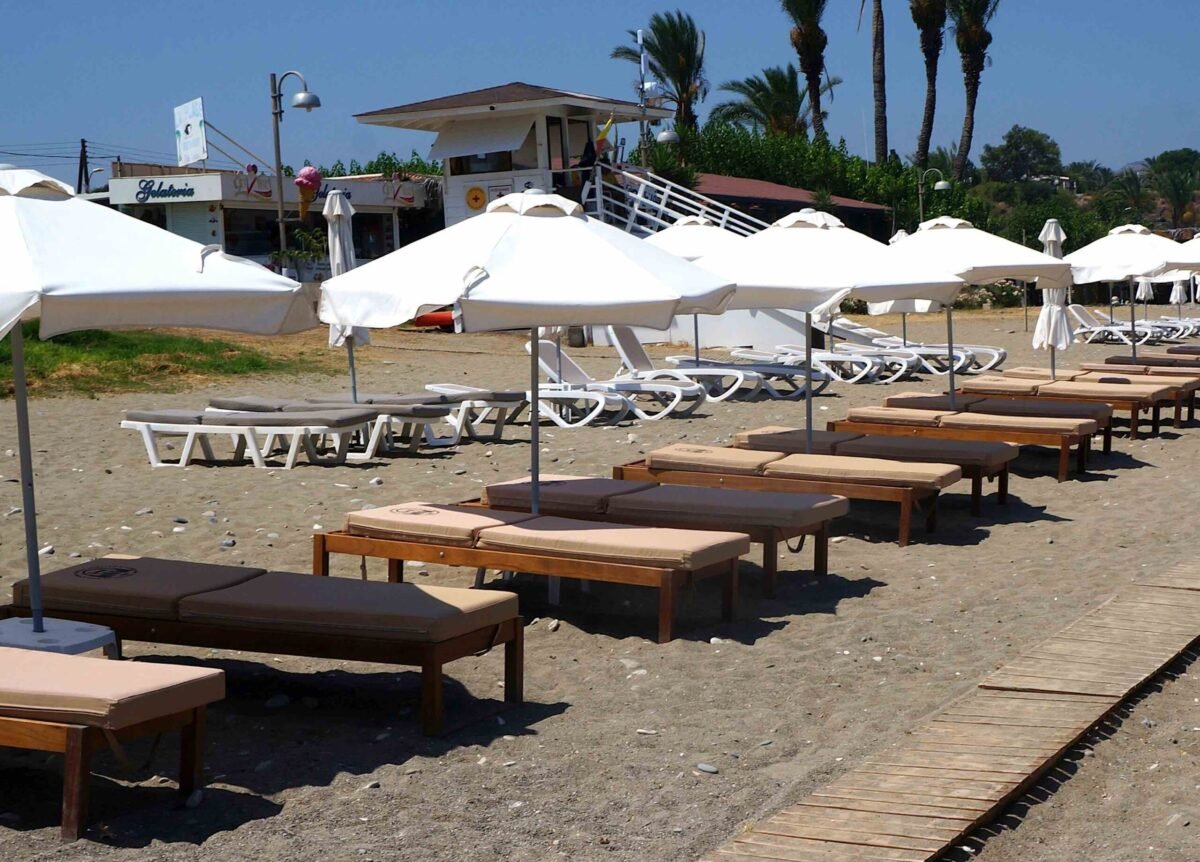 If you're looking for a family-friendly beach with warm water, this is the biggest and most popular beach around Polis and the resort town of Latchi.
It's usually calm thanks to a series of breakwaters that stop the surf. All the amenities can be found here including sunbeds, umbrellas, water sports, showers, and toilets.
It also has wheelchair access and a special chair to help the disabled into the water with the assistance of the lifeguards. There are good restaurants, cafes, beach bars and tavernas close by.
This is a top choice for a day trip from Paphos, Cyprus.
13. Baths of Aphrodite Beach
Thousands of tourists come to see the Baths of Aphrodite, where the legendary goddess of beauty romped with her lovers. What they miss is the great beach just down from the parking lot.
The beach is rocky in places but there are sandy stretches as well. It also happens to be one of the best places to go snorkelling in Paphos.
There are some sunbeds and umbrella for rent as well as a seafood restaurant. The view at Chrysochou Bay is awesome, stretching right to the mountains at Pomos.
Where to Stay: For something completely different, try Aphrodite Family Eco Camping. It offers a range of economical sleeping options (tents, huts and more) and is just just 100 metres away.
Check rates and availability of Aphrodite Family Eco Camping on Booking.com.
---
On the other side of Polis and two km out of Polis is the Limni pier. This almost always deserted pier goes out 100 meters into the bay.
There's not much of a beach but it is a wonderful place to jump into the sea off the end of the pier and enjoy a refreshing swim.
14. Argaka Beach
Argaka Beach isn't really a specific place but covers over 8 km of sand and pebbles along the coast from Limni past the village of Argaka.
Along this stretch of Paphos beaches, you can also discover quiet peaceful coves that are usually deserted. This stretch of coastline is dotted with sandy beaches with sun loungers, umbrellas and beach bars and restaurants.
You can stop for a meal, put your feet up, paddle in the clear water, snorkel in a cove and watch for sea turtles.
It's quite an adventure to just to explore this area.
15. Pomos Municipal Beach
This is the end of the road as far as Paphos district is concerned. Tucked behind a little harbour, this sandy beach is another hidden gem that known to only a few. This idyllic hideaway features clear waters and a relaxed atmosphere.
There are a few sun beds, umbrellas and a great little beach bar.
For more substantial fare (specialties include grilled mussels and grilled sea bream) and pretty harbour views, you won't be disappointed with the Kanalli Fish Tavern nearby.
This beach is a bit of a drive from Paphos so plan to make a day of it.
Insider Tip: Make time to explore the nearby "dragon's caves" or marvel at the painted walls and ceiling inside the St. Raphael church.
No matter which way you go from Paphos you are going to find spectacular beaches, clear water and a few surprises.
Honorable Mention: Blue Lagoon of Cyprus
Many people will include the Blue Lagoon in their list of top beaches in Paphos. And the Blue Lagoon is a very popular place for a boat trip from Latchi.
But it's important to note that while there's wonderful swimming in the cove, there's no actual beach.
Final Thoughts on the Beaches in Paphos, Cyprus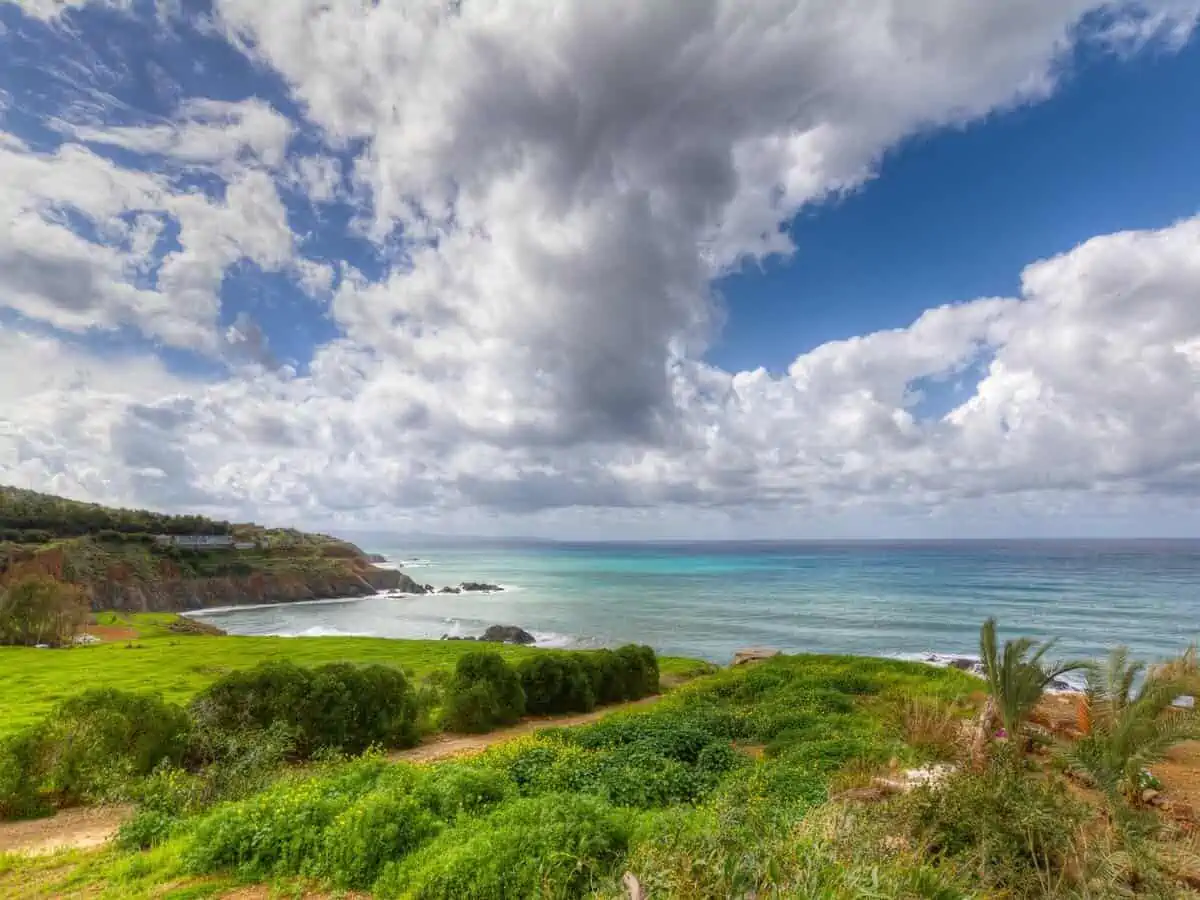 It's well worth renting a car to go exploring, discover your own personal paradise and fully enjoy your time by the sea.
We recommend you don't book a rental car at the airport. There are plenty of car hire agencies around Paphos.
Another option is to compare rates and reserve online at Discovercars.com an online car rental website that features major providers such as Hertz, Eurocar, Alamo etc. with no hidden fees.
If you are going to a remote beach like Lara, consider hiring a dune buggy for the day. The roads are rough and sandy. It will also add a bit of excitement to your day.
Insider Tip: Try to learn a little bit of Greek, even if it is just to say good morning or hello. It goes a long way with the Cypriots.
Map of the Top 15 Paphos Beaches
Frequently Asked Questions
What is the Nicest Beach in Paphos?
My pick would be Lara Beach. Spectacular location, sand, turtles, clear seas and no crowds.
Are the beaches in Paphos sandy?
Some of the beaches in Paphos Cyprus have pebbles and a few have rocks, but the most popular ones are very sandy.
Which part of Cyprus has the best beaches?
Great beaches are everywhere on the Cyprus. It doesn't really matter where you stay.
Save to Pinterest!
Canadian by birth, Rick Powell has lived in Vancouver, in England and most recently in Cyprus. His writing includes fiction and non-fiction, as well as articles for international and local magazines. Stane Street, his historical travelogue, was recently published in England and his first historical mystery thriller, The Missing Prisoner, is available on Amazon. Learn more about Rick Powell.