We may earn income from affiliate advertising links in this post.
If you're planning a beach vacation and are worried about the current seaweed conditions in Cancun and Riviera-Maya, here's some background information, an update on the Cancun seaweed problem and the sargassum seaweed forecast for 2019 and 2020 in Mexico. There are also some suggestions for the best beaches for swimming.
December 2019 Update on Seaweed Problem in Cancun, Playa del Carmen, Cozumel, Puerto Morelos, Isla Mujeres and Tulum: Scroll down for an update on seaweed conditions right now and a sargasso seaweed map for all the beaches on the coast as of December 16, 2019.
Looking for vacation ideas on Caribbean islands not affected by sargassum seaweed? Check out our Guide to Caribbean Beaches without Sargassum Seaweed for 2020.
Sargassum Seaweed Facts
What exactly is sargassum seaweed and why is it a problem? Sargassum is a type of brown algae that generally lies in the open ocean in the Sargasso Sea in the North Atlantic. Wrapped by ocean currents, this mat of seaweed floats on the surface of the water and serves as a resting area and spawning ground for a vast array of life from eels to sea turtles.
While sargassum seaweed is a natural phenomenon that has been occurring for centuries, the influx of sargassum in recent years have been larger, thicker and more widespread. Since 2011, blooms of sargassum have been appearing in the tropics sweeping up from South America through the Caribbean along the coast of Mexico and into the Gulf of Mexico and Florida. The summer of 2018 witnessed the worst influx of sargassum brown algae in recent history.
The quantity of the sargassum seaweed combined with differences in the composition of the seaweed itself, has been posing problems for destinations where vast quantities of seaweed are floating on the surface of the water, washing up on beaches, trapping marine life in the seaweed itself and using up the oxygen that fish need to breathe.
Various strategies — from raking it manually to using barriers to catch the sargassum before it reaches the shore — have been devised to try to deal with the unprecedented waves of seaweed that have engulfed regions of the Caribbean and Mexico in 2015, 2018 and 2019.
Is it Dangerous to Swim in Sargassum Seaweed?
Sargassum seaweed in itself doesn't pose a problem, says Dr. Jeffrey Rapaport at Holy Name Hospital in Teaneck (Emeritus head of Dermatology). Instead, it's what the seaweed harbours that can cause skin irritations and other risks.
The seaweed when floating at the top of hot, shallow waters, can start to play host to microbes and strains of bacteria the skin is not accustomed to coming in contact with. Also, you have to remember that fish normally use sargassum as a breeding grounds — leaving toxins and eggs in seaweed.
With freshwater as well as saltwater swimmers should watch out for the growth of Cyanobacteria (which can normally be seen changing the water's colour to light green). Cyanobacteria can release neurotoxins, which not only can affect the skin but can cause the death of neurons that control most of the muscles and movements in your body.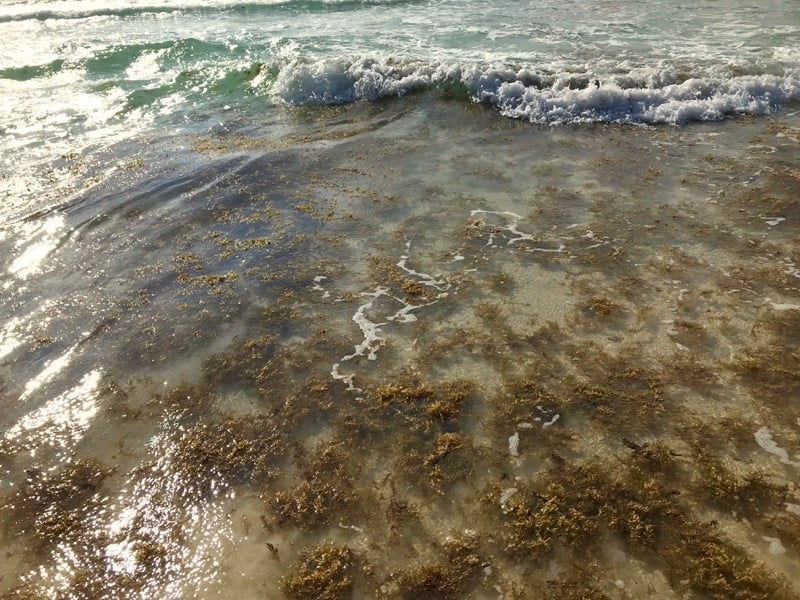 Another risk occurs when sargassum seaweed gathers in large quantities, washes up on beaches and begins to decompose, releasing hydrogen sulfide gas, or H2S , a colourless, poisonous gas with an unpleasant rotten-egg odor,
According to an interview in the San Pedro Sun with Eric Najarro, Administrator at the Dr. Otto Rodriguez San Pedro Polyclinic II in Belize, inhaling small doses of the gas can trigger irritation of the eyes, respiratory issues and nausea, especially among at-risk people such as those with asthma, the elderly, infants and pregnant women. Certain animals, especially dogs, are also sensitive to the inhalation of hydrogen sulfide.
Another health risk to swimming with large quantities of sargassum seaweed is the potential for skin irritations and rashes.
Note that red tide and sargassum seaweed are two different problems. A red tide is a bloom of algae that discolours coastal waters and releases dangerous toxins. Eating shellfish or other seafood during an algal bloom is harmful to humans.
Seaweed Season in the Caribbean and Mexico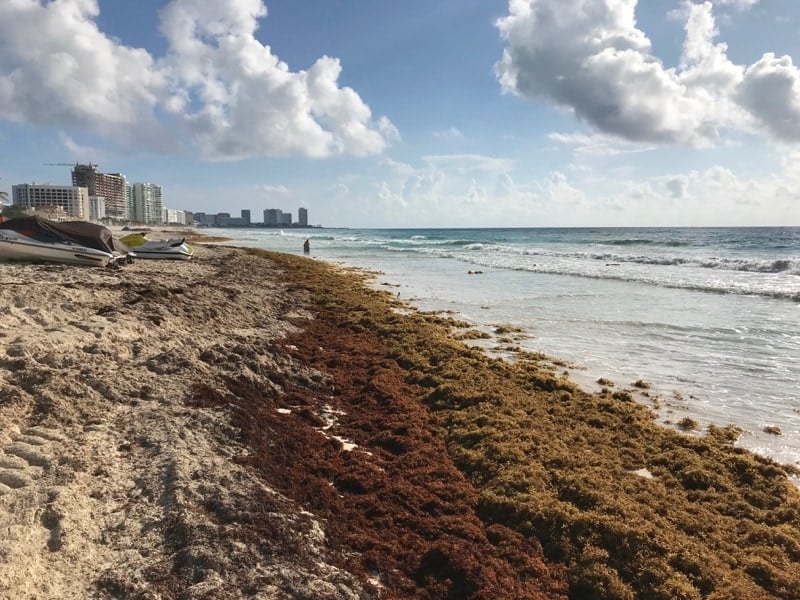 In the Caribbean, seaweed season is generally May to October. In 2018 and again in 2019, the influx of sargassum seaweed hit its peak in the summer months. The government of Barbados even declared a national emergency due to the enormous masses of sargasso on its beaches.
While some destinations such as Belize are still struggling with vast amounts of sargassum seaweed, the good news is that many of the beaches in the Caribbean never did experience a seaweed problem.
Read our latest Update on the Beaches in Punta Cana, Dominican Republic for news on the seaweed situation in 2019.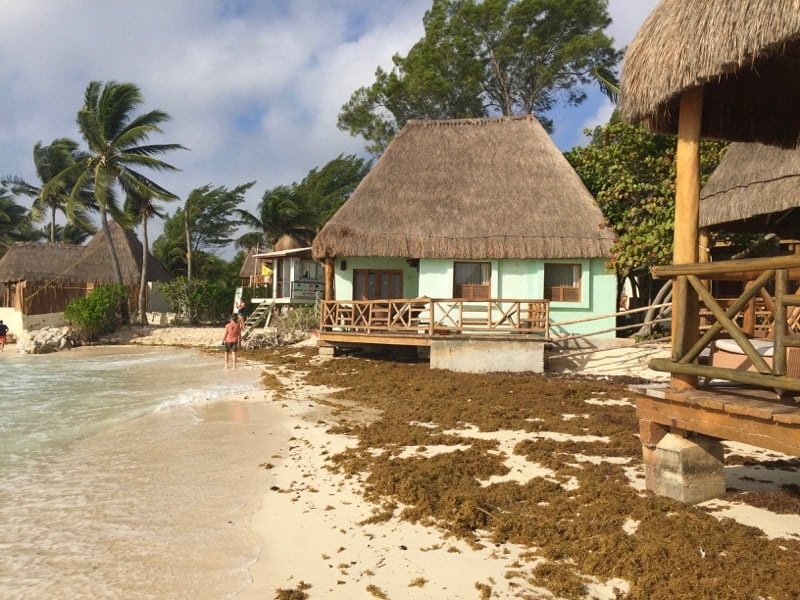 The popular resort town of Playa del Carmen has been experiencing a double whammy of challenges in recent years. From the erosion of its beaches to an influx of sargassum seaweed along the coast of Quintana Roo, it's been working hard on developing strategies to cope with these issues which are posing an environmental problem and preventing people from enjoying the coast's famous beaches.
This post contains affiliate links. Please read our Disclosure Page for more details.
Seaweed Conditions in Cancun in 2019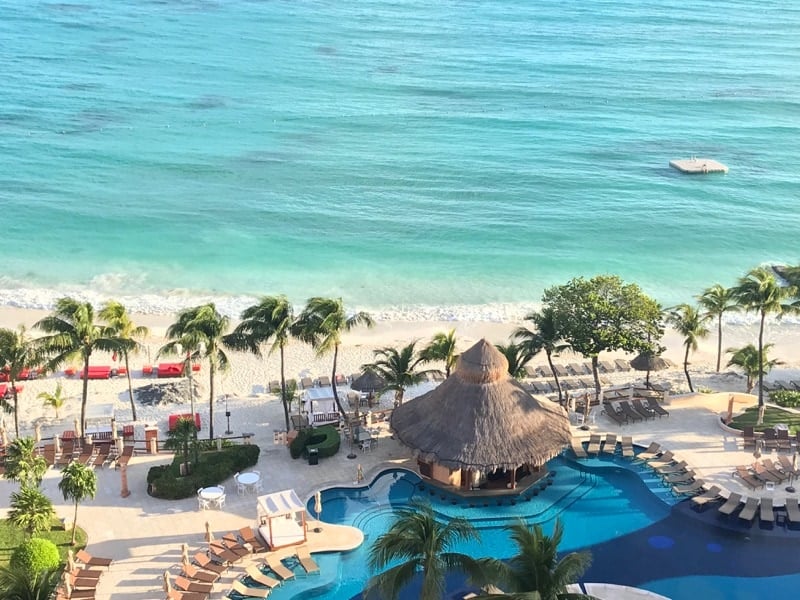 In 2019, the state of Quintana Roo received federal funding from the Natural Disasters Fund to help with the removal of the sargasso and that, has been combined with a reduction in the quantity of seaweed arriving on the beaches of Cancun and Riviera Maya.
While conditions do vary daily, predictions are that the sargasso seaweed will return. The quantities of seaweed in Cancun and along the Caribbean coast will vary depending upon ocean currents, the size of the sargasso seaweed mat, seasonality, ocean currents and wind conditions.
If you want to avoid encountering seaweed during your vacation or reduce the likelihood of it ruining your vacation, it's worth considering which beaches to choose for your vacation.
Best Cancun Beaches Without Seaweed – Playa Caracol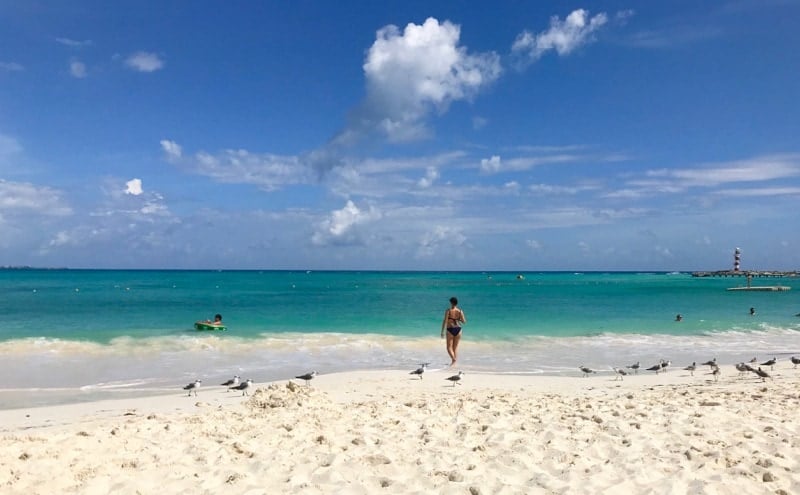 This beach stretches along the northern shores of what's known as Punta Cancun or the most northerly point of the Cancun Hotel Zone. There is a ferry to Isla Mujeres departing from the pier between the Riu and the Grand Fiesta Americana Coral Beach Cancun. The public beach occasionally small amounts of seaweed but nothing that is bothersome.
Next door at the Grand Fiesta Americana Coral Beach Cancun Resort & Spa, the private beach is often completely clear of sargassum and features powder soft white sands and clear turquoise waters. It is usually protected from seaweed by nearby Isla Mujeres, however wind and ocean currents can change and seaweed conditions at Grand Fiesta Americana Coral Beach Cancun can change quickly. SCROLL DOWN TO SEE THE LATEST MAP OF SEAWEED CONDITIONS IN 2019.
An advantage of Coral Beach is that the waters are calm and the entry is gradual with no steep drop-off, making it ideal for those who aren't expert swimmers.
In my opinion, this is the best beach in Cancun for swimming. Beginner swimmers, small children and seniors will all enjoy swimming at this beautiful beach. The north beach on Isla Mujeres itself is almost always clear of seaweed.
Click here to check prices on Grand Fiesta Americana Coral Beach Cancun Resort & Spa.
Best Cancun Beaches Without Seaweed – Playa Gaviotas and Playa Gaviotas Azul
One of the most popular public beaches in Cancun, Playa Gaviotas Azul is located at the northern tip of the hotel zone. Beach access is between Coco Bongo and the Mandala Beach Club opposite Hooters via a narrow alleyway. Current seaweed conditions at Playa Gaviota Azul are much improved from what they were in the summer and even in early October.
Most small clumps of seaweed on the sand are raked up by hotel staff . There is often very little sargassum seaweed floating offshore. The major hotels on these beaches include the all-inclusive Krystal Cancun and the Hyatt Ziva Cancun at the point of the peninsula.
However wind and ocean currents can change and seaweed conditions can change quickly. SCROLL DOWN TO SEE THE LATEST MAP OF SEAWEED CONDITIONS in CANCUN in 2019.
Click here to check prices on Hyatt Ziva Cancun.
Best Cancun Beaches Without Seaweed – Playa Delfines / Dolphins Beach
This long, wide public beach at the southern end of the Hotel Zone is known as Playa Defines and is one of the most popular beaches in Cancun. You'll also see line-ups of people waiting to get a photo-op in front of the CANCUN sign.
The amount of seaweed on Playa Delfines has decreased in early 2019 but varies considerably from week to week. See below for a photo of what it looked like in 2018.
However wind and ocean currents can change and seaweed conditions can change quickly. SCROLL DOWN TO SEE THE LATEST MAP OF SEAWEED CONDITIONS in CANCUN in 2019.
Current Cancun Seaweed Conditions – Sargassum Forecast 2019
Following the peak of sargassum seaweed in 2018, the sargassum forecast for 2019 was accurate and many Cancun beaches were back to their natural state of turquoise waters and powder white sand by early 2019.
However, the forecast for seaweed season in 2019 was not encouraging. A report by Brigitta Ine van Tussenbroek, an ocean researcher from the Institute of Marine Sciences and Limnology at the National Autonomous University (UNAM) suggested that large quantities of sargassum seaweed were likely to return to Quintana Roo and the beaches of Mexico's Caribbean coast in 2019.
Updates on June 22, 2019 from the Sargassum Early Advisory System (SEAS) forecasting project showed several sargassum mats offshore in both Quintana Roo North and Quintana Roo South.
Recent satellite images continue to show large floating masses of seaweed in the Atlantic between southern Africa and Brazil. Whether it will land in Cancun, Chetumal or the Riviera Maya is unclear as much depends upon atmospheric conditions such as trade winds.
Current Seaweed Conditions in Playa del Carmen, Cozumel and Tulum – 2019 and 2020
June – August 2019: On July 7th, The government of Quintana Roo issued an emergency declaration for the coasts of the municipalities of Lázaro Cárdenas, Isla Mujeres, Benito Juárez, Puerto Morelos, Cozumel, Solidaridad, Tulum, Felipe Carrillo Puerto, Bacalar and Othón P. Blanco.
Declaring a State of Emergency enabled local authorities to access funding to combat the volume of seaweed by removing accumulations and blocking it by various methods.
By early August, the winds and currents shifted so the sargasso seaweed mats were no longer landing on the beaches of Quintana Roo. This is great news as it means the sargasso problem has disappeared from most beaches in Cancun and Riviera Maya.
It's important to note that Cancun seaweed conditions can change daily depending on tides and water temperature. To continue to monitor current seaweed conditions throughout the Caribbean, Mexico and the Gulf of Mexico, there are several options.
Sargassum Seaweed Tracker
You can check the Sargassum Early Advisory System (SEAS), a forecasting project based in Texas intended to help predict the movement of sargassum blooms. Originally created in 2013 to help with forecasting of the large Sargassum landings in Texas, by 2017 the SEAS project had expanded to provide forecasting for the Gulf Coast, Mexico, Grand Cayman, Jamaica, Haiti, Saba, the Dominican Republic, Puerto Rico and many other Caribbean islands.
The SARGASSUM EARLY ADVISORY SYSTEM can forecast sargassum seaweed masses up to eight days in advance.
Get Maps, Updates and a Seaweed Report on Facebook – Red de Monitoreo del Sargazo
This not-for-profit group is made up of engineers, biologists and other experts who are volunteering their time to provide monitoring expertise and services.
They published this map of areas affected by sargasso seaweed in Cancun, Riviera Maya, Cozumel and Tulum on December 16, 2019. Get updates from the Red de Monitoreo del Sargazo Cancun Facebook Page.
Riviera Maya and Cancun Beach Webcams
In Akumal Mexico, it's possible to check webcams such as the Akumal Beach Webcam to see live feeds of beach images that update every 10 seconds throughout the day.
In Cancun, Mexico you can check the Live Aqua Webcam to see live video frames updated every 15 seconds.
Photos of Caribbean Beaches
It's also worth checking on Instagram using the hashtag #sargassum or your destination and you can get updates such as the one below:
Subscribe to our Newsletter for Updates
Subscribe to the A Taste for Travel newsletter for updates on the best beaches and other travel tips!
Save to Pinterest!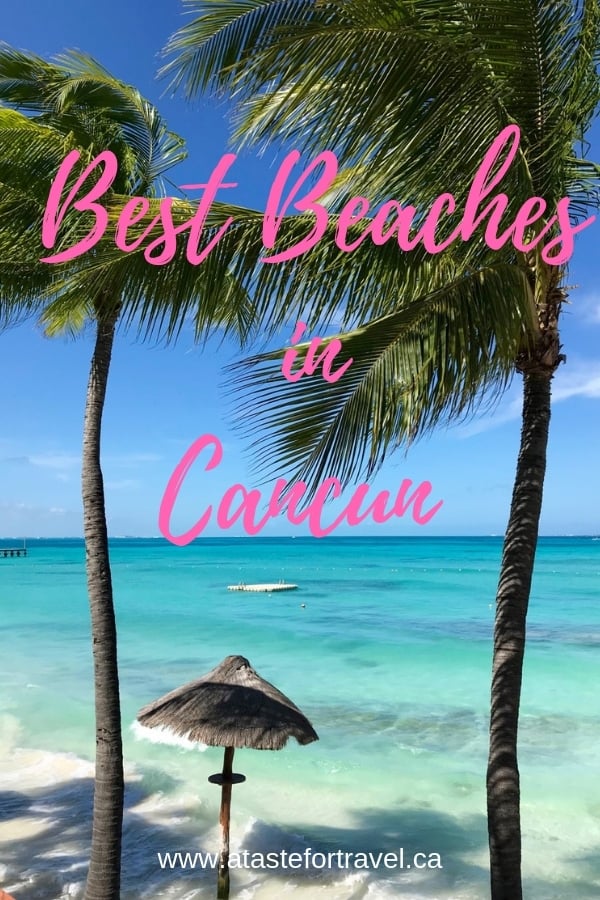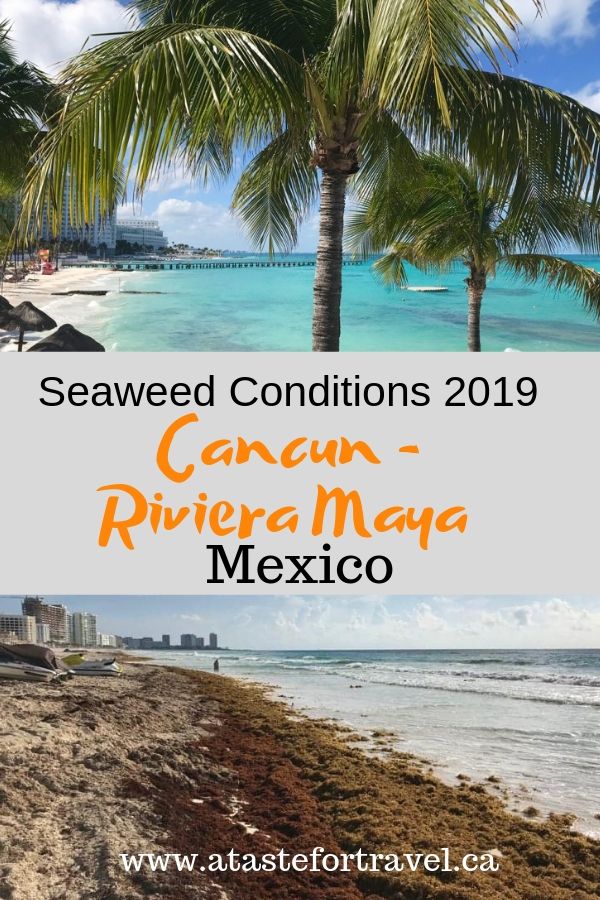 Like This Post? You Might Also Like: