We may earn income from links in this post. Please read this Disclosure for details.
Looking for a Secrets The Vine Cancun Day Pass? One of the beauties (and relatively unknown) benefits of low-season travel is that resorts aren't as busy as they are in peak season and they make products such as Resort Day Passes available.
Just in case you don't know what they are, a Day Pass offers access to a resort's swimming pools, lounge areas, restaurants and bars for a specified period of time.
This means you can experience all the luxury of an all-inclusive, five-star resort (minus the guest room) without committing to a full week or staying overnight.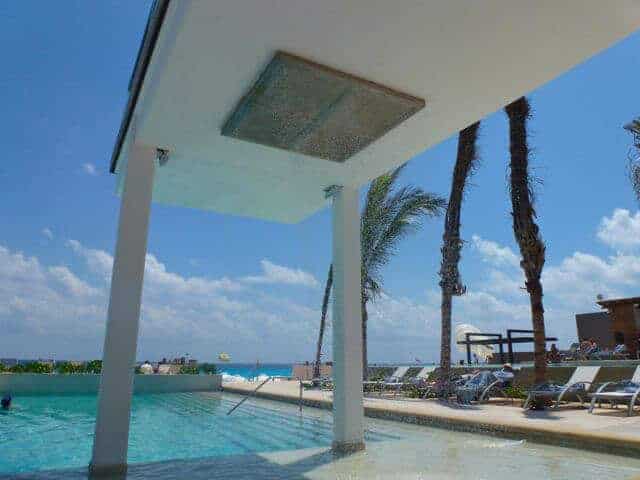 Exploring Secrets The Vine on a Resort Day Pass is perfect for planning a future vacation or celebrating a major life event such as an anniversary, birthday, honeymoon or wedding.
They're also handy if you have a long layover at an airport and want to relax in luxury (instead of an uncomfortable airport lounge chair).
If you're travelling through Cancun, a top choice for a Resort Day Pass is adults-only Secrets The Vine Cancun Resort & Spa located on one of the best stretches of beach in Cancun and home to the Unlimited Luxury vacation concept. Here's what you need to know:
Secrets The Vine Cancun Location
Secrets The Vine Cancun overlooks the Caribbean Sea on one of the nicest and safest swimming beaches in Cancun (watch for the red flag which signifies dangerous swimming conditions).
It also offers three infinity pools, curtained Bali beds, beach hammocks, beach loungers, outdoor showers and change rooms and spacious pool lounge areas. The resort is adults-only and draws an upscale, mature crowd rather than rowdy Spring Breakers.
Secrets The Vine Cancun Day Pass Dining
When it comes to dining, you can choose from six á la carte gourmet restaurants, a buffet and a café – reservations are never required and there isn't usually a wait, except occasionally at breakfast.
For Italian Cuisine, try Nebbiolo Ristorante (open in the evening) or for beachfront dining during the day, the Sea Salt Grill is ideal for seafood ( don't miss the calamari and ceviche).
The Lobby Bar and beachfront bars offer all-inclusive premium drinks, beer, wine and virtually any cocktail you can dream up.
Cost of a Secrets The Vine Cancun Day Pass
Here are the costs for a Resort Day, Night or Full Day Pass as at May 15, 2017 and are subject to change without notice. Be sure to contact the resort directly for new prices:
Day Pass: $120 usd per person, from 9 am until 5 pm.
Night Pass: $150 usd per person, from 5 pm until 1 am after midnight.
Full day: $180 usd per person, from 9 am until 1 am after midnight.
Although at first glance this might seem pricey and you might be tempted to think you'd be better off getting a hotel room for the night, you need to factor in check-in and check-out times as well as costs elsewhere (bottle of water $3.00, glass of wine $9.00, cocktails $10.00 each, snacks, a couple of gourmet meals $25-$75, coffee/tea, appetizers, poolside fitness classes and pool towel service) and then it starts to make sense.
Of course, if you're likely to sip only water all day, it probably isn't as worthwhile unless you really, really want to lounge in luxurious comfort.
Note: The above prices don't include a guest room and, when occupancy is above 85%, they limit the number of day passes available. It also does not include tips, other services such as access to Pevonia Spa, the Preferred Club area or all wines in the wine cellar.
Prices can be change at any time so check before you visit.
Travel Planner
Secrets The Vine Cancun
Kukulcán Boulevard Km. 14.5
Hotel Zone Cancun
Phone: 52 998.848.9400 or 1 866-467-3273
Email: info.sevcu@secretsresorts.com
Website: http://www.secretsresorts.com/vine-cancun
Note: Contact the resort one day in advance to book a Resort Day Pass. Then, upon arrival, proceed to the check-in desk to make payment and gain access to your day of luxury.
Day Pass: $120 usd per person, from 9 am until 5 pm.
Night Pass: $150 usd per person, from 5 pm until 1 am after midnight.
Full day: $180 usd per person, from 9 am until 1 am after midnight.
Interested in a Resort Day Pass to a luxury resort at other sun destinations in Mexico or the Caribbean? Check out these blog posts:
Antigua: Airport Survival Guide: Enjoy a Resort Day Pass at Sandals Grande Antigua
St. Kitts: Work or Play? A Day Pass to Carambola Beach Club on St. Kitts
Cancun Riviera-Maya: Hotel Xcaret Arte: A Bucket List Escape in Cancun Riviera-Maya
Huatulco, Mexico: Day Pass (take the kids!) to Dreams, Huatulco
Guatemala: Day Pass to Luxury in Panajachel, Guatemala
Save to Pinterest!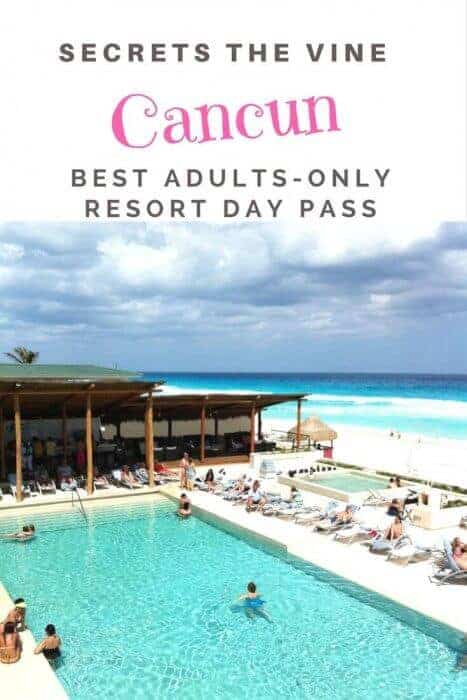 Dividing her time between Canada, Guatemala and Mexico (or the nearest tropical beach), Michele Peterson is the founder of A Taste for Travel. Her award-winning travel and food writing has appeared in Lonely Planet's cookbook Mexico: From the Source, National Geographic Traveler, Fodor's and 100+ other publications.
View more posts by Michele Peterson Read more