If you're looking for the best girls getaway in the Caribbean, here are some top picks for a bachelorette party, reunion or anti-Valentine's Day or "Galentine's Day" tropical escape.
by Susan Campbell
As a travel writer specializing in the Caribbean, I know it can be tough to find non-couple focused stays during Valentine's Day week when everything is all about romance. Personally, I prefer not to have to witness endless PDA in the hot tub when I'm attempting to escape our frigid February temps.
So here are my top choices for a girlfriends getaway in the Caribbean. Although they're ideal for Cupid's annual love fest, these ideas are also perfect for a girls getaway weekend, a bachelorette party or reunion any time of the year.
These girlfriend getaways are set on the Caribbean's best islands and are guaranteed to live up to the "girls just want to have fun" lifestyle with lots of awesome activities that don't require two to tango.
1. Aruba: A Unique Girls Getaway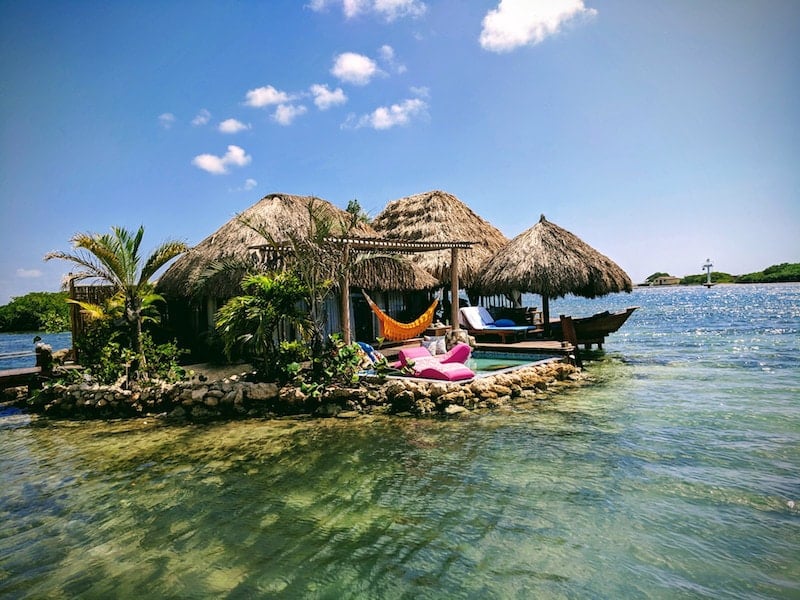 One Happy Island has scads of fine dining, nightlife and awesome activities, but you don't need to stay in one of Aruba's big box resorts; there are many new unique options ideal for a girls getaway.
Where to Stay: Aruba Ocean Villas is perfect for a few gal pals seeking over sea serenity Tahitian style. Or gather a big group (up to 25) and settle into three-story VIP digs Villa Royale Aruba a luxe escape that looks like something out of the lifestyles of the rich and famous. (It's surprisingly affordable with a group!)
Up to eight of your girlfriends can also share an awesome abode called Casa Alistaire over the water in lovely Savaneta where the aqua sea is teeming with tropical fish. Or, if you want to be closer to the famous Palm Beach action, yet not sardined in with the masses, then Boardwalk Small Hotel is the spot. It's a lovely tropical boutique oasis right across the street from the tourist strip with its own beach access, amenities and service.
Check out our top picks for other small, luxury hotels in Aruba.
2. Jamaica: Hey, Hey, Hey, Montego Bay!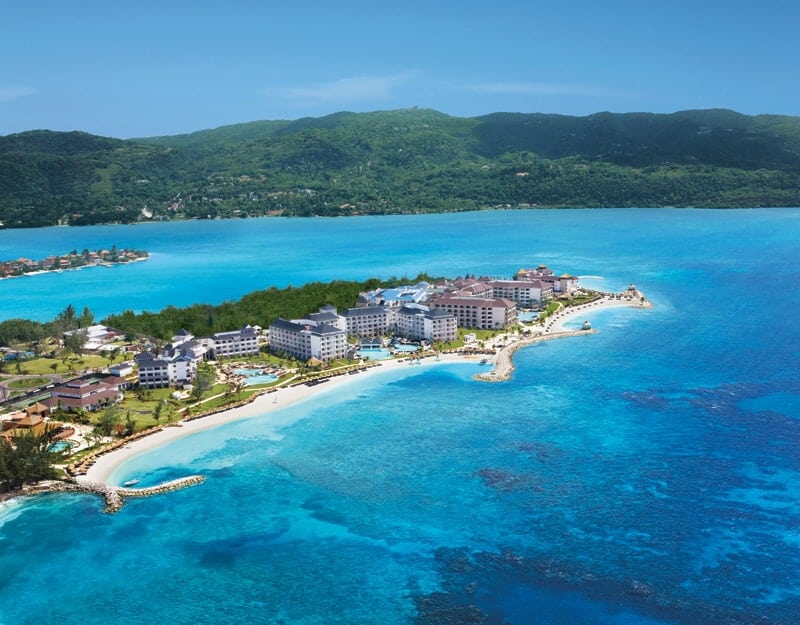 Jamaica is among the best girlfriend getaways in the Caribbean. Learn to " lime" and enjoy the "irie" life with your gal pals on one of MoBay's best beaches at a choice of three adult-only sister all-inclusive AMResorts. And the staff at all three are crazy good, and so much fun. Don't be surprised to see your room service tray delivered on your server's head, or your pool butler walk right into the water carrying your drink with all his clothes on!
Where to Stay: Choose from laid-back Secrets St. James or more party hearty Secrets Wild Orchid Montego Bay right next door for their signature Unlimited Luxury ® amenities. The resorts share a massive dining and entertainment village and a great beach, and there is lots of space to chill by the sea or get physical in the fray. There's a small onsite casino, a big luxurious spa, and every room has a glorious whirlpool tub!
Ideal for an all-inclusive bachelorette girlfriend getaway in Jamaica is the 150-room, all-inclusive Breathless Resort where you and your gang should opt for an Ocean View category room or higher and gain access to the xhale club with its exclusive rooftop pool lounge and other perks. Lounge in a party-size Bali bed in the sprawling pool zone where afternoon foam parties and DJs keep the party happening all day long.
3. Anguilla: Live Your Mermaid Fantasy
What better way to bond with your gal pals than to channel your inner Ariel and don flippers to transform into a bonafide mermaid!
Where to stay: The new Zemi Beach Hotel on glorious Shoal Bay invites Mermaid School International to give classes in their awesome glassed-in infinity pool. On site is also a rocking beach bar, an incredible Thai spa, a rum room, and both casual and fine dining enclaves.
Insider's Tip: Mermaid alert! At press time, the master mermaid was planning to pass the school onto her underlings as she is moving off the island. So if the academy is unresponsive online, ask the concierge to connect you with one of the local mermaid alumnus for a private lesson.
More gal pal friendly pastimes include horseback riding right in the ocean with Seaside Stables and boat trips to private islands for killer lobster. And don't forget to seek out Bankie Banx's famous beach shack the Dune Preserve for live music–you never know who'll drop in to jam or barefoot bop on the beach- it's a legendary celebrity magnet!
Want some tips on where to eat on Anguilla? Check out our A Taste for Travel post on Unplugged Anguilla: Best Beach Shacks and Food Trucks
4. Curacao: A Girlfriend Getaway for Marine Life Lovers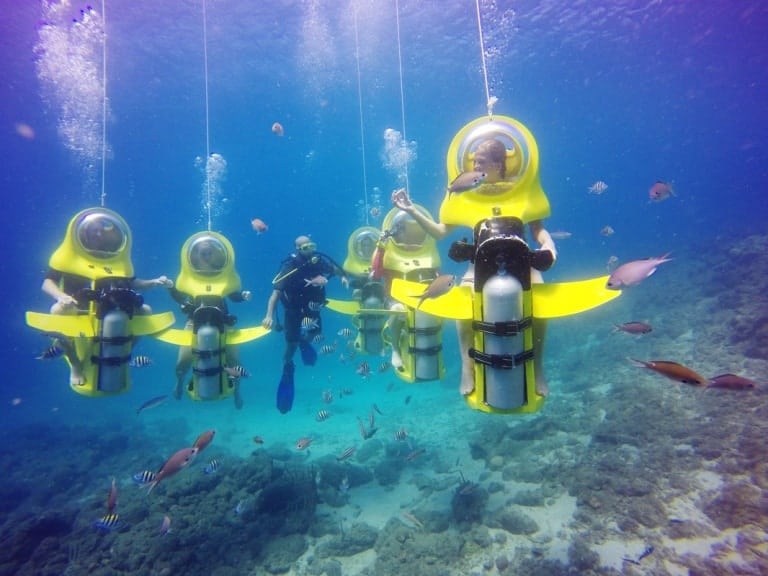 No need to be certified to dive if you and your girlfriends want to get up close and personal to marvellous marine life! Curacao has two very unique experiences. Aquafari is a cool eco-friendly underwater scooter that allows you to breathe normally while trekking around down to 20ft below, and Substation Curacao's Curasub is an incredible 4-person submersible that travels down into the depths to 1,000 feet below without your even getting wet!
Love underwater adventure? Learn about how you can go swimming with wild sea turtles in our post Top 15 Free Things to Do in Curacao.
Where to Stay: Turning 70 this year, the historic Avila Beach Hotel is the legendary Grand Dame of the island. Even the royal Dutch family stays when they visit. But the old girl has seriously kept up with the times with beautifully renovated rooms, an epic Blues Jazz bar on a pier and trendy dining.
Their beach is great for snorkeling, and now one wing is adult-only. It's located downtown within the hip, neighbourhood of Pietermaai that boasts scads of cosmopolitan bars and restaurants and is close to the colourful Handelskade.
Or you can totally escape to a destination within the destination at Santa Barbara Beach & Golf Resort. Though their seaside golf course is among the best in the Caribbean, there's plenty of other things to do there for a girl's getaway.
Options include tennis, hiking Mt. Tafelberg, SUP and yoga on SUP, ATV touring, getting pampered in their fabulous spa, or just enjoying their beautiful private beach. And dining at their signature restaurant "Shore" is always a treat.
You can also rent a gorgeous multi-level cliff top villa with a private pool in Coral Estates called Villa Seashell that sleeps 8. It's very affordable with a group!
5. Bonaire: Windsurfing and Wellness for Women
Although best known as a diver's paradise, and Bonaire does boast some of the best shore diving in the world; it's a best-kept secret that it is also one of the best spots on the planet to learn to windsurf! And kite board, too! The calm, shallow waters at Lac Bai provide optimum conditions and have produced world champions, making it a great choice for an active girls getaway.
Where to Stay: The brand new Delfin's Beach Resort is an awesome sprawl of barefoot luxury villas surrounding a lovely water circuit with Bali beach beds and blocks of spacious suites on their own picturesque beach front.
On site dining ranges from trendy food truck style tapas (think a flight of ceviches) to the island's absolute best new gourmet fusion dining spot called Brass Boer an offshoot of Michelin Star chef Jonnie Boer's operations in the Netherlands.
There is also a five-star diving operation should you wish to learn, and superb snorkeling right offshore in front of the resort.
You can also rent an eclectic choice of villas and apartments for a girl's group getaway through Sunrentals Bonaire.
Fun outings might include a trip to the tasting garden at the artisan Cadushy Distillery in Rincon, some mini-golf, hot tub soaking, and Dutch pancakes at the crazy kitschy Flamingo Adventure Golf, and the cute little downtown area of Kralendijk is well worth a trip as well.
Insider tip: The legendary Frans Brothers from Bonaire have just opened their own windsurfing school. It's not every day you can get lessons from world champions!
Read Top 7 Things Every First-time Visitor Should Do on Bonaire for more great ideas for a girlfriend getaway.
So, with all these fabulous Caribbean girlfriend getaways to choose from, who needs annoying Cupid, cheap chocolates and cheesy cards to enjoy Valentine's Day?
Take a girl's getaway and celebrate you!
Disclosure: This post contains affiliate links. Read more on our Disclosure Page.
Travel Tips for Planning the Best Girls Getaway in the Caribbean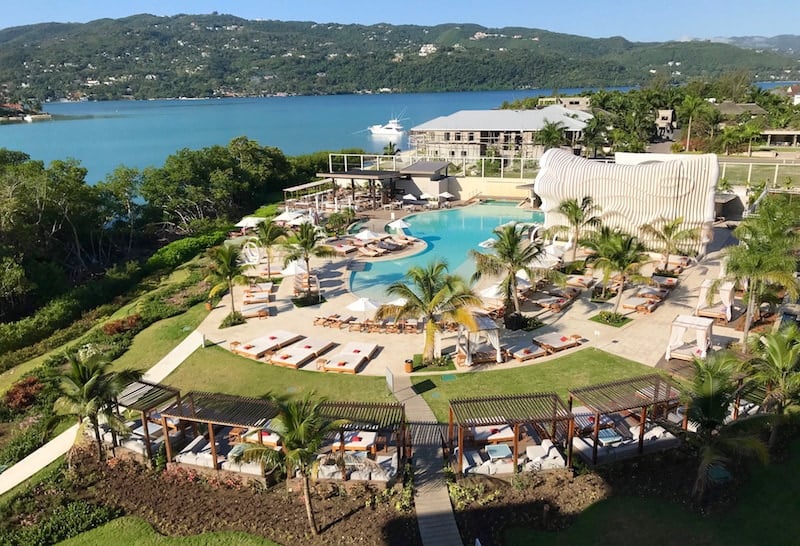 Here are some tips on how to find a deal for your next girls getaway:
1. Subscribe to receive updates or newsletters from your chosen hotel. For example, if you register (it's free) to receive updates on all-inclusive girlfriend getaway vacations from AMResorts, you'll hear about deals and specials direct in your in-box.
2. Get the best deal on your hotel by using Hotelscombined.com, a search engine that compares top travel websites (such as Booking.com, Expedia and Hotels.com) to find the cheapest price.
This post is an updated and modified version of an article originally published in 2017.
Looking for more travel ideas for fabulous beach escapes for an all-inclusive girls getaway in the Caribbean and Mexico? Check out these posts:
5 Reasons Nevis Might be Your Next Favourite Island
7 Romantic Things to Do in Cancun
Top 7 Things Every First-time Visitor Should Do on Bonaire
Save it to Pinterest!