We may earn income from links in this post. Please read this Disclosure for details.
Headed to the Dutch Caribbean paradise of Aruba? You might be tempted to think that working on your tan, cocktail in hand, is all the vacation excitement you need.
But whether you're on a cruise ship or staying for a week, even a sloth-some vacationer like myself has to admit that an adventure-fuelled Aruba excursion can be good for the soul.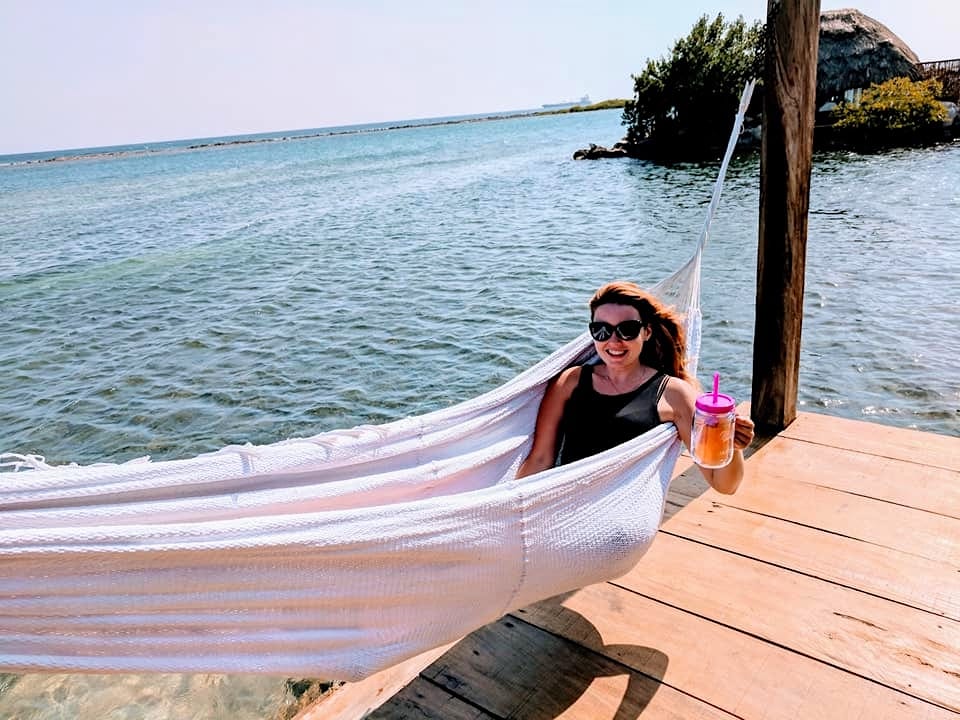 With so many Aruba adventures to choose from, it would be a shame not to get out of the hammock and experience some of the unique things to do on Aruba.
So, hold on to your hats, here are the top ways to explore One Happy Island and enjoy the best of Aruba outdoors:
1. Jolly Pirates Snorkeling
Ever wanted to party like an actual pirate of the Caribbean? Well, now you can.
Board the Jolly Pirates ship for an unforgettable snorkel adventure with dancing, hilarious entertainment from the pirate crew, an open bar, and you guessed it, a rope swing! (Surprisingly, no plank though!)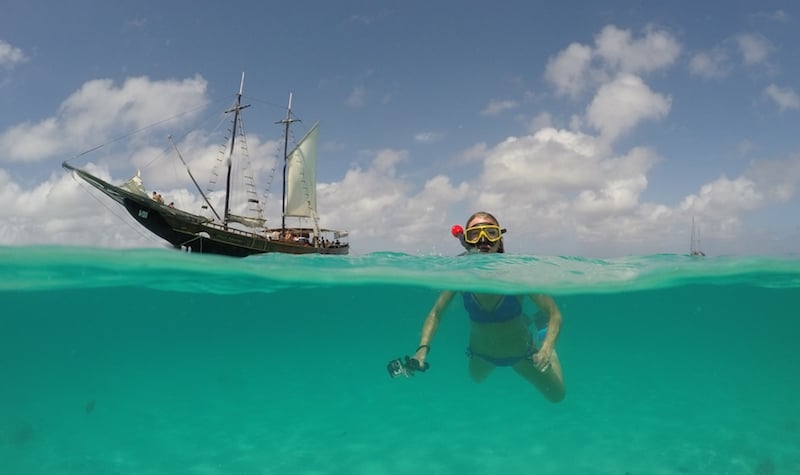 It's pretty much impossible not to have a blast while seeing marine life, getting your groove on and drinking "pirate poison" in between snorkel stops. I especially like the fact they have cut back on single-use plastic by selling their reusable souvenir cups at cost.
Jolly Pirates is very big on keeping their sea playground clean on their Aruba excursions so pack some zero waste, reef-safe sunscreen and help support sustainable travel.
My all-time favourite Aruba memory comes from a Jolly Pirates snorkel trip a few years back. I jumped in over the sunken WWII German shipwreck "SS Antilla" and came face to face with a juvenile loggerhead sea turtle. What a treat!
Insider Tip: Visit the Jolly Pirates website for 20% off on Mondays, Fridays, Saturdays, and Sundays. Snorkel trips are daily at 9AM or 2PM, or if you're not in a snorkeling mood, you can also enjoy a sunset sail every day at 5:30PM.
2. Vela SUP Pilates
I know there are a lot of people who love to work out, eat healthy and keep their beach bod in check while on an indulgent vacation. As you may have guessed, I am not typically one of those people.
For those accustomed to working on your abs while balancing on a paddle board in public, this may not seem like a very adventurous activity. But for those of us who are newer to stand up paddleboard (SUP) Pilates life, it certainly is.
I was worried about trying SUP Pilates for two reasons. First, I am terrible at Pilates. My first introduction to it in Australia left me with a sore body and a bruised ego for days.
And second, I was afraid I'd fall off the board! But then I was relieved to hear the rest of my group was also new to the offbeat exercising pastime, so we vowed to laugh our way through it together in solidarity. And we did.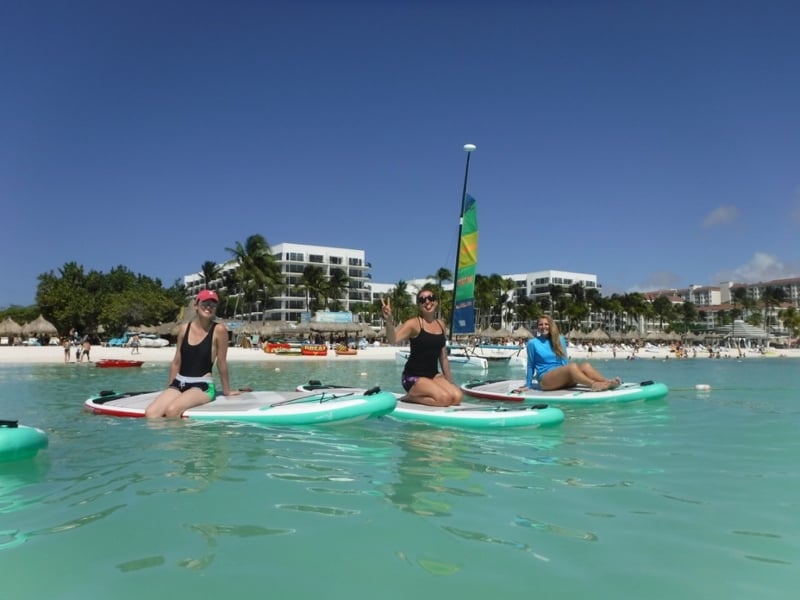 Our instructor Manon was a fabulous teacher who made it easy for us newbies to try out SUP Pilates for the first time. Most of the poses we did were sitting on the board, toning our arms or abs, and thankfully, the routine was tough but not impossible.
As for the standing postures, well, jumping into the water when the waves got too rocky was refreshing and fun. And falling off at their Palm Beach spot is no big deal because you're only shoulder deep in water.
We all had a blast trying out this activity, and I think that adventurous people of all skill levels would enjoy this unique water workout. It's also one of the most non touristy things to do in Aruba. All I can say is if I, of all people, can work my "abs" balancing on a paddle board for an hour on a Saturday morning, so can you!
Pilates classes are Saturdays 10-11am, but they also offer beach yoga, SUP yoga, and SUP body fit throughout the week. Classes can be booked online at Vela Aruba SUP.
3. Full Throttle Speedboat and Snorkel Tours
Departing from the marina at the Renaissance Marketplace is Full Throttle Tours Aruba. Feeling a little rebellious? In the mood to rock out on a speed boat blasting ACDC? Well, look no further.
This newer tour company is run by a lovely little family who just loves to rock and roll all day, and they don't call their captain "Bumpy" for nothing! This smaller boat is great for intimate groups looking for more of a private Aruba adventure, who may not wish to snorkel with a crowd of tourists.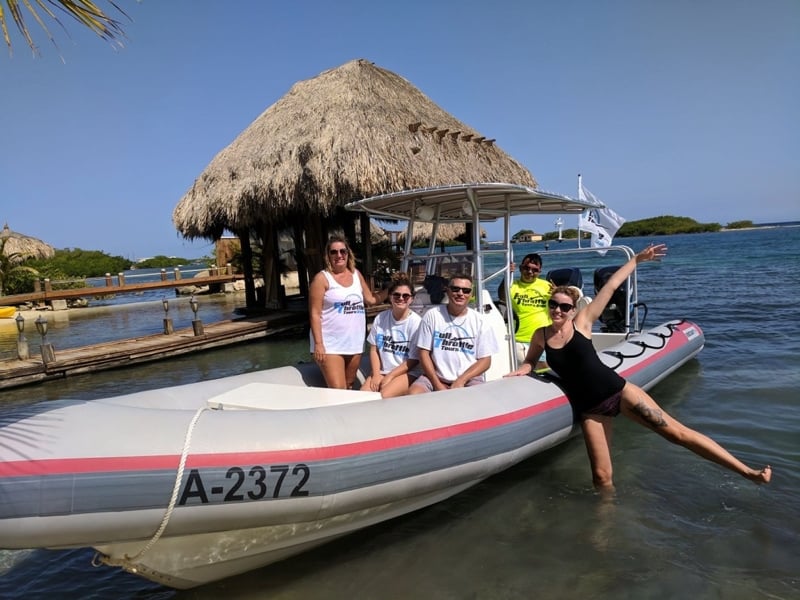 Captain Bumpy sped us over to a favorite local spot, Mangel Halto, where the few of us had the whole sea to ourselves. I snorkeled above a sunken boat and alongside a school of squid.
I was offered a pack of mini Oreos (bonus vegan snack!) and some rum punch upon my return to the boat. They also use reusable souvenir "throttle bottles" to cut down on plastic cup use and they are included in the price.
Tours typically start with snorkeling at Arashi Beach, and then hightail back past Oranjestad to Mangel Halto before returning to the marina. For those about to rock, we salute you!
The tours take 2 and half hours, and you can choose from morning or afternoon departures. Private charters with up to ten passengers are also available. Book direct at Full Throttle Tours Aruba.
Insider Tip: You'll be a few steps away from the best live Latin music and mojitos in town, so stop into at Cuba's Cookin' and check out their awesome new gluten-free and vegan options while you're at it! Or, get our top picks for the best places to eat like a local in Downtown Oranjestad.
4. Clear Kayak Tours Aruba Adventure – Soft Adventure Water Sports
This is more of a low-key adventure tour, meaning that if you're afraid of speeding around Aruba in a UTV, scared of heights or too lazy to actually work out on a paddle board, this is a solid tour choice for you.
Clear Kayak Tours is a lovely relaxed way to experience the island and see some of the coral reef and tropical fish under the surface, without actually having to get wet (unless you want to).
I took this kayak excursion with my mom while staying at the legendary Aruba Ocean Villas in Savaneta. The Clear Kayak pickup from Mangel Halto is about a five-minute drive away from our favorite over-water bungalow hideout. The kayaks are big enough for two, and, because I'm a spoiled brat, one of the friendly guides did all the paddling while I kept my eyes glued to the clear bottom for marine life.
I had great views of the coral reef and blue parrot fish swimming below the kayak in the crystal-clear waters. Next time, I'd like to try the night tour, which takes you out to see the sunset.
On the way back, LED lights under the kayaks show-off the underwater activity below. If you're really brave, you can also jump in and snorkel on the night tour. Just remember your towel as it might be chilly getting out.
Tours are typically 2 hours ($60 USD) but longer tours are also available. See Clear Kayak Aruba for more information, pricing and booking.
5. Windsurfing & Kiteboarding
For a high-adrenaline water sports excursion, head to Fishermen's Huts beach, the windsurfing and kiteboarding Mecca of Aruba. The wind and water conditions are ideal for newbies near the shore and for real pros out further in the sea. Aruba Active Vacations offers four kite boarding lessons a day (2 hours each, 1 hour of instruction and 1 hour of practice).
Keep in mind that if you're new, this sport is not as easy as it looks. Like anything, it takes practice, and it might take around 5 private lessons for you to be able to get up in the air. If you're new to all of this, and you're looking for something fun but a little easier, you should start with windsurfing lessons, which are also available from the same location.
I had the distinct honor of receiving my very first windsurfing lesson from a local legend a few years back! Her name is Sarah-Quita Offringa, and she is a 15-time world champion in freestyle and slalom. My mother has been covering her career since she was a teen, so she was kind enough to meet us at the Fishermen's Huts and give us a quick lesson.
While fumbling around on the windsurfing board, I suddenly caught wind and took off to sea. Speeding across the water with the wind at my back was such an exciting feeling, I could see how windsurfing can be addictive.
The only thing is, I couldn't remember how to turn back around. We all had a good laugh as Sarah-Quita had to swim a long way out to get me because I didn't know how to get back on my own.
If you are lucky, you might see her shredding it up there when she is not out touring the world taking titles. This beach is her home base where she first learned, and she loves to practice in this familiar spot when she's on island.
Insider Tip: Aruba holds the largest international windsurfing and kite boarding event in the Caribbean each July. It's called Hi-Winds Aruba and it's not just a competition but a week-long party with music and special events. This is one of the top free things to do in Aruba and not to be missed if you're on island.
6. Horseback Riding on Aruba
Feel the wind in your hair while horseback riding on the beaches of Aruba's northeast coast and the Hidden Valley and Lagoon. One of the most popular outdoor horseback riding adventures on Aruba is offered by The Gold Mine Ranch.
Their morning ride begins at 9:00 am and includes 1.5 hours of horseback riding with seven scenic stops. It's even possible for capable riders to enter the water with their horses and swim in the water slightly.
The Gold Mine Ranch provides free transportation from the hotel zones, the cruise ship terminal and downtown Oranjestad when you book an excursion on their website.
7. ABC Tours Off-Road Jeep Tours
For adrenaline-junkies, ABC Tours' UTV rides should be top of your to-do list. UTVs are four-wheel-drive, off-roading vehicles that you get the privilege of driving yourself or with a partner.
Want to have your life flash before your eyes while zipping through the desert? Want to see "the other Aruba" with its crashing waters and rugged coastline? This adventure is for you.
In the past, I've avoided this adventurous activity from fear of getting knocked around and bruised up on the ride. But now I'm so glad I did it. I came out the other end unharmed and laughing like a maniac.
Feeling the wind whip through my hair as we sped through a cactus patch was actually exhilarating. It was like driving through a real live game of Mario Kart 64. It wasn't a race, but I'm pretty sure if it was, my team "won" thanks to my friend's fearless driving performance.
Definitely not for the faint of heart, this adventure tour will give you a perspective on Aruba that you just won't get on the resort strip. We opted for ABC Tours Blackstone Treasures and Swimming UTV Safari Tour.
The views at Blackstone Beach, Bushiribana Gold Smelter ruins and the natural pool were simply out of this world. They also offer jeep safaris to the Natural Pool at 'Conchi' Aruba's Arikok National Park and the California Lighthouse.
Check prices and book here for your ABC Tours UTV and other tours.
Note: Due to the negative environmental impact of ATVs and UTVs, Aruba introduced a ban of ATV's and UTV's in National Park Arikok as of October 1, 2020. Only compact cars, jeeps, vans, and pickups are allowed to enter National Park Arikok. However, these vehicles are not allowed to enter in groups larger than 4 cars.

Insider Tip: This ride is very dry and dusty, so wear older clothes and make sure to get a bandana to cover your face from the dust. Just ask at the front desk. Another good idea is to bring goggles or very thick sunglasses to avoid driving with dirt in your eyes. Safety first!
Travel Guide to Aruba Adventure, Hotels, Restaurants
Best Hotel for Outdoor Adventurers in Aruba
After my latest visit, I can recommend the luxurious Aruba Hilton Caribbean Resort and Casino with absolute confidence for outdoor adventurers. The friendly staff is very proud of their recent multi-million-dollar renovations, and for good reason! Everything is so clean and modern. They have three towers named after the ABC islands (Aruba, Bonaire, Curacao), and each room is equipped with a personal balcony or patio.
The location could not be more ideal: steps away from shopping and nightlife across the street at Paseo Herencia and nightly "liquid fireworks" water show in their charming courtyard.This four-diamond award-winning resort is right on the iconic white-sand Palm Beach, and they have scads of space; even when they are at full capacity, you will never feel crowded on the beach.
For those wanting even more unique adventures on Aruba, the resort offers scuba lessons and mountain biking. To document all the fun you're having, the Hilton offers Go-Pro rentals for guests.
After a hardcore day of UTV-tours and SUP Pilates, I enjoyed a well-earned aloe vera massage from the Hilton Aruba's beach-front spa, Eforea. Aruba has some of the healthiest aloe plants in the world and my sun-baked skin gratefully soaked in the healing plant gel. After a complementary glass of champagne and superb back massage, I left feeling completely refreshed.
Aruba Tourism Authority: Visit the official Aruba Tourism Authority website for inspiration, planning tips, maps, advice on tours, excursions and activities.
[/color-box]
Worked up an appetite? See our latest blog post on how to eat like a local in downtown Oranjestad.
Or for more on where to eat vegan on Aruba see some of my favorites at Vegan Vacationista.
ENJOY THIS POST? YOU MIGHT ALSO LIKE:
5 Secret Hideaways You'll Love in Aruba
Diving into Dutch Tapas on Aruba
Top 7 Things Every First-time Visitor Should Do on Bonaire
Renaissance Private Island: A Top Luxury Experience in Aruba
---
What are your favourite Aruba adventures? Share your suggestions for the most adventurous things to do in Aruba in the comments!
Save to Pinterest!
Jessica Percy Campbell is a world traveller currently based out of beautiful British Columbia. She loves to experience the latest and greatest of plant-based alternatives wherever she goes. Always venturing off the beaten path for unique local businesses and the hidden gems of vegan life, you can keep up with @veganvacationista on Instagram.
Learn more about Jessica Percy-Campbell.