We may earn income from links in this post. Please read this Disclosure for details.
With its year-round sunny skies, warm breezes and culinary riches, the Dutch Caribbean island of Aruba is made for romance. No wonder it's a magnet for couples in love – every night is naturally date night!
Whether you're looking for a fantasy island private dinner on a white sand beach, a Valentine's Day celebration, an intimate hideaway to pop the question or a place to rekindle old memories on a milestone anniversary, there's an irresistible selection of romantic restaurants in Aruba.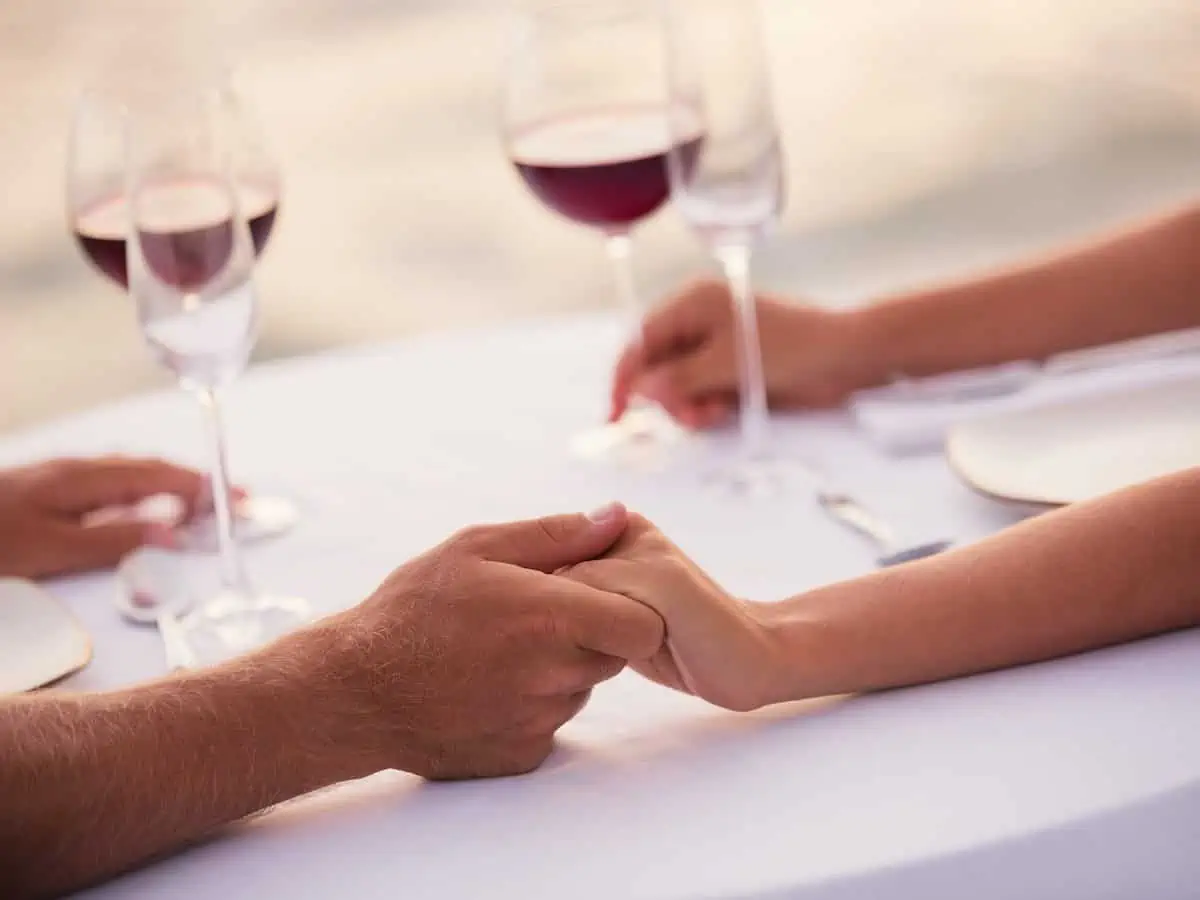 Can't decide which restaurant to choose? Check out our list of the most romantic restaurants in Aruba.
These date-night worthy dining venues have vaulted the meaning of romance to a whole new level.
1. Bucuti & Tara Beach Resort – Romantic Dinner in a Private Cabana
While the four private cabanas on Bucuti & Tara Beach Resort's pristine beachfront are reserved during the day for the guests of their penthouse suites, at night they become available to the public for a romantic dinner on the beach option.
This dreamy intimate culinary experience for two is offered at a set price. It includes complimentary wine or champagne, choice of appetizer, main course, dessert and tea, coffee or espresso.
The regular Romantic Dinner Menu offers a choice of fish, beef, or chicken mains. But there are also entirely separate menus available for vegans (Elements is one of the best places for vegan food in Aruba), vegetarians, and for those who require gluten-free fare.
The food is crafted in their signature restaurant Elements known for sourcing fresh, organic, sustainable and local ingredients whenever possible. The attentive service is first rate.
There are two seatings per evening – sunset or moonlight – and the entire resort is adult-only, so there won't be any boisterous children to drown out the sweet nothings you might be whispering in each other's ears.
Insider Tip: If you'd rather have your date in the daytime, they also host a very romantic Sunday brunch at Elements as well.
Note: Reservations are mandatory and credit cards only. No cash accepted.
2. Flying Fishbone – Dine with Your Feet in the Water
Set on the waterfront in the quiet fishing village of Savaneta, Flying Fishbone offers an intimate setting for romance.
With natural ingredients such as a night sky filled with sparkling stars, flickering lanterns and tables draped in fine linen, this restaurant gets even more enchanting if you opt for one of the tables at the waters' edge where you can actually dine with your feet in the water.
Begin with a fresh seafood platter for two, avocado salad with Caribbean lobster tail and fresh oysters, then celebrate with enticing mains such as a delectable duck breast on linguine pasta and prime aged tenderloin.
For an impressive dessert, opt for the Baked Alaska featuring strawberry ice cream, banana ice cream and sponge cake covered with sweet meringue.
It will be flambéed at your table with Sambuca for a dramatic grande finale.
3. Old Man & the Sea (Aruba Ocean Villas) – Dreamy Overwater Cabana Dining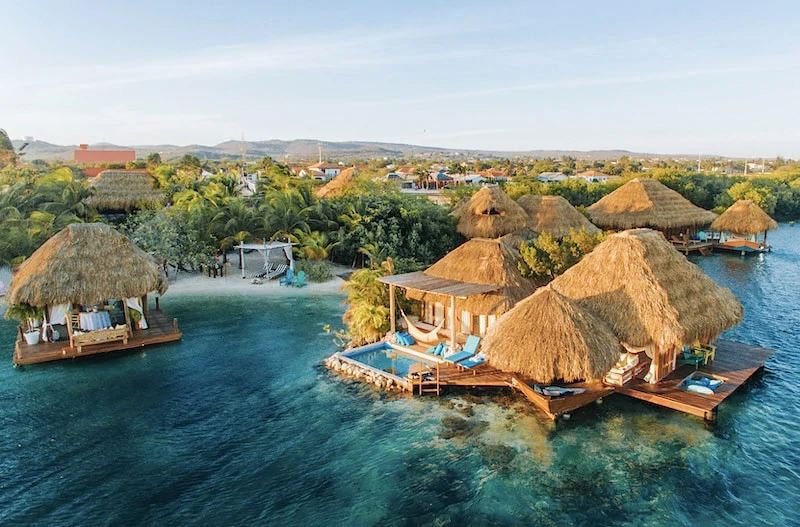 For the ultimate romantic dinner on the beach in Aruba, there's nothing quite as unforgettable as enjoying a fine meal South Pacific-style surrounded by crystal clear waters.
Discover this unique experience at adults-only Aruba Ocean Villas secreted away in the tiny fishing village of Savaneta.
Though their on-site restaurant – The Old Man and the Sea (inspired by Hemingway's novel of the same name) – is primarily dedicated to serve resort guests, it welcomes outside visitors for dinner. Reservations are a must and note that it is adults-only.
A handful of 10 tables is set in the sand on a pristine private beach surrounded by lovely lighting steps from the waves. But the pièce de résistance for romance – especially for those seeking to propose – is the one private overwater cabana on its own pier. It's only available for resort guests so it's worth booking an overnight stay.
The restaurant's skilled chef creates an ever-evolving and creatively-prepared selection of fresh seafood (such as lobster a la vodka), Angus beef and appetizers such as the hotel's deservedly famous keshi yena appetizer. Visit their website for the latest menu.
This delicious traditional dish features Dutch gouda cheese filled with a mix of spiced shredded chicken and meat, baked to gooey perfection. For dessert, go with a classic – Banana Strawberry Foster!
🌟 Insider Tip: Before or after dinner, don't miss Aruba Ocean Villas' snazzy new tapas and cocktails lounge called Oliver's for more romantic canoodling.
4. Atardi Restaurant – Dinner on Palm Beach
The ambiance is romantic and the cuisine celebratory at Atardi located on Palm Beach at the Marriott Aruba Resort & Stellaris Casino.
Kick off your heels, sip some champagne and enjoy menu standouts such as macadamia-crusted grouper (with its creamy red curry sauce) and fork-tender beef tenderloin with lobster tail Surf & Turf.
Then, wrap up your dining with a slice of decadent Tropical Coconut Cake.
🌟 Insider Tip: Listen to the sound of the waves while you enjoy a private dinner on the beach. Atardi has two private gazebos available with special romantic menus for two.
The nightly live music by talented musicians is another magical ingredient of this dinner on the beach. Reserve in advance for sunset dining by torchlight as these linen-draped tables book up quickly.
5. Patio 15 – New Cosmopolitan Sizzle and Spark Downtown
Add some spark and sizzle to your relationship with a romantic evening of dining and outdoor dancing in downtown Oranjestad.
Patio 15, right behind the famous pink Royal Plaza Mall, has taken over the downtown core's nightlife with its eclectic choice of trendy eats, giant cocktails meant to be shared by two, and lots of special events.
Housed in a heritage house full of history is a cozy bar and island memorabilia, but outside it's fast forward to the future with ever-changing coloured neon lights, hanging hammock chairs, and an ever-present DJ beat.
The massive front patio is the main area for dining and often dancing, but head to the even bigger backyard for their special musical events. It's become the largest outdoor entertainment venue on the island.
🌟 Insider Tip: Check their Facebook page for special entertainment and musical concerts dates:
Patio 15 is actually located within a cunucu house built in 1908 (portions of the structure actually date to 1860) recognized by Monuments Aruba on its historic registry. Popularly known as the "Yellow House" it was relocated to its central location on Weststraat 15 in 2020.
6. Passions on the Beach – Romantic Dining on Eagle Beach
The name says it all for those seeking toes-in-the-sand dining on famous Eagle Beach, one of the highest-rated stretches of sand on the planet.
As your evening dinner on the beach progresses, the spectacular sunset over the sea gives way to tiki torches by the tables and twinkling lights in the trees.
It's the ultimate in steamy ambience at Amsterdam Manor's signature restaurant.
Go local to start by ordering some authentic Aruban fish soup, then go classic with the ideal culinary couple pairing of surf and turf.
For dessert, the obvious choice for romance is their Passions Surprise for Two special – a chef's choice trio of decadent desserts served with a fiery sparkler.
Visiting Aruba on a budget? Balance your dining splurges with some insider tips on how to experience One Happy Island to the fullest — from free dance parties to sights you can enjoy for absolutely free – in our post on 10 Free Things to Do in Aruba.
7. Pinchos on the Pier – Swoon-Worthy Sunset Views
One of the most romantic restaurants in Aruba — an episode of ABC's The Bachelor was even filmed here — this chic bar and grill is set on a gorgeous pier just outside of downtown Oranjestad.
It's aglow with two strings of lights but you can even see colourful tropical fish swimming beneath the water due to the underwater lights.
A lovers swing makes the ideal place to pop the question if you're looking for a place to propose on Aruba.
When it comes to delicious dining Pinchos on the Pier specializes in grilled meats. Be sure to try the Maple Bourbon Cowboy Pincho a hearty skewer of chorizo, beef and pork tenderloin and chicken.
But other standout dishes include twin Caribbean lobster tails served with a refreshing pineapple-curry mayo.
For other great spots to enjoy dining or cocktails with a view, check out our picks for the Top 10 Beach Bars in Aruba.
8. Dine in a Real Lighthouse
For an unforgettably romantic dinner in Aruba, enjoy panoramic views across the northwestern coastline of Aruba from your perch at the top of the California Lighthouse.
There are just two seatings a day for this exclusive private dining opportunity.
The "chasing the sunset" seating (for two) is from 6pm to 8pm while seating for "under the stars" dining (also for two) takes place from 8:15 pm to 10:15 pm.
Choose from the 3-course dinner or a charcuterie board. Both include a bottle of wine.
Book in advance at Aruba Walking Tours.
9. Quinta del Carmen – Classic Elegance
For an evening made to remember, you won't be disappointed with the al fresco courtyard setting and attentive service at the legendary Quinta Del Carmen restaurant, located within a 100-year old country-style mansion.
The quiet garden shaded by ancient trees draped with twinkling lights offers an elegant setting to share romantic moments or make a special proposal while sipping a sparkling Quinta Royal cocktail of champagne and fresh strawberry.
The ambiance is complemented by an inspired menu. Traditional Dutch dishes such as cheese croquettes and Sucadelappen (braised beef in red wine) are top choices but seafood lovers will also enjoy fine selections such as fresh local snapper topped with Brie and blackened swordfish.
Be sure to reserve well in advance especially for special dates such as Valentine's Day. Quinta Del Carmen is one of the top romantic restaurants in Aruba and is very popular.
🌟 Insider Tip: They now have a lovely new Tapas and Cocktail garden with lots of secluded outdoor tables dotted around their massive landscaped lawn.
10. Sunset Dinner Cruise – A Floating Feast for the Senses
One of the most romantic restaurants in Aruba is actually a floating dining venue.
For a unique celebration of romance combine a spectacular Aruban sunset with inventive dining on one of the magical sunset dinner cruises offered by Monforte Luxury Cruise.
Set sail and relax at your table for two as you glide past Aruba's shoreline in a gleaming teak schooner while sipping hand-crafted cocktails.
This adults-only cruise is made for romance.
Then, dine on a four-course menu featuring delicious selections such as popcorn-garnished ceviche, fresh salad, tender beef tenderloin and indulgent desserts.
Soaring seabirds, live music and moonlit waves add to the unforgettable ambiance of this elegant evening.
Other Top Romantic Things to Do in Aruba
VIP Cabana on Renaissance Island aka Flamingo Beach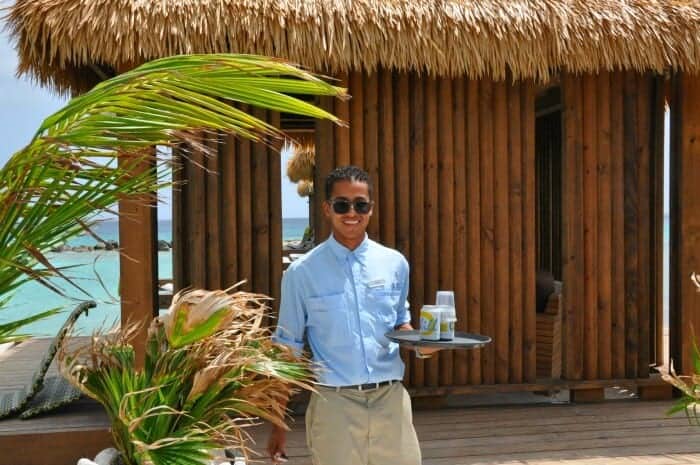 One of the most romantic things to do in Aruba by day is to spend a day in a private VIP cabana on Renaissance Island. It's ideal for a romantic couples' escape, luxury splurge, wedding or honeymoon celebration.
Comprised of two sections, Iguana Island (for families) and the aptly-named Flamingo Beach (adult-only), Renaissance Island Aruba is a private island that offers a quiet retreat from the already blissfully peaceful main beach zones on Aruba's Eagle and Palm Beaches.
Although the hotel occasionally makes Day Passes available (see Spend a Day on Flamingo Beach on Renaissance Island ) for details, Renaissance Island Aruba is available exclusively for in-house hotel guests at the Renaissance Wind Creek Aruba Resort, a luxury resort in two settings.
There's the family-friendly Renaissance Ocean Suites and adults-exclusive Renaissance Marina Hotel.
Romantic Floating Brunch for Two
Though you must be a guest of the ONLY villa with a private plunge pool at the Boardwalk Boutique Hotel to enjoy this dining experience, add it to your romantic things to do in Aruba bucket list.
This spectacular, exclusive floating breakfast can be served whenever you want it.
It's one of the best breakfast experiences in Aruba and an unforgettable way to follow up a romantic evening.
Romantic Picnic on the Beach
This luxury pop-up picnic concept service has taken the island by storm.
It's very popular for proposals and honeymoons, but it can also make for a fabulous romantic dinner!
Picnic Aruba will take care of all the details. You simply show up and enjoy an awesome feast and a private moment in paradise. Choose from breakfast, gourmet, signature grazing, or even vegan menus.
🌟 Insider Tip: They also do fabulous picnic-to-go baskets and will deliver to your hotel or resort.
Dinner and Nightlife Tour in a Party Bus
Fun-loving couples will enjoy this addition to Aruba's romantic culinary scene.
Kukoo Kunuku's Dinner and Nightlife Tour is an evening outing that kicks off with a champagne toast. It features stops (with complimentary drinks) at two local bars and a starlight dinner.
This entertaining experience is perfect for foodie couples.
Transportation is by open-air party bus featuring a soundtrack of classic hits. You'll have a blast shaking your maracas as you zoom around Aruba with the wind in your hair.
It includes pick up and drop off at your hotel for the ultimate evening of carefree fun.
Aruba Sunset Catamaran Cruise
Prior to dinner, why not begin your evening with a romantic 2-hour Sunset Catamaran Cruise?
This classy version of the usual Caribbean booze cruise features appetizers and an open bar.
Watching a spectacular sunset and dancing while the stars appear in the evening sky is an unforgettable couples' activity in Aruba.
Check prices and availability of an Aruba Sunset Cruise with Appetizers and Drinks on Viator.com.
Aruba Tourism Authority
Get maps, travel advice on points of interest in Aruba and other valuable resources on the official tourism website.
Check the official Aruba Tourism Authority site for details on attractions and sightseeing.
Other Romantic Getaways You'll Love
FAQs
Is Aruba good for couples?
Aruba has lots to offer couples beyond romantic walks along its beautiful beaches. Sharing a spectacular sunset on Eagle Beach, sipping cocktails by tiki torchlight at a private dinner on the beach, gourmet dining in a centuries-old mansion, and enjoying Aruba's nightlife dancing to Latin music are just a few of the romantic pastimes for couples. Aruba is one of the most popular Caribbean islands for destination weddings, honeymoons and anniversaries for good reason!
Is there a dress code for dinner in Aruba?
Smart casual is acceptable for nice restaurants in Aruba. You can wear chic shorts and sandals at most places for dinner but a high-end dinner out is a great opportunity to dress up. Formal attire is not required.
This post was originally published in 2019 but was updated with new research by Aruba expert and Contributing Editor Sue Campbell.
Save to Pinterest!
Dividing her time between Canada, Guatemala and Mexico (or the nearest tropical beach), Michele Peterson is the founder of A Taste for Travel. Her award-winning travel and food writing has appeared in Lonely Planet's cookbook Mexico: From the Source, National Geographic Traveler, Fodor's and 100+ other publications.
Read more about Michele Peterson.