We may earn income from links in this post. Please read this Disclosure for details.
Do you love gourmet coffee, fresh air and fabulous views? Then it's time to take a tour to Pluma Hidalgo coffee country.
Spending time in a coffee plantation, sipping artisanal mezcal and experiencing the grandeur of the Sierra Madre Sur mountains is definitely one of the top things to do in Huatulco.
While it's also possible to do the pluma coffee tour on its own from Puerto Escondido, the easiest way to do it is on a 3 Levels Tour of Huatulco.
Why Take the 3 Levels of Huatulco Tour
While living in Puerto Escondido and exploring Oaxaca's coast while working on articles for WestJet magazine and Fodor's travel guides, I'd often wondered about the Arabica coffee plantations in the cloud forest of the Sierra Madre Sur mountains near Huatulco .
So I was thrilled to be invited to join an escorted day trip that included this mountain region. The coffee grown on the mountain slopes around Pluma Hidalgo is without a doubt one of the most highly-rated premium coffees in the Americas.
A visit to where it's grown not only introduce you to the secrets behind its exceptional flavour, but it will immerse you in the region's history, natural beauty and coffee culture.
Check prices and availability of the 3 Levels of Huatulco Tour on Viator.com.
How to Get to Pluma Hidalgo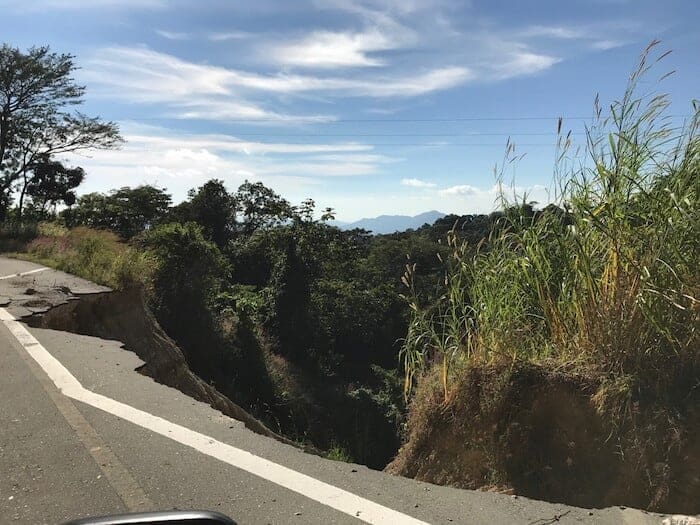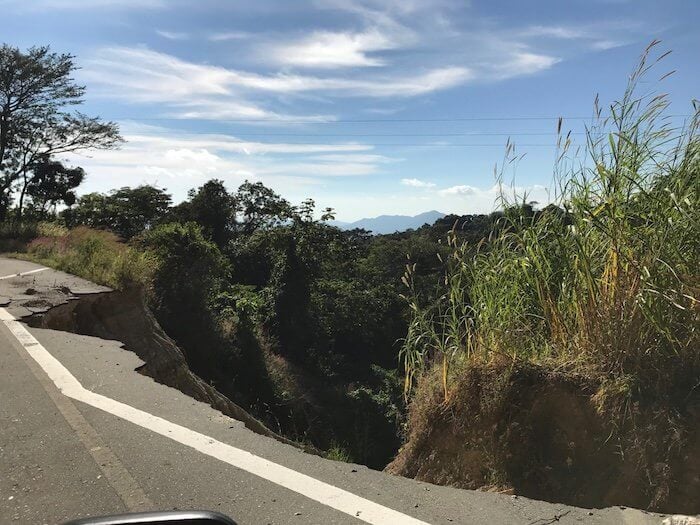 While the coffee-growing region and town of Pluma Hidalgo are located just 50 kilometres northeast of La Crucecita, the winding roads and steep ascent into the mountains makes it seem alot further than it looks on a map.
If you're planning to travel independently to Pluma Hidalgo, it's worth considering current road conditions. Between earthquakes and heavy rains, several sections of the highway often disappear into the valley below.
While it's possible to rent a car and go there independently, it's much easier to take a tour with a guide and driver experienced with the highway.
My full-day Three Levels of Huatulco Tour with Homie Tours began in Santa Cruz Huatulco, stopped in Santa Maria Huatulco, continued to the town of Pluma Hidalgo for a coffee tasting experience, tour and lunch and returned to Huatulco by around 4:00 pm.
Check prices and availability of the 3 Levels of Huatulco Tour on Viator.com.
Santa Cruz Huatulco to Pluma Hidalo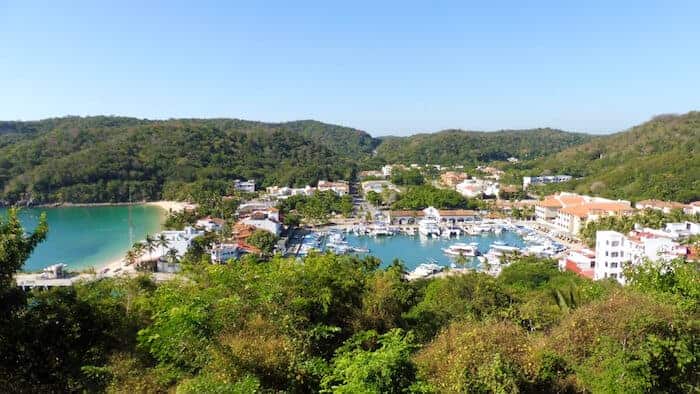 The first stop on our tour was at a lookout above Santa Cruz where we enjoyed a panoramic view of the bay. The nine bays and 36 beaches of Huatulco are a profusion of green splashed with turquoise blue water and indigo sky and this bay is especially pretty.
According to local legend, Santa Cruz is where Saint Thomas, one of the apostles of Christ, landed by boat and raised a large wooden cross, remnants of which are still revered today. Bahia Santa Cruz is also home to a marina, the cruise port, hotels and several businesses, shops and boutiques.
Founded in 1984, Bahias of Huatulco is an oasis of green with vast tracts of lowland tropical forest protected from development.
Pedestrian walkways, a wide boulevard shaded by palms, flamboyant trees and Guanacaste trees and a sewage treatment plant make it one of the cleanest communities I've encountered in Mexico.
The Winding Road to Pluma Hidalgo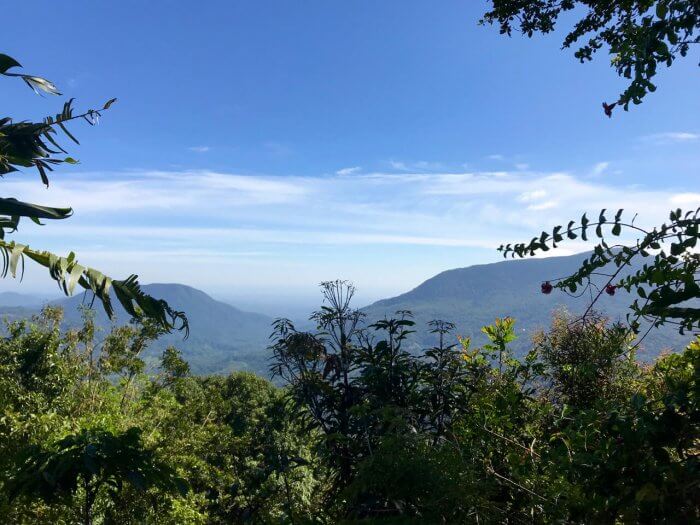 Next, we began the winding drive up the mountains to Pluma Hidalgo. The highway, flanked with bamboo and other vegetation, offers wide vistas of the mountains, steep slopes and deep valleys.
Pluma Hidalgo is 1,200-1,300 metres above sea level and the air is noticeably cooler the higher in altitude you go.
We saw few other cars. Instead, butterflies such as brilliant blue morpho flitted across the path.
Santa Maria Huatulco is Rich in History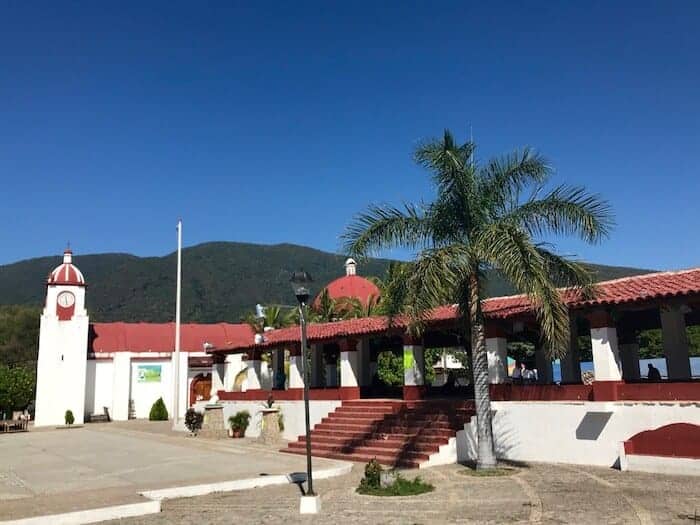 Our second stop was at Santa Maria Huatulco. Here we browsed the street market stalls and walked to the zocolo which holds a rich history dating to the 16th century. Unfortunately, the September earthquake damaged the church and it was closed for repairs.
So, instead we explored the hand-painted murals within the Municipal Hall.
The murals feature various motifs from the region's history such as pirates, iguanas, the boat of Saint Thomas and Vicente Ramón Guerrero Saldaña (1782-1831).
He is depicted looking remarkably like Elvis, but was one of the leaders in the Resistance stage of the Mexican War of Independence.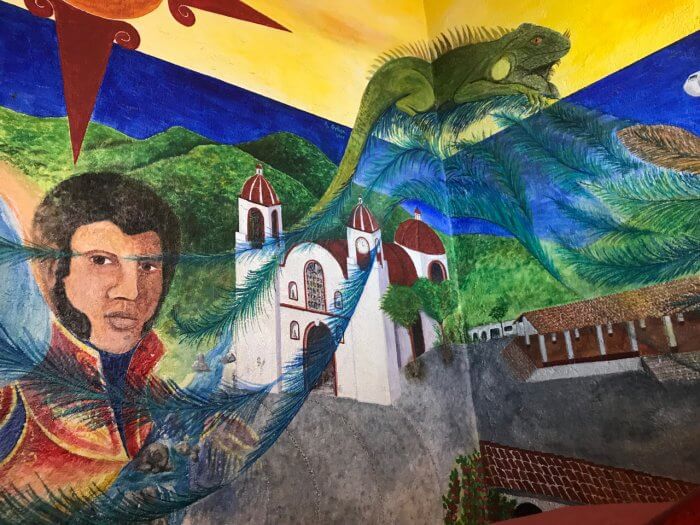 What Makes Pluma Hidalgo Coffee Good?
Next, we arrived in Pluma Hidalgo, surely the world's most fragrant town in this coffee-growing region. The aroma of roasting coffee wafts through the streets filling it with a delicious bouquet of herbs, fruit and nuttiness.
Cafe Diamante, located at the Plaza Independencia in the heart of the town of Pluma Hidalgo, served as our base for Oaxaca coffee explorations.
There we learned through a tutoured tasting that while choosing a favourite coffee is a matter of personal taste, coffee quality is affected by the bean itself, processing, roasting and brewing method.
Pluma coffee beans are hand-picked, shade-grown, Arabica beans grown at a high altitude.
The coffee plants are dusted by ocean breezes, which adds minerality to the flavour of the coffee.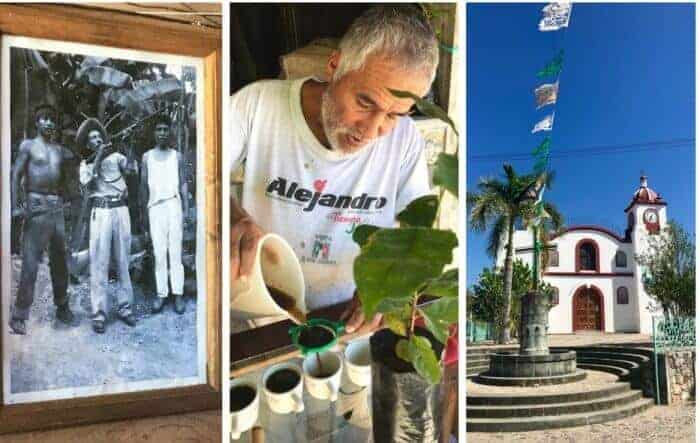 At Cafe Diamante, whole beans are mixed within the batches of beans which adds to the quality. Many other producers remove whole beans and sell them for a premium.
Beyond flavour, other factors to consider when tasting coffee are acidity, body and finish.
Pluma Hidalgo coffee offers a magical mix of sweet tartness, rich body and subtle nuances of cacao, spice and fruit.
For me, the simply prepared Oaxaca coffee I sampled street side that day was one of the best cups of coffee I've ever tasted.
You can purchase a bag of whole Pluma Hidalgo coffee beans to take home and enjoy. Just remember to use the best coffee grinder for French Press coffee so you can preserve the most flavour from these premium beans.
Enjoy your premium Oaxacan coffee in this recipe for Vegan Iced Coffee Frappé.
Things to do in Pluma Hidalgo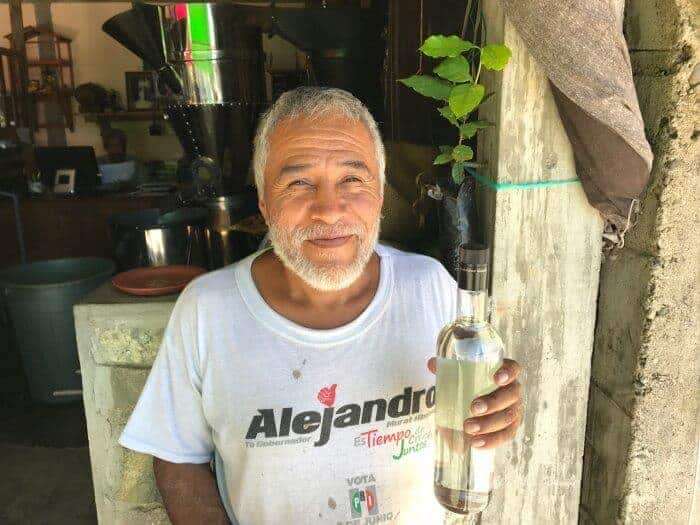 There's a lot more to Pluma Hidalgo than coffee beans. You can also buy coffee shampoo, coffee soap and local honey.
Once you've sampled the Arabica Tipica Pluma coffee, bought a bag of fresh-roasted Pluma Hidalgo coffee and learned about growing Arabica coffee beans on the steep mountain slopes, it's time to taste some authentic mezcal.
Don't be surprised if you see Filadelfo the shop owner pour the mezcal straight from a plastic jug. It's not a potent hooch. Instead it's a delicately fruity mezcal from Mihuatlan, an artisanal palenque (mezcal producer) located outside Oaxaca City.
I sampled many eye-watering mezcals during my explorations into traditional Oaxacan food and drink in the central valleys of Oaxaca. I even sipped mezcal de pechuga, made by suspending a raw chicken breast over the brew during the distillation process.
The mezcal offered at Cafe Diamante is so delicate and fruity, you'll be tempted to buy a bottle to take home as I did.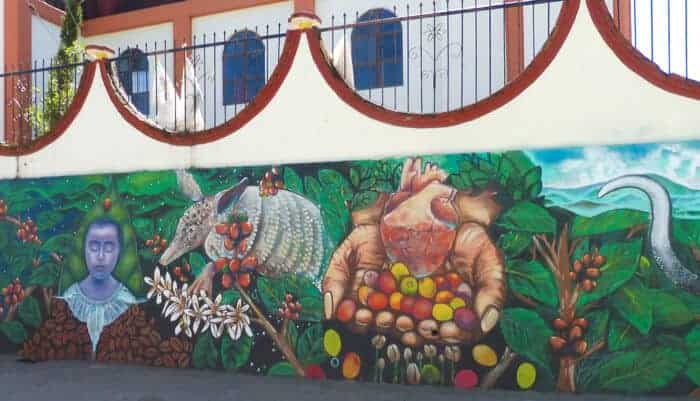 Don't miss the huge mural in the Plaza Independencia. In addition to a ghostly maiden, it features an unsettlingly realistic human heart resting in coffee beans – representing the importance of coffee to the local economy.
Insider tip: Bring insect repellent with DEET (Read about 12 ways to protect yourself from dengue, zika and chikungunya)
We also visited the garden a local resident, Elia Martinez, who is also known as the "orchid lady" due to her expansive collection of orchids, ferns and begonias.
It's definitely worth the stop! Her passion for collecting and caring for unique flowers is truly inspiring. You'll want to move right into her house draped in honeysuckle and flaming orange trumpet vines.
Enjoy a Traditional Oaxacan Lunch on a Coffee Plantation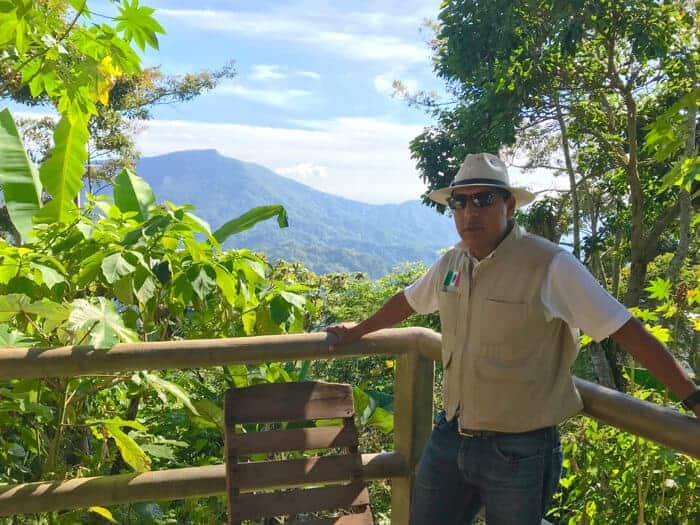 No road trip in Oaxaca would be complete without a fabulous lunch stop for Oaxacan food.
On the Three Levels Tour to Pluma Hidalgo coffee country we stopped at Finca Don Gabriel, a short distance outside town at the crest of a mountaintop.
It featured inspiring views and breezy outdoor table. It's also fun to explore the small onsite museo del cafe while waiting for lunch.
Accompanied by tortillas made on a comal, the set lunch included a chile relleno, a tamale and various grilled meats.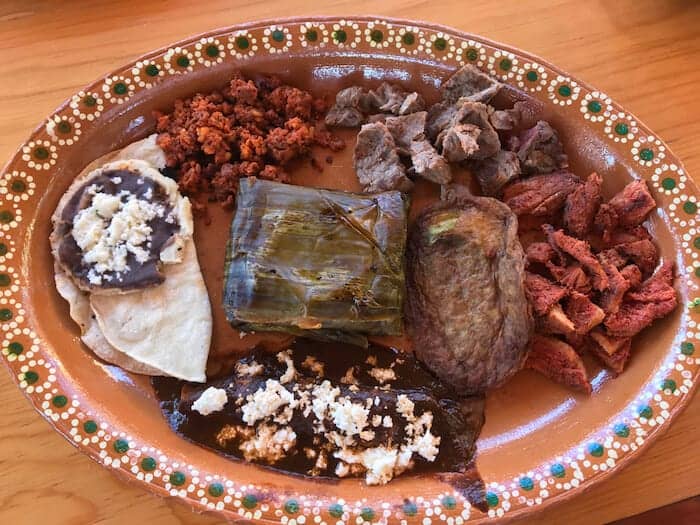 Hotels near Pluma Hidalgo Oaxaca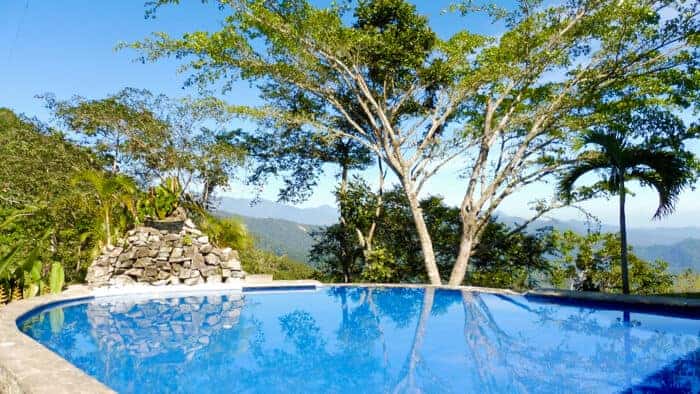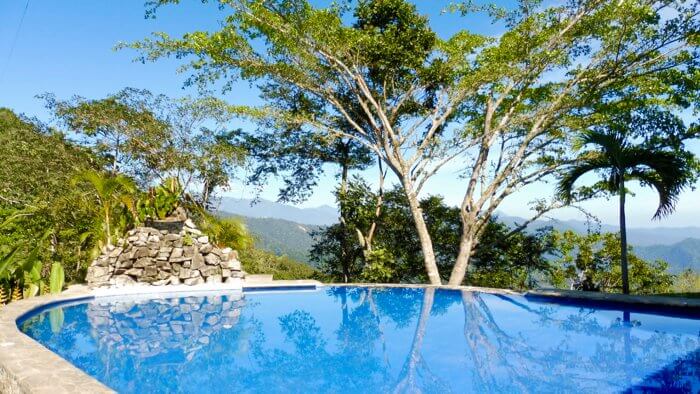 If you're looking for a Pluma Hidalgo hotel with a beautiful setting it's worth considering Finca Don Gabriel which offers economical rooms to rent for overnight stays.
While the rooms are very simple, there is the added bonus of the fantastic views, an outdoor swimming pool, a Oaxacan temazcal, hiking trails and waterfalls. I imagine the stars at night would be incredible.
Where to Buy Pluma Hidalo Coffee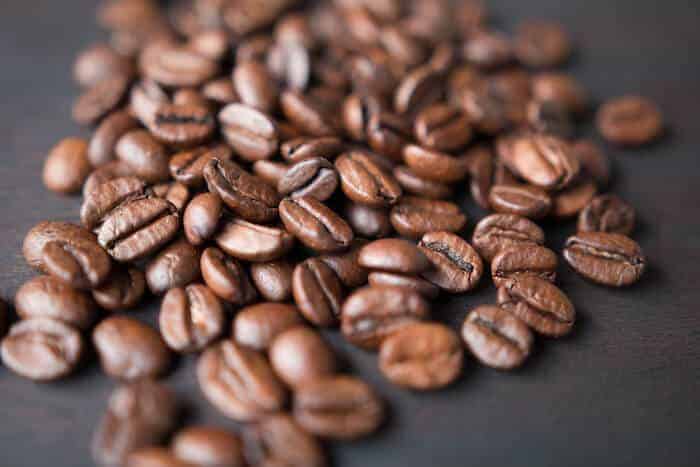 Coffee fans can purchase bags of whole bean coffee in Pluma Hidalgo. Or, buy pluma coffee in La Crucecita at Oro Verde.
This organic grocery store located on the west side of Bugambilia in the north of the zocolo at the corner of Guanacastle. They sell organic coffee, tea and chocolate at fair prices.
As our day wrapped up, I decided that it's definitely worth making time to head into the hills and experience Oaxaca's coffee culture.
Be sure to plan ahead to make space in your suitcase for all the coffee you're going to want to tote home!
---
Pluma Hidalgo Coffee Tour Travel Planner
Homie Tours: Homie Tours is led by Alberto Espana Chavez, a government-certified guide who works in collaboration with other certified guides.
Amazing Huatulco Tours: Tomas Vicente Contreras led my Three Levels Tour featuring Pluma Hidalgo coffee country. He was very knowledgable and speaks Spanish, English, Zapotec and several other languages.
Homie Tours also offers a full-day tour to Puerto Escondido. They are based in Huatulco and also offer custom tours to Oaxaca City, Puerto Escondido and the highlands of Oaxaca.
Three Levels Tour Cost
The 3 Levels of Huatulco Tour includes the services of the guide, transportation, maps and water. Lunch is an extra cost. Minimum six people per van. Smaller groups can be accommodated in a smaller vehicle but the cost increases. The vehicle is a newer model and has AC. That's very welcome at the sweltering lower elevations.
Bring extra money for lunch, souvenirs, snacks, shopping and tips.
Check prices and availability of the 3 Levels of Huatulco Tour on Viator.com.
What to Pack: Bring insect repellent with DEET. (Read about how to protect yourself from dengue, zika and chikungunya)
More Coffee Tours: Love Coffee? Check out this article on Where to Find the Best Coffee in the World
And that's not the end of things to do in Huatulco and Puerto Escondido! Read our Essential Puerto Escondido Travel Guide for more information. Get tips on hotels, beaches, things to do, day trips and more in Oaxaca.
Or go directly to these posts:
7 Reasons to Fall in Love with Mazunte
Snorkelling with Sardines in Huatulco
Day Trip to Roca Blanca – Untouched Mexico
Beginner's Guide to Puerto Escondido Beaches
Best Restaurants in Puerto Escondido
Quick Tips: How to Get from Huatulco to Puerto Escondido, Oaxaca
Save to Pinterest!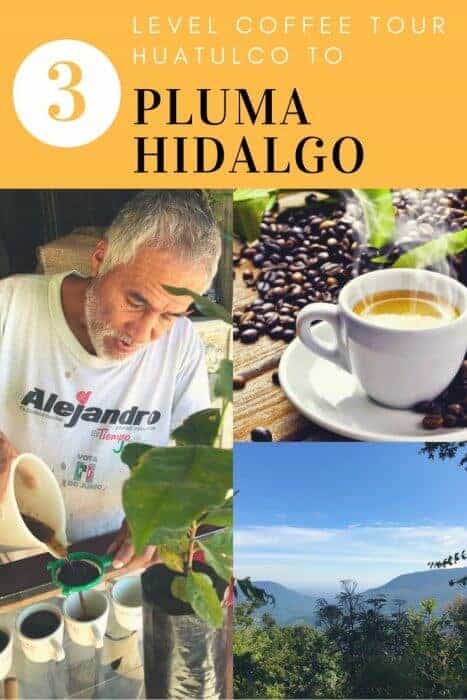 Dividing her time between Canada, Guatemala and Mexico (or the nearest tropical beach), Michele Peterson is the founder of A Taste for Travel. Her award-winning travel and food writing has appeared in Lonely Planet's cookbook Mexico: From the Source, National Geographic Traveler, Fodor's and 100+ other publications.
Read more about Michele Peterson.