We may earn income from links in this post. Please read this Disclosure for details.
If you love beaches, a laid-back vibe and fantastic food, follow the winding road along Mexico's southern Pacific coast to the best beach towns in Oaxaca.
There are so many things to do in Mazunte, Mexico and nearby Zipolite and San Agustinillo, it's worth planning to stay a week or longer.
But you can also enjoy its rainforest-clad cliffs, turtle-friendly beaches and gorgeous coves on a day trip from Huatulco or Puerto Escondido.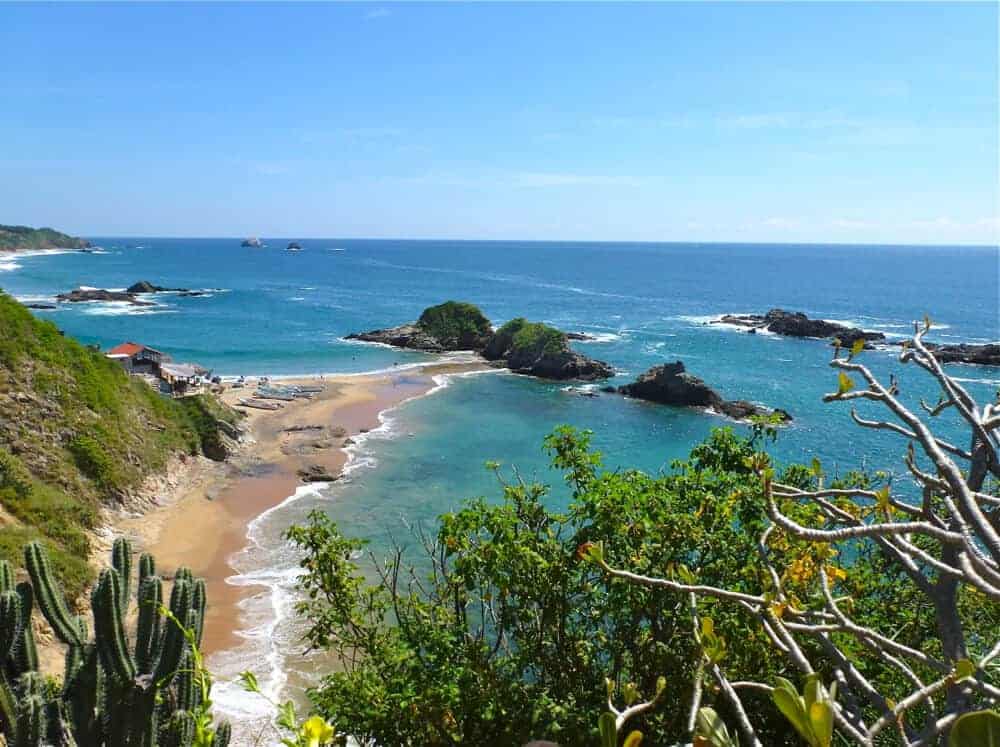 While living in Puerto Escondido, Mazunte was my favourite of Oaxaca's beach towns for a getaway from the "big city".
If you're trying to decide between Mazunte or Puerto Escondido, Mazunte is much smaller (less than 3,000 people) than Puerto Escondido (45,000) and has a more alternative, bohemian vibe.
Here's a complete guide to how to get to Mazunte, where to stay, the top things to do, the best restaurants and things to do in Mazunte, Mexico.
1. Enjoy Environmentally Sustainable Tourism
What you'll notice first about Mazunte is its focus on sustainable tourism. It offers a bohemian spirit with plenty of yoga retreats, such as the world-renowned Hridaya Yoga and esteemed Solstice Yoga. Designated one of Mexico's Pueblo Magicos or Magical Towns in 2015, it features several chic eco-hotels.
Small, intimate hotel hideaways like Casa Pan de Miel, Oceano Mar and ZOA Resort reflect this philosophy of wellness for planet and people, and seem to blend seamlessly into the landscape with their thatched roofs, green materials and environmentally responsible practices.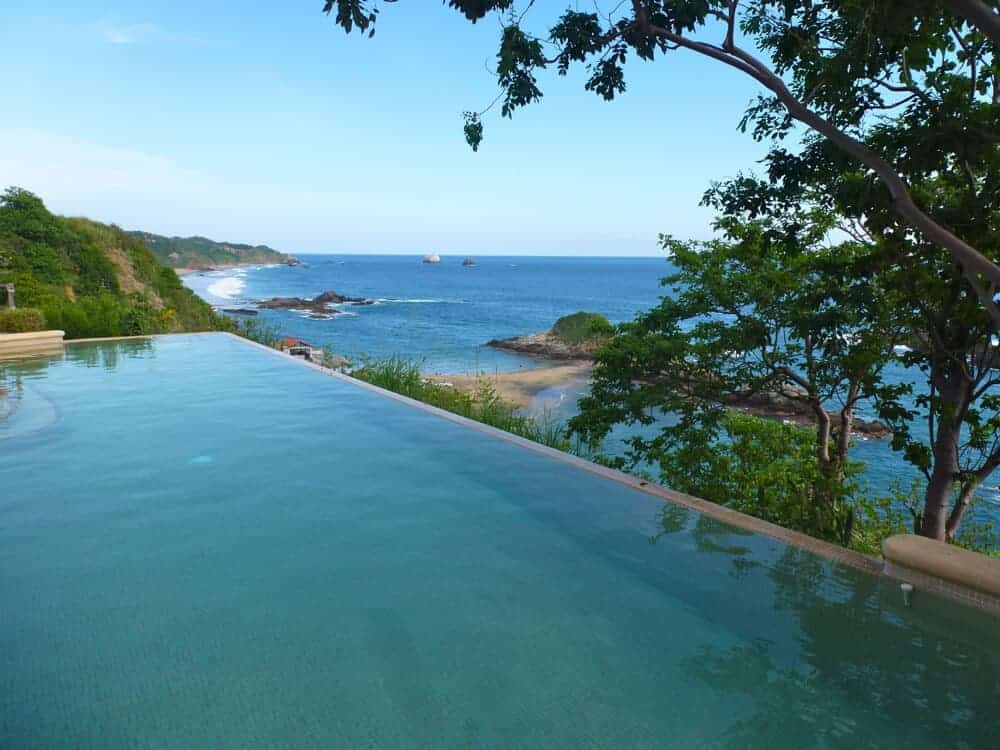 Mazunte's beaches are still relatively undiscovered and it's unlikely it will ever see mega development. However, with the new super highway from Oaxaca City to Puerto Escondido (via Ventanilla) under construction, it's possible that the number of visitors will increase.
The increase in visitors will put pressure on this delicate coastal ecosystem. By supporting sustainable, small-scale hotels, such as Casa Pan de Miel, an adults-only boutique hotel overlooking the Pacific, you can help preserve Mazunte's unique character.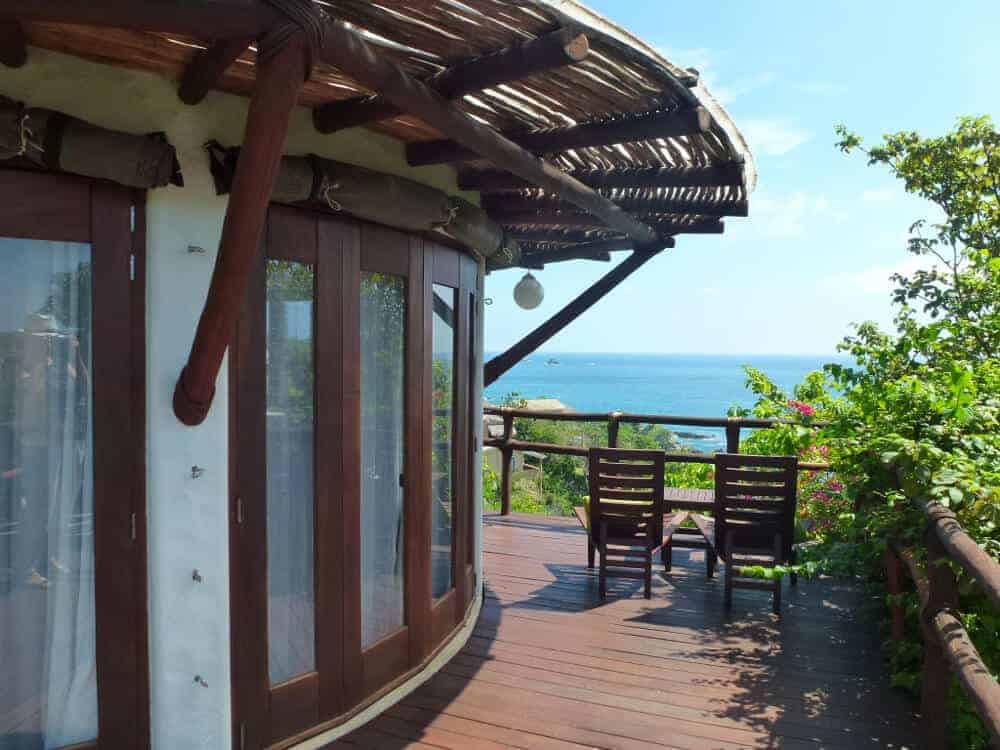 Although popular festivals such as the Festival Internacional de Jazz Mazunte (Mazunte Jazz Festival) draws music fans to the region in November, there are generally few crowds in Mazunte.
You'll feel as though you're in Mexico as it was 20 years ago. Pure zen.
2. Go Whitewater Rafting in Mazunte
Given its location between the Sierra Madre Sur mountains and Pacific Ocean, one of the top things to do in Mazunte is to go whitewater rafting on one of the many pristine, still-wild rivers. Aventura Mundo in Huatulco offers rafting tours to various classes of rapids in Oaxaca.
In Mazunte itself, a local option is Ola Verde Expeditions. They offer river hikes and rafting tours where you can go swimming, floating and jumping into the natural pools and waterfalls in the mountains.
The most popular rivers include the Rio San Francisco and Rio Copalita. It's even possible to book an overnight camping adventure where you sleep in the jungle and splash your way through remote rivers by day.
3. Save Money – Hotel Prices are Much Lower than Tulum
The beauty of a stay in Mazunte is that you can have an amazing vegetarian dinner, buy natural cosmetics, take a yoga class, go whitewater rafting or enjoy an evening of cocktails for a fraction of the cost of what you'd spend in Riviera Maya or Riviera Nayarit.
Although it's always been possible (and still is) to find a rustic beach bungalow in Mazunte to crash for a few dollars a night, now there's a new crop of more upscale hotels where you don't have to worry about a laid-back pothead stumbling into your room.
But this doesn't mean Mazunte, Zipolite or San Agustinillo are out of reach budget-wise. The cost of living in the beach towns of Oaxaca is generally lower than in other states of Mexico such as Jalisco or Quintana Roo.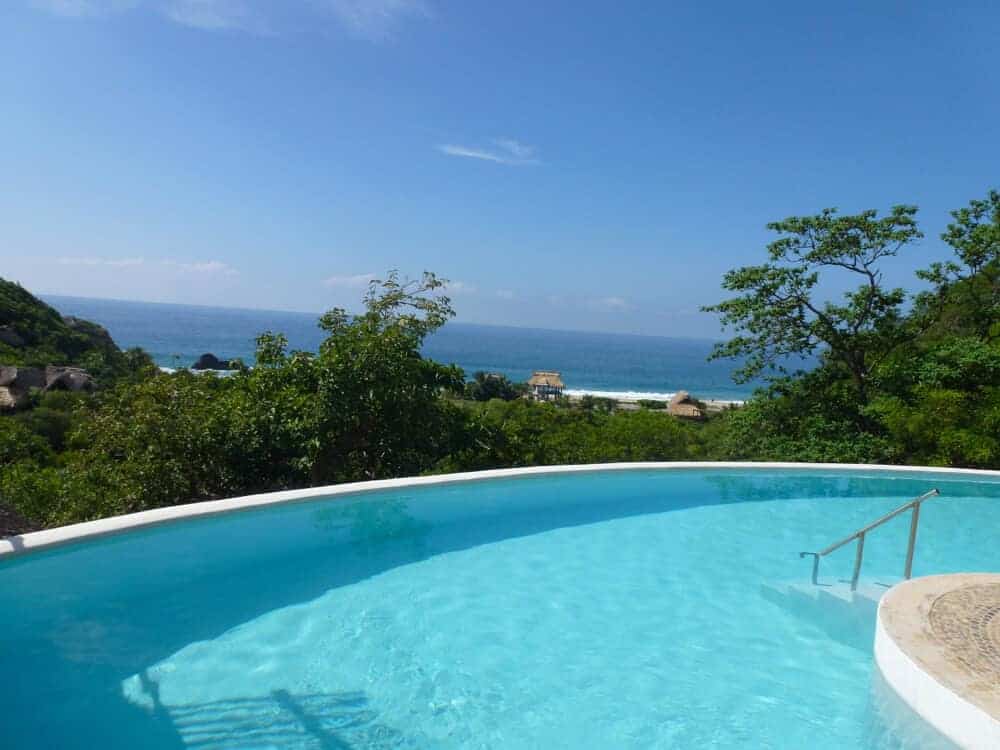 For example, budget travellers can enjoy fantastic views at eco-chic Hotel El Copal where there are cabanas and even teepees for rent from 250 MXN to 1500 MXN pesos a night.
Those with more funds can score a spacious suite for two at 3-star Oceano Mar Hotel where cabanas go for between 1800 to 2000 MXN pesos ( $100 USD) a night.
A fantastic meal featuring fresh, organic ingredients at Estrella Fugaz Restaurant and Lounge will cost under $10 USD and a 90 minute Hatha Yoga class at Solstice Yoga is one of the best bargains on the Pacific coast.
4. Experience Nudist Beach Culture at Playa Zipolite
One of the more unique things to do in Mazunte is to head to neighbouring Playa Zipolite where you can soak up the relaxed vibe at one of Mexico's most famous nude beaches. While not everyone goes nude, it's possible to swim or sunbathe topless or totally naked on the clothing-optional beaches in Zipolite.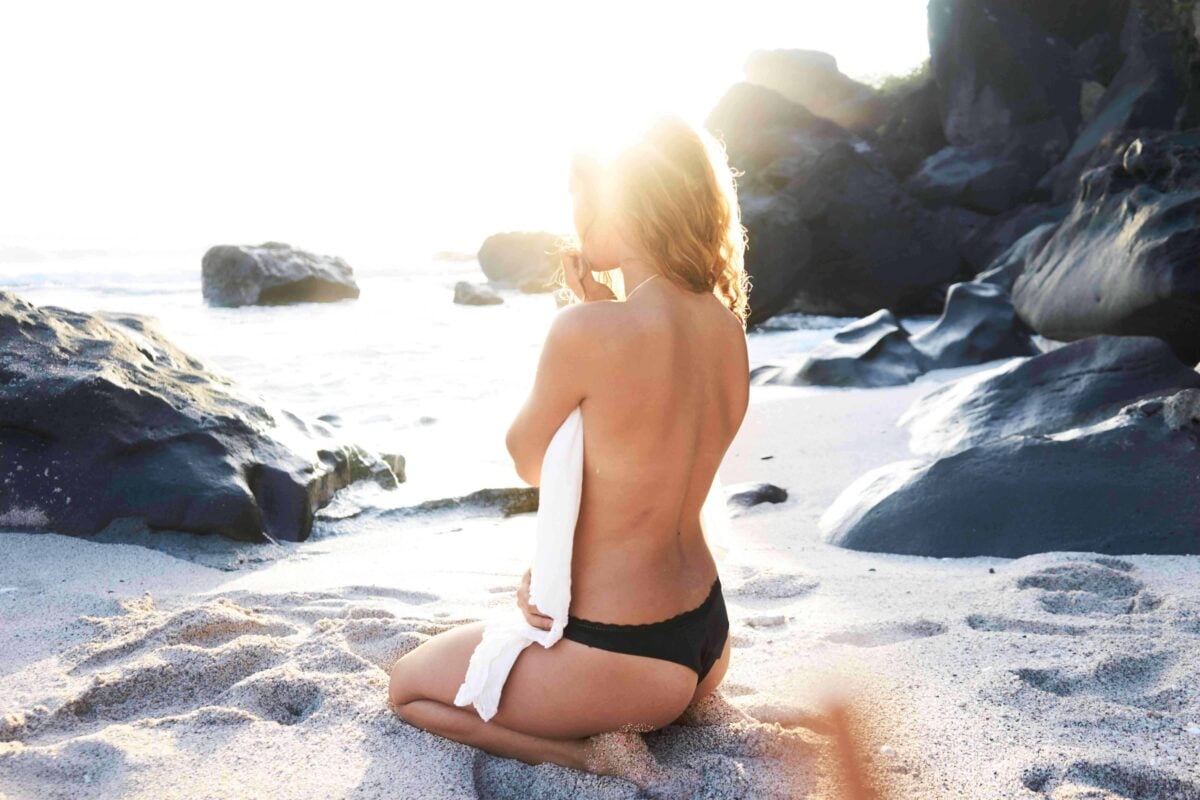 To lose any lingering inhibitions you may have (or get an eyeful), there's even an annual nudist festival. It draws hundreds of nudists to celebrate the natural human form in all of its many variations.
In 2021, the 6th annual Festival Nudista Zipolite takes place on January 29, 30, 31 and February 1st. Activities include nude morning yoga, volleyball tournaments and even surfing.
5. Get Inspired by Design at a Luxury Hotel in Mazunte
Many of the upscale hotels in Mazunte such as the cliffside ZOA Hotel are owned by designers and architects from Mexico City, Italy and other countries.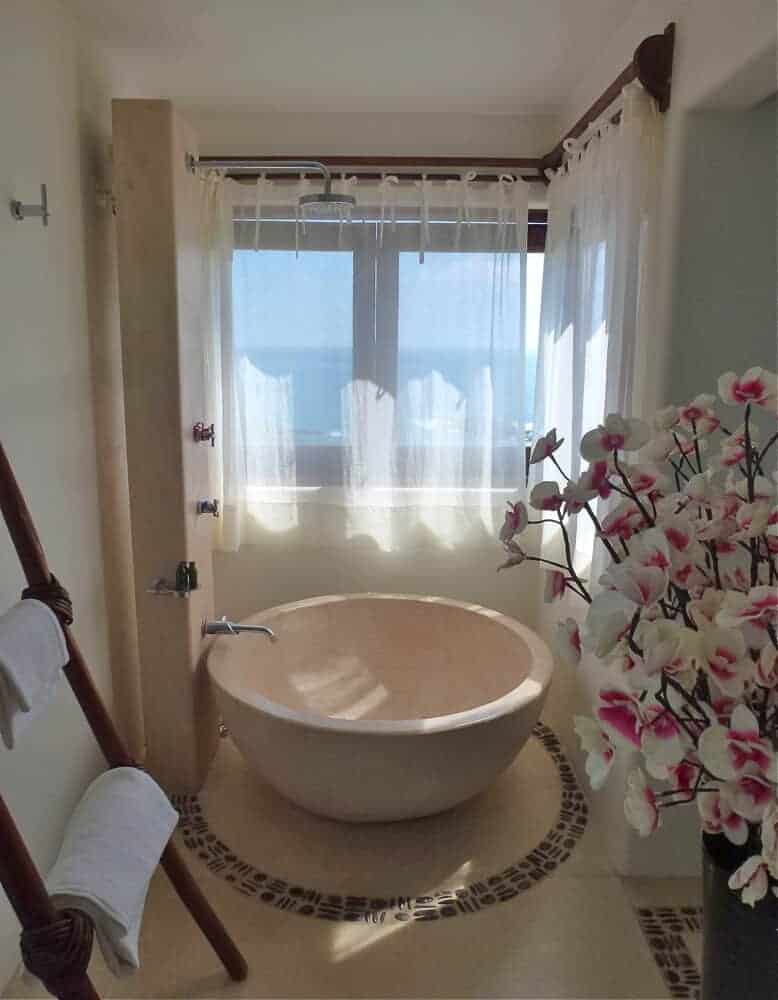 The use of natural materials in the furnishings, flooring and lighting offer lots of design inspiration for your stay. I found myself daydreaming of designing my own hideaway on one of the emerald hills in Mazunte.
6. Bask on the Beautiful Beaches of Mazunte
Unfortunately, this stretch of ocean in Mazunte and Zipolite has riptides that often makes it dangerous for swimming. Author Francisco Goldman's book Say Her Name: A Novel tells the tragic story of the loss of his wife in these waters.
However, the sparkling blue waters of nearby San Agustinillo are perfect for body boarding. Plus, there are several small coves with beaches such as El Rinconcito where the calm waters are ideal for swimming.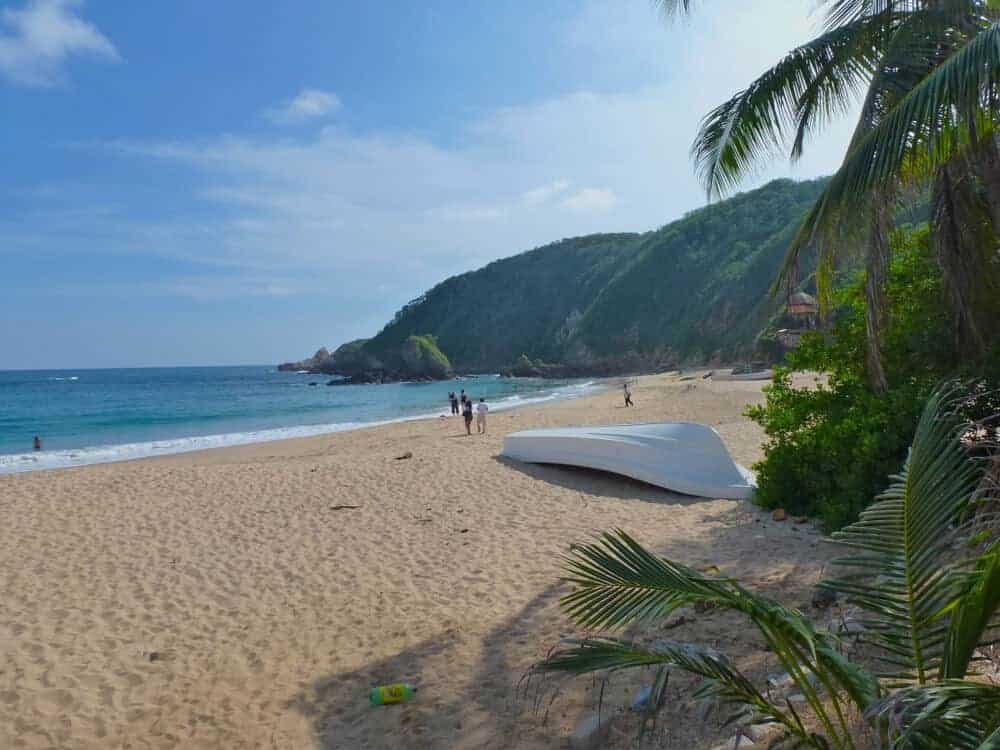 In the evening, one of the top spots to go for stunning views is the Punta Cometa viewpoint. It offers some of the most fantastic Pacific Coast sunsets on the Oaxaca coast.
Another secluded spot with one of the best beaches in Oaxaca is Playa Mermejita, a still-wild beach located to the west of Punta Cometa.
7. Learn about Sea Turtles in Mazunte
Mazunte's beaches are also famous for the many species of sea turtles that comes to nest on its beaches and nearby La Escobilla beach.
The Centro Mexicano de la Tortuga (Mexican National Turtle Center) is situated on the site of a former sea turtle slaughterhouse. It houses an aquarium and research facility dedicated to both land and the seven varieties of sea turtles in Oaxaca.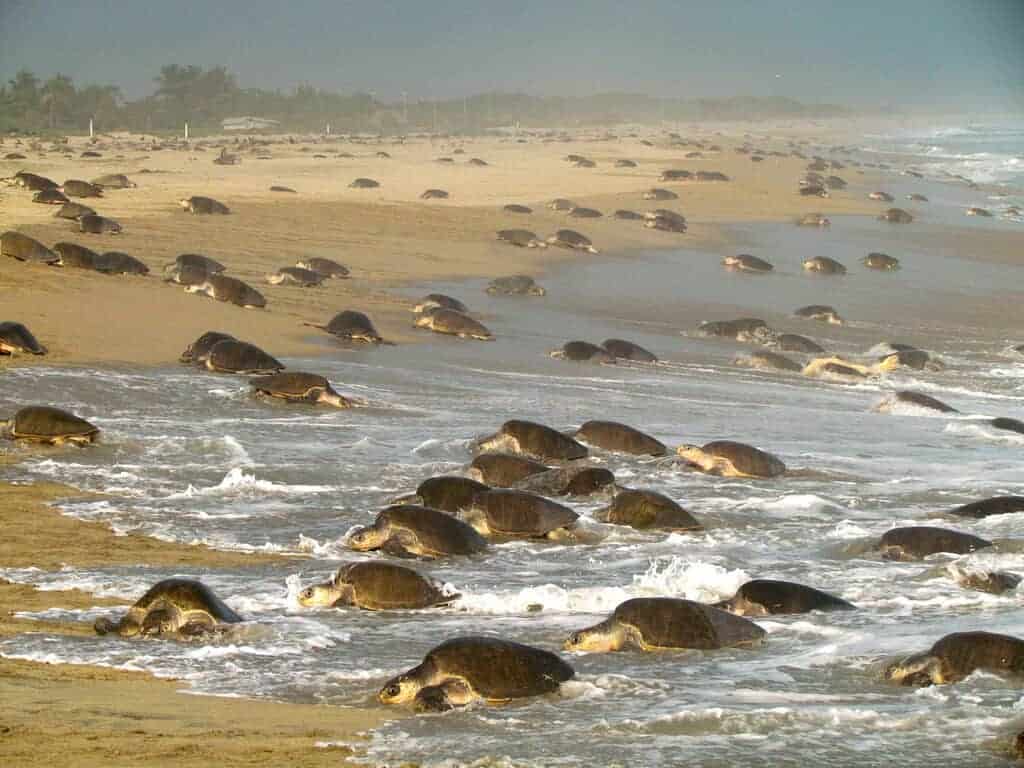 The beaches on the coastline of the state of Oaxaca is one of the world's most important sea turtle nesting zones so it's often possible to witness a mass sea turtle nesting called an arribada or participate in a baby sea turtle release.
8. Explore the Food Scene in Mazunte's Restaurants
Mazunte is located in the state of Oaxaca, known as the "land of the seven moles" and home to cuisine so diverse that UNESCO considers it an Intangible Cultural Heritage of Humanity.
This means dining out is one of the top things to do in Mazunte, Mexico. You'll get plenty of opportunities to sample the flavours of traditional Mixtec and Zapotec foods such as chapulines (toasty grasshoppers), mezcal, chiles, and maize tortillas.
But there's more. the wide range of Mazunte restaurants offers an added advantage for foodies. In addition to its wide range of vegetarian and vegan restaurants, it's got a thriving restaurant scene complete with street side wood-fired pizza ovens, Italian restaurants serving handmade pasta and other international cuisine.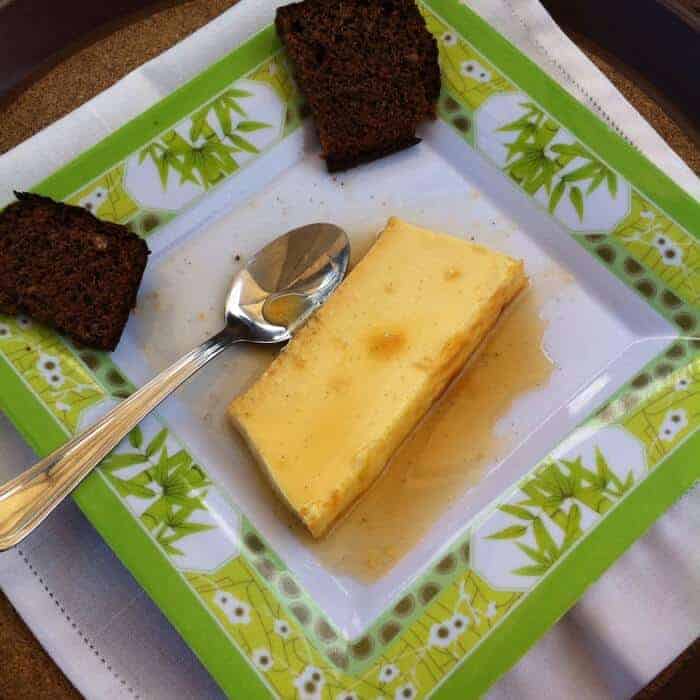 Add in proximity to the Pluma Hidalgo coffee-growing region (arguably Mexico's best coffee) and an abundance of fresh fish, and you've got 10 reasons to love Mazunte's food scene.
The best restaurants in Mazunte, San Agustanillo and Zipolite include:
Estrella Fugaz (try the vegetarian chile rellenos),
Oceanomar ( pasta),
La Vendimia Argentinian grill or the pizzeria next door,
La Ola where the mezcal cocktail rimmed with sal de guano gusano (!) is a must-try as is the dorado in mole negro,
Luz del Sol for creative vegetarian and vegan Middle Eastern inspired dishes,
El Navegante for seafood prepared Basque-style.
9. Take a Wildlife Tour at Laguna Ventanilla
One of the top things to do in Mazunte for families is visit the Laguna de Ventanilla – Ventanilla Lagoon, a coastal wetland, marsh and mangrove-filled lagoon.
It's home to several species of migratory and native birds including blue herons, boat-billed heron, terns but you can also expect to see crocodiles, iguanas and other wildlife.
The Ventanilla Ecotourism Cooperative manages the activities and protects the delicate eco-system of the Ventanilla Lagoon. The best time of day to visit Laguna de Ventanilla is in the early morning or at sunset as the wildlife is at its most active and the heat is less intense.
Be sure to bring water and wear suncreen and a hat. It's also wise to wear insect repellent and/or wear long sleeved clothing to protect against mosquito bites. Binoculars and identification lists are supplied.
The lagoon's entrance is located 10 minutes by taxi or colectivo from the heart of Mazunte. Admission is 100 MXN pesos per person, while children between six and 12 are half-price and those under the age of six are free.
10. Get a Wellness Boost at a Yoga Retreat in Mazunte
For a wellness escape, book a yoga or meditation retreat at one of Mazunte's many yoga schools. There's nothing more magical than practicing your morning yoga routine to the soothing sound of the waves.
You can book a week or month long retreat or sign up for daily classes, teacher training, silent meditation retreats and workshops. There are also ecstatic dance workshops throughout the year.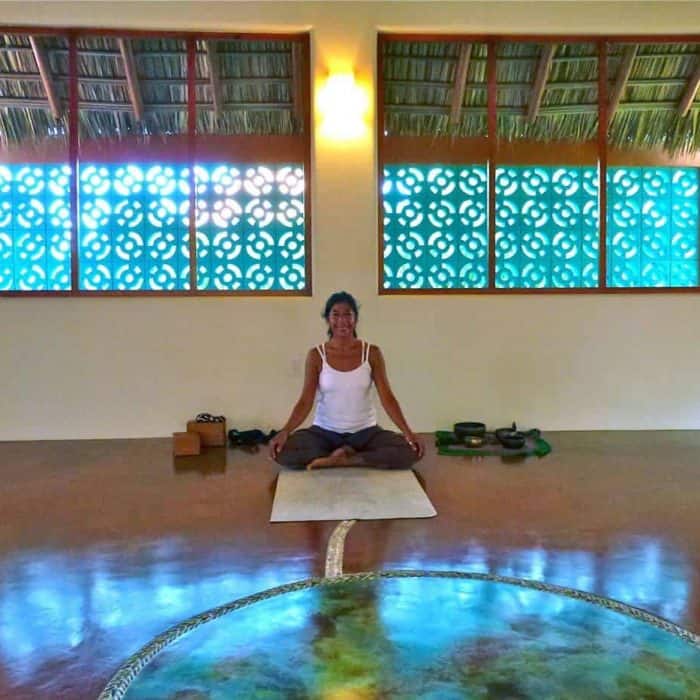 Many of the yoga schools also include options for meals and accommodation. One of the best known yoga schools, Hridaya Yoga has its international headquarters located in Mazunte, Oaxaca.
For Hatha Yoga, Solstice Yoga in San Agustinillo offers classes, retreats and workshops led by Brigitte Longueville, originally from the Netherlands but now a respected international yoga teacher. Solstice Yoga is now located at Las 3 Marias, a wellness hub of cabanas, a restaurant and yoga facilities.
Unfortunately, Casa Om yoga, another popular school, is now closed.
Huatulco to Mazunte – How to Get to Mazunte, San Agustinillo and Zipolite
Wondering where Mazunte is? It's located midway between Puerto Escondido and Huatulco in the state of Oaxaca. Mazunte is located beside its sister towns of San Agustinillo and Zipolite. These are definitely some of the best beach towns in Mexico and are popular among backpackers as well as luxury travellers.
There's no direct bus to Mazunte and the towns are located off Highway 175, a coastal road off Highway 200. This off-the-beaten-path location has helped Mazunte, San Agustinillo and Zipolite preserve their unique, hippie-chic vibe.
Getting to Mazunte by Car – Safety
If you rent a car in Puerto Escondido or Huatulco, it's an easy one hour drive from either direction. If you're driving from La Punta in Puerto Escondido, it's even shorter. You can rent a car at Puerto Escondido (PXM) or the Bahias de Huatulco International (HUX) Airports.
As of April 2019, the U.S. Department of State does not report any restrictions for driving in Oaxaca along Highway 200 between Huatulco and Puerto Escondido. For the most up-to-date information on Oaxaca safety, read the full U.S advisory on travel in Mexico.
As of August 14, 2019, the Government of Canada has no advisories on the state of Oaxaca. Read their travel advice and advisories before you travel.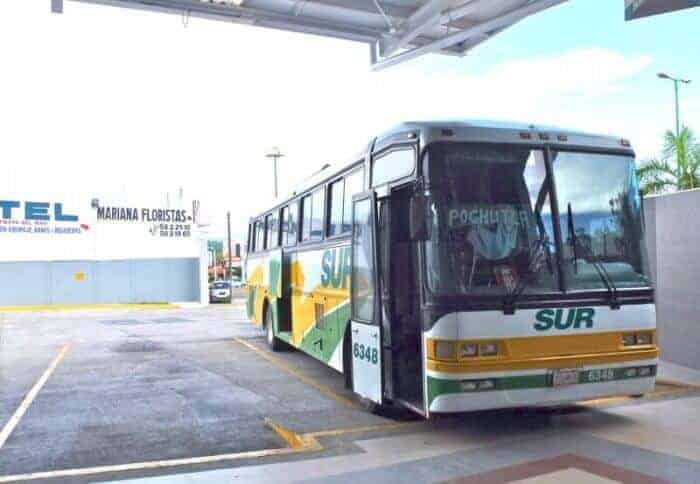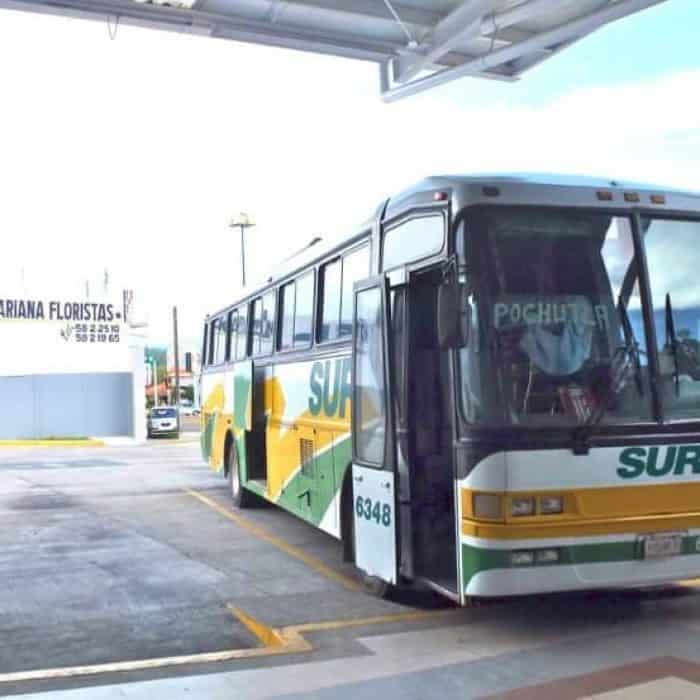 Puerto Escondido to Mazunte Mexico: How to get to Mazunte, San Agustinillo and Zipolite by bus from Puerto Escondido
Purchase a Sur Bus ticket for Crucero San Antonio at the OCC bus station in Puerto Escondido on Highway 200. Or, purchase a ticket at the boarding gate just prior to boarding. The buses run every hour. Take the Sur bus (direction Huatulco) and disembark at Crucero San Antonio ( the intersection with Highway 175). There are no buses from Highway 175 (San Antonio) to Mazunte so your options are a shared collective pick-up truck or a private taxi.
Huatulco to Mazunte Mexico: How to get to Mazunte, San Agustinillo and Zipolite by bus from Huatulco airport
Exit the airport and walk to the bus stop on Highway #200. Do not cross the highway. Watch for a Sur bus (direction Pochutla/Puerto Escondido). You can exit at Pochutla crossroad and take a taxi to Crucero San Antonio ( the intersection with Highway 175) or continue on the bus ( after a stop in Pochutla) and exit at Crucero San Antonio. There are no buses from Highway 175 (San Antonio) to Mazunte so your options are a shared collective pick-up truck or a private taxi.
A taxi from Highway 200 to Mazunte costs 70 MXN pesos while a collective is around 15 MXN. Taxi from Mazunte to Pochutla costs 150-200 MXN pesos
There are also taxi fees shown here: Taxi Huatulco, Aeropuerto – Bahias de Huatulco, Oaxaca
Getting from Mazunte to Zipolite
When you're in one of these beach towns, it's often very difficult to hail a taxi on the street. I had to resort to following a driver, waiting until he played a few rounds of soccer and then prevailing upon him to drive me back to my hotel.
You can ask your hotel or restaurant to phone a taxi. Or, ask for a card from a taxi driver you like and ask him/her to pick you up at a designated time or place. Expect to pay around 25-50 pesos (under $4 USD) to get most places.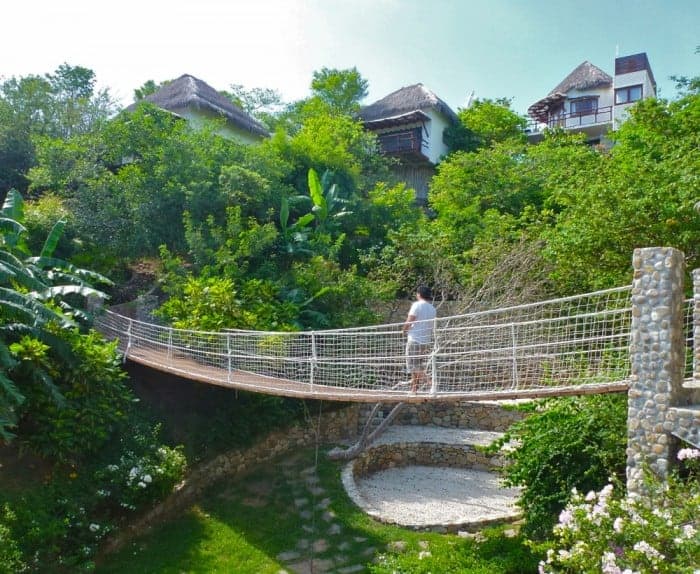 Hotels in San Agustinillo are easy to access by foot from Highway 175 but many of those in Mazunte (especially those with fantastic views) are at the top of very steep hills far from town. Unless you've trained in the French Foreign Legion, you won't be able to walk there if you travel with a big suitcase.
If you have a lot of luggage, ask your hotel to provide airport pick-up service at Puerto Escondido (PXM) or Huatulco (HUX) airports. Given the convenience, it's worth the cost and it will be less expensive than trying to book a taxi yourself at the airport. For example OceanoMar offers airport pick-up service for 500 MXN ( around $35 USD).
Safety and Hazards
If you're bothered by mosquitos, be warned that Mazunte has more insects than Puerto Escondido or Huatulco. I was there during the rainy season and spent most of my evenings under the mosquito nets supplied by the hotels.
I was also grateful I had packed a supply of Laminitas, a plug-in device that looks like an air freshener but is made by Raid and dispenses an odorless repellent. It's one of the best things to use for avoiding mosquito bites. Plug it in and your room will be clear of mosquitos in around 20 minutes. A box of Laminitas ( with 10 refills) costs under $5 USD at Chedurai supermarket and is well worth the investment.
---
For more travel tips about planning a trip to beaches in Oaxaca, check out these popular blog posts:
Beginner's Guide to Puerto Escondido Beaches
Ultimate Guide to Vacation Rentals in Puerto Escondido
7 Awesome Natural Wonders in Puerto Escondido
Swimming with the Stars in Oaxaca's Bioluminescent Lagoon
---
Save to Pinterest!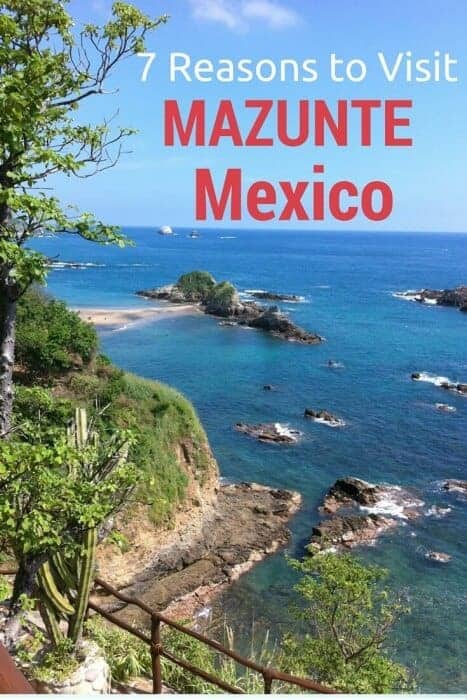 Dividing her time between Canada, Guatemala and Mexico (or the nearest tropical beach), Michele Peterson is the founder of A Taste for Travel. Her award-winning travel and food writing has appeared in Lonely Planet's cookbook Mexico: From the Source, National Geographic Traveler, Fodor's and 100+ other publications.
Read more about Michele Peterson.