We may earn income from links in this post. Please read this Disclosure for details.
Planning a romantic getaway to Positano on the Amalfi Coast of Italy? From fine-dining to unforgettable sunset boat cruises, here are the most romantic things to do in Positano for couples.
When it comes to romance, Positano is made for lovers. Its picturesque location on the gorgeous Amalfi Coast of western Italy means it's a popular Mediterranean destination for many travellers.
But its magical combination of beauty, delicious regional cuisine and intimate size, also makes Positano a perfect destination for couples.
Whether you've just started dating, are on a honeymoon or are celebrating 30 years together, there are lots of romantic things for lovers to do in Positano. In fact, the beautiful Amalfi Coast has been the atmospheric backdrop for many Italian movies.
But if you only have a week (or less!), it can be difficult to narrow down the options.
So to help you choose, I've created a list of the most romantic things to do in Positano. I'll share where to eat in Positano, offer tips on the most romantic places to stay in Positano and provide you with the inside scoop on dreamy spots to visit.
Whether you decide to do all the activities on one memorable Date Night or choose one special activity, you're sure to create an unforgettably romantic getaway for two.
1. Take a Romantic Sunset Boat Ride
The view of the Amalfi Coastline from the sea is truly epic, so one of the best things to do in Positano is take a romantic cruise on a private boat. Experiencing the beautiful seaside scenery with just the two of you is definitely one of the top things to do on a honeymoon on the Amalfi Coast.
From the water, you can soak up postcard-perfect views of the town's iconic pastel buildings with tiled roofs climbing vertically up the hillside, the famous crescent of Spiaggia Grande beach, the Faraglioni rocks and Li Galli islands as well as the dramatic Monti Lattari mountain range.
To ramp up the romance factor, time your boat cruise for evening when the sun begins to set. At dusk, the lights of Positano turn on and give the village a warm glow. Sharing the intimate moment of watching Positano come alive in the fading light is a romantic memory that will last forever.
For the ultimate in romance, choose a boat tour company that offers tapas and drinks onboard. Getting cozy with a glass of Prosecco, a fantastic view and the company of your loved one is an ideal date night experience.
Check out this link for Viator's Private Tour of the Amalfi Coast with Sunset Cruise. It includes drinks as well as light snacks.
2. Enjoy a Gelato Treat for Two
Gelato was created in Italy, so it's only fitting to indulge in this sweet treat for two while in Positano. There are various gelato shops throughout the Amalfi Coast offering delicious flavours to choose from.
But I highly recommend you check out the ice-cream shop within Ristorante La Pergola on Spiaggia Grande beach in Positano. Be sure to try the mint chocolate chip, Nutella, or any of the other delicious flavours they offer.
3. Indulge in Dinner with a Romantic Positano View
While there are other famously beautiful cities along the Amalfi coast — including Sorrento, Capri, Amalfi and Ravello — but Positano is the most romantic of them all.
For thousands of years, ever since the early Greek vessels began visiting its harbour around 500 B.C., visitors have been wowed by Positano as it looms into view.
One of the best ways to enjoy the best of romantic Positano is with dinner at a fine restaurant with a terrace overlooking the city.
While there are several restaurants with stunning views, the best restaurant in Positano for excellent cuisine and a fantastic view is Ristorante Terrazza Cele. The décor of this restaurant is a sleek white and blue, echoing the spirit of the Mediterranean. It's also located on a private terrace overlooking Positano which makes it an especially intimate venue.
The lights are low and the menu inspired here. During the evening it's lit with candles, which makes it the ultimate for a romantic dinner date. The wine menu is extensive with over 150 different options, but your best bet is to choose one of the acclaimed regional white Greco and Fiano varietals or red Aglianico.
Couples will be sure to enjoy the locally-inspired cuisine featuring Italian classics with a modern twist. Menu highlights include delicious dishes such as pumpkin risotto with burrata cheese and prawns and handmade Scialatielli with totani (local squid) sauce. This restaurant is a culinary dream with views sure to woo your significant other.
4. Watch the Sunset over Positano from a Hilltop
If you're looking for a date night sunset view without dinner, Positano is built right into the mountains which means there's a wealth of paths and seating areas on the steep hills.
Each offers stunning sunset views. Although the sun sets behind the hills, it is still lovely to watch the sky turn orange, and the city light up.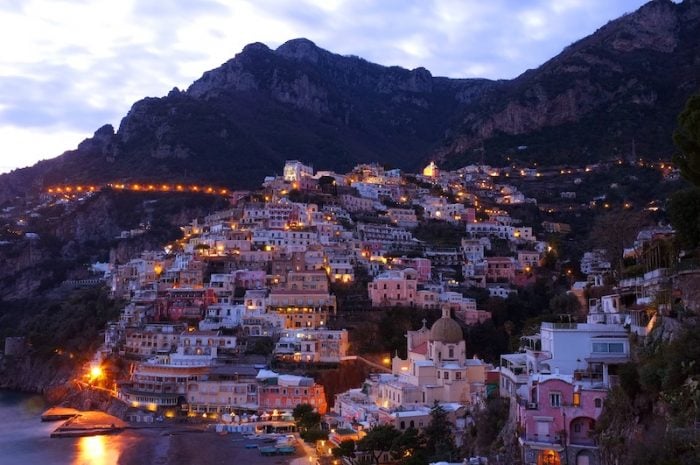 From a vantage point up the mountains, you'll also get panoramic views of the boats on the water of the Mediterranean Sea. You'll also see the lights of the village as they turn on – a view that's so romantic it will feel as though you're in a fairy tale.
5. Take a Stroll along Spiaggia Grande
One of the most romantic things to do in Positano is visit Positano's main beach Spiaggia Grande. It's bustling during the day with people on Amalfi Coast road trips or those on excursions.
But by evening, everyone has gone home. This makes it much quieter and more romantic for date night.
Walking hand in hand along the quiet shore, while the waves hit the rocks and the city sparkles behind you is a moment you will not soon forget.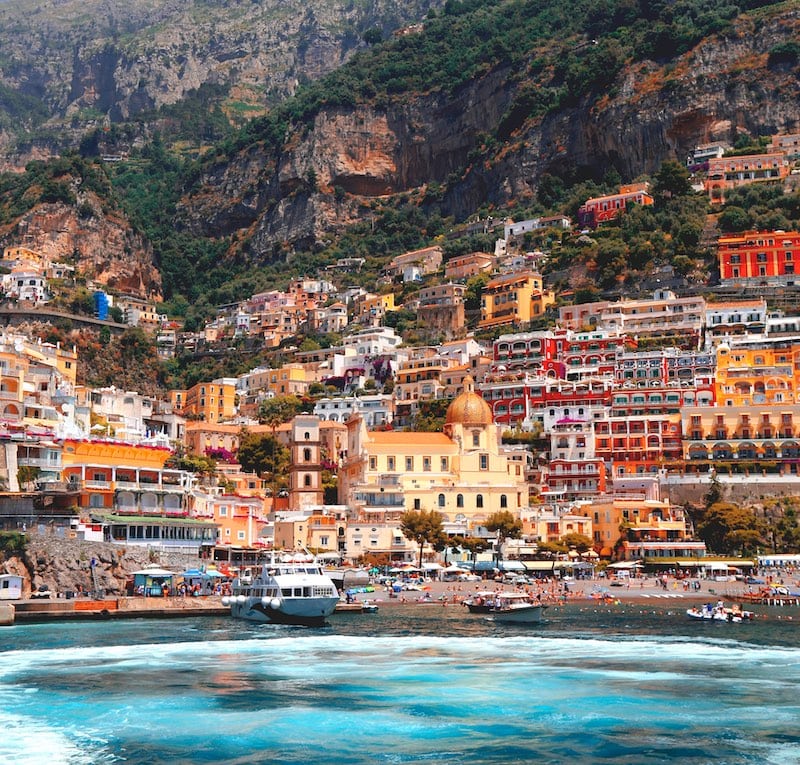 It's so magical at night, that Spiaggia Grande Beach is one of the top places to propose on the Amalfi Coast! If you're planning a surprise marriage proposal, walk the shoreline during the day to scope out the perfect spot.
An evening walk along the beach also happens to be free, so if you're on a budget in Positano, a notoriously expensive destination, this is a great date option. Be sure to pick up a bottle of wine from one of the wine shops and enjoy a glass of wine on the beach.
During the day you can rent a lounger and sun umbrella, but if you visit in the evening, bring a blanket so you can sit on the pebbly beach and enjoy the romantic vibe in comfort.
Related: Explore more beaches in Italy by heading further south to Puglia, where there are miles of white-sand beaches perfect for swimming. Choose from the warm waters of the Ionian Sea on the west coast of the Salento Peninsula or the eastern coastline near Otranto a beautiful region dotted with the pristine hidden coves and beaches of the Adriatic Sea.
6. Choose a Romantic Hotel in Positano, Italy
When choosing where to stay in Positano, note that it's a very popular and expensive city. So this means even the budget hotels in Positano are more expensive than in other cities such as Sorrento or Priano.
But if you book in advance and choose wisely, Positano can still be affordable. It's truly worth the splurge if your budget permits.
Best Romantic Luxury Hotel
Villa Franca: Situated on a hill between the clifftops and sparkling Mediterranean Sea, Villa Franca is a breezy hilltop retreat made for couples. Each room in this boutique hotel features a balcony or a terrace offering spectacular views of the Amalfi Coast. Yet you're just steps to Positano and the beaches.
Check for the lowest rates and availability for Hotel Villa Franca on Booking.com.
Best Romantic Budget Hotels
Villa Palumbo B&B: This family-run Bed & Breakfast is located in the heart of picturesque Positano. It features rooms with spacious balconies where you can even enjoy a romantic breakfast for two.
Check for the lowest rates and availability for Villa Palumbo B&B on Booking.com.
Hotel Casa Albertina: This family-run hotel offers sea views in a convenient setting.
Check for the lowest rates and availability for Hotel Casa Albertina on Booking.com.
How to Get to Positano from Naples or Rome
Private Transfer: Although it's the most expensive option, a private transfer is the easiest and most comfortable way to get to Positano from Naples or Rome. If you're travelling in high season, taking a private transfer means you'll arrive relaxed and ready to enjoy a romantic getaway in Positano without having to worry about traffic.
Rainbow Limos and Viator both offer private transfer and tours from Naples airport and train station to Positano. Both can include a two hour stop in Pompeii along the way.
Shared Shuttle Service: It's possible to take a shuttle bus from Naples Capodichino Airport or Naples central train station ( from € 28) to Positano. It's also possible to take a shuttle from Rome Termini Station, Fiumicino or Ciampino Airports ( from € 75,00) to Positano. Check for rates at Positano Shuttle Bus.
If you're staying in Rome, be sure to read our guide to the best things to do around Rome's Termini Station.
Rent a Car: The beauty of renting a car to get to Positano is that you'll be free to explore the other towns along the Amalfi Coast. However, with the narrow winding roads in this region of Italy, this option is not for the faint of heart, especially during the summer high season.
Train and Ferry or Bus: The ferry service operates between May – October but can be cancelled in rough seas. The bus service operates year-round but can be very busy in summer. Click here for Ferry and Bus Schedules. Timing is below:
Salerno – Positano: 1 hour and 15 minutes
Positano – Capri: 50 minutes
Amalfi – Positano: 20 minutes
In Positano, the ferry pier is located at Spiaggia Grande beach.
Author Biography
Samantha Karen is the founder of the travel blog Sam Sees World. She is a millennial traveler on a mission to seek the new and unknown so she can document her experiences and inspire others to explore this wondrous world. Her objective is to provide valuable information on the best things to do, see, eat, and experience while traveling. And get some good Instagram photos along the way.
You can follow her travels on Pinterest and Instagram
You'll Also Love These Romantic Destinations
Save to Pinterest!