We may earn income from links in this post. Please read this Disclosure for details.
It's no secret that there are ample romantic things to do in New Orleans for couples.
It's often rated one of the most romantic cities in the world alongside Paris, Venice and Rome!
So my own love affair with the city is hardly surprising.
What is a surprise is the fact that my relationship with New Orleans, Louisiana (NOLA) began more than 40 years ago.
I was playing in a professional Dixieland band (a traditional jazz genre born in New Orleans) at Toronto's Canadian National Exhibition.
At day's end I'd sample jazz greats at different Toronto bars.
At one such watering hole – Bourbon Street – I met my future wife.
So began two love affairs – one real, one virtual.
Why New Orleans is a Bucket List Couples Getaway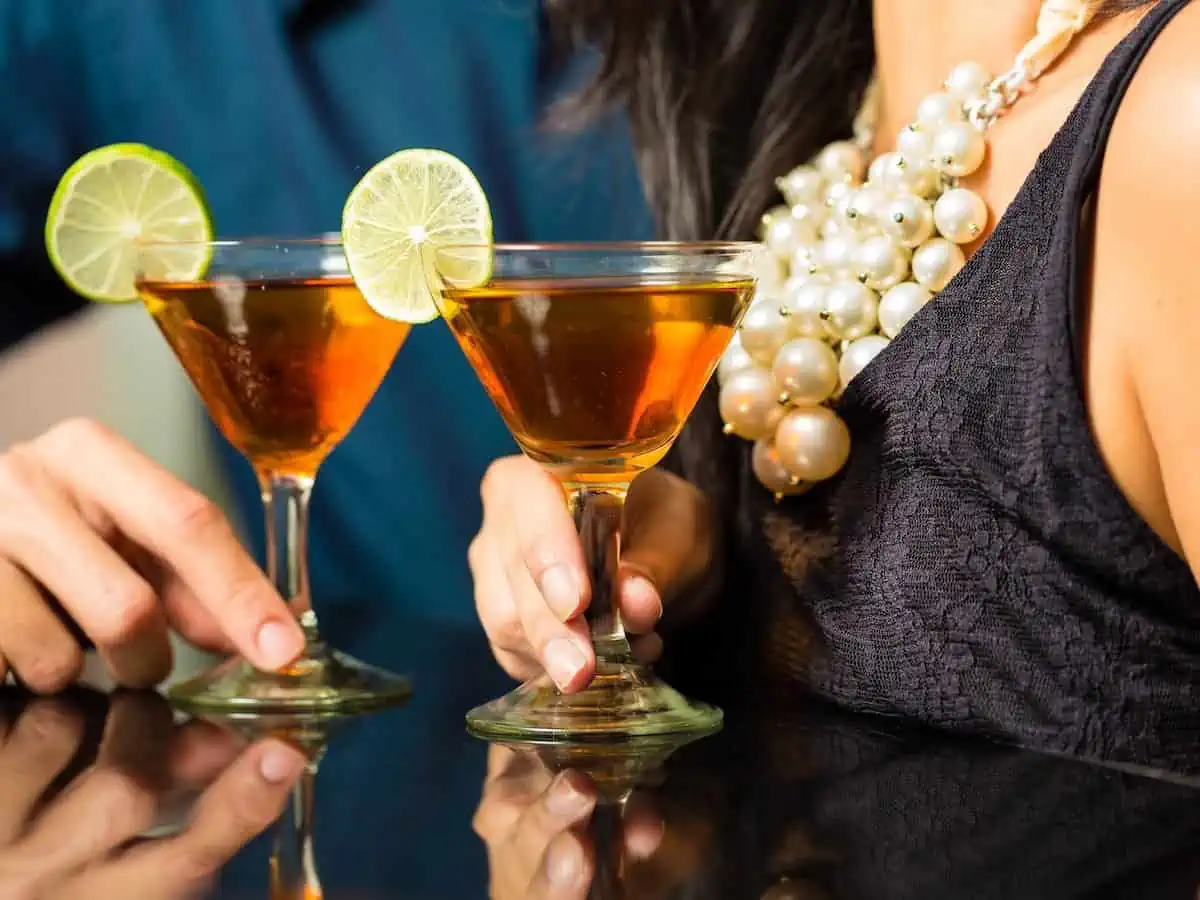 New Orleans has long been on our bucket list.
I'm a jazz-lover, history buff, foodie (and erstwhile romantic), so the many allures of this city on the shores of the Mississippi River continued to haunt me.
From its gorgeous French Creole architecture to its atmospheric jazz bars and distinctive cuisine, it's a city meant for lovers.
Not to mention the possibility of ghost-hunting in this city made even more famous by the spooky stories of Anne Rice.
Another draw was that we were looking for a romantic getaway beyond sun and sand (although recent faves Nassau, Bahamas and BVI both have plenty of allure!)
So when we discovered flights that were both convenient and affordable to New Orleans, we decided to book it.
The sultry city didn't disappoint. It proved itself a sure-fire place to add a little sizzle to our love life.
Here are a few of the ways we rekindled the romance in the world's most romantic city. They're the best things to do in New Orleans, for couples!
1. Ride the Romantic Rails
Riding the rails in New Orleans – boarding one of their historic rail-guided trams – is a great way to bond with the city.
The minute we board our first streetcar we are transported through time.
Think interior mahogany seats, think brass fittings that decorate vehicles actually built in 1923.
Though it may not be what Tennessee Williams had in mind when he penned "A Streetcar Named Desire" (there's a "Desire" street in the city) as I share seats with my significant other, I do succumb to the romance of the ride.
We hold hands as we make for the allure of the Garden District.
With its magnolia-shaded streets, we succumb to the sensual beat laid down by the clicketing wheels on the tracks.
But this is no mere tête-à-tête for two.
These cars are actually recognized on the "National Register of Historic Places" and this system is among the oldest in the world.
If you're a lover of history – or even just a lover – a ride on a NORTA trolley is definitely a romantic thing to do in New Orleans.
One sure way to heat up your love life is to share a Sazerac, a cocktail invented right here in New Orleans.
On my first taste I feel the burn and savour a potpourri of flavours as irresistible as the city herself.
While I take the opportunity of sharing Sazerac's with my wife in several romantic settings – not the least of those being a secret cobblestone courtyard in the French Quarter – my inner historian demands that I do a bit of homework too.
Enter The Sazerac House on Canal Street (Google Map).
This august structure boasts a gift shop in an interior worthy of a 19th century bank, featuring towering ceilings, a gracious staircase and a wall of bottles reaching more than three stories.
Sazerac House is home to a unique lesson in a cocktail invented here, a history of this local distillery with an international reputation and three separate tastings that are part of a very cool interactive museum.
Think rye whiskey meets Disney World.
The Sazerac cocktail may well be one of NOLA's most loved exports. It was "invented" here by an apothecary owner named Peychaud who added his own bitters and absinthe to a cognac called "Sazerac-de-forge-et-Fils".
It's supposedly the oldest cocktail in the United States. Peychaud was reputedly the first to coin the term "cocktail" in reference to some of the tonics he created.
Sample a Sazerac and partake of history. Share a Sazerac and sparks are sure to fly.
🌟 Insider Tip: Even if you aren't sold on the appeal of this cocktail, you'll love Sazerac House.
The massive gift shop offers every tool a bartender could ask for as well as a range of products in the Sazerac empire, from rum to cognac.
3. Visit a Spooky Cemetery for Date Night
The various cemeteries scattered through New Orleans (there are more than thirty and six are actually on the "National Register of Historic Places") are among the city's coolest, creepiest and most popular attractions.
I've always liked cemeteries so at least one cemetery was a must-do for me. I was also buying into the same logic that scary movies are a date-night natural.
To be sure some of the stories we encounter are tales of love. But the unique features and backstories of these attractions may well be more creepy than sensual.
Spookiest New Orleans Tour
Experience the haunted history and culture of New Orleans on a Cemetery Tour After Dark.
It's our top pick for a tour of haunted locations at night.
It gets fantastic reviews too!
Since the water table's so high they can't bury people underground. Instead, bodies are interred in tombs that range from simple brick for some of the oldest to downright Baroque monstrosities.
Case in point: In St. Louis Cemetery No. 1, Nicholas Cage has a massive pyramid-shaped tomb just waiting to welcome his earthly remains when the time comes.
Add the ambiance of moss-shrouded live oaks that shade the tombs of Lafayette No. 1, replete with branches showing like skeletal hands, and you get the idea.
This burial ground was actually a set location in more than one of Anne Rice's novels.
Stroll here on a cloudy day and you'll feel like a character in "Interview with a Vampire" or "The Mayfair Witches."
On my tour I discover even creepier features. Tombs are occupied by serial inhabitants.
After enough time has passed (or the next family member has passed) a cemetery staffer opens up the vault, pushes the remains to the back of the tomb and fills it up with the next occupant.
Still not creeped out? Then stop and reflect during your St. Louis tour at the tomb of Marie Laveau, the Voodoo Queen of New Orleans.
🌟 Insider Tip: There's no public access to these cemeteries but they're open for guided walking tours. You can book tours at either St. Louis Cemetery No. 1 or Layafette No. 1. The former is closer to the French Quarter while the latter seems spookier.
Check prices and availability of a Lafayette Cemetery Tour on Viator.com.
4. Taste Some Gumbo
While the cemeteries are among the city's coolest attractions, the most delicious one has to be a local delicacy called gumbo.
No visit to New Orleans is complete without a taste of gumbo. It's a must-try!
Others may seek enlightenment and wisdom, but during my NOLA sojourn I've set my sights higher.
We'll find the best gumbo in New Orleans.
Six hours off the plane and we've sampled my first gumbo in an eatery between the Warehouse District and the French Quarter itself. Not bad, but hardly the most convincing concoction. Flavourful, yes, but a bit watery.
Gumbo is both culinary delight and metaphor for NOLA itself.
The name itself derives from a West African word for okra. It's a key ingredient in the masterpiece I finally devour at the Gumbo Shop in the French Quarter, though not all popular recipes include it.
Another key ingredient, roux, owes its roots to French cuisine.
To further complicate things, filé, a frequent though not exclusive addition, comes from local First Nations culture.
The first documented mention of gumbo was at a political reception held in NOLA in 1803.
From a culinary standpoint, it's all about the roux, the protein (which can range from chicken and a local sausage called Andouille to shrimp or crab), celery, onion and bell pepper, the "Holy Trinity" of Creole cookery.
By time my bowl arrives at my courtyard table at the Gumbo Shop (a favourite among locals), none of that matters to me. I could eat it anyway they made it.
Only thing better than the gumbo at Gumbo Shop is gumbo washed down with a Hurricane, a potent potable that just screams New Orleans.
🌟 Insider Tip: While I opted for the chicken andouille gumbo, most people seemed to love the seafood okra one. Might have to come back again.
5. Drink a Hurricane
When my friend Ron found out we were headed to NOLA he gave me some welcome advice.
"One thing you have to do," he said, "drink some Hurricanes."
Didn't take me long to act on his advice. Hours off the plane and I was prowling the byways of the French Quarter with drink in hand.
It wasn't the last one I had during the course of my visit, nor the most rewarding.
That one came as we were ensconced on a balcony overlooking Bourbon Street, courtesy of David McElveen, the bartender upstairs at Bourbon Pub.
"I use three kinds of rum in my hurricanes," he said as he mixed mine. "Myers, Captain Morgan and Malibu Rum."
Sailor that I am, Caribbean afficionado that I am, I'd just discovered one of my new favourite cocktails.
"The Hurricane originated in New York," explained McElveen as he poured the finished product into a plastic glass (in case I wanted it take-out), "but it was really popularized here in New Orleans at Pat O'Brien's down the street."
Some sources claim it was actually invented at O'Brien's during World War II when whiskey was hard to come by. Its name came about because it was originally served in a glass shaped like a hurricane lamp.
Whatever its source, however they serve it, no matter where you order one, this much is certain: a couple of Hurricanes shared with my significant other definitely raised the temperature of our romance.
6. Hit Frenchmen's Street for Some Nightlife and Tunes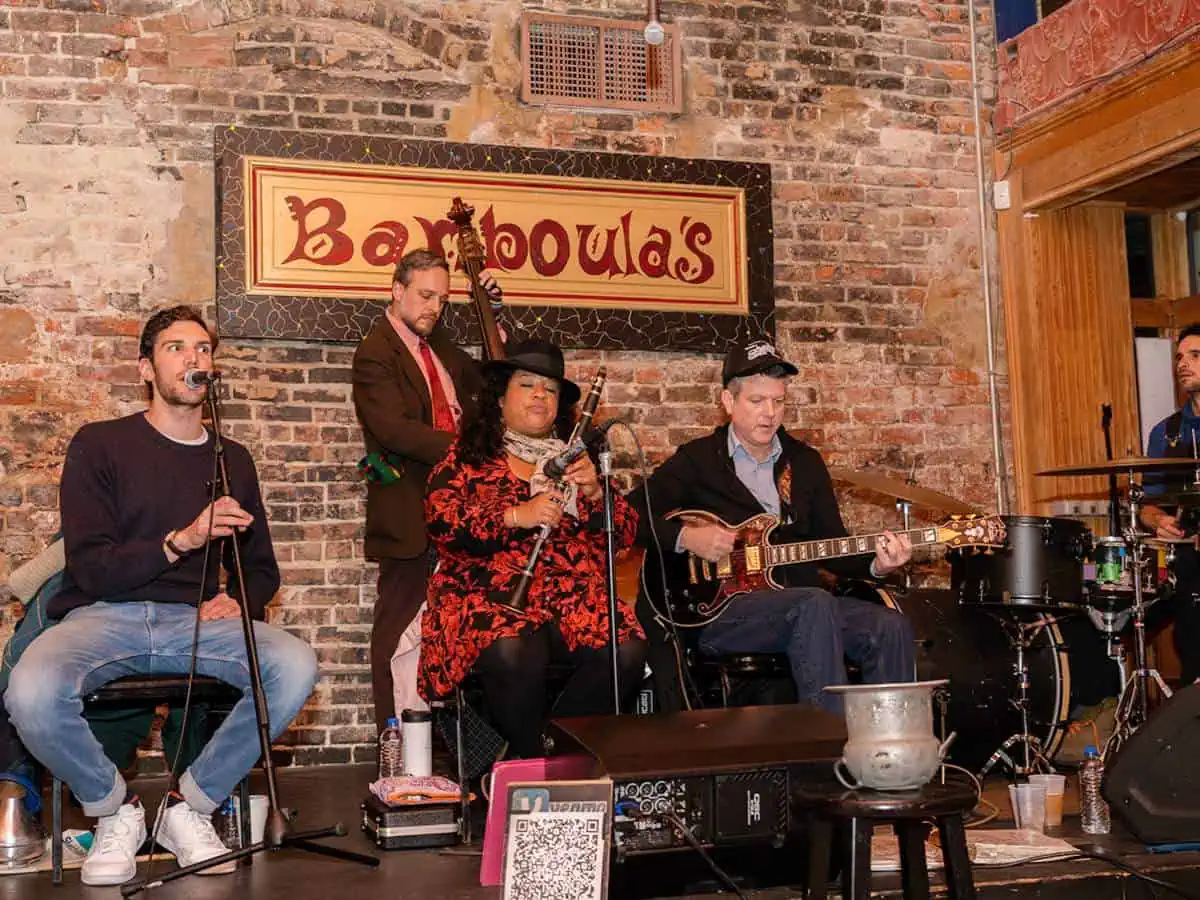 If you have any interest in music at all – particularly jazz – a visit to Frenchmen's Street is a New Orleans must-do.
Slightly seedy, a bit past the French Quarter, this street seems haunted by the presence of countless ghosts of jazz.
During a quest for nightlife, we encountered, in a mere two or three short city blocks, at least seven different watering holes, each boasting a live band.
On Sunday it's mostly jazz, but you can also find reggae or blues depending on when you come.
I'm a jazzer. I couldn't have been happier.
In some bars the seating was non-existent, people just crowding around and applauding the band after every solo.
In one, we found ourselves in a two-centuries' old building with a rudimentary stage featuring trombone, clarinet, bass, guitar and drums. Enter the Hurricane and Sazerac cocktails, sampled from stage-side seats.
Be sure to check out the music at Blue Nile (Google Map), considered one of the city's great jazz clubs.
Blue Nile is probably the premier music venue here though it caters more to ticketed events.
For a fun walk-in (drink-in) spot, check out Bamboula's where you simply grab a seat and tap your feet to the music.
No cover at most of these places but they did have a one-drink minimum per person per set.
If music be the food of love, play on.
Check rates and availability of a Live Music Pub Crawl on Viator.com.
7. Take a Romantic Stroll in the Garden District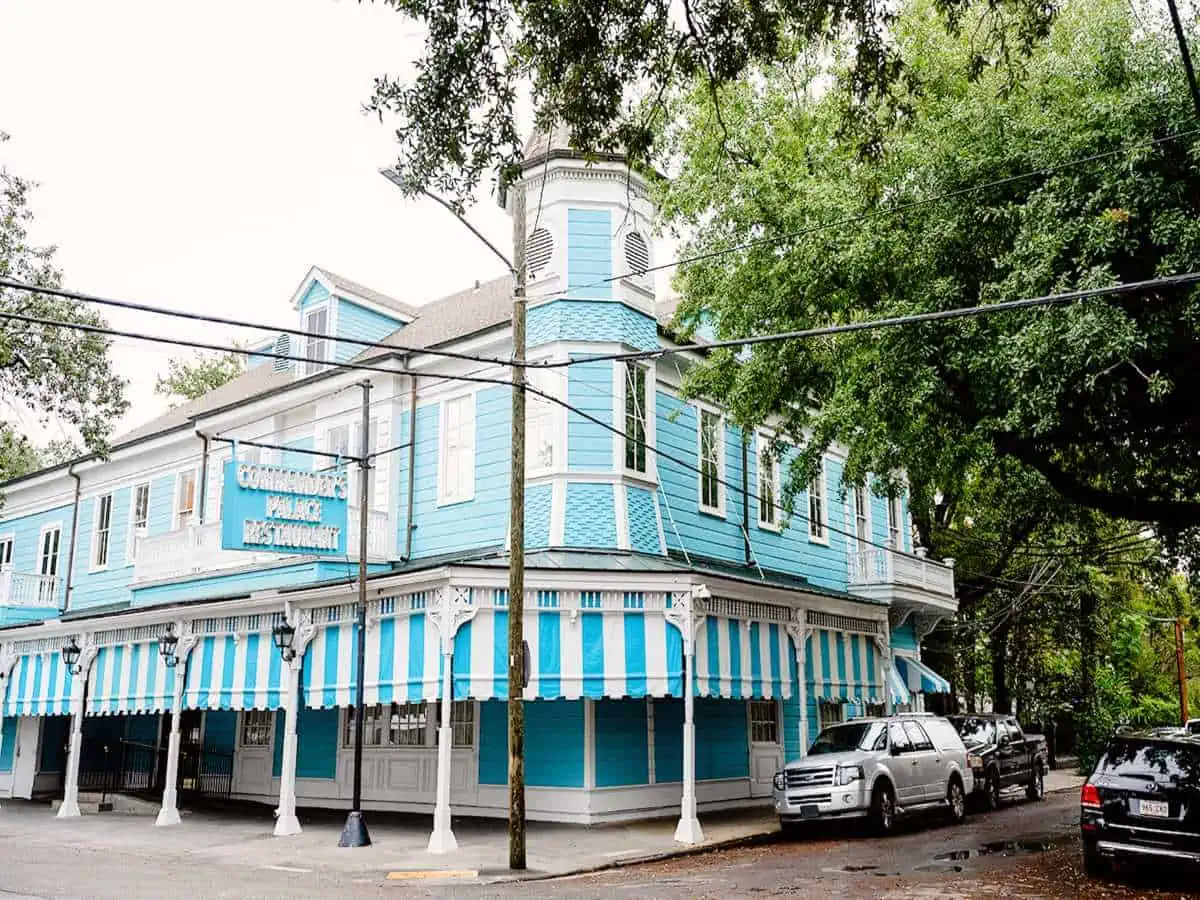 A walk in the Garden District is guaranteed to garner some looks of love.
My wife and I explore this area hand-in-hand, caressed by antebellum mansions surrounded by elegant gardens, lured by quiet streets shaded by live oak and magnolia trees decorated with Spanish moss.
While the French Quarter is a journey through time this area is downright timeless.
And these are no ordinary mansions. On our walking tour, we discover the home of John Goodman, with its august two-storied porch replete with Corinthian columns; we lust after Sandra Bullock's imposing getaway, we turn a corner and discover the home where writer Anne Rice penned "The Mayfair Witches."
We double back to check out Commander's Palace, an aquamarine 19th century behemoth that's a famous restaurant for two reasons.
Emeril LaGasse and Paul Prudhomme were erstwhile chefs here for one. Secondly, the restaurant's supposed to have two resident ghosts.
Hardly surprising given its location across from Lafayette Cemetery No. 1, New Orleans' creepiest burial ground.
Face it: you don't encounter spirits here in the Garden District you're obviously a true skeptic. But to ramp up your chances of seeing a ghostly spirit you can always opt to stay in one of the famous haunted hotels in New Orleans.
🌟 Insider Tip: There are a number of self-guided walking tours of the area to download. Check out www.nolatourguy.com for a reasonably good one.
8. Heat Things Up With Some Jambalaya
Visiting New Orleans without sampling jambalaya is like doing Paris and missing the Eiffel Tower. This spicy entrée is also sure to heat up the coolest relationship.
Jambalaya's as much a metaphor for NOLA culture as gumbo, so it's hardly surprising to find it a welcome addition to Gumbo Shop's menu, given it's a top spot for Creole cooking.
That's why it's hardly surprising to discover tomato in their recipe, along with rice and shrimp.
Tomatoes are a key ingredient in the Creole version, while they don't appear at all in most Cajun versions.
Though its strongest influence is probably Spanish (it's very close to paella), it also gives a nod to French, African, First Nations and even Caribbean cuisine.
There are several theories about the origin of the word itself. Most logical is that it's a corruption of the French word for "ham."
One fun theory has it that a traveler once exhorted his host to "sweep something together," reportedly exclaiming, Jean, balayez!"
Whatever the word's source, one thing's for sure.
If you're looking for a recipe for romance order the jambalaya.
🌟 Insider Tip: Foodie couples will want to sign up for a New Orleans Cooking Class and learn how to make Creole dishes like gumbo, jambalaya and pralines.
9. Bring on the Beignets
A sampling of beignets needs to be on everyone's must-do NOLA list.
A beignet is basically a fancy donut, owing its roots to France. Having spent time in both France and Quebec, I still had never made its acquaintance despite my love for all things sweet.
Because we decided that something as good as jambalaya should really be followed by dessert, it was a no-brainer to stop as we passed a little French Quarter park where a jazz quartet was playing.
More important, the people lounging at tables scattered around the courtyard all seemed to be wolfing down some sort of pastry bathed in great quantities of icing sugar.
Noticing a counter toward the back, reclining under a sign advertising a deal on beignets, I realized what everyone was eating.
Bring on the beignets.
Sure it's just a fancy name for a sort of donut but doesn't "beignet" sound so much classier?
🌟 Foodie Tip: Begin your day with a Beignet Tour of New Orleans that includes four different stops for beignets (from the traditional to the surprising) plus coffee or tea.
10. Chill out in Jackson Square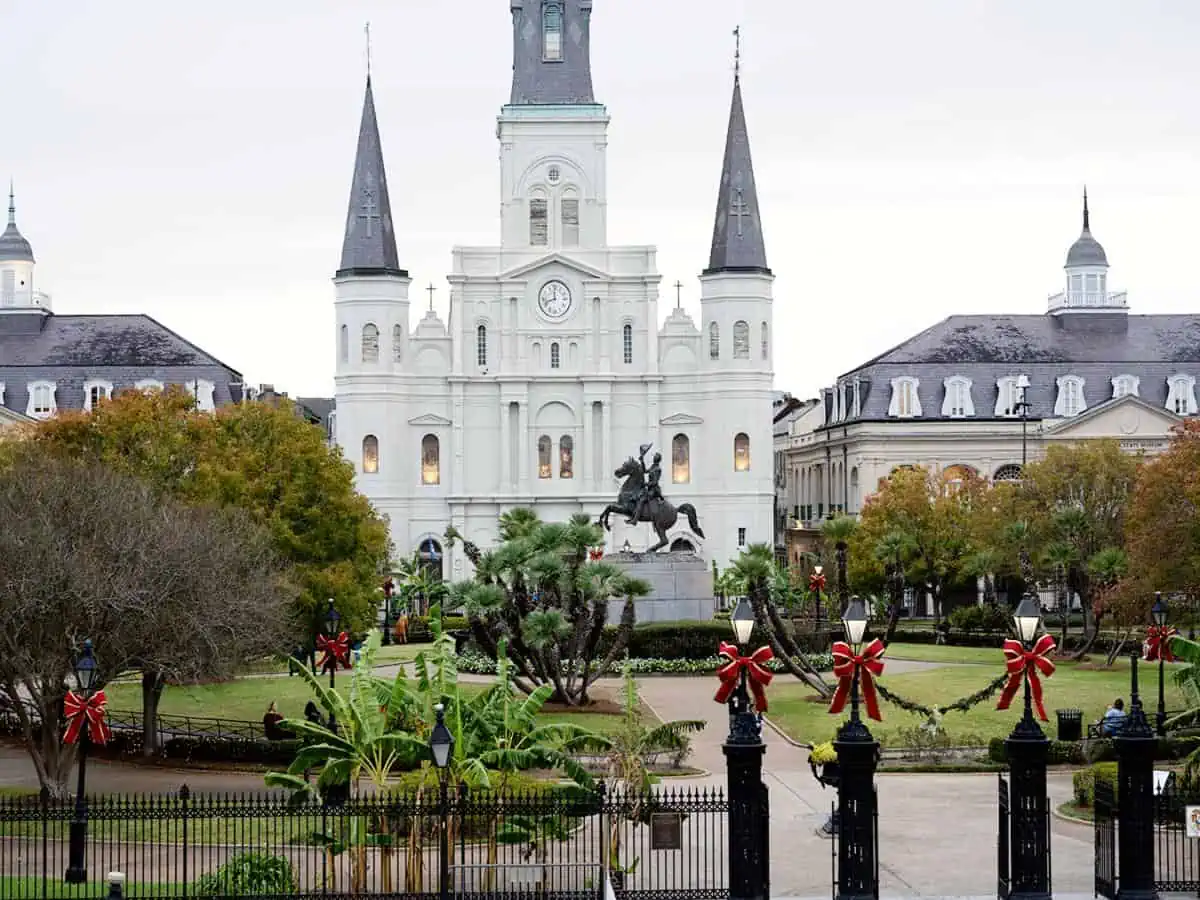 Given that one of the best places to get beignets is Café du Monde (its flagship is located by Jackson Square), you could add a coffee to your beignet-order-to-go and stroll across the street to ground zero in the French Quarter, Jackson Square.
Magnolia trees and live oak shade a great expanse boasting a statue of Andrew Jackson right in the middle.
At one entrance you'll see a collection of art showcased by various outdoor vendors.
Outside another, you'll be serenaded by sopranos, mesmerized by magicians or even get your fortune told.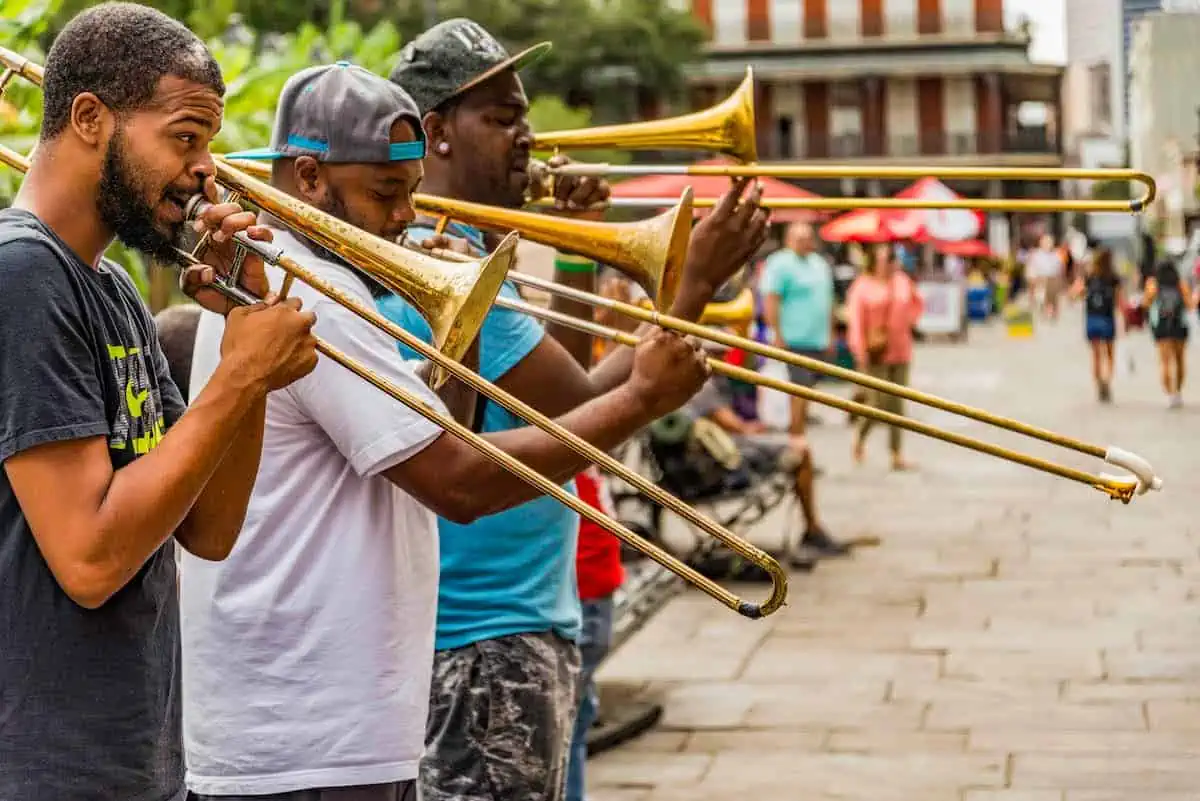 First time we stroll through we almost crash a wedding al fresco at one end.
On a sunny day, Jackson Square, centre for so much of the French Quarter action, is the perfect place to chill.
Here, right after the wedding ceremony, we follow the happy couple and their guests as they parade behind a Dixieland band pumping out a swing version of "Here Comes the Bride."
Then we chill some more.
Check prices and availability of a 2.5 hour French Quarter Walking Tour that includes a stop for beignets at Cafe du Monde and admission to the historic Presbytere on Jackson Square.
11. Get Thee to a Church
Given all the carnal pleasures and sensual delights you've sampled thus far, maybe you should consider a visit to a church.
Enter St. Louis Cathedral on Jackson Square and a major New Orleans attraction.
I've done St. Peter's in Rome, Westminster in London and Notre Dame in Paris. Long story short? I love my church architecture. Not going to miss this one.
Look for the towering ivory-coloured façade of this landmark with its Doric columns and trio of steeples.
Step inside and check out the altar and the stained glass windows depicting the life of King Louis IX, the cathedral's patron, an architectural feature that's resulted in a surprisingly bright interior for such an old church.
How old?
It was built on the foundation of a 1727 colonial church and is the oldest cathedral in continuous use in the United States.
Want even more history?
Step next door into the Presbytére, home to part of the Louisiana State Museum.
🌟 Pro Tip: Pick up a brochure inside the church for a wallet-friendly, self-guided tour. Note that the church is generally closed to visitors after 4 p.m.
12. Get Back to Nature
Part of the allure of this region of Louisiana is the proximity of bayou country. That's why a swamp tour is such a popular excursion with visitors to New Orleans.
On a swamp tour (roughly 40 minutes outside New Orleans) on a 45 ft. pontoon boat we discover what a bayou actually is – a serpentine natural waterway.
Here on this tour through the Jean Lafitte National Preserve our boat, courtesy of Jean Lefitte Swamp Tours, glides through dense foliage and towering cypress groves, past black vultures, egrets, heron, the tumbledown remains of a shack that was once set piece for a "swamp" movie, and the tour's highlights, no less than six alligators, sunbathing mere metres from the boat.
🌟 Related: For more swamp tours, check out these mangroves and beaches in Florida.
Right from the start I feel like I'm lead character in my own "swamp" movie. Right from the start I'm seduced by the sheer fecundity of these surroundings.
A massive stuffed alligator guards one side of the tour office, a rudimentary wood building with corrugated tin roof.
Spanish moss dangles like executed criminals from gnarled, arthritic tree branches that scrape the boat's roof as we descend into the swamp itself.
Rom-com or horror movie, one thing's for sure. A tour of a swamp is sure to get the juices flowing.
🌟 Pro Tip: While you can opt for an exhilarating airboat tour, you'll miss too much. Opt for the pontoon boat tour instead.
13. Take in the Dreamy Views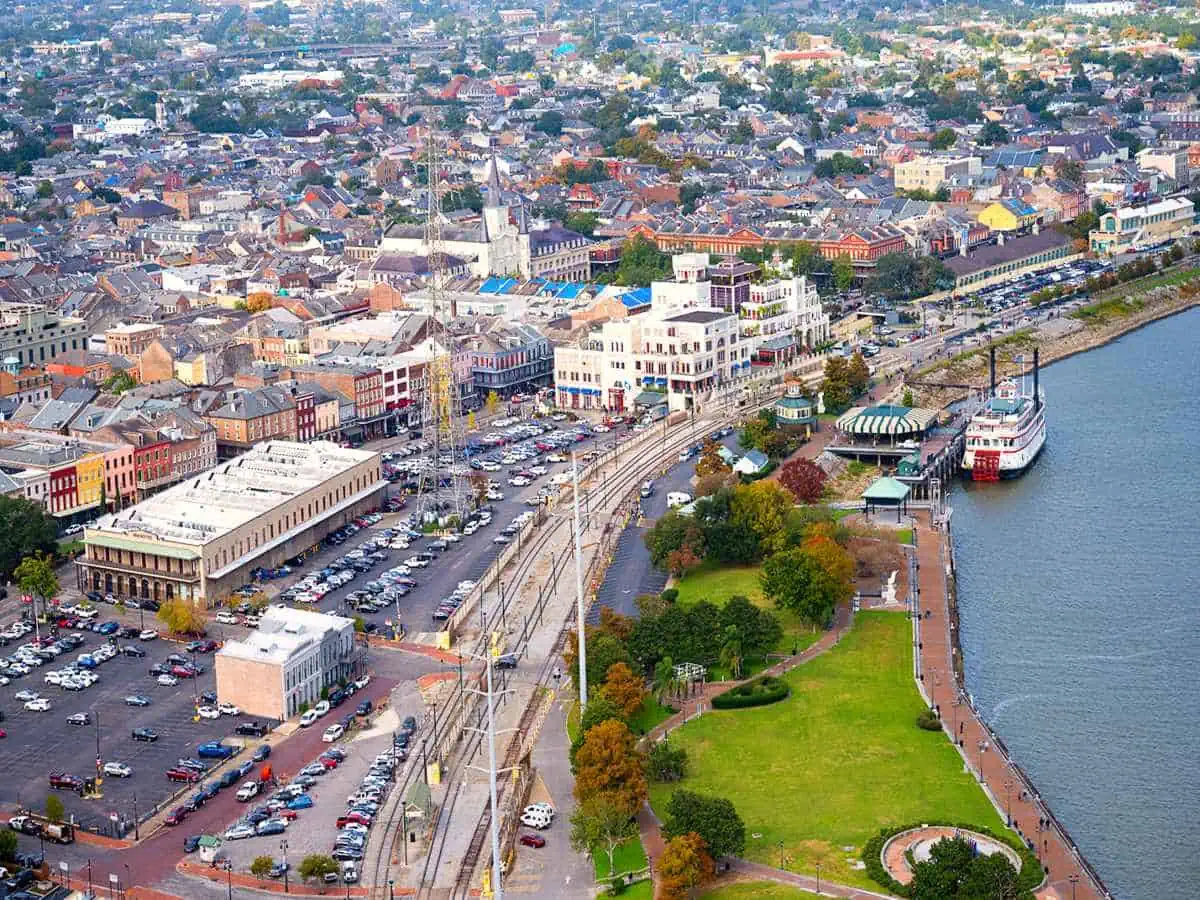 If you're new to New Orleans or just want to take in a great view, check out the city's newest attraction: Vue Orleans.
Begin your voyage on the second floor. State-of-the-art interactive exhibits welcome you to a bit of history, a bit of culture and even some recipes for those local delicacies you've been enjoying.
Displays include an introduction to the various musical genres that call NOLA home. You'll even hear specific musical examples and get a lesson in the origins of the city, from the French influence to First Nations. And a cool multimedia introduction to jambalaya and gumbo.
Then head up – way up (think 124 metres high) – to the top two levels. That's where you'll find the 360-degree outdoor viewing deck.
Watch freighters negotiating the river, get your bearings with the eagle's-view vistas of Canal Street (the main drag), the French Quarter and the Garden District.
Even pick up a cocktail or coffee at the sky-high café.
14. Pick Up Some Pralines
If you do happen to visit New Orleans, I defy you to resist the lure of a local sweet called a praline. It will be nearly impossible.
Before my own visit I mistakenly assumed that pralines were some kind of nut. Possibly related to pecans, a local crop.
I was partly right. Pralines are dependent on pecans but they're more accurately yet one more tribute to the local love of food. Sweets in particular.
Stroll the city and you discover that pretty well every souvenir shop around offers up this rich confection for sale. One restaurant even serves a praline sundae.
Pralines are, in fact, sweets that combine pecans with different combinations of sugar, milk, butter and corn syrup. In many ways they're like a soft peanut brittle.
They originated in France as early as the 17th century, though they originally used almonds instead of pecans. Legend has it they visited the city thanks to Ursaline nuns.
Besides being an irresistible treat, they, too are a lesson in history. New Orleans pralines were popularized by Creoles. And, according to one source, are one of the first street foods in the United States.
🌟 Foodie Tip: Don't just buy your pralines anywhere. If you can't get to the actual Aunt Sally's shop near Jackson Square make sure you buy that brand.
Check prices and availability of a New Orleans Locals' Food Tour on Viator.com. It includes tastings of pralines, po'boys, a muffuletta sandwich, beignets, oysters and more.
15. Visit the Birthplace of Jazz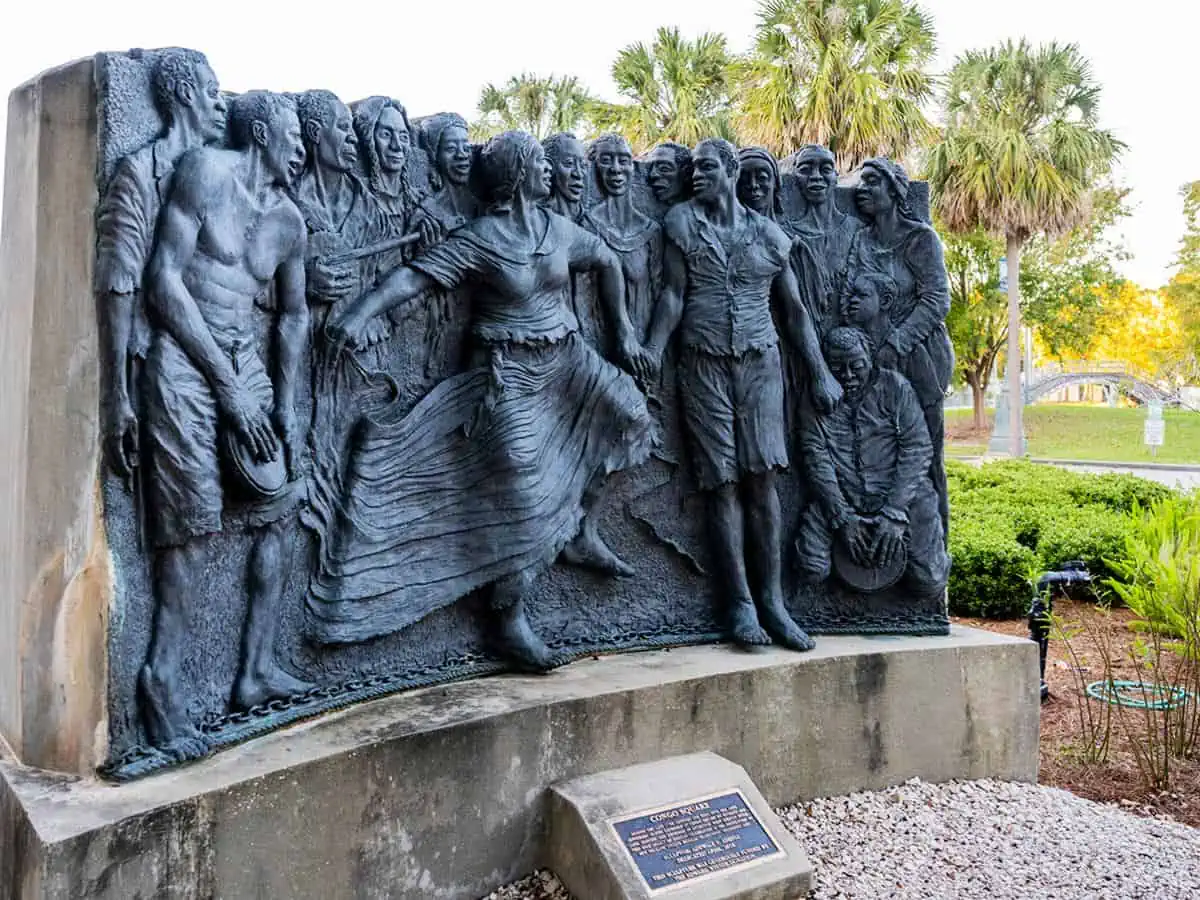 For lovers of jazz – or simply lovers – a Sunday afternoon visit to Louis Armstrong Park and nearby Congo Square is a must-do.
A whole congregation of folks have gathered there, dancing and singing to the accompaniment of a drum circle featuring a plethora of West African percussion instruments.
They are pounding out syncopated grooves and infectious rhythms that almost demand you move in synchronicity.
Every once in a while someone picks up another instruments and plays with the members of this percussion troupe – sometimes an upright bass, sometimes a saxophone. Most here are dressed in white clothing, the colour of celebration in West Africa.
But this celebration is no mere musical interlude: we have found ourselves at the very place where music historians say jazz began.
For nigh on two centuries this open square became a meeting place for slaves and free people of colour on Sunday afternoons to gossip, to meet, and to make music.
Quite by accident we have happened upon a tradition that continues today.
Welcome to Congo Square: the true birthplace of jazz.
Check prices and availability of a New Orleans Music Heritage Tour on Viator.com.
16. Continue your Jazz Lesson
Even if you're not a jazz lover, to truly bond with one of the city's chief claims to fame you have to book a show at Preservation Hall.
Down an unassuming side street in the French Quarter this ramshackle building a couple of hundred years old is a jazz repository almost as seminal in the birth and evolution of jazz as Congo Square itself.
Welcome to Preservation Hall, a must-do if you want to hear some pure unadulterated Dixieland jazz.
Since 1961 this venue has featured acoustic Dixieland in a space not much bigger than your living room.
Book a front row seat and you're no more than two metres from the bell of a clarinet or trumpet.
Boasting several daily performances, Preservation Hall presents the stylings of several different ensembles drawn from more than 50 local masters of the genre.
It's dedicated to protecting, preserving and sharing the spirit of traditional New Orleans jazz.
Although performances are short – leaving you wishing for more – and not cheap if you book the front row seats (absolutely worth it), our evening at Preservation Hall stands out as one of the highlights of our visit.
According to music historians, the term "jazz" is synonymous with the act of love.
What better way to set your foot tapping and your heart rate racing?
🌟 Insider Tip: If you want to see the show, book tickets a couple of days in advance. Front seating is a bit more expensive but worth the investment.
17. Bond with the Mississippi on a Romantic River Cruise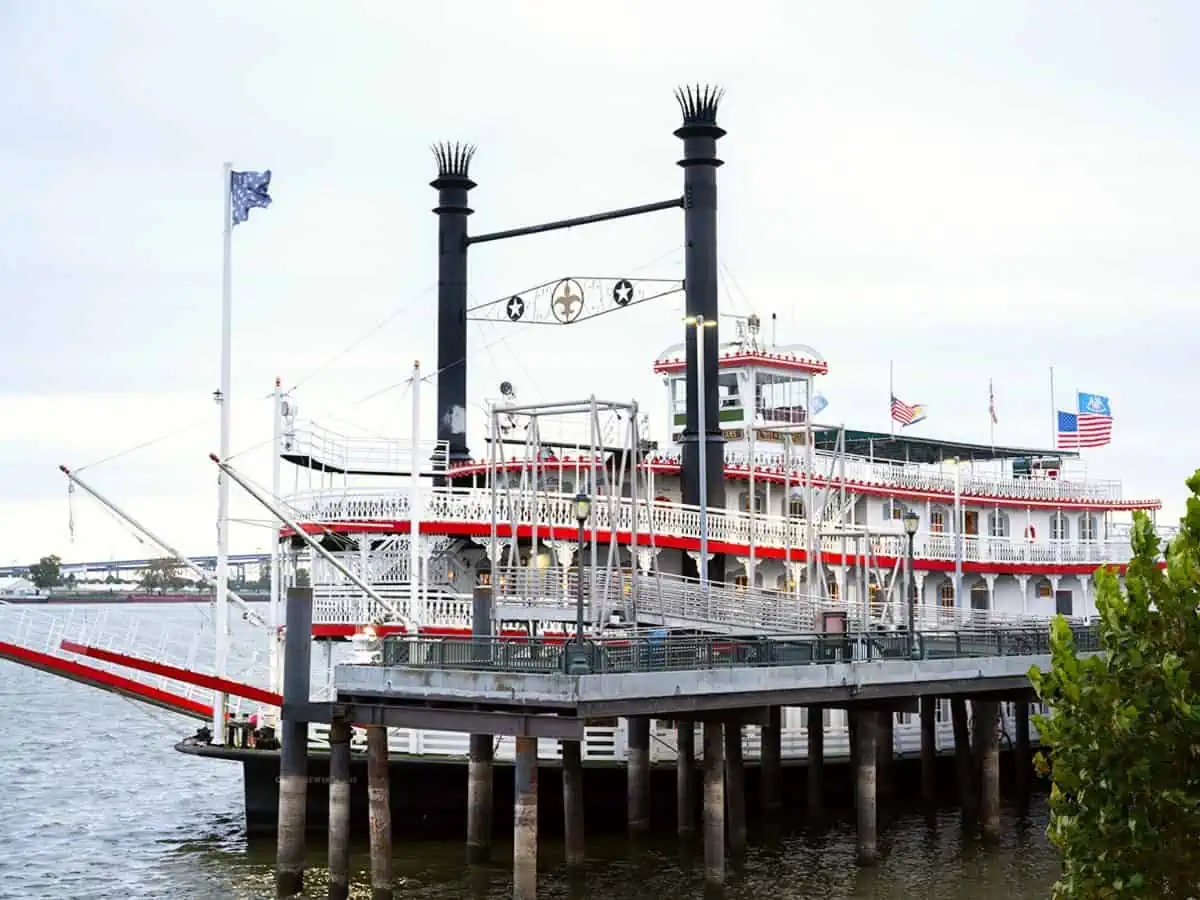 One of New Orleans' nicknames is "The Crescent City" due to its orientation in relation to the Mississippi River. Given the fact that this waterway is one of the most important in the United States, you'd be missing a treat if you didn't bond with the river itself.
Board a vessel close to downtown and find yourself literally transported through time as you ride a paddle-wheeler that takes you back to the heyday when steamboats plied this waterway. Think "Huckleberry Finn," think "Showboat."
Options range from twice-daily jazz cruises with optional lunch or dinner, harbour cruises, or river adventures where you can soak up even more history thanks to costumed interpreters or even disembark at Chalmette Battlefield.
Nothing more romantic than a river cruise accompanied by the soulful stylings of a jazz combo as you and your lover gaze across to the glittering lights of New Orleans' skyline.
Unless it's a picnic for two on the shores of the Mississippi.
18. Partake of a Po-Boy
If you've decided not to opt for lunch aboard a Mississippi boat maybe you should consider another New Orleans staple. Whether to call it a culinary masterpiece or a quick lunch on the go may be up for discussion.
For the final entry on my list of NOLA must-dos when it comes to must-try food is an admittedly pedestrian-sounding delicacy called the "Po-Boy."
It has a spotty history. Our waiter at one French Quarter restaurant gives us a quick low-down.
"Started with potatoes stuck between two slices of bread," he says, somewhat haughtily.
"Just like the name sounds: Po-boy."
According to legend, during a streetcar drivers strike in 1929, two brothers credited with "inventing" the sandwich handed the sandwiches out free to striking drivers. The sandwiches came filled with everything from roast beef to oysters to blackened catfish.
Its reputation has improved somewhat since then, a reality we discover at NOLA Poboys on Bourbon Street (Google Map). The line-up of customers stretches well out of the shop and halfway down the street.
Two basic ingredients are necessary: bread. And other stuff.
Step aside, gumbo. Look out jambalaya.
Check prices and availability of a New Orleans Locals' Food Tour on Viator.com. It includes tastings of pralines, po'boys, a muffuletta sandwich, beignets, oysters and more.
19. Soak Up Some Culture
For some culture of a visual rather than an acoustic sort, visit the Bestoff Sculpture Garden and the New Orleans Museum of Art (Google Map), located in the green oasis of City Park.
The sculpture garden encompasses more than 90 artworks, many specifically created for placement in the gardens.
They're positioned strategically in 11 acres of watercourses and mature landscapes of pine, magnolia and live oak.
Originally conceived in 2003, the gardens were nearly doubled in size in 2019.
More than 40,000 masterpieces are housed inside the neoclassical museum itself. It holds impressive collections of African, American, and First Nations art, along with special exhibitions.
Must-sees range from the historic (the famous painting of George Washington) to the contemporary (such as Andy Warhol's portrait of Mick Jagger).
When we visited they were presenting a tribute to black photographers.
🌟 Foodie Tip: Consider enjoying a romantic lunch at Café NOMA in the gallery itself. Light, airy ambiance and excellent flatbreads just for starters.
20. Learn About the Acadians and Mardi Gras
To add a little learning to your loving, make time for a lesson in Acadian and Cajun culture during your romantic escape.
This culture has long intrigued me. My wife and I have stayed in Acadian settlements on the Îles de la Madeleine in Quebec and Nova Scotia.
We've stamped our feet to traditional Cajun music and even meditated in 18th century Acadian St. Anne Church.
This visit, short on time, we focused on learning about Courir de Mardi Gras at the Louisiana State Museum.
If you've got more time, head to Lafayette and take in the Acadian Cultural Centre. It's one of the top things to do in Lafayette.
Or visit the living history museum and village called Vermillionville.
🌟 Insider Tip: Though Lafayette, "capital of Acadiana", is a couple of hours away you can soak up that culture in New Orleans. LA.
Check out the live Zydeco music and Cajun cuisine at Mulates. Located in the city's Warehouse District it's got New Orleans' best Cajun cuisine.
21. Stroll the French Quarter
The most romantic of the many things to do in New Orleans for couples? Visiting the French Quarter.
After my 40-year love affair I am here. I am standing on Bourbon Street. Smack dab in the French Quarter, I'm ready to take a stroll that's been a long time coming.
Now we follow narrow streets where 18th century buildings boasting flower-festooned frilly wrought iron balconies smile down on throngs of tourists.
We pass a multitude of bars, music emanating seductively from within, art galleries, the occasional souvenir shop.
Next, we sip a Hurricane while checking out a blacksmith shop reputedly once owned by pirate Jean Lafitte.
We pass the meeting place for Haunted Walks, we pass repositories of history from the Ursuline Convent to a voodoo museum.
Here the music issuing from various watering holes is accompanied by the rhythm track that is the clip-clop of horse hooves.
Here, we lose ourselves in time, even as we stop to admire gracious homes illuminated by gaslight.
As day slips into evening, we are smitten by the French Quarter.
For me it is the consummation of a long-lived love affair.
🌟 Insider Tip: Best time to visit is late afternoon into the early evening. While the area is charming, late evening can be a little rowdy.
Final Tips on Planning a New Orleans Couples Getaway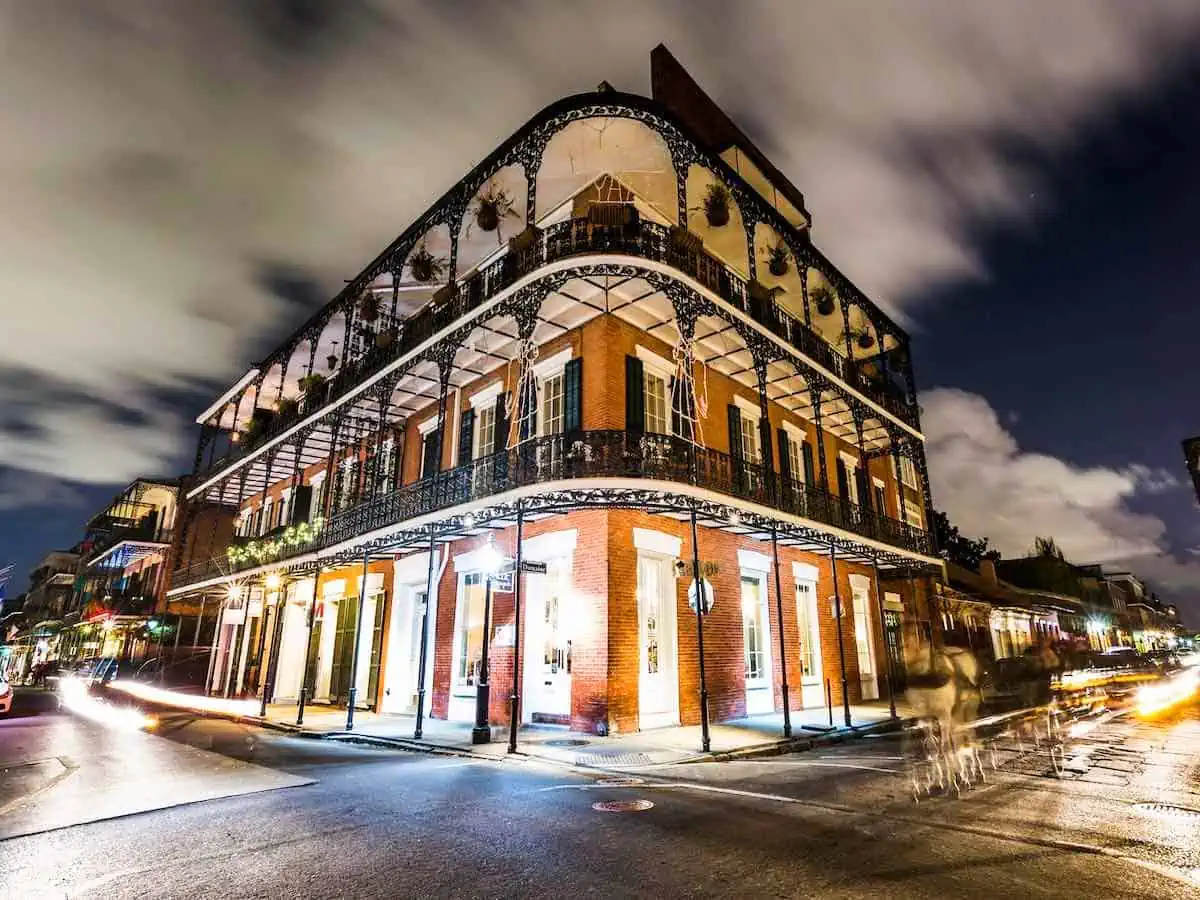 Official Tourism Board: To help plan your trip, check out the excellent and comprehensive official New Orleans website. www.neworleans.com
Getting There: Air Canada offers daily direct flights to Louis Armstrong New Orleans International Airport from Toronto Pearson Airport.
Where to Stay: Staying in a romantic hotel is one of the top things to do in New Orleans for couples! Hotel le Marais (Google Map) is a charming boutique property in the French Quarter.
Options range from deluxe to premium rooms with balconies and views of the courtyard (and heated outdoor saltwater pool) or the French Quarter.
Check prices and availability of Hotel Le Marais on Booking.com.
Beach Time: New Orleans isn't famous for its beaches. The best beach destination is Panama City Beach in Florida, a 5-hour drive or 513 km (319 miles) from New Orleans.
Plan to spend at least three days here. You can check out the beautiful beaches, visit attractions such as Shipwreck Island Water Park and dive into delicious seafood at several Panama City Restaurants.
Louisiana Road Trip: Another travel idea is to take a road trip along the Bonnie and Clyde Trail. In the 1930s, the notorious bank-robbing couple stole a vehicle in New Orleans and used it to escape law enforcement officials.
The Bonnie and Clyde Museum is filled with memorabilia and artifacts about their exploits and death under a hail of bullets in northern Louisiana.
FAQs
Is New Orleans a Romantic City?
New Orleans is one of the world's most romantic cities! With its sultry jazz bars, hot humid climate, the French Quarter's beautiful Creole-style architecture, and exciting nightlife, it's a city you're sure to fall in love with. And there are so many romantic things to do in New Orleans!
What Is New Orleans Most Popular For?
Testament to the city's earliest French influences, Mardi Gras is NOLA's best-known attraction. The related celebration called "Carnival" refers to the entire schedule of events from January to Mardi Gras itself, the last day before the primarily Catholic observance of Lent. In 2023, Mardi Gras takes place on February 21. Think partying in the streets and fantastic parades with rainbow costumes and over-the-top floats. And downright Bacchanalian ambiance.
Is 3 Days Enough?
On our recent visit to New Orleans we stayed 5 days and kept busy the entire time. If you limit your explorations to the city itself you could do it in 3 days, but you couldn't waste time. Want your visit to be a romantic interlude versus whirlwind tour? Give it at least 4 nights.
More Romantic Travel Ideas for Couples
Save to Pinterest!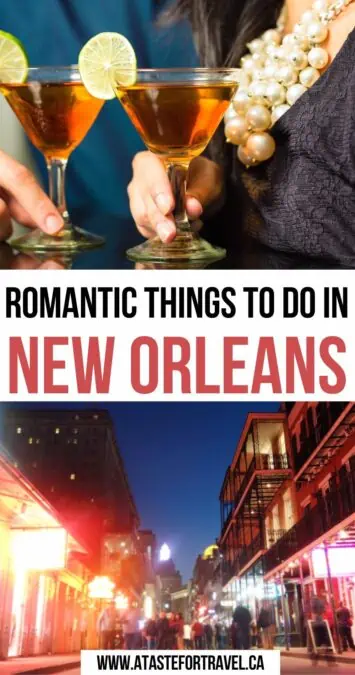 Mark Stevens and photographer/partner Sharon Matthews-Stevens are a multiple-award-winning team who have provided stories and pictures for outlets from Canadian Yachting to the Washington Post. Together they've swum with sharks in Bahamas, dogsledded in the Yukon, cooked in the mountains of Morocco and reported from at least 40 Caribbean islands. Visit their portfolio at Travel Write Click
Learn more about Mark and Sharon.