We may earn income from links in this post. Please read this Disclosure for details.
If you're looking for the perfect 3 days in Toronto itinerary to make the most of your first time in Canada's largest city, then this travel guide is the one for you!
I've lived in Toronto for more than 20 years. Although I can most often be found basking on a beach in the Caribbean or Mexico, there are lots of things I miss when I'm away.
When I'm back in Canada there are certain things at the top of my list to do! And much of it revolves around food!
Toronto's multicultural makeup is reflected in its incredible diversity of cuisine. And with a metro area population of 6.2 million Toronto has a vibrant cosmopolitan energy that embraces its natural setting on Lake Ontario and bounty of green spaces.
Here's my list of top things to do when friends or family ask me what they should do when visiting Toronto for three days:
No Time to Read the Whole Article? These Are My 3 Favourite Toronto Tours
✅ Show Me the City Walking Tour (CN Tower to Distillery District)
✅ Best of Toronto Small Group Tour (CN Tower, Harbour Cruise, Casa Loma and St. Lawrence Market)
✅ Niagara Falls Day Tour with Winery and historic Niagara-on-the-Lake (includes hotel pick up and drop off)
Day 1 in Toronto Itinerary: Historic Toronto
Morning: Explore Old Town Toronto
Although today's Toronto has plenty of glam, its rich history has helped shape its character. The first day of your itinerary should be focused on a legacy dating back to the 1800s.
A great neighbourhood to begin is Old Town Toronto. Here, several heritage buildings including the photogenic Gooderham Flatiron Building have been restored to their former glory.
History buffs will enjoy exploring the The Distillery Historic District. The pedestrian zone within this collection of 47 Victorian industrial-era buildings is one of Toronto's top attractions.
It's open year round for relaxing on an outdoor patio or browsing Toronto's Christmas Market.
My fave foodie spots in the Distillery District include El Catrin Mexican Cantina (for small-batch mezcal), SOMA (artisanal chocolate), Balzac's (coffee) and the Mill Street Brewpub (craft beer).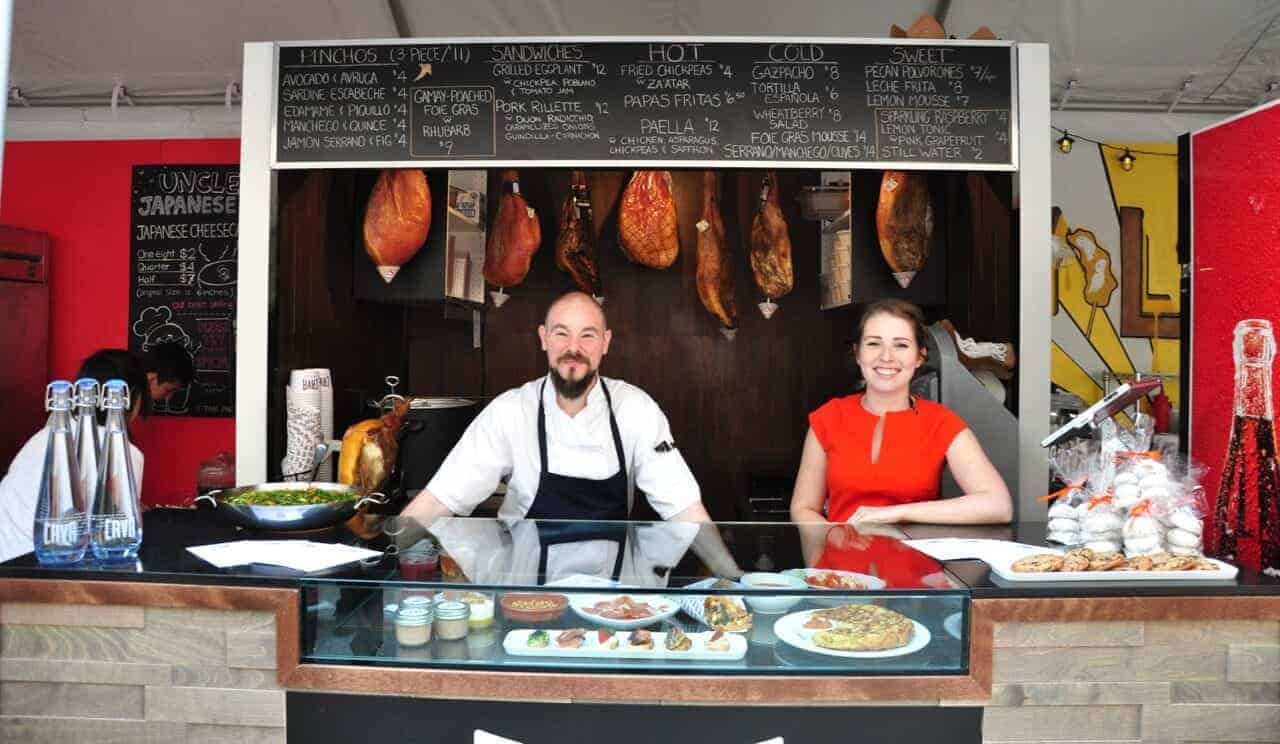 In addition, there are lots of independent boutiques, galleries and shops. It's the perfect place to pick up a souvenir from Canada.
Lunch: Explore and Eat at St. Lawrence Market
From the Distillery District it's an easy walk west to St. Lawrence Market, North America's largest food market.
It's a bustling hub of local life that's perfect for enjoying lunch on the go, shopping for artisanal food products or just soaking up the historic atmosphere of early Toronto.
Lunch: Grab a Bite in St. Lawrence Market
While many first-time visitors head to Carousel Bakery to sample Toronto's famous signature peameal bacon sandwich, I recommend Buster's Sea Cove (tucked at the back of the market) for the shrimp po'boy.
Or, go for tender perogies slathered in sour cream or holubtsi from European Delight.
🌟 Insider's Tip: Take a FREE Walking tour (gratuities appreciated) of Old Town Toronto and St. Lawrence Market with local history expert Bruce Bell.
Afternoon: Take a Walk in the Wild Side at Ripley's Aquarium
While big name attractions can sometimes be a disappointment in other cities, there are certain attractions everyone must experience at least once during a visit to Toronto.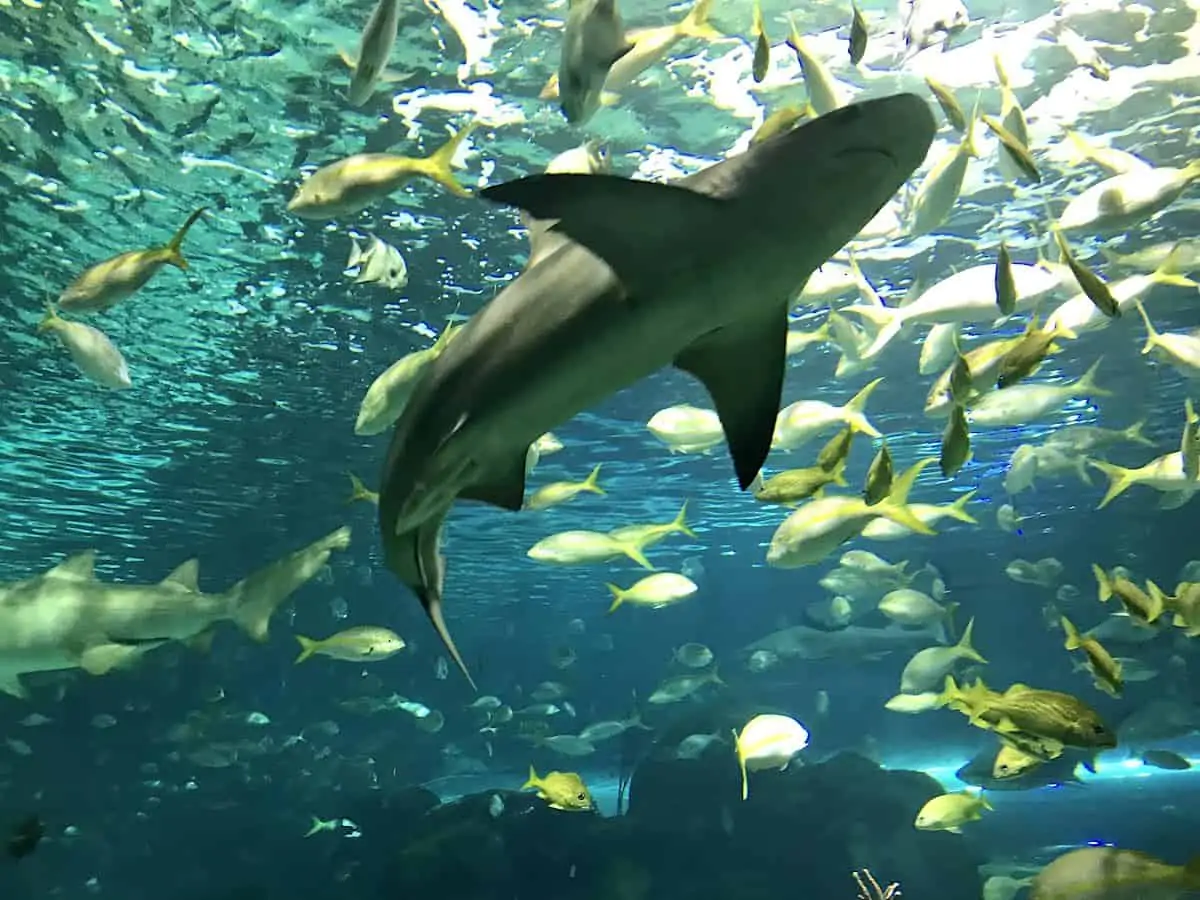 One of the top things to do on a Toronto itinerary is visit the Ripley's Aquarium. It's wise to go very early or very late to avoid the crowds.
So, you might want to move this to the early morning and visit the Distillery District in the late afternoon.
When at Ripley's, it's smart to include a visit to the iconic CN Tower. If you're feeling adventurous, don't miss Toronto's most extreme adventure.
At the CN Tower EdgeWalk you walk free — attached by just a cable 116 stories high — OUTSIDE the famous tower!
Evening: Take in a Toronto Theatre Show or Musical
Toronto's thriving artistic community offers exceptional theatre, music concerts and the best in performing arts. Every Toronto itinerary should include some culture.
How about a Broadway-style musical at the historic Royal Alexandra Theatre? Or an opera performance at the Four Seasons Centre? It's Canada's first theatre built specifically for opera.
Designed by acclaimed architect Arthur Erickson, Roy Thomson Hall is home to the Toronto Symphony Orchestra.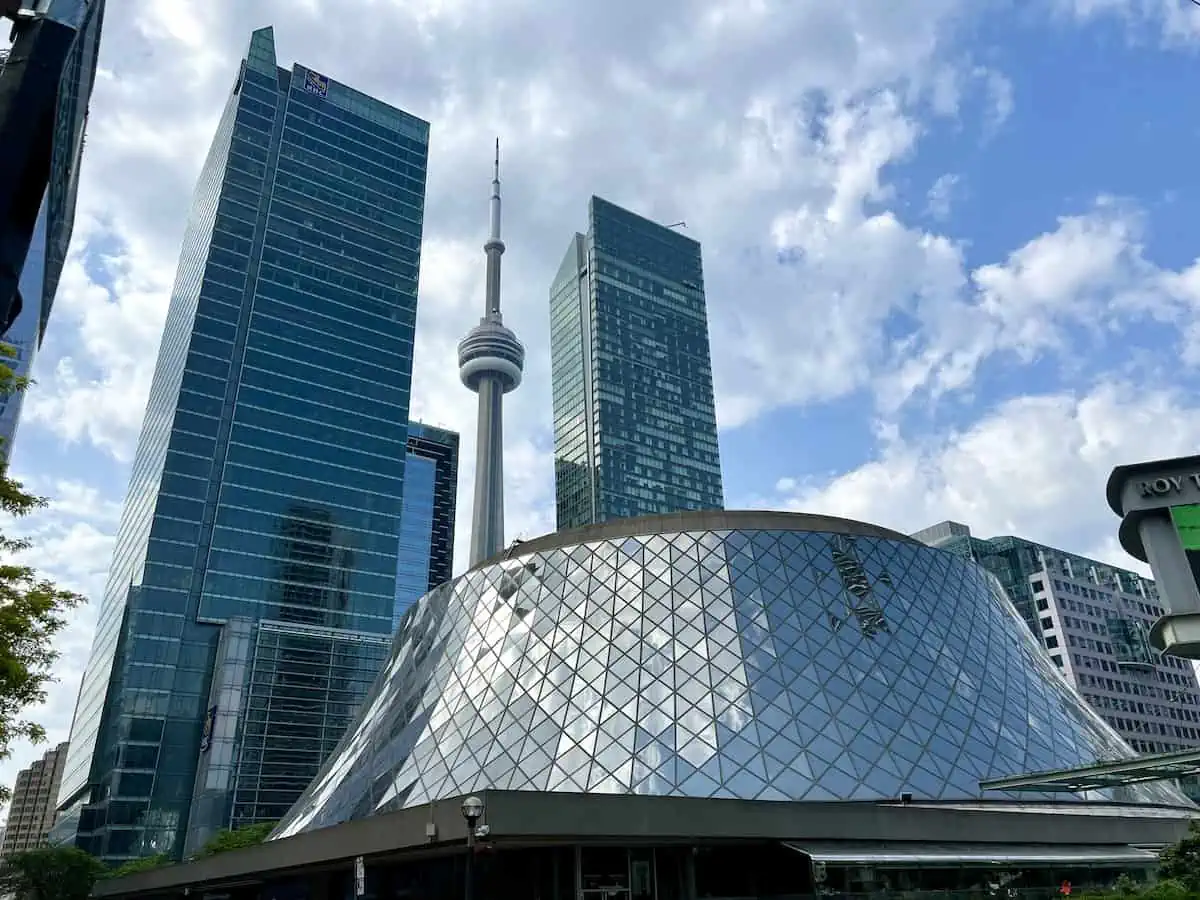 🌟 Insiders Tip: No time for a show? Take a guided tour of the historic Elgin and Winter Garden Theatre, the world's last operating double-decker theatre.
You'll be amazed at the ceiling of the Winter Garden Theatre. It's covered with cascading flowers and its walls are adorned with nature scenes.
You'll feel as though you've been transported to a magical garden.
If you're visiting Toronto with kids, Medieval Times Dinner & Tournament is another fun night out. Not only is this family-friendly stage show located within a replica castle but the jousting, horsemanship and sword-fighting are an exciting way to wrap up a day.
Kids will also love eating utensil-free, especially when soup, half a roasted chicken and corn on the cob are involved!
Day 2 in Toronto Itinerary: Museums and Culture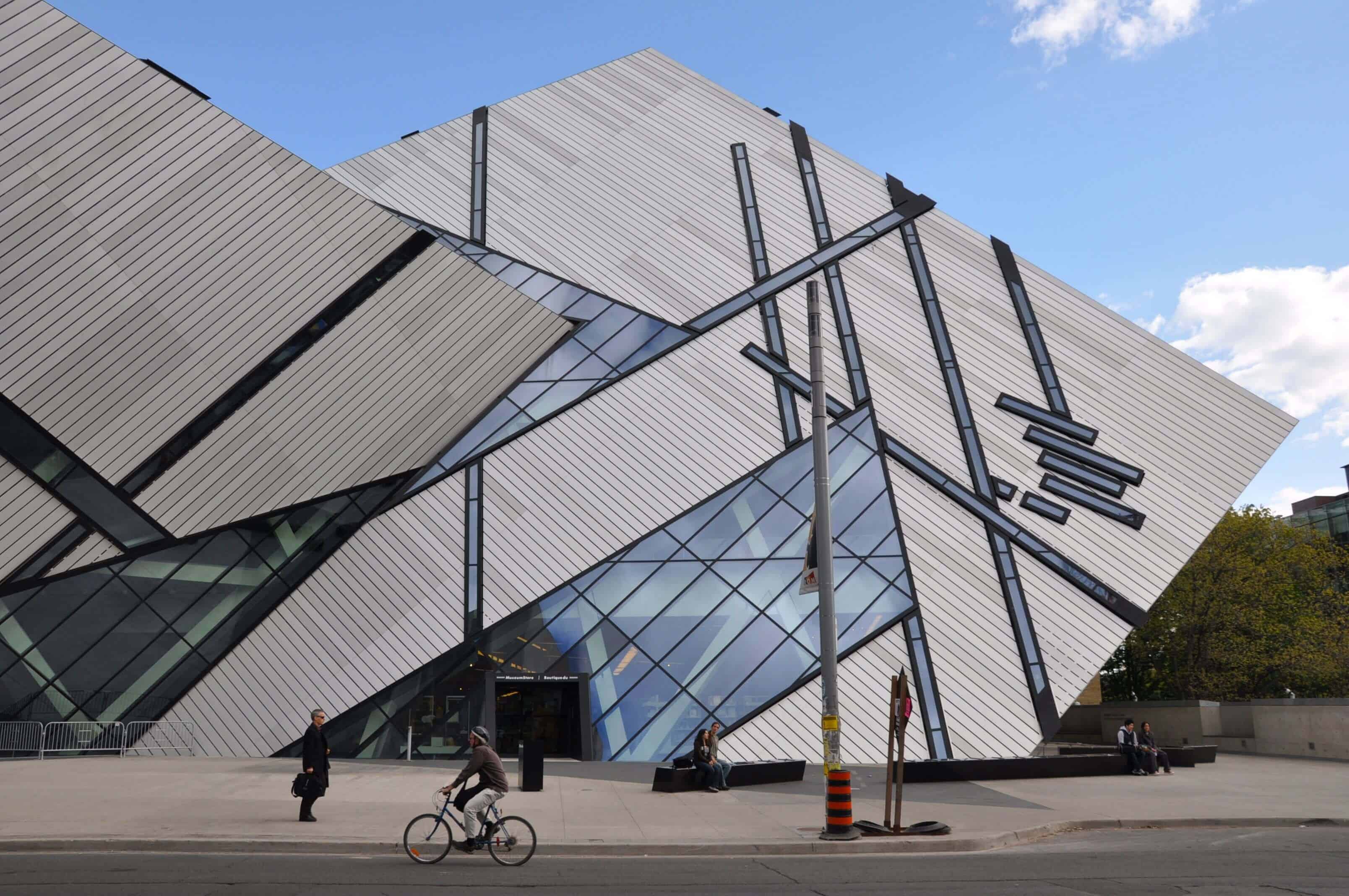 In the morning of Day two of your Toronto itinerary you'll focus on Toronto's cultural zone stretching from Yonge & Bloor to Queen and the Grange Park area.
Here's where you'll find one of Canada's top museums, the Royal Ontario Museum (ROM) beloved for its beautiful historic interior and dramatic "crystal" addition. The dinosaur section, bat cave and Egyptian mummy are must-sees.
🌟 Insider Tip: If you've got the stamina to hit the majority of Toronto's major attractions during your visit, it's worth considering a CityPASS. One of the main advantages is being able to skip the queues and get fast-tracked inside.
Other major sights to see on Day 2 of your Toronto itinerary are the Art Gallery of Ontario, the Ontario College of Art & Design (a colourful cube on stilts) and Toronto City Hall at Nathan Phillips Square.
Lunch: Dine on a Patio in Yorkville
In posh Yorkville, the place to eat, see and be seen is on the patio of ONE Restaurant located at the Hazelton Hotel.
This hotspot is helmed by Chef Mark McEwan who is known for his inventive twists on classic French and Italian dishes.
Afternoon: Step Back in Time at Casa Loma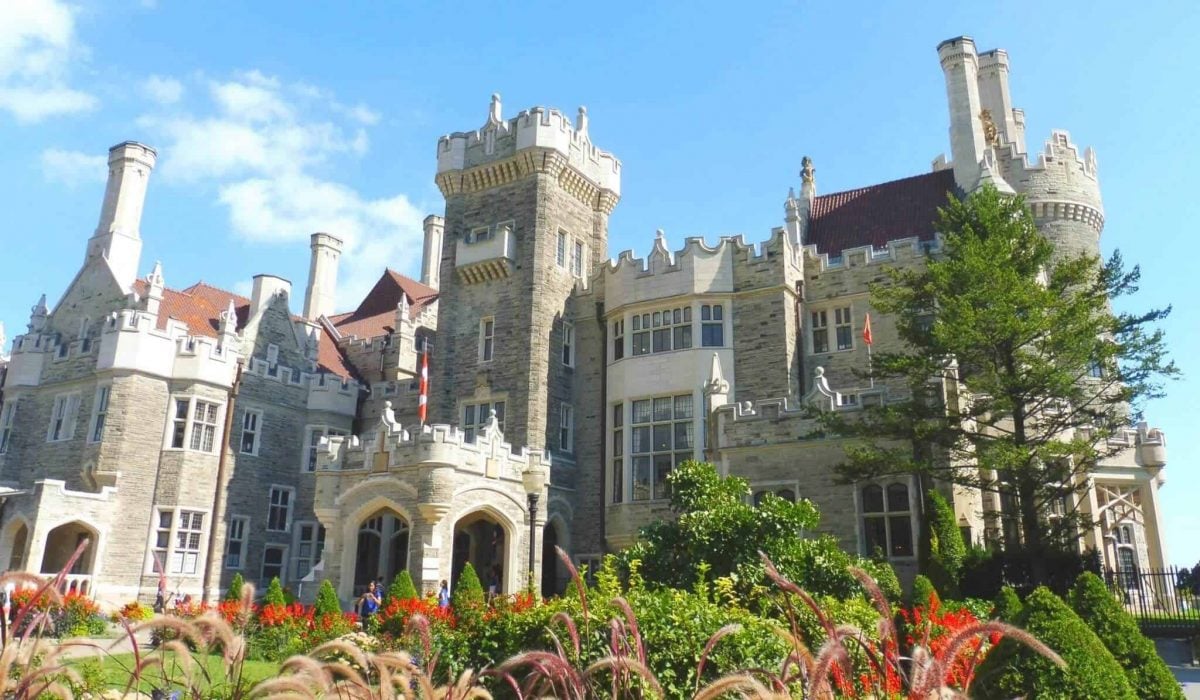 In the afternoon, head to Casa Loma, a real-life castle built in Gothic Revival style. This top Toronto landmark was built in 1914 and contains 98 rooms, artifacts, period decor and secret passageways.
Plan to spend at least two hours to fully experience the elegance and splendour of the Edwardian era. It's especially beautiful in summer when the five acres of gardens are in full bloom.
It's relatively close to some of Toronto's most vibrant neighbourhoods — Chinatown and Kensington market.
For a family vacation itinerary, also include a half-day at the Ontario Science Centre, the Toronto Zoo and Riverdale Farm.
🌟 Insider Tip: You'll also love Toronto's newest attraction — Little Canada. This $25 million attraction features a Lilliputian-sized version of our country's natural wonders and urban cityscapes.
It's Canada in miniature but in a big way as it sprawls an astonishing 45,000 sq ft across two floors at Yonge and Dundas.
Evening: Go Neighbourhood Hopping in Greektown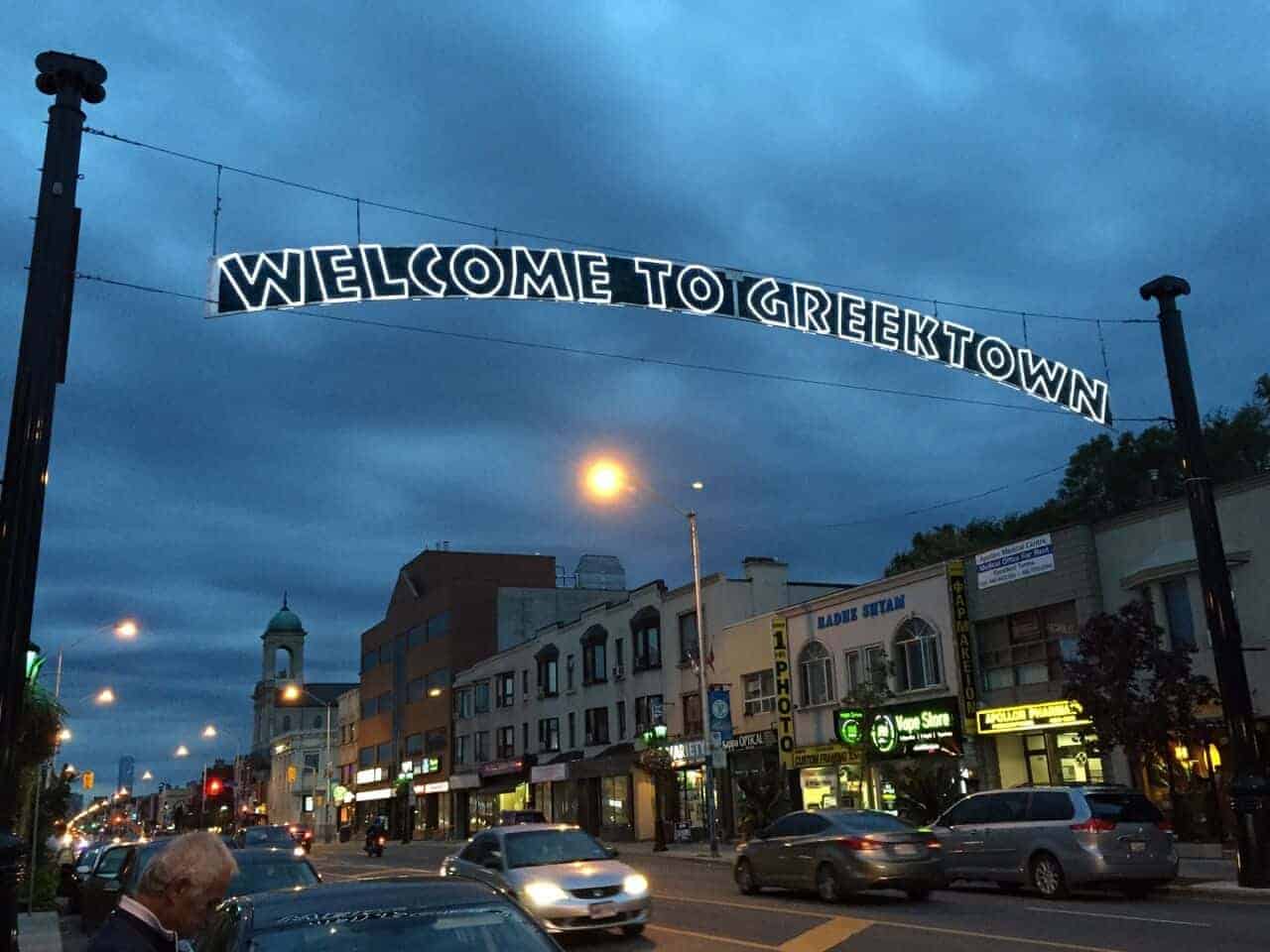 In addition to Kensington market, Chinatown and the Junction (try Indie Alehouse for craft beer) and Queen Street West, it's worth timing a visit to Greektown (Chester Subway station) in the evening.
In early August, this area is also home to Taste of the Danforth, Canada's largest street festival. This is a time to pick up Greek t-shirts and apparel, listen to live music and sample Greek food from various vendors and restaurants.
Other times of the year, there's plenty of famous Greek street food to choose from. If it's lunchtime, just get some souvlaki, a Greek salad or spanakopita to go and enjoy it by the fountain at Alexander the Great parkette.
In the evening, your best choice is Mezes where you can order a dish of saganaki, a flaming dish of kefalogaveria cheese which arrives at your table to the shouts of OPA! from other waiters and diners.
You'll enjoy authentic famous regional dishes from across Greece from Laconia in the Peloponnese to the island of Naxos.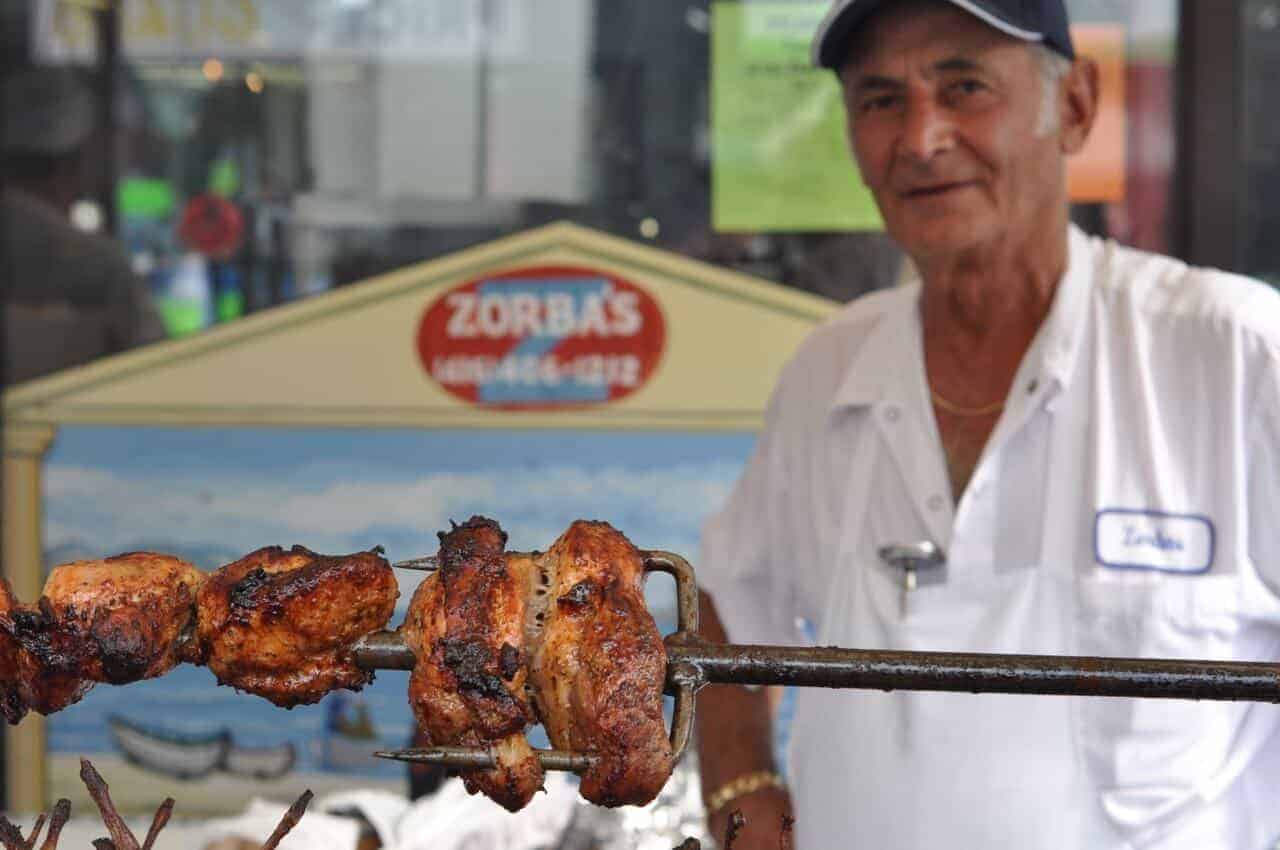 Later stop at Acropolis Bakery and Café at 708 Danforth, an authentic Greek-owned coffee shop and bakery that makes café frappe as delicious as what you'd find on the Greek islands.
Enjoy your coffee with baklava, crispy, flaky phyllo dough in honey.
For budget eats, try Square Boy, a Greek-owned take-out joint near Jones that's famous for its burgers, hot dogs and chicken souvlaki (and rock-bottom prices).
Day 3. Hit The Beach and Harbourfront on Toronto's Waterfront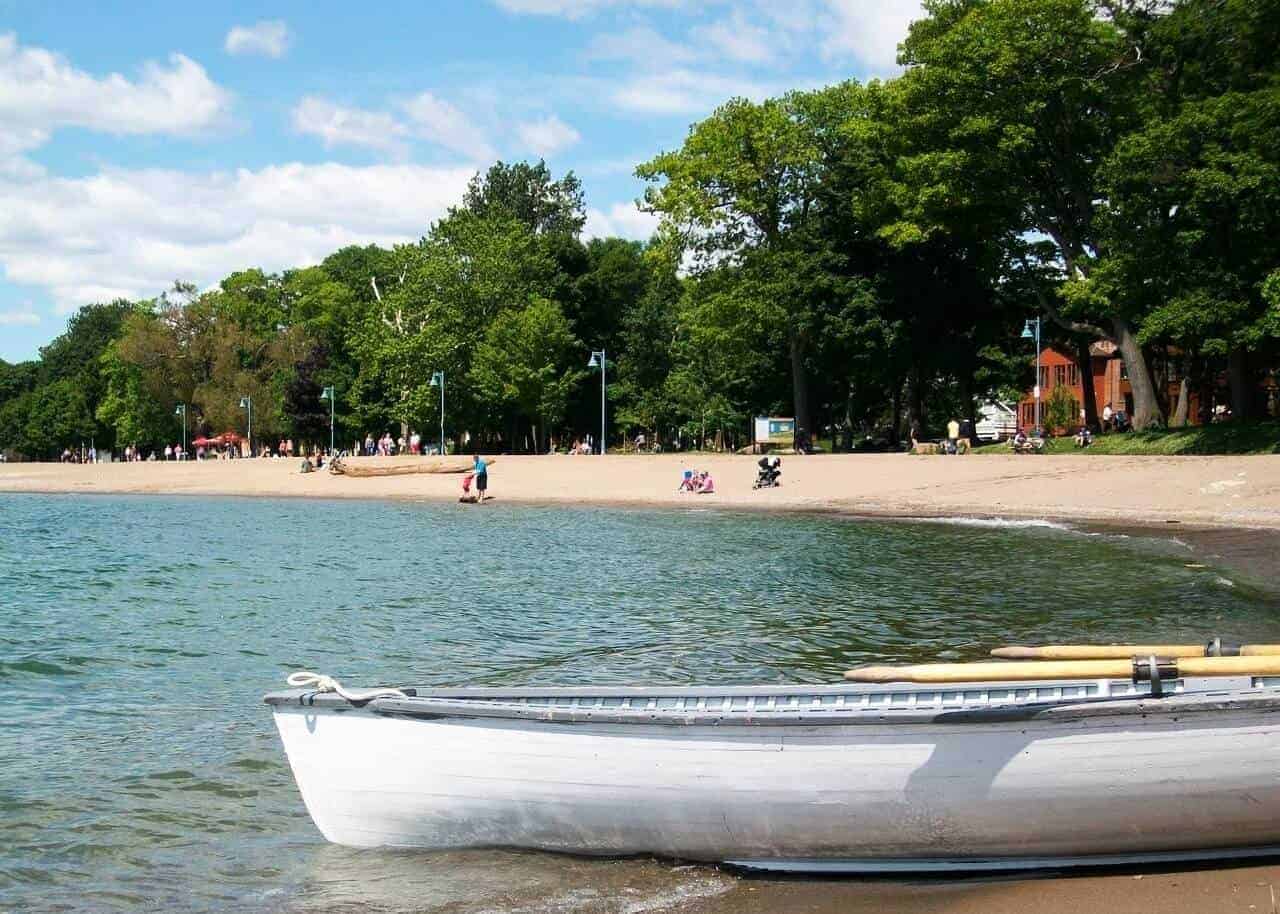 On my first visit to Toronto, I totally missed the lakefront as it's hidden behind the Gardiner Expressway.
Now, Lake Ontario is one of my favourite spot to escape the city and soak up some sunshine. Although it's the smallest of the Great Lakes, it's still awe-inspiring big!
It connects to the St. Lawrence River and all the way to Quebec City and the Atlantic Ocean. Spending time near the lake is definitely one of the best things to do in Toronto in summer.
Morning: Toronto Islands
On Day 3 of your Toronto itinerary, head out early to visit the Toronto islands.
To get to Toronto's waterfront and its emerald green island archipelago, head to the Jack Layton Ferry Terminal, just west of the Westin Harbour Castle hotel.
Bikes are welcome aboard the ferries and are a great way to get around. You can rent a bike from any of the 625 Bike Share Toronto stations. They're automated and open 24/7.
Then, it's a breezy bike ride to the Gibraltar Point Lighthouse, the oldest lighthouse on the Great Lakes. You won't find any better views of the Toronto skyline than this.
Afternoon: Cycle the Martin Goodman Trail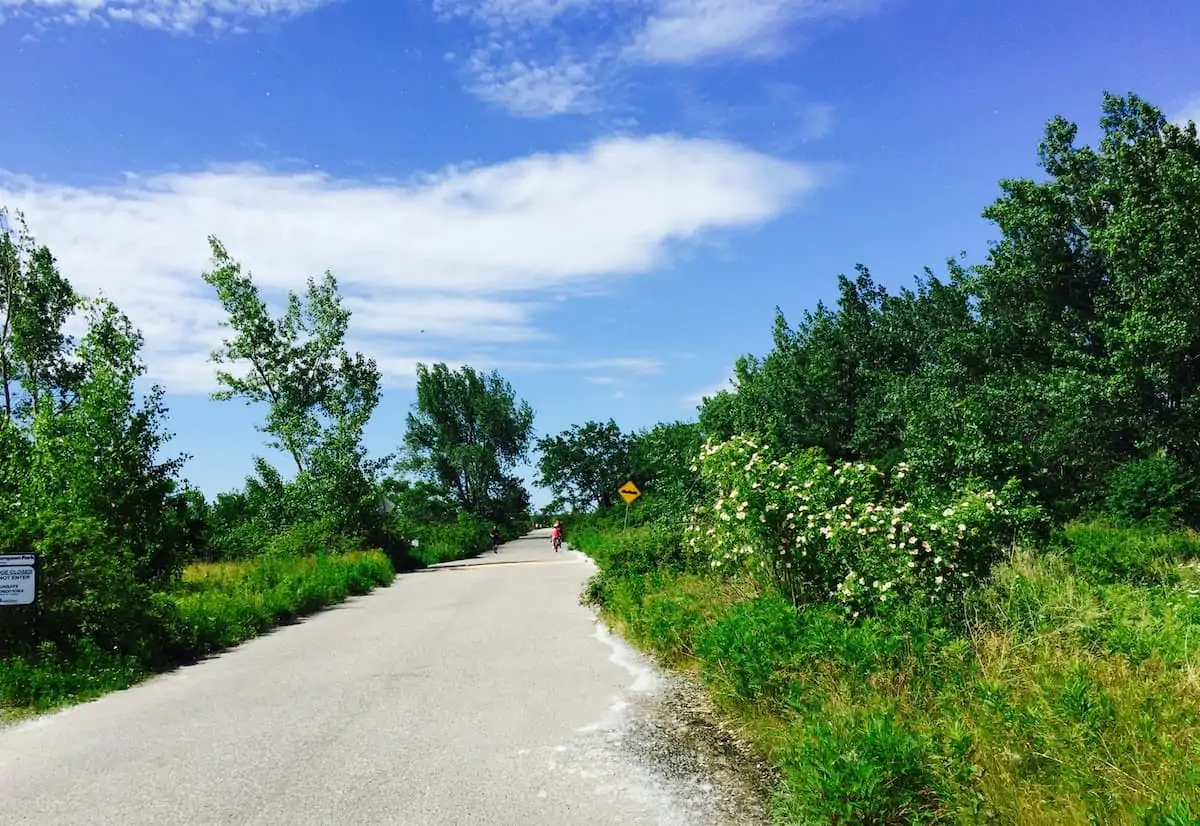 Another of our favourite things to do in Toronto is cycle Leslie Spit. Also known as Tommy Thompson Park, it's the best place to pedal a bike or take a hike into a vast green space filled with migrating birds, butterflies and other wildlife.
It's an easy cycle from here to Woodbine Beach if you'd like to go swimming.
The Martin Goodman Trail connects Toronto's waterfront parks. It's an easy, flat surface suitable for even the most wobbly cyclist. In summertime, be sure to make a stop at the Toronto Harbourfront and the historic Queen's Quay Terminal.
It's also home to Toronto landmarks such as The Power Plant contemporary art gallery, the Toronto Music Garden, Sugar Beach (to the east) and a state-of-the-art museum exhibiting historic and contemporary Inuit art.
🌟 Pro Tip: Plan a weekend in Lakefield, gateway to Kawartha Lakes cottage country. It's perfect for cycling, canoeing and many other outdoor adventures.
Evening: Take a Toronto Harbour Cruise at Sunset
From spring to fall, one of the top things to do in Toronto on a 3-day itinerary is take a harbour cruise. Not only is this the best way to take in Toronto's skyline but you'll also get to experience the beauty of the Toronto islands.
Mariposa Cruise Lines offers the city's most scenic Brunch Cruise as well as a choice of cocktail sunset cruises on their fleet of yachts and other vessels.
Another popular cruise is the one-hour harbour sightseeing tour. You'll have the perfect vantage point to take photos of the CN Tower, Rogers Centre and the Toronto skyline.
Check prices and availability of a 60-minute Toronto Harbour Sightseeing Cruise on a replica Great Lakes steamer on Viator.com.
For a romantic sailing, try a sightseeing tour on the tall ship Kajama. This vintage 1930s schooner also sets sail from Toronto Harbourfront but feels as though you're sailing the high seas.
More Things to Do in Toronto? Best Day Trips for a Toronto Itinerary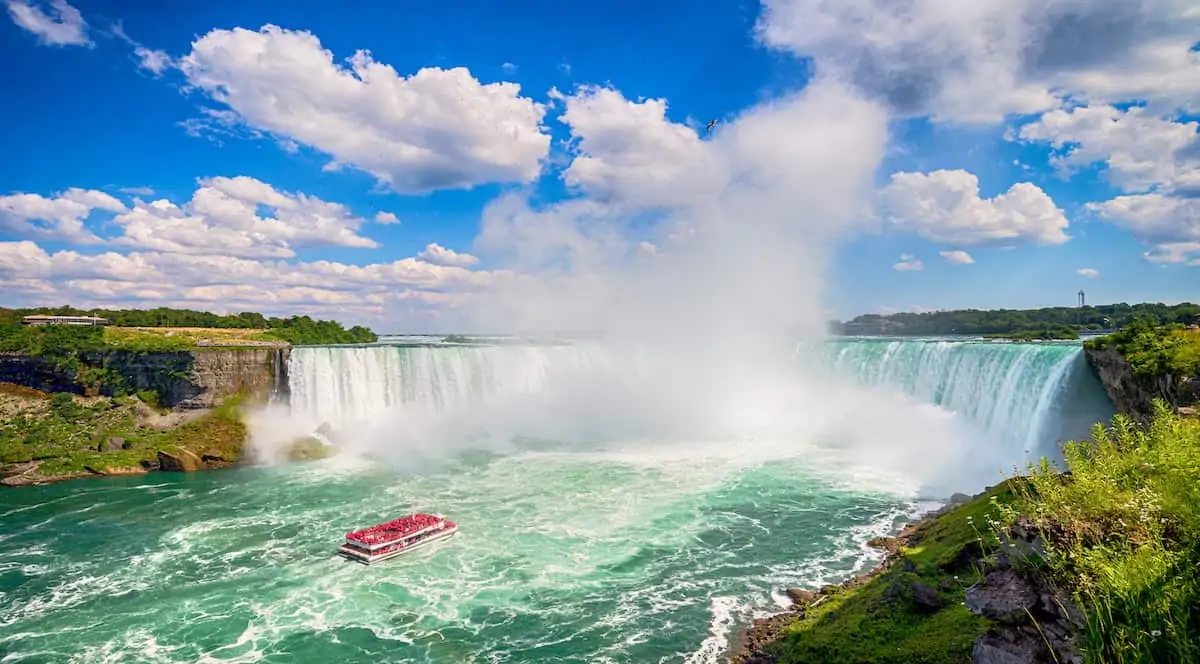 Along with other major eastern cities such as Halifax, Montreal and Vancouver, Toronto is one of the main ports of entry for people moving to Canada on either a working holiday or to begin a new life.
Toronto is close to several iconic Canadian landmarks so it's worth considering adding a few extra days to your Toronto itinerary to check them out.
One of the things people love most about living in Canada is being close to nature. And Niagara Falls is a true wonder of the world whether you visit in summer or wintertime.
And while it's not in the city of Toronto, it's less than an hour away which makes it the perfect day trip. To make it a full day excursion, visit the wineries of Niagara-on-the-Lake along the way.
Check rates and availability of a Niagara Falls Day Tour (including a stop in Niagara-on-the-Lake) on Viator.com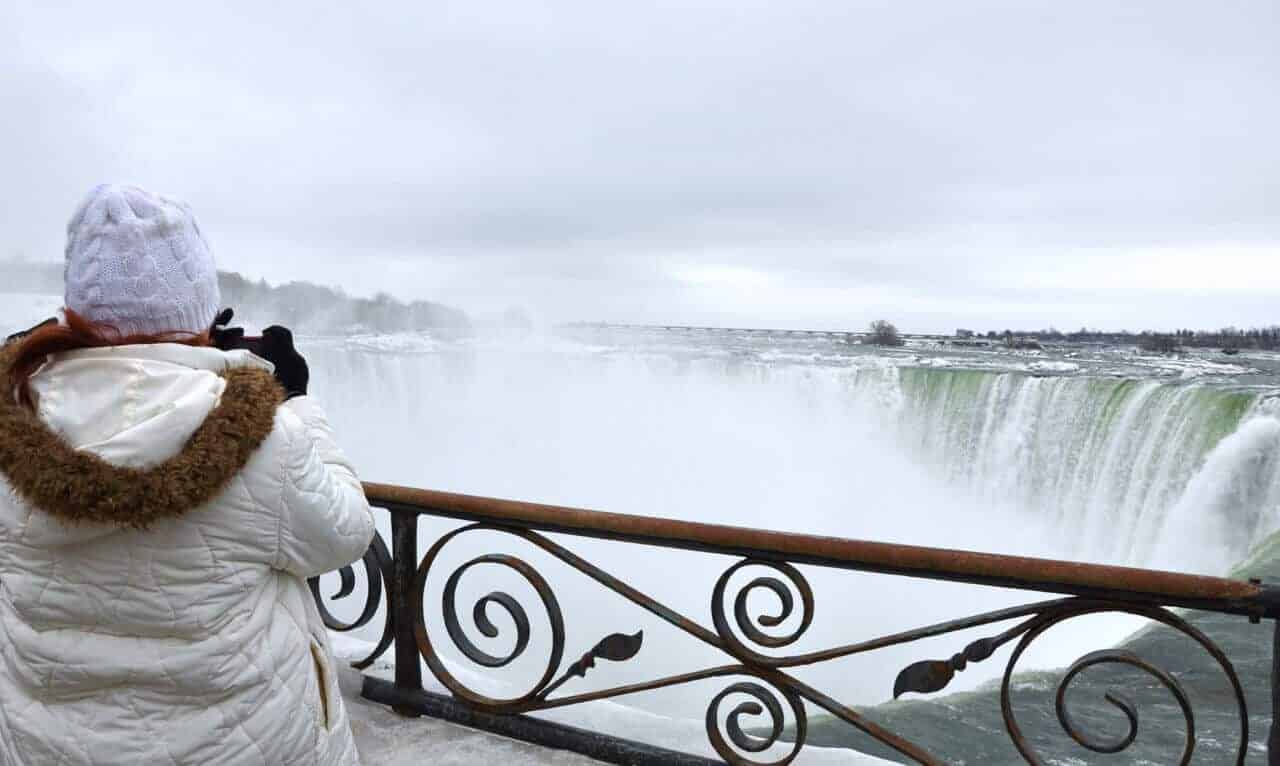 Viewing the waterfalls is free, but visit the Niagara Parks website to purchase a Wonder Pass. This attractions pass gives you access to Journey behind the Falls, visit the magical Butterfly Museum and other once in a lifetime experiences.
From April 1st onward, the Hornblower Cruise Voyage to the Falls is also an exhilarating thing to do.
If you have seven days in Toronto, another option is to head north to Muskoka cottage country and experience Canada's stunning wilderness. This region is a 2.5 hour drive or you can take a direct flight by float plane.
It offers several luxury resorts and classic lakeside hotels in Muskoka where you can overnight and experience canoeing, hiking, fishing and star-gazing.
Less luxurious but equally impressive for its vast network of pristine lakes and forest is the Peterborough & The Kawarthas Region of Ontario.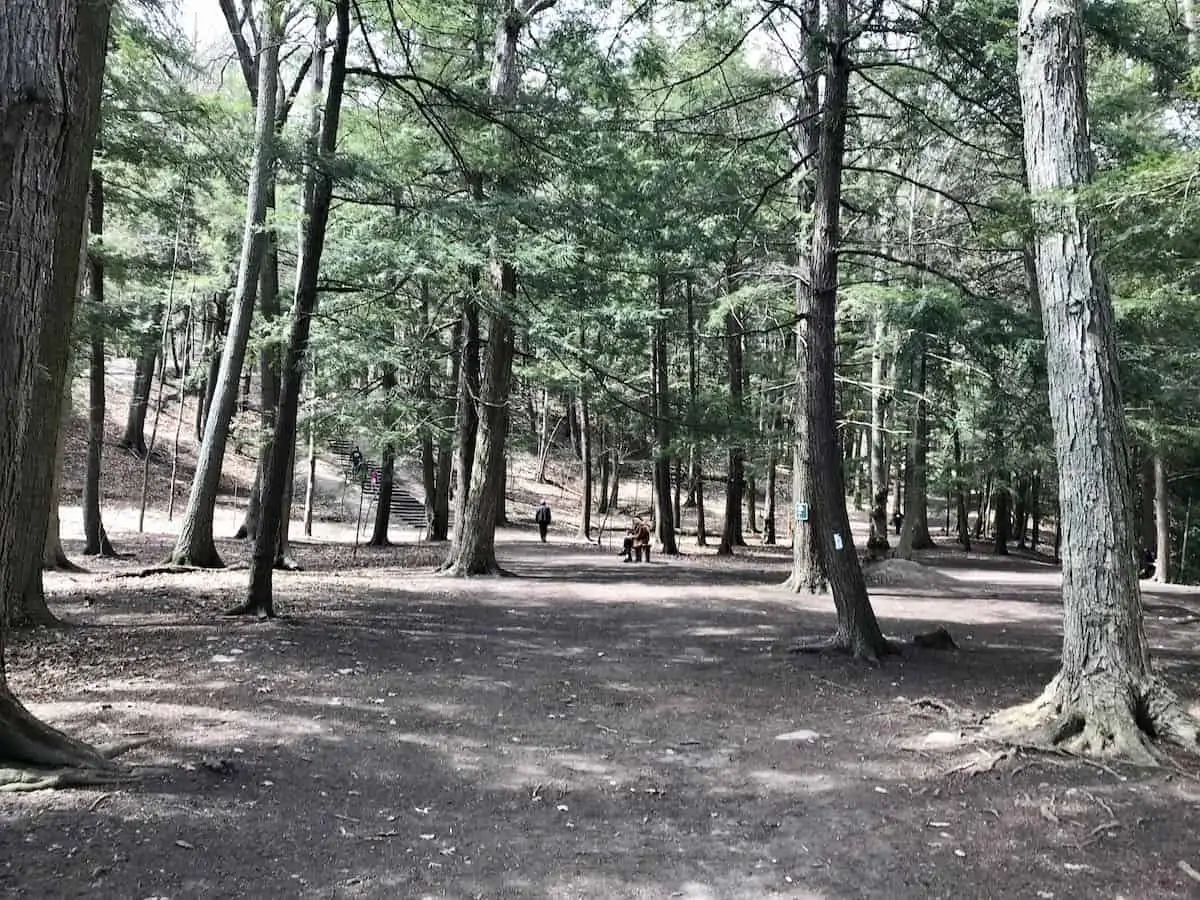 If you want to experience a vast natural wilderness, head to the Rouge National Urban Park, at the eastern edge of the city.
You can hike through rare Carolinian forest, do some angling, gawk at waterfowl at a beach and even overnight at Toronto's only campground.
Rouge Park is close to the Toronto Zoo so consider combining the two in one visit. The Toronto Zoo, much like the acclaimed North Carolina Zoo is one of the largest habitat zoos in the world and features multiple wooded zones. It also has a polar bear habitat with underwater viewing areas.
Where to Stay in Toronto
They say Toronto is a city of neighbourhoods (and it really is true) so one of the top things to do in Toronto is go exploring.
If you don't want to spend all your time on the Toronto Transit Commission ( TTC) or Uber, it's worth considering where to stay in Toronto before finalizing your itinerary.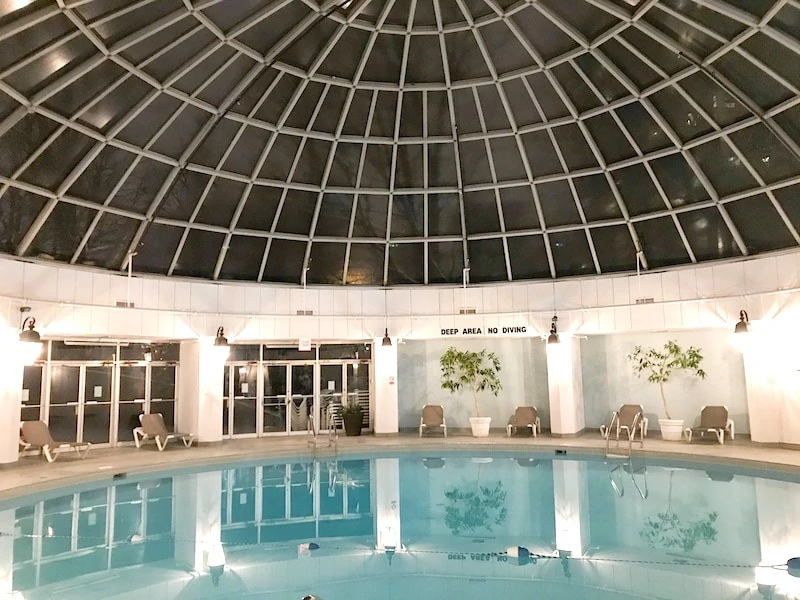 Are you interested in live theatre? Want to see all the main attractions? Planning a weekend of shopping? Choose a hotel that's in a neighbourhood that reflects your interests. That will make logistics much easier.
Best Luxury Hotels in Toronto
For a luxury hotel that's close to major attractions (and has its very own Cheese Cave), the sleek Ritz-Carlton is my top choice. I especially like the Club Level Corner Suites. They offer panoramic skyline, CN Tower or lake views, a separate living area and Club Lounge access. Their Ritz Kids Urban Safari ($75) makes this hotel a great choice for families.
Check rates and availability at The Ritz-Carlton Hotel Toronto on Booking.com
The Shangri-La is another luxury Toronto hotel that's guaranteed to make your stay memorable. The art-filled stylish lobby is the setting for a gracious Afternoon Tea, with an ever-evolving themed menu.
Check rates and availability at The Shangri-La Hotel Toronto on Booking.com.
Best Mid-Priced Hotels in Toronto
Originally built in 1891, the boutique-sized Broadview Hotel offers loads of personality, locally-inspired rooftop dining and a hip design.
It's located in a trendy East End neighbourhood that's one of the top foodie neighbourhoods in Toronto. It's also within easy cycling distance to the waterfront and directly on the TTC transit system.
Check rates and availability at the Broadview Hotel, on Booking.com.
You can't go wrong with the location of the Chelsea Hotel in the heart of Toronto. Not only are you close to everything but this expansive hotel also offers an indoor pool with a waterslide.
Check rates and availability at the Chelsea Hotel Toronto on Booking.com.
Best Budget Hotels in Toronto
Another reasonably-priced hotel in Toronto with a swimming pool, the Pan Pacific Toronto offers easy access to the Don Valley Parkway. This can be handy if you're driving. It's also close to the Ontario Science Centre and Aga Kahn Museum.
This modern, high-rise hotel has a whopping 409 guest rooms and suites. This means you can often score a deal on Booking.com and stay for less than $200 CAD a night.
Check rates and availability at the Pan Pacific Toronto on Booking.com.
For another comfortable budget hotel in Toronto, check out the Toronto Don Valley Hotel and Suites. Although it's not located in the downtown core, it offers easy access by car to the Ontario Science Centre.
It also features an indoor and outdoor swimming pool, a restaurant and sleeps four in each guest suite. Room rates are often under $150 CAD a night.
Check rates and availability at the Toronto Don Valley Hotel and Suites on Booking.com
Toronto Itinerary Travel Tips for First-time Visitors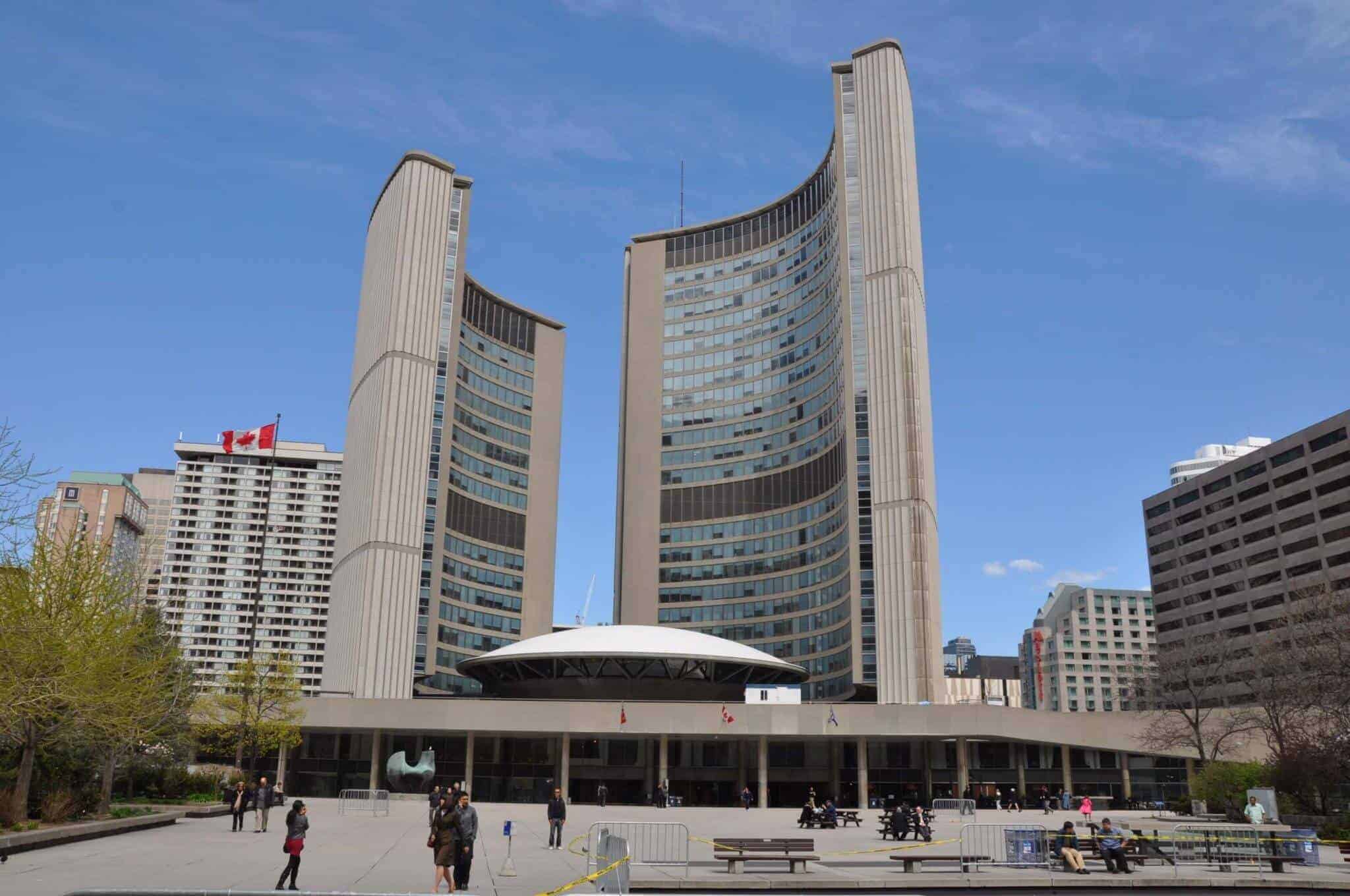 Here are some insider tips on planning a trip to Toronto:
1. Look into whether it makes sense to get a CityPASS during your visit. It can save you money off the regular price of 5 major attractions. For me, the biggest advantage is that a CityPass allows you to bypass the lineups.
2. Take the TTC (subway, bus and streetcar network), the UP Express or Uber to get around. You don't need to rent a car. The Union Pearson Express rail link connects Union Station to the Toronto Pearson Airport.
3. Pick up free maps, tourist booklets packed with information and get advice at the Tourism Toronto and Ontario Travel visitor information centres.
4. A Hop On, Hop Off Bus Tour is a great way to orient yourself to a city. Take a City Sightseeing Tour on a Double Decker Bus that includes stops at major attractions such as Harbourfront and Casa Loma. Begin your day early as traffic can mean delays.
5. If you're planning to visit a shopping mall, I recommend you make your way to Vaughan Mills Premium Outlet Mall.
It's home to the province's largest location of Bass Pro Shops, a top spot for outdoorsy gifts and gear.
If you have kids they'll be entertained at Legoland (check out those kiddie strollers with touch screens). There are lots of designer store and they're all under one architecturally beautiful roof. There's even a FREE seasonal shopping shuttle from Union Station ( June 1 – Sept 30).
6. If you have a long layover at Toronto Pearson Airport (YYZ) and want to stay fit, did you know you can work out at Goodlife Fitness right in Terminal One? They offer Day Passes and will even rent you workout gear.
Other Things to Add to Your Toronto Itinerary:
Save on Pinterest!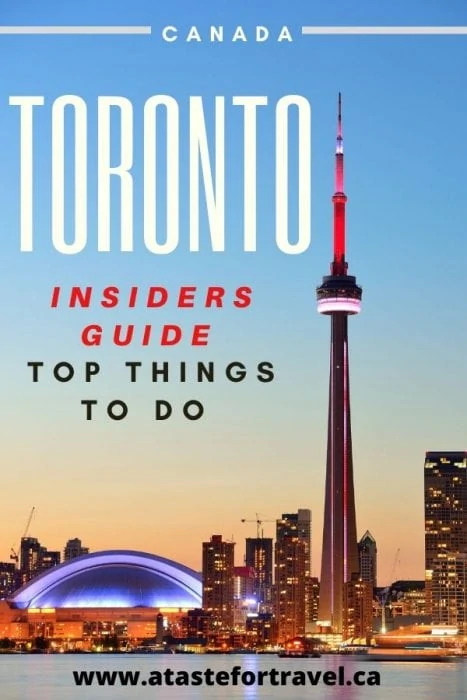 Dividing her time between Canada, Guatemala and Mexico (or the nearest tropical beach), Michele Peterson is the founder of A Taste for Travel. Her award-winning travel and food writing has appeared in Lonely Planet's cookbook Mexico: From the Source, National Geographic Traveler, Fodor's and 100+ other publications.
Read more about Michele Peterson.