We may earn income from links in this post. Please read this Disclosure for details.
Wondering if it's worth visiting Sparta, Greece? You might be surprised to discover that there's a wealth of fascinating things to do in Sparta!
With the ruins of its ancient Acropolis, proximity to the UNESCO World Heritage site of Mystras, delicious regional cuisine and beautiful scenery dominated by the forested Taygetos mountains, Sparta is one of the most overlooked and appealing destinations in Greece.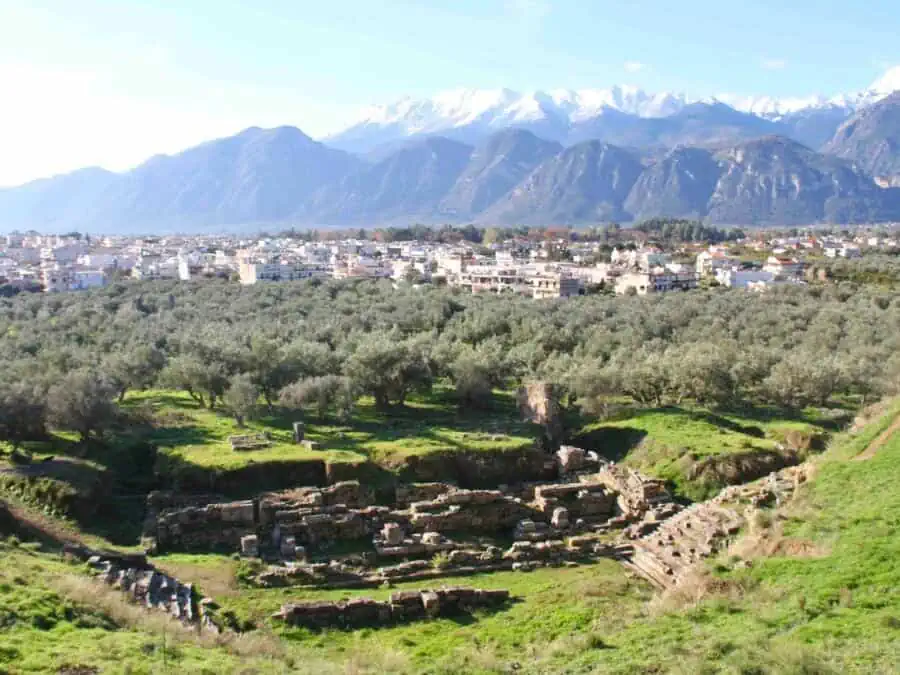 It's Worth Exploring Greece Beyond the Obvious
When it comes to travel in Greece, popular places like Athens and the Greek islands tend to rise to the top of people's itineraries.
While I'd never recommend skipping such cultural centres and beautiful hot spots, other, less obvious, places can be equally rewarding. Especially if you may not have considered them in the first place!
Visiting Sparta was a surprise for us. It exceeded our expectations in many ways.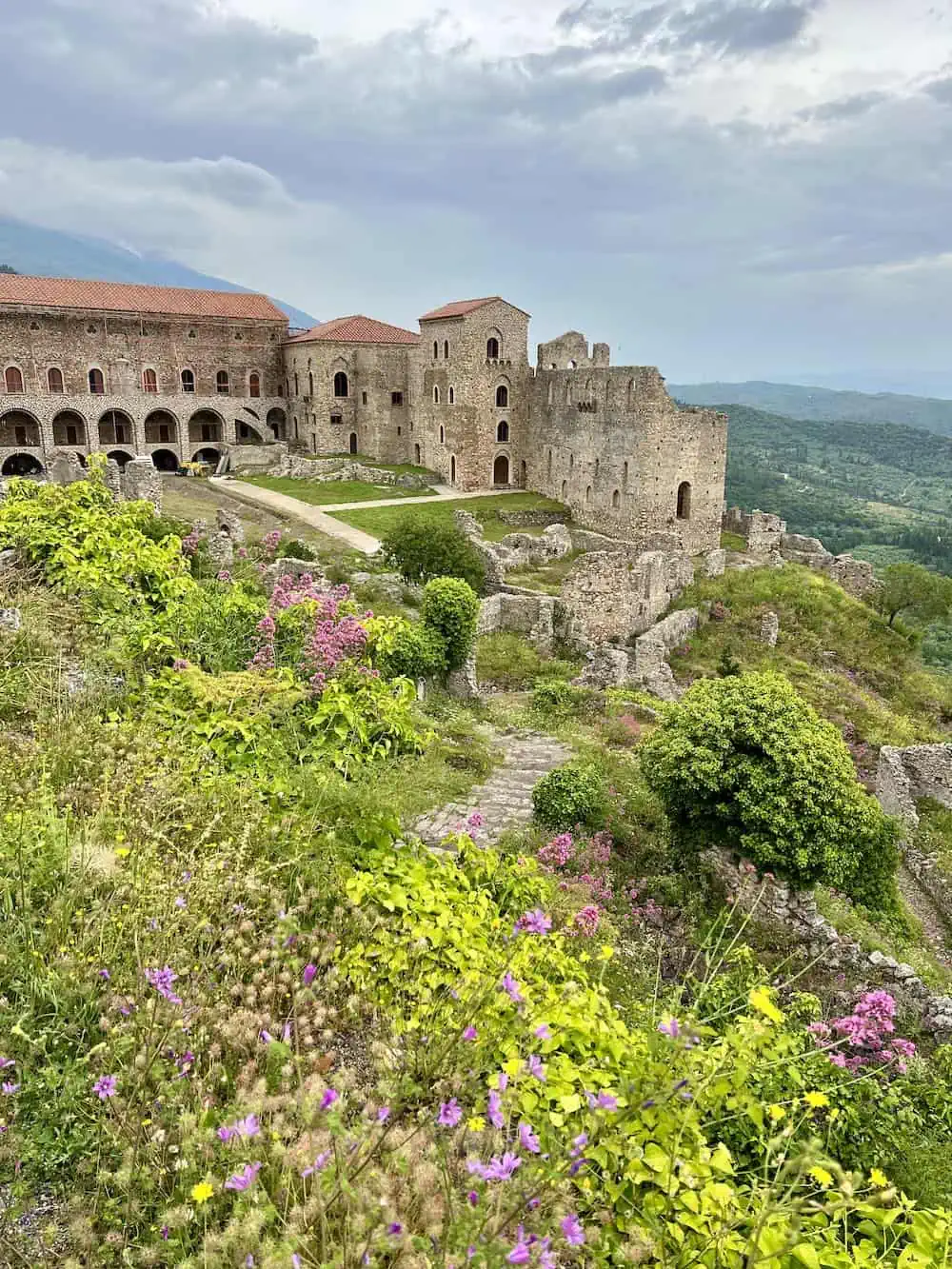 We arrived in Sparta midway through a 7-week journey through Greece. The city was part of a post-TBEX Kalamata FAM tour hosted by JayWay Travel, a boutique tour operator specializing in custom tours in Europe.
Founded in 2006, JayWay works with travellers to craft bespoke itineraries and then takes care of planning and logistics. Our 3-day tour was designed to give us a taste of the activities, excursions and experiences they can set up.
It's safe to say that we would have missed much of this special region of Greece had we been left to our own devices.
Sparta takes up only a paragraph in many guidebooks to Greece. It deserves so much more!
Why Visit Sparta, Greece
Venture to this city in the heart of the Peloponnese and you'll be rewarded with views of towering mountains, fields of wildflowers, seas of shimmering olive trees and the stone ruins of a civilization descended from ancient gods.
You'll dine on unique regional cuisine beneath the stars and sip wine from vineyards cultivated in centuries past.
It's an incredible destination that should be experienced at least once in a lifetime! We can't wait to return!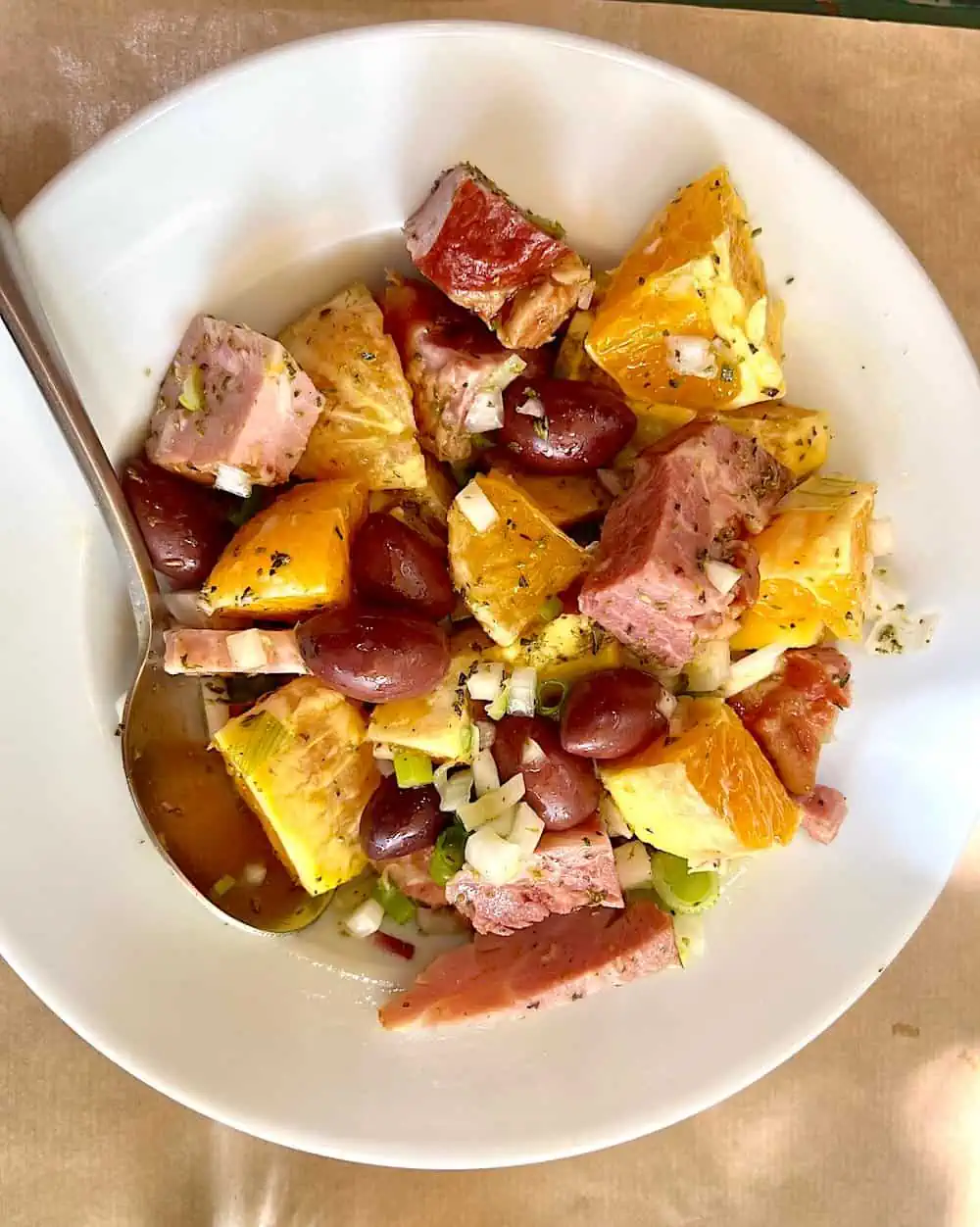 This travel guide to Sparta (Sparti), Greece will help you see all the attractions, soak up its rich culture and experience the best this historic destination has to offer.
We've also included some insider tips on local food and drink you don't want to miss. Use the Table of Contents to jump to different sections.
Location of Sparta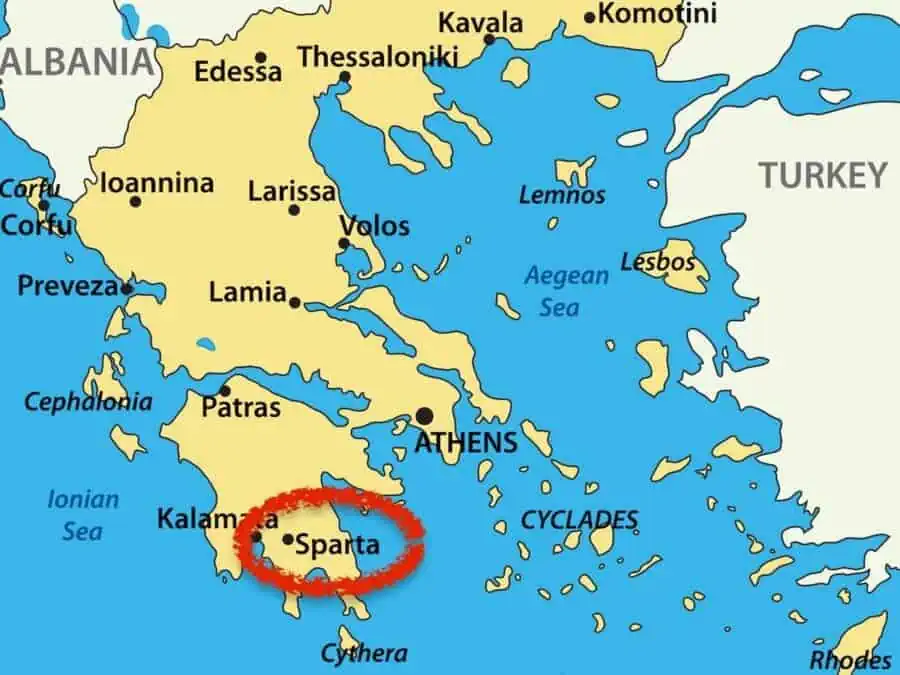 Sparta is located in the region of Laconia within the southwestern area of the Peloponnese. It refers to both the modern city of Sparti and the archeological site of ancient Sparta.
Sparti (and ancient ruins of Sparta) are 220 kilometres (132 miles) west of Athens, around a 2.5 hour drive.
Be sure to factor in a few days in Athens. We stayed at and recommend the InterContinental Athenaeum Athens.
It's also easy to combine Sparta with a trip to Kalamata, the capital of the Peloponnese or Monemvasia (the picturesque castle town) or Areopoli, as they're each a 1-1.5 hours drive away.
We rented a car in Athens and drove to Kalamata but if you're on a JayWay custom tour, they'll arrange the transfer.
🌟 Pro Tip: Get a Free Trip Plan from JayWay Travel.
Spartans in History and Modern Culture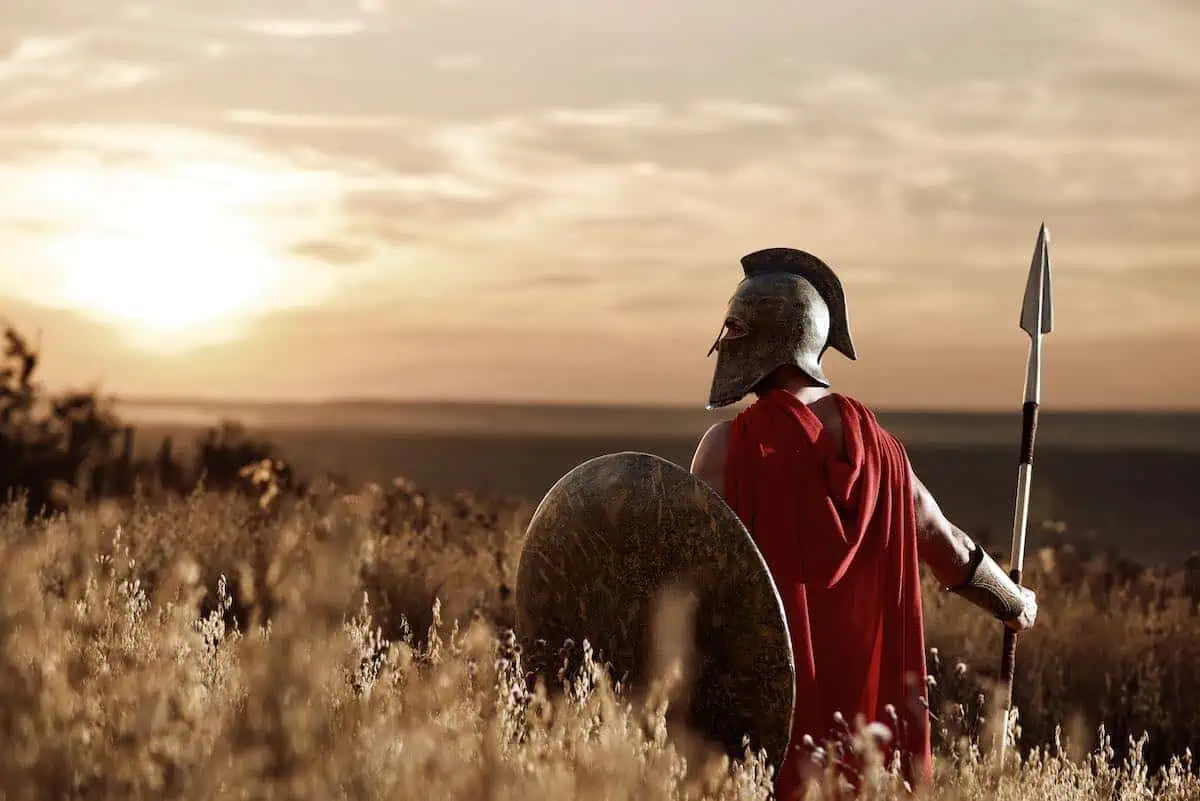 Early Greek mythology shows the Spartans as descendants of Heracles. The first king of Laconia was even said to have been the son of Zeus by the mountain nymph Taygete.
This pedigree of strength was built on through a social system that emphasized military proficiency, obedience and loyalty.
By the 5th century BC, Sparta was the dominant military power over its main rival Athens.
The effectiveness of Sparta's elite professional soldiers combined with their valor in battle led to Spartans being held in high esteem by Greeks and other non-Spartans.
This admiration increased exponentially after the Battle of Thermopylae which took place in 480 BCE. In the battle, 300 Spartans held off up to one million invading Persian forces for three days, choosing to die–under a volley of spears and arrows–rather than surrender.
'Come and take them' is said to have been King Leonidas's response to the enemy when they demanded his army lay down their weapons.
The fascination with Spartan military courage and society has endured to modern times, influencing political belief systems and popular culture.
For example, the movie '300' (and the earlier Marvel comic series) is a retelling of the Battle of Thermopylae starring actor Gerard Butler in the title role of King Leonidas.
Top Things to Do in Sparta
1. Marvel at Acropolis Hill in Ancient Sparta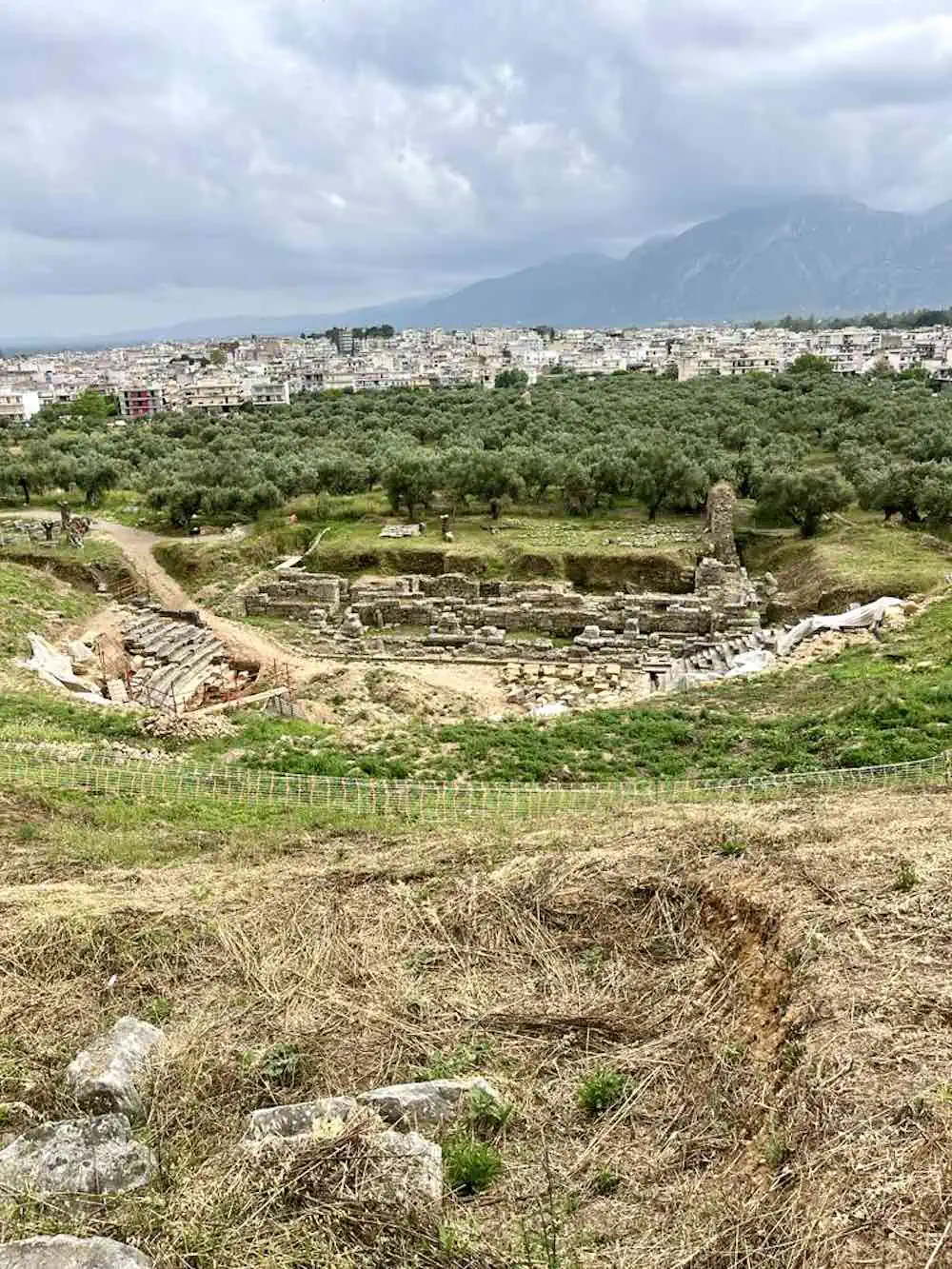 One of the top things to do in Sparta is to visit the archeological site of ancient Sparta.
While much of the ruins are still being restored, it's possible to see the remains of the Agora, the Theatre and the Temple of Artemis.
You'll also gain a new understanding of who the ancient Spartans were.
'In Athens they make art. In Sparta, we make men.'
This saying, recounted by my father, a retired professor of political science, is said to capture the differences between the two rival city-states.
But during a guided tour with the archeologist arranged by JayWay Travel, I learned that the role of arts, culture, music and theatre in ancient Sparta may have been understated.
Spartan society was much more than a brutal militaristic state. It was comprised of more than the fearless warrior class.
Women enjoyed more rights and autonomy than any other Greek city state in the Classical Period.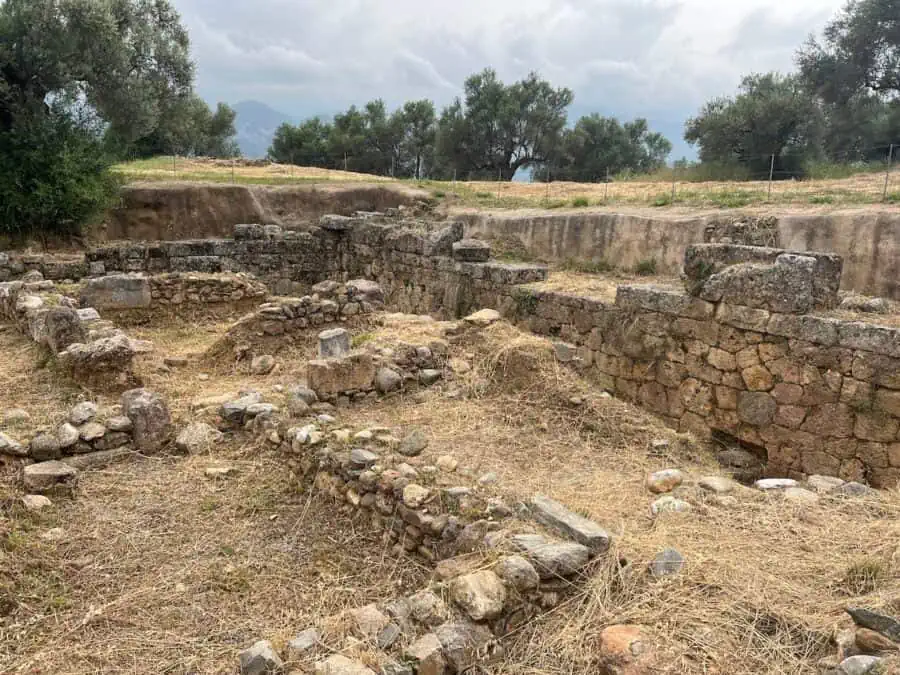 Even the belief that Spartans practiced eugenics by infanticide may have been a myth. No mass graves with skeletons of children with deformities have ever been found.
Exploring this site is made all the more memorable since its free of the crowds you'll see at many other archeological sites in Greece.
2. Pay Homage to the Statue of Leonidas the Lacedaemonian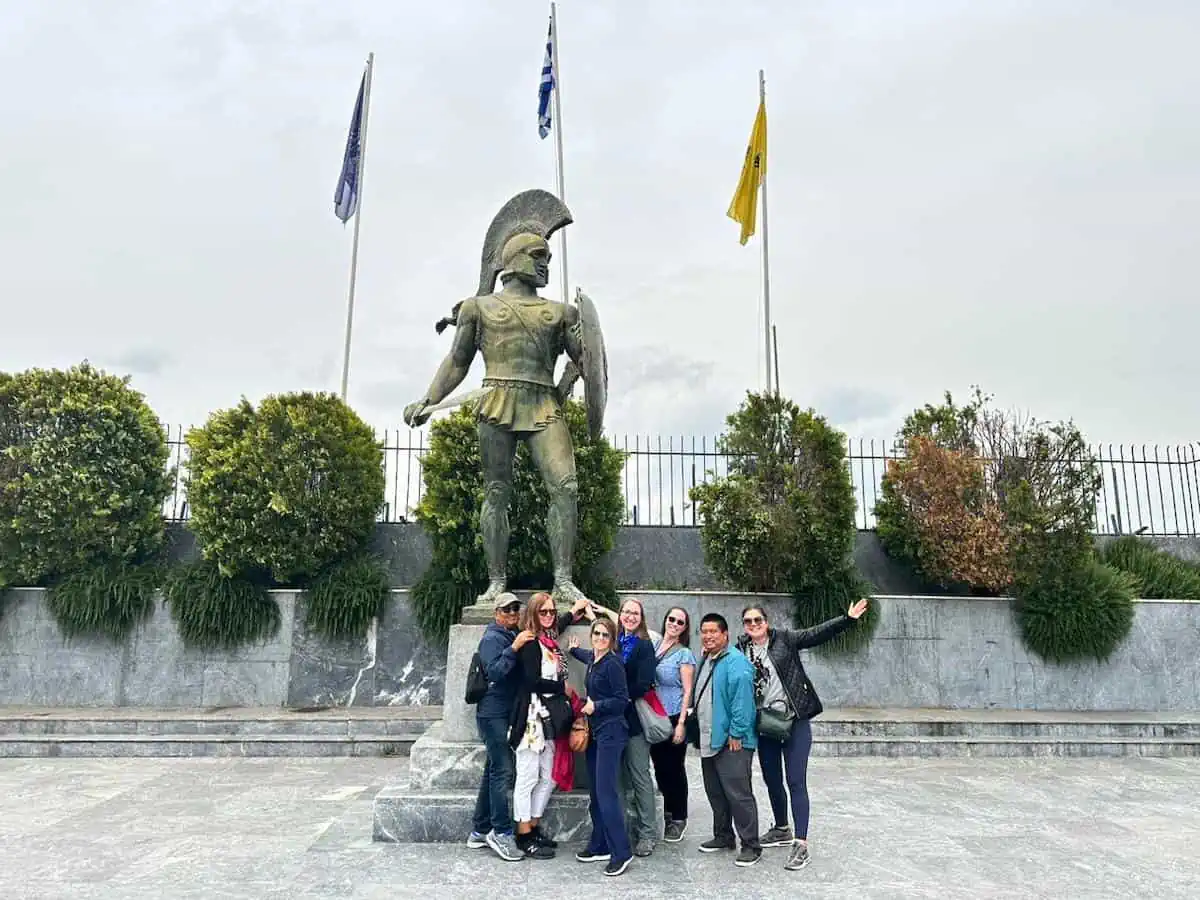 At the northern edge of the city in front of the ruins of ancient Sparta, a towering statue of Leonidas the Lacedaemonian depicts the Spartan leader looking defiantly towards Thermopylae, the location of his last stand.
One leg is thrust forward, his shield and sword at the ready.
For many people, the statue is more than a monument.
Leonidas (and Spartan soldiers of antiquity) have long been admired for being honourable members of society, demonstrating courage, kinship and loyalty in battle, and fighting for one's beliefs against all odds.
One famous saying 'Come back with your shield – or on it' is attributed to Spartan mothers sending their sons off to battle.
Touching the statue's bronze foot is a way to pay respect to the fallen hero and Spartan ideals. And earn good fortune perhaps.
In fact, runners who complete the Spartathlon, a gruelling 246 kilometre (153 mi) ultramarathon race from Athens to Sparti, earn the right to touch and then kiss the feet of the statue of Leonidas.
They're also presented with an olive wreath and a bowl of sacred water.
3. Marvel at Antiquities in the Archeological Museum of Sparta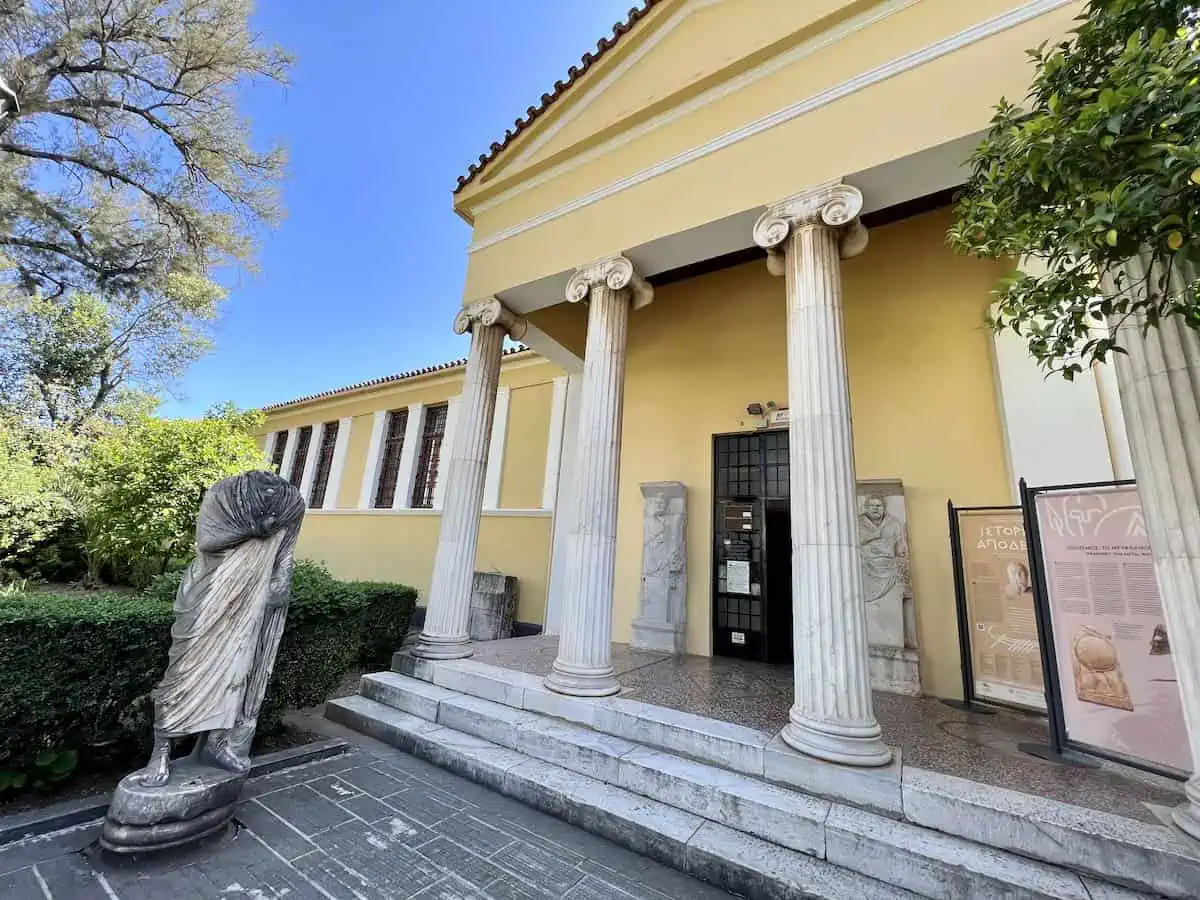 To get the most out of a visit to the small but important Archeological Museum of Sparta (Google Map) it's best to go with a qualified guide.
Founded in 1875, this attraction contains artifacts from the sanctuaries of Sparta as well as findings from important sites across Laconia. Spending a few hours in this museum is one of the best things to do in Sparti.
During our visit, the professional archeologist arranged by JayWay Travel drew our attention to antiquities we likely would have missed and explained their historical significance.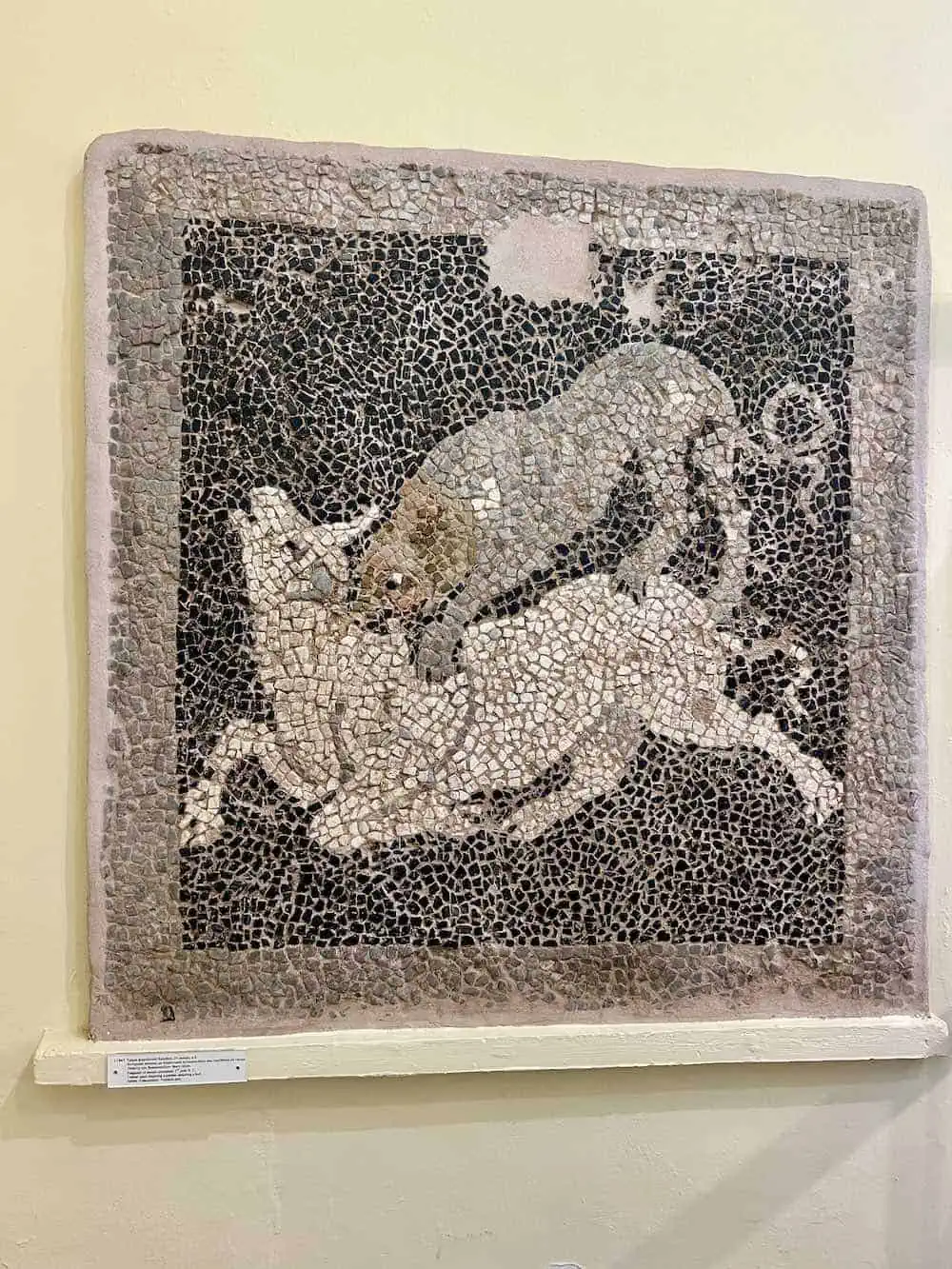 Highlights in the museum include early mosaics from the Hellenistic (3rd to 2nd centuries BC) and Roman periods, votive figurines and terracotta masks.
Also remarkable is the mural crown of the Goddess Tyche (Fortuna), who was worshipped as the personification of a city and its fortune.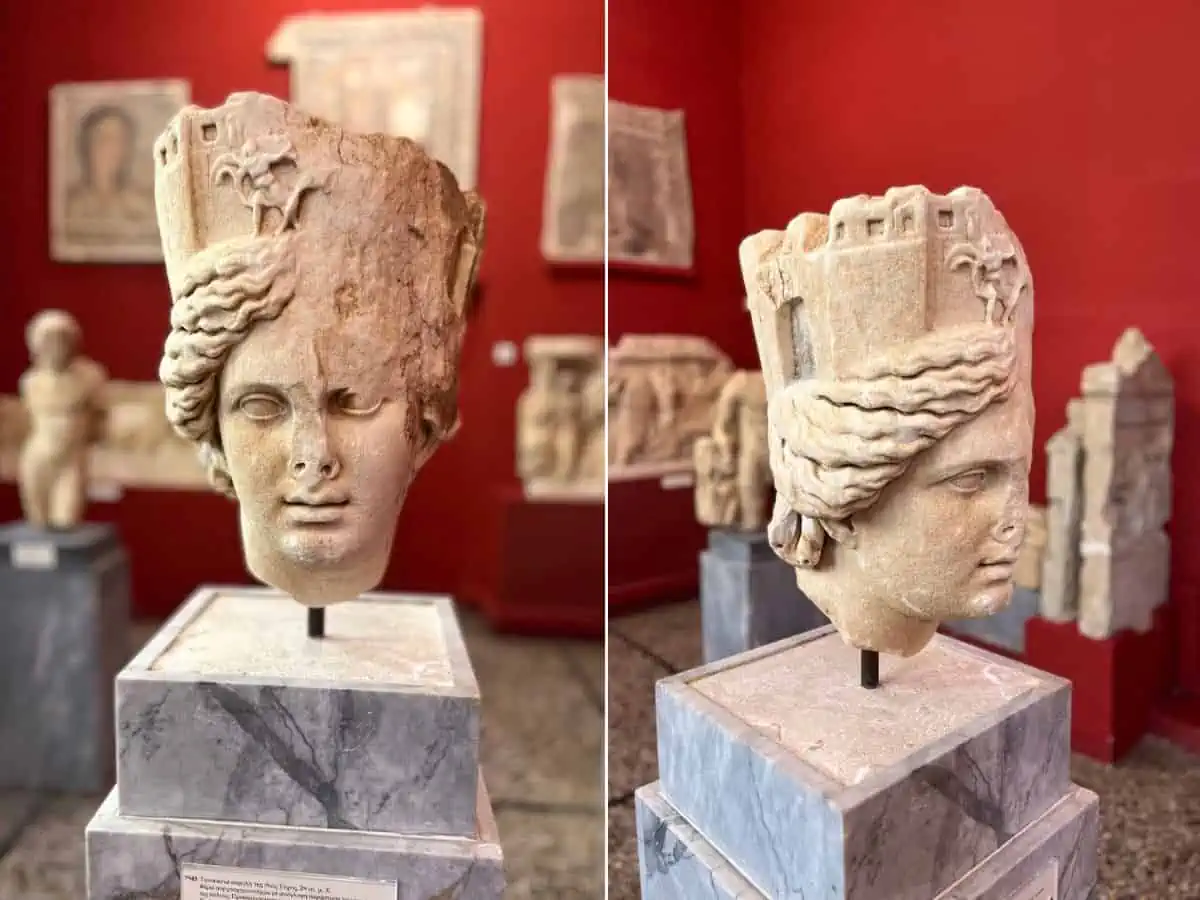 This statue shows her crown or headpiece with warriors, city walls, towers and fortifications.
🌟 Pro Tip: The most notable statue within the museum is the bust of Leonidas. It's located in the far exhibit hall.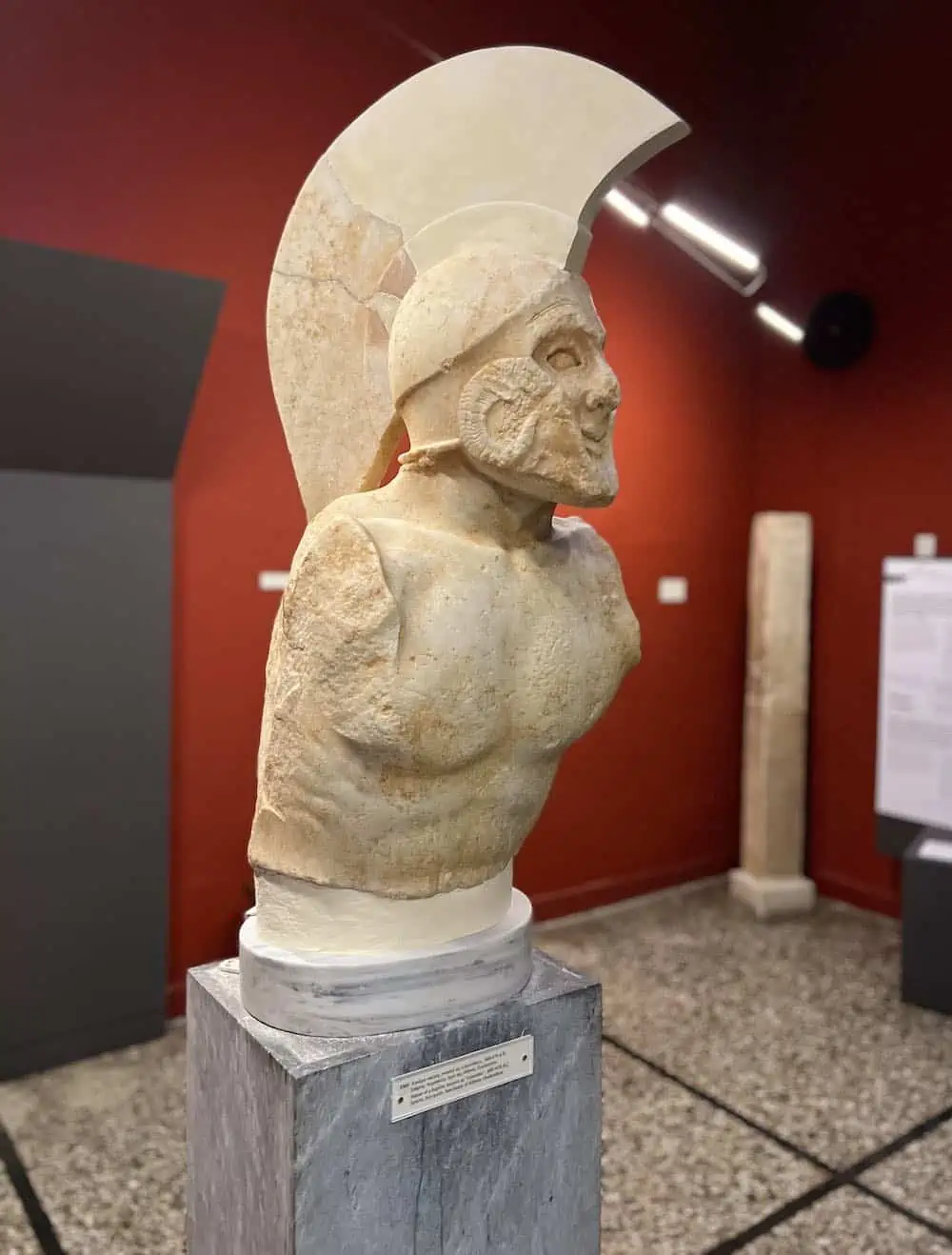 4. Gaze at Ancient Mosaics within the House of Mosaics
Another compelling reason to visit Sparti, Greece is to see the exceptional collection of mosaics unearthed during archeological excavations in 1872 and 1897.
In total, 170 mosaic pavements were discovered in Sparta's ancient neighbourhoods.
A select few are now on display in situ at the House of Mosaics museum in the heart of modern Sparti (Google Map).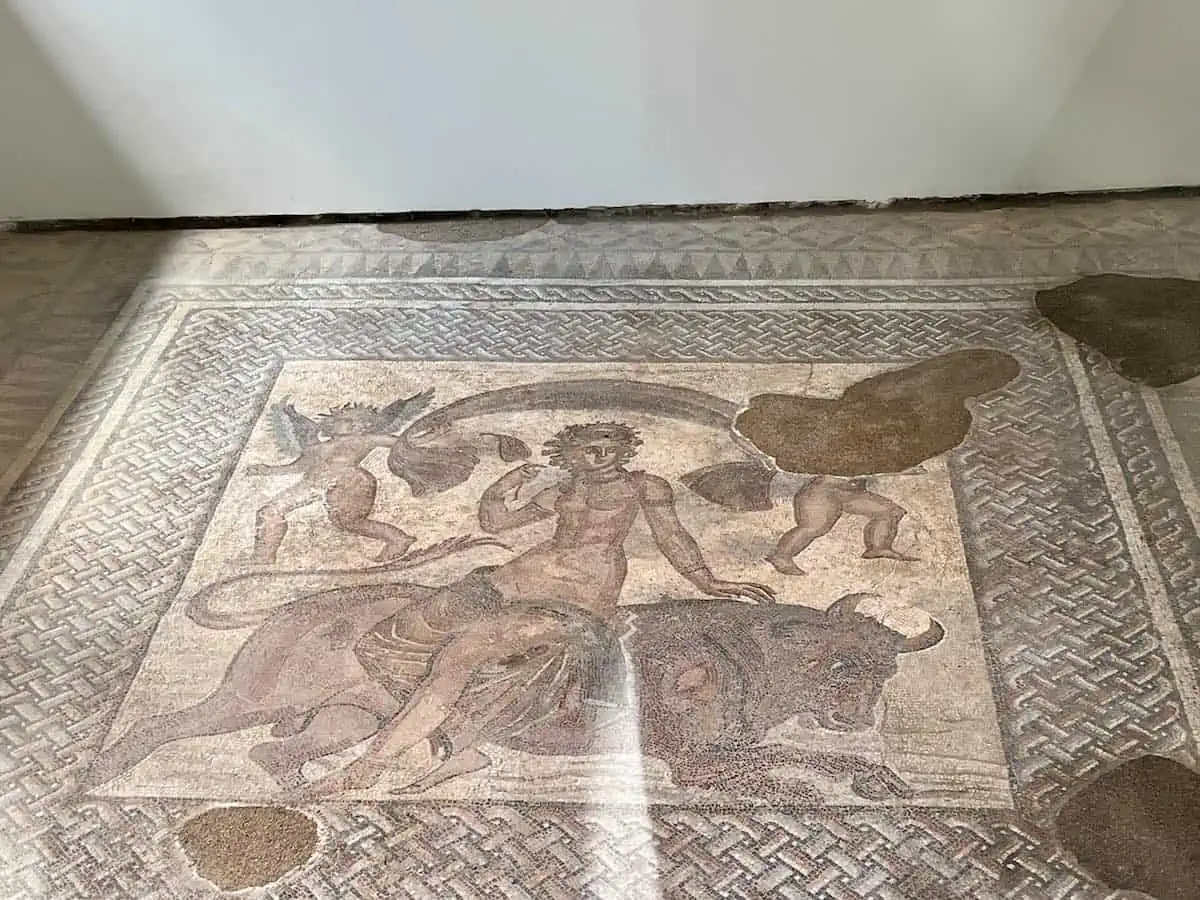 Dating from the Roman (3rd century AD) period, when Sparta was held in high esteem, the mosaics once decorated the floors of villas, baths and public buildings.
Made of coloured stone, marble, glass and tiles, the mosaics depict geometric patterns and figures from Greek mythology.
It's a remarkable experience to gaze on these ancient mosaics portraying Orpheus seated on a rock playing his lyre and the abduction of Europa (mother of King Minos of Crete) by Zeus.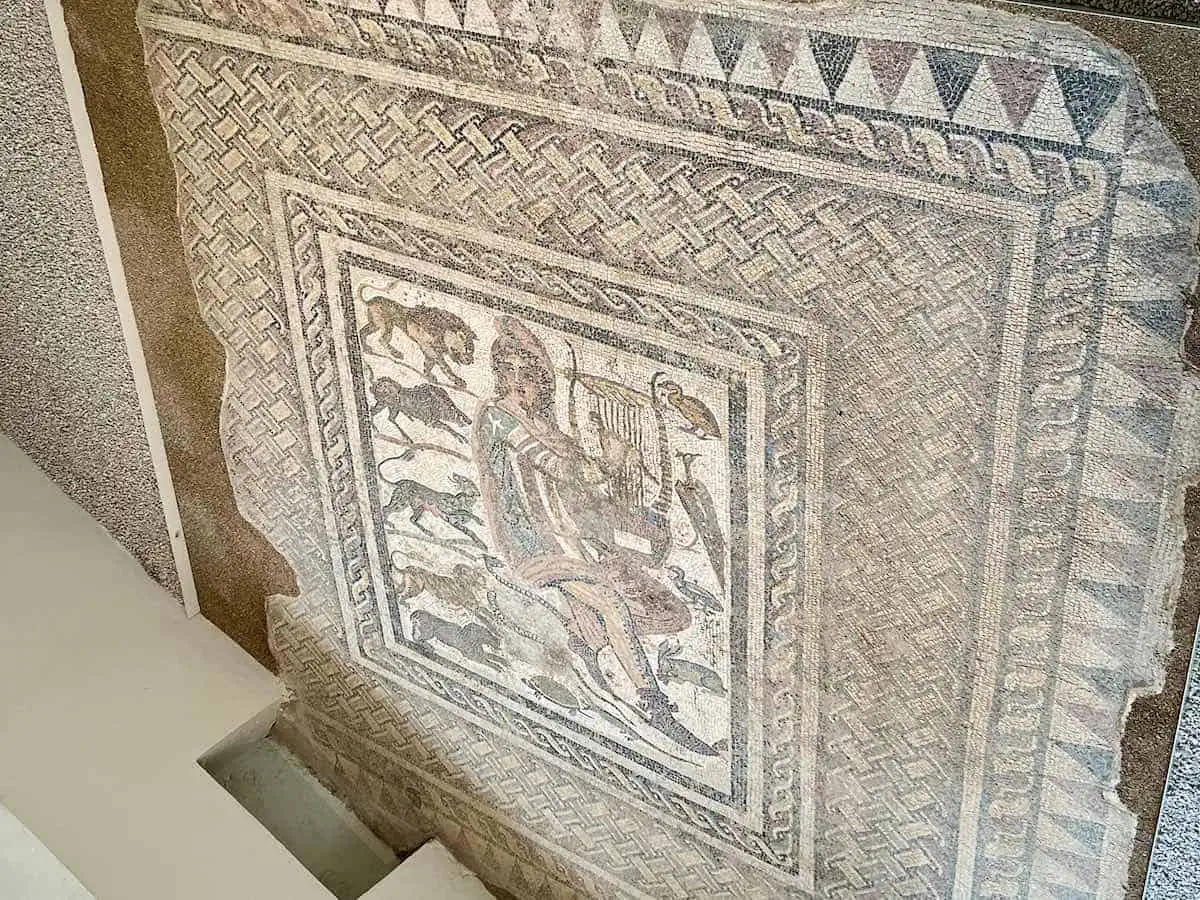 The vibrant colours of the mosaics, intricate patterns and expressiveness of the figures' faces demonstrates the skill and creativity of the artisans who created these art works.
That Roman emperors would have invested such hefty sums in public works also signals the economic and cultural power Sparta yielded during this period.
🌟 Fun Fact: A representation of the "Rapture of Europa" is also represented on the 2 EUR coin.
Admission is free. Closed Tuesdays.
5. Create your Own Mosaic at an Artisan Workshop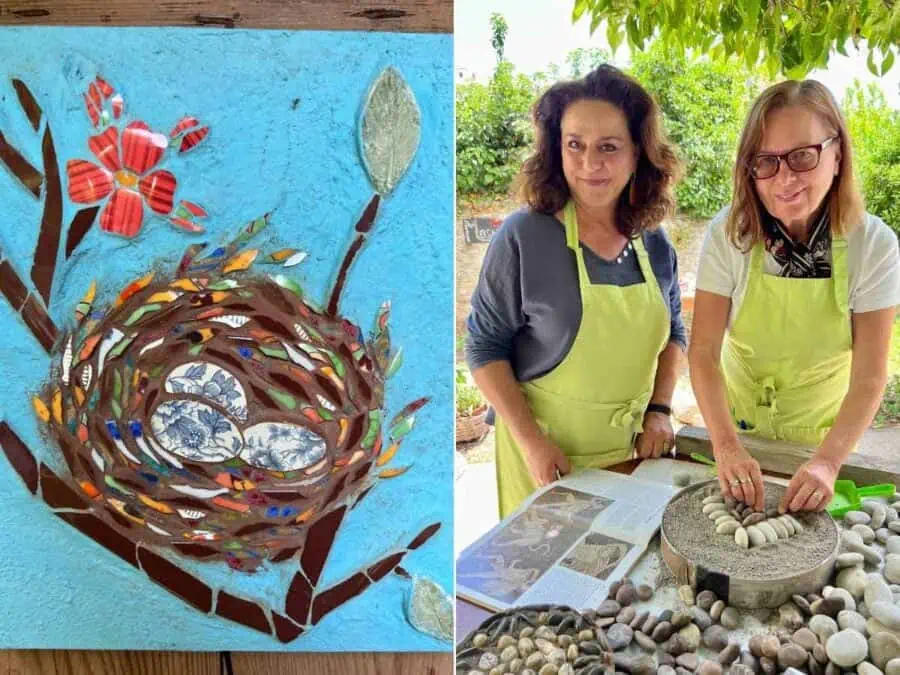 If you were inspired by the ancient mosaics within the Archeology Museum of Sparta and House of Mosaics, a unique thing to do in Sparta is to channel your inner artist at a contemporary mosaic studio.
Set in a wildly-lush garden of a neoclassical building in central Sparti, this multicultural space is hosted by acclaimed artist Dimitra Colomvakou.
It's a welcoming community hub for visiting artists, cultural events and the public.
Things to do at Mosaic Art Greece include:
Visit (free) and sit beneath the shade of the orange tree and watch Dimitra create works of art using pebbles, stones, stained glass, mirror and more.
Shop for unique handcrafted jewellery and decor items.
Book a 2-hour introductory mosaics session. Cost is 15 EUR (price subject to change).
Book a 3-hour hands-on workshop and make your own stone mosaic. Cost is 70 EUR (price subject to change).
Get information and book in advance: info@mosaicartgreece.com
🌟 Insider Tip: While at the studio, you might have the opportunity to sample a spoon sweet (fruit marinated in syrup). Or enjoy a sip of raki or tsipoura (a potent distilled spirit made of grape pomace) both symbols of Greek hospitality and friendship.
6. Learn About Olive Oil at the Museum of Olive and Greek Olive Oil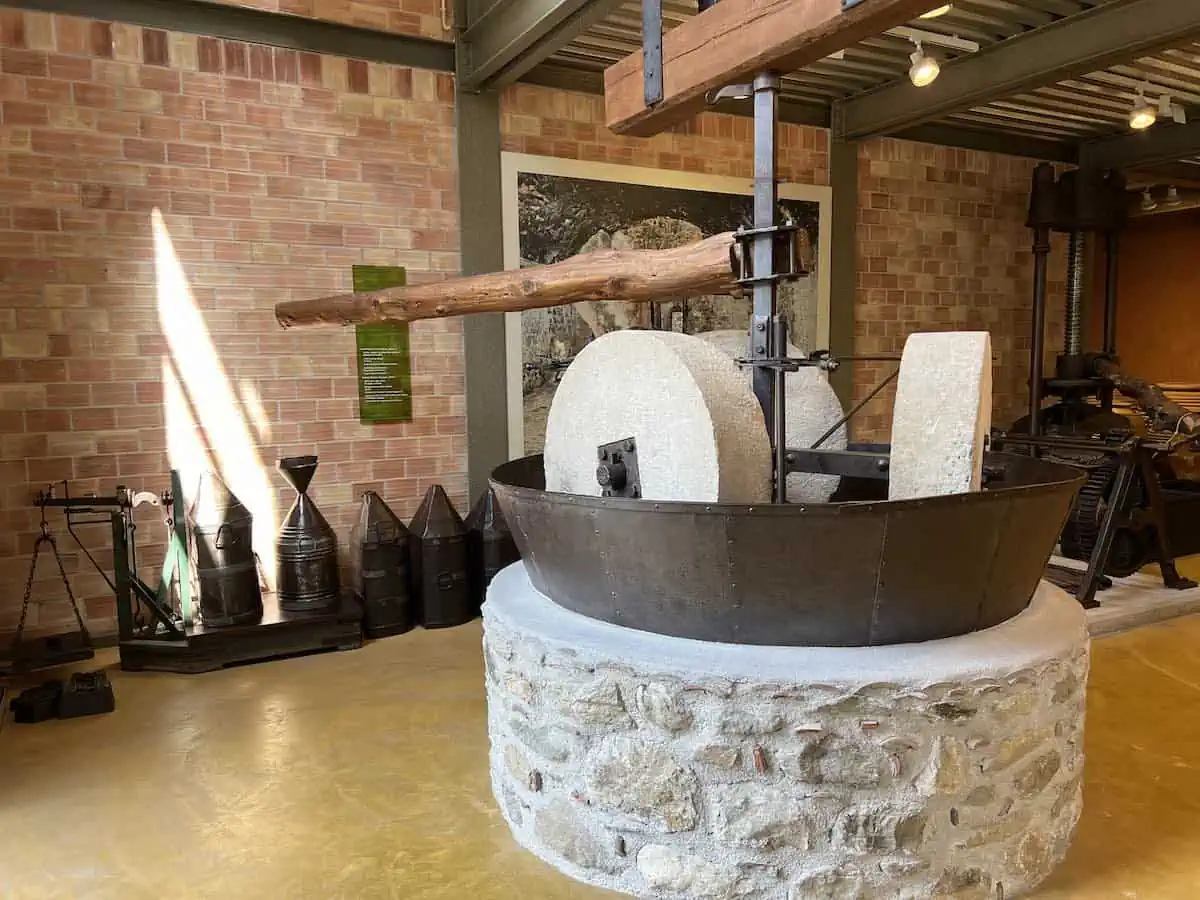 I've studied olive oil production and standards in Spain, Italy and other regions of Greece.
But this modern museum in the heart of Sparti is the most comprehensive resource I've ever seen on the subject.
Spend a few hours at the Museum of Olive and Greek Olive Oil and you'll come away with a really good understanding of the uses of olive oil and the history and culture of olive oil production in Greece.
While there, try your hand at pressing olives using a traditional stone olive mill, learn about olive cultivars and see scale models demonstrating the industrialization of olive oil production through the centuries.
🌟 Make It: Kalamata olives are delicious as table olives but you can also cook with these Greek treasures. Make a delicious olive tapenade or a Greek village salad with one of these recipes using kalamata olives.
7. Dine on Delicious Laconian Cuisine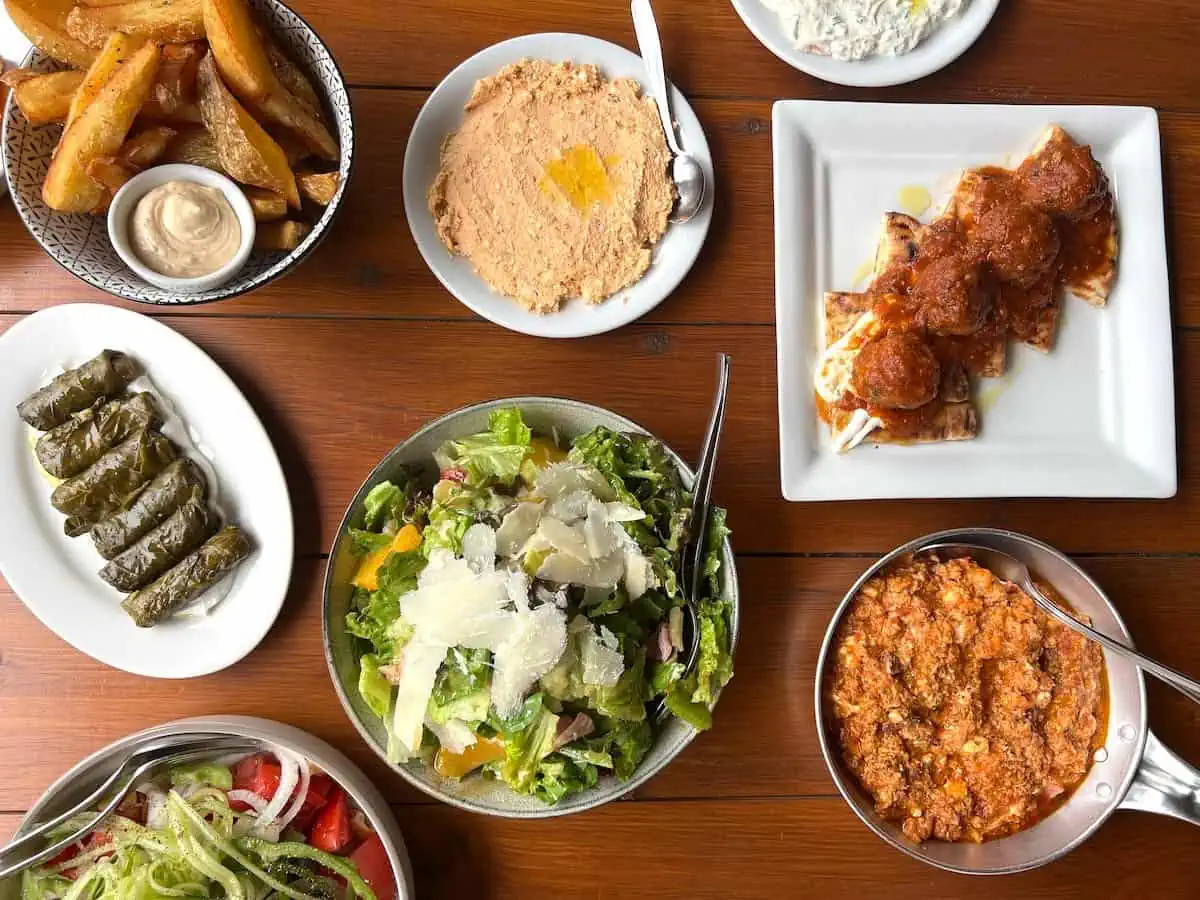 Laconian cuisine is distinctive and delicious. Here are some must-try dishes to try in Sparta:
Bouzopoula: Slow-roasted suckling pig.
Bardouniotikos: Rooster baked in a clay pot with tomatoes and onions with melted cheese.
Cheeses: Mizithra, sfella (dubbed 'fire cheese' due to its strong flavour), graviera and feta are the most popular.
Kayanas: Scrambled eggs with tomato, cheese and syglino (smoked pork from the Mani Peninsula).
Mountain Tea: Also known as Tea of Taygetos, this restorative brew is made of wild botanicals such as sage harvested from the Taygetos Mountains.
Peloponessian Salad: Greens, Laconian oranges, pine nuts, shaved cheese and balsamic vinegar.
Ktima: An appetizer salad of chopped tomato, Kithera (olive oil bread rusks made on the island of Kythera in the southern Peloponnese) and feta cheese.
Taygetos Olives: Table olives of kalamata olives with dried thyme.
Orange Pie: Cake made with Laconian oranges and phyllo rather than flour.
8. Sample Fine Regional Beer and Wine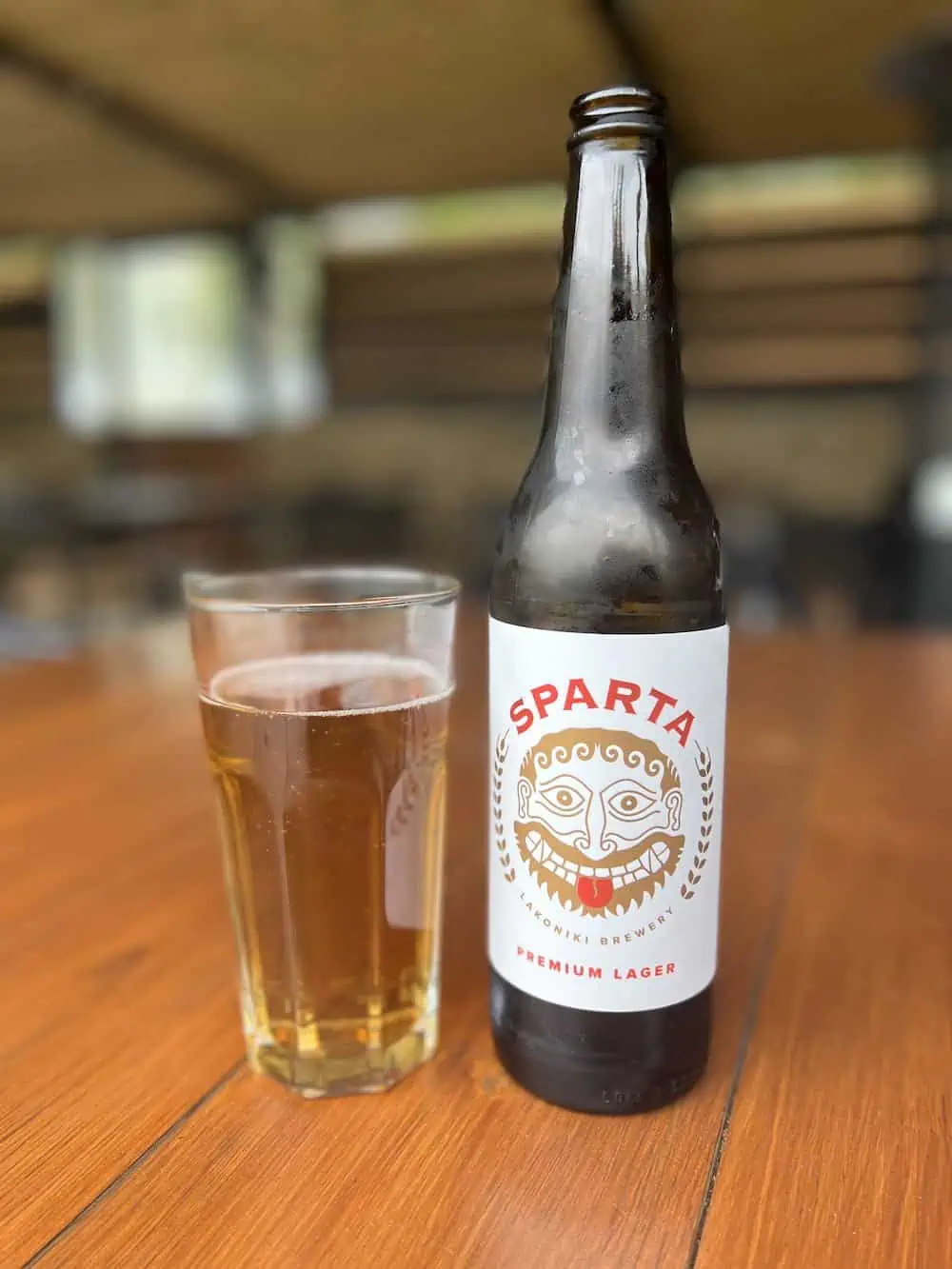 No trip to Laconia (or any region of Greece!) would be complete without sampling the local wines, beer and spirits.
You'll appreciate the refreshing taste of the local beer after full days in the sun exploring the archeological sites of Sparta and Mystras.
A must-try is the local Sparta beer, a 5% ABV lager brewed by Lakoniki Brewery, from spring water sourced from the Taygetos Mountains.
Also worth seeking out is Nymph beer, a lager made of five different hops, from Thessaloniki.
Viticulture in the region dates back to antiquity. So be sure to sample the fine-quality Peloponnesian white, red, rosé and dessert wines. Many, such as Monemvasia-Malvasia have PDO and PGI designations.
Interesting regional varietals such as moschofilero (rosé), thrapsa (red from Laconia), kydonitsa and mavroudi (whites from Laconia) pair perfectly with a plate of mezes (Greek appetizers).
9. Sip Potent Regional Spirits at a Local Taverna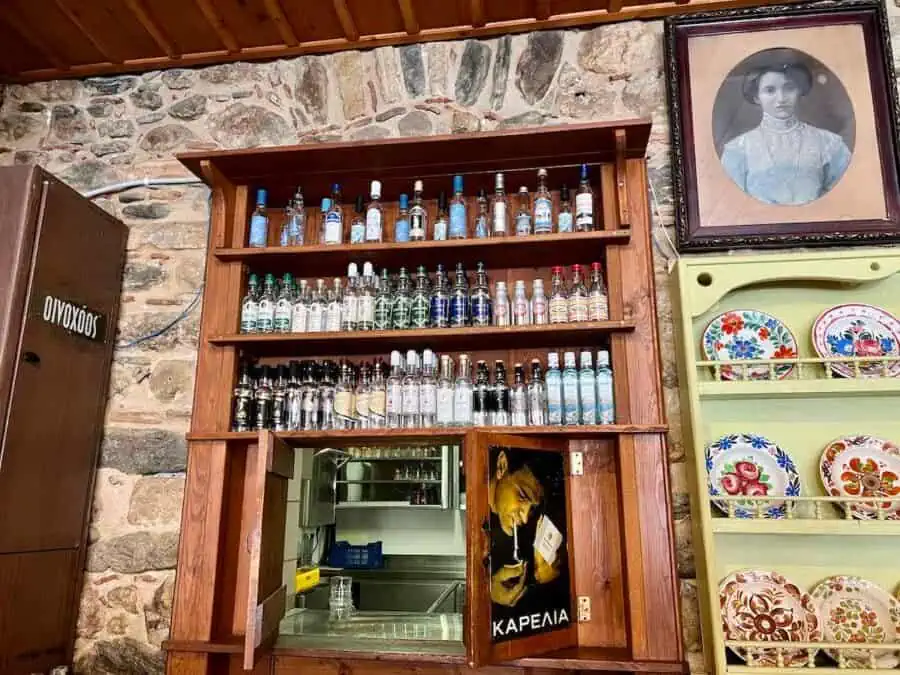 For another delicious taste of Laconian hospitality, head to a taverna to sample products produced by local distillers. There are quite a variety of potent concoctions to sample.
But pace yourself. At 40-45% alcohol by volume they pack a potent punch!
Tsipouro (distilled grape pomace), ouzo, tsikoudia and rakomelo are good places to start.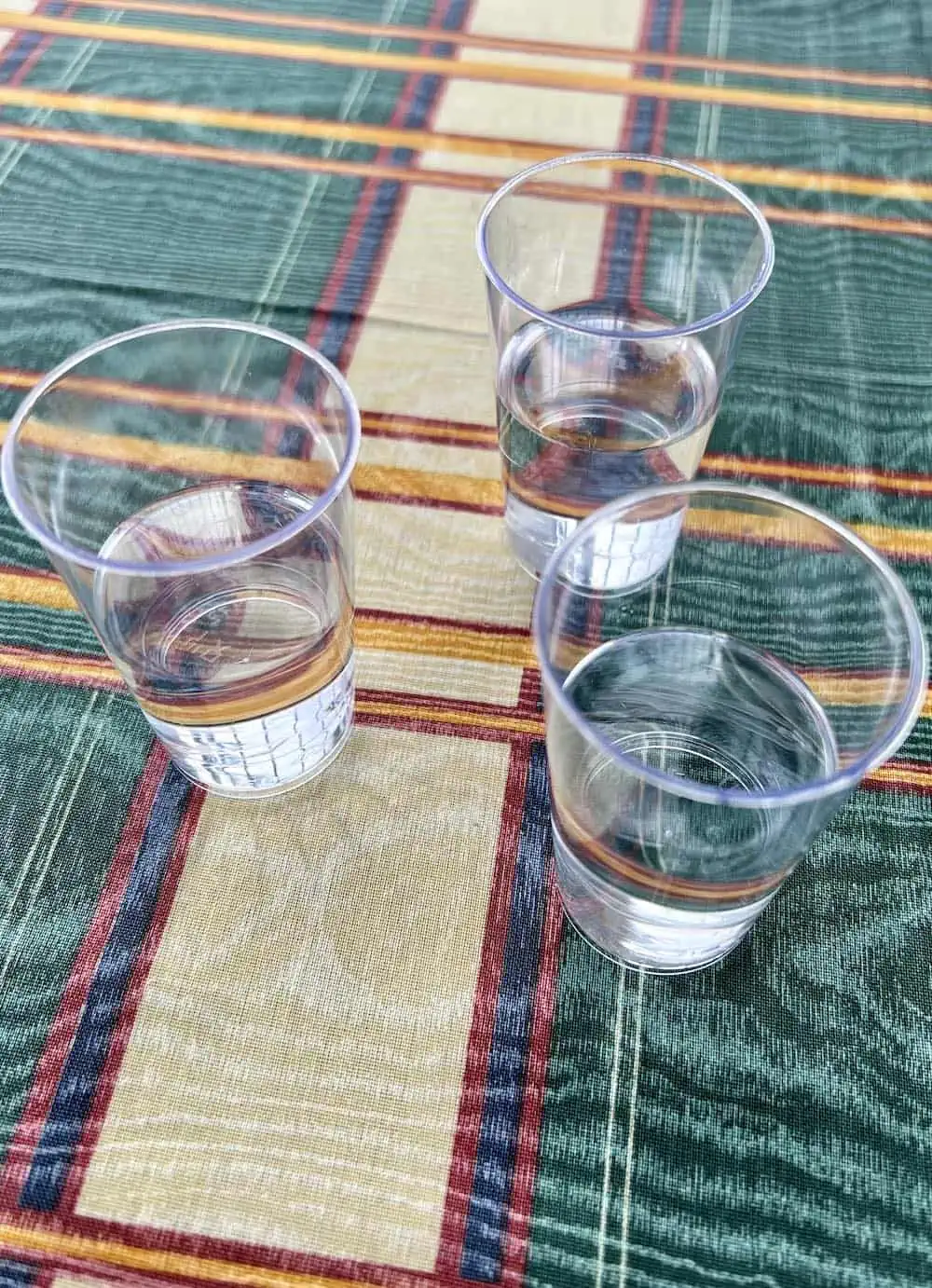 Many contain aromatic herbs and flavours such as anise and wild botanicals.
🌟 Insider Tip: JayWay Travel selected Tsipouradiko '50s' for one of our leisurely lunches.
Located in the heart of Sparti (Google Map), this historic taverna features a lovely terrace in the back and an extensive selection of tsipouro.
10. Enjoy a Tutoured Olive Oil Tasting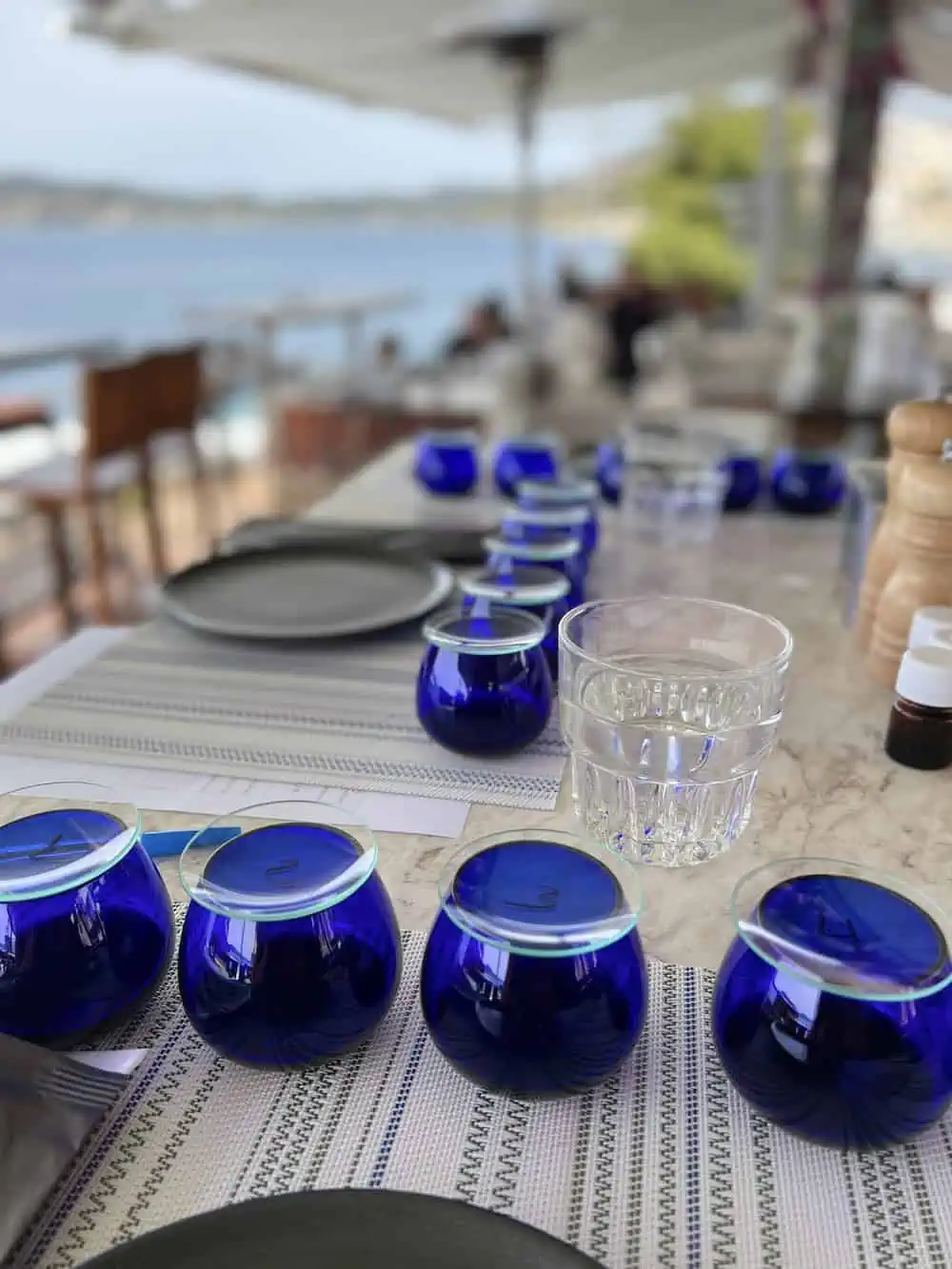 Once you've learned about Greek's liquid gold at the Museum of Olive and Greek Olive Oil, it will be time to try it for yourself.
Participating in an olive oil tasting is an especially fun thing to do in Sparta and throughout the Peloponnese. The region produces PDO and PGI extra virgin olive oil that's treasured for its biological and nutritional value.
A tutoured tasting will help you understand the range and intensities of the aromas, fruit intensity, bitterness and phenols of Greek olive oil.
It will also help you to be able to identify defects (such as rancidity) and provide tips on proper storage.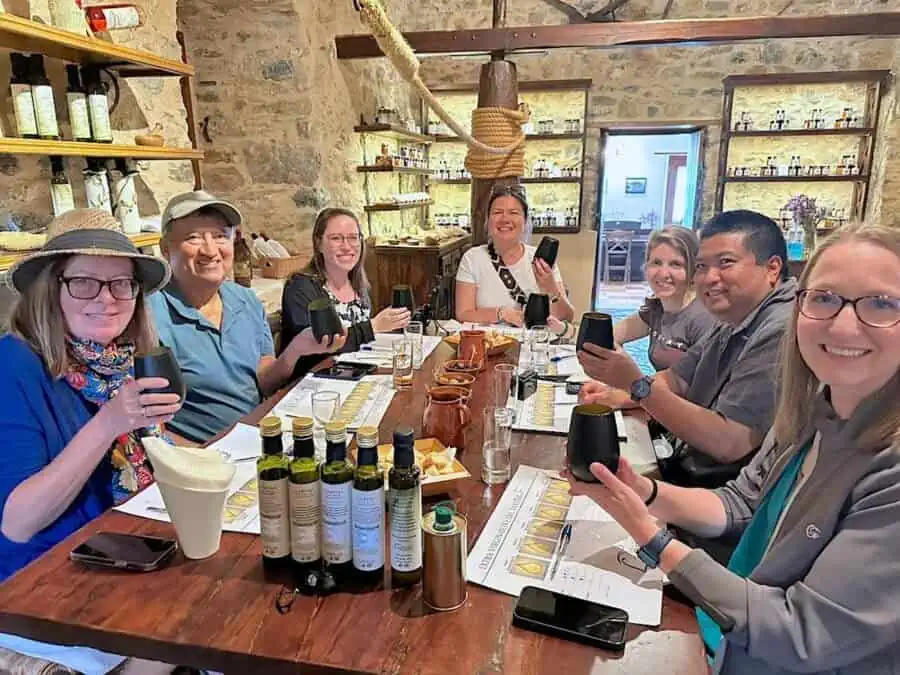 During our JayWay Travel tour we visited the Liotrivi Organic Estate near Monemvasia, a 70 minute drive from Sparta.
After a tour of their verdant olive grove and onsite museum, we enjoyed a tasting of Athenoelia, Koroneiki, Myrtolia, Kalamata, a blend of Laconian varietals and even an olive oil harvested from wild olive trees.
Once you've learned about the health benefits of Greek EVOO and tasted it, you won't want to go back to your supermarket brand made of mystery olives at home.
The good news is you can shop online for Liotrivi olive oil and get it shipped to your doorstep.
🌟 Pro Tip: At the Liotrivi Organic Farm you can 'adopt an olive tree' and receive 5 lites of high quality, organic, cold-pressed extra virgin olive oil from your own tree annually.
Email: adoptions@liotrivi.info for more information.
11. Explore the Mystic Archeological Site of Mystras
Just five kilometres from the heart of Sparti you'll find the Archeological Site of Mystras.
Spending a day here is a must-do on every Greek itinerary. For us, exploring Mystras was a highlight of our trip to Greece.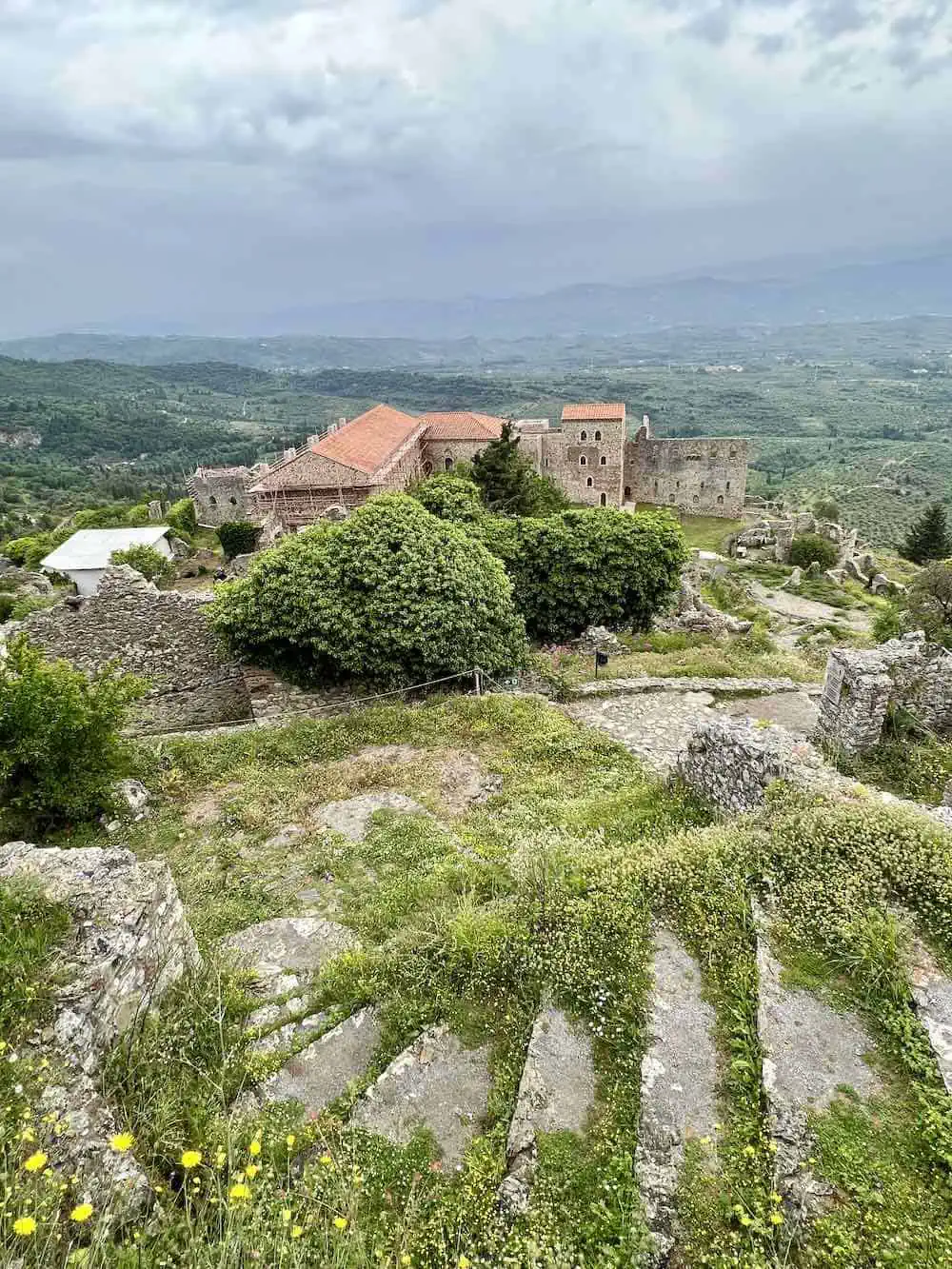 Set on a steep slope of Mount Taygetos overlooking the valley where Sparta lies, this UNESCO World Heritage Site is so vast you really need a plan to tackle it.
Our JayWay guide suggested we begin at the top of the site and walk down rather than the bottom. That was a wise idea.
Not only was it easier to climb down but we mostly avoid the busloads of tourists and school children.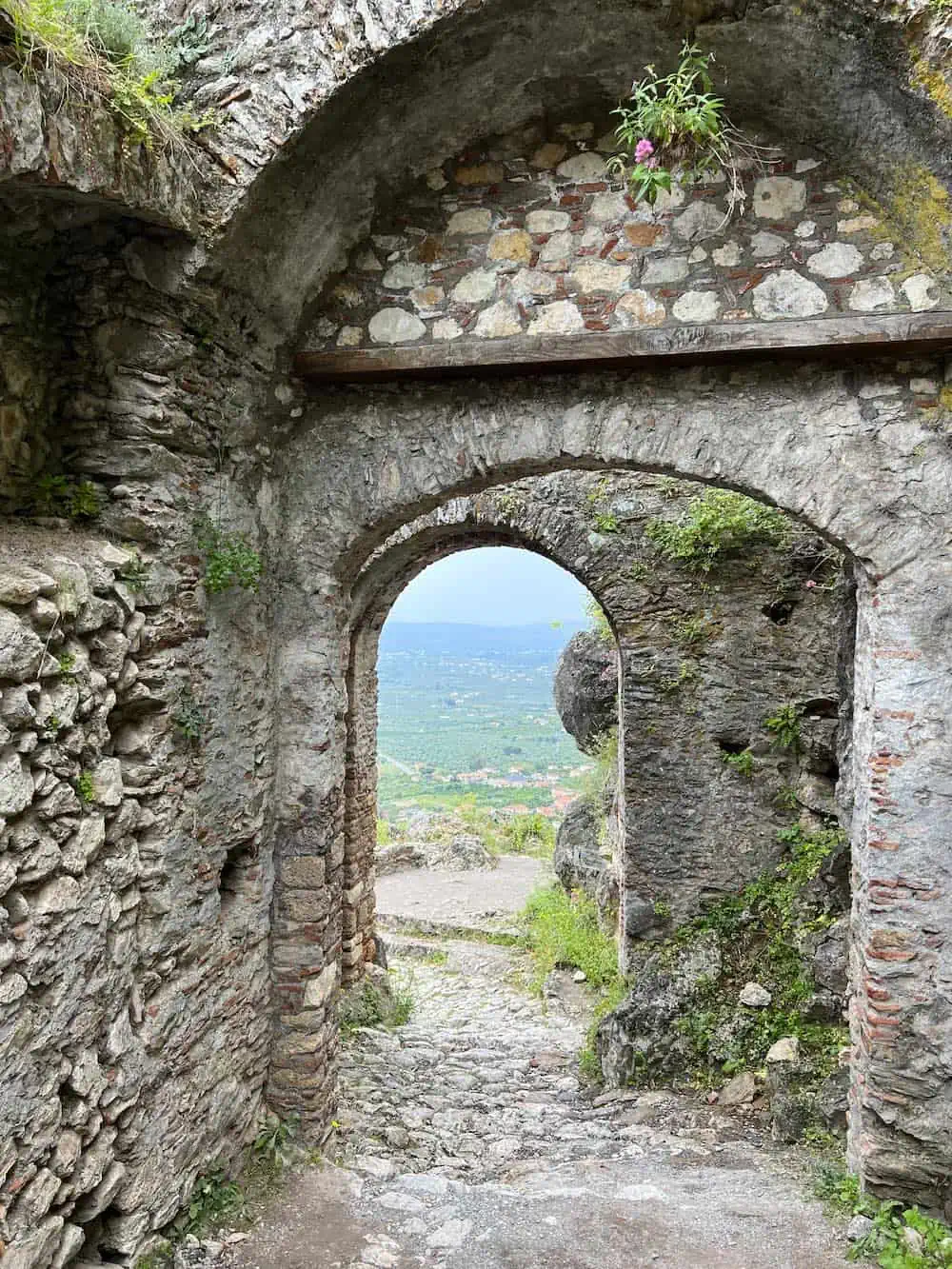 The site is composed of several zones. The oldest, a fortress dating to 1249, was built by the Franks but taken by the Byzantines, Turks and Venetians.
It thrived economically due to trade in figs, olive oil and silk from the mulberry trees. But it was also important due to the renown of its libraries and philosophers.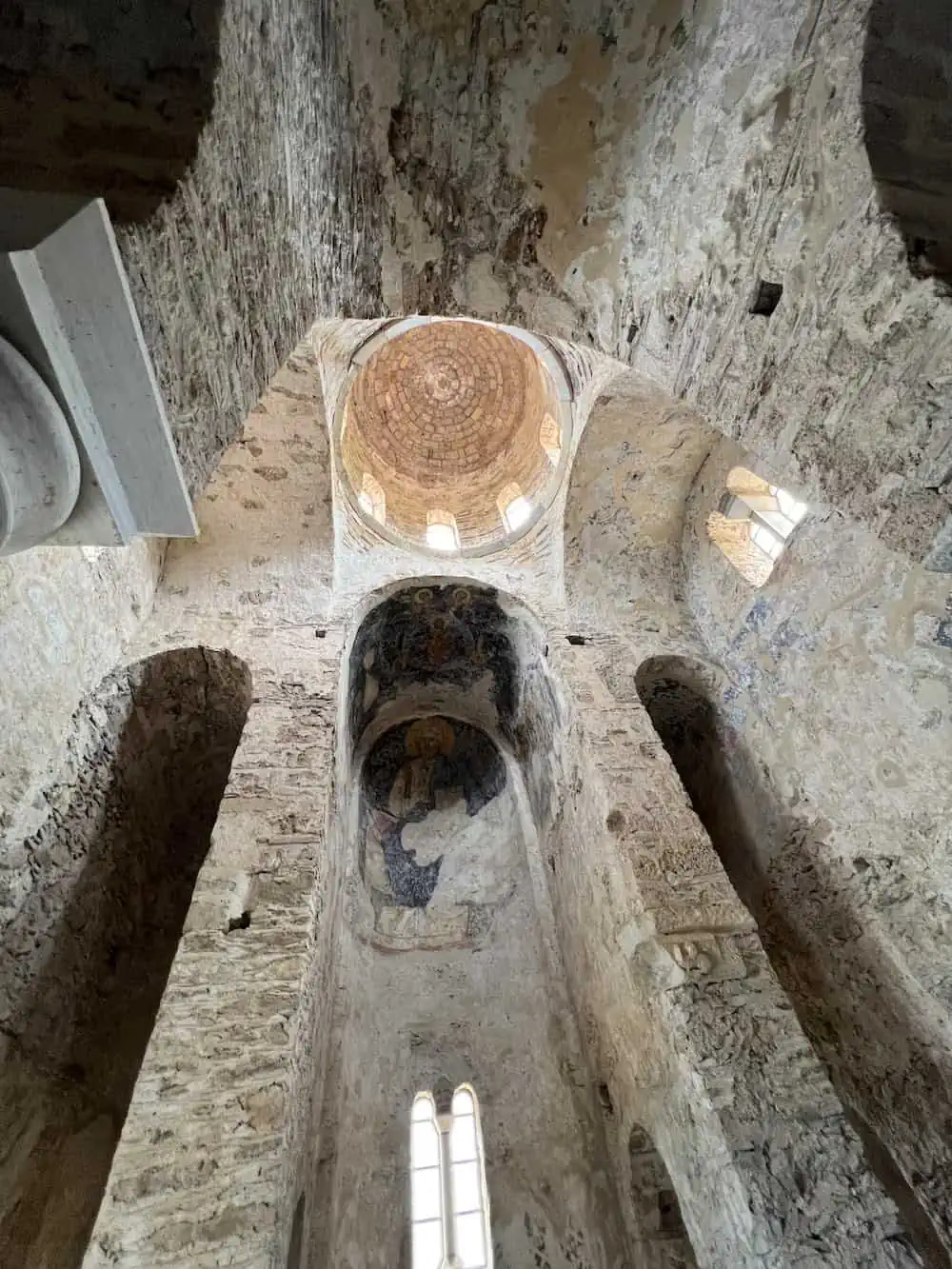 So, the site is a treasure trove of historical landmarks from different periods.
Highlights include the Palace of the Despots, the cathedral of Agios Demetrios, church of Panagia Hodegetria and the archeology museum.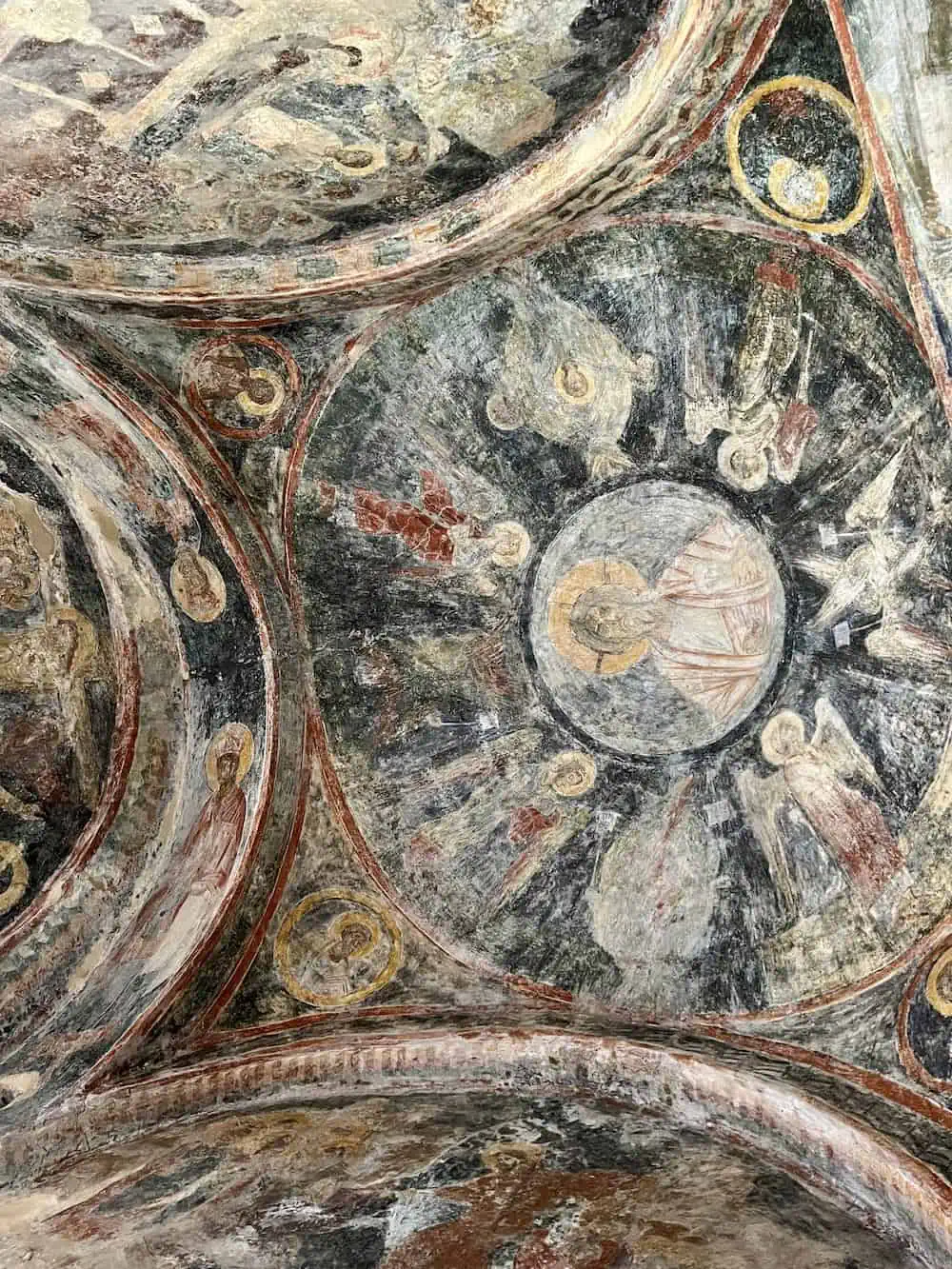 Mystras is like a giant open-air museum with the remains of opulent palaces, frescoes, Byzantine churches, and fortified walls scattered across a hillside dotted with wildflowers, herbs and olive trees.
It's so vast that you can easily step away from the crowds, walk down a secret alley and soak up the beauty and magical atmosphere of this ancient site.
🌟 Pro Tip: The rock stairs are slippery, steep and uneven. Be sure to bring water and wear hiking shoes or good footwear.
12. Visit the Tomb of Leonidas
If you're sightseeing in Sparta and have a bit of extra time, another popular thing to do is visit the Tomb of Leonidas.
The tomb is mostly in ruin and has no signage but is a must-do pilgrimage site for hard-core Leonidas fans.
This historical landmark is located in the heart of Sparti, a five-minute walk from the statue of Leonidas (Google Map).
13. Soak Up Some Wellness at a Destination Hotel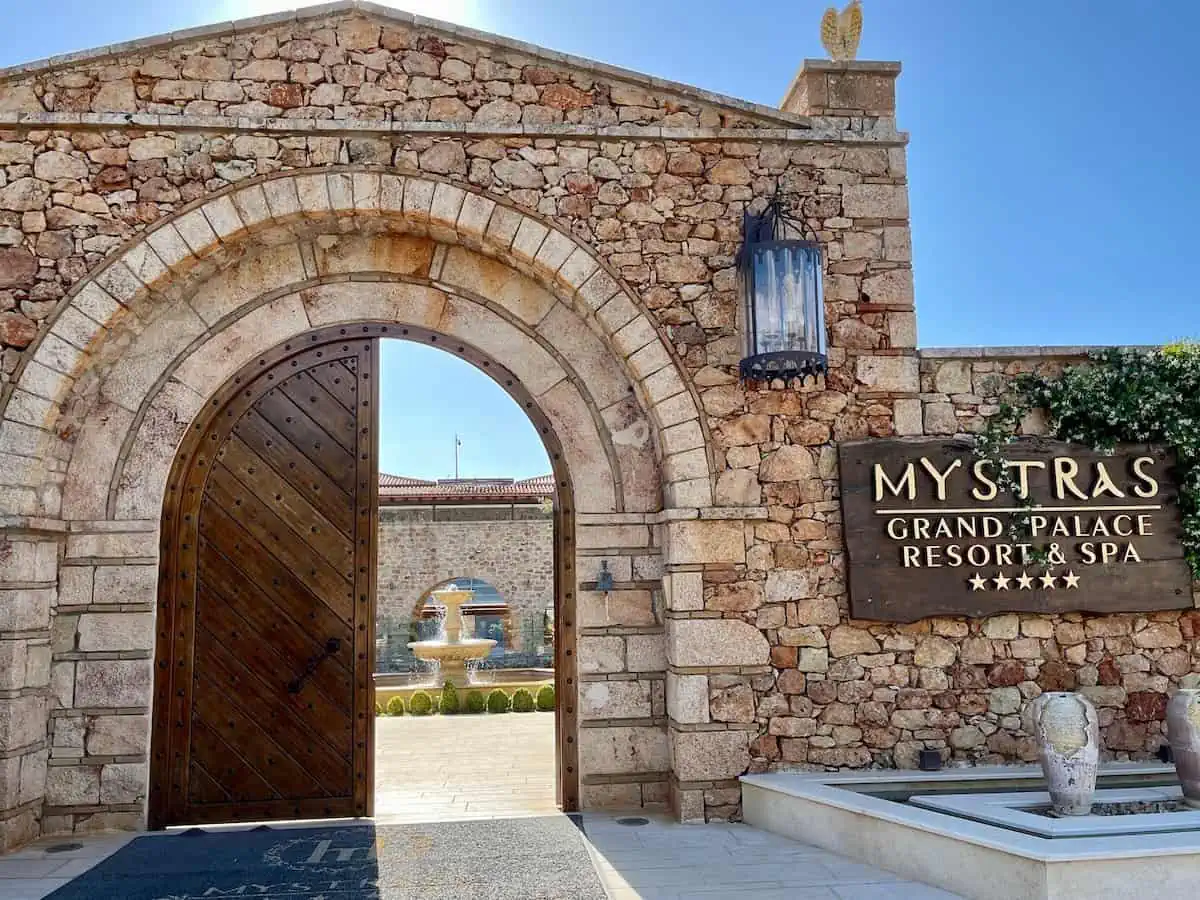 Set on 30 acres of gardens and olive groves, the Mystras Grand Palace Hotel & Spa is a stunning place to recharge and unwind after busy days tramping through archaeological sites.
It features several outdoor pools, an indoor plunge pool, steam rooms, full-service spa and a fine-dining restaurant with a locally-inspired menu. The breakfast buffet is among the best we encountered in Greece.
The elegant guest rooms and suites offer mountain and/or garden views with furnished balconies and terraces to soak up the pastoral atmosphere.
Stone walls and wooden beams channel the historic architecture of the region but offer modern comforts such as AC, rainfall showers and luxury linens.
Check rates and availability of Mystras Grand Palace Hotel & Spa on Booking.com.
Mani Sonnenlink is another good option for a wellness-focused getaway. One of the top vegan hotels in Greece it's located in Pyrgos near the city of Kalamata.
Final Thoughts on Things to Do in Sparta
In summary, visiting Sparta offers a memorable experience for travellers looking for a glimpse into the ancient history of Greece.
Mostly free of crowds, it's especially scenic with the impressive Taygetos mountain range serving as a striking backdrop to fields of olive groves, orange trees and vineyards.
And, as we discovered, Sparta also makes a handy gateway to other attractions in the Peloponnese such as the Mani Peninsula and beyond.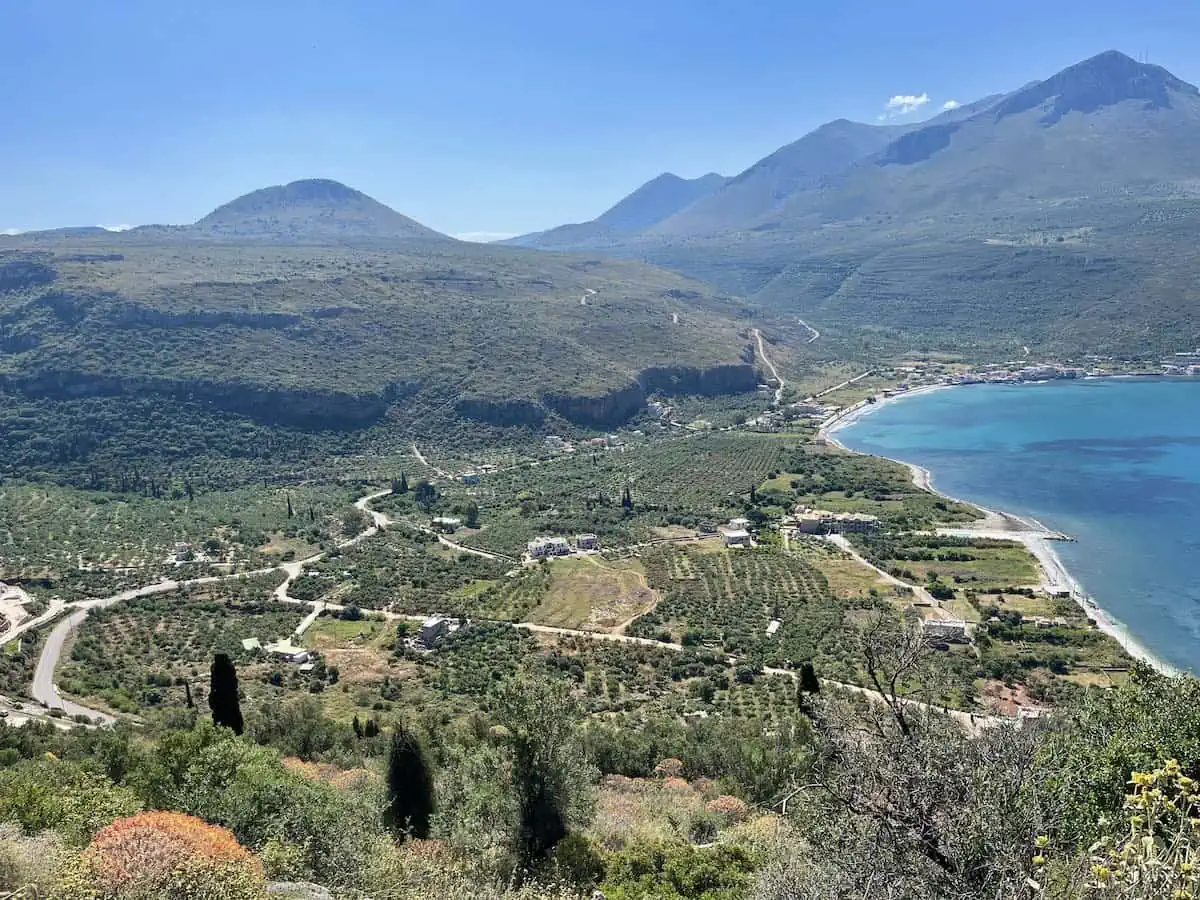 JayWay Travel and Trip Planning
JayWay Travel is a boutique tour operator specializing in custom tours in Europe. Founded in 2006, they work with travellers to craft itineraries and then take care of planning and logistics.
They look after booking hotels, restaurants and transfers. They even supply accredited guides and unique experiences.
Unlike packaged tours where you're stuck to a schedule with a crowd of other travellers, on a custom tour you have complete freedom and flexibility to pursue your own interests.
Get a Free Trip Plan from JayWay Travel to get started!
Getting Around the Peloponnese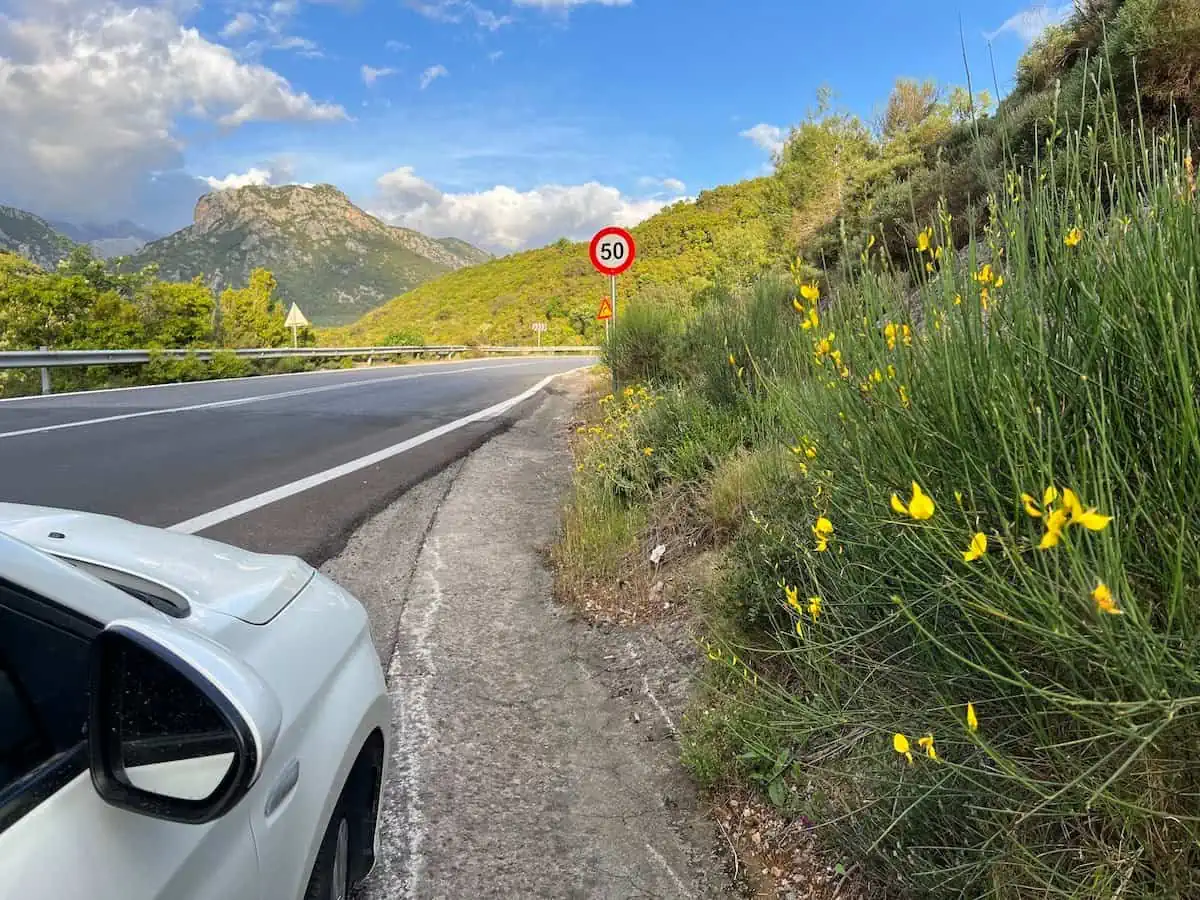 Although there is a bus from Athens to Sparta, it's better to rent a car or arrange a transfer with a car and driver so you can explore beyond the city of Sparta itself.
During our tour, we appreciated our skilled JayWay driver (aptly named Leonidas) so we could focus on enjoying the scenery. And a wine-tasting or two!
However, for much of our time in Greece, we did rent a car. Once you're off the main toll highways, the roads in the Peloponnese are mountainous and narrow. The views are incredible and its fun to stop in the mountain villages on market days.
We found the best car rental rates on Discovercars.com, an online reservation system that compares rates from different companies.
Check for the best car rental rates at Discovercars.com
Get more information at the official website of Mythical Peloponnese
FAQs
Is it worth visiting Sparta?
It's well worth visiting Sparta for its legendary history as well as attractions such as the archeology museum, the Acropolis of Sparta, the Olive Oil Museum and the UNESCO site of Mystras.
What is Sparta in Greece famous for?
The Greek city-state was most famous for its military prowess and societal laws based on militarism, athleticism and organization. It reached its heydey in the 400s BC when it became the most powerful state in Greece.
Is there anything left of Sparta?
The excavated, partially restored, ruins of the Acropolis of Sparta, the agora and several temples remain and form part of the archeological site of Sparta. It's located at the norther edge of the modern city of Sparti.
Best Hotels in Sparti Greece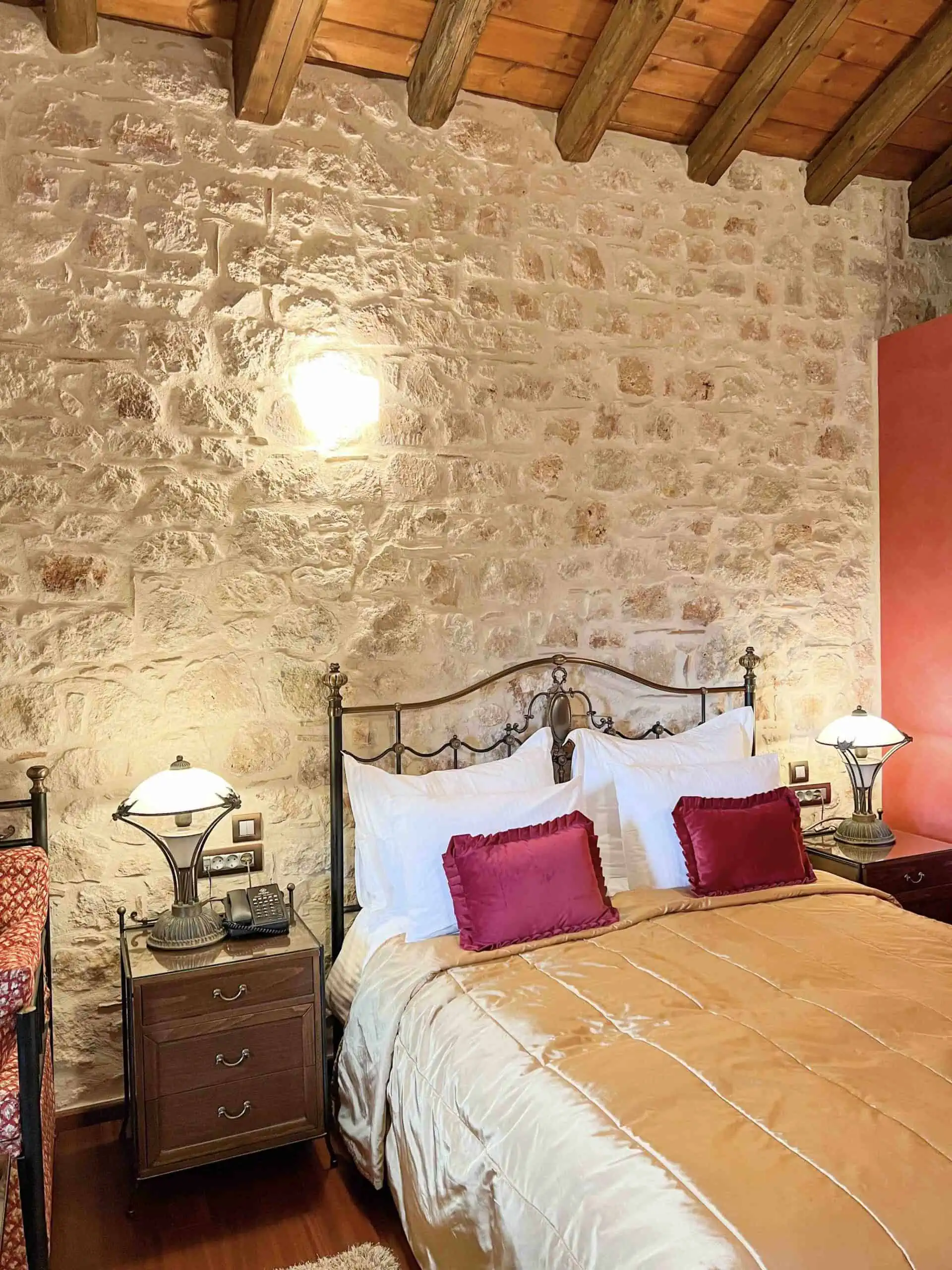 Mid-range: For a centrally-located hotel in Sparti, try the Menelaion Hotel. Built in 1935, this Neoclassical building has been renovated and features spacious rooms (some with balconies), AC, and a swimming pool.
Check rates and availability of the Menelaion Hotel on Booking.com.
Luxury: The Mystras Grand Palace Hotel & Spa is the best luxury hotel near Sparti. It features 2-storey stone villas with access to seasonal outdoor swimming pools set amid beautifully landscaped gardens.
It's an 8 minute drive from Mystras Grand Palace Hotel & Spa to the Archeology Museum (and other major attractions in town)
Check rates and availability of Mystras Grand Palace Hotel & Spa on Booking.com.
Our Favourite Hotels in Greece 2023
Mythos Villas in Kalogrias Beach, Stoupa, Mani Peninsula
Nikos Apartments and Studios in Agios Prokopios, Naxos Island
Horizon Blu Boutique Hotel in Kalamata, Messinia, Greece
Kafieris Blue Studios in Firostefani, Santorini
Mystras Grand Palace Resort & Spa near Sparta
Athenaeum InterContinental,an IHG Hotel (with Club InterContinental Executive Lounge Access) in Athens
The Port Square Hotel in Pireas Port, near Athens
Kinsterna Hotel in Monemvasia, Greece
Makis Inn Beach Resort in Ermioni, Peloponnese, Greece
Liotrivi Organic Estate and Mansion near Monemvasia,Peloponnese
AKS Hinista Bay an average 3-star hotel with an excellent location near Porto Heli
Other Amazing Experiences in the Mediterranean
Save to Pinterest!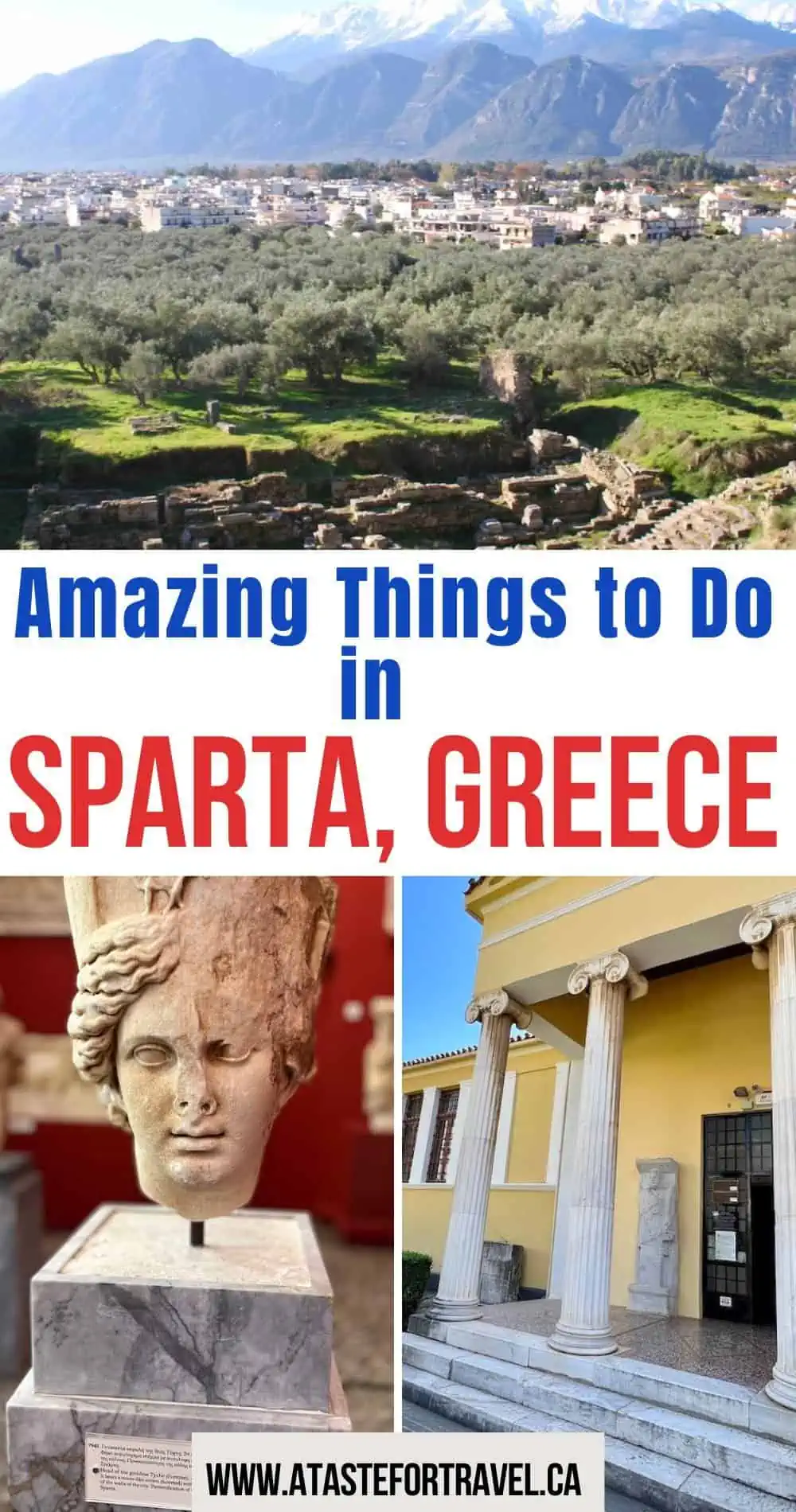 Dividing her time between Canada, Guatemala and Mexico (or the nearest tropical beach), Michele Peterson is the founder of A Taste for Travel. Her award-winning travel and food writing has appeared in Lonely Planet's cookbook Mexico: From the Source, National Geographic Traveler, Fodor's and 100+ other publications.
Read more about Michele Peterson.