We may earn income from links in this post. Please read this Disclosure for details.
Looking for a great breakfast in Puerto Escondido? A fabulous breakfast lays the foundation for a perfect day and a healthy lifestyle. And Mexican breakfasts are famous for being among the best in the world.
While most breakfast menus in Puerto Escondido feature well-known Mexican dishes such as chilaquiles, huevos rancheros and fresh tropical fruit, many restaurants also include fantastic regional specialties you won't find anywhere else.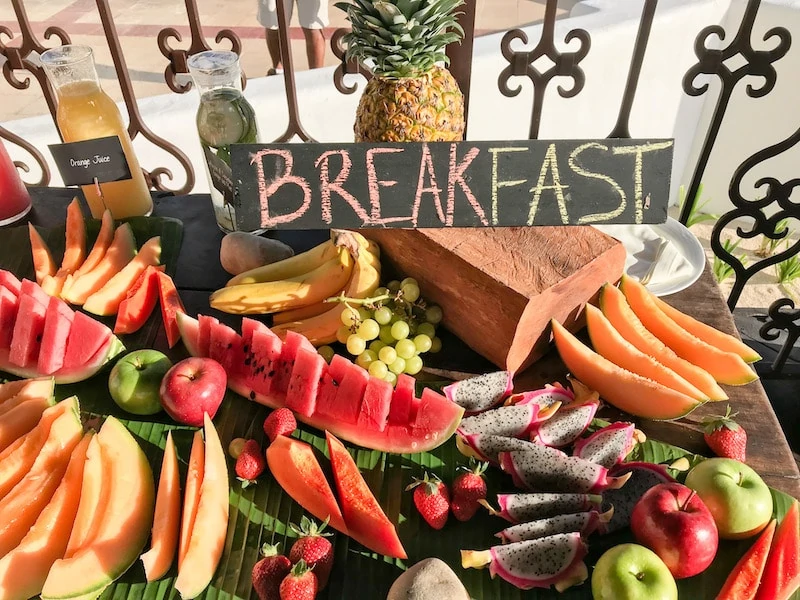 Over the course of 10 years of reviewing restaurants for Fodor's Guide to Oaxaca, testing recipes for Lonely Planet's Mexico from the Source cookbook and living in Puerto Escondido, I've enjoyed a wide range of breakfasts.
Whether it's an early morning snack or a hearty brunch, you can begin your morning with plate of memelas (thick corn tortillas topped with beans, Oaxacan cheese and meat), get a side of nopal cactus or go light with some pan de yema (sweet bread) served with hot chocolate laced with cinnamon.
Here are my top choices for the best breakfasts in Puerto Escondido:
1. Restaurante Doña Claudia – Mercado Zicatela
You'll enjoy breezy ocean views as well as Puerto Escondido's best bargain on classic breakfast at Restaurante Doña Claudia, one of a string of cheerful comedores facing Zicatela Beach within Mercado Zicatela.
It's impossible to miss the sprawling, modern building located on Highway 200 in the Zicatela area on the way to La Punta.
Breakfast is also a good way to offer your support to the vendors and shop owners within the shiny new Zicatela Market, which opened officially for business on November 17, 2018.
Once you arrive, stroll the walkway beneath the soaring roof to the row of restaurants on the opposite side of the entrance.
Here you'll see a selection of cheap eateries, open for breakfast, lunch and dinner serving regional specialties such as caldo de mariscos (seafood soup), coctel de cameron (shrimp cocktail) and everyday favourites such as hamburgers.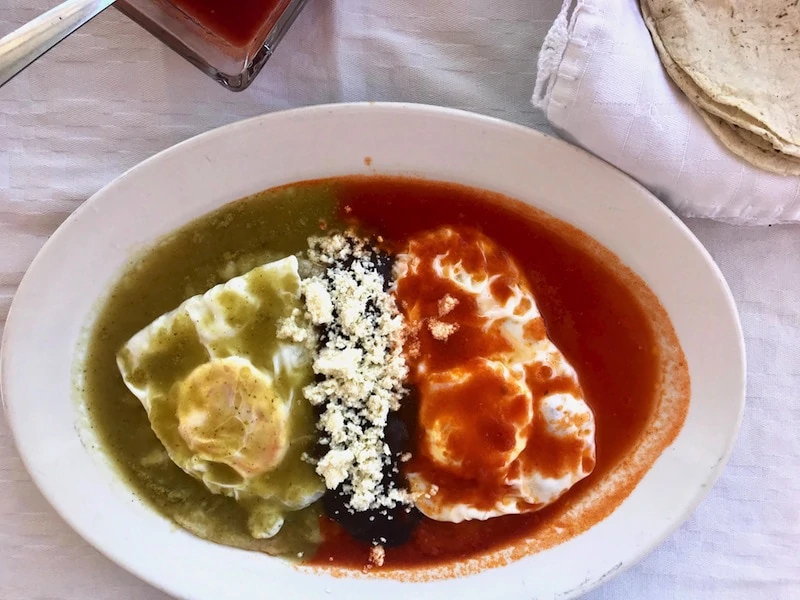 When it comes to choosing the best restaurant for breakfast at Mercado Zicatela, you won't be disappointed with the choices at Restaurante Doña Claudia.
Breakfast menu options include Mexican style eggs bathed in salsa such as huevos divorciados or huevos a la Mexicana ( 50 MXN pesos) which come topped on a tortilla with ham and accompanied by refried beans, cheese and a basket of tortillas.
Just ask them to hold the ham if you want the vegetarian version.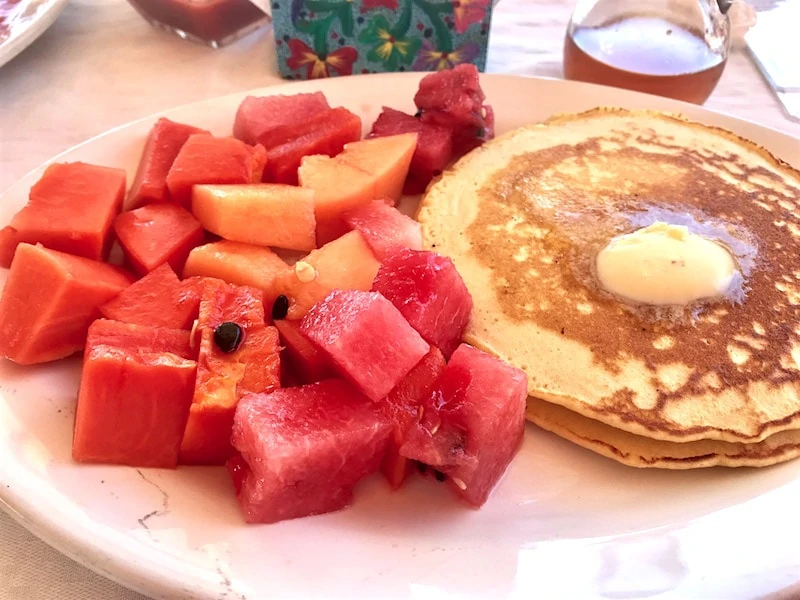 Other enticing menu options at Restaurante Doña Claudia include chilaquiles verdes o rojos ( 40 MXN pesos and up). Be sure to order of the fresh seasonal fruit (featuring papaya, melon and pineapple) with pancakes and organic local honey (50 MXN pesos).
Fresh squeezed orange juice and Pluma Hidalgo Oaxacan coffee are included with the breakfast packages, which begin at 80 MXN pesos.
Take a taxi to Mercado Zicatela from the Rinconada for 40 pesos. Restaurante Doña Claudia serves breakfast all day.
2. La Julia Coffee, Market & Gallery – Bacocho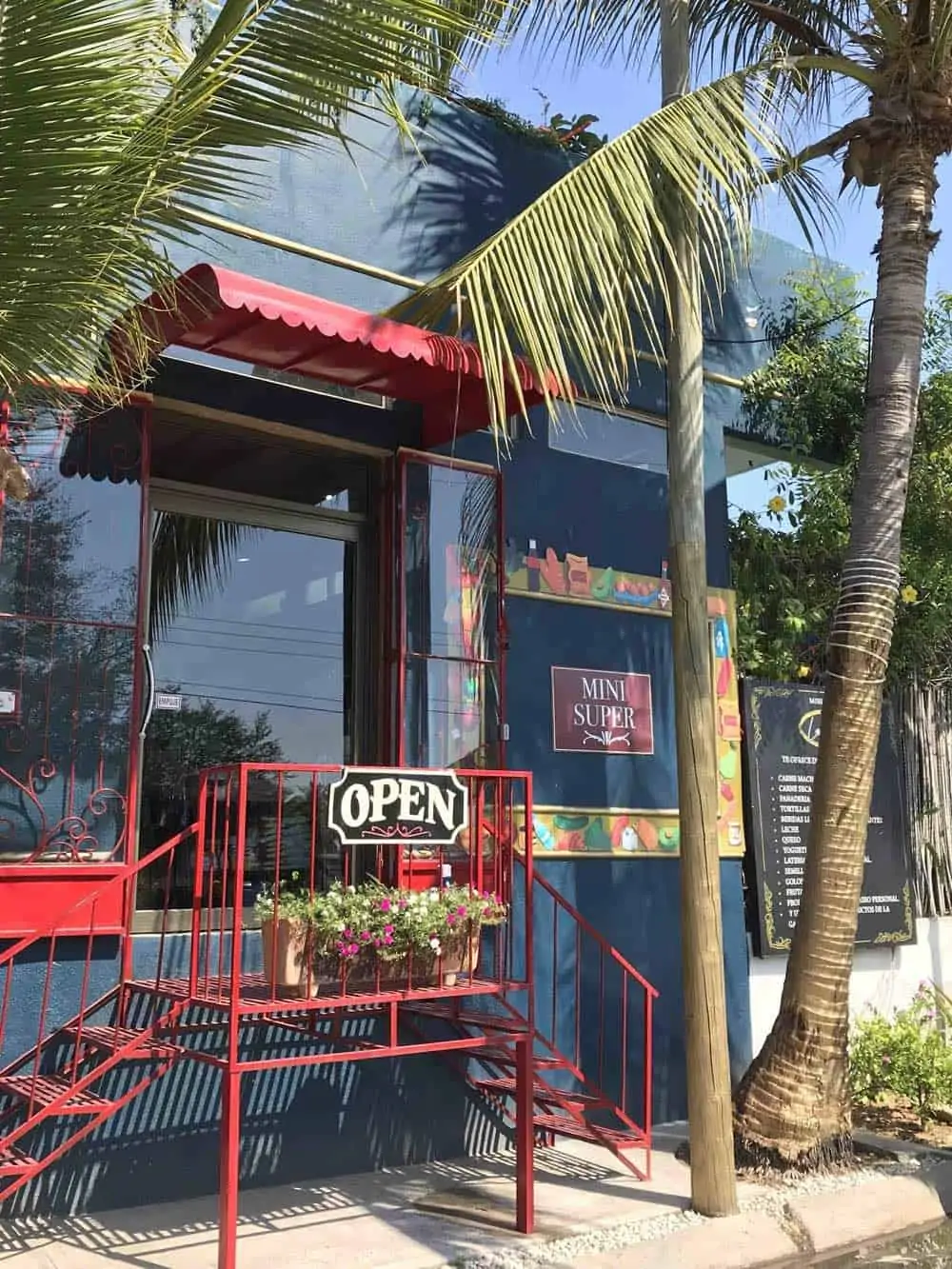 With its Parisian flea market meets Midsummer Night's Dream decor, you'll feel as though you've been transported into a magical realm at this new cafe, food shop and art gallery in the Bacocho neighbourhood.
Twinkling chandeliers, a profusion of flowers cascading from the soaring ceiling and a mix of indoor/outdoor space including a reflecting pool make La Julia Puerto's most atmospheric setting for breakfast.
Even the servers dressed in black lacy blouses and red top hats look as though they've stepped out of a Montmarte cabaret show.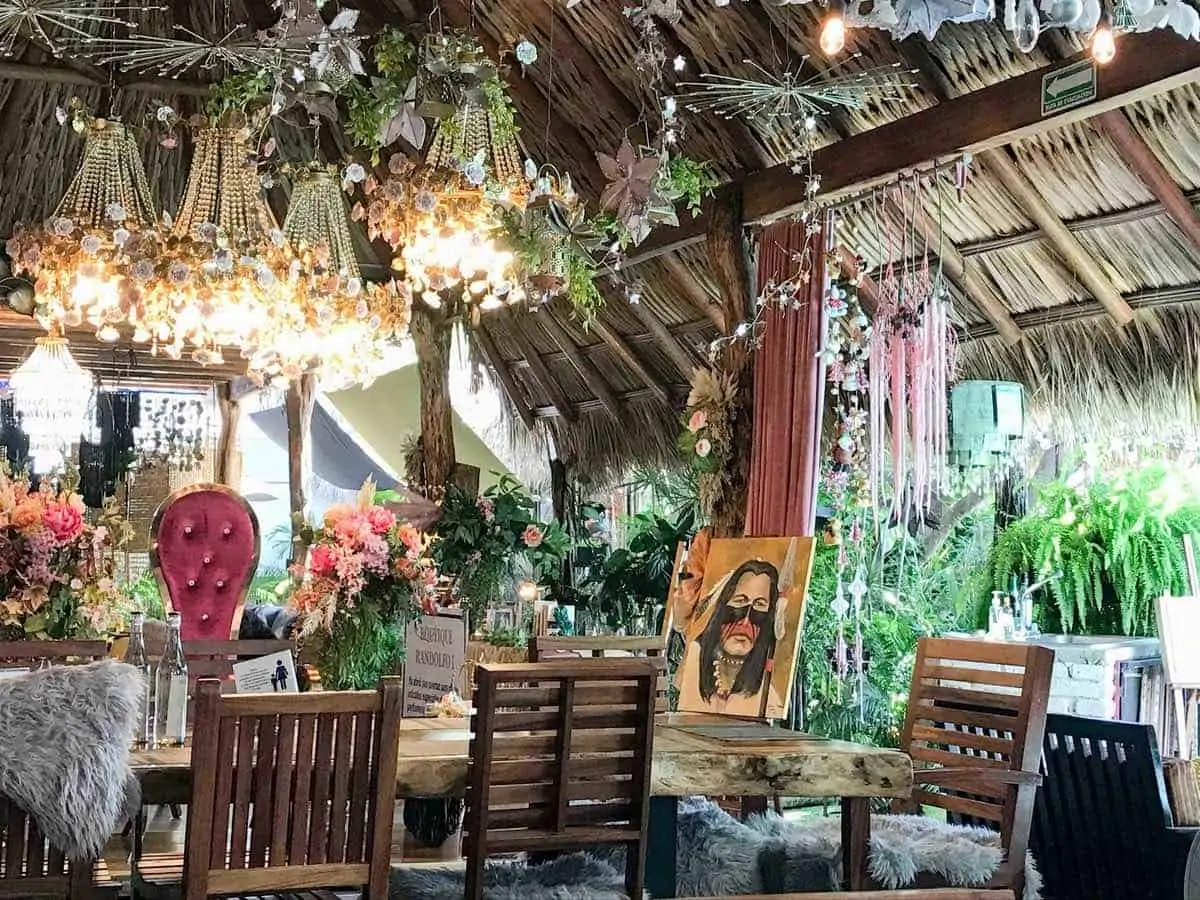 What's inside the velvet-clad menu is just as memorable. In addition to English breakfast classics such as hot cakes, waffles, French Toast and scrambled egg with sausage there's a wide selection of regional Mexican specialties.
This is the place to sample carne machaca con huevo (a traditional specialty of Sinaloa featuring the region's dried salted beef. It's a dish that originated among the vaqueros who dried and salted beef while out on the range. There's also birria, slow cooked Sinaloan style, served with house made refried beans and tortillas.
If you want to go local, Oaxacan ingredients and dishes also figure prominently on the menu in the form of chapulines, chocolate and local cheeses.
There's also enfrijoladas, entomatadas, pasta dishes and salads to round things out even more.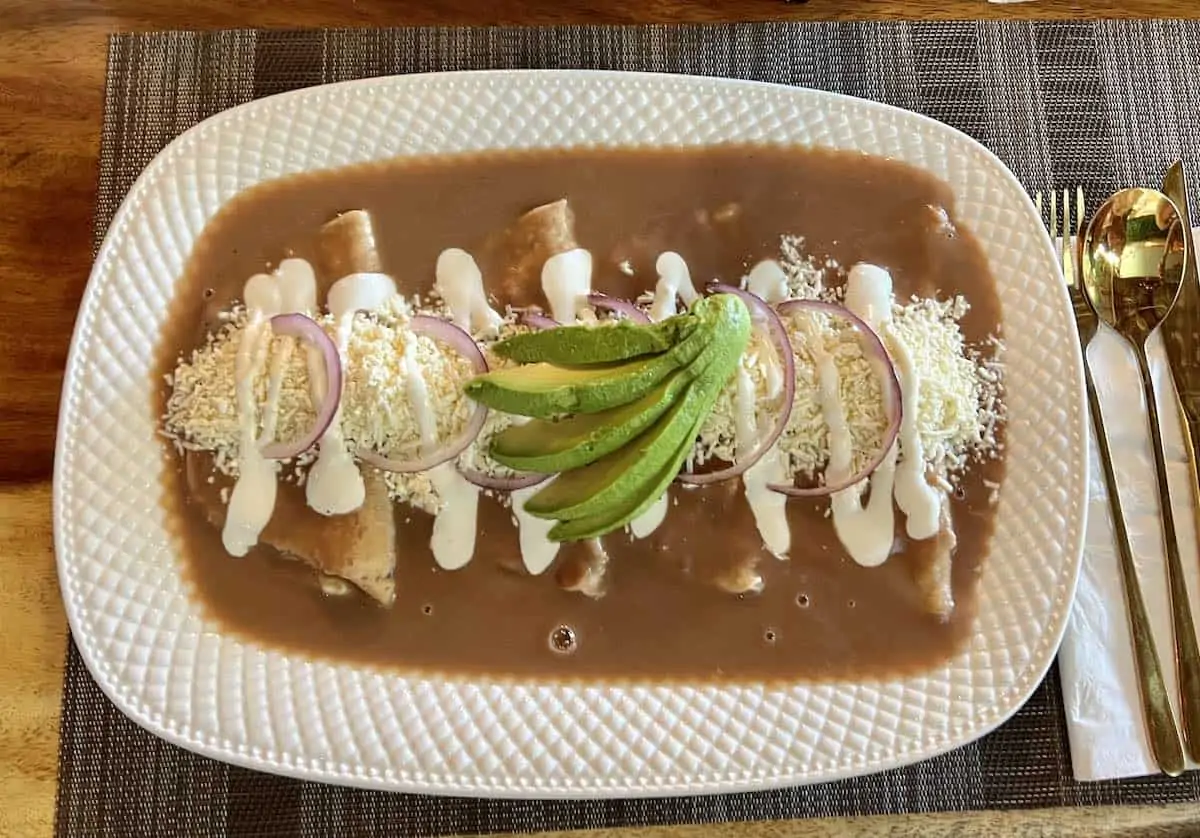 Make time to browse the gallery, soak up the positive ions from the cascading waterfall curtain (the swimming pool is a holdover from the building's former stint as a hostel) and gawk at the imaginative creations that fill every corner of this oasis.
The cafe is named after the owners' mother who is surely must be a creative tour de force.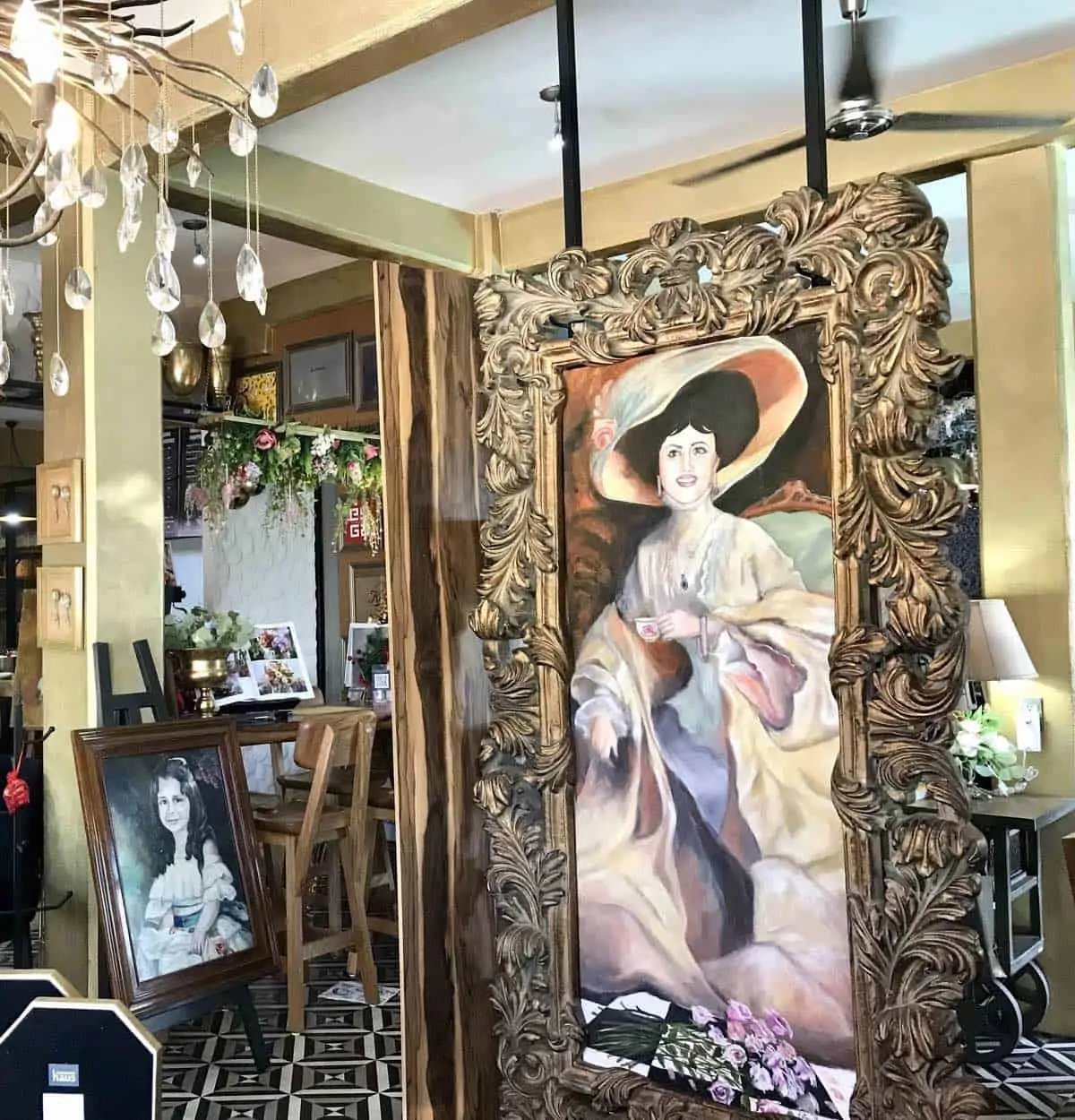 La Julia is one of Puerto Escondido's best places for brunch, fancy breakfast with a group or a romantic breakfast for two. Sometimes there's even live music (check their Instagram page for details).
It's also one of the best places in Puerto Escondido for a family breakfast or lunch as there's a kid's activity table loaded with art supplies for them to create their own works of art. Enjoy some artisanal ice cream along with your creation.
It's also a good option for take-out if you're planning on spending the day at Playa Coral, one of Puerto Escondido's best hidden beaches.
It's located at Tlaxiaco 3 (at intersection of Tehuantepec, Pochutla and Tlaxiaco) in Bacocho near Hotel Suites Villasol.
Open 7:00 am to 8:00 pm, Good WiFi and attentive service. Closed Tuesday.
3. Los Alebrijes Restaurant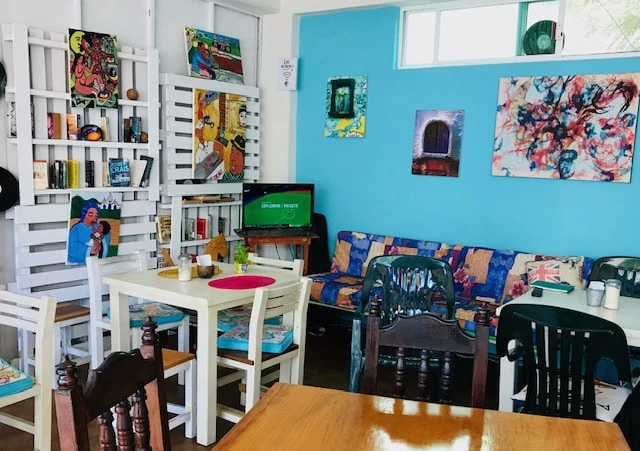 You'll love the inspiring artwork and super-fresh breakfast selections at Los Alebrijes on the Rinconada. This cheerful eatery features imaginative paintings, a lending library and friendly service from owners Letty and Franz.
Check the chalk board for the day's offerings which include a wide selection of omelettes as well as molletes, hot cakes and classic Mexican dishes such as huevos rancheros and chilaquiles. They also whip up what are likely the best crepes in town (nutella anyone?) served with fresh squeezed orange juice or licuados in a rainbow of colours such as strawberry, chocolate and platano.
You'll love the easy on the wallet prices – an order of crepes stuffed with spinach, cheese and mushrooms will set you back just 75 MXN pesos.
4. Elephant Garden
This oasis of greenery and healthy cuisine, is tucked away on the tiny street that flanks Surf Las Olas Hotel leading away from Zicatela beach. You might never happen upon it if you aren't looking for it (or hadn't received a tip from a friend as I did), but it's well worth seeking out.
Go through the shop to the rear of the building to discover the restaurant set beneath an canopy of trees and surrounded by swaying bamboo, tinkling wind chimes and natural stone walls. It's hard to imagine such a light and airy setting just steps from the beach.
Begin by browsing the selection of teas ( both hot and iced), coffees and smoothies (40 MXN) pesos in delicious flavours such as banana, vanilla, strawberry with coconut milk, and my fave … mango with yogurt, cardamom and honey.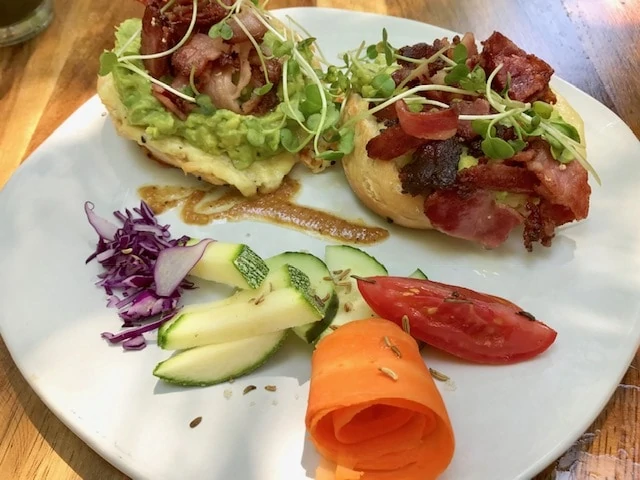 Then, head down to the bagel section of the menu where there are nine varieties of open faced bagels to choose from. Without a doubt these are the best bagels in Puerto Escondido – they've got a nice crispy exterior, a bit of satisfying, chewiness like a Montreal bagel and a soft pillowy interior, which when toasted makes the perfect base for a range of inventive toppings (65 MXN to 80 MXN).
In fact, there are so many variations of bagel sandwiches — from smoked tuna to a spinach pate with walnuts — it's tough to choose just one. They all come with sprouts, micro greens and veggies, which adds a splash of colour and a health boost.
A pair of smoothie bowls with kefir & yogurt, fruit and grains, plus eight breakfast options with everything from muesli to poached eggs round out the enticing menu options. Best of all, there are lots of options for vegan and vegetarian diners.
Another feature of the Elephant Garden that quickly vaulted it onto our list of best breakfasts in Puerto Escondido is its warm, welcoming atmosphere and sense of community. The boutique in the front sells artisanal products such as home decor as well as health food products.
Find them at Elephant Garden on Facebook or visit them between 8:00 am and 3 pm Thursdays to Monday.
5. Las Margaritas – El Centro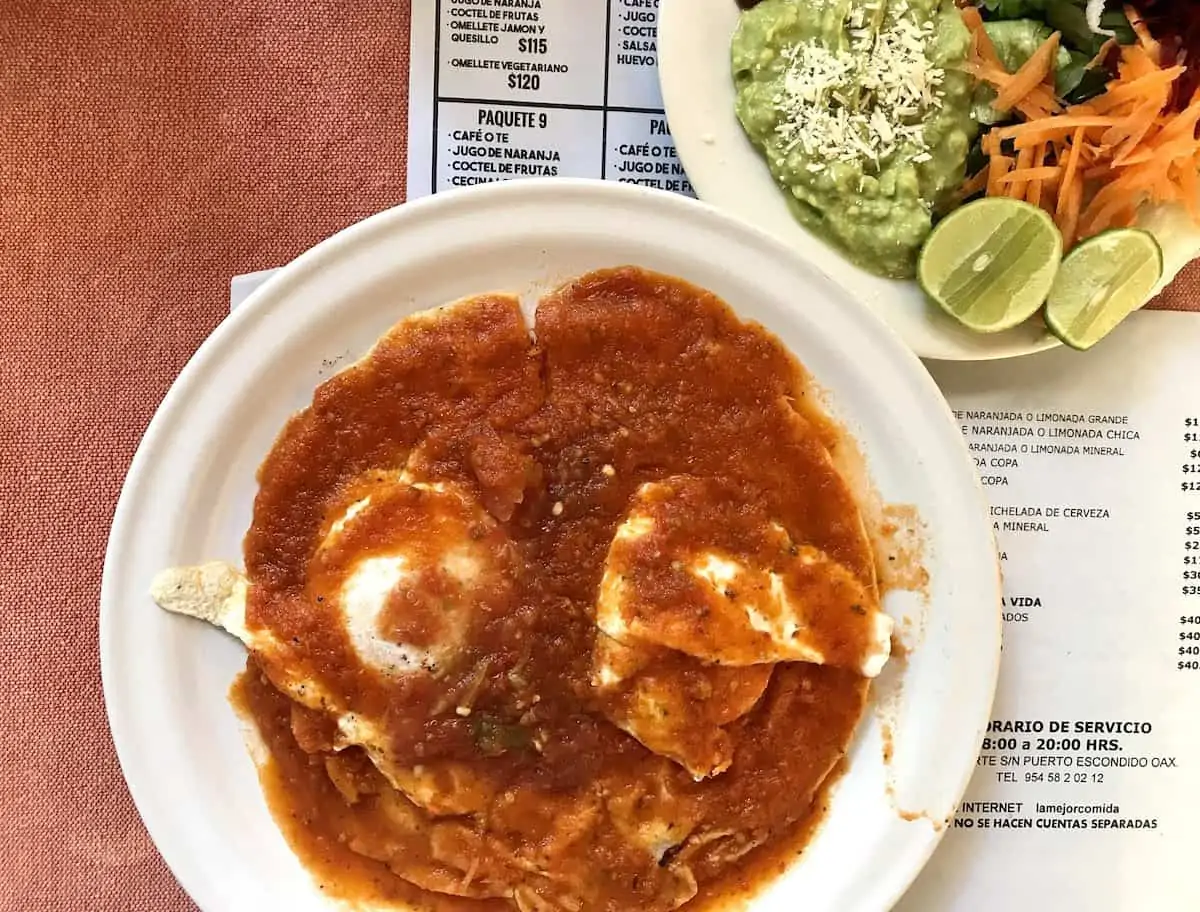 Feeling weary from a morning at the Benito Juárez market? This restaurant is truly an oasis from the bustling street scene along 8a Norte.
The pleasant shaded courtyard, breezy fans, friendly service and immaculate washrooms make it a place you'll want to return to again and again.
On weekend mornings, there's even live music that adds to the relaxing ambiance.
Las Margaritas offers one of the cheapest breakfasts in Puerto Escondido. But this doesn't mean quality suffers.
For example, an order of huevos rancheros or divorciados costs just 75 pesos (under $4 USD) but comes with handmade tortillas de comal, creamy guacamole, a spicy red salsa, black beans and grilled nopal cactus and/or vegetables.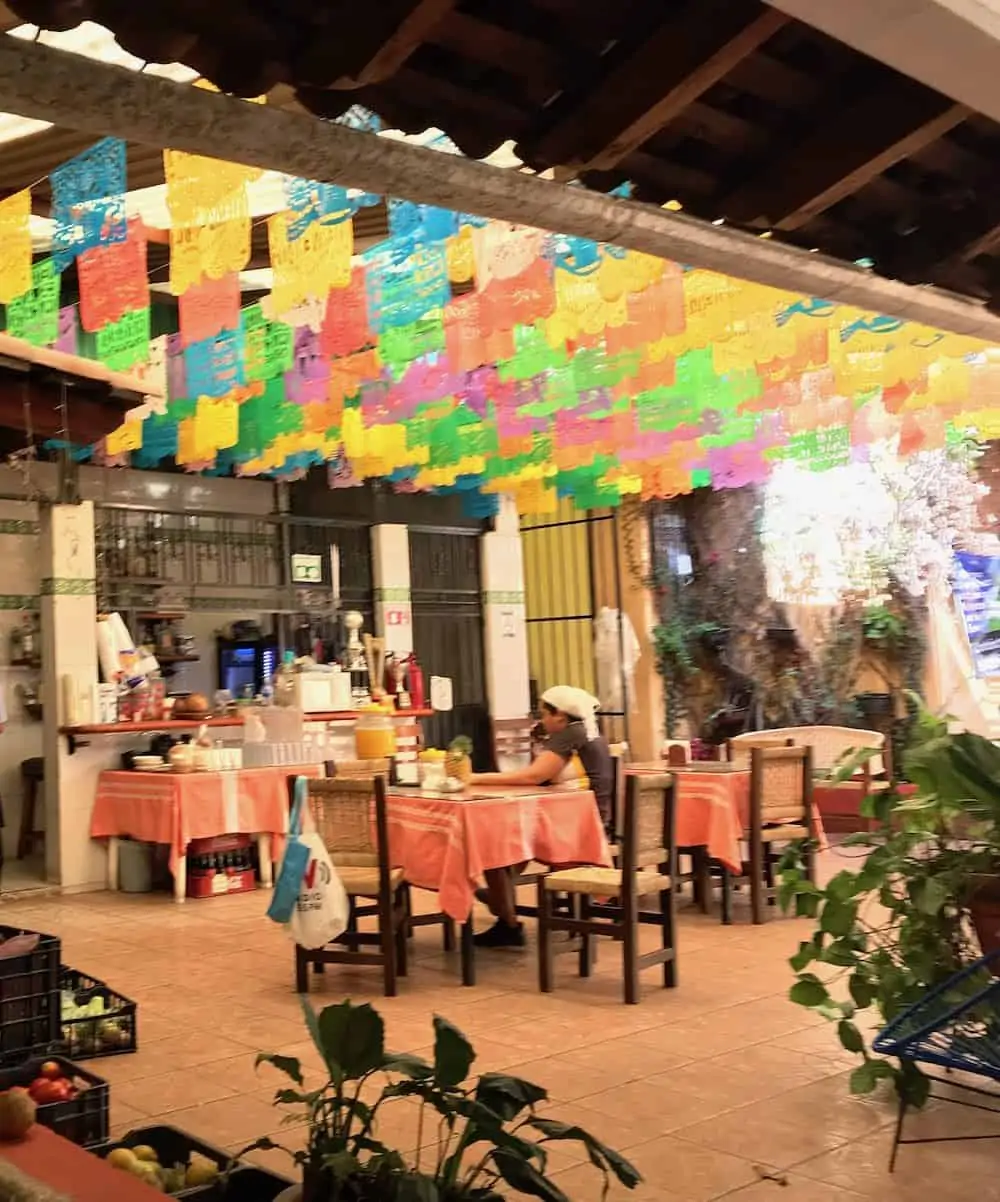 Daily specials are also exceptional value. Portions of brochettes of fish are so generous you can take some home for your next meal! Another top choice is grilled beef arranchera.
Look for Las Margaritas awning at the corner of Avenida Oaxaca and 8a Norte across from Benito Juárez Market.
6. Dan's Café Deluxe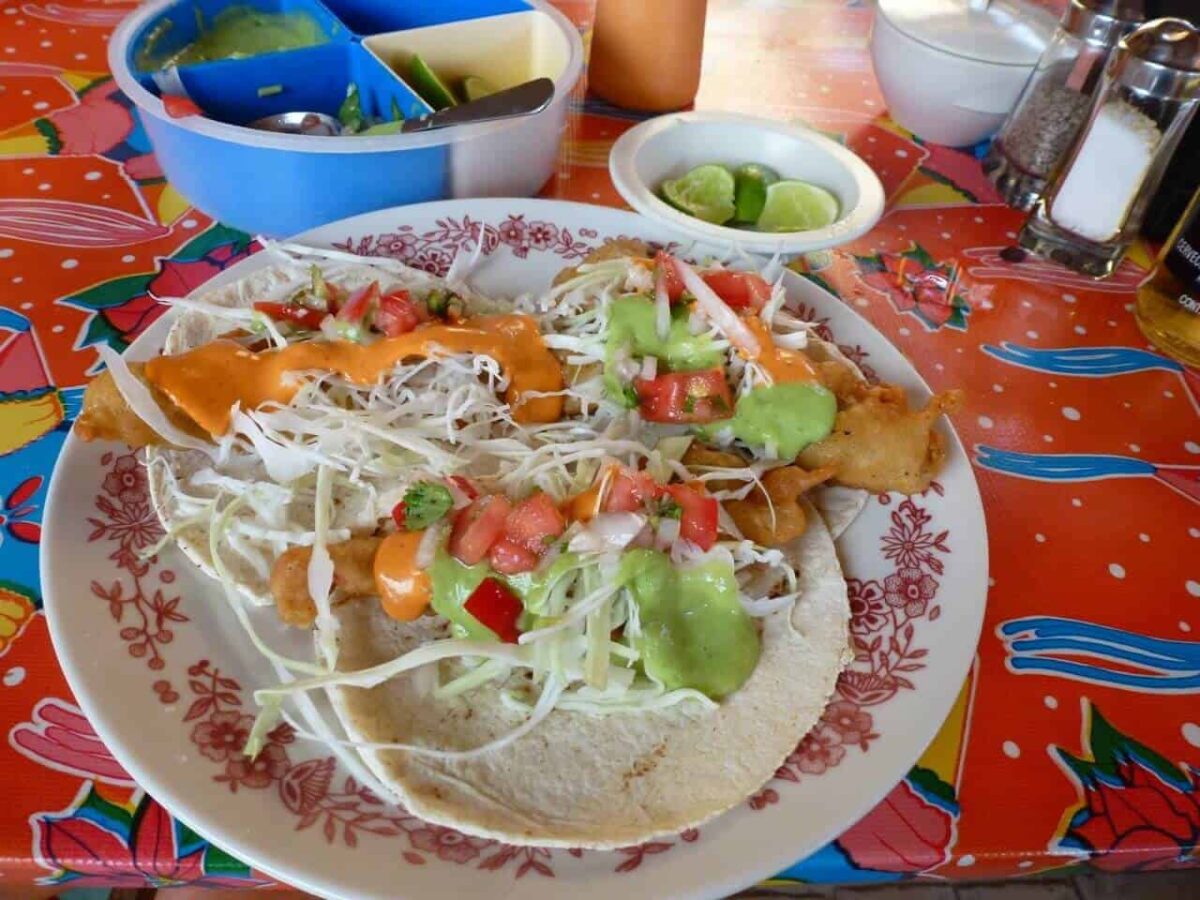 You won't find a better deal on pancakes, bacon and eggs than the Surfer breakfasts at Dan's Cafe. The coffee is good and strong too, a rarity in town.
This breezy corner cafe and restaurant is a mecca for hungry surfers, local business folks and the ex-pat community.
If the crowd isn't at Dan's Cafe Deluxe for the hearty breakfast and good, strong coffee then they're there for the fish tacos, served Baja-style with a trio of authentic salsas, on Fridays and Saturdays.
I eat them in the late morning and call it brunch. Good, free wifi is another bonus.
14 Calle Jacarandas Opens at 7:00 am
7. Pez Gallo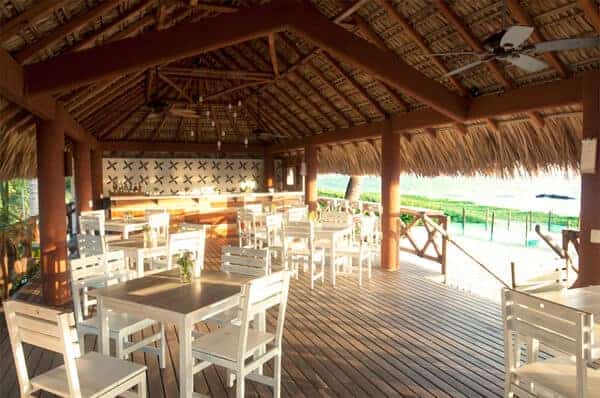 With a winning combination of beautiful views, the sound of waves and quality cuisine, once you eat at Pez Gallo, you'll wonder why you didn't discover it sooner.
One of our fave breakfasts in Puerto Escondido for post-beach walk refreshment, it's located at the Beach Club Villa Sol of Hotel Suites Villasol on Puerto Escondido's Bacocho Beach
Vegetarians will be pleased with options such as zucchini squash omelet, fluffy waffles and fruit pancakes with apple chutney for breakfast.
Unless you want to combine a morning stroll with breakfast, you'll most likely need to take a taxi.
But if you do decide to walk, it's a steep road downhill at least one way. Open 8:00 am – 7:00 pm
8. El Cafecito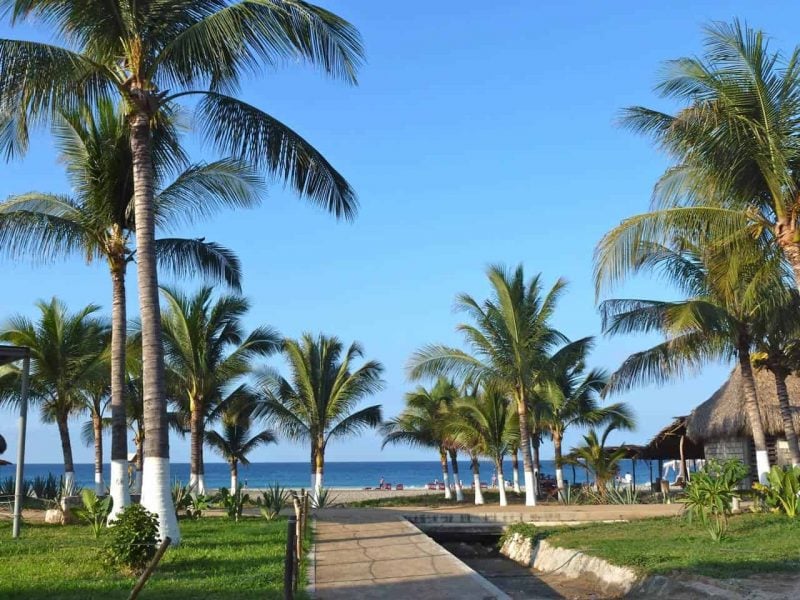 Sooner or later, everyone ends up at El Cafecito. It serves up some of the most popular breakfasts in Puerto Escondido. Expect line-ups on weekends and during holiday periods.
This restaurant/coffee shop has two locations: One on the Rinconada and the other on the Zicatela strip, each with the same winning formula of great food, reasonable prices and fast service.
The breezy Zicatela location with its plentiful ceiling fans is a welcome break from the sun and is prime for people-watching.
Make your own breakfast salsa with this recipe for Salsa Verde (Green Tomatillo Salsa) by The Mexykan
A continuous parade of beach vendors offering wares such as masks, bobbly head crustaceans and jewellery will keep kids happily entertained. The Rinconada location is near the library so you can pick up a book at the same time.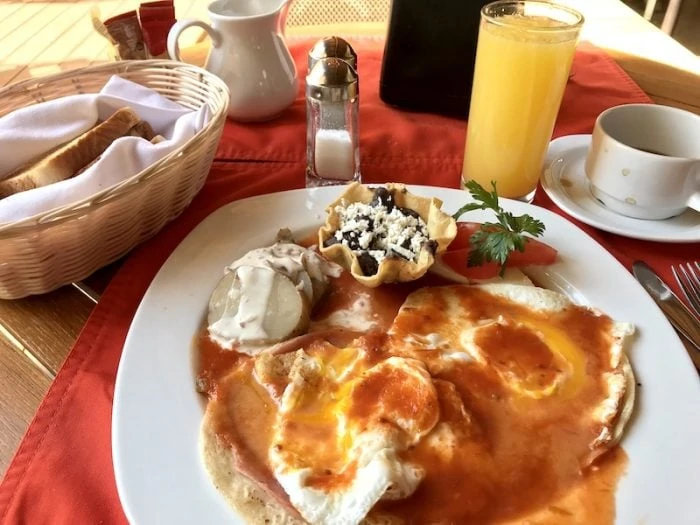 Order the chilaquiles or if you're just passing by, grab a loaf of satisfying whole-wheat bread or sticky cinnamon bun from the bakery counter to go. The good wifi signals at both restaurant locations makes Cafecito a prime spot for checking email while you sip your coffee.
The only challenge is that many other people also think el Cafecito is home to the best breakfast in Puerto Escondido as well, so expect crowds and long line-ups on the weekends.
Love coffee? Be sure to take a tour to Pluma Hidalgo to sample Oaxaca's excellent shade-grown coffee direct from the source.
9. Gina's Walking Tour for Foodies
Led by local expert Gina Machorro, this morning walking tour offers an introduction into typical Oaxacan breakfast ingredients such as nopal cactus, tortillas and beans.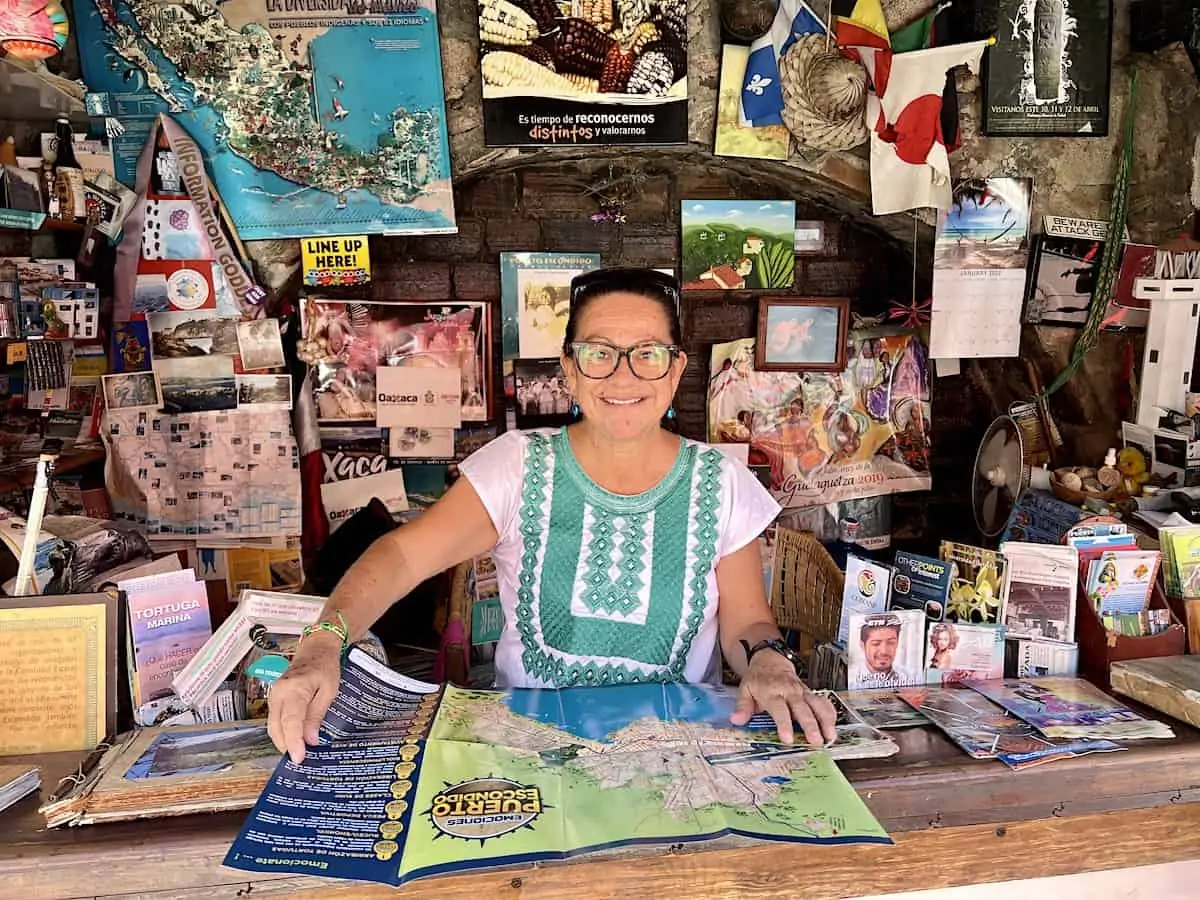 On this morning tour, you'll explore the culinary backstreets of Puerto Escondido visiting a traditional chocolate grinder, the homes of women making tamales and Benito Juarez Market where you'll explore the indigenous stalls, learning how to identify epazote, pimiento gorda, sapote (mamey) and nance.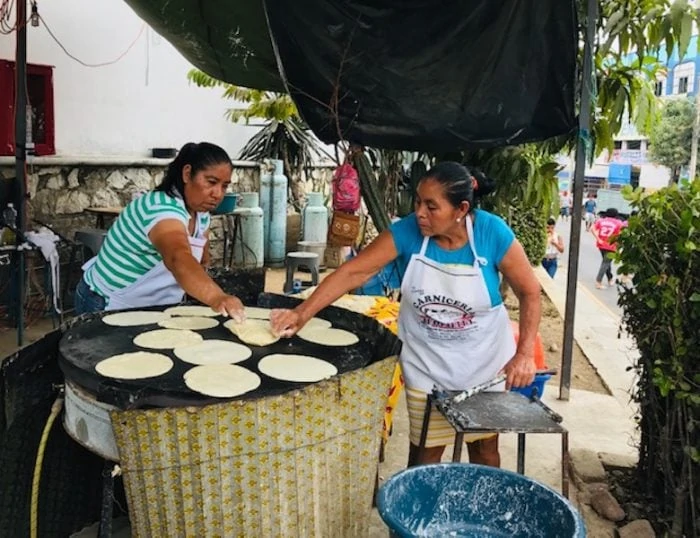 You'll come away with a bag of culinary goodies and a whole new appreciation of Puerto Escondido.
The tour is usually held on Saturdays 7:45 am but check at Gina's Information Booth on the Adoquin for times and reservations.
10. Danny's Terrace – Playa Principal
Set among the almond trees overlooking the fishing boats on Playa Principal, Danny's Terrace is a perennial favourite for breakfast or brunch in Puerto Escondido.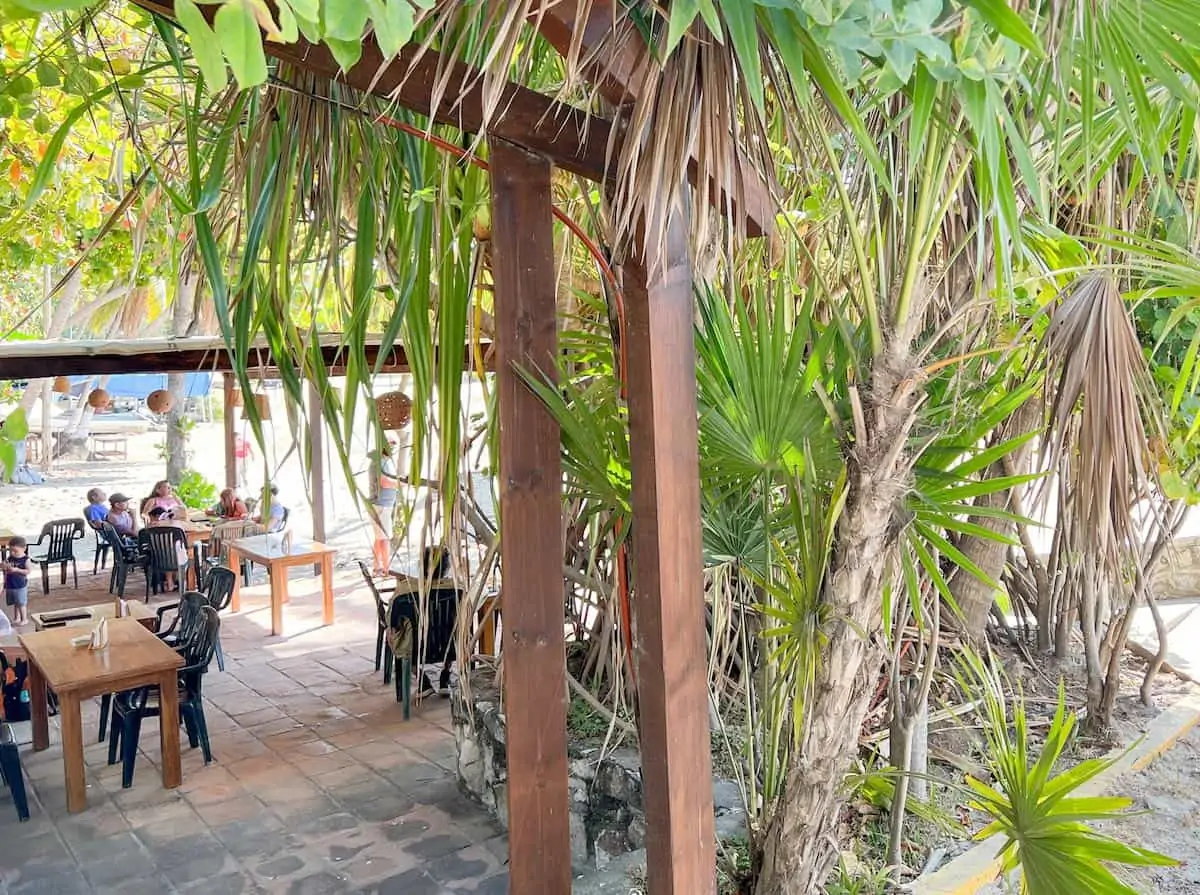 Danny's Terrace is tucked inside the Hotel Rincón del Pacifico on Alfonso Pérez Gasga. You can find its entrance on the beach or via a narrow walkway leading to the beach from the Adoquín.
There's lots to choose from on the menu at Danny's Terrace. Choose from traditional breakfast items such as hotcakes with fruit, waffles with caramelized fruit and fruit salad with granola and yogurt.
It's one of the most popular places for Eggs Benedict in Puerto Escondido.
Or, go local with specialties such as eggs Oaxaqueñas or an omelette stuffed with mushrooms, squash blossoms and Oaxacan cheese, enmoladas (enchiladas stuffed with chicken, cheese or beef bathed in mole sauce), enfrijoladas or entomatadas, chilaquiles and more.
You'll be amazed at the great value! Most mains are under 100 pesos ($5 USD) and come accompanied with refried beans, tortillas or French bread and house-made salsa. The juices are freshly squeezed.
Check out the menu and hours of operation at their Facebook page. Phone number: 954 582 0257
Do you have a favourite place for breakfast in Puerto Escondido or other parts of Mexico? If so, let's hear about it!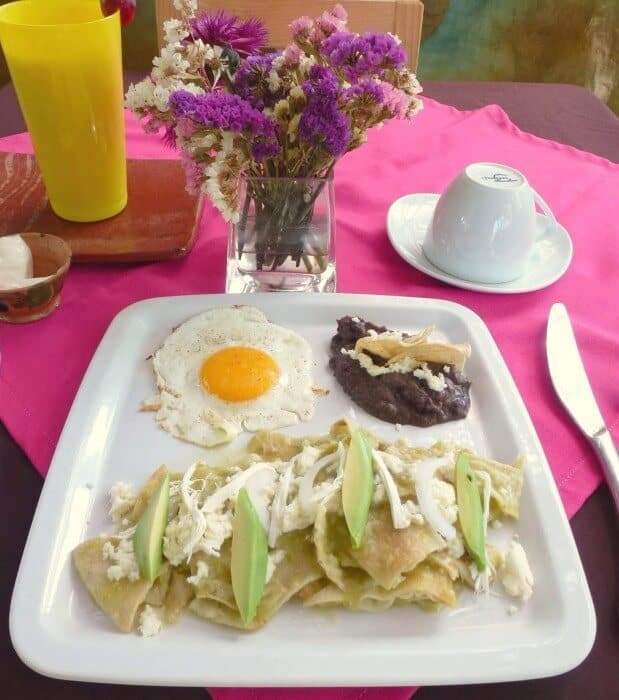 Other Places to Eat, Things to See and Do in Puerto Escondido
And that's not the end of things to do in Puerto Escondido! Read our Essential Puerto Escondido Travel Guide for more information on hotels, beaches, things to do, day trips and more in Puerto Escondido.
Or go directly to these posts:
Day Trip to Untouched Mexico: Roca Blanca Beach
Chowing down on Huauzontle at Jardin de Rafaela in Puerto Escondido
It's Easy to Fall in Love with One Love Restaurant
Save to Pinterest!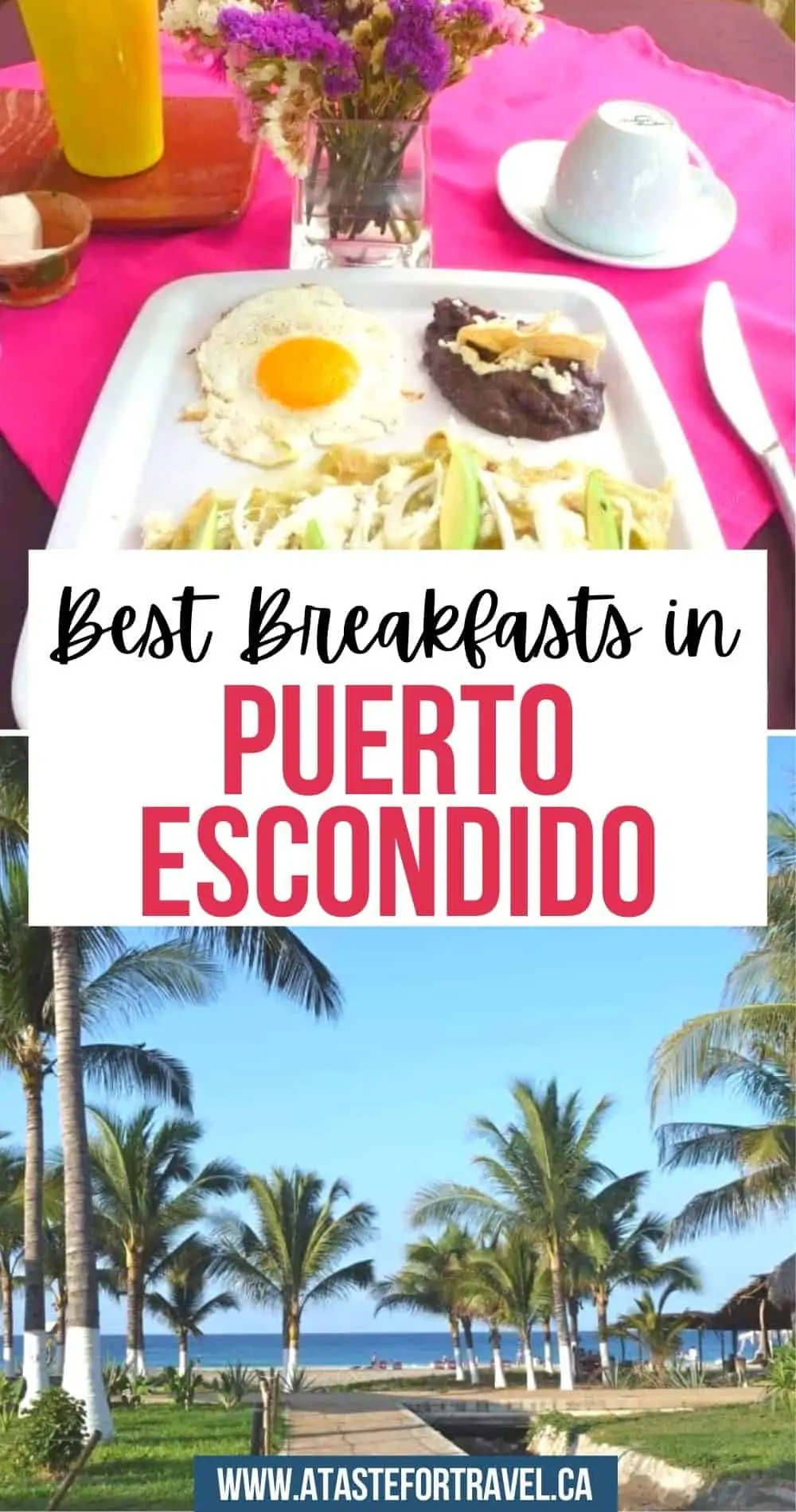 Dividing her time between Canada, Guatemala and Mexico (or the nearest tropical beach), Michele Peterson is the founder of A Taste for Travel. Her award-winning travel and food writing has appeared in Lonely Planet's cookbook Mexico: From the Source, National Geographic Traveler, Fodor's and 100+ other publications.
Read more about Michele Peterson.