We may earn income from links in this post. Please read this Disclosure for details.
One of the top things to do in Puerto Escondido, Oaxaca is to take a day trip to Roca Blanca beach, located northwest of the city.
With its big waves, fresh grilled fish and hammocks swaying in the breeze, it's a taste of classic Mexico away from the crowds.
Why Take a Day Trip to Playa Roca Blanca, Oaxaca, Mexico
On my first road trip to Mexico, a journey undertaken in a Dodge Sportsman camper van around 1988, I was armed with a sarong, some battered cooking utensils and a secondhand copy of The People's Guide to Mexico: Wherever You Go — There You Are, a compendium of stories big on adventure but skimpy on practical travel information.
If you're looking for that Mexico — a Mexico untouched by mass tourism–Roca Blanca beach offers a taste of "Wild Mexico" a spirit captured so beautifully in that hippie handbook.
And it's super easy to do on a day trip from Puerto Escondido.
Location of Roca Blanca Mexico
This graceful beach is located a 45 minute drive on Highway 200 northwest of Puerto Escondido. It's known as "Roca Blanca" or "White Rock" due to the quantity of bird guano on an offshore boulder. That shouldn't stop you from appreciating its many pleasures.
And you'll find plenty of seclusion – assuming you don't run into a movie star or two. Although I haven't been lucky enough to bump into Gael García Bernal, it's not that far-fetched to imagine you might bump into a celebrity here.
Roca Blanca was one of the filming locations (and renamed Boca del Cielo) in the 2001 drama Y Tu Mamá También.
This desolate stretch of coastline dotted with rustic restaurants still draws celebrities such as Diego Luna, camera crews filming Corona beer commercials, chef Rick Bayless (see the episode of Mexico One Plate at a Time from Season 9) and documentaries such as Campo Abierto.
Celebrated Mexican artist Gabriel Orozco even has a hilltop home — Casa del Observatorio — that's been featured in many international architecture magazines.
Given the seaweed problem in Tulum and a Sargassum Seaweed Forecast for 2023 that suggests it will be a record-high year, many vacationers are looking at Mexico's Pacific Coast as an alternative to the Caribbean.
Things to Do at Roca Blanca Beach Puerto Escondido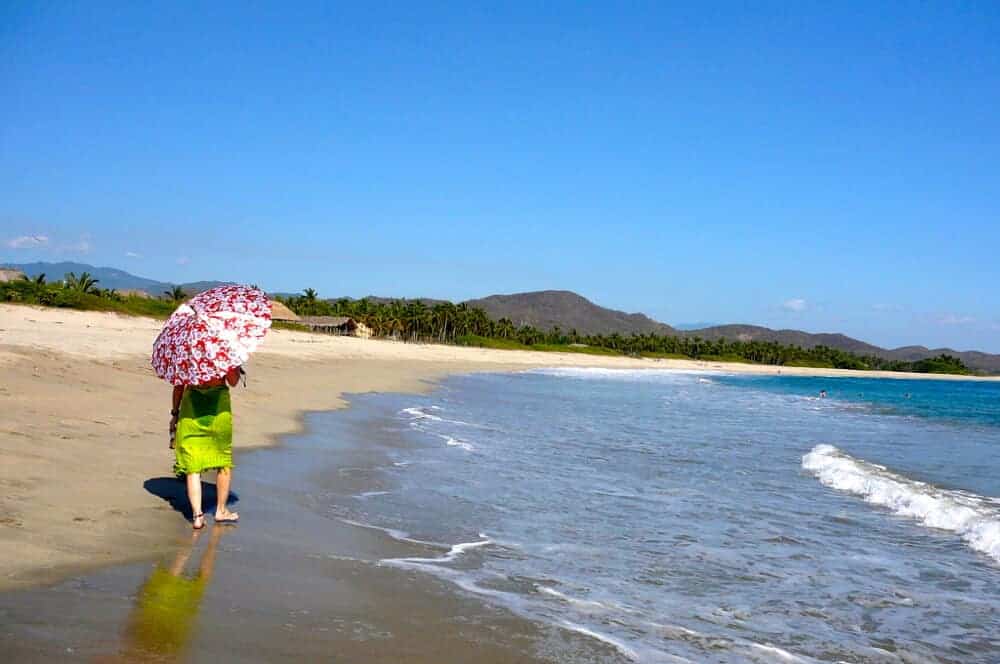 Located 35 kilometres from Puerto Escondido past Manialtepec Lagoon (the rare bioluminescent lagoon where you can go Swimming in Bioluminescence surrounded by glow-in-the-dark plankton), it's a peaceful pocket of natural beauty untouched by development.
The main attraction of Playa Roca Blanca is the opportunity to relax and laze away the day in a hammock. However, there are a few things to do and they include:
surf fishing,
surf near the rocks,
taking a long beach walk,
chatting with the locals,
exploring the local iguanarium,
sample fresh seafood.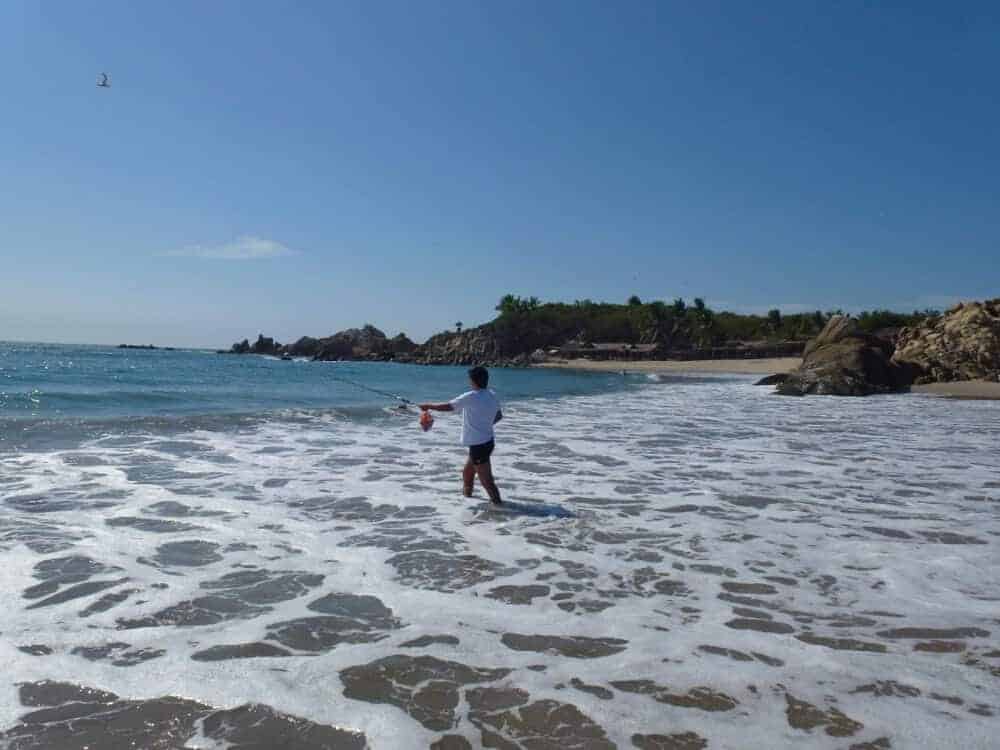 How to Get to Roca Blanca Beach from Puerto Escondido by Car
Unlike taking a day trip to Barra de Navidad near La Punta (read about it in the post Day Trip to Barra de Navidad ) the beach at Roca Blanca takes a little bit more work to get to.
The easiest way to get to Roca Blanca is to imagine you're back in high school and mooch a ride from a friend with a car. Or you can rent a car in Puerto Escondido for the day, week or month.
The advantage of renting a car is that you can make a stop at a mezcaleria and pick up some artisanal mezcal, a must-try drink when in Oaxaca.
Head northwest on Highway 200 to KM 102 at Cacalote. Turn left off the highway.
To get to the beach, stay right when you come to the fork in the road. If you turn left you'll be at the Roca Blanca Mission Base, a Christian Bible School.
Continue along the sandy road until you reach a row of restaurants, passing fields of papayas and coconut trees along the way. The road isn't paved but it's in good condition.
Just watch for burros, chickens and cows as they sometimes stray onto the road.
How to Get to Roca Blanca Beach by Private Van or Taxi
Another way to get to Roca Blanca Oaxaca is to hire a driver who will take you to the beach and pick you up again at a predetermined time.
Well known for his shuttle service from Huatulco airport to Puerto Escondido, Oscar Flores gets high marks for reliability and service. He also operates newer model vehicles with air-conditioning.
Email: ofr_flores@hotmail.com Phone: 954-129-6540
Cost: Puerto Escondido – Roca Blanca Beach by van: 2500 pesos roundtrip. (Email Oscar for Current Pricing)
Cost: Puerto Escondido – Roca Blanca Beach by car: 1400 pesos roundtrip. (Email Oscar for Current Pricing)
How to Get to Roca Blanca Beach by Colectivo Minibus or Shuttle
If you're on a budget, it's still possible to get to Roca Blanca by public transit.
Take a microbus from the terminal Transportes de Pasajeros Unidos de Rio Grande (corner of 1a Poniente and the Costera Highway). You'll be sharing the microbus with others so try to get a seat near the front so you can watch for the signs and avoid motion sickness. Get off 40 minutes later on Highway 200 at KM 102 at Cacalote.
There is also a sign posted "Roca Blanca" so you can't miss it. Fare was 30 pesos per person the last time I took it but take pesos in small denominations in case the fare has increased. Pay when you disembark.
Once at Cacalote, you'll hop in one of the taxis parked at the roadside concession stands. If there are no taxis, just wait as they may be on their way back from the beach.
Your taxi fare should cost no more than 25 – 30 pesos ($2 USD) to the beach. If you're feeling energetic you could make the very long walk (30-45 minutes) down to the beach.
Best Restaurants at Roca Blanca Mexico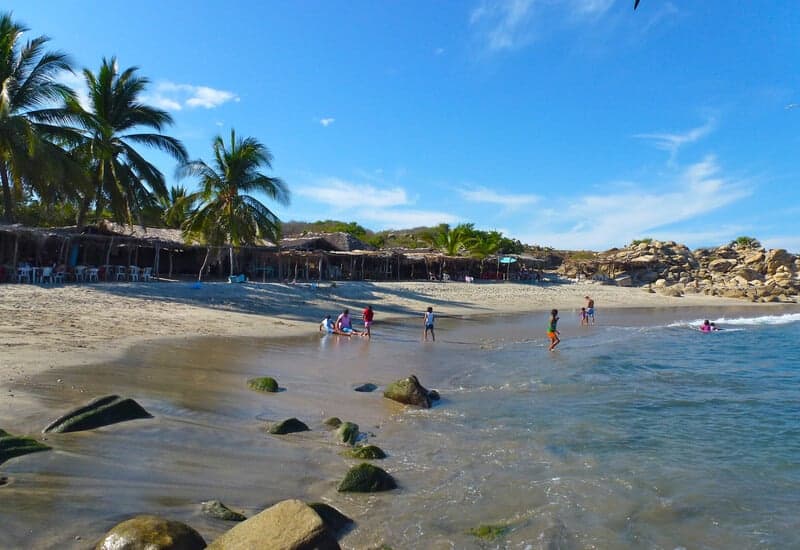 When you arrive at the main beach zone (it's past Las Palmas), the best restaurant is Roca Blanca Restaurante y Mariscos, the first palapa restaurant on the left at the entrance to the main beach.
It's my favourite spot (and not just because it's the place with the highest likelihood of seeing Gael Garcia Bernal).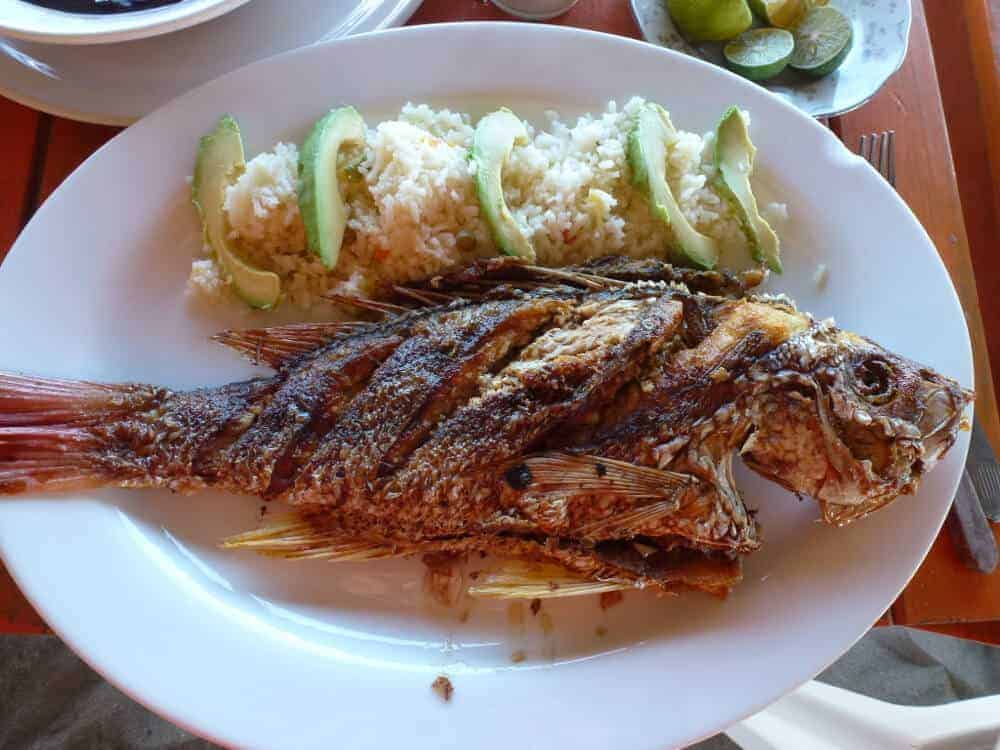 Co-owned by pro fisherman José Galán and chef "Lulu" Zoila Lourdes Garibo Bustamente, you'll enjoy a lively atmosphere (check out the wall of celebrity photos) and the freshest fish.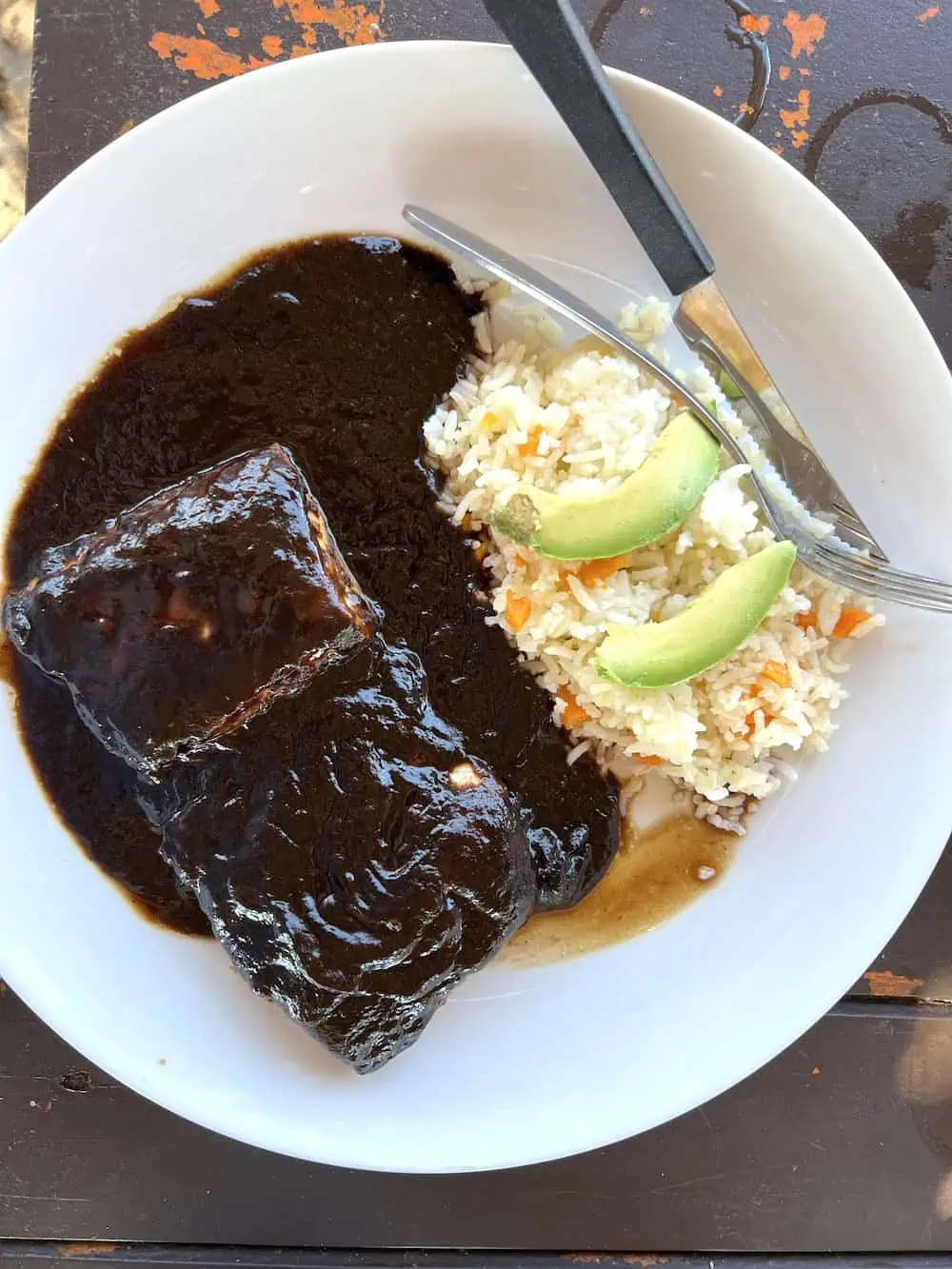 While many people opt to order the grilled whole fish, be sure ask about the special of the day. You can often get lonja a thick filet of medregal, a member of the carangidae fish family.
This mild, firm fish is also known as yellowtail or amberjack.
Lulu prepares medregal several delicious ways including mushroom, tamarind or chipotle cream sauce, a la naranja (orange sauce) and in tiritas de pescado.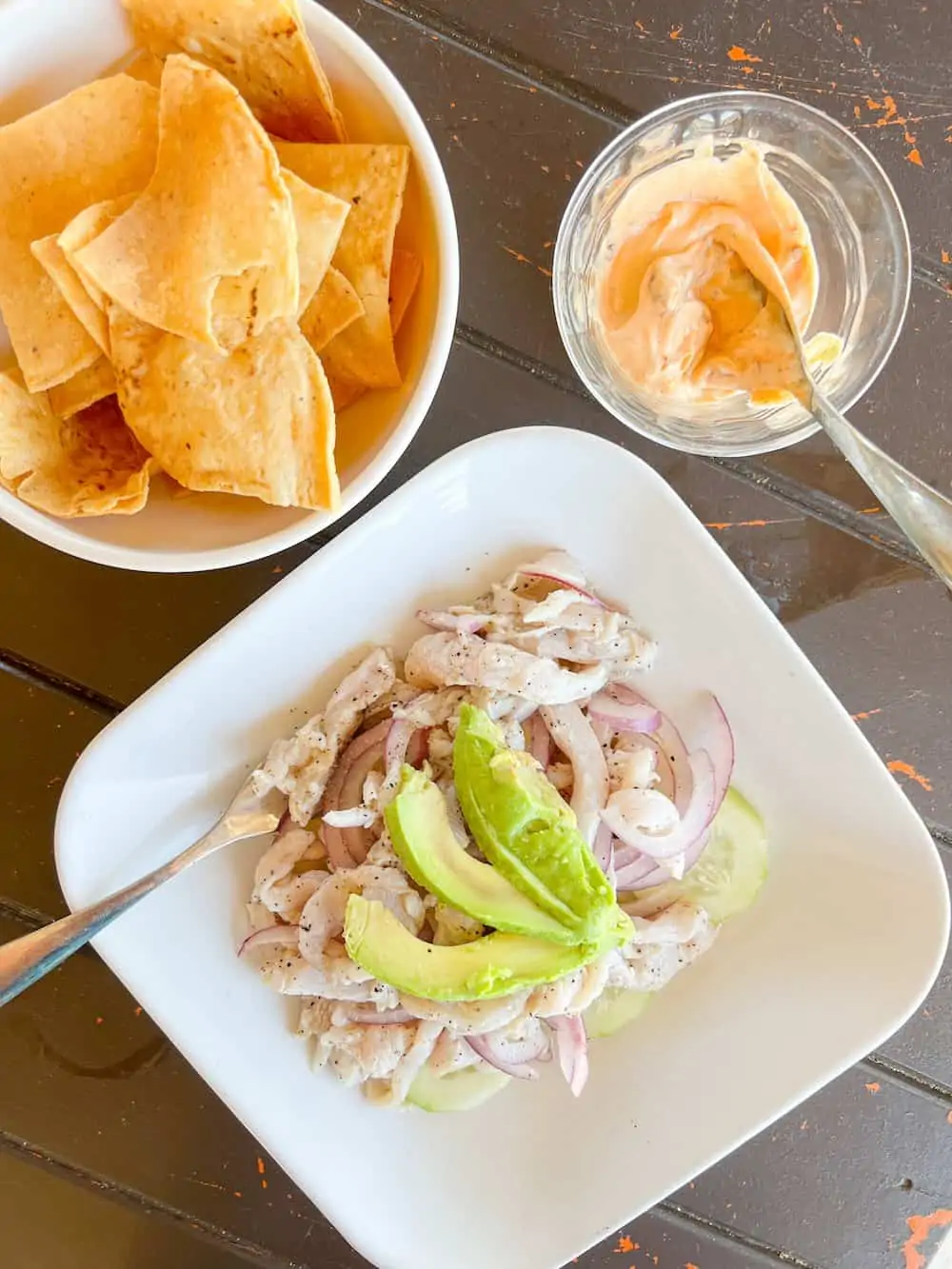 While tiritas de pescado is a traditional dish of Zihuatanejo, Guerrero, it's also a popular dish on the coast of Oaxaca.
Similar to ceviche and poisson cru of Tahiti, this seafood cocktail is made by marinating raw fish in lime juice until it's cooked and then mixing it with slivers of onion, minced jalapeño and cucumber.
Topped with slices of avocado and served with saltines or tortilla chips, it's the perfect dish to enjoy on a hot day at Roca Blanca!
Washrooms and Shower Facilities
When it comes to facilities, there's no charge to use the washroom facilities if you're dining at Roca Blanca Restaurant & Bar.
Their sanitarios are clean, tidy and have flushable toilets and hand-washing sinks — which is a big improvement of more primitive facilities along the coast.
When it's time to call it a day, ask staff at the restaurant to call you a taxi for your return back to the highway. There you can flag down any of the passing microbuses marked "Puerto Escondido."
Travel Guide to Roca Blanca Puerto Escondido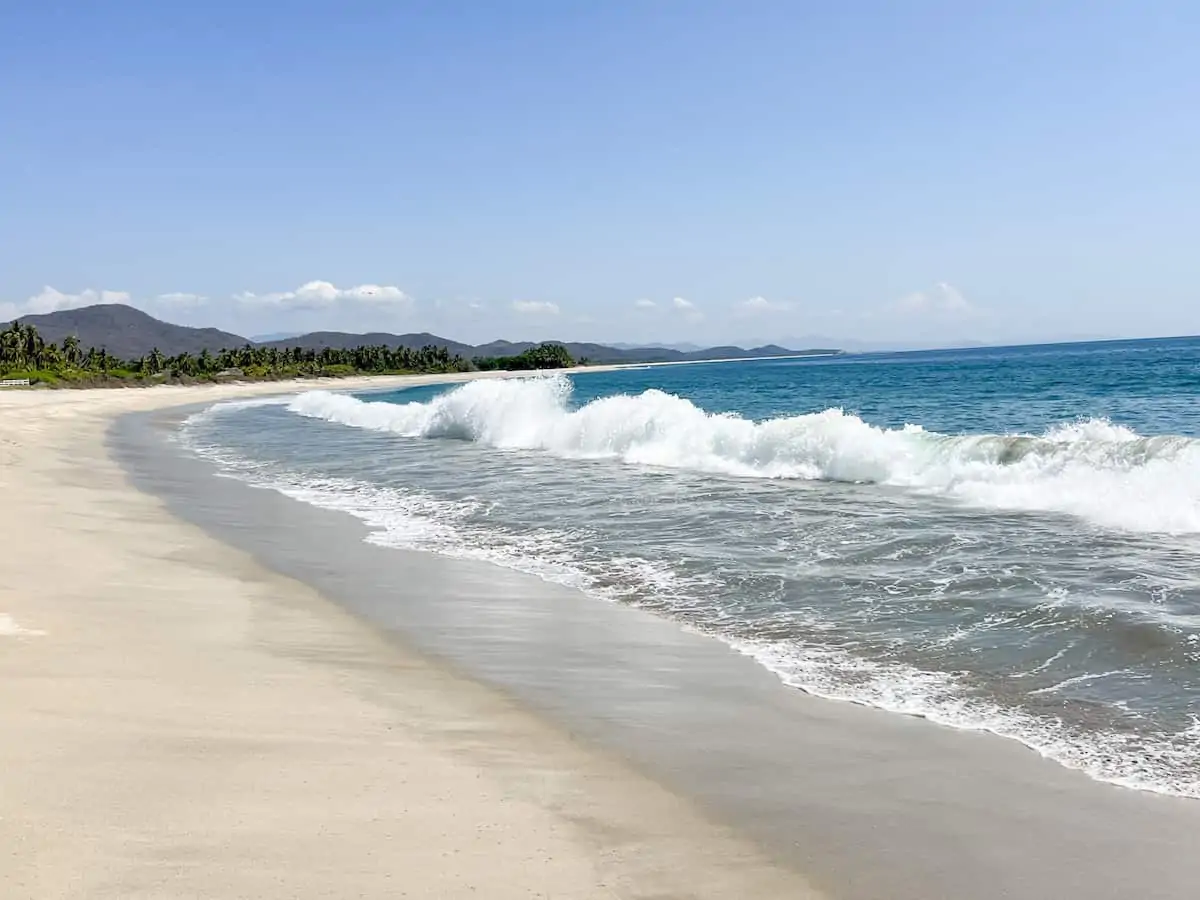 If you decide to stay the night at Roca Blanca beach, simple and rustic rooms are available for 300 pesos (2 people).
Email at Roca Blanca Restaurant is antoniagalan06@hotmail.com
954 559-8979 or 954 114-1510
Where to Stay at Roca Blanca: Hotel Escondido, the stylish (and pricey) beach bungalows by Grupo Habita, are located relatively close to Roca Blanca beach if you want to stay for a night or two.
Check rates and availability for Hotel Escondido by Grupo Habita on Booking.com
Las Palmas AirBnB is another option.
That's not the end of things to do in Puerto Escondido! Read our Essential Puerto Escondido Travel Guide for more information on hotels, beaches, things to do, day trips and more in Puerto Escondido.
You Might Also Like:
9 Tips for a Perfect Romantic Getaway in Puerto Escondido, Oaxaca
Beginner's Guide to Puerto Escondido Beaches
Save to Pinterest!
Dividing her time between Canada, Guatemala and Mexico (or the nearest tropical beach), Michele Peterson is the founder of A Taste for Travel. Her award-winning travel and food writing has appeared in Lonely Planet's cookbook Mexico: From the Source, National Geographic Traveler, Fodor's and 100+ other publications.
Read more about Michele Peterson.