We may earn income from affiliate advertising links in this post.
If you're trying to decide whether you need a car rental in Puerto Escondido, Oaxaca,  this guide is filled with advice to help you make a decision. It's also got handy tips on renting a car with details on costs, insurance in Mexico, safety and more.
by Nancy Wigston
Why Rent a Car?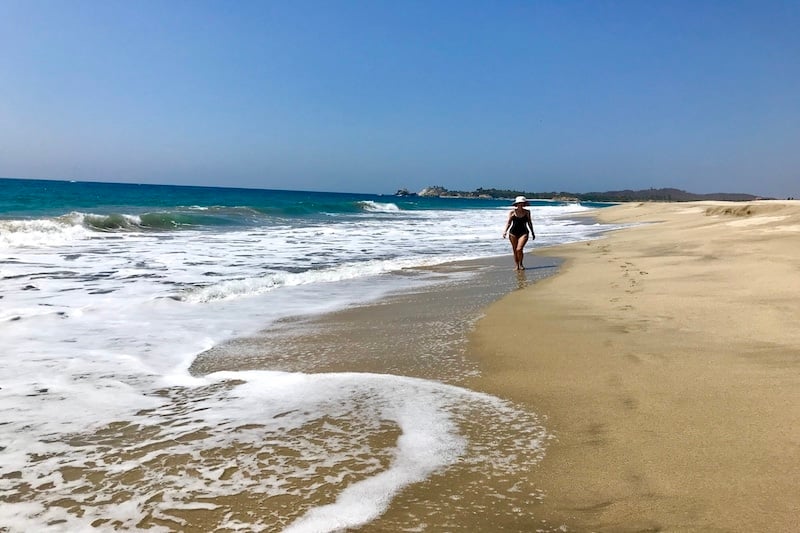 Freedom and Independence
Among the many transportation options on the coast of Oaxaca Mexico —- bus, van, taxi and colectivo (shared vehicle) — renting a car in Puerto Escondido and Huatulco holds major appeal for North Americans used to going where they want, when they want.
On our first visit to Puerto, we had been car-less for three weeks and relying on taxis to get around. Renting a car made us feel like teenagers again with all the freedom of the road. The first thing we did was invite friendly neighbours for an afternoon at Roca Blanca Beach, a spontaneous gesture that forged a friendship that endures to this day.
Convenience and Comfort
While there are other transportation options for day trips, it's faster and more comfortable to travel in a car. For instance, getting to an out-of-town beach like Roca Blanca (60 Kilometres away from Puerto Escondido) without a car would require catching a van on Highway 200 and then getting a taxi to the beach when you arrive at the entrance (or taking a long walk in the sun).
If you rent one of the luxury villas in Puerto Escondido, you'll be located outside of the city and you'll need to rent a car to get around.
Taxis vs Car Rentals
It is possible–and people often do this—to take the ever-present taxis which are very reasonably priced. The downside is many taxis have no seat belts in working order, no air conditioning and drivers are often on their phones, which are not hands-free. And they drive fast.
In a car you'll have air conditioning if you want it, the seat belts will work and you can stop along the way if you need a washroom or want to stop at sights along the way.
Have Fun and Explore More Destinations
Having a car does cost more, but offers the flexibility of multiple stops in town, as well as endless opportunities to visit the many fascinating towns along Oaxaca's coast and in the nearby Sierra Madre Sur mountains. We've driven our rental cars to Huatulco as well as Mazunte, Zipolite and other spots further afield.
Check out this post on the 7 Reasons You Should Visit Mazunte.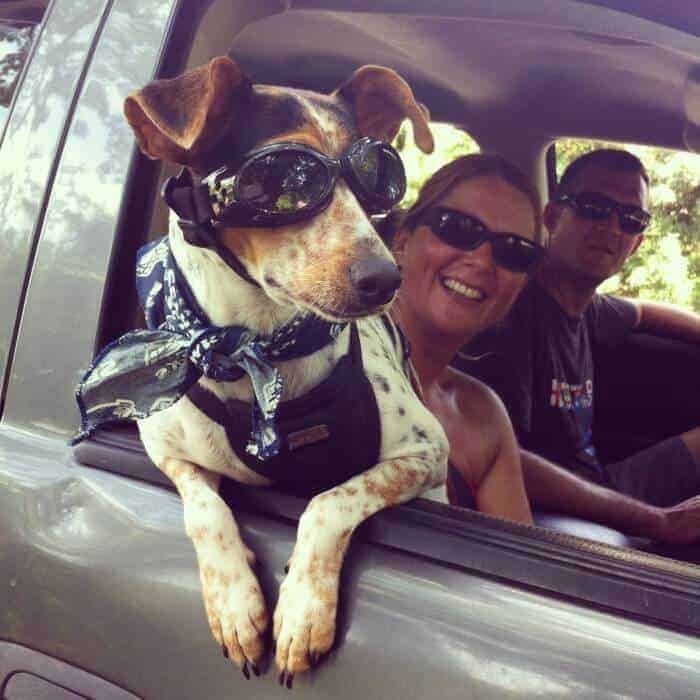 This year, we discovered Casa Wabi, a  non-profit arts foundation located in a stunning oceanfront building designed by Tadao Ando, the acclaimed Japanese architect and Pritzker Prize winner.  It would have been challenging, if not impossible, to get there  without independent transportation.
Avoid Hassles
Having a car rental also means you can avoid potential problems on your day out. If you've ever been stuck standing on the shoulder of Highway 200 watching several mini-vans whizz by without stopping because they're already full, you'll understand the value of being able to travel independently.
How to Rent a Car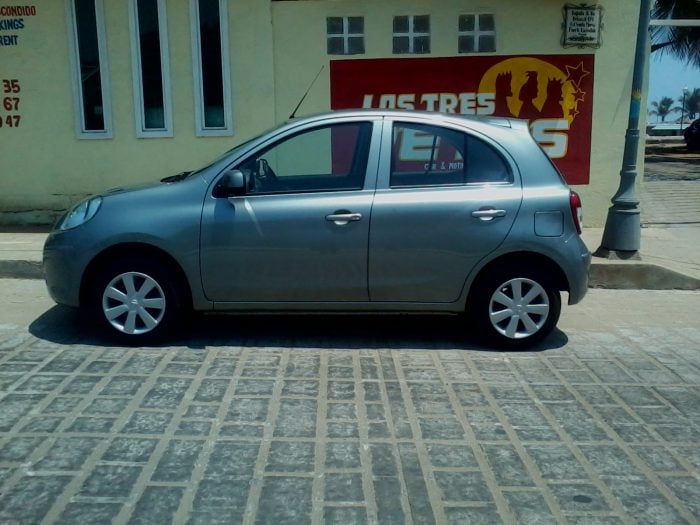 There are two main options for car rentals in Puerto Escondido:
1. Rental Car Zicatela
2. Los Tres Reyes (The Three Kings)
We received quotes from both Zicatela and Los Tres Reyes. We chose Los Tres Reyes Car Rental because they had some English-speaking staff, 24-hour assistance, and airport drop-off as well as a location on Highway 200 near Zicatela Beach.
One of the most popular car rental agencies in Puerto Escondido, Los Tres Reyes  also has locations in Huatulco and Oaxaca City.
Pick-up and Drop-off
If you are flying out from Puerto Escondido International Airport (PXM), you can drop off your rental car at the airport. You pay to enter the airport while you are being scrutinized by security at the entrance. Then, just park in the regular parking lot.
The Los Tres Reyes office is inside the small terminal building beside the security clearance entrance. Staff are not always on site but can be reached by phone.
Be Prepared for Paperwork
In Mexico, most of the transaction of a car rental is still done on paper. If you rent a car at the Los Tres Reyes Highway 200 location and want to return the car at the airport or vice-versa, you must advise them ahead of time so the paperwork can be sent to the correct location.
Requirements for Renting a Car
Current Driver License
Passport
Credit Card for Deposit
Minimum Age Requirements Apply
Insurance in Mexico
It's important to know that no North American insurance policies will help you in Mexico. Not your own car insurance or any of the credit card options that allow you to waive collision, comprehensive, or personal injury options.
Mexican Law stipulates that only insurance companies  licensed in Mexico can provide auto insurance coverage that is recognized and accepted by Mexico's legal system.
If you aren't adequately insured and are involved in a serious accident—even if it's not your fault—you may go to jail and suffer high costs.
When you receive a quote from the car rental in Puerto, it should be an all-inclusive fee that includes the rental, the insurance, the personal injury/comprehensive, liability insurance and any taxes.
There is a deposit required and a deductible in case of car theft or any accidents. You can ask for a lower deductible when you request a quote.
Check your vehicle fully when picking it up in order to identify any pre-existing damage.
Here's an example of a real-life quote we received:
The kilometers are unlimited.
Regardless of the rent we require a secure deposit for $10,000.00 pesos and everything is hold to your credit card, the deposit is refundable when you deliver the unit under the same conditions of departure.
In the price of rent is already included the Comprehensive Coverage Insurance, in case of stolen the driver is responsible for covering a deductible of 20% of the value of the car. **(Note: can be reduced to 10% by negotiating in advance.)
The rental fee includes an insurance with mandatory third party liability.
Occupants Medical Expenses.
Legal Expenses.
Comprehensive Coverage Insurance, does not cover material damages.
Accidents
Carrying insurance has only just become law in Mexico and many drivers still do not have any. If you are in an accident and it is obviously not your fault, we were advised to try to collect as much money as you can from the other driver.
If there is any doubt or even if it is not your fault, a vacationer is not likely going to win any dispute.
Cost of a Car Rental in Puerto Escondido and Huatulco
Cost varies with the length of time you wish to rent. For short rentals a compact 5 seat Toyota or equivalent would cost about 1500 MXN pesos per day (around $79 USD at current exchange rates June 2019).
However, the the price drops the longer the rental period. The same car for a month can be rented in high season for an all-inclusive cost of 700 MXN pesos per day ($37 USD at current exchange rates June 2019).
Fuel Expenses
Gas is surprisingly expensive given the relative economic status of most Mexicans and compared to the relative cost of food versus those costs in Canada and the USA. We paid around $1 Canadian per litre.
There aren't a lot of gas stations in Mexico. They do not take credit cards – cash only. It's a good idea to fill up frequently and not let the tank fall below half unless you know where the next open station is located.
Regrettably, and especially on the highway, always make sure the pump price is set at "0" so that the cost does not start with the last fee charged. Do not leave the car unattended.
Attendants  usually offer full service including washing the windows and I recommend a tip which is greatly appreciated.
Safety and Driving Advice
Drive during the day at the beginning of your rental period.
Learn where all the speed bumps, potholes and open drains are located, including and especially on the main road Highway 200.
Speed bumps or topes (pronounced "TOH-pay") are often unmarked and higher in height than in Canada and the U.S. so navigate them slowly or at an angle.
Watch for animals crossing or even sleeping on the road.
Road blocks and political protests can happen any time in Oaxaca. Exercise patience, avoid confrontations and postpone your road trip if necessary.
Other Transportation Options
Scooter Rentals in Puerto Escondido
Another option is to rent a scooter at Scooter Rental in Puerto Escondido. The cost for renting a scooter in Puerto Escondido is 500 pesos for 24 hours. Minimum age to rent a scooter is 18 years old. Contact them directly for paperwork requirements. Call +52 954 103 1177
Sur Bus, Shuttles and Private Transfers Between Puerto Escondido and Huatulco Airport
Get details on taking the Sur bus, taking a taxi or arranging a transfer  between Puerto Escondido and Huatulco.  
Shuttles Between Oaxaca City and Puerto Escondido
Travel by vehicle between Oaxaca City and Puerto Escondido is not for the faint of heart. Getting to Oaxaca City by plane is quite easy ( but can be pricey) by AeroTucan and AeroVega. We've done it twice. Small plane but astonishing views during the 45 minute flight.
Get more information in our Complete Guide to Puerto Escondido .
Have you rented a car in Puerto Escondido, Huatulco or elsewhere in Mexico? Share your experience in the comments below!  
About the Author
Nancy Wigston is an award-winning travel writer based in Toronto whose passions are cultural, literary and beach destinations.
Save to Pinterest!