Home » Destinations » Mexico » Puerto Escondido »

Ultimate Guide to Vacation Rentals in Puerto Escondido
Ultimate Guide to Vacation Rentals in Puerto Escondido
If you're looking for vacation rentals in Puerto Escondido Oaxaca on Mexico's Pacific Coast, here are a few resources to get you started. Before you begin, be sure to read the Beginner's Guide to Puerto Escondido Beaches so you know which neighbourhood you are interested in.
Although Puerto Escondido is still under the radar for many travellers, its beautiful beaches, thriving food scene and rich culture draw a loyal crowd who book their favourite rental property a year or more in advance.
Unlike Playa del Carmen or Puerto Vallarta where there's a large supply of condos, timeshares  and apartments to choose from, the few rentals in Puerto Escondido disappear quickly.  For the best choice in prime time (which is January-March and holidays), begin your search early.
Best Sources for Puerto Escondido Rentals Long Term or Short Term

Beautiful Carrizalillo Beach in Puerto Escondido
1. Puerto Real Estate
You've seen them on House Hunters International so check out their listings of Puerto Escondido vacation rentals and try one of their dream homes for yourself.  Their website offers the largest selection of vacation rentals in Puerto Escondido with something available for every budget from $250 USD a week to $3,950 a week for a 4.5 bedroom luxury villa.
Website: puertorealestate.com
2. Tomzap
This comprehensive and well-established guide to Mexico's Pacific Coast offers  a wealth of information, a lively forum (registration required to comment) and a section with real estate rental listings.  You'll find many properties listed here that you might not find listed on other websites so it's well worth taking a look.
Be sure to click through to the listings where you can see photo galleries of the properties available.  For a budget property with stunning views, check out Casa Maravilla as it has received several positive reviews and is located within the Barlovento Hotel property.
Tomzap is also a prime place to find a vacation rental in Manunte, San Agustanillo and Zipolite, the string of beautiful beaches between Puerto Escondido and Huatulco. Check out 7 Reasons to Love Mazunte for more on the beach destinations on the coast of Oaxaca.
Website: www.tomzap.com
3. Blue Horizon Real Estate
Given that Puerto Escondido is blessed with an abundance of panoramic vistas of azure Pacific waters, Blue Horizon is the perfect name for a real estate company where the focus is luxury vacation rentals and sales. Browse their listings of luxury villas and you'll see plenty of sparkling swimming pools, beautiful interiors and infinite views. Or, stop by their office on the Rinconada and chat with the very knowledgable Martina Rotter about your dream home wish list or vacation needs.  German, Spanish and English is spoken. Website: bluehorizon.com.mx
4. Eglantina Condominiums
View of main pool at Eglantina condo in Puerto Escondido
Overlooking the blue waters of the Pacific, this adult-oriented luxury condominium offers two buildings with well-appointed 2-bedroom, 2-bath suites. Two swimming pools, one overlooking the ocean and the other surrounded by lush landscaping make a quiet retreat after a busy day shopping at the nearby market.
Note: The ongoing construction of La Escondida condominiums next door may results in noise and/or obstruction of views
Two large rooftop palapas offer unobstructed ocean views. Located between Principal Beach and Manzanillo Beach, it is also easy walking distance to the Adoquin.
Website: www.puertoescondidoestates.com
5. Pat Courtney Rentals
Vacation rental guru and gal-about-town, Pat Courtney has over 20 years experience in finding the perfect holiday escape. Whether you choose a 3 bedroom, 5 bath luxury villa or an expansive home with an infinity pool or a budget beach bungalow, you're guaranteed a prompt, caring response and thorough follow-through.
Website: www.patcourtneyrentals.com
6. Huatulco Vacation Rentals
If you're travelling to Puerto Escondido via Huatulco (such as with Interjet, Westjet or Air Canada), it's fun to book time in Huatulco and experience the polish of a planned tourism development. In 1984, inspired by the success of Cancun on the Caribbean Coast, Mexico's government agency responsible for tourism set its eye on Mexico's Pacific Coast.
Word has it that  FONATUR (Fondo Nacional de Turismo), originally eyed Puerto Escondido for development  but eventually decided on a stretch of 21,000 hectares of land 2 hours south. There, they created the Bahias de Huatulco, a planned resort community with wide boulevards, a state-of-the-art sewage treatment system, a commercial support area, protected ecological green spaces and upscale resort zones.
If you're looking for a luxurious escape in this resort development, check out Resort Real Estate Services, a market leader in Huatulco real estate. Their focus is on luxury sales and rentals but they also offer a variety of client services from financing assistance to construction consultation, to title insurance and bank trusts. They even do location scouting and production services for film and television. They can also work as your buyer representative, property manager, and vacation rental consultant.
Website: www.rrestateservices.com
6. HomeAway
Checking on HomeAway.com is also worthwhile when it comes to finding Puerto Escondido rentals long term or short term. Be sure to search by neighbourhood as well as "Puerto Escondido" in order see the largest selection. Many of the rental property listings are identical to those on the individual rental company websites but there are also several properties being rented by individual landlords. Be sure to check the reviews on multiple sites before booking.
Check out our tips on cooking in a vacation rental in this post on How to Cook in an AirBnB (Without Losing Your Mind). 
7. Punta Esmerelda Suites
Snag one of these 18 suites during high season and you'll feel as though you've scored a real deal. And you have.  Punta Esmeralda Hotel Suites come with a large terrace, full kitchen, AC, swimming pool and jacuzzi and all the amenities of a full-service hotel ( laundry, wi-fi, safety deposit box). Suites on the upper level even have an ocean view. All overlook a nicely landscaped pool area. Eight standard rooms are also available but it's worth it to pay a premium and upgrade to a suite. Rates can be negotiated  if business is slow.
The hotel is one block to the beach and One Love Restaurant at the base of Tamaulipas.
8. Zicatela Suites
Choose your mood and go Bali, traditional Mexican or  Contemporary at Zicatela Suites, located a five minute walk from the main Zicatela strip but a world away in tranquility. Each of the expansive 750 SF one-bedroom suites is decorated in a different style – the first floor is upscale Mexican traditional with stunning Talavera tile work, classic furniture and a large deck.
On the second floor, you're transported to Bali with bamboo, Asian-themed decor and an airy terrace. The third floor is contemporary with sleek furnishings with Mexican flair. What all three properties have in common are luxe details such as stainless-steel appliances, quality linens, inspiring artwork and all the bells and whistles you'd expect in a top property.
If you're looking for a deal on hotel or vacation rentals in Puerto Escondido, save time and money by searching on HotelsCombined.com as this free tool compares prices on several booking websites ( Booking.com, Expedia, Hotels.com and more) to find you the lowest price. If you book here, we'll earn a small referral fee at no extra cost to you.
Disclosure: A Taste for Travel participates in affiliate advertising programs. By providing handy links to our affiliates, we may earn a commission. All opinions are our own and we only link to companies and products that we trust and believe in. Read more on our Disclosure Page. Thank you for supporting our website!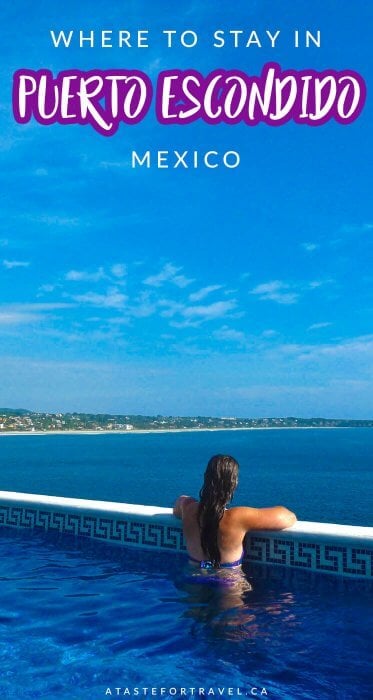 Michele Peterson
Dividing her time between Toronto, Mexico and Guatemala (or the nearest tropical beach), Michele Peterson is an award-winning writer, blogger, editor and publisher who specializes in travel, cuisine and luxury lifestyles.