We may earn income from links in this post. Please read this Disclosure for details.
If you're planning to work remotely, retire or vacation in Puerto Escondido, Oaxaca on Mexico's Pacific Coast, this guide to the best long term rentals in Puerto Escondido will help you find the perfect place to stay.
This Puerto Escondido vacation rental guide includes tips and resources on finding a long term rental if you want to vacation for a week, a month, an entire season, a year or even longer.
Puerto Escondido is one of my favourite beach towns in Mexico! I've owned or rented vacation homes here since 2003!
Plus, I've stayed in many of the hotels in Puerto Escondido while doing reviews for Fodor's Travel Guide and magazines such as Condé Nast, enRoute, WestJet Magazine, TravelAgeWest and many others.
This guide is packed with tips on what I've learned about finding the best apartments, homes, villas, hostels or other long stay vacation rental in Puerto Escondido.
Best Areas To Stay in Puerto Escondido
Before you begin, be sure to read the Beginner's Guide to Puerto Escondido Beaches to decide which beach and area of Puerto Escondido fits your personality, interests and budget.
This will help narrow down the neighbourhood to stay in. Here is a quick snapshot of the neighbourhoods:
Bacocho, Carrizalillo and Rinconada: These are the quietest and most residential neighbourhoods in Puerto Escondido. You'll be close to Playa Carrizalillo (the best swimming beach) as well as under-the-radar Playa Coral and Bacocho Beach, good for long walks. It's also the most expensive for lodging.
Centro: This is a good neighbourhood for budget apartments. It's close to Benito Juarez Market, the OCC bus station and the commercial zone of Puerto Escondido. While busy with traffic during the day it's relatively quiet at night. You'll be walking distance to Manzanillo and Angelito beaches.
Playa Principal and The Adoquin: This area is popular with busloads of tourists visiting the Catholic shrine of Juquila. Most tours include a few days at a hotel in Puerto Escondido as part of the package. This area, while inexpensive, can be noisy at night due to nightclubs.
Zicatela, Brisas de Zicatela and La Punta: These neighbourhoods are prime territory for surfing, watching the waves, partying, nightlife and hanging out. Zicatela Beach is long, flat, wide and good for walking but not swimming as the waves can be high. Nightclubs can make Calle de Morro (the main street) very noisy at night.
Outside Puerto Escondido: Vivo Resort and the luxury villas on Costa Cumana are located outside of Puerto Escondido. You'll need transportation to get back and forth to Puerto Escondido.
We rent our cars on Discovercars.com. It's an online car rental booking site that compares rates from several companies to find the best deal.
Check for the best car rental rates at Discovercars.com
Costs and Budget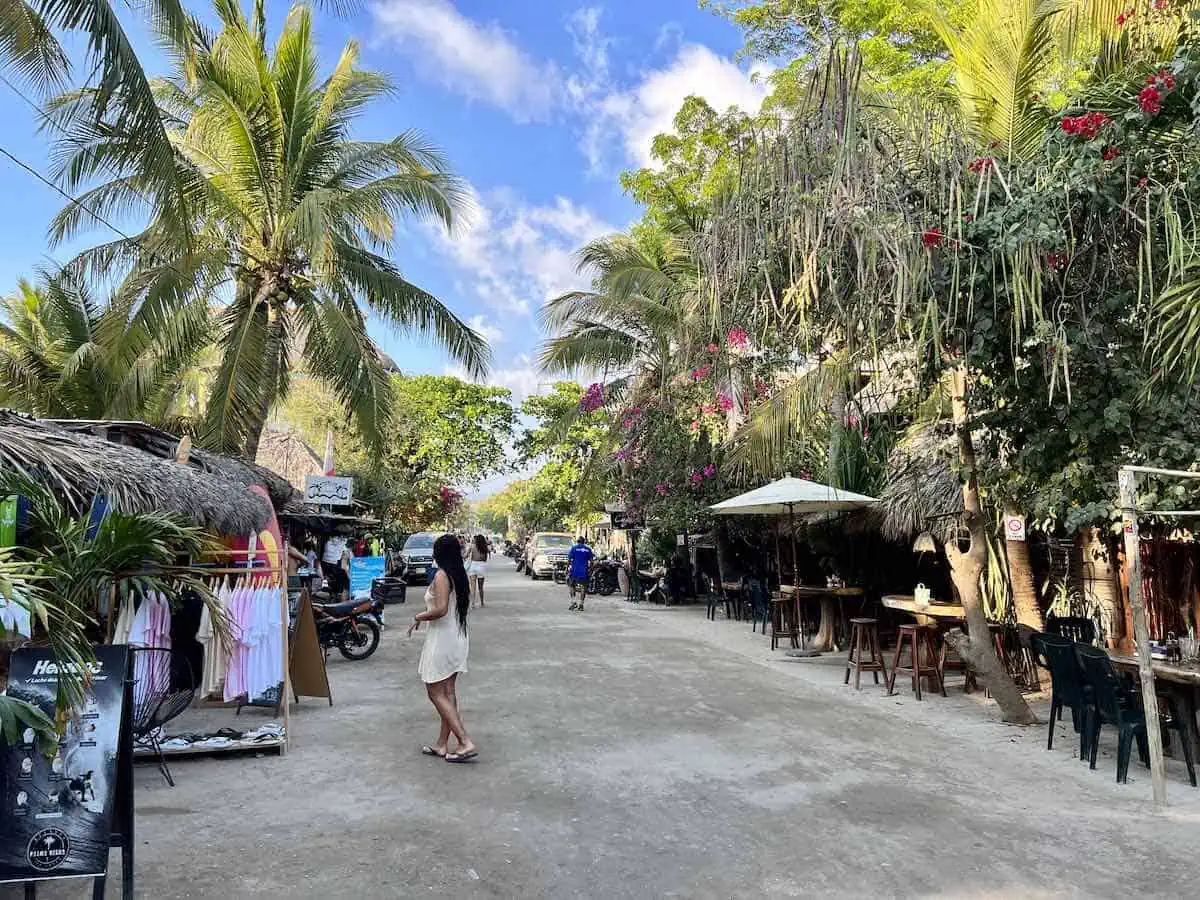 Is Puerto Escondido cheap? Not necessarily.
Unlike Playa del Carmen or Puerto Vallarta where there's a large supply of monthly rentals such as condos, timeshares and apartments to choose from, the few holiday rentals in Puerto Escondido disappear quickly and command a premium price.
There's a loyal crowd of snowbirds who book their favourite vacation rental a year or more in advance. And, adding to the demand for Puerto Escondido rentals, is the influx of vacationers fleeing the sargassum seaweed problem in Cancun, Tulum and Riviera Maya.
But the good news is that a long term rental is cheaper on a per diem basis than renting a hotel in Puerto Escondido for a few days or a week. There's often a discount on monthly rentals.
For the best choice of lodging in prime time (January-March and holidays), begin your search early.
1. Blue Horizon Real Estate
Given that Puerto Escondido is blessed with an abundance of panoramic vistas of azure Pacific waters, Blue Horizon is the perfect name for a real estate company where the focus is luxury vacation rentals and sales.
Browse their online listings of luxury villas and apartments for rent and you'll see plenty of sparkling swimming pools, beautiful interiors and infinite views.
Or, stop by their office on the Rinconada and chat with the very knowledgable Martina Rotter about your dream home wish list or vacation needs. German, Spanish and English is spoken.
2. Casamar Suites
Although this boutique property in the Brisas de Zicatela area felt like an outpost when it was first constructed, the growing population in Puerto Escondido now places it in the heart of the action.
While it can't be considered a beach hotel in Puerto Escondido, it's a short 3 minute walk to Zicatela Beach.
Hang out in La Punta, go surfing or enjoy a fabulous breakfast at the new Zicatela Market. Then retreat to the tropical gardens set around a free-form swimming pool inside the gated complex.
The family-friendly, well-maintained suites range in size from studios to two bedrooms.
Most feature terraces, many rooms have AC (extra-charge) and well-equipped kitchens. Yoga classes and other activities are complimentary for guests.
While Casamar is often fully booked through the winter season with long term vacationers, it's also one of the most popular boutique hotels in Puerto Escondido for travellers staying a week or two.
Check rates and availability at Hotel Casamar Suites on Booking.com.
3. Cielito Lindo Suites
Located within the quiet Rinconada neighbourhood near many popular Puerto Escondido restaurants, Cielito Lindo Suites is a colonial style apartment building with a small swimming pool, AC and simply furnished but clean guest rooms with kitchenettes and balconies or terraces.
Another advantage of this good-value Puerto Escondido Hotel is that it's easy walking distance to Carrizalillo, Manzanillo and Angelito Beaches.
Check rates and availability of Cielito Lindo Suites on Booking.com.
4. Beach Hotel Ines
This sprawling beach hotel is set around a garden courtyard with a swimming pool directly across from Zicatela Beach (Google Map). It's in the heart of the Zicatela strip so is close to restaurants, yoga classes and nightlife.
It's also home to Deep Blue Dive, the PADI dive shop and excursion provider for whale and dolphin tours, two bucket list things to do in Puerto Escondido.
Choose from a cabana, a bungalow, double room or suites with a jacuzzi.
Some of the spacious suites have capacity for six people which makes it especially popular with families.
A childrens' playground is across the street. Note that if you are visiting Puerto with small children it's wise to pack a travel stroller to use on vacation.
Consider its size too. Not all travel strollers will fit into the overhead bin of an aircraft. This can mean hefty surcharges if you're travelling on Viva Aerobus.
5. Vivo Resorts
If you're interested in booking at Vivo Resort on Playa Palmarito Beach, note that it's a 30 minute drive from Puerto Escondido.
These self-contained condo apartments feature all the amenities of a luxury hotel.
To start, there's a large free-form swimming pool, onsite restaurant, a spa with a temazcal and several sizes of suites to choose from. Airport pick-up and daily shuttles into Puerto Escondido means you may not need to rent a car.
Check rates and availability at Vivo Resorts on Booking.com
6. La Escondida Condominiums
With an open design that's a fusion of outdoor living and contemporary interior space, the villas at La Escondida Pacific Oceanfront Villas and Condos are the kind of luxury digs that would be at home on a clifftop in Spain or a hip enclave of Los Angeles.
Located near Playa Manzanillo and easy walking distance to both the Adoquin and popular restaurants on the Rinconada, La Escondida is perfect for vacationers looking for a central location, modern architecture and fantastic views.
To inquire about renting one of these posh units, call or message Ellie at 503-310-6038 via WhatsApp. Or contact Jellyfish Properties listed below.
7. Jellyfish Properties
This highly-rated, full-service property management company offers services for guests as well as home-owners.
Vacation rentals range from budget studios (there's even one as low as $21 USD a night!) to luxury penthouse suites with expansive views.
Check their online listing of Puerto Escondido apartments, villas and homes for rent and book online.
8. Puerto Escondido Facebook Groups – Houses and Apartments to Rent
A relatively new resource for finding long term rentals in Puerto Escondido is Facebook, in one of the many Facebook groups and marketplaces.
You'll need to join the group to have access to see vacation home, monthly rentals and apartment listings (or to post specific rental needs you might have).
But it's worth it to join as there is quite a steady supply of houses and apartments to rent.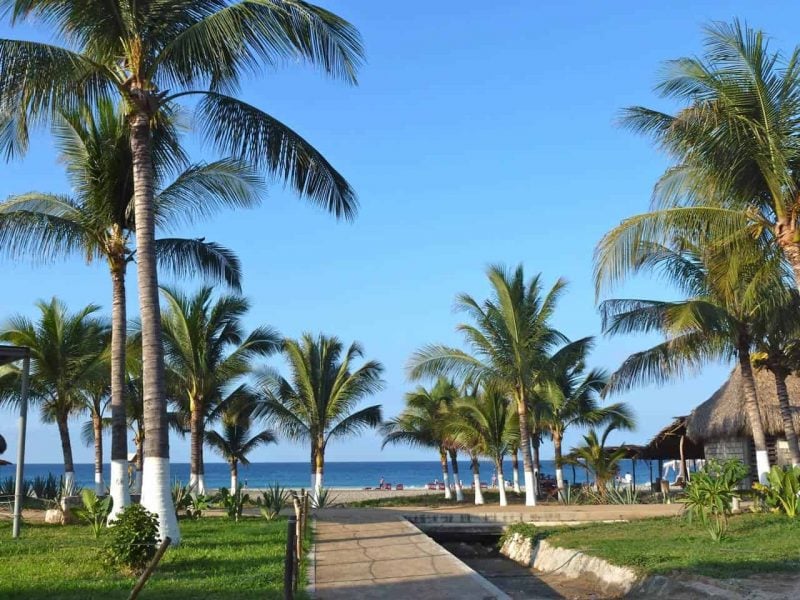 Each group has different rules for joining so be sure to read and abide by the moderators rules. Puerto Housing – Monthly Rentals Only offers quite a selection of long term rentals. While not designed for short term vacation rentals, if you're planning to stay awhile you may find your dream home.
Another option for finding rentals in Puerto Escondido is Puerto Escondido People, a large and active Facebook group.
It features a collection of listings with everything from lost and found pets to property rentals and sales. It's the best source of last-minute shared accommodations with rooms to rent, long term rentals and apartments for rent.
Another option to look into on Facebook is the Puerto Escondido Marketplace – Vende y Compra group. While it's mostly focused on goods for sale similar to Craigslist, there are sometimes monthly rentals listed as well.
9. Las Turquezas Apartments
Situated overlooking Playa Coral and Playa Carrizalillo, these fully equipped apartments in a prime neighbourhood of Puerto Escondido feature balconies with views, a swimming pool, a grill area, gardens and well-maintained one or two-bedroom units.
There's also AC available which is a bonus as many Puerto Escondido rentals don't offer air conditioning. Family and adjoining rooms make this hotel popular with families.
Note that noise and fumes from idling buses can be an issue in some apartments due to weekend influxes of tourists to a neighbouring property.
Check rates and availability of Las Turquezas apartments on Booking.com.
10. Eglantina Condominiums
Overlooking the blue waters of the Pacific, adult-oriented Eglantina condominiums offers two buildings with well-appointed 2-bedroom, 2-bath apartments for rent. There's no AC.
The two swimming pools, one overlooking the ocean and the other surrounded by lush landscaping make a quiet retreat after a busy day shopping at the nearby market.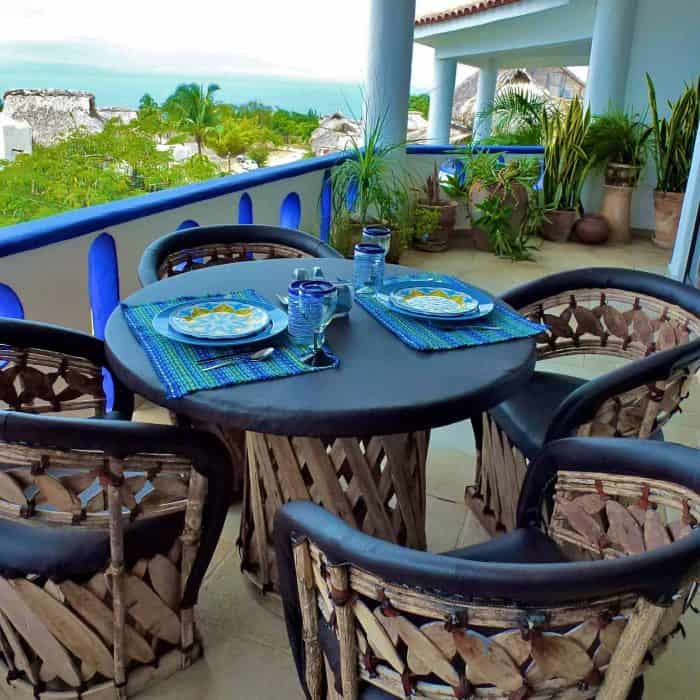 Note: Ongoing construction of La Escondida condominiums next door may results in noise disruption and/or obstruction of views so check before you go.
One of the highlights of this property is that the spacious rooftop palapas offer unobstructed ocean views. They also have larger kitchens than most monthly rentals in Puerto Escondido.
Located between Principal Beach and Manzanillo Beach, these apartment rentals are also easy walking distance to the Night Market on the Adoquín and Benito Juarez Market.
11. Pat Courtney Rentals
Vacation rental guru and gal-about-town, Pat Courtney of Pat Courtney Rentals has over 20 years experience in finding the perfect holiday escape both in Puerto Escondido and neighbouring communities.
One of the more affordable apartment rentals in her collection is Casitas La Fe, located a five minute walk from the main Zicatela strip but a world away in tranquility.
Each of the four ground-level studio apartments and one bedroom second floor units are well-maintained and cared for. Plus, you'll enjoy access to a small pool and a rooftop palapa with ocean views.
Whether you opt for a 3 bedroom luxury villa or a budget beach bungalow, at Pat Courtney Rentals you will be guaranteed a prompt, caring response and thorough follow-through.
12. Tomzap.com – Long Term Rentals Marketplace
This cryptic sounding name is actually a comprehensive and well-established online guide to Mexico's Pacific Coasts offering a wealth of information, a lively forum (registration required to comment) and a section with real estate listings, hotels and even trailer parks.
You'll find many Puerto Escondido rental properties listed here that you might not find listed on other websites, so it's well worth taking a look.
Be sure to click through to the listings where you can see photo galleries of the properties available. You can also find contact information for popular vacation rentals such as the Ben-Zaa Hotel and Casa de Dan bungalows.
Tomzap is also a prime place to find a vacation rental in Mazunte, San Agustanillo and Zipolite, the string of beautiful beaches between Puerto Escondido and Huatulco.
Looking for a vacation rental further afield? Consult our post on 7 Reasons to Love Mazunte for more about other beach destinations on the coast of Oaxaca, Mexico.
13. Puerto Real Estate Vacation Rentals
You've seen their dream homes on House Hunters International so check out their listings of Puerto Escondido vacation rentals and try one of their properties for yourself.
The Puerto Escondido Real Estate and Vacation Rentals website offers the largest selection of vacation rentals in Puerto Escondido and has something available for most budgets.
A quick look at their listings shows rentals from $250 USD a week to $3,950 a week and beyond for a 4.5 bedroom luxury villa.
If you're looking to rent a house in Puerto Escondido or a vacation rental with a pool, you should be able to find it on this website.
14. HomeAway and AirBnB – Rentals by Owners
Checking on HomeAway.com and AirBnB is also worthwhile when it comes to finding Puerto Escondido rentals long term or short term.
Be sure to search by neighbourhood as well as "Puerto Escondido" in order see the largest selection.
When it comes to choosing between hotel vs AirBnB, the latter is only the place to book architectural showpieces such as Casa Tiny, located outside of Puerto Escondido near Casa Wabi.
This avant garde retreat was designed by Tadao Ando and is a totally different experience than staying in a hotel.
If you're going to stay out of town, you'll want to rent a car in Puerto Escondido so you can get around.
Many of the rental property listings on AirBnB are identical to those on the individual rental company websites. Be sure to check the reviews on multiple sites before booking.
Pro Tip: Check out our tips on cooking in a vacation rental.
15. Suites Dorados Deluxe
A highly rated property for long term rental in Puerto Escondido is Suites Dorados Deluxe located near the Rinconada.
In this six-unit building, all suites have fully-equipped kitchens, 2 bedrooms, 2 bathrooms and a spacious living dining room. They also have AC – all for around $100 USD a night in the peak season.
16. Punta Esmeralda Suites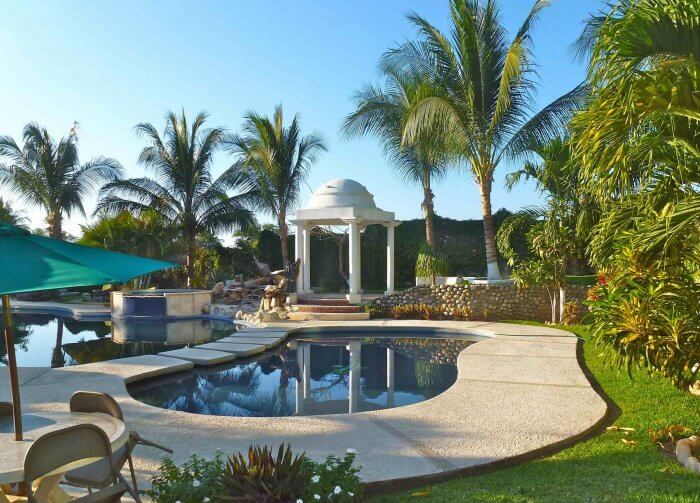 Snag one of these 18 suites during high season and you'll feel as though you've scored a real deal. And you have. Punta Esmeralda Hotel Suites come with a large terrace, full kitchen, AC, swimming pool and jacuzzi and all the amenities of a full-service hotel ( laundry, wi-fi, safety deposit box).
Suites on the upper level even have an ocean view.
All overlook a nicely landscaped pool area. Eight standard rooms are also available but it's worth it to pay a premium and upgrade to a suite. Rates can be negotiated if business is slow.
This hotel is just one block to the beach and One Love Restaurant & Hostal at the base of Tamaulipas. One Love Hostal is an eco-chic hostel just steps to the beach. It's architecturally stunning and has a rooftop deck where you can swing in a hammock and listen to the waves.
Check rates and availability for Punta Esmeralda Hotel & Suites on Booking.com.
17. Suites Coral
This small, low-rise apartment building is located steps away from Playa Manzanillo in the Hidalgo neighbourhood of Puerto Escondido.
The well-kept, spacious two-bedroom suites have full kitchens, a dining room and living area. Suites Coral offers a communal swimming pool, AC, a rooftop palapa, large terrace, in-suite laundry facilities, WiFi and cleaning service (at extra charge) set within lush gardens in a secure facility.
It's available on AirBnB and is at the upper end of Puerto Escondido vacation rentals in terms of cost.
18. One Love Hostel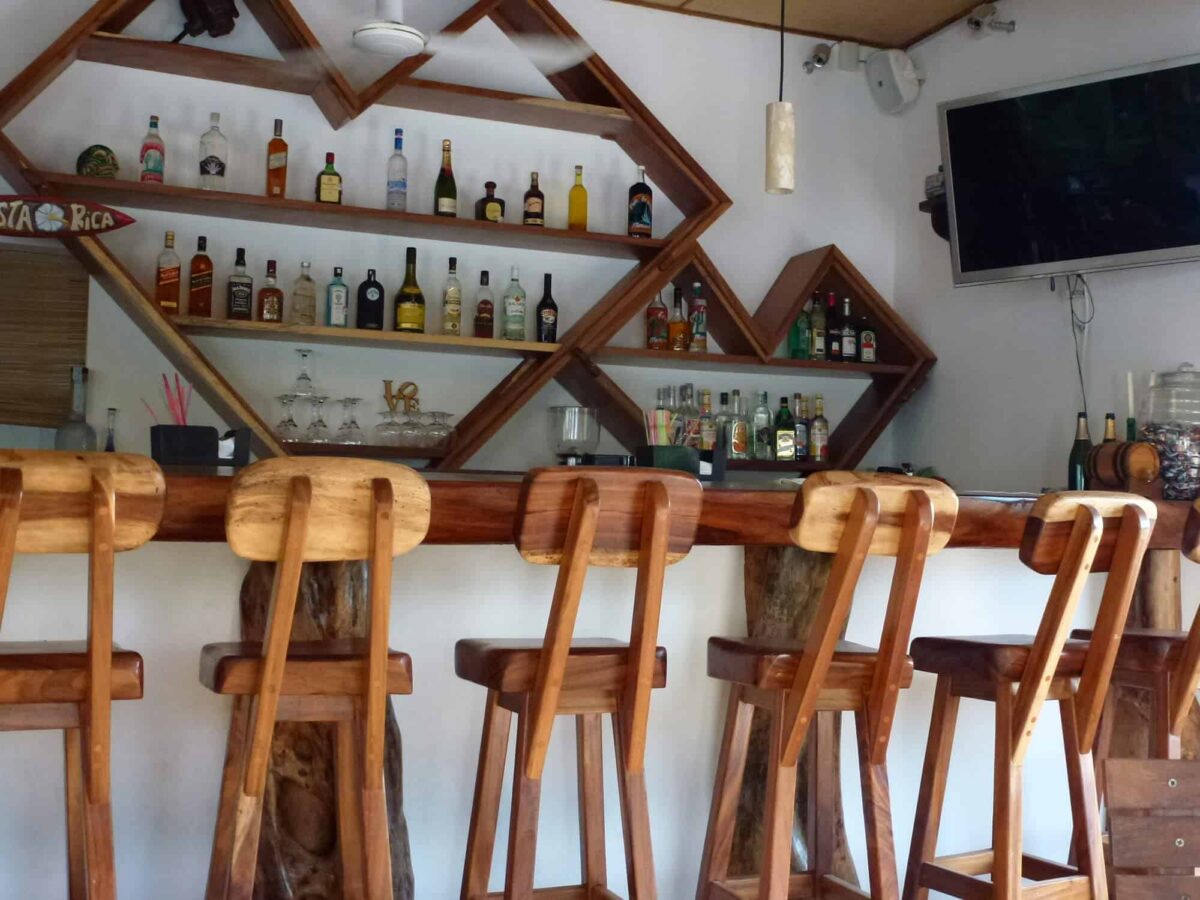 A hostel is another good option when looking for a budget place to stay in Puerto Escondido.
Their convenient locations, efficient coworking spaces, opportunities for partying and amenities such as communal kitchens and yoga classes make hostels attractive to a growing number of digital nomads and travellers.
One Love Hostal and restaurant is the creation of a recognized architect from Veracruz. She's combined her keen eye for design with inspiration drawn from music icons of the 1960s and 70s.
The result is a rustic yet modern space. One Love Hostalis best known for its yoga classes and restaurant, one of the most popular places to eat in Puerto Escondido.
Check rates and availability for One Love Hostal on Booking.com
19 Selina Hostel
Conveniently located on the Zicatela strip across from Zicatela Beach, home of the Mexican Pipeline surf break, Selina Hostel is known for its comfortable coworking space, sparkling swimming pool and excellent wifi.
It's widely considered the best hostel for digital nomads in Puerto Escondido.
20. Casa Losodeli & Coworking Space
Situated on Highway 200 within walking distance to Puerto Angelito beach, Manzanillo beach and Carrizalillo beach, this family-run, adults-only hostel offers excellent wifi.
Casa Losodeli & Coworking Space is also conveniently located near the central commercial zone of Puerto Escondido home to Benito Juarez market, shopping and budget restaurants.
FAQs
Is Puerto Escondido a good place to live?
Puerto Escondido offers a relaxed and laid-back lifestyle, opportunities to be close to nature (such as beaches, surfing and mountains), access to health care including hospitals and clinics, schools, transportation and a range of housing options. Lack of adequate infrastructure such as internet, water treatment systems and waste disposal can impact the lives of residents and visitors. Although under pressure due to its pace of development, overall, it offers a good quality of life for residents and visitors.
What are the best hotels on the beach in Puerto Escondido?
Beach Hotel Ines and Hotel Rockaway are located directly across the street from Zicatela Beach while Casamar Suites is a short walk from the beach. Villas Carrizalillo is located above Carrizalillo beach which is accessible via steep steps.
What are the best hotels near Playa Zicatela?
Hotelito Swiss Oasis, Beach Hotel Ines, Hotel Aqua Luna, Casamar Suites and Hotel Rockaway are popular hotels near Playa Zicatela.
Top Hotels in Mexico You'll Love
This post was originally written in 2018 but was substantially updated with new information and photos during an onsite visit in 2023.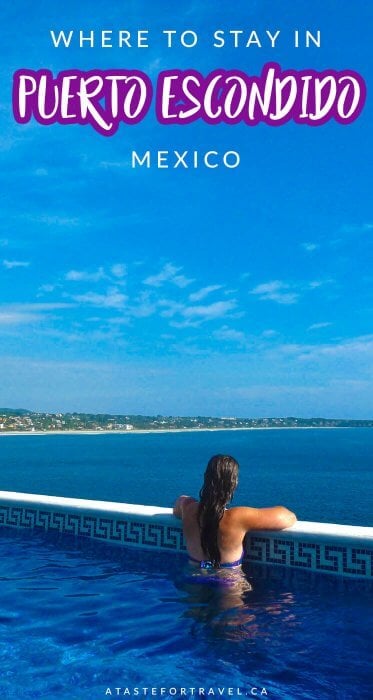 Dividing her time between Canada, Guatemala and Mexico (or the nearest tropical beach), Michele Peterson is the founder of A Taste for Travel. Her award-winning travel and food writing has appeared in Lonely Planet's cookbook Mexico: From the Source, National Geographic Traveler, Fodor's and 100+ other publications.
Read more about Michele Peterson.