We may earn income from links in this post. Please read this Disclosure for details.
From epic surfing on its stunning Pacific Ocean coastline to exploring its rich Oaxacan cultural scene, there are so many things to do in Puerto Escondido, Mexico you could easily stay a few months and still have lots left to do!
Whether you're planning a week-long vacation or just have a few days to take in a Puerto Escondido excursion, you don't want to miss out on this beach destination's incredible local experiences, attractions and activities.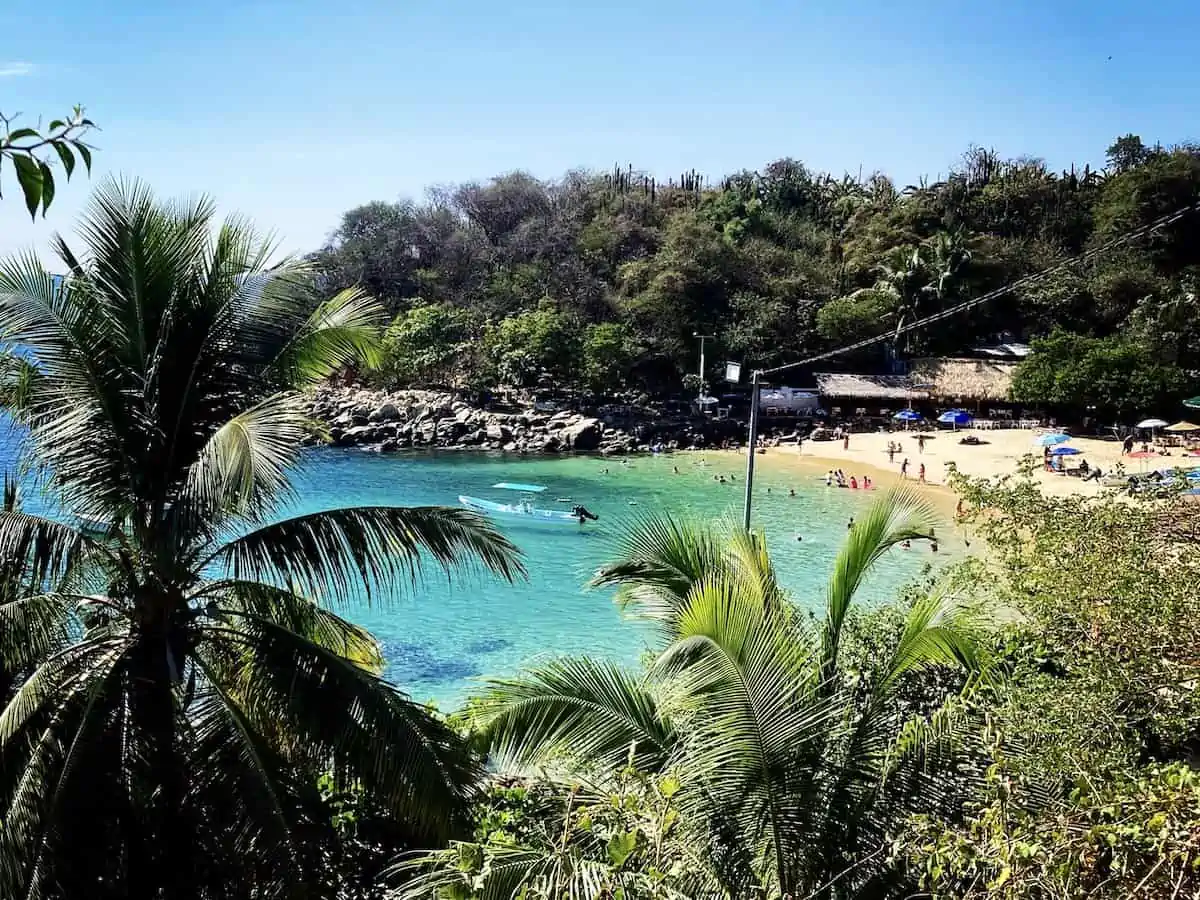 While living in Puerto and writing about the Pacific Coast of Mexico for Fodor's guidebook, WestJet magazine and Lonely Planet, I've been blown away by the many opportunities to experience the awe-inspiring power of nature.
There's so much to discover when it comes to outdoor adventure and culture in Puerto Escondido!
Here are my favourite things to do when it comes to eco adventure tours, water sports, outdoor attractions, day trips and wildlife watching if you're visiting Puerto Escondido, Mazunte or Huatulco, Oaxaca.
1. Go Birdwatching on a Tour of Manialtepec Lagoon near Puerto Escondido
If you're interested in wildlife, one of the top things to do in Puerto Escondido is take a birdwatching tour of Manialtepec Lagoon, a magical merger of three ecosystems, each hosting unique flora and fauna, just 20 minutes outside of the city.
Although the state of Oaxaca has less than 5% of Mexico's total land area, it's home to 50% of Mexico's plant species, 60% of its bird species and 50% of its mammal species.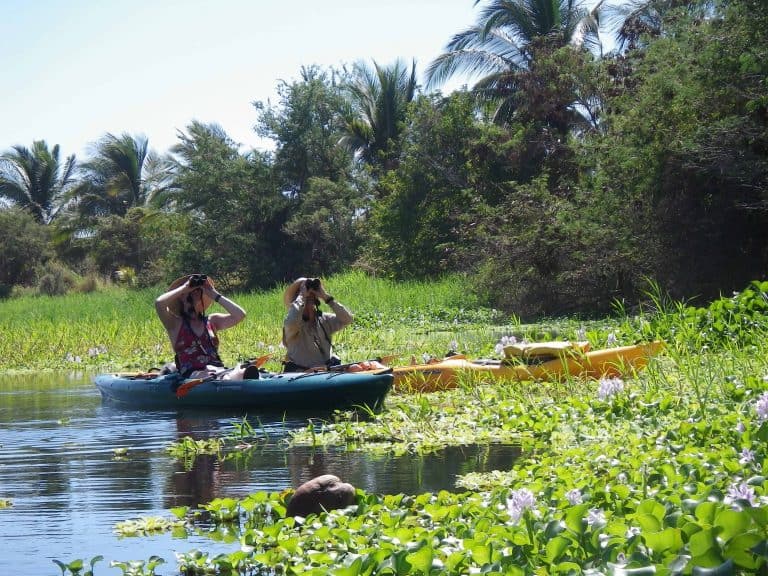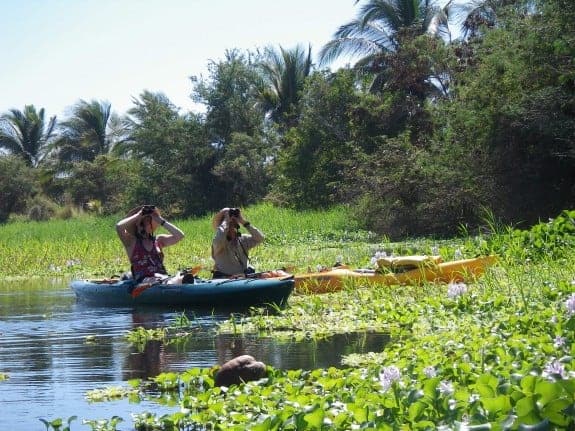 There are 285 species of birds found in this region and ornithologist Mike Malone identified hundreds of species in this protected lagoon near the pueblo of Bajos de Chila, just 10 miles west of Puerto Escondido.
It's one of Puerto Escondido's main natural attractions and a top place to visit with kids. The most popular tour is a morning birdwatching excursion through the mangroves where you can spot pink roseate spoonbills, ibis, egrets, heron, pelicans and more.
For a more active adventure, take a guided kayaking tour to the estuary at the mouth of the Manialtepec River. You'll visit Puerto Suelo and then kayak through the mangroves in the morning when the birds are most active.
This 3.5 hour tour also includes a traditional Oaxacan lunch such as sopes, quesadillas or pescadillas.
Be sure to book with a licensed guide.
Check rates and availability of a birdwatching tour of Manialtepec Lagoon on Viator.com.
2. Take a Bioluminesence Tour of Manialtepec Lagoon at Night
Wondering what to do in Puerto Escondido at night? You don't want to miss the Fosforescencia or Phosphorescence Excursion. It's an experience only available at certain times of the year when conditions are right.
During this unusual phenomenon, a unique alchemy of ocean currents and water temperature draw dinoflagellate plankton into Laguna Manialtepec (Manialtepec Lagoon), a deep lagoon located 20 minutes outside Puerto Escondido.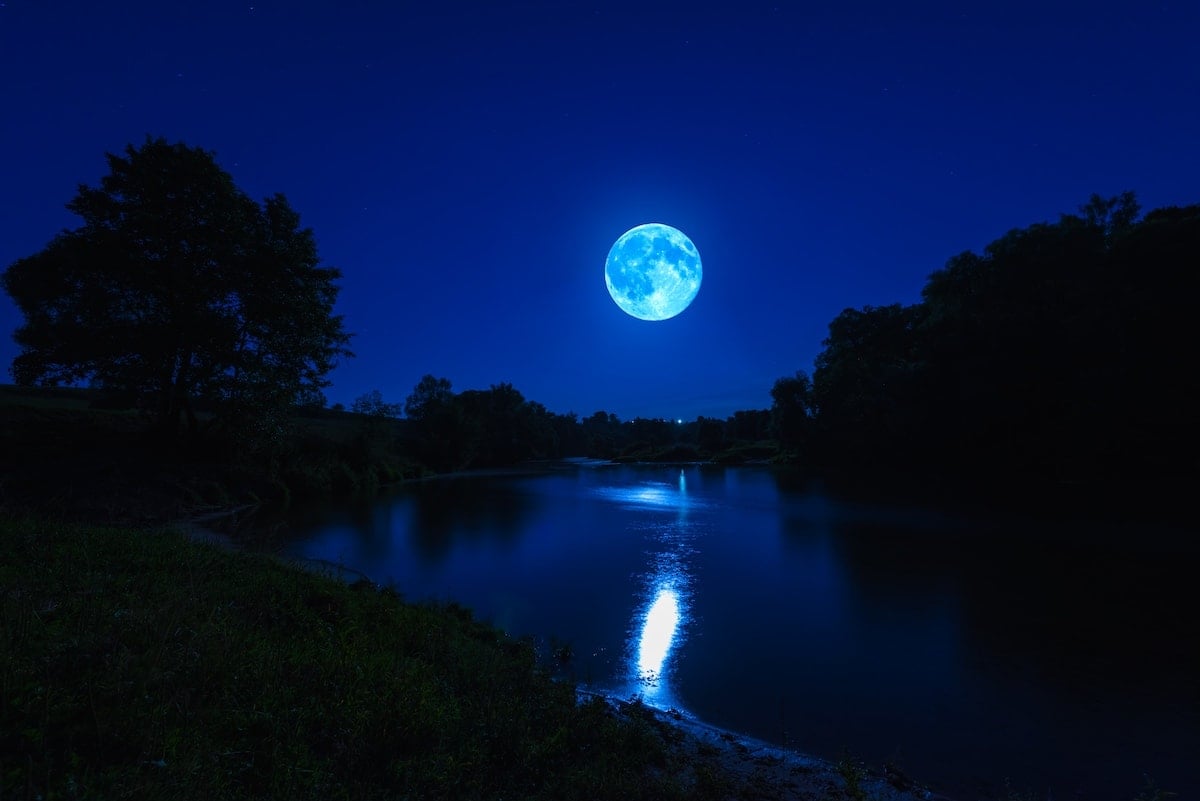 Although it's beautiful to experience the lagoon at night during a full moon, the best time to see the plankton glowing is on a moonless night.
That's when the bioluminescence of phosphorescent plankton is most magical.
Much like fireflies of the north, the half-plant half-animal organisms glow with a white light creating an eerie shimmer to the water.
It's even possible to jump into the water of the lagoon and swim with the bioluminescence. Be sure to book your Puerto Escondido Bioluminescence Tour and Swim with a licensed and accredited guide.
As with other Mexican lagoons, there are crocodiles in these waters and they've been known to attack humans.
One of the most unique attractions in Puerto Escondido, it's well worth adding to your itinerary. Read more about this fun night tours in our post on the unique Bioluminescent Tour of the Lagoon.
3. Hang Out at Playa Carrizalillo, Puerto Escondido's Most Beautiful Beach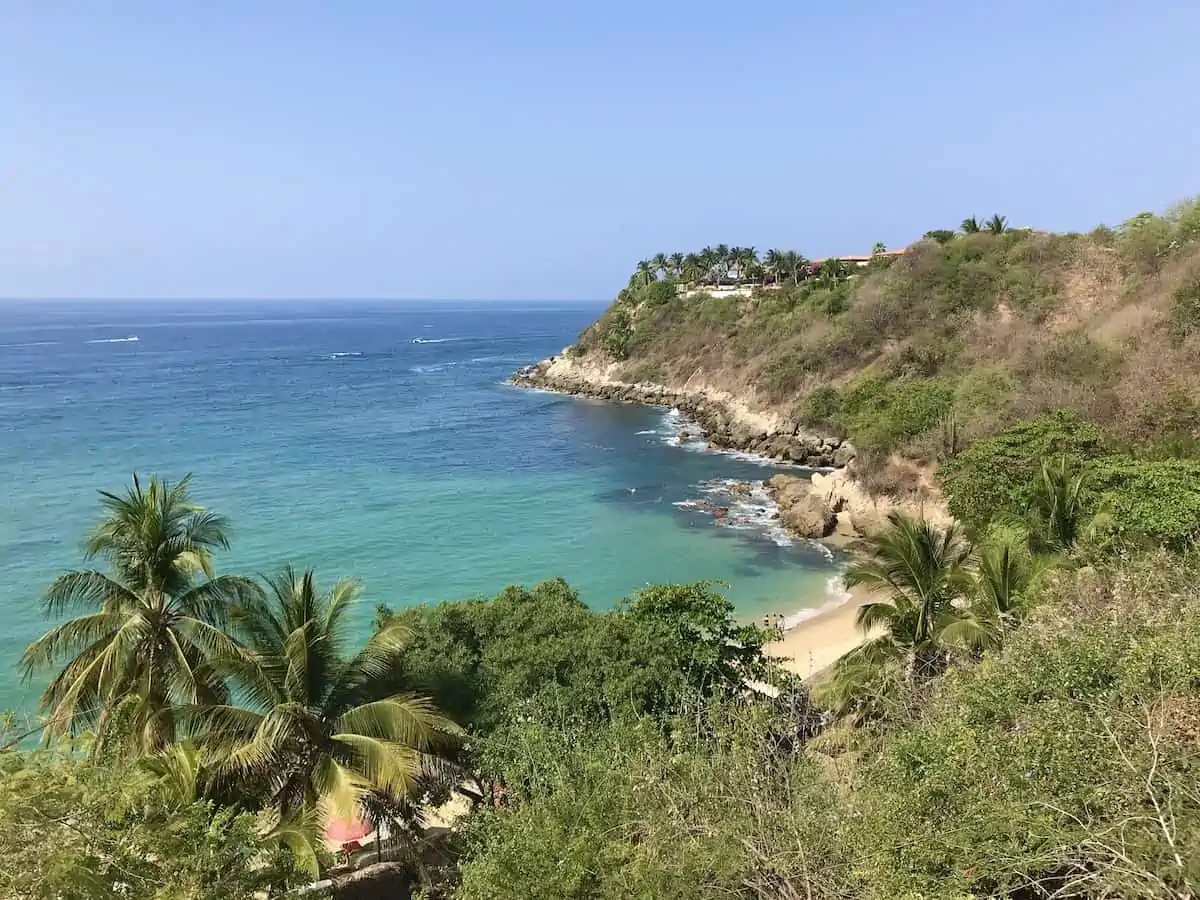 Although Puerto Escondido is home to eight beautiful beaches — from secluded Playa Coral to the surfer mecca of Zicatela Beach – if you have time for only one beach then make it Playa Carrizalillo.
Not only does this crescent-shaped stretch of white sand regularly top lists of the best beaches in Mexico but it's got loads of amenities including beach loungers, restaurants and public restrooms (for a fee).
Although there's occasionally enough wave action for surfing, the turquoise blue waters are generally calm enough for even the most timid swimmer and families.
During peak season and holidays, Playa Carrizalillo can be less crowded than many of Puerto's other beaches. The 167 stairs it takes to reach Carrizalillo Beach can dissuade less determined beach goers and bus tour groups.
Villas Carrizalillo is the closest hotel to Playa Carrizalillo and even has its own dedicated stairs to access the beach. It's one of our top picks for the most romantic places to stay in Puerto Escondido and is also the location of Espadín, one of the city's best restaurants with a view.
Check rates and availability at Hotel Villas Carrizalillo on Booking.com.
4. Swim with Dolphins in the Wild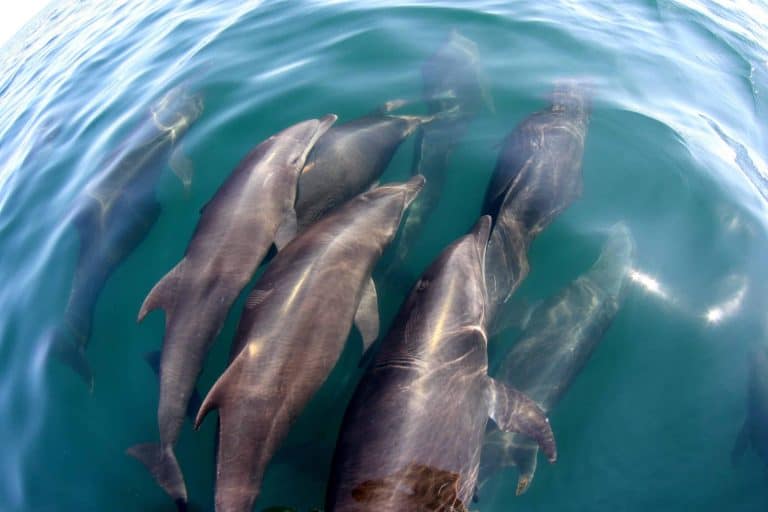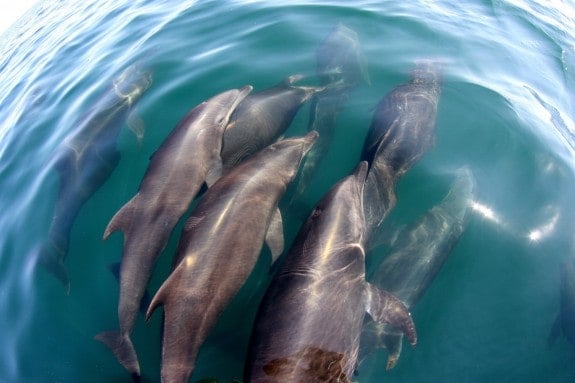 Another cool thing to do in Puerto Escondido is do some marine life watching on the ocean. From November onward, it's possible to enjoy whale watching as migrating humpback whales pass through local waters.
Year-round you can see sea turtles, manta rays and many types of dolphins.
Tour operator and dive instructor Deep Blue Dive (located in Beach Hotel Ines) offers a morning excursion with a great track record of sightings.
They are also responsible tour operators and don't chase whales or harass other marine life by getting too close.
During my most recent trip with Lorenzo Bini of Deep Blue Dive, hundreds of dolphins were racing alongside our boat.
They were jumping and spinning much like in this incredible Video of Spinner Dolphins in Puerto Escondido.
5. Go Whale Watching in Puerto Escondido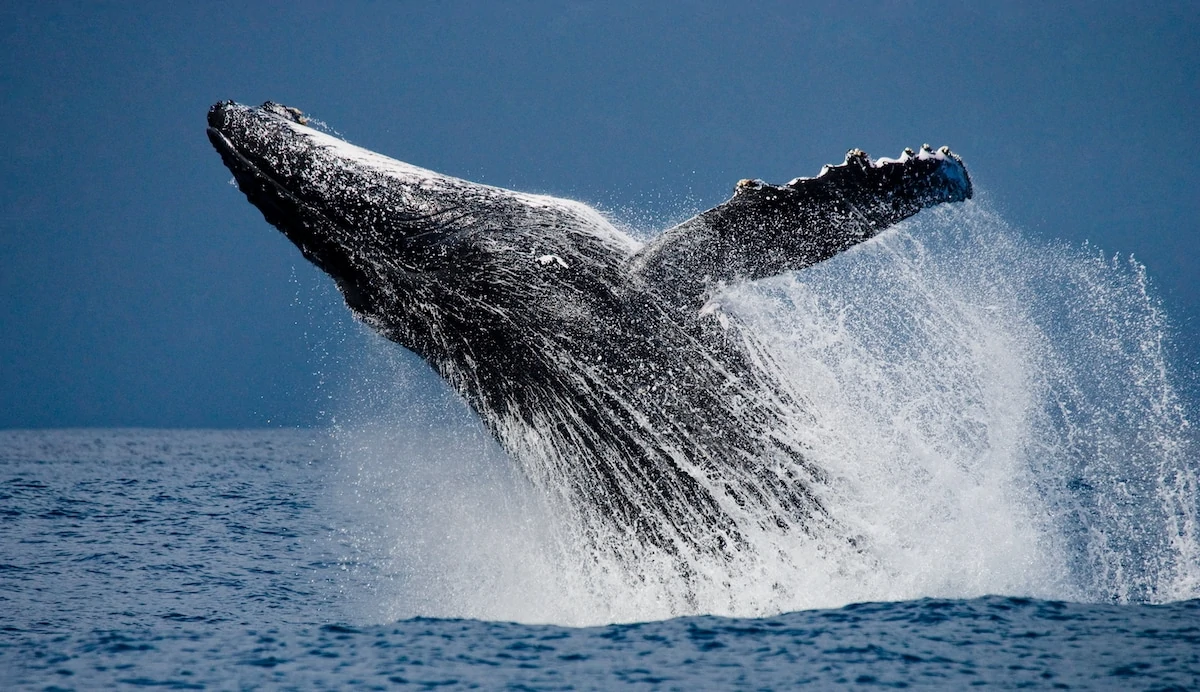 Another one of the top things to do in Puerto Escondido on the water is to witness various species of whales as they migrate south to give birth to their calves. They return with their young on their way back north so you've got a few opportunities to see them.
Although you can often see humpback and false killer whales (pseudorca crassidens) offshore Bacocho and Zicatela beaches, the best way to see them is on a whale-watching excursion by boat.
To reduce potential stress and disturbance to the whales that can interrupt their feeding or cause injury, be sure to choose a tour operator that follows responsible whale-watching principles.
That includes not chasing whales, staying out of the No-approach zones ( behind and in front of the whales), reducing engine noise and more.
The best month for whale watching in Puerto Escondido is February but the season begins in January and ends in April.
6. Release Baby Sea Turtles in Mazunte and along Oaxaca's Coast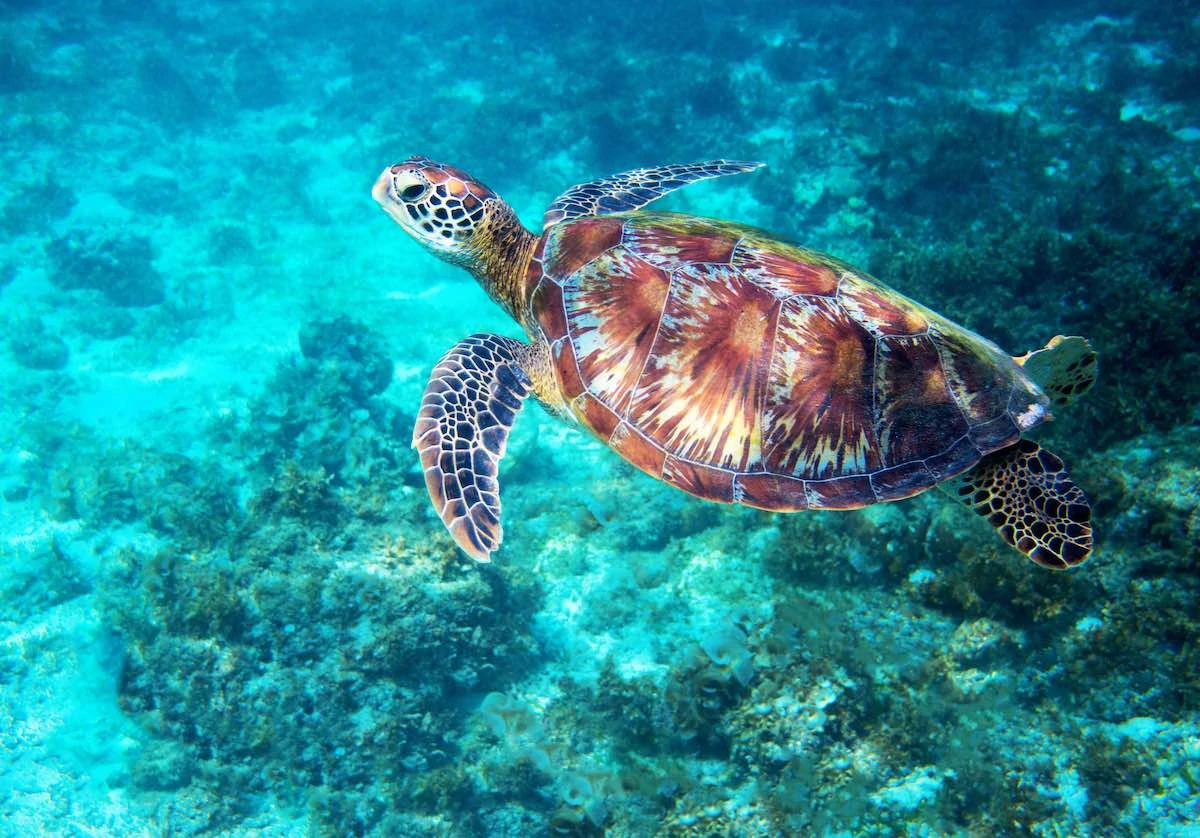 Puerto Escondido and the coast of Oaxaca is one of the world's top destinations for nesting olive ridley sea turtles. Your chances of seeing a sea nesting is quite high during the months of July-December.
A top thing to do in Puerto Escondido with kids is to visit the Mazunte Turtle Centre in Mazunte. This conservation centre regularly hosts baby turtle releases year-round. Tours are available from Huatulco and Puerto Escondido.
For a family-friendly turtle release option closer to Puerto Escondido, book a guided Baby Turtle Release Tour. This tour includes pick-up at your hotel, transportation to Palmarito Beach (near Chila), an orientation and release of newly-hatched baby turtles into the sea at sunset.
Tip: Vivo Resorts (northwest of Puerto Escondido) also offers turtle release experiences for their resort guests from December to March.
Check prices and availability of a Baby Turtle Release in Puerto Escondido on Viator.com
7. Explore Archeology on a Day Trip to San Pedro Tututepec
While many people are familiar with Monte Alban and other major archeological sites in the central valleys of Oaxaca, few know about the ancient civilizations of Oaxaca's coast.
During the Late Postclassic period (A.D.1100–1522 CE), the Mixtec capital of Tututepec was the head of a tributary empire that controlled much of southern Oaxaca.
Archeological excavations show that it was one of the largest pre-hispanic sites by area in Mexico.
Today, it's possible to learn more about the ancient city by taking a day trip to San Juan Tututepec, about an hour northwest of Puerto Escondido.
To get to Tututepec, travel by car or via shared colectivo van (marked Rio Grande) until you reach the turnoff to transfer by taxi to "Tutu."
Among the town's many attractions, an absolute must-see is the Museo Comunitario Yuca Saa (which means bird mountain in the Mixtec language). It's definitely one of the most underrated places in Puerto Escondido.
The exhibits include beads, jewellery, pottery in the shape of animals and birds. A wide range of other items confirms that Tututepec was an important regional trade centre.
Many local Mixteco people continue to worship the ancient deities of the moon goddess, the god of rain and the god of wind.
8. Take a Day Trip to the Shrine of the Virgin of Juquila
One of the main attractions in Oaxaca also happens to be a relatively easy (but rather lengthy) day trip from Puerto Escondido. It's well worth adding to your Puerto Escondido itinerary.
The Virgin of Juquila is housed in a sanctuary located in the town of Santa Catarina Juquila, a 3-hour drive from Puerto Escondido or 5 hours from Oaxaca City.
The shrine is an important pilgrimage site year-round but draws thousands of supplicants on December 8th, the holy day. The object of veneration is a small wooden statue of the Virgin Mary originally brought to Oaxaca from Spain in 1552 by Dominican friar Jordán de Santa Caterina.
The statue miraculously survived a fire (along with other notable events) and her burnished colour makes la morenita (the little dark one) especially popular with the indigenous people of Oaxaca.
Set high in the mountains, the town of Santa Catarina Juquila is a designated Pueblo Mágico, an initiative of Mexico's Secretariat of Tourism recognizing places that offer unique experiences for visitors. The beach town of Mazunte is another designated Pueblo Mágico in Oaxaca.
It's also interesting to browse the street market surrounding the cathedral. It's packed with shops, stalls selling religious objects, trinkets and regional Oaxacan foods as well as pilgrims walking (or riding bicycles) to visit the shrine or attend Holy Mass.
Unless attending mass, visitors cannot enter the church while mass is taking place. Mass is held:
Mondays to Thursdays: 7:00 a.m. 12:00 p.m. 5:00 p.m.
Fridays: 7:00 a.m. 12:00 p.m. 4:00 p.m. 5:00 p.m.
Saturdays: 7:00 a.m. 10:00 a.m. 12:00 p.m. 4:00 p.m. 5:00 p.m.
Sundays: 5:30 a.m. 7:00 a.m. 10:00 a.m. 12:00 p.m. 5:00 p.m.
Insider Tip: Don't miss the ramp to the left of the Cathedral's main entrance. It's the access point to pass beneath the cloak of the Virgin of Juquila, a unique experience where you move by conveyor belt below her holy cloak.
9. Go Horseback-riding and Soak in Hot Springs
For another unforgettable day trip, journey into the foothills of the Sierra Madre Sur mountains by horseback with a local guide.
Along the way, you'll spot lizards, see butterflies and be surrounded by tropical vegetation. You'll even cross the river by horseback.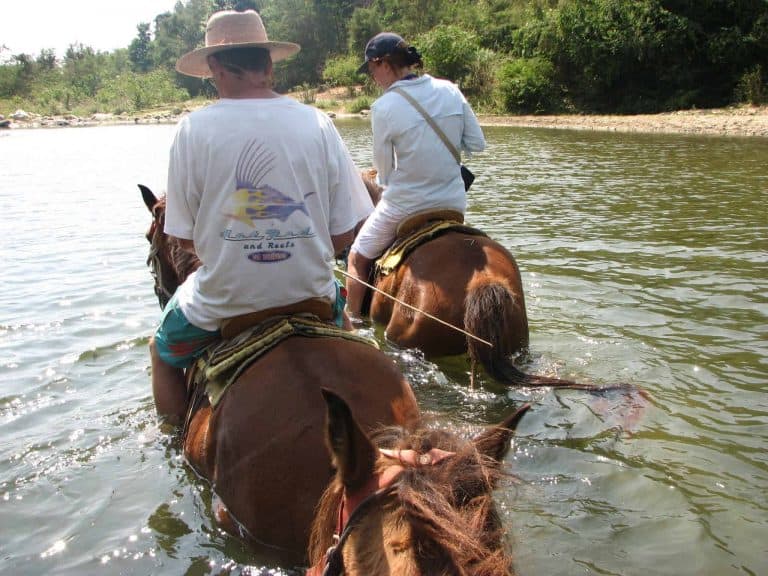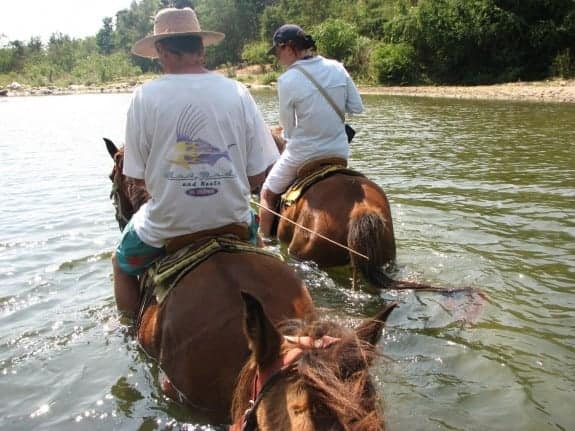 The steaming thermal waters of Atotonilco Hot Springs are considered therapeutic so plan to stay and relax awhile.
Learn more about this adventure in our post on Riding Horseback to Atotonilco Hot Springs
Contact local trail-riding expert Javier Santos (044 954 1350188 or via email at javierdepuertosuelo@gmail.com). He offers tours by horseback as well as lagoon and waterfall tours.
10. Enjoy Puerto Escondido Nightlife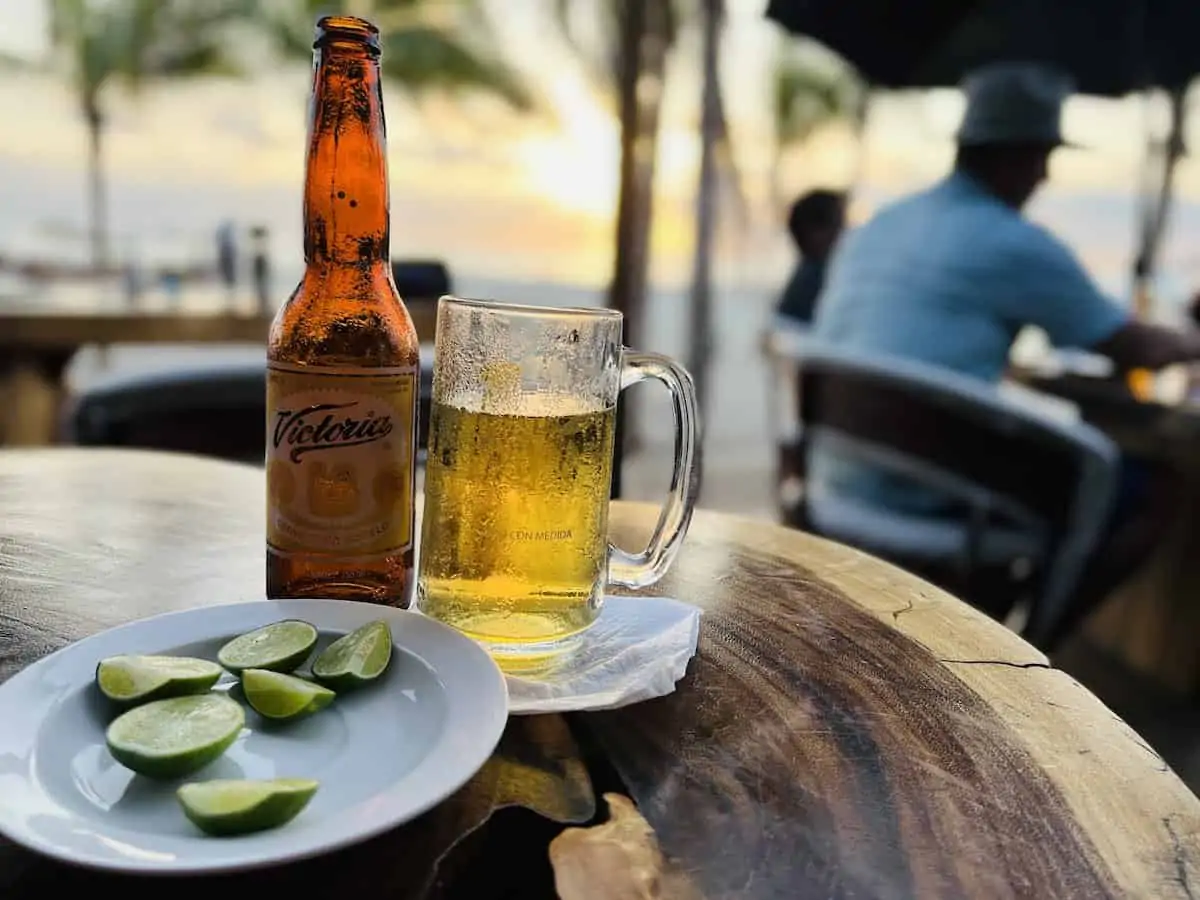 If you're looking for the perfect place to sip a cocktail and watch an epic sunset or party until the early morning, there are lots of fun beach bars in Puerto Escondido to choose from.
Best known for its early evening line-ups of classic rock and blues by local and visiting musicians, the Split Coconut draw a loyal crowd of snowbirds, retirees and Baby Boomer ex-pats.
Located on Zicatela across from the popular co-working hostel chain, Selina's, Split Coconut features a fantastic view of the sunset with plastic tables spilling onto the beach. Check Brad's Split Coconut Facebook Page for updates.
Situated next door to Split Coconut, two-storey Sativa has been a mainstay on Puerto's Zicatela Beach for years. It's got a sultry laidback Puerto vibe with couches for lounging, swings for swinging, and hammocks for letting the day pass by. DJ's spin Thursday to Saturday nights.
To sip on a piña colada in a carved out pineapple, La Palapita's Happy Hour is your spot. The music adds to a chill vibe making La Palapita Bar a favourite among locals and tourists in the 20-40 something demographic.
11. Grab a Fishing Rod and Enjoy Lunch on a Secluded Beach
When it comes to popular day trips from Puerto Escondido, both Agua Blanca and Roca Blanca are secluded beaches worth spending a peaceful day at.
Both are located less than an hour by car from Puerto Escondido and are in opposite directions so you'll need to visit them separately.
They're perfect places to spend a day lazing in a hammock enjoying fresh oysters, grilled whole fish and cold beer.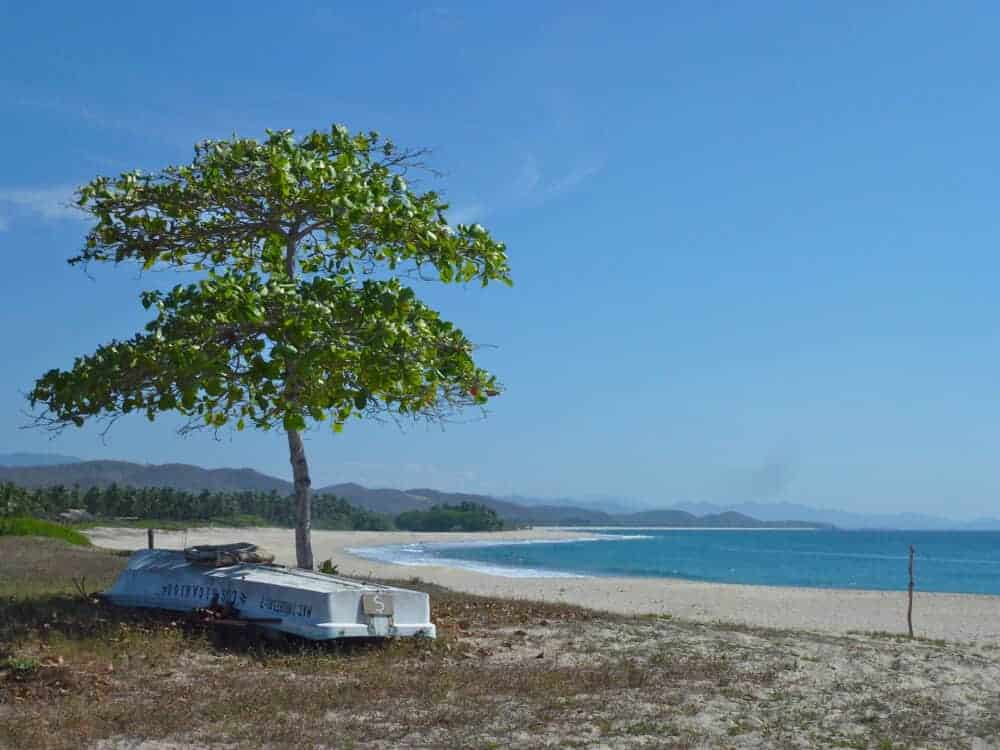 At Roca Blanca it's also possible to do some ocean fishing from the shore or watch the local divers swim out to catch the fish that will be on the daily menu.
Read more about how to plan the perfect day trip in our post on Roca Blanca: Untouched Mexico.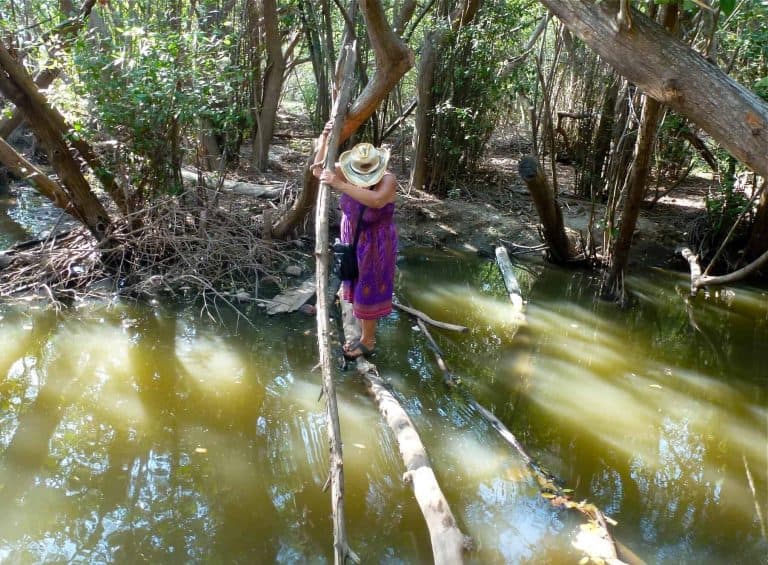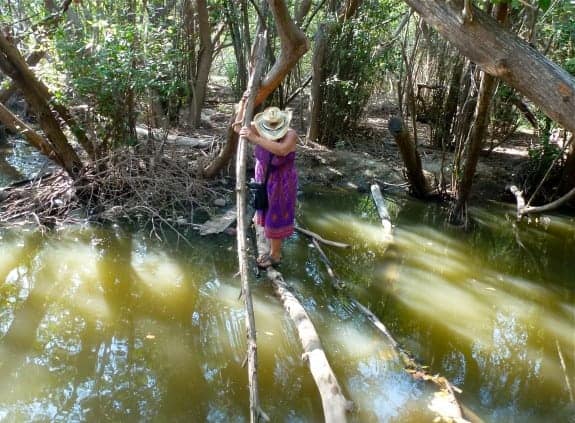 Hike the jungle and tour a crocodile-infested lagoon at Barra de Navidad (Oaxaca), just a five minute ride out of town past La Punta.
When it comes to adventurous things to do in Puerto Escondido, getting scared silly is a good sign you've ventured far off the beaten path.
Learn about hiring a local guide to explore this incredible wild lagoon. From bird-watching to dining on fresh-grilled fish at the water's edge you'll feel as though you're far from civilization.
The lagoon at Barra de Navidad is one of the hidden gems of Puerto Escondido.
13. Go Surfing in Puerto Escondido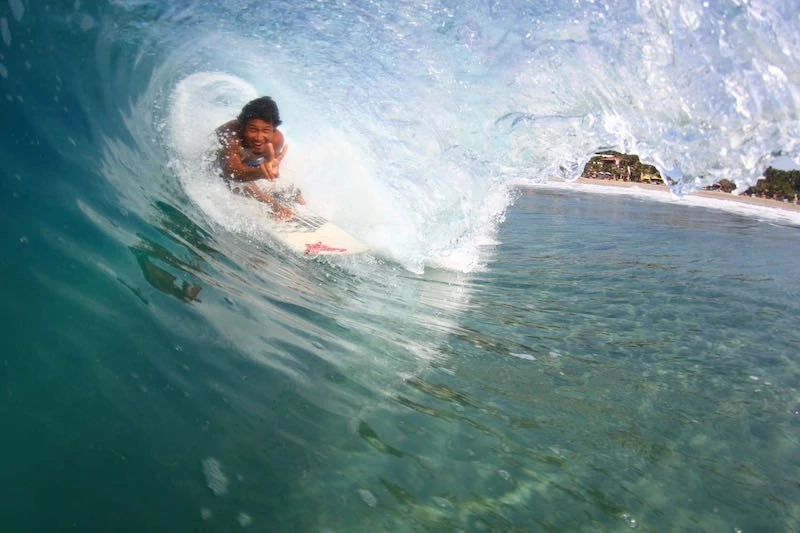 Surfing is definitely the top outdoor adventure in Puerto Escondido. Zicatela Beach is considered one of the world's top surfing destinations thanks to the Mexican Pipeline, a challenging break best attempted by skilled surfers.
In the summer season, Zicatela is known for its monster-sized waves and international surf tournaments that draw professional athletes such as such as Coco Nogales and others.
However, there are many other beaches in Puerto Escondido suitable for beginners. We suggest contacting Zicazteca Surf School (located at the Hotel Rockaway on Zicatela beach) or Oasis Surf and Language School (on the Rinconada ) for skilled instructors, surf lessons and surf tours for all levels.
Be sure to pack a good supply of sunscreen suitable for surfers as the sun is hot on this stretch of the Pacific coastline. Opt for an eco-friendly brand and help protect the ocean reefs and environment.
14. Witness a Sea Turtle Nesting at La Escobilla Nesting Beach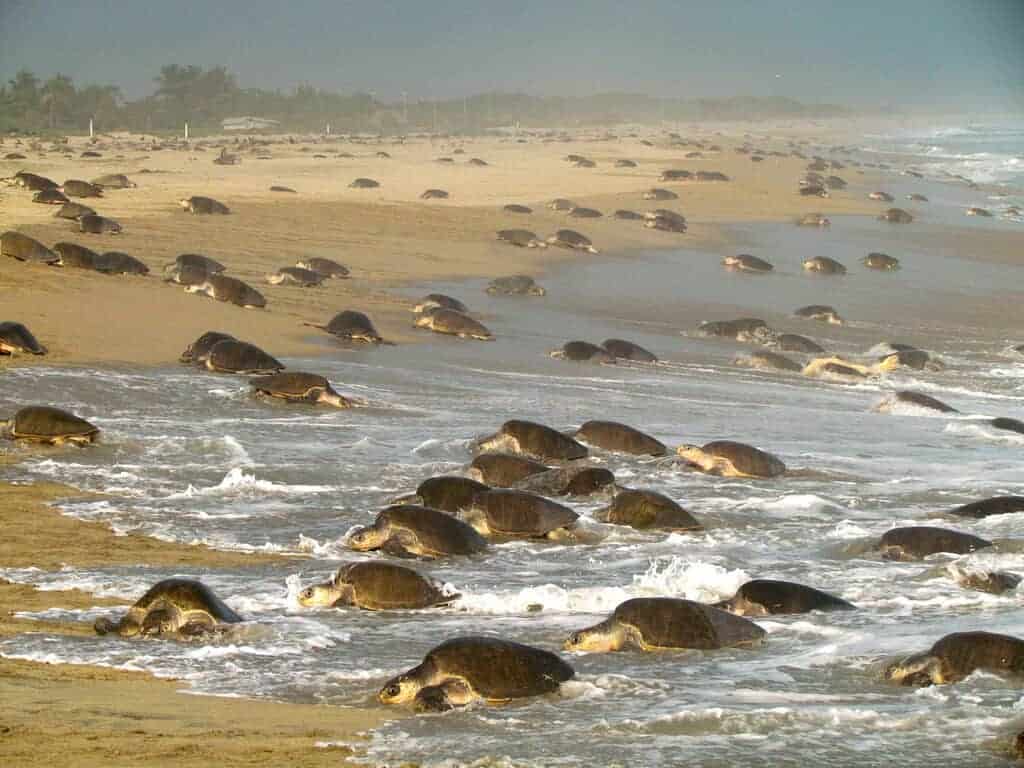 La Escobilla is one of Mexico's top sea turtle nesting beaches. It's a protected beach and an important habitat for olive ridley sea turtles so you need to be accompanied by a guide.
It's also possible to see sea turtles nest at Santa Elena near Aqua Blanca Beach.
Read more about Santa Elena and sea turtles in our post on Escape to Gecko Rock Resort in Mexico's Sea Turtle Country.
15. Check Out the Incredible Street Art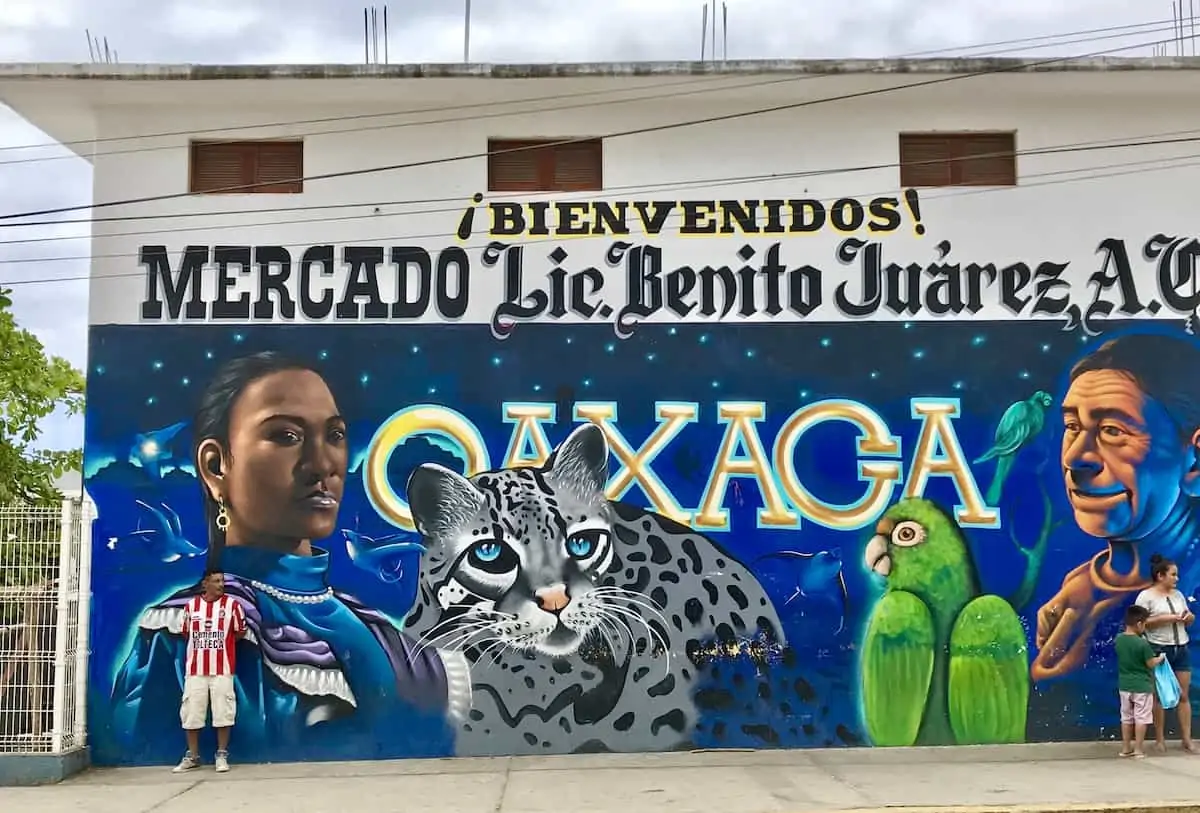 While not yet as extensive as in Oaxaca City, street art is growing in popularity in Puerto Escondido. You can see impressive outdoor murals by talented artists on both private and public buildings.
Unlike San Nicolas, Aruba where an entire neighbourhood has been transformed by graffiti art, the street art of Puerto Escondido is scattered throughout its various neighbourhoods. El Centro and La Punta are your best bets for street art.
Many of the landmark art works are inspired by beach and nature and it's well worth adding a bit of extra time to your Puerto Escondido itinerary to seek them out.
16. Go Skydiving at Zicatela Beach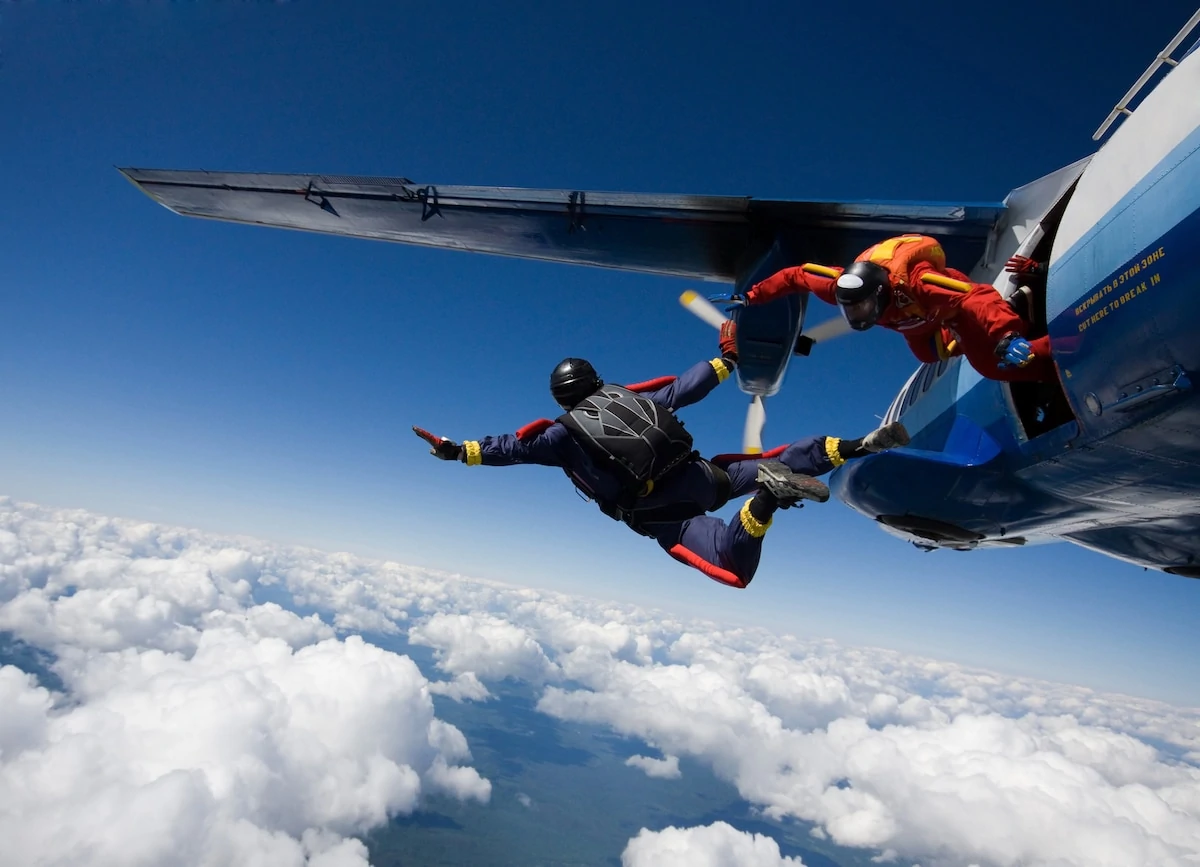 If you're looking to get your adrenaline pumping, a fun thing to do is to go skydiving in Puerto Escondido. You'll leap from a plane into the clouds and then catapult through the air to land on the sands of Zicatela Beach.
This unique Puerto Escondido activity generally takes place at sunset.
At Skydive Puerto Escondido the instructors are certified by the USPA (United States Parachute Association). Novices go tandem with an instructor so don't worry, they won't just toss you out of the plane solo.
Skydiving isn't without risk so do your research first!
17. Go Hiking in Pluma Hidalgo Coffee Country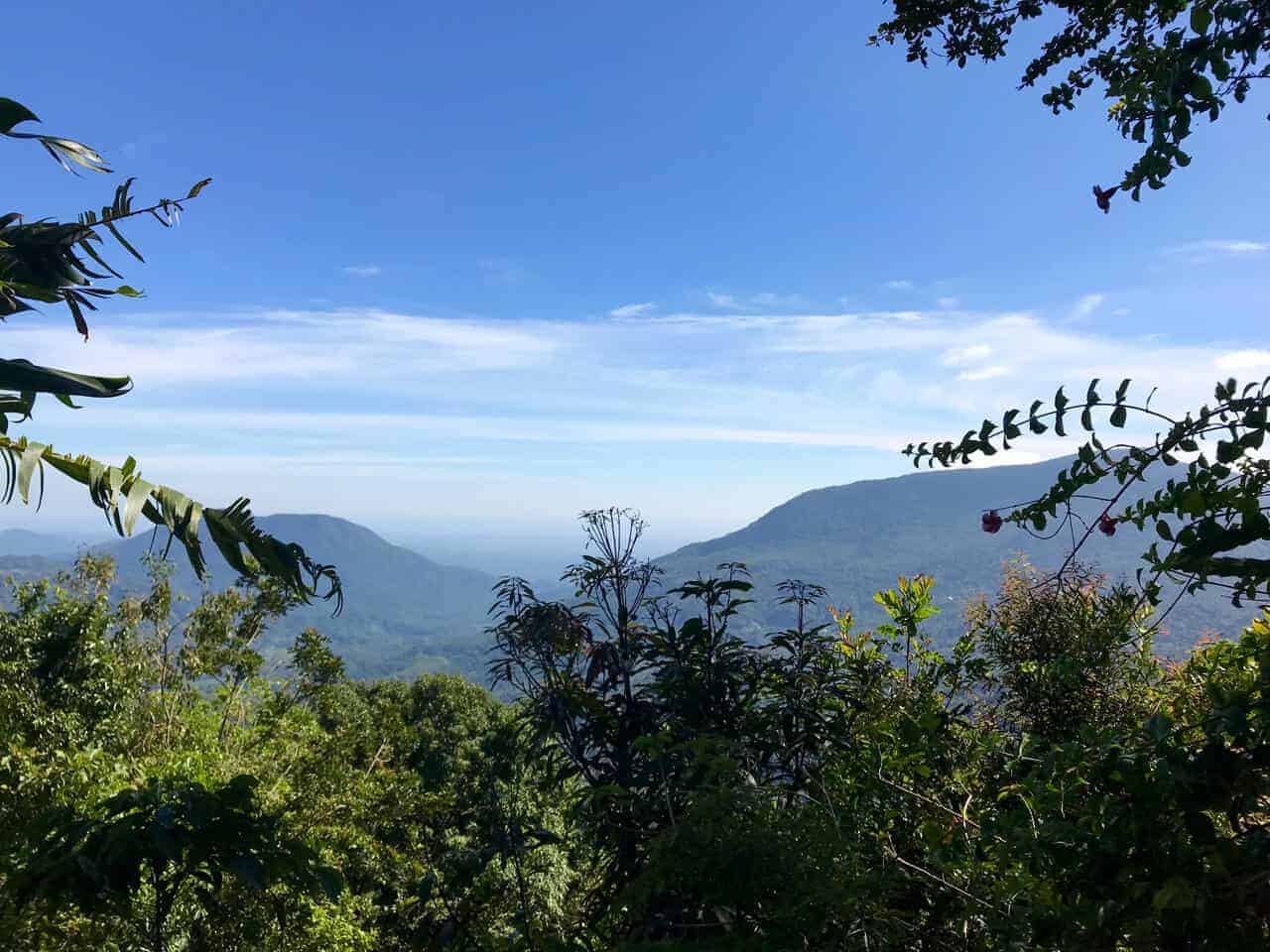 Hiking trails aren't as well marked here as in other regions of Oaxaca. You'll need a guide to arrange transportation and escort you to the trails.
Popular hiking destinations include the Atotonilco Hot Springs, nearby waterfalls and the coffee plantations near Pluma Hidalgo.
18. Plunge into a Jungle Waterfall at La Reforma
Depending upon the season, another fun thing to do in Puerto Escondido is to go exploring the many waterfalls along the coastline. The closest major waterfall to Puerto Escondido is the Cascada La Reforma or La Reforma waterfall.
Most tour companies in Puerto offer escorted day trips here but this is totally a trip you can do independently. There's an entrance to the waterfalls (with a modest admission fee) as well as a tienda and washroom facilities.
Further afield, but perhaps even more impressive are the Cascadas Mágicas de Copalitilla, near Huatulco. You'll need to overnight in the area to visit these falls but they're worth it as the hike to the falls is truly spectacular.
19. Visit the Basilica de Nuestra Señora de la Soledad
Another underrated thing to do in Puerto Escondido is visit the Basilica de Nuestra Señora de la Soledad. This church with two steeples is perched at the top of a hill above the Adoquin overlooking Playa Principal and the dozens of fishing boats in the harbour.
It's a fitting location for the home of the Virgen de la Soledad or Our Lady of Sorrows, patron saint of Oaxaca and protector of fishermen.
Pro Travel Tip: Each December 18th, the statue of the Virgen de la Soledad is taken from the altar and placed in a fishing boat forming part of a procession of fishing vessels in the harbour, called the blessing of the fishes.
You can read about the ritual and see photos in a display mounted on an interior church wall.
20. Shop an Authentic Mexican Food Market
If you're what to do in the morning in Puerto Escondido, then do as the locals do and shop one of its outdoor food markets. You'll find a wide range of seasonal vegetables and fruit, meat and seafood, Oaxacan cheeses and more.
They're the backbone of Puerto Escondido's amazing food scene.
There are two major markets to choose from. Both are covered but basically outdoors.
The first and largest — Benito Juárez Market (also known as Mercado Principal) — is Puerto's cultural and economic heart. The sprawling, but surprisingly orderly, market stretches an entire city block and spills out onto surrounding sidewalks on busy days.
Benito Juárez Market is untouristy and rivals the best markets in Mexico City and Oaxaca City. It also has simple restaurants serving traditional Oaxacan food.
Most vendors speak Spanish only. Food prices are fixed and inexpensive so haggling is not typical.
The newer (and smaller) Zicatela Market is situated on Highway 200 between La Punta and Zicatela's main strip.
It doesn't have as wide of a selection of fruit and vegetables but offers fabulous ocean views from its strip of restaurants at the back. These open-air eateries offer some of the best breakfasts in Puerto Escondido.
To read more about hours of operation and best days to shop these markets, check out our Puerto Escondido Travel Guide, a blog with tips about travel and everyday life in Puerto.
21. Take a Puerto Escondido Food Tour
Another way to experience the excitement of the city's public mercados is to take a Puerto Escondido food tour.
During one of these delicious culinary walking tours you'll get to sample traditional Oaxacan dishes and ingredients such as chapulines and cacao, meet local vendors, learn how to make tortillas and get immersed in the magical mix of commerce, cuisine and culture of a traditional Mexican municipal markets.
If you're interested in exploring Puerto Escondido's seaside restaurants, beach scene and surfer vibe, then check out the 3 hour- Zicatela Bites tour at Puerto Food Tours, one of their three bestselling tours.
For a food tour that dives into history and the Mixteco and Black-African culinary roots of Oaxaca's coast, Gina Machorro's Puerto Escondido Walking Tour is a good option. It even includes a tasty local breakfast.
Insider Tip: If you're looking for a fun thing to do in Puerto Escondido when it rains, then taking a cooking class with The Mexycan will keep you dry.
Not only will you learn how to make some tasty salsas but the class often includes a market tour at Benito Juarez Mercado to pick up ingredients.
22. Experience an Unforgettable Pacific Coast Sunset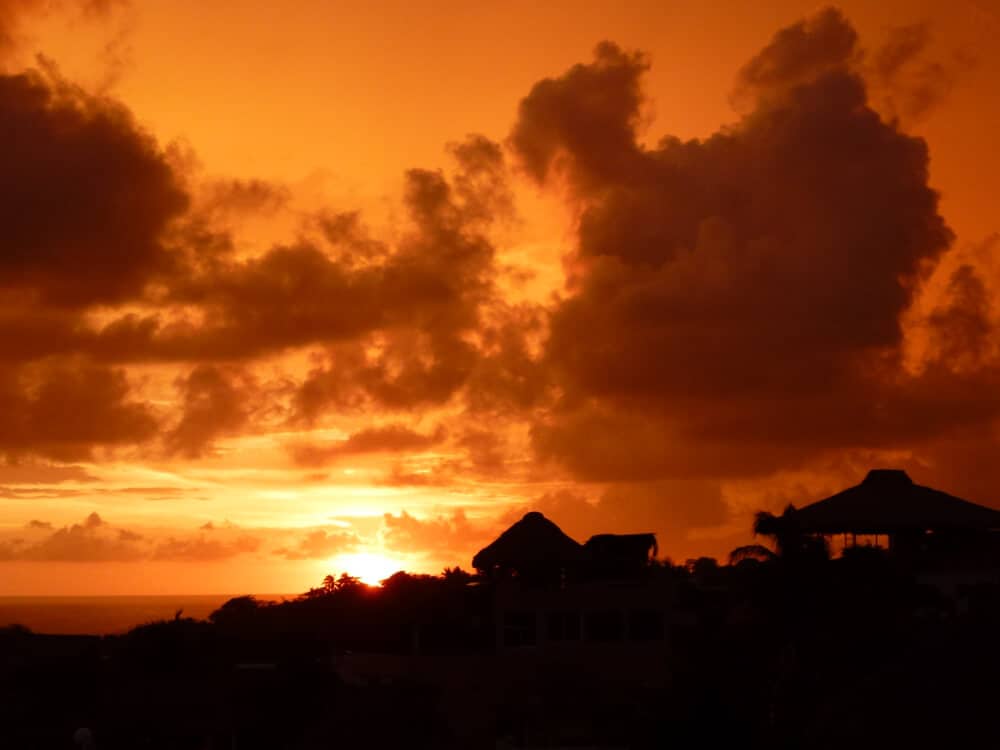 One of the top things to do in Puerto Escondido is totally free. Pacific Coast sunsets are incredible.
Be humbled by the majesty of a brilliant sunset from vantage points in La Punta, Zicatela and Carrizalillo.Watch for the "green flash" a rare phenomenon sometimes seen as the sun drops below the horizon.
The best places to enjoy a margarita or other cocktail at sunset include Espadin Restaurant located within Villas Carrizalillo Hotel (one of the most romantic things to do in Puerto Escondido), the rooftop of the Ben Zaa Hotel or any of the beach bars in La Punta or Zicatela Beach.
It's also possible to go surfing at sunset to get up close and personal with the magical merger of sky and surf.
23. Browse the Puerto Escondido Night Market on the Adoquin
If you're wondering what to do in Puerto Escondido at night, then head to the open-air night market. It's located on the Adoquin a stretch of Avenida Alfonso Pérez Gasga near Playa Principal that closes to traffic in the evenings.
On this pedestrian zone you'll find vendors selling a range of goods from touristy trinkets to fine-quality crafts. Look for artisanal products such as the black pottery of Oaxaca, hand-carved salad bowl and wooden kitchen utensils made of parota wood.
While strolling the night market you can also sample some local mezcal or cool off with a paleta (frozen treat) at Paletas Oaxaceñas or from one of the street food vendors.
24. Marvel at Contemporary Architecture along Oaxaca's Coast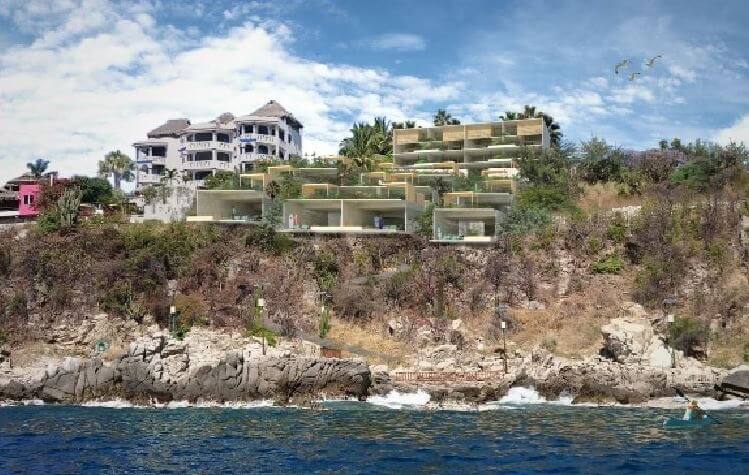 It may have all begun with Casa Wabi, the artist retreat and gallery designed by world class Japanese architect Tadao Ando in collaboration with Mexico-born, New York based Bosco Sodi, known for his large-scale textured paintings and objects.
Or perhaps it began even earlier with the design of Casa Observatorio, the futuristic home of Gabriel Orozco near Roca Blanca. Wherever the creative roots took hold, in recent years the range of contemporary architecture has exploded in Puerto Escondido.
Architectural Digest has even called Puerto Escondido a hotspot for art and design. From gem-sized Casa Tiny to boutique-sized Casona Sforza, designed by renowned Mexican architect Alberto Kalach, Puerto Escondido's contemporary architecture is innovative, exciting and distinctive.
Many of these design hotels, such as Hotel Terrestre (a cluster of villas in the Punta Pájaros area of Oaxaca's coast), also blaze new trails in terms of eco-design. Hotel Terrestre is powered entirely by solar energy and no trees or plants were removed during its construction.
It's possible to take a tour of Casa Wabi (600 MXN pesos) but you'll need to rent a car as the gallery is located off Highway 200 30 minutes outside of the city. Hotel Escondido, located next door, is the closest hotel to Casa Wabi.
If your budget will allow it, splurge on a few nights at one of these jaw-dropping places to stay in Puerto Escondido.
25. Escape the Crowds at Chacahua Lagoon National Park
A journey to Las Lagunas de Chacahua National Park is another memorable thing to do in Puerto Escondido especially if you want to get away from the crowds.
This sprawling national park is located past Manialtepec Lagoon near the village of Zapotalito (via boat). And while it's possible to visit on a Day Trip Tour to Chacahua, it's best to spend at least one night.
If you have a few days in Chacahua Lagoon National Park you can enjoy the beach (swimming is possible on the lagoon side), learn about the Afro-Mestizo culture of La Costa Oaxaqueña, take a tour of the mangroves within its five lagoons and possibly even do some surfing.
Check prices and availability at Cabañas Las Palmas in Chacahua on Booking.com
Where to Stay in Puerto Escondido, Oaxaca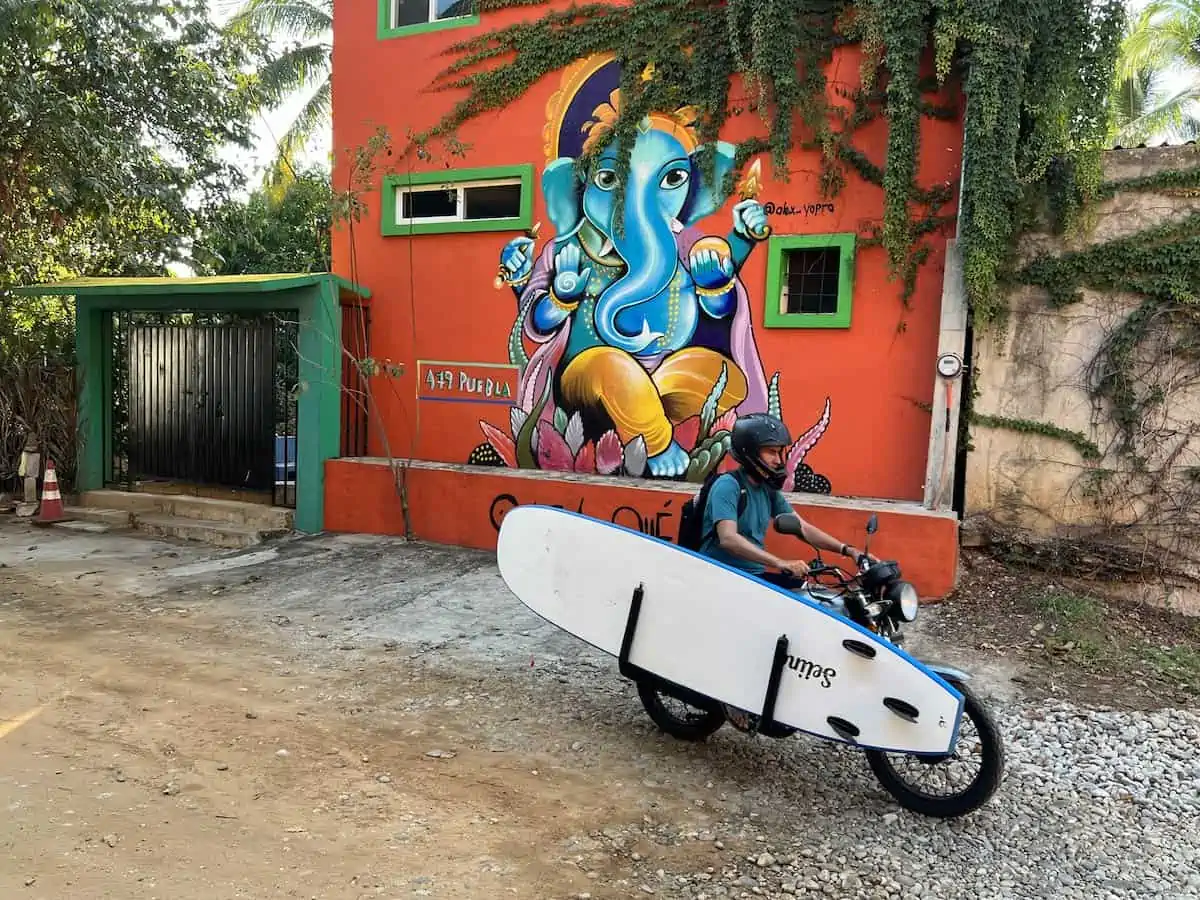 Book early if you're looking for a place to stay in high season. You'll also need to narrow down the area you want to stay in.
The Centro is generally the cheapest and furthest from the beach.
While home to a few hostels, the Rinconada and Bacocho neighbourhoods are mostly residential (Airbnb and a few hotels) and pricier. There's a strip of popular restaurants on the Rinconada.
Located directly on the beach, La Punta, Brisas de Zicatela and Zicatela beach areas are lively and popular for partying, nightlife and surfing. There are several hotels, hostels and Airbnbs to choose from.
For advice in finding hotels and vacation rentals in Puerto Escondido, go directly to this post on Ultimate Guide to Vacation Rentals in Puerto Escondido, Mexico
Tours, Excursions and Resources on Planning an Itinerary
And that's not the end of things to do in Puerto Escondido!
Read our Essential Puerto Escondido Travel Guide for more travel tips. Our Puerto travel blog is packed with information on taking surfing lessons, exploring the food scene, taking day trips and more.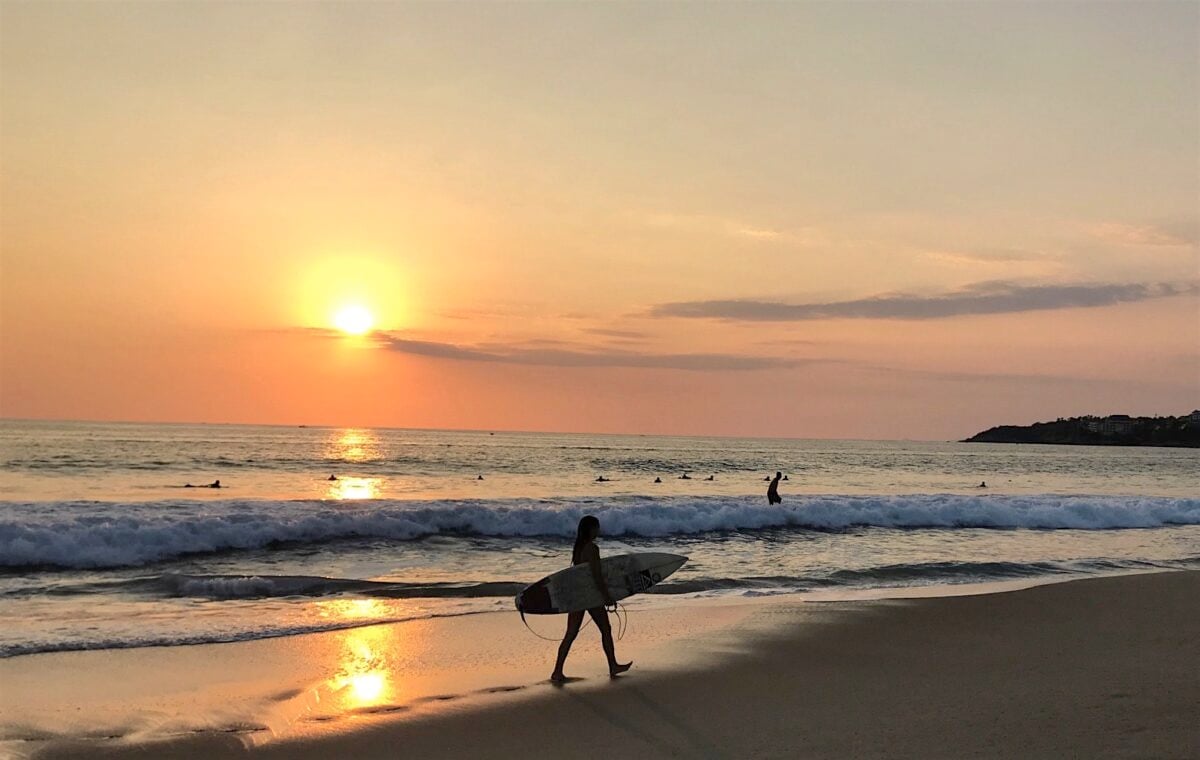 Do you love food, drink and outdoor adventure? Want to be the first to receive news, giveaways, recipes and more about things to do in Puerto Escondido? You can subscribe to the free A Taste for Travel mailing list here
Gina Machorro:
Email: GinainPuerto@yahoo.com
Tel: 011 52 954 582-0276
Web: ginainpuertoescondido.wordpress.com
Deep Blue Dive Puerto Escondido
You can book online or stop at their office located within Hotel Ines on Calle del Morro, Zicatela Beach
Web: http://www.deepbluedivemexico.com/
Lalo EcoTours
Tel: 01 (954) 1189037
Web: lalo-ecotours.com
Email: laloecotours@hotmail.com
Javier Santos Tours – Hotsprings by Horseback; Waterfalls Hike: Manialatepec Lagoon
Tel: 9541350188
Web: http://www.guiapuertoescondido.com/javiersantos/
Email: javierdepuertosuelo@gmail.com
Save to Pinterest!
Dividing her time between Canada, Guatemala and Mexico (or the nearest tropical beach), Michele Peterson is the founder of A Taste for Travel. Her award-winning travel and food writing has appeared in Lonely Planet's cookbook Mexico: From the Source, National Geographic Traveler, Fodor's and 100+ other publications.
Read more about Michele Peterson.