We may earn income from advertising links in this post. Please read our Disclosure Statement for details. Be sure to check COVID-19 restrictions before you travel!
Although it's best known for its beautiful beaches and rich Oaxacan culture, there are many other things to do in Puerto Escondido, Mexico beyond lounging on the beach or exploring its amazing food scene.
While living in Puerto and writing about the Pacific Coast of Mexico for Fodor's, WestJet and Lonely Planet, I was blown away by the many opportunities to experience the awe-inspiring power of nature. There's so much to discover when it comes to outdoor adventure in Puerto Escondido!
Here are my favourite things to do when it comes to eco adventure tours, water sports, outdoor attractions and wildlife watching if you're visiting Puerto Escondido, Mazunte or Huatulco.
1. Take a Tour of Manialtepec Lagoon near Puerto Escondido
If you're interested in wildlife, one of the top things to do in Puerto Escondido is explore Manialtepec Lagoon, a convergence of three ecosystems, each hosting unique flora and fauna, just 20 minutes outside of the city.
Although the state of Oaxaca has less than 5% of Mexico's total land area, it's home to 50% of Mexico's plant species, 60% of its bird species and 50% of its mammal species.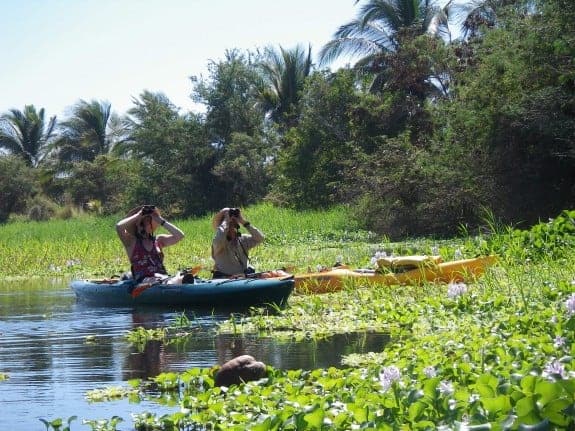 There are 285 species of birds found in the region and it's possible to see up to 70 species of birds on a trip to this protected lagoon near the pueblo of Bajos de Chila, just 10 minutes outside Puerto Escondido.
In 2017, ornithologist Mike Malone retired his popular Hidden Voyages Ecotours, so now your best options for a tour of Manialtepec Lagoon are Dimar Agency, Javier Santos and Lalo Ecotours (scroll down for their contact information).
2. Take a Bioluminesence Tour of Manialtepec Lagoon at Night
One of the most unique things to do in Puerto Escondido is to take the Fosforescencia or Phosphorescence Excursion, an experience only available at certain times of the year.
During this unusual phenomenon, a unique alchemy of ocean currents and water temperature draw dinoflagellate plankton into Laguna Manialtepec or Manialtepec Lagoon, a deep lagoon located 20 minutes outside Puerto Escondido.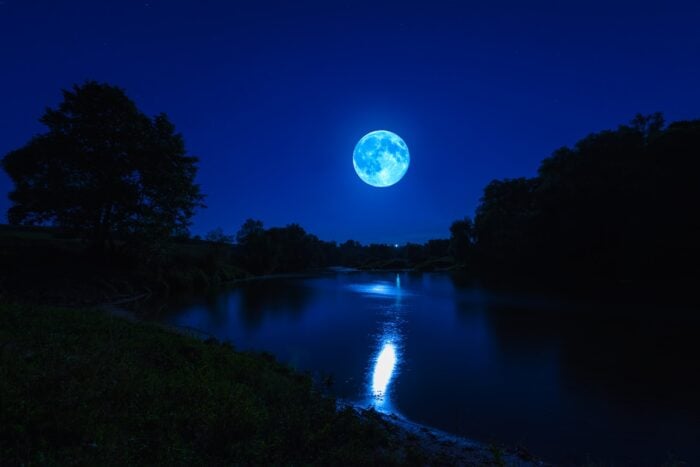 Although it's beautiful to experience the lagoon at night during a full moon, the best time to see the plankton glowing is on a moonless night. That's when the bioluminescence of phosphorescent plankton is most magical.
Much like fireflies of the north, the half-plant half-animal organisms glow with a white light creating an eerie shimmer to the water. It's even possible to jump into the water of the lagoon and swim with the bioluminescence.
Read more about the special tours in our post on the unique Bioluminescent Tour of the Lagoon,
3. Swim with Dolphins in the Wild
Another one of the top things to do in Puerto Escondido is to do some wildlife watching on the ocean. From November onward, it's possible to enjoy whale watching as migrating humpback whales pass through local waters. Year-round you can see sea turtles, manta rays and many types of dolphins.
Tour operator and dive instructor Deep Blue Dive (located in Beach Hotel Ines) offers a morning excursion with a great track record of sightings. They are also responsible tour operators and don't chase whales or harass other marine life by getting too close.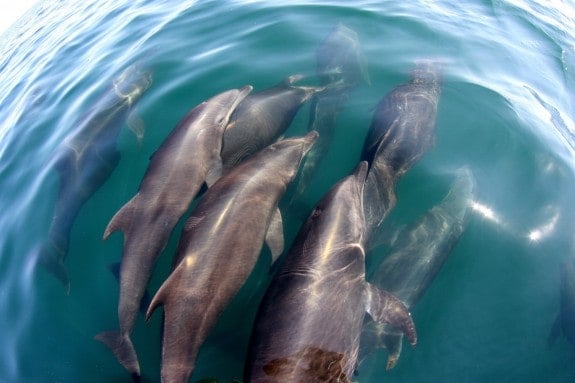 During my most recent trip, hundreds of dolphins were racing alongside the boat, jumping and spinning much like in this incredible Video of Spinner Dolphins in Puerto Escondido.
4. Release Baby Sea Turtles in Puerto Escondido and Mazunte
Watching sea turtle eggs hatch and seeing the baby sea turtles emerge and run to the ocean is both exhilarating and feel-good inspiring. Puerto Escondido and the coast of Oaxaca is one of the world's top destinations for nesting olive ridley sea turtles, so your likelihood of seeing a sea nesting is quite high during the months of July-December.
One of the top things to in Puerto Escondido with kids is to visit the Mazunte Turtle Centre in Mazunte. This conservation centre regularly hosts baby turtle releases year-round. Read more about it in this post about excursions from Huatulco.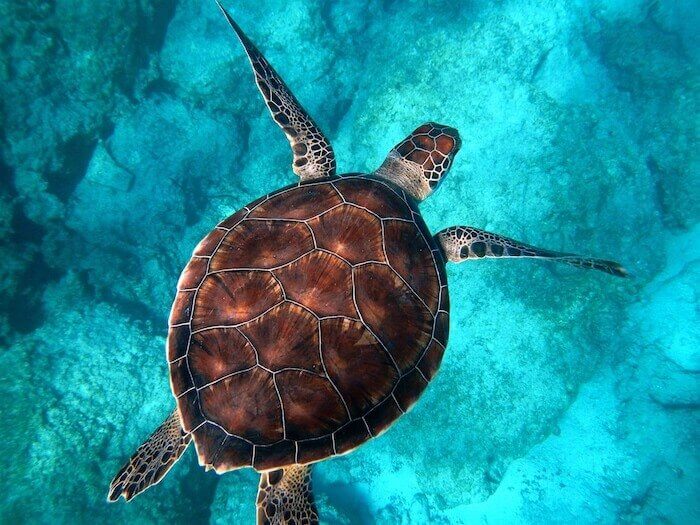 Or, for a family-friendly option closer to Puerto Escondido, head to Playa Bacocho. The Hotel Villa Sol (Bacocho Beach) and Vivo Resort ( north of Puerto Escondido) both often offer turtle release experiences for their resort guests during high season from December to March.
5. Experience an Unforgettable Pacific Coast Sunset
Pacific Coast sunsets are incredible. Watch for the "green flash" a rare phenomenon sometimes seen as the sun drops below the horizon.
Be humbled by the majesty of a brilliant sunset from vantage points in La Punta, Zicatela and Carrizalillo. The best places to enjoy a margarita or other cocktail at sunset include Espadin Restaurant ( located within Villas Carrizalillo), Fresh Restaurant (Zicatela), the rooftop of the Ben Zaa Hotel or any of the beach bars in La Punta.
It's also possible to go surfing at sunset to get up close and personal with the magical merger of sky and surf.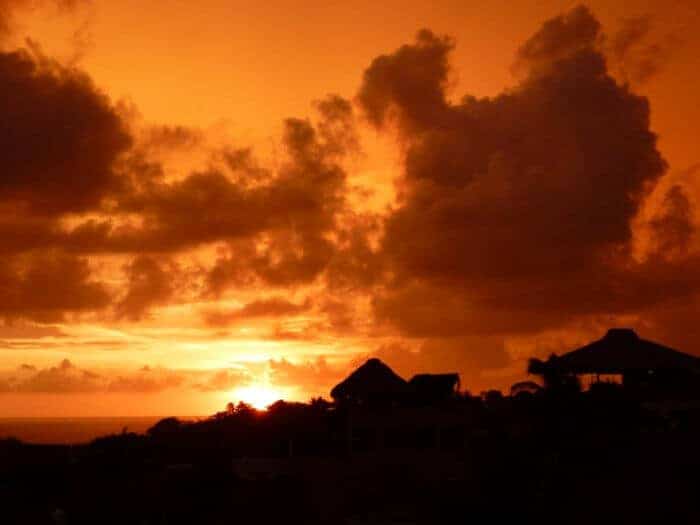 6. Go Horseback-riding and Soak in Hot Springs
Journey into the Sierra Madre Sur mountains by Riding Horseback to Atotonilco Falls where you can soak in steaming thermal hot springs or take a dip under the refreshing La Reforma waterfall.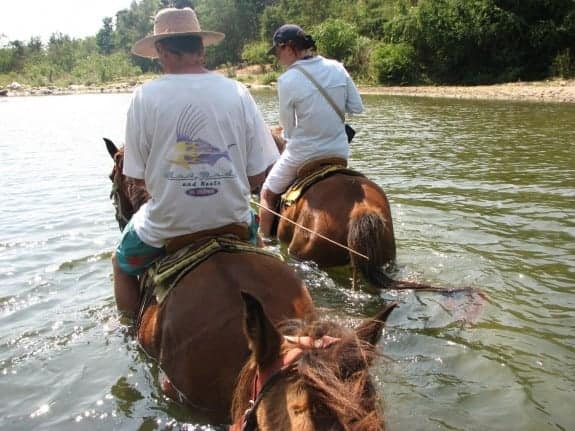 You can contact local trail-riding expert Javier Santos (044 954 1350188 or via email at javierdepuertosuelo@gmail.com) who has a stable of horses and offers tours by horseback as well as lagoon and waterfall tours.
7. Grab a Fishing Rod and Lunch on a Secluded Beach
Both Agua Blanca and Roca Blanca are still-wild beaches where you'll see few crowds and can spend the day lazing in a hammock enjoying fresh oysters and grilled fish.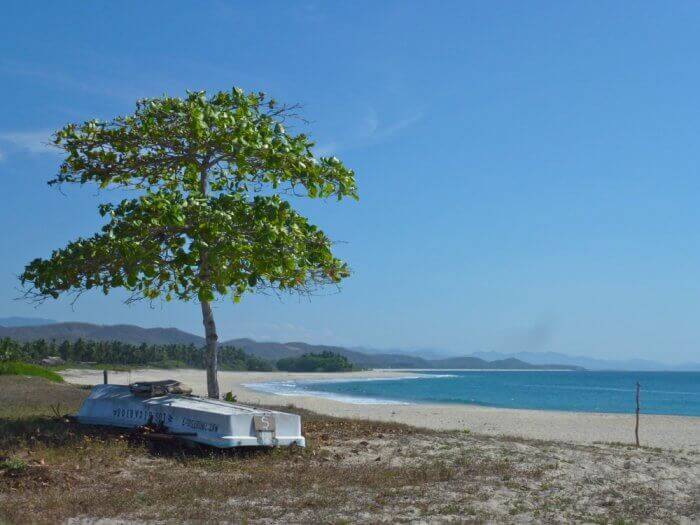 8. Go Swamp Trekking at Barra de Navidad
Hike the jungle and tour a crocodile-infested lagoon at Barra de Navidad (Oaxaca), just a five minute ride out of town past La Punta. When it comes to adventurous things to do in Puerto Escondido, getting scared silly is a good sign you've ventured far off the beaten path.
Learn about hiring a local guide to explore this incredible wild lagoon. From bird-watching to dining on fresh-grilled fish at the water's edge you'll feel as though you're far from civilization.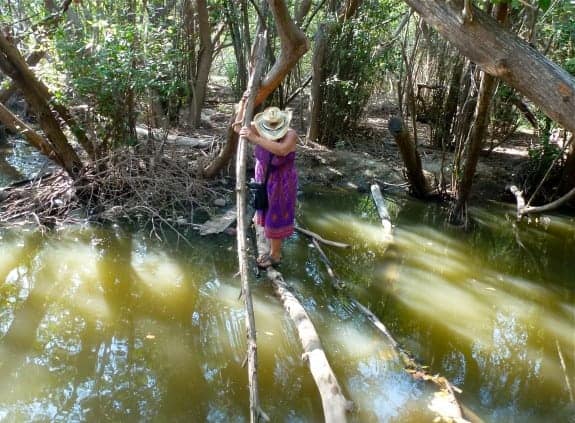 9. Go Surfing in Puerto Escondido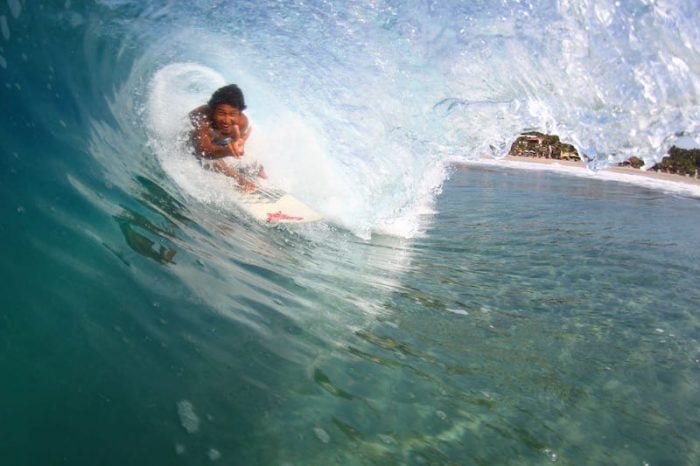 Surfing is definitely the top outdoor adventure in Puerto Escondido. Zicatela Beach is considered one of the world's top surfing destinations thanks to the Mexican Pipeline, a challenging break best attempted by skilled surfers. However, there are many other beaches in Puerto Escondido available for beginners.
We suggest contacting Zicazteca Surf School (located at the Hotel Rockaway on Zicatela beach) or Oasis Surf and Language School (on the Rinconada ) for skilled instructors, surf lessons and surf tours for all levels.
10. Witness a Sea Turtle Nesting at La Escobilla Nesting Beach
La Escobilla is one of Mexico's top sea turtle nesting beaches. It's a protected beach and an important habitat for olive ridley sea turtles so you need to be accompanied by a guide. It's also possible to see sea turtles nest at Santa Elena near Aqua Blanca Beach.
Read more about Santa Elena and sea turtles in our post on Escape to Gecko Rock Resort in Mexico's Sea Turtle Country.
More Amazing Things to Do in Puerto Escondido
And that's not the end of things to do in Puerto Escondido! Read our Essential Puerto Escondido Travel Guide for more information on taking surfing lessons, finding hotels and vacation rentals, exploring the food scene, taking day trips and more. Or go directly to these posts:
9 Tips for a Perfect Romantic Getaway in Puerto Escondido, Oaxaca
Ultimate Guide to Vacation Rentals in Puerto Escondido, Mexico
Beginner's Guide to Puerto Escondido Beaches
8 Weird Foods to Try in Puerto Escondido
How to Visit Pluma Hidalgo Coffee Country
Do you love food, drink and outdoor adventure? Want to be the first to receive news, giveaways, recipes and more about things to do in Puerto Escondido? You can subscribe to the free A Taste for Travel mailing list here
Travel Planner
Gina Machorro:
Email: GinainPuerto@yahoo.com
Tel: 011 52 954 582-0276
Web: ginainpuertoescondido.wordpress.com
Deep Blue Dive Puerto Escondido
You can book online or stop at their office located within Hotel Ines on Calle del Morro, Zicatela Beach
E-mail: lorenzo_bini@hotmail.com
Web: http://www.deepbluedivemexico.com/
Lalo EcoTours
Tel: 01 (954) 1189037
Web: lalo-ecotours.com
Email: laloecotours@hotmail.com
Javier Santos Tours – Hotsprings by Horseback; Waterfalls Hike: Manialatepec Lagoon
Tel: 9541350188
Web: http://www.guiapuertoescondido.com/javiersantos/
Email: javierdepuertosuelo@gmail.com
Dimar Travel Agency – Tours to Manialtepec & Chacahua Lagoons; Huatulco & Mazunte Tours
Tel: 954-58-22305
Web: http://mexonline.com/dimar.htm
email: operadoradimar@hotmail.com
Save to Pinterest!