We may earn income from links in this post. Please read this Disclosure for details.
Looking for an unforgettable day trip from Puerto Escondido, Oaxaca? A horseback ride to the Atotonilco Hot Springs is a magical blend of adventure and wellness.
It's definitely one of the top things to do in Puerto Escondido.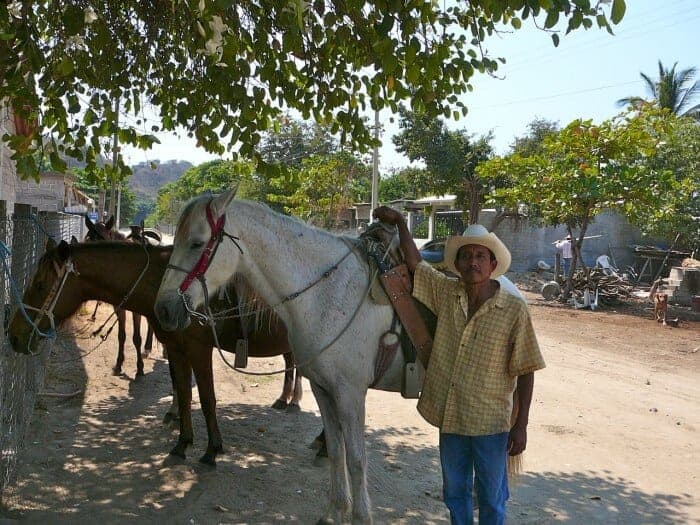 I'm a person who doesn't spend much time riding horses. In fact, any time I've ever gone horseback riding, my horse seemed to spend more time grazing on grass than trotting.
But on a recent day trip to the Atotonilco Hot Springs near Puerto Escondido, when I was faced with the choice of a 2-mile hike through sweltering heat or riding a horse, I opted to go the easy route and get in the saddle.
It turned out to be an amazing experience!
We set out in early morning travelling along Highway 200 to the village of San Jose Manialtepec. After scouting around for the stables and waiting for the guide to round up his horses, we set out to Atotonilco Hot Springs in single file by horseback.
Leading the way was the guide and his small son, who helpfully spurred on my horse as needed, as we meandered through a lush canyon filled with wild vegetation interspersed with small farms alongside the Manialtepec River.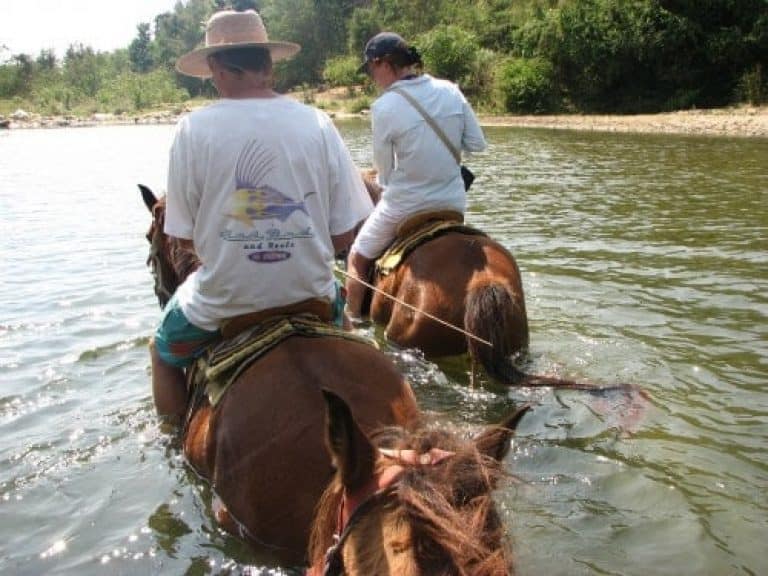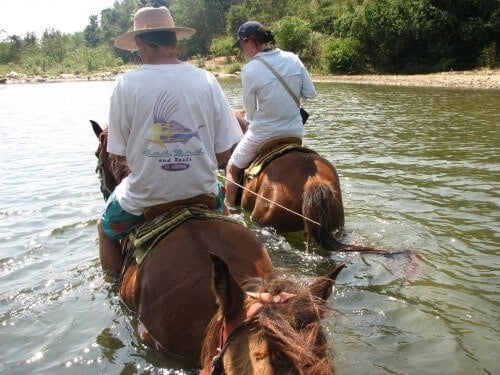 Forging the Manialtepec River by horseback
At times we even forged the river by horseback.
This is the same river that feeds into Manialtepec Lagoon, where you can go bird-watching, spot crocodiles, paddle a kayak or swim in bioluminescent waters.
After a refreshing swim in the river at the halfway point, we continued riding into the hills until we reached the thermal spa waters of Atotonilco Hot Springs.
The series of emerald green hot pools are still in a mostly natural state and a nearby shrine signifies their role in local culture and spiritual beliefs.
Our guide explained that the curative waters are revered for their high mineral content. But I had to take his word for that as during our visit the thermal waters were so hot I could only manage to immerse one foot into the water completely.
But the steam did manage to soothe a few aches and pains. Before long we were back in the saddle returning to the village by horseback, forging the Manialtepec River at points along the way.
If you've never ridden horseback in the water, it's quite an exciting experience. You put your trust in the horse completely.
For me, an added bonus was that while the horse was swimming it couldn't chomp on any grass.
Things to Know Before Taking this Tour to Atotonilco Hot Springs
Bring a hat, swimsuit and towel as well as food/water as there are no amenities in this remote area.
Wear closed-toed shoes or boots.
Don't try to do this tour alone! You can easily get lost in this rugged area.
It's possible to hike to the hot springs.
Riding helmets are not available so if you'd like to wear one for safety reasons you'll need to bring your own.
This horseback tour may not be suitable or safe for small children.
If you enjoy horseback riding, you can also consider a horseback ride at sunset along Zicatela Beach or other beaches in Oaxaca.
Note that these are different hot springs than those ones in San Miguel de Allende.
Contact Information
Contact LaloEcotours by phone at 954 588-9164 or 954 123-4005 or email at laloecotours@hotmail.com
Or, make a reservation at the Tourist Information booth on the Adoquin near Playa Principal in Puerto Escondido. Manned by multi-lingual Gina Machorro Espinosa, the booth is a valuable source of maps, tour and excursion information as well as tour booking services.
Get more information on transportation, beaches, accommodation and more in our Insider's Guide to Puerto Escondido
Dividing her time between Canada, Guatemala and Mexico (or the nearest tropical beach), Michele Peterson is the founder of A Taste for Travel. Her award-winning travel and food writing has appeared in Lonely Planet's cookbook Mexico: From the Source, National Geographic Traveler, Fodor's and 100+ other publications.
Read more about Michele Peterson.