We may earn income from links in this post. Please read this Disclosure for details.
If you're attending the San Miguel Writers Conference, it's worth planning ahead to make sure you factor in enough time to experience all the wonderful things there are to do in the magical city of San Miguel de Allende, Mexico.
Here's why you should attend this writers festival as well as some tips on the best things to do in San Miguel de Allende while you're there:
1. Mix and Mingle at the San Miguel Writers Conference and Festival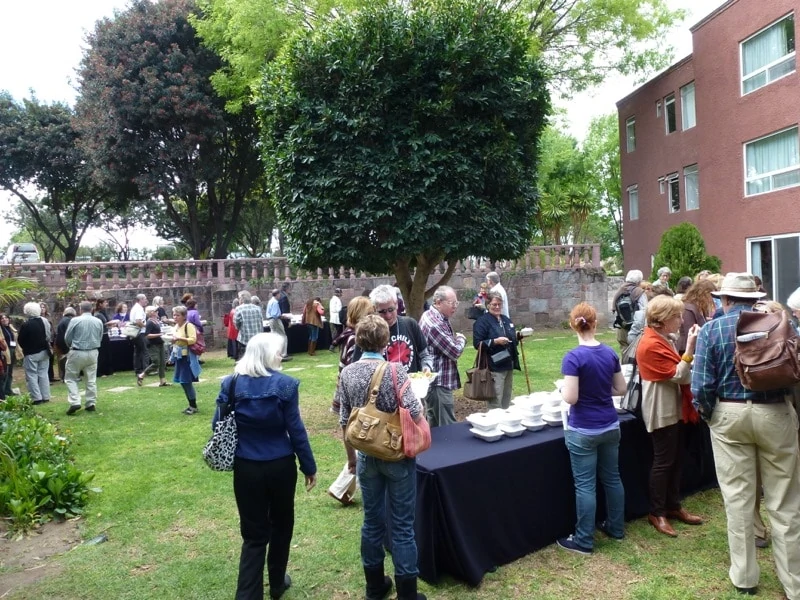 This popular celebration for book lovers, writers, editors and publishers has been taking place for more than 15 years. The official name of this festival is the San Miguel Writers Conference and Literary Festival, which means that although there are workshops on the craft of writing, there is also a large focus on the appreciation of literature through readings, book sales and talks by celebrated writers.
During the year I attended, the conference was a jam-packed five days of new ideas, creative writing exercises and inspiring lectures by speakers such as Margaret Atwood and Merilyn Simonds. Expect to do a lot of mixing and mingling.
Although the festival also features agent pitch sessions and master classes, it's more of a celebration of the craft writing than an intensive workshop type atmosphere.
Read my post on How to Choose a Writers WorkShop to learn more about the important differences between workshops, retreats and festivals for writers.
2. Soak up the History and Charm of San Miguel de Allende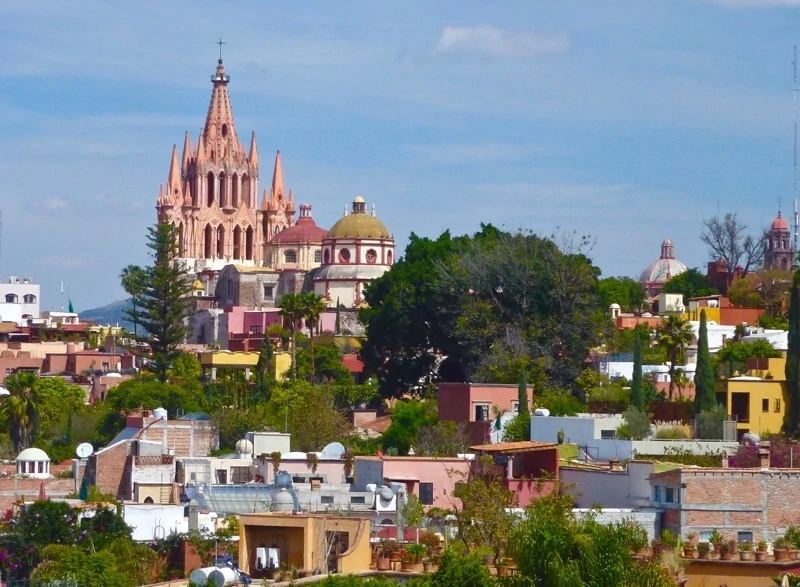 Founded in 1542, the UNESCO World Heritage site of San Miguel de Allende features meandering cobblestone streets, leafy plazas and more than 20 colonial-era churches, all carefully restored.
The finest of these is the neo-Gothic Parroquia de San Miguel Arcangel, an impressive pink stone structure that appears as though lifted straight out of a fairytale.
Learn more about the city's colonial architecture, best rooftop views and most photogenic streets in this guide to a weekend in San Miguel de Allende.
3. Spend Time at the Outdoor Cafes and Restaurants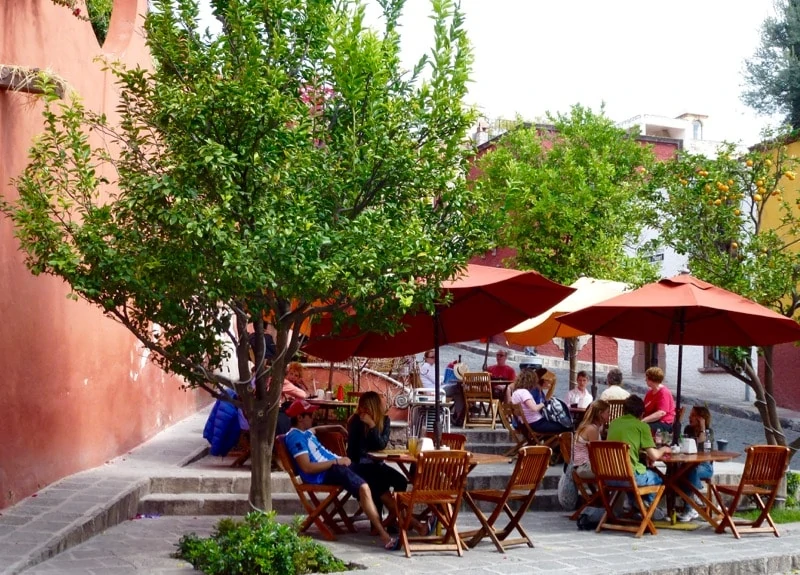 One of the best ways to soak up the atmosphere of this beautiful colonial city is to immerse yourself in its food scene. Whether it's enjoying a coffee in a streetside cafe, sipping cocktails in a trendy bar or exploring its vibrant restaurants, there's much to keep culinary travellers busy for days. Here are some tips on where to eat in San Miguel de Allende.
4. Shop for Sandals at San Miguel Shoes
While it might seem strange to include shopping for shoes as a must-do during a literary festival, once you've walked the cobblestone streets of San Miguel for a few days you'll be more than ready for some footwear. This is where the footwear shop San Miguel Shoes ( Canal 34, Zona Centro ) comes to the rescue. These shoes are both pretty and practical. They are super comfortable to wear and look stylish with both casual and dressy wear.
5. Go Art-Gallery Hopping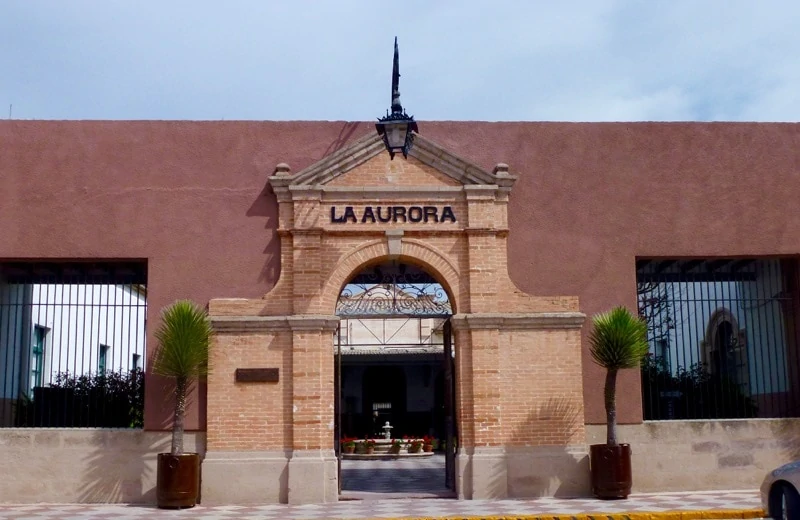 If you have time for only one stop art gallery stop, make it La Aurora Factory, a celebration of art, culture and handcrafted products produced by the many artisans who call San Miguel de Allende home.
Housed within a former textile factory, it's an expansive space filled with gurgling fountains, jewellery studios, art galleries and cultural displays. Plan to spend a full morning or afternoon here.
6. Spend a Spa Day at La Gruta Hot Springs
Diving into the magic of San Miguel de Allende, Mexico takes on a whole new meaning at La Gruta Hot Springs. Exploring these hot springs is definitely one of the top things to do while attending the San Miguel Writers Conference.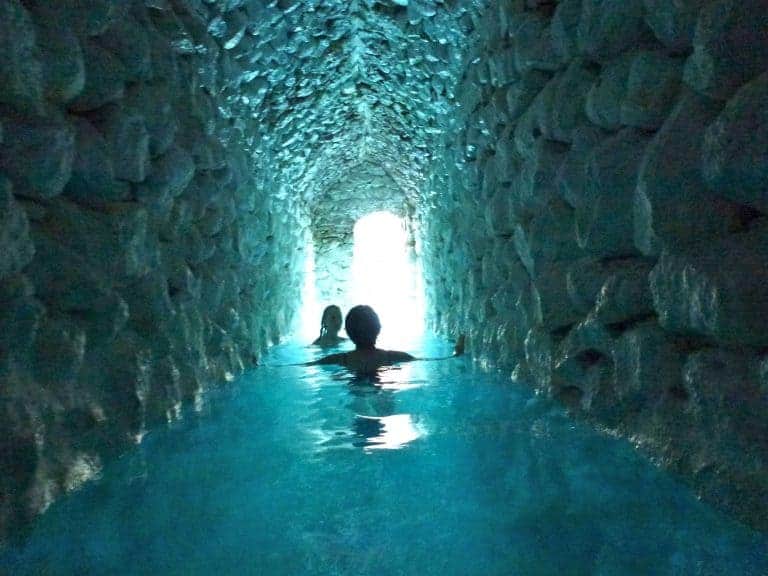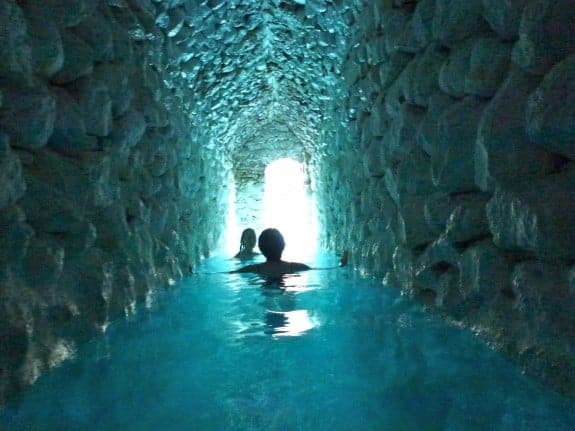 For me, an afternoon at La Gruta thermal springs was a perfect retreat from the intensity of the conference. It was a time to stop thinking and just float aimlessly in clear, blue waters. La Gruta is a mysterious place, a maze of lush gardens, rocky grottos and interconnected pools of warm water.
7. Explore the Caves of La Gruta Hot Springs
The deeper you go into the heart of the pools, the warmer the water becomes. Writer and artist Colleen Friesen and I swam through a tunnel into a dark cave, lit only by skylights in a domed roof.
A torrent of water poured into the pool, offering a back and shoulder massage to those brave enough to stand beneath it.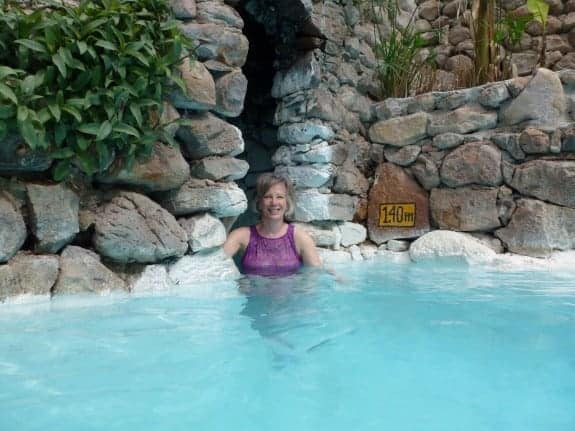 Later, I floated freely in the waters — rich in lithium — emerging groggy but soothed. My mind wiped clear of every busy thought, of every colour except cerulean blue.
San Miguel de Allende Travel Guide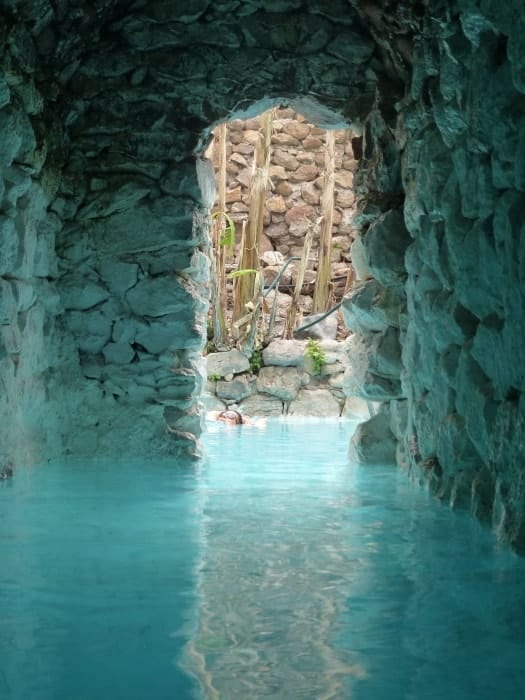 Conference Dates: The San Miguel Literary Festival takes place each February.
How to Get to La Gruta Hot Springs: Buses leave for La Gruta from the historic centre and the drive takes around 15 minutes. Entrance to the pools is 90 pesos plus 50 pesos ( refundable) for a locker
Hotels at the San Miguel Writers Conference: I stayed at Hotel Real de las Minas, a character hotel with lovely gardens and rather spotty wifi with so many writers trying to log in at the same time. It was the host hotel for the San Miguel Writers Conference.
Official website: Browse the schedule and program at the San Miguel Writers Conference & Literary Festival.
For more information on San Miguel Miguel de Allende, check out the blog post on Inspired by Colour in San Miguel de Allende
You Might Also Like:
For other writers workshops and retreats, see How to Choose a Summer Writers Workshop or Retreat and Inside the Anguilla Writers Festival.
If you love San Miguel de Allende, why not consider the Complete Travel Guide to Patzcuaro, Mexico
You can also Study Spanish in Antigua, Guatemala
5 Reasons to Visit Valladolid Mexico
Save to Pinterest!
Dividing her time between Canada, Guatemala and Mexico (or the nearest tropical beach), Michele Peterson is the founder of A Taste for Travel. Her award-winning travel and food writing has appeared in Lonely Planet's cookbook Mexico: From the Source, National Geographic Traveler, Fodor's and 100+ other publications.
Read more about Michele Peterson.