We may earn income from links in this post. Please read this Disclosure for details.
Planning a visit to Pátzcuaro, Mexico for Dia de los Muertos? Taking place from the end of October through to November 2nd, Day of the Dead in Pátzcuaro is one of the most authentic and traditional celebrations in Mexico.
Rich in history and much less commercial than Day of the Dead celebrations in Cancun or even Oaxaca City, it's an especially memorable and unique experience.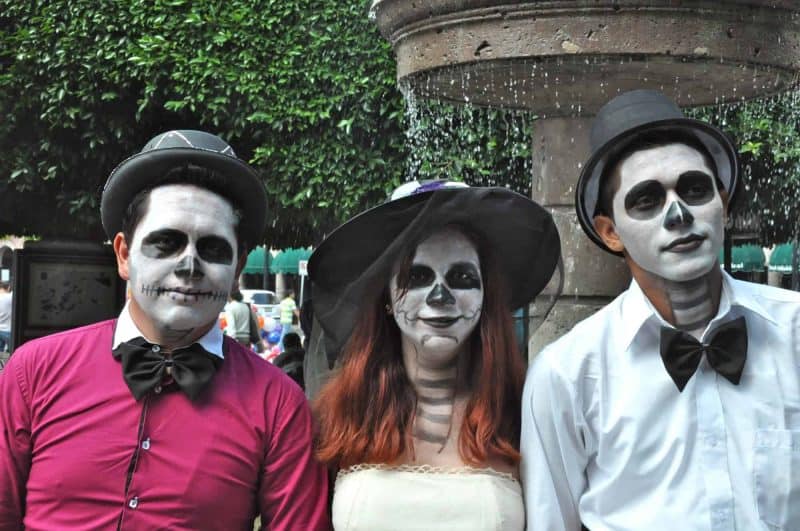 About Pátzcuaro
Founded in 1320, Patzcuaro is a fascinating year-round destination thanks to its indigenous Purepecha and Tarasco traditions, colonial architecture, the House of Eleven Patios (built in the 1700s) and the Basilica de Nuestra Señora de la Salud, an important pilgrimage site.
It's located in the state of Michoacán in central Mexico, 60 kilometres from Morelia the capital.
Pátzcuaro is so special it's even been designated a Pueblo Mágico, an initiative led by Mexico's Secretariat of Tourism that recognizes small towns with magical qualities offering special experiences for visitors.
Here's what you need to know if you're planning a trip to Pátzcuaro on Day of the Dead or any other time of the year.
Major Day of the Dead Traditions in Pátzcuaro, Mexico
Much like in other parts of Mexico, Day of the Dead in Pátzcuaro is a joyous and sacred time.
It's a time to prepare for the return of the souls of the dead by preparing altars, visiting gravestones, gathering marigold flowers and cooking traditional Day of the Dead food.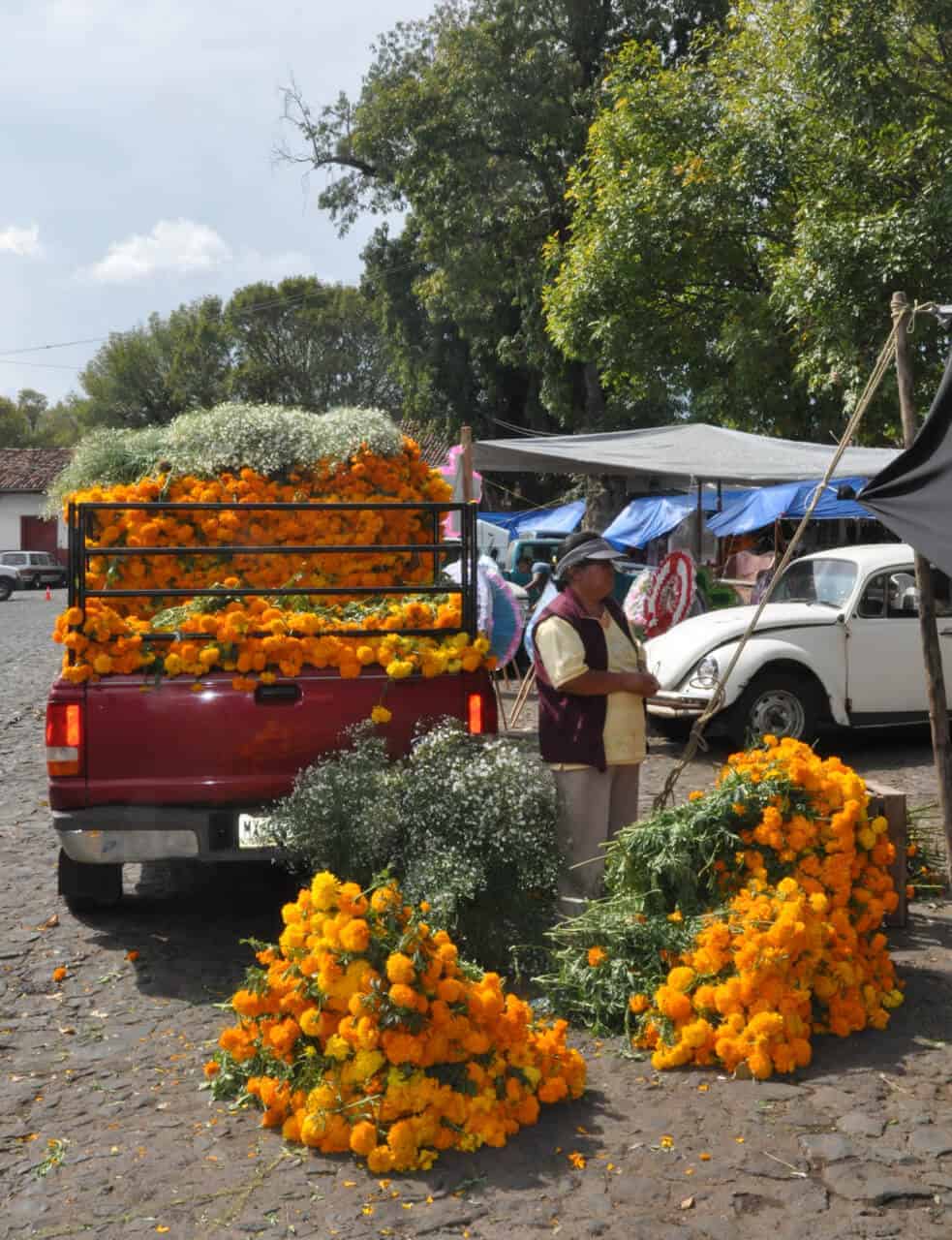 In Patzcuaro, you'll have an opportunity to experience all of the major Day of the Dead traditions popular throughout Mexico as well as certain Dia de los Muertos rituals and events unique to the region.
These include:
performances by the butterfly net fisherman,
pelota purépecha (an ancient game of ball hockey played with a ball lit on fire),
altars (known as ofrendas) in homes, places of business and public buildings,
processions through the streets of Patzcuaro
special gravestone ceremonies
candlelit Noche de Muertos or Night of the Dead is especially memorable and takes place in several of the villages around Lake Patzcuaro on November 1st.
Day of the Dead is also an opportunity to see Danza de los Viejitos (Dance of the Old Men) a traditional folk dance of Michoacan.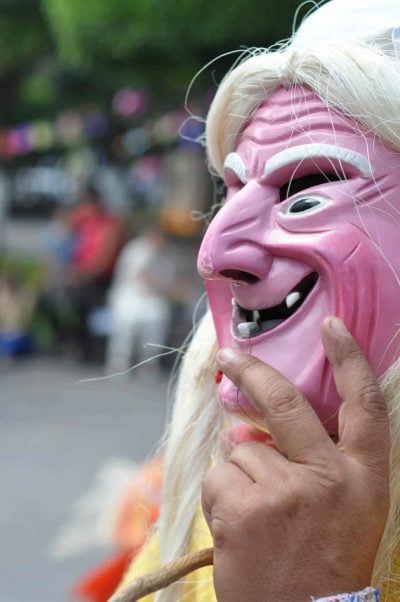 Check prices and availability of a Full Day Tour to Pátzcuaro and Janitzio from Morelia on Viator.com.
Important Dates for Día De Muertos in Michoacan
The term Day of the Dead commonly refers to activities, rituals and events that take place over several days rather than one day.
October 31 All Saints Eve
November 1: Noche de Muertos and Dia de Todos los Santos, Día de los Inocentes or Angelitos (honours the souls of children)
November 2: Dia de Muertos, Day of the Dead and All Souls Day
See Traditional Day of the Dead Costumes in Patzcuaro
Many of the Day of the Dead costumes are based on La Calavera Catrina a zinc etching originally created by Jose Guadalupe Posada between 1910 and 1913, then painted by Diego Rivera in his famous murals.
One of the best known murals of Diego's murals depicting a Calavera Catrina is Dream of a Sunday Afternoon at Almeda Central.
This 15.67 metre (51 feet) mural was originally installed in the Versailles Room at the posh Hotel del Prado in Mexico City but after the 1985 earthquake it was relocated to the new Museo Mural Diego Rivera in Mexico City, where you can see it today.
These representations of elegant female skeletons dressed in European attire of sweeping hats and long flowing gowns were originally intended as a satirical commentary on native Mexican who were abandoning their culture in favour of European turn-of-the-century fashions and fads.
Many of today's Day of the Dead costumes are elaborate recreations of those early depictions of these Catrinas.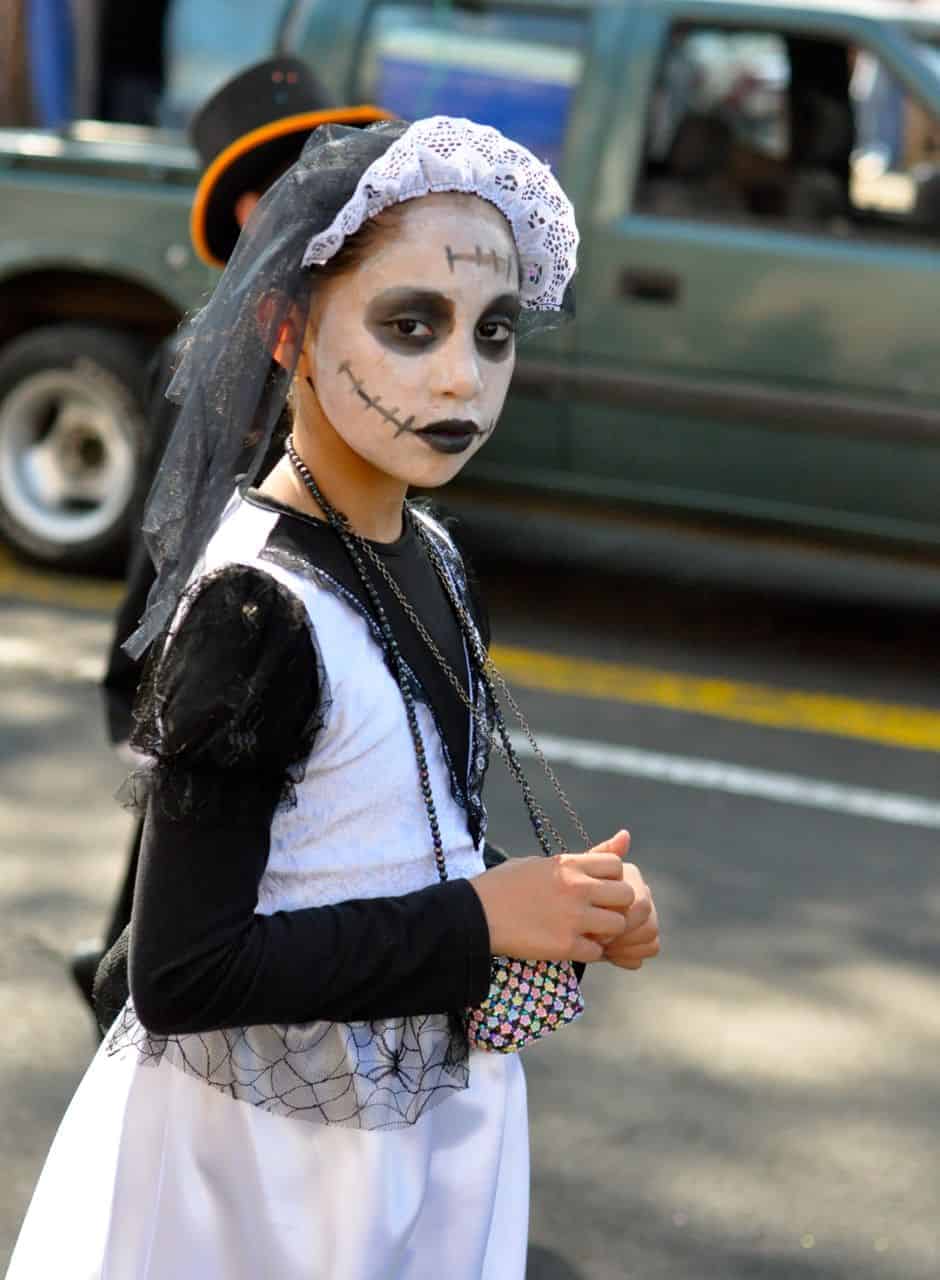 The long flowing gowns are accompanied by white face paint and make-up that's designed and applied so the wearer's face looks like a skull.
Browse the Day of the Dead Artisan Market and Decorations
If you are visiting Patzcuaro for Day of the Dead, be sure to arrive for October 30th, when the Artisan Market begins.
Vendors travel from across Mexico to set up their stalls filled with religious icons, reed weavings, embroidery crafts and fantastical Ocumicho ceramic sculpture.
The main Artisan Market is located at Plaza Grande in Pátzcuaro however there's also a juried display indoors that's well worth checking out.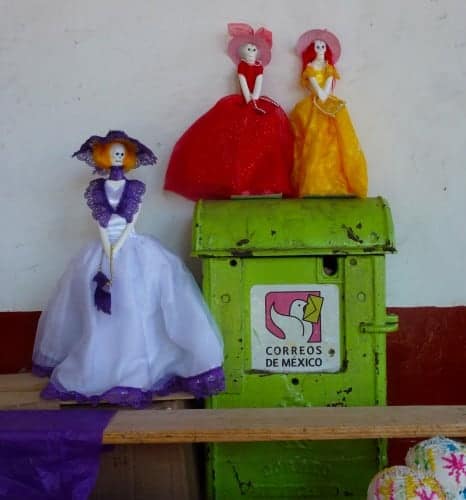 The high quality goods at the Artisans Market means it's a shopping magnet for residents of San Miguel de Allende (and NYC art dealers) so go early to get the best selection.
The best way to be sure you don't miss any of the sights and attractions is to take a Day of the Dead Tour with a local guide.
Stay in a Historic Hotel in Pátzcuaro
You really can't go wrong with the Hotel Meson de San Antonio. Located in the heart of the colonial centre on Benigno Serrato (the same street as the Day of the Dead flower market), it is just steps to the Basilica and the popular La Lupita restaurant and a short walk to the Plaza Vasco de Quiroga.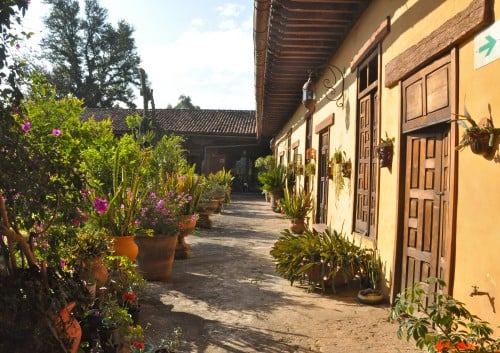 Due to its location on the historic Camino Real, the hacienda-style inn was formerly a stop for mule drivers. It has retained its lovely courtyard (the largest in Patzcuaro), fireplaces and architectural traditions.
Rates are quite economical and include a modest continental breakfast.
Check rates and availability at Hotel Meson de San Antonio in Pátzcuaro on Booking.com
A more luxurious place to stay in Pátzcuaro is the posh Casa Colorada Boutique Hotel and Spa set amid landscaped gardens.
Check rates and availability at the Casa Colorada Boutique Hotel and Spa on Booking.com
Semana Santa (Easter Week), Christmas and Day of the Dead or Dia de los Muertos (October 29-Nov. 2) are peak times for visitors in Patzcuaro.
Although you can sometimes find last-minute accommodation you should begin making hotel bookings six months in advance if you want to get your hotel of choice.
Sample Traditional Food and Drink in a Pátzcuaro Restaurant
In addition to traditional Day of the Dead food such as pan de muerto, atole and pozole, there are several regional dishes worth trying in Patzcuaro.
One of the most famous local dishes is Las Enchiladas Placeras de Pátzcuaro (chicken and rolled tortillas bathed in spicy red sauce and topped with carrot and potato).
You also don't want to miss Sopa Tarasca or Tarascan soup, another local specialty that makes an ideal lunchtime meal after watching processions during Day of the Dead in Patzcuaro.
This satisfying soup features pinto beans, chiles and crispy tortilla strips in a delicious combination.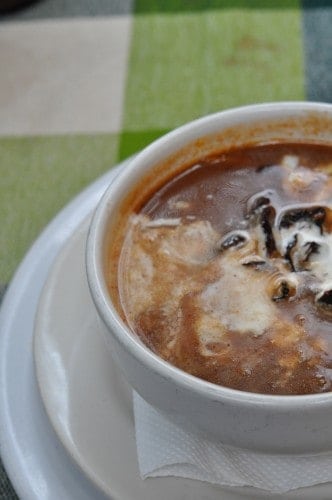 Also be sure to explore the daily market set up at La Plaza Chica every day from 8:30 am to 5 pm. That's the best place to try Michoacan ice-cream and corundas (pyramid-shaped tamales).
A popular spot for lunch, dinner and cocktails is Lupita restaurant ( at Cuesta de Don Vasco # 5 on Calle Buena Vista near the cathedral) featuring live music, original art and local cuisine.
Plan your own Dia de Muertos celebration with our 25 Best Recipes for Day of the Dead.
Take a Day Trip to Pátzcuaro Lake and Beyond
One of the top places to visit on Day of the Dead in Pátzcuaro is the village of Tzintzuntzan, known for its candlelight ceremonies by boat. .
Other highlights include its straw crafts, ceramics and atmospheric Ex-Convento de San Francisco and the Purepecha ruins of Las Yacatas.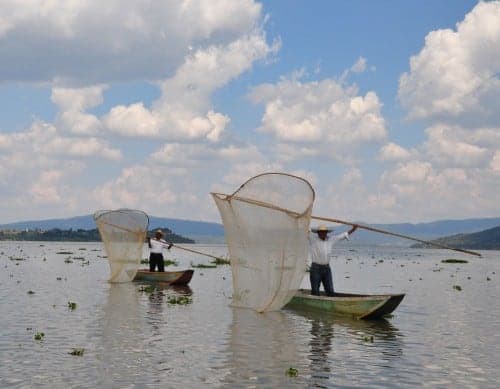 It is also the spot to be for Dia de Muertos. In town, make a visit to the Virgin, Nuestra Señora de la Salud (Our Lady of Good Health), where she is said to perform miracles.
Another top place to visit during Day of the Dead is the island of Janitzio in Lago de Patzcuaro and the village of Santa Fe de la Laguna. A journey by boat is an opportunity to see the fishermen with their traditional butterfly nets.
During Día deMuertos they fan their nets to create a breeze that will carry the souls of the dead out of their watery graves in the lake and up the stairs to the cemetery on Janitzio Island.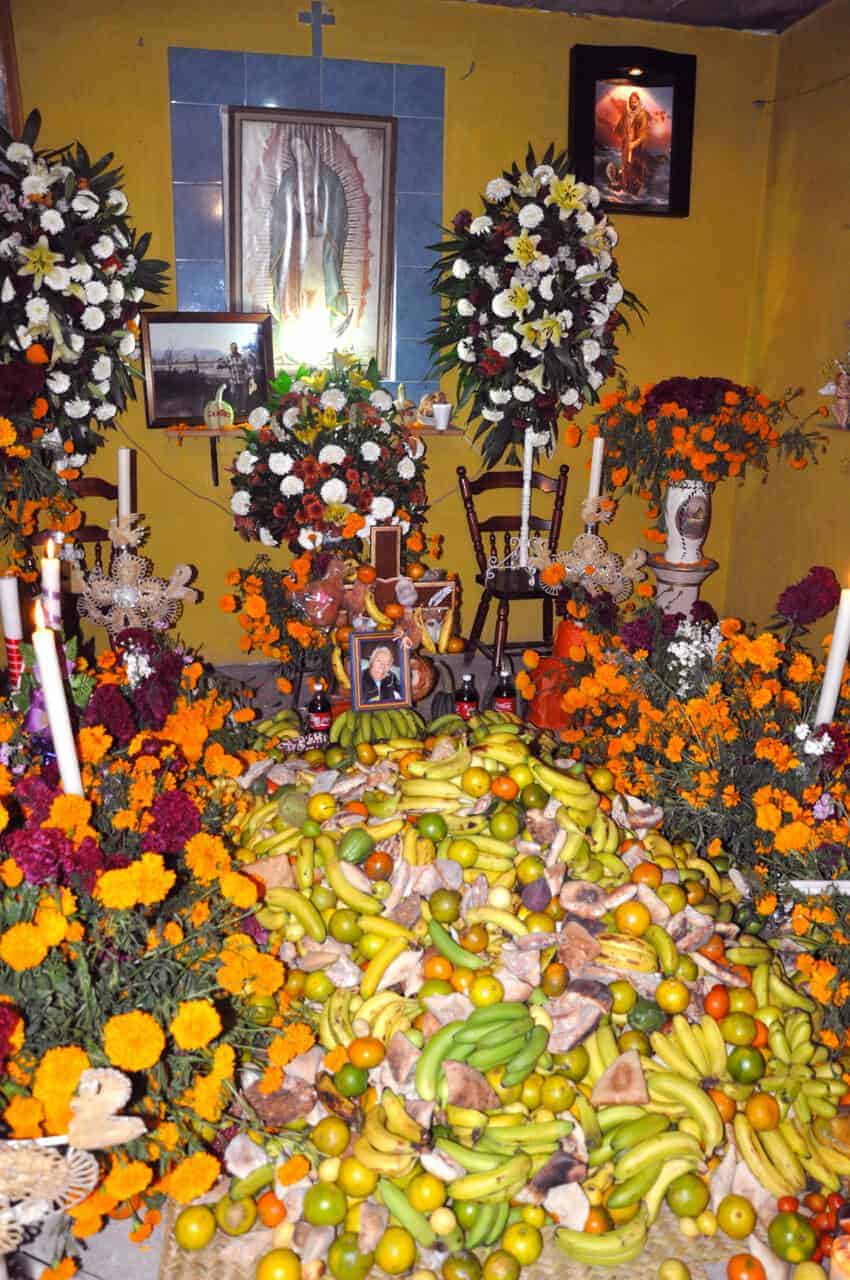 There, families build elaborate altars on the gravestones. They decorate the altars or ofrendas with marigolds, candles, fruit, photos of their ancestors and other symbolic items to welcome the departed back to the world of the living for one night.
A Don Vasco Ruta tour from Morelia will include a stop at Quiroga (known for its handicrafts), Tzintzuntzan (the former capital of the Purépecha empire and also a designated Pueblo Mágico), Pátzcuaro and Janitzio with a certified guide.
If you have time to do this trip independently, plan on a minimum of three days to visit several of the villages.
Packing Guide for Pátzcuaro, Michoacan
Be sure to pack sturdy shoes, a rain jacket and a warm jacket if you're going on a Day of the Dead tour.
The high altitude brings fog and chill so you'll be happiest with lots of layers (and a hotel room with a fireplace).
A flashlight is also handy for Day of the Dead where you're literally be tripping through graveyards in the middle of the night.
Safety in Patzcuaro
If you're planning on celebrating Day of the Dead in Patzcuaro, it's important to consider safety. The U.S. Department of State ( and Canada) have issued Travel Safety Advisories for the state of Michoacan (except for Morelia) due to crime.
It's worth reading the full advisory prior to travel and making your own decision whether to visit Pátzcuaro. Avoid travel at night, use toll roads and minimize displays of wealth such as jewellery.
Get the full Semana Santa schedule or Day of the Dead line-up of activities at the official Visit Michoacan: The Soul of Mexico website.
How to Get to There – Tours in Pátzcuaro and Morelia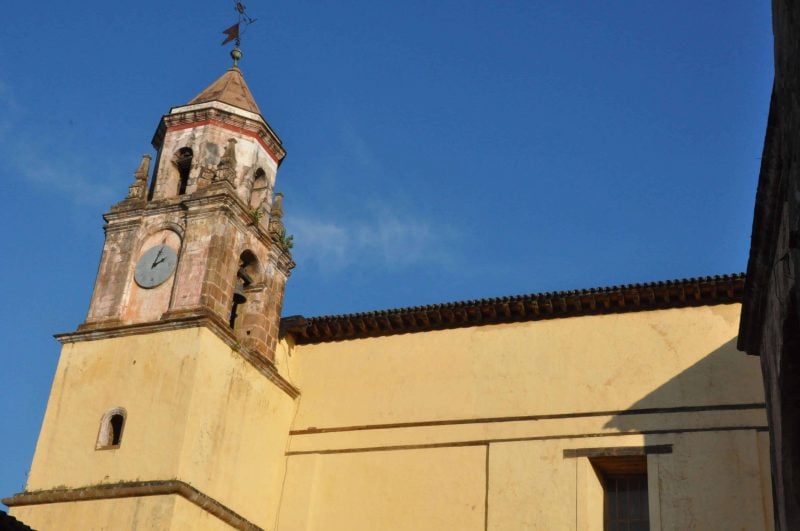 If you're arriving at Benito Juarez International Airport in Mexico City, book a flat-rate taxi to the long-distance bus station Camionera Poniente de Observatorio from one of the kiosks in the airport arrivals area.
They are safe, secure and fast (Nueva Imagen offers reservations at 5716-16-16 but you really don't need a reservation). Count on 30-45 minutes (depending on traffic) to get to the bus station.
Overnight at Mexico City Airport: Check out our guide to the best airport hotels in Mexico City
By Bus: Once at Camionera Poniente de Observatorio, book a bus to Patzcuaro on the ETN or La Linea bus line. The first-class bus lines are very comfortable, offering movies, snacks and washrooms onboard. The bus will make a brief stop at the bus station in Morelia and the trip takes about 5 hours.
First-class La Linea buses run every hour from the Central Camionera Poniente de Observatorio Bus Station in Mexico City to Patzcuaro bus station with a brief stop in Morelia. The cost is 409 pesos ($35 CAD) one-way.
Other Pueblos Mágicos in Mexico
There are 132 Pueblos Mágicos that have been designated magical towns by the Government of Mexico. Much as with Pátzcuaro and Tzintzuntzan each of them hold a special quality — such as exceptional beauty, unique history, cultural or religious significance – that make them unique and worthy of recognition.
Some of our favourite Pueblos Mágicos include:
YOU MIGHT ALSO ENJOY
Celebrating Day of the Dead in Oaxaca City Mexico
Celebrating Day of the Dead in Puerto Escondido Oaxaca
Unique Day of the Dead Traditions in Guatemala
Save to Pinterest!
Dividing her time between Canada, Guatemala and Mexico (or the nearest tropical beach), Michele Peterson is the founder of A Taste for Travel. Her award-winning travel and food writing has appeared in Lonely Planet's cookbook Mexico: From the Source, National Geographic Traveler, Fodor's and 100+ other publications.
Read more about Michele Peterson.