We may earn income from links in this post. Please read this Disclosure for details.
Taking place on November 1st, Día de Todos los Santos in Guatemala is filled with colourful customs. Best known throughout Latin America as Day of the Dead and Dí­a de los Muertos, it's actually one of the biggest holidays celebrated in Guatemala.
According to tradition, Guatemalans believe the barrier between the realms of the living and the dead is at its most porous on the first two days of November.
The important dates are All Saints Day or Día de Todos los Santos on November 1st, and Day of the Dead or All Souls Day (Dia de los Difuntos) on November 2nd.
It's an ideal time to honour deceased friends and family by building altars, cleaning their gravestones, flying giant kites and other means of respect.
Here are the five ways Día de Todos los Santos or Day of the Dead is celebrated in Guatemala.
1. Experience Day of the Dead in Guatemala – Giant Kite Festival of Sumpango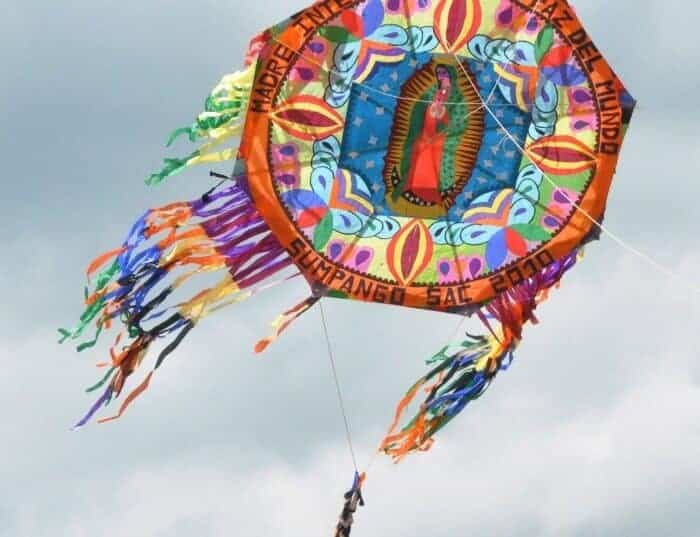 While kite running or kite fighting is a popular pastime throughout the Indian subcontinent for fun and as a competitive sport, the origins of Guatemalan kite history is quite unique. It coincides with the annual winds that blow in the month of November.
What makes Guatemala's Day of the Dead traditions so unique is that they believe it's an auspicious time to communicate with family ancestors by attaching messages to barriletes (kites) and letting the wind carry the messages up to the heavens.
The best places to see these ceremonial kites are the official barriletes fiestas held on November 1st in the central highlands in Sumpango, Sacatepéquez west of Guatemala City.
Los Barriletes de Sumpango or Giant Kite Festival in Sumpango Guatemala has evolved to an elaborate and impressive spectacle.
Months earlier teams of skilled local craftsmen (similar to the groups in Las Fallas festival in Valencia) create their giant kite from paper and bamboo in community workshops.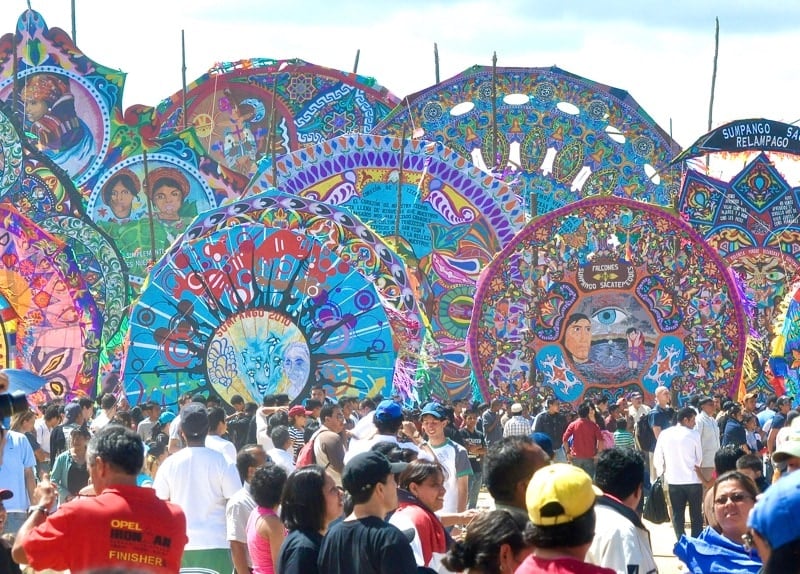 The messages and designs range from religious to artistic to political. During my most recent visit, I saw elaborate Guatemalan kites promoting an end to violence against women as well as other kites with religious and cultural themes.
Once the giant kites ( 7 m in diameter) are in position they are then lifted by groups of kite fliers who will try to hoist it into the air in front of bleachers lined with spectators.
If you're studying Spanish at one of the many language schools in Antigua, excursions to the kite festival are often available for students.
It's also relatively easy to get transportation to the Kite Festival from your hotel in Antigua or hire a local guide. If you're looking for a hotel, check out our post on 3 Budget Hotels You'll Love in Antigua Guatemala.
Be prepared for crowds. More than 100,000 people attend this festivals. If you do attend Guatemala's giant kite festival, leave valuables at home and follow other safety tips for safe travel in Guatemala.
2. Enjoy Guatemala Day of the Dead Food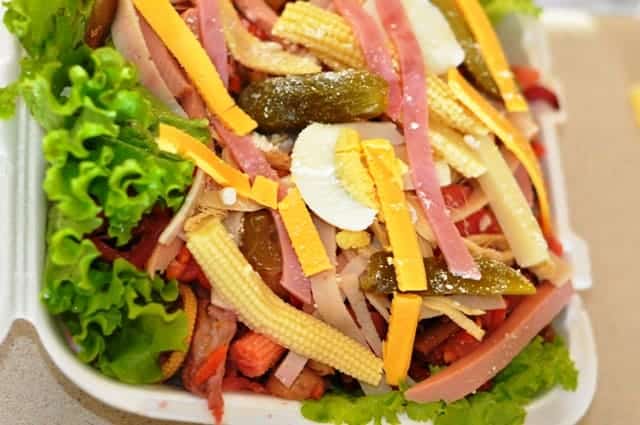 Dia de los Santos isn't just a festival for barrileteros (kite-flyers). It's also a special opportunity for Guatemalans to eat traditional holiday foods.
The day begins with a breakfast favourite of ayote, made of chilacayote, a long-necked squash chopped into pieces with the skin, pulp and seeds intact.
It's steamed in rapadura, pure sugar cane juice and generously spiced with cloves and cinnamon. Lime leaves and orange peel keeps it from becoming too sweet while molasses gives it a rich mahogany colour.
Another traditional food to enjoy on Dia de los Muertos in Guatemala. is fiambre. The time, cost and effort of preparing the more than 100 ingredients that go into making fiambre elevates this cold meat and vegetable salad to an exalted position in Guatemalan culture.
One of the most important Guatemalan holiday traditions, fiambre is highly anticipated as it's prepared just once a year.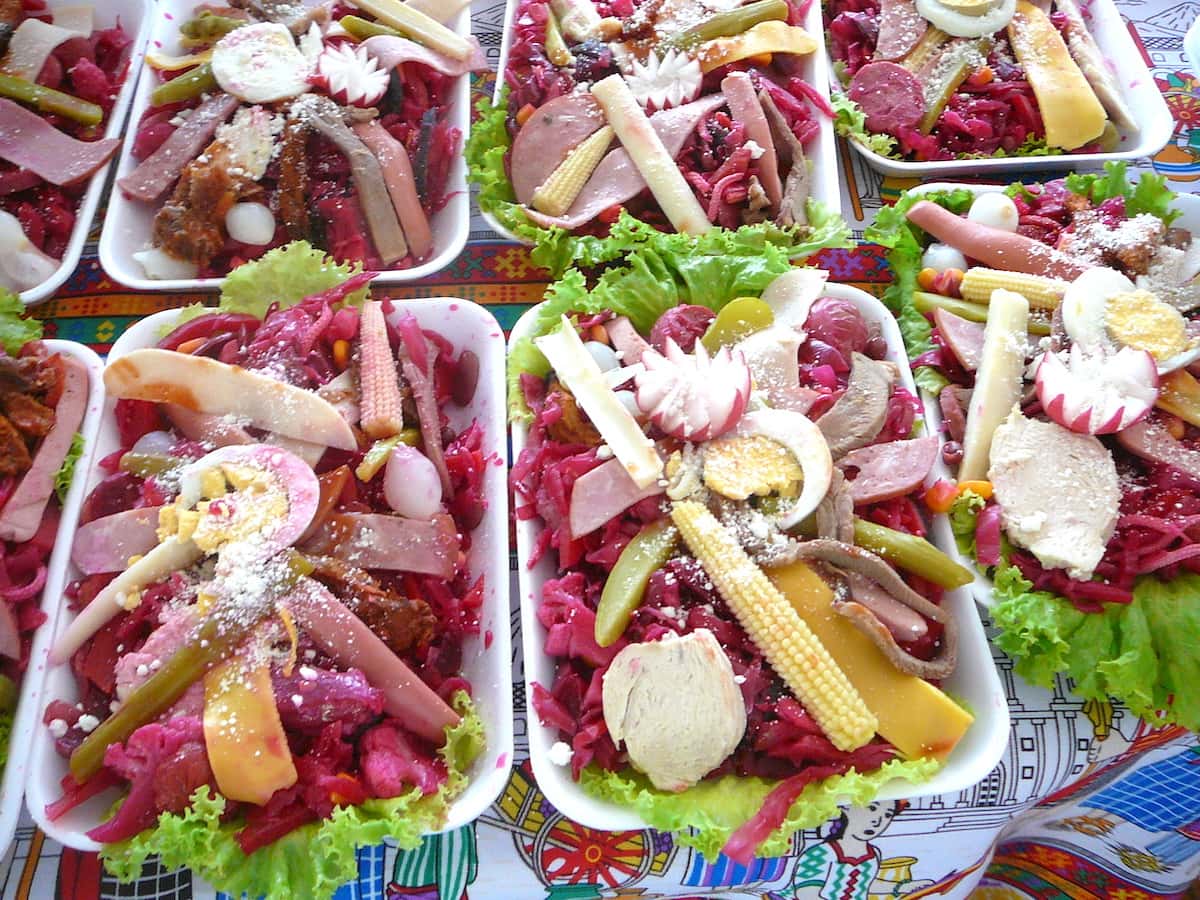 The history of fiambre is unknown but local legends say the recipe dates to colonial times and originated at the Convent of the Capuchinas in Antigua when a nun assigned to making a last-minute dinner for guests, raided the convent's larder and chopped everything available into tiny pieces.
The resulting platter of composed vegetables, meats, eggs and salad dressing proved to be popular and became an indispensable part of Day of the Dead in Guatemala festivities.
While fiambre is definitely a huge-sized dish best suited for a Guatemalan Fiesta with family and friends, another popular Day of the Dead dish of a more manageable size is Platanos en Mole (plantain in a rich chocolate/spice sauce). It's often served during Holy Week but is also enjoyed during festivities.
At the Los Barriletes de Sumpango Kite festival you'll also see lots of blue corn tortillas and they're delicious slathered with crema, salty cheese from Zacapa and avocado.
3. Join a Guatemala Day of the Dead Party
Eat street food, drink venado white rum, fly a small kite of your own to communicate with your ancestors or join a street procession on Day of the Dead.
Although the graveside vigils aren't as boisterous as they are in Oaxaca City and Lake Janitzio near Pazcuaro Mexico, there's still lots to do on Day of the Dead in Guatemala.
It's also worth considering taking a culinary walking tour of Antigua with Taste Antigua to sample street food.
4. Visit a Cemetery During Dia de Los Santos in Guatemala
A week before Day of the Dead, family tombs are scrubbed, cleaned and repainted — often a beautiful bright blue. On Day of the Dead, families make paper garlands and purchase wreaths of white and red chrysanthemums to place on the tombs of departed family members.
While the graves are decorated, Guatemalan altars are not as elaborate as those in Oaxaca City and in Michoacan, Mexico.
Families will spend the day at the graveyard and processions, prayers, special masses at church and of course food are all part of the tradition.
Unlike the party atmosphere of Dia de los Muertos in Oaxaca you won't see celebrations in the cemeteries. It would not be usual to see tourists wandering around taking photos or participating in private family vigils.
5. Make a Pilgrimage to the Black Christ at the Basilica of Esquipulas
While the Basilica of Esquipulas is a popular pilgrimage site for Catholics throughout the year, it's especially moving to visit it during the days surrounding Day of the Dead in Guatemala.
Save to Pinterest!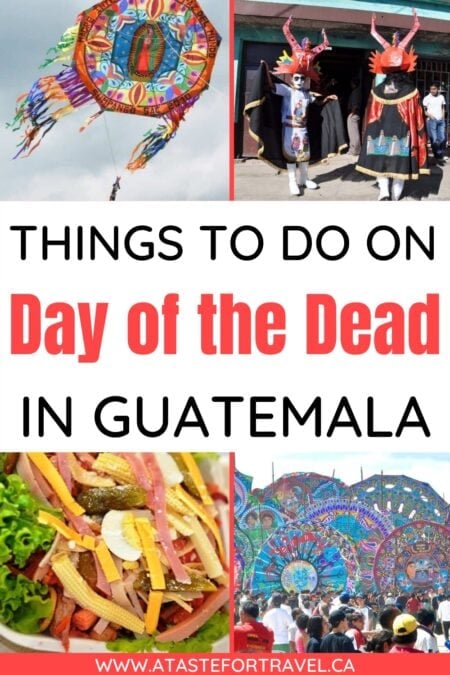 Dividing her time between Canada, Guatemala and Mexico (or the nearest tropical beach), Michele Peterson is the founder of A Taste for Travel. Her award-winning travel and food writing has appeared in Lonely Planet's cookbook Mexico: From the Source, National Geographic Traveler, Fodor's and 100+ other publications.
View more posts by Michele Peterson Read more