&nbsp
5 Unforgettable Experiences on Day of the Dead in Guatemala
From flying giant kites to eating enormous salads, Day of the Dead in Guatemala is a colourful affair. Here are five unforgettable experiences during Dí­a de los Muertos in Guatemala.
1) Explore a Kite Festival: Guatemalans believe the barrier between the realms of the living and the dead is at its most porous on Day of the Dead (Dí­a de los Muertos) and the All Saints Day (Dí­a de los Santos), so it's an auspicious time to communicate with family ancestors by attaching messages to barriletes (kites) and letting the wind carry the messages up to the heavens. The best places to see these ceremonial kites are the barriletes fiestas held on November 1st in the central highlands near Santiago Sacatepéquez and Sumpango.
2) Eat a Special Breakfast: Day of the Dead isn't just a spiritual tradition for barrileteros, it's also an opportunity for Guatemalans to eat special foods. A breakfast favourite is  Dulce de ayote. Made of chilacayote, a long-necked squash chopped into pieces with the skin, pulp and seeds intact, it's steamed in rapadura, pure sugar cane juice and generously spiced with cloves and cinnamon.  Lime leaves and orange peel keeps it from becoming too sweet while molasses gives it a rich mahogany colour.
3) Sample Fiambre:  The time, cost and effort of preparing the more than 100 ingredients that go into fiambre elevates this cold meat and vegetable salad to an exalted position in Guatemalan culture.  Just mentioning fiambre is enough to make a grown man swoon with desire.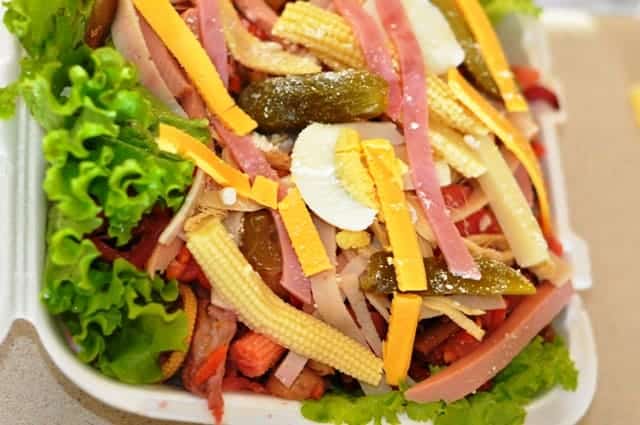 Score an invitation to someone's home or go to Lo-Mix in Antigua for fiambre
4) Join the Party: Eat street food, drink venado white rum, fly a small kite of your own to communicate with your ancestors or join a street procession.
Conquistadores in Barcenas, Guatemala
5) Visit a Cemetery:  A week before Day of the Dead, family tombs are scrubbed, cleaned and repainted — often a beautiful bright blue. On Day of the Dead, families make paper garlands and purchase wreaths of white and red chrysanthemums to place on the tombs of departed family members. They spend the day at the graveyard and processions, prayers, special masses and of course food are all part of the tradition.
Most of my Day of the Dead festivities revolve around food, but this year I'm making Platanos en Mole ( plantain in a rich chocolate/spice sauce) a dish usually served during Holy Week because I'm testing recipes for my upcoming book. So I'm hoping to score some fiambre from a generous friend!