While there are lots of amazing attractions to see in Guatemala, it's worth timing your visit to coincide with one of the famous Guatemala festivals, celebrations and holidays.
Holidays in Guatemala offer visitors a unique immersion into the country's customs and traditions, a fascinating mix of pre-Hispanic, Mayan, Afro-Caribbean and Catholic rituals and beliefs.
From the solemn processions of Semana Santa ( Holy Week) to unique Christmas traditions such as the exploding fireworks of Burning of the Devil in Antigua, Guatemalan cultural celebrations are some of the most memorable in the world.
For culinary travellers, these events and holidays are also opportunities to sample traditional Guatemalan food and drink only available a few times a year.
Monthly List of the Best Guatemala Festivals, Celebrations and Holidays
Participating in a Guatemalan festival is easy to do. Each month, there is generally at least one celebration taking place somewhere in Guatemala that you can participate in. Most of the festivals are free so they're a great thing to do in Guatemala if you're on a budget.
Here's a month by month list of important dates with the best Guatemala festivals and celebrations to add to your travel itinerary:
January 1: New Year's Day / Año Nuevo
New Year's Day, while an official holiday in Guatemala, is a quiet time when people recover from the festivities of New Year's Eve / Año Nuevo. Many people head to beaches such as the black sands of Monterrico on the Pacific Coast or to the country's balnearios, natural swimming pools created from clear mountain streams such as Balneario Pasabien in Zacapa. New Year's Day is also a popular time to enjoy popular foods or drinks to cure la goma or hangovers.
Famous foods to look for include Guatemalan ceviche de cameron ( shrimp ceviche) or caldo de pollo / chicken soup considered natural remedies to help recover from New Year's Eve partying.
January 6: Epiphany / Día de Reyes
In Guatemala, el dia de los tres reyes / Three Kings Day or Epiphany is not celebrated in as spectacular a fashion as in Mexico where special Rosco de Reyes is served and gifts are given.
In Guatemala, it's more of a religious event, celebrated by the ringing of church bells symbolizing when the three wise men visited baby Jesus bearing gifts. It's also generally a time for families to take down their Christmas decorations.
January 14-15: Pilgrimage to Black Christ of Esquipulas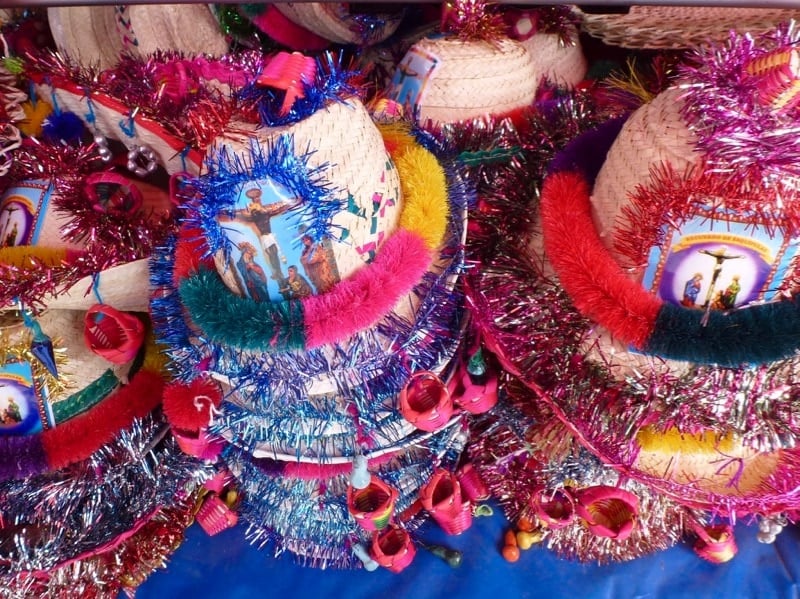 When it comes to religious traditions in Guatemala, the pilgrimage to the Basilica of the Black Christ in Esquipulas is one of the most important. It is observed by Catholics and recognizes the image of Christ created by colonial sculptor Quirio Catano in 1594. Housed within the Basilica, the statue of the Black Christ draws long line-ups of pilgrims who come to pay tribute to it from across Latin America.
Located next to the Basilica, the outdoor market of Esquipulas offers a fascinating look at Guatemalan culture and is packed with religious keepsakes, candies and the especially colourful sombrero de Esquipulas, a straw hat with dangling pompoms, tinsel and tassels worn by pilgrims.
February 2-4: Coffee Harvest Festival in Guatemala
For culinary travellers, the coffee harvest festival that takes place in Fraijanes southeast of Guatemala City, is one of the most popular food festivals in Guatemala. It features processions, music, traditional dance and of course, the famous local coffee grown on the volcanic slopes around Antigua and in the highlands.
The Fraijanes Coffee Harvest Festival is also an opportunity to celebrate the Virgin of Candelaria or La Virgen de la Candelaria, also known as the Black Madonna, revered throughout Central America.
March/April: Semana Santa Guatemala / Holy Week Easter
Semana Santa or Holy Week in Guatemala is such an incredible experience it's truly unforgettable. Although celebrations take place throughout the country, this religious festival is at its colourful peak in Antigua where the streets are carpeted with alfombra, elaborate rugs made of dyed sawdust, created in a laborious process that takes teams of people a full day to construct.
Fruit such as mangoes, pineapples and oranges can also be seen laid out in intricate patterns. Religious processions then move slowly through the streets walking on the carpets destroying the carpets as the participants walk across them to the accompaniment of solemn music, swaying incense and groups of devotees.
Popular foods to eat for Semana Santa include pacaya (palm fronds) in batter, traditional salt cod dishes such as bacalao a la vizcaina , ejotes envueltos (battered green beans) and torrejas en miel (bread in honey).
If you plan to attend the famous Semana Santa celebrations in Antigua Guatemala, book early. Check out our recommendations for the three best budget hotels in Antigua Guatemala.
May 1: Labor Day/ El Día del Trabajo
This holiday and worldwide celebration of the rights of workers also takes place in Guatemala with the largest event being a march through Guatemala City. The march begins in Zona 5 at the Monument to Work and continues to Plaza de la Constitución. It's often a protest march calling for improvements in working conditions so is not really a celebration intended for visitors.
June 24: Festival of San Pedro in San Pedro La Laguna
Every town in Guatemala has its own patron saint and will celebrate its Saint's Day with parades, a midway for children, concerts, stage shows, beauty contests and agricultural exhibits. The festival is San Pedro La Laguna is especially colourful and is worth planning to attend if you're around Lake Atitlan on June 24th.
July (Last week): Rab´In Ajaw / Cobán National Folkloric Festival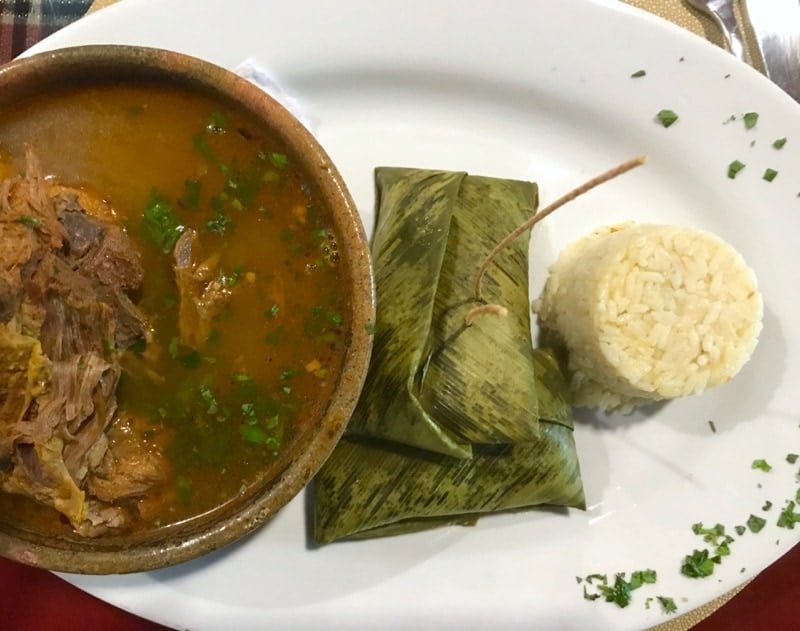 The Festival Folklórico Nacional de Cobán is one of the most exciting and memorable festivals in Guatemala. It's an opportunity to see indigenous people dressed in traditional attire from all over Guatemala, each resplendent in a range of colours, traditions and characteristic patterns of weaving. A National Indigenous Queen of Guatemala is chosen amid much pomp and ceremony.
There are also folkloric dance performances and other authentic Guatemala traditions such as the famous local dish Kack-ik, a fragrant turkey stew made with the prized chile de Coban. There is a small cost to attend some of the ceremonies. The date varies each year so check with the Municipality of Coban in advance.
While in Coban, it's worth adding a few days to visit the amazing natural wonders at Lanquin and Semuc Champey.
August 15: Day of the Assumption/Día de la Asunción – Patrona de Guatemala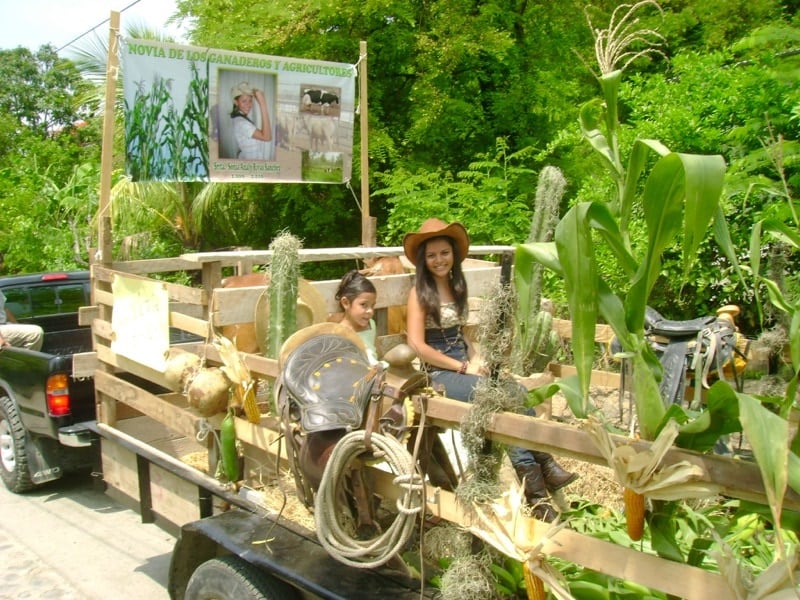 The celebration of the Day of the Virgin of the Assumption is celebrated throughout Guatemala but in Joyabaj Quiche it's especially vibrant and features religious ceremonies, a rodeo, a midway with mechanical ride, processions, folkloric dances such as the Danza del Venado, marimba music and traditional foods such as jocon and pepian, hearty chicken stews.
September 15: Independence Day – Día de la Independencia
How do people celebrate Independence Day in Guatemala? Expect lots of flag waving, blue and white banners, processions of marching bands with trumpets, trombones and drums, parades of school children through the streets and plenty of speeches by government officials. You'll also hear marimba bands and often be able to watch traditional dances such as the Christians vs the Moors and El Baile del Torito.
In Antigua, it's sometimes possible to see the El Torito Loco, a spectacle where a dancer dressed like a bull straps a structure covered with fireworks to his back and twirls through the streets with much excitement, merriment and billowing smoke.
October 4: Festival of Saint Francis of Assisi
The feast day of the patron saint of animals is celebrated with fireworks, food and revelry in Panajachel on Lake Atitlan in the southwestern highlands. The city's 16th century Church of St. Francis of Assisi is a hub for many devotional ceremonies as well as indigenous Mayan markets.
A traditional dish to enjoy in Panajachel during the Festival of Saint Francis of Assisi is pulique, a chicken stew of Mayan origin, often prepared in enormous steel pots over an open fire. Learn how to make it at home in our authentic Pulique Recipe.
October 12: Columbus Day /Día de la Raza
Columbus Day is a national holiday in Guatemala and is known as Día de la Raza or Day of the Race meaning Indigenous Peoples Day.
October 20: Revolution Day/ Comemoración de la Revolución de 1944
A top location to celebrate Revolution Day is Guatemala City where thousands of people celebrate throughout the streets of the capital with exuberant live music, street food and fireworks.
November 1: Drunken Horse Racing / Skach Koyl Festival
One of the more bizarre Guatemala festivals that takes place each year across the Mayan Highlands around November 1st or Dia de Todos los Santos is the Skach Koyl or Drunken Horse Racing festival. For three days leading up to the actual race on November 1, locals drink, dance, enjoy marimba music and carouse. Then, on the day of the race, the competitors don special hats and drink themselves into a stupor, racing their horses along a circuit or through the village. Many need to be tied to their saddles to avoid falling off their horses and getting trampled. Think of it as a booze-fuelled Guatemalan version of Spain's running of the bulls.
The biggest, wildest and most dangerous Skach Koyl festival takes place in the village of Todos Santos Cuchumatán in the municipality of Huehuetenango. During this seven hour race, locals binge-drink while riding their horses back and forth at high speeds. The winner of the race is the person who stays on his horse the longest.
Beyond the debauchery of its drunken horse racing festival, the village of Todos Santos Cuchumatán is remarkable for its distinct and well-preserved Mam Maya traditions. Local men wear red and white striped trousers, shirts of blue, purple and white with an embroidered collar, plus straw hats with a woven ribbon. They generally carry a woven textile bag slung across their shoulder.
November 1-2: All Saints Day Guatemala /Día de Todos los Santos and Día de Los Muertos /Day of the Dead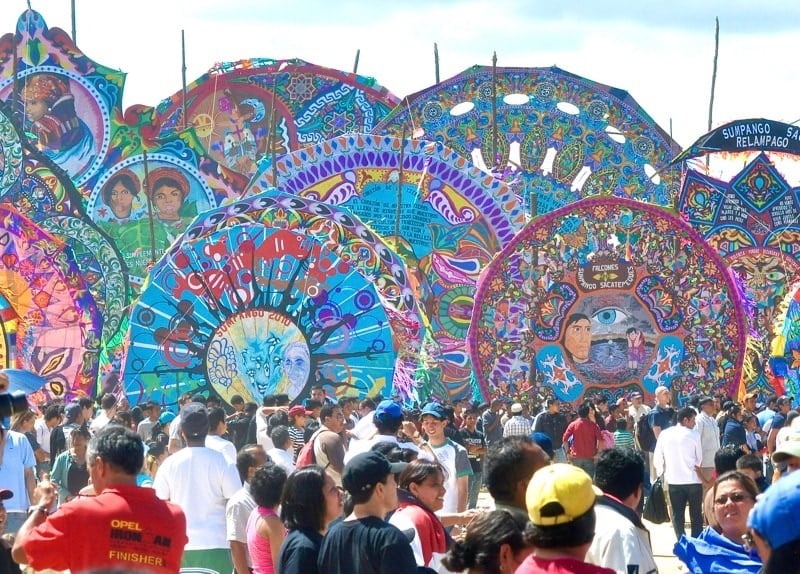 Taking place on November 1st of each year, the Dia de los Muertos Kite Festival is one of the biggest celebrations in Guatemala. If you have the chance to see just one festival in Guatemala this should be it.
Day of the Dead in Guatemala is a colourful affair. As in Mexico and throughout Central America, Guatemalans believe the barrier between the realms of the living and the dead is at its most porous on Day of the Dead (Dí­a de los Muertos) and All Saints Day (Dí­a de los Santos or Todos ) so it's an ideal time to honour ancestors.
Top things to do during Day of the Dead include cleaning ancestral gravestones, decorating them with flowers and communicating with family ancestors by attaching messages to barriletes (kites) and letting the wind carry the messages up to the heavens.
November is an especially windy month so the best place to see these ceremonial kites are the barriletes fiestas held on November 1st in the central highlands near Santiago Sacatepéquez and Sumpango, west of Guatemala City. These kites are enormous. At least 40 feet wide and made of bamboo and paper, they take teams of men to launch into the sky. It's a spectacular site to see them lift aloft and soar to the heavens.
It's also a popular time to enjoy fiambre, a beloved Guatemalan dish eaten only during these two days of the year. Other typical foods include blue corn tortillas made on a comal, fried chicken, venado ( white rum), grilled corn on the cob and platano en mole negro (plantain in spicy chocolate sauce).
Read more about Day of the Dead traditions in Guatemala.
November 26: National Day of the Garífuna/ Garifuna Settlement Day
Get ready to dance, eat and drink if you're planning to attend Garifuna Settlement Day. Taking place in Livingston on Guatemala's Caribbean coast and drawing people of Garifuna heritage from Belize, Honduras and Guatemala, the National Day of the Garifuna is a three day celebration of Afro-Caribbean culture.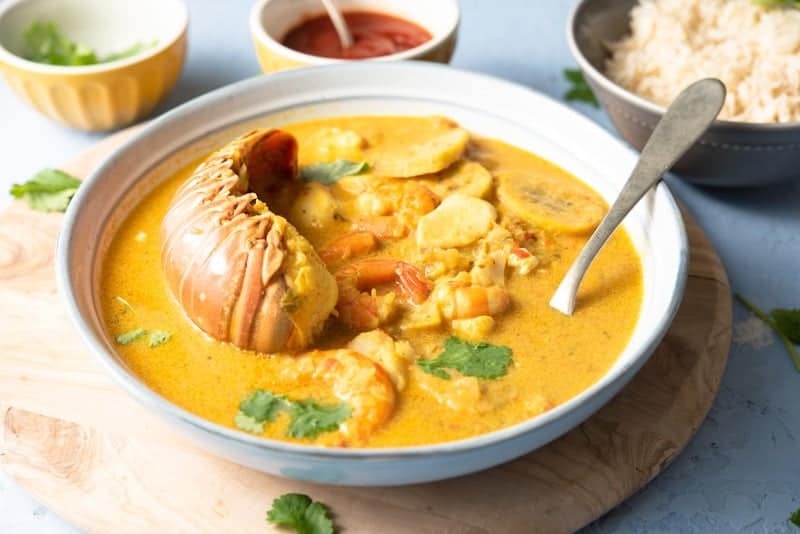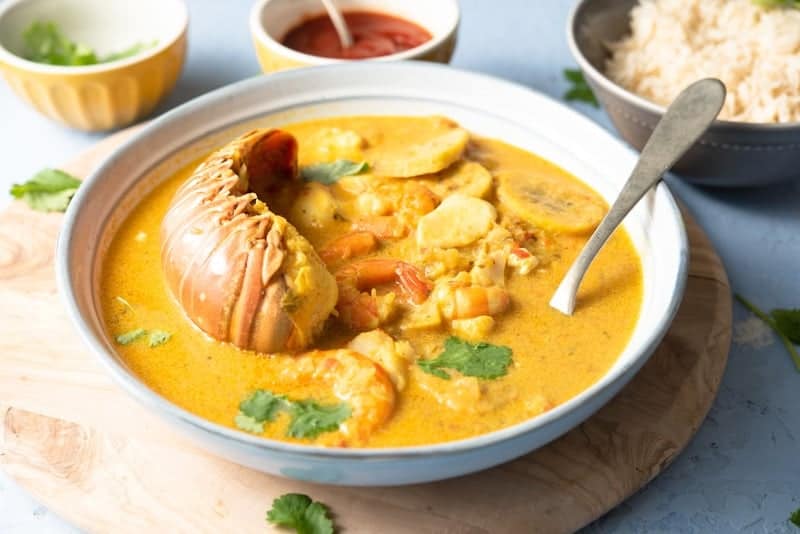 There's dancing in the streets, traditional foods such as tapado seafood soup and coconut buns as well as unique customs such as the launching of decorated dugout canoes in a reenactment of the first Garifuna to arrive on the coast from West Africa.
December 7: Burning of the Devil Guatemala Festival
During the evening of El Dia del Diablo on December 7th each year, Guatemalans burn papier-mache effigies of the devil along with household garbage, outside their homes in the streets. Deeply rooted in pre-Hispanic traditions, this festival is a ritualistic cleansing for the holy Christmas season.
Public displays of La Quema del Diablo (the burning of the devil ) are also hosted by municipal authorities and supervised by firefighters. The largest of these burning of the devil festivals takes place in Antigua, Guatemala and features street food, live music and of course the torching of a giant effigy of the devil after sunset.
This Antigua Guatemala event draws huge crowds to the narrow streets which presents prime opportunities for pickpockets and other street crime. Read our post with 20 Tips for Safe Travel in Guatemala before you attend.
December 8: Virgin of Conception /Virgen of Concepcion
The Virgin of Immaculate Conception is one of the top Guatemala festivals throughout the country. It's even been recognized by the Guatemalan government as a Cultural Intangible Heritage of Guatemala. Of course, the drink of choice is the award-winning local rum, Ron Zacapa Centenario
December 12: Virgin of Guadalupe Day Guatemala / Día de la Virgen de Guadalupe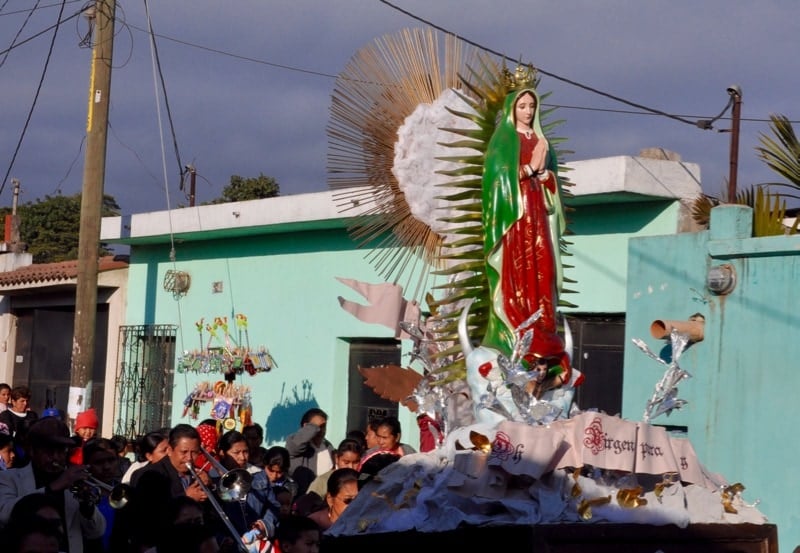 Although the Virgin of Guadalupe is best known in Mexico, she is also revered throughout Guatemala. On December 12, believers celebrate the day she first appeared in 1531 by erecting shrines decorated with flowers and votive candles to Our Lady of Guadalupe in their homes, neighbourhoods and churches.
During el Día de la Virgen de Guadalupe in Guatemala, there are also processions, brass bands, fireworks and traditional street food. Children dress in traditional clothing and reenact the drama of Juan Diego and Our Lady and Las Mañanitas birthday song is sung at special times during the day.
December 13-22: St. Thomas Festival / Fiesta de Santo Tomás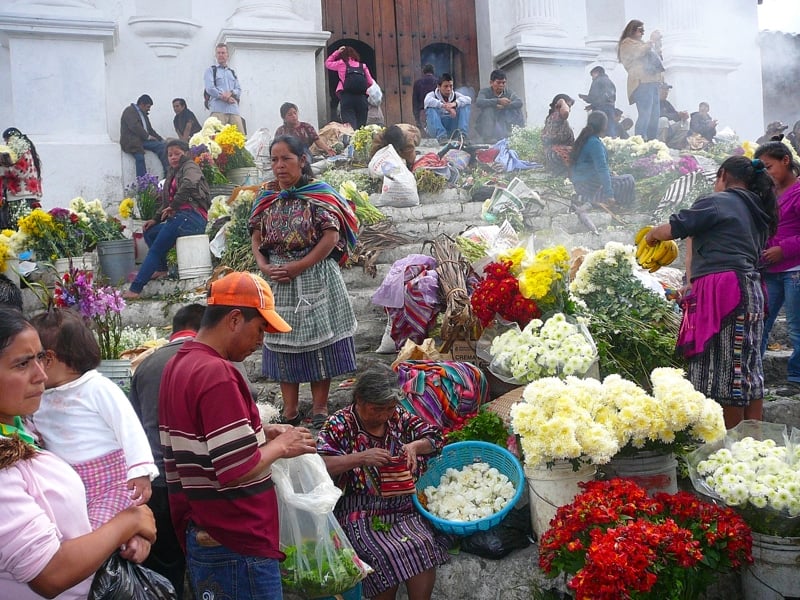 Each Thursday and Sunday, the indigenous K'iche' Maya transform the small village of Chichicastenango ( called Chichi for short) in the Guatemalan highlands into a raucous market filled with colourful weavings, flowers, handbags, live chickens and vegetables. But on December 13, it's home to a week-long celebration honouring the town's patron saint, Santo Tomás.
During the Fiesta of Santo Tomás, local people from the cofradias ( brotherhoods representing the town's 14 saints) supervise the preparation of the dances where participants dress in costumes representing Spanish conquistadors and dance through the streets accompanied by music, cheering and fireworks. The grand finale of the celebration is the Palo Volador, a spectacle during which costumed dancers ascend a very tall pole ( 100 metre or 33 feet) and then, after tying their feet by rope, jump off a platform to spiral downward to the ground.
Hotel accommodations are very pricey and hard to get during the Fiesta de Santo Thomas so your best bet is to stay in a hotel in Panajachel on Lake Atitlan and take one of the inexpensive shuttles that run regularly to Chichicastenango.
These evening processions called las posadas navideñas start nine days before Christmas and begin with the clink, clink, clink of chinches (turtle drum shells) and a fresh round of fireworks, signifying a posada is about to begin. Accompanied by song, candles and sometimes a full brass band, the processions — often featuring children dressed as Mary and Joseph – stop at homes along the parade route, symbolically requesting lodging for the night.
Each time, they are refused as Mary and Joseph were in the story of the Nativity. When the processions reach the designated destination or "inn" hosting the party of the night, traditional food and drink such as ponche de frutas, a hot fruit punch are served.
Antigua, the colonial capital, makes an ideal base for visitors to experience this special Guatemala festival and Christmas tradition. Many of the las posadas navideñas begin at the Catholic Church of La Merced, located at the northern end of 5a Avenida, near the popular hotel Posada la Merced and several highly recommended Spanish language schools.
December 24: Christmas Eve / Noche Buena
Christmas Eve or Noche Buena is the most significant holiday of the Christmas season in Guatemala. It's a time when families gather together in their homes and it features gift-giving for children, midnight mass and the serving of traditional food such as tamales, roasted turkey or other meat and ponche de frutas, a hot fruit punch of apples, pears, pineapple and other fruits as well as cinnamon. It's served with or without alcohol such as Ron de Zacapa or venado.
At midnight, fireworks explode in the streets and people hug each other with an Abrazo de Navidad wishing each other "Feliz Navidad." More food is served, people visit the homes of neighbours and friends to admire their nativity scenes and the partying continues until 3:00 am or later.
Given the festivities of Christmas Eve, Christmas Eve is a much quieter day with simple food such as caldo de gallo ( chicken soup) served. It's a day to recover from the festivities of the posadas and noche buena and spend time with family.
December 31: New Year's Eve/ Fin del Año
Plaza Mayor in Guatemala City is the hub for celebrating New Year's Eve in Guatemala. One of the best New Year's Eve parties in Guatemala takes place on the rooftop of the Hyatt Centric Hotel where DJs spinning music, special cocktails and food celebrate the New Year with spectacular views of the fireworks across the skyline of Guatemala City, the surrounding volcanoes and the iconic Torre del Reformador, the country's version of the Eiffel Tower.
Save to Pinterest!
Like this Post? You Might Also Enjoy These:
3 Budget Hotels You'll Love in Antigua, Guatemala
Salpicon de Res: Shredded Mint and beef appetizer
Pulique: A Ceremonial Chicken from A Mayan Cooking Class in Guatemala
Christmas Eve Salad or Ensalada de Nochebuena
Tortitas de Berro or Watercress Omelettes