Home » Destinations » Central America »

Pulique Recipe: A Stewed Chicken Dish from Guatemala
Pulique Recipe: A Stewed Chicken Dish from Guatemala
As far as grocery runs go, the trip from Panajachel to Sololá to buy ingredients for our pulique recipe, is a stunner. With views of a cascading waterfall, Lake Atitlan and a 2-mile high volcano, it sure beat my usual trek to No Frills in Toronto.
It was 9:00 am and I was riding in a Blue Bird "chicken bus" on a mission to scout out ingredients for pulique de pollo, a ceremonial dish popular among the Maya people in the midwestern highlands in Guatemala. It's also a traditional Guatemalan food enjoyed throughout the country on special occasions.
Olga, my Spanish teacher at Jardin de America Spanish School, who is Kaqchikel indigenous Maya, had offered to substitute a traditional Guatemalan food cooking class for our desk-bound studies. So, all we had to do was get to the town of Sololá, a 20 minute bus ride into the mountains and buy the ingredients for our pulique recipe.
Upon arrival in Sololá, we hiked the six uphill blocks from the main square to the market. Market day is Mondays and Fridays so the streets were bursting with vendors, shoppers and pick-up trucks.
"Follow me" said Olga, as she disappeared in the crowd and then materialized magically in front of a stack of tomatoes. I dodged a vendor who was balancing 15 cartons of eggs on her head, but my hesitation earned me a giant-sized push from a tiny woman who looked like Grandma Moses but whose biceps rivalled Vin Diesel's in strength.
The market was a whirlwind of colour, people and new ingredients. From maxan leaves large enough to use as yoga mats to blue crabs skewered live on thin reeds, there was plenty to gawk at. If you weren't sure what to buy, you could just drift on the momentum of the crowd until you arrived at a food stall that looked promising.
For our pulique de pollo we stocked up on criollo ( yellow skinned) chicken which is more expensive than white chicken ( 12 Q vs 8 Q a pound) butmore flavourful. The rest of the ingredients for our pulique recipe in hand we headed back to the bus. One perfect watermelon also made the leap into my bulging grocery bag.
Back in my mini-apartment kitchen in Panajachel (read more about it in Why I'm Volunteering in Guatemala ) we got to work. My job was peeling the vegetables–carrots the size of rolling pins, potatoes and huisquil, a vegetable pear also known as chayote. We'd chosen the prickly huisquil (for better flavour) so my job wasn't as easy as it sounds. After disinfecting the cilantro, green onions and hierba buena with Microdyne solution, Olga began cooking.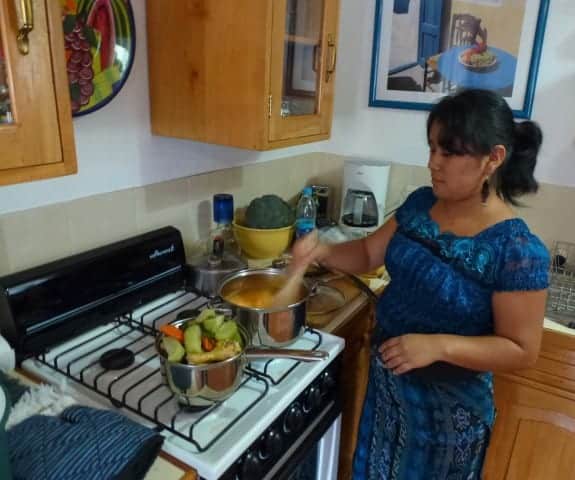 Guatemalan Pulique Recipe – Pulique Guatemalteco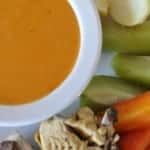 Pulique de Pollo: Guatemalan Stewed Chicken
A delicious chicken stew bursting with the flavours of fresh market vegetables and herbs.
Keyword:
Guatemalan food recipes, pulique, traditional Guatemalan food
Ingredients
1

pound

beef bones

optional

1

pound

chicken

organic or yellow skin

4

potatoes

peeled and halved

1 1/2

huisquil

rinse to remove stickiness

2

cups

masa corn flour

wet

6

small

tomatoes

1/ 2

tsp

achiote paste

One bunch each of fresh cilantro, hierba buena (fresh mint) and green onion
Instructions
Simmer the beef bones (in water to cover) with 3 leaves of hierba buena, cilantro and a green onion for one hour;

Simmer chicken (in enough water to cover) with 3 leaves of hierba buena, cilantro and a green onion for 30 minutes. Remove chicken and reserve;

Add the vegetables to the chicken broth and simmer until tender but not mushy;

Strain the beef and vegetables reserving the liquid;

Shape the masa into 6 small balls of dough;

Liquify the achiote with 3 tomatoes, 3 balls of masa and the liquid from the beef and chicken. Add more balls of masa if it looks watery;

Strain the tomato mixture into a pot on the stove;

Simmer, stirring continuously for 15 minutes. Add more liquid if it gets too thick.

The key to success for pulique de pollo is in the stirring. According to Olga, it's important to simmer the sauce until it's the colour of a mandarin orange. She was vigilant in this task, not removing the spoon from the pot for even a minute.
Nutrition Facts
Pulique de Pollo: Guatemalan Stewed Chicken
Amount Per Serving
Calories 452
Calories from Fat 90
% Daily Value*
Total Fat 10g 15%
Cholesterol 40mg 13%
Sodium 63mg 3%
Potassium 1185mg 34%
Total Carbohydrates 70g 23%
Protein 21g 42%
* Percent Daily Values are based on a 2000 calorie diet.
"If you're making pulique for 50 people, it's typically done outdoors over an open fire with an huge paddle," she explained. "Your arms are usually sore and singed with fire by the time you're finished."
Fortunately, there was just the two of us so no burnt arms were needed and the sauce thickened up nicely. She served it in a bowl with the vegetables and meat on the side. I lifted a spoonful into my mouth and was surprised to discover it was mild but packed with the flavours of fresh-picked market vegetables and accented by the nutty taste of maize corn. I love spicy food so I crushed chiltepe hot peppers over top. Delicious!
Travel Planner for Pulique Recipe and Cooking Class for Pulique de Pollo
Jardin de America Spanish School: To enroll in 4 hours of classes per day with one student and one teacher, the cost of lessons is $110 USD a week. If you're planning to study for longer than a week, you can ask for a discount like I did. Excursions to market towns, cultural activities or dancing lessons are free but you'll need to pay your own bus fare and costs for entrance fees or materials if applicable. Jardin de America Spanish School
Bus from Panajachel to Solola: Fare is 3Q each way. Tip: Sit near the back so you can get off the bus faster.
Where to catch the chicken bus: In Panajachel, catch the bus to Solola on Calle Principal between Avenida Santander and Calle del Embarcadero. The bus will be parked on the north side of the street. Check with the driver to be sure of the destination before boarding. In Solola, catch the bus to Panajachel between the church and Central Park. Here's a map of Panajachel.
That's not the end of recipes from Guatemala to try! Check out these authentic recipes from Guatemala:
Salpicon de Res Recipe from Guatemala
Tortitas de Ejote (Green Bean Fritters) Recipe from Guatemala
Bacalao a la Vizcaina ( Salt Cod) from Guatemala
Creamy Avocado Salad Dressing Recipe
Michele Peterson
Dividing her time between Toronto, Mexico and Guatemala (or the nearest tropical beach), Michele Peterson is an award-winning writer, blogger, editor and publisher who specializes in travel, cuisine and luxury lifestyles.