We may earn income from advertising links in this post. Please read our Disclosure Statement for details. Be sure to check COVID-19 restrictions before you travel!
With its stunning views of Lake Atitlan, traditional Mayan markets and wealth of restaurants serving Guatemalan food and drink, there are so many things to do in Panajachel, Guatemala you'll be tempted to stay for a lifetime.
Panajachel is often my home base when exploring Guatemala. It's small enough to be able to walk everywhere, yet has reliable WiFi, banks with ATMs and a reputation for safety. It also offers easy access for excursions to Mayan villages in the highlands, volcanoes for climbing, hiking trails and other major attractions of Lake Atitlan.
Wondering what Panajachel is known for? Here's my guide to the best hotels, day trips, Spanish language schools, food to eat and other things to do in Panajachel, Guatemala.
1. Lake Atitlan is Famous for its Beauty
Panajachel is famous for its prime location on the shores of beautiful, tear-drop-shaped Lake Atitlan set among a necklace of volcanoes in the Sierra Madre Sur mountains of Guatemala, Central America.
In his 1934 book, Beyond the Mexique Bay, Aldous Huxley compared Lake Atitlan to Italy's Lake Como, and German explorer Alexander von Humboldt called it "the most beautiful lake in the world."
2. Panajachel was a Famous Hippie Haven in the 1970s
Then, in the 1960s and 1970s, Panajachel gained notoriety as a stop on an international hippie trail that also included Morocco, India and Nepal. It was a hang-out for young people, counter-culture and anti-establishment groups and those rejecting mainstream culture.
Pot smoking, full moon parties, crystals, meditation centres and vortex energy fields drew people looking for an alternative way of life.
Today, most of the hippies have moved on to San Marcos or San Pedro where yoga, youth hostels and meditation workshops are still thriving.
3. It's the Heart of the Mayan World
Panajachel has grown in size from a village to a city and is now best known as a hub for exploring beautiful Lake Atitlan and the Mayan villages circling the lake and those in the highlands of Guatemala.
For travellers it offers easy access for day trips to Maya towns as well as food markets, supermarkets, Spanish language schools, yoga classes and a range of dining options from vegetarian restaurants to typical Guatemalan food stands and coffee shops.
The Maya make up 51 per cent of the national population in Guatemala and in Panajachel as well as nearby Solola, you'll be in the heart of the Maya world. You expect to see locals dressed in traditional clothing. The material is woven on backstrap looms and is created in a rainbow of colours and patterns unique to each village.
Special ceremonial dress is worn for the many occasions, events and holidays in Guatemala, when it's possible to see traditional dances performed and enjoy traditional Maya dishes such as jocón, pepian and pulique
4. Panajachel is a Hub for Digital Nomads in Central America
If you're planning on living in Guatemala but you're a digital nomad and need to work as I do, Panajachel also offers reliable WiFi, several banks with ATMs and easy transportation in and out.
By staying in Panajachel rather than San Pedro la Laguna or other villages on Lake Atitlan, you also avoid having to take a boat every time you want to go exploring Lake Atitlan, hike a volcano or attend one of Guatemala's many fascinating festivals.
Being so close to amenities with opportunities for activities can help expats deal with feelings of homesickness if they're away for a long period of time.
5. It's the Land of Eternal Spring
The altitude of Panajachel is 1,562 metres above sea level which means it enjoys springlike weather year-round. The rainy season is from May to October.
Unlike the sweltering lowlands of Zacapa or the humid rainforest of the Peten region, the towns around Lake Atitlan, including Panajachel, have a comfortable and temperate climate.
6. Safety in Panajachel
Panajachel is also one of the safest places to visit in Guatemala. I've lived in Panajachel for several months at a time and never had problems with pickpockets or felt unsafe even when venturing out solo. But it's worth reading these safety tips for travel in Guatemala and Central America before you go.
Another reason to visit Panajachel is that, according to reports in Guatemala's national newspaper Prensa Libre, there have been no cases of zika, the virus transmitted by the bite of the Aedes Aegypti and Aedes Albopictus mosquito, the same type of mosquito that also carries dengue and chikungunya.
With climate change, the range of the Aedes mosquito is expanding, so it's worth following precautions to avoid getting bitten by mosquitos. Read this post for our 12 Tips to Avoid Getting Bitten by Mosquitos.
How to Choose a Panajachel Hotel or Apartment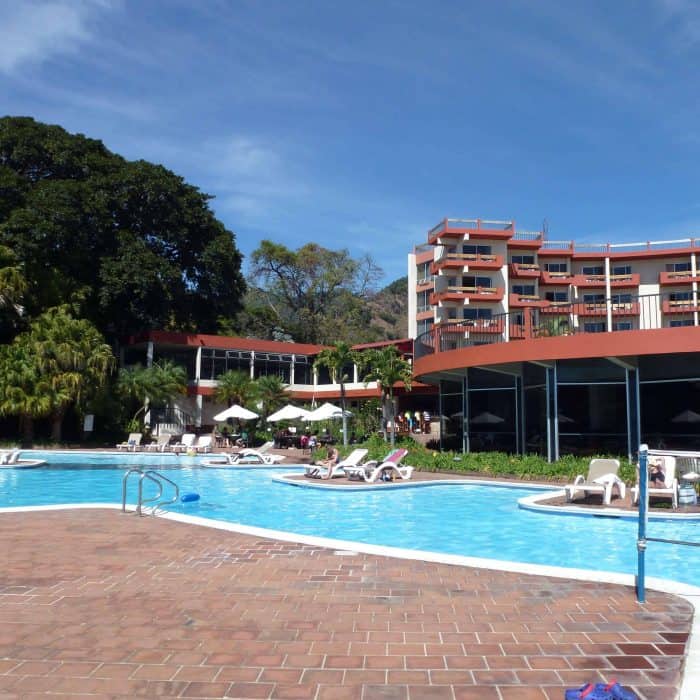 Be sure to book your accommodation before you arrive in Panajachel. The most popular hotels and apartments fill early.
Budget Hotel in Panajachel
My favourite place for a one month stay is Casa Alegre at 4-70 on Calle Santander. This handy apartment hotel with just six suites is right on Calle Santander in the heart of Panajachel but thanks to the excellent quality of its construction, it's blissfully quiet.
You have your own balcony, a full kitchen, a lovely rooftop zone and plenty of books in the lending library. It's spotlessly clean and safe and quite economical.
Room rates are $61 USD a night while the weekly rate is $300 USD.
Contact Alegre Apartments in Panajachel
Mid-range hotel in Panajachel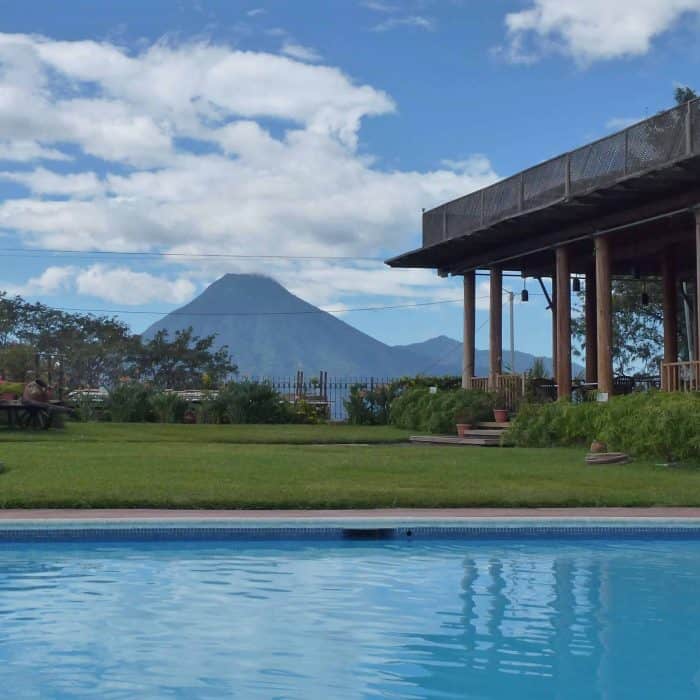 Although the hotel is a bit dated and service can be a bit lacklustre, the hotel Porta del Lago is a good option if you're looking for spectacular views, an outdoor swimming pool and restaurant. It would be a good option for families. The location is very convenient. The room rates are generally around $100 USD a night or less.
Check rates for Hotel Porta del Lago
Luxury Hotel in Panajachel
Hotel Posada de Don Rigo has expansive gardens, comfortable rooms and a prime location overlooking Lake Atitlan with spectacular views. It's a step up from Hotel Porta del Lago and room rates are generally around $150 a night or less.
Check rates for Hotel Posada de Don Rigo
Ultra Luxury Hotel in Panajachel
If you're looking for a romantic stay for a unique destination wedding or honeymoon, a top choice for a boutique hotel on Lake Atitlan would be Casa Palopó. This luxury boutique hotel is a short distance outside Panajachel enroute to Santa Catarina Palopo and is set overlooking Lake Atitlán with spectacular views of three volcanoes.
A member of the prestigious Relais & Chateaux collection, Casa Palopó is one of the best luxury hotels in Guatemala when it comes to views, service and character.
Check rates for Casa Polopo Panajachel
For more suggestions of memorable spots for a wedding or honeymoon, check out this post on 17 Unique Wedding Destinations.
Can You Swim in Lake Atitlán?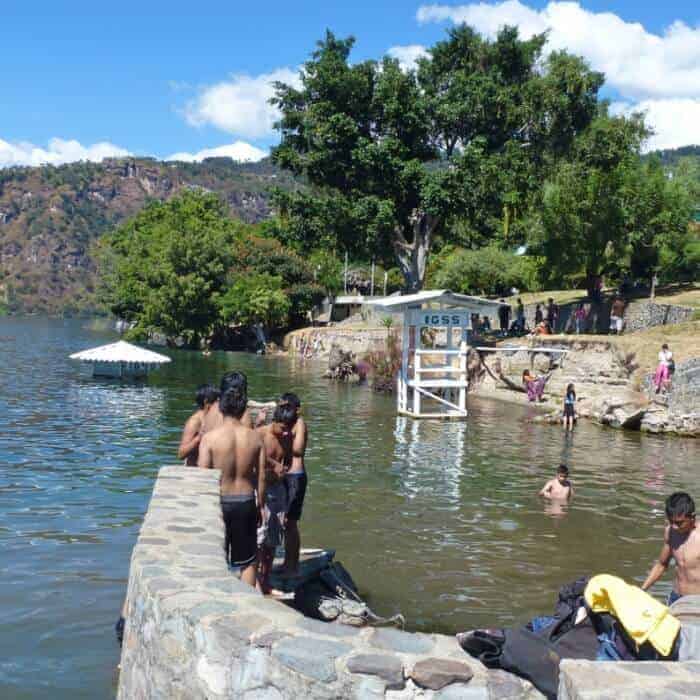 If you look at a map of Guatemala and see the large body of water that's Lake Atitlán, you might be tempted to think it's a top spot to go swimming or bask on a beach. Unfortunately, there are few beaches and the lake contains cyanobacteria, a toxic strain of aquatic bacteria that can affect the liver, kidneys, central nervous system and skin of both humans and animals.
Efforts to control blooms of the blue-green algae, rising water levels and reduce contamination by untreated sewage and agricultural fertilizers used in the farms surrounding Lake Atitlán are underway. But reports by monitoring agencies and authorities such as the Authority for the Sustainable Management of the Lake Basin of Atitlán and its Surroundings (AMSCLAE) indicate that Lake Atitlán still has problems with pollution.
The most common illness associated with swimming in waters polluted by untreated sewage is gastroenteritis. Eye, ear and throat infections are also a possibility. Although children, the elderly and people with weakened immune systems are those most likely to be affected, anyone is at risk.
So, although many people do swim in Lake Atitlan — with its tempting blue waters it's definitely one of the world's most beautiful lakes — I don't recommend swimming in Lake Atitlán.
Top Things to Do Around Lake Atitlan, Guatemala
1. Study Spanish or take a cooking class at one of the Spanish Language Schools.
2. Volunteer with an NGO
Thinking about volunteering in Guatemala? Here are some ways to help.
Gift a Christmas basket of tamales via the Mayan Families website;
Support the incredible work of Mayan Families with a tax-deductible donation. You can even make a tax-deductible donation in Canada;
Send supplies such as medicine, shoes, computers and toys. Download the list of what's needed;
Get involved in a community project such as assisting marginalized groups, teaching English or saving sea turtles through conservation by volunteering in Guatemala.
3. Enjoy a Resort Day Pass in Panajachel
If you'd like to go swimming in Panajachel and aren't keen on swimming in Lake Atitlan, it's possible to get a resort day pass to a luxury hotel with a swimming pool at a reasonable rate.
Enjoy pool loungers, a buffet lunch and relax poolside views of Lake Atitlan. Get details in how to get a Hotel Day Pass in Panajachel.
4. Explore the Villages around Lake Atitlan
There are two piers in Panajachel offering service by lanchas (small boats) to the various villages surrounding the lake. You can also take organized tours of Lake Atitlan visiting San Pedro La Laguna, Santiago Atitlan and San Antonio Palopo.
The pier at the end of Calle Rancho Grande is for boats leaving for Santa Catarina, San Antonio, San Lucas, Santiago Atitlan distances range from and tours of the lake. The pier at the end of Calle de Embarcadero is for departures to Santa Cruz, Jaibalio, Tzunana and San Marcos.
It's possible to travel by colectivo (shared pick-up truck) to Santa Catarina and San Jorge.
Learn more about boat tours in A Wild Boat Ride to San Pedro.
5. Learn about the Mayan Genocide in Santiago Atitlan
One of the best things to do in Panajachel is to educate yourself about the injustices and persecution of the Maya people. A good place to begin is in the town of Santiago Atitlán on the shores of Lake Atitlan. Home to the Tz'utujil Maya people and surrounded by the volcanoes San Pedro, San Lucas Toliman and Atitlan, it's one of 12 pueblos named for the apostles.
The town of Santiago Atitlan is especially notable as it was the site of one of the most important events of the civil war in Guatemala in the late 1970s and 1980s. Although much of the conflict was centered within the Ixil triangle near Nebaj, Santiago Atitlan is also an important site.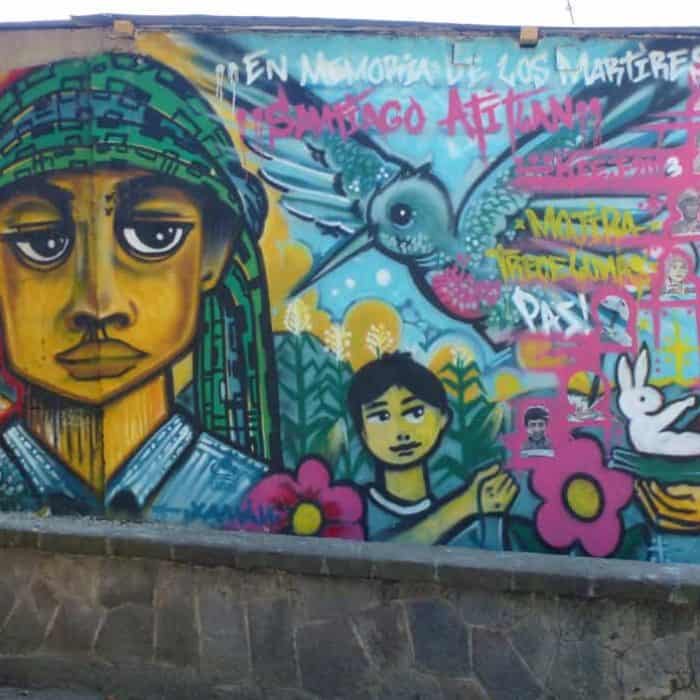 On July 28, 1981, Stanley Francis Rother, a priest from Oklahoma, was murdered in Santiago Atitlan, one of many killed as part of the armed conflict between military forces and the Maya people. On Dec. 2, 2016, Pope Francis officially recognized Father Rother as a martyr for the Catholic faith. Blessed Father Rother is the first U.S. born martyr of the Catholic faith. His feast day — July 28 — is the same day as his martyrdom.
Another significant event occurred on December 1990, when the Guatemalan army fired automatic weapons on an unarmed crowd of Tzutujil Mayas on the shores of Lake Atitlan, killing 14 people. The massacre prompted international outrage and criticism of the army.
Today, there are several important plaques and peace memorials to Blessed Stanley Rother and the massacre in Santiago Atitlan.
6. Sample Regional Cuisine
The outdoor street market in Santiago Atitlán is also top spot to scout out local foods such as avocados, watermelon and patin, a tiny sardine-like fish in a tomato chile salsa that comes wrapped in maxán leaf.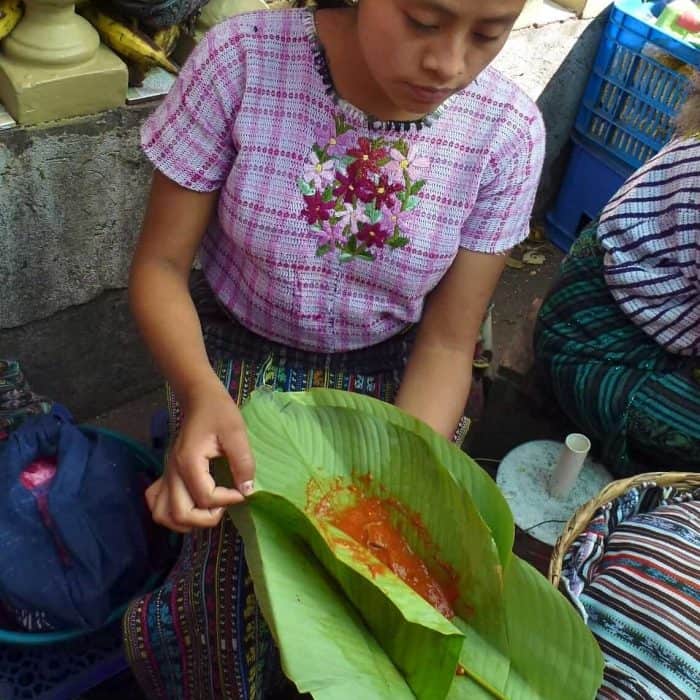 Other traditional Guatemalan dishes to try include pulique, a stewed chicken dish popular for special occasions, as well as jocon, a stewed chicken in salsa verde and pepian, another stewed chicken dish often considered the national dish of Guatemala. They all hail from the regions in the highlands of Guatemala so are worth seeking out while in Lake Atitlan.
Top restaurants in Panajachel include Deli Jasmin (for its garden setting and satisfying breakfasts), the Deli Llama de Fuego (for vegetarian and Guatemalan dishes) and Cafe Loco for when you need a coffee fix.
7. Take a Day Trip to Chichicastenango
One of the best things to do in the Lake Atitlan area is visit the colourful Mayan market in Chichicastenango. The Chichicastenango market takes place on Thursdays and Sundays.
8. Visit an Authentic Market in Solola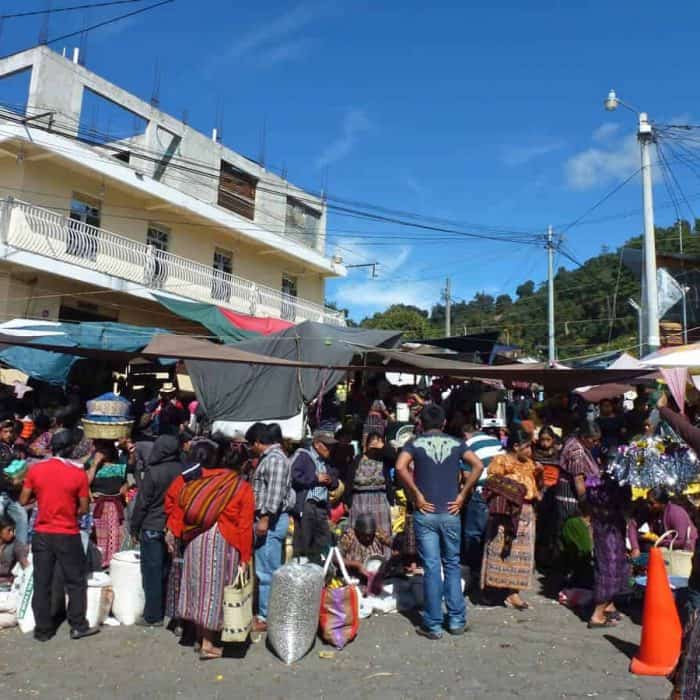 9. Soak in Hot Springs or a Mayan Temazcal
Get a wellness boost by taking a day trip to the large thermal baths at Fuentes Georgina or visiting the geothermal waters at the St. Regis Hotel on Santander Avenue. It's also possible to relax in a Mayan sauna known as a temazcal (also spelled temescal) if you're staying at Hotel Utzjay as they have a traditional sauna onsite.
A new location to experience a Mayan sweat lodge is at The Sanctuary, a meditation, yoga and retreat centre where they offer a deluxe sauna featuring medicinal herbs, salt scrubs, aromatherapy oils and other healing products. It is located in San Marcos La Laguna.
10. Experience Local Culture at a Local Festival
Panajachel and the villages of Lake Atitlan are top spots to experience Guatemala's unique festivals such as Day of the Dead, Dia del Diablo Semana Santa or the processions known as posadas during Navidad (Christmas)
11. Learn about Guatemalan Weaving and Embroidery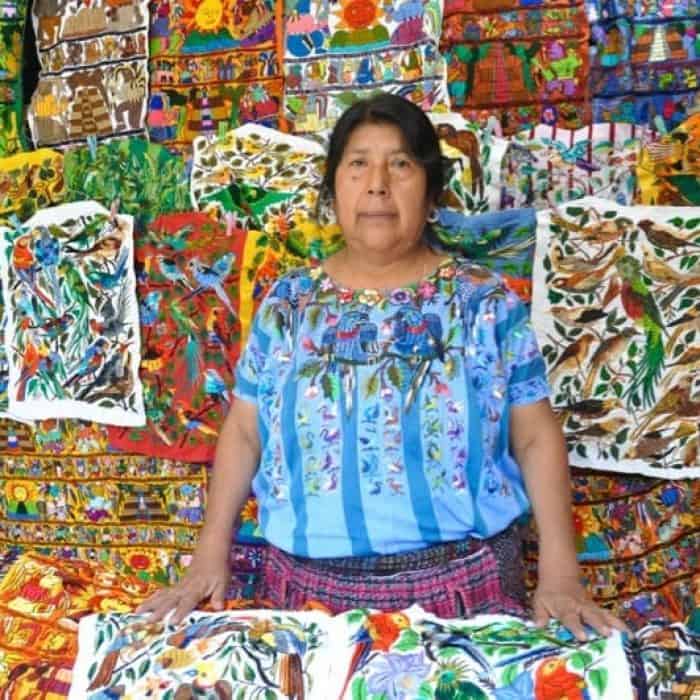 Take a hands-on course to learn Guatemalan Backstrap Weaving in San Juan la Laguna.
12. Visit the Lacustre Museum in Panajachel
Located on the grounds of the Hotel Posada de Don Rodrigo in Panajachel, the Museo Lacustre is one of the top things to do around Lake Atitlan. Its exhibits on Mayan culture, the history and the geological formation of Lake Atitlan are quite comprehensive given the relatively small size of the museum itself.
Don't miss the information about Samabaj, a sunken Mayan city that lies submerged underwater in Lake Atitlan. Discovered in 1996 by a diver who was looking for the lost Mayan city, it was buried by rising water levels around 250 A.D. Its ceremonial monuments, altars and other structures are the first underwater archaeological ruins to be officially excavated in Guatemala. The precise location of the ancient site is kept secret to avoid looting of valuable artifacts.
How to Get to Panajachel, Lake Atitlan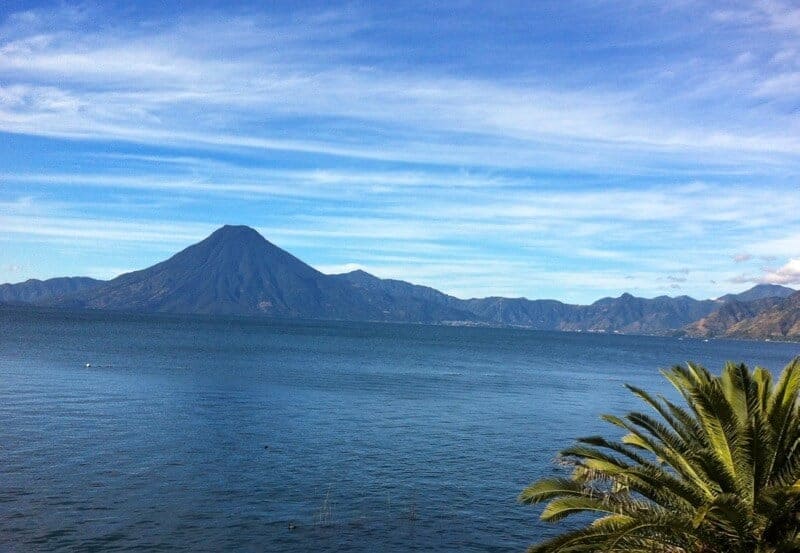 Getting to Panajachel is relatively easy and inexpensive. If you're coming from San Cristobal de las Casas in Chiapas or Puerto Escondido, Oaxaca, read the post Night Bus to Guatemala for detailed instructions.
If you've arrived in Guatemala City by plane, you can either stay in Guatemala City overnight or take a shuttle to Antigua, the colonial city. Most hotels can arrange to send a private shuttle to pick you up at the airport. You can save some money by taking a shared shuttle but that will add to the transfer time as the shuttle will drop off other passengers at their hotels along the way.
You might get lucky and be the first dropped off, but if not, you might spend an hour (or more) bumping along the cobblestone streets of Antigua when you could be nicely settled in your room.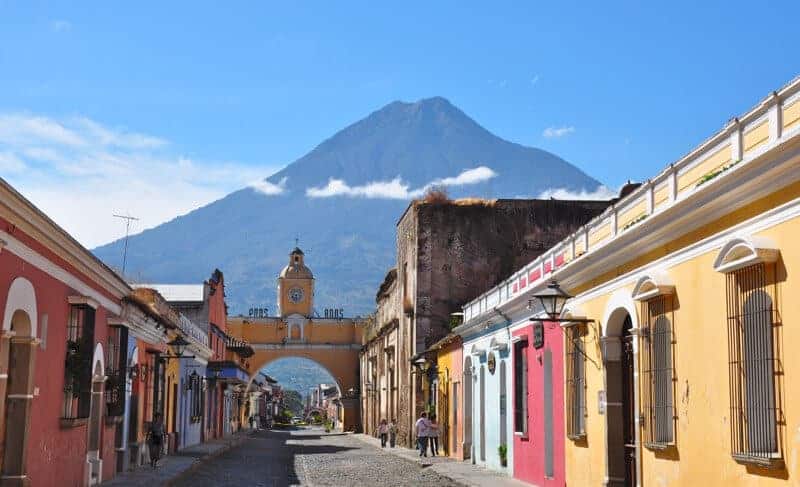 Check out my post 3 Budget Hotels you'll love in Antigua for three hotels that are clean, well-located and safe. I'll be adding some fabulous new hotels offering great value soon, so sign up for my newsletter to be the first to hear about them.
I recommend spending a few days in Antigua before taking a shuttle to Panajachel. You can take Spanish lessons, shop for crafts, buy some cowboy boots in Pastores, browse the jade shops, climb the volcanoes or visit a coffee plantation or just soak up the beauty of the historic churches in this UNESCO World Heritage Site.
To leave simply book a direct shuttle to Panajachel. It takes around 2 hours to get from Antigua to Panajachel by shuttle van. But choose your shuttle company wisely. Some companies use the oldest vans imaginable ( bald tires, poor brakes) and have a poor record of showing up on time. I've used Adrenalina Tours and Eternal Spring Travel Agency with good success. You can even book online.
Read my Blog Post on Safety Tips for Guatemala for advice on travel between cities in Guatemala.
Lake Atitlan Travel Guide
Adrenalina Tours: This tour operator has been in business since 1994 and has an admirable safety and service record. In addition to their door to door shuttle service they offer hikes and treks around Lake Atitlan as well as Tikal, El Mirador and more. Contact them at info@adrenalinatours.com or visit www.adrenalinatours.com or one of their offices in Panajachel, Antigua or Quetzaltenango.
Real Estate Rental Office: Check with Real Estate Offices such as Mayan Lake Realty (mayanlakerealty.com) for long term rentals
Map of Lake Atitlan: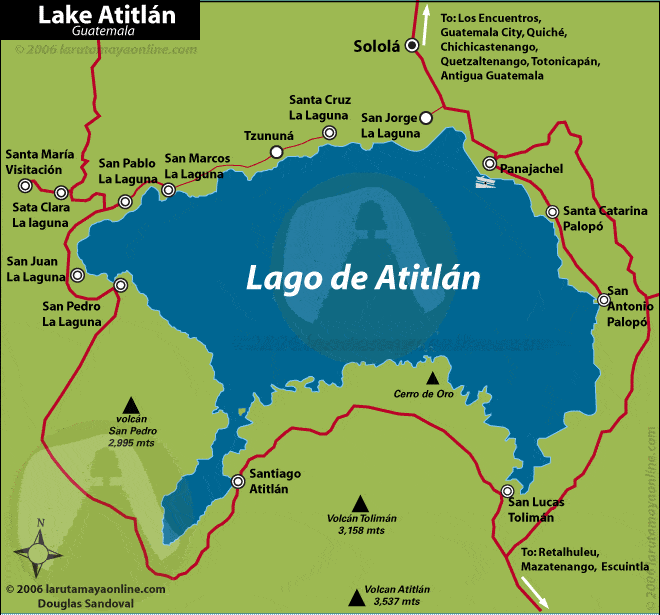 Read more about some of the other most beautiful lakes in the world.

Save to Pinterest!