We may earn income from links in this post. Please read this Disclosure for details.
In Guatemala, as well as Mexico and most other parts of Latin America, a highlight of the Christmas season of Navidad is eating tamales on Nochebuena or Christmas Eve.
While these bundles of corn (maize) filling encasing chicken or pork and wrapped in banana leaf or a corn husk are also enjoyed during many other festivals in Guatemala, they are an indispensable part of a Christmas menu during family celebrations in Guatemala.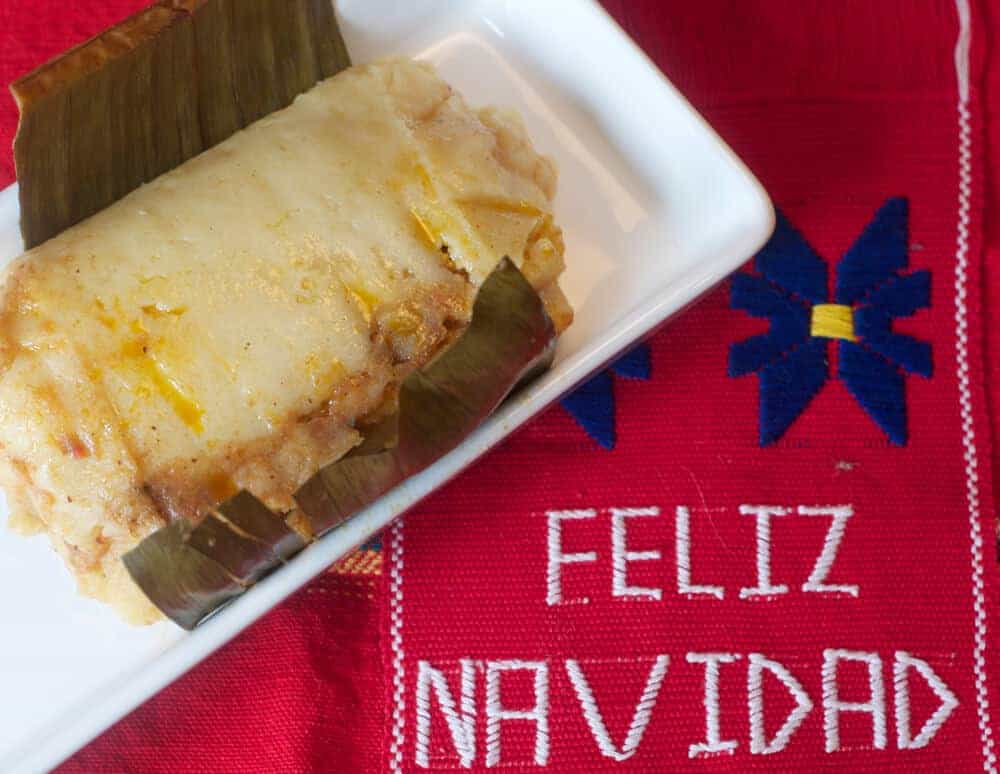 Each household prepares their own version — beef, chicken and pork– each corn dough tamale wrapped snugly in a banana leaf and tucked tightly into big cast iron pots over outdoor fires, which keep the tamales steaming until midnight arrives.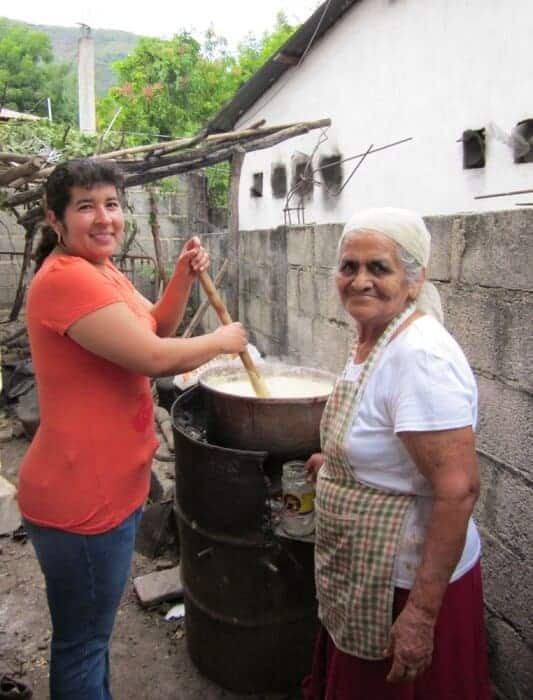 What is in a tamale?
At our family ranch in San Vicente, Guatemala the epic cooking effort begins early in the morning when my mother-in-law Mama Tayo wakes up at dawn and begins grinding corn in the molino de maiz, a metal grinder attached to a support beam on the patio. She then adds a chunk of lard the size of a filing cabinet to the corn paste and puts in all in a large cauldron.
As the fat melts she stirs the mixture with a long wooden spoon. Beside the cauldron, balanced on an iron grate over the fire, in a battered aluminum pot, bubbles its companion, an intense dark red recado, a salsa made of ripe, charred tomatoes, chile pimiento rojo and onion. Earlier in the week she had steamed a stack of banana leaves over an open fire in the field until the leaves were smoky soft.
There are as many varieties of tamales as there are cooks. Some tamales are stuffed with raisins, others are wrapped in Maxan leaves rather than banana leaves and tamales negros include cacao which gives them an intense chocolate-chile flavour.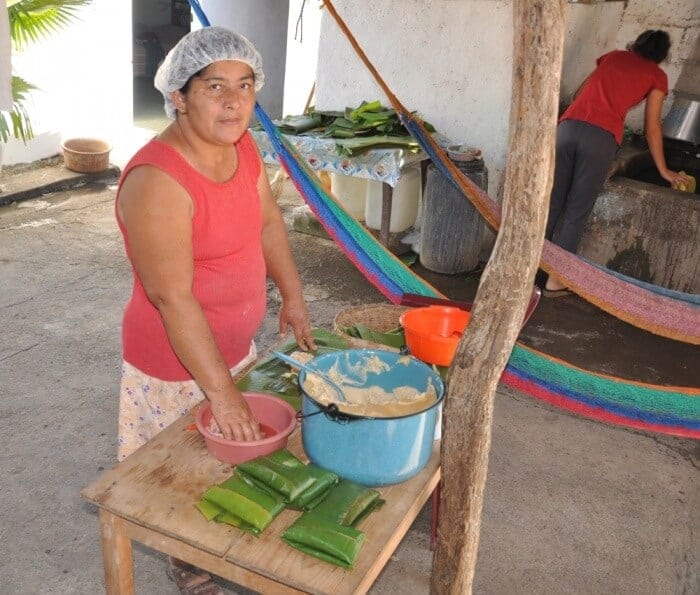 How to Make Traditional Tamales
By late-morning, my sister-in-laws, cousins and a bevy of other women in hairnets, join the preparations. The patio, shaded by the blazing heat of the day, is converted into an assembly line of cocineras. Much like a symphony orchestra, there is a hierarchy of players among the cooks.
Dressed in a chef's apron, a hair net and sturdy shoes, Mama Tayo serves as principal conductor. Playing first violin is my apron-clad sister-in-law. The rest of the cooking ensemble wear flip-flops, tank tops and hairnets and do the wrapping.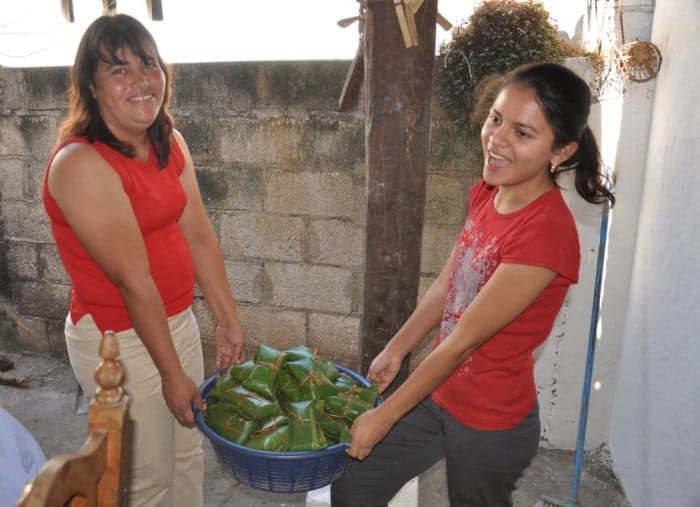 Each takes a leaf from the stack of banana leaves, places a dollop of soft dough in the middle of the leaf, tucks a piece of chicken or pork into the dough, scoops a spoonful of salsa on top and then folds their banana leaf into a square and ties it tightly with twine.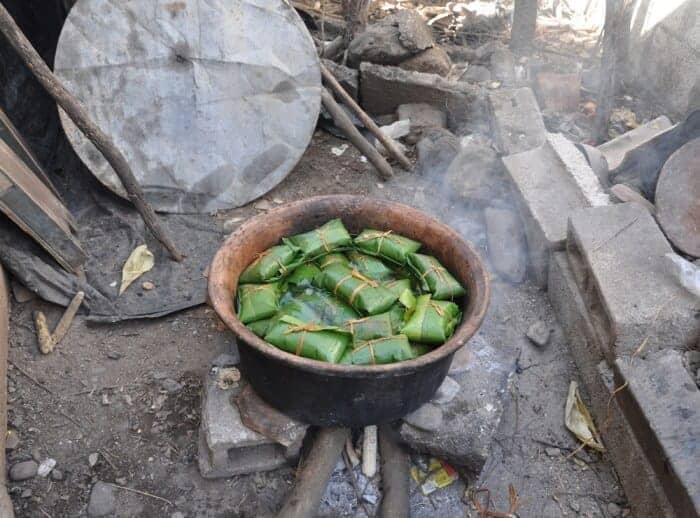 My role is dish duty — the best job of all, because I'm near enough to participate in the conversation but can splash myself with cool water from the pila, an outdoor sink at the corner of the patio, whenever I get hot.
The only hazard is a large, pale fish that lives in the sink. Although the fish's job is to devour any mosquitoes breeding in the water, the intent look in its eyes and a speed that belies its size leads me to believe it would happily gnaw on a human arm if given the opportunity.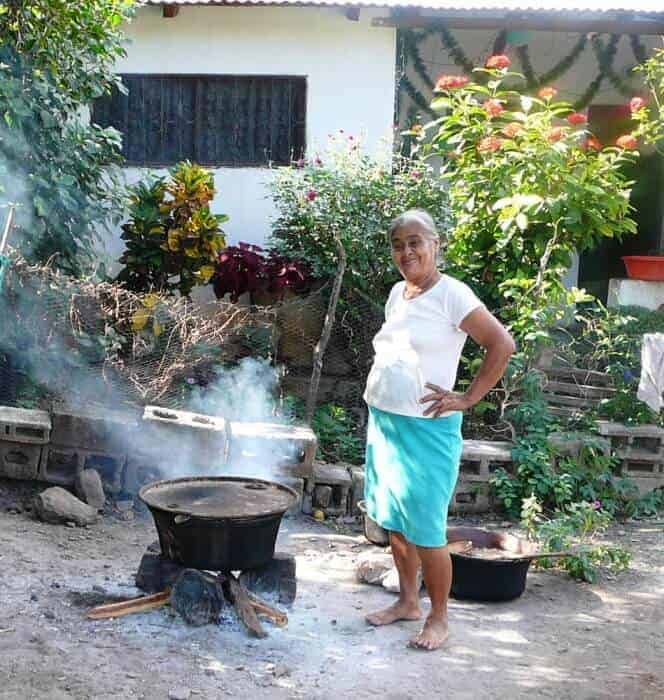 While the assembly line is underway, Mama Tayo quietly circulates among the cooks, occasionally tightening the twine on a tamale bundle or adjusting the seasoning of the salsa.
She also tends the outdoor fire, feeding it with aged wood to produce a steady heat. The work effort is truly epic as our family is around 100+ people and even if each person eats just a few, it adds up to 500 tamales.
My mother- in-law's tamales are acknowledged to be the best in San Vicente, a consequence of the special alchemy between the tenderness of the dough, the intensity of the flavourful salsa and her vigilant eye.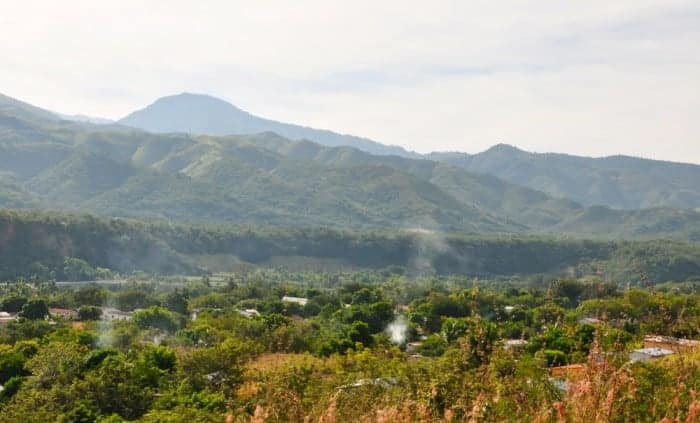 How to Eat Tamales
When the tamales are ready, they are served at midnight on Nochebuena, Christmas Eve along with a steaming mug of ponche de frutas, hot fruit punch.
Get our easy recipe for ponche de frutas, the hot fruit punch enjoyed throughout Latin America, and try it yourself for the holidays.
If you've never eaten a tamale it can be a bit daunting the first time. Here are a few tips on eating tamales like a pro:
Don't eat the corn husk or banana leaf of a tamale. The corn husk is not edible. It should be thrown away
Remove the twine tying the banana leaf or corn husk package.
Open the leaf to reveal the masa dough inside.
Be careful of escaping steam…a tamale can be very hot!
Inside the masa is the piece of beef, pork or chicken. Watch out for bones.
Sprinkle with a hot sauce such as Picamas Salsa Brava ( available in red or green) or homemade salsa.
Eat your tamale with a fork. This isn't a food to be eaten by hand.
Check out our authentic recipe for Guatemalan ponche de frutas. It's easy to make and serves a crowd.
Are Tamales Nutritious?
Tamales are a very filling, traditional food with a long history in Latin America. The combination of fat, protein and carbohydrates in a tamale serves as an important nutritional boost and source of energy, very useful for people doing physical work.
However, they are also quite high in sodium and fat. So, like any other special occasion food, they should be enjoyed in moderation as part of a healthy diet.
A chicken tamale has between 280-300 calories and is gluten-free.
If you're looking for a vegetarian tamale, be sure to make sure it was made with vegetable shortening rather than lard.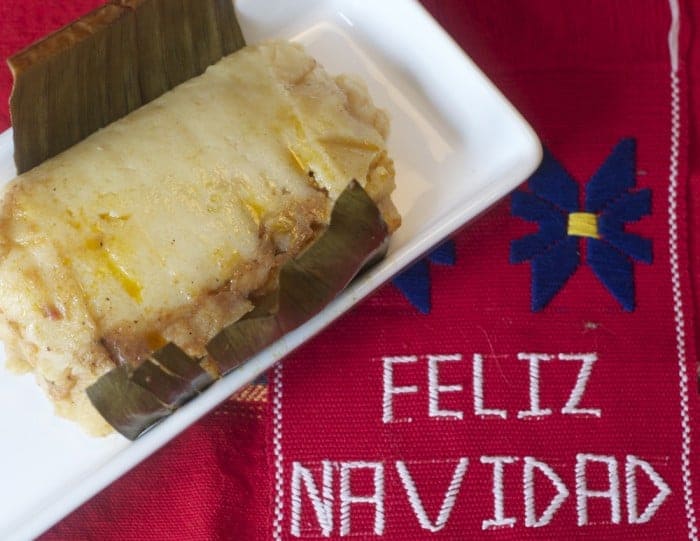 Where to Find Authentic Tamales in Toronto
This year, we're celebrating Christmas in Toronto with the Canadian side of our family and without a posse of skilled cooks to help prepare tamales, I'm on the hunt to purchase Guatemalan-style tamales. For while there are plenty of places to purchase them El Salvadoran or Nicaraguan style, my husband is pure chapin when it comes to tamales. The best place to buy them in Toronto is at El Quetzal Bakery and Restaurant.
El Quetzal is located in a plaza at 2011 Lawrence Ave W in Toronto. Order your tamales in advance to avoid disappointment. Their phone number is (416) 245-4982.
But no matter whether you enjoy Nacatamales from Nicaragua, tamales colorados or tamales Oaxacaquenos, each perfectly-wrapped bundle is a blend of food, culture and tradition. Each is a gift of love embodying the spirit of Navidad.
Travel Planner
Guatemala: Head to Mama Lita's, a comedor (eatery) located in San Bartolo near Antigua, where on Saturdays, a number of family-run restaurants offer authentic Guatemalan cuisine such as chile rellenos, pepian and tamales.
Culture Xplorers offers custom tours of Guatemala featuring authentic cuisine and cultural experiences. Read about my experience with Culture Xplorers in this post Dancing with the Devil during Dia del Diablo
Toronto: El Quetzal Bakery and Restaurant in Toronto (416) 245-4982. Note that this is NOT the same restaurant as El Quetzal on College Street. They don't have a website.
Dividing her time between Canada, Guatemala and Mexico (or the nearest tropical beach), Michele Peterson is the founder of A Taste for Travel. Her award-winning travel and food writing has appeared in Lonely Planet's cookbook Mexico: From the Source, National Geographic Traveler, Fodor's and 100+ other publications.
Read more about Michele Peterson.