We may earn income from links in this post. Please read this Disclosure for details.
Whether you sip an emerald-hued cactus cocktail or opt for a local craft beer, one of the best ways to soak up the relaxed vibe of the Dutch Caribbean is to spend time at a beach bar in Bonaire.
While historically most of the watering holes on the island of Bonaire have been "dive" bars — hangouts geared to scuba diving folks — now there are so many things to do in Bonaire there's a beach bar to match every kind of traveller.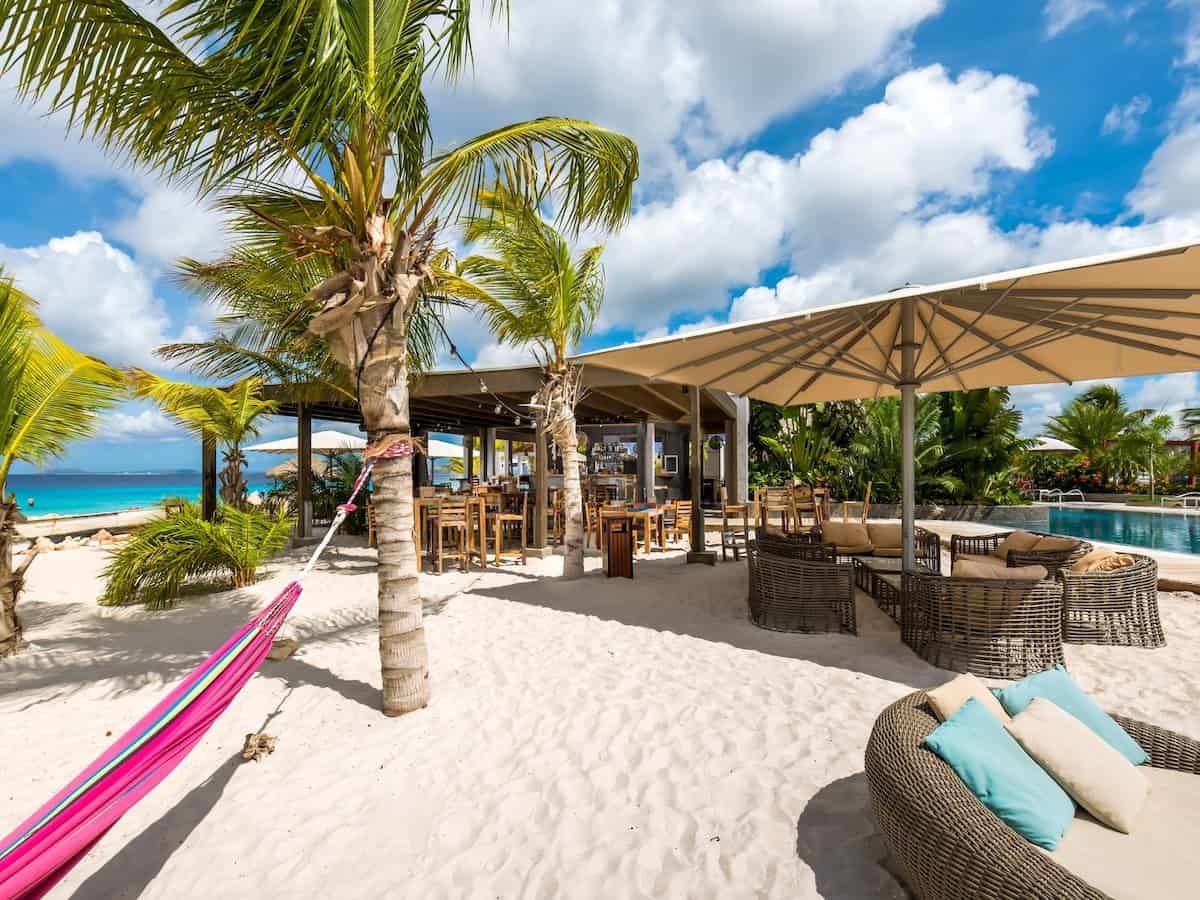 The infusion of new beach bar styles includes chic seaside emporiums, fun people-watching hang outs and even foodie-centric beachfront lounges.
As a long-time contributor to Bonaire Nights magazine and Bonaire Fodor's guides, I know a bit about imbibing and beach bars on this island.
I'm even the creator of the Green Bonaire cocktail using the island's local Cadushy liqueur made from cactus!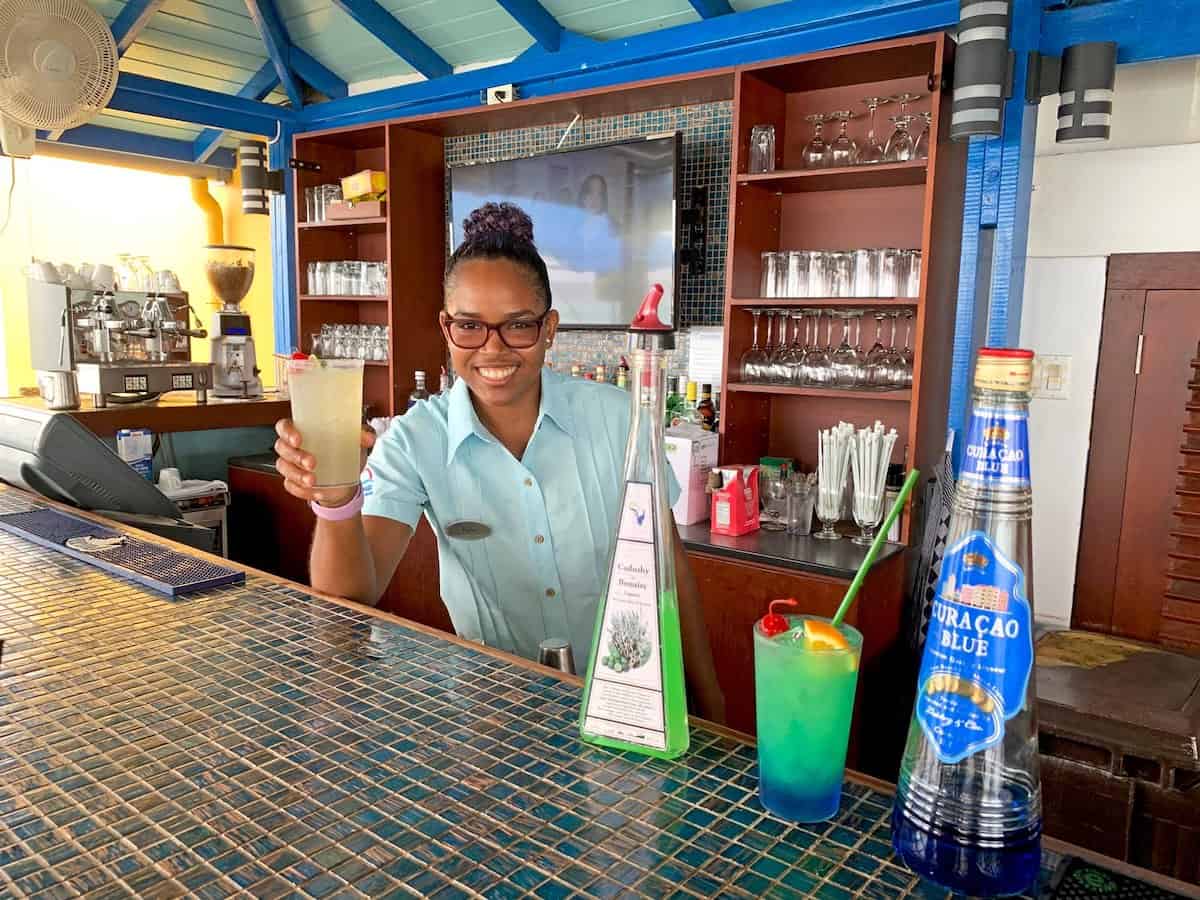 And now the island has its own award-winning rum, Bonaire Blond beer and unique Lowlands Botanical brews from the Netherlands. There's never been a more exciting time to raise a glass on Bonaire than now.
Here are my top picks of the beach bars on Bonaire – unforgettable places that no-one should miss on a trip to this pristine sister island to Aruba and Curaçao.
Cheers!
1. pureocean Beachside Bar
We'll start with my long-time favourite at Divi Flamingo Beach Resort & Casino because it doubles as one of my favourite snorkeling bars on the planet.
This cool little seafront spot set in front of a long stone manmade pier checks all the boxes for what I want in a beach bar, and then some.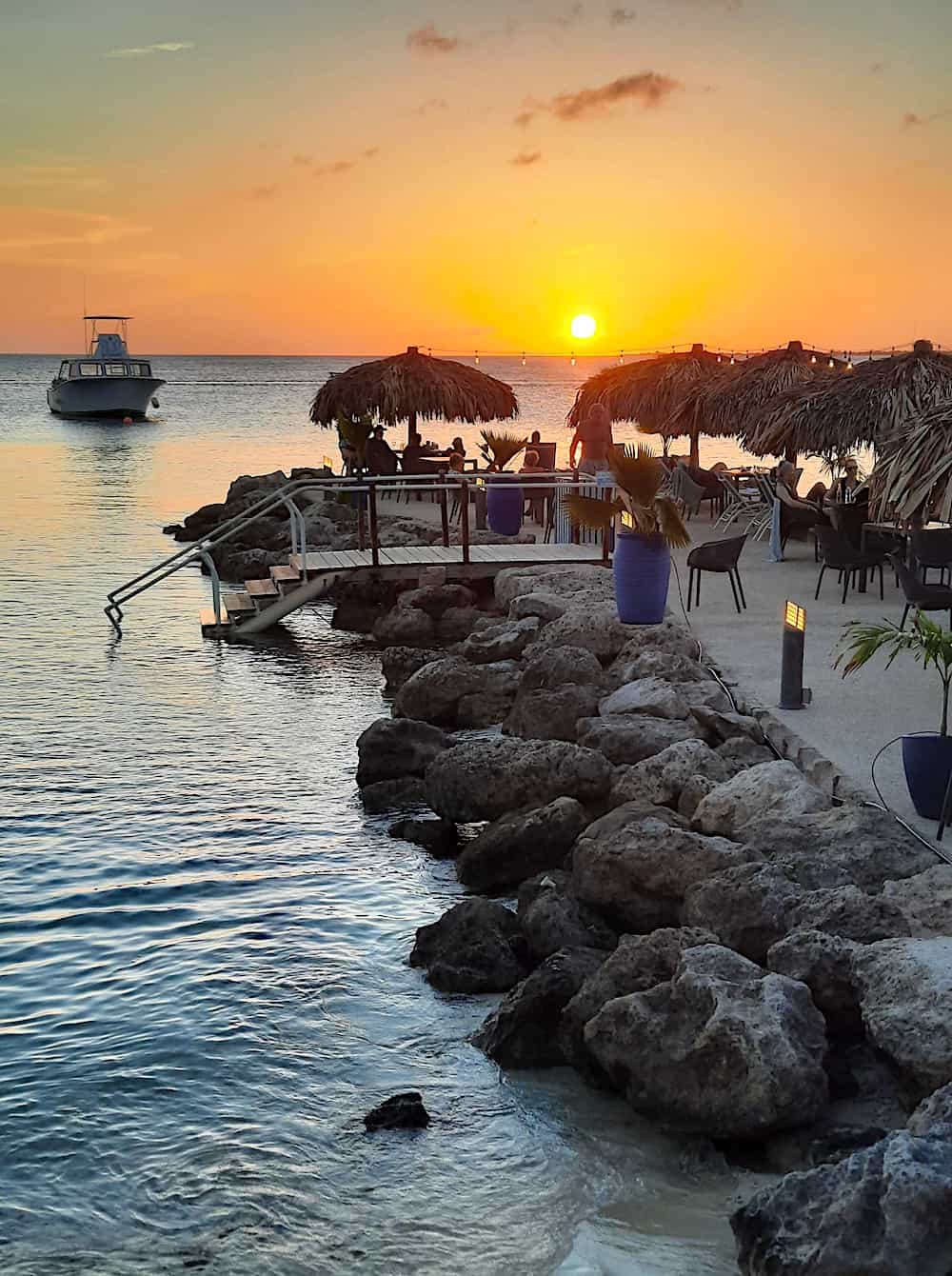 Much as with its counterpart purebeach at Divi Aruba Phoenix Beach Resort (one of the best beach bars on Aruba), pureocean has great snacks, signature drinks, fun staff and incredible sunsets.
But better yet, it's a stellar snorkeling spot. Descend the few stairs of the pier and you'll be amazed at the marine life universe that unfolds in seconds.
Float back to the bar with the current, order some Bonairean cheese balls and a cocktail (a Green Bonaire of course), enjoy them with gusto, and then do it all over again. This never gets old.
And you'll find as many locals as visitors enjoying their live entertainment Happy Hours on Mondays, Fridays, and Sundays.
Insider's Tip: Do NOT sit on the wooden stairs leading to the water to don your snorkel gear as there's a colony of territorial crabs underneath waiting to pinch your behind!
2. Ocean Oasis Beach Club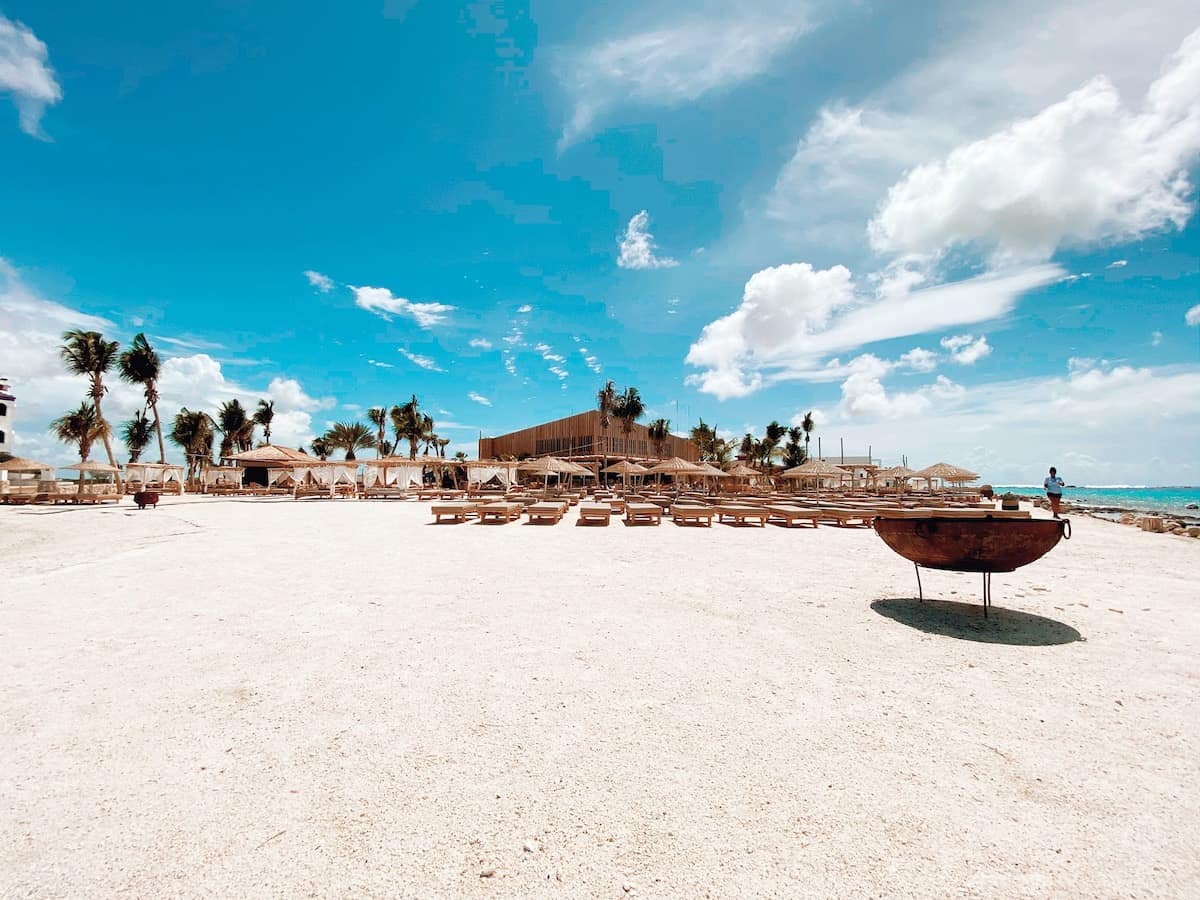 Bonaire has never been known as a party-hearty island. In fact, typically the divers are underwater after dark as much as they are during the day.
But that has since changed with this trendy new beach club, a boho chic expanse of bamboo and wicker installations on a manmade beach.
This is the best beach bar for nightlife. The South Beach meets South Pacific vibe lures the "beautiful people" to sun lounge by day and then dance in the sand until the wee hours.
Friday to Sunday are the biggest full-on parties with live music or DJs and special theme nights. The cocktails are top notch creative, (Chic Flamingo Pornstar Martini anyone?)
And the food is truly avant garde like truffle and cheese fritters, Caribbean poke bowls, and roasted pumpkin peach salad.
Insider's Tip: Check their Facebook page for special foodie events like choose-your-own meat or fish from massive open-air markets on the beach.
3. Club Tropicana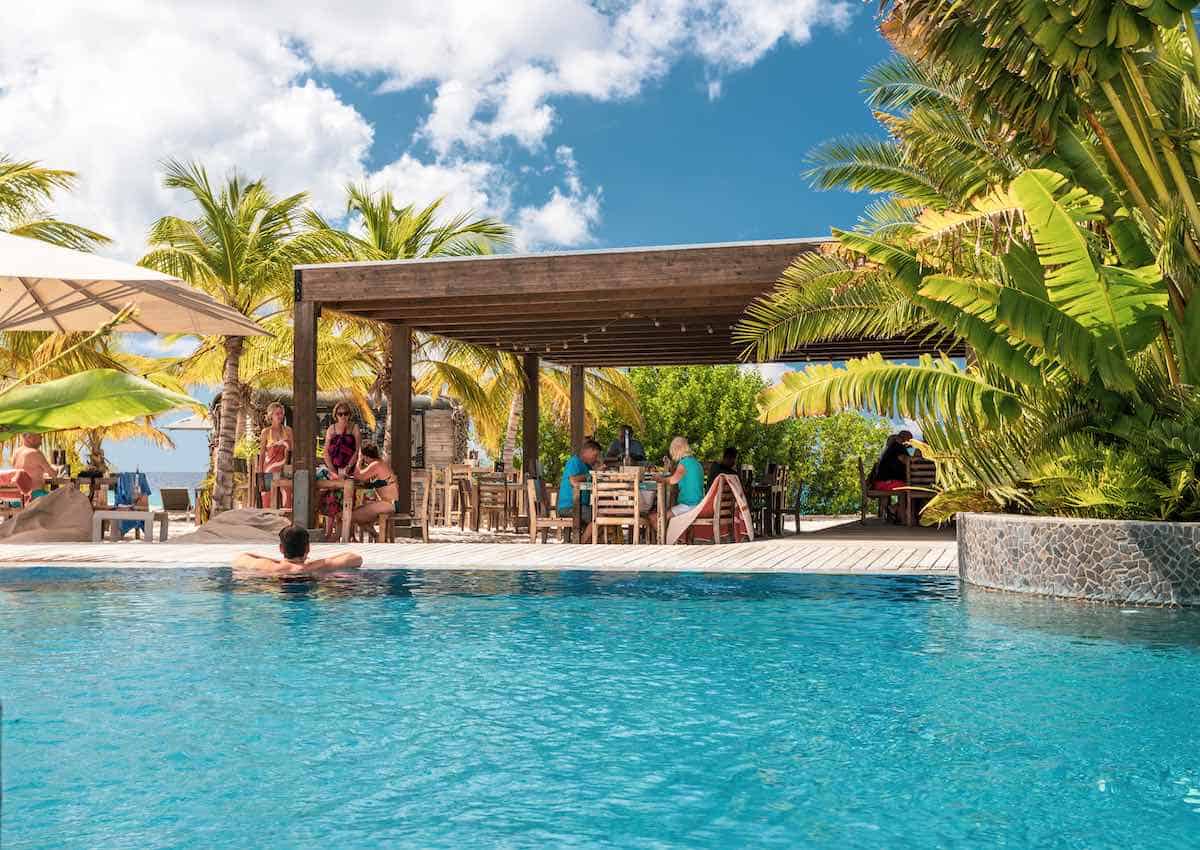 Seeking the best beach bar for barefoot luxury and foodie fare? You'll find it all at Delfins Beach Resort, one of the best places to stay on Bonaire. It also happens to be a top resort if you're planning a girls getaway in the Caribbean.
Open to the public every day except Sunday, Club Tropicana is a revelation of luxury in the sand.
Enjoy a craft cocktail at their swim-up bar from a magna pool or sink down in an inviting array of couches with shade umbrellas dotted beachfront like mini-outdoor living rooms.
Food and beverage service is helmed by none other than Jonnie and Thérèse Boer owners of acclaimed 3-Michelin Star De Librije in the Netherlands.
Try a flight of ceviche (an entire metre) and accompany it with their signature cocktail made with Boer's own Gastro Gin known for its bold peppery taste profile.
Insider's Tip: Delfins is the Dutch word for dolphins, and they are often spotted from their beach.
4. Karel's Beach Bar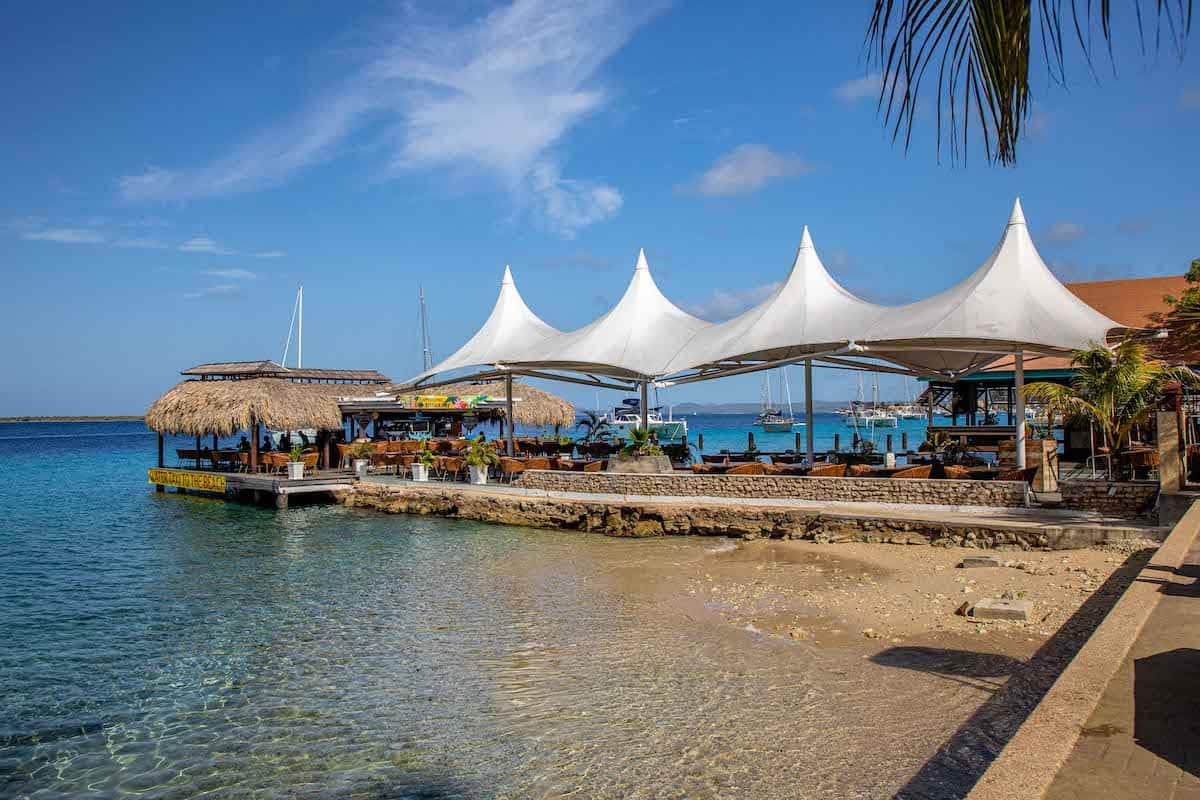 Looking for the closest beach bar to the cruise terminal and downtown shopping? You can't get any more central than Karel's, one of the oldest bars on the island.
Though dubbed a "beach" bar, they are on a pier right in the centre of Kralendijk, where there is no beach!
Though Karel's Beach Bar used to be known for their live music nightlife and karaoke, they have morphed into more of a full-service restaurant.
Now, they also serve breakfast (including a Bonairian breakfast featuring two eggs, pastechi or repa di pampuna, fresh fruit, sausage, toast and a mimosa).
But their Happy Hours still rock with locals and visitors alike.
This is the pier where you can catch the water taxis to satellite island uninhabited Klein Bonaire. In fact, it's Bonaire's best beach!
Insider's Tip: Karel's pier is also where the adorable little red submarine BonSea docks, an excursion to see Bonaire's underwater splendor without getting wet.
5. The Hang Out Beachbar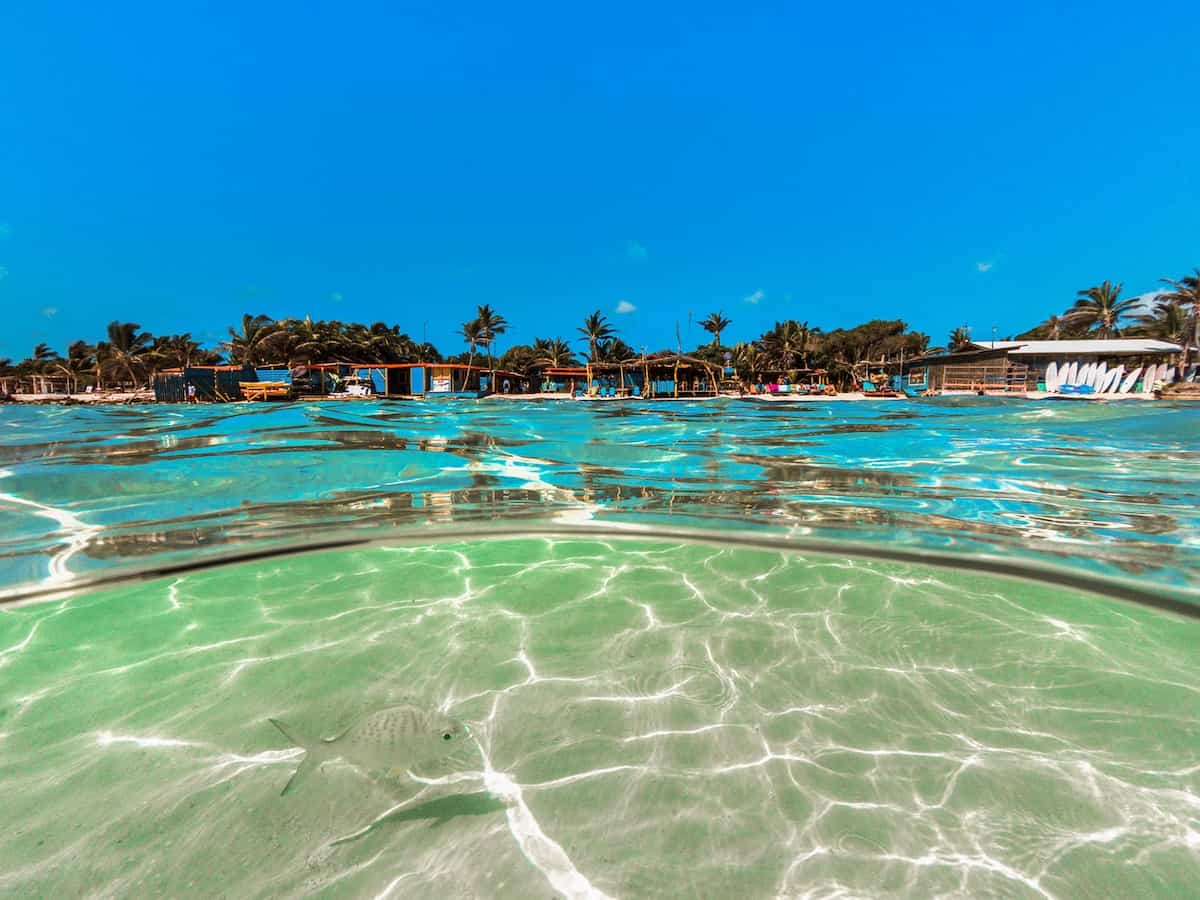 Sorobon Beach on Lac Bay is where the wind warriors hang out — the conditions for windsurfing are among the best in the world. And this island has spawned many world champions.
But you need not be a windsurfer to enjoy The Hang Out Beachbar. It's just as much fun to watch the colourful sails bob on the waves and the pros do their tricks as it is to partake in the sport. (Though it is an ideal place to learn.)
Choose from beach beds and lounges or shaded dining spaces for day pleasures, but their big claim to fame is their Thursday "Table-BBQs".
Cook your own meat, chicken, or fish on your own personal grill while live or DJ-driven music amps up the party atmosphere.
Insider's Tip: Check their Facebook page for other special events as they hold them often.
6. Sebastian's Beach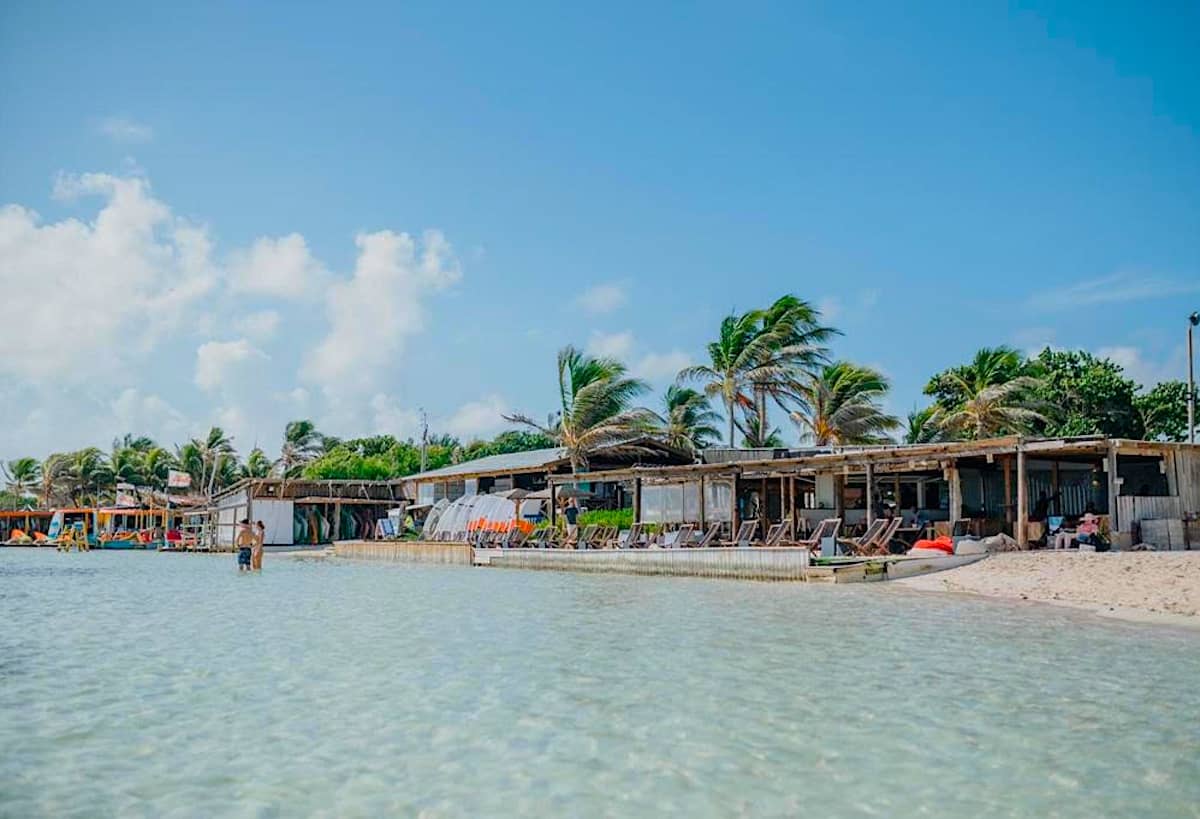 The newest trendy beach bar/restaurant to land on Lac Bay (right beside The Hangout) is Sebastian's Beach on its own stretch of soft, white sand and offering up another front row seat to the windsurfer's antics.
Pull up a beach lounge or a beanbag chair or opt for some fancy frozen cocktails perched on a bar stool to watch them. And there is also shaded indoor dining on their big wooden deck.
But most recently, they have become best known for their "Sundowners" beach parties.
Every weekend (and sometimes weekdays) their beach becomes a massive party blowout with DJ-driven tunes and bucket of beer specials. It begins at 2 p.m. and ends at 8 p.m.
Insider's Tip: They also serve breakfast if you want to make a full day of it.
7. The Beach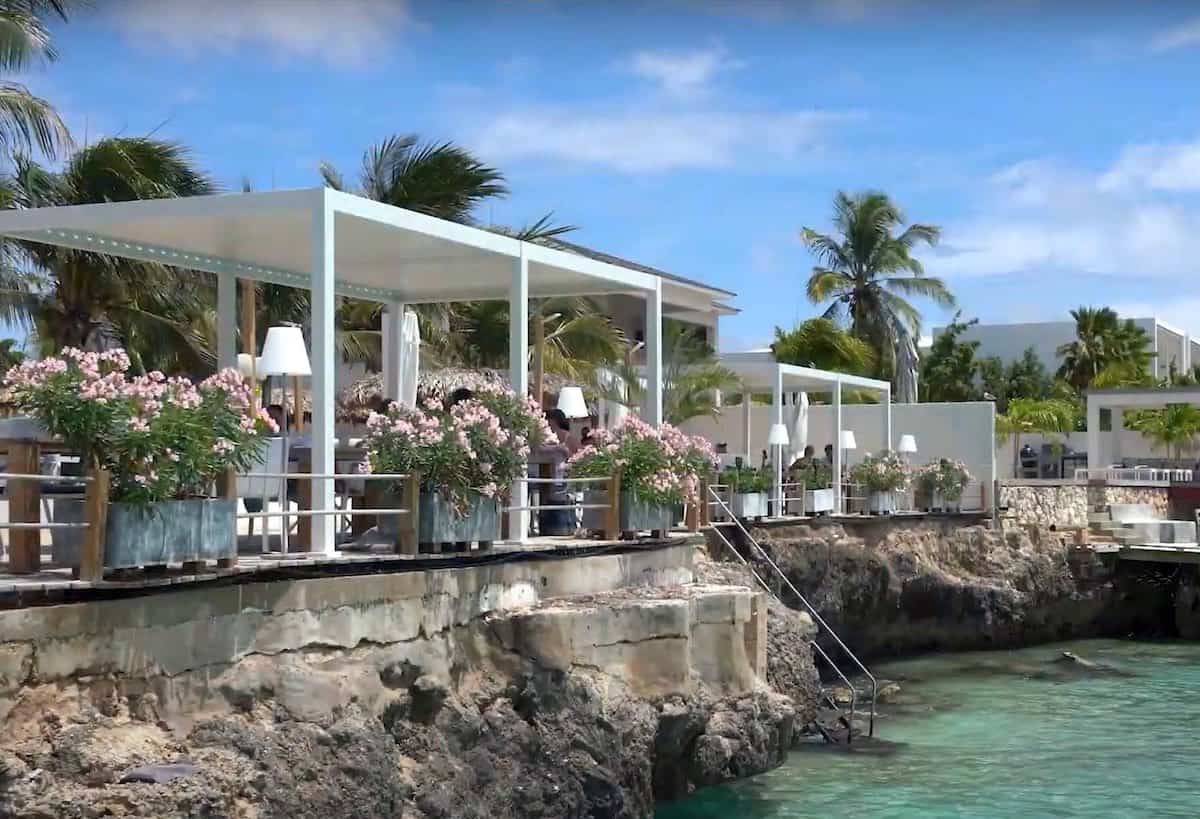 On a manmade beach cresting a cliff with stairs to the sea, this is a great beach bar for casual socializing and snorkeling. (There's a stairway to the sea right off their deck!)
And though The Beach is the dining nexus for guests staying at Grand Windsock Resort, it's also open to the public.
Choose from large community wrap-around couch spaces connected by boardwalks, wooden tables over the sea, or belly up to the large circular palapa bar to mingle with islanders.
It's a lively spot by day and a lovely spot at sunset. The menu's casual fare includes lots of deep-fried Dutch snacks such as frikandel and bitterballen as well as beach bites such as ceviche, and burgers.
Their cocktail menu is a cut above.
Insider's Tip: This is purely a cashless establishment, cards only.
8. Bari Beach Bar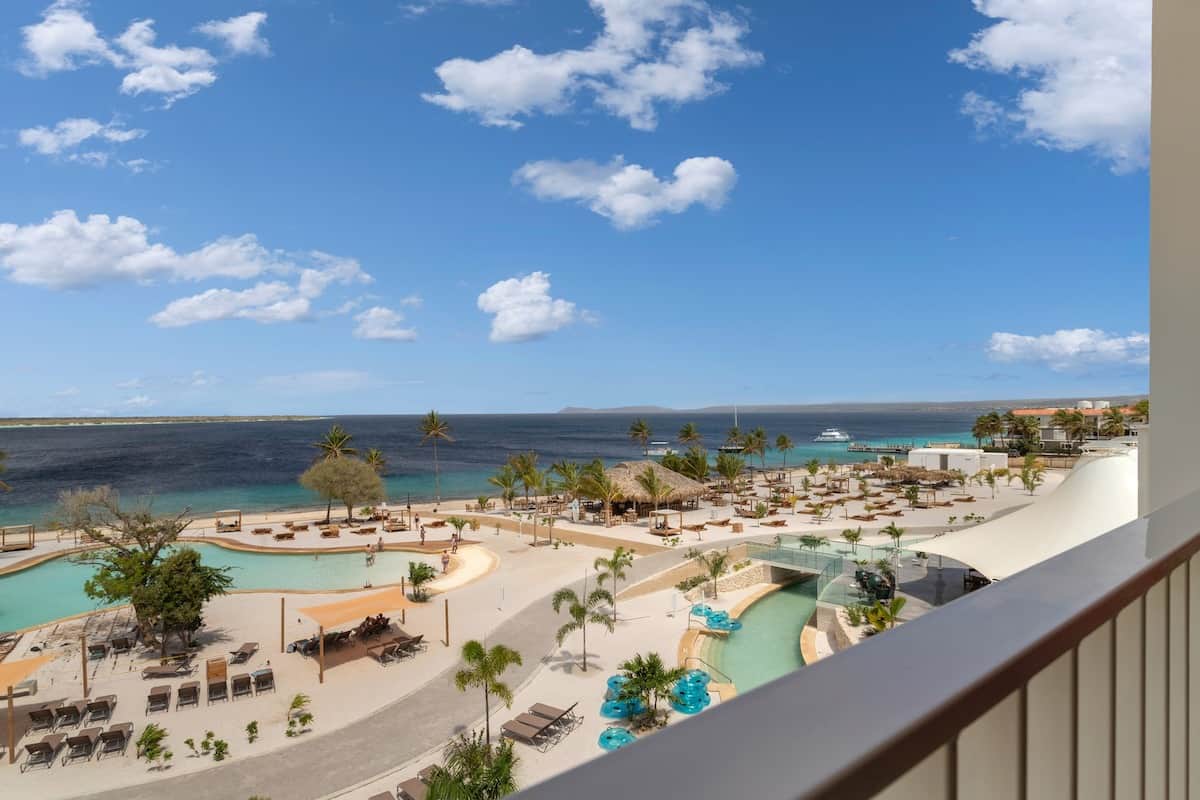 Seeking Bonaire's best beach bar for families? Then head to the brand spanking new Chogogo Dive and Beach Resort where they have the only lazy river ride on the island.
Day passes are available to enjoy their big manmade beach and large freeform swimming pool plus the winding aqua circuit of the river (tubes included) with lots of seafront daybeds. They are conveniently located just outside of downtown.
Happy Hours at their Bari Beach Bar (named after the dive site reef right out front) are becoming very popular.
No kids? No problem! This is also a fabulous spot to catch a romantic sunset over the water.
They often have live entertainment, too.
Note: Day Pass: adult $25 USD, Children 2-11 yrs. $10 USD.
9. Foodies Bayside Bar & Restaurant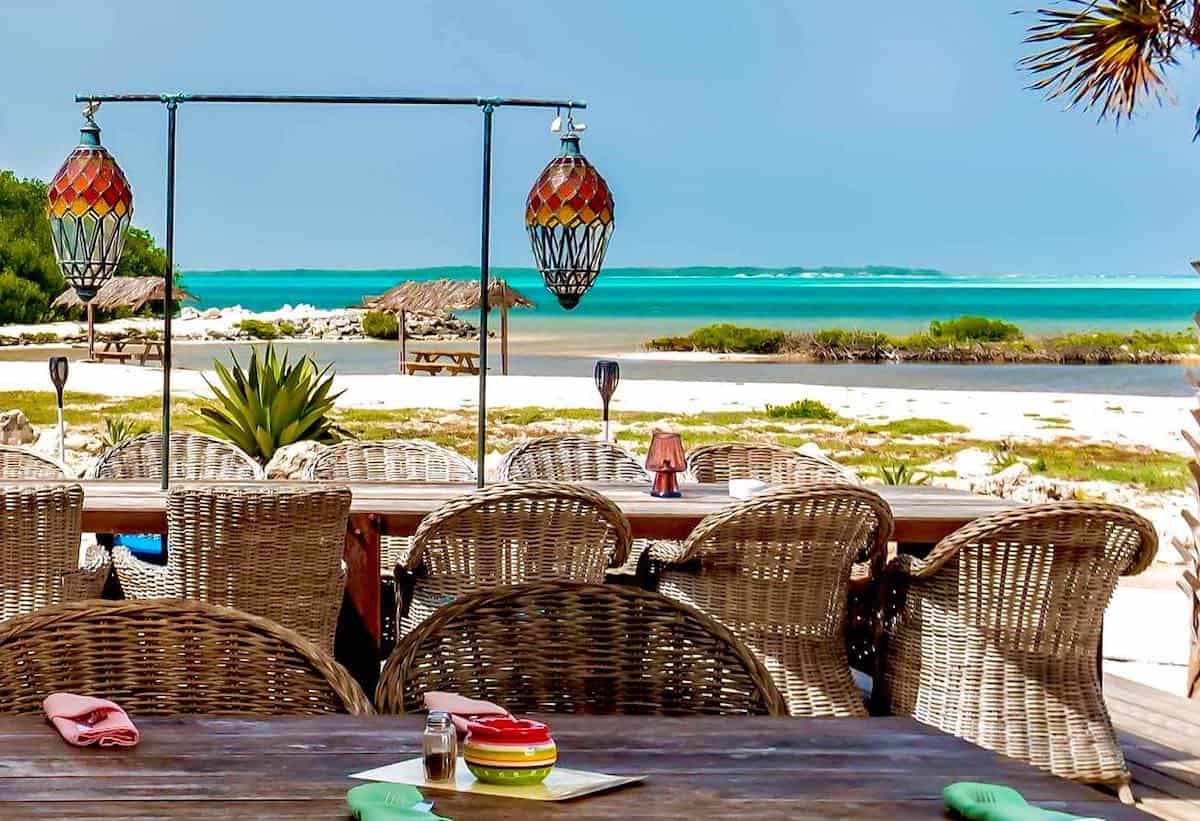 Not a typical beach bar in the truest sense, it's more like a bayside retreat, but it does look out on a surreal slice of neon aqua Lac Bay from their front deck.
And yes, as the Foodies name suggests, it's a gourmet-focused emporium, but their cocktails are top-notch.
They offer an "easy food district" menu of shareables and great snacks for the stand-alone bar. The décor is beach house casual and fun.
There's an entire tree growing through the middle dining room right through the roof. Very cool.
They also often have live music, and the lighting is enchanting at night.
Insider's Tip: Foodies also has a comprehensive selection of wine and bubbly by the glass and by the bottle.
10. Spice Beach Club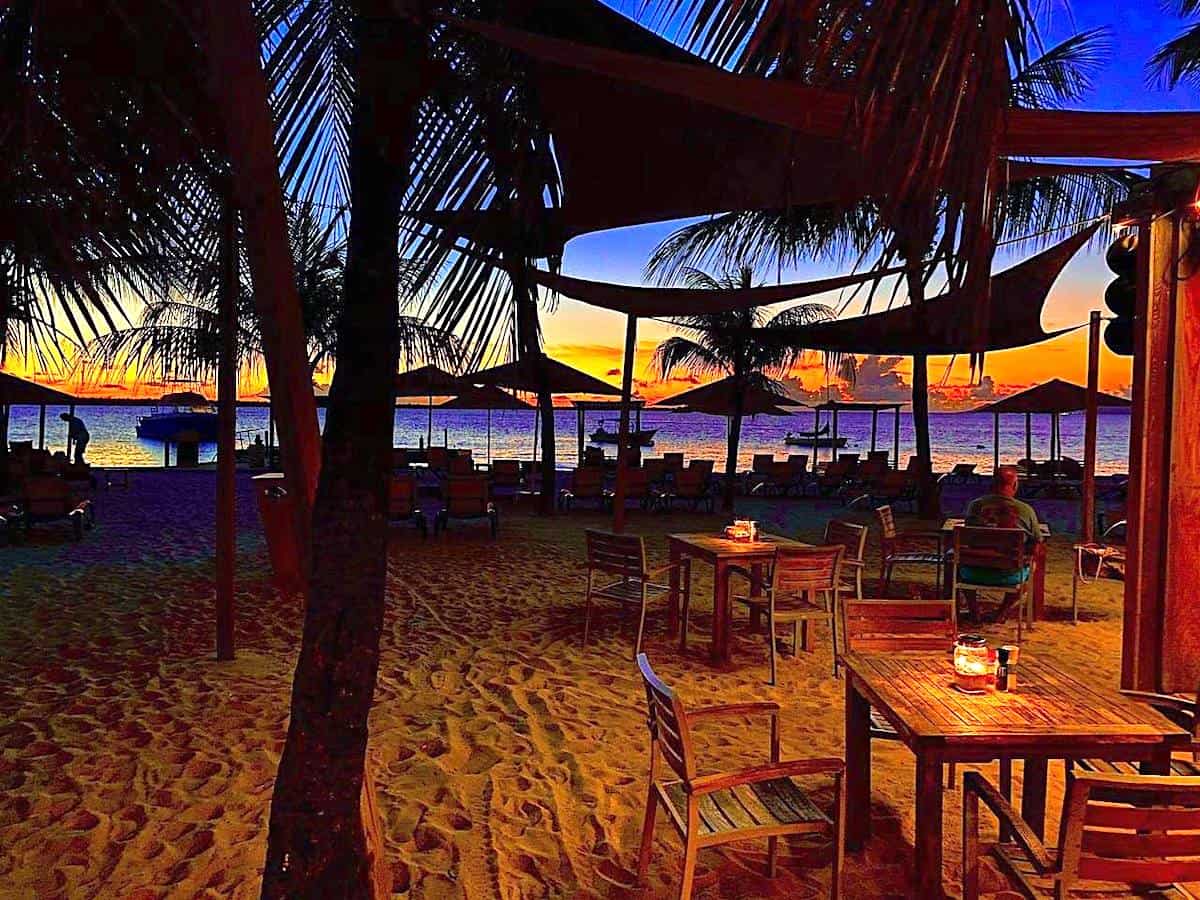 This is another great beach bar for local and visiting families and down-to-earth fun in the sun casual get-togethers.
Part of long-established Eden Beach Resort, Spice Beach Club is known for its hip musical concerts and all kinds of special offerings like yoga, culinary fun like welcoming the first herring from Holland each year.
It's the best beach bar for watching Dutch football, too. There are lots of daybeds, and children will enjoy access to their pool.
Insider's Tip: This spot can be very busy when they sell day passes to cruise visitors. Try to go when there is no cruise ship in port if you want more solitude than socializing.
Tiki & Co – Honorable Mention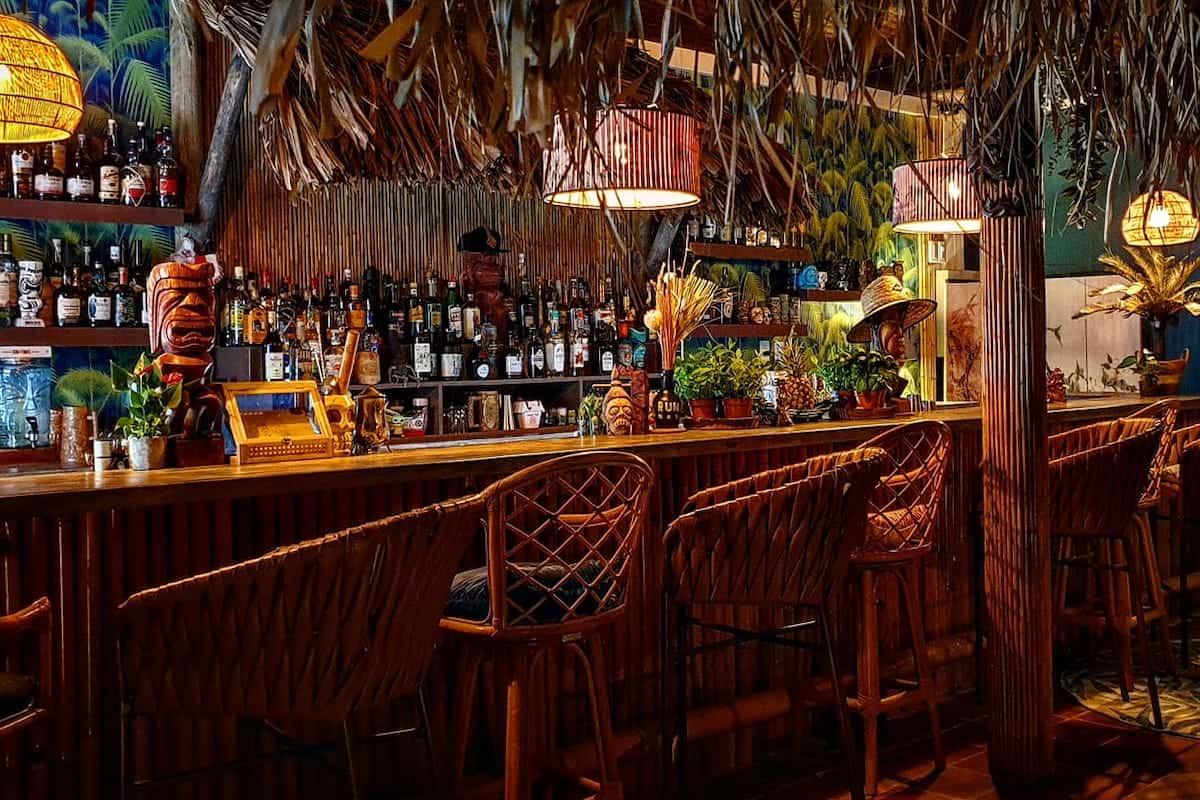 Though not near a beach, you'll feel as if you've been transported straight to the South Pacific at this new tiki bar that's well worth seeking out in downtown Kralendijk.
The exotic décor is just the icing on the cake. It's all about the artistry of the hand-crafted cocktails here, created by award-winning mixologist "Sir" Eddy Trenidad. He's not just Bonaire bartending royalty, but a world class competitor.
After wowing the mixology world in the Netherlands, he returned to his home island to open Tiki & Co. in 2021. It's been receiving rave reviews ever since.
Try a Sorobon Zombie or a Davy Jones Locker and you'll enjoy watching its creation as much as you'll enjoy drinking the result.
The munchies are exotic and unusual, too. Where else might you get to sample an octopus hotdog?
Insider's Tip: The owner also gives mixology classes, and this will be the spot for the Bonaire bartender's competition in the upcoming Rum Week in June.

Bonaire Rum Week Festival
This year will mark Bonaire's very first annual Rum Festival, a weeklong event taking place June 14 to 17, 2022.
The festival will highlight premium Caribbean rums and the gastronomy of Bonaire with rum tastings, rum-infused cuisine and waterfront parties.
It's sponsored by Cadushy Distillery the local distiller that produces award-winning Rom Rincón. They'll also produce a special reserve batch limited edition for the festival.
Bonaire Beach Bar Travel Planner
Location: The second largest and least populated of the Dutch Caribbean ABC islands, Bonaire is located east of Aruba and Curacao in the Caribbean Sea off the northern coast of South America.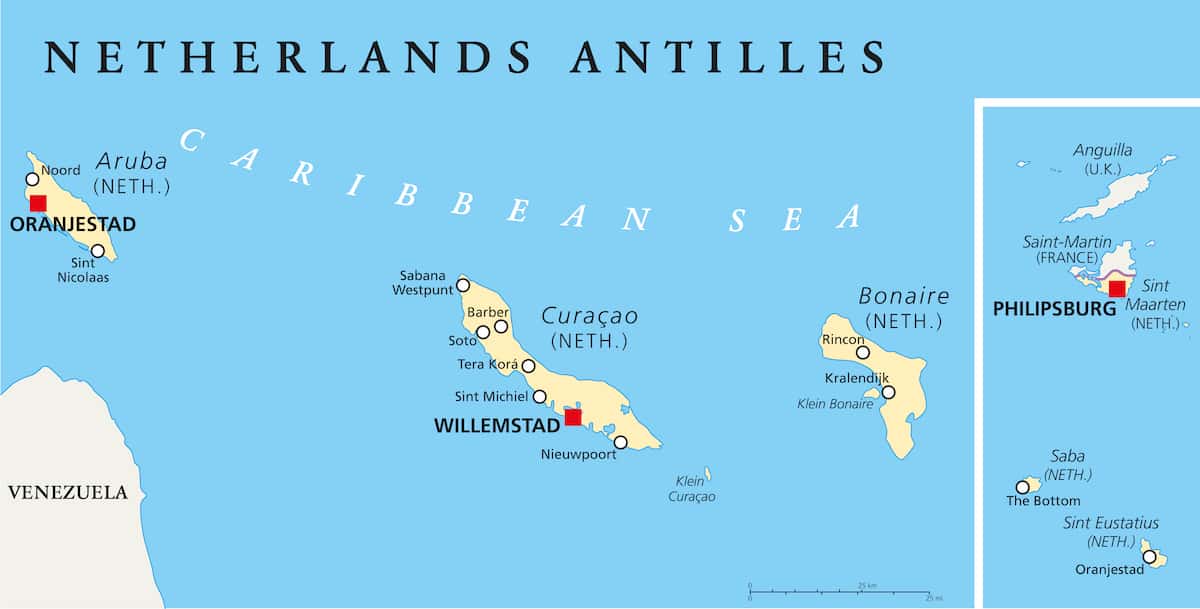 Official Bonaire Tourism Website: Learn more about Bonaire at www.tourismbonaire.com
Hotels and Resorts in Bonaire: Check out our complete guide to the 10 Best Places to Stay in Bonaire
La Cantina Bonaire: While not set on a beach, this restaurant and brewery has a wide variety of beers on tap and in bottles. Be sure to try their refreshing house beer, Bonaire Blond, crafted with local aloe vera flowers.
Sugar Thief Brewery: This new micro-brewery produces small-batch craft beer, sodas, meads and other creative drinks onsite in Bonaire. Visit the Sugar Thief taproom (Kaya Inglatera 8, Kralendijk) to sample their latest batch.
Save to Pinterest!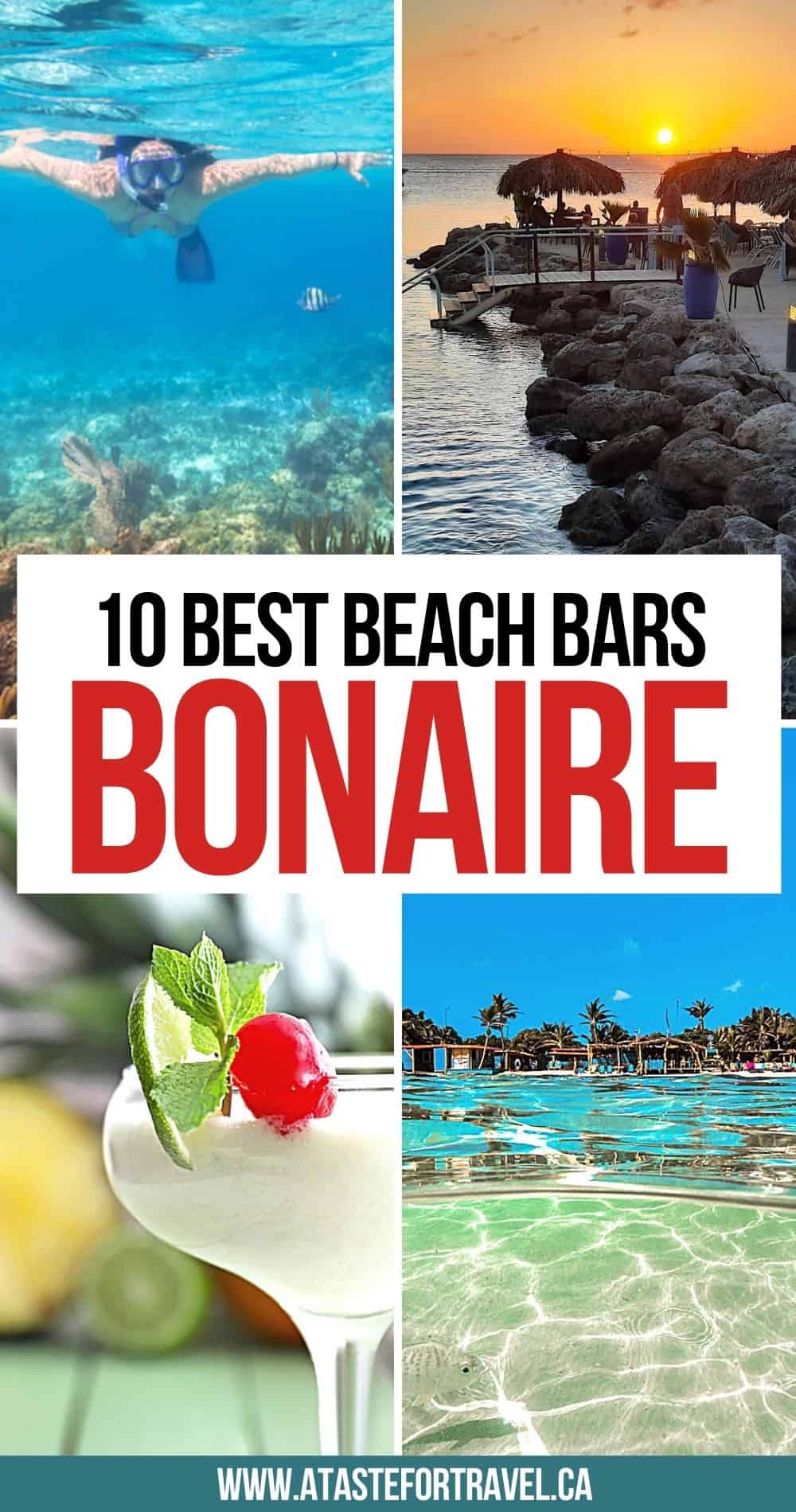 Contributing Editor Sue Campbell is an award-winning Canadian travel writer specializing in the Caribbean and tropical hot spots. She's authored major guidebooks and magazine articles for Fodor's (Aruba, Bonaire), Reader's Digest, USA Today 10Best, Forbes, Montreal Gazette, Globe & Mail, Delta Sky and many more. Follow her journeys on Instagram and Twitter @Suectravel
Learn more about Sue Campbell.