We may earn income from links in this post. Please read this Disclosure for details.
Okay. You made the smart decision to put this eco-pristine little Dutch Caribbean island with perfect year-round weather on your bucket list.
Now you need to discover the best villas, boutique hotels, luxury resorts, apartments and all-inclusive resorts in Bonaire!
There are lots of place to stay on Bonaire to choose from. Although you might've heard that Bonaire is a diver's paradise catering almost exclusively to those who spend most of their time underwater, that's no longer true.
In the past few years, this island has seriously expanded its accommodation offerings to all types of travellers!
You can choose from private villas, family-friendly all-inclusive resorts, health and wellness getaways, dive resorts and romantic boutique hotels.
There are also many beautiful B&Bs, 5-star resorts and even a Courtyard by Marriott Bonaire Dive Resort near the airport.
During my two decades of writing about things to do in Bonaire for magazines like Bonaire Nights and Fodor's guidebooks, I've stayed in an eclectic range of places from secluded hideaways to hotels on the beach where you can enjoy the Caribbean Sea and marine life.
These are my choices for the best accommodation on this awesome atoll. I'm sure you'll find one to suit your individual holiday style and budget!
1. Delfins Beach Resort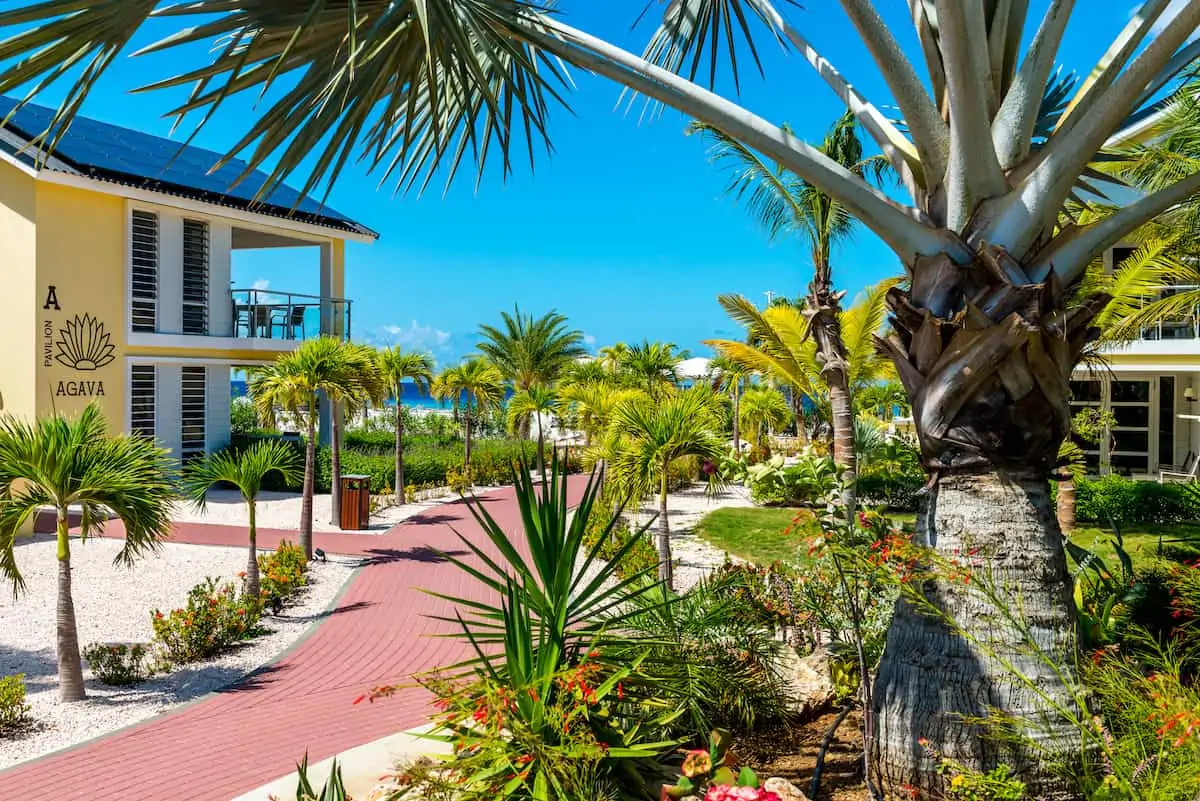 A newcomer to the Bonaire hospitality scene, Delfins Beach Resort has really raised the bar on the full-service accommodation front.
Set up on its own manmade beach with easy access for swimming plus with a five-star dive school, a magna pool swimming oasis, a children's pool, and a fun and funky beach bar fringed by palm trees, it checks all the boxes.
Choose from a selection of stylishly appointed and spacious apartments with kitchens, or rent (or buy) one of their new high-end villas.
But the pièce de résistance here is Brass Boer restaurant. This stunning indoor-outdoor onsite restaurant on the sea features avant-garde creative cuisine curated by famous Chef Jonnie Boer, owner of Michelin 3-star Restaurant De Librije in the Netherlands.
Insider's Tip: "Delfins" is the Dutch word for dolphins, and these happy, smiling mammals often frolic right offshore there.
Check prices and availability at Delfins Resort & Villas on Booking.com.
2. Divi Flamingo Beach Resort & Casino
Divi Flamingo's colourful collection of accommodations is a true pioneer of Bonaire dive tourism. In fact, it was built around the island's very first hotel established in 1959.
Today, the Divi community of 129 rooms and suites has been spectacularly refurbished including adding kitchenettes to their studios.
Offering all-inclusive stays or à la carte options, it's an ideal resort for families, groups and divers. It's also steps away from all that downtown Kralendijk has to offer.
Their Calabashi house reef right out-front offers easy access to superb snorkeling, and their PADI 5-star Dive Center Divi Dive is first-rate for scuba diving. Two pools, a spa, a small casino, hot tub, free wifi and fitness centre add to the amenities,. The vibe is laid-back, and so Bonaire.
🌟 Insider's Tip: Part of the Divi Resorts Caribbean family on Aruba, Barbados, Bonaire, St. Maarten and St. Croix, the food and beverage offerings at their onsite restaurants follow the "pure" brand theme to reflect the fresh, unique spirit of each home island.
Check prices and availability at Divi Flamingo Beach Resort & Casino on Booking.com.
3. Harbour Village Beach Club – A 5-star Luxury Resort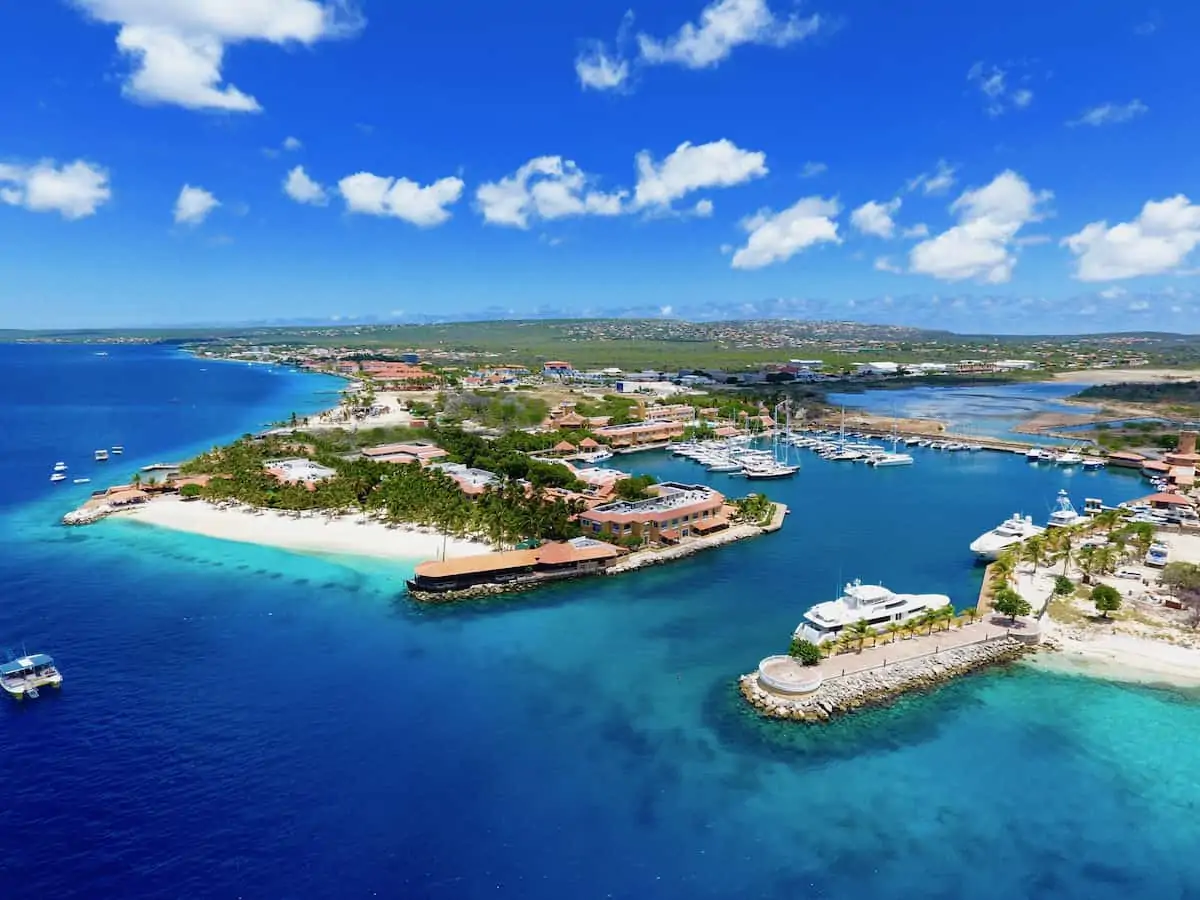 Harbour Village Bonaire, the island's first true luxury resort sits on its own peninsula flanked by a glorious private beach, lush tropical gardens and crystal clear water plus a 60-slip marina and a mega-yacht dock.
A member of Small Luxury Hotels of the World, it has become a favourite for yachties and discerning travelers seeking a more upscale Bonaire experience with spacious accomodations and a wealth of high end amenities. It's one of the best Bonaire resorts.
Harbour Village Beach Club offers an elegant selection of tastefully appointed rooms and suites with indulgent amenities. The private villas with full kitchens are ideal for large families or small groups.
The club also boasts freshwater swimming pools, a spa and fitness center, a water sports hub, and their own PADI 5-star dive operation.
Seaside La Balandra is their onsite restaurant specializing in fresh seafood.
🌟 Insider's Tip: All guests are offered complimentary personal snorkelling and diving concierge services to the best dive sites.
Check prices and availability at Harbour Village Beach Club on Booking.com.
4. Plaza Beach & Dive Resort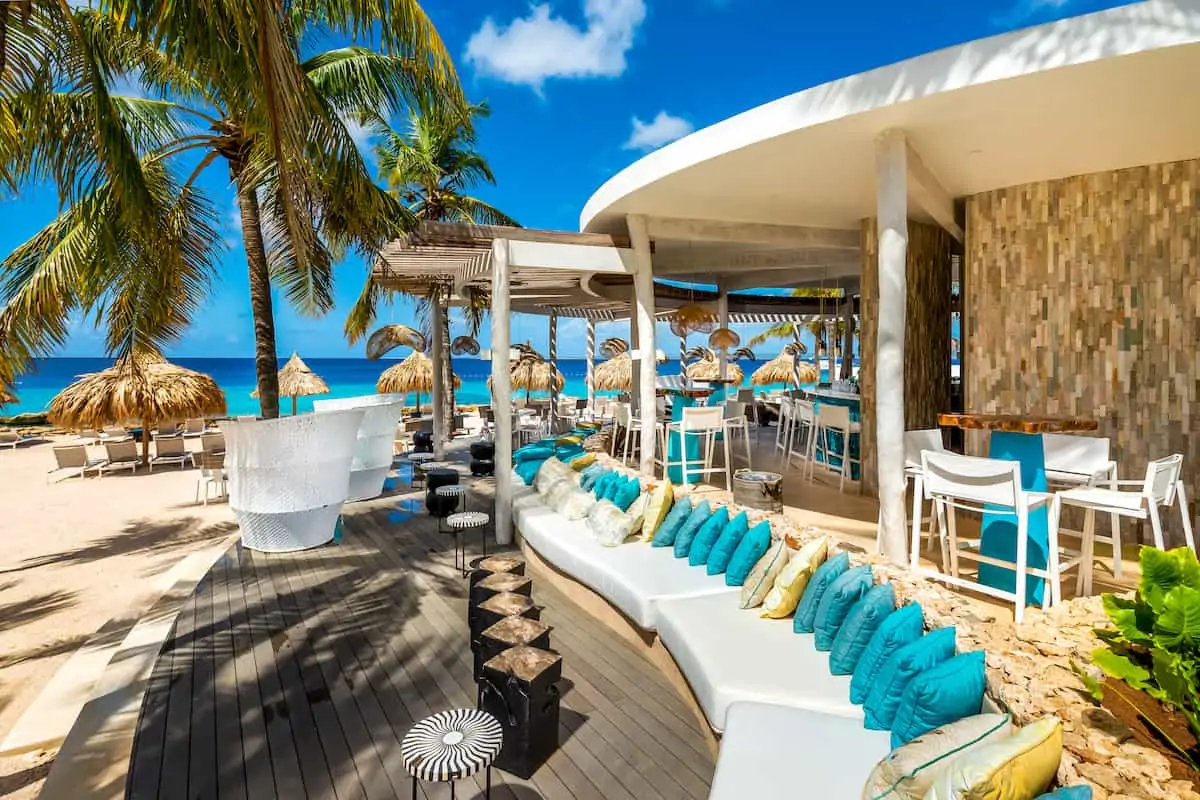 What began as a laid-back base for dive visitors 25 years ago has now evolved into Bonaire's largest all-inclusive resort. And it's still growing.
Recent property upgrades to this luxury 4-star hotel include a cosmopolitan beach bar and a sprawling Manga mineral pool oasis with a distinctly South Beach vibe.
A new wing that's under construction at Plaza Beach & Dive Resort will include a new casino, new dining, a fitness centre, wellness centre, conference facilities, and a shopping zone.
People will even be able to watch scuba divers in training in the new "peek-a-boo" pool with glassed-in walls.
Plaza Beach & Dive Resort is known for its ultra-spacious guest rooms and suites. They also have a shallow house reef with easy access just steps from a broad beach. Their dive school is top-notch, too.
🌟 Insider's Tip: Non-guests can purchase day passes to enjoy their pool and beach area:
Check prices and availability at Van der Valk Plaza Beach & Dive Resort on Booking.com.
5. Buddy Dive Resort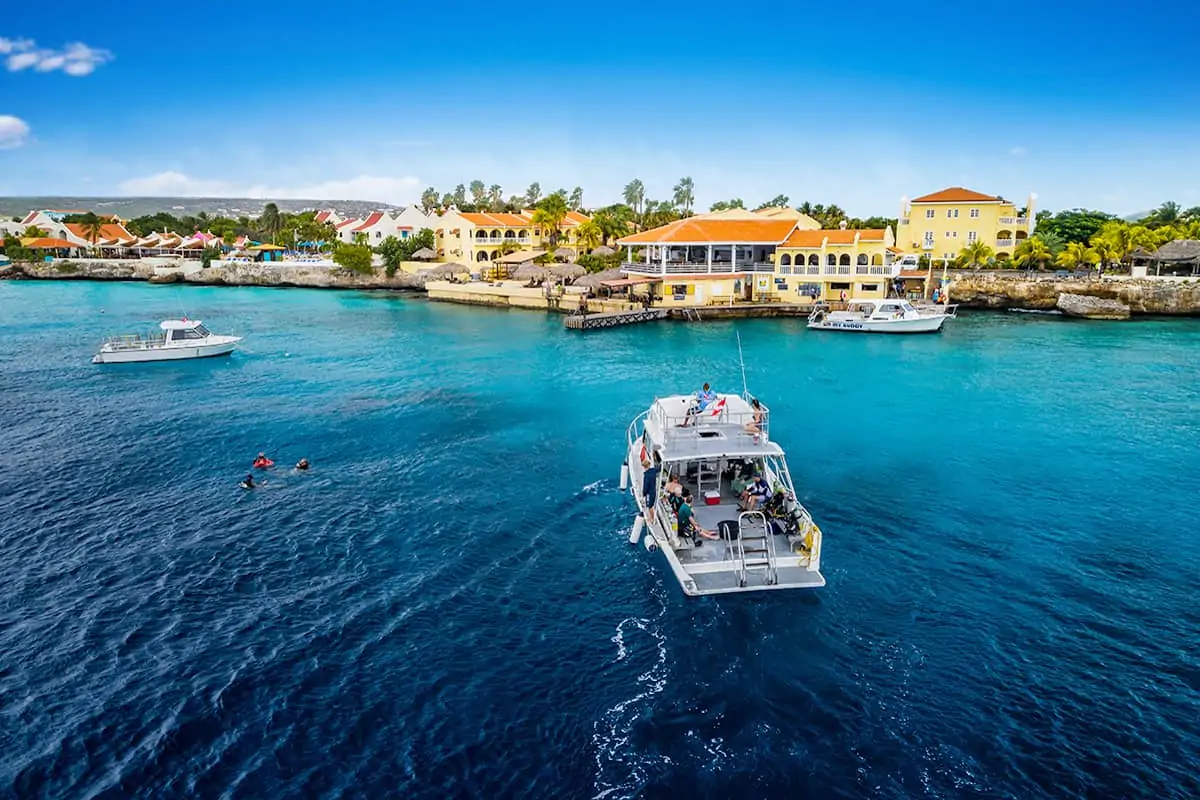 Celebrating its 40th anniversary in 2020, Buddy Dive Resort is one of Bonaire's first resorts dedicated to serious scuba diving. Today, they're still one of Bonaire's best dive resorts.
They boast the largest technical diving facility in the Caribbean which includes a PADI 5-star Career Development Center.
The original hotel was built around their now-famous house reef, and they were the first resort to offer a drive-through tank fill station.
Though still dedicated to diving, they've expanded their appeal to non-divers. Seaside gourmet restaurant "Ingridiënts" now offers a more upscale, romantic alternative to their rollicking restaurant bar and grill with live music.
And a manmade beach with daybeds draws sun worshippers. Spacious accommodations range from 1 to 3-bedroom apartments.
🌟 Insider's Tip: This is the only resort to offer underwater photography classes.
Check prices and availability at Buddy Dive Resort on Booking.com.
6. SunRentals Bonaire Villas
One might be surprised at the eclectic range of swanky and boutique villa stays on Bonaire.
And more surprised at how affordable these luxury stand-alone style accommodations can be!
SunRentals Bonaire has many awesome options ranging contemporary two-bedroom escapes to sprawling six-bedroom multi-story mansion abodes.
They all have either a private pool or their own pier to the Caribbean Sea, and all have comprehensively equipped kitchens and state-of-the-art technology.
SunRentals also offers drive and dive packages.
They've teamed up with Bonaire Private Liveaboards to offer skippered yacht overnight stays of three to seven days as part of their private villa holidays.
🌟 Insider's Tip: Some of the villas sleep up to twelve people. Perfect for a girls getaway or large family trip!
7. Bonaire Oceanfront Apartments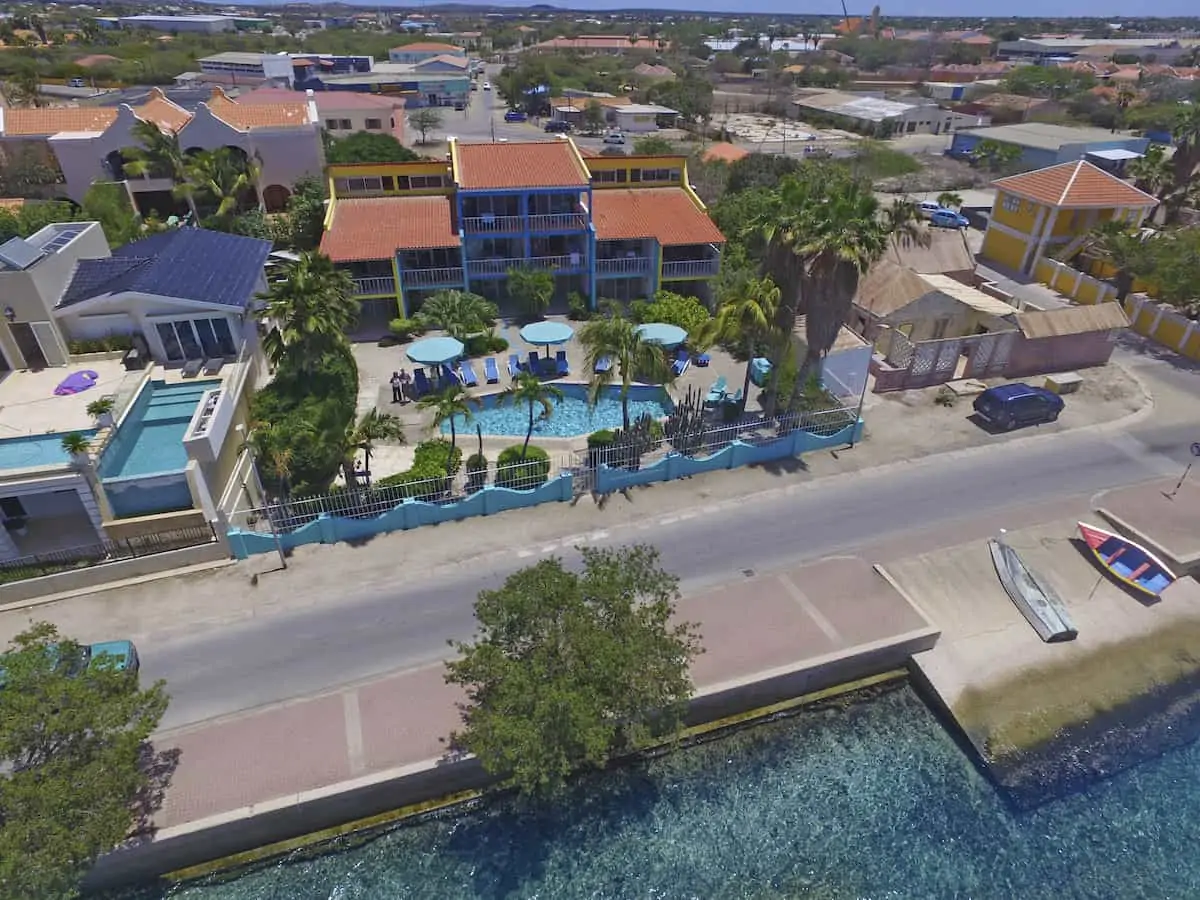 Don't let the name 'apartments' mislead you!
Although each of the 13 units are individually owned, this charming little candy-coloured complex is really a "petit resort".
Located right in downtown Kralendijk with a Magna pool steps from the sea, it's walking distance to everything you might need.
Choose from one or two-bedroom options and one penthouse, all with well-equipped kitchens and communal BBQs. (Fresh fish right off the boats available daily!)
Bonaire Oceanfront Apartments is the ultimate choice for visitors on a budget with its own on-site dive shop, economical car rentals, and complimentary airport transfers.
🌟 Insider's Tip: It's also steps from the water taxis to uninhabited Klein (little) Bonaire, for the island's best beach.
Check prices and availability at Bonaire Oceanfront Apartments on Booking.com.
8. Sorobon Beach Resort & Sorobon Boutique Hotel
The Sorobon sister resorts are the ideal choice for a health and wellness or windsurfing holiday.
Or a combination of both. Sorobon Beach Resort offers 30 charming cottage style abodes on their private white sand beach cresting Lac Bay.
Close by, Sorobon Boutique Hotel offers 10 spacious apartment style stays with a Magna mineral pool.
Guests at either can enjoy daily yoga sessions, discounts at Sorobon Wellness Centre and free day beds at the lively Sorobon Beach Club. (Also open to the public.)
On site Dunkerbeck Pro Center is also part of the Sorobon family offering equipment rental and lessons for windsurfing, kiteboarding and now, the cool new watersport called "wind foiling."
Both resorts offer wellness and windsurfing packages.
🌟 Insider's Tip: The conditions at Lac Bay are among the best in the world for learning to windsurf. In fact, Bonaire has produced many world champion windsurfers who have trained there.
9. Kas ChuChubi – Adults-only B&B
Opened in 2019, this well-kept secret, adult-only luxury B&B hideaway is an ideal cocoon for couples or honeymooners on a budget.
Three spacious modern double rooms, or one well-equipped studio apartment offer the perfect base for island exploration.
Breakfast is included, and Kas ChuChubi is walking distance to downtown Kralendijk for supplies and other meals. Maintained with a passion for hospitality by owners Philip and Mariëlle Diphoorn, to date, it's the island's sole adult-only lodging.
For a sneak peek, take a Virtual Tour of Kas ChuChubi.
🌟 Insider's Tip: "Chuchubi" is the local name for Bonaire's cheery tropical mockingbirds.
Check prices and availability at Kas ChuChubi on Booking.com.
10. Captain Don's Habitat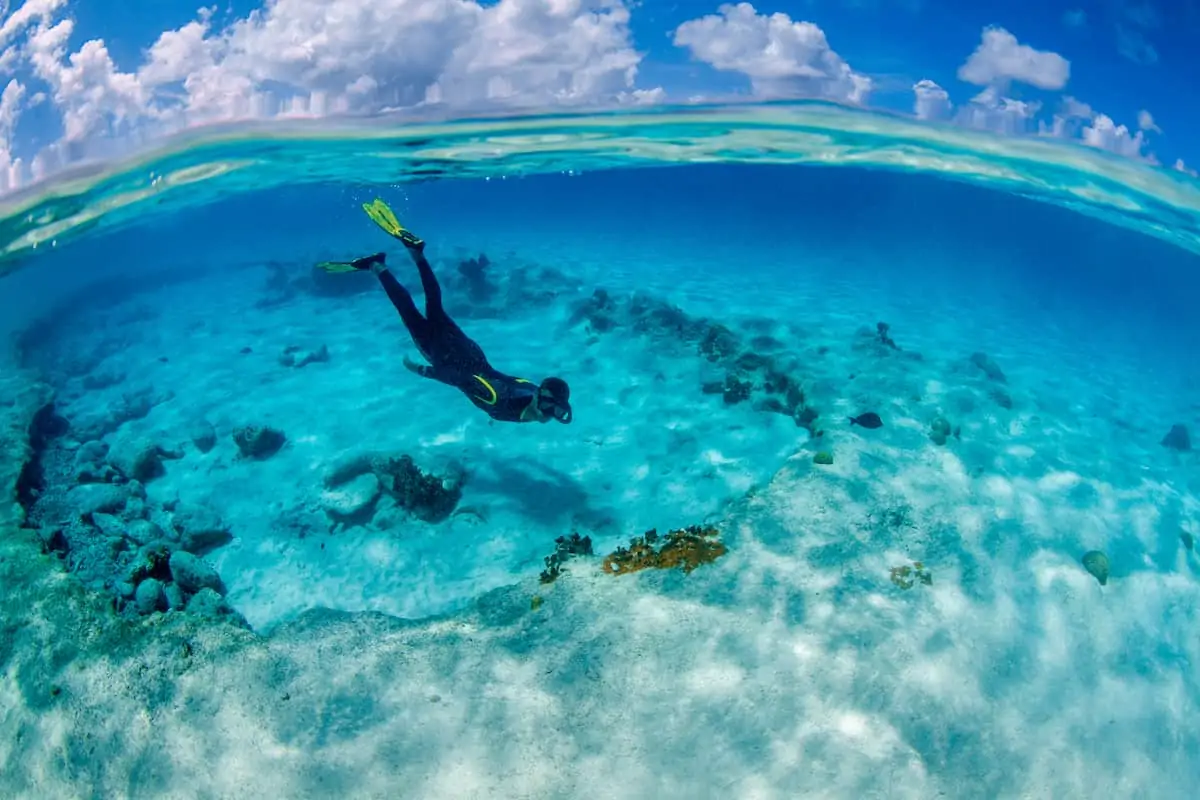 Ever iconic Captain Don's Habitat, established by the late Don Stewart, Bonaire's pioneer of dive tourism and environmental protection, is redefining their accommodation experience to embrace non-diving visitors.
Founded in 1976, this was Bonaire's first dive resort and was designed to have as little impact on the natural environment–on land and sea–as possible.
Definitely one of the most legendary hotels in Bonaire, the cheery little collection of beach house style apartments has hosted millions of divers over the years.
And their Rum Runners seaside bar and restaurant has been the main hub of island scuttlebutt and dive stories for decades.
Now they are expanding with more modern, upscale wings that will add 42 new rooms to their offerings. A new pool and new dining options will also appeal to today's more discerning leisure traveler.
🌟 Insider's Tip: Read The Adventures of Captain Don before or during your visit to truly understand the birth of Bonaire as a tourist destination:
Check prices and availability at Captain Don's Habitat on Booking.com.
Tips on the Best Hotels, Apartments and Resorts in Bonaire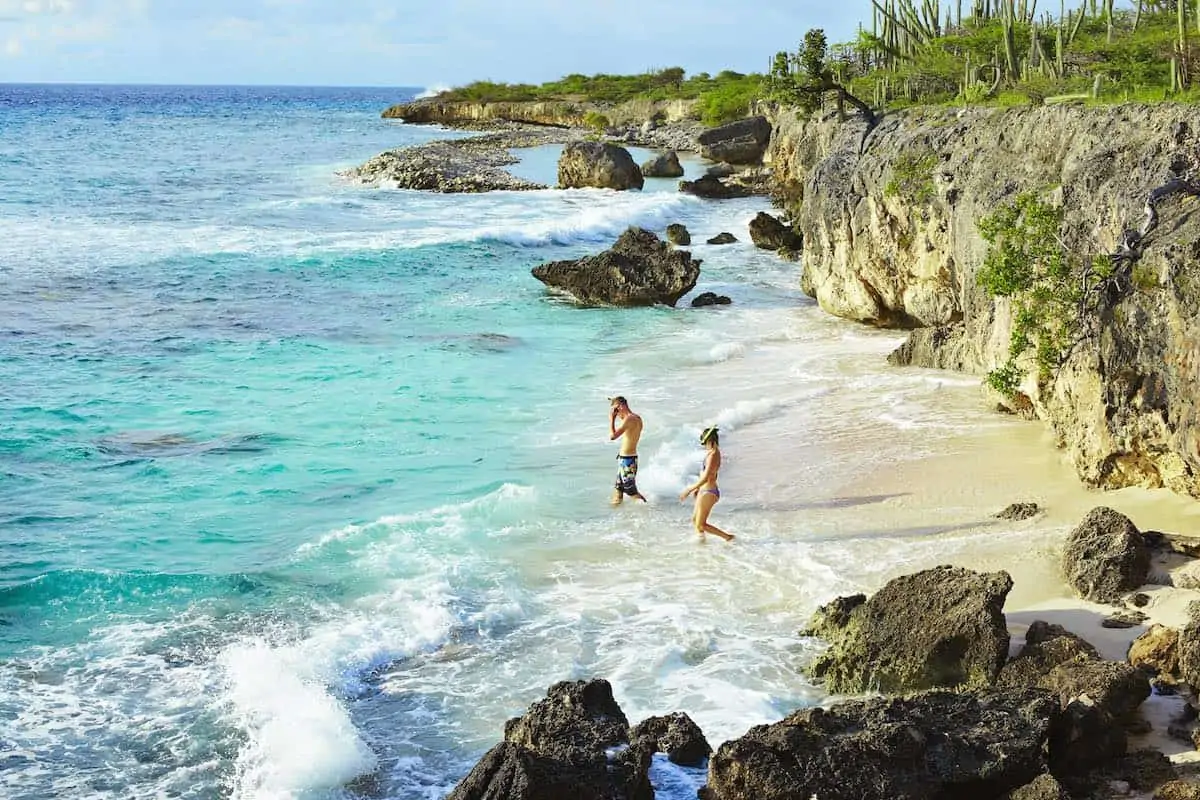 For current information, visit the Official Tourism Bonaire website.
Check out our post on Things to do in Bonaire if you're interested in visiting the Donkey Sanctuary, Washington Slagbaai National Park or Bachelor's Beach.
On Bonaire, most places are a short drive away. It's easy to rent a car and go exploring.
Check for the best car rental rates at Discovercars.com
Eco-friendly Sunscreen: Get information on how to choose the best sunscreen and protect Bonaire's pristine reefs on Dive Friends Bonaire.
Interested in more accommodation options in the Dutch Caribbean? Check out our resort and hotel guides to Aruba and Curaçao:
12 Best All-Inclusive Resorts in Curaçao
Dreamy Boutique Hotels in Aruba
FAQs
How long should you stay in Bonaire?
While some people visit Bonaire for just three days, we recommend that you stay a minimum or five days. This will allow you to do some shore diving and snorkeling, explore the galleries, shops and bars in Kralendijk its capital, and experience other unique attractions such as Klein island, pink lakes, Washington-Slagbaai National Park and more.
What is Bonaire well known for?
Bonaire is well known as one of the world's best shore diving destinations, for its exceptional wind-surfing conditions and for its protected Bonaire National Marine Park.
More Caribbean Travel Ideas You'll Love
Save to Pinterest!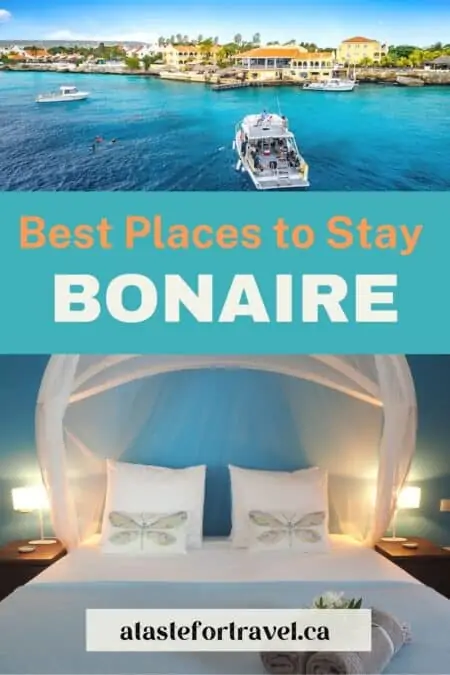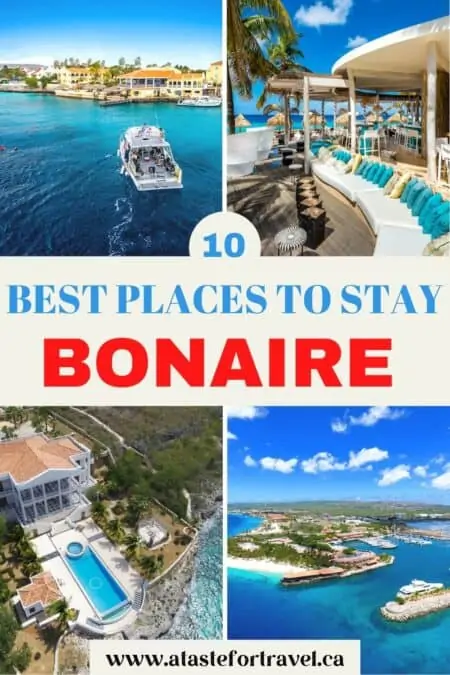 Sue Campbell is an award-winning Canadian travel writer specializing in the Caribbean and other tropical hot spots.
She's authored major guidebooks for Fodor's (Aruba, Bonaire, Curaçao, Saba) and countless magazine articles about the Dutch Caribbean for their on-island guides and websites.
Her work has appeared in Reader's Digest, USA Today 10Best, Forbes, Montreal Gazette, Globe & Mail, Toronto Star, National Geographic, Afar, Business Insider, Journey, Matador, Delta Sky Magazine, Costco Travel and many more. Follow her journeys on social here.
Learn more about Sue Campbell.