We may earn income from affiliate advertising links in this post. Please read our Disclosure Statement for details.
Wondering where to stay in Grenada? Although it's possible to splurge on an ultra luxury hotel on the beach, it's also possible to find a perfect resort or apartment in Grenada even if you're on a budget.
I'm admittedly a bit obsessed with the island of Grenada. With its mountainous interior dotted with waterfalls, bounty of delicious ingredients and turquoise blue waters, this three-island state tucked in the southern Windward Islands is perfect for people who love food, beaches and Caribbean culture.
Although I was tempted to drop everything and move to Grenada after just one visit, spending time on this fascinating island writing for magazines like Hola Latinos, Virgin Atlantic, the Globe and Mail has been the next best thing.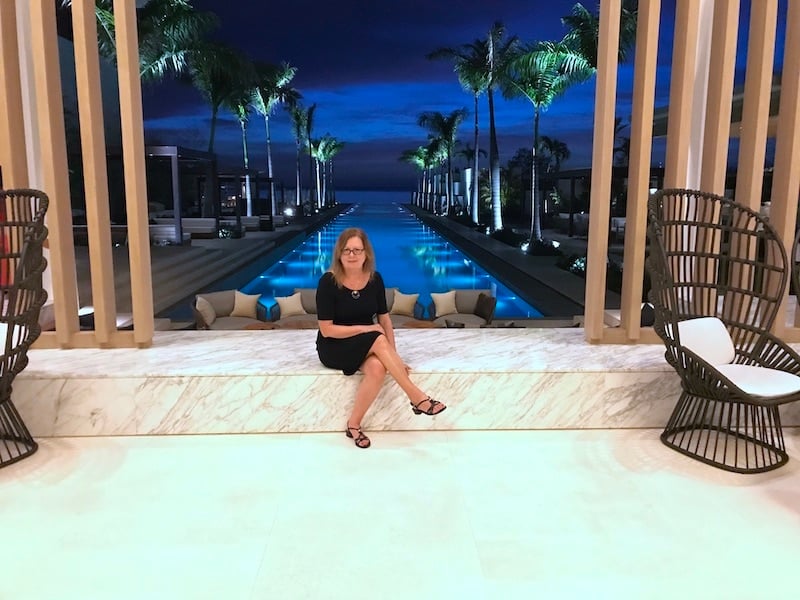 I've personally stayed in and completed site inspections at dozens of hotels, all-inclusive resorts, apartments and other places to stay in Grenada. And it's become my favourite island for my own Caribbean vacation.
So, whether you're looking for a cheap hotel or a splash-out luxury splurge in Grenada, these hotels are my top choices for a family vacation, solo trip, girls getaway or romantic couples holiday, honeymoon or destination wedding.
I've grouped the accommodations by cost so you can easily find a hotel in Grenada to suit your budget.
1. Silversands Grenada – Best Luxury Hotel on Grand Anse Beach
Highlights of Silversands Grenada:
Contemporary architecture and brand new construction
Location is close to Grenada's historic capital city of St. George's and offers easy access for tours to Grenada's rum distilleries, hiking to Grand Etang Lake or other points of interest.
Locally-sourced ingredients and fine dining make dining here a treat.
Far from cruise ship crowds.
Perfect for people who love long beach walks.
Drawbacks:
The beautiful ribbon of a swimming pool is very shallow so it's not the best place if you plan on doing cannonballs.
Although Grand Anse Beach does not have a sargassum seaweed problem, there can sometimes be an accumulation of naturally-occurring seaweed at the edges of the bay.
I recommend this Luxury Hotel For: Couples, Girls Getaways, Solo, Honeymoon and Foodies
Get your camera ready for when you arrive at Silversands Grenada. It's one of the most beautiful resorts I've ever stayed at. You'll definitely want a photo at check-in. Situated on beautiful stretch of Grand Anse beach in St. George's, it offers plenty of wow-factor. The 5-star experience begins in the lobby where a shimmering ribbon of a swimming pool – the longest in the Caribbean – leads to the turquoise waters.
This contemporary design offers a Nikki Beach club meets zen vibe. The design was created by Reda Amalou and Stéphanie Ledoux of the award-winning French international design firm AW² known for their innovative projects in Asia.
Although minimalist in design there's a sense of laid-back harmony in the property's gardens, courtyards and reflection pools.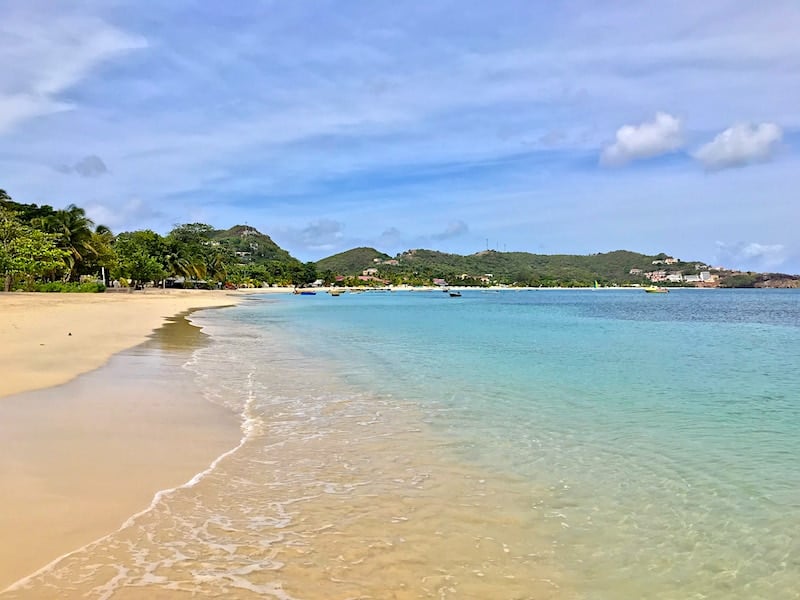 Among the suite collection are 16 garden view suites, 16 ocean view suites, seven penthouse level suites, three ocean view one-bedroom suites and a penthouse. The penthouse level suites feature breathtaking views from floor-to-ceiling windows and from the king-size platform bed decked out with a marble headboard and remote-controlled canopy.
One of the highlights of a stay at Silversands is its inspired cuisine. Helmed by Chef Jean-Louis Brocardi, Silversands two main restaurants include open-air Grenadian Grill and upscale Asiatique, featuring Asian-inspired dishes with a focus on Thai flavours.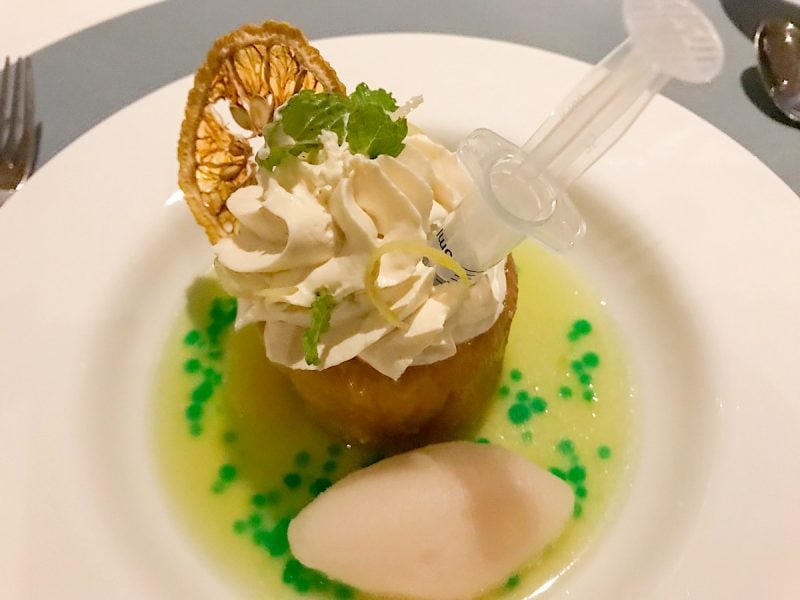 Most ingredients are sourced through a partnership with GRENROP (Grenada Network of Rural Women Producers) which means the farm-fresh, organic and sustainably sourced flavours of Grenada shine.
Continuing the local ingredient theme at the spa is a hydrotherapy circuit (complete with ice cave, sauna and experiential shower) and restorative treatments such as facials, wraps and couples massages feature Grenadian spices and botanicals.
The posh spa and photo-ops at Silversands Grenada makes it worth considering if you're planning a girls getaway in the Caribbean.
Check Prices and Availability for Silversands Grenada on Booking.com here.
2. Calabash Boutique Hotel & Spa – Best Luxury Hotel on L'anse Aux Epines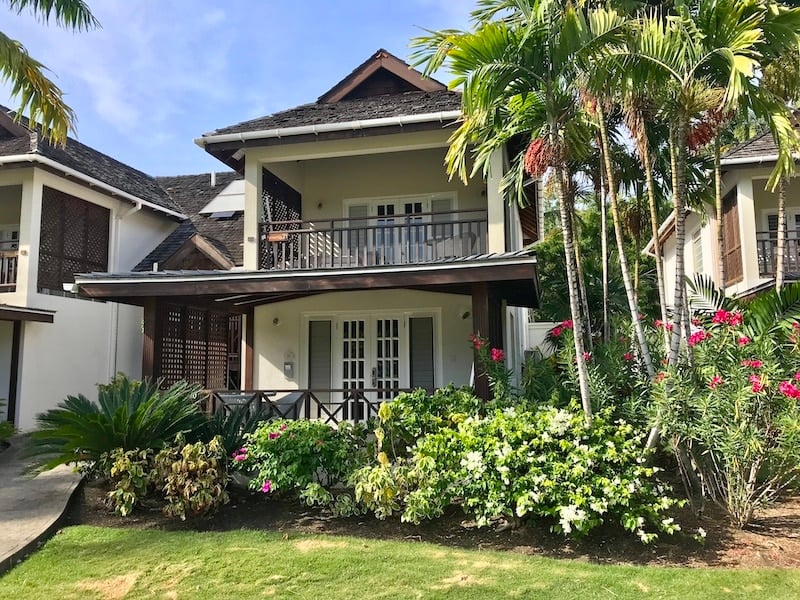 Highlights of Calabash Boutique Hotel & Spa in Grenada:
Calabash is Green Globe certified and is committed to sustainable tourism practices.
L'anse Aux Epines (Prickly Bay) is secluded and away from cruise ship crowds.
Sailing, snorkelling and other water sports are available onsite.
You can bliss out in a beach hammock or in the full-service spa.
Service is award-winning and exceptional.
The pretty swimming pool with in-water loungers offers panoramic views.
Breakfast, half-board and all-inclusive meal plans are available.
Drawbacks:
Although Calabash is close to the West Indies Beer Company and Beer Garden, the secluded location in Saint George Parish means you'll need to drive or take a taxi to dine at other restaurants in Grenada.
Crescent-shaped L'Anse aux Epines is a beautiful beach dotted by lofty palm trees but it isn't as long as Grand Anse beach.
Located at the most southerly tip of Grenada where although clean, the waters aren't as clear blue as they are on the western side of the island.
If you're travelling with children, between January 15 and March 15th, children must be over the age of 12.
It's far from St. George's so not as easy to arrange DIY tours of the historic center or other attractions.
Closed August to October (check website for details).
There's limited nightlife and it draws an older crowd.
I've stayed at the Calabash many times and have always been very impressed with the service and quality of this resort. There's literally nothing that's not working perfectly or a staff person who hasn't gone above and beyond to make sure my stay has been as enjoyable as possible. It's posh (but relaxed) and will satisfy even the most discerning traveller.
I'm not alone in being a fan. The Calabash Luxury Boutique Hotel & Spa was voted #1 Luxury Caribbean Resort of the Year by Trip Advisor for 2019 and The Caribbean Hotel and Tourism Association (CHTA) named owner Leo Garbutt 2020 Caribbean Hotelier of the Year – very well deserved!
Tucked amid the palms of secluded Prickly Bay and family owned since 1987, the resort recently completed multi-million dollar renovations of its Beach Club, lobby, spa and pool zone, vaulting into the elite Relais & Chateaux collection.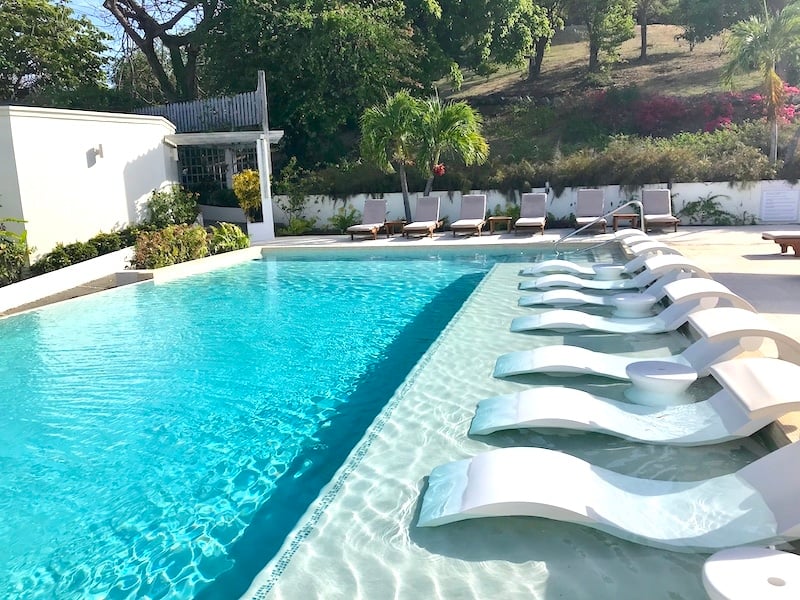 Highlights of a stay in one of the Calabash's hilltop estate villas or 30 suites include a contemporary decor, stocked mini bar and Elemis bath amenities. Guests who opt for a Pool Suite score an outdoor shower and soaking tub as well as the opportunity to dip their toes in a private plunge pool, enjoy the free-standing tub and bask beneath the stars. Located west of the property are four Estate Homes, with each villa featuring its own infinity pool, panoramic ocean views and five-star luxury for up to 10 people.
For things to do at Calabash there's swimming, yoga and playing croquet as well as several water sports. There are also excursions to the Underwater Sculpture Park, the world's first underwater sculpture museum, located in Molinere Beausejour Marine Protected Area.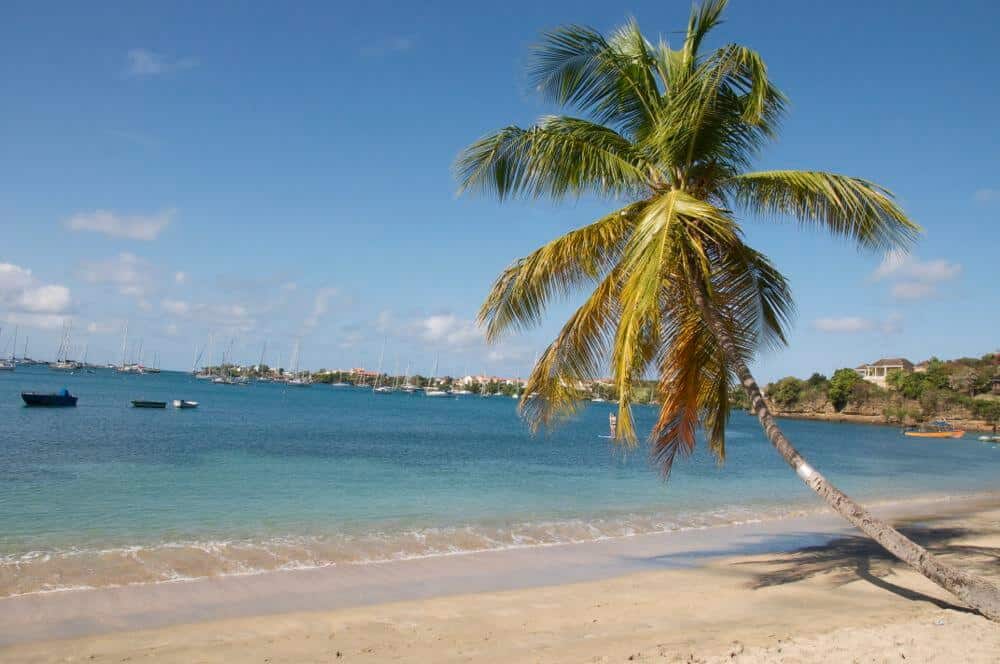 One of the most unique features of Calabash is the full English breakfast served on the terrace of your guest cottage (or on the beach) by your personal maid. Another highlight is the elegant afternoon tea served on linen-topped tables set on the open terrace of the Piano Bar where blue-crested hummingbirds flit beneath a canopy of tropical blooms. Rum punch cocktails and canapes are nice ways to wrap up a day in the sun.
When it comes to fine-dining, Calabash is also home to the acclaimed Rhodes restaurant, helmed by UK celebrity chef Gary Rhodes. The dinner menu showcases local ingredients in creative international and Grenadian dishes such as lambie (conch) with coconut salsa or creamy callaloo and goat cheese ravioli.
Check prices and availability for Calabash Hotel on Booking.com
3. All-Inclusive Sandals LaSource Grenada – Best Grenada All-Inclusive on Pink Gin Beach
Highlights of Sandals Grenada Resort & Spa:
Award-winning brand offers a consistent 5-star luxury experience.
Butch's fine dining streak house restaurant is considered among best on the island.
Picturesque and secluded location so no cruise ship crowds or vendors.
All-inclusive pricing helps with budget planning.
Lots of activities — tennis, bingo, beach volleyball – as well as live music for evening entertainment.
5 minutes from Maurice Bishop International Airport.
The Sandals Foundation is well respected for its commitment to the environment and the community
Drawbacks:
Pink Gin beach is quite small so although you can enjoy lots of water sports, there aren't any long stretches for beach walks.
Transportation in Grenada can be expensive so you'll likely spend most of your time on the property.
Island Routes is the only tour company allowed to pick people up at the resort for excursions.
Best for: Couples, Honeymoon, Adults-only
If you're a couple wondering where to stay on Grenada, Sandals Grenada should be at the top of your list. There are several categories of rooms to choose from including beachfront, oceanview, villas, suites with plunge pools and even penthouse suites with sky pools. For a couples romantic getaway it offers the most comprehensive all-inclusive options available in Grenada.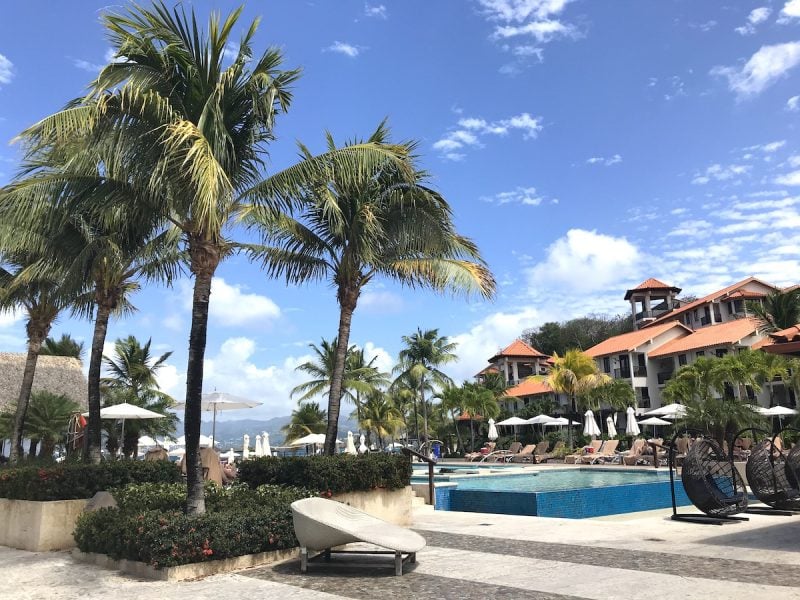 This all-inclusive luxury resort set on exclusive Pink Gin Beach features 10 dining options and four bars. Highlights among the dining options include the acclaimed Butch's Chophouse for steak and lobster lovers (make your dinner reservations in advance), wood-fired pizza at Dino's Pizzeria, fine-dining at Le Jardinier and the Cafe de Paris patisserie.
Note that there is an evening dress code, especially when dining in Le Jardinier so be sure to pack long pants, closed toe shoes and a shirt with a collar for men. Women should wear stylish resort evening wear such as a cocktail dress – no shorts.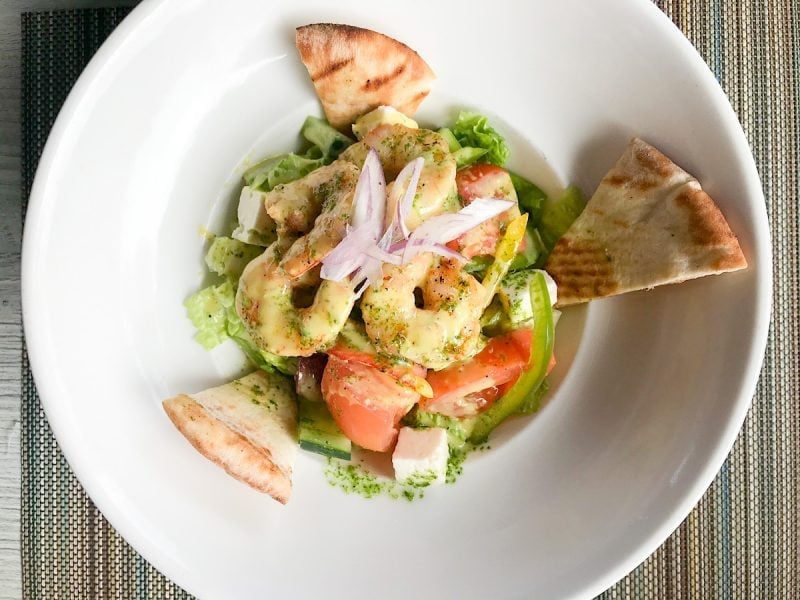 If you'd like to go exploring independently, it's $23 USD one-way to Grand Anse Beach from Sandals by taxi and $18 USD on the return. Things to do nearby include visiting Aquarium restaurant set on beautiful Magazine Beach and making a stop at the Memorial to Cuban Martyrs, a tribute to the 24 Cuban workers who lost their lives during the American invasion of Grenada in 1983.
Check prices and availability at Sandals LaSource Grenada All-Inclusive.
4. Mount Cinnamon – Best Luxury Hotel Near Morne Rouge and Grand Anse Beach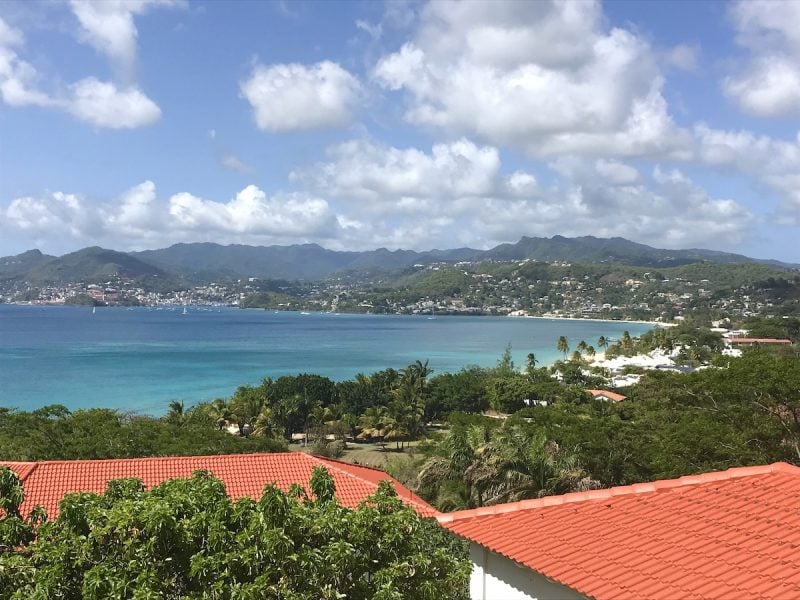 Highlights of Mount Cinnamon Resort & Beach Club:
Beautifully landscaped hilltop setting means fantastic mountain and ocean views.
Full kitchens in many suites.
Walking distance to both Morne Rouge and Grand Anse beaches so you can enjoy the best of both worlds.
Mount Cinnamon's Beach Club offers a laid-back Caribbean vibe away from the cruise ship crowds.
Both fine and casual dining are available onsite so you don't need to go out for dinner.
Drawbacks:
Swimming pool isn't very big.
Hilltop location offers fab views but your thighs will get a workout if you don't call for a golf cart when heading back to your suite from the beach.
It's not easy walking distance to public transportation to St. George's.
Best For: Families, Couples, Foodies.
Mount Cinnamon Resort & Beach Club in Grenada is an ideal setting for enjoying the extensive culinary and cultural experiences the Spice Island has to offer. The hotel plays host to a Culinary Adventure Week featuring celebrated UK pastry chef and chocolatier Will Torrent, and is a prime launching point for island tours, live cooking demonstrations, social events and tastings of local ingredients.
Mount Cinnamon's signature restaurant Savvy's features spectacular views and Caribbean dishes emphasizing local ingredients such as catch of the day, Grenadian chocolate and nutmeg ice-cream.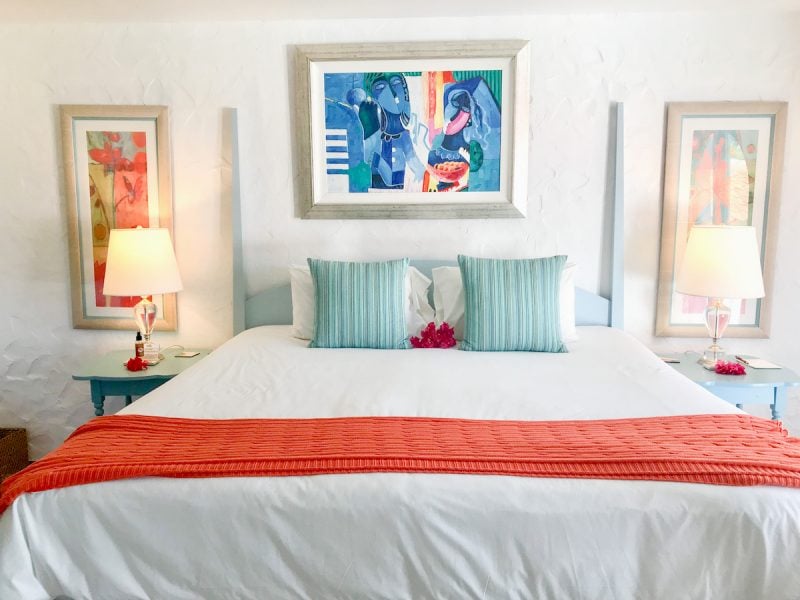 Set on a hilltop overlooking the white sands of Grand Anse beach, the decor is classic Caribbean in cheerful tropical colours. Terraces and patios within the suites and villas are perfectly positioned for enjoying breezy views of sky and sea.
It's a short walk from Mount Cinnamon's 37 luxury suites and villas to the resort's beach club on Grand Anse, one of the best beaches in Grenada. At the beach club you can relax in a lounger with umbrella as well as enjoy casual fare such as cod fish cakes, linguine with lobster and special events such as the weekly bonfire party with live music.
Check prices and availability for Mount Cinnamon Resort on Booking.com
5. Radisson Grenada Beach Resort – Best Mid-Range Hotel on Grand Anse Beach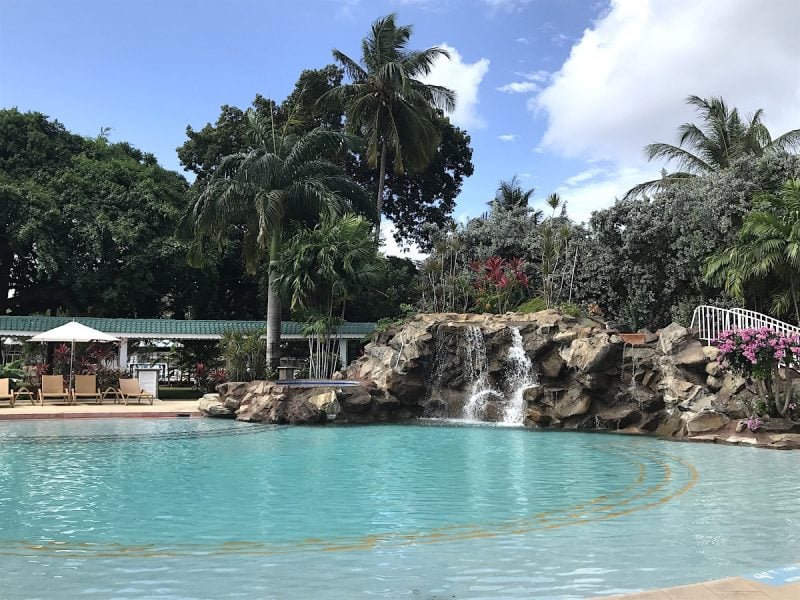 Highlights of the Radisson Grenada Beach Resort:
Beautiful, mature landscaping with a large, meandering swimming pool with waterfalls and a swim-up bar plus an oceanfront pool.
Prime location directly on the most swimmable section of Grand Anse Beach.
Easy access to the capital city of St. George's and several local restaurants.
Excellent room service for breakfast.
Coffee maker/kettle, mini-fridge in room.
Easy proximity to public transportation.
A PADI dive shop with water sports is onsite.
Food Fair grocery store is across the street so it's easy to pick up snacks and drinks.
Drawbacks:
Cruise ship passengers can crowd this stretch of Grand Anse Beach on cruise ship days.
Food is very pricey for the quality of many dishes.
Service is exceptionally slow at the restaurants but there are several restaurants (such as Cayenne) and beach bars within easy walking distance.
Wifi could be better.
Evening entertainment is rather old-fashioned – your best bet is to go to Umbrellas, a short walk down the beach.
Best for: Business people, Couples, Families.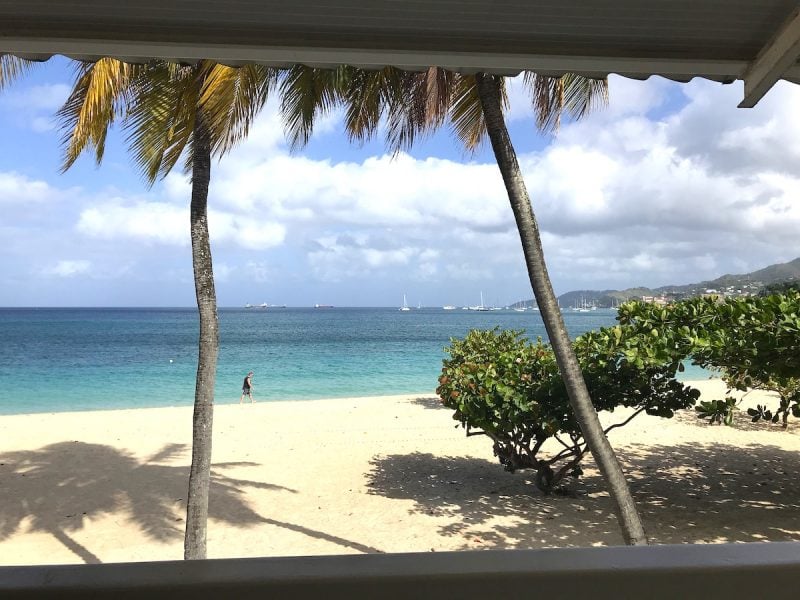 One of the best places to stay in Grenada and situated on an ideal stretch of Grand Anse beach, the Radisson Grenada is a low-rise property featuring vast gardens with mature landscaping, multiple swimming pools and a hot tub. Guest rooms feature terraces or balconies, a mini-fridge, coffee-makers, air conditioning, flat-screen TVs and WiFi.
If you're on a budget but still want a prime location on Grand Anse Beach you won't be disappointed with the Radisson. However, much depends on the room you get. We stayed in room 253 in the Anthurium wing and would highly recommend it.
Located oceanfront, this wing offers prime Caribbean views and is so close to the water you can hear waves lapping and watch the sunset from your own private balcony.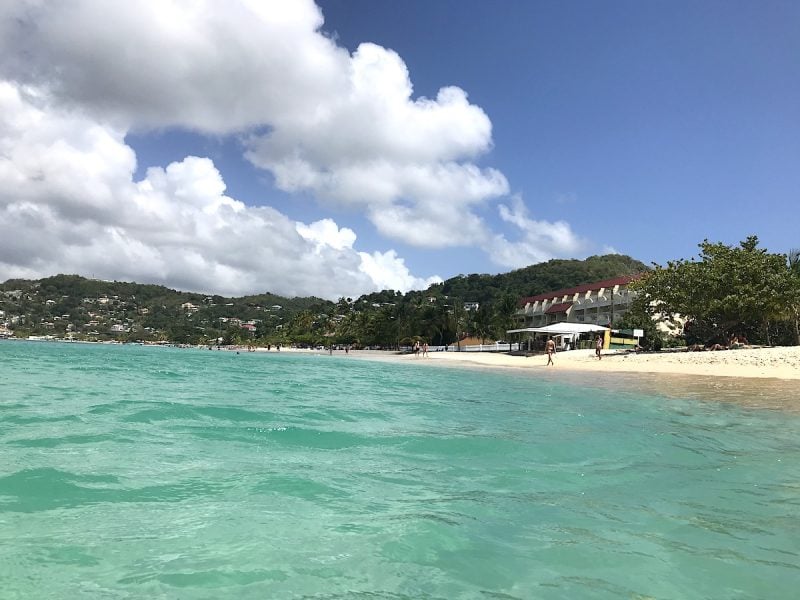 The Radisson Grenada will be rebranding to a Radisson Blu in December 2020 (the first in the Caribbean) so the guest rooms and common areas are being renovated.
When it comes to dining on-site, there is the Oasis Bar, Tradewinds (fine-dining), the Bamboo Lounge and the Sunset Restaurant/Lounge. For breakfast, room service is surprisingly fast. Within the restaurants, it takes a very long time to get food and when it does arrive, can be disappointing.
However, for many people (including me), the prime location and proximity to other dining venues make up for the shortcomings in the dining experience. The Radisson Grenada is a top choice for where to stay in Grenada on a room-only or room and breakfast plan.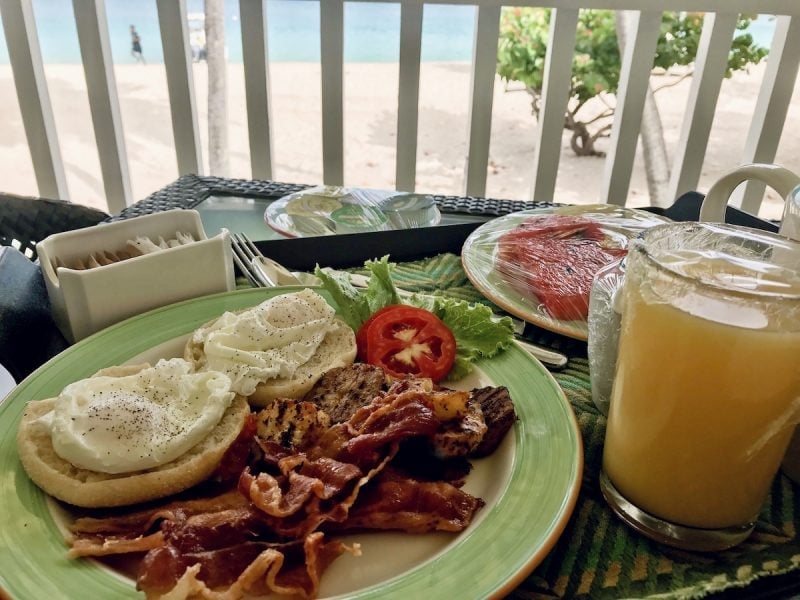 Although this stretch of Grand Anse beach can be busy with day trippers during cruise season, there are quite a few beach and pool lounge chairs. You don't usually have to worry about not finding a chair. There's also quite a bit of shade thanks to the mature almond trees, sea grape and coconut palms along the beach.
Check prices and availability for Radisson Grenada Beach Resort on Booking.com
6. Siesta Hotel – Best Budget Hotel on Grand Anse Beach and Morne Rouge Beach
Highlights of a Stay at Siesta Hotel:
Nice landscaping with a fairly large swimming pool with umbrellas and loungers.
Although set back from Grand Anse beach by a few blocks, Siesta Hotel is within a five minute walk from from Grand Anse and 15 minute walk to Morne Rouge (also known as BBC Beach) one of the best swimming beaches in Grenada.
Rooms include a microwave, a mini-fridge and kettle as well as a basic dishes and utensils so you can breakfast and snacks in your room.
Balconies on upper floors offer ocean views.
One and two-bedroom suites are available but book up quickly.
A car rental agency is onsite.
It's a five minute walk to Spiceland Mall home to an IGA supermarket with a hot table, which can help save money.
Marquis Mall is also nearby, offering dining options such as the Chadon Beni roti shop and a Bella Milano, an Italian cafe.
Excellent WiFi.
Drawbacks:
El Papillon, the onsite restaurant isn't open year-round, but when it's open it offers a reasonably-priced and highly-rated breakfast and brunch.
Dinner isn't available onsite so plan to go out to eat. Umbrellas Beach Bar is relatively close but given it can be very dark at night so be sure to take care when walking on the roads as there are no sidewalks.
You'll need to walk to the main road to catch public transportation.
It's a 3-star hotel so rooms are a bit dated.
Best for: Budget travellers, couples
The 3-star Siesta Hotel is very popular among long-stay travellers who book their favourite rooms several years in advance. So, although some of the most desirable rooms at the top of the low-rise buildings, you can often find a room at one of the lower floors.
Each of the rooms offer air-conditioning, bathrooms with showers and sliding patio doors to outdoor terraces or balconies. The rooms also come equipped with a microwave, a mini-fridge, a kettle and basic dishes and utensils.
I love a cup of coffee first-thing in the morning (and often travel with a portable French Press coffee maker) so at Siesta Hotel we were easily able to enjoy coffee on our balcony without needing to head to the restaurant.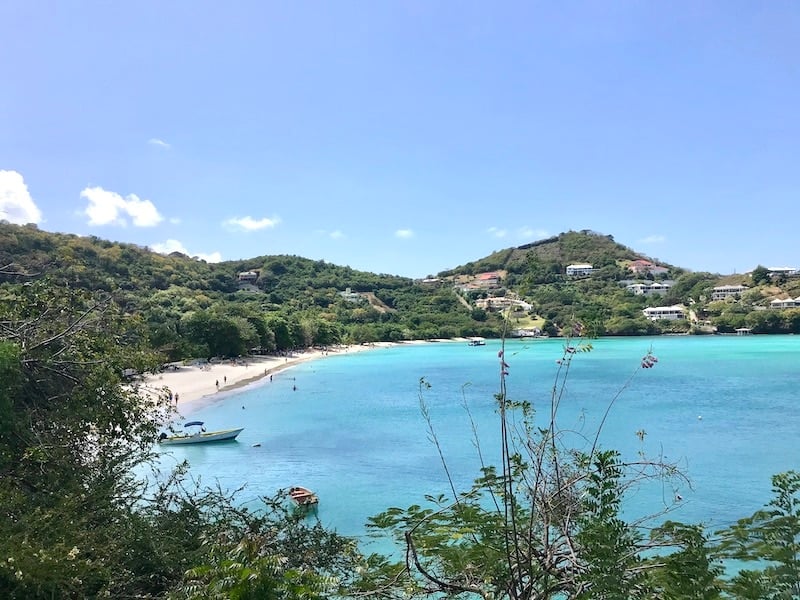 One of the advantages of Siesta Hotel is its location. Although not located directly on Grand Anse beach, it's an easy walk to the beach via several access points. Public access points are near Spice Island Beach Resort and Umbrellas Beach Bar restaurant.
Although the rooms are a bit dated, the service is good. Siesta Hotel also provides housekeeping daily, pool towels and helpful advice if you're new to the island.
A car rental agency is located onsite for those interested in exploring Grenada points of interest independently.
Check prices and availability for Siesta Hotel on Booking.com
7. Bougainvillea Apartments – Budget Apartments for Rent in Grenada Near Grand Anse Beach
Highlights of Bougainvillea Apartments:
Economical room rates are under $100 USD a night for a standard one-bedroom apartment.
Full kitchens make it possible to dine at home.
Steps to the Food Fair grocery store, public transportation, banks, a fruit market and excellent local restaurant Cayenne.
A 5 minute walk to Grand Anse Beach.
Self-serve laundry service is available.
Friendly staff and a lending library for guests.
Apartments have terraces and/or patios.
Discounts are available for long-stays if you book direct.
Wifi and Air Conditioning are available.
One and two bedroom apartments are available.
Drawbacks:
No swimming pool.
The economical rooms are clean but not luxurious.
There's a crosswalk through busy traffic to reach Grand Anse Beach but no sidewalk.
When it comes to budget apartments for rent in Grenada near Grand Anse Beach, Bougainvillea Apartments is at the top of my list. Although I didn't overnight there I did do a walk-through of several of the 21 apartments. They seemed very clean and well-maintained. I also walked past the apartments several times throughout the day and evening and it appears to be a quiet building.
When it comes to location, Bougainvillea Apartments also happens to be well situated. It's almost across the street from the Food Fair grocery store, pharmacy, shops and a block away from the Radisson Hotel. It's around a 7 minute walk to Grand Anse beach.
Check prices and availability for Bougainvillea Apartments on Booking.com
You Might Also Like:
Save to Pinterest!