We may earn income from links in this post. Please read this Disclosure for details.
Looking for cheap hotels in Grenada? Wondering if it's possible to find a budget hotel, resort or apartment that's safe, clean and near famous Grand Anse Beach?
You've come to the right place!
I've been travelling to Grenada (and its sister islands of Carriacou and Petite Martinique) for almost a decade and have written about its hotels, cuisine and attractions for Virgin Atlantic, the Globe and Mail, TravelAge West and many other publications.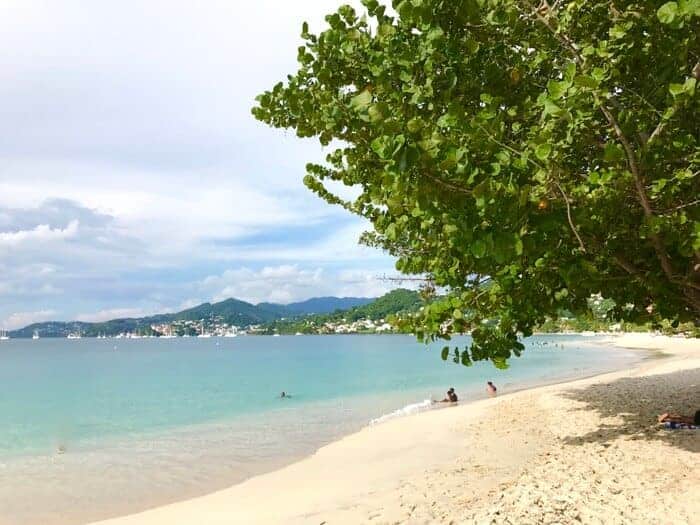 I admit I'm a bit obsessed with this beautiful island in the eastern Caribbean! In fact, I was tempted to drop everything and move to Grenada after just one visit!
Its unique mix of culture, admirable safety record and natural attractions makes it one of the very best Caribbean islands to visit.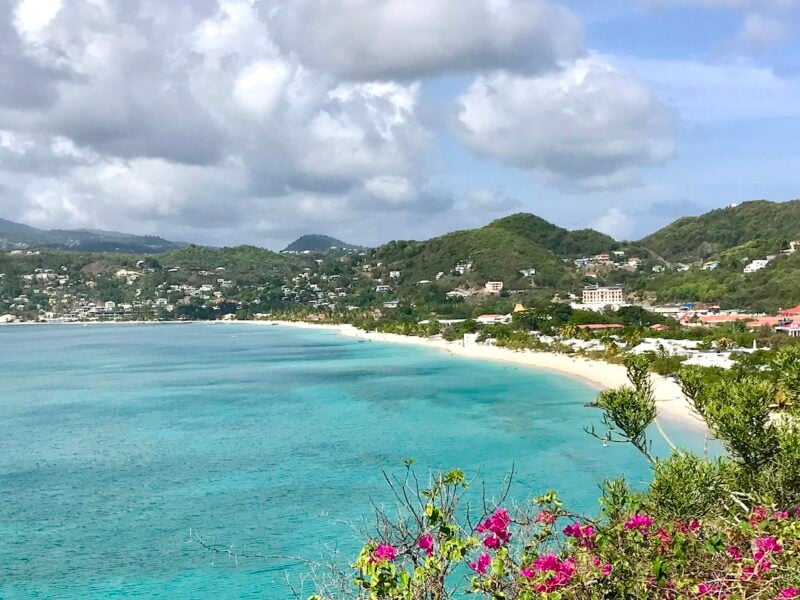 Note: Although global travel restrictions are in place due to the pandemic, this story is being published with future trips in mind.
However, while Grenada isn't as pricey as posh Caribbean islands such as St. Barth's, Anguilla or Turks & Caicos, a beach vacation here will cost more than in Mexico, Cuba or the Dominican Republic. But it's totally worth it, especially if you're savvy about where you stay.
Here are three budget accommodations in Grenada where you can soak up the beauty, culture and natural attractions of this spectacular Caribbean island without breaking the bank:
1. Siesta Hotel – Best Budget Hotel in Grenada (Grand Anse Beach)
Highlights of a Stay at Siesta Hotel:
Nice landscaping with a fairly large swimming pool with umbrellas and loungers.
Although not on the beach, Siesta Hotel is a five minute walk from Grand Anse and 15 minute walk to Morne Rouge (also known as BBC Beach) the two best beaches on Grenada.
Rooms include a microwave, a mini-fridge and kettle as well as a basic dishes and utensils. Enjoy breakfast and snacks in your room!
Balconies on upper floors offer ocean views.
One and two-bedroom suites are available but book up quickly.
A car rental agency is onsite.
It's a five minute walk to Spiceland Mall home to IGA supermarket, which can help save money.
Marquis Mall is nearby, offering dining options such as the Chadon Beni roti shop and Bella Milano Italian cafe.
Excellent WiFi.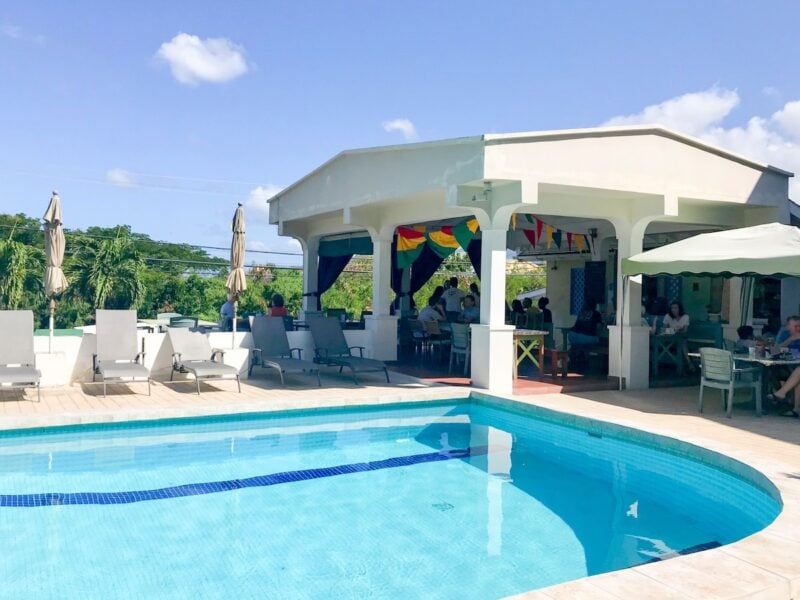 Drawbacks:
El Papillon, the onsite restaurant isn't open year-round. When it's open, it offers a reasonably-priced, excellent breakfast.
Dinner isn't available onsite. So plan to go out and sample some of the great local Grenadian food.
For entertainment, Umbrellas Beach Bar is relatively close. Be sure to take care when walking on the roads as there are no sidewalks.
You'll need to walk to the main road to catch public transportation. Taxis are expensive in Grenada.
It's a 3-star hotel so rooms are a bit dated.
Best for: Budget travellers, couples
The 3-star Siesta Hotel is very popular among long-stay travellers who book their favourite rooms years in advance. Although the most desirable rooms at the top of the low-rise buildings are often booked, you can often find a cheap room on a lower floor.
Rooms offer air-conditioning, bathrooms with showers and sliding patio doors to outdoor terraces or balconies. The rooms also come equipped with microwave, mini-fridge, kettle, basic dishes and utensils.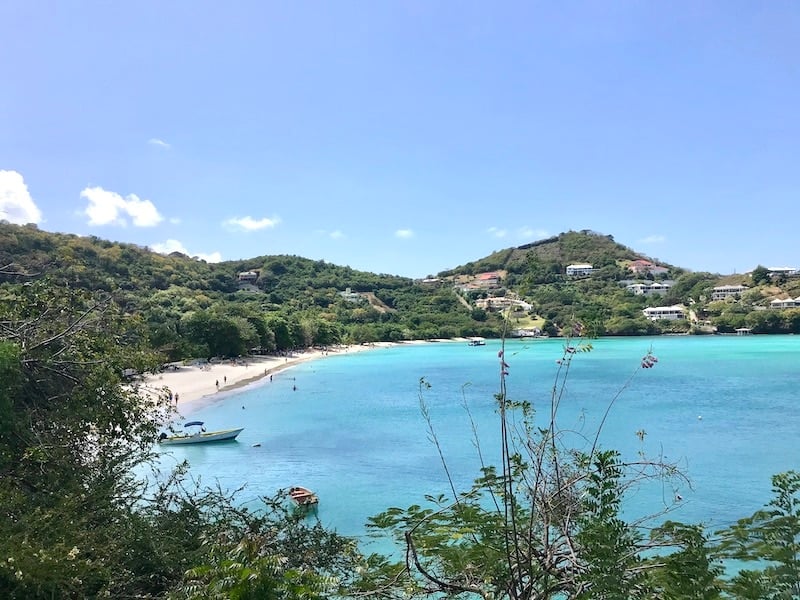 One of the advantages of Siesta Hotel is its location. Although not located directly on Grand Anse beach, it's an easy walk via public access points near Spice Island Beach Resort.
Although many Caribbean beaches get hit by waves of smelly sargasso seaweed during seaweed season, Grand Anse and BBC beach are two of the Best Beaches Wiin the Caribbean Without Seaweed.
Although the rooms are a bit dated, they are clean. Siesta Hotel provides housekeeping daily, pool towels and a front desk.
There's a car rental agency onsite if you're interested in exploring Grenada points of interest like the Underwater Sculpture Park , historic St. George or Concord Waterfall.
Check prices and availability for Siesta Hotel on Booking.com
2. Bougainvillea Apartments – A Nice Cheap Hotel Near Grand Anse Beach
Highlights of Bougainvillea Apartments:
Economical room rates are under $100 USD a night for a standard one-bedroom apartment.
Full kitchens make it possible to dine at home.
Steps to the Food Fair grocery store, public transportation, banks and a fruit market.
5 minute walk to Grand Anse Beach.
Self-serve laundry service is available.
Friendly staff and a lending library for guests.
Apartments have terraces and/or patios.
Discounts are available for long-stays if you book direct.
Wifi and Air Conditioning.
One and two bedroom apartments are available.
Drawbacks:
No swimming pool.
The economical rooms are clean but not luxurious.
No sidewalk in front of the hotel.
There's a crosswalk through busy traffic to reach Grand Anse Beach.
When it comes to cheap hotels in Grenada near Grand Anse Beach and easy access to St. George, Bougainvillea Apartments is at the top of my list. However it's more apartment than hotel so is best suited to stays of at least a week.
Although I didn't overnight there I inspected several of the 21 apartments. I also met with management who were friendly and welcoming. Although dated, the apartments I viewed were very clean and well-maintained. The superior apartments were worth the upgrade.
I also walked past the apartments several times throughout the day and evening over the course of two weeks. It appeared to draw quiet guests.
When it comes to location, Bougainvillea Apartments also happens to be well situated. It's almost across the street from the Food Fair grocery store, Cayenne Restaurant, a pharmacy, shops and a block away from the Radisson Hotel.
It's around a 7 minute walk to Grand Anse beach and a short walk to public transportation to St. George.
Check prices and availability for Bougainvillea Apartments on Booking.com
3. Radisson Grenada Beach Resort – Best Mid-Range Hotel on Grand Anse Beach
If you're on a budget but still want a prime location on Grand Anse Beach you won't be disappointed with the Radisson Grenada Beach Resort. While it's the most expensive of the cheap hotels in Grenada on our list, the garden-view rooms are the least expensive option ($125- $200 USD a night).
One of the best places to stay in Grenada if you want to be directly on Grand Anse beach, the Radisson Grenada is a low-rise property featuring vast gardens with mature landscaping, multiple swimming pools and a hot tub.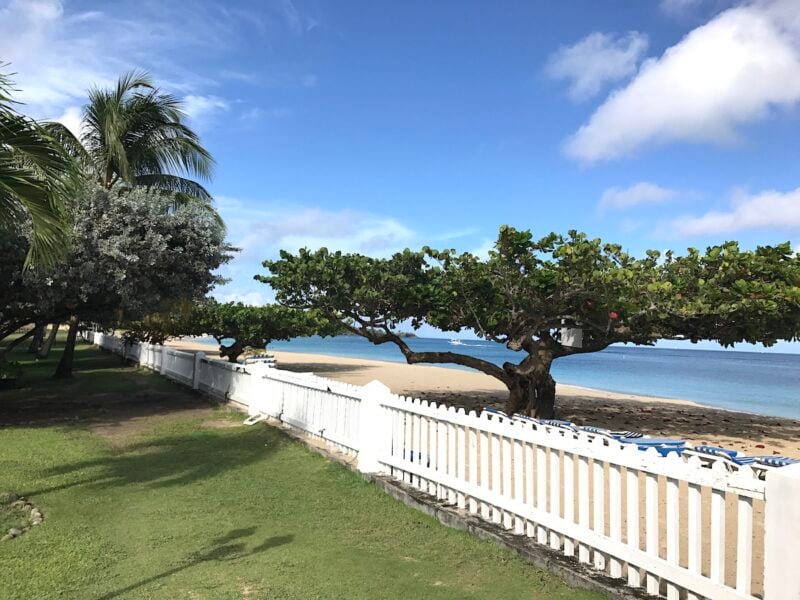 We stayed in room 253 in the Anthurium wing (an upgrade) and loved the direct ocean view, the proximity to public transportation and easy access to restaurants. Although we spent more per night, we saved money on transportation.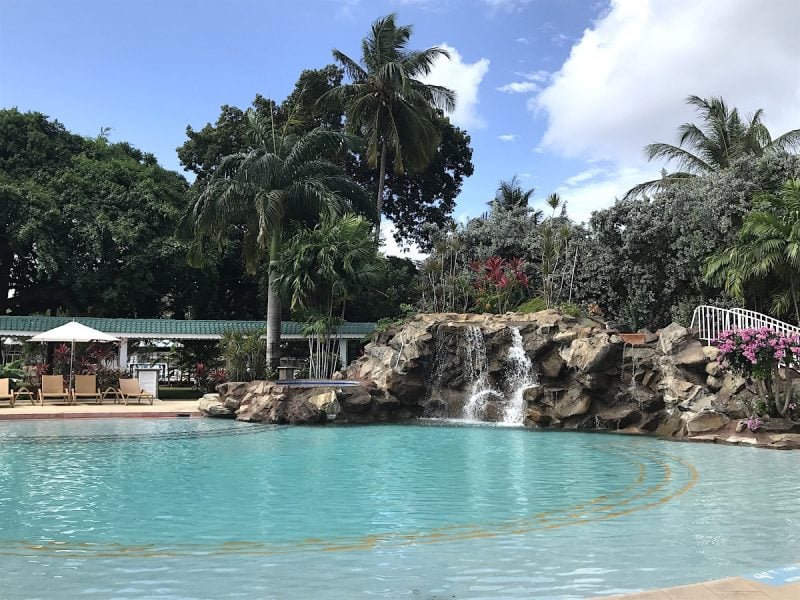 Highlights of the Radisson Grenada Beach Resort:
Beautiful, mature landscaping with a large, meandering swimming pool with waterfalls, swim-up bar and oceanfront pool.
Prime location directly on the most swimmable section of Grand Anse Beach.
Easy access to the capital city of St. George and several local restaurants.
This is one of Grenada's most family-friendly hotels. You might want to pack a travel cot, black out blinds and other essentials for travelling with a baby if you have a little one.
Excellent room service for breakfast.
Guest rooms feature terraces or balconies, a mini-fridge, coffee-makers, air conditioning, flat-screen TVs and WiFi.
Easy proximity to public transportation.
A PADI dive shop with water sports onsite.
Food Fair grocery store is across the street, so it's easy to pick up snacks and drinks.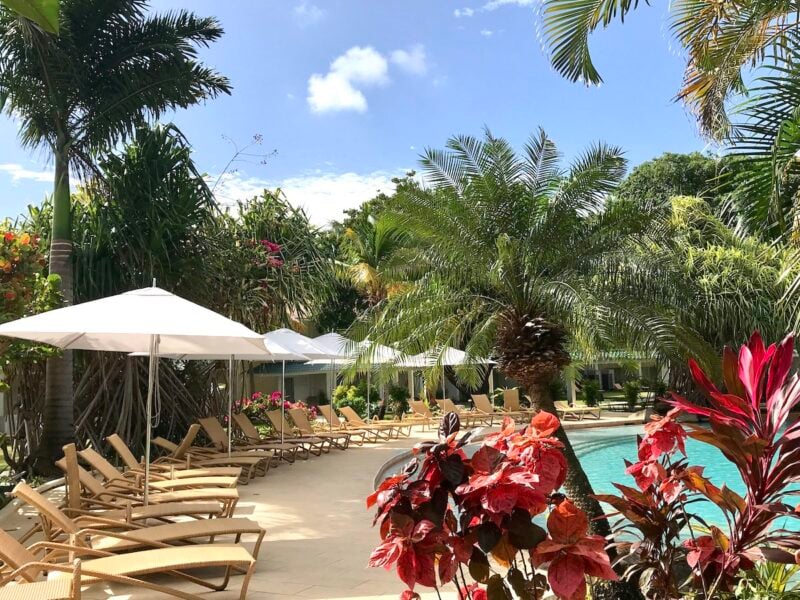 Drawbacks:
Cruise ship passengers can crowd this stretch of Grand Anse Beach on cruise ship days.
Food is very pricey for the quality of many dishes.
Service is exceptionally slow at the restaurants. But there are several restaurants and beach bars within easy walking distance.
Wifi could be better.
Evening entertainment is rather old-fashioned. Your best bet is to go to Umbrellas, a short walk down the beach.
Best for: Business people, Couples, Families.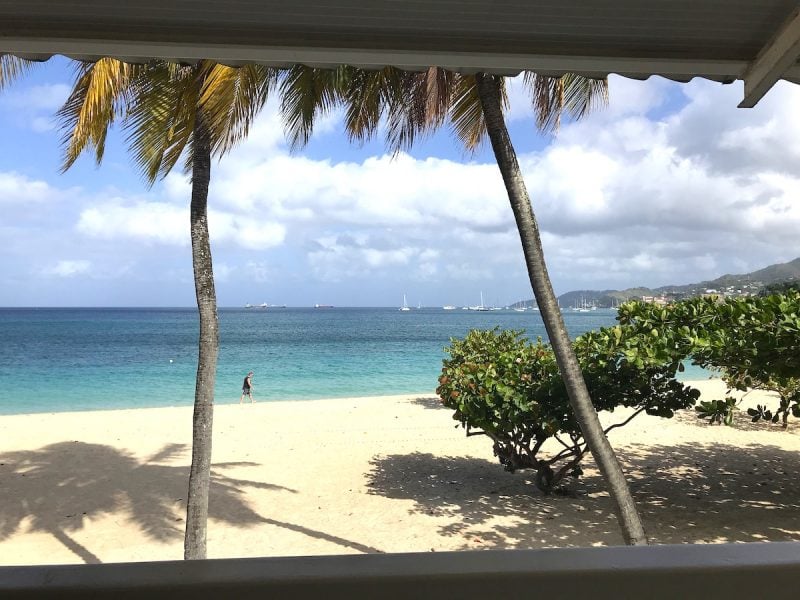 Located oceanfront, the Anthurium wing offers prime Caribbean views. It's so close to the water you can hear waves lapping and watch the sunset from your own private balcony.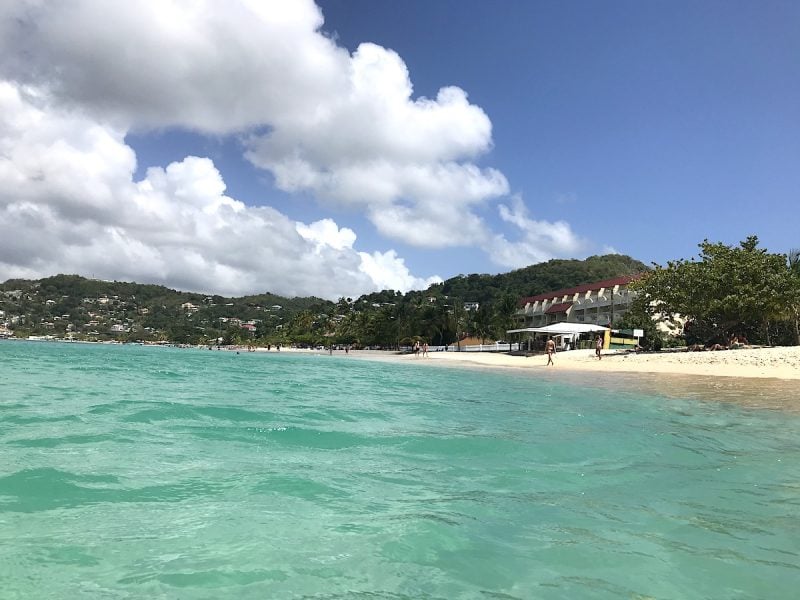 The Radisson Grenada will be rebranding to a Radisson Blu in December 2020 (the first in the Caribbean) so the guest rooms and common areas are being renovated. That could boost prices.
When it comes to dining on-site, there is the Oasis Bar, Tradewinds (fine-dining), the Bamboo Lounge and the Sunset Restaurant/Lounge. For breakfast, room service is surprisingly fast.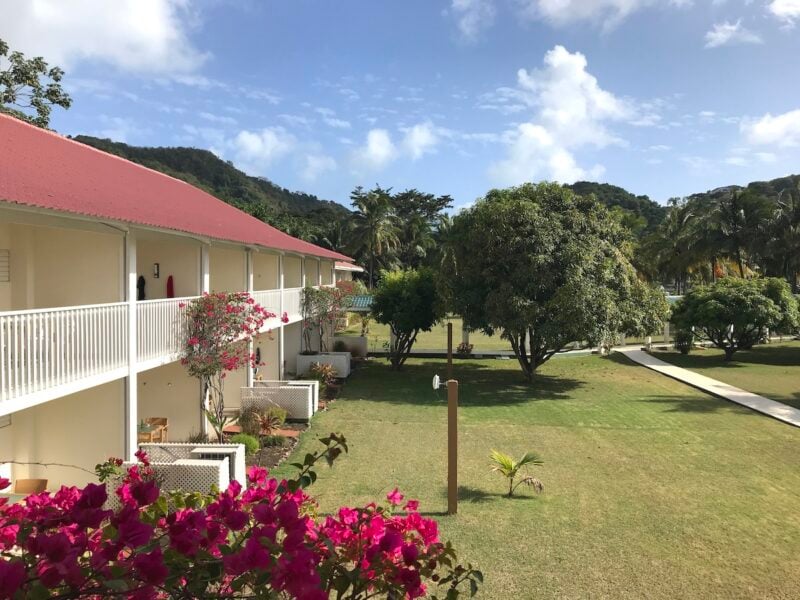 Within the restaurants, it takes a very long time to get food and when it does arrive, can be disappointing.
However, for many people (including me), the prime location and proximity to other dining venues make up for the shortcomings in the dining experience.
The Radisson Grenada is a top accommodation choice for where to stay in Grenada on a room-only or room and breakfast plan.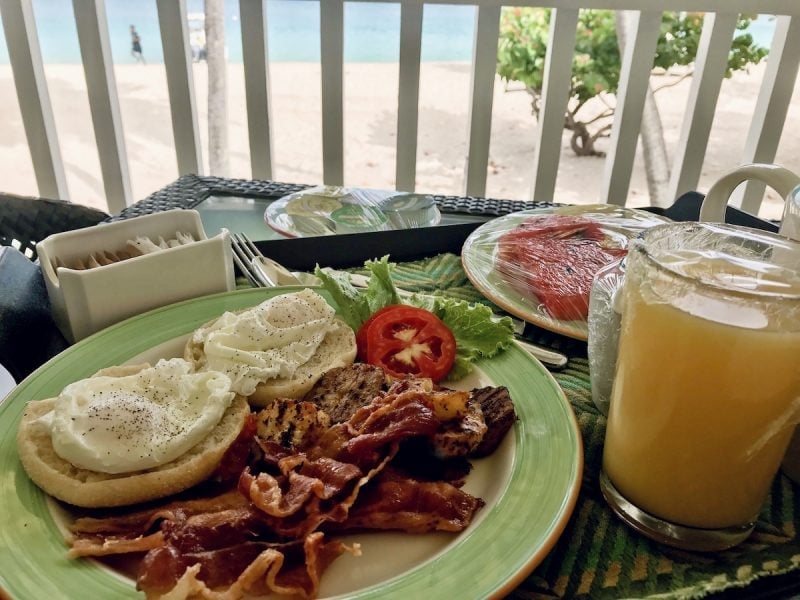 Although this stretch of Grand Anse beach can be busy with day trippers during cruise season, there are quite a few beach and pool lounge chairs. You don't usually have to worry about not finding a chair.
There's also quite a bit of shade thanks to the mature almond trees, sea grape and coconut palms along the beach.
Check prices and availability for Radisson Grenada Beach Resort on Booking.com
If You're Planning a Vacation on Grenada, Check Out These Resources
Official Grenada Tourism Authority Website.
Want to be the first to receive our upcoming post on How to Save Money on Your Vacation in Grenada? Sign up for our free monthly newsletter
Save to Pinterest!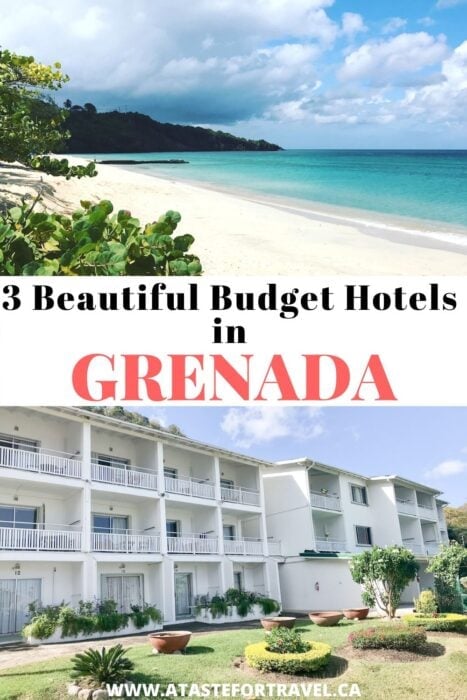 Dividing her time between Canada, Guatemala and Mexico (or the nearest tropical beach), Michele Peterson is the founder of A Taste for Travel. Her award-winning travel and food writing has appeared in Lonely Planet's cookbook Mexico: From the Source, National Geographic Traveler, Fodor's and 100+ other publications.
Read more about Michele Peterson.