We may earn income from links in this post. Please read this Disclosure for details.
From zip-lining at Hagia Sophia nature preserve to snorkelling secluded bays, there are so many things to do in Huatulco, Mexico you could easily stay a month and still have lots left to do.
If you're planning a week-long vacation or just have a few hours on a cruise, you don't want to waste your time or money on disappointing Huatulco excursions.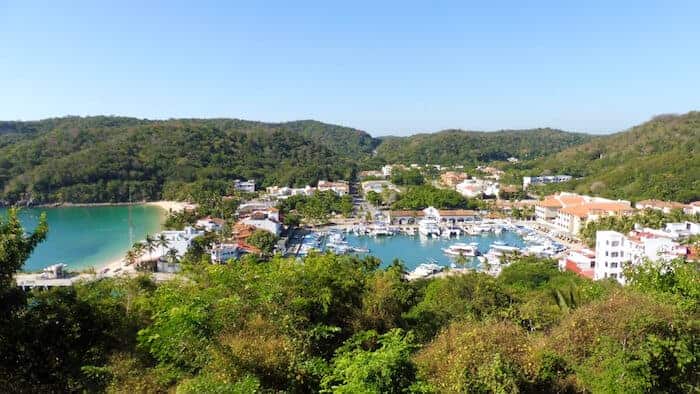 While living in Puerto Escondido researching Mexico's Pacific Coast for Fodor's guidebook and Lonely Planet's Mexico from the Source, I spent a lot of time in Huatulco. I'm convinced it's one of Mexico's undiscovered treasures!
Here are my top choices for the best things to do in Huatulco, Oaxaca whether you're on a family vacation, solo getaway or couples vacation:
1. Go on a Snorkeling Tour or Scuba Diving Excursion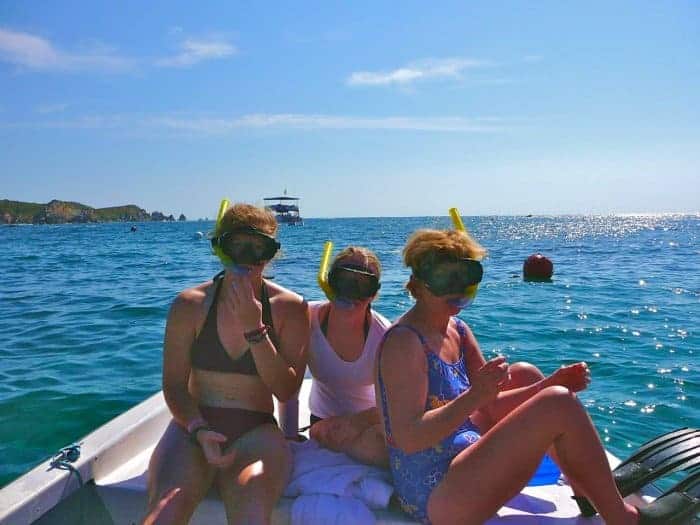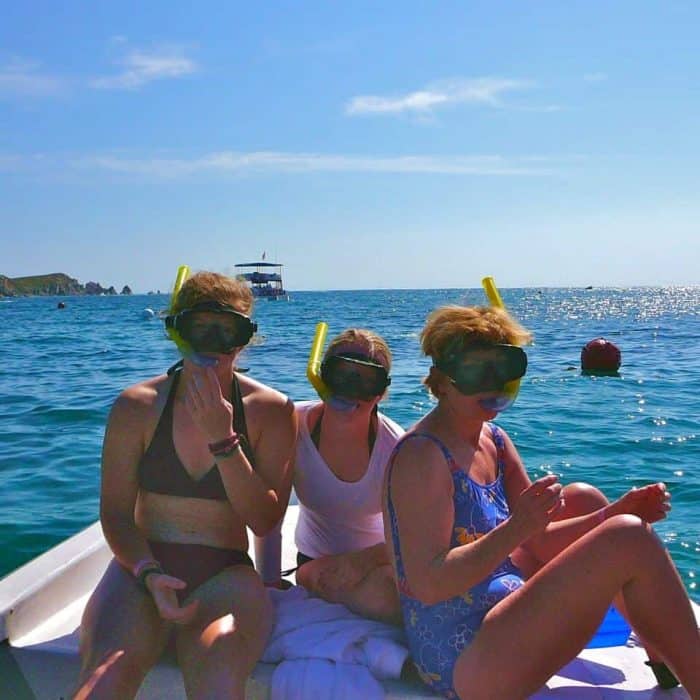 Whether you're interested in Huatulco snorkeling from shore or a boat excursion to one of its hidden bays, exploring the Pacific Coast's extraordinary underwater life is one of the top things to do in Huatulco.
Much of this coastline of Mexico is protected from development which helps support rich marine life and healthy reefs.
You can expect to see sea turtles, parrotfish, needle fish, grouper, snapper, angelfish as well as manta rays and more.
Read our complete Guide to Snorkeling in Huatulco for tips on the best beaches for snorkeling from shore and the best (and safest) Huatulco snorkeling tours.
2. Sightseeing Tour of the Seven Bays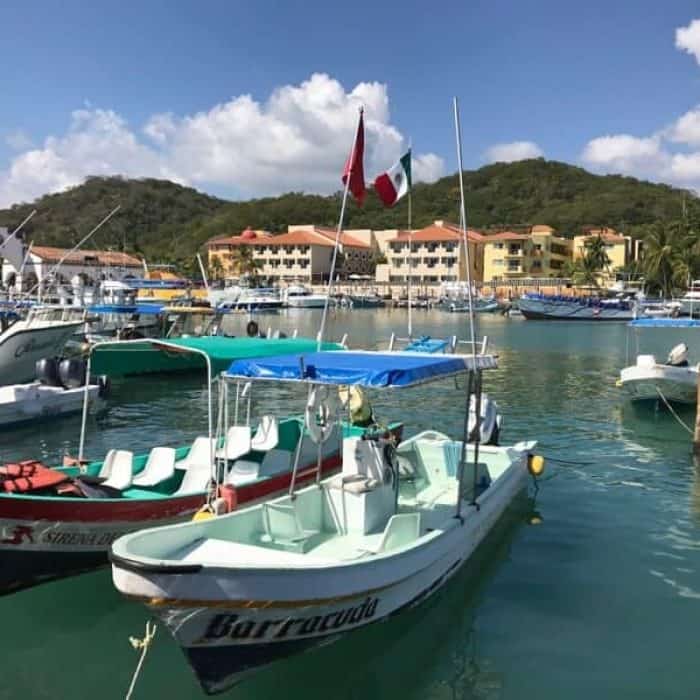 No trip to Huatulco is complete without exploring the seven bays and 36 beaches along the stunning coast of Oaxaca. Many of the golden sand beaches are accessible only by water so they are especially pristine and beautiful.
One of the best ways to tour the bays and discover these beautiful hidden coves is by taking a Seven Huatulco Bays tour at the Santa Cruz Marina.
You can hire one of the small boats known as lanchas at the ticket office located on the east side of the Plaza in the Santa Cruz marina. There is a taxi stand and bus stop directly in front of the ticket office.
For safety and comfort, it's important to book a tour on a quality boat. While it's certainly possible to charter a boat independently in Santa Cruz marina or join a group of tourists on a large party boat, it's important to consider that a luxury water craft offers shade and superior comfort.
Read our guide to the best beaches in Huatulco for more information about staying in a hotel on the beach in Huatulco.
3. Take a Mud Bath at La Bocana Beach, Huatulco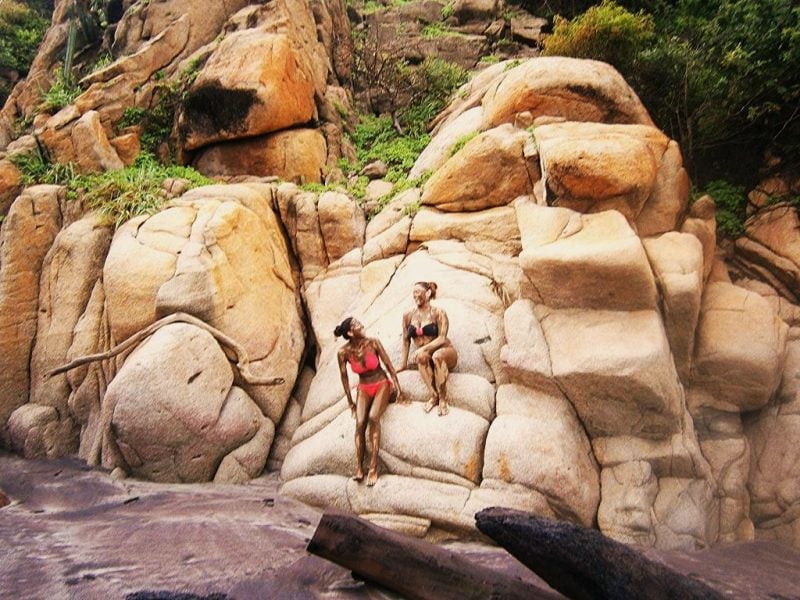 If you're looking for a wellness boost, one of the top things to do in Huatulco is to take a restorative mud bath at Playa La Bocana.
Popular throughout the world, mud therapies are believed to absorb toxins out of the body and nourish the skin, relieving conditions such as headaches, sluggishness, exhaustion and constipation.
In Huatulco, the mud treatment is based on traditional Zapotec customs and takes place at La Bocana Beach. This undeveloped beach features a powerful surf where the Copalita River enters the Pacific Ocean just past Secrets Huatulco Resort and Spa.
At La Bocana, the mud therapy treatment begins with local women applying layers of cool, mineral-rich mud to your body and face. You then relax on one of the rocks and "bake" in the sun to activate the mud's healing properties.
The mud bath experience wraps up with a rinse-off in the ocean. It's definitely a unique, invigorating and relaxing way to spend a day in Huatulco.
Visit the mud baths independently or take an escorted tour with Amazing Huatulco Tours that includes transportation and admission to the Mud Bath and La Copalita Archeological Site. Contact Tomas Vicente Contreras via Facebook or by email at tomasvicente39@hotmail.com. He speaks fluent Spanish, English, Zapotec and several other languages.
4. Visit a Coffee Plantation in Pluma Hidalgo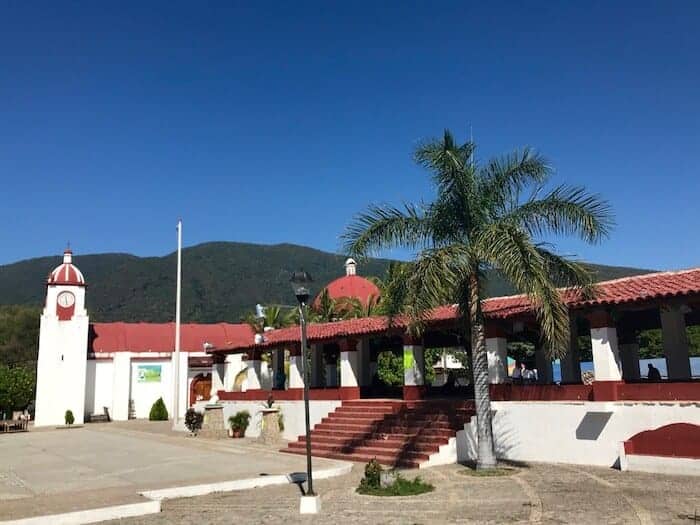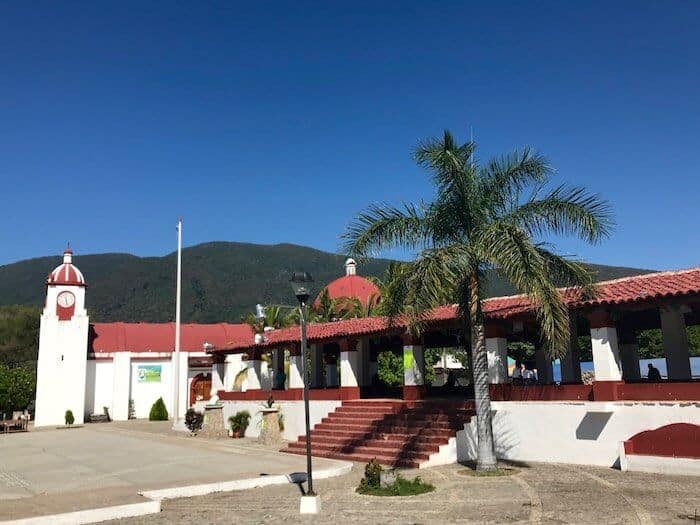 Spending a day hiking in a coffee plantation in the Sierra Madre Sur mountains is one of the top things to do in Huatulco if you're interested in exploring beyond the beach.
The air at the higher elevations where coffee is grown is cool and fresh so a day trip to the town of Pluma Hidalgo located at 1350 meters (over 5,000 feet) above sea level is a welcome relief from the hot temperatures along Oaxaca's coast.
An easy way to get to Pluma Hidalgo is to take the full day Three Levels Tour (which goes to Santa Cruz, Santa Maria Huatulco and Pluma Hidalgo) is Homie Tours owned by Alberto Espana Chavez, a government-certified guide who works in collaboration with other certified guides.
Tomas Vicente Contreras led the Three Levels Tour featuring Pluma Hidalgo coffee country I participated in. This is not a day trip to do independently as the distances are far and the roads can be poor.
5. Take a Cooking Class with Chiles & Chocolate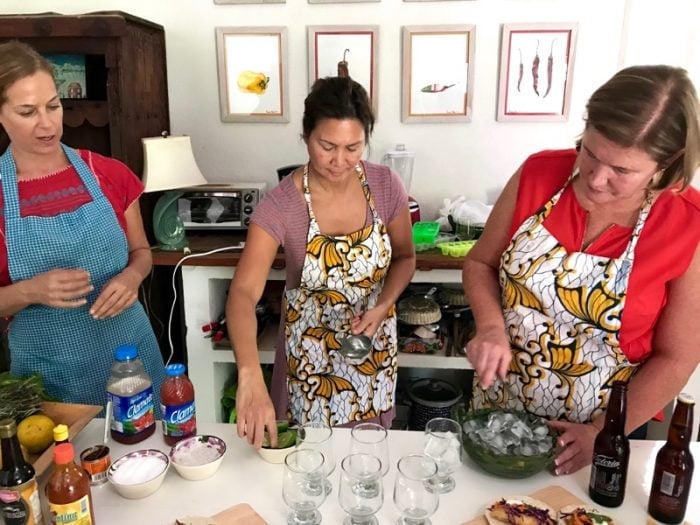 The best way to experience a culture is to dive into its local cuisine. Chiles&Chocolate located in the pueblo of Zimitan on the outskirts of the Bahia de Huatulco's hotel zone offers hands-on instruction on Oaxacan cuisine.
Learn about local indigenous Zapotec culture and how to use regional ingredients such as nopal, chapulines (toasted grasshoppers) and Pacific Coast shrimp to make street food, party fare and traditional main dishes. The reasonably-priced tuition includes pick up and drop off at Huatulco hotels.
Jane Bauer also happens to be the publisher of The Eye, a local English-language magazine that's a valuable source of insights into happenings around Huatulco and Oaxaca. She also operates the highly-recommended Cafe Juanita restaurant located in Chahue Marina.
Reserve a table for dinner and enjoy sunset views along with regional dishes such as Cream of Elote with Huitlacoche (corn fungus) and faves such as Coconut Shrimp with Mango Sauce.
6. Explore Bocana del Rio Copalita Eco-park and Archeological Site
For culture-lovers, one of the top things to do in Huatulco is visit the Bocana del Rio Copalita Eco-Archaeological Park, an archeological zone featuring pyramids, ball courts and other ruins dating to 500 BC when the site was home to the ancient city of Copalitan.
This recently excavated site features a small but top quality museum as well as a vast protected zone dotted with ruins of pyramids, a ball court and temples.
The site was the ancient metropolis of Copalitan, occupied by the Zapotec and Mixtec people from 500 BC onward. It's easy to visit this archeological site independently by taxi. This is definitely one of the top activities to add to your Huatulco vacation. Be prepared for heat, humidity and insects if you visit.
Check out a Day Pass to Dreams Huatulco Resort & Spa for a family-friendly add-on to this excursion.
7. Explore La Crucecita on a Downtown City Tour
One of the top things to do in Huatulco whether you're on a cruise ship excursion or staying at a resort, is to visit La Crucecita, the economic hub and cultural heart of Huatulco. It serves as the downtown for Huatulco. The main attractions in La Crucecita are within easy walking distance of the zocolo ( town square) so this activity is easy to do independently, allowing you flexibility and saving you money.
The top things to do in La Crucecita include shopping for Pluma Hidalgo coffee, sampling mezcal and browsing artisanal crafts as well as visiting the Catholic Church, home to Mexico's largest mural of the Virgin of Guadalupe.
8. Release Baby Sea Turtles at the Mazunte Turtle Center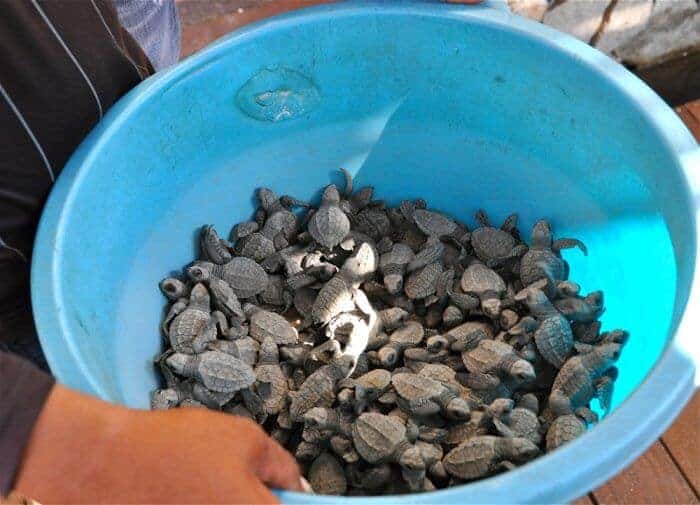 If you've read my post 7 Reasons to Love Mazunte you'll already know I'm a big fan of this small, eco-friendly town. Most tours from Huatulco combine a visit to the Mazunte Turtle Center (located on the site of a former turtle processing factory) with a boat tour of the mangroves of La Ventanilla for some crocodile viewing.
During the tour, there's also time for a stop at Zipolite beach as well as a quick stop for purchasing the natural cosmetics made by the Mazunte Natural Cosmetics Factory, a local women's cooperative.
However, if you're really interested in witnessing a sea turtle nesting or sea turtle release, you may be disappointed with the Mazunte Turtle Center. It's more of a research and education facility.
Sea turtle nesting period for olive ridley turtles takes place between July and November, so if you're visiting in January or February it's very unlikely you'll see any sea turtle nestings.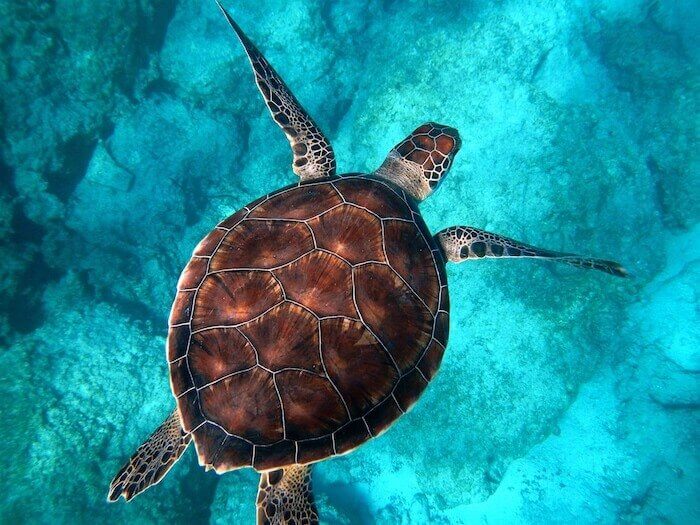 One of the top things to do in Huatulco during the season the sea turtles lay their eggs (July – November), be sure to visit La Escobilla, one of the world's most important nesting sites for olive ridley turtles. During an arribada, you can see up to 5,000 sea turtles nesting on this protected beach.
Read our article on 8 Incredible Outdoor Adventures in Puerto Escondido for information on this incredible event.
In fact there are so many sea turtles on this coast, I've actually seen nestings in front of hotels such as Secrets and Dreams. Learn more about those resorts in this review of Secrets Huatulco Resort & Spa
9. Go Surfing in Puerto Escondido
The city of Puerto Escondido with its diverse beaches and famous surfing scene is located 2.5 hours northwest up the Pacific coast from Huatulco and is well worth visiting for its string of beaches, rich cultural scene and eclectic bars and restaurants.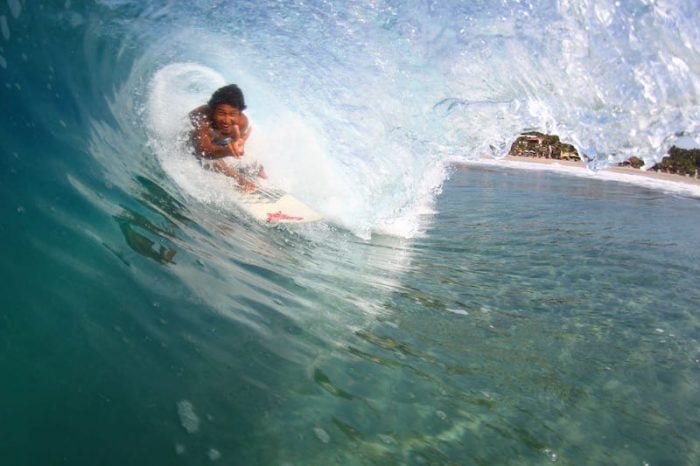 It's best to stay overnight but if you only have one day in Puerto Escondido, it's possible get there and back on a day trip. Read our complete Guide to Puerto Escondido for details about the city. Then, consult our transportation guide for details on getting from Huatulco to Puerto Escondido by bus. It's easy and inexpensive.
If you don't have time to get to Puerto Escondido, there is also surfing at La Bocana beach in Huatulco near La Copalita River. It's home to a few surfing tournaments and has a powerful surf.
10. Swim Under a Jungle Waterfall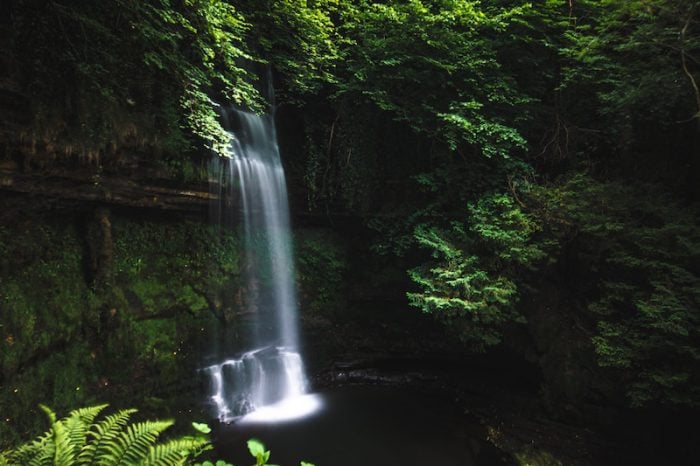 In the rainy seasons, dozens of misty waterfalls cascade through the jungle in the foothills above Huatulco National Park, a protected zone established in 1998.
Even during the dry season, one of the best Huatulco excursions includes a hike to the Cascadas Magicas (Magic Waterfalls) where you'll be rewarded with a refreshing swim in cool waters.
On this easy day trip, expect to spot iguanas, hummingbirds and orioles along the way.
11. Get Wet and Wild with Whitewater Rafting
One of the best things to do in Huatulco if you love outdoor adventure, is to go whitewater rafting.
Local tour operator Aventura Mundo provides certified guides who'll lead you on a full day outdoor adventure on the Copalita River, known for its steep drops and valleys.
Thrill seekers will want to opt for the upper section of the river, an adrenaline-pumping descent through 22 kilometres of Class III and IV rapids but other more leisurely options are available.
Their Floating Tour is an ideal day trip for birdwatchers as you'll drift peacefully along the river, arriving at La Bocana beach where you can swim and chill out for a few hours.
12. Sample Authentic Mezcal in Huatulco
The state of Oaxaca is the birthplace and heart of mezcal production in Mexico. So one of the top things to do in Huatulco is to sample this artisanal agave-based product at its birthplace.
The easiest place to sample mezcal in Huatulco is at La Probadita in the heart of La Crucecita. They have wide selection of aged, cream and flavoured mezcals to taste and purchase.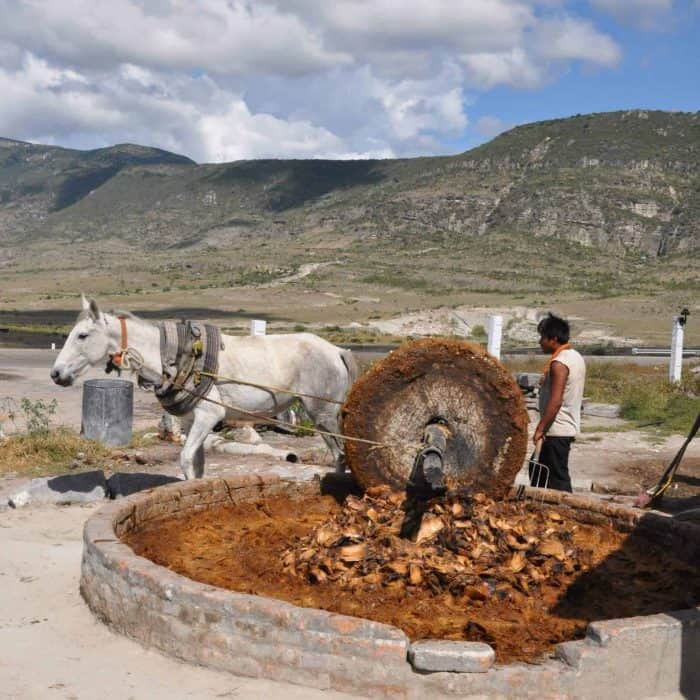 But to really learn about how mezcal is made and sample it at its source, take a guided tour to one of the local mezcal distilleries. Here, you can witness ancient production methods and sample mezcal straight from the still.
If you're keen to delve deeply into the traditions of distilling mezcal, the best mezcal tours in Oaxaca are offered by Alvin Starkman of Mezcal Educational Tours.
13. Go Zip-lining at Hagia Sophia Eco Park and Gardens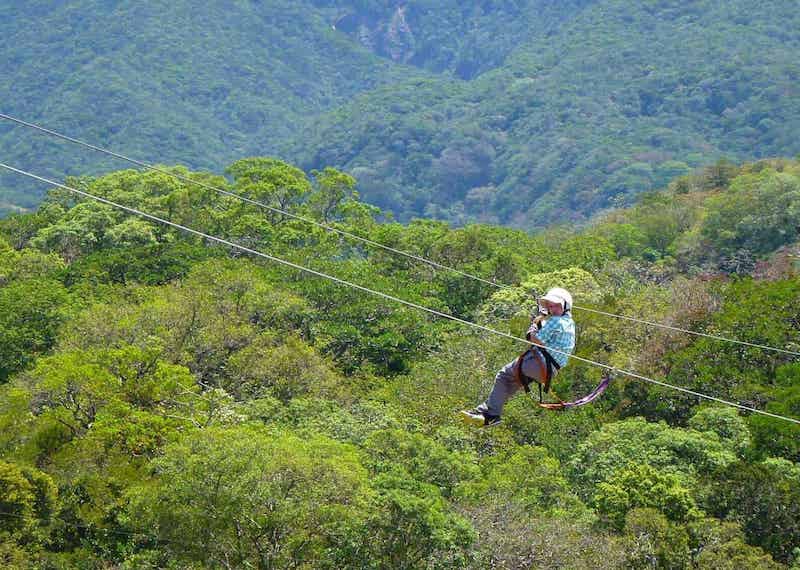 One of the top things to do in Huatulco is to spend the day at Hagia Sophia Sabiduria Sagrada, an eco-park, adventure park and botanical gardens set in the still-wild Sierra Madre Sur mountains.
Founded by Armando Canavati Nader and set on an expansive nature preserve, this sustainable attraction is well worth visiting either independently or as part of an organized Huatulco excursion.
While there, stroll a botanical trail, hike across a suspension bridge and go zip-lining across a series of four zip lines while surrounded by birdsong and hundreds of butterflies. You might even see clouds of blue morpho butterflies if you're lucky!
Choose from a full-day excursion (includes breakfast and lunch featuring regional ingredients and seasonal fruit) or create your own package by selecting from one of the many activities available onsite.
14. Explore Monte Albán Archaeological Site
Further afield, it's worth a road trip to Monte Albán, an archeological site built by the Zapotecs. One of Mexico's most important ruins. You'll need at least two days for this trip as it's a 5-6 hour drive from Huatulco to Monte Alban, Oaxaca (each way).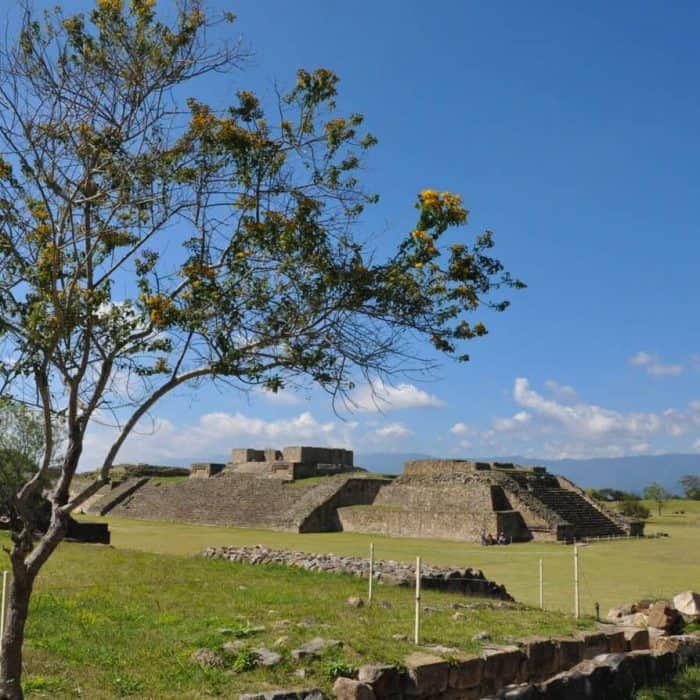 You can cut that time if you fly to Oaxaca City via AeroTucan and overnight. Another option is to take an organized tour, hire a private driver/tour guide or rent a car in Huatulco or Puerto Escondido.
15. Go Shopping for Quality Oaxacan Textiles
Oaxaca is rich in cultural diversity so one of the top things to do in Huatulco is to shop for Oaxacan handicrafts. Textiles from Oaxaca are highly prized. The weaving is rare, beautiful and highly-prized by collectors.
One of the reasons the local weavings are so valuable is due to the natural dyes being used. The remote bays along the coast of Huatulco are the habitat for the tixinda snail, the rare purpura sea snail as a source for the "royal purple" dye used by the Mixteco weavers of Oaxaca.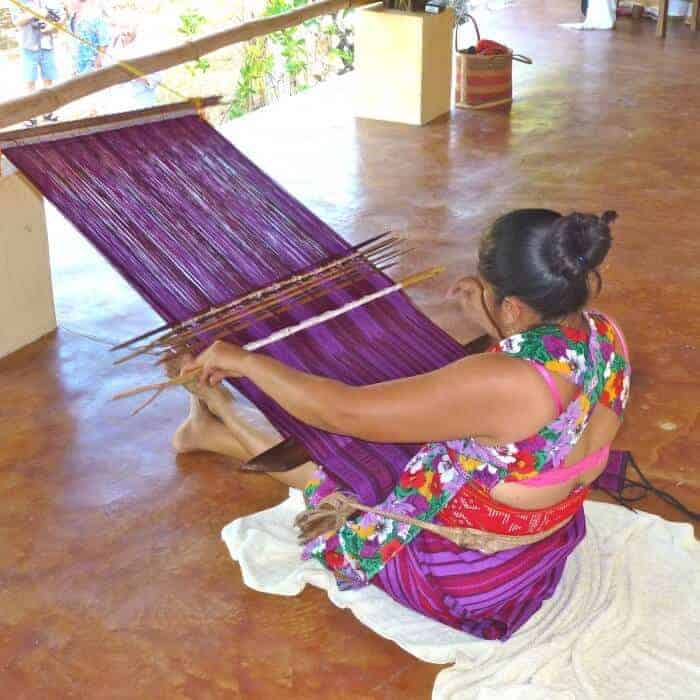 It can take the milk from 1000 snails to dye one reboso (shawl). The women of the Tixinda Cooperative weavers create magic on their backstrap looms, weaving colourful huipils (tunic dresses), bed linens, table cloths and smaller items such as wallets, purses and pillows.
Stop into the Museo De Artesanias Oaxaquenas and browse a fine selection of quality artisanal crafts. Black pottery, alebrijes (brightly painted wooden figurines), vanilla and weavings are top souvenirs to buy in Huatulco.
Read more: Quest for Oaxaca's Sacred Sea Snail
YOU MIGHT ALSO ENJOY:
Complete Guide to Secrets Huatulco: Rooms, Excursions, Food
A Complete Guide to a Weekend in Mexico City
Don't Miss These Top Outdoor Adventures in Puerto Escondido
Quick Tips: How to Take the Shuttle from Huatulco to Puerto Escondido Mexico
Enjoy Unlimited Luxury with a Secrets Huatulco Day Pass
Save to Pinterest!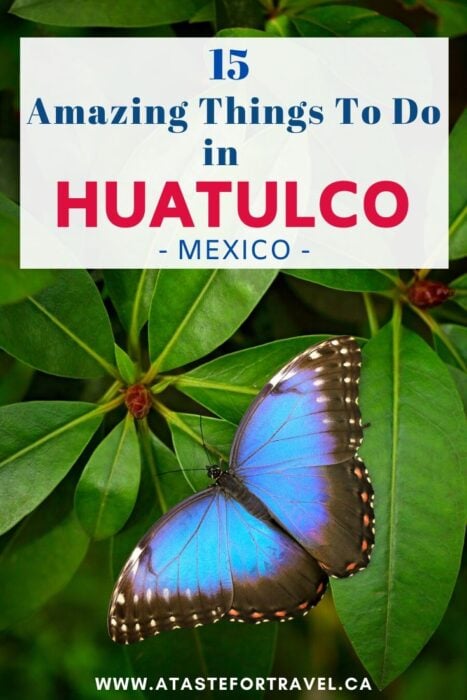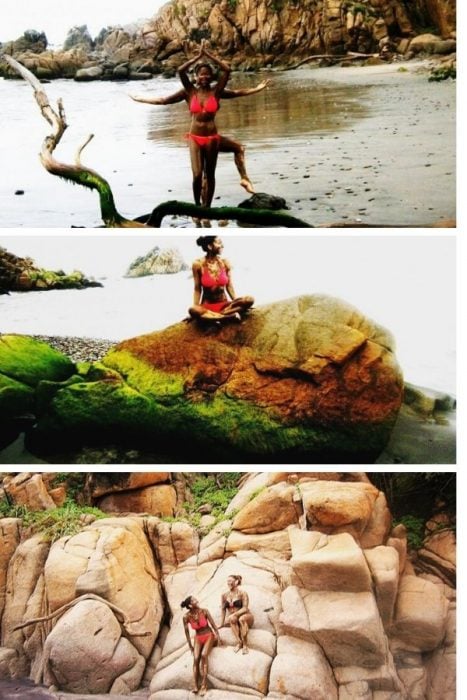 Dividing her time between Canada, Guatemala and Mexico (or the nearest tropical beach), Michele Peterson is the founder of A Taste for Travel. Her award-winning travel and food writing has appeared in Lonely Planet's cookbook Mexico: From the Source, National Geographic Traveler, Fodor's and 100+ other publications.
View more posts by Michele Peterson Read more