We may earn income from links in this post. Please read this Disclosure for details.
Thinking about Secrets Huatulco Resort and Spa for your next beach vacation in Mexico? Trying to decide whether it's worth it to upgrade to a swim-out room? Wondering about things to do on this fantastic stretch of Pacific coastline? We've got the answers for you.
Here's what you need to know before booking. Read on for our complete review and guide to planning a perfect vacation at the all-inclusive Secrets Huatulco Resort & Spa in Huatulco, Oaxaca:
Huatulco Beach Resort Weather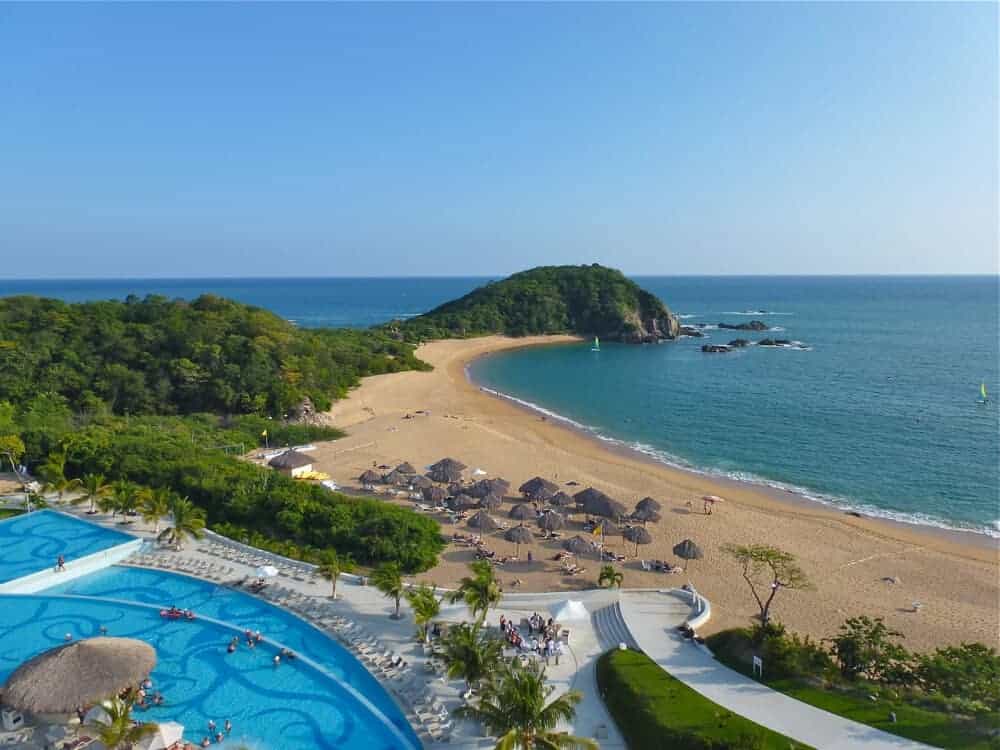 If you're planning a beach getaway and trying to decide between Secrets in Huatulco or a Secrets Resort in Cancun or Riviera Maya, one of the first things to consider is the weather.
Huatulco is located on Mexico's southern Pacific Coast and receives more sunshine and warmer weather than the Riviera Maya.
Huatulco's temperature doesn't vary much throughout the year and you can expect consistently hot weather and sunshine. Read more about the weather in Huatulco in our Essential Guide to Huatulco Mexico.
The Beach at Secrets Huatulco
The longest beach with hotel accommodation in Huatulco is Tangolunda Bay where Dreams Resort and the Barcelo (both are family-friendly unlike Secrets which is adults-only) are located.
Secrets Huatulco is located on Conejos Bay, a small crescent shaped beach that is quite private and beautiful. Note that all beaches in Mexico are public and a Nickelodean Resort will open in Conejos Bay in 2021.
It has a steep slope so is not the most walkable beach. The waters can also be rough but there are calm areas near the edge of the bay where the water sports kiosk is located.
At low tide, you can cross by foot into a neighbouring bay where there is calm water for snorkeling.
Secrets Huatulco Preferred Club: Is It Worth It?
The architecture of Secrets Huatulco features 399 suites in six buildings terraced on a hill rising from the beach at Conejos Bay. This means that while every guest room has a great view, the higher up you go, the better the view.
Each of the suites includes a balcony as well as my personal favourite — the Secrets Box for private 24-hour room service delivery.
The Preferred Club Category comes with extra amenities that include:
access to the Preferred Club 7 am to 11 pm
appetizers and premium liquors
services of a concierge
upgraded mini-bar (M & M's Pringles and liquors). The regular mini bar includes soft drinks, water and beer.
pillow menu
upgraded bath toiletries such as sunscreen, body lotion etc.
Preferred Club guests also enjoy private check-in and check-out within the Preferred Club lounge. This is an important benefit if you happen to be arriving the same time as a large group or a charter flight.
Beyond that, I've never used the Preferred Club lounge at Secrets Huatulco as there are so many other beautiful bars, lounges and restaurants to choose from.
Secrets Huatulco Preferred Club suites may also be selected for their terrace whirlpool or swim-out rooms.
Check prices and availability at Secrets Huatulco Resort & Spa on Booking.com.
Preferred Club Swim-out and Terrace Whirlpool
When choosing whether to pay extra for a swim-out suite at Secrets Huatulco, it's important to consider the climate.
While the sizzling hot weather is ideal for a beach vacation, the swim-out rooms at Secrets Huatulco have limited shade.
This can mean the terraces get sweltering hot at midday. However in the evening and early morning, they are quite spectacular.
If privacy is important to you, you need to consider that you are sharing the pool with other guests and they are ground level which means you give up some of the ocean views available at the higher levels.
If you're travelling with another couple or in a group, booking neighbouring swim-out suites is a fun option. For the quietest suites, opt for a swim-out room in Building 5 which is to the east of the Sky Bar.
Secrets Huatulco Map – Resort Layout of Swimming Pools, Swim-out Rooms and Restaurants
The quietest swimming pool area is shown at #21 on the left hand side of the above map and is pictured below. The liveliest zone of the resort is the pool area shown at #22 on the Secrets Huatulco map as it's where the Swim-Up bar and pool aerobics are located.
It also offers access to the beach which are at a lower elevation than the pool area. This is the toughest section of the resort to find loungers.
Secrets Huatulco Food, Restaurants and Bars
The traditional cuisine of Oaxaca is deservedly famous for its diversity, complexity of flavours, the craftsmanship of its preparation and unique ingredients.
Be sure to try chapulines (toasted spicy grasshoppers), mezcal, nopal and moles!
Read more about the food on Oaxaca's coast in our post on Best Restaurants in Puerto Escondido.
At Secrets Huatulco you can select from nine restaurants, including seven with gourmet à la carte menus, one international buffet and a cafe. There's also 24-hour room service with a Secret Box for food drop-off in a pass-through so you're not disturbed.
The menu offers many opportunities to sample Oaxacan fare, especially within its Tamarindo Mexican restaurant. However I've also discovered that you'll often taste dishes from other parts of Mexico that are authentically and deliciously prepared.
For example, on a recent visit I enjoyed a bowl of birria, a beef stew most often found in the states of Jalisco and Nayarit. It was equally as good as many of the ones I tasted while researching recipes for Lonely Planet's cookbook Mexico: From the Source.
Much like other all-inclusive resorts, not every restaurant is open every day. So it's worth planning ahead to decide where you want to eat.
Equally importantly, the fact that no-reservations are ever needed at any Secrets Resort. This means you can always opt to dine at a restaurant with no dress code, such as the World Cafe buffet or within your room.
Dress Code: What to Pack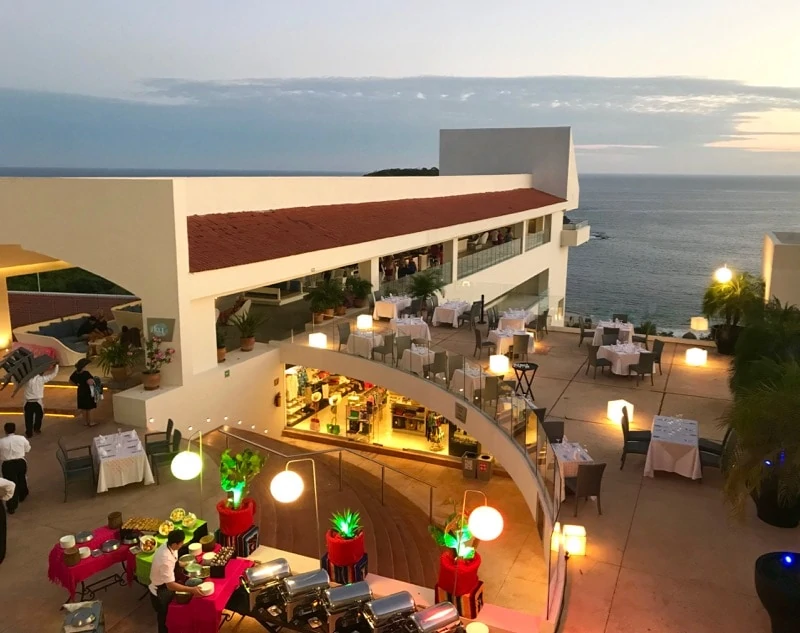 Much like other upscale resorts in Huatulco (such as the Barcelo Resort & Spa) there is a dress code at Secrets Huatulco at dinnertime at certain restaurants. Men are required to wear long pants and shirts with collars and sleeves.
Women it's a bit more flexible as dresses are interpreted more loosely. The Secrets Huatulco brochure specifies "dress shoes" for both men and women which generally means "close-toed" but can be safely interpreted to mean no ratty looking running shoes or flip flops.
Thankfully, the dress code is enforced so you're not going to see people in bathing suits dining inside the fancy dining spots such as Bordeaux, the French restaurant. At Secrets Huatulco, I noticed that the hostess would often find them a seat on the outdoor terrace rather than turn them away as I've witnessed at other resorts.
Choosing the Best Secrets Huatulco Excursions and Tours
From taking a snorkeling tour of Huatulco's beautiful seven bays, there are so many tempting options for things to do in Huatulco, it can be hard to decide which ones to choose. Never fear.
We've done the research for you and sifted out the too-expensive and the disappointing to come up with the absolutely worth-it excursions to invest your vacation dollars in.
Check out the Top 13+ Things to Do in Huatulco, Mexico. Take a mud bath, explore an archeological site or witness sea turtle nesting.
Whether you're staying at Secrets or Dreams or the Barcelo, each of these Huatulco excursions includes hotel pick-up and drop-off. That's especially important if you're staying at Secrets as it's the furthest away from downtown Huatulco, known as La Crucecita.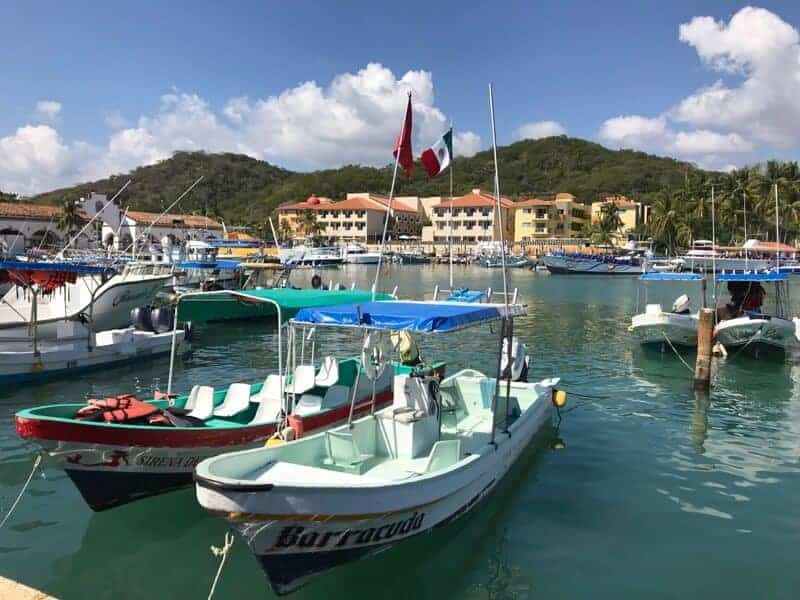 Unlike other resorts in Huatulco that are closer to La Crucecita or Santa Cruz marina, Secrets Huatulco is located at the very outer edges of the string of hotels dotted along the Bahias de Huatulco.
This means you can't just walk to the marina and book a sightseeing tour of the seven bays or visit Puerto Escondido by bus for a few days.
The good news is that Secrets partners with Amstar DMC for transfers and destination experiences. This means there is an Amstar desk conveniently located within the Secrets Huatulco lobby where you can browse brochures and register for tours.
You do have other options beyond Amstar though. While it's not recommended to book tours from vendors on the beach, there are several local excursions and accredited tours that are safe, high quality and well worth booking independently.
Summary of Our Review of Secrets Huatulco Resort & Spa
Beautiful secluded setting with exceptional views from everywhere on the property
Reliably, sunny skies with little rain for much of the year
Hot temperatures will please pool lovers but makes outdoor explorations challenging
No seaweed but the Pacific Ocean waters on this beach can be rough for swimming
Beach has a steep slope so not the best for walking
Superior all-inclusive cuisine and service
Vast and uncrowded swimming pool zones are sparkling clean
Distance from town means evening entertainment options are limited to the resort
Onsite spa is one of Mexico's best
Wide variety of excursions are available for full and half day
If you're undecided about booking an overnight, it's worth looking into a Day Pass at Secrets Huatulco
Check prices and availability at Secrets Huatulco Resort & Spa on Booking.com.
YOU MIGHT ALSO ENJOY:
How to Visit Pluma Hidalgo Coffee Country
Don't Miss These Top Outdoor Adventures in Puerto Escondido
9 Tips For The Perfect Romantic Getaway in Puerto Escondido
7 Reasons to Love Mazunte, Mexico
Quick Tips: How to Take the Shuttle from Huatulco to Puerto Escondido Mexico
Save to Pinterest!
Dividing her time between Canada, Guatemala and Mexico (or the nearest tropical beach), Michele Peterson is the founder of A Taste for Travel. Her award-winning travel and food writing has appeared in Lonely Planet's cookbook Mexico: From the Source, National Geographic Traveler, Fodor's and 100+ other publications.
Read more about Michele Peterson.