We may earn income from links in this post. Please read this Disclosure for details.
If you love love culture, cuisine and outdoor adventure, Guatemala is one of the world's most fascinating and memorable countries to visit.
From exploring the archeological site of Tikal to climbing steaming volcanoes, there are so many things to do in Guatemala you'd need a lifetime to experience it all.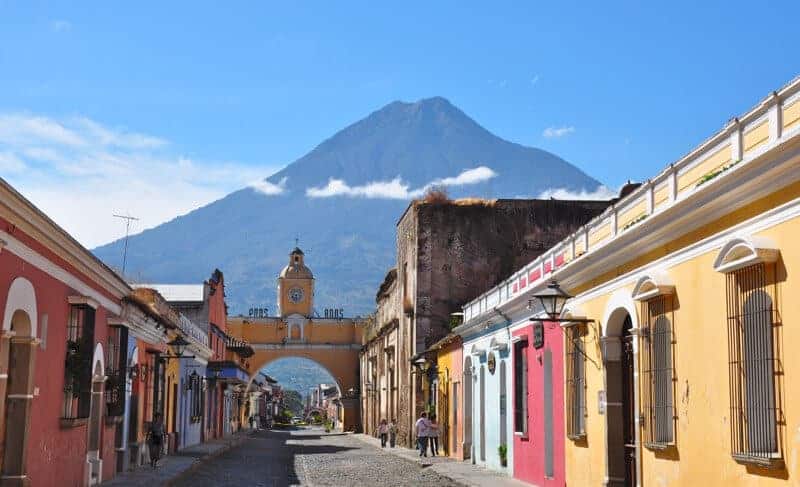 Along with my Guatemala-born husband, we've explored the country from coast to coast and have selected our favourite day trips, attractions and points of interest to help you plan an unforgettable vacation in Guatemala even if you have one or two weeks.
Here are our picks for where to go, the most delicious foods to try and fun things to do in this Central American country tucked between Mexico, Honduras, Belize and El Salvador.
1. Experience Atmospheric Antigua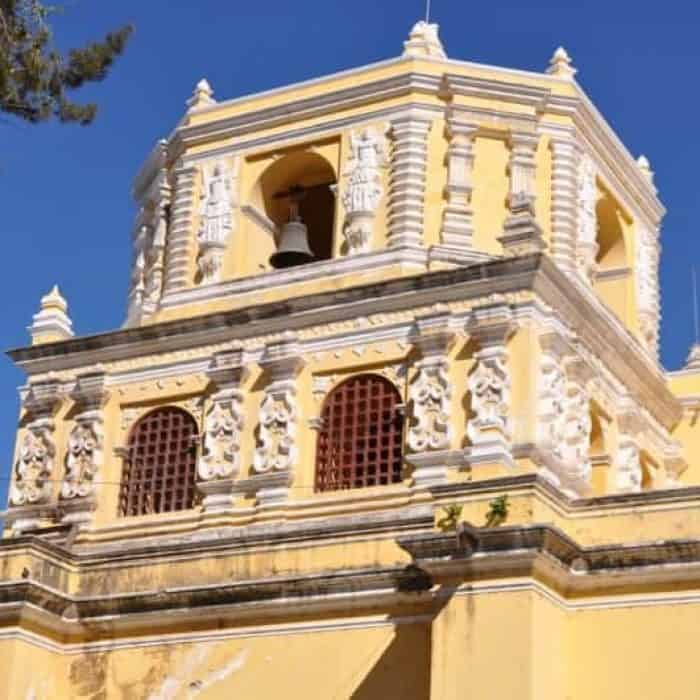 Begin your journey in colonial Antigua, the former capital of Guatemala. There are so many things to do in Antigua you could easily spend a full week here.
As you walk the cobblestone streets, there's no escaping the charm of this UNESCO World Heritage Site, located less than 45 minutes from Guatemala City, the country's current capital.
Its open air markets bursting with tropical produce, well-preserved colonial churches, Spanish-Baroque architecture and wide range of dining options are ideal for exploring. The immense Volcan de Agua towers over the city which adds to its beauty and appeal.
A fun thing to do in Antigua, Guatemala is to go climbing one of the nearby volcanos. Climbing Pacaya volcano is one of the most memorable excursions, especially if done in the afternoon when it's possible to witness the sunset. Antigua is also a fine base for climbing Volcan de Agua.
Another adventurous option if you're interested in climbing a volcano and camping there overnight, is to hike Acatenango Volcano. For the best experience and for safety reasons, it's best to do this excursion with an experienced guide and an accredited tour company.
If you're looking for romantic dining, take a short walk from Antigua's leafy central park to Meson Panza Verde where the evening setting is as memorable as the cuisine. Candlelit tables are tucked among the dramatic stone arches of an ancient mansion and the international menu has been carefully devised to showcase Guatemalan market fare in a sophisticated way.
In addition to its many boutique hotels and Spanish language schools, Antigua is also home to many important festivals such as the Semana Santa processions and el Dia del Diablo, the pre-Christmas Day of the Devil.
Read more: The Absolute Best Place to Study Spanish in Antigua, Guatemala
2. Dive into Guatemala Food and Drink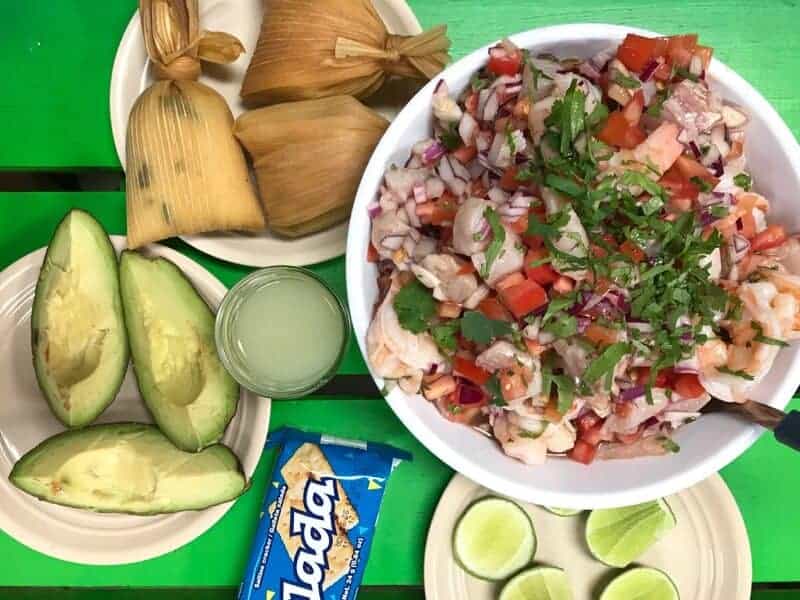 Guatemala is best-known for its colorful indigenous weavings, volcanoes and dramatic scenery. But when it comes to its food, most people only think of black beans, rice and tortillas. With epicurian roots that are a unique blend of Mayan, Spanish and Caribbean influences, Guatemala actually offers one of the most distinctive cuisines in Latin America
For an introduction to traditional Guatemalan fare, stop in at Sabe Rico restaurant. Although black bean soup sprinkled with parmesan-like cheese from the region of Zacapa makes for a good starter, serious food fans come to sample the enduring favourite chile rellenos.
These stuffed peppers, a cousin to their heavier cheese-filled Mexican counterpart, are delicately filled with diced vegetables and meat, lightly battered and topped with a fresh tomato sauce. Wash it all down with a Gallo beer or enjoy the award-winning local rum, Ron de Zacapa.
Enthusiasts interested in learning the basics of such traditional fare should head to one of the local cooking schools. Here, you can venture into the traditional food that abuelita used to make – such as tamales, pepian de pollo, kack-ik, subanik and guicoyitos rellenos (a delicate stuffed squash).
You can often combine cooking classes with Spanish language classes as I often do.
Read more: Learning how to make pulique in a hands-on cooking class in Panajachel, Lake Atitlan
3. Explore Chichicastenango Market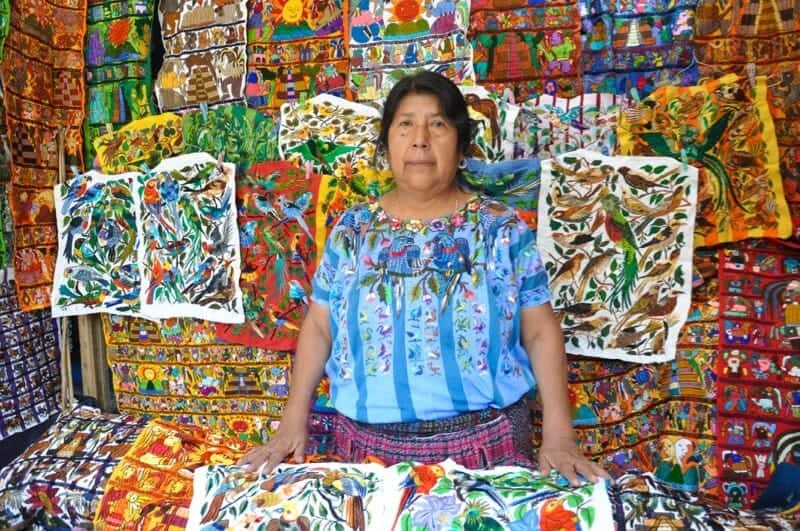 If you have time to visit only one Mayan market town in Guatemala and are wondering where to go, then this town in the Guatemalan Highlands north of Lake Atitlan is the one you should choose.
Although it's more touristy than other Mayan markets ( such as the market in Solola ), it is rich in history and still serves as a working market and hub for the Mayan towns of the highlands.
The K'iche' and other modern Maya still wear traditional woven clothing, proudly communicating their cultural identity, heritage and religious beliefs through colour and ritual pattern. This colourful market takes place on Thursdays and Sundays.
While it's possible to visit Chichicastenango independently by chicken-bus and mini-van, it's easier and inexpensive (less than $15 USD per person0 to take a direct shuttle from Panajachel or Antigua) or even on a shore excursion if you're visiting by cruise ship.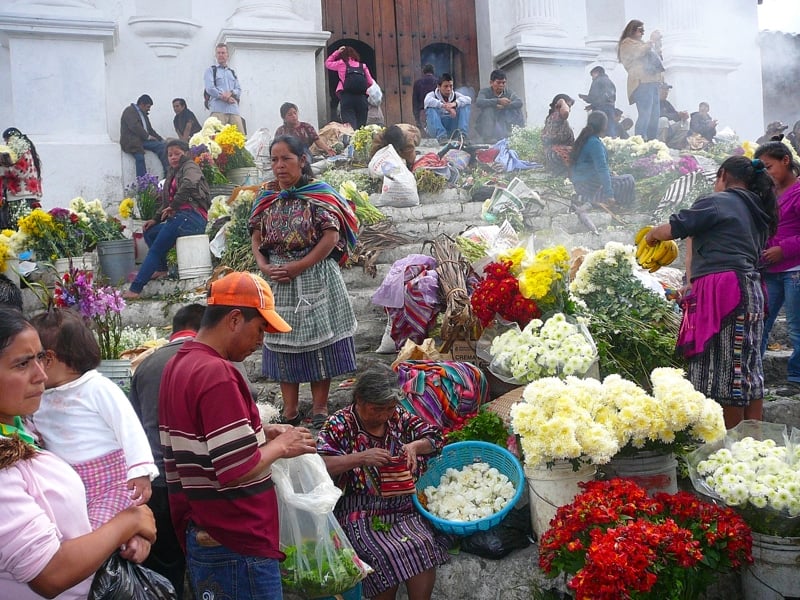 The reason is that while it's easy to get to Chichcastenango independently, the problem is that when its time to leave, you will be competing for space with the locals ( and all their goods) and trust me they are swifter than you are when it comes to scoring a seat and you could find yourself waiting for a very long time for transportation out of Chichicastenango.
The best things to do in Chichicastenango include witnessing indigenous Mayan rituals on the steps of 16th century Santo Tomas Church, shopping for weavings, textiles and other hand-made goods within the open-air craft market, visiting one of Guatemala's most colorful cemeteries, browsing the produce market ( go to the second floor for the best photos), visiting the shrine of Pascual Abaj and stopping at the small but fascinating Museo Regional de Chichicastenango.
It's worthwhile to hire a local guide in Chichicastenango as they will help keep touts away, introduce you to sights that you may otherwise miss ( impromptu processions or ceremonies) and pave your way through this chaotic, colourful and sensory overloading experience.
4. Experience Semana Santa or Holy Week in Antigua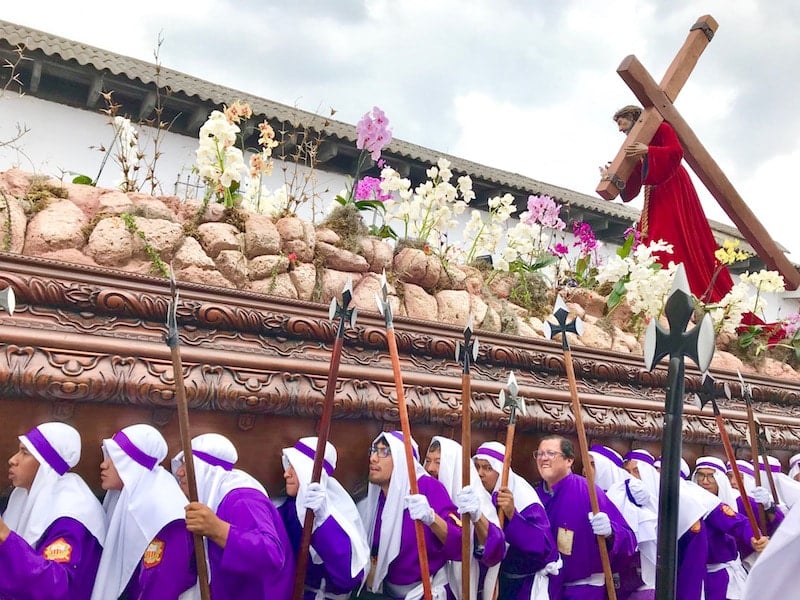 Guatemala's unique festivals and celebrations are definitely worth planning an entire trip around. Among the country's religious celebrations, Semana Santa or Holy Week, is deservedly famous. Spending Easter in Guatemala is an unforgettable experience.
In Antigua, the religious processions that wind their way across the alfombras or carpets of fruit, flowers and coloured wood shavings are a highlight of the largest Easter celebration in the Americas.
Be sure to try special Easter dishes such as Bacalao a la Vizcaina, pacaya (palm fronds) in salsa and traditional drinks such as fresco de chilacayote ( a sweet gourd refreshment with sugar cane syrup).
If you're planning to visit during Semana Santa, remember to book early!
Read More: Check out our post on 3 Budget Hotels You'll Love in Antigua for some of our favourite hotels.
5. Journey to Rio Dulce and Lake Izabel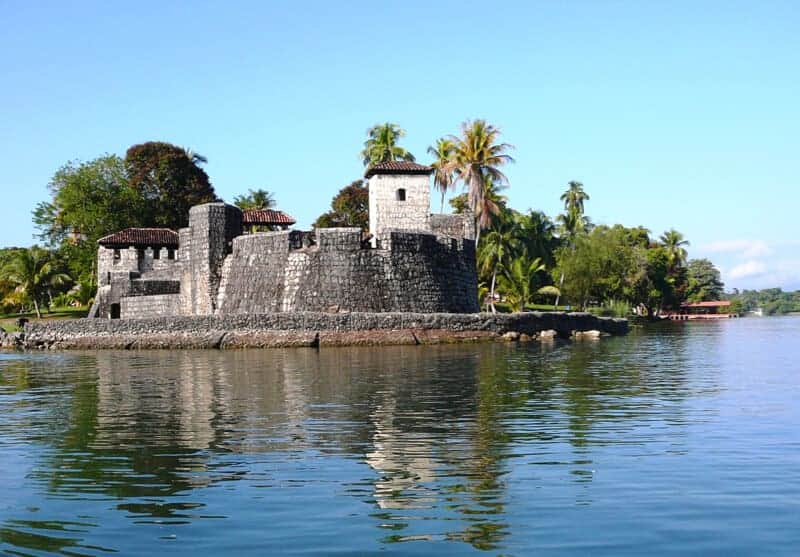 Rio Dulce is a town located in the department of Izabal that connects Lake Izabal with the Caribbean Ocean and Livingston. Rio Dulce is a popular sailing and yachting location as well as the gateway into the El Peten, home to Tikal and many archeological Mayan sites. There are lots of eco-lodges, river fincas and hostels if you'd like to spend a few nights in Rio Dulce.
It's worth spending some time in Rio Dulce to explore the Castillo de San Felipe, a stone fort that dates to 1652. Constructed by the Spanish to defend from raiding forces of British, French and Dutch, it was of strategic importance for centuries. Today, the fort offers panoramic views from various lookout points.
It's also possible to take boat tours along Rio Dulce and witness fishermen in their traditional dugout canoes as well as a vast range of wildlife. Be aware that this low-lying area has a lot of mosquitoes so you should be sure to wear light-coloured long-sleeved shirts and long pants to protect against mosquito borne viruses such as dengue fever, zika and chikungunya.
Read more: 12 Easy Ways to Protect yourself against Zika, Dengue and Chikyungunya viruses.
6. Visit the Pools of Semuc Champey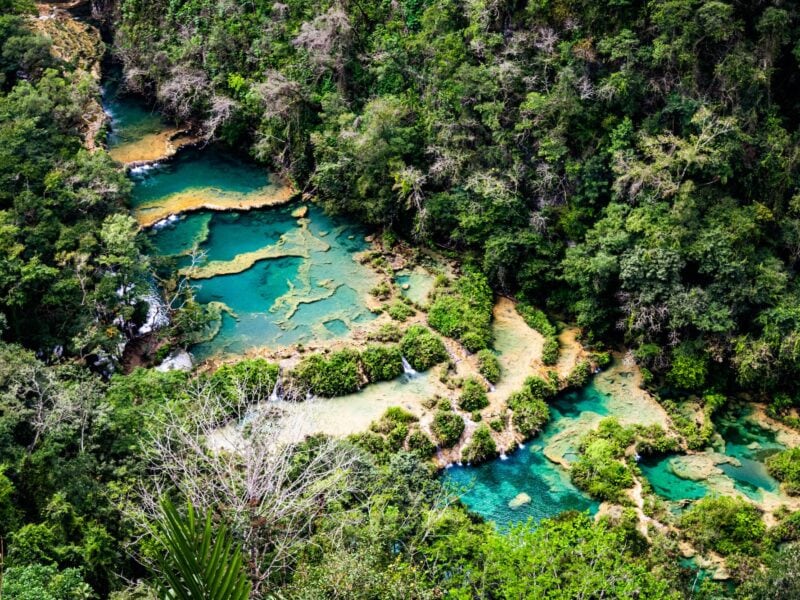 You'll feel as though you've landed in the fantasy world of Oz at these emerald green waterfalls deep in Guatemala's Maya highlands. Getting there is half the adventure.
You'll need to plan in advance how to visit Semuc Champey and consider time of year, where to stay and costs in order to avoid disappointment.
Travel past the misty coffee town of Coban to Lanquin. Then, after a gruelling drive through green clad mountains and just when you think the road can't get any worse, you'll arrive at the necklace of turquoise pools cascading though dense cloud forest.
This is not a trip to attempt in a rental car. If you don't have a 4 X 4, you'll need transportation in a truck from Lanquin to Semuc Champey. Due to poor road conditions, plan to overnight in Lanquin or Semuc Champey.
Learn more about Semuc Champey and the many outdoor adventures such as caving, river tubing and hiking.
7. Explore Black Sand Beaches of Monterrico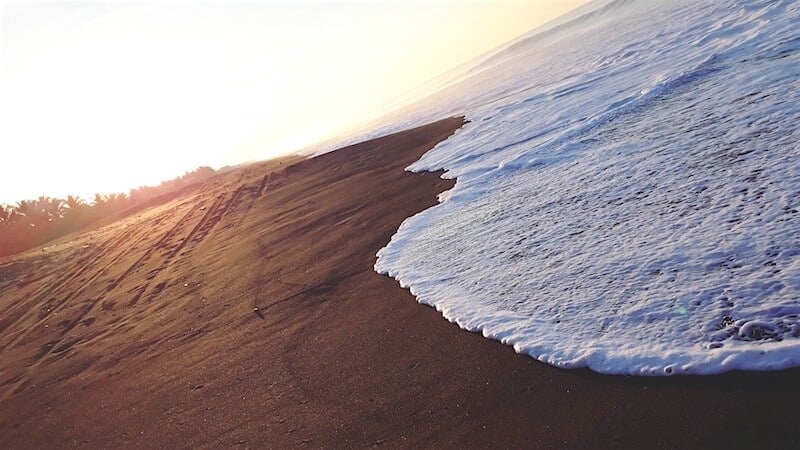 Journey through a mangrove lagoon on Guatemala's Pacific Coast and you'll reach this stretch of black volcanic sand beach fringed by a mighty surf.
Visiting these black sand beaches are one of the top things to do in Guatemala and Montericco is a favourite haunt of backpackers, surfers and weekenders from Guatemala City.
Yet it's still a quiet place where you can chill out in a humble beachside cabana, laze away in a hammock, explore a lagoon or grab a surfboard and ride the waves. Just an hour from Antigua, visiting Monterrico beach is one of the top things to do in Guatemala.
Insider Tip: Holiday periods are peak periods for petty crime. Read 20 Travel Safety Tips for Guatemala
8. Day Trip to Fuentes Georginas Hot Springs near Xela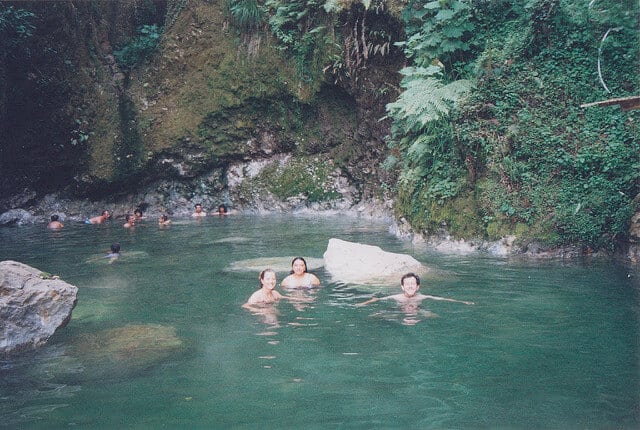 Balance body and soul at these hot springs in Guatemala's highlands, near Quetzaltenango. These mineral-rich thermal waters are located in an area long considered sacred by the local Maya.
Begin with a trek through the cloud forest past Zunil and Santo Tomás volcanoes and then soak away your muscle aches in the legendary, healing waters.
The pools, carved out of rock and obscured by swirling steam, are tucked inside a well-equipped facility complete with change rooms, showers and eating areas.
9. Cool off at Pasabien Pools in Zacapa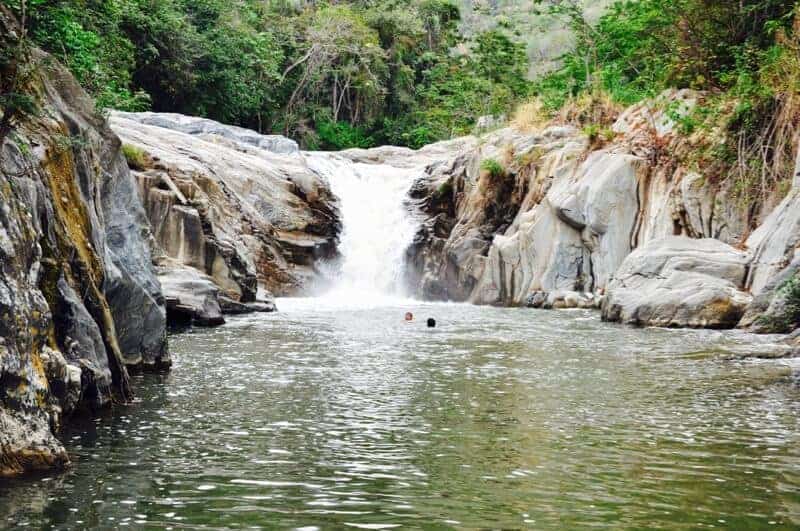 Deep in the eastern state of Zacapa, the sweltering heart of Guatemala's cowboy country, is Pasabien. This series of natural rock pools and waterfalls is fed by icy water from an underground source in the Sierra de las Minas Mountains.
Nearby Santa Cruz may appear to be just another dusty commercial town, but it offers market stalls with vendors selling fresh pineapples, fine local rum and quesadilla, a rich cake made of queso de Zacapa—the dry cheese beloved throughout Guatemala.
Get the fixings for a picnic and shiver your sweat away with a refreshing dip in the chilly rock pools.
Read more: Cool off in the natural springs at Pasabien, Zacapa
10. Explore Tikal National Park Archeological Site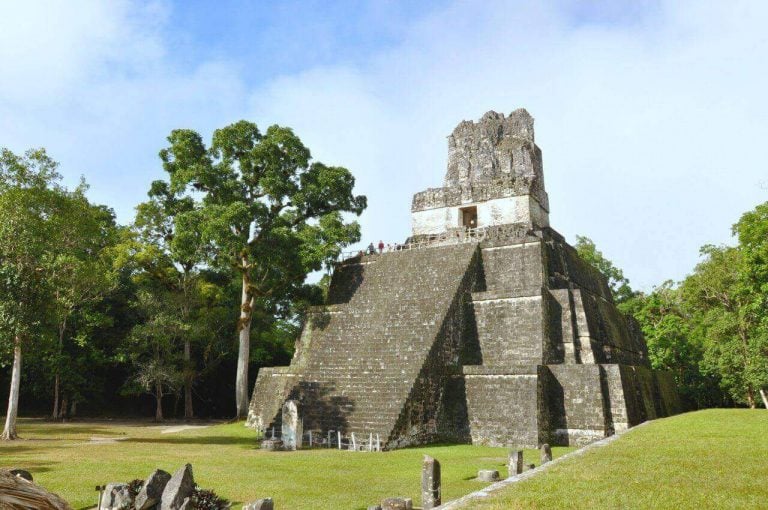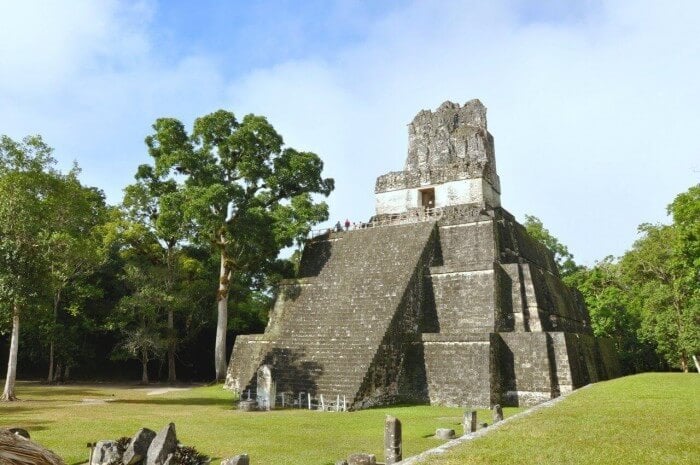 The vast archeological site of Tikal is one of the top attractions in Guatemala. It was declared a UNESCO World Heritage Site in 1979 and is deservedly one of the top wonders of the Mayan world. Its monumental architecture dates back as far as the 4th century BC but reached its peak between 200-900 AD when it dominated the Maya region politically, economically, and militarily. Its most famous structure is the Temple of the Double-headed Serpent, the tallest surviving ancient Maya structure. For those sure of foot, it offers a panoramic view of the jungle canopy from its summit.
Further along a shaded path is the Mundo Perdido or Lost World, a collection of moss-draped ruins still under excavation. A fascinating new discovery lies 19 kilometres away in El Zotz, where archaeologists uncovered the Temple of the Night Sun, a red structure adorned with masks of the Maya sun god depicted as a shark, a blood drinker and a jaguar.
However, its location in the northern jungle of the Peten region of Guatemala means it's not possible to visit on a day trip ( unless you're independently wealthy and can fly in on a special charter for the day).
So if you're planning to visit the Mayan city of Tikal (which you absolutely should), it's worth planning an overnight tour so you can wake up in the jungle at dawn and explore the ruins before the crowds arrive.
You can also combine a Tikal day of pyramid exploring with an overnight at Lago Petén Itza, a magical lake only 45 minutes from Tikal and the Maya Biosphere Reserve.
Hotel Suggestion: For a luxury stay, don't miss La Lancha, La Lancha, an eco-lodge owned by director Francis Ford Coppola on Lago Petén Itza
Tikal in a Day? Yes! Read about Belize to Tikal Tour: A Tikal Guatemala Day Trip
11. Excursion to Livingston and the Caribbean Coast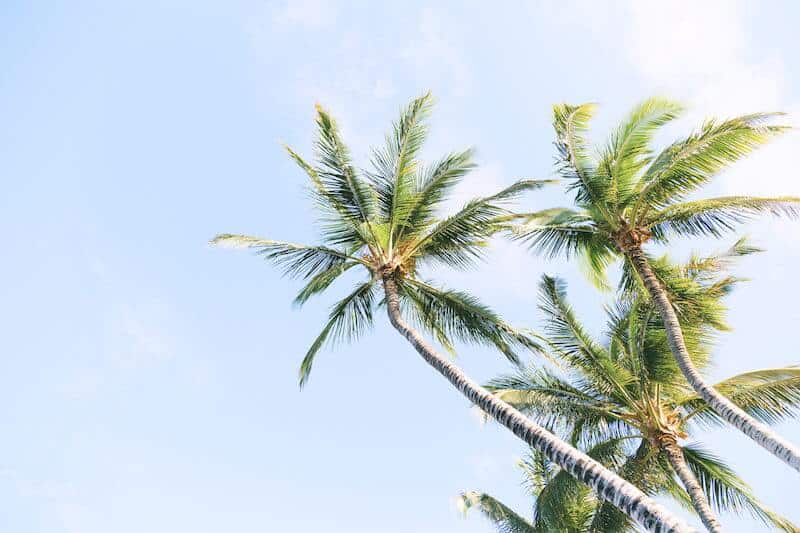 Take a boat, or walk the beach north of Lívingston on Guatemala's Caribbean coast and you'll arrive at the Seven Altars, a set of cascading freshwater falls and pools within a protected rainforest.
Draped with orchids, the river offers cool waters perfect for splashing and swimming. Plan to spend a few days so you can soak up the lively Garifuna vibe—a mix of Caribbean, South American and African music, dance and cuisine.
Read more: Recipe for Tapado, a seafood and coconut soup from Livingston Guatemala
12. Tour to Panajachel and Lake Atitlan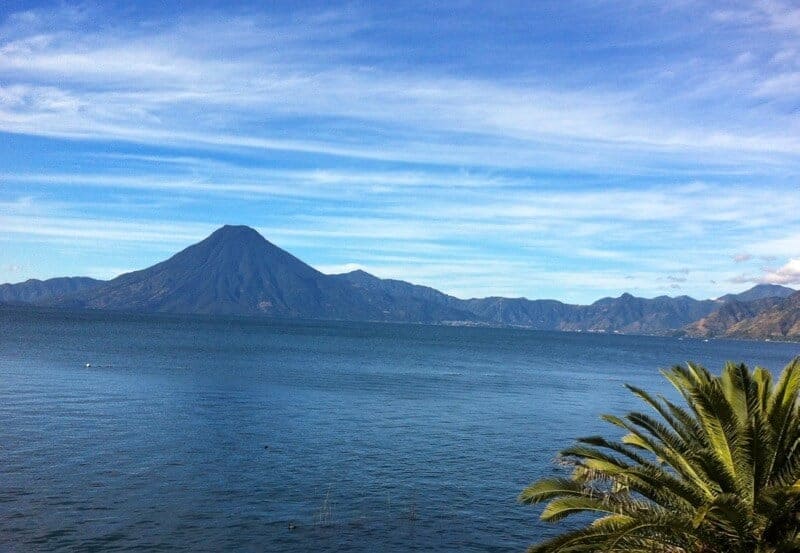 The lakeside town of Panajachel is the tourism hub of Lake Atitlan but is still very picturesque. There are so many things to do in Lake Atitlan, Panajachel makes a great base for day trips to Mayan towns such as Solola, Chichicastenango and San Pedro La Laguna both in the highlands and around the lake.
It also offers its own open air food market, a historic church as well as plenty of diversions such as Spanish Language Schools, restaurants, craft markets and stunning views of Lake Atitlan from virtually every part of town.
Read more: A Wild Boat Ride to San Pedro la Laguna, one of the top things to do in Guatemala when you're in Panajachel
13. Witness the Day of the Dead Kite Festival in Guatemala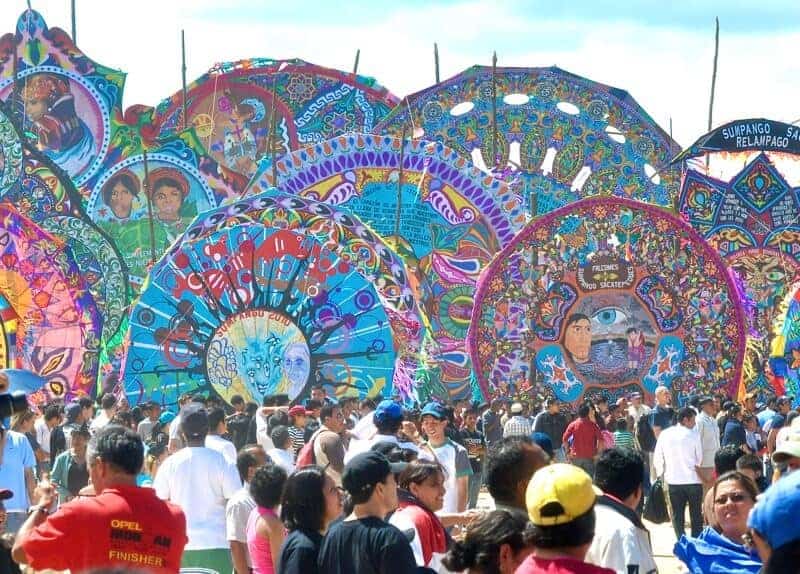 One of the most unforgettable experiences and best things to do in Guatemala is to participate in the spectacular All Saints Day Giant Kite Festival in Sumpango Sacatepéque.
It's an easy day trip from Antigua and Guatemala City so is no problem to include in your plans should you happen to be visiting Guatemala between October 31 and November 2nd.
During this unique festival which takes place in a soccer field in Sumpango on November 1st each year, local Mayan people celebrate Dia de los Muertos by flying giant, hand-crafted kites, which have been constructed by hand by community groups and local artisans.
The belief is that the kites communicate with the spirits of the ancestors and, as the kites fly high into the heavens, they carry messages to those in heaven.
Read More: 5 Things to Do on Guatemala's Day of the Dead Kite Festival.
14. Visit the Basilica of Esquipulas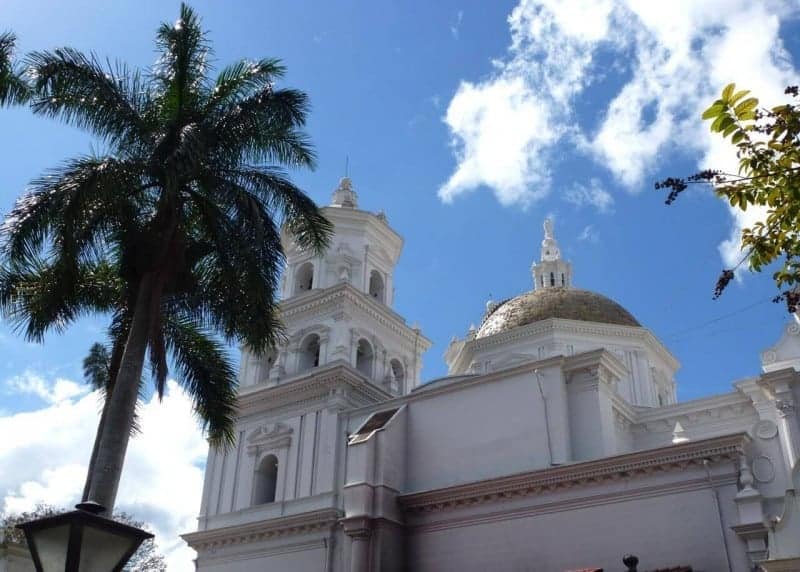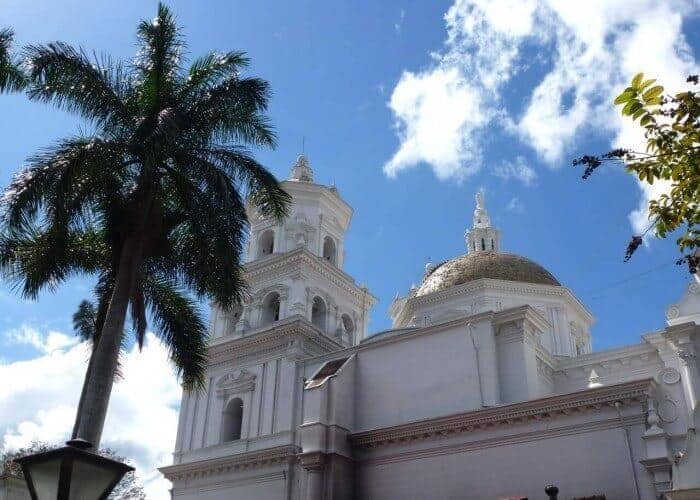 One of the top things to do in Guatemala for Catholics includes visiting the Basilica of Esquipulas, home to the revered statue of the Black Christ. Although the pilgrimage of Esquipulas takes place on January 14-15 and draws thousands of faithful pilgrims, many of whom walk the final stretch of the journey on their knees.
The church houses the figure of Christ carved of dark balsam wood (and darkened further through centuries of incense smoke) by famed colonial sculptor Quirio Catano in 1594. The statue draws line-ups of pilgrims year-round and the streets surrounding the Basilica of Esquipulas are a bustling hub of commerce.
You'll have fun exploring the market stalls offering religious souvenirs, local food and snacks. Look for the quirky sombrero de Esquipulas, a straw hat festooned with pompoms, tassels and tinsel, worn by pilgrims.
Subscribe to the Taste for Travel newsletter to receive our newest blog posts on Guatemala as well as a list of the top dishes to try in Guatemala.
15. Relax on Lake Peten Itza at Flores, Guatemala
If you're looking for a relaxing way to wrap up a visit to the archeological site of Tikal, one of the best places to go is Flores, Guatemala. The capital city of Peten is located on an island in Lago de Peten Itza connected by causeway to the mainland.
This small town features charming cobblestone streets, tour companies offering boat and jungle excursions, a waterfront promenade and several bars and restaurants ideal for watching the sunset.
A fun thing to do is watch the spectacular sunset. On Calle Union, Terrazzo Ristorante & Bar is a top spot for enjoying the sunset while sipping a cocktail featuring the local aguardiente (moonshine) Quezalteca.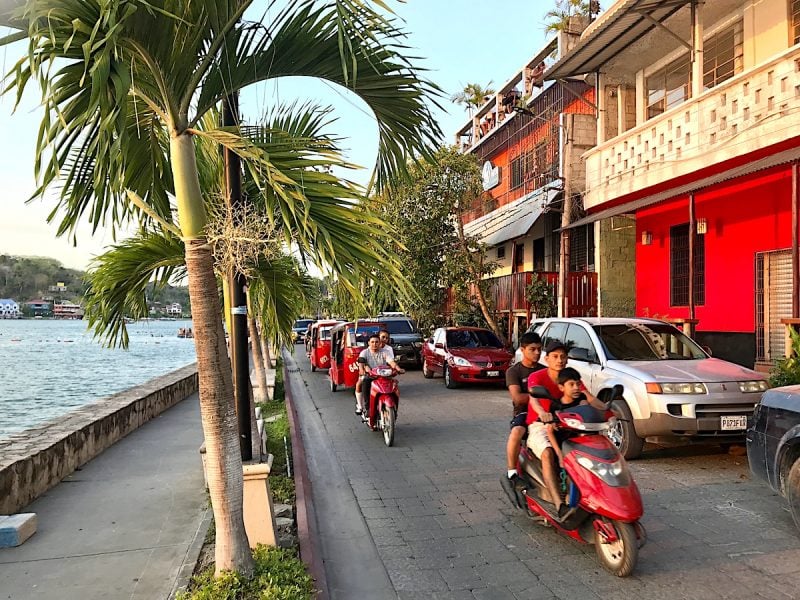 When it comes time to overnight, for an unforgettable stay at surprisingly low prices, you won't be disappointed with Bolontiku Resort. This luxury boutique hotel featuring a swimming pool, bungalows with panoramic views of Lake Peten Itza and lush gardens.
It's easily accessible by boat from Flores (the hotel provides a free shuttle for guests) or by car.
You can fly directly to Mundo Maya International Airport ( located in Santa Elena on the mainland ) from Guatemala City in under one hour.
One of the best places to go in Guatemala, Flores also happens to be a top spot for connecting for travel to Belize. Shuttles and flights are readily available for travel between the two countries.
16. Hike the Remote Desert Habitat of the Rare Heloderma Lizard
One of the more unique and strange things to do in Guatemala is to visit the off-the-beaten path Reserva Natural Heloderma in the Motagua Valley near Cabanas in Zacapa.
This protected 316 acre reserve is the home of the endangered Heloderma horridum charlesbogerti, a venomous beaded lizard endemic to the unique desert ecosystem of southeastern Guatemala. It's one of only two venomous species of lizard.
It's possible to hike the rugged trails through the lowland scrub brush and visit the small but important science station and breeding facility.
For a small fee, local guide and lizard guardian Gilberto Salazar offers informative tours with explanations about local and international efforts to help protect the heloderma horridum from extinction.
If you're feeling adventurous, it's even possible to overnight in one of the camping sites ( 24 Quetzals per person) or stay in a rustic bungalow ( 100 Quetzals per person – around $13 USD. Check current exchange rates on XE Currency Converter ).
Travel Guide to Best Activities To Do in Guatemala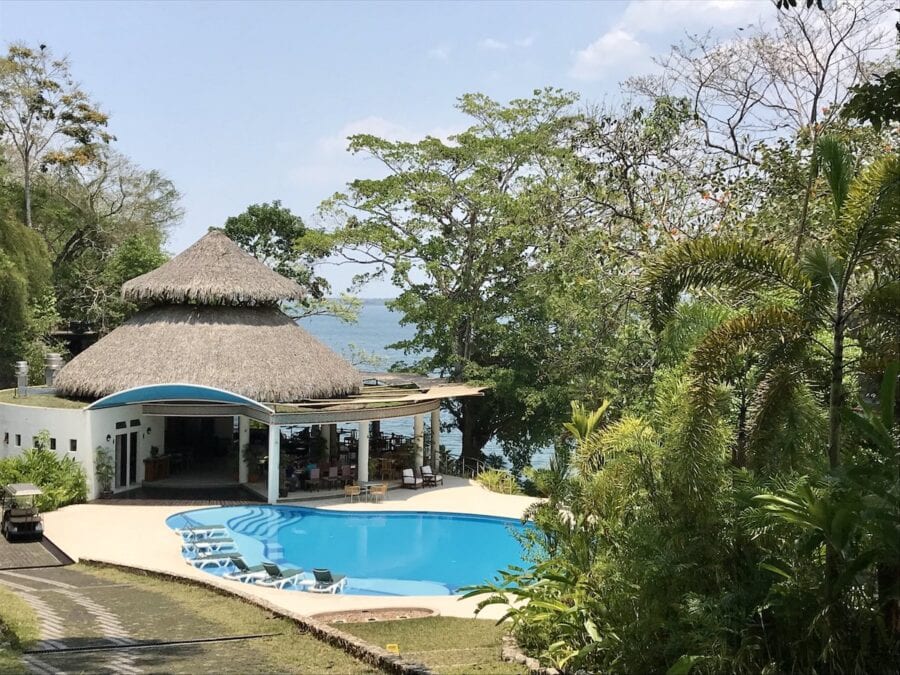 Itinerary Planning: Distances are great between major attractions in Guatemala, so it's impossible to pack it all into one week. Plan to spend at least 2 weeks if you want to see the main points of interest.
Check out this itinerary for spending 10 days in Guatemala featuring Lake Atitlan, Antigua and Tikal.
Guatemala Tourism Office: INGUAT is Guatemala's Official Tourism Agency. They have an office in Panajachel located at the corner of Calle Santander and Calle Principal (near Pollo Campero) with handy maps for planning Guatemala tours or day trips. Visit the official INGUAT website.
Coban: The Park Hotel and Resort outside Coban offers economical bungalows with a typical Guatemalan buffet breakfast and makes an easy base for exploring Alta Verapaz
Ferry docks in Panajachel: There are two docks in Panajachel. A shared boat to San Pedro la Laguna costs 25 Q ( around $3) and take approximately 30 minutes.
Muelle de la Playa Publica ( Public Dock) in Panajachel: Located at the end of Calle Rancho Grande, this marina is where you catch the public boat to Santiago Atitlan, take a tour or book a private boat.
---
YOU MIGHT ALSO ENJOY:
20 Travel Safety Tips for Guatemala
Ultimate Survival Guide to Spending One Month in Panajachel, Guatemala
3 Budget Hotels You'll Love in Antigua, Guatemala
Study Spanish in Antigua, Guatemala