We may earn income from links in this post. Please read this Disclosure for details.
Craving traditional Guatemalan food or curious about what to eat in Guatemala? This in-depth guide offers an introduction to the top dishes everyone should try on a visit to Guatemala as well as links to authentic Guatemalan recipes to make at home.
Tucked between Mexico, Honduras and El Salvador, Guatemala is famous for its Mayan culture, beautiful landscapes such as Lake Atitlan and archeological sites such as Tikal.
But its other big attraction is its cuisine!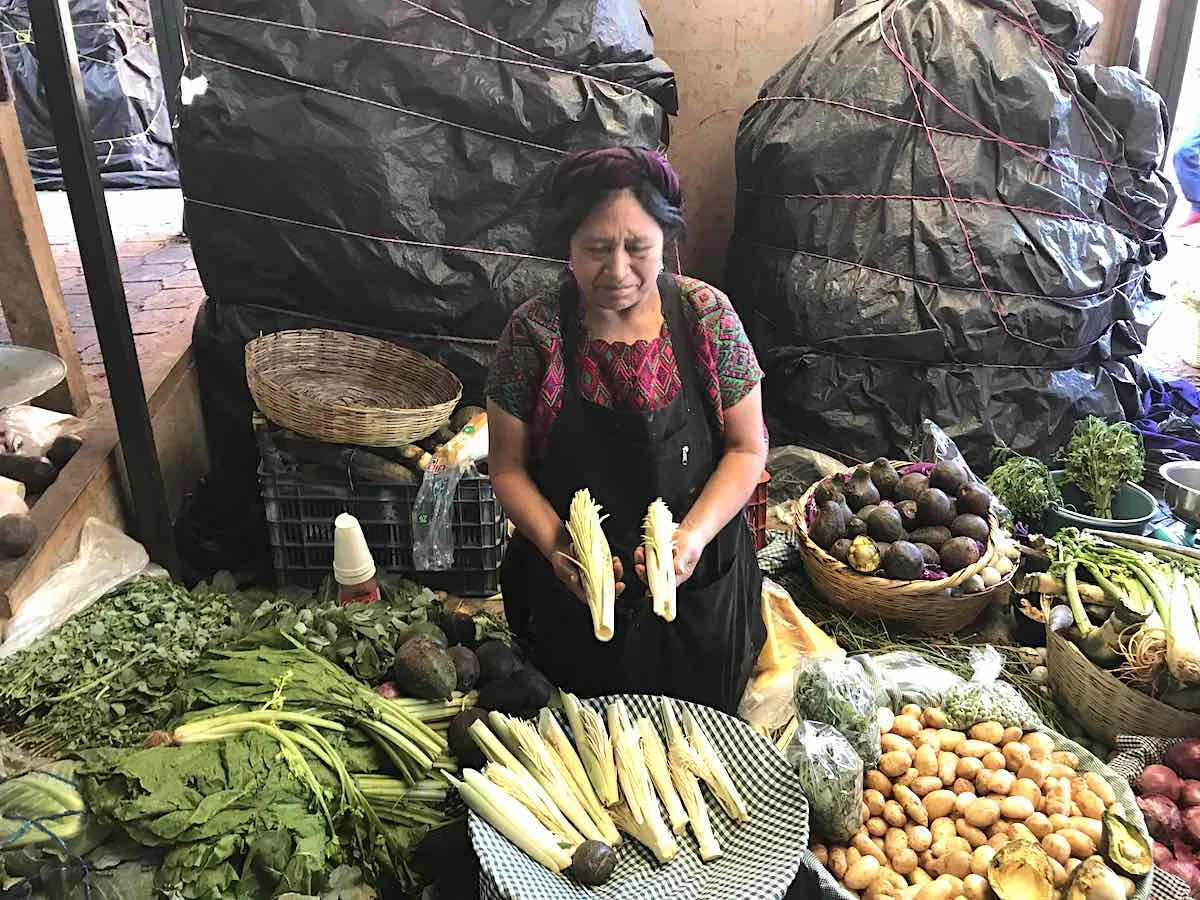 What Makes Traditional Guatemalan Food Special?
Guatemalan comida típica (traditional Guatemalan food) is an exciting mix of Mayan, Spanish, Arabic, Caribbean, Garifuna, African and Ladino cuisines.
Its key ingredients showcase the bounty of products grown in the country's fertile valleys and volcanic mountain slopes. Guatemala's food traditions reflect this incredibly rich biodiversity.
The country's cuisine is also shaped by centuries-old Guatemalan cooking techniques. Many of Guatemala's most famous dishes — such as kak-ik, pepián and tamales — are still made according to traditional methods.
This can include grinding maize for tortillas at a local molinero (communal grinding mill), steaming tamales outdoors over an open fire and charring ingredients on a comal, a smooth flat griddle made of clay or metal.
Combined with its cultural roots and diverse ingredients, these traditional cooking techniques contribute to making Guatemalan food among the best in the world.
Over the past 25 years, I've had the opportunity — thanks to my Guatemala-born husband and my own independent explorations around the country — to sample a wide range of Guatemalan local food.
My Guatemalan in-laws are a family of cooks.
There's always something simmering on the stove or over an outdoor fire! On special occasions even more Guatemalan holiday foods and ceremonial dishes are available.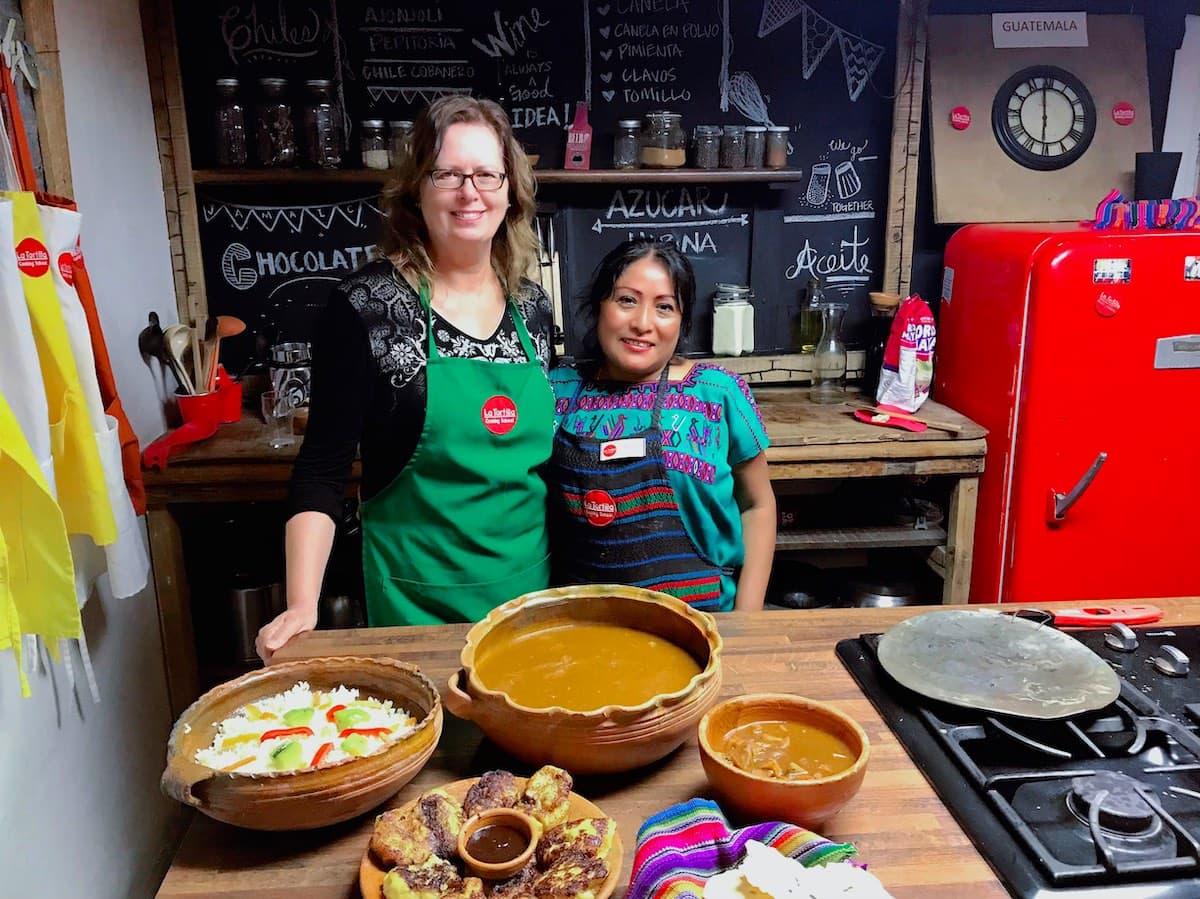 Here's my guide to the top traditional Guatemalan foods — from appetizers to snacks to desserts — everyone should try on a trip to Guatemala.
Most of these food photos I've taken myself so you can see what Guatemalan food really looks like. I've even included links to our favourite traditional Guatemalan recipes so you can make them at home!
You can also download my cookbook of Easy Guatemalan Recipes for free!
Black Bean Soup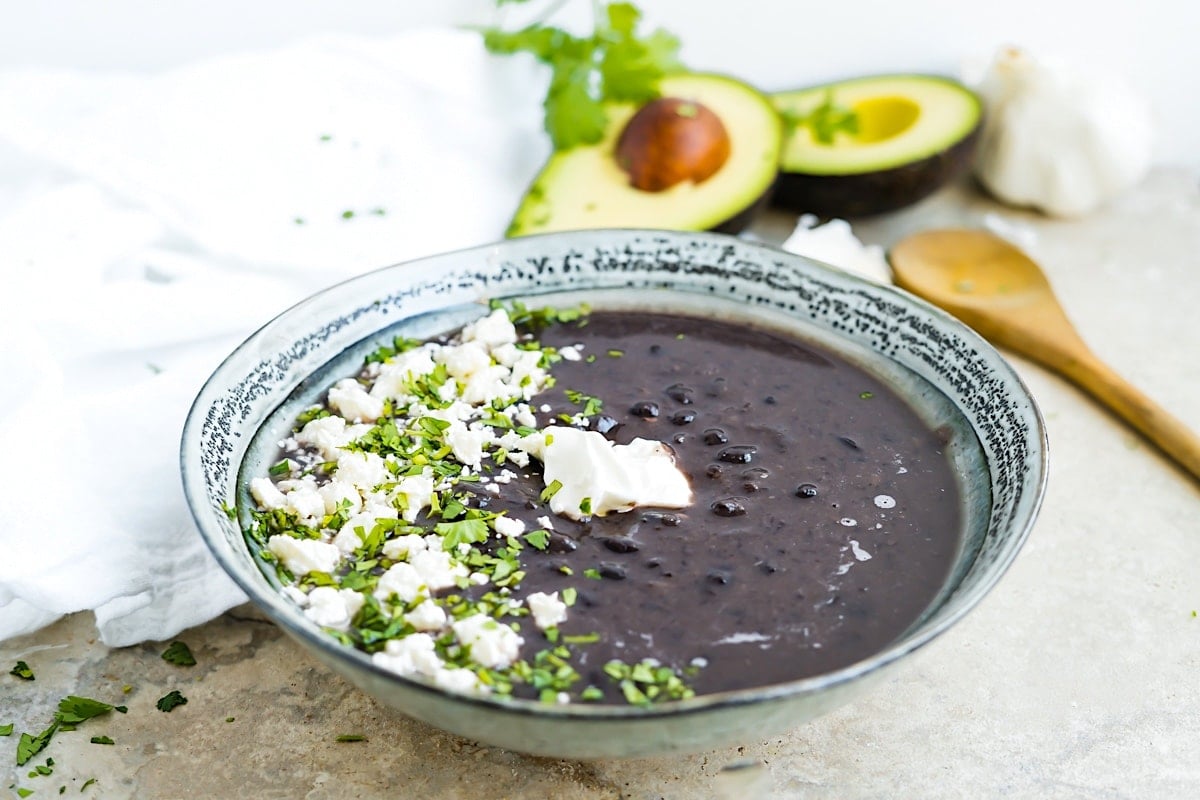 When it comes to Guatemalan comfort food, black bean soup is soul food in a bowl. Lightly creamy, it showcases the rich, earthy flavour of Guatemalan black beans.
If you think all black beans are created equal, you haven't tried Guatemalan black beans. Our family is so particular about black beans, they bring suitcases full of dried beans when they travel!
You too will become a fan once you dive into the delicious world of black bean soup Guatemalan-style!
To make this dish at home, get our Recipe for Guatemalan Black Bean Soup.
Black Beans and Rice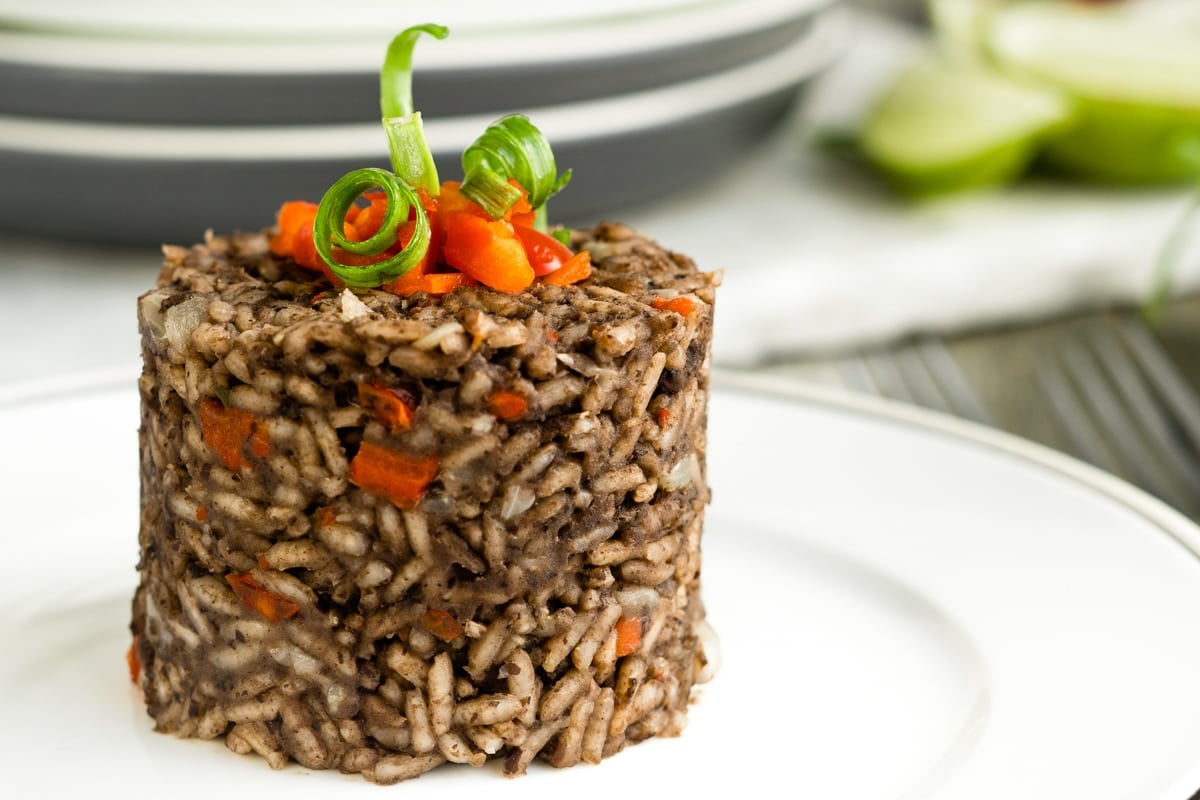 In this traditional Guatemalan rice and beans recipe, the beans and liquid leftover from traditional Guatemalan black bean soup are cooked together with white rice to make arroz negro.
Green onion and red pepper add colour and a boost of flavour.
It's wonderful served with carne asada (grilled meats) but I also love it tucked inside a soft tortilla or even with eggs for breakfast.
Make this dish at home with our Guatemalan recipe for Black Beans and Rice.
Bacalao a la Vizcaina – Salt Cod Stew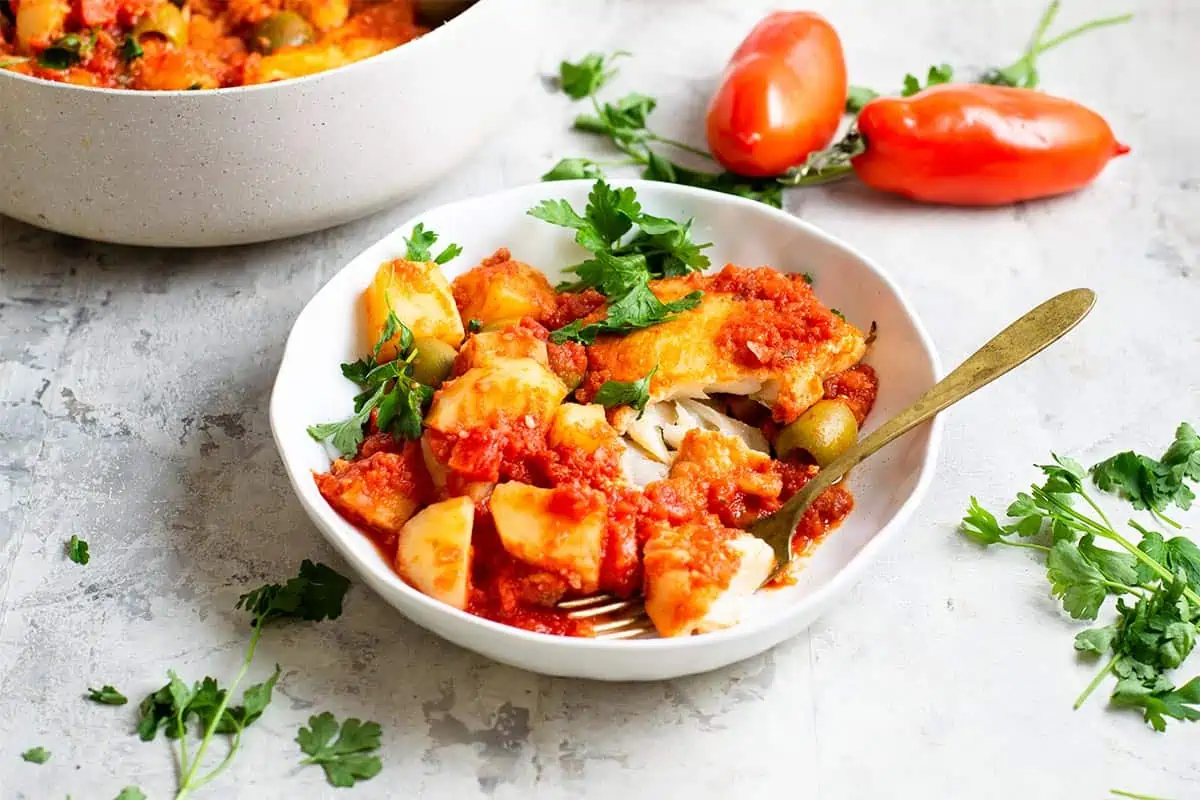 While the Guatemalan diet does include a lot of beans, there's much more to the cuisine than legumes! Cod is very popular in Guatemala at Easter.
Made with bacalao seco (dry salt cod fish), Bacalao a la Vizcaina has its roots in the classic Spanish salt cod dish from the Basque region of Spain.
Often available in restaurants in Antigua during Semana Santa, it sells out quickly. But it's a relatively easy Guatemalan recipe to make at home as long as you factor in time for pre-soaking and rinsing the salted cod multiple times.
To make this dish at home get our recipe for Bacalao a la Vizcaina.
Caldo de Res – Beef Soup
A meal in a bowl, caldo de res (beef soup) is another traditional Guatemalan food that's popular at lunch and dinner. It contains beef (most often beef ribs), in a flavourful clear bone broth along with a wealth of vegetables such as chayote (huisquils), green beans, cabbage, cilantro and carrot.
Although the mix of vegetables may vary depending on the cook, there's almost always a piece of corn on the cob in each serving.
Caldo de pollo (the chicken soup version) is just as popular. Both are served with white rice on the side along with some chiltepe peppers for extra heat.
Carne Asada – Grilled Meat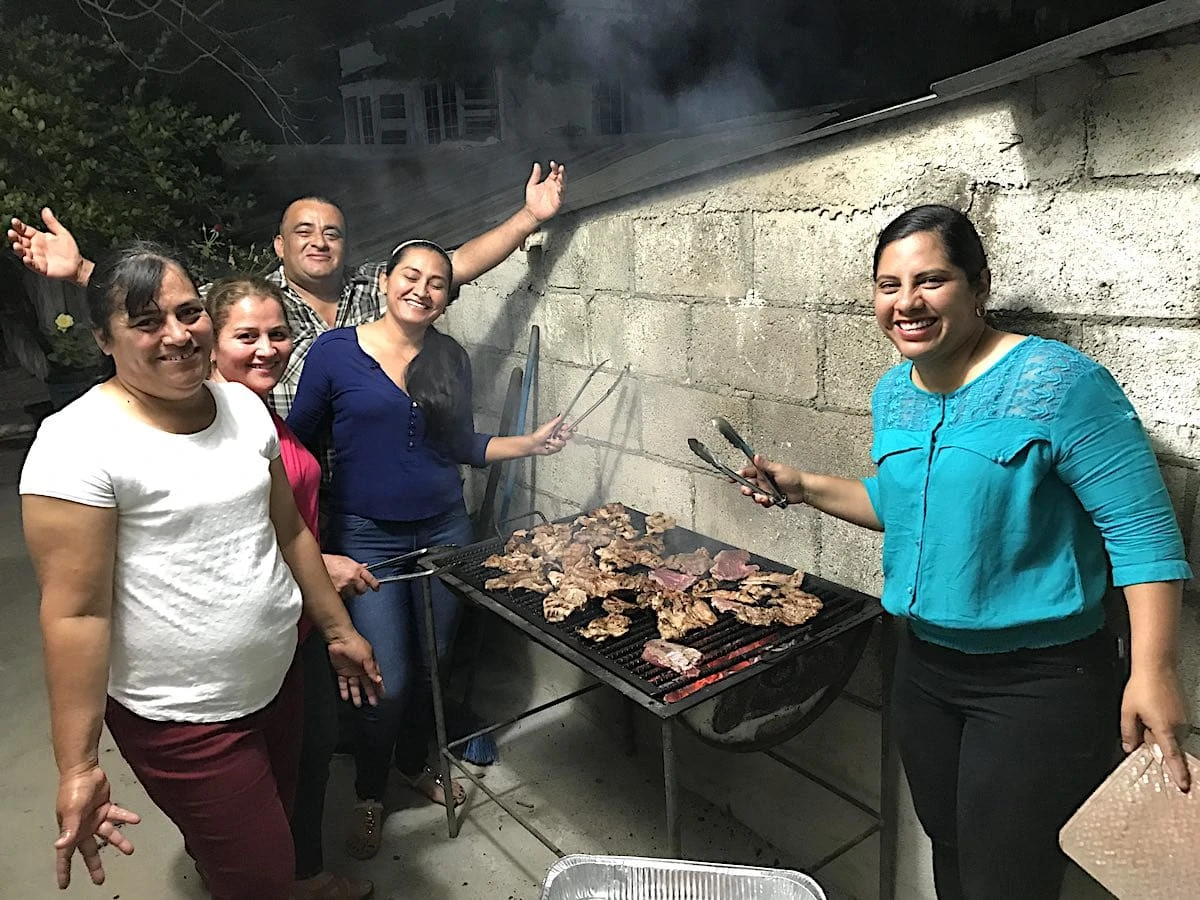 In the typical Guatemalan churrasco or barbecue tradition, it's most popular to use a charcoal grill rather than a gas grill at parties.
While beef ( skirt steak) is the most popular meat to grill, a big part of Guatemalan food culture is the tradition of hiring a "matador" to slaughter a whole pig for special occasions like weddings, milestone birthdays or New Year's Eve.
The pork is then grilled, made into chicharron and finally revolcado stew. All parts of the animal are used so nothing goes to waste.
Whether its beef or pork, the thinly sliced grilled meat is served with sides such as yellow rice, grilled corn, grilled green onions, plantain, wedges of white cheese, guacamole, refried black beans, chorizo (spicy sausage), a simple green salad and longaniza (white sausage).
To accompany this common Guatemalan food, bottles of hot sauce, chiltepin peppers and chirmol (charred fresh tomato sauce) are served on the side.
Chile Rellenos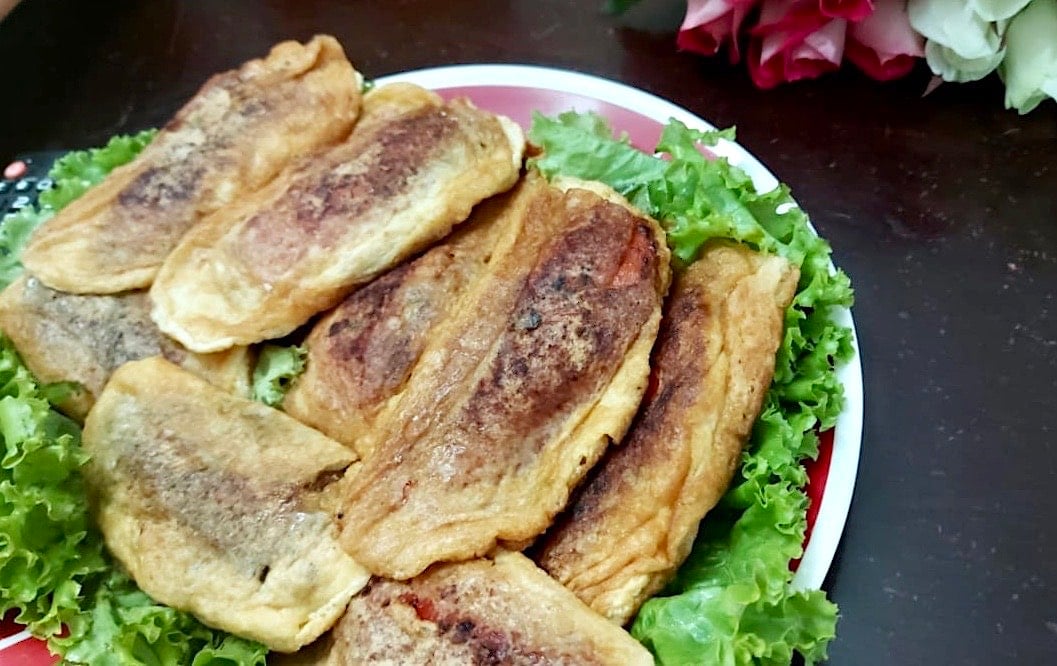 One of the main dishes in Guatemala, chile rellenos are one of my favourite traditional Guatemalan foods. They're also very laborious to make!
Unlike the Mexican dish of the same name, Guatemalan chile rellenos are made with charred poblano peppers stuffed with a minced beef, green peppers, potato, onion and carrot picadillo rather than cheese.
The stuffed peppers are then dipped in a frothy egg white batter and fried until crispy brown. Then, they're bathed in a light tomato sauce and enjoyed with white rice or tucked inside a French roll.
Phew! What a lot of work!
By far, the best versions of Guatemalan chile rellenos are made in home kitchens. So, if you're in Guatemala try to score an invitation to someone's home for dinner if you can!
Ceviche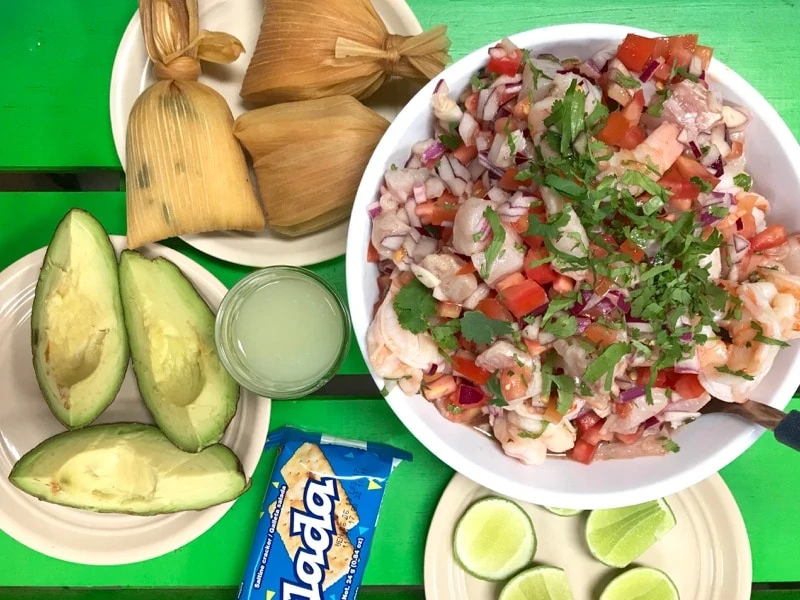 The most popular Guatemalan street food and snack is ceviche de camarón or mariscos. It features shrimp or seafood in a refreshing mix of tomatoes, onion, cilantro and celery cooked in lime juice.
Enjoy it with saltine crackers and hot sauce during a day at the beach or when out and about in Guatemala City.
Get our Guatemalan recipe for Guatemalan shrimp ceviche.
Champurradas Cookies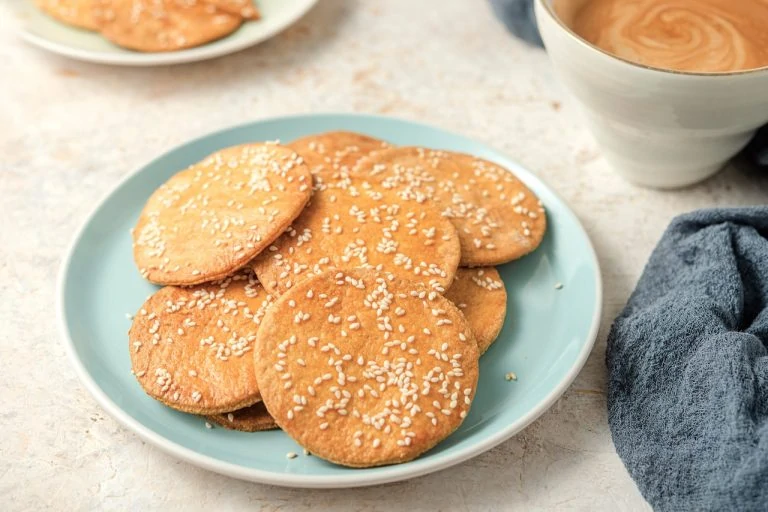 These traditional cookies can be found in bakeries all over Guatemala. Deliciously crisp and easy to make, champurradas feature the buttery flavour of shortbread with a sprinkle of sesame seeds for extra crunch.
Not overly sweet, they're a fabulous accompaniment to an afternoon cup of coffee, tea or hot cocoa.
To make these cookies at home, get our recipe for Guatemalan champurradas.
Chojín – Chicharrón Salad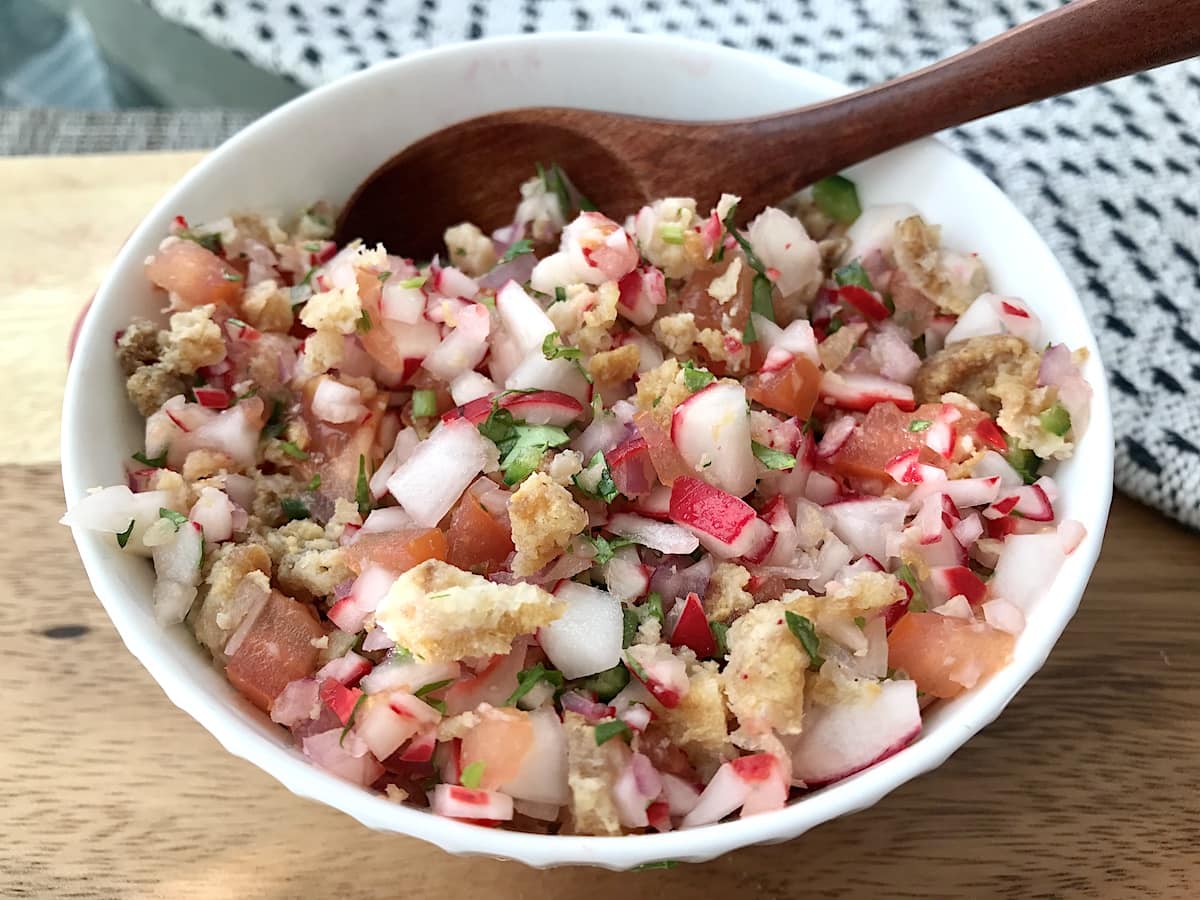 Another unique traditional Guatemalan food is chojín, a salad made of crispy pork rinds (chicharron) and finely minced radishes, cilantro, white onion, cilantro and tomato in lime juice.
Although it might sound weird to the uninitiated, to chapines (slang for Guatemalans), chojín is a very popular side salad, appetizer and snack.
Give it a try! I'm sure you'll agree that salty pork rinds really do complement peppery radishes and tangy lime juice.
To make this traditional Guatemalan dish at home, get our recipe for chojín Guatemalteco.
Conserva de Mango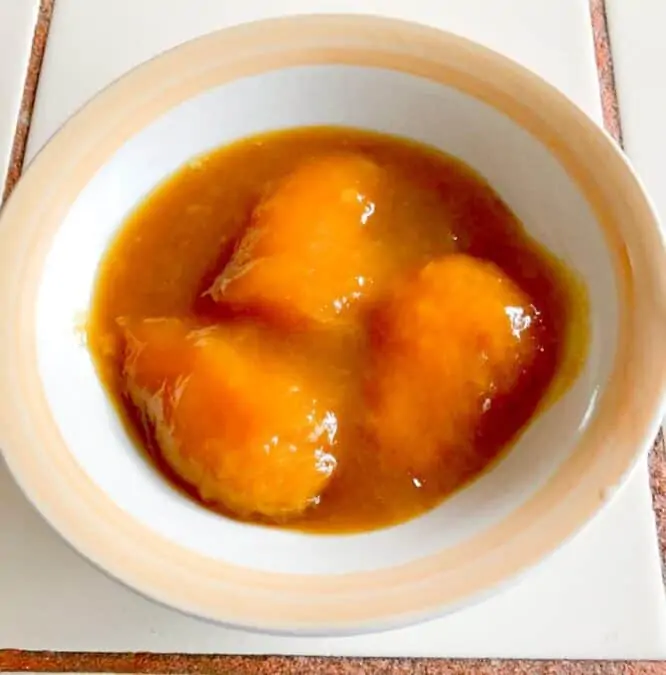 This mango treat is rarely seen in restaurants but is a popular Guatemalan dessert to make at home during mango season.
To make it, peel and then boil ripe, fresh mangoes with panela cane sugar and cinnamon sticks until a juicy syrup forms.
Serve conserva de mango on its own at room temperature in a bowl. One of the best Guatemalan foods to enjoy during spring and summer, it celebrates the bright sweetness and fruity aroma of mangoes in their prime.
To make this traditional Guatemalan dessert at home, get our recipe for conserva de mango.
Empanadas de Loroco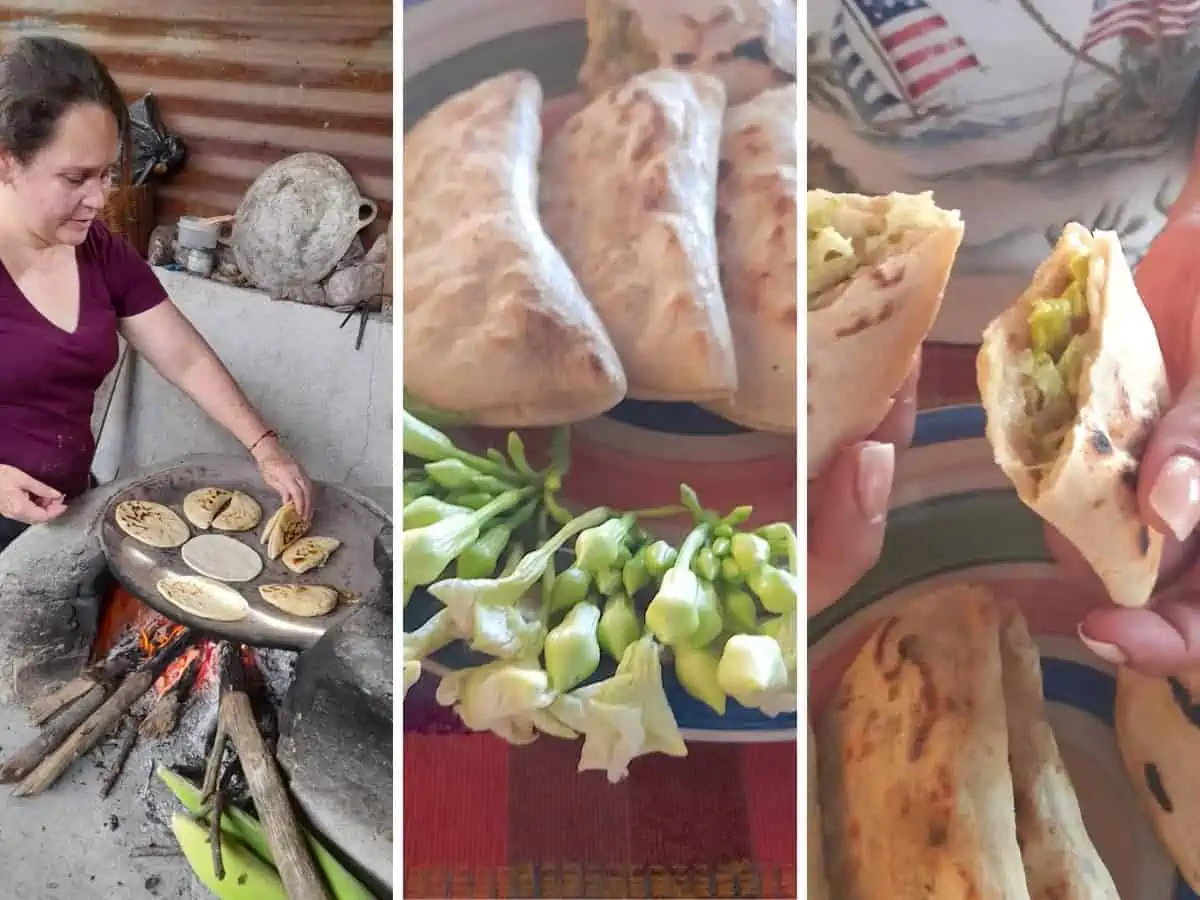 One of the most typical snacks in Guatemala is the empanada de loroco. These tasty bites are turnovers of maize (masa dough) with flor de loroco or flower of the loroco (fernaldia pandurata) plant.
This delicacy is harvested from a hardy vine that grows in many parts of Central America and its enjoyed in a variety of recipes including pollo en crema con loroco, pupusas, salsa and empanadas.
Empanadas are made by placing a mixture of cheese and loroco onto a tortilla, folding the tortilla over, sealing it and then cooking it on a comal. It's then topped with a simple tomato salsa and eaten as a snack.
Enchiladas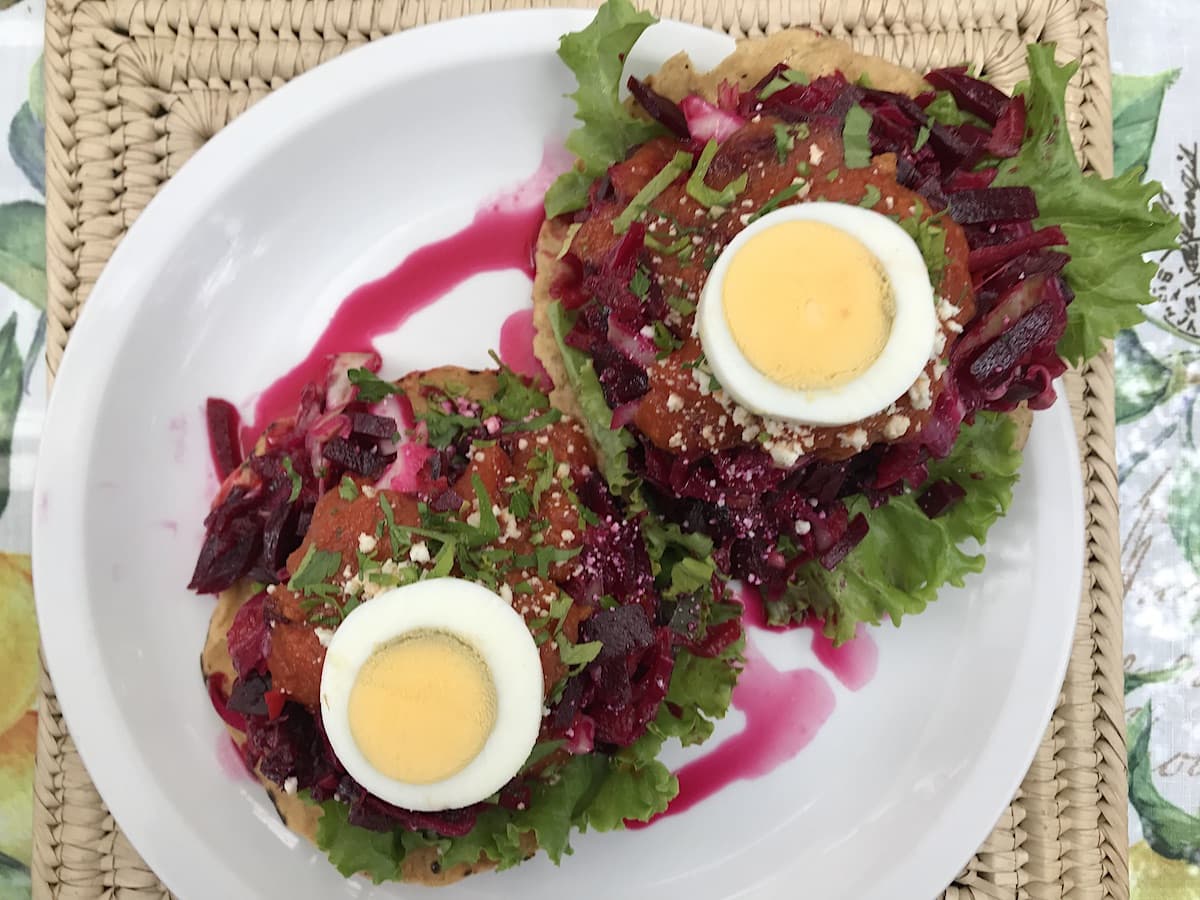 What are the differences of Guatemalan food vs Mexican food? Guatemalan enchiladas are a great example of how a recipe with the same name can be totally different!
While Mexican enchiladas are tortillas stuffed with cheese or chicken and smothered in cheese and tomato sauce then baked, in the Guatemalan recipe for enchiladas are basically an open faced salad!
A favourite Guatemalan food when you're on the go, they often feature a crisp tostada topped with a mixture of beets, onion and lettuce and slices of hard boiled egg.
This dish is a great example of how Guatemalan food can be healthier than what's known as Tex-Mex food.
Fiambre – A Famous Guatemalan Food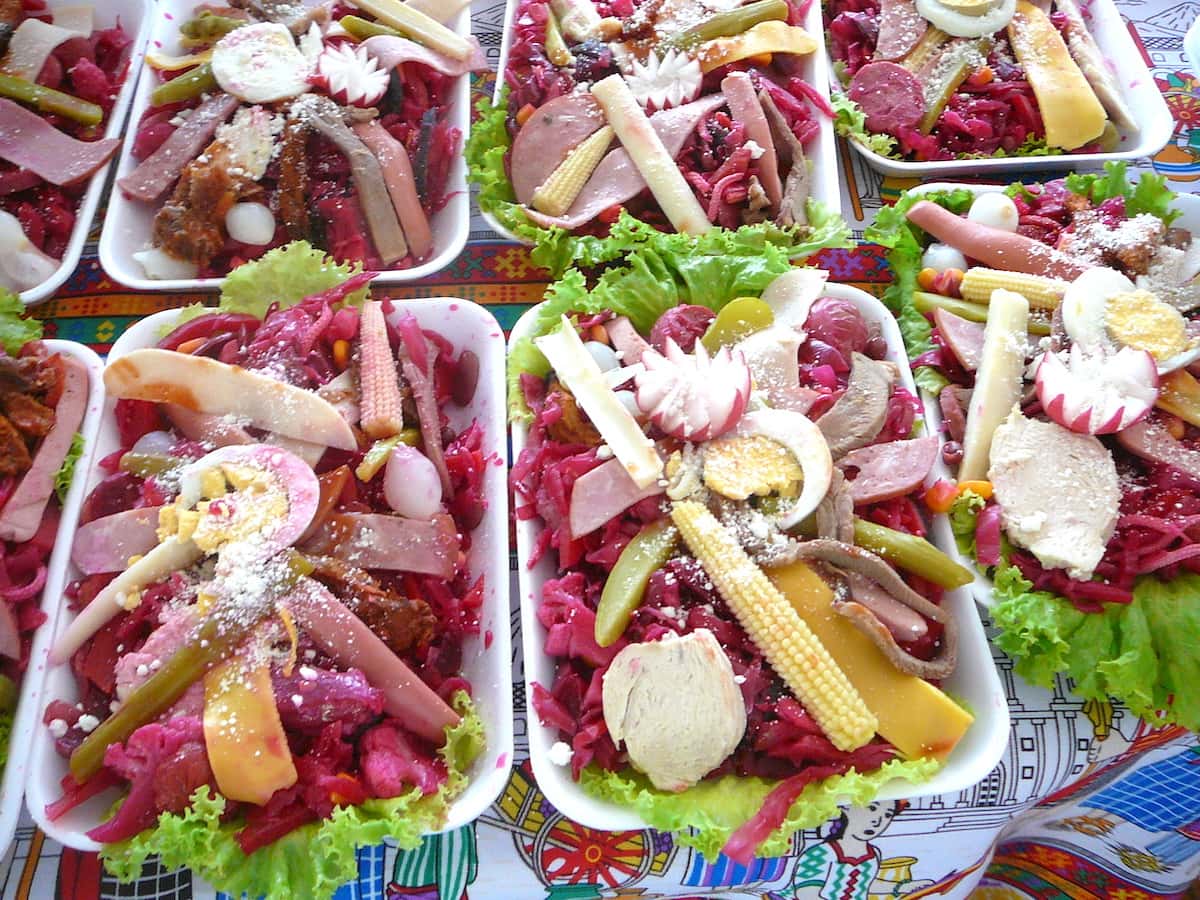 A traditional food to enjoy on Dia de los Santos in Guatemala. is fiambre. The time, cost and effort of preparing the more than 100 ingredients that go into making fiambre elevates this cold meat and vegetable salad to an exalted position in Guatemalan culture.
While it's not clear where exactly this famous Guatemalan recipe originated, it dates to colonial times.
Some accounts say it was created at the Convent of the Capuchinas in Antigua when a nun assigned to making a last-minute dinner for guests, raided the convent's larder and chopped everything available into tiny pieces.
The resulting platter of composed vegetables, meats, eggs and salad dressing proved to be popular and became an indispensable part of Guatemalan culture.
Flans, Custards, Puddings and Manjar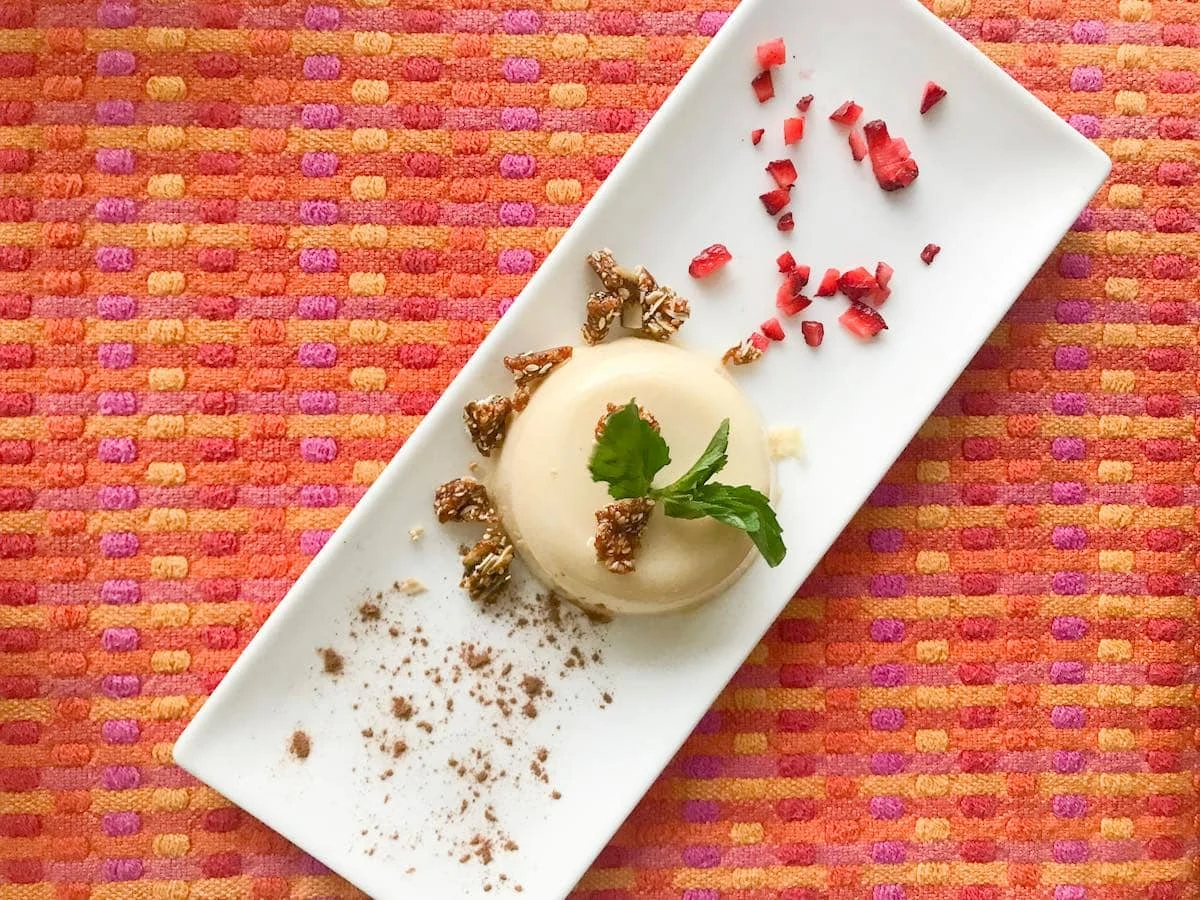 This family of popular Guatemalan milk-based desserts includes rice pudding (arroz con leche), panna cotta and manjar, a runny custard that's also enjoyed as a drink.
Another unique Guatemalan desserts is bocada de reina, a bread pudding containing raisins that's almost like a cake.
There's also the perennially popular classic flan, an egg custard with a golden caramel top and caramel sauce that originated in Spain, but is now beloved from Mexico to South America.
Most of these traditional Guatemalan desserts contain sugar, sometimes egg and, very often, the wonderfully flavourful, sweet-scented local cinnamon.
Frijoles Negros Volteados – Refried Beans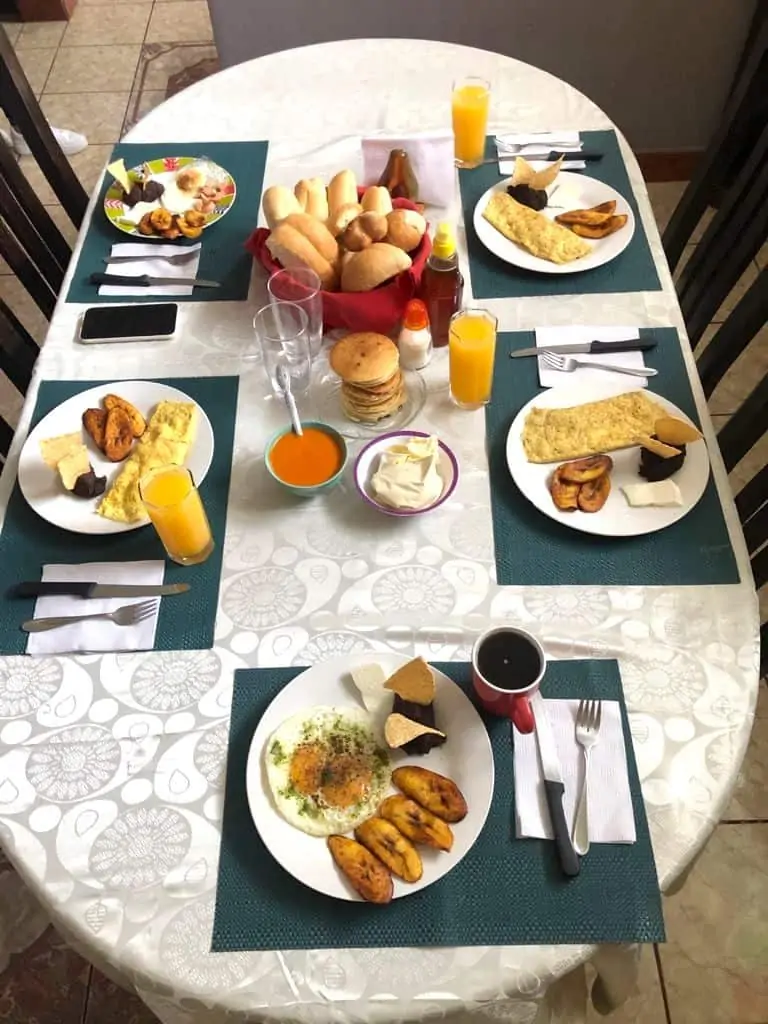 A typical Guatemalan breakfast will include eggs, caramelized plantain, a piece of white cheese, scrambled egg with tomato and frijoles volteados (refried beans).
As in Mexico, where refried beans are blended prior to being fried in browned onion, in Guatemala the beans are turned while they're being fried so that they form an oblong shape.
The consistency of frijoles negros volteados is rather like a creamy paste rather than a liquid. This common Guatemalan food has a wonderful, earthy flavour that's delicious on a tortilla or alongside an entree.
While most people prepare frijoles negros volteados from scratch using dried beans, it's equally popular to get a head start on the process by using prepared black beans.
In that case, the best commercial brand of refried beans is, without a doubt, Ducal Refried Black Beans.
Available in cans of all sizes or in handy pouches, this Guatemalan brand features the best cooked, seasoned and refried black beans you can buy. Look for them in any Latino grocery store or order online.
Gallo en Chicha – Rooster/Hen in Fruit Wine
This typical dish of El Salvador and Guatemala is best described as rooster cooked in a homemade fermented fruit beverage.
The alcohol content and even the flavour of chicha varies depending on who is making it. But its slightly sweet flavour adds an intensity to the poultry that makes it a very special and unique dish.
This traditional Guatemalan dish is not very easy to find as chicha appears to be considered a form of moonshine in certain regions. In some regions it's actually distilled into an aguardiente and can be quite potent.
But in its most flavourful and simplest form, chicha is a fruit wine made of nance, mamey, cherry, quince and other fruits, that have fermented for several months. It forms a beautiful base for the tender poultry and is usually served on special occasions.
Guacamole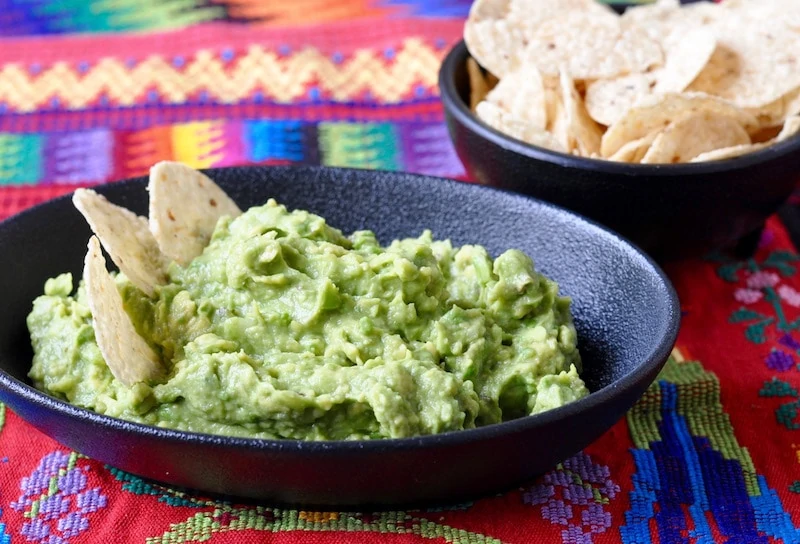 Avocados are inexpensive, abundant and delicious throughout Guatemala. They're often served sliced into wedges but are also popular as guacamole.
Unlike Mexican guacamole, Guatemalan guacamole recipes rarely contain chiles or other ingredients beyond fresh lime juice, onion and salt (sometimes oregano or hard boiled egg).
The sweet creamy flavour stands alone as the star ingredient.
Guisados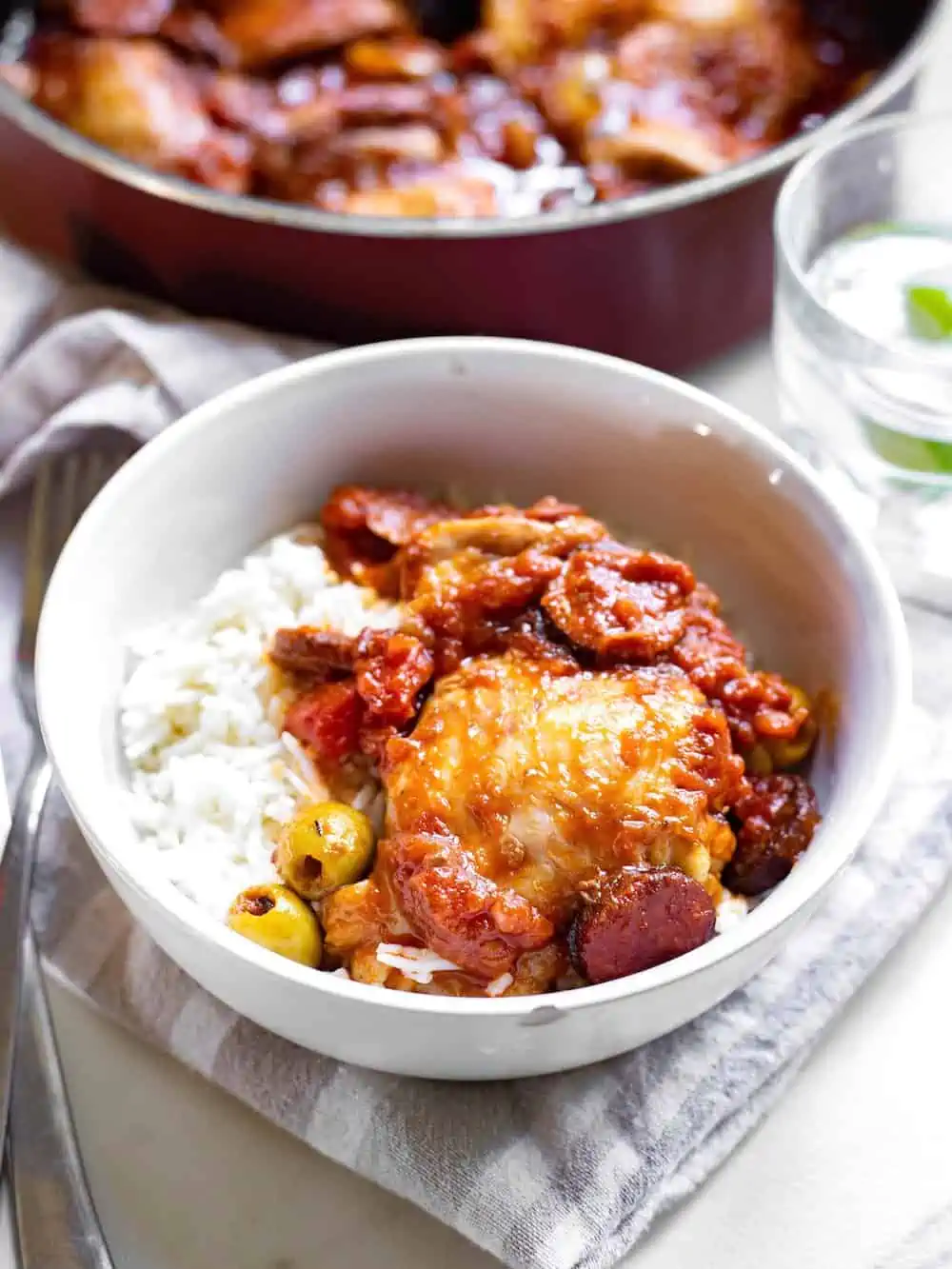 A Guatemalan guisado is a method of preparing meat (usually chicken, beef or pork) that involves browning the meat in vegetable oil and then braising it in liquid with spices until it's tender.
Pollo guisado is one of the most popular typical dishes to enjoy as a mid-day meal so you'll often see it on the menu at a market or a comedor (local restaurant).
Guisados are also among the traditional dishes of the Dominican Republic, Puerto Rico and many other Latin American countries.
They're usually served with white rice and hand-made tortillas.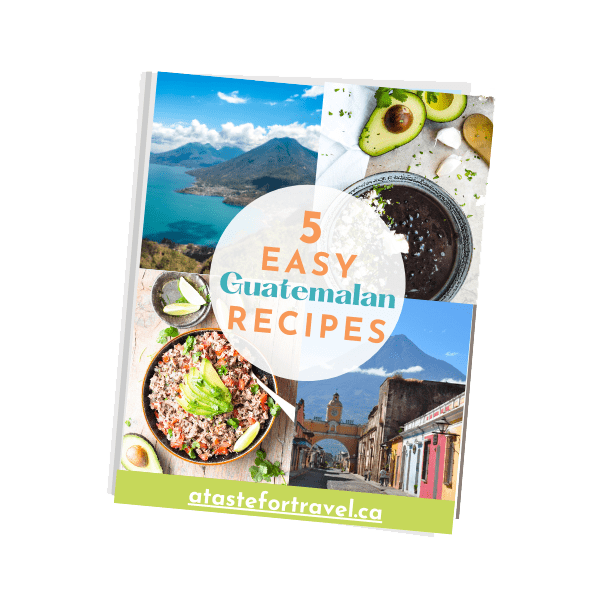 Hilachas – Spicy Shredded Beef and Potato Stew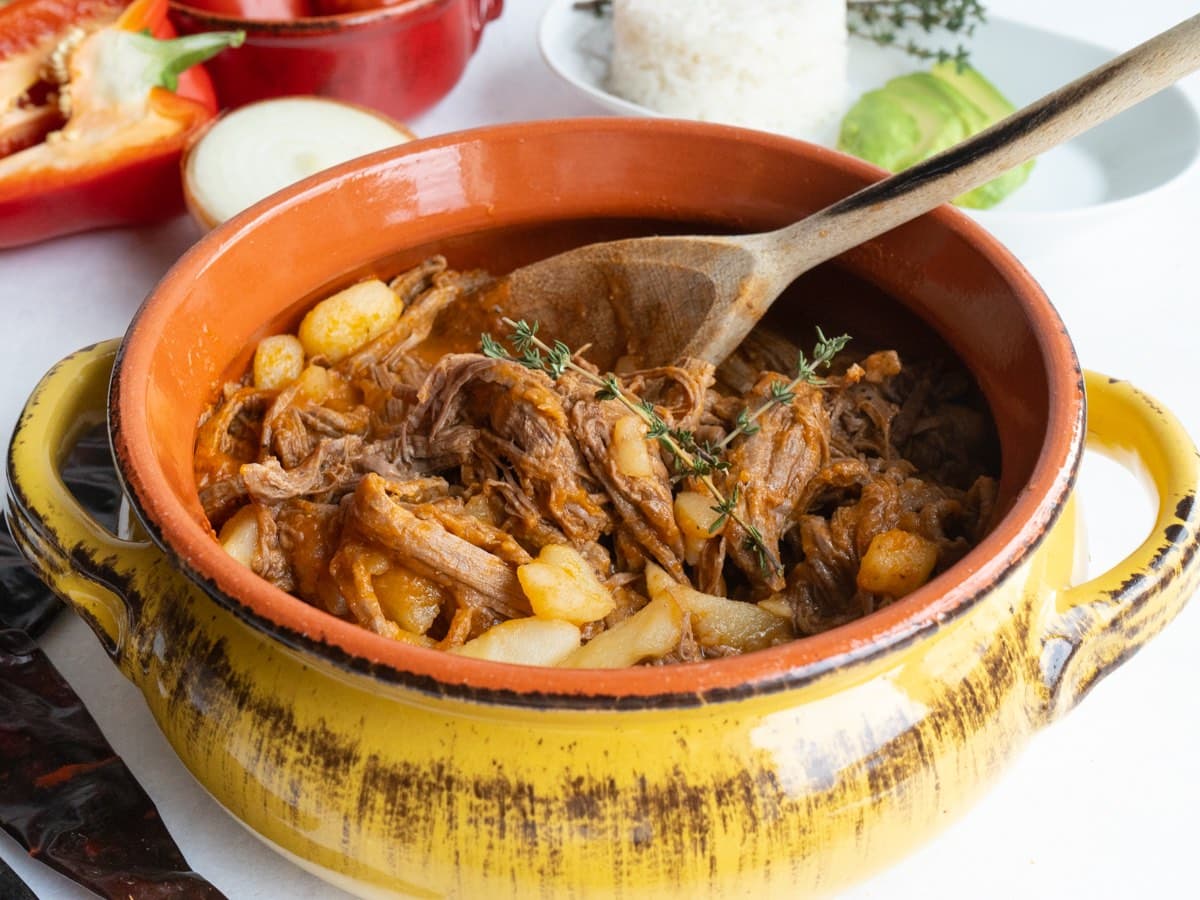 Similar to Cuban ropa vieja, hilachas is a traditional Guatemalan stew featuring shredded flank steak simmered in a lightly-spiced, tomato sauce with tender potatoes.
Get this authentic recipe for Guatemalan hilachas – spicy shredded beef stew.
Huevos Revueltos con Tomate – Scrambled Eggs with Tomato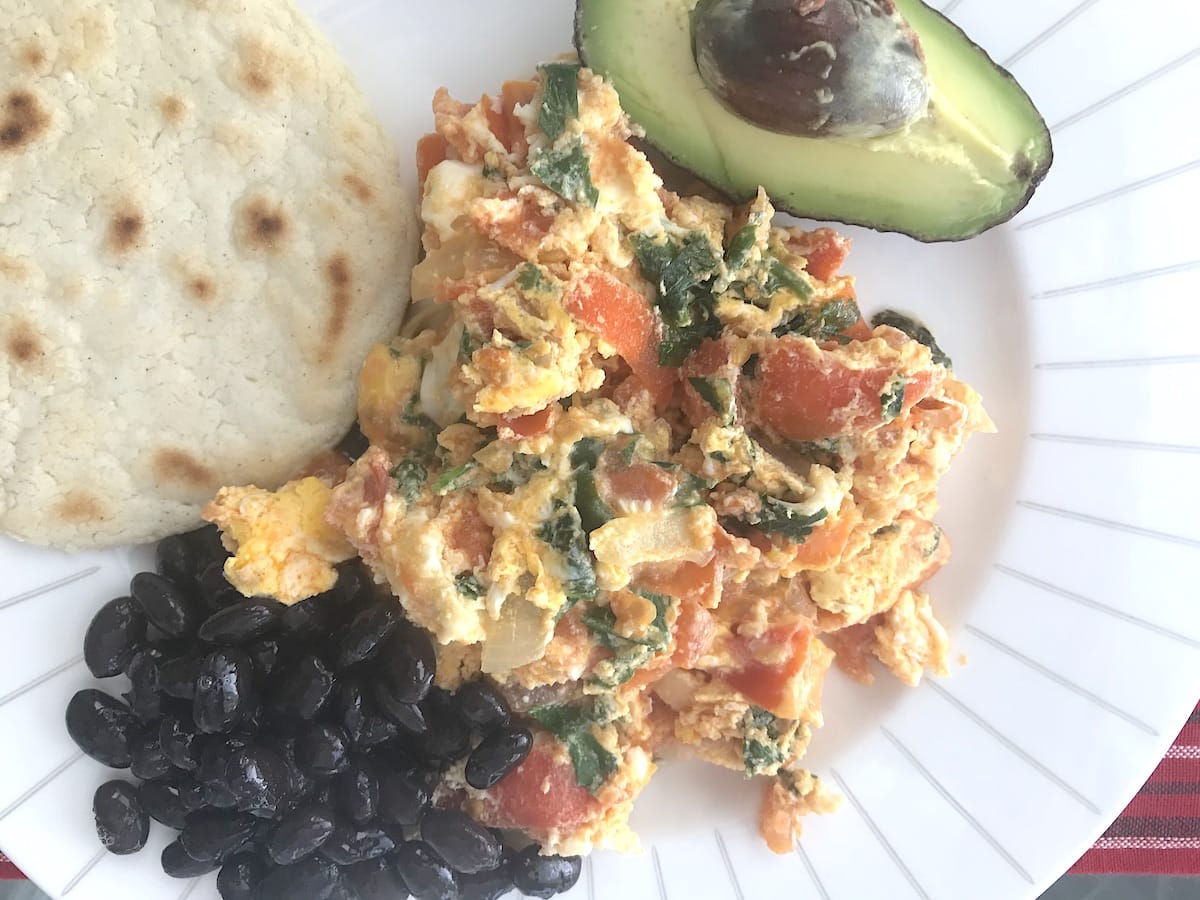 If you're travelling in Guatemala, you don't want to wake up late and miss a typical Guatemalan breakfast. This hearty meal is often a smorgasbord of selections including a basket of breads, wedges of white cheese, black beans, avocado and mosh (Guatemalan oatmeal) as well as eggs, prepared according to your preference.
While boiled, scrambled (plain) and over-easy are always popular choices, my favourite way to enjoy eggs is scrambled with a tasty mixture of simmered tomato and onion.
It's actually very similar to menemen, the Turkish egg scramble, and shakshuka, the Middle Eastern and North African one-skillet dish of poached eggs in tomatoes, green peppers, onions and garlic.
Make this Guatemalan breakfast recipe: Huevos Revueltos con Tomate y Cebolla (scrambled eggs with tomato and onion).
Iguaxte or Iguashte – Squash Seed Sauce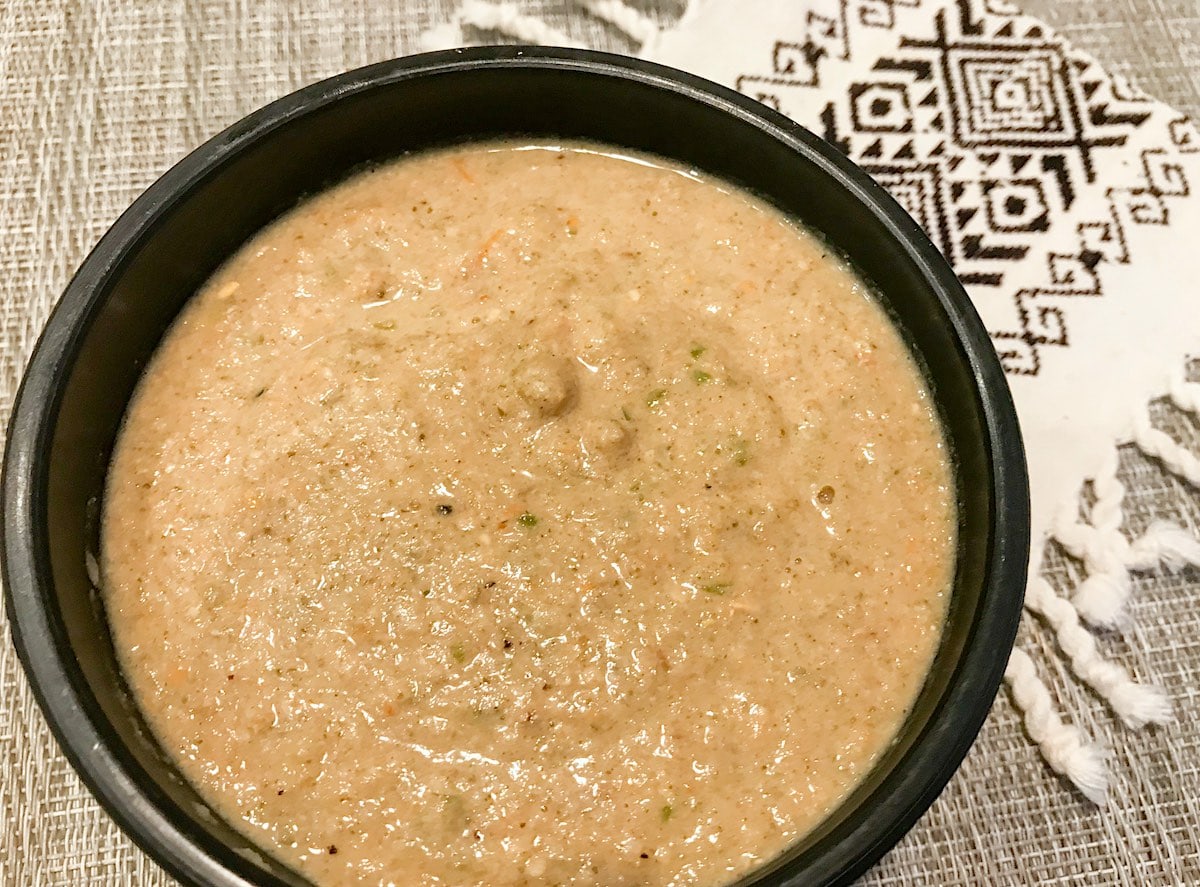 This toasted and ground squash seed sauce is also popular in El Salvador where it's served with Flor de Izote, the national flower.
The squash mixture is quite a bit different than the pepitoria used in other dishes such as jocón because it contains both shelled and unshelled seeds.
The ground seeds are then combined with tomatillos and garlic and enjoyed with green beans or potatoes as a salad. It's another unique and wonderful Guatemalan dish of Mayan origin.
Jocón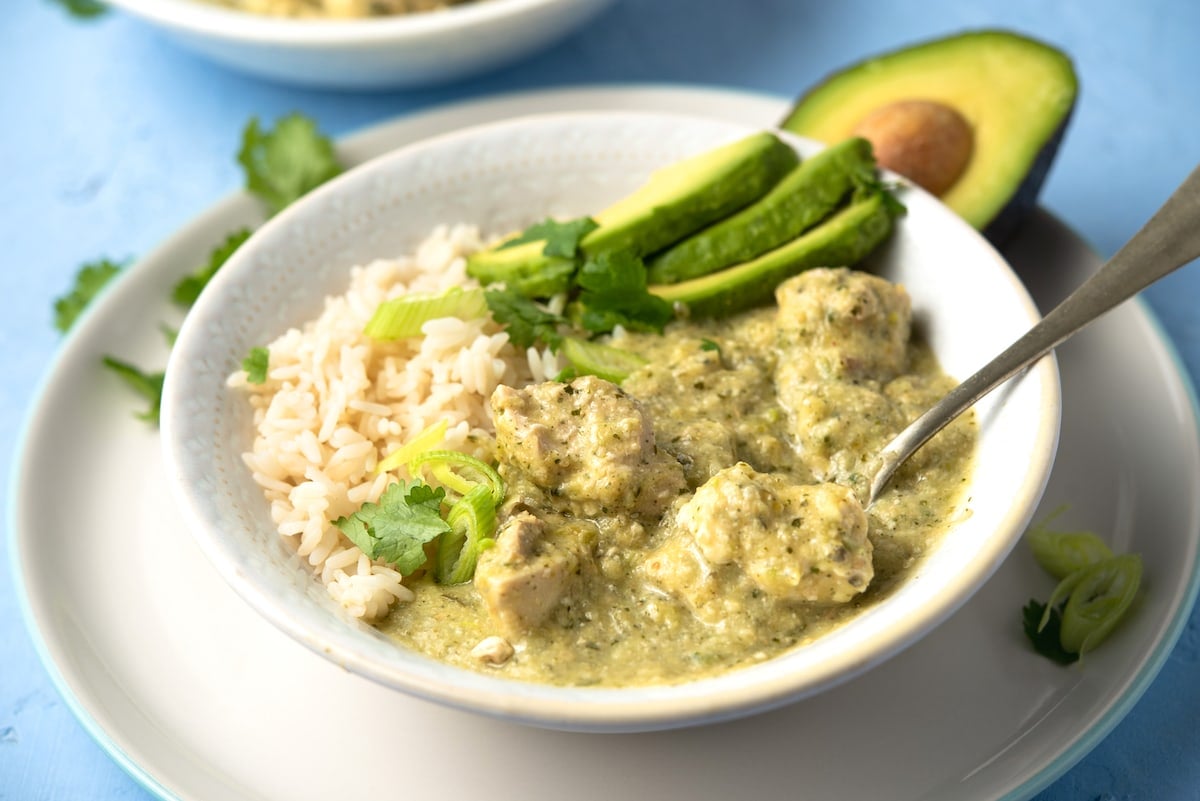 Pollo en Jocón is one of the most popular traditional foods in Guatemala. It's a Mayan dish that originates in the highlands of Guatemala in Quetzaltenango.
It's so significant, INGUAT (Guatemala's official Tourism Authority) declared it part of the Cultural Heritage of the Country.
The key ingredients — cilantro, mint, tomatillos (miltomate) and ground pumpkin seeds — are widely available so you'll find this famous traditional Guatemalan dish served throughout the country.
Jocón is a very easy Guatemalan recipe to make, so it's a good recipe for beginners.
To make this traditional dish at home, get our recipe for Pollo en Jocón.
Kak-ik or Kaq´ík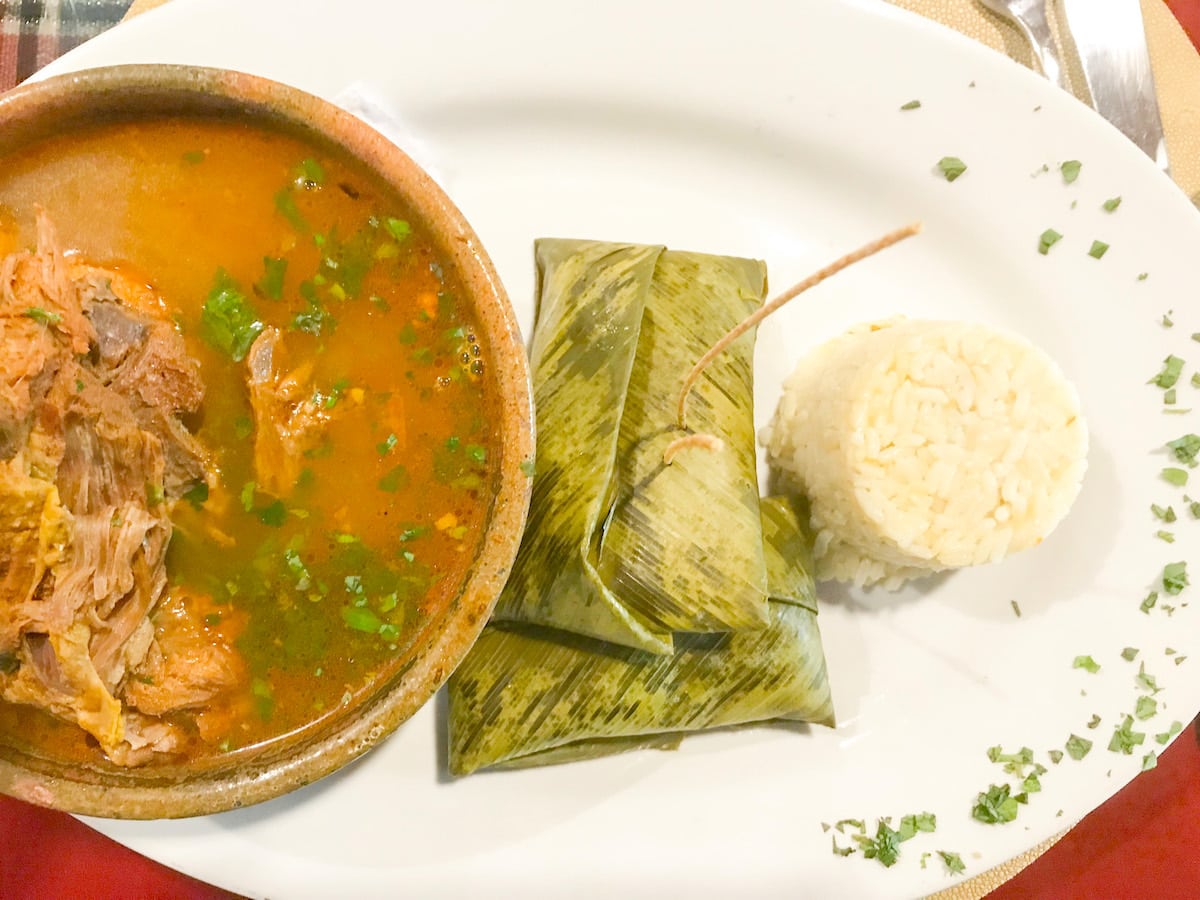 This is another of the most unique and famous dishes in Guatemala. If you're planning a visit be sure to add Cobán to your gastronomy itinerary so you can experience the most authentic regional versions. There are lots of roadside restaurants offering the specialty.
I'm often asked – Is Guatemalan food spicy? While chiles are popular throughout Guatemala, typically Guatemalan dishes are not spicy.
Among Guatemala's many stews, Kaq´ík turkey soup is likely the spiciest. It contains chile cobanero, a hot pepper from the region of Cobán, Alta Verapaz
There's good news for people timid of trying hot peppers. The cobanero chile is smoked so it's more of a subtle, sultry heat rather than scorching.
To make this typical food of the Guatemalan highlands at home, get our recipe for Kak-ik turkey soup.
Molletes and Torrejas
Although it's tempting to consider these molletes and terrejas a street food, these fried, cream-stuffed buns soaked in sweet sauce are also popular to make and enjoy at home.
The creamy cinnamon-infused vanilla custard and spiced syrup makes these a highly anticipated treat during Semana Santa.
If you're interested in gastronomy and culture,
Bella Guatemala Travel
offers several fascinating fully-escorted tours for Holy Week, Lost Kingdoms of the Maya and Day of the Dead.
Pacaya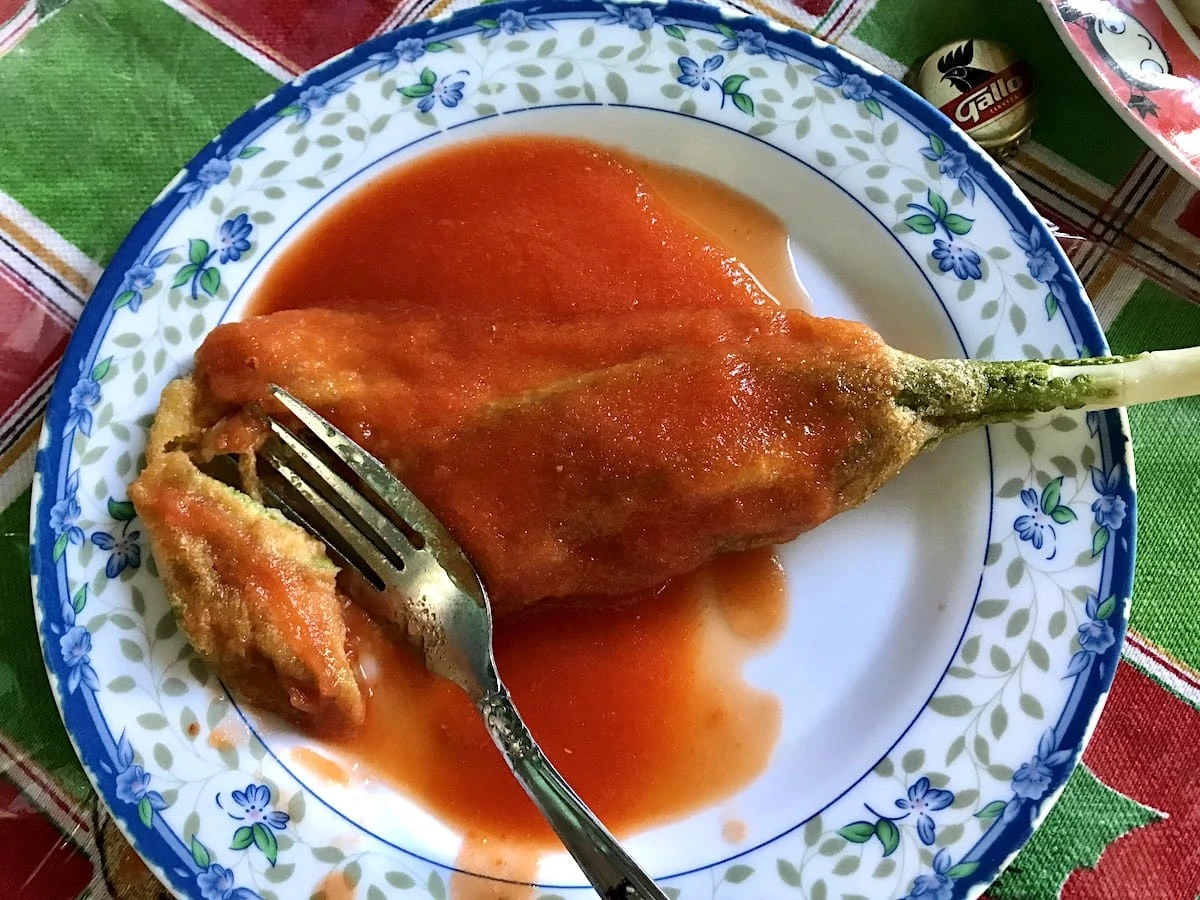 One of the most unique typical foods of Guatemala is pacaya (chamaedorea tepejilote), the edible flower pod of the pacaya palm tree.
For those not familiar with pacaya, it would probably be considered a very weird food – with its pale yellow tendrils that look like octopus legs.
But it has a slightly bitter delicate flavour that's totally delicious in a fritter. This traditional Guatemalan food is prepared by enveloping the pacaya in an egg white batter , frying it until crispy brown and then topping it with a tomato sauce.
Pacaya is also a very popular Guatemalan street food. It's served by roadside vendors and market stalls across the country as well as home kitchens.
This is one of my favourite Guatemalan dishes and the one that's impossible to recreate when we're back in Canada where fresh pacaya isn't available. Pacaya in brine is available in Latino stores and online but is most often enjoyed in salads.
So, if you want to try some authentic pacaya en recado, you're most likely going to have to travel to Guatemala!
Paches
Especially popular in the Quezantenango region but widely available, Guatemalan paches are tamales made with mashed potato rather than maize dough.
These delicious bundles are filled with a mixture of tomatoes, green onion, bell pepper, chile pasilla and chile guaque, but are savoury rather than spicy.
Patín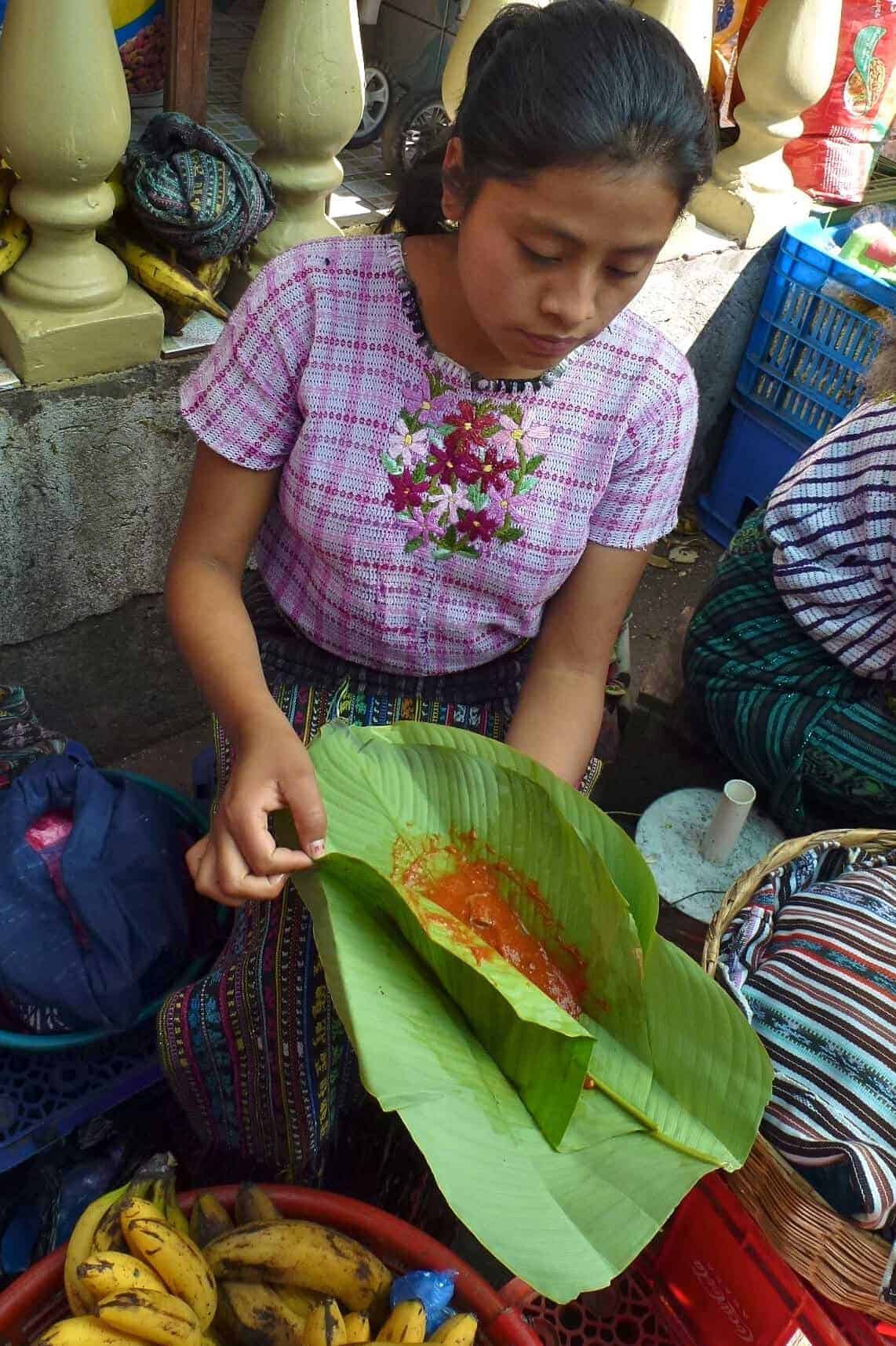 This is another typical dish you'll need to travel to Guatemala to experience! Patín is a regional street food sold in villages on the shores of Lake Atitlan in the highlands.
This unique fish dish is made with tiny white minnows harvested from Lake Atitlan, fried until toasty brown, bathed in a tomato chile sauce and then steamed in a maxan leaf (palm leaf) or foil.
Although rather messy to eat, it's especially delicious when tucked inside a soft tortilla.
Pepián de Pollo – Chicken Pepián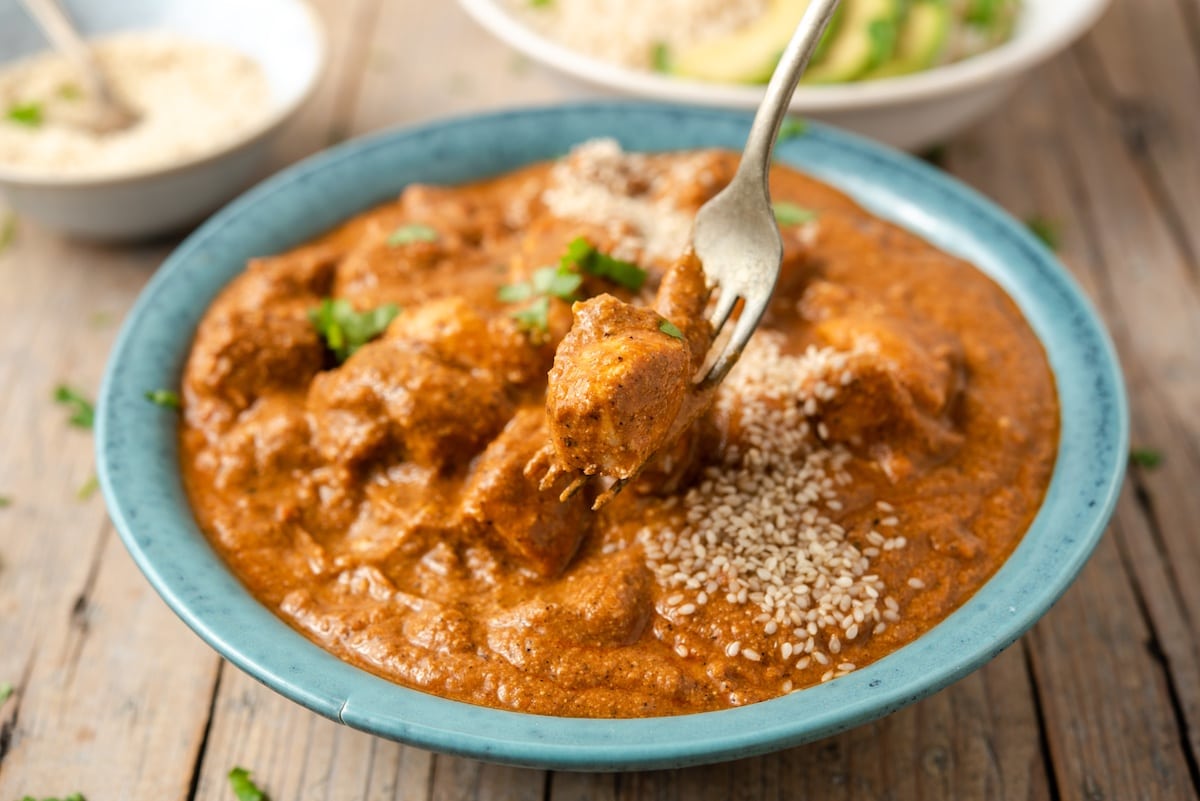 This Mayan-inspired chicken stew is probably the most popular food in Guatemala. The ultimate comfort food it features pieces of chicken bathed in a lightly-spiced, aromatic tomato sauce and is often considered the National Dish of Guatemala.
While similar to the moles of Mexico, it gets its unique and delicious taste from toasted pepitoria ( pumpkin seeds) and pan-roasted vegetables and chiles.
Every cook has their own recipe, you can sample these variations in restaurants throughout Guatemala and in people's homes.
Try our recipe for Pepián de Pollo – Guatemalan Spiced Chicken Stew to make at home!
Pepián de Res – Spicy Beef Stew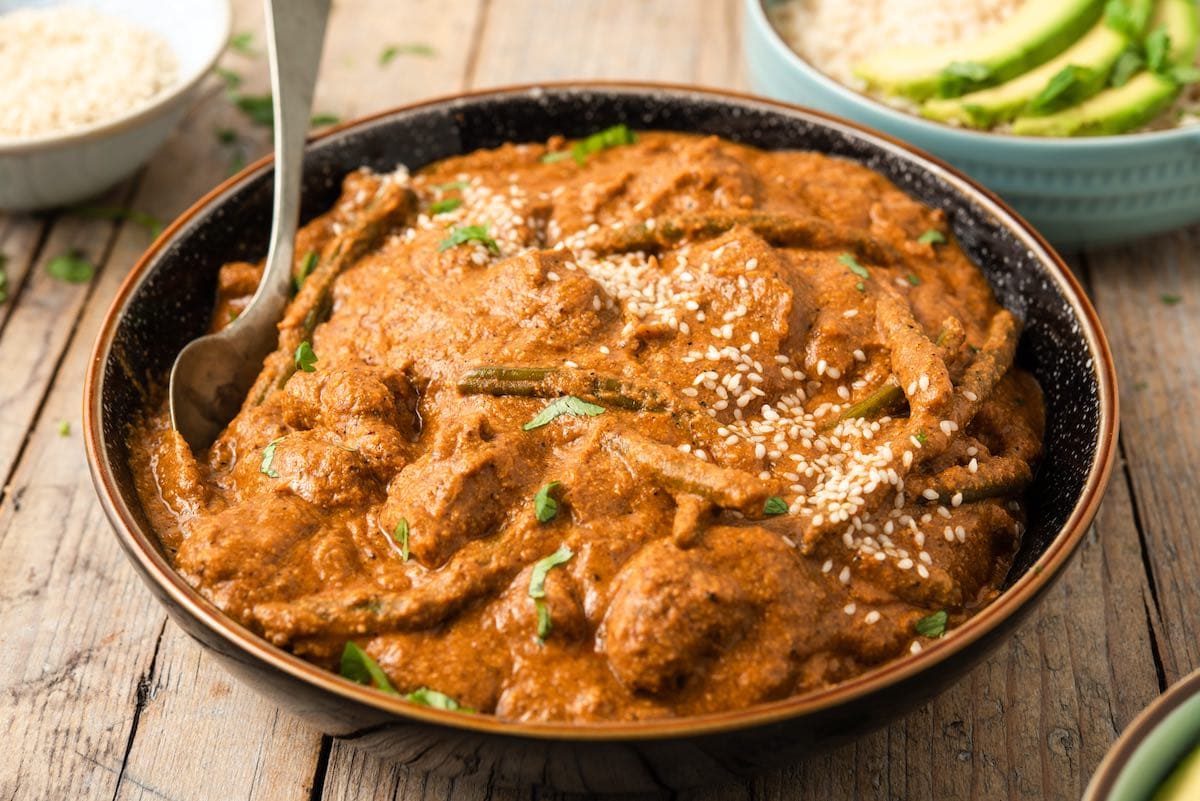 While not as widely available as pepián de pollo described above, pepián de res or Guatemalan Spiced Beef Stew is equally as delicious as its chicken counterpart.
This typical Guatemalan food, often contains strips of whole green beans or chayote (huisquil) squash and is sprinkled with toasted sesame seeds then served with rice and tortillas.
Piloyada Antigueña
One of the unique characteristics of traditional Guatemalan cuisine is how many versions of salads are available. Unlike the leafy green salads common throughout North America, Guatemalan salads are often substantial meals.
The most famous of these Guatemalan salad dishes is Piloyada Antigueña, a hearty salad made of red piloy beans mixed with longanizas, parsley, bell peppers, onion and pork or chicken in a thyme-scented vinaigrette.
It's rarely found outside of Antigua or Guatemala City so is definitely worth seeking out if you happen to be visiting.
Platano en Mole – Plantain in chocolate sauce
Another favourite food in Guatemala, this traditional dish features plantains, the sweet cousin of the banana, bathed in bittersweet chocolate enlivened with chiles and cinnamon. Doesn't it sound divine?
Enjoy this dessert in a parfait glasses. Or, do as they do in Guatemala and use a Styrofoam coffee cup.
Pollo en Crema y Loroco – Chicken in Loroco Cream Sauce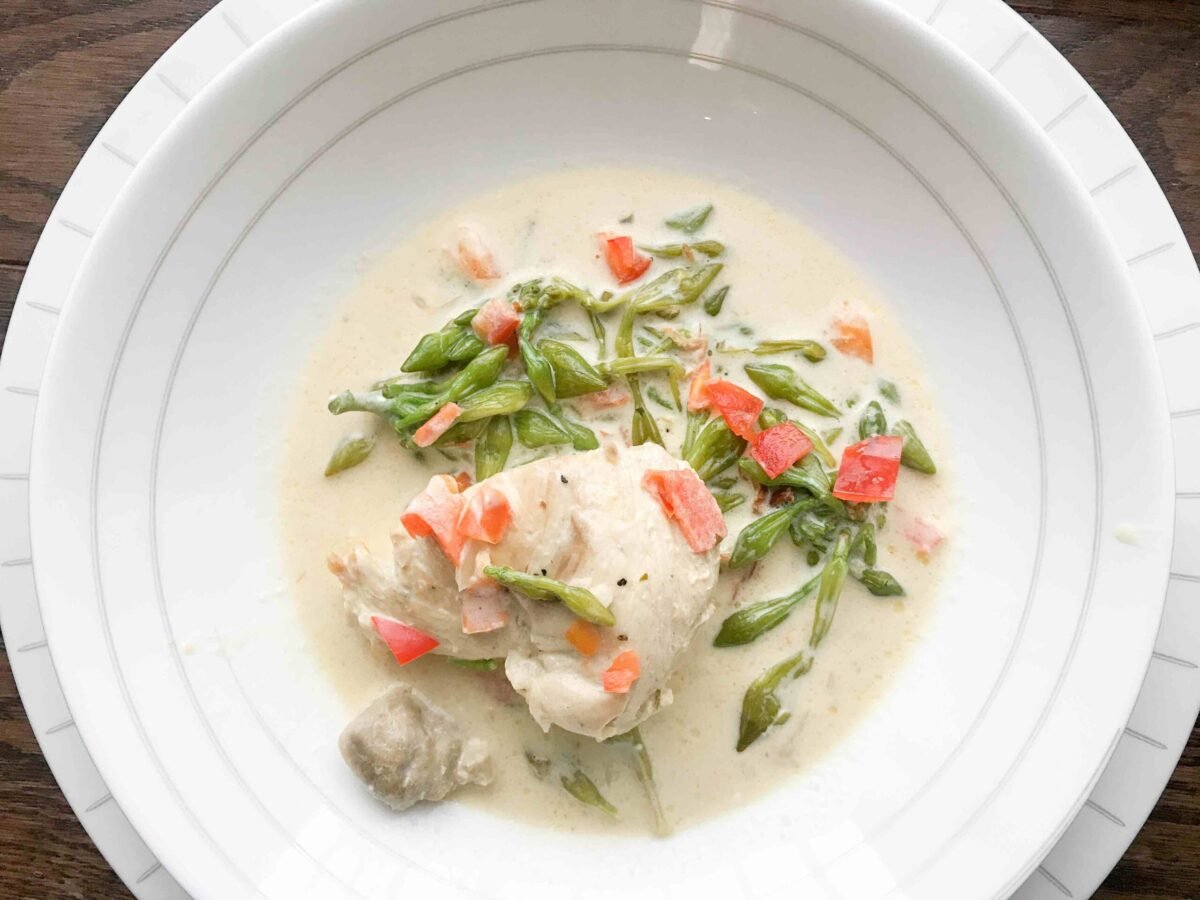 This typical dish of Guatemala City and south eastern Guatemala is made of chicken in a creamy sauce of loroco flowers. It's usually served with plain white rice.
Get our easy recipe for Pollo en Crema y Loroco!
Sopa de Pollo con Loroco – Chicken and Loroco Soup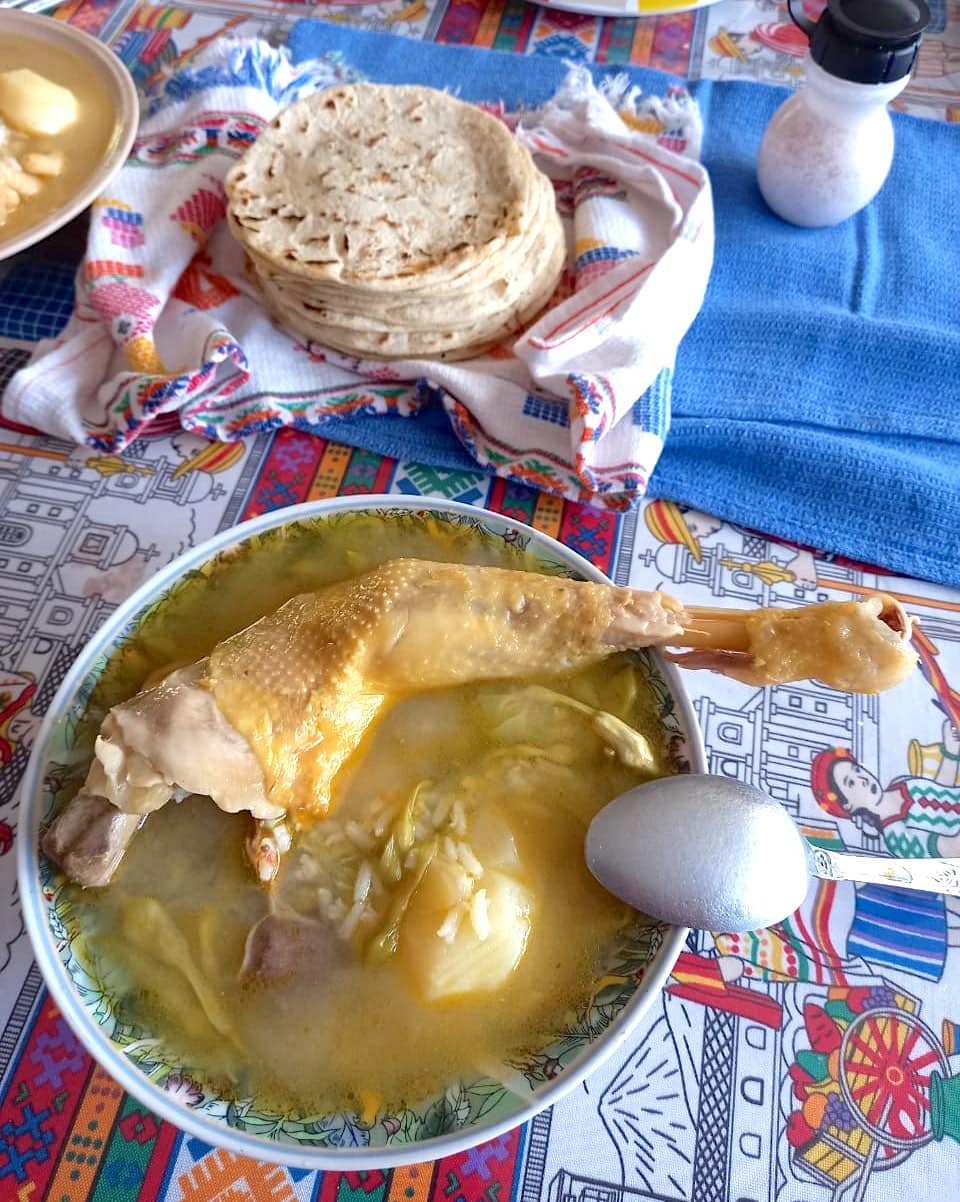 Pulique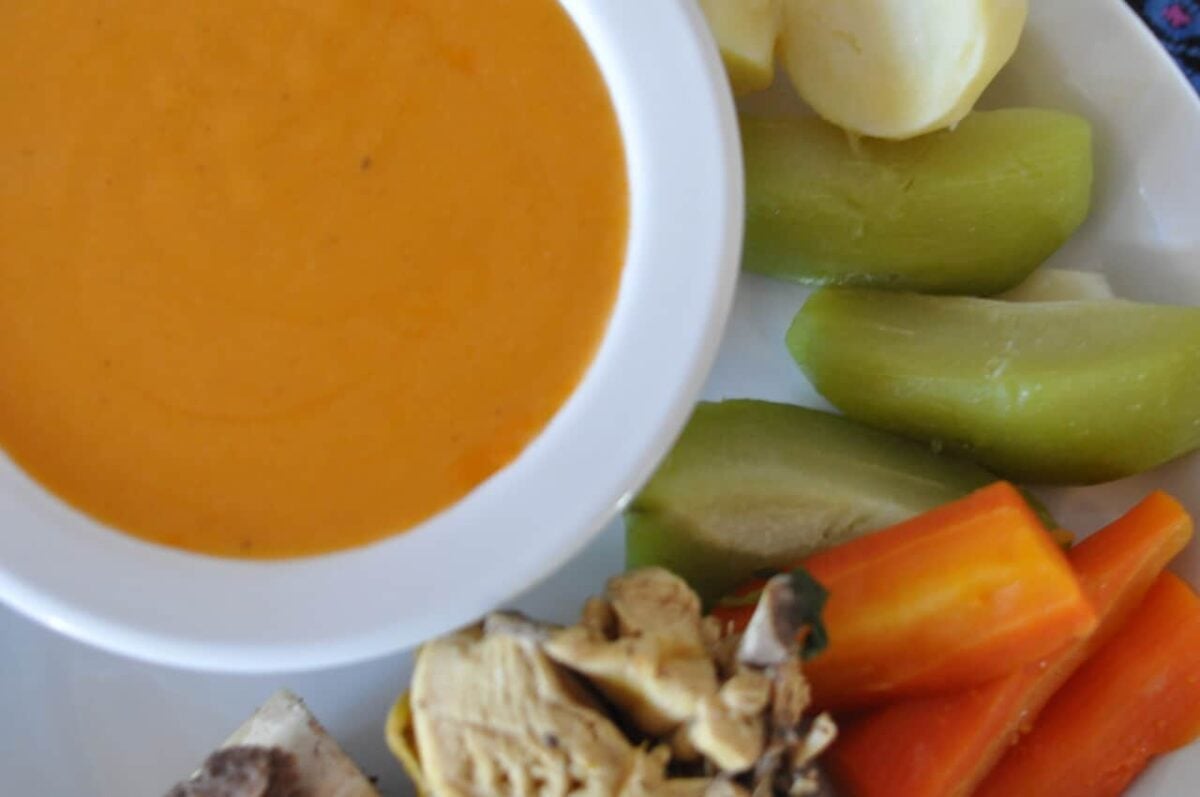 This mild, lightly-spiced chicken stew, known as pulique or pulique de pollo, is a delicious traditional Mayan dish typical in the highlands of Guatemala around Panajachel.
It's a popular Guatemalan food eaten during holidays and ceremonies, special events and other large celebrations.
Make this Guatemalan dish at home with our recipe for pulique.
Pupusas and Dobladas
While originally from El Salvador, pupusas are now equally popular in Guatemala. They're basically a tortilla made of masa dough stuffed with a filling of cheese, refried beans or chicharron and then fried.
Pupusas may also contain a mixture of cheese, beans and pork or other vegetables such as loroco or zucchini.
They're the ultimate snack food served topped with tomato salsa and curtido, a shredded pickled cabbage.
My mother-in-law makes dobladas which are somewhat similar to pupusas. They're tortillas that have been folded over and stuffed with cheese and then fried until the cheese is melted. They're also delicious!
Quesadilla – Cheese Sponge Cake of Zacapa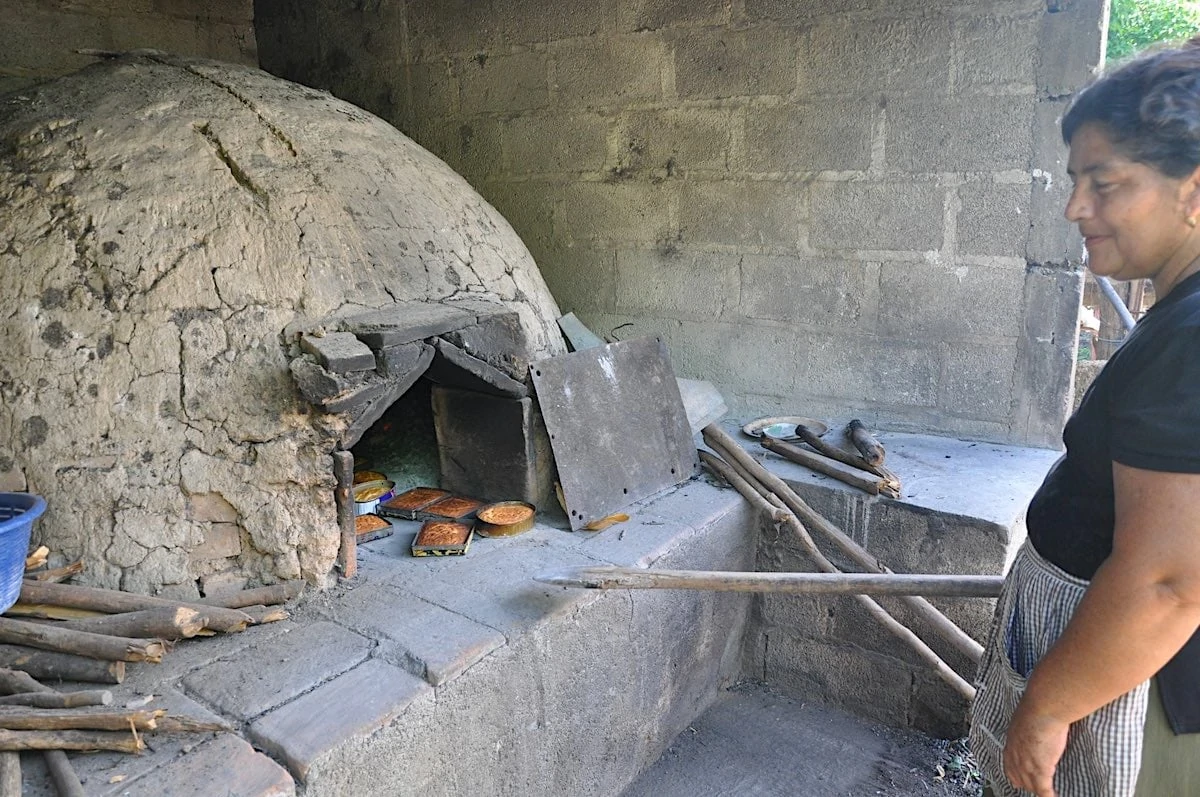 Quesadilla cake is a artisanal sponge cake popular in the Zacapa region of Guatemala. Its key ingredient is the famous Queso de Zacapa the fine, salty cheese produced by the cows that graze in the lush valleys lining the San Vicente and Motagua Rivers.
Although this cottage industry seems to be disappearing, many families still do produce extra batches of quesadilla cakes to sell at roadside stalls near El Rancho or the pools at Balneario Pasabien.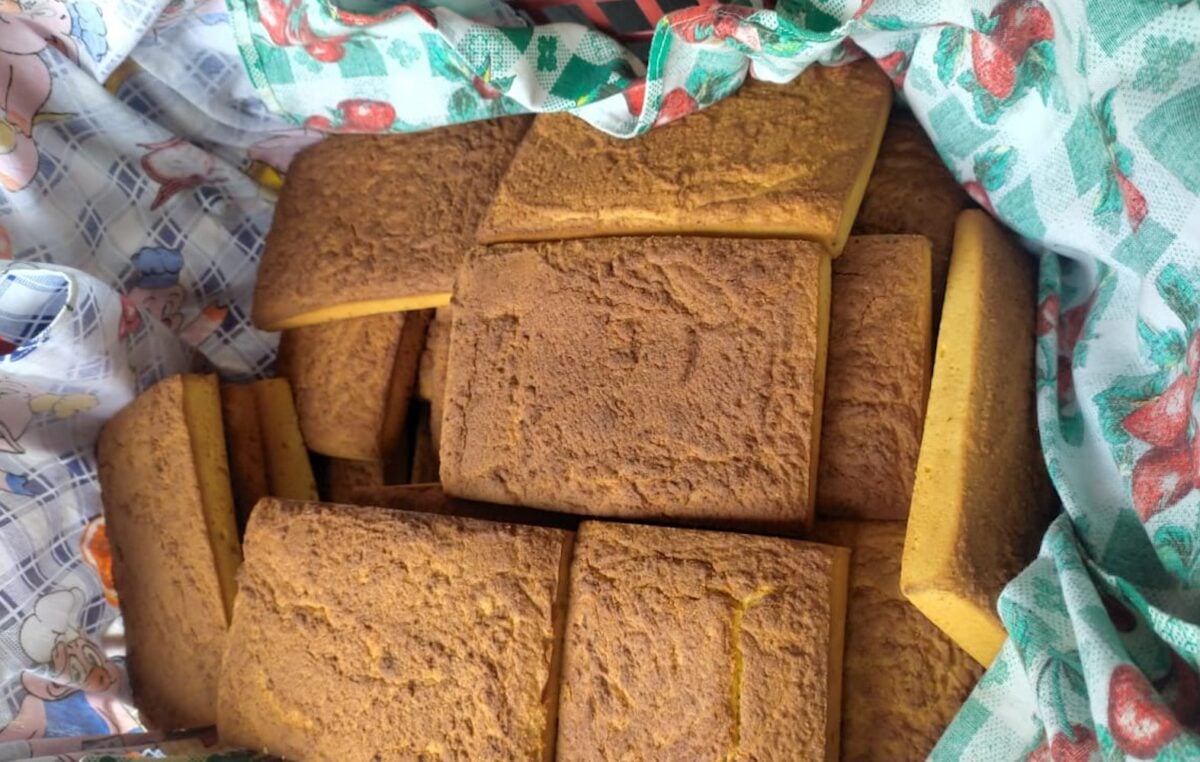 Rellenitos de Platano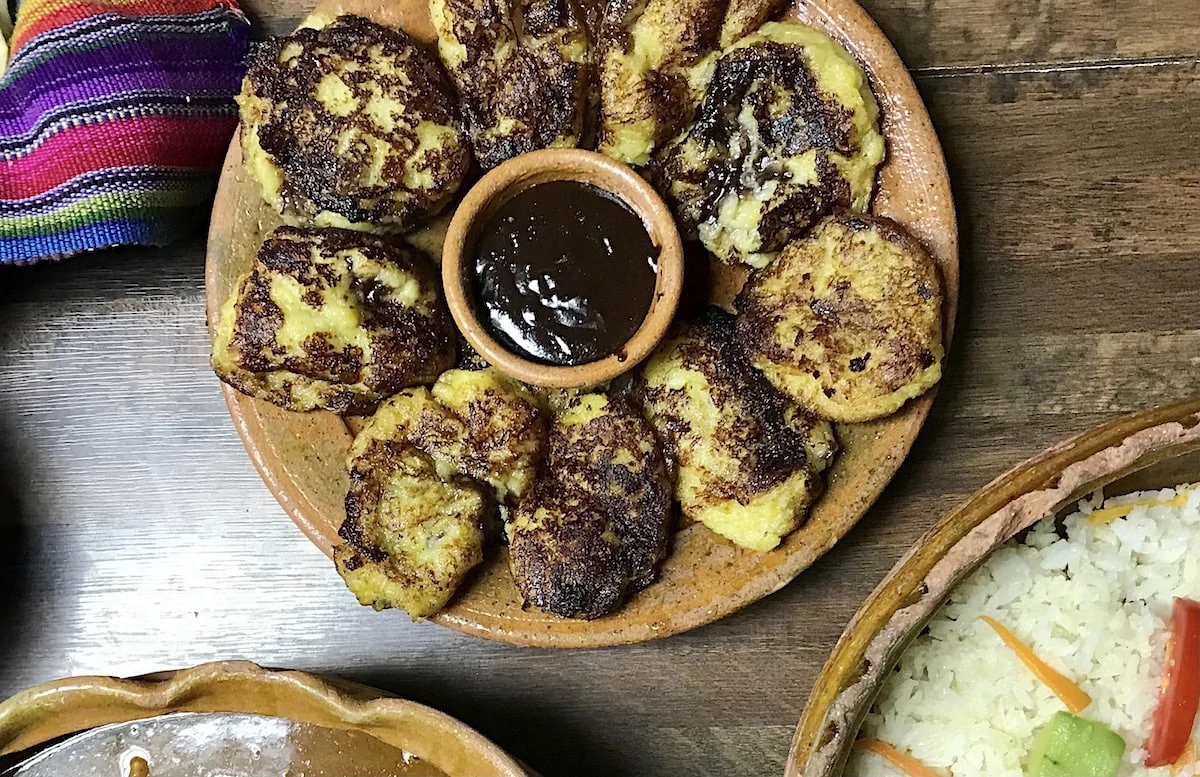 This famous Guatemalan side dish is also an appetizer and a dessert. It combines savoury black beans and sweet carmelized plantain to perfection.
These tiny bite-sized morsels are almost impossible to resist.
Revolcado
I'm still working on learning to love this typical Guatemalan dish! It's made by cooking a whole pig's head (along with offal, various other organs) until it is soft and tender. The strong, rich broth is then combined with a savoury tomato chile sauce and served with plain rice.
A great example of nose to tail dining in Guatemala where no food goes to waste, revolcado is prepared the day after a pig has been slaughtered for a pig roast. I couldn't believe my eyes when I saw my sister-in-law pushing a wheelbarrow containing a pig's head down the street.
Now, I run for the hills the day after a pig roast. Along with revolcado, one can also expect to see pots of blood bubbling for morongo sausage.
Guatemalan Rice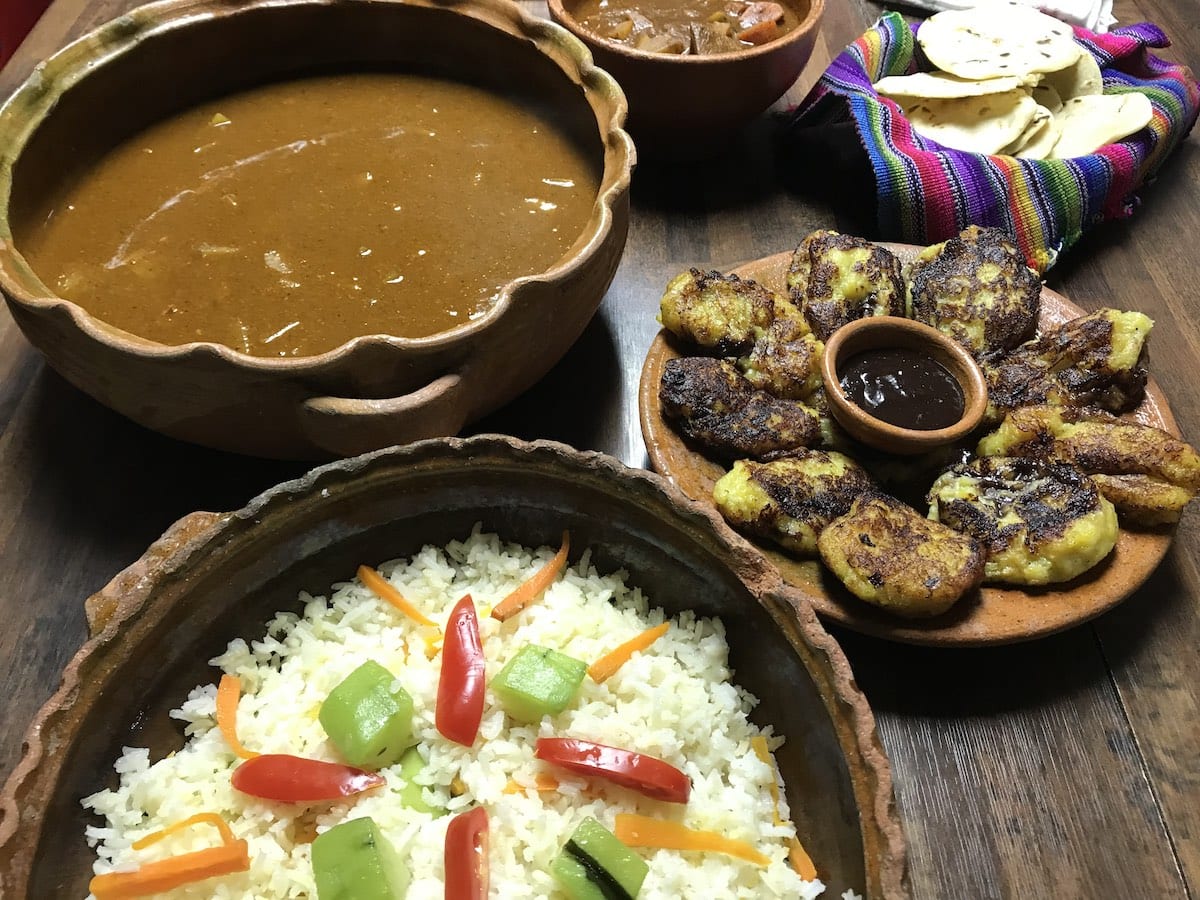 Spend any time at all in the country and you'll soon discover than almost every Guatemalan meal is served with a side of rice. It's an important side dish as it absorbs the sauces of soups and stews and helps temper the heat of any hot peppers.
While sides of rice can be plain white rice, just as often it's a yellow rice made by browning the rice in a skillet with onion, garlic, carrot, red pepper, then simmering it in chicken broth with fresh shelled peas.
Arroz verde, with spinach and cilantro, is another favourite dish featuring rice and vegetables that's similar to a spinach pilaf.
Salpicón de Res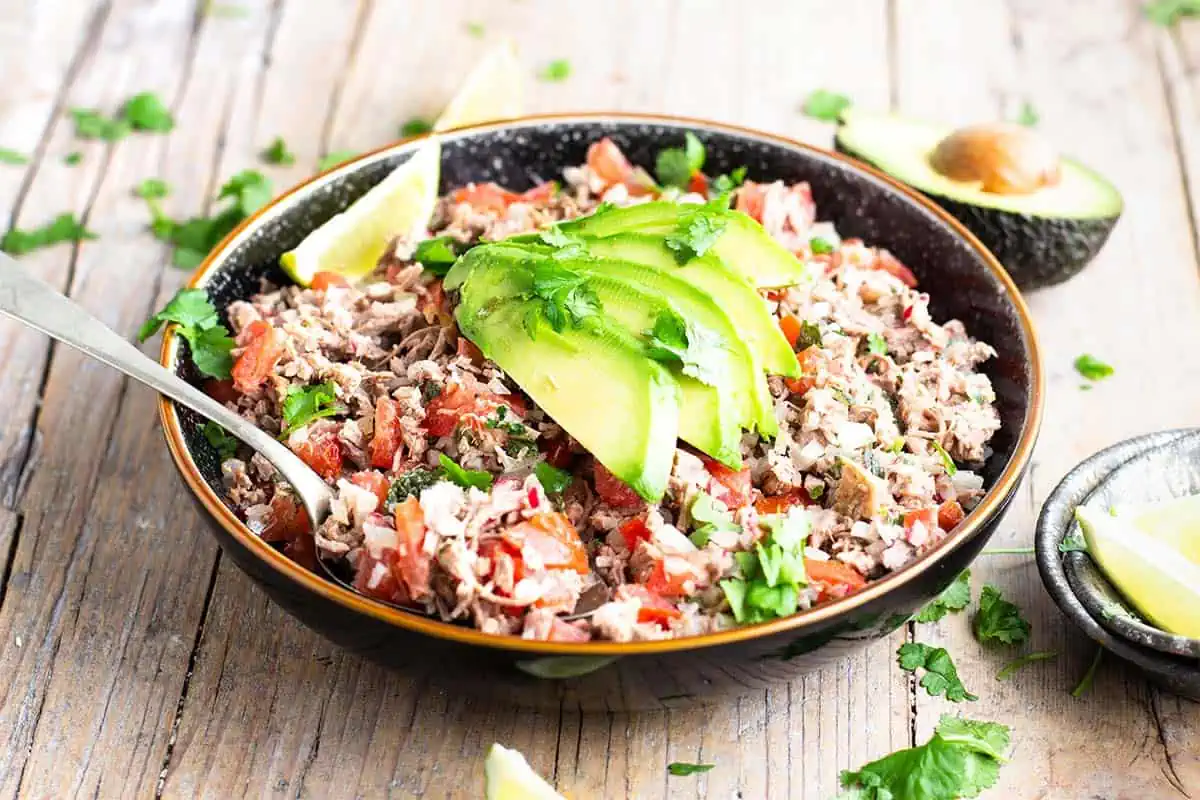 Salpicón de Res is a refreshing shredded beef, radish and mint salad that's popular throughout Guatemala, Mexico, Nicaragua and the rest of Latin America.
One of my favourite Guatemalan meals in summer, it makes a delicious party appetizer when topped on tostadas or tucked inside tacos.
Make this Guatemalan dish with our recipe for Salpicón de Res – Beef, Mint and Radish Salad.
Salpicón de Pollo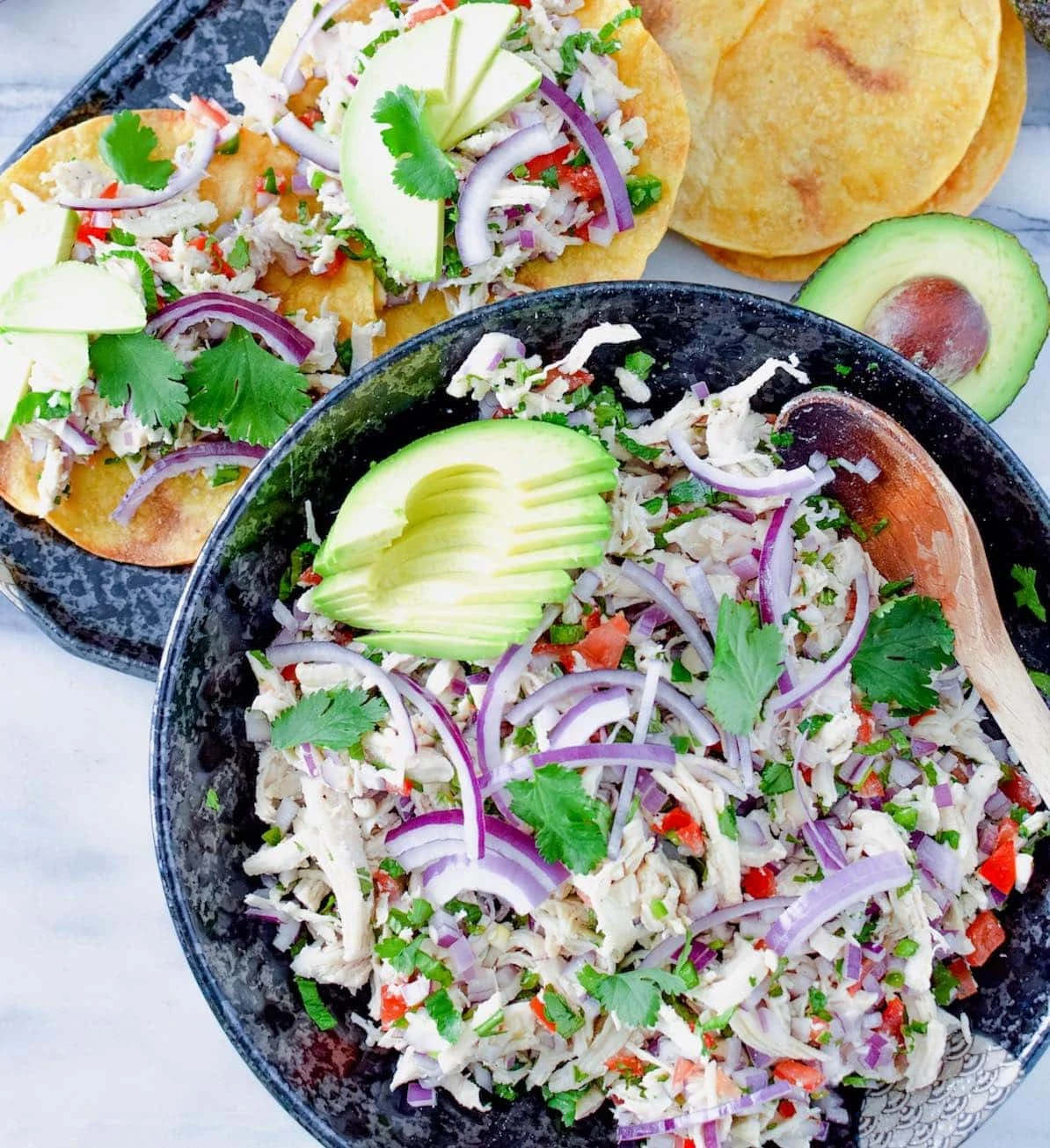 Salpicón de Pollo is another salad of shredded chicken, radish and mint salad. Enjoy it topped on crispy tostadas or tucked inside soft tacos for a party appetizer, picnic food or game day snack.
This also happens to be one of the easiest Guatemalan recipes you'll ever make as it can be made using a rotisserie chicken!
To make this dish at home, get our recipe for Salpicón de Pollo.
Shucos, Mixtas, Buñuelos and other Street Foods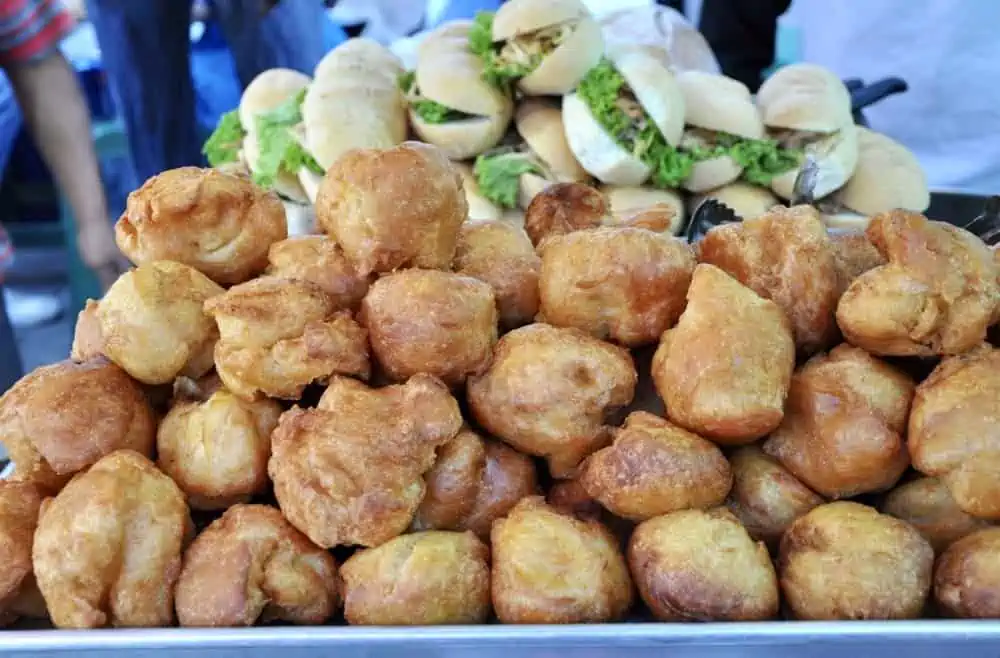 Spend any time around the parque central of Guatemala City and you'll discover a wealth of street foods. It's not unusual to see a vendor walking a herd of goats ready to offer you a fresh mug of goat milk.
Every street corner is busy with cashew, peanut and fresh fruit vendors.
At the larger stalls, you can also find more substantial food to go. There's shucos and mixtas, popular street foods made with buns and corn tortillas filled with salchichas (hot dogs) and loaded with curtido (pickled cabbage), hot sauce, guacamole, mayonnaise and ketchup.
No meal on the go would be complete without the popular bite-sized snack known as garnachas. Similar to Mexican sopes, these tiny tortilla cups are filled with minced meat and topped with salsa, cheese and curtido.
Delicious! But be sure to save room for dessert. You won't want to miss buñuelos, the fried dough fritter sweet street food.
Sopa de Albóndigas – Guatemalan Meatball Soup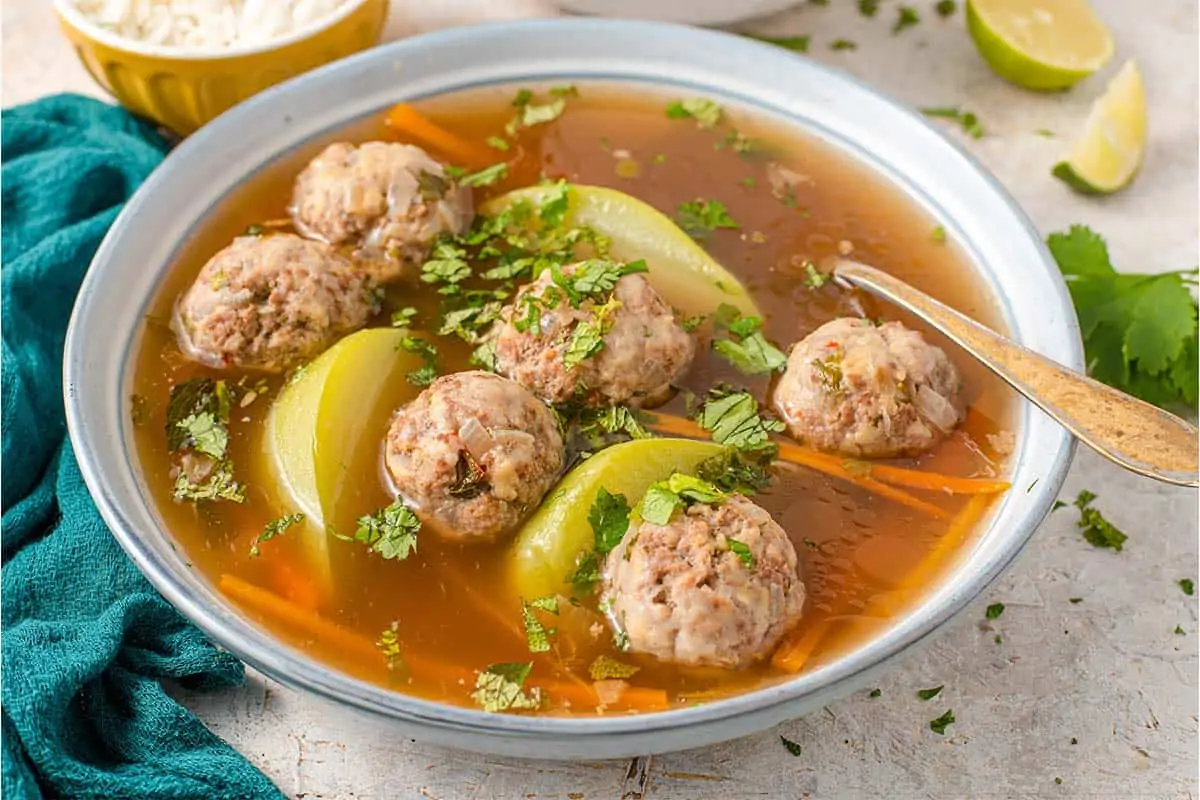 Made with ground beef and fresh vegetables in a beefy broth, this satisfying one-pot Guatemalan meal is an easy-to-make, economical comfort food that's both healthy and delicious!
Make this dish at home with our recipe for sopa de albóndigas.
Subaník
Another traditional Guatemalan food of Mayan origin, this stew is a mix of beef, pork and chicken steamed in a tomato sauce and steamed in a mashan leaf over a wood fire.
Known as the "Food of the Gods" suban-ík is a ceremonial dish that's laborious to prepare. If you're a food fan, you should include it on your gastronomic tour of Guatemala.
Francis Ford Coppolla's restaurant at La Lancha on Lake Peten Itza has the best version of this dish that I've found so far. It's near Tikal National Park so is worth a stop for the food alone!
Check rates and availability at La Lancha Boutique Hotel in the Petén.
Tamales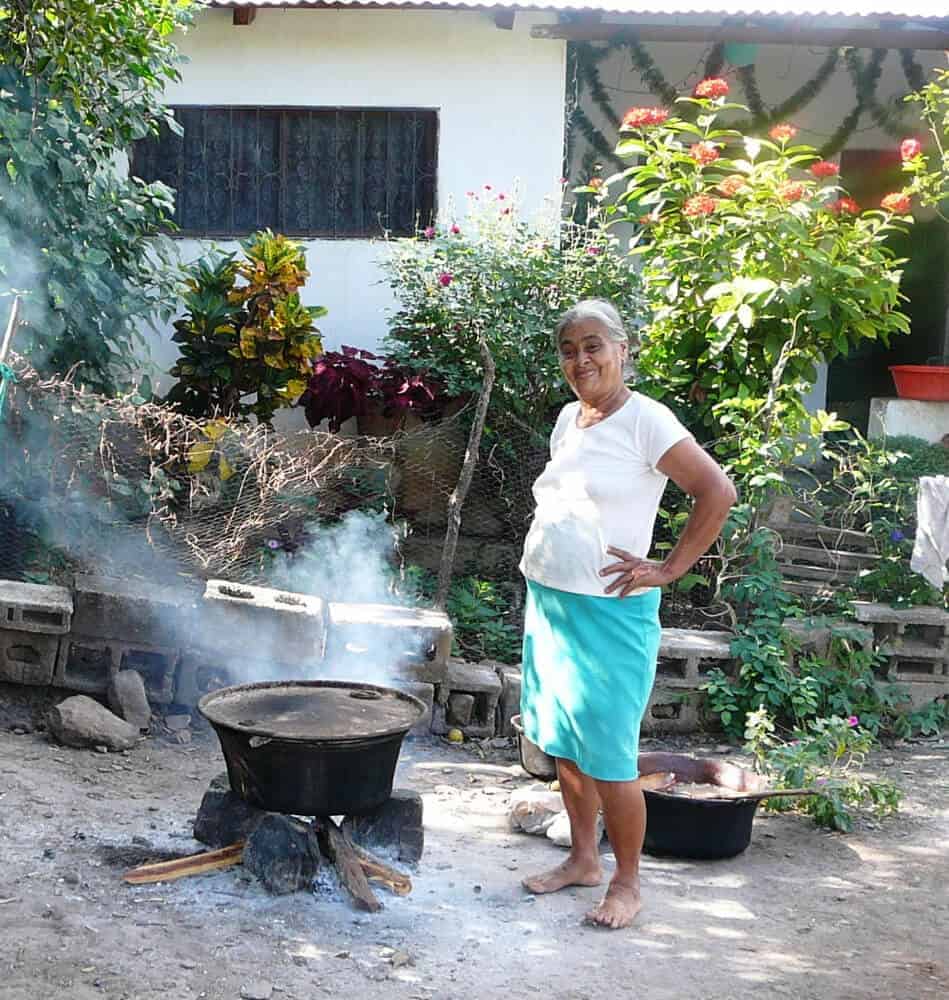 The most famous Guatemalan foods is a tamale. A tamale is a bundle of corn dough encasing chicken (or pork) that's wrapped in a banana leaf or a corn husk with tomato sauce.
But tamales are more than just a food. They're an important cultural tradition.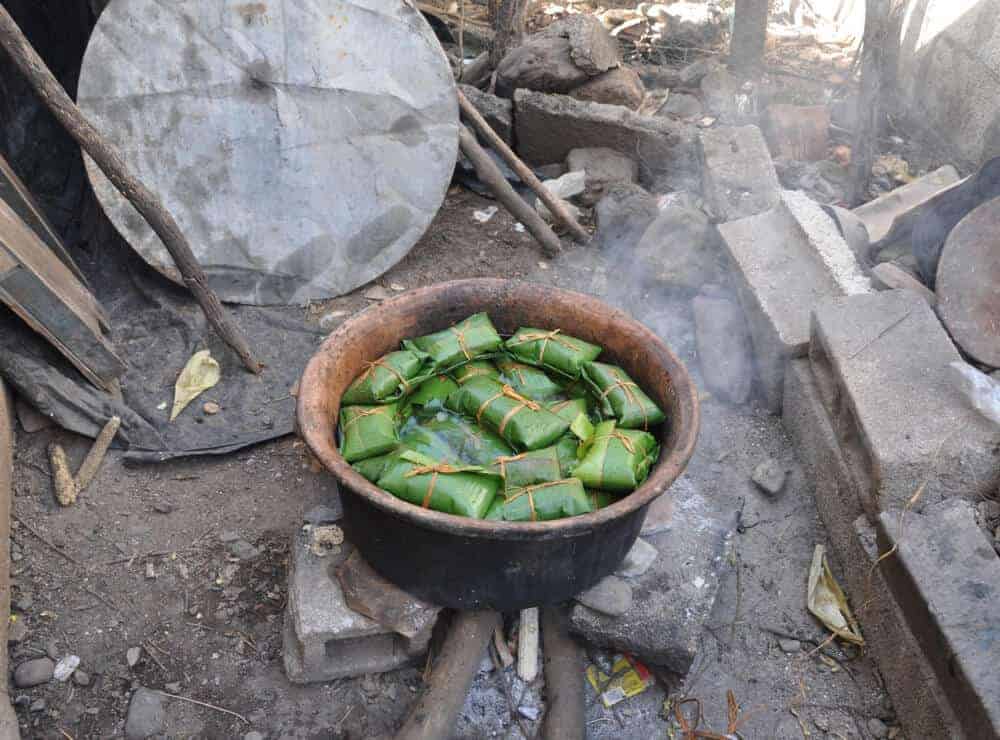 People enjoy eating tamales during the country's many festivals and holidays but the process of making tamales is also an indispensable part of family meals and celebrations in Guatemala.
Read more about the tradition of making tamales in our post called Tamales – The Soul of Guatemala.
Tamalitos de Chipilín – Tamales with Chipilín Leaves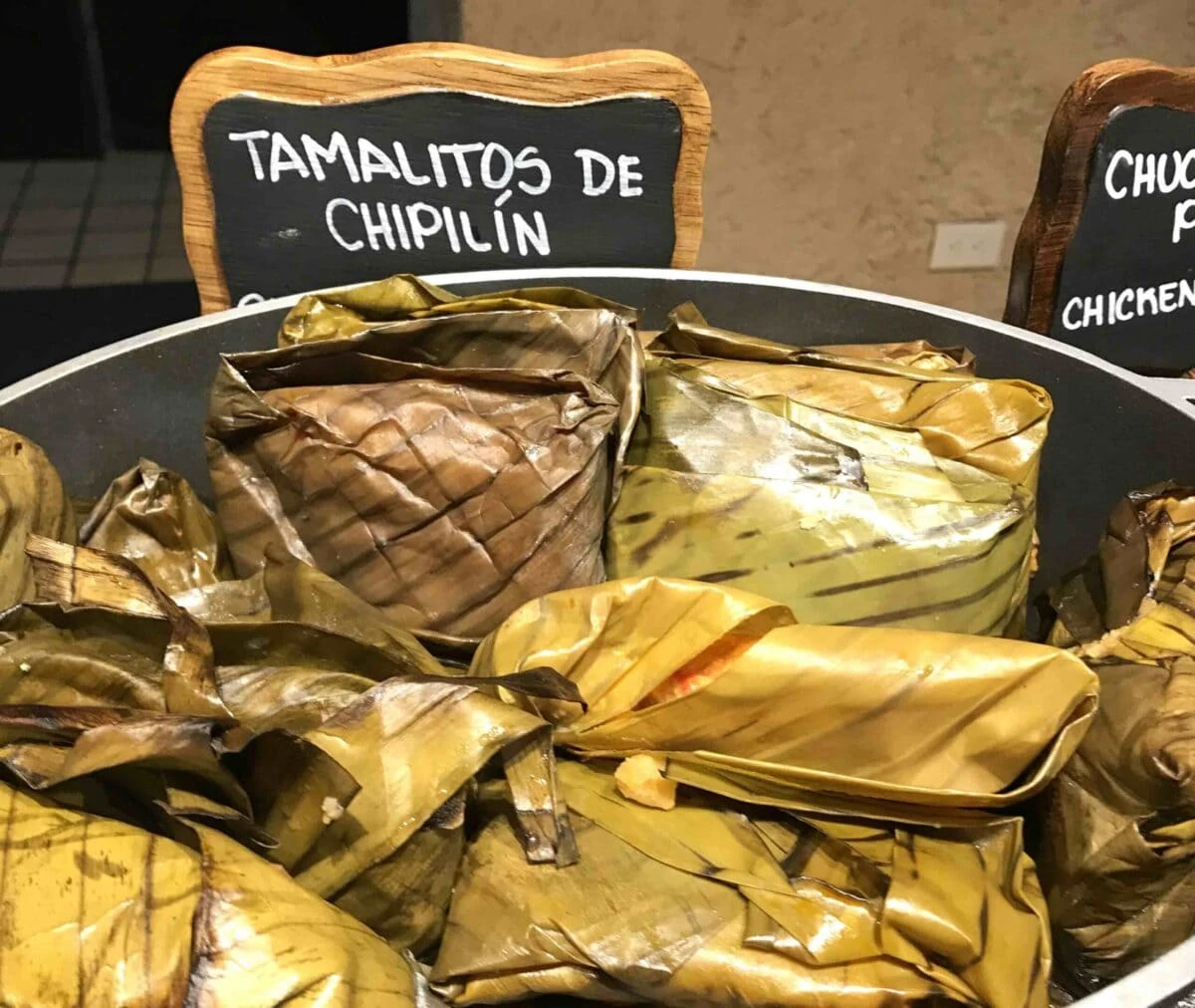 Chipilin is a wild vegetable that tastes like a heavenly blend of Caribbean callallo, spinach and watercress.
If you have an opportunity to try chipilín in a tamalito (small tamale) or soup, go for it! While it's a common food in Guatemala, it's not easily available outside of Latin America.
In Antigua, the Porta Hotel features an expansive breakfast buffet with many traditional Guatemalan foods such as chuchitos ( tiny dumplings), tamales, plantain and more. There's often also live marimba music.
Check rates and availability at the Porta Hotel Antigua on Booking.com.
Tapado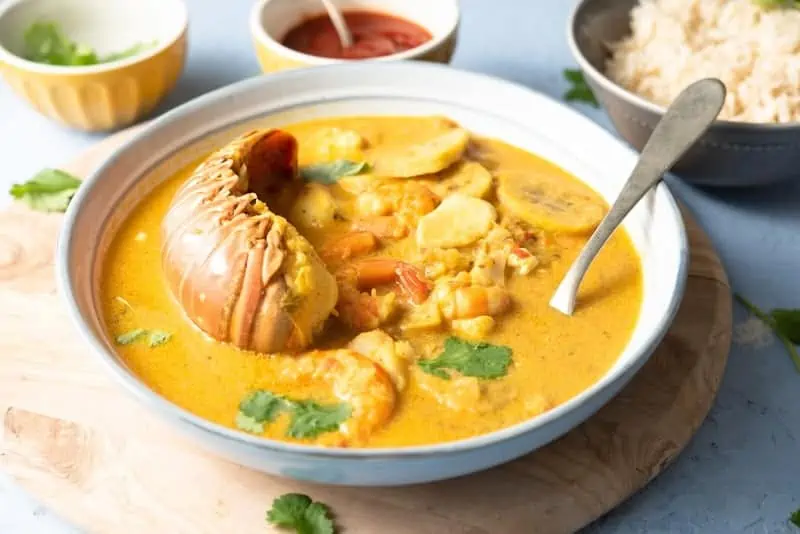 Tapado is one of the most famous dishes of Guatemala. It's a traditional dish of the Garifuna people who live on the Caribbean coast of Guatemala, Honduras and Belize.
This delicious seafood soup recipe features a creamy coconut milk broth packed with fresh fish, lobster, shrimp, plantain and yucca. It's well worth seeking out on a trip to Livingston or Puerto Barrios in Guatemala or Dangriga, Belize.
To make this dish at home, get our recipe for Tapado Coconut Seafood Soup.
Tortillas de Maize – A Staple of Traditional Guatemalan Food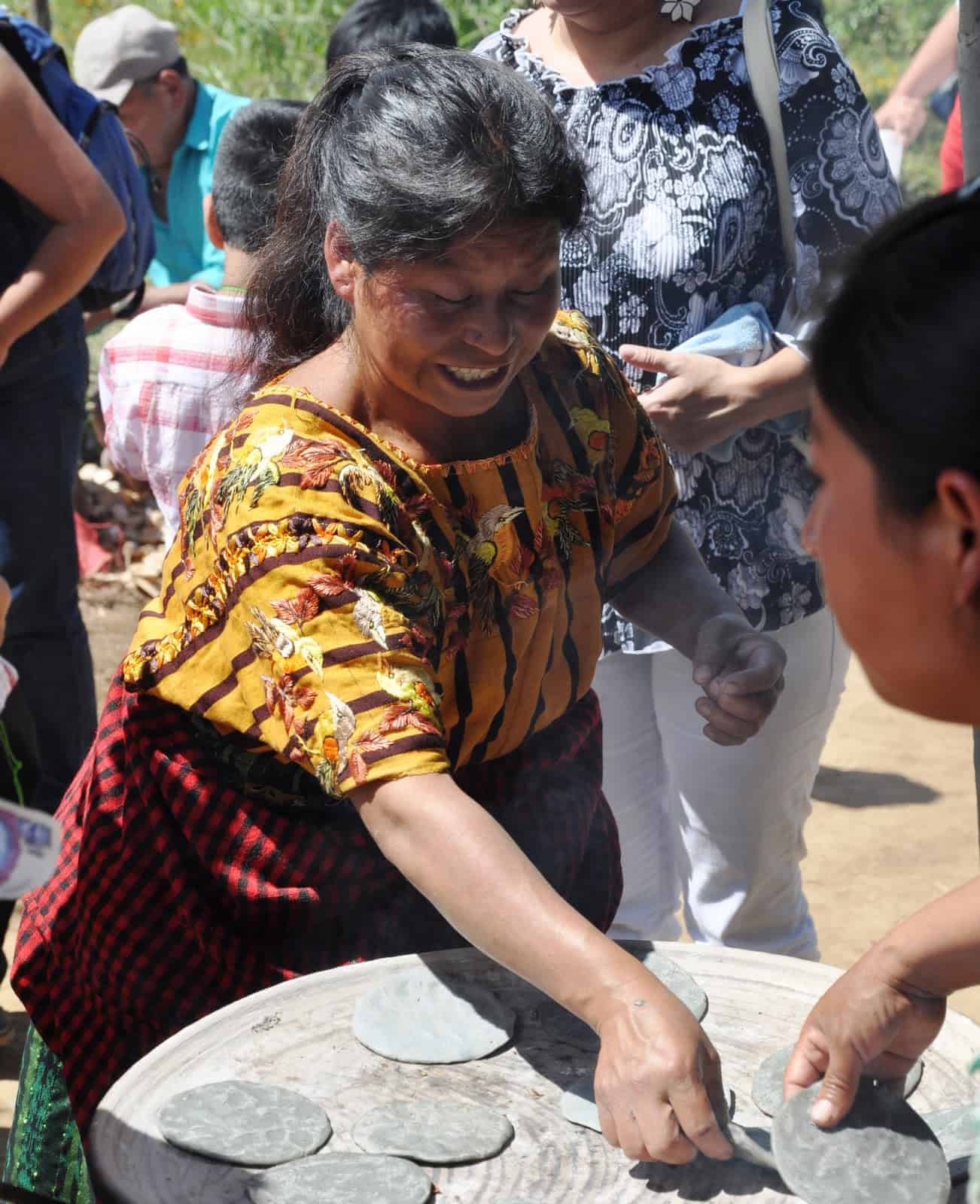 Tortitas de Ejote and Tortitas de Berro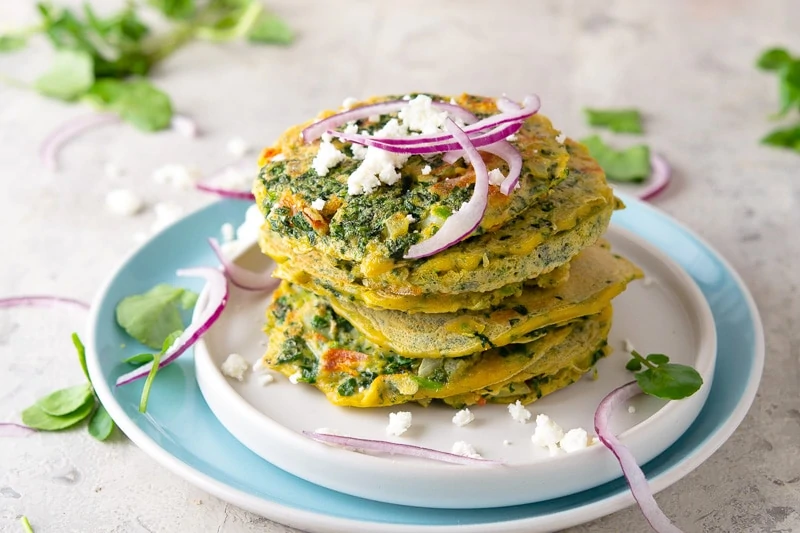 This easy recipe for mini-omelettes is a favourite weekend breakfast at our house.
Serve it sprinkled with crumbly white cheese from Zacapa, black beans, salsa and tortilla. The saltiness of the cheese really complements the peppery watercress.
If you're looking for other Guatemalan recipes featuring vegetables, the green bean version — tortitas de ejotes — is also delicious,.
To make this breakfast at home, get our recipe for Tortitas de Berro.
Tostadas
Crispy fried tortillas topped with salsa, guacamole or black beans are a popular street food, snack and light meal.
They're usually served with slivers of onion, finely-chopped cilantro and dry grated cheese such as queso de Zacapa.
Tres Leches Cake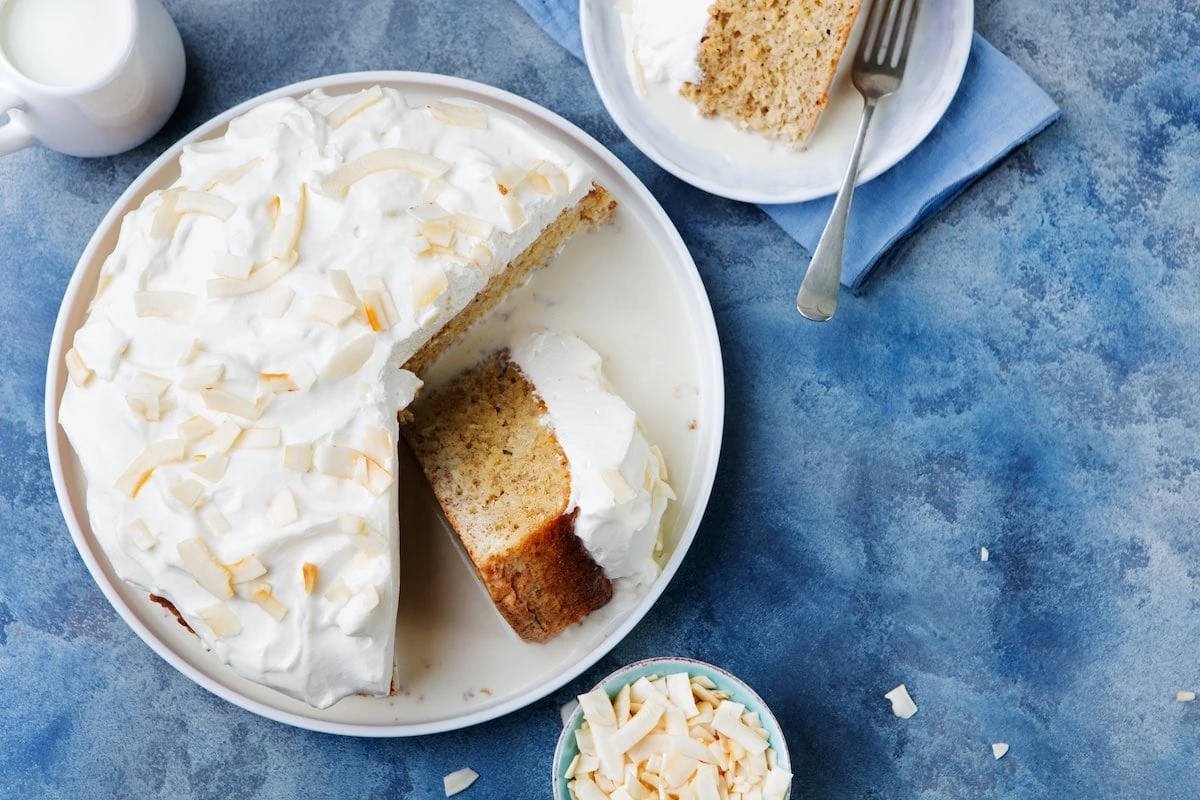 This milky cake is a fixture in Latin American cuisine for good reason. It's an airy sponge cake soaked in evaporated milk, condensed milk and heavy cream topped with lightly sweetened whipped cream.
While most popular for celebrations, this traditional Guatemalan dessert is also available in single servings. Look for them in plastic cups at tiendas and street stalls and you won't need to go without its deliciously creamy taste for long.
Popular Traditional Guatemalan Drinks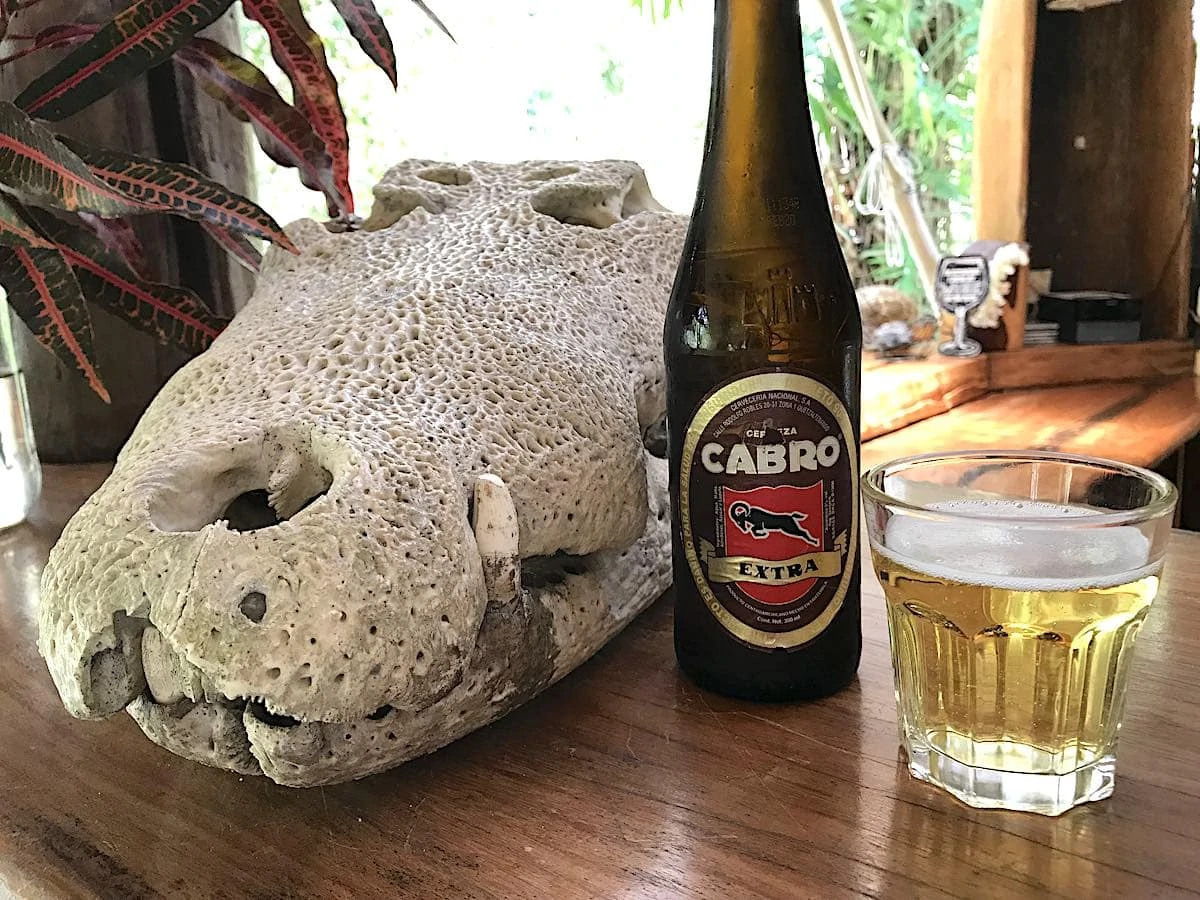 There are so many more fantastic foods to include on this list! I need to devote another whole article to Guatemalan sweets, desserts, salsas and drinks.
In addition to Guatemalan beer and its award-winning Zacapa rum, there are many delicious traditional drinks and refrescos of tamarind, rosa de jamaica (hibiscus), horchatas, jugo de marañon (cashew fruit juice) and more.
Jugo de Marañon – Cashew Fruit Juice
Do you have a favourite Guatemalan food you'd like to see on this list? I'd love to hear about it and see your food photos.
Just add a comment below, tag us on Instagram at #atastefortravel or on Pinterest at @atastefortravel
Guatemala Food Tours and Cooking Classes
Taking a cooking class or a walking food tour are some of the best ways to dive into Guatemalan food culture. Plus, you'll sample a wide range of traditional food and drink along the way!
You can find group and individual cooking classes, coffee plantation tours, chocolate tastings and market tours in the major tourist centres of Guatemala City, Antigua and Panajachel on Lake Atitlan. Food experiences are also often included at no extra cost as part of Spanish language classes.
Save to Pinterest!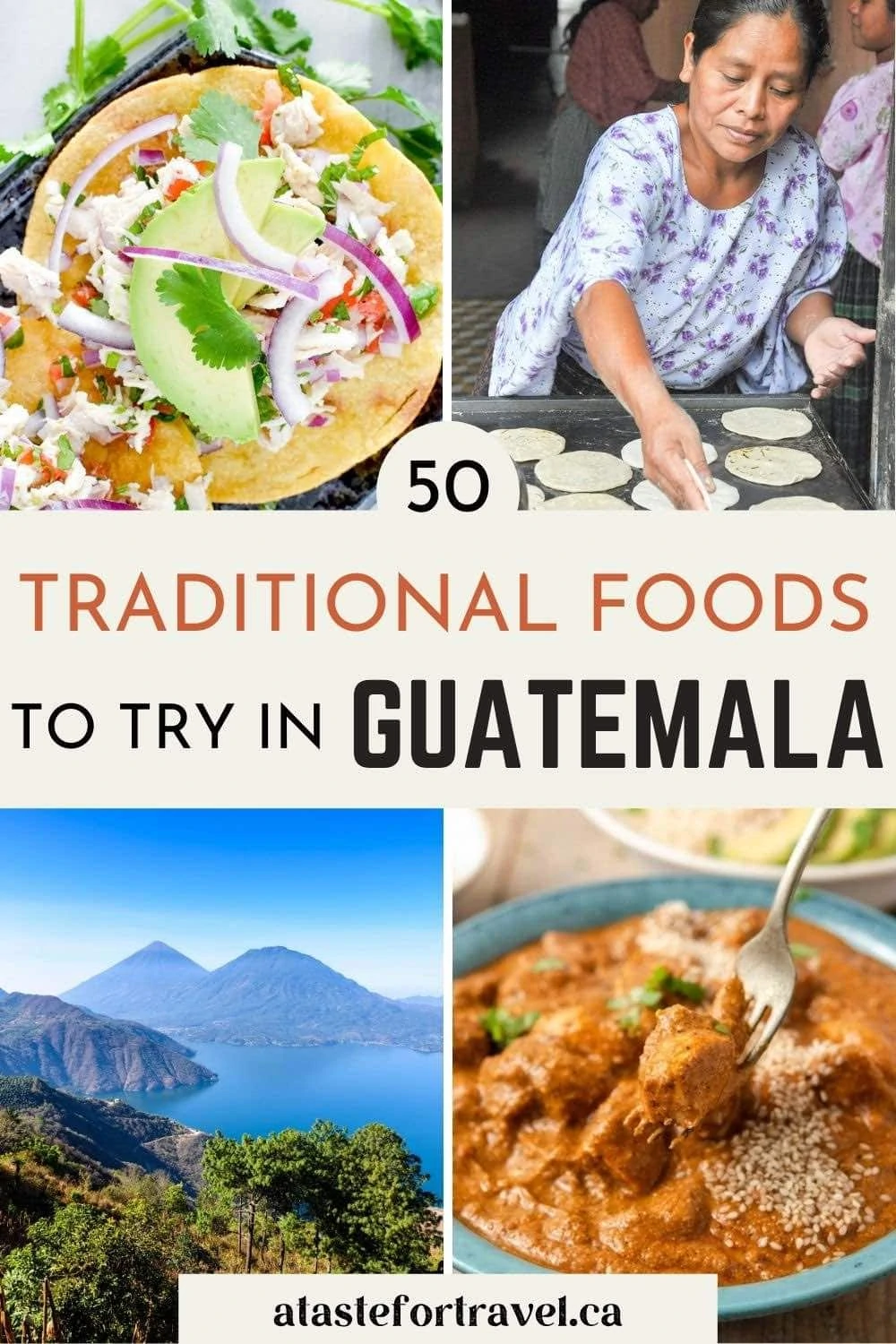 Dividing her time between Canada, Guatemala and Mexico (or the nearest tropical beach), Michele Peterson is the founder of A Taste for Travel. Her award-winning travel and food writing has appeared in Lonely Planet's cookbook Mexico: From the Source, National Geographic Traveler, Fodor's and 100+ other publications.
Read more about Michele Peterson.