We may earn income from links in this post. Please read this Disclosure for details.
Celebrate mango season with this collection of the very best mango recipes from around the world! Mangos are the sweetest, juiciest tropical fruit ever.
If you've got a bumper crop of ripe mangos — at our ranch in Guatemala they fall from the trees like rain — and are wondering what to do with them all, then this post is for you!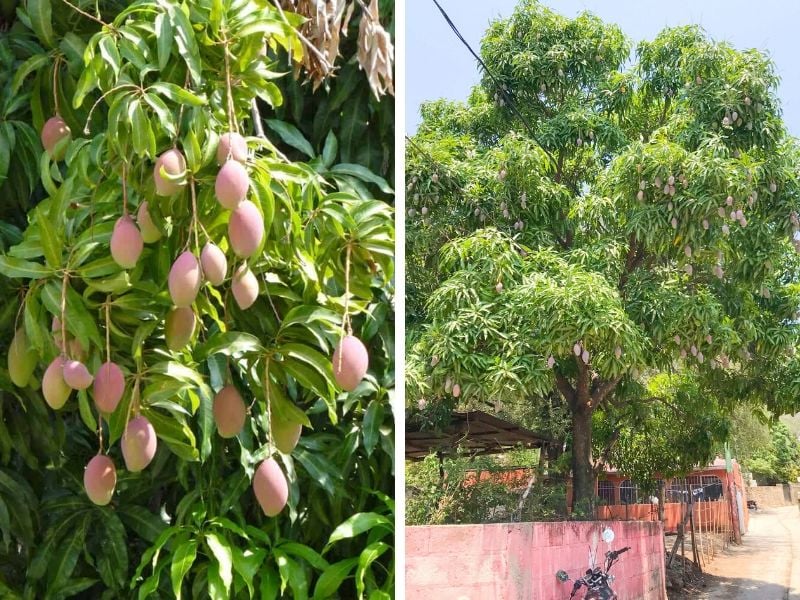 Nutritional Benefits of Mango Fruit
Not only are mangoes super delicious but they're one of the world's healthiest fruits. Packed with Vitamin C, Vitamin A, dietary fiber, potassium and anti-oxidants, their sweet, creamy texture is a treat you can feel good about indulging in.
So, go ahead, celebrate mango season by making a batch of mango recipes at the same time. Many of these mango recipes freeze beautifully.
Best Mango Recipes from Around the World
Did you know that there are over 1,000 varieties of mangos in the world? Mangoes are found throughout Thailand, India, Pakistan, the Caribbean and Mexico. Each region has their own favourite variety of mango and local recipe.
We've gathered the very best mango recipes from around the world. They're sweet, savoury and spicy! Many of them don't even require cooking!
With these appetizers, mains and desserts from Australia to Vietnam, you're sure to find a new and exciting way to enjoy this delicious and vitamin-rich tropical fruit.
25+ Best Mango Recipes from Around the World
What to Serve with These Mango Recipes:
Save to Pinterest!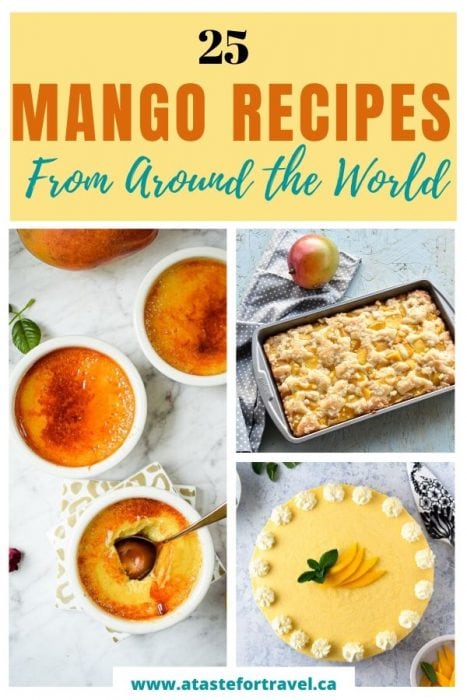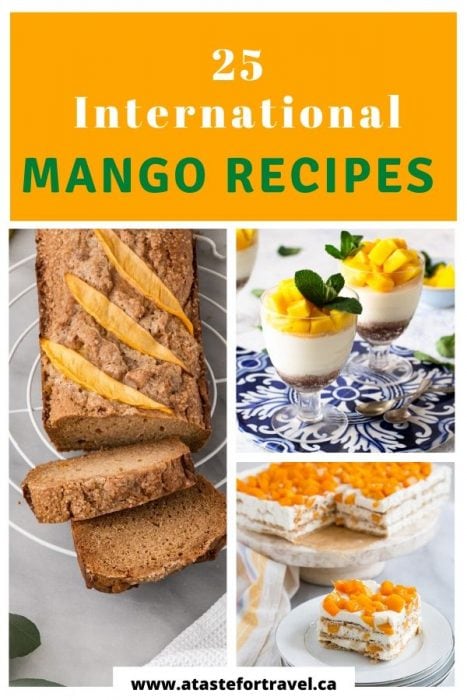 Dividing her time between Canada, Guatemala and Mexico (or the nearest tropical beach), Michele Peterson is the founder of A Taste for Travel. Her award-winning travel and food writing has appeared in Lonely Planet's cookbook Mexico: From the Source, National Geographic Traveler, Fodor's and 100+ other publications.
Read more about Michele Peterson.