We may earn income from links in this post. Please read this Disclosure for details.
Celebrate mango season with this collection of the very best mango recipes from around the world! From sticky mango ribs to creamy mousse, they're sweet, savoury and spicy! Many of them don't even require cooking!
With these mango appetizers, mains and desserts from Australia to Vietnam, you're sure to find a new and exciting way to enjoy this delicious tropical fruit.
Best Types of Mangoes to Use
It's important to use the right kind of mango for the recipe you choose. If you're confused by all the mango varieties you see in the market, you're not alone.
One thing I discovered at the Mango Festival in Nevis is that there are more than 1,000 varieties of mangos in the world!
Mangoes are found throughout Asia, the Caribbean and Latin and South America. Each region has their own favourite variety of mango and local recipe.
In Mexico, Guatemala and the rest of Latin America, the most common varieties are the Ataulfo and the Manilita, both of which are descended from the Manila mango from the Philippines.
They were brought to Mexico in the 1600s on the sailing ships during the galleon trade between Manila and Acapulco.
Ataulfo mangos are often the best mangoes to use in recipes. This type of mango has a flattened oval shape, firm yellow flesh and a soft, sweet inner pulp with few fibers that makes it ideal for smoothies, mango margaritas and desserts.
It's the most popular mango to use when making conserva de mango (mango compote), a traditional Guatemalan dessert that's similar to Greek spoon sweets.
If you're shopping for mangos in the United States, note that the Ataulfo mango may also be known as the honey mango.
Haden mangoes are also good mangoes to use in recipes. Not only are they larger than ataulfo mangoes but they're firmer.
That makes them easier to peel and slice.
However, you can often use frozen mangoes if fresh mangoes aren't available. Check the recipe to be sure.
How to Prepare Mangos to Use in a Recipe
There are almost as many methods of cutting mangoes as there are varieties of fruit. As someone who has chopped more mangoes than I can count, there's no secret trick to peeling a mango.
The best way to slice and prepare a mango for a recipe is to:
Place the washed but unpeeled mango on a wooden or other non-slip surface.
Hold it firmly with one hand.
Using a sharp knife, slice through the skin at the top of the mango.
Slice downward as closely as possible to the long, flat seed (known as a gutil) in the middle of the fruit until the knife reaches the bottom of the mango.
Turn the mango and repeat the cut on the other side of the fruit.
You should now have two halves plus a leftover seed.
Cut into each half diagonally from the non-peel side and then crosswise. Scoop out the cubes.
Discard the seed and use the cubes in the recipe.
🌟 Pro Tip: Mango trees (Mangifera indica) are a member of the sumac or anacardiaceae family, a family that also includes pistachio, cashew and poison ivy. If you are allergic to the organic compound of urushiol in poison ivy or cashews, you may also be allergic to mango fruit.
Most of the allergenic properties are found in the peel of the fruit, especially near the stem. To avoid getting a rash, it's wise to wear gloves.
Nutritional Benefits of Mango Fruit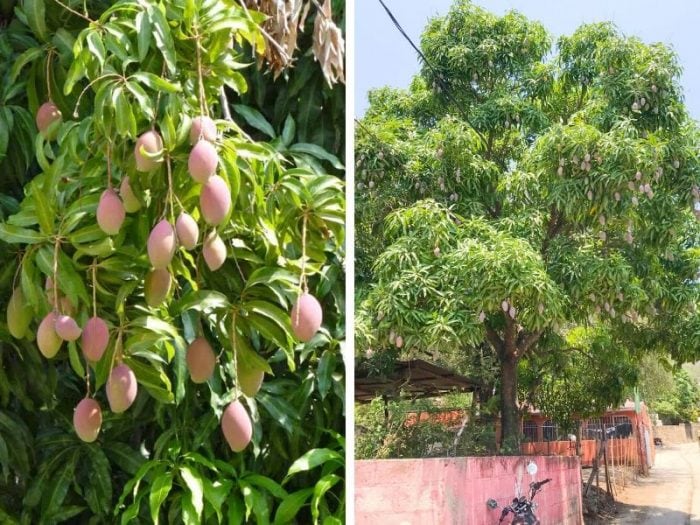 Not only are mangoes super delicious but they're one of the world's healthiest fruits.
Packed with Vitamin C, Vitamin A, dietary fiber, potassium and anti-oxidants, their sweet, creamy texture is a treat you can feel good about indulging in this vitamin-rich fruit.
So, go ahead, celebrate mango season by making a batch of mango recipes at the same time.
Many of these mango recipes freeze beautifully.
32 Best Mango Recipes from Around the World
What to Serve with These Mango Recipes:
FAQs
What dish can be made from mango?
From spicy appetizers to sweet desserts, there's a wide range of dishes such as chutneys, salsas, curries, mousses, cakes and glazes for ribs that can be made from mango. Check out these 29 mango recipes from around the world for inspiration!
What goes well with fresh mango?
Tropical flavours such as coconut and pineapple naturally pair well with mango. But spicy chiles such as jalapeño, earthy textures such as black beans and smoky barbecued meats also complement the sweet taste of fresh mango.
Print
Conserva de Mango (Guatemalan Mango Compote)
This easy Guatemalan dessert features whole mangos cooked in a sweet syrup spiced with cinnamon.
Ingredients
6

mangoes

medium-ripe, ataulfo variety

1

cup

panela

raw sugarcane (rapadura) broken into pieces

2

cups

water

1

stick

cinnamon
Instructions
Wash and peel the whole mangoes. Discard the peel.

Mix the water, cinnamon stick and panela (crumbled) in a large pot. Stir until the sugar is dissolved.

Bring the sugar mixture to a boil over medium heat. Reduce heat and simmer for five minutes.

Slowly add the peeled mangoes into the syrup. Continue to simmer over low heat for 15 minutes or until softened.

Remove the mangoes from the syrup with a slotted spoon. Place three in each bowl and drizzle with extra syrup. Serve warm or chilled.
Notes
Traditionally this is a very sweet dessert. You can vary the sweetness by using less panela sugar but the syrup will be more watery and less syrupy.
Popular variations of conserva de mango include star anise, allspice and/or cloves.
You could substitute peeled peaches or nectarines for the mangoes.
Stir the syrup regularly to avoid scorching the sugar.
Note: Nutritional values are created by an online calculator and are estimates only.
Nutrition
Calories:
799
kcal
|
Carbohydrates:
196
g
|
Protein:
5
g
|
Fat:
2
g
|
Saturated Fat:
1
g
|
Polyunsaturated Fat:
0.4
g
|
Monounsaturated Fat:
1
g
|
Sodium:
18
mg
|
Potassium:
1051
mg
|
Fiber:
11
g
|
Sugar:
187
g
|
Vitamin A:
6724
IU
|
Vitamin C:
226
mg
|
Calcium:
127
mg
|
Iron:
2
mg
Other Recipe Collections to Explore
Save to Pinterest!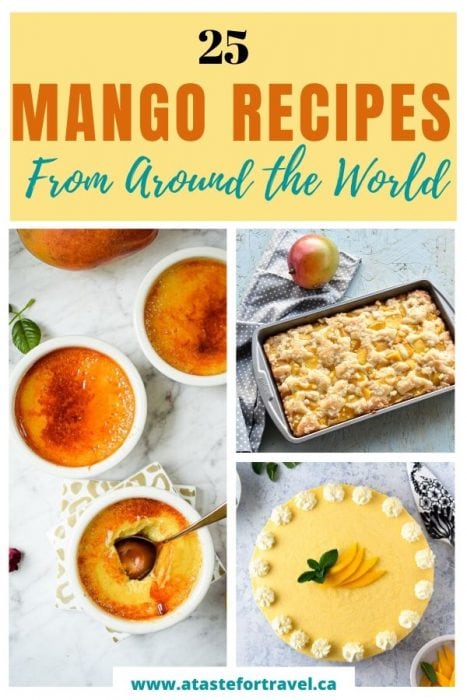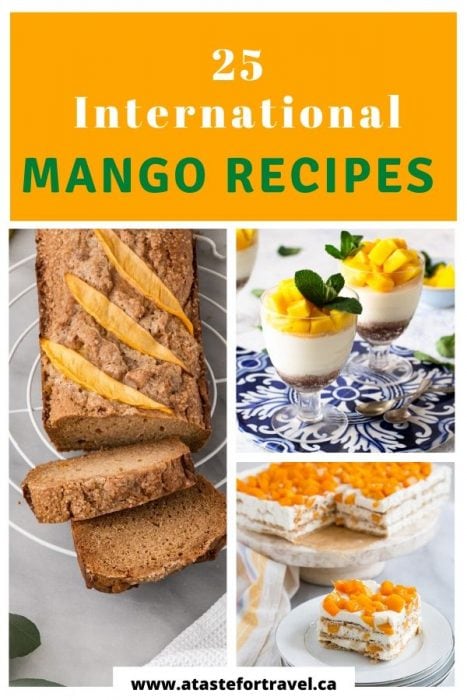 Dividing her time between Canada, Guatemala and Mexico (or the nearest tropical beach), Michele Peterson is the founder of A Taste for Travel. Her award-winning travel and food writing has appeared in Lonely Planet's cookbook Mexico: From the Source, National Geographic Traveler, Fodor's and 100+ other publications.
Read more about Michele Peterson.