We may earn income from links in this post. Please read this Disclosure for details.
Looking for an under-the-radar Caribbean getaway away from the crowds of mass tourism?
Then the tiny island of Nevis should be at the top of your list. It's got rainforest-clad mountains, a wealth of Georgian architecture and relics of old plantation estates, and some of the best beaches in the Caribbean.
There are so many things to do in Nevis, it's got lots to offer for a couples' getaway, destination wedding, honeymoon or family vacation.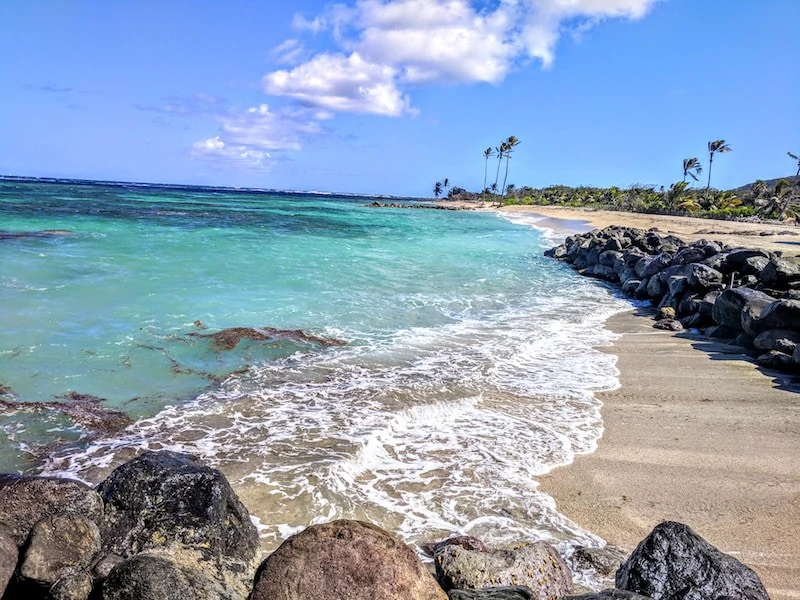 Where is Nevis?
Situated in the Leeward Islands where the northeastern Caribbean Sea meets the western Atlantic Ocean, the beautiful island of Nevis is part of the Federation of St. Kitts and Nevis.
It's located west of Antigua and Barbuda and east of the British Virgin Islands and the US Virgin Islands.
What Makes Nevis So Special?
If you daydream of floating among sea turtles, spotting monkeys in the treetops and eating fresh mangoes, then Nevis is the island for you.
On my first visit to Nevis, it didn't take long before I was a fan.
Even before I floated in the clear blue sea, my only companion a giant sea turtle who glided past — just his leathery head peeking out of the water — I was tempted to declare that Nevis might be my new favourite Caribbean island.
I'd already spent a few blissful days swimming, basking in the sun and eating mangoes while attending the Nevis Mango & Food Festival.
I was already halfway convinced that this little island, the smaller, quieter sister to Saint Kitts had everything I loved about the Caribbean. Then, I ate a perfect lobster roll and I was smitten.
It even nudged aside Grenada, another Caribbean Island I fell in love with after just one visit. I've returned many times and it's still one of my favourite places.
Here are the top reasons I think you should consider the island of Nevis for your next Caribbean vacation AND the very best things to do when you're on the island.
1. Experience the Sugar Cane History of Nevis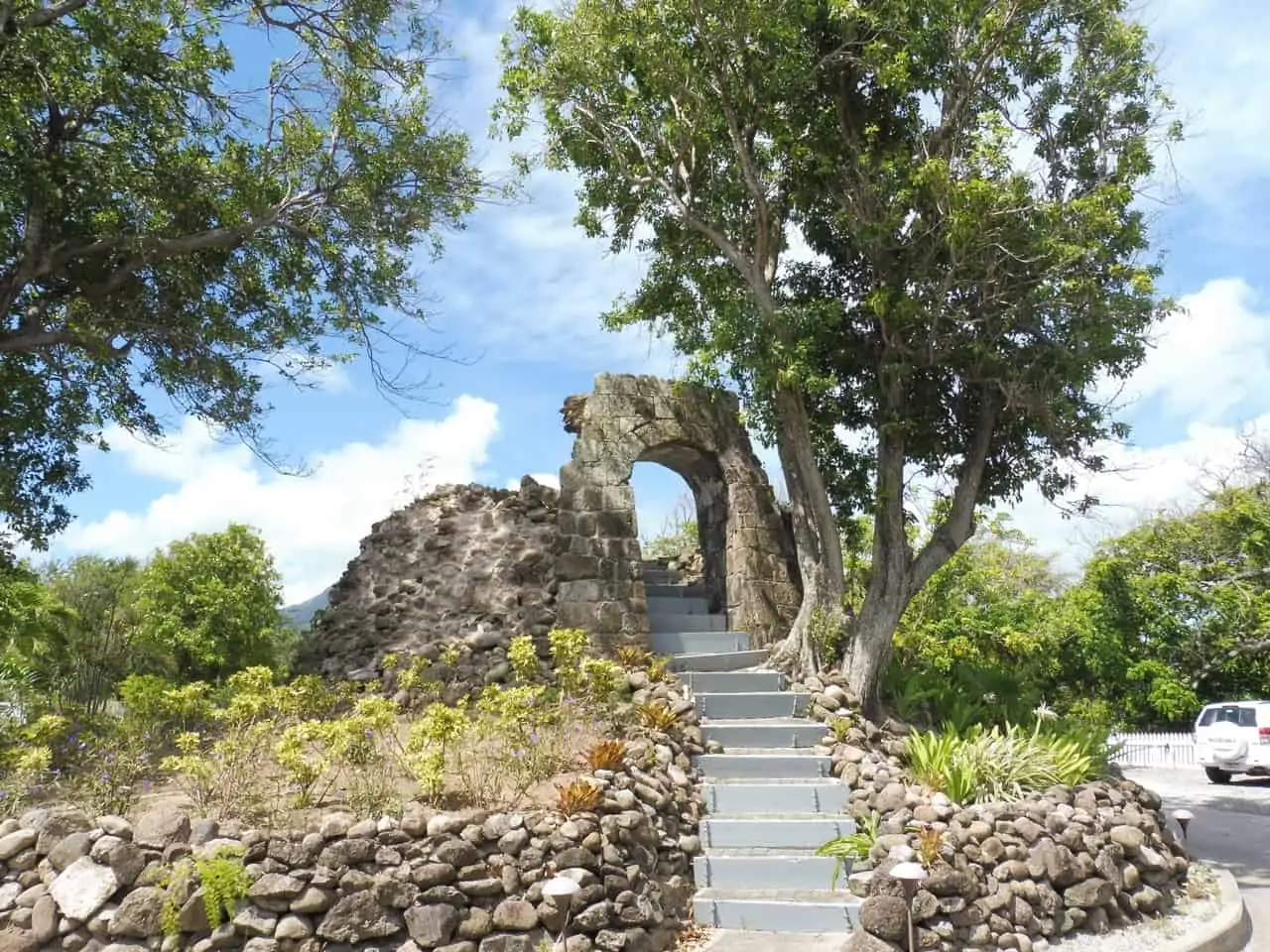 In the 17th and 18th centuries, Nevis was the wealthiest sugar economy in the British West Indies. Today, all that remains of the former sugar cane industry are the ruins of plantation estates and sugar works, such as chimneys and the gigantic bowls called coppers used for boiling up the juice.
Soak up this sugar plantation history at New River and Coconut Estates, an open air attraction on the island's east coast.
Wander among the ruins of two estates, built upon an earlier Arawak Indian settlement, and see the remains of the former Great House, the tower, windmills, cistern and stone building with the steam engine that once powered the mill.
While many of the other sugar processing estates are shrouded in jungle overgrowth, some have been converted into atmospheric inns.
One of my favourites is the Nisbet Plantation Beach Club, the Caribbean's only historic plantation inn located on a beach. It's a popular place for honeymoon, wedding and engagement photos.
If you're visiting St. Kitts, the Nevis Panoramic Drive and Beach Experience tour includes a stop at Nisbet Plantation! First, you'll sail from Bassaterre to Nevis on a catamaran, then see the highlights of the island. A stop at Nisbet Plantation is included in this popular 5-hour excursion!
Check rates and availability of the Nevis Panoramic Drive and Beach Experience on Viator.com.
2. Lounge on the Best Beaches of Nevis including Pinney's Beach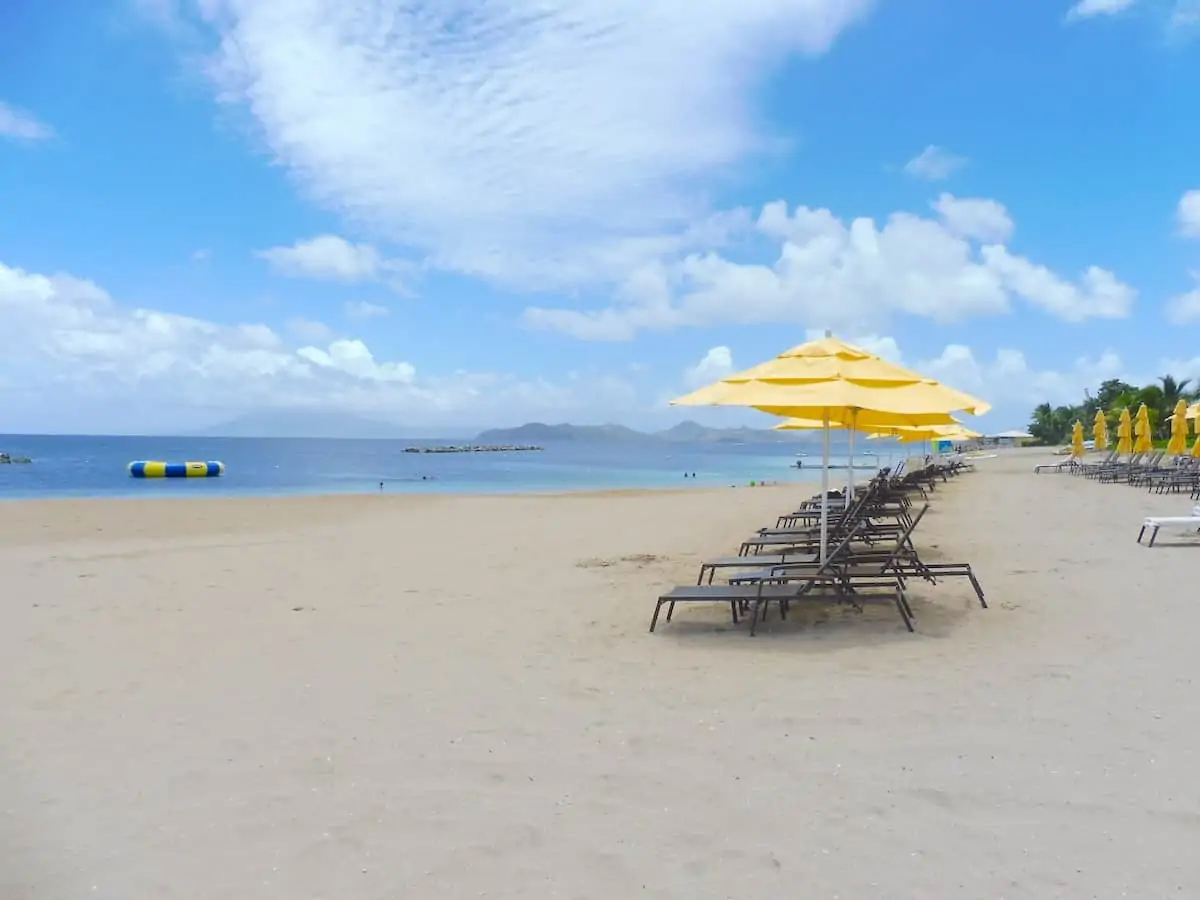 Unlike other volcanic islands where you're likely to find mostly black sand beaches, Nevis has been blessed with a surprising number of white and golden sand beaches.
To spend a day on one of the best beaches in Nevis, head to Pinney's Beach. If you splurge on a private beach cabana at the Four Seasons, you'll score butler service, a choice of comfy loungers, excellent WiFi and of course easy access to the translucent blue waters.
Don't be surprised if you spot a celebrity or two. Nevis is a top hideaway for jet-setters, celebrities and A-Listers.
If you're visiting St. Kitts, the Nevis Panoramic Drive and Beach Experience tour includes a stop at Pinney's Beach! First, you'll sail from Bassaterre to Nevis on a catamaran, then see the highlights of the island.
After a stop at the historic Nisbet Plantation, you'll visit Pinney's Beach for lunch and enjoy beach time on one of the Caribbean's best beaches.
The price of the tour includes the use of beach lounger and umbrella so it's a great deal. This is one of the most popular excursions on Nevis so be sure to book in advance to avoid disappointment.
Check prices and availability of the Nevis Panoramic Drive and Beach Experience tour on Viator.com.
3. Sample a Legendary Killer Bee Cocktail at Sunshine's Beach Bar & Grill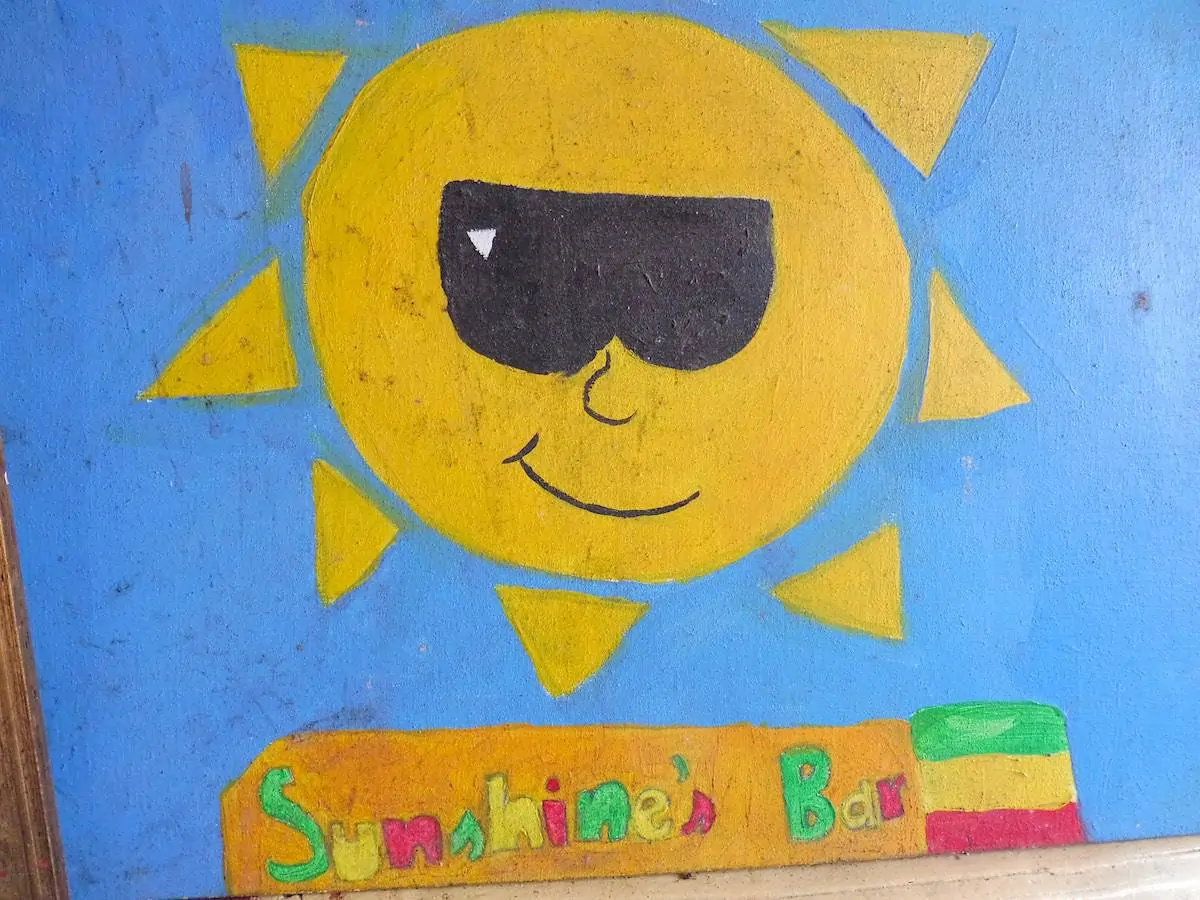 Worth a stroll down Pinney's Beach is Sunshine's Beach Bar & Grill, a casual hang-out spot for island regulars and celebrities. Just check out the Wall of Fame and you'll recognize Beyonce, Canadian Prime Minister Justin Trudeau and many others among the photos.
Top highlights of the menu include grilled spiny lobster and barbecue baby-back ribs served with Llewellyn's Hot Sauce, a tasty local hot pepper salsa.
Be sure to order a Killer Bee, Sunshine's legendary (and potent) rum punch.
Another island cocktail worth seeking out is the Nisbet Plantation Beach Club's a Ting With a Sting. Popular throughout St. Kitts and Nevis, it's made from Ting, a fizzy grapefruit soft drink and a cane spirit.
Take a tour from St. Kitts for a Capital Tour and Beach Getaway at Carambola Beach Club on St. Kitts.
4. Go Snorkelling or Scuba Diving in an Underwater Paradise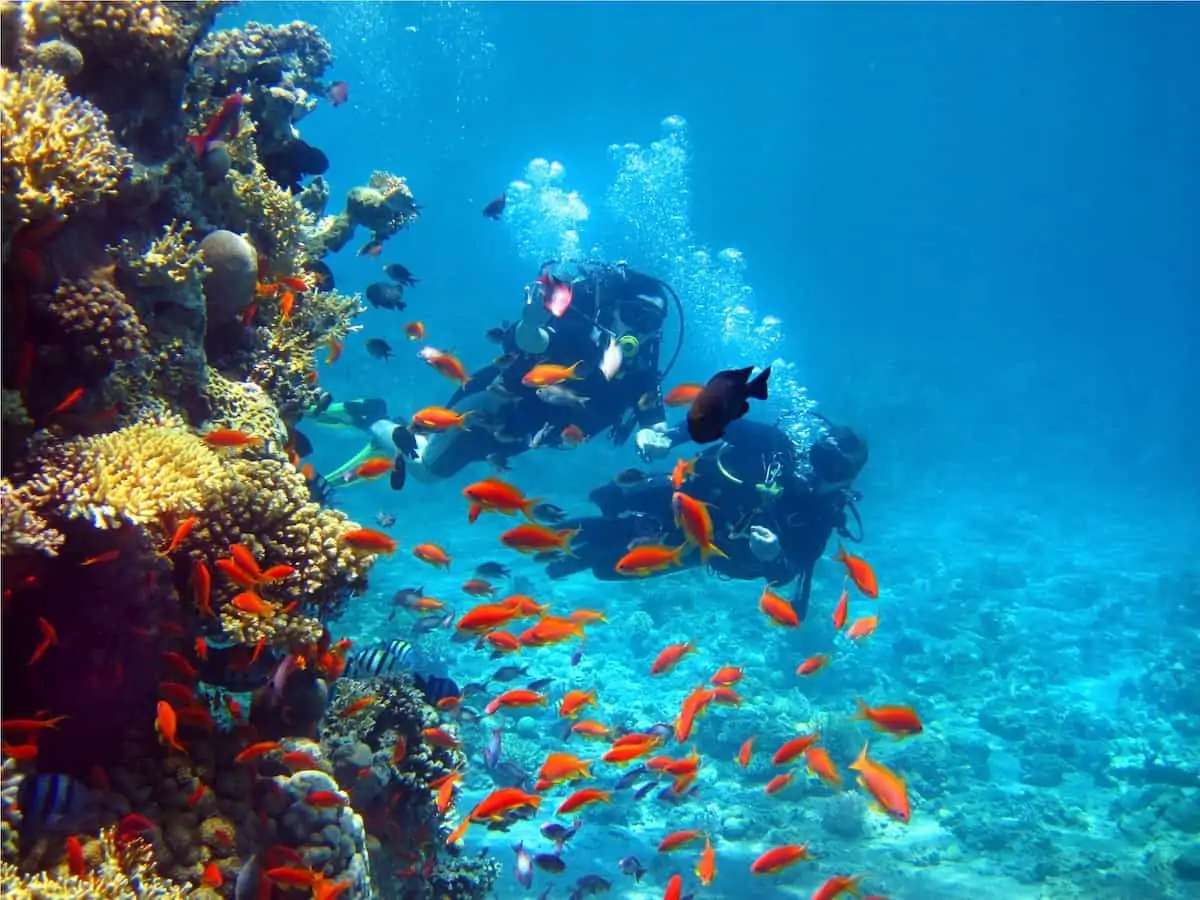 While not as well known as other famous scuba diving destinations such as Bonaire and Cozumel, both St. Kitts and Nevis offer plenty of opportunities for underwater adventure.
With visibility of 80 – 100 feet, the pristine waters feature ledges, caves, wreck sites and reefs dotted with sea fans and sponges.
Based at Oualie Beach on Nevis, 5-Star PADI certified Dive Center Scuba Safaris offers a diverse range of services.
Take a snorkel trip, scuba at up to 40 different dive sites, book a private charter or sign up for a certification course. All dives are led by an experienced dive master.
If you're on a cruise, another fun thing to do is to take a Catamaran and Snorkel Tour to Nevis that includes pick up and drop off at the cruise ship terminal on St. Kitts.
5. Attend a Food Festival in Nevis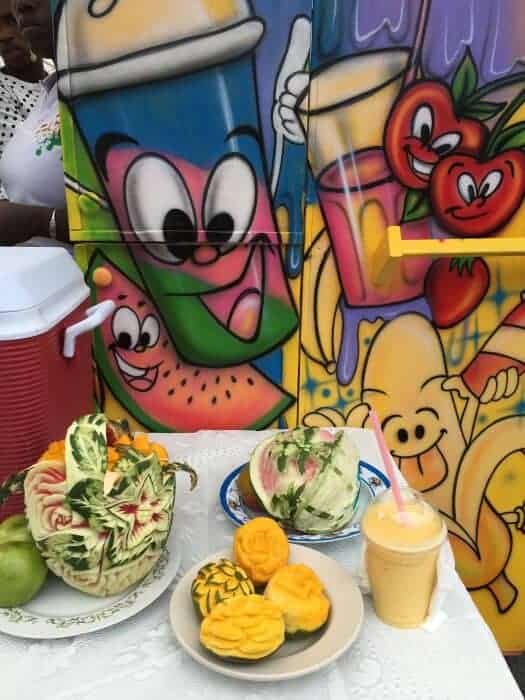 With its fertile volcanic soil producing at least 40 varieties of mangoes, one of the top things to do in Nevis is indulge in eating fresh, sweet mangoes.
The Nevis Mango & Food Festival, a 3-day annual culinary extravaganza in July is well worth adding to your calendar.
In between dining on mango-themed fare, you'll get to meet celebrity chefs.
Previous visiting chefs have included Natasha Corrett and even Iron Chef UK, Judy Joo, who helms Jinjuu Restaurant in London and Hong Kong.
🌟 Try It: Enjoy the sweet flavour of fresh mango in one of these popular mango recipes or in this recipe for No-Bake Mango Pie.
6. Sample Local Nevisian Cuisine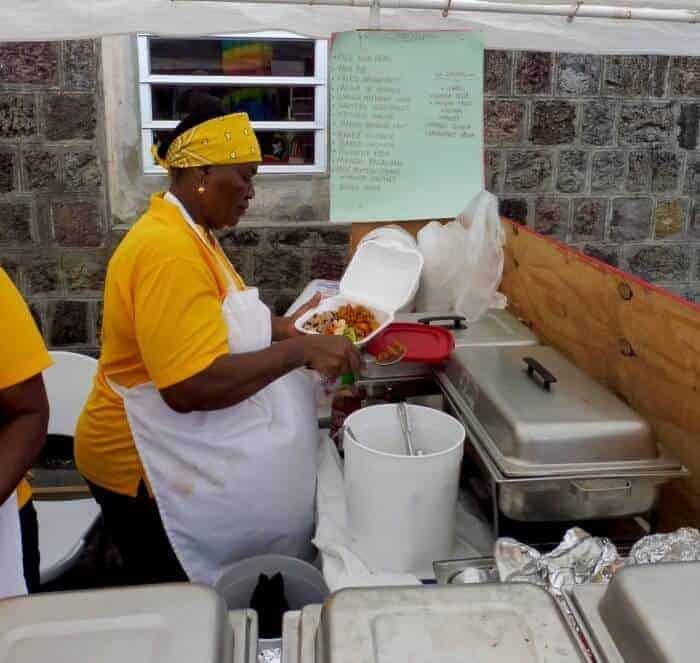 Beyond mangoes, Nevis offers plenty of other tasty things to eat – from grilled spiny lobster, the bustling open-air food market in Charlestown, street vendors and beach bars.
🌟 Pro Tip: Note to the unadventurous, beware of ordering the "tree mutton" which is actually monkey meat.
Foodies won't want to miss the Wednesday night West Indian Buffet at The Hermitage Plantation Inn, a historic estate that dates back to 1670.
On Wednesday nights, the buffet held in the Hermitage's Great House features a range of delicious dishes such as stewed goat, tannia fritters, short ribs in rum, Johnny cakes and more.
🌟 Insider Tip: Many of the dishes are served in the red-clay pots created by the island's Newcastle Pottery cooperative using traditional techniques.
7. Hike to the Peak of Mount Nevis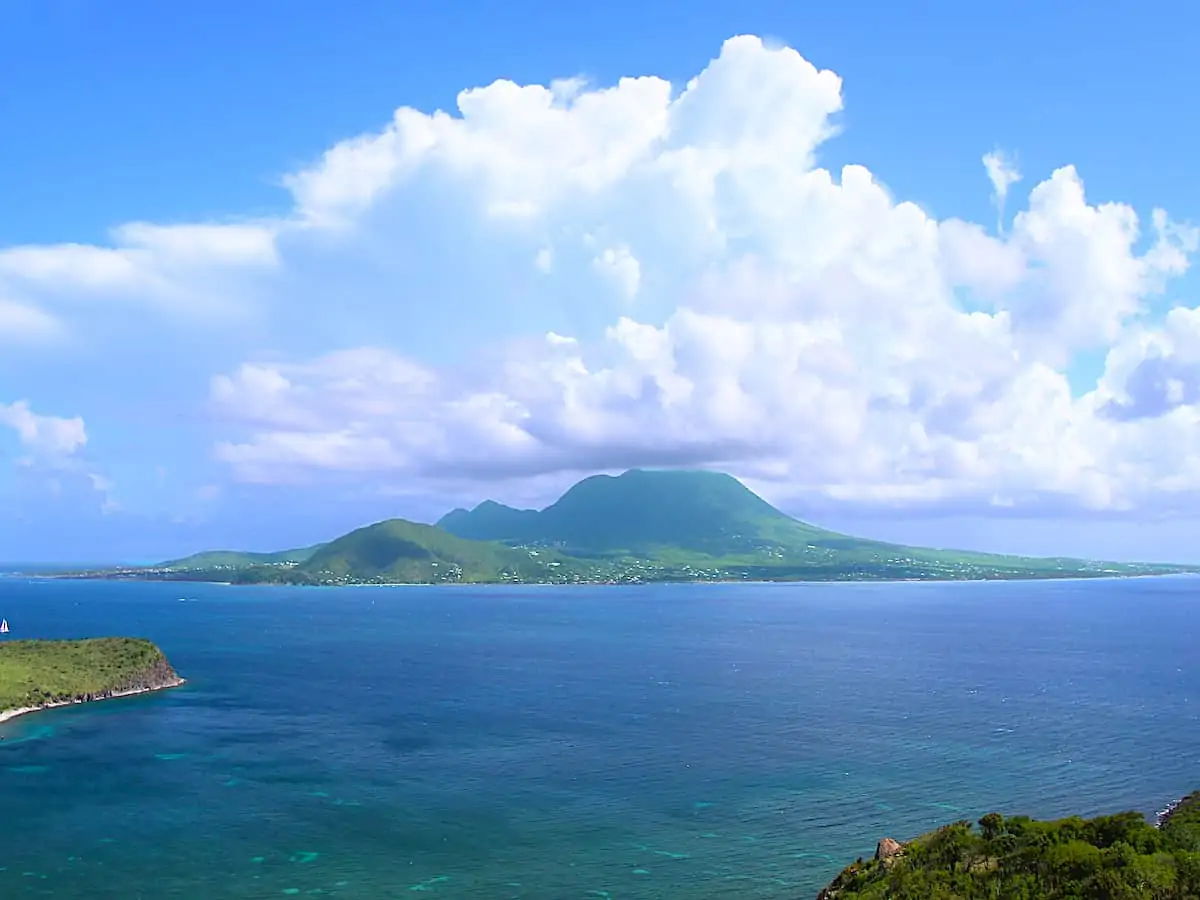 If you're feeling adventurous, one of the top things to do on Nevis is hike the steep slopes of Nevis Peak. This stratovolcano soars 985 metres in the centre of the island.
Even the name of Nevis is derived from the Spanish Nuestro Señora de Los Nieves or Our Lady of the Snows. That's the name given by Columbus when he sailed by the cloud-draped island in 1493.
8. Soak Up Some Alexander Hamilton History in Charlestown
Interest in Nevis is booming due to the smash Broadway hit Hamilton. This popular musical that tells the story of the Nevis-born Alexander Hamilton, a Founding Father of the United States.
Visiting the Museum of Nevis History, which sits on the site of Hamilton's birthplace in the capital city of Charlestown, is definitely one of the top things to do on a day of sightseeing in Nevis.
9. Explore Historic Charlestown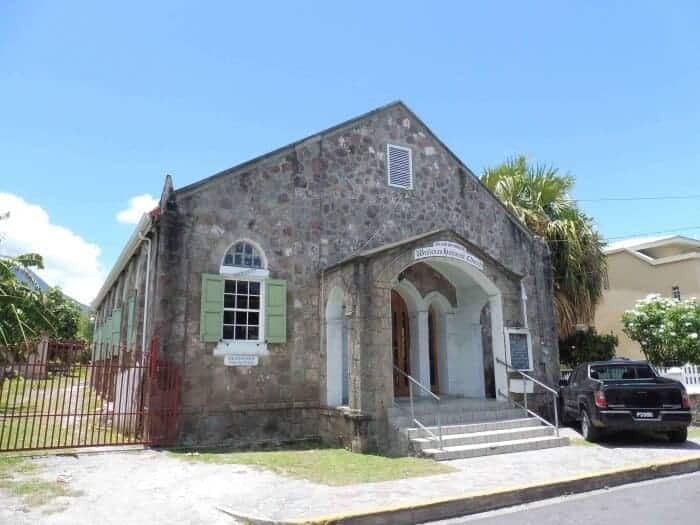 After visiting the museum, take a walk through historic Charlestown. It's the island's capital and is small, walkable and still-authentic, not overrun with duty free shops or fast-food outlets.
The leafy town square is circled by a fine selection of 18th and 19th century Georgian-style buildings with wooden second stories built above stone foundations.
Nearby, several historic churches and the Market Place make for an interesting way to spend several hours.
10. Go Liming and Enjoy Nightlife in Nevis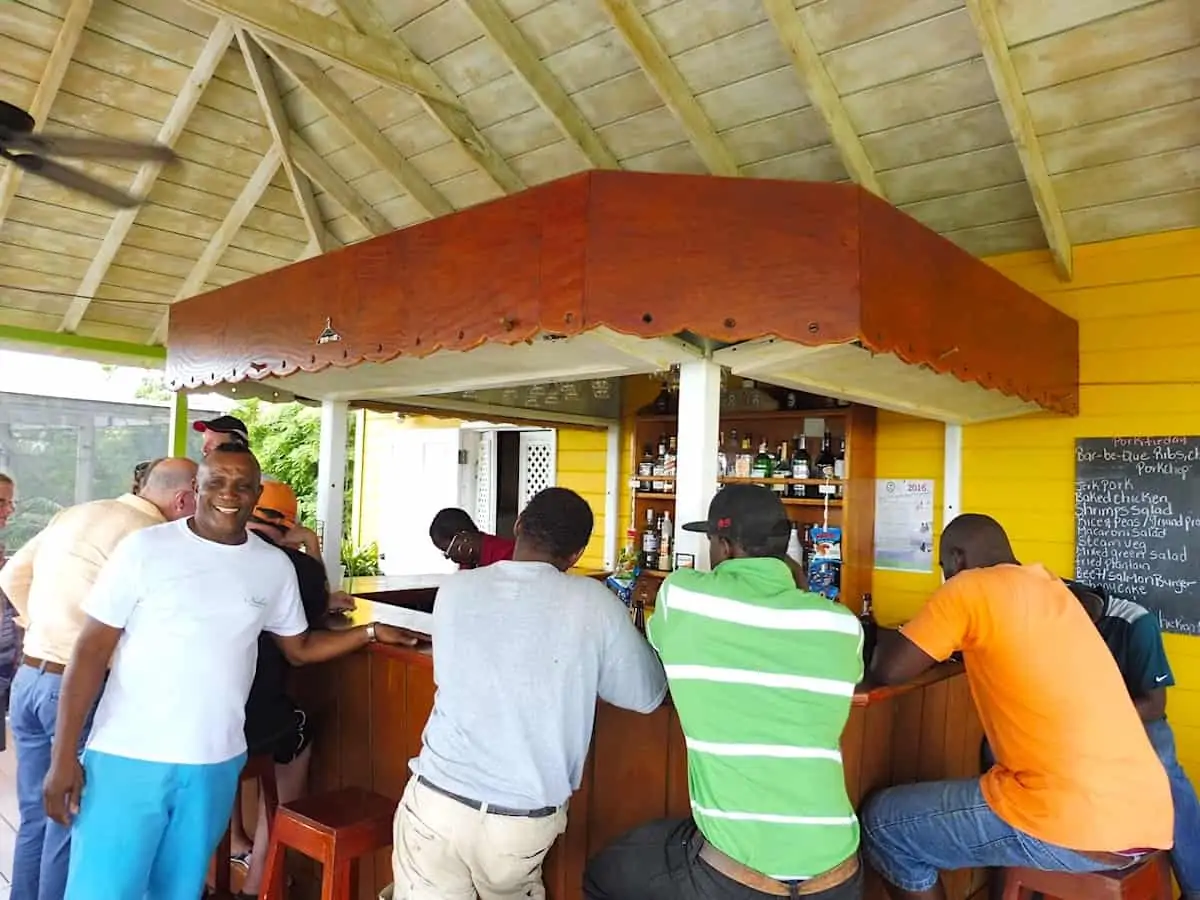 Although Nevis is a quieter island than St. Kitts for nightlife, there are lively parties almost every night of the week.
You can dance to live calypso and soca music, eat barbecue and generally lime or socialize with other visitors and locals at beach parties.
Another way to experience the island's warm hospitality is to join Patterson's Pub Crawl. This popular tour takes participants off the tourist track to explore local pubs, rum shops and hangouts.
Its hosted by uber-personality Patterson Fleming from the Nisbet Plantation Beach Club. On this tour you'll "lime with the locals" and sample island food such as barbecue ribs and jerk pork.
11. Bask in the Nevis Hot Springs at Bath Hotel Nevis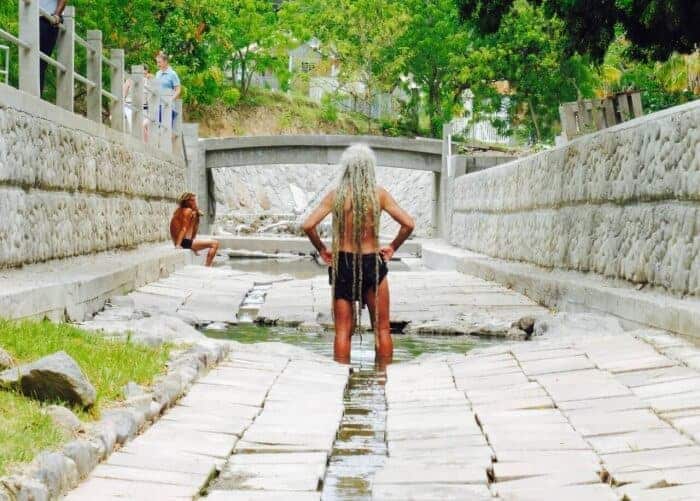 One of the top things to do in Nevis is visit the volcanic hot springs.
While there are many volcanic islands in the Caribbean, there are few where you can actually soak in thermal waters as easily as you can in Central American countries such as Costa Rica.
Nevis has done a fantastic job of preserving and restoring the series of natural hot springs located in front of the aptly named Bath Hotel in Charlestown.
It's still possible to soak up the therapeutic benefits of the scorchingly hot natural springs.
🌟 Insider Tip: Basking in the hot springs is one of the best free things to do in Nevis.
12. Get a Photo-Op at the Historic Bath Hotel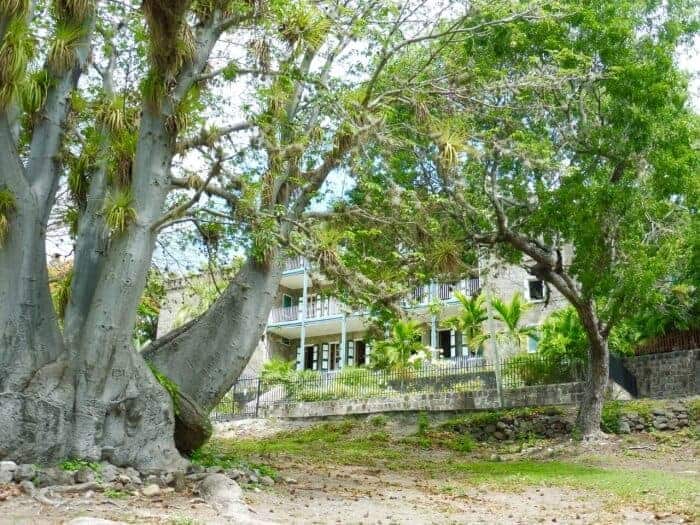 The historic Bath Hotel was built in 1778 and was once the playground for royalty and aristocracy.
However, it was converted to offices decades ago. Although rumours say it may be returned to its former glory as a hotel, it's not currently open to the public.
In the meantime, it's worth a photo-op while visiting the Bath Hot Springs.
13. Relax with a Spa Treatment at the Four Seasons Resort Nevis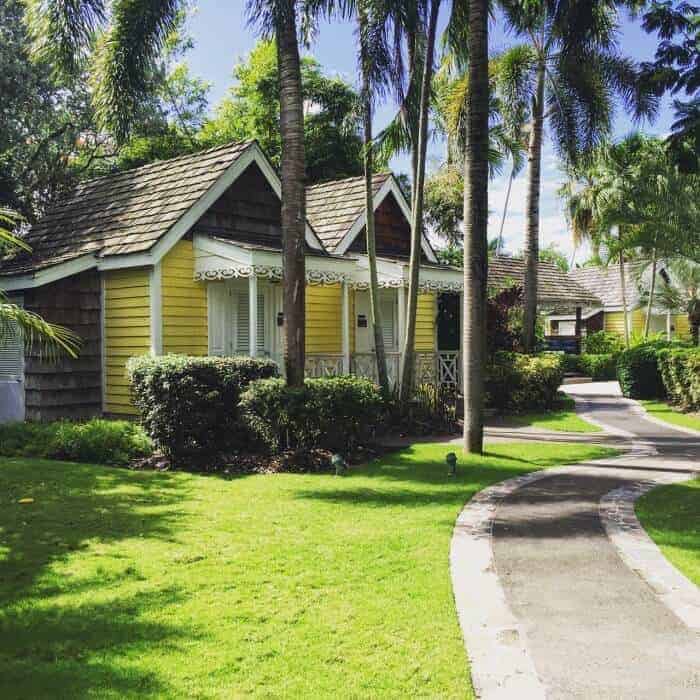 If you're looking for a swankier spa treatment, head to the spa at the Four Seasons Resort Nevis, set in one of the Caribbean's most stunning settings.
The treatment rooms are located within a meandering collection of spa cottages tucked beneath the palms. They're just steps to a luxurious soaking pool with soothing warm waters.
The spa treatment of choice at the Four Seasons Resort Nevis is their signature Nevis Naturally Massage. It features herbs and botanicals harvested from the spa's organic garden.
14. Nevisian Heritage Village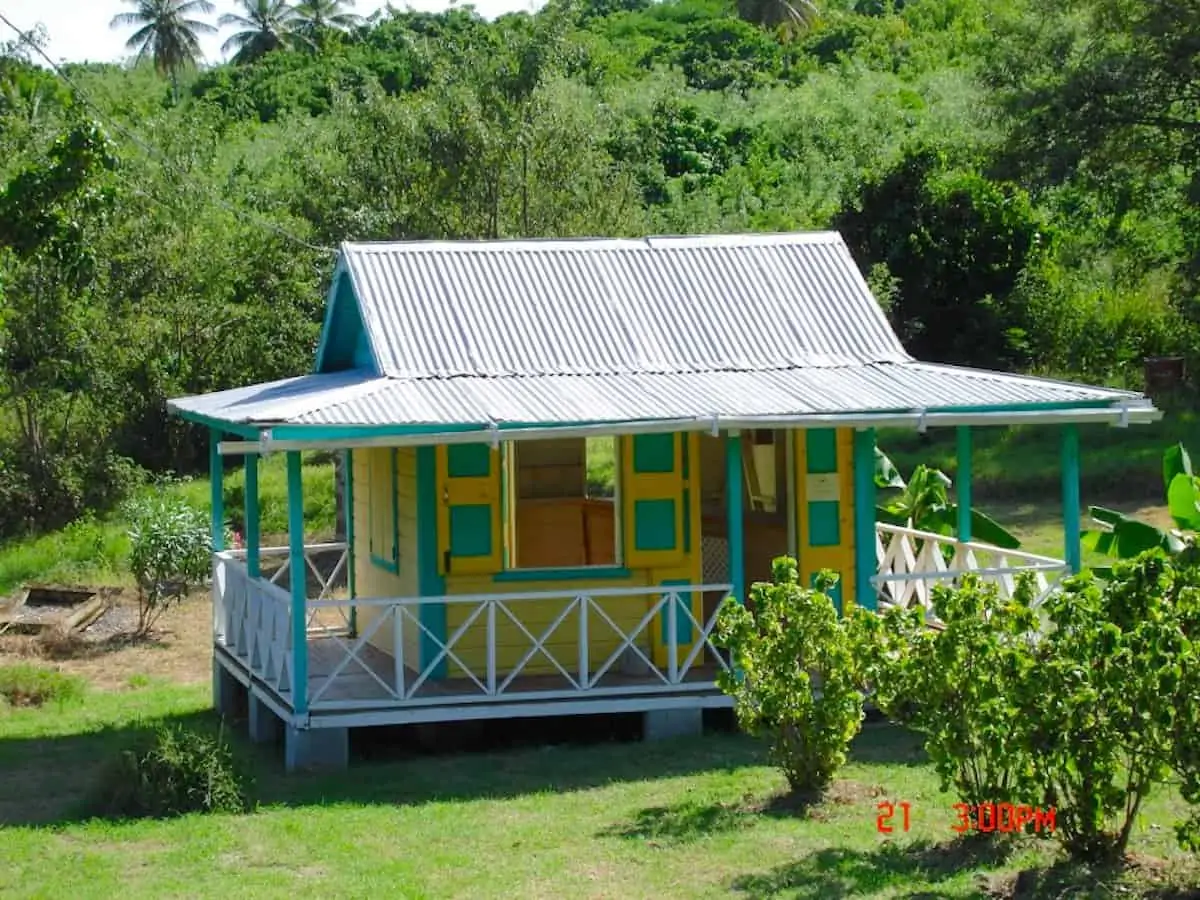 This fascinating attraction and open air museum depicts the types of dwellings of Nevis through the centuries.
It begins with those of the Carib indigenous people, through the backyard gardens during the colonial era to present day.
15. Explore the Botanical Gardens of Nevis, Cottle Church and other Nevis Attractions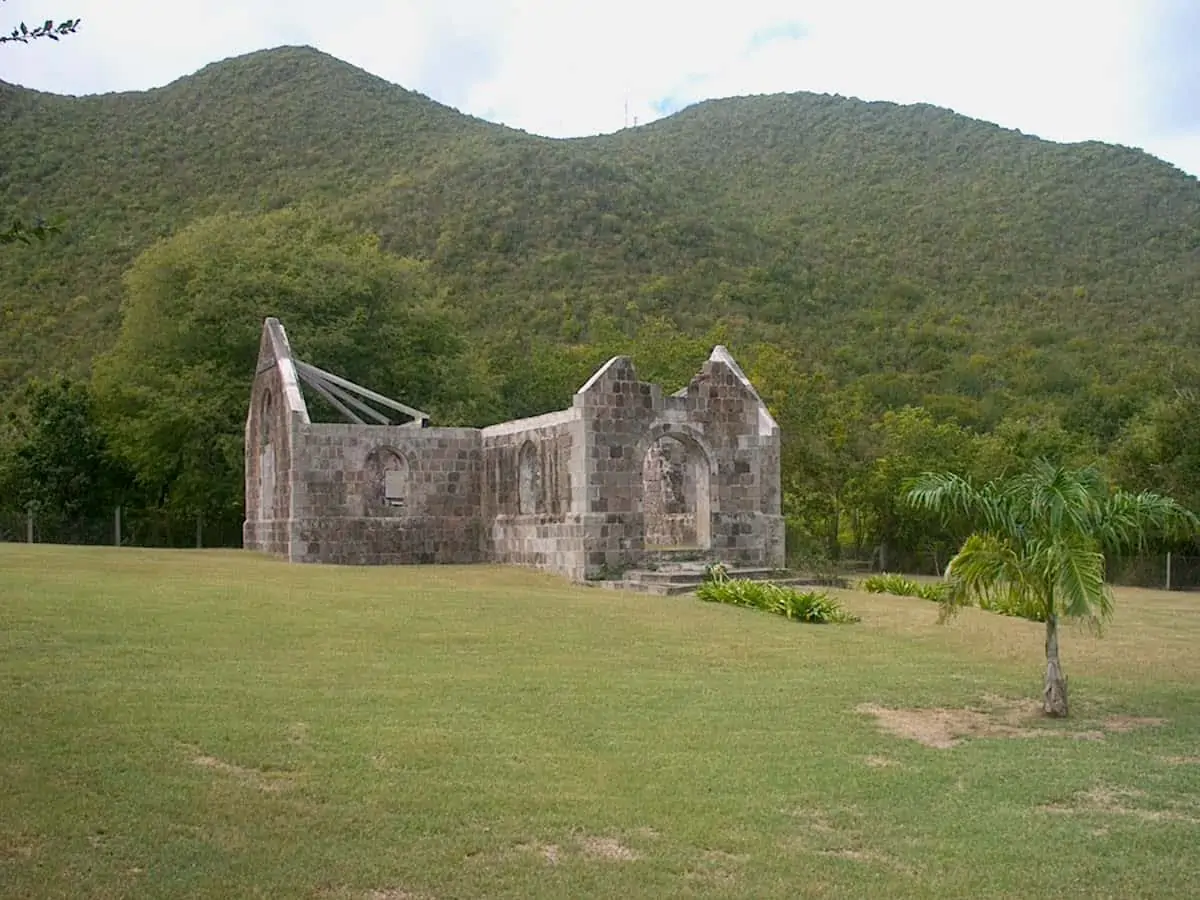 Another important attraction to add to your Nevis holiday sightseeing list is the Botanical Gardens of Nevis.
Here you can explore the walking trails, flower gardens and natural beauty of cultivated gardens.
Also worth exploring is Cottle Church. It's the remains of a stone church built in 1824 for John Cottle, a plantation owner and president of Nevis. At the time it was illegal for slaves to worship.
Nevis is also home to several other historic churches. Thee include red-roofed St. George's Anglican Church, St. James Winward Church (notable for its black crucifix) and St. John's Fig Tree Church (surrounded by 17th century tombstones).
They each played a role in the history of Nevis and each have their own unique story to tell.
St. Kitts and Nevis Travel Guide
Note: This post was originally published in 2016 and was substantially updated in 2023.
How to Get to Nevis
It's a real treat to discover a still-under-the-radar island where an easy water taxi gets you to your destination faster than you have time to finish a Red Stripe.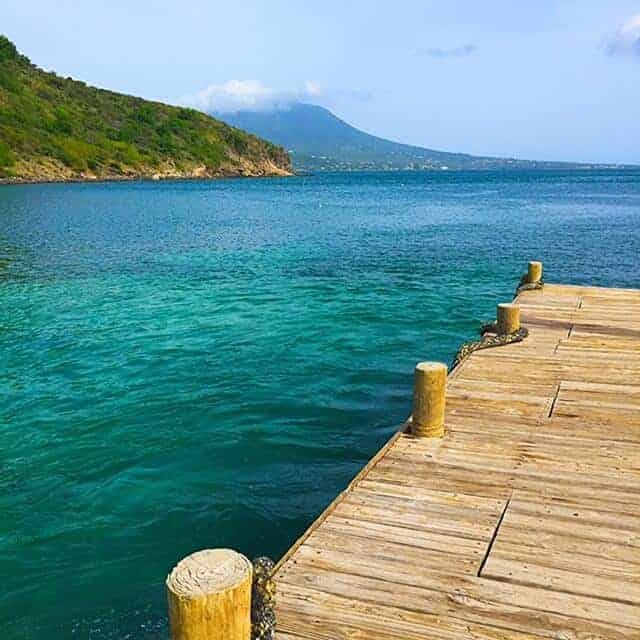 Travellers from North America or the UK can fly to St. Kitts. From there, connect to Nevis via ferry or private water taxi.
Another option is to fly to St Maarten and transfer to Nevis on a WINAIR flight. Many of the resorts include transfers for minimum stays.
Where to Stay on Nevis: Best Hotels, Plantation Inns and Resorts
Growing interest in the life and times of Alexander Hamilton hasn't prompted price increases on the island. For now, Nevis still offers excellent value when it comes to hotels.
Nisbet Plantation Inn
I stayed at the beautiful Nisbet Plantation Inn, a sprawling beachfront property that's ideal for those who love history, luxury and romance.
A unique feature of this Nevis resort is that it was the site of the wedding of Admiral Horatio Nelson and plantation owner's daughter Frances 'Fanny' Nisbet in 1787.
You can still see the atmospheric remains of the 18th century sugar mill near the Great House and lobby.
Today's elegant suites feature wifi, AC, a refrigerator with mini-bar, coffee/tea maker, bathrobes and more.
Nisbet Beach offers a mix of fine golden sand sprinkled with black volcanic dust that glint in the sunlight. Although it faces the Atlantic, the waters can be swimmable if the waves aren't too high.
A string of tidal pools along the shoreline makes for interesting beach combing.
Complimentary airport transfers from St. Kitts (SKB) or Nevis (NEV) airports are also included for minimum stays.
Four Seasons Resort Nevis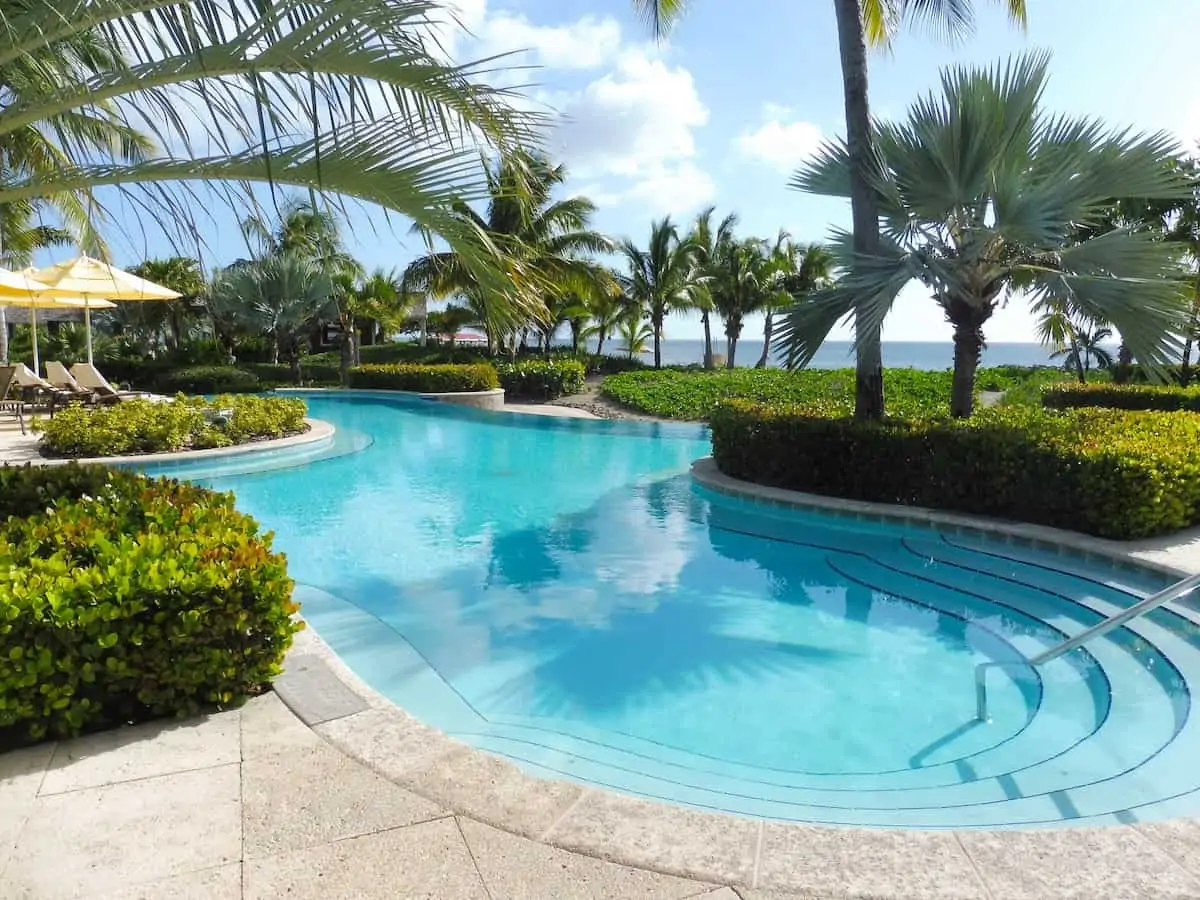 The Four Seasons Nevis is popular for honeymooners as well as families as it offers a wide range of types of guest rooms. It's also located on Pinney's Beach, the best beach in Nevis.
Check prices and availability at the Four Seasons Resort Nevis on Booking.com
Montpelier Plantation and Beach
Montpelier Plantation & Beach is a memorable fairytale stay. This intimate Relais & Châteaux boutique hotel is set on the site of an 18th century sugar cane plantation. It features historic buildings as well as its own beach club.
It's an especially popular resort for a honeymoon on Nevis.
Check prices and availability at Montpelier Plantation & Beach on Booking.com.
Oualie Beach Resort
Further afield, another affordable option is Oualie Beach Resort. This 3.5 star beachfront collection of 32 low-rise Caribbean-style cottages offers reasonable rates. They also have screened verandas as well as direct access to one of the nicest swimming beaches.
The location isn't as private as Nisbet Plantation Beach Club. The water-taxi as well as several other boats depart from the dock at Oualie Beach. But the onsite restaurant is a happening place offering live music and dancing on Tuesday nights.
Related: Beach Bag Essentials to Pack
Sargassum Seaweed Conditions in Nevis
If you're wondering about sargassum seaweed in Nevis, it's important to note that much of the Caribbean Sea has experienced a record amounts of sargassum seaweed.
What exactly is sargassum seaweed and why is it a problem? It's a type of brown algae that floats in the open ocean in the Sargasso Sea in the North Atlantic.
Carried by ocean currents, this mat of seaweed floats on the surface of the water. It serves as a resting area and spawning ground for a vast array of life from eels to sea turtles.
However, when it lands on beaches it decomposes and creates an unsightly mess and odor.
Learn more about the seaweed problem in this sargassum seaweed update on Cancun, Mexico. Also read this report on the beaches in Punta Cana, Dominican Republic.
Outlook for Sargassum in the Caribbean
Seaweed season normally takes place between June and October each year. In recent years sargassum season is happening earlier and staying longer.
Seaweed conditions in Nevis can change quickly due to ocean currents and wind conditions.
However, the beaches on the Caribbean side of Nevis have historically been clear of seaweed. It's one of the best islands in the Caribbean to consider for avoiding seaweed.
Seaweed in Nevis tends to be concentrated in the southern point of the island around Indian Castle. That area is known for its fertile fishing grounds. The eastern (Atlantic) side of the island may also see seaweed.
What is the outlook for seaweed conditions in Nevis? The Sargassum Watch System (SaWS) developed by the University of South Florida's Oceanography Laboratory is a good resource.
It uses satellite data from NASA and mathematical models to detect floating algae and track the movement of sargassum in the Atlantic, the Caribbean Sea and Gulf of Mexico.
Learn more about the island of Nevis by visiting the Nevis Tourism Authority website.
Other Caribbean Islands We Love
FAQs
What are the top attractions to visit in Nevis?
The most popular attractions to visit in Nevis are historic Charlestown (the island capital), a plantation estate, Nevis Mountain Peak, the Museum of Nevis History and Alexander Hamilton House, Cottle Church, the Bath Hotel and Hot Springs and beautiful Pinney's Beach.
How many days do you need in Nevis?
Although small in size, Nevis has a surprisingly large number of things to see and do. While you can see much of the island during a 2 day visit, you need 3 days in order to have enough time to relax on one of its beautiful beaches, take a snorkel tour or hike Mount Nevis.
Does Nevis have nice beaches?
The island of Nevis is famous for its beautiful beaches. Pinney's Beach is one of the nicest beaches in the Caribbean and features clear, calm turquoise waters. Oualie Beach and Lovers Beach, located on the north-west tip of Nevis are also fine beaches and good for swimming.
Save to Pinterest!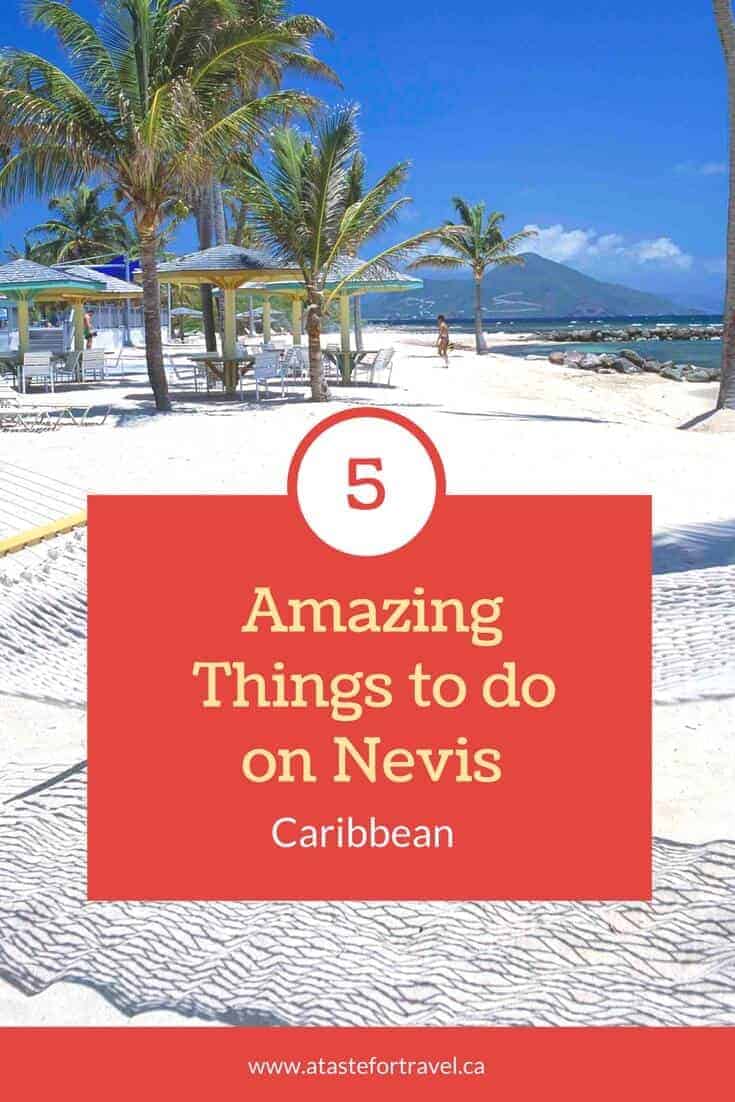 Dividing her time between Canada, Guatemala and Mexico (or the nearest tropical beach), Michele Peterson is the founder of A Taste for Travel. Her award-winning travel and food writing has appeared in Lonely Planet's cookbook Mexico: From the Source, National Geographic Traveler, Fodor's and 100+ other publications.
Read more about Michele Peterson.