We may earn income from links in this post. Please read this Disclosure for details.
Wondering where to eat and drink in St. John, United States Virgin Islands? You've come to the right place!
Although best known for its natural attractions such as Trunk Bay–with its amber sand beach bordered by lush forested mountains and cerulean waters–this tiny island also happens to be a treasury of delights for foodies.
Located east of Puerto Rico and west of the British Virgin Islands, St. John is the smallest of the three main island of the USVI (St. Thomas and St. Croix are the others).
Given the island's small size (it's only 50 sq. km. with a population of around 4,100) you might be surprised by the breadth and variety of things to do.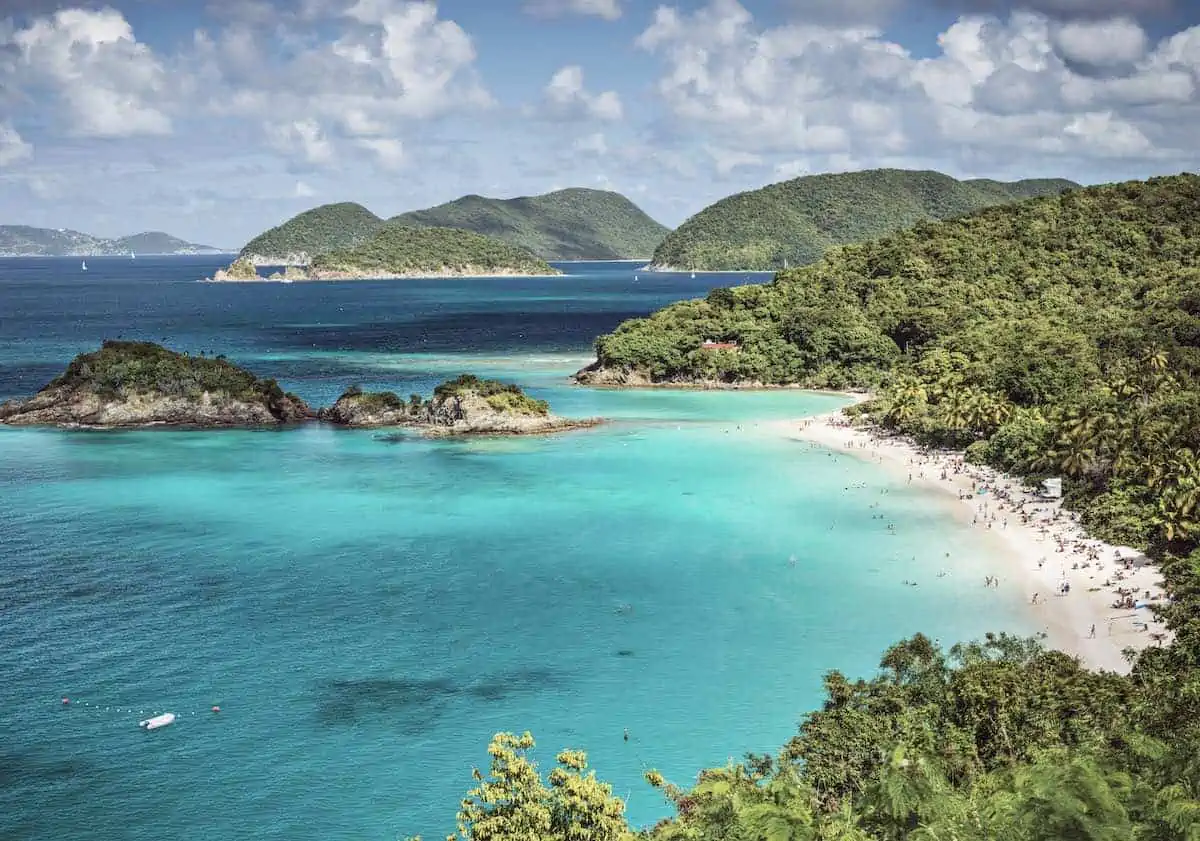 I've sailed and travelled around the U.S. Virgin Islands many times while writing for magazines and newspapers and am convinced St. John is a bucket-list destination whether you're a beach bum, a nature lover, a wannabee historian or an adventurer.
Not only is it one of the Caribbean's most unspoiled islands (fully 60% is protected National Parks land) but it's home to petroglyphs, archeological sites and Annaberg, the ruins of a 17th century sugar plantation.
And then there's kayaking, kiteboarding and snorkelling or diving some of the best stretches of coral around.
But my most recent visit to St. John was focused on its food and drink.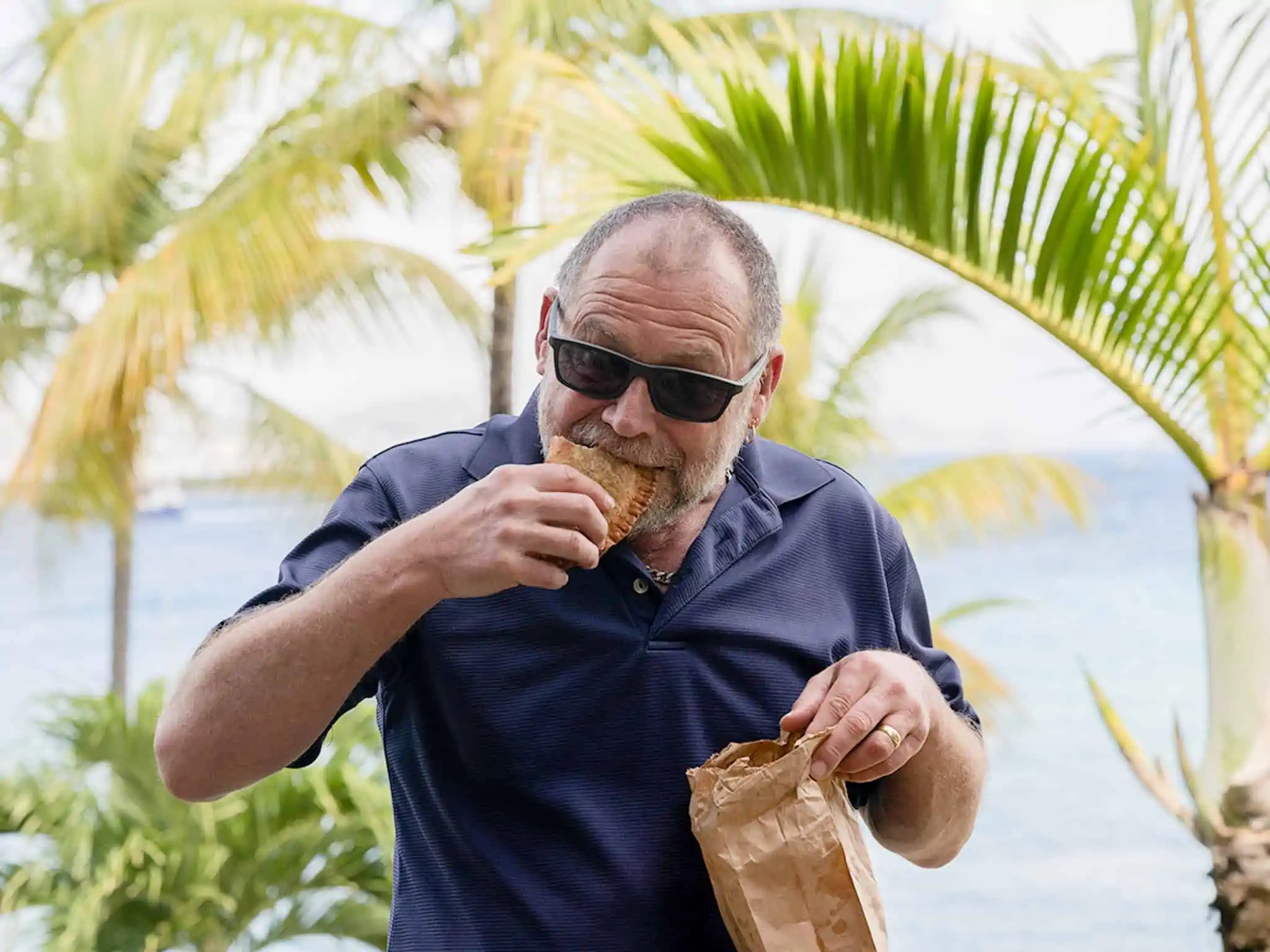 From rum tastings to floating taco boats to fish and fungi, a dish rooted in island history and culture – there are a lot of great culinary experiences to discover.
It rivals Anguilla, one of my other favourite Caribbean destinations, for cuisine.
Here are my top picks for the very best foodie things to do in St. John, U.S. Virgin Islands.
They're sure to give you an unforgettable taste of the unique flavour of this special island.
1. Romantic Dining with a Sunset View
It didn't take us long to discover the first of many culinary feasts that make this island a foodie's must-do destination.
Welcome to Ocean 362, conveniently located at our hotel (Gallows Point Resort) on Cruz Bay. You might come for the view but you'll stay for the menu prepared by chef Gabriel Morales.
One of the most romantic restaurants in St. John, the view features perfect sunset morphing into evening, gilding the waters of Pillsbury Sound, silhouetting the hills of St Thomas, even as the lights on that island begin to twinkle.
But it's the menu that ultimately seduces us, beginning with a tantalizing appetizer of steamed garlic herb mussels snugged down in a delightful crème sauce.
"Fresh fish," bartender Lacy Pritchard says. "Never frozen."
Next Pritchard recommends a cocktail.
Welcome to the campfire flavours of "Smoke on the Watta," a combination of mezcal, coconut milk, agave and orange juice.
Or maybe you'd prefer their "Hibiscus Old Fashioned," constructed from hibiscus ginger syrup, orange bitters and my own personal favourite, 8-Year-Old Bacardi.
But now it's time for the mains.
Once I spot the lobster risotto with edible flowers, I am smitten. No contest there.
Then we're tempted with a selection of desserts. In spite of Pritchard's advice ("go for the Key Lime Pie") I bond with the Flourless Chocolate Cake. Perfect end to a perfect meal at Ocean 362.
Dining here should be on any St. John foodie bucket list.
2. Dine at a Floating Food Truck aka Food Boat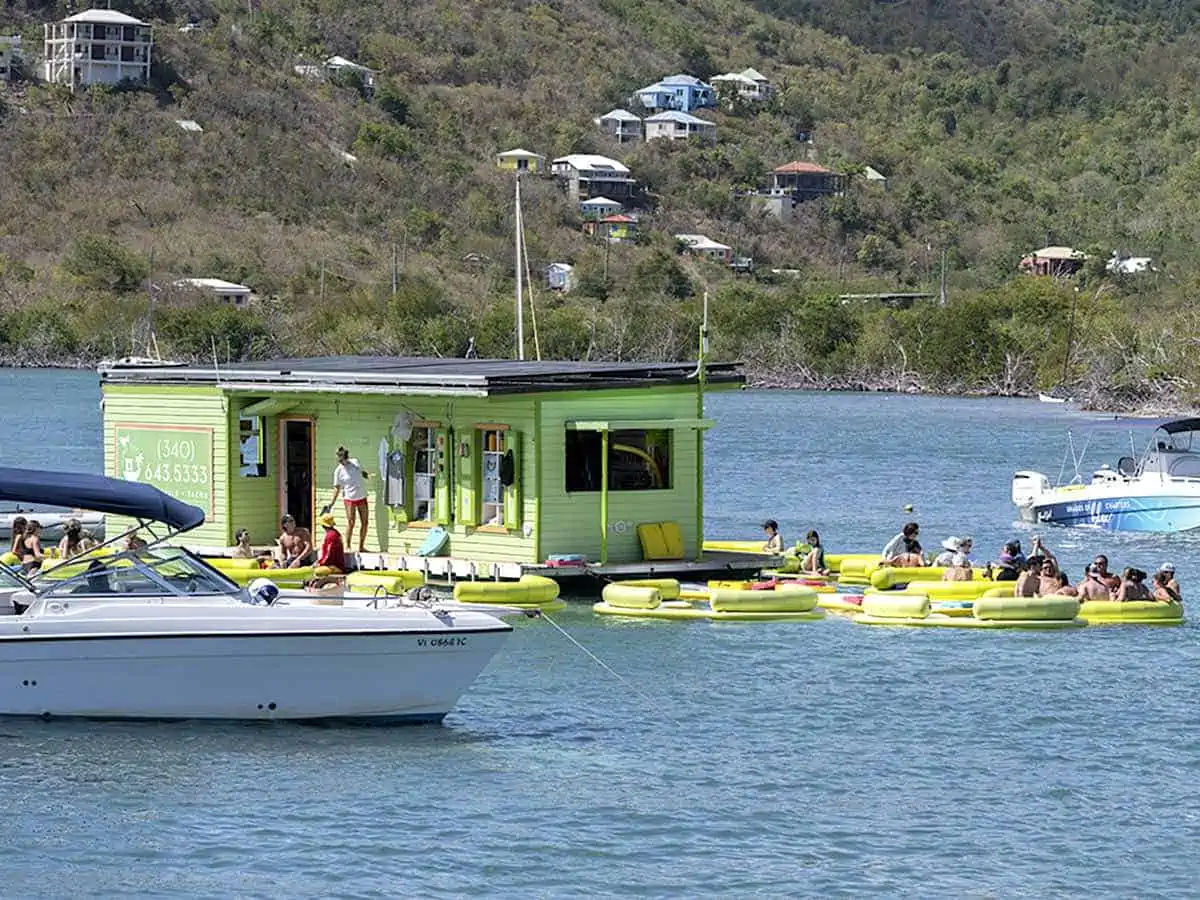 When it comes to top foodie experiences in St. John, an absolute must-do is to eat at the island's answer to food trucks.
But these are no ordinary food trucks. They might be a close comparison but they're not actually food trucks at all! These dining establishments float.
Lime-Out
Bobbing on Coral Bay, Lime-Out is appropriately named as you can see this barge painted neon lime for miles. Tacos are the only item on the menu but they're worth the trip – or the swim – or the boat ride.
Your drinks and the taco menu are pushed out to you by servers as you lounge on great yellow rafts that accommodate five or six people.
Or you can do lunch at the swim-up bar and sip an iced hibiscus tea, a local beer or an inventive cocktail like The Danger (Thai chile-infused tequila with fresh watermelon, lime and pineapple) or a grapefruit margarita.
Whether you opt for a blackened shrimp or a slow-braised short rib taco, these are the best tacos on island. Or off-island for that matter!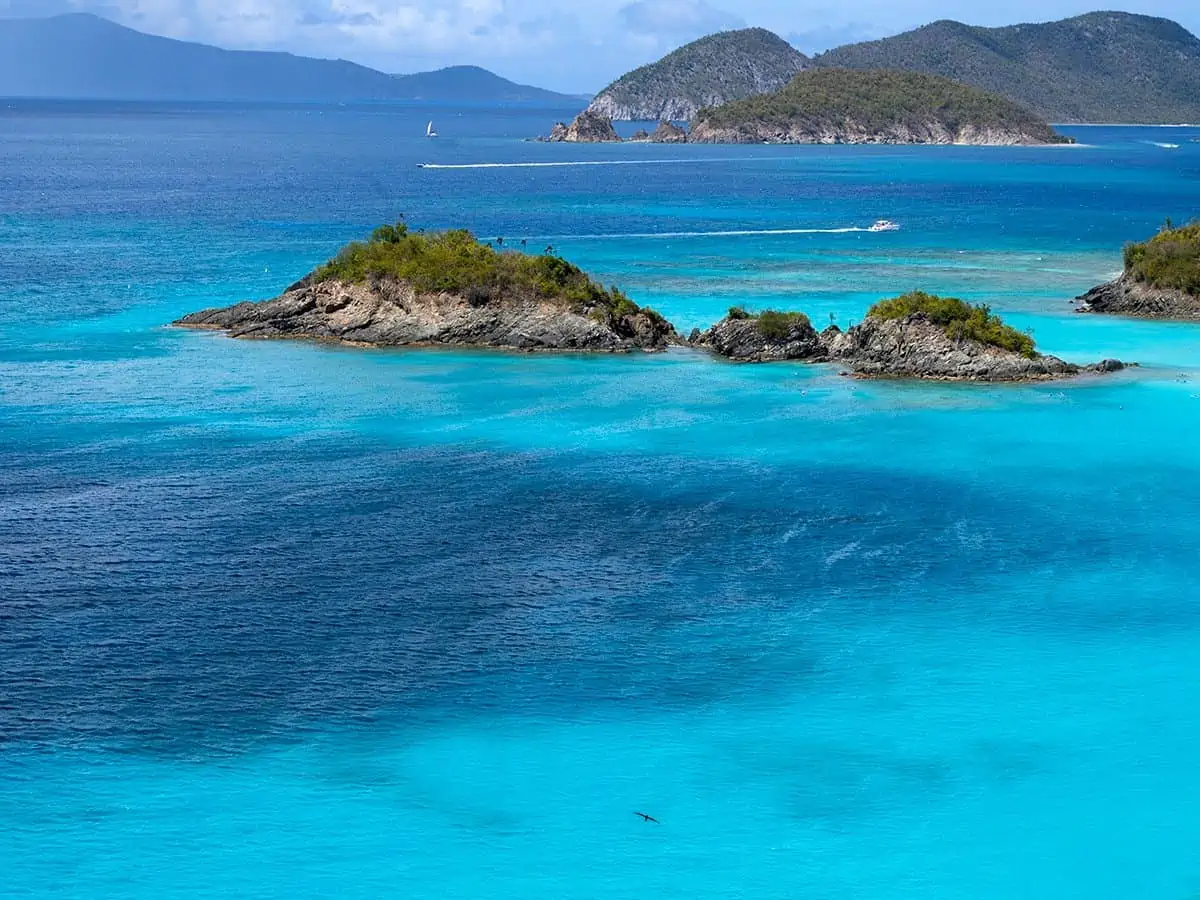 PizzaPi
If pizza's your thing you need to boat to Christmas Cove, just across from St. John and visit PizzaPi.
Same principle as Lime-Out. PizzaPi is located on an anchored motorsailor. If you are a boater you radio them and place your order. You boat over to pick it up or they will deliver your New York Style pizza to your boat.
Everything is done right on the boat – from making the pizza dough to slicing up the veggies. There's even a gluten-free option (if it doesn't sell out).
Ambiance aside, both places are must-dos.
Best pizza I had in USVI. Best taco(s) I had in USVI.
Insider Tip: Combine your lunch with a boat tour of St. John or Christmas Cove. You do need to have access to a boat to enjoy their respective menus.
Love the idea of a floating meal? Check out this floating brunch – one of our Top 20 Brunches in Aruba!
3. Get a Lesson in Rum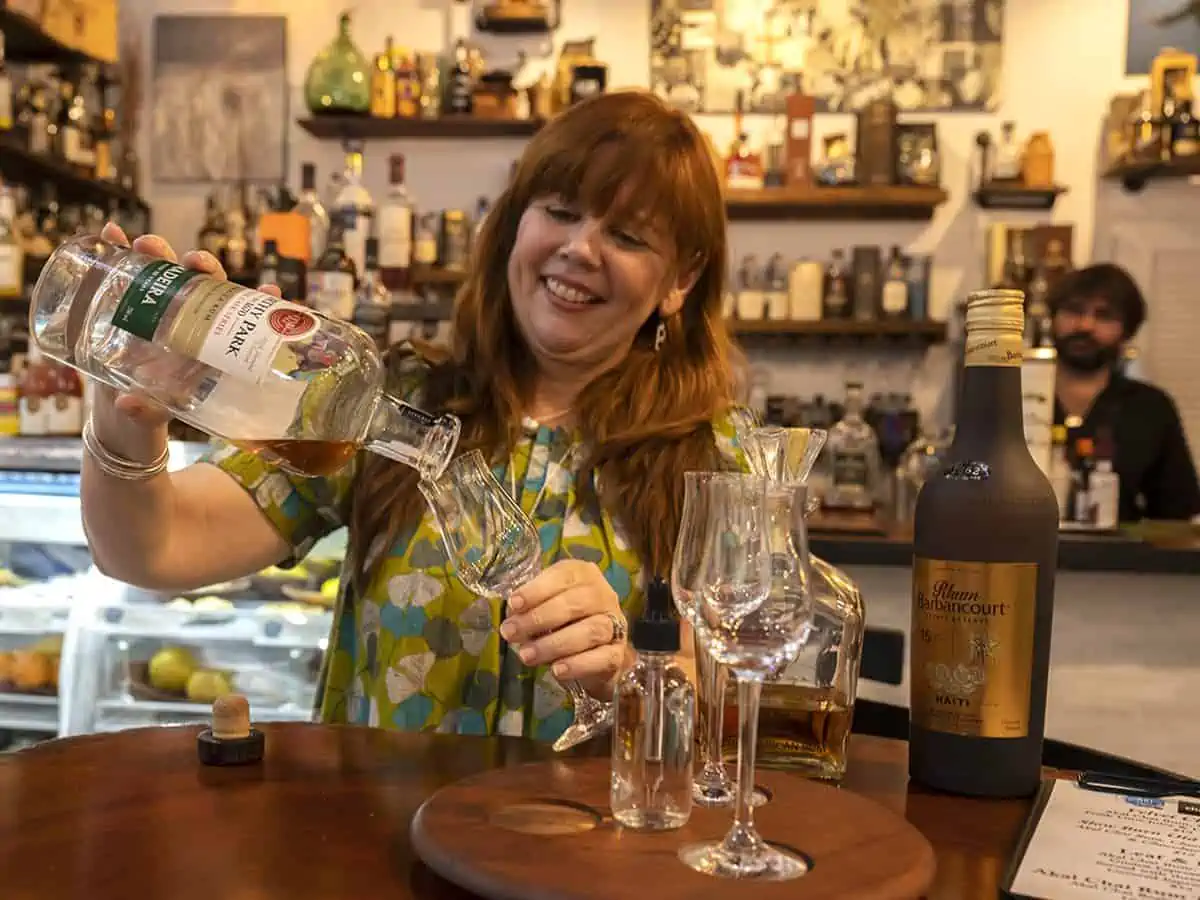 Because I am a sailor, a pirate wannabee and lover of all things Caribbean, I fancy myself a bit of a rum connoisseur.
Even so I get a great lesson in rum at the Bajo el Sol Gallery, Art Bar and Rum Room thanks to a rum-tasting curated by co-proprietors Priscilla Hintz Rivera and her partner David Knight.
They're a regular rum encyclopedia. And they've created an unforgettable experience in a gorgeous setting where rum meets Rembrandt.
My wife's thrilled by the Rembrandt part. This airy, bright gallery with towering ceilings is an important repository for the work of local artists, from paintings to carvings to hand-made jewellery.
But my favourite item on the agenda takes place near a mahogany bar backdropped by an astonishing collection of rum bottles climbing skyward.
And the tasting comes with a helping of history, the rum-tasting and a selection of rums for purchase that boggles the mind.
"How many rums do we have?" says David, as he places a flight of spirits before me. "Tough call. We get new ones in all the time. I would say we have around 175 brands right now."
Pouring a rhum agricole for my consideration, David continues the lesson. It's so comprehensive I'm left with only one question.
"Please, sir," I say. "Could I have another?"
Insider Tip: For a truly unique rum, check out the Akal Chai Rum from Trinidad, a fascinating blend of rum, herbs and Indian teas.
4. Outdoor Dining at Lovango Resort and Beach Club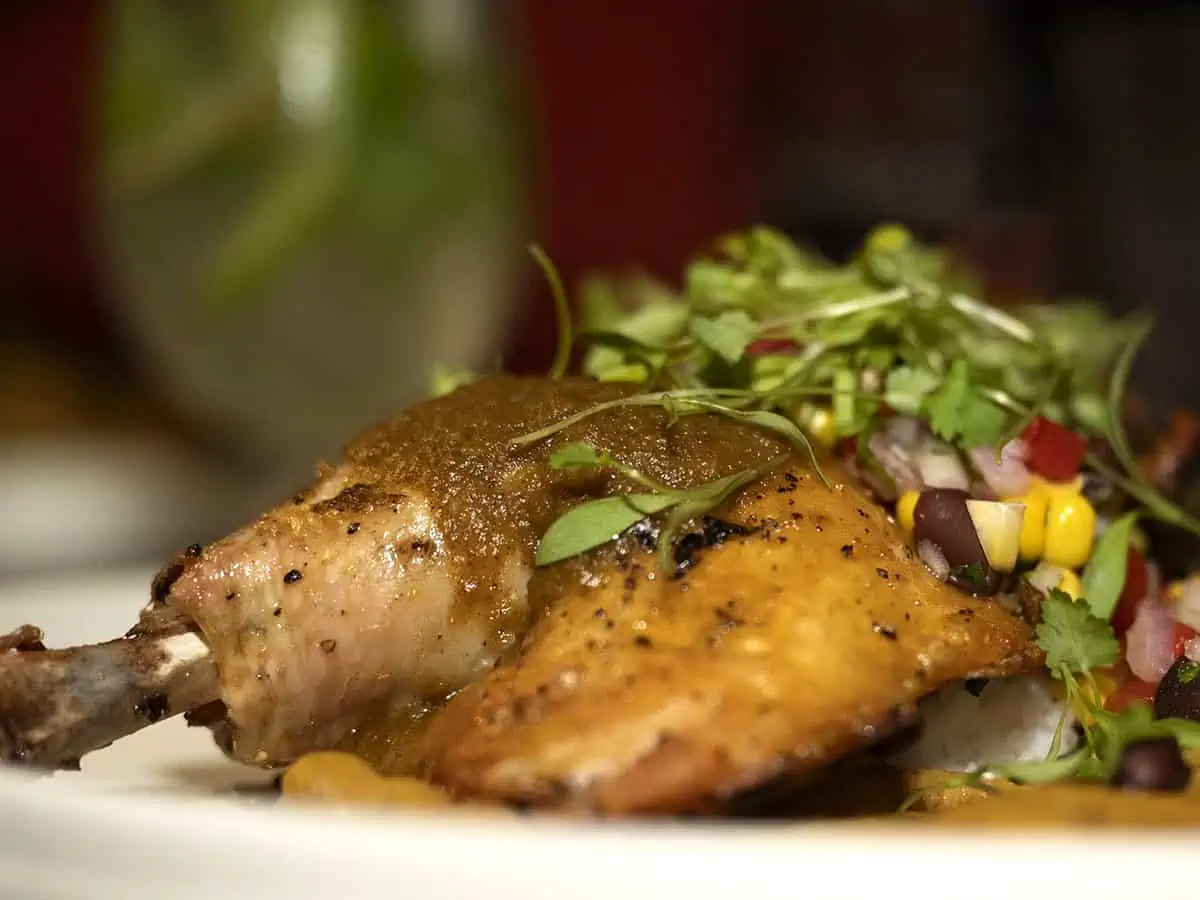 The next item on our foodie list of things to do on St. John is outdoor dining. Our destination is Lovango Resort & Beach Club set on its own private island.
We enjoy appetizers served up with a difference – on the sailing catamaran that ferries us to this elegant resort.
Once onshore we lounge beside the infinity pool until we're escorted to a seaside table. Then it's a flight of bespoke cocktails before we're treated to the menu created by executive chef Stephen Belie.
It's designed to offer a fresh look at classic Caribbean cuisine. Case in point: the Pineapple Jerk Half Chicken.
It proves delicious, appropriately moist and beautifully plated. I've explored the better part of Jamaica on a quest for the best jerk in the world – I've even written about that journey.
This offering is more a tribute to jerk than the mouth-scorching exhibits I've sampled in Jamaica.
It is, nonetheless, delicious.
I'm delighted to note a S'Mores torte rounding out the dessert menu.
Unfortunately, time has run out and we have to rush back to the boat.
After serving staff roar down to the dock to deliver these delectable sweets, we are forced to do dessert sur la mer.
Life is a beach. (Club).
Insider Tip: If you want to get into the party spirit at Lovango Resort & Beach Club, check out the Beach Party, taking place three nights a week and featuring live music and special menu.
5. Dine on Lobster at a Restaurant Named After an Iguana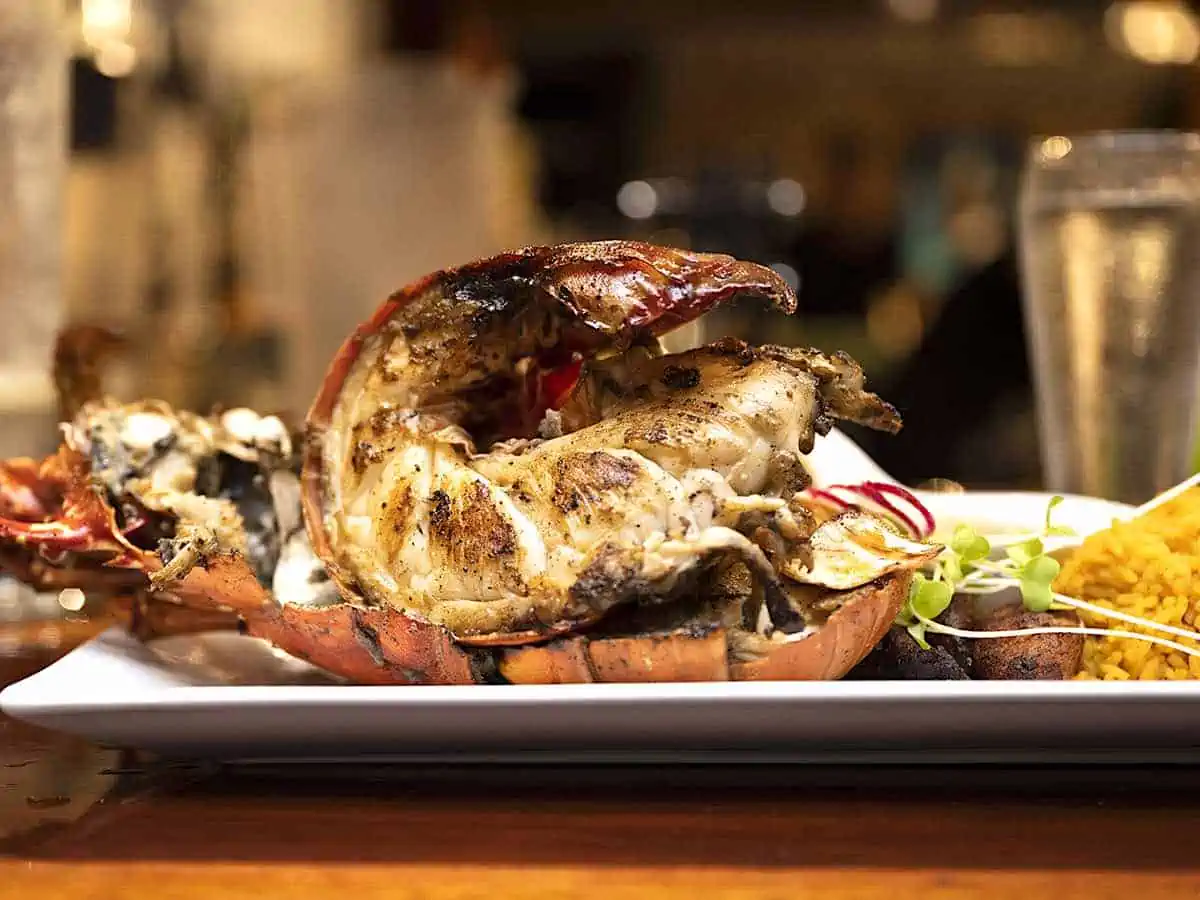 Another worthy gastronomic stop is Morgan's Mango just around the corner. It's widely considered one of the best restaurants in St. John.
As I peruse the menu, I pump the bartender for information.
"Morgan?" I ask. "Owner?"
"Owner's pet," he answers.
"Dog? Cat?"
"Iguana."
To my relief, iguana has not found a place on the menu, which is a fusion of Caribbean influences that pay tribute to the inspiration in various entrées.
Think Poppas Pickapeppa Ribeye Steak thanks to Jamaica or Coconut Shrimp, courtesy of St. Lucia. I order the latter for starters.
The shrimp, a perfect blend of sweet, spicy and seafaring, is easily the best I've ever tasted.
I follow that with an order for lobster.
After savouring the delights of the shrimp I go with the garden salad as I wait in anticipation for my lobster tail.
Meanwhile I survey the setting. It features a profusion of foliage set amidst natural stone in an ambiance somewhere between inside dining and al fresco.
Spread over four different levels, it's decorated with local artwork the colours of the sea itself. One display pays tribute to musician Kenny Chesney, who's reputedly a regular and was instrumental in rebuilding after Hurricane Irma.
The lobster arrives and I dig in with gusto. Chesney might be on to something here.
Insider Tip: If you have your heart set on lobster, order it as soon as you arrive. Or, plan to visit during 'Lobster Nights' on Tuesday or Saturday.
6. Spice Up Your Life at St. John Spice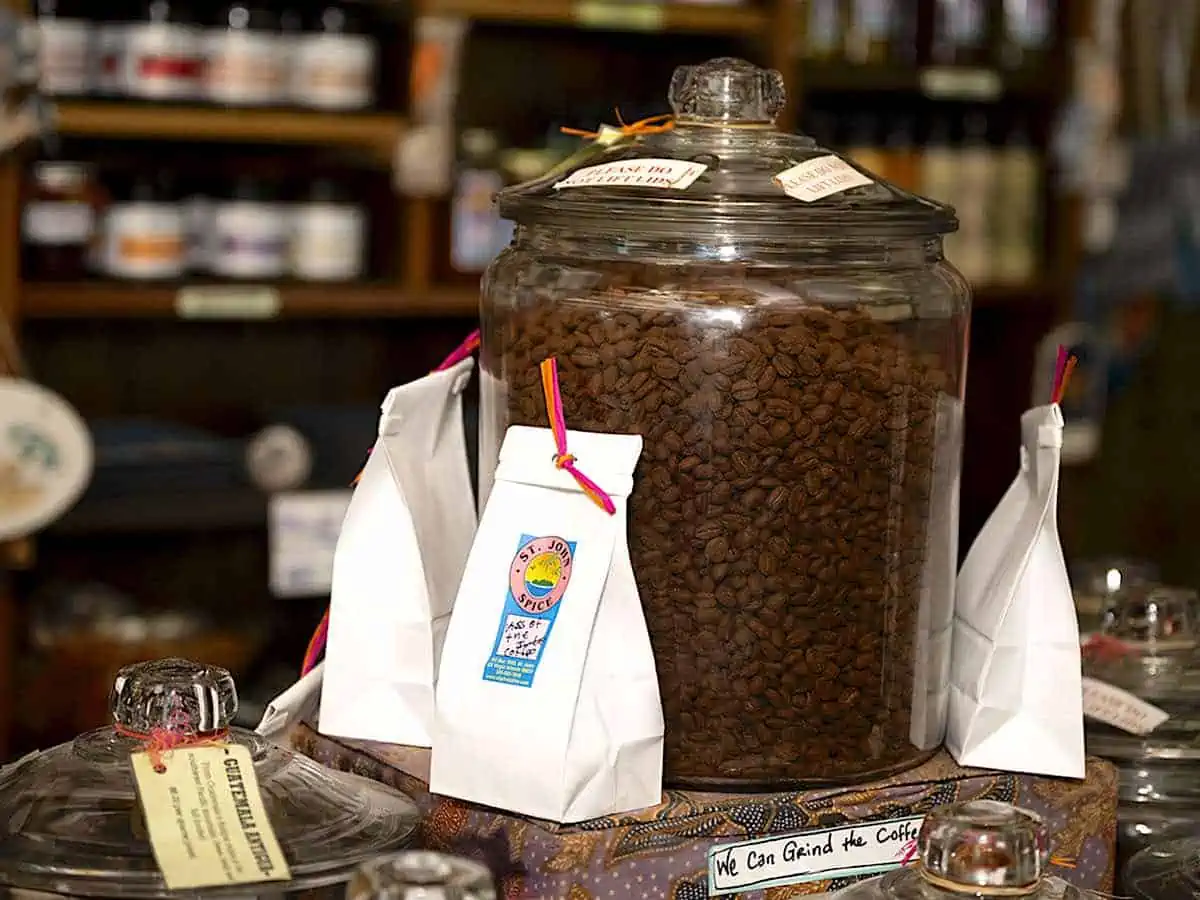 Another way to dive into the unique flavour of this irresistible island is to do as I did and head to St. John Spice, a gift shop, spice shop and general store in Cruz Bay.
This establishment is considered the purveyor of the greatest selection of spices, rubs and hot sauces in the entire Caribbean.
Two tables supporting big glass containers display teas curated to create a tropical vibe. One tea's appropriately named Caribbean Breeze while another one is named Sunset Herbal, specially blended by co-proprietor Ruth Ernst.
While much of the floor space is occupied by the usual tourism bric-a-brac like beach towels and toys, the chief appeal is the spices and various rubs, many created by Ruth herself.
"Try my Grill Rub," advises Ruth, escorting me to a selection holding court along one wall. "It's the best-selling one in the store."
Ruth points to a couple of others. Takes them to the cash register. St. John Jerk Spice. Island Herb Blend. Island Creole. My mouth waters.
Then there are the hot sauces, commanding shelf space around the corner.
Now Ruth introduces me to a selection of sauces bearing the name 'Blind Betty'. "She's not blind and her name's not Betty," quips Ruth, "but the sauces are phenomenal. And local."
Looking for the perfect addition to your next meal?
Visit the St. John Spice Company and take my advice to heart.
Just add spice.
Insider Tip: Though Ruth's signature rub works well on anything she especially likes it on pork tenderloin and chicken.
7. Sample Traditional USVI Caribbean Cuisine
While haute cuisine is a nice way to go, sometimes you just want to chill, maybe keep those flip flops on, go for a coverup as opposed to designer threads.
Check out Cap's Place, identified by a big green sign. Opening hours here are downright promising. "7 A.M." the sign reads, "until…."
A popular watering hole come sundown, here at Cap's you can pick up a traditional patty, stewed bananas or saltfish. Though cuisine here might best be described as traditional Dominican, the menu often includes typical USVI food favourites like Johnny Cakes and roti.
If you're really looking for traditional St. John food, check out Ekeate Pink Corner in Coral Bay (look for the bubble-gum-pink walls).
Several kinds of roti and entrées like curried goat are regular features, though you might also see conch with butter sauce, pot fish, fish pate, BBQ Chicken and fish and fungi (pronounced foon-gee) listed on the whiteboard-and-marker-menu that's updated daily.
Wash it all down with a chilled sorrel drink (also popular as a "bush tea" in the Bahamas) or fresh-squeezed limeade.
Fish and Fungi is considered the national dish of the Virgin Islands and dates back to the colonial period under Danish rule. Salt herring and cornmeal were staples in the rations of the enslaved peoples forced to work on island sugar plantations.
Somewhat akin to polenta, fungi is also a traditional dish in Aruba, Antigua and many other Caribbean countries.
Back in Cruz Bay, you can also eat like a local at Uncle Joe's Barbecue across the street from Cap's. Chicken or ribs, Caribbean rice, coleslaw and corn – this could be the best deal in town.
If you're in a hurry to catch the ferry to St. Thomas, check out Cruz Bay Landing, an open-air eatery located right in the main square across from the ferry terminal.
It's billed as the last place – or first place – before the ferry.
Insider Tip: If you just want coffee for your breakfast or something to take to the beach, Cruz Bay Landing also offers an onsite Coffee Shop and Creamery.
8. Sip a Bushwacker Cocktail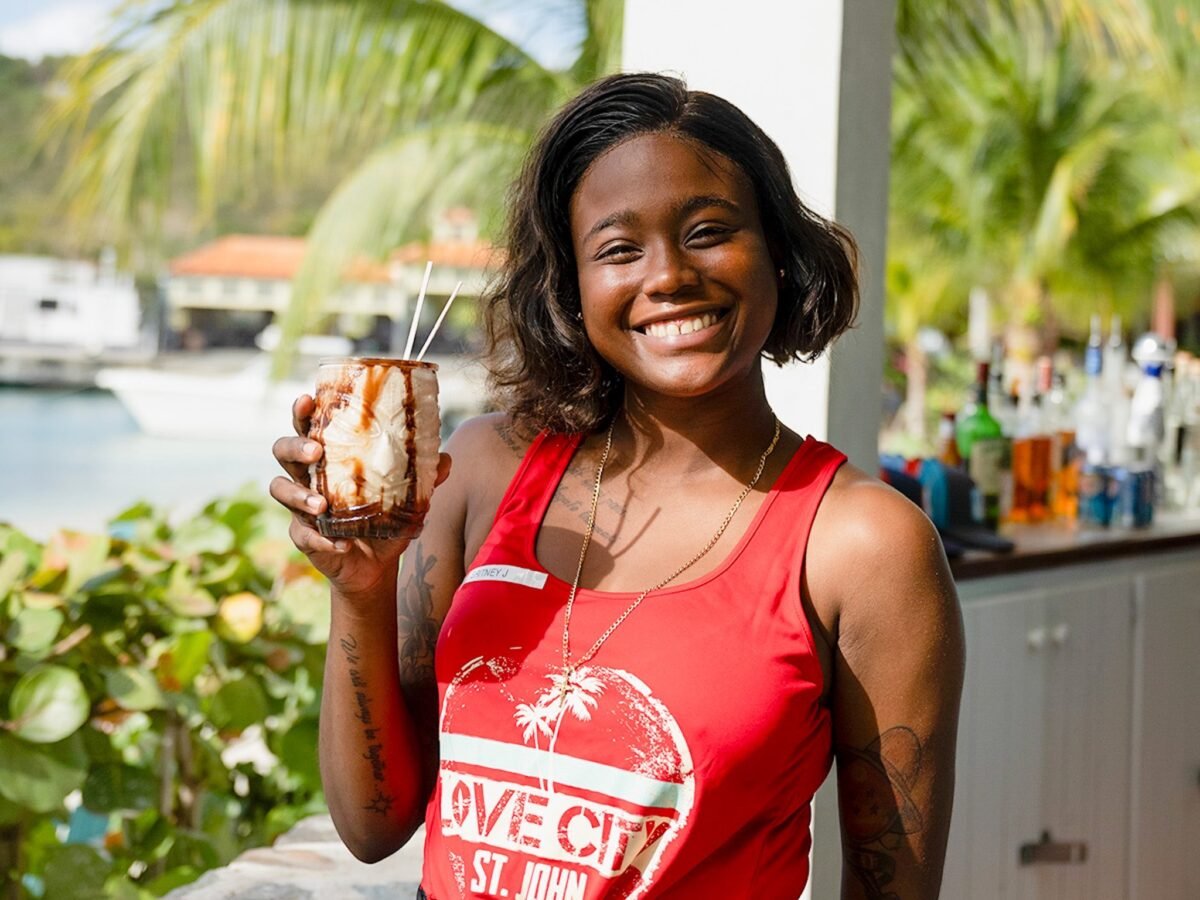 Every time I come back to St. John I head immediately to Joe's Rum Hut right on the beach at Cruz Bay.
Best views ever.
Blue gray mountains of St. Thomas hover in the distance with seas every shade of blue for middle ground. Foreground is a harbour vista punctuated by a fleet of boats swinging gently at anchor.
Back again, I grab a seat at the bar and gaze seaward, the view framed by open shelves populated by bottles of spirits, themselves seductively backlit by the sun.
"Bushwacker," I say to Mike Momme, the bartender.
Momme leaps into action.
Even as he preps the drink, he keeps up a running commentary.
"Very close to a Mudslide," says Momme, "basic difference is the dark rum."
I'm thinking Chocolate Milk Shake with a kick.
While Joe's Rum Hut can't lay claim to being the place where the Bushwacker first saw the light of day, it was the first place I sampled one. It was actually invented at a bar in St. Thomas, USVI.
Facts aside, for me, that makes Joe's the home of the Bushwacker.
"Sort of a Chocolate Piña Colada," says Momme.
Thick, sweet, rich. Welcome as a popsicle in July.
How to Make a Bushwacker Cocktail
If you can't get to Joe's Rum Hut, get a taste of the island and build your own "Bushwacker" at home.
2 ounces dark rum (Cruzan Rum if you can get it!)
1 ounce coffee liqueur (Kahlúa)
1 ounce Crème de Cacao (Momme also adds a squirt of Hershey's chocolate syrup)
2 ounces milk (some recipes ignore this)
1 ounce cream of coconut (NOT coconut milk!)
Crushed ice
Mix in a blender and garnish with whipped cream and/or maraschino cherry. Top it off with freshly grated nutmeg.
For more Caribbean cocktails, check out our 15 Best Boating Drink Recipes to Try This Summer.

9. Sample Island-Style Craft Beer at the Tap Room

Enjoy locally brewed craft beers and sodas at the St John Brewer's brewpub. (Credit: Sharon Matthews-Stevens)
Only thing as satisfying as a Bushwhacker cocktail on a sizzling afternoon might be a frosty beer.
Enter St. John Brewers, a truly local delight. Best place to sample their recipes is their Tap Room right in Cruz Bay near the ferry dock to St. Thomas.
Here you can even pair your beverage with a meal, though it's still all about the beer.
While cans of their product are available throughout the USVIs, the Tap Room is the only place to get it on tap. You can even prebook a tour to learn about the brewing process, marshalled by co-owners Kevin Chipmin and Chirag Vyas.
University buddies, the two moved to St. John around 2001, living on a sailboat and working where they could. Basically heroes of a you-brew story made good (they bought a kit and began to experiment), they lucked onto one amazing innovation, incorporating tropical fruit (specifically mango) in the brewing process.
"We'd make more beer," says Vyas, "we'd go the library. We'd learn a lot about beer."
One night ashore I bring my sailing crew to the Tap Room, where we sample their tasting flights over dinner.
Not sure what time we arrived at the Tap Room but one thing's for sure.
Here in Cruz Bay it's beer'o'clock.
Insider Tip: Though their Island Summer Ale and Island Hoppin IPA are really popular, for a fruity take on your suds (and a St. John Brewing innovation) go for the Tropical Mango Pale Ale.
10. Soak Up the Vibe with Seaside Dining
Get off the ferry from St. Thomas and turn right. A matter of a few steps and you're ready for seaside dining, one of the absolute best things to do in St. John.
This collection of restaurants, bars and shops is called Wharfside Village and, in addition to making a stop at the Rum Shop I mentioned earlier, you should also consider High Tide Bar & Seafood Grill.
High Tide offers tables right on the sand beneath rainbow umbrellas, scattered across a wooden deck. Or, you can pull up a bar stool.
Though High Tide's lunchtime offerings might better be considered as casual fare – think conch fritters or Mahi sandwiches – their dinner menu is a bit more formal.
Dine here regaled by one of Cruz Bay's best places to see the sunset and for chef specialties like grilled or blackened mahi-mahi or seafood diavolo.
Be sure to do Happy Hour and sip a signature cocktail like High Tide, a concoction of Blue Chair Bay Banana Rum, Sprite and pineapple juice.
Then, stay for the view.
Insider Tip: Beach Bar is another popular restaurant in the USVI for dining seaside. It's located just down the beach from High Tide and offers live music four days a week.
Travel Planner for a St. John Food Vacation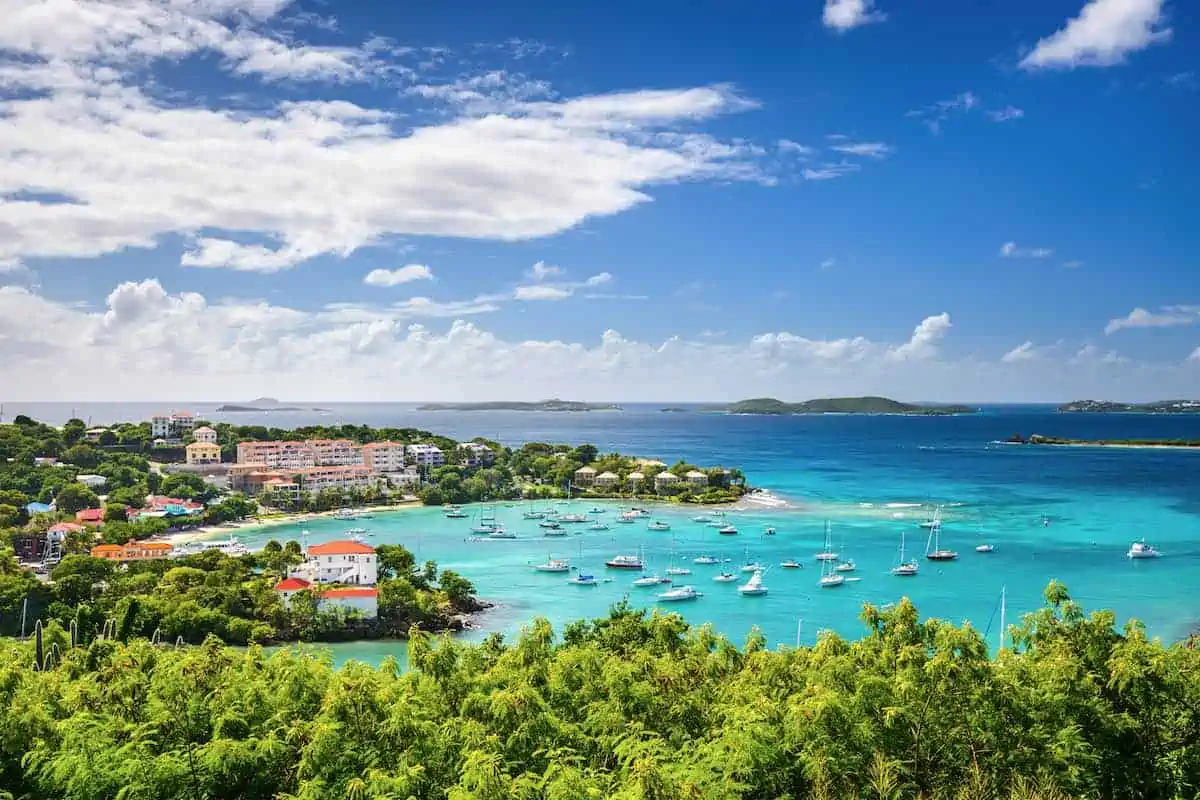 Mark and Sharon's recent St. John visit was partly subsidized by the USVI Department of Tourism.
Official Tourism Authority: Get updates on entry requirements, planning tools, inspiration and more at Visit USVI.
Where to Stay
Gallows Point Resort is the perfect base for your St. John culinary explorations. Featuring elegant suites with a tropical flair, it has spectacular views and is close to downtown Cruz Bay.
The St John's community vacation rental site connects guest direct with owners and managers so they can avoid the VRBO and AirBnB guest service fees!
Are the U.S. Virgin Islands part of the United States?
The U.S. Virgin Islands is an unincorporated territory that is one of three territories in the Caribbean Sea and 11 in the Pacific Ocean under the administration of the federal government of the United States. People born in the USVI acquire U.S. citizenship by birth.
Do You Need a Passport for St. John, U.S. Virgin Islands?
U.S. Citizens are NOT required to have a passport for the U.S. Virgin Islands but proof of citizenship is needed upon entering and leaving the territory. Other nationalities (including Canadians) are subject to U.S. Entry Requirements.
What is the Currency of USVI?
The official currency in the USVI is the U.S. dollar.
Save to Pinterest!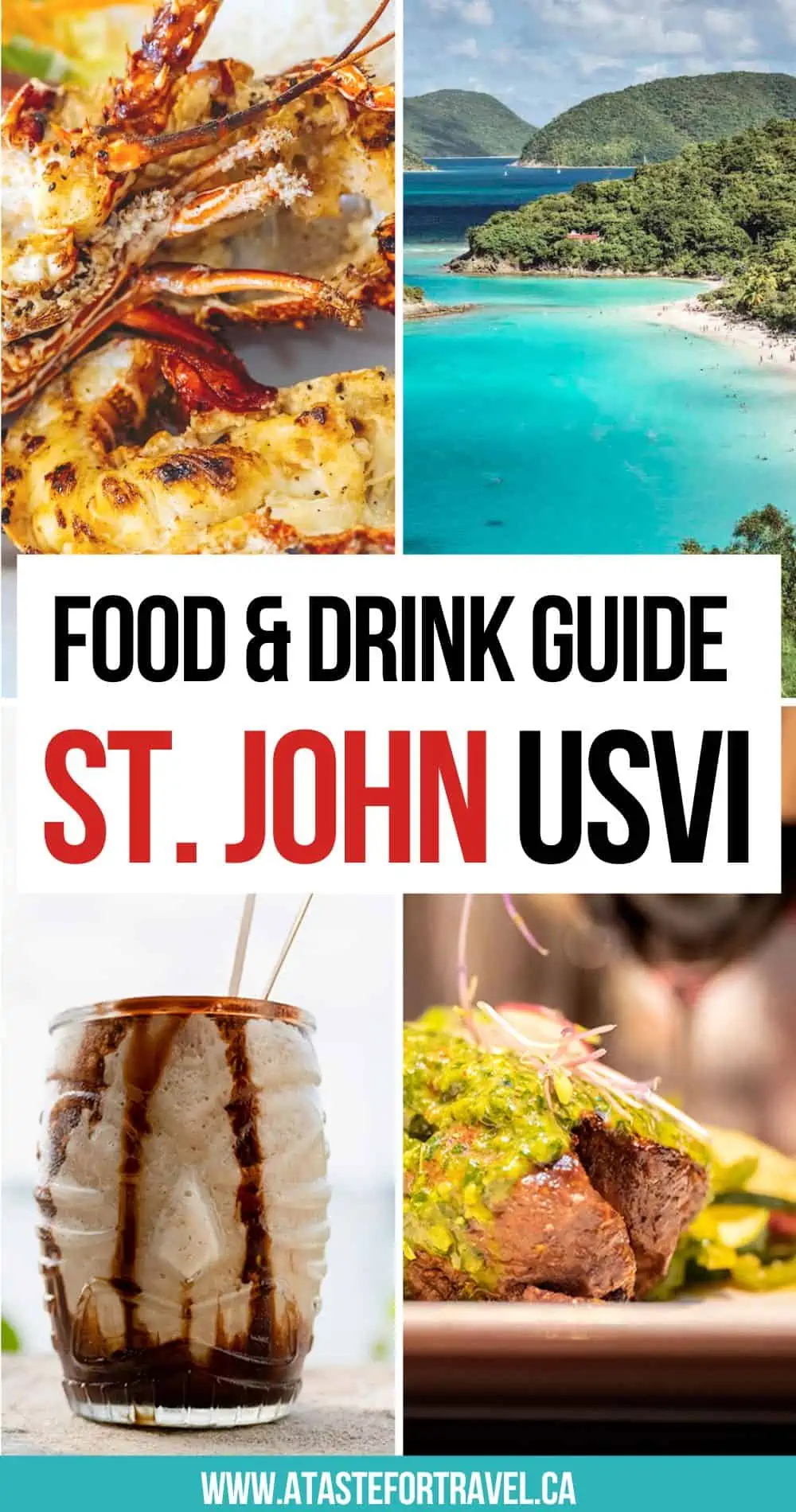 Mark Stevens and photographer/partner Sharon Matthews-Stevens are a multiple-award-winning team who have provided stories and pictures for outlets from Canadian Yachting to the Washington Post. Together they've swum with sharks in Bahamas, dogsledded in the Yukon, cooked in the mountains of Morocco and reported from at least 40 Caribbean islands. Visit their portfolio at Travel Write Click
Learn more about Mark and Sharon.