We may earn income from links in this post. Please read this Disclosure for details.
Curious about things to do in the British Virgin Islands? For decades, sailors who didn't want to share this roughly 40-island chain have kept them a secret.
Sailors are attracted by the diversity and sheer beauty of the British Virgin Islands. They're close to each other, they're lush and mountainous and they're blessed with a wealth of pristine beaches and natural wonders.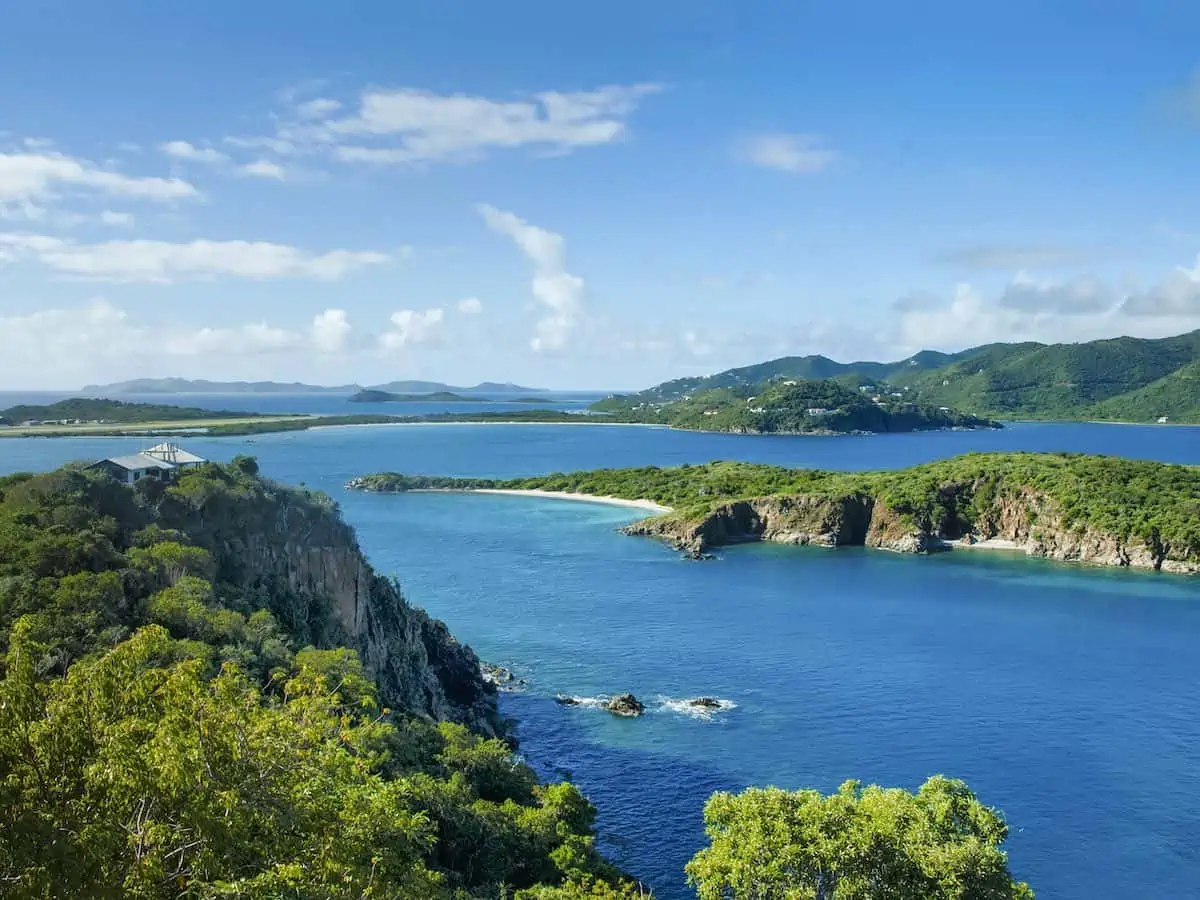 Best yet, these islands exude a vibe that reflects the way the Caribbean used to be.
Sailor that I am, I've visited the British Virgin Islands (BVI) seven or eight times. When people ask me my favourite Caribbean destination (because I'm a writer specializing in this region), I always begin with the British Virgin Islands.
You don't have to be a sailor to savour the wealth of British Virgin Islands attractions, but let's keep that our little secret.
Read on to discover why BVI should be high on your bucket list.
1. Go Sailing the British Virgin Islands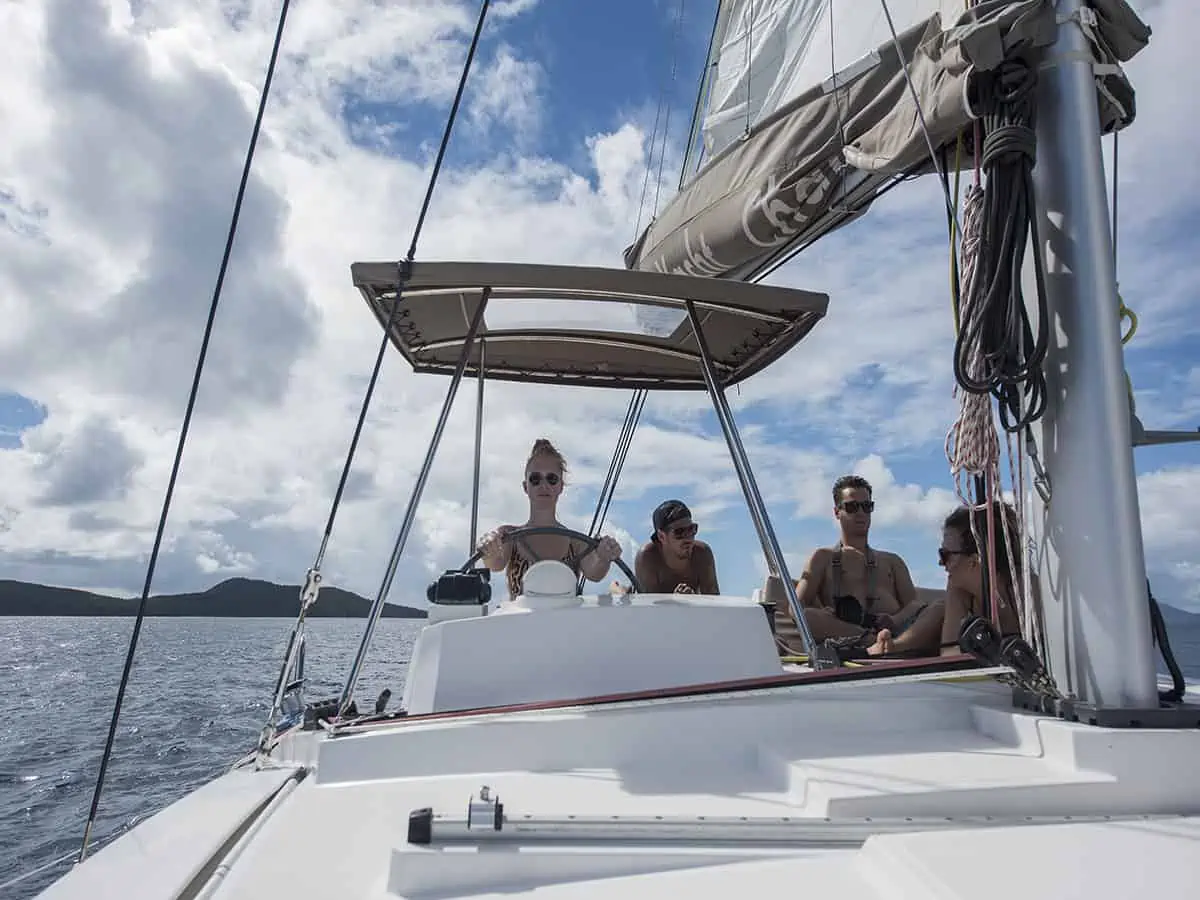 Whether you book a daylong yacht excursion or sign on as crew for a week, sailing tops the list of things to do in the British Virgin Islands.
Situated east of Puerto Rico and the U.S. Virgin Islands, and west of Anguilla, this island archipelago is tucked in the Anegada Passage, a deep strait that connects the Atlantic Ocean and the Caribbean Sea.
Sailing's the most rewarding way to see the different islands, each with its own ambiance and appeal, from the sandy beaches of Norman Island to surreal landforms on Virgin Gorda.
Along the way you'll discover unique beach bars, restaurants like Foxy's on Jost Van Dyke island, special snorkel spots throughout the chain and even tiny Salt Island, home to the last remaining sea salt harvesters.
Exploring these islands by water – ideally sailing in the constant Trade Winds versus motor yachting – is the best way to experience the British Virgin Islands.
Options include renting a boat, renting a boat and skipper, or even just renting a cabin on a luxury yacht. A full-service travel agency such as The Moorings and its sister company Sunsail or DreamYachtCharter all offer opportunities to sail here and create unforgettable moments on the water.
Insider Tip: If you catch the sailing bug, you can even sign up for courses at Offshore Sailing School and learn how to sail. Or, if you're an experienced boater, master some skills and earn sail or power certification.
2. Visit the Baths on Virgin Gorda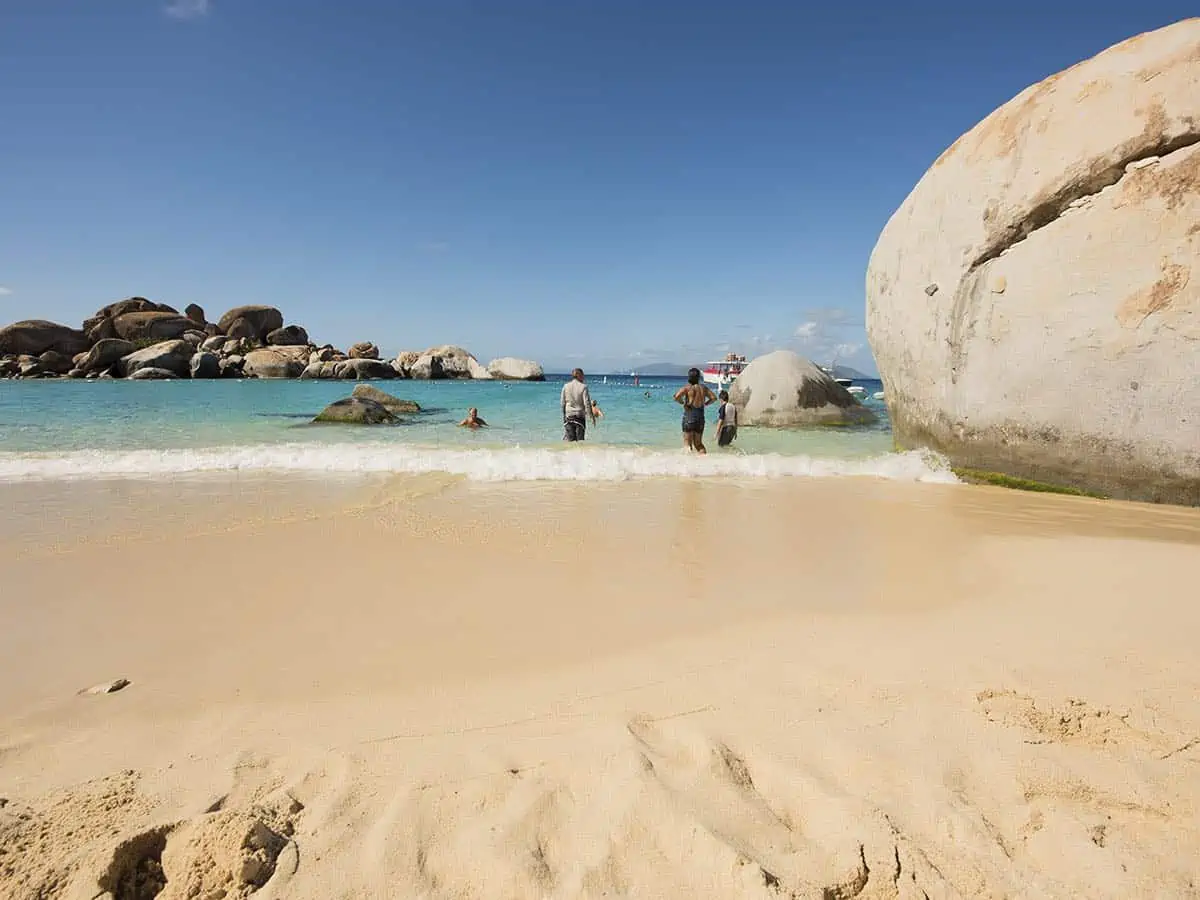 The first time I visited the Baths, a surreal and spectacular rock formation on the island of Virgin Gorda, I stopped for a quick drink at a restaurant called Top of the Baths.
A swimming pool lounged beside the tables and chairs, poised high above a beach almost directly below. I decided that this would win the contest for the best swimming pool view in the entire Caribbean.
At bare minimum, it's one of the top attractions in the British Virgin Islands.
Created by volcanic activity, the Baths boast an attractive, if tiny, beach dominated by great slabs of granite that form little caverns and sun-dappled passages between them.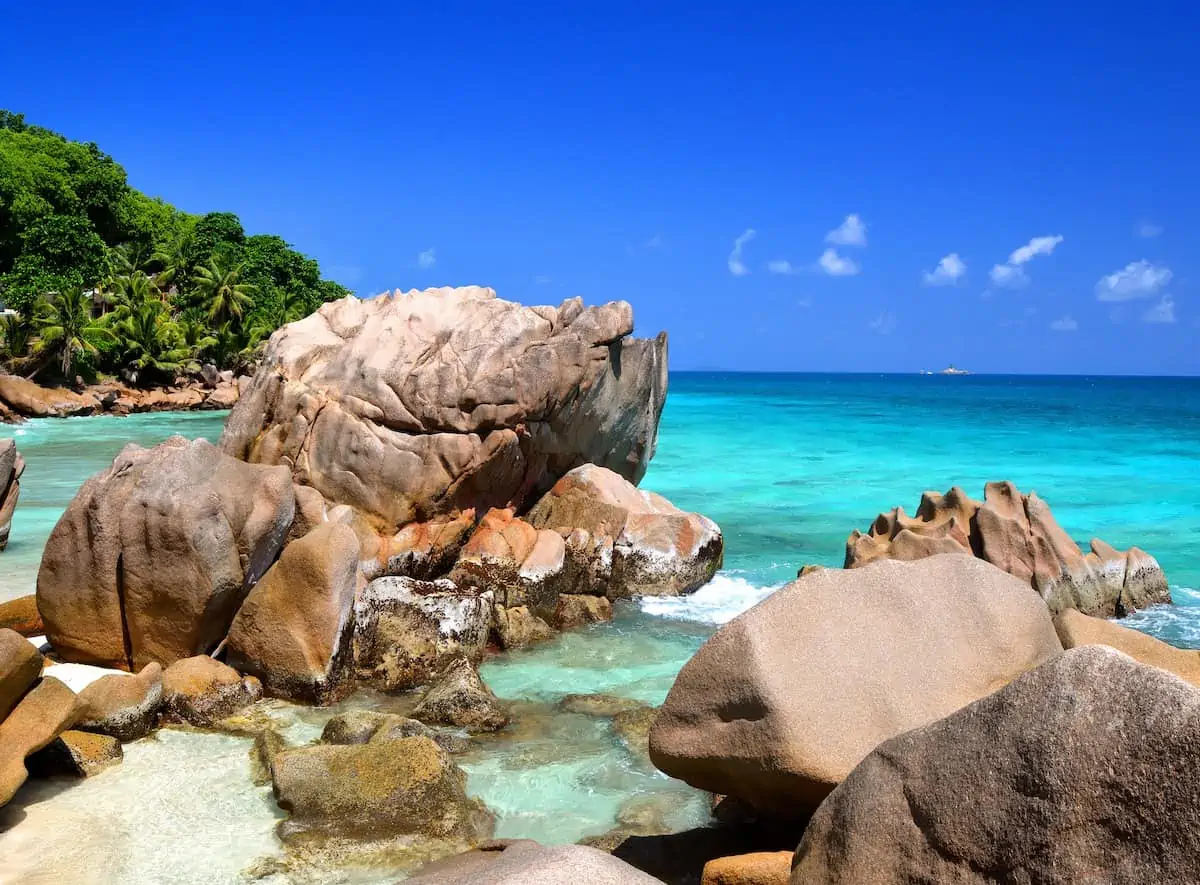 Visitors hike down to the Baths themselves through a desert-like landscape, making their way through serpentine passages mere metres from thundering surf.
Insider Tip: Bring your snorkel gear. Though a winter swell sometimes creates dangerous waves, on a calm day this natural wonder makes an excellent snorkel spot.
3. Take a Hike at a National Park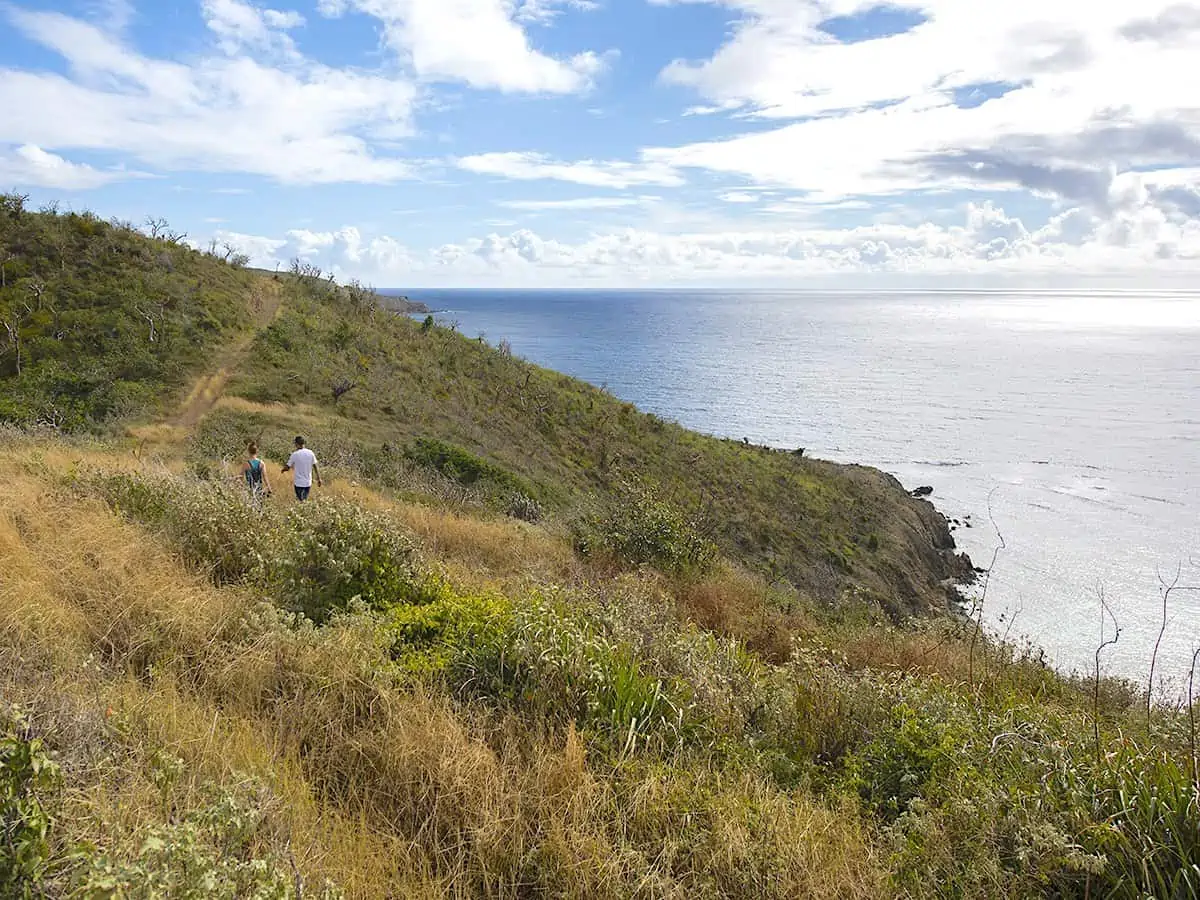 You'll remember the views from this hike down to the Baths long after you leave the British Virgin Islands, but this jaunt is not the only trail to explore if you want to exercise those quads.
It may not even be the most scenic height in the archipelago, perhaps not even on Virgin Gorda.
That bragging right belongs to Gordo Peak National Park, where you can see Anegada Island on a clear day from the four-hundred-metre summit and lookout point, approached by a roughly 2.5-kilometre trail.
Or head to Sage Mountain National Park on Tortola, home to Mount Sage, the highest point in the island chain at 500 metres.
Twelve different trails snake through old growth forest of mahogany trees, the most popular one to the summit, a four-kilometre trek rated 'moderate'.
Insider Tip: Get more information on British Virgin Islands national parks and protected areas at National Parks Trust of the Virgin Islands (NPT).
4. Sip a Painkiller at Soggy Dollar Bar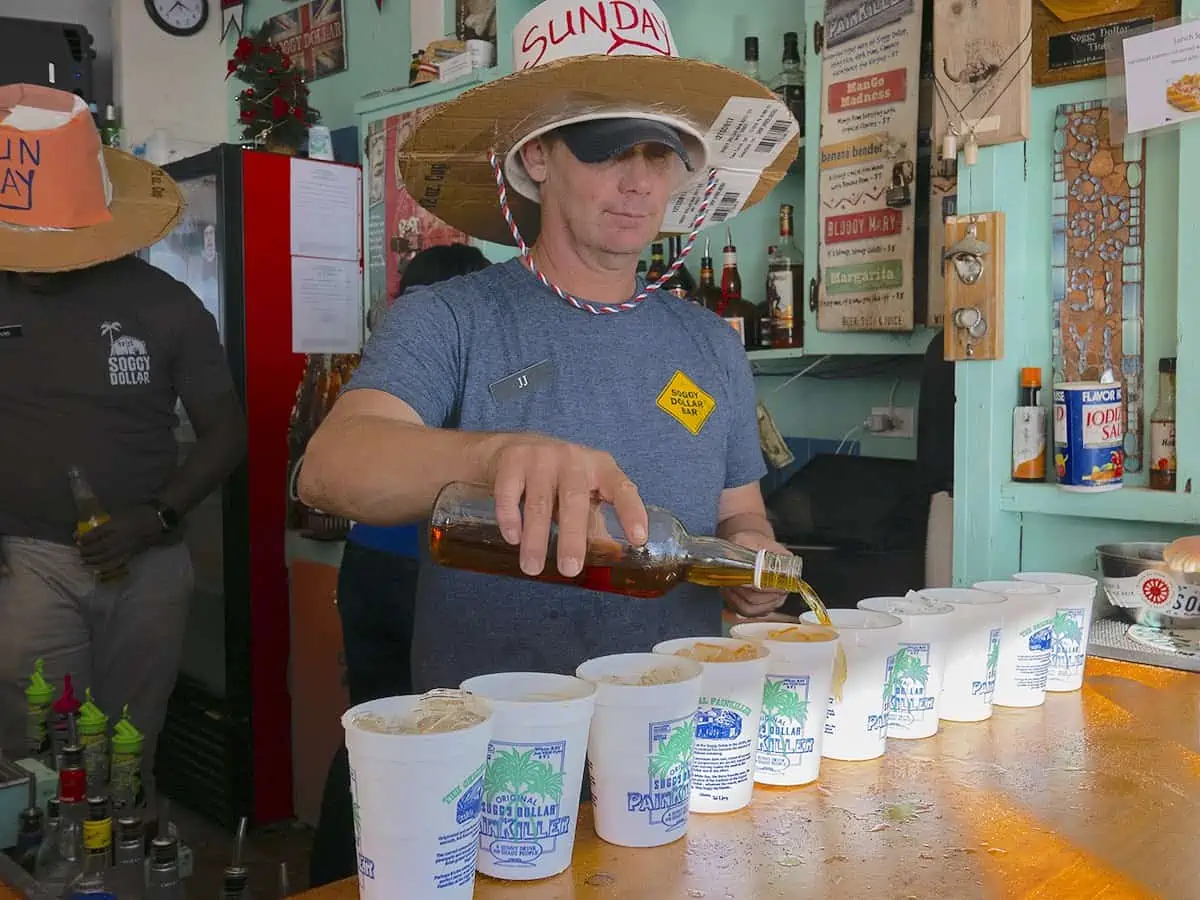 If you're a sailing "wannabe" you've got to visit the Soggy Dollar Bar on Jost Van Dyke. It got its name due to sailors who'd anchor off the gorgeous beach where the bar is situated and would swim ashore to pay for drinks with damp currency.
Most popular drink? A Painkiller.
There's no better way to while away a day than by sipping this concoction of rum, pineapple and coconut cream. Unless perhaps it's a Hurricane cocktail from New Orleans!
Get a recipe for a painkiller in our post on Top 15 Boating Drinks and Cocktails to Try This Summer.
The original recipe called for Pusser's Rum but "nowadays we distill our own," Soggy Dollar Bar owner Jerry O'Connell told me last time I was here, sometime between Painkiller number two and number three.
The Painkiller is the chief reason that Soggy Dollar Beach Bar is one of the best places to visit in the British Virgin Islands.
Insider Tip: If you really like to party, head here on a Sunday afternoon. The bay fills up (at least it did pre-COVID) with a fleet of powerboats from nearby St. Thomas.
For another fun Caribbean party you don't want to miss, check out the Shirley Heights bash on Antigua.
5. Tour the Callwood Rum Distillery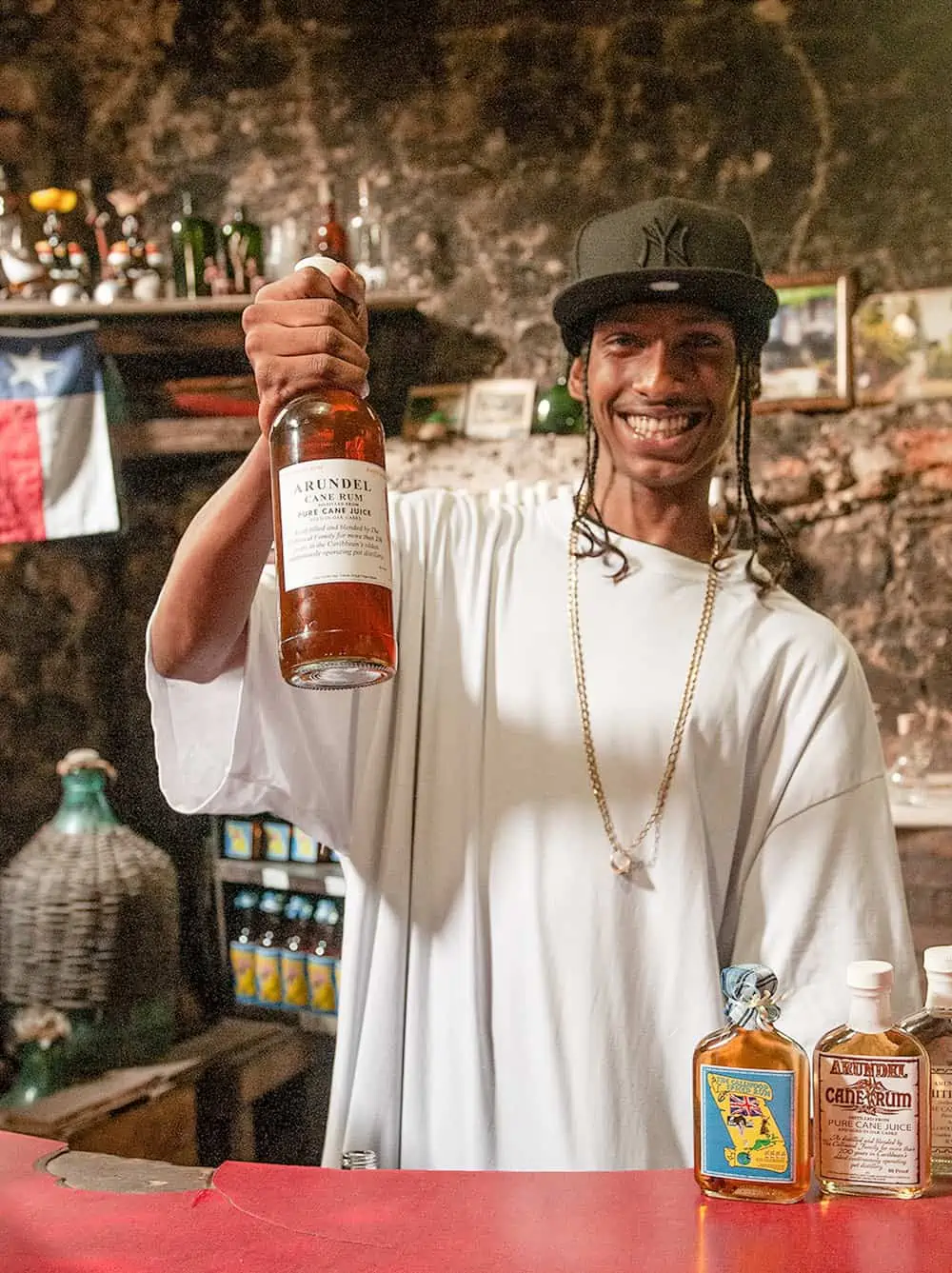 If your Painkiller adventure didn't sufficiently lubricate you, or you're just looking for things to do in Tortola off a cruise ship, visit Callwood Rum Distillery.
Their location near Cane Garden Bay is no coincidence. They use sugar cane grown onsite to make their potent potables from white to dark rum.
While historical artifacts litter the site itself (it's one of the oldest Caribbean establishments to still use the pot distillation process), it's the sampling – four rums for a dollar – that lures me into the cave-like fieldstone building.
As I line up to purchase a bottle, the young fellow behind the bar winks at me and points at one brand called "Panty Dropper".
I don't ask him to elaborate.
Insider Tip: After your tour, head to Cane Garden Bay for lunch and some beach time. Myett's Garden Grille offers Caribbean cuisine on a great patio near water's edge.
6. Catch Some Rays on Tortola's North Coast Beaches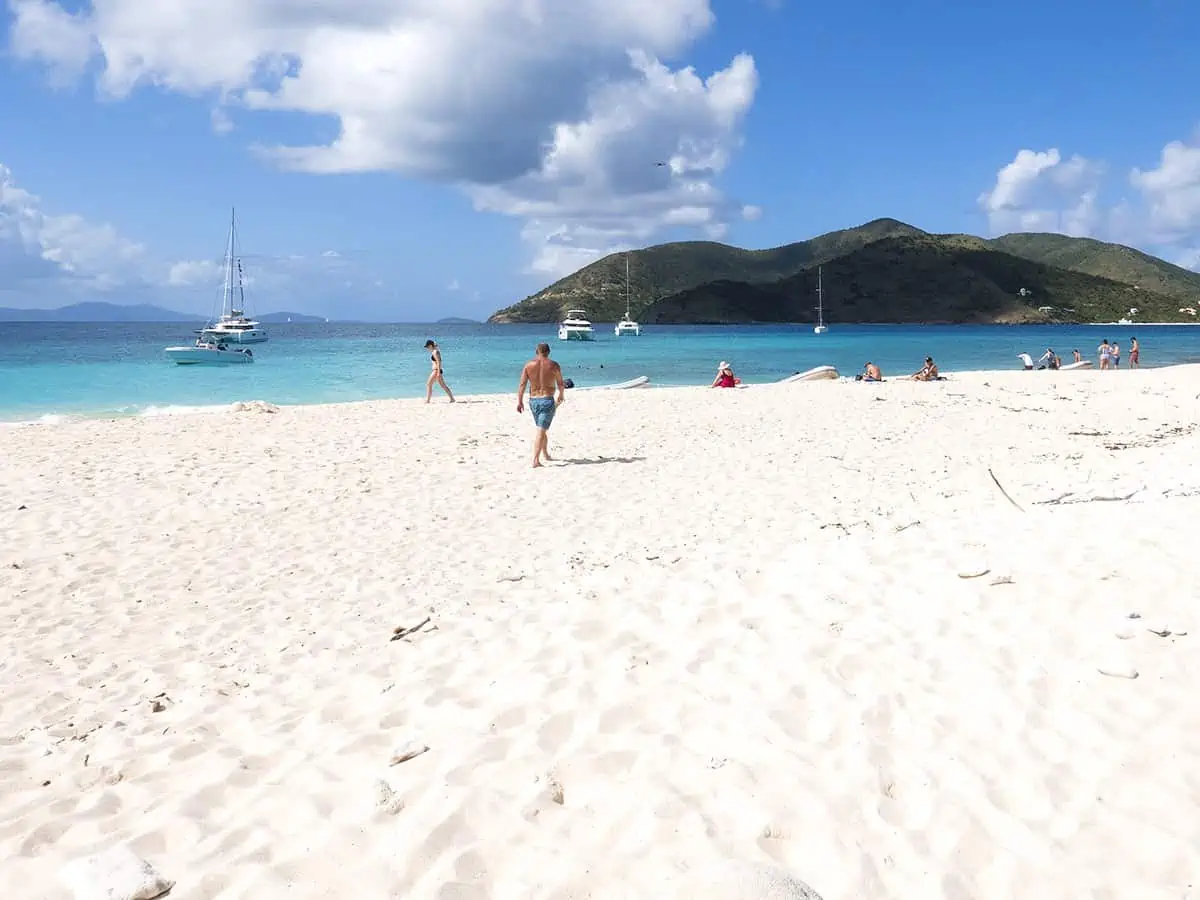 While the beach at Cane Garden Bay is rife with sun worshippers since it's the best beach near the BVI cruise port and it does have a collection of great restaurants and watering holes, the north coast of Tortola boasts a wealth of other places to catch some rays.
There are a couple of beaches nearly as busy as Cane Garden, one that's a hit with locals and one or two you might have to yourself.
With its warm waters, Brewer's Bay is one of the north shore's most beautiful and secluded beaches and Long Bay is another hidden gem. Brewer's tops my list of the best places to visit in the British Virgin Islands.
Smuggler's Cove is an unspoiled oasis only sixteen kilometres from Road Town, which makes it a perfect destination if you're looking for things to do in Tortola off a cruise ship.
Insider Tip: More popular with Belongers (that's what the folks from the BVI's call themselves) than tourists, Smuggler's Cove boasts only one beach bar – Nigel's.
So it's the perfect place to get away from it all. Supposed to be pretty good snorkelling too, though I've never done it there.
7. Catch a Wave or Go Surfing on Tortola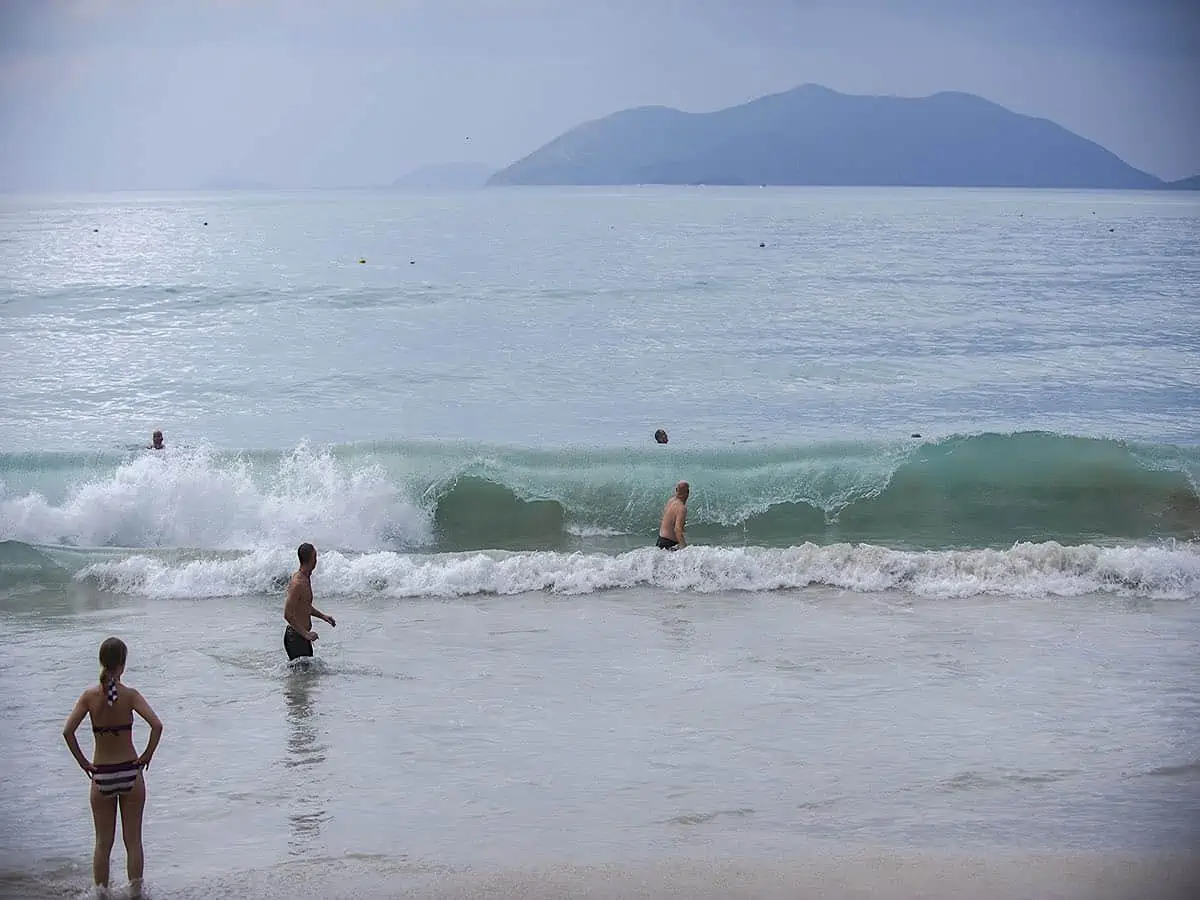 If you're looking for a little more excitement than lounging on a beach, then make your way to Tortola's northeast corner and catch a wave on your surf board on Josiah's Bay.
I haven't been back to Josiah's since I took a surf lesson in Hawaii, so I stay ashore but the folks riding the surf here seem to be having a blast. According to some in the surfer crowd Josiah's boasts a great winter point break.
To find out what a point break is, take a lesson with Surf School B.V.I. for $65 USD. Or maybe just rent a paddle board, surfboard or body board.
Insider Tip: Given its distance from Road Town you'll probably need to grab a taxi to Josiah's Bay. It's also a great spot if you're looking for things to do in Tortola off a cruise ship and want to avoid the crowds.
8. Snorkel or Scuba Dive an Extraordinary Undersea World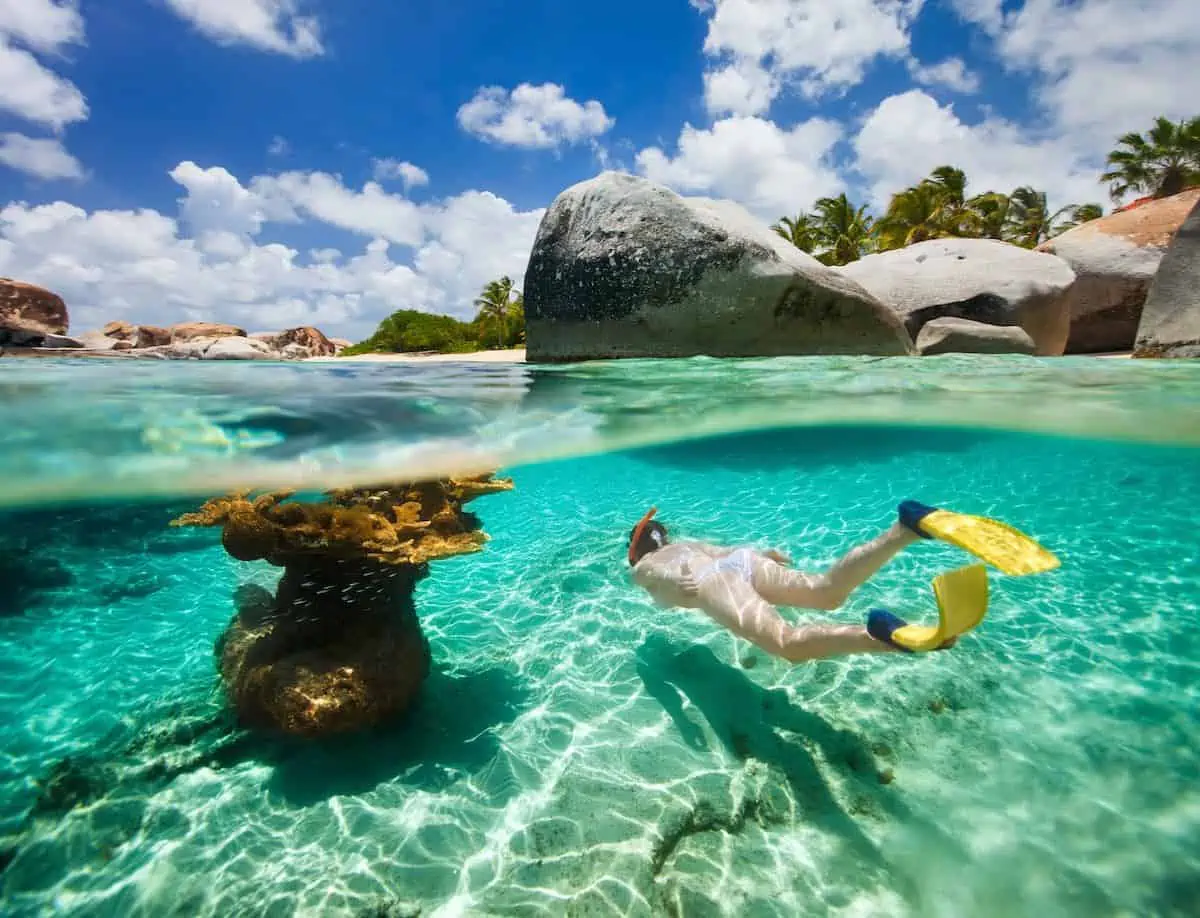 When I sail the British Virgin Islands I always go snorkelling. And the Indians, a fascinating landform sprouting from the waters of Drake Passage to a height of fifteen metres, is one of the most unique spots to snorkel.
Nearby Norman Island offers sea cave snorkeling boasting a wealth of brain, elkhorn and mushroom coral as well as tropical fish such as striped, queen and yellowtail parrotfish, blue tang, sergeant majors and more.
Further up Drake Passage the wreck of the RMS Rhone is a prime spot for advanced divers. For the underwater crowd, 11 designated dive sites top the list of British Virgin Islands attractions.
I don't dive but I'm an avid snorkeler. Having explored the waters and coral reefs surrounding many Caribbean islands, I consider the British Virgin Islands one of my top five snorkel destinations.
Insider Tip: No matter how you choose to get to the Indians, get an early start. This location gets very busy through the day.
9. Celebrate the Full Moon at a Beach Party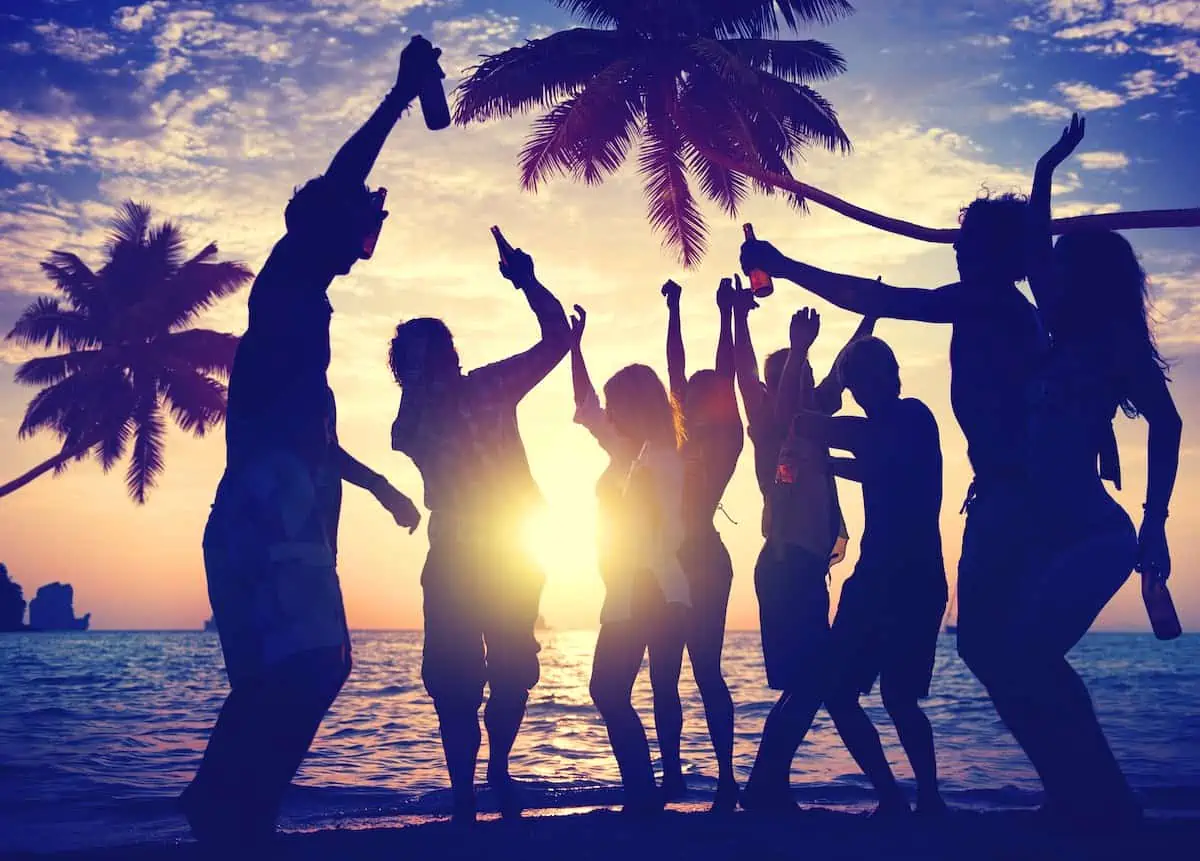 A few years ago, I wrote a newspaper story about seven of the best parties in the Caribbean (including the Shirley Heights Party in Antigua).
Bomba's Shack, a rickety tumbledown establishment mostly made of materials washed up on the nearby beach, hosted one of them. This beach bar was best known for its full-moon parties.
One way visitors saluted the full moon here was to imbibe a tea with purportedly mystic properties.
Although the latest hurricane destroyed this erstwhile landmark and there are mixed reports on whether or not it will be resurrected, visitors can still celebrate at Trellis Bay in the east, though the festivities are generally more family-friendly.
Features of that celebration include stilt dancers in costumes of neon lime and pink, fires burning in massive metal sculptures just offshore and lots of music.
Insider Tip: Paradise Club, a beachside watering hole set among palm trees at Cane Garden, is reputed to be hosting full moon parties, replete with that infamous tea, though information on its current status is sketchy at best.
10. Nosh on Fresh Lobster in Anegada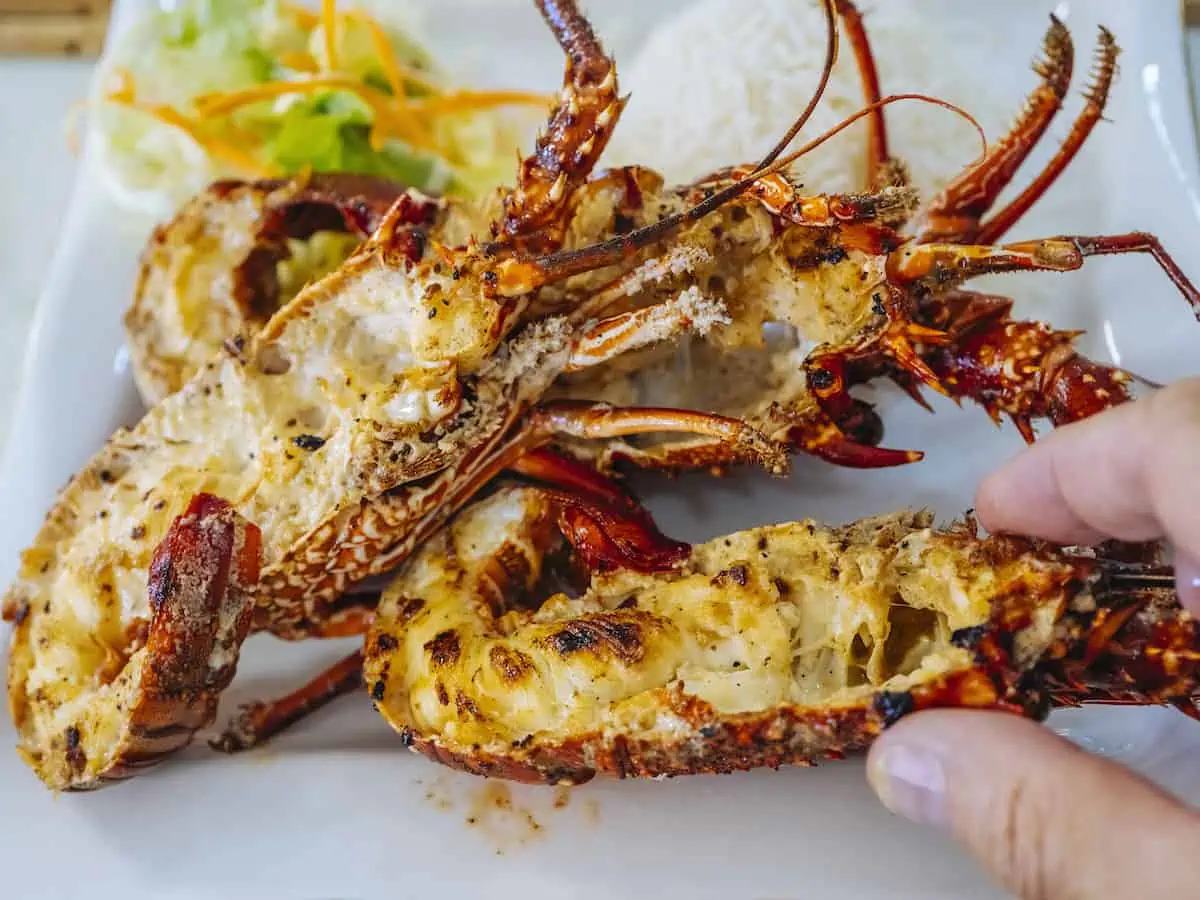 Step off the ferry on Anegada and you're in a different world. No mountains here, no volcanic origins. Anegada's formed from coral and limestone its highest point is only about ten metres above sea level.
But forget the whole different world thing if you nosh on lobster here. Now you're talking heaven.
Anegada lobster is considered so good a restauranteur further down the Antilles chain once told me they serve it in most establishments in the Eastern Caribbean.
I am a lobster-lover, having sampled the delectable crustacean in venues from Antigua to Nova Scotia, from Jamaica to Prince Edward Island. Long story short – best lobster I've ever had, twenty metres from the water, grilled in garlic butter.
A lobster dinner on Anegada certainly tops my list of British Virgin Islands attractions.
Insider Tip: The Anegada Express ferry (1.45 hours each way) leaves east end Tortola three days a week. Round-trip: $50 USD.
11. Soak Up Some History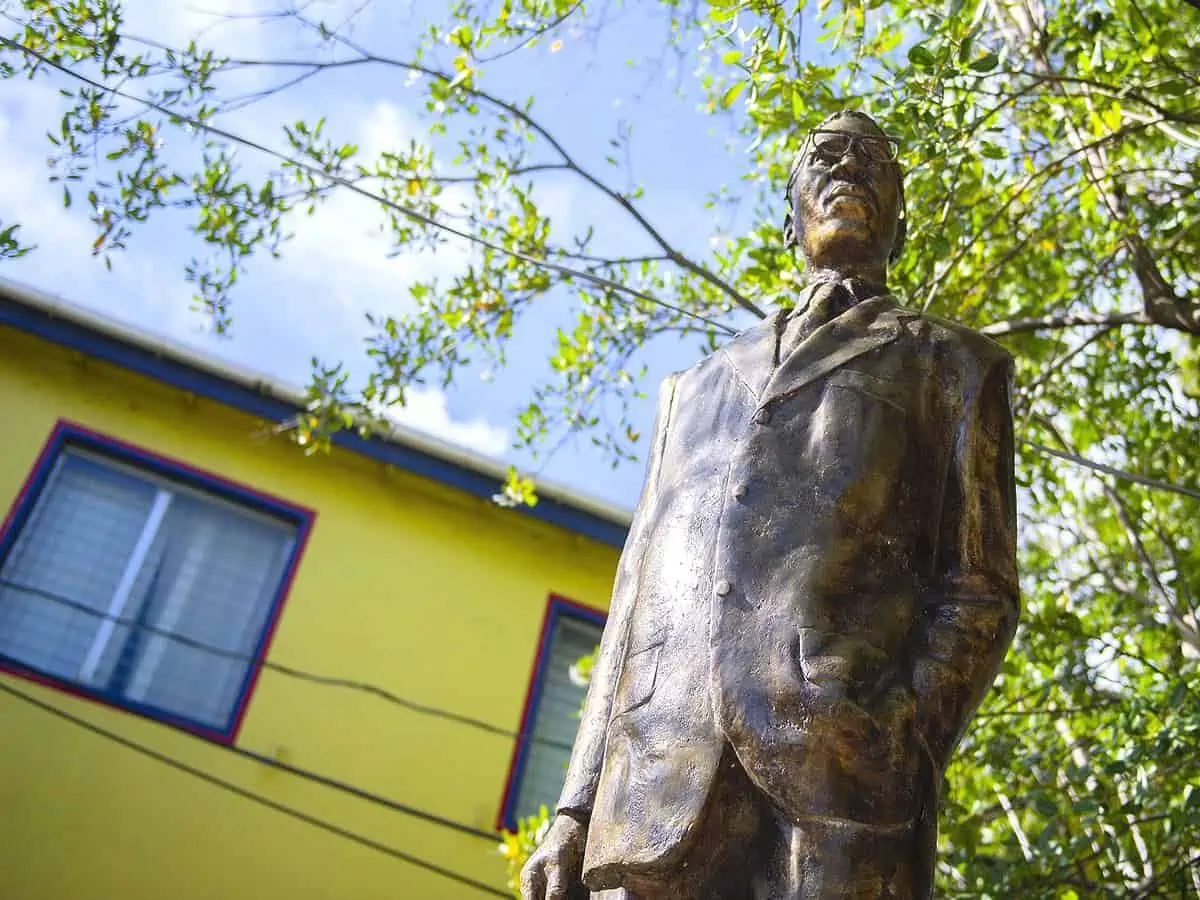 For the history-lovers in your crew, the Callwood Rum Distillery still might be the most fun place to soak up some history but there are several other historic sites to round out your list of British Virgin Islands attractions.
Over on Virgin Gorda the ruins of an 18th century Coppermine offer up a fascinating view with the sea for background, while several colonial sugar mills dot the north shores of Tortola.
Check out the 1780 Lower Estate Sugar Works to explore a grim chapter in island history.
It's also worth spending some time at the small but informative Her Majesty's Prison Museum (circa 1770) to learn the disturbing truth about how plantation owners exerted control over enslaved people through curfews, threats, local laws and punitive action such as lashings, jail and even execution.
The HM Prison Museum also housed prisoners from the French and Napoleonic Wars (1792-1815).
Old Government House Museum offers visitors a look at life in the late 1800's (if you happened to be part of the ruling class).
Insider Tip: The prison in Road Town also offers a small but evocative museum. $5 USD admission. It's a short walk from cruise terminal.
12. Channel Your Inner Pirate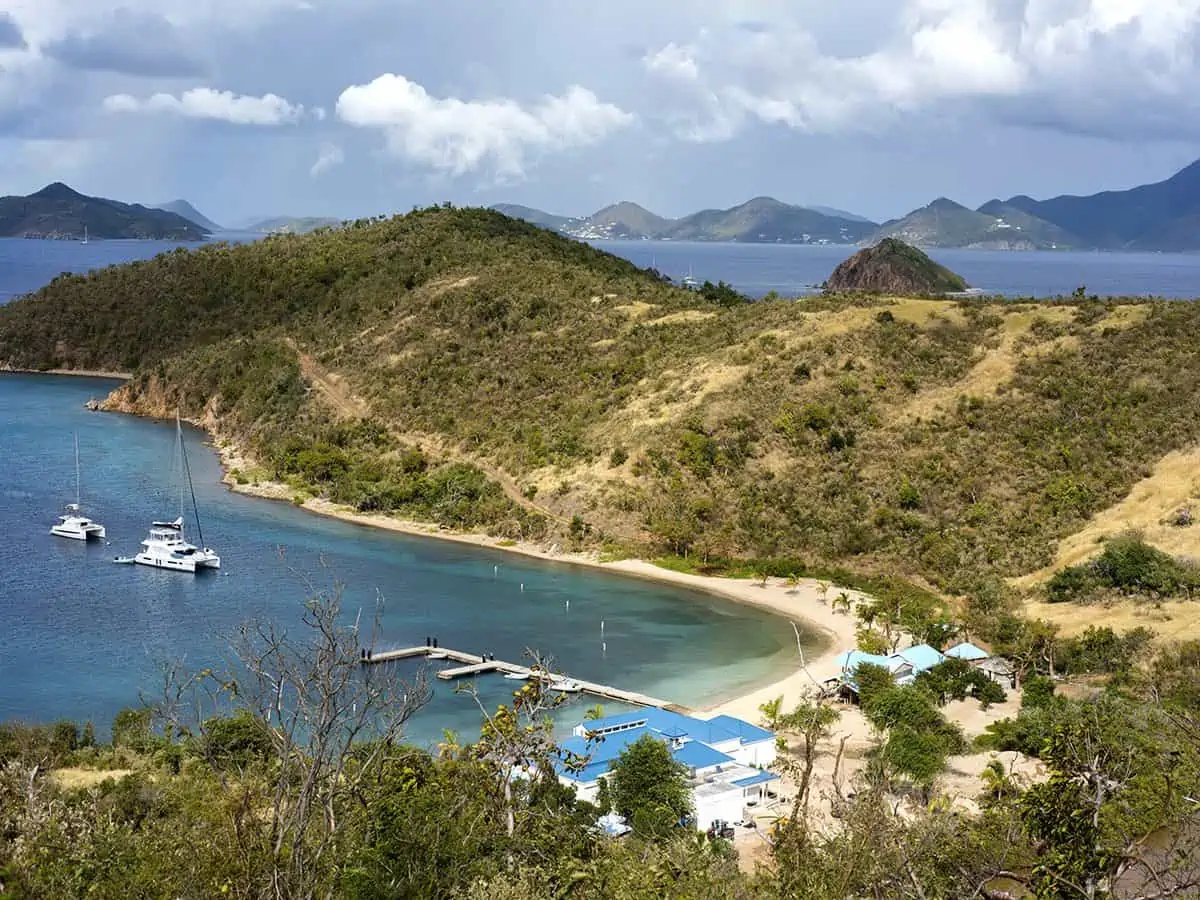 If you were ever a pirate "wannabee", several British Virgin Islands attractions are sure to appeal.
Remember that bar where you sipped Painkillers? It's located on Jost Van Dyke, an island named for a Dutch pirate.
A popular beach side restaurant on Norman Island is called Pirate's Bight (try the conch fritters at $16 USD) but this island is even more significant for those seeking to channel their inner pirate.
Legend has it there's still buried treasure here while some scholars give Norman Island credit for being the inspiration for "Treasure Island".
During that boat charter you booked you will cross Drake Passage (AKA – Freebooters' Alley, 'Freebooter' being another name for pirates) as you head for Peter Island. There you might lounge off the beach at Deadman's Bay.
Insider Tip: Remember that ditty about fifteen men on a dead man's chest? You'll pass the island that inspired it on your jaunt to Peter Island.
For more pirate-inspired reading, check out these beaches on Florida's Treasure Coast.
13. Book an Island Tour or Excursion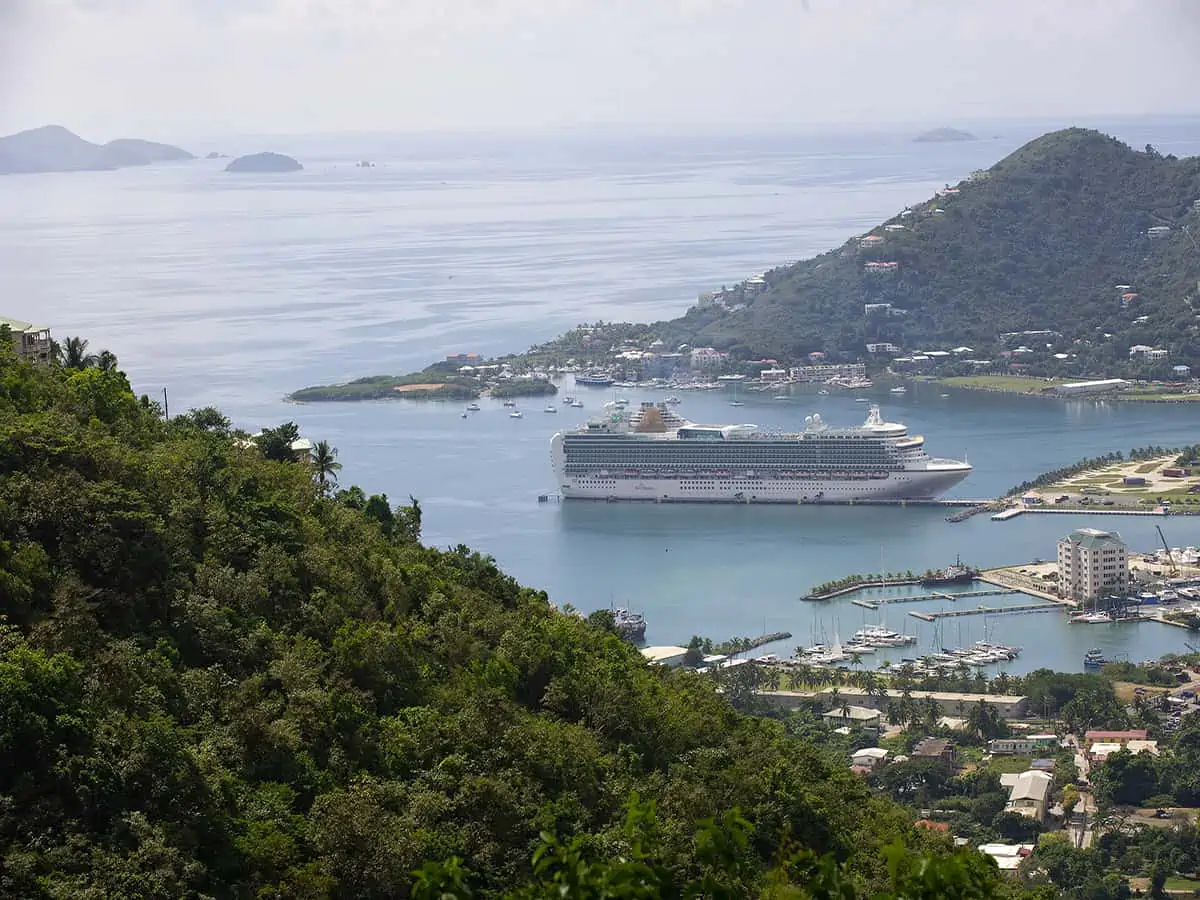 While the vibe of the British Virgin Islands is so appealing you'd do well to stay awhile. But perhaps you've just pulled into Road Town and you're looking for things to do in Tortola off a cruise ship.
Before you even go ashore, you can book a 4×4 beach excursion, a zip-line tour with the requisite beach stop or even add some zip-lining to your sightseeing.
If you get to Virgin Gorda, jitney drivers outside Virgin Gorda Yacht Club will offer bespoke island tours. That could include North Sound, Leverick Bay, Gorda Peak and, of course, one of best places to visit in British Virgin Islands, the Baths.
Insider Tip: New since the COVID pandemic began, a company called Eco Adventures BVI (1-284-340-9678) offers Tortola tours with a focus on island culture, nature and biodiversity.
14. Stroll the Streets of Road Town in Tortola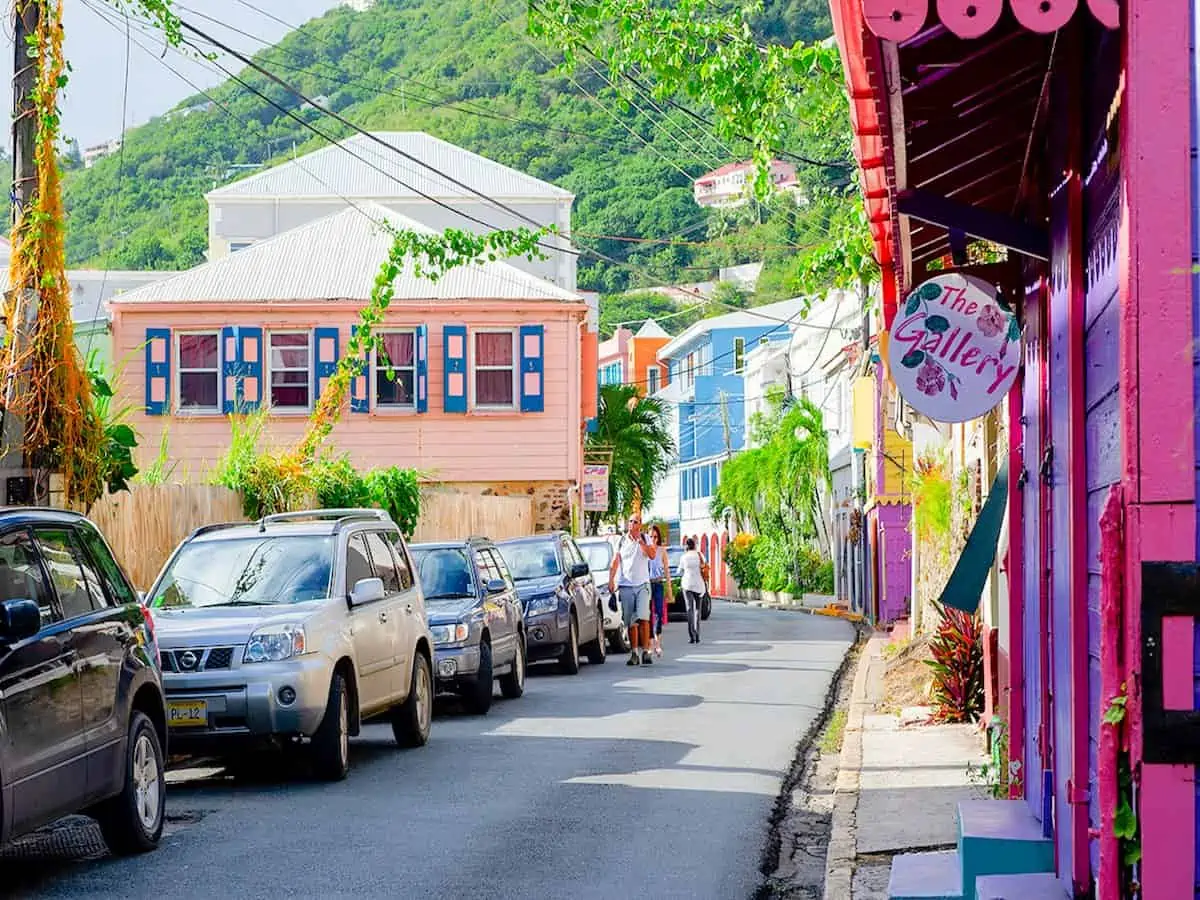 Though not as glitzy as Willemstad on Curacao, Philipsburg in Sint Marten or even nearby Charlotte Amalie on St. Thomas, Road Town itself is not without a certain charm.
On a stroll, you'll pass beautiful old West Indian buildings replete with red roofs, but don't miss a pit-stop at Pussers Landing near the ferry dock. English-style pub with a decided nautical bent.
Also be sure to visit the J.R. O'Neal Botanical Gardens, a four-acre oasis boasting flora representative of each of the island's various microclimates.
Keep exploring here and gather your thoughts outside the walls of Her Majesty's Prison or check out St. George's Anglican Church.
Insider Tip: For a wallet-friendly independent excursion on Tortola, consider a day pass to the O'Neal Botanic Gardens. Cost is only $3 USD.
15. Go Shopping in Tortola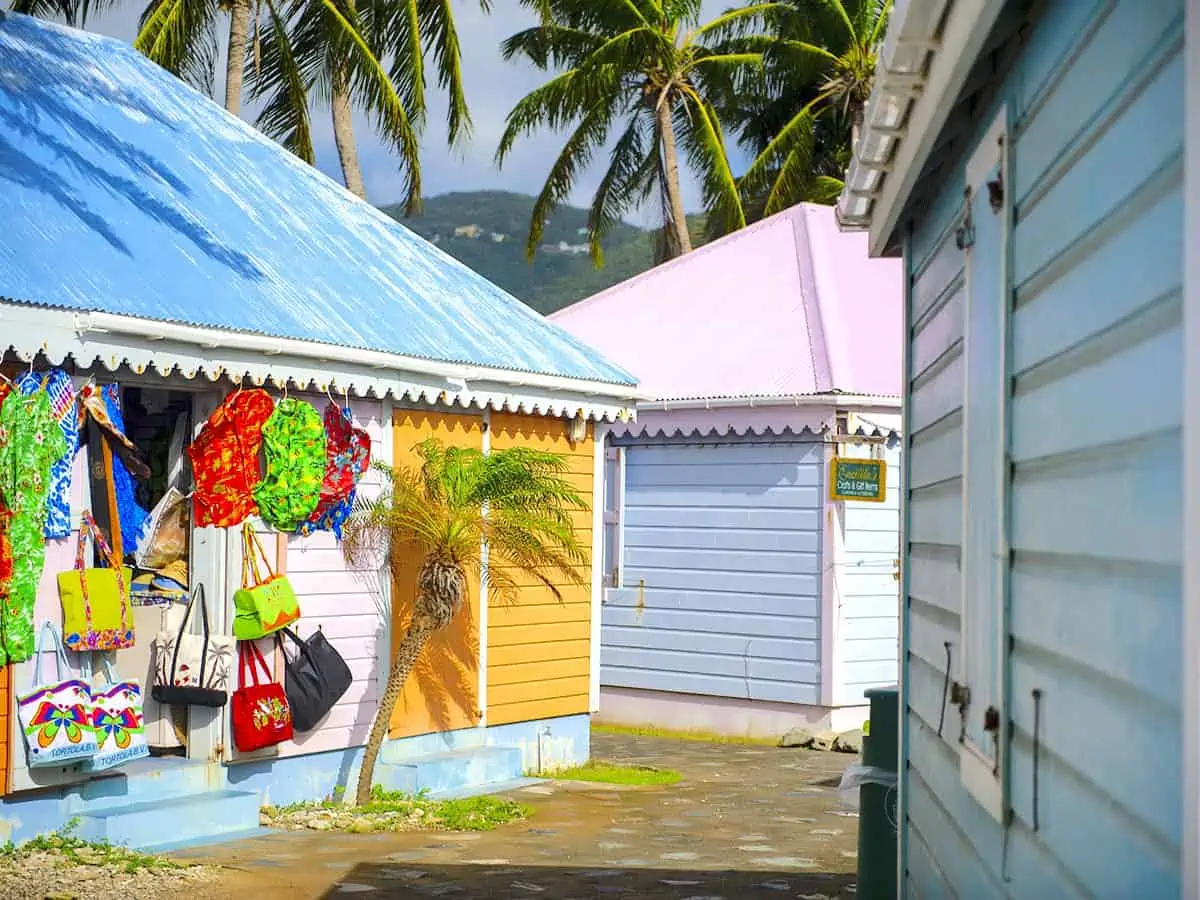 Top things to buy in the British Virgin Islands include spices, pottery, batik sundresses, resort wear and sportswear, original art, local rum and other spirits.
My favourite shopping spot is the Crafts Alive Village in downtown Tortola on the waterfront. Here you find a congregation of rudimentary huts painted lemon-lime and lavender and sky blue. While most shops are admittedly selling the usual souvenirs just the ambiance of strolling here is fun.
More committed shoppers might consider making for points east or west. Pre-COVID, Trellis Bay featured a little pathway of shops selling local crafts and regularly hosted weekend craft fairs.
Be sure to check out Aragorn's Studio and Shop for quality artisanal local crafts such as bamboo masks, calabash carvings, coconut bird feeders, furnishings and T-shirts.
At the other end of Tortola (though they were severely damaged by Hurricane Irma), Soper's Hole is coming back into its own.
Here you can stock up on fair trade coffee, pick up some active wear, even nurture your inner art connoisseur. Then, reward yourself with a trip to the spa.
Insider Tip: Even if you don't shop, Soper's Hole is a great spot to stroll as you lust for your very own yacht.
Where to Stay in British Virgin Islands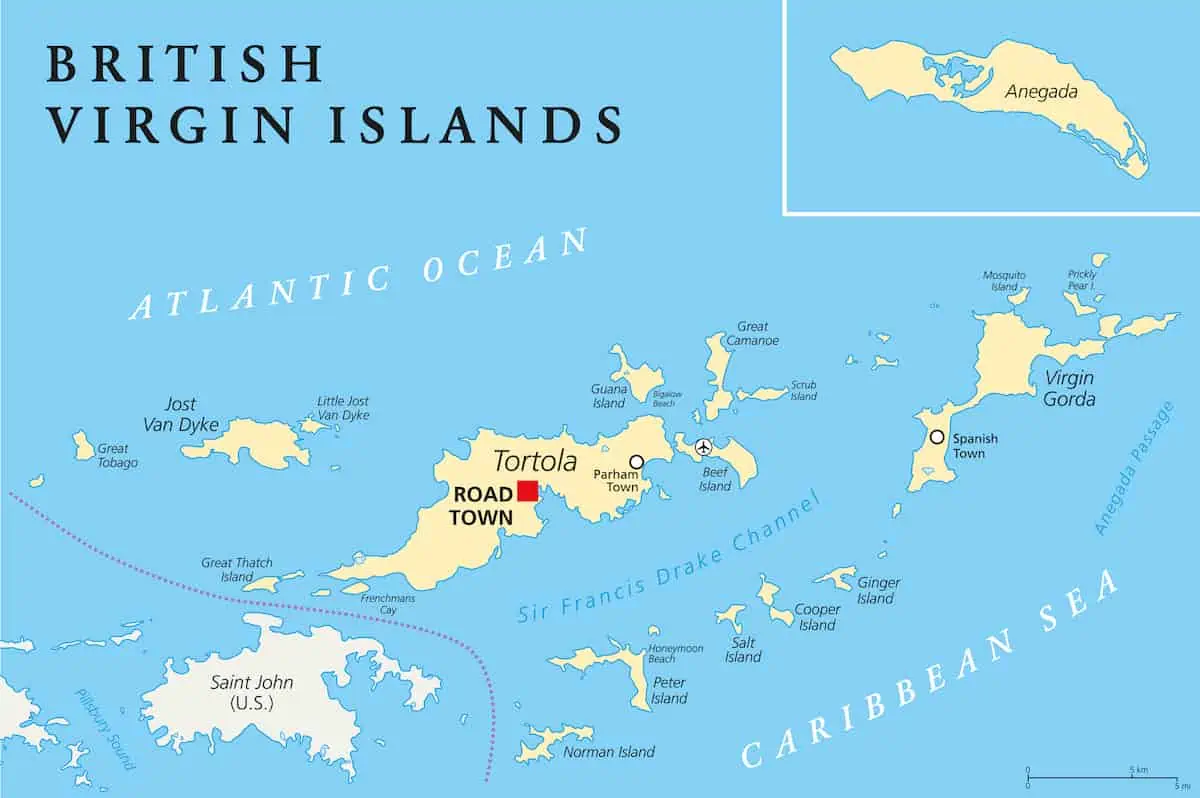 Scrub Island Resort, Spa and Marina – luxury
Perfect spot for a luxurious getaway (close to Tortola but located on a private island), Scrub Island Resort, Spa and Marina features its own beach, spa and water sports. Right beside the marina it's ideal for spot for booking water-based excursions and activities. Accommodations include guest rooms, suites and villas.
Check rates and availability at Scrub Island Resort, Spa and Marina on Booking.com
Wyndham Tortola BVI Lambert Beach Resort – mid-range
Located on 14 acres on Tortola's north shore, Wyndham Tortola BVI Lambert Beach Resort offers accommodations ranging from garden view to beachfront, from standard rooms to suites.
Set in an almost rural setting, its location on one of my favourite Tortola beaches makes it worth a look.
Check rates and availability at Wyndham Tortola BVI Lambert Beach Resort on Booking.com
Frequently Asked Questions
Is British Virgin Islands part of the UK?
The British Virgin Islands (BVI), is one of 14 British overseas territories. It has the British Monarch as head of state and constitutional and historic links with the UK as it was once part of the British Empire but is self governing and not part of the UK.
Anguilla, Montserrat, Bermuda and Turks and Caicos are also British overseas territories.
Are the British Virgin Islands the same as the US Virgin Islands?
The British Virgin Islands is part of the Virgin Islands archipelago. The remaining islands in the group are part of the US Virgin Island and the Spanish Virgin Islands.
Are the US or British Virgin Islands Better?
This is a subjective call! The British Virgin Islands definitely has a more laid-back vibe in general. Plus there are fewer Americans and cruise ship crowds. And BVI has more islands closer together than USVI.
However, there is better shopping in St. Thomas and generally more to do and a better range of historical sites in USVI. But in summary, the British Virgin Islands are better than the US Virgin Islands.
Is There Sargassum in the Virgin Islands?
What exactly is sargassum seaweed and why is it a problem? Sargassum is a type of brown algae that floats in mats in the open ocean in the Sargasso Sea in the North Atlantic. It's a natural phenomenon that's been occurring for centuries and serves as a resting area and nursery for sea turtles, crab, shrimp and fish.
However in recent years the amount of sargassum has been larger, thicker and more widespread. In some beach areas such as Florida and Cancun Riviera-Maya when it comes ashore, it discolours the water, stinks like rotten eggs due to the chemical hydrogen sulphide as it decomposes, and poses problems for marine life and humans.
According to the University of South Florida's Outlook of Sargassum blooms in the Caribbean Sea and Gulf of Mexico (known as (SaWS), the quantity of sargassum seaweed in some parts of the Caribbean in 2022 is expected to be above average.
So, if you're planning on beach time during seaweed season (which is generally May to October), it's worth considering the likelihood of encountering sargassum.
Is there sargassum seaweed in British Virgin Islands? The answer is, it depends. In Tortola there is generally not much landing on the beaches themselves, although it's possible to see patches and mats of seaweed in the channels offshore.
Historically sargassum lands on the windward sides of the islands. But much like other islands in the Caribbean, its movement is influenced by wind and water currents.
Save to Pinterest!
Mark Stevens and photographer/partner Sharon Matthews-Stevens are a multiple-award-winning team who have provided stories and pictures for outlets from Canadian Yachting to the Washington Post. Together they've swum with sharks in Bahamas, dogsledded in the Yukon, cooked in the mountains of Morocco and reported from at least 40 Caribbean islands. Visit their portfolio at Travel Write Click
Learn more about Mark and Sharon.