We may earn income from links in this post. Please read this Disclosure for details.
Shirley Heights Antigua, perched high above the Caribbean Sea on Antigua's south coast, is both historical site and party central.
Recognized as part of the Antigua Naval Dockyard UNESCO World Heritage Site, it's also famous for its incredible views and sunsets over English Harbour.
But it's the weekly Shirley Heights party, a Sunday tradition since 1981, that makes a trip to the Shirley Heights lookout a top thing to do when you visit Antigua & Barbuda.
Live reggae and soca music, smokin' barbecue, potent rum punch and dancing under the stars. The Shirley Heights Party is the best bash in the Caribbean.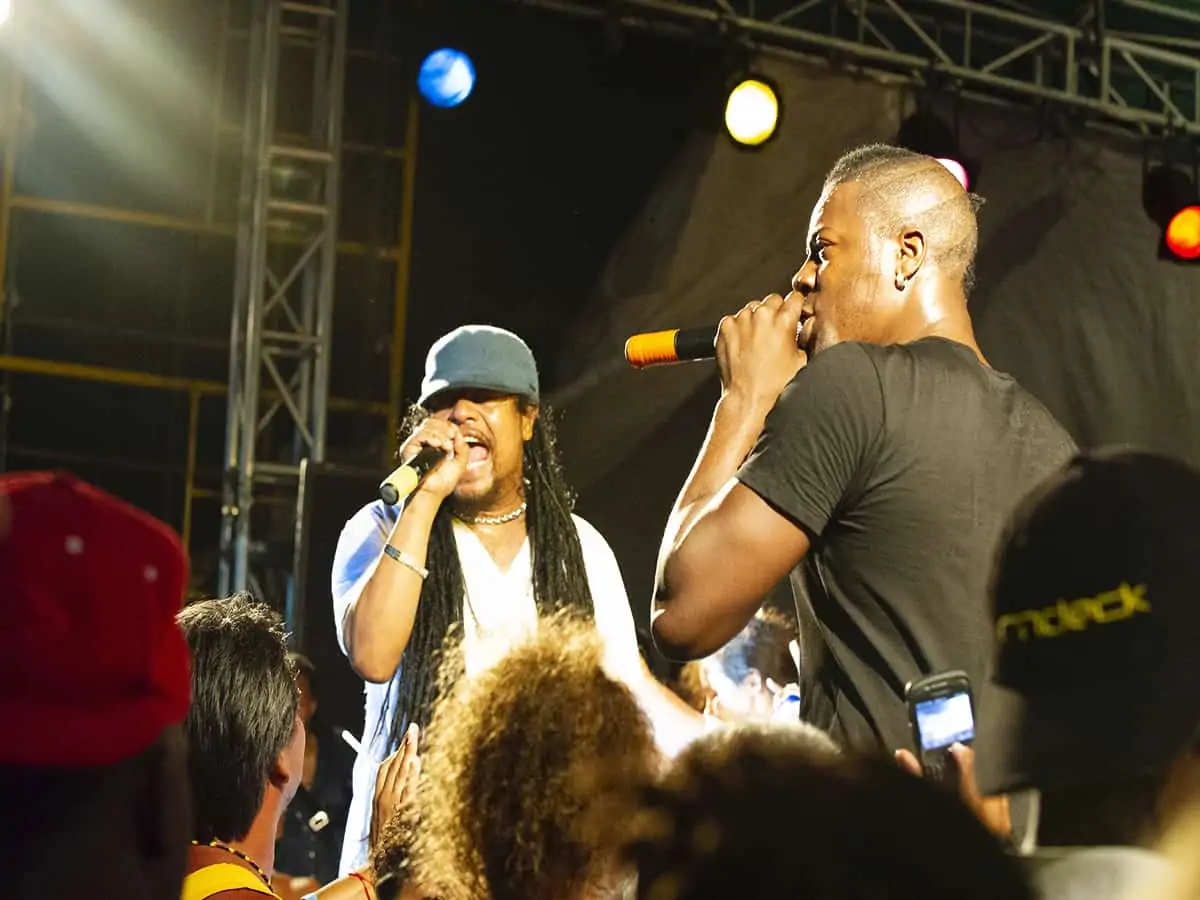 As a travel writer specializing in this region, I've been to (and written about) 40 or more Caribbean islands.
When it comes to Caribbean parties, I've done Junkanoo in Bahamas, Moonsplash in Anguilla and The Full Moon party in Tortola. The Shirley Heights Party is my absolute favourite spot to let down my hair.
I plan every one of my Antigua visits to make sure I don't miss this iconic bash. Here are my top tips on how to do it well!
A Shirley Heights History Primer
First, a bit of history as it defines Shirley Heights and its accompanying attractions.
Together with Dow's Hill Interpretive Centre, Nelson's Dockyard (visible far below the lookout) and Clarence House, Shirley Heights is part of the UNESCO Heritage Site known as the Antigua Naval Dockyard and Related Archaeological Sites.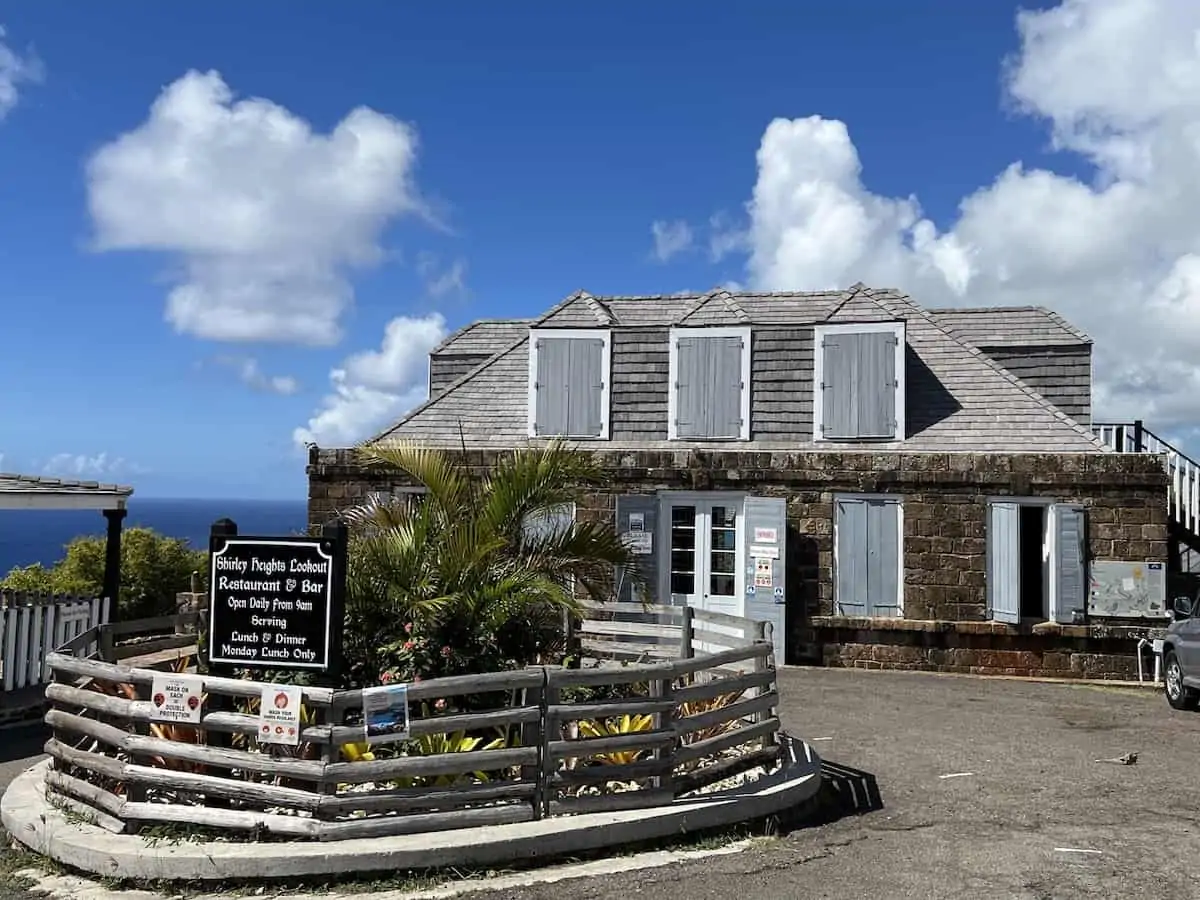 A Royal Navy stronghold known as the Leeward Station, Antigua was once home to the most important of the Caribbean's navy fleets.
Its natural harbour with a deep, narrow bay surrounded by defensive fortifications protected the fleet from hurricanes and attack.
Admiral Nelson was stationed here. Even the name of Shirley Heights itself is part of local history as Sir Thomas Shirley was the island's first governor in 1781.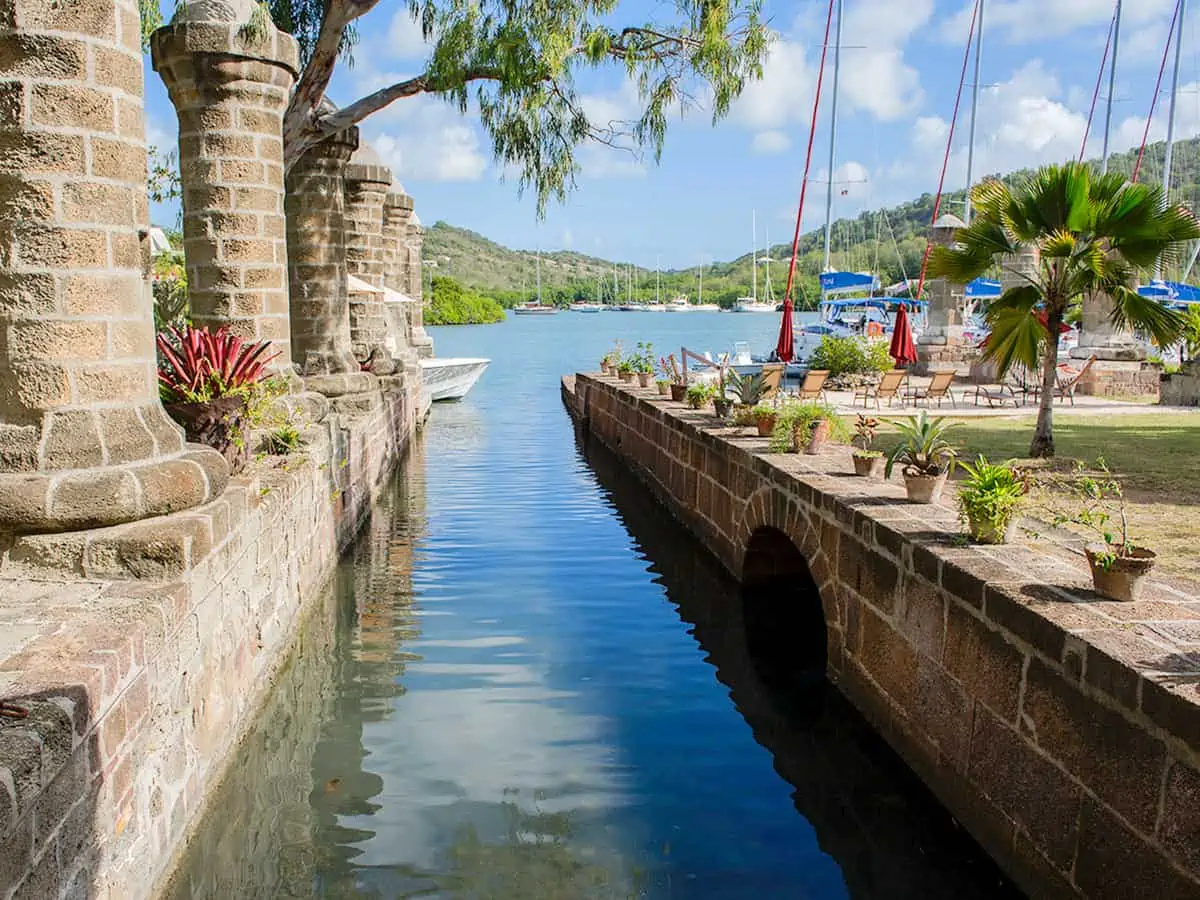 While Nelson's Dockyard was administered by the Navy, Shirley Heights was an Army outpost.
"This was the first bastion against the threat of a French invasion," Antigua & Barbuda Tourism's Elizabeth Mason told me on my first visit.
"You can still see the ruins of the barracks up here," she said, pointing. "Over there is a cemetery."
Mason pointed to the south, where I felt like I could see forever from this eagle's-nest vantage. At the edge of the gun platform, I looked down into English Harbour (home to Nelson's Dockyard) where yachts bobbed lazily in sea swells.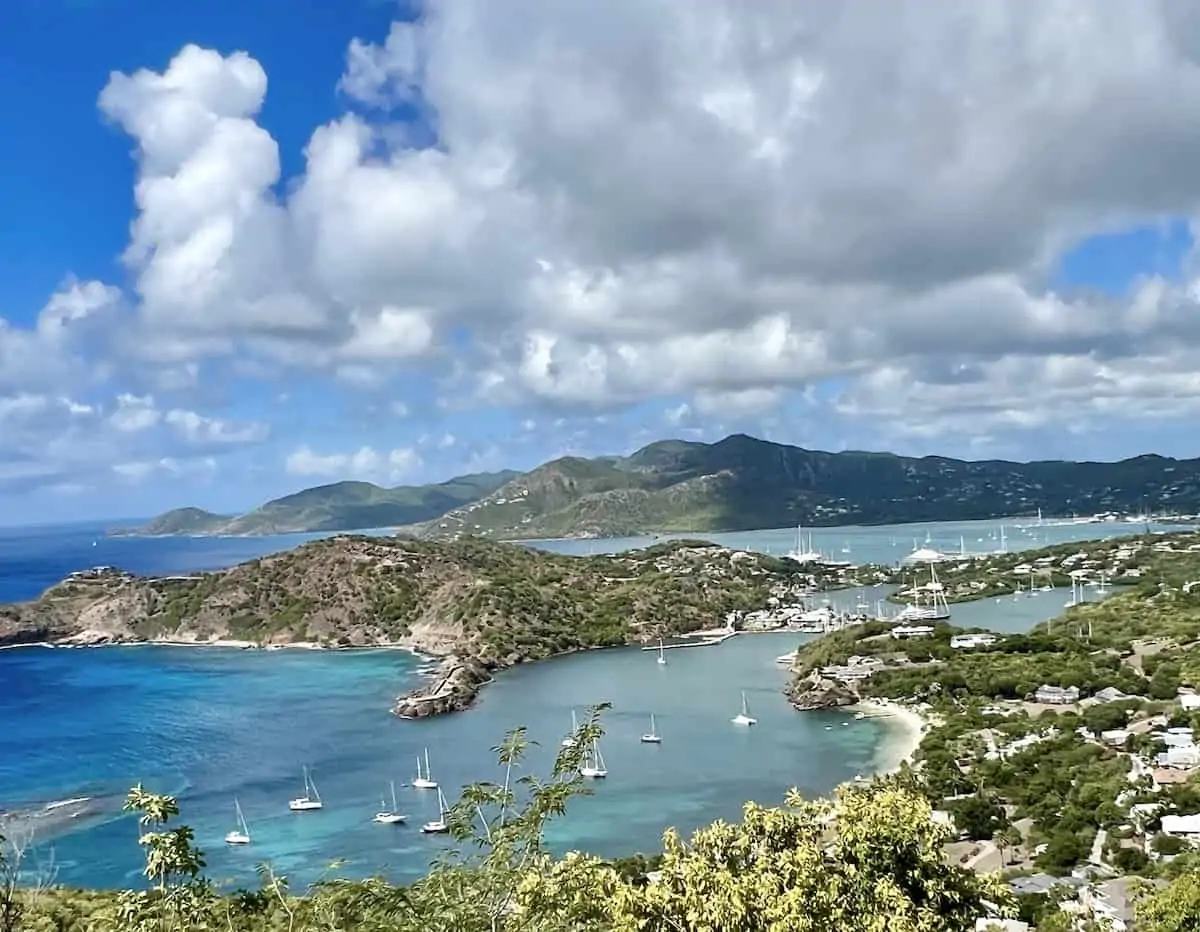 "They would man this station and watch for any signs of the French fleet," Mason explained.
"The plan was to light a signal fire here. The information would be relayed from mountain-top to mountain-top in order to warn St. John's (Antigua's capital)".
Things to Do At and Around Shirley Heights by Day
Though today most of the buildings are ruins, the Shirley Heights lookout is well worth a daytime visit if only for the views.
To fully soak up its rich history combine your visit as part of a daytime tour that includes Nelson's Dockyard, billed as the world's only working Georgian dockyard.
Highlights include the museum housed in the former commandant's house, the ruins of an 18th century fort and a variety of shops housed in period buildings constructed of ballast brick.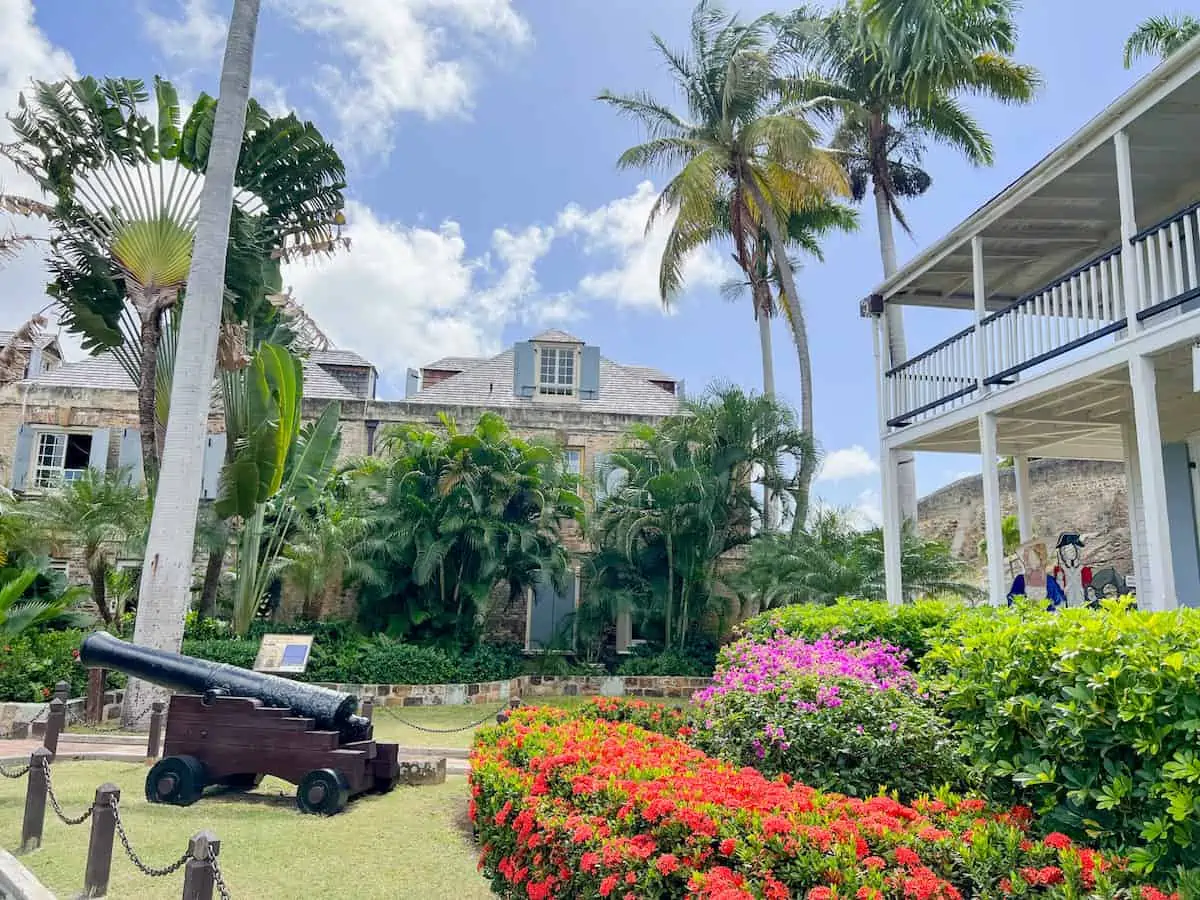 The museum itself offers a glimpse of what shipboard life was like for the sailors of the Royal Navy along with a fascinating look at the dockyard's history itself.
It's important to note that the construction and operation of the Antigua Naval Dockyard were made possible through the labour and skills of enslaved Africans, whose contribution was critical to the construction of the facility and the expansion of the British Empire.
Dow's Hill Interpretation Centre offers visitors a multimedia presentation that outlines the island's history and culture.
History buff and sailing fanatic that I am, I always enjoy a stroll along the cobblestone quay where sleek sailing boats strain at their dock lines.
Reliving what has become a rite of passage for me, I stop for a Wadadli beer at the Galley, mere steps from where a fatal duel was once waged.
Nearby Clarence House, another historic attraction, was once the island's governor's mansion and is now a museum.
Tours specific to this gracious mansion (Winston Churchill, Prince Harry and Queen Elizabeth II have all visited) take place twice daily on Tuesdays and Thursdays.
Contact info@nationalparksantigua.com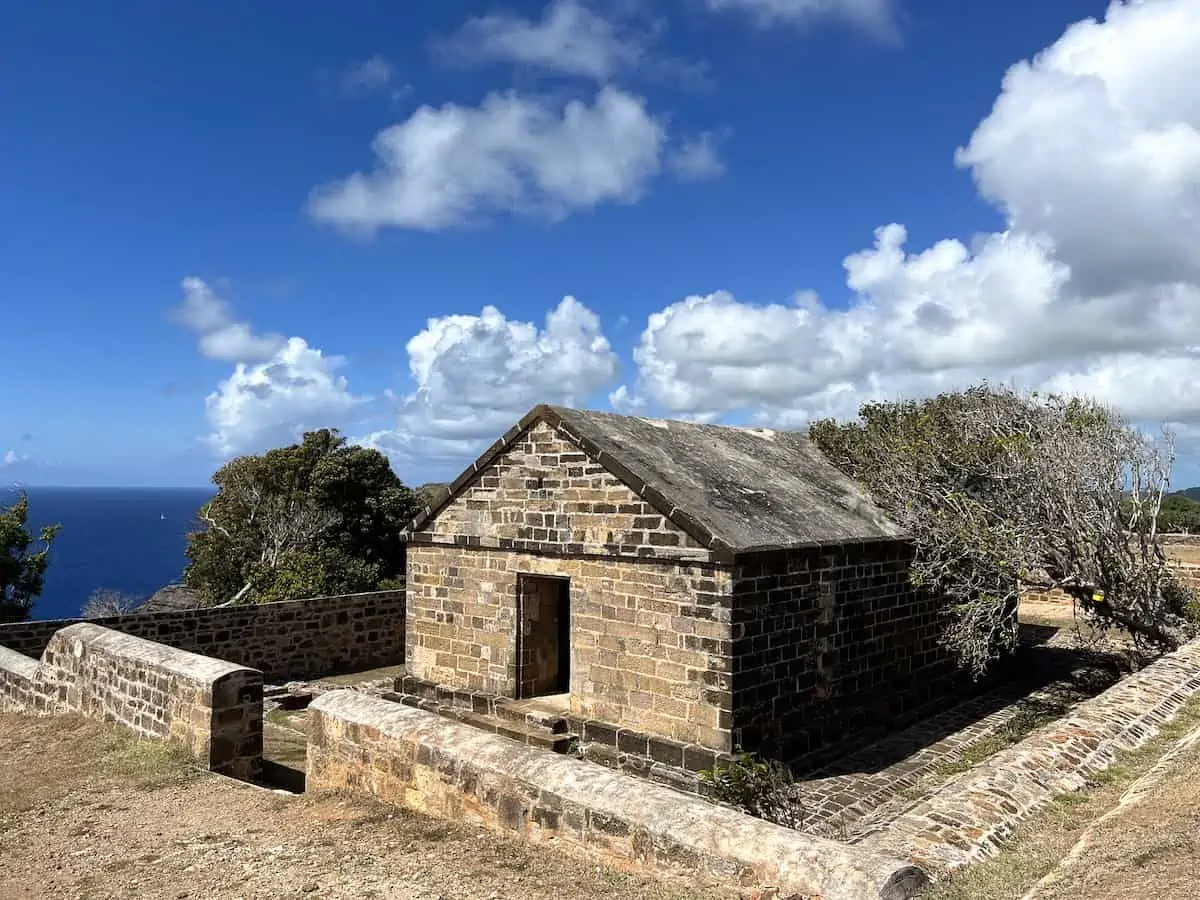 Back up at the Shirley Heights lookout be sure to visit the soldier's graveyard and soak up the views both east and west.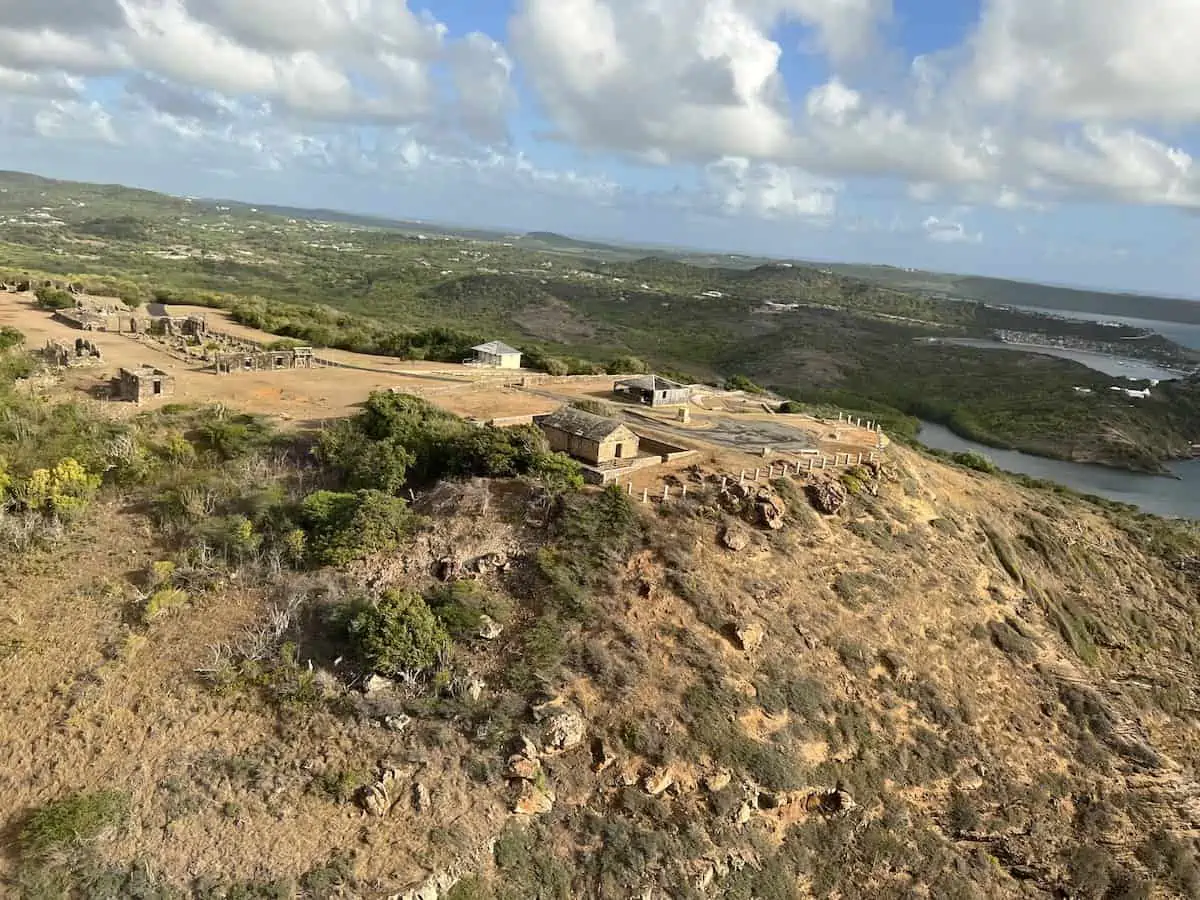 If you follow one trail to the eastern edge you can catch a view of Eric Clapton's house.
For those with a sense of adventure, hike the Shirley Heights Lookout Trail. It's 1.8 km out and back, from the parking lot at Galleon Beach in English Harbour to the summit.
While it's well worth a trip just for the photo-op, you're also welcome to stay awhile. The Shirley Heights restaurant, open daily for lunch, offers specials every day but Saturdays.
Shirley Heights Lookout Party
For many people, the main attraction at the lookout continues to be the Shirley Heights party on Sundays (and Thursdays). However, for many years the outpost was in disrepair.
That ended when Russell Hodge an Antiguan businessman who owned a popular seafood restaurant, set amid the ruins of another colonial military stronghold on the island's north coast, saw the site's potential.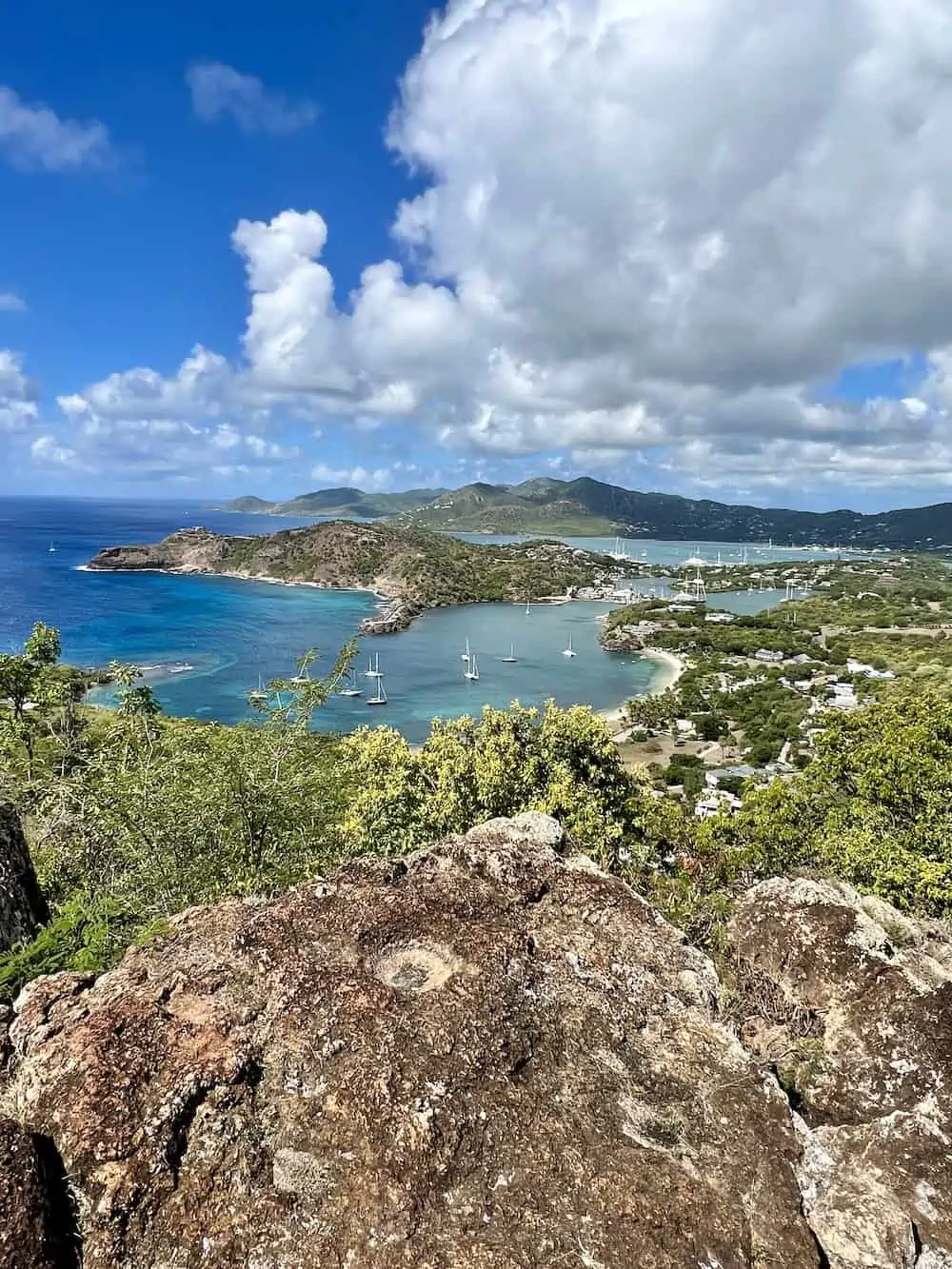 He spearheaded a restoration in 1981. That year also saw the first Shirley Heights Lookout party.
"We had lots of food and a steel band at that first party," Valerie Hodge, Russell's sister, who still manages both the Shirley Heights restaurant and party itself, told me between ladling out cups of rum punch during my first time at the event.
"But there were more people in the band than in the crowd."
The party has definitely grown in popularity since then. Some nights it seems as though thousands of people attend.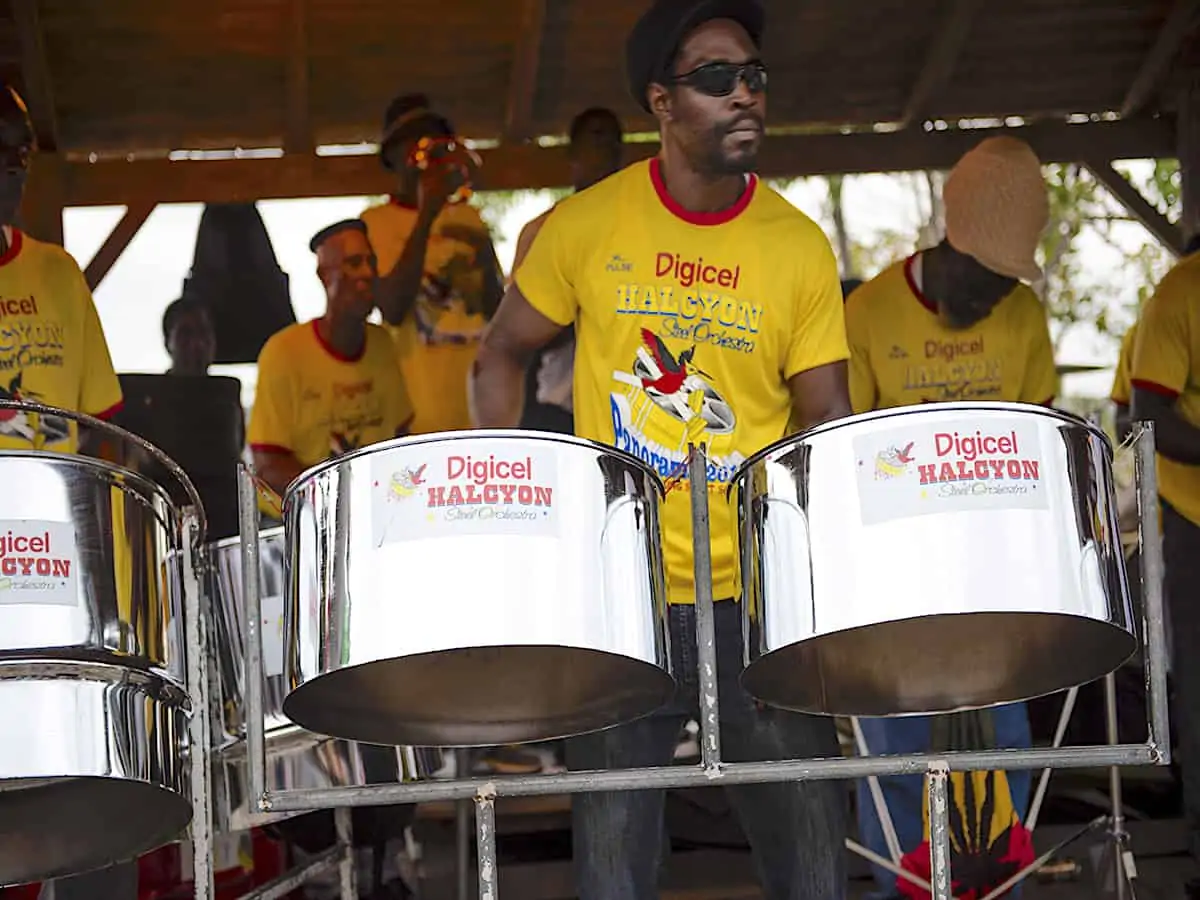 The party gets down on a little cobblestone parade ground bordered by crumbling but still impressive ramparts where guns once pointed seaward.
Around 4:30 PM an Antigua steelpan band starts up on a stage surmounted by a cedar shingle roof.
Across the parade ground a bigger stage awaits. Come 7:00 PM or so a local reggae or soca band starts up. Soon, the parade ground is packed with people dancing.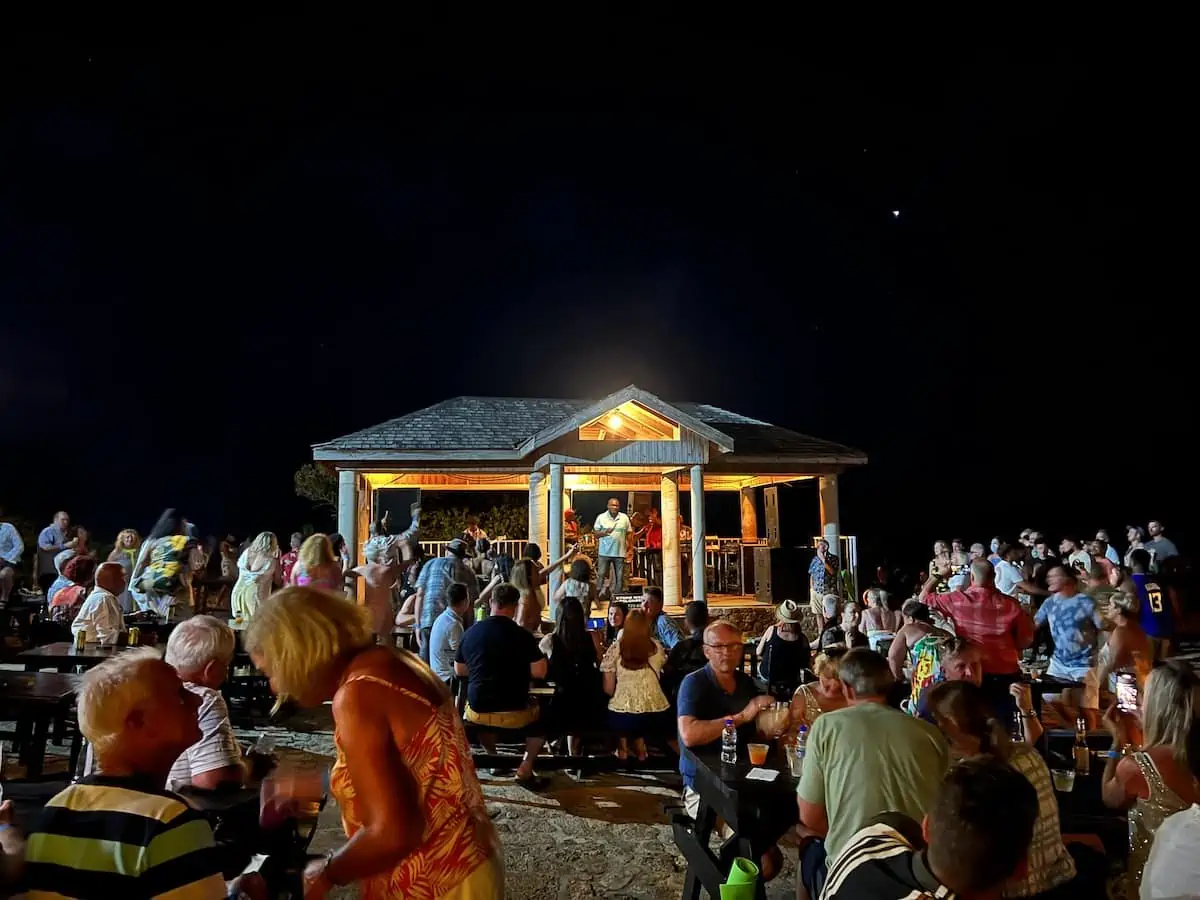 The Best Sunset in Antigua
All the while, the sun falls to the west, gilding the Caribbean Sea, while everyone stops to admire the view.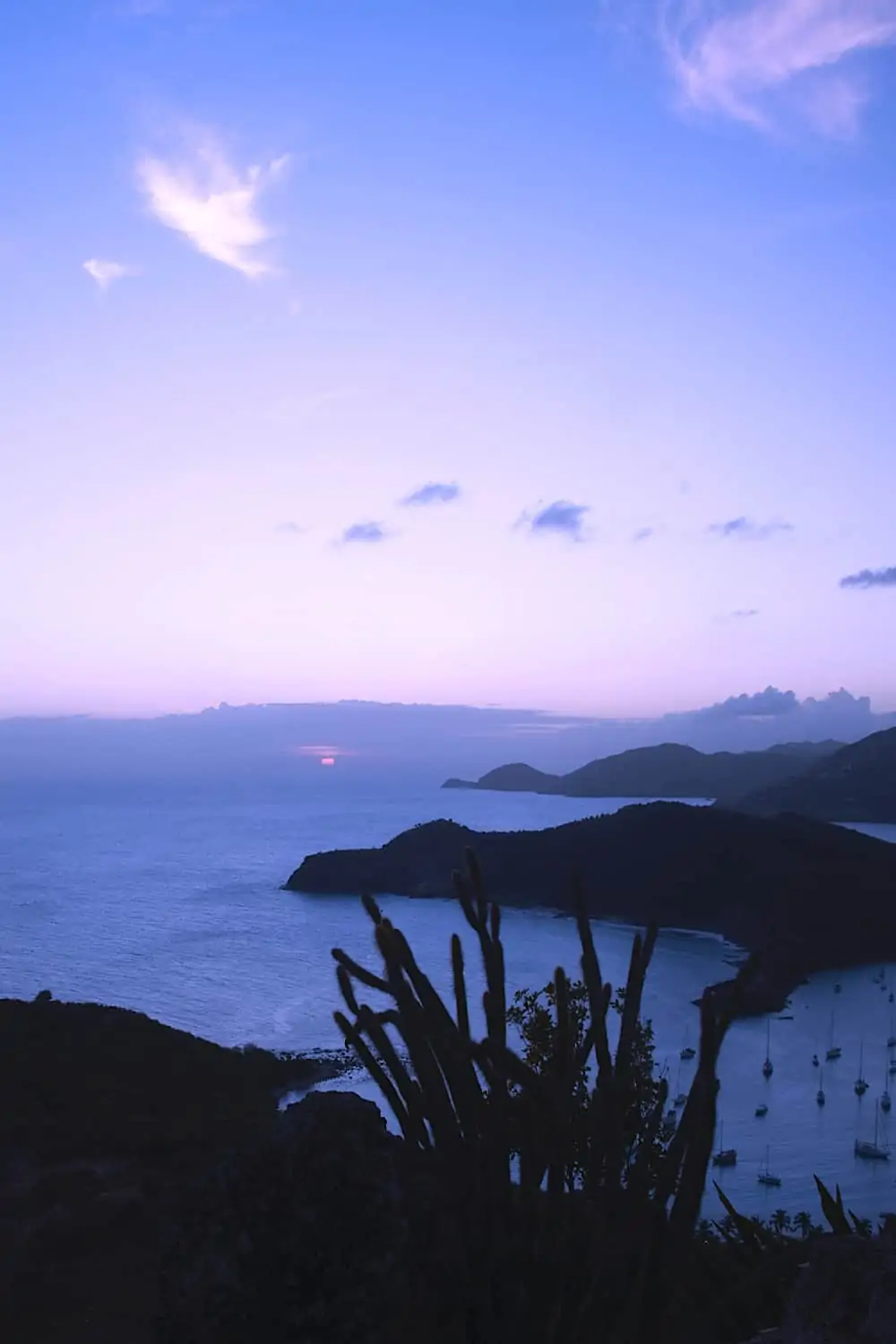 It's no accident that a Shirley Heights sunset is rated as highly as the Shirley Heights party itself.
Party Menu and Drinks
Once the sun sets, visitors head to the white open-sided tents that line the cobblestone outside the stone block restaurant.
People line up with plates for one of the many choices that decorate the Shirley Heights menu, blue-gray smoke emanating from great black barbecue grills.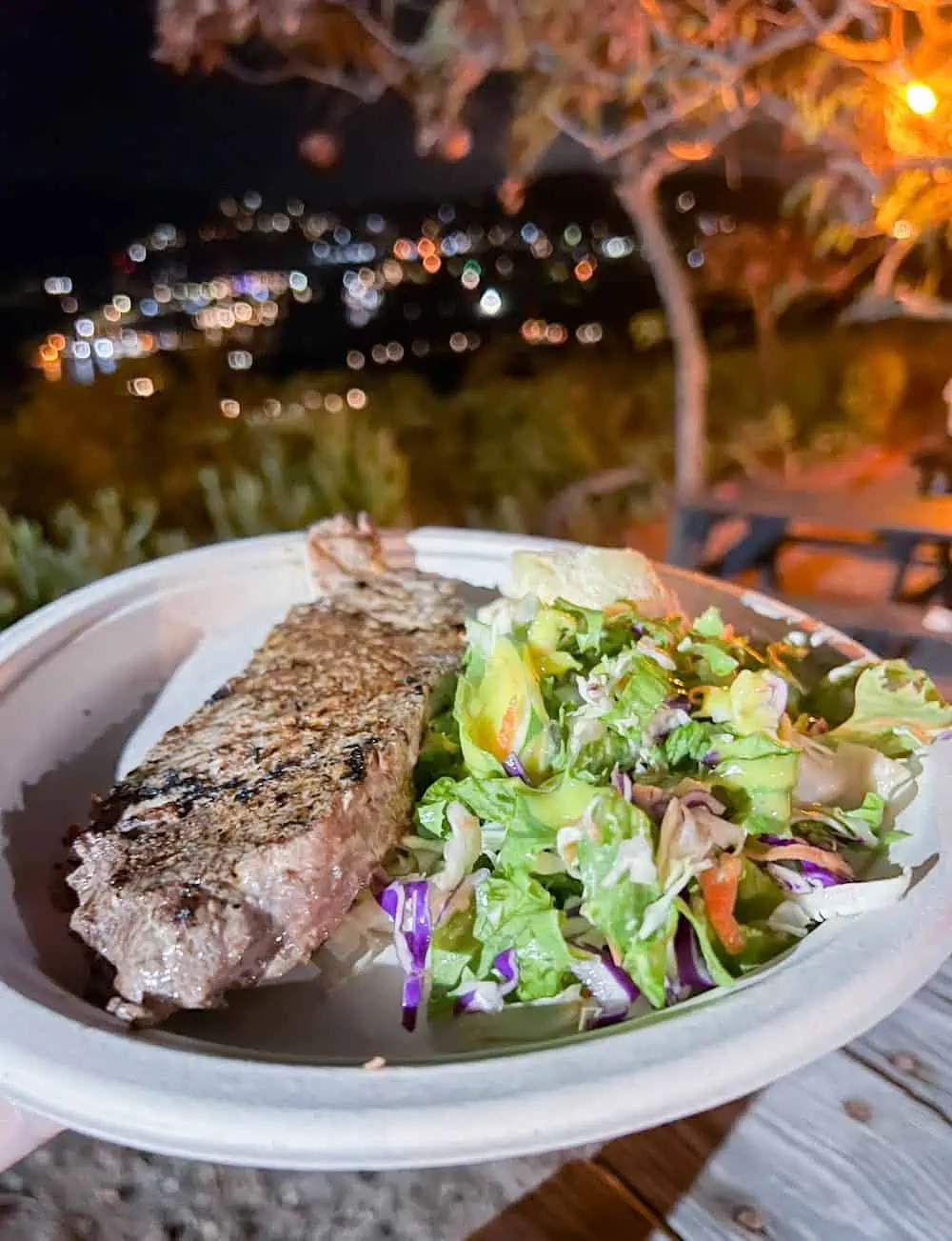 "Burgers and hot dogs of course," Hodge told me. "But we also do jerk pork, jerk chicken, ribs, lobster, the catch of the day." She stopped and grinned. "And rum punch. Lots of rum punch."
That might be why things heat up as twilight fades into evening, the lights of English Harbour and Falmouth glittering far below.
My own dinner in one hand (jerk pork accompanied by potato salad and corn on the cob) and a rum punch in my other hand I make my way to a picnic table.
Insider Tip: Be sure to try the English Harbour Rum 5 Year Old – it's arguably the best Antiguan rum!
While I eat, I watch a stream of people flow onto the parade ground. They're moving in time with the laid-back strains … reggae, bass groove so loud I feel it in my stomach.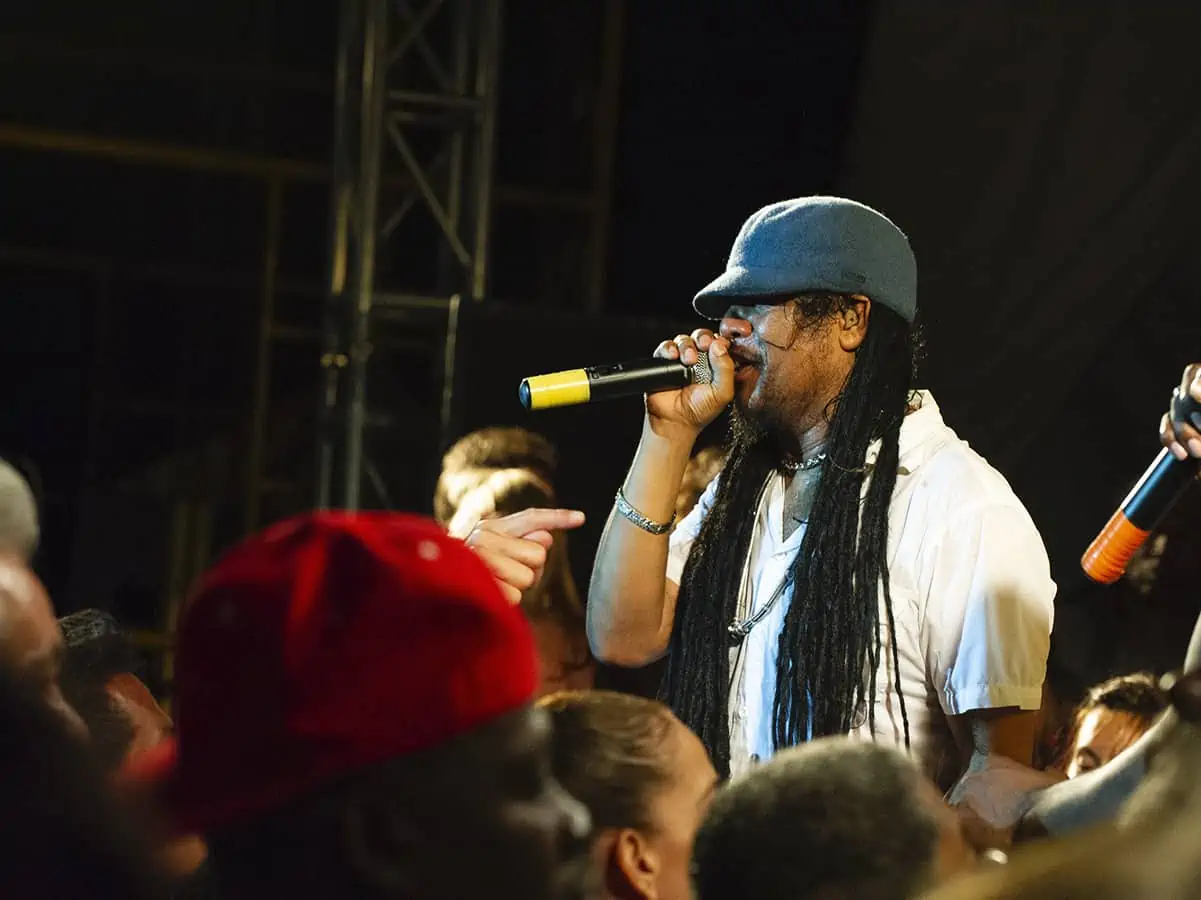 A mix of people are dancing. Some from the neighbourhood and many others likely tourists judging from their braided hair and serious sunburns.
All are smiling as they bop to the music.
Just one more night – a special night – at the Shirley Heights Lookout party.
What is the Best Way to See Shirley Heights?
Excursion
Enjoy a Sunset BBQ Party Tour at Shirley Heights Lookout that includes transportation in an air-conditioned vehicle. Cost for your meal is extra.
Check prices and availability of an Excursion to the Sunset BBQ Party at Shirley Heights on Viator.com
Or, book a private VIP Island Tour that includes stops at Nelson's Dockyard, Betty's Hope and Shirley Heights.
Taxi, Private Vehicle and Parking
If you drive to the Shirley Heights party there's ample parking onsite.
If you opt to go by taxi, a queue of taxis is usually just outside the entrance waiting to take revellers home. Taxi fares from St. John's, the capital, to Shirley Heights are US$24 one-way (subject to change).
Taxi fares are government-regulated.
How Much is Shirley Heights Antigua?
Admission: US$10 or EC$25 per person
Menu: Here's a partial menu. (All meals served with green salad and potato salad):
Burger EC$10 Eastern Caribbean Dollars (US$11.50)
Grilled Fish EC$68 (US$26)
Jerked Chicken EC$35 (US$13.50 )
Lobster EC$95 (US$36.50)
Corn on the Cob (seasonal) EC$6.50 (US$2.50)
Pecan Pie EC$20 (US$8)
A wide selection of Caribbean beers EC$10 (US$4)
(Wadadli is a great Antiguan beer)
Rum Punch EC$10 (US$4)
English Harbour Rum 5 Year Old
EC$13 (US$5)
Prices are subject to change without notice.
Tipping: Be sure to tip the cooks and servers generously! Tip jars are positioned near the order desk and at the food stations.
Do You Need to Book in Advance at Shirley Heights?
Due to current health restrictions, they do ask for reservations. Email info@shirleyheightslookout.com to make a reservation.
Is there a Shirley Heights party on Thursdays?
Yes, there is a party on Thursday nights (depending on the season and pandemic restrictions) as well. It's not as busy as Sundays and fewer locals attend.
Where to Stay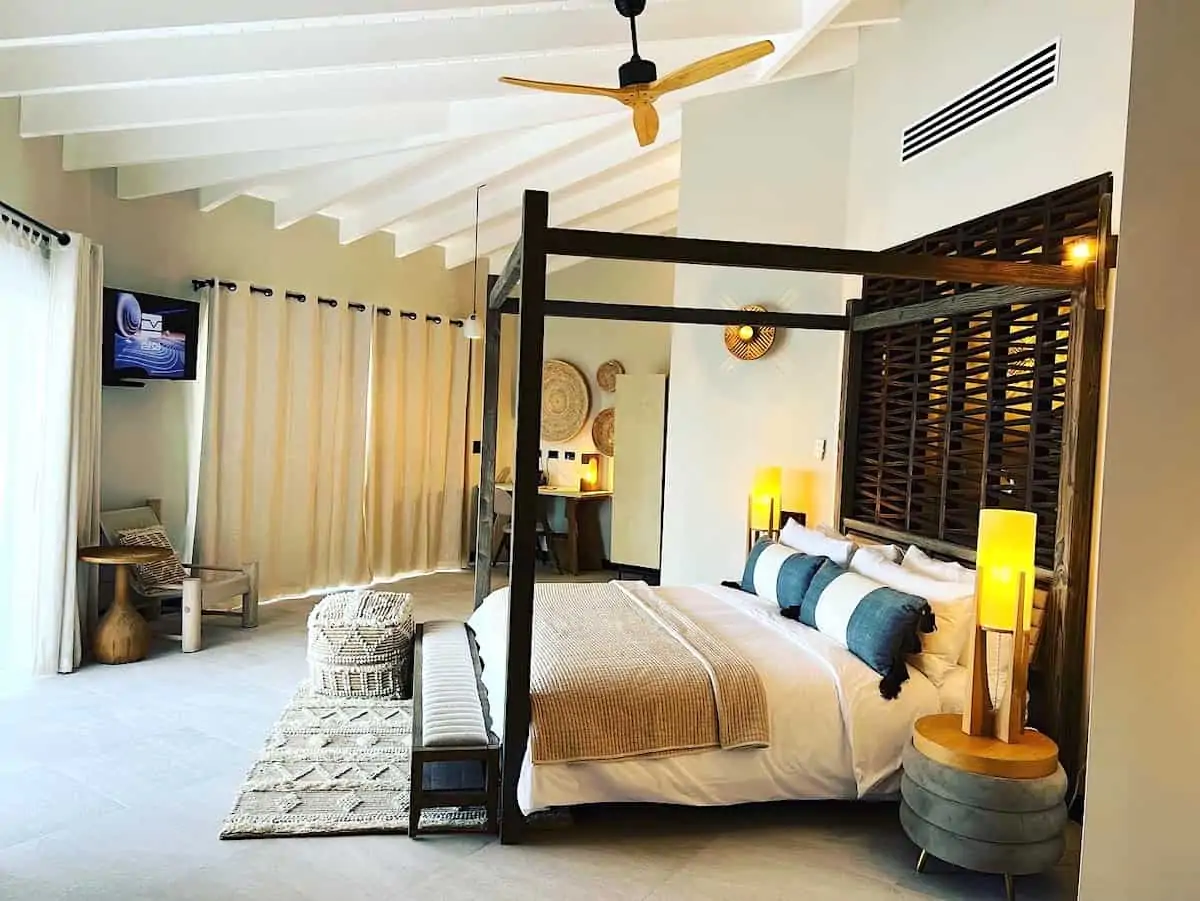 Antigua Yacht Club Resort
With ambiance reminiscent of a Caribbean greathouse, Antigua Yacht Club Resort (www.aycmarinaresort.com ) offers fantastic views of Falmouth Harbour and is an easy walk to both Nelson's Dockyard and Pigeon Point beach.
The property consists of a number of executive and studio suites and a 19-room hotel.
Check rates and availability of Antigua Yacht Club Resort on Booking.com
Villas at Tamarind Hills
Tamarind Hills is one of the newest additions to the island's upscale accommodations. Set on a bluff overlooking Darkwood and Ffryes, two of the island's most beautiful beaches, Tamarind Hills is 20 minutes from V. C. Bird International Airport (Antigua International Airport). It's also close to shops, bars and restaurants serving local Antiguan food and international dishes.
Guests can choose from two, three and four bedroom oceanfront villas, two and three bedroom beachfront villas set directly on the sand. Or, one and two bedroom terraced suites offering expansive ocean views.
Check rates and availability at Tamarind Hills on Booking.com
Sandals Grande Antigua Resort & Spa
Adults-only and couples-only, Sandals Grande Antigua is set directly on Dickenson Bay Beach, the longest white sand beach in Antigua.
Its 373 rooms are divided in two sections of the property. The original Caribbean Grove is a collection of low-rise buildings, cottages, rondovals and quiet swimming pools set among flowers and palm trees.
The newer Mediterranean Village offers two modern towers, a shopping zone plus with a vast swimming pool featuring aerobics, entertainment and tropical music. Learn more in our post on Sandals Grande Antigua.
Check rates and availability at Sandals Grande Antigua on Booking.com
More Travel Planning Resources and Travel Ideas
Check out the Antigua & Barbuda Tourism Authority, the official source for destination information including travel advisories and Covid-19 updates.
Love beaches, culture and music? Check out 27 Bucket List Things to Do in Aruba.
Save to Pinterest!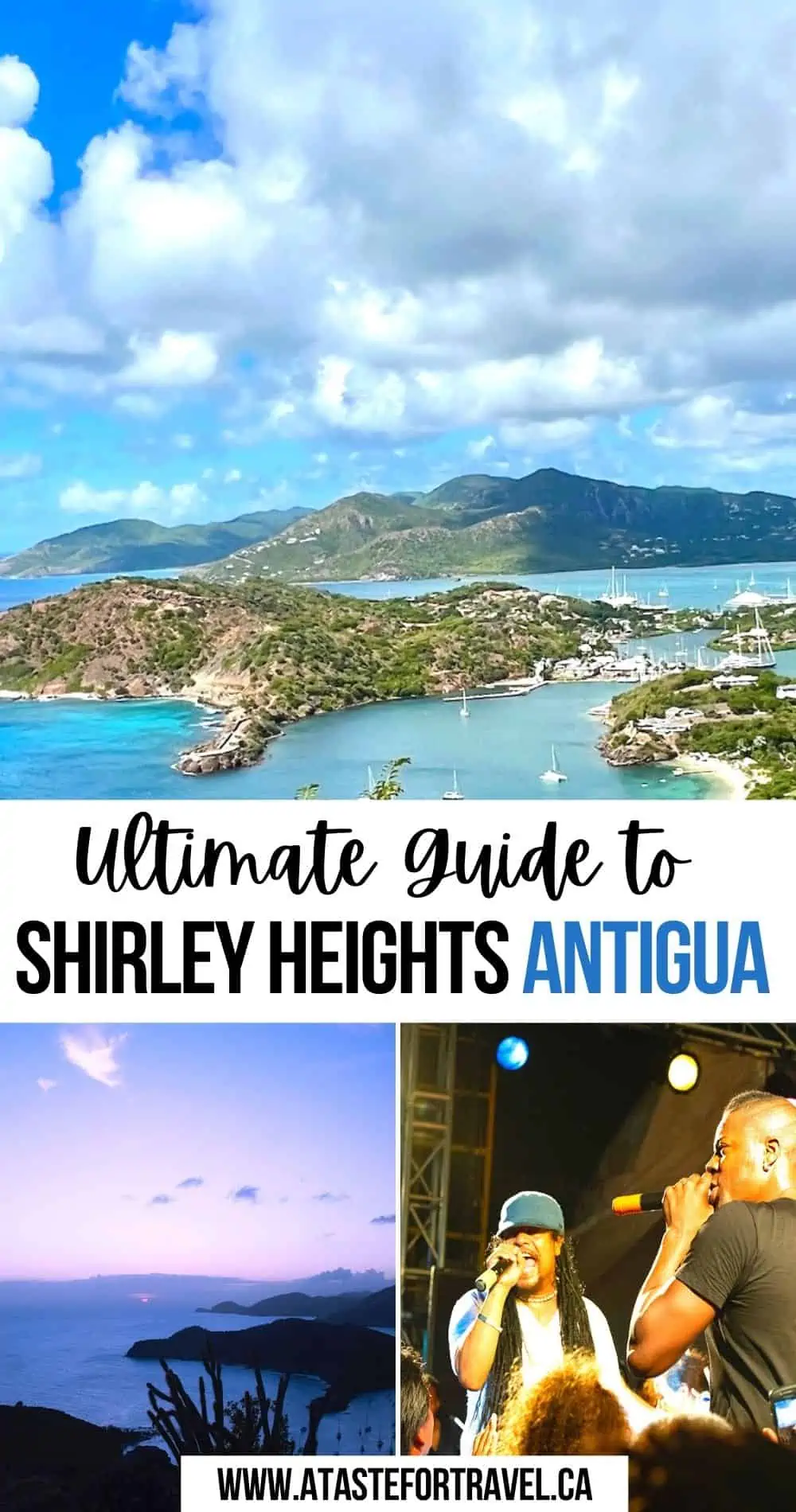 Mark Stevens and photographer/partner Sharon Matthews-Stevens are a multiple-award-winning team who have provided stories and pictures for outlets from Canadian Yachting to the Washington Post. Together they've swum with sharks in Bahamas, dogsledded in the Yukon, cooked in the mountains of Morocco and reported from at least 40 Caribbean islands. Visit their portfolio at Travel Write Click
Learn more about Mark and Sharon.