We may earn income from links in this post. Please read this Disclosure for details.
Planning a Caribbean beach vacation? Looking for a destination with more than just sand and sea? Don't wait to visit Antigua and Barbuda!
Although famous for its beautiful beaches, there are so many incredible things to do in Antigua and Barbuda, it should be at the top of your travel wish list!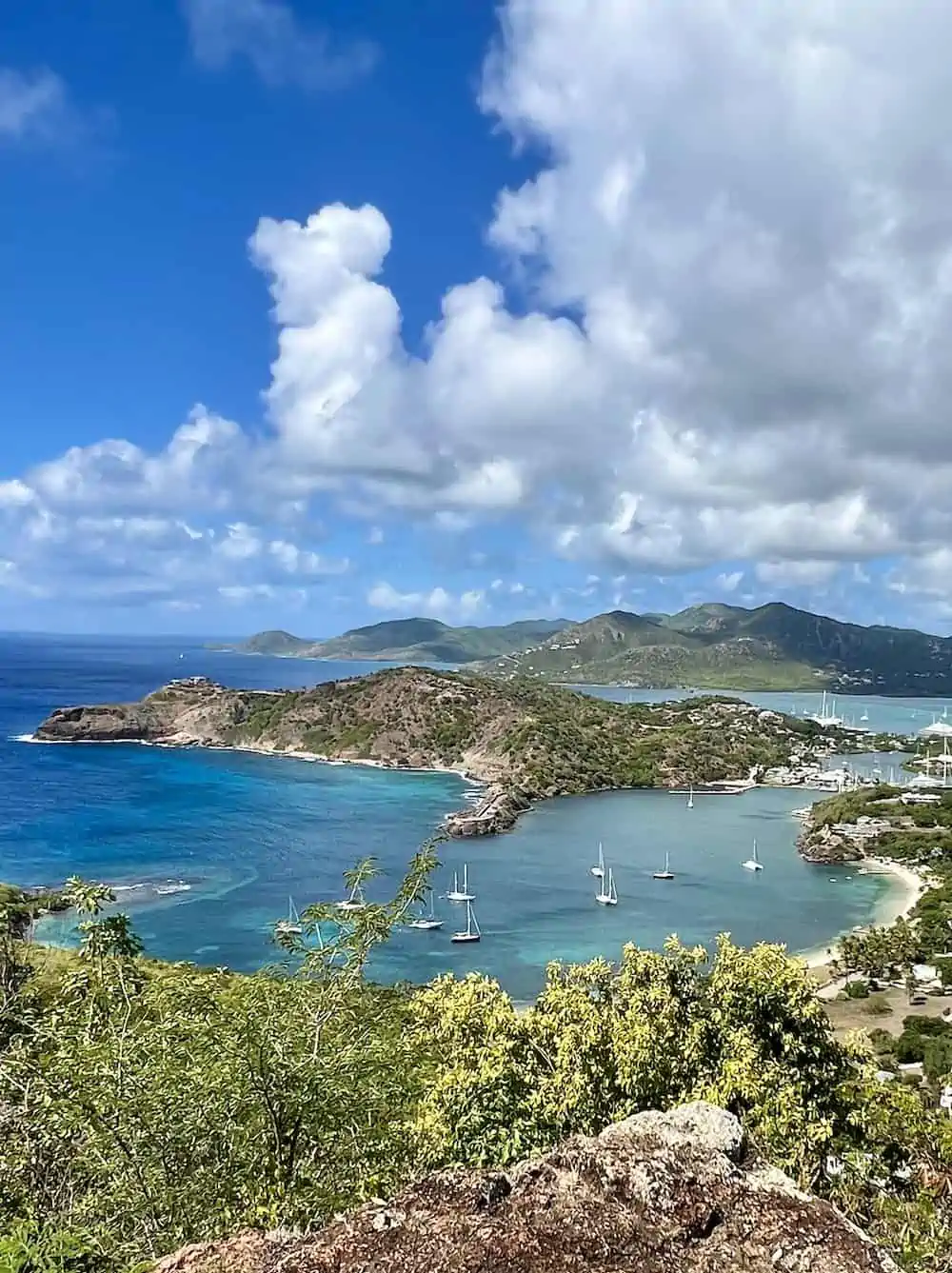 Set in the Lesser Antilles, this Caribbean nation consists of the two main islands of Antigua and Barbuda plus uninhabited, rocky Redonda.
In my career as a food and travel writer, I've been fortunate enough to travel to more than 20 Caribbean islands, including Antigua and Barbuda. I've written about it for the Globe and Mail, Fifty-five Plus, The Montrealer, Westjet Magazine and many other publications.
The more time I spend in Antigua and Barbuda, the more I love it!
From its incredible beaches to its rich culinary and cultural scene, there really is a lot to love about this place!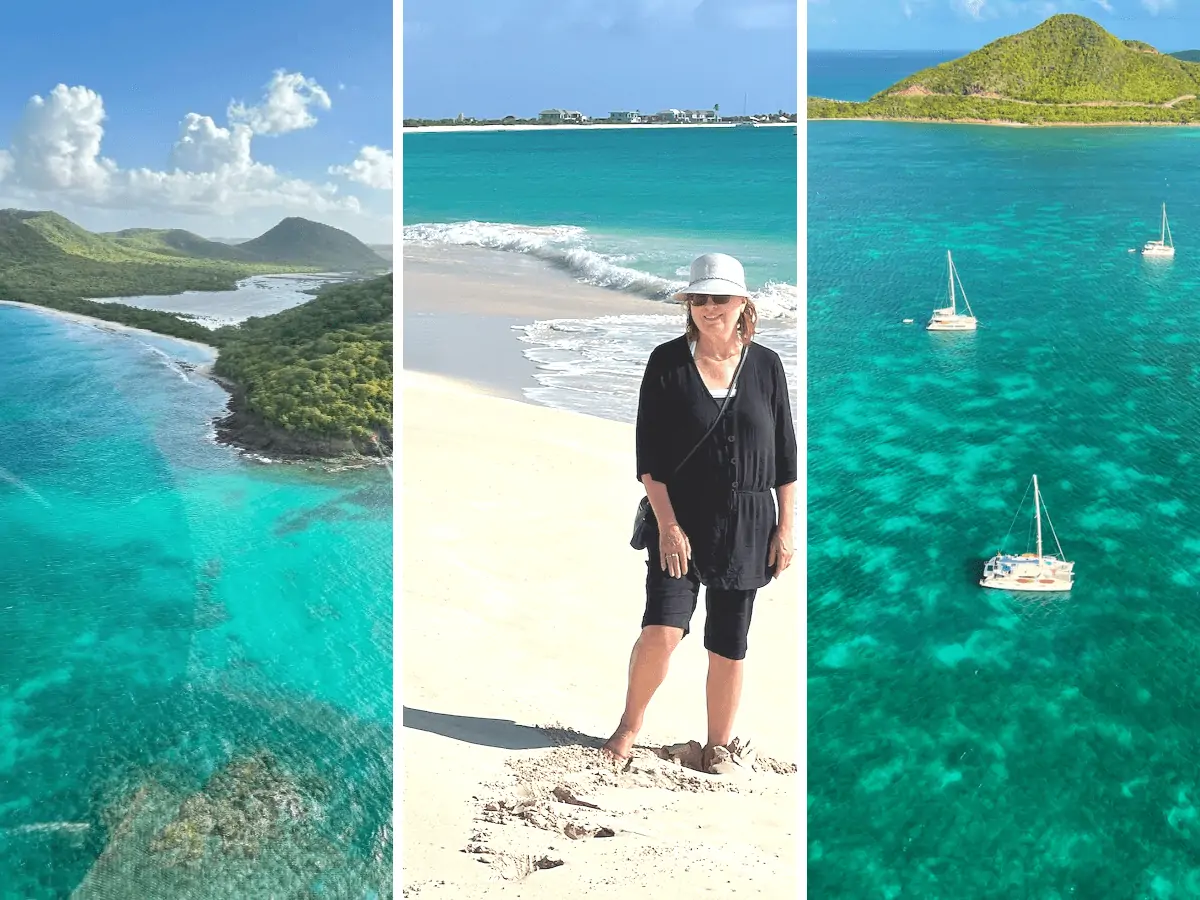 Culinary adventurers will be amazed by the food scene.
You can dine on contemporary cuisine at a hotspot like Robert De Niro's Nobu Barbuda or dive into home-style traditional Antiguan cuisine at BeachLimerz restaurant … without even rolling up your beach towel.
Below I share some of my favourite things to do in Antigua and Barbuda alongside some practical information that will help you plan your trip.
Quick Jump to What to Do in Antigua and Barbuda
Where is Antigua and Barbuda?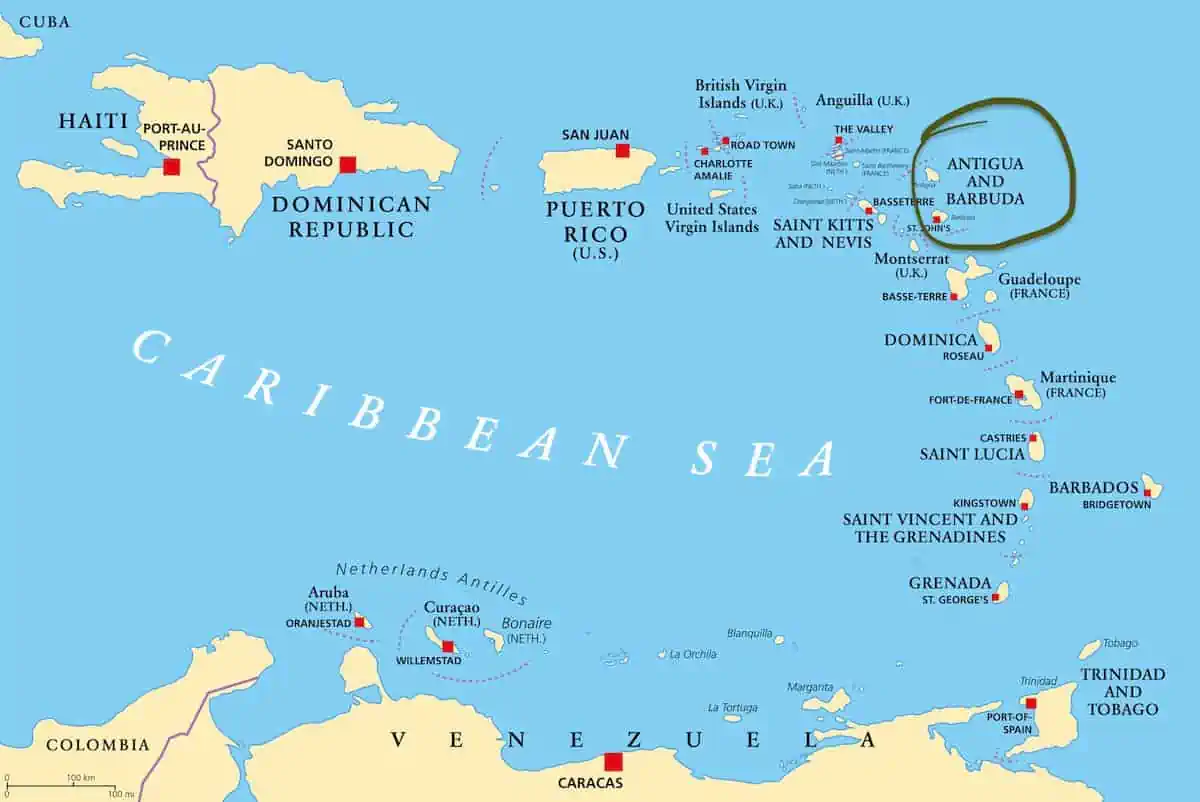 A former British colony, Antigua and Barbuda is located east of St. Kitts and Nevis and north of Guadeloupe where the Caribbean Sea and Atlantic Ocean meet.
A member of the Commonwealth, it became an independent nation in 1981 yet retains many British traditions (such as driving on the left).
Yet it has a unique Caribbean vibe with a distinct culture, local cuisine (and rum!), as well as calypso, soca and reggae music and dance.
Just 280 square km in size, Antigua is the larger and more mountainous of the two main islands. It also has the most points of interest, things to see, entertainment and attractions.
Smaller and less populated, low-lying Barbuda is home to just 1,200 full time residents. Codrington, its only town, has a population of just 100.
Its seclusion has long been much of its appeal!
When is the Best Time to Visit?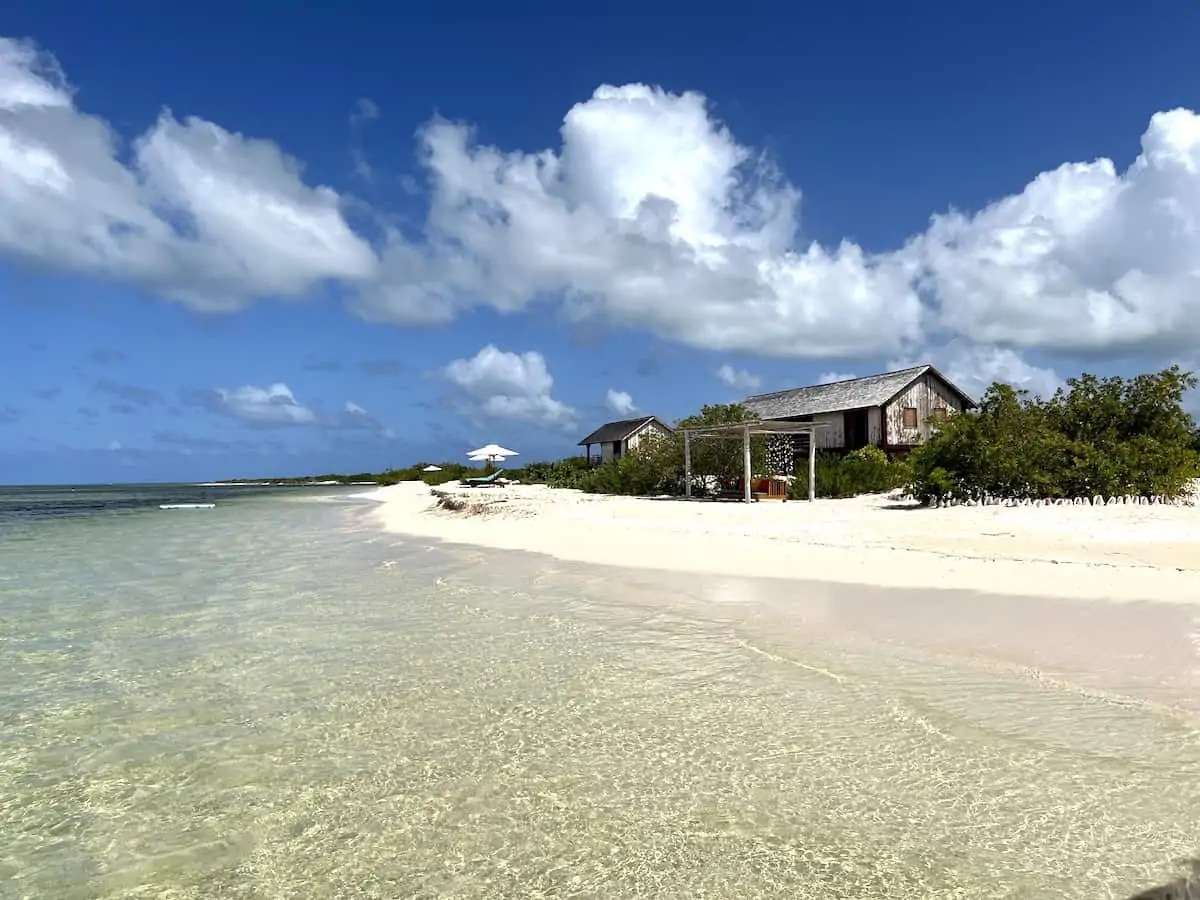 Bathed by cooling trade winds year round, the best time to visit Antigua and Barbuda is between November and April. The rainy season takes place between May and October and it can also be especially windy during the summer.
Another consideration is hurricane season. The highest risk period is Mid-August to mid-October. The last time a hurricane hit Antigua and Barbuda was Category 5 Hurricane Irma in September 2017.
While it's possible to travel to Antigua and Barbuda during the summer months and not encounter any problems, your best bet for sunny, hot weather is to travel between November and April.
Note: Some hotels and restaurants close seasonally from August to November. Check before making travel plans.
However, many people choose to travel to Antigua in July and August to celebrate Carnival. This cultural extravaganza takes place for 10 days annually from the end of July to the first Tuesday in August.
Commemorating the emancipation of slavery in 1834, Antigua's Carnival is a major event and features processions, pageants, steel pan, calypso and soca music competitions, colourful Carnival costumes and loads of revelry. Attending Carnival is one of the most fun things to do in Antigua.
Another prime time visit is between January and May during a sailing event such as Antigua Sailing Week (end of April) and the Classic Yacht Regatta.
The country celebrates Independence Day on November 1st with a public holiday featuring parades, dance festivals, food and celebration.
Insider Tip: Want to know how to pronounce "Antigua & Barbuda" like a local? It's An-tee-ga and Bar-byu-da NOT An-tee-gwa and Bar-boo-da.
21 Best Things to Do in Antigua and Barbuda
1. Hit a Beach (or all 365 of them)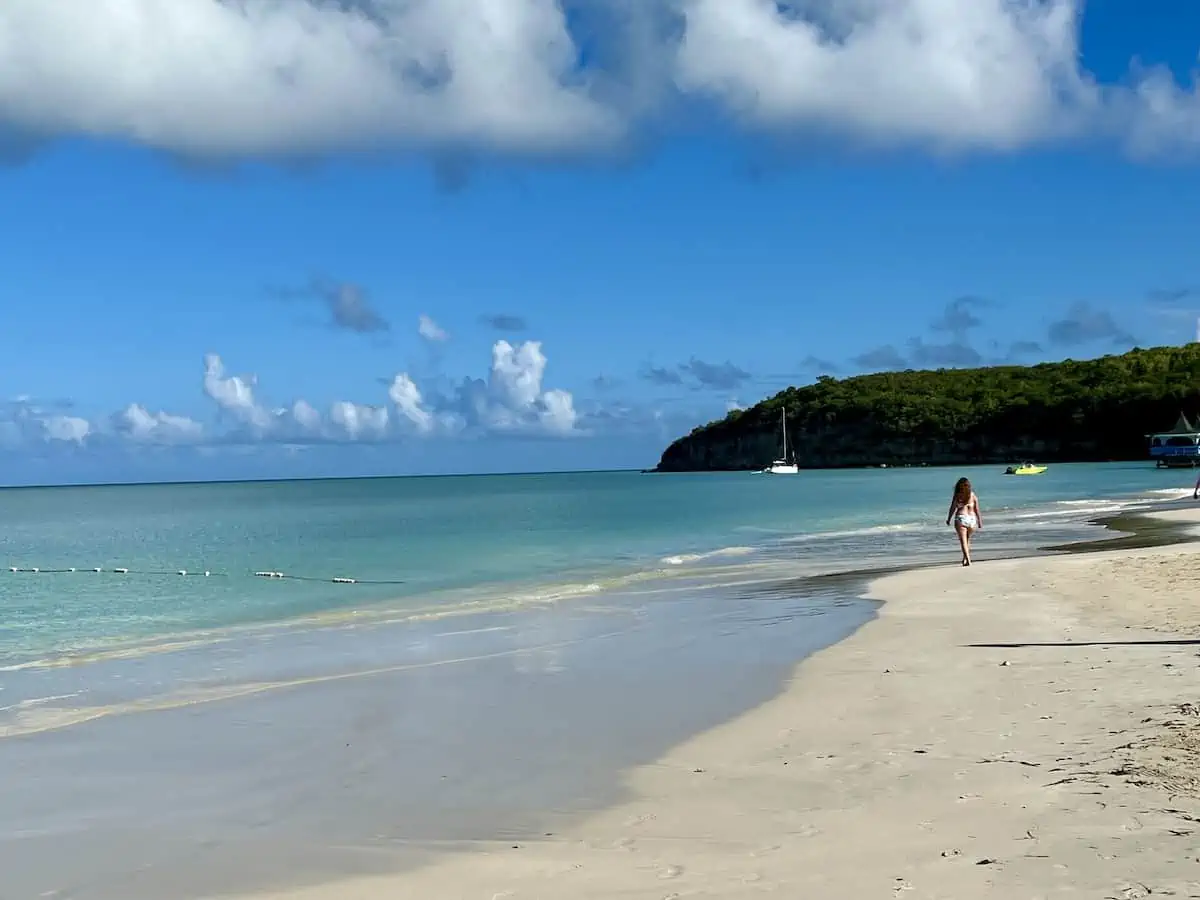 Why do I love Antigua and Barbuda? Let's begin with the beaches – all 365 of them!
Because Antigua and Barbuda are both coral islands rather than islands formed by volcanoes they have soft white (and even pink!) sand beaches rather than black.
Many beaches are also protected by coral reefs which makes their waters calm and swimmable.
An added bonus for beach lovers is that turquoise waters along Antigua's northwest coastline facing the Caribbean are generally free of sargassum seaweed a seasonal problem affecting many Caribbean islands, Mexico and Florida.
What's the best beach on Antigua?
My favourite beach is Dickenson Bay Beach on the northwestern coast. While it's the most developed of Antigua's main beaches, it's perfect for long beach walks, has soft white sand and shallow, calm waters for swimming.
Unlike arid Aruba and Anguilla (also known for their stunning beaches), Antigua's beaches, attractions and points of interest are set against a lush backdrop of verdant mountains and valleys.
Beaches such as Carlisle Bay Beach and Ffryes Beach with their turquoise waters fringed by white sand and graceful palm trees are especially pretty against the hilly backdrop.
The Antigua and Barbuda Tourism Authority (ABTA) even has a Beach Personality Quiz if you need help narrowing down the perfect beach for you.
I took the quiz and the result correctly identified my fave Dickenson Bay Beach — bingo!
2. Visit Nelson's Dockyard UNESCO World Heritage Site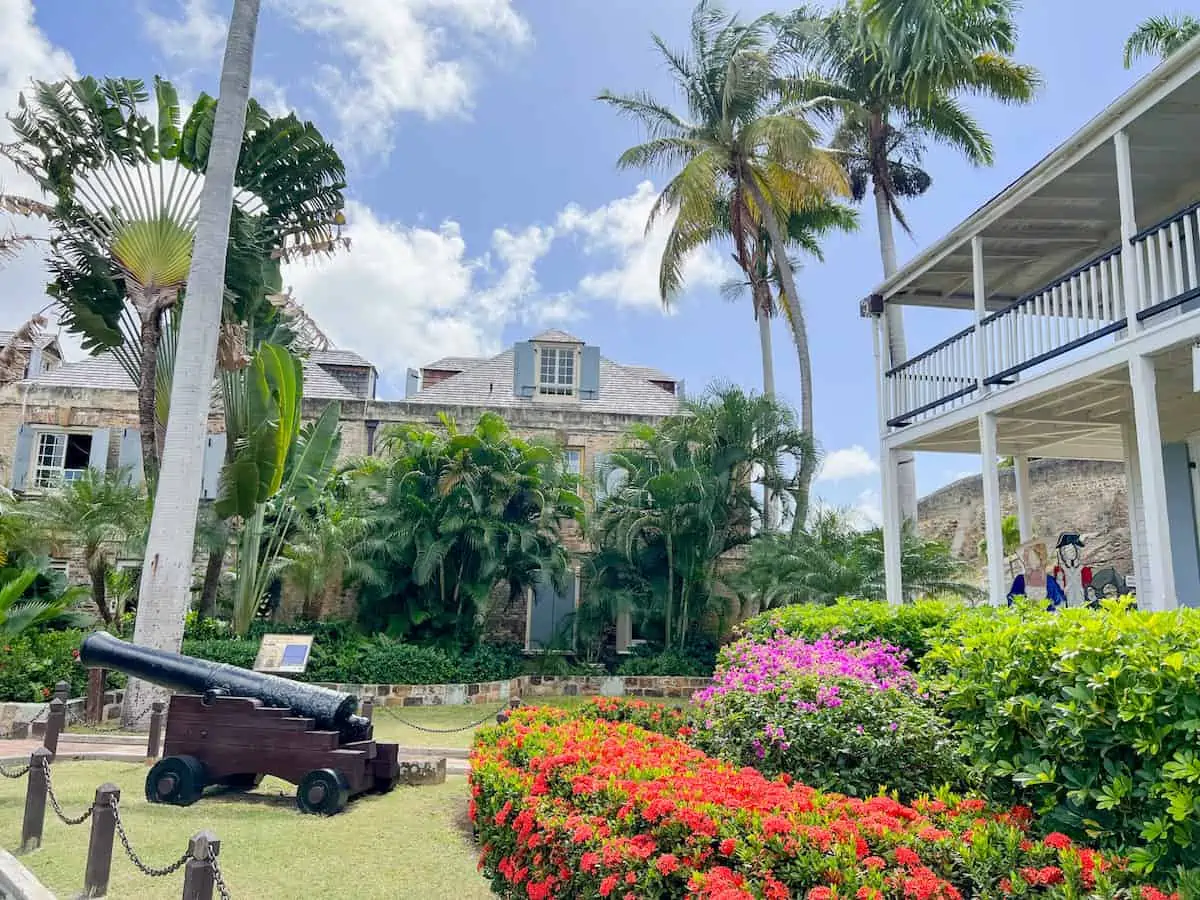 Located in English Harbour on the island of Antigua, Nelson's Dockyard is the island's top cultural and tourist attraction. It's a popular stop on most island tours and cruise ship excursions.
Even non-sailors can soak up the nautical history and seafaring spirit at this UNESCO World Heritage Site.
Set within a protected natural harbour, the world's only working Georgian dockyard was once home to the most important of the Caribbean's navy fleets.
Originally built in the 18th century, it has since been beautifully restored and now houses modern businesses such as hotels, restaurants, boutique shops and a museum.
It's a 20-minute walk to Pigeon Point Beach, a good swimming beach, in English Harbour. This is a great beach for kids.
Insider Tip:
Food fans should stop into the Dockyard Bakery, set within a small, older stone and brick building behind the Clerk's House.
It contains three historic ovens that continue to supply bread and pastries for yard workers and visiting yachtsmen.
The delicious pineapple turnovers are made with Antigua Black Pineapple, an exceptionally sweet local variety.
Nelson's Dockyard is also a fine place to visit at night for cocktails and dining. The historic buildings are atmospherically lit and the lights twinkle on the bobbing yachts in the harbour.
Cloggy's, located within the Antigua Yacht Club Marina Building. offers prime views and service.
Check prices and availability of a guided Scenic Tour of Antigua on Viator.com, a Tripadvisor company.
3. Soak Up Panoramic Views at Shirley Heights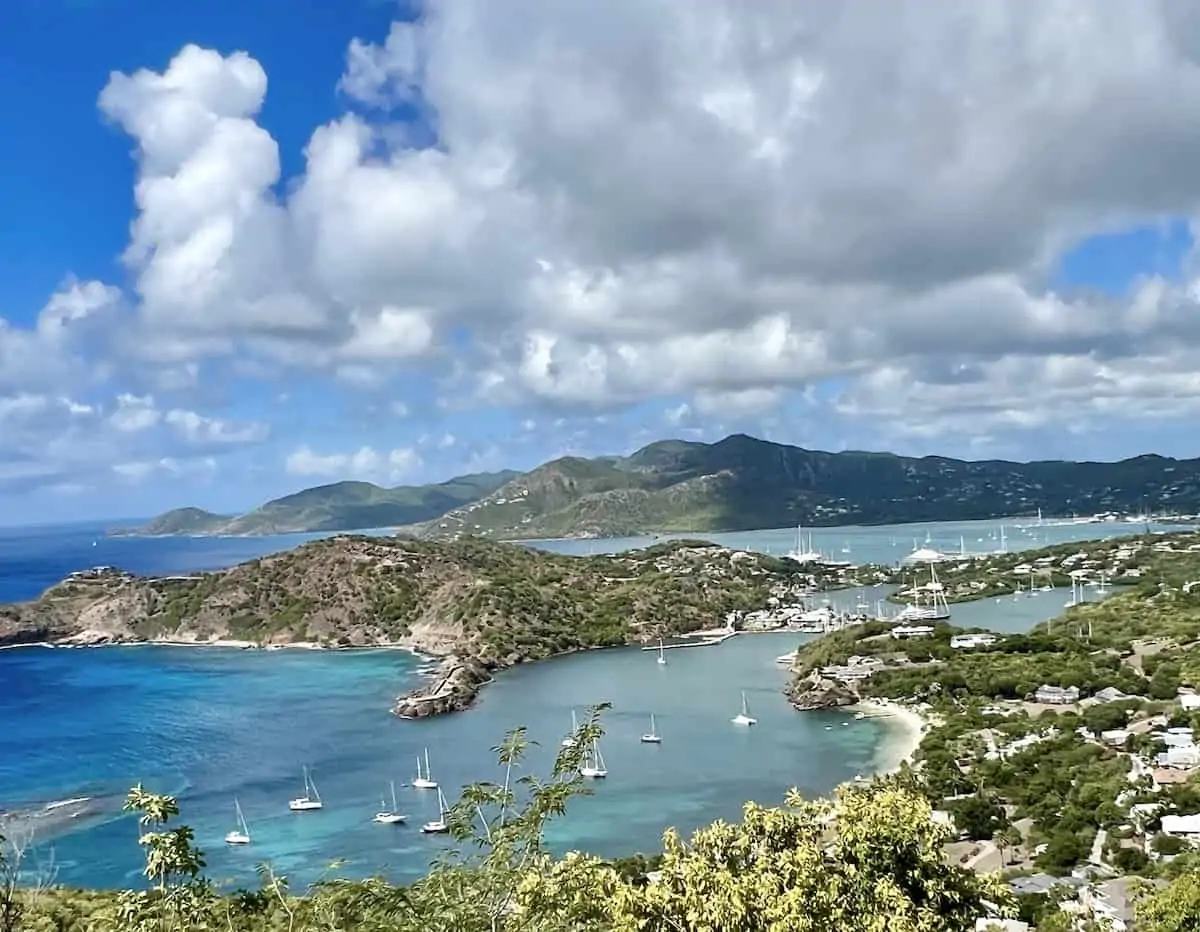 Another major Antigua point of interest, the Shirley Heights Lookout is also part of the UNESCO World Heritage Site that's home to Nelson's Dockyard, historic buildings, hiking trails and an interpretation centre.
This 18th century guard post on Antigua's south coast is most famous for its fantastic views over English Harbour. While it's well worth a trip just for the photo-op, you're also welcome to stay awhile.
The Shirley Heights restaurant, open daily for lunch, offers specials every day but Saturdays. There's also a gift shop.
If you're feeling energetic you can even hike the Shirley Heights Lookout Trail from the parking lot at Galleon Beach in English Harbour to the summit.
Insider's Tip: Featuring a steel band, reggae and calypso music, BBQ and dancing under the stars, the Shirley Heights party on Sundays is a must-do on Antigua. Read our complete guide to the Sunday Party at Shirley Heights.
4. Go Shopping at the Outdoor Market in St. John's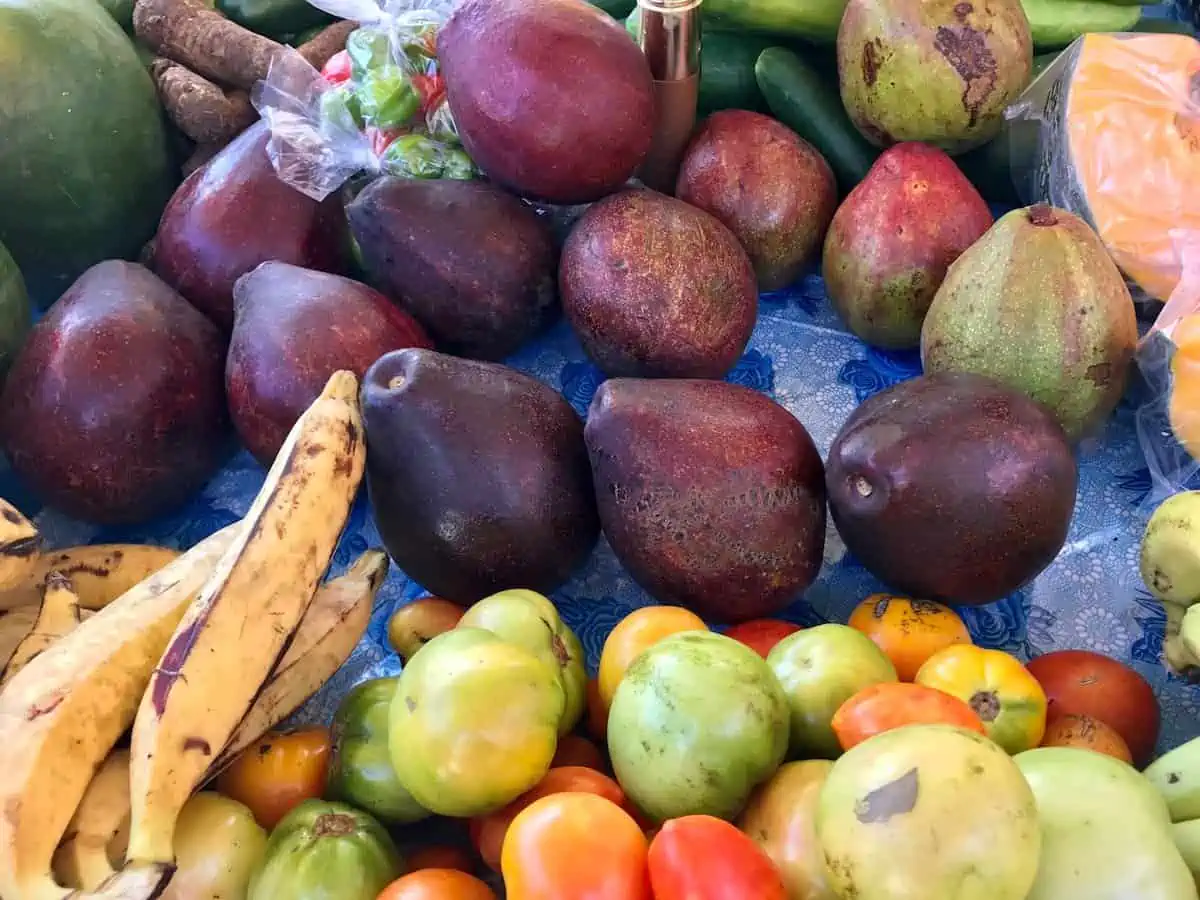 If you don't know the difference between breadfruit, dasheen, tamarind, sorrel and soursop, then it's time to head to the outdoor market in St. John's.
The knowledgable vendors are usually happy to fill you in on everything you need to know!
While a section of the market is open all week, the best time to experience it in all its glory is to visit very early on a Saturday morning.
Much of this market is outdoors and as you browse the stalls, you'll also discover a wide variety of locally-made crafts, hot sauces and local produce including the small but sweet local pineapple.
Insider's Tip: The famous Antigua black pineapple is said to be the sweetest in the world. Pick one up at this market.
5. Sample Local Antiguan Cuisine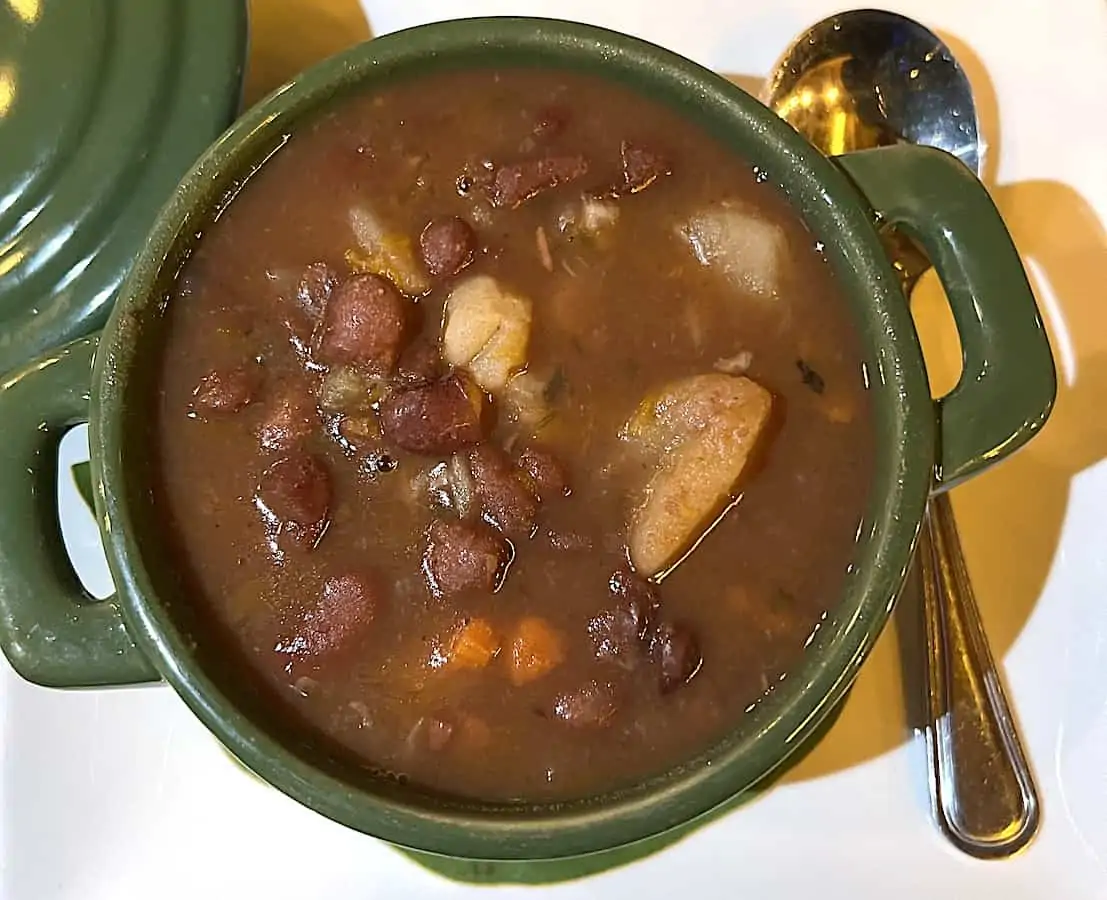 Antigua's cuisine is diverse and delicious. It reflects the legacy and flavours of Amerindian (Carib and Arawak), French Creole, West African, South American, Caribbean and European (primarily British) cultural traditions.
This diversity, combined with the passion of local chefs, producers and other culinary ambassadors who are often willing to share a recipe or give advice on cooking regional ingredients, makes visiting Antigua and Barbuda a memorable experience for food lovers.
For a taste adventure seek out local fare such as chop-up (vegetable mash), goat water, redbean pigtail soup, pepperpot as well as conch prepared a variety of ways from curried to deep fried.
Enjoy your Antiguan food with a dash of Susie's Hot Sauce, a bottled local speciality that also makes a great souvenir of Antigua.
Don't miss saltfish and fungie, the savoury national dish featuring salted cod and cornmeal.
Insider Tip: Combine beach time with authentic local food at Beach Limerz at Fort James Beach. Closed Mondays. Call ahead to inquire about daily specialties. Phone: (268) 723-9534
Get a taste of Antigua culture with a series of food tastings on a culinary romp through Heritage Quay in St. John's on a City Lime Food Tour available on Viator.com.
6. Get Soaked at the Devil's Bridge Limestone Arch
Another remarkable Antigua attraction is Devil's Bridge National Park in the eastern part of the island. Carved over thousands of years by the force of the powerful waves of the Atlantic, this natural limestone arch features blowholes that shoot water upwards in a dramatic show of sea spray.
Devil's Bridge is said to get its name from the stories passed down through the generations of enslaved people from nearby plantations who threw themselves over the bridge, choosing death over slavery.
Insider tip: The waters around Devil's Bridge are very rough and swimming is prohibited. The blowholes pack a lot of force so keep your distance and be careful walking on the slippery surfaces.
It's also incredibly windy on this stretch of the Atlantic coastline. This creates ideal conditions for the Antigua and Barbuda International Kite Festival an annual event in April featuring competitions and hundreds of colourful kites in the sky.
Another fantastic way to experience Devil's Bridge is as part of a full-day luxury catamaran tour of Antigua. Departing from St. John's in the morning, you'll pass by Devil's Bridge, Jumby Bay, Great Bird Island and other key attractions.
You'll enjoy an open bar as well as stops for snorkelling and a delicious Caribbean lunch.

Check prices and availability of the Excellence Power Catamaran tour on Viator.com, a Tripadvisor company.
7. Learn About Antigua's Plantation History at Betty's Hope Sugar Plantation
This Antigua landmark is one of the best places to visit to learn about the island's sugar cane history and the lives of enslaved people who laboured in the sugar trade.
The first and largest sugar plantation in Antigua, Betty's Hope began operation in 1674.
The Antigua Historical and Archeological Society began restoration of Betty's Hope Mill in 1988. The work took eight years to complete and involved carefully refurbishing the mill machinery, the stone floors, timber supports and sails.
Archeologists continue to excavate other buildings at Betty's Hope including the Great House, the small huts of the enslaved workers, the still, the kitchen areas and distillery.
With its intense sun, powerful breezes and interpretive signage within the onsite museum, Betty's Hope is a very evocative site. A guided tour with a knowledgable and accredited local guide is the best way to experience it.
It's an important acknowledgement of the suffering of the enslaved men, women and children who laboured here, and on other sugar estates, in inhumane conditions as part of the Atlantic slave trade.
Check prices and availability of a private tour with transportation on Viator.com, a Tripadvisor company.
8. Encounter Wild Stingrays at Stingray City
One of the most memorable things to do in Antigua is to go swimming with wild stingrays in their natural environment. This unique experience could well be the highlight of your vacation. It definitely was for me!
There's no experience necessary to do it. The activity begins with a safety orientation session at Stingray City Antigua located in the north east part of the island near Betty's Hope Historic Sugar Plantation.
Next. you travel by boat for around five minutes to an offshore dock in the ocean. There you step into the warm water and wait until the stingrays approach you.
It's a remarkable — and I won't lie, somewhat scary — sight to see dozens of giant southern stingrays headed towards you.
Weighing up to 200 pounds each and with wingspans stretching up to five feet it's hard not to think about Crocodile Hunter Steve Irwin who was fatally stung by a stingray off the Great Barrier Reef in 2006.
BUT with the guidance of the experienced Antiguan wranglers who will help you feed the stingrays handfuls of squid, you can safely experience the majesty of these free and remarkable marine creatures.
If you're not into feeding the stingrays you can watch them swim and/or go snorkeling in the clear, warm waters and see a variety of tropical fish up close and personal.
Check rates and availability of swimming with wild stingrays on Viator.com, a Tripadvisor company.
9. Go Snorkelling among Reefs and Shipwrecks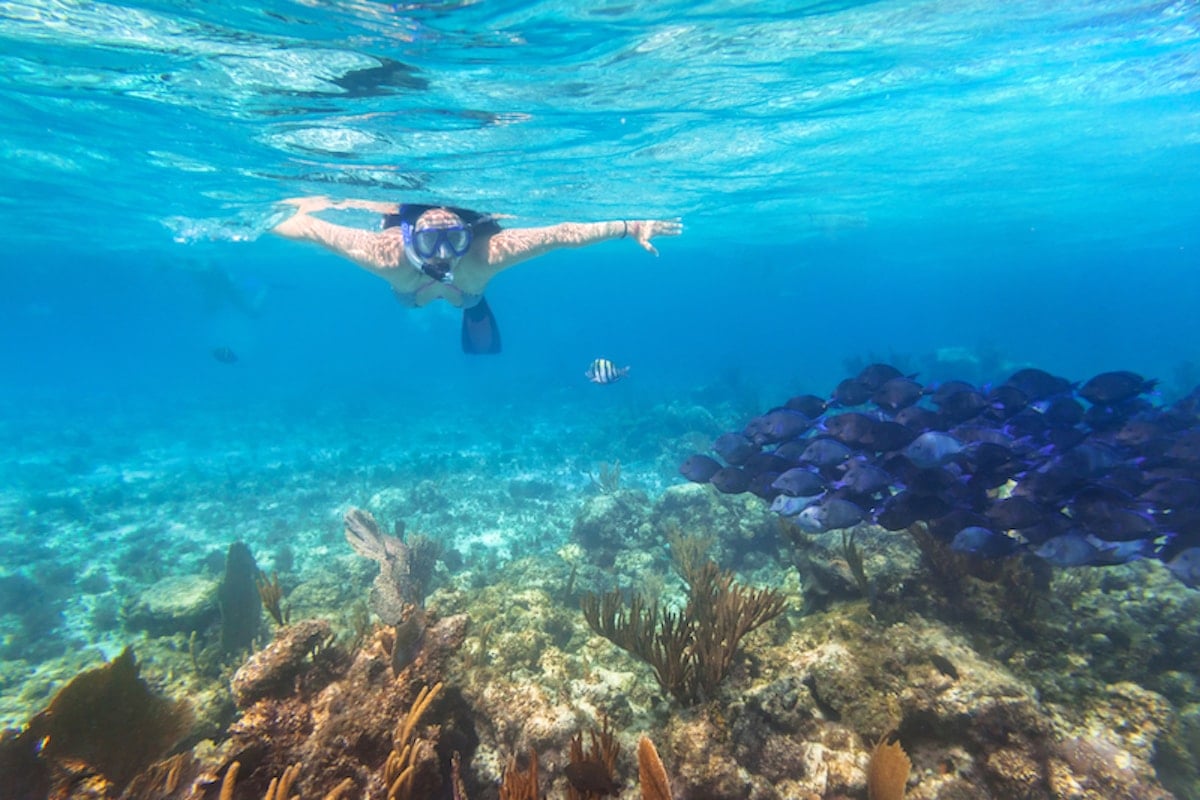 Every Antigua itinerary should include some snorkeling or diving. The waters surrounding Antigua and Barbuda are warm, clear and full of life and intriguing sights.
While Antigua's offshore reefs teem with tropical fish, sea turtles and other marine life, you can also explore the more than 100 shipwrecks recorded around its shores.
The most famous (and accessible) is the 1905 Wreck of the Andes, an 1874 sailing ship that sunk in Deep Bay near St. John's, the capital city.
Other great snorkelling areas include Galley Bay, Dickenson Bay, Halfmoon Bay, Pigeon Point and Long Bay. Coral reefs, colourful fish and fascinating underwater ecosystems are just a few of the things you'll see beneath the waves.
Insider tip: If you've never snorkelled before, it's best to take an escorted tour or stay in the shallow waters close to shore.
Check rates and availability of Cades Bay Reef Snorkeling with Viator.com, a Tripadvisor company.
10. Witness A Sea Turtle Nesting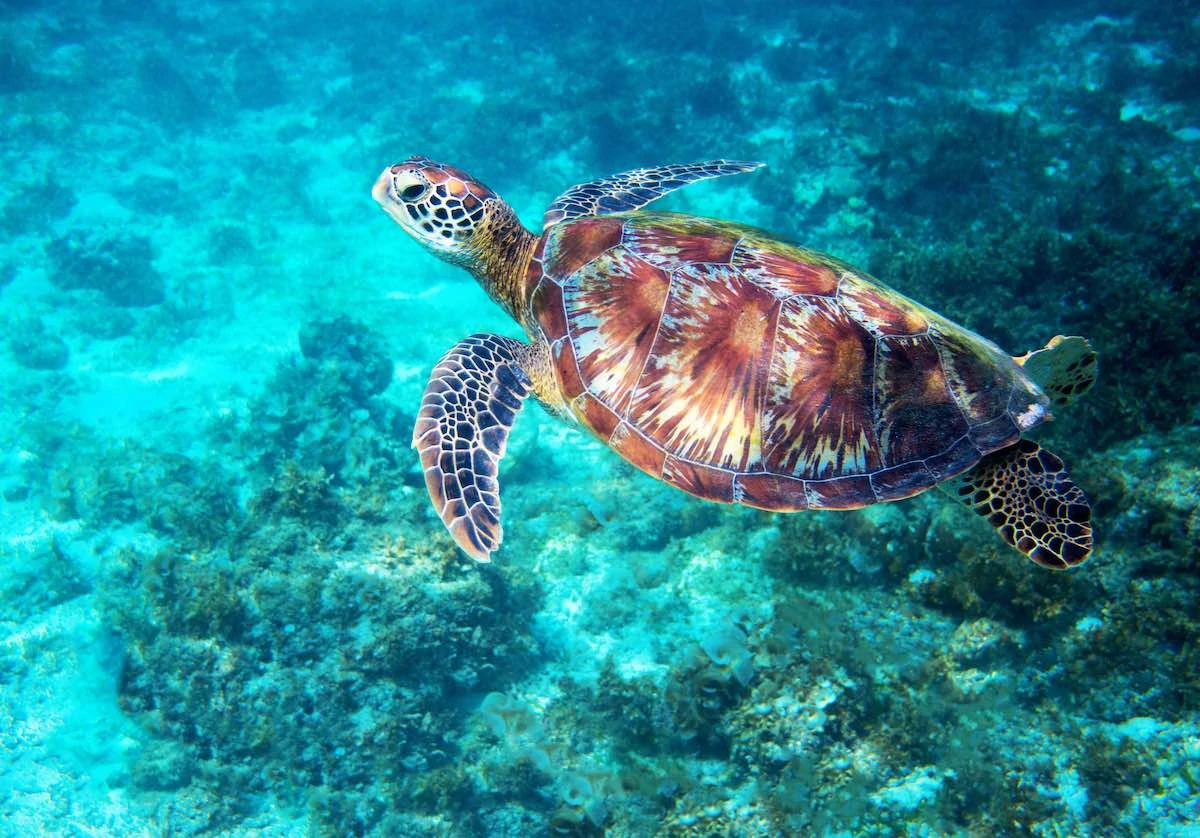 If you time your visit right, you can also see marine life without even getting wet. From June through October, Antigua is a major nesting site for the endangered Hawksbill sea turtle as well as green and leatherback turtles.
While you can swim with turtles while snorkelling and diving, during nesting season the turtles come ashore to lay their eggs in the sand.
The eggs incubate for two months before hatching and visitors can witness the hatchlings making their mad dash for the sea.
The Environmental Awareness Group (EAG), Antigua & Barbuda's oldest environmental not-for-profit organization, offers guided tours to select nesting beaches where you can witness this spectacular phenomenon.
This is a must do in Antigua for families.
Insider Tip: EAG offers opportunities to join their volunteer sea turtle patrol team. Watch the EAG Antigua Facebook Page for dates and application details
11. Sip Some Antigua Fine Rum and Rum Cocktails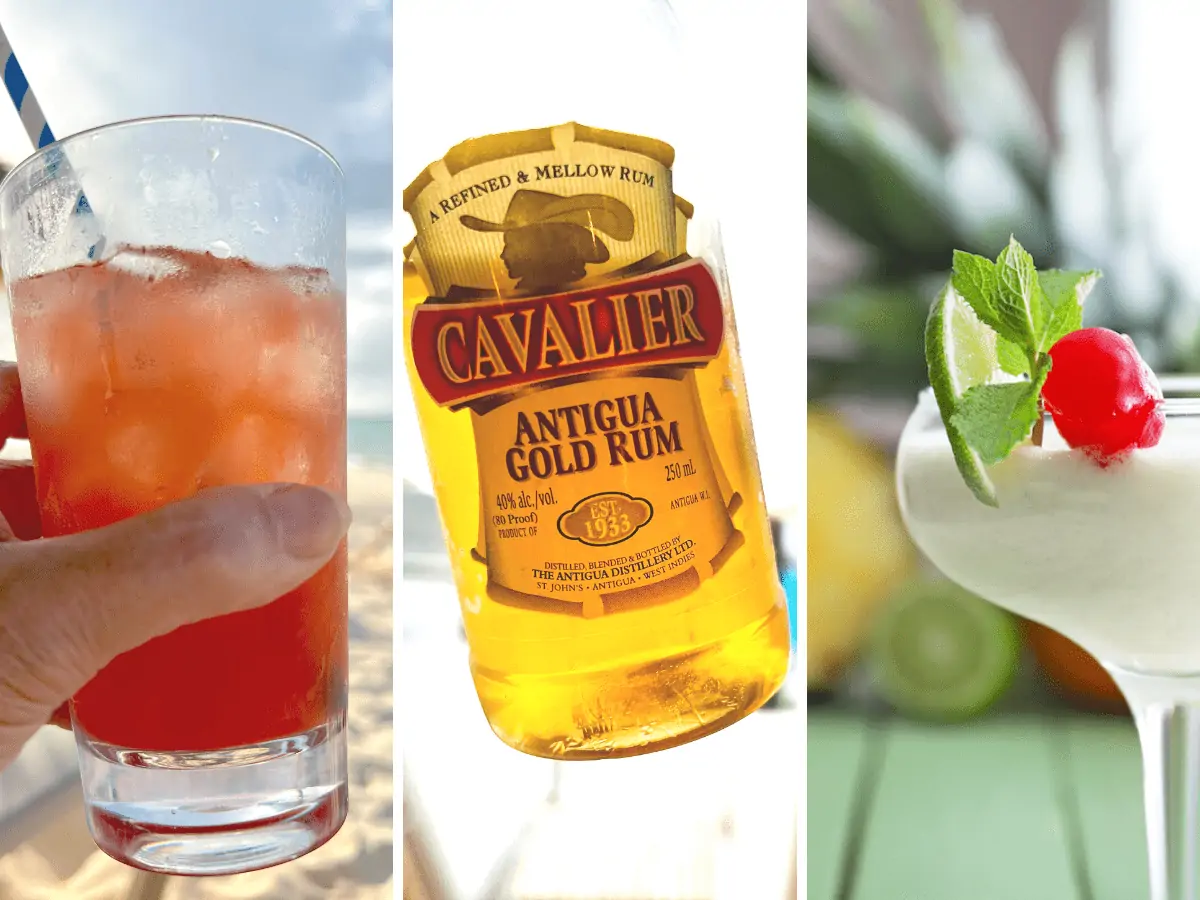 The Caribbean is known the world over for its fine rum production and Antigua is no exception. The Antigua Distillery has been producing high-quality rums for almost 100 years.
For years, the distillery's Cavalier rum was the most popular but today English Harbour rum has risen in popularity. This mellow rums is fruity and spicy with a touch of oak.
Visit the Antigua Distillery where you can take a tour of the production facilities and sample some of the rums in the on-site tasting room.
Insider Tip: You can even take a hands-on 4 hour cooking class and learn about how to prepare a variety of delicious Caribbean dishes and cocktails featuring the island's iconic spirit.
Check prices and availability of a Cooking with Rum Class on Viator.com, a Tripadvisor company.
12. Marvel at the Boonji Spaceman Sculpture at Hodges Bay Resort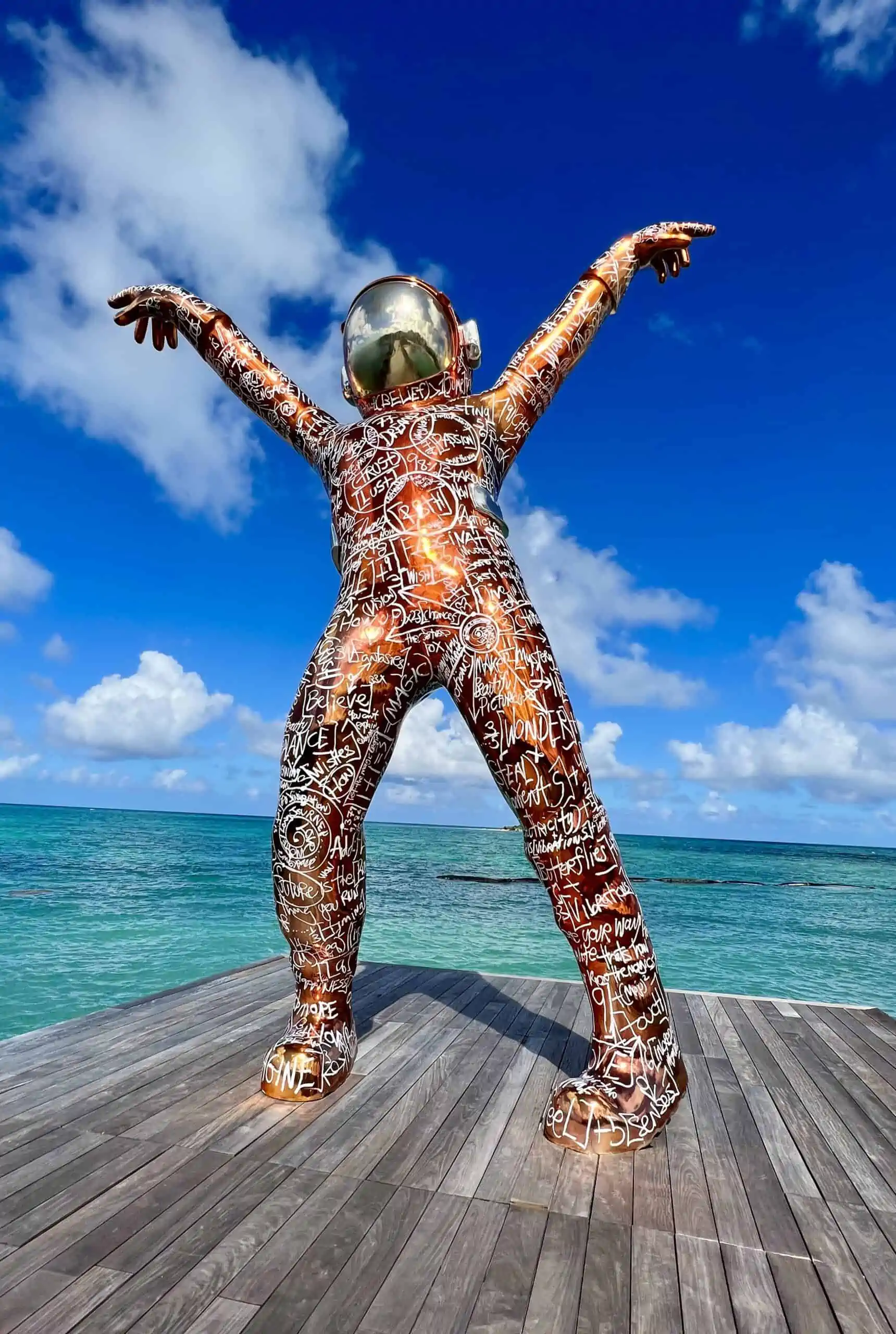 The luxurious Hodges Bay Resort & Spa in St. John's is home to an amazing attraction. The Boonji Spaceman is a 20-foot tall chrome sculpture created by the famous contemporary artist Brendan Murphy.
Made of carbon fiber with a steel core and silver based chrome finish, the Boonji Spaceman is the tallest sculpture of its type in the Caribbean and reflects the sunlight in stunning colour.
If you're a guest at Hodges Bay Resort, you can see The Boonji Spaceman at the end of the pier on the beach. If you're not a guest you can catch a glimpse of it on a boat tour.
Insider's Tip: Hodges Bay Resort also showcases a collection of art with some of Murphy's other well-known works and as well as work by local up-and-coming and established artists.
Check rates and availability at Hodges Bay Resort & Spa on Booking.com.
13. Visit St. John's Cathedral and Museum of Antigua and Barbuda in St. John's
Other popular places to visit on an island sightseeing tour are the St. John's Cathedral and the Museum of Antigua and Barbuda.
Set on a hill overlooking the capital city, St. John's Cathedral was originally built in 1681 but fell into disrepair. The impressive building standing today dates to 1845 and is a majestic Baroque building with impressive twin towers.
It's currently closed for renovations so check the official website for news on when it will reopen for worship or tourism.
Another historic attraction that will be of special interest to family travellers is the Museum of Antigua and Barbuda located in the historic courthouse that was built in 1747.
The exhibits showcases Arawak and colonial artefacts uncovered during archaeological digs. It also features replicas of an Arawak house and sugar plantations.
Insider tip: The museum has a gift shop where you can find local pottery, books, jewellery and one-of-kind souvenirs and gifts.
Check prices and availability of a guided Scenic Tour of Antigua on Viator.com, a Tripadvisor company.
14. Take a Sightseeing Helicopter Tour of Antigua
The best way to appreciate Antigua's landscape of emerald forest fringed by white sand and blue sea is from the cockpit of an Airbus EC130 CalvinAir helicopter.
On these pilot-narrated sightseeing tours you'll soar over Antigua landmarks such as Shirley Heights, Nelson's Dockyard, English Harbour, Fort James and more.
Choose from a full (26 minutes) or half-island (15 minute) helicopter tour.
You might even spot the sprawling villas of celebrities such as Eric Clapton, Oprah Winfrey and Giorgio Armani along the way.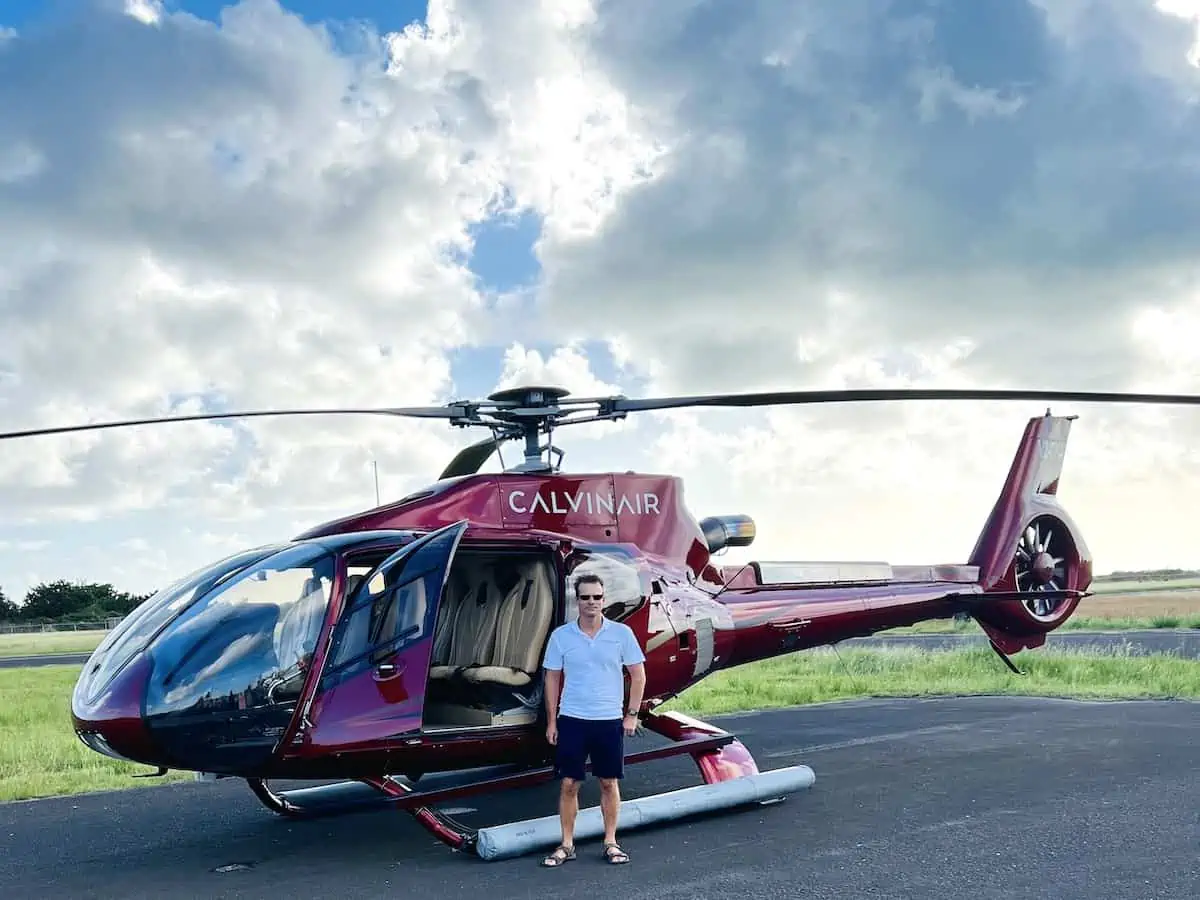 Another unforgettable thing to do is take a 15-minute charter flight to Barbuda. This aerial journey was even showcased on Season 9, Episode 10 of The Bachelorette, the popular ABC reality series.
Combined with a relaxed day on a pink sand beach or Princess Diana Beach, you've got the perfect ingredients for a marriage proposal.
CalvinAir also offers a very popular Montserrat Volcano Tour to see the exclusion zone and still-active Soufrière Hills volcano on the nearby island of Montserrat.
The stratosphere volcano erupted in 2017, burying the island's former capital of Plymouth under volcanic ash. It's a once in a lifetime experience to see this modern-day Pompeii from the air.
15. Enjoy Fine Dining in both Antigua and Barbuda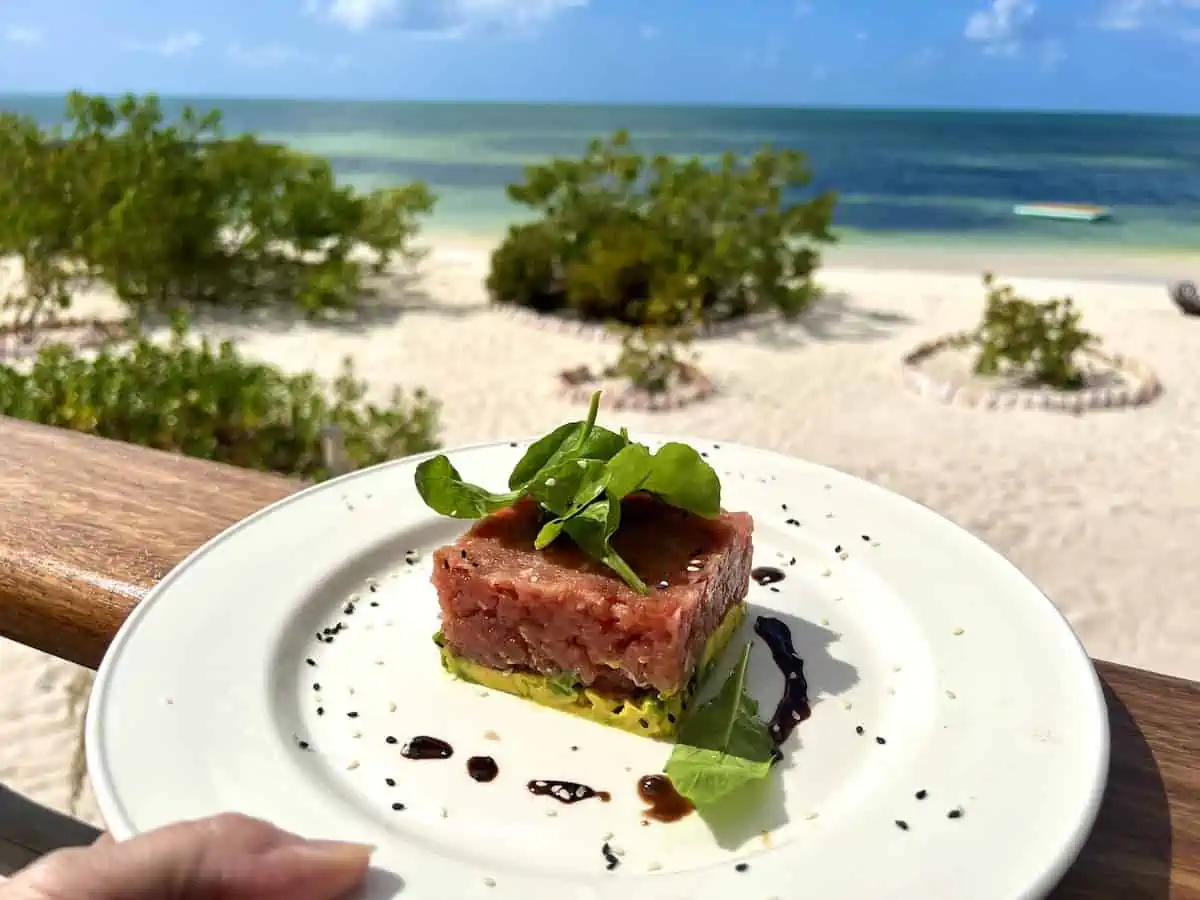 Culinary travellers will be thrilled with the array of fine dining options in both Antigua and Barbuda.
Barbuda Fine-Dining
A top thing to do for food fans is to spend a relaxed afternoon at Robert de Niro's Nobu Barbuda. This new addition to the Nobu brand offers classic signature dishes such as Miso-Marinated Black Cod along with locally-inspired specialties such as Island Rum Roasted Pineapple Sorbet.
The restaurant's tables are set directly on Princess Diana Beach, a ribbon of crystal-white sand that was a favourite of Diana, Princess of Wales and the young princes in the 1990s.
At the Barbuda Belle, a boutique hotel accessible only by boat, you can dine al fresco at the resort's new bar and grill where specialties include grilled spiny lobster and tuna tartare with local Antigua black pineapple.
Antigua Fine-Dining Restaurants
Also popular among foodies is Sandals Grande Antigua Resort & Spa, set on Dickenson Bay. This all-inclusive, adults-only resort features 11 restaurants (for guests only).
Gourmet dining includes Mario's (Italian), Eleanor's (Pan Caribbean), Barefoot by the Sea (seafood and grilled specialties), Drunken Duck (British pub fare), Kimonos (teppanyaki), OK Corral (Tex-Mex), Soy (Sushi), Courtyard Bistro (snacks), Cafe de Paris and Bella Napoli pizzeria.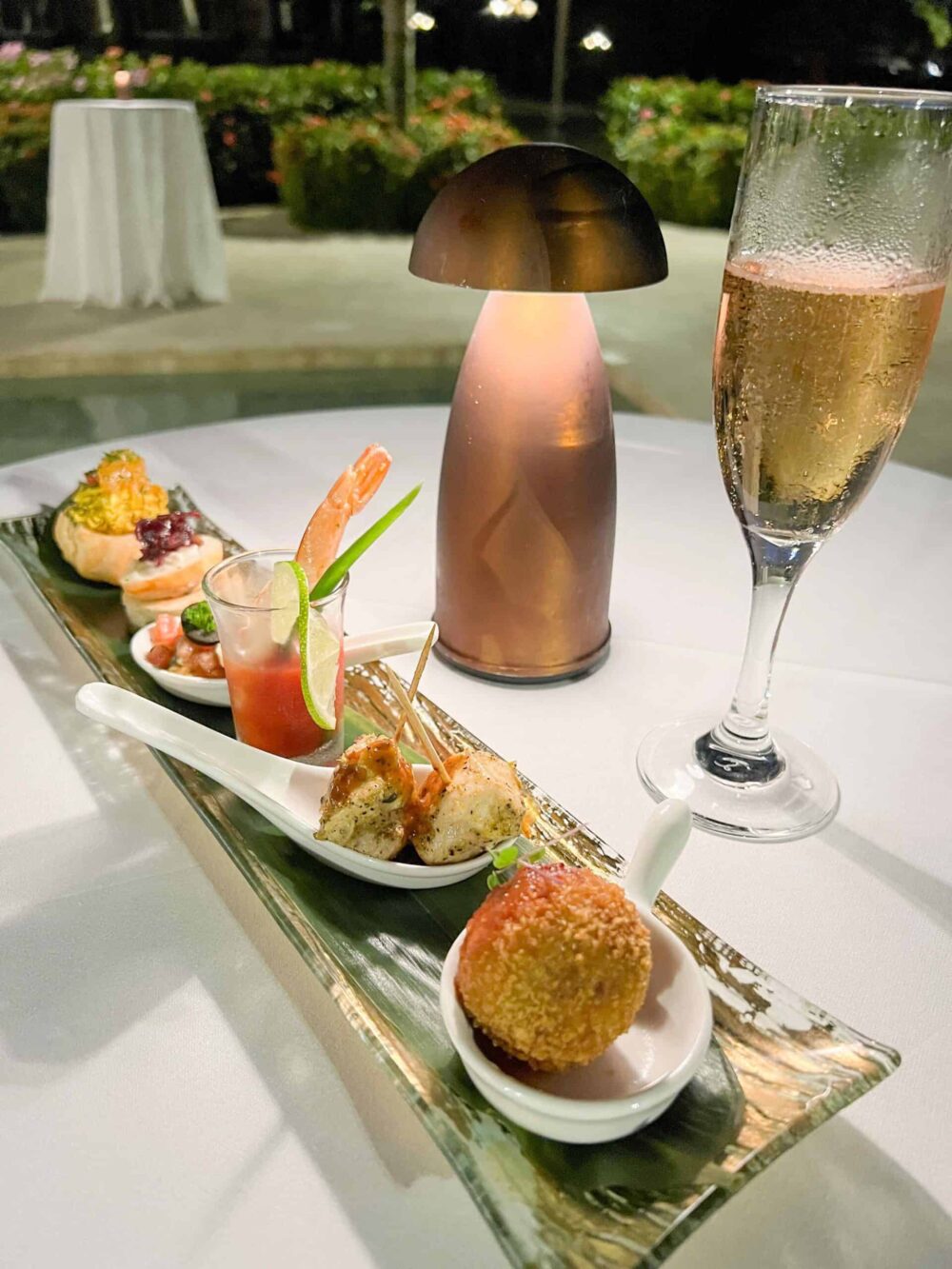 Known for its views, Blue Waters Resort & Spa is another hot spot for gourmet dining. It's home to the acclaimed fine-dining restaurant The Cove known for its creative French-Caribbean cuisine.
Le Bistro is another fine-dining mecca for French cuisine. Helmed by acclaimed Chef/Owner Patrick Gauducheau, le Bistro regularly makes the list of top restaurants in the Caribbean.
The menu features local ingredients such as Antiguan pumpkin, lobster and black pineapple as well as the house specialties of escargots, dover sole and crepes suzette. Vegetarians will be thrilled with the options at Le Bistro.
To avoid disappointment, be sure to make reservations well in advance.
16. Witness the Nesting Rituals of Magnificent Frigate Birds at Codrington Lagoon
A must-see for birdwatchers and nature lovers, Codrington Lagoon in the western end of Barbuda is a diverse ecosystem of mangroves that support the largest magnificent frigate bird colony in the Caribbean.
During mating season, male frigate birds inflate their throat pouches into brilliant red balloons to attract the attention of females in a spectacular courtship display.
The best way to see this unique natural phenomenon is to stay at the Barbuda Belle boutique hotel or take a guided tour by boat to Man of War Island in the centre of the large salt-water lagoon in Codrington Lagoon National Park.
This bird sanctuary is one of the region's top natural attractions. In addition to serving a valuable role during the frigate bird mating season, many other species of seabirds come to this safe haven to feed on baby fish, crab and shrimp.
Check rates and availability of a Guided Tour to the Frigate Bird Sanctuary on Viator.com.
17. Spend a Day at Princess Diana Beach in Barbuda
In the 1990s, Barbuda was a favourite getaway for Diana, Princess of Wales, and young princes William and Harry. Paparazzi anchored offshore with telephoto lenses aimed at the K Club, a now-shuttered resort where she escaped the limelight.
This beautiful crescent-shaped, shoreline is known for its white sand, abundance of pretty shells and crystal-clear waters suitable for swimming and snorkelling.
If you want to escape the crowds and experience a pristine Caribbean beach, this is the perfect place.
While Princess Diana Beach has few amenities, it is home to a small bar selling rum punch. The legendary Japanese restaurant Nobu Barbuda is further north along the beach.
Make reservations at Nobu online in advance. It's open noon – 6pm. Wednesday to Sunday seasonally.
18. Marvel at a Pink Sand Beach in Barbuda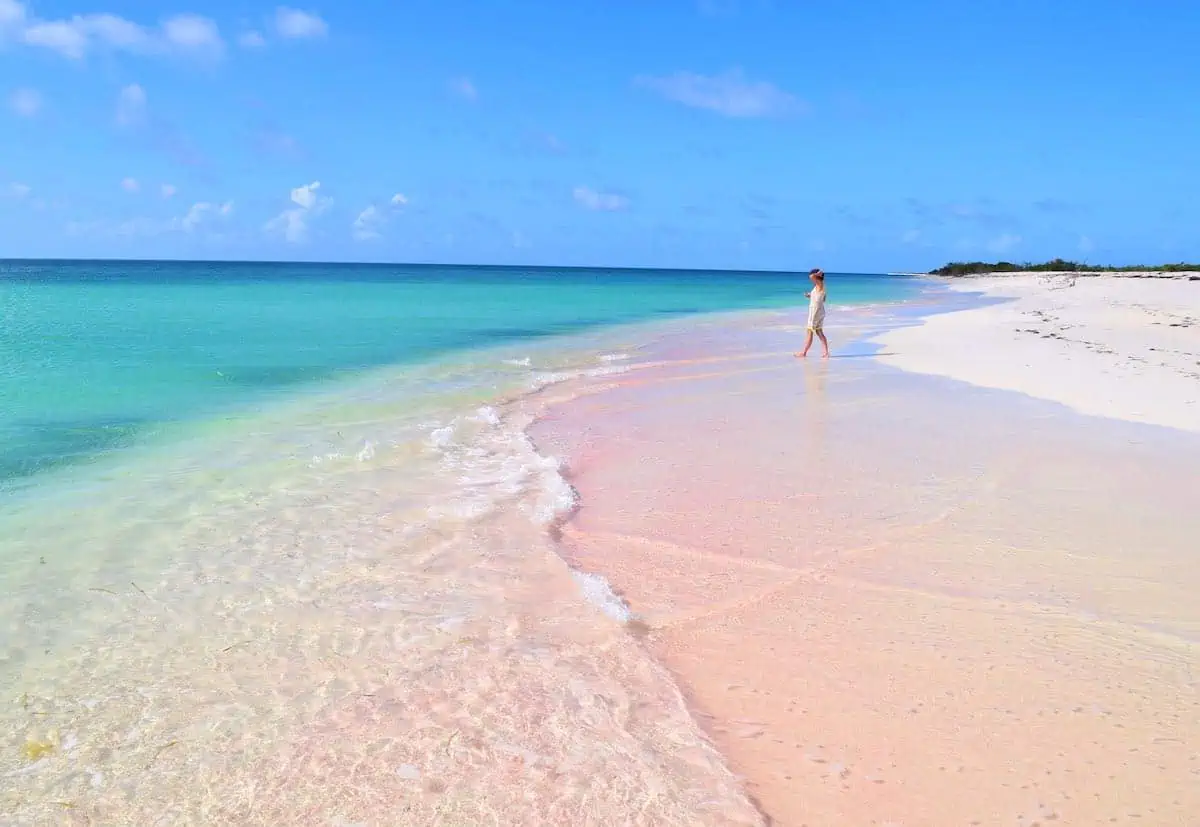 Pink Sand Beach on Barbuda is aptly named because the sand often takes on a pretty pink hue. Along with pink sand beaches in the Bahamas, Bermuda and Bonaire, it's one of the world's best pink beaches.
As you stroll along this eight-mile stretch of soft sand, you'll enjoy peace and seclusion away from the crowds. The pink sand actually stretches from Pink Sand Beach to Cedar Point Beach.
Note: Because the pinkness of the sand is dependent on tides, seasons and the amount of crushed coral mixed in, it may not be as pink during your visit.
Located south of Pink Sand Beach, Uncle Roddy's Restaurant is a prime spot for a beach day. They serve Caribbean specialties such as stewed oxtail, mahi-mahi and cream of pumpkin soup as well as cocktails.
19. Hike to See Ancient Petroglyphs in Barbuda Caves
Beyond its beaches, another of the main attractions on Barbuda are its network of caves, caverns and sinkholes, carved into its limestone core.
At Two Foot Bay National Park on the northeastern coast, you can explore Two Foot Bay Cave and hike past ancient petroglyphs created by the Arawak indigenous peoples on the cave walls.
Get details on Indian Cave, Darby Cave and Dark Cave, home to several bat colonies and a rare species of blind eye shrimp, on the official Visit Antigua and Barbuda website.
Another famous cave is Bat Cave in the parish of St. Paul's, Antigua. You'll need to get the approval of the Environmental Awareness Group (EAG) before your hike.
20. Take a Sunset Cruise by Catamaran
Antigua is famous for its spectacular sunsets. One of the best ways to enjoy an unforgettable sunset is on a luxury cruise by catamaran along the coast.
Sip a rum punch and relax on the sundeck while you take in the views. You can even dance to the sounds of reggae and calypso beats as the last rays of sun disappear beneath the horizon.
Check prices and availability of the Excellence Power Catamaran tour on Viator.com, a Tripadvisor company.
21. Experience Antigua's Awesome Rainforest on a Ziplining Adventure
Antigua's landscape features a mix of vegetation including rubber trees, mahogany, giant bamboo, climbing vines and orchids.
For kid-friendly fun, take a thrilling journey through the rainforest at Antigua Rainforest Zipline Tours.
This guided 4-hour aerial adventure features 10 ziplines, two suspension bridges and nine rope challenges.
Check rates and availability of Antigua Ziplining Canopy Adventure from St. John's on Viator.com.
Is Antigua and Barbuda Safe?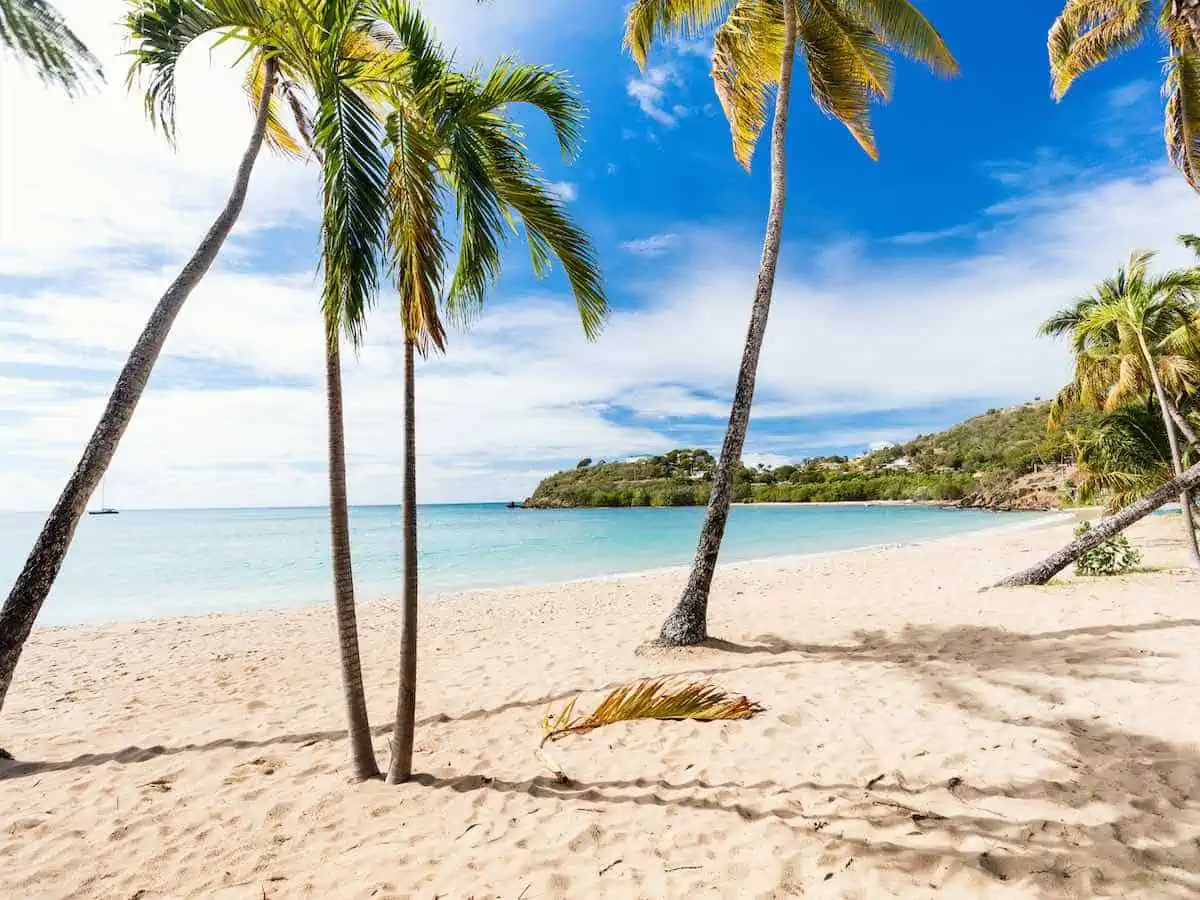 While petty crime can be an issue everywhere in the Caribbean (and most everywhere!), Antigua and Barbuda is a safe destination for tourists to visit.
As of May 16, 2022, The U.S. Department of State travel advisory for Antigua and Barbuda was a Level One – Take Normal Precautions. This is the highest safety level they issue.
In 2020, the World Bank gave Antigua & Barbuda a safety score of 9. This puts it on par with the Dominican Republic and safer than Grenada (12), Puerto Rico (18), Belize ( 26) and many other countries in the Caribbean.
To save money and avoid annoyances, it's wise to avoid common travel mistakes. Download our free e-book of the biggest mistakes most people make on a Caribbean vacation!
Money
The Eastern Caribbean dollar (EC) is the official currency.
Pro Tip: Don't do as I did on my first visit and confuse Eastern Caribbean dollars for US dollars! Prices might be shown as EC$ or just a $ sign.
The exchange rate is US $1 = EC $2.70.
It's easy to overpay if you get currencies confused. So if you're not sure, just ask!
How to Get to Barbuda
Barbuda: Barbuda is accessible by ferry, direct scheduled flights on SVG Airlines (booknow.antigua-flights.com) and CalvinAir helicopter charter (www.calvinair.com) from Antigua.
Best Places to Stay
I've stayed at and visited hotel, resort and villa properties on many Caribbean islands. Antigua offers one of the widest ranges of appealing hotels, resorts and unique lodgings I've seen.
There's everything from sprawling all-inclusive luxury brands to budget-friendly, independently-owned cottages. If you're on the island for the day, you can even get a day pass to Sandals Grand Antigua Resort to check it out (subject to availability).
Here's a run down of my favourite places to stay and why.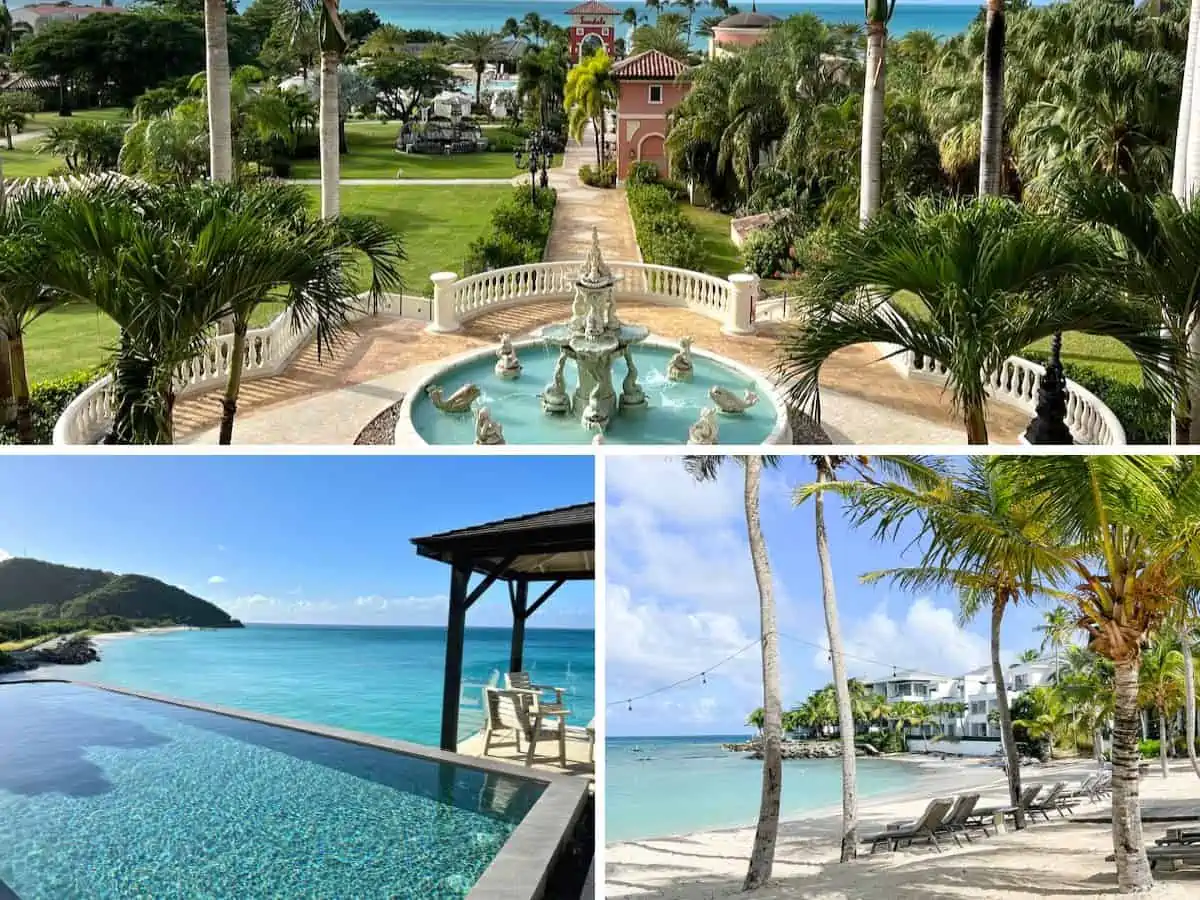 Book an Antigua Hotel:
Tamarind Hills: – This newly built upscale villa development near Jolly Harbour features stellar views of Darkwood and Ffryes beaches, full kitchens and a contemporary decor. Great for couples, families and families.
Check rates and availability at Tamarind Hills on Booking.com.
Sandals Grande Antigua Resort & Spa: A luxury, couples-only, all-inclusive resort on Dickenson Bay, home to the island's best beach.
Its mature landscaping, unique design with spread across two sections, the Mediterranean Oceanview Village and the Caribbean Beachfront Village with rondovals, and 11 restaurants are among the many reasons it often gets voted the world's most romantic resort.
This beach has historically not been affected by seasonal sargassum seaweed. We consider it one of the best beaches in the Caribbean without seaweed.
Check rates and availability at Sandals Grande Antigua Resort & Spa on Booking.com.
Hodges Bay Resort & Spa: Stay where celebrities like Ashanti stay! This Instagramable resort offers a private, white-sand beach, loads of art and posh rooms. Plus, unlimited photo-ops with the Boonji Spaceman art installation!
Check rates and availability at Hodges Bay Resort & Spa on Booking.com.
Blue Waters Resort & Spa: Set on a secluded bay on Antigua's northwestern shore, this refined luxury property is also home to the acclaimed fine-dining restaurant The Cove.
Check rates and availability at Blue Waters Resort & Spa on Booking.com.
Ellen Bay Cottages: A studio and 2-bedroom apartment units near Long Bay Beach in the village of Seatons. A bright and cheerful budget option.
Check rates and availability at Ellen Bay Cottages on Booking.com.
Book a Barbuda Hotel:
Barbuda Belle: This secluded luxury boutique hotel is set on a beautiful beach on the western shores of Barbuda within Codrington Lagoon Park. It offers relaxed luxury with an eco-friendly vibe and elevated dining.
Barbuda Cottages: These pastel beachfront cottages on stilts channel the spirit of carefree Caribbean. Uncle Roddy's, one of the best places to eat on Barbuda, is next door.
Antigua & Barbuda Tourism Authority: visitantiguabarbuda.com
Save to Pinterest!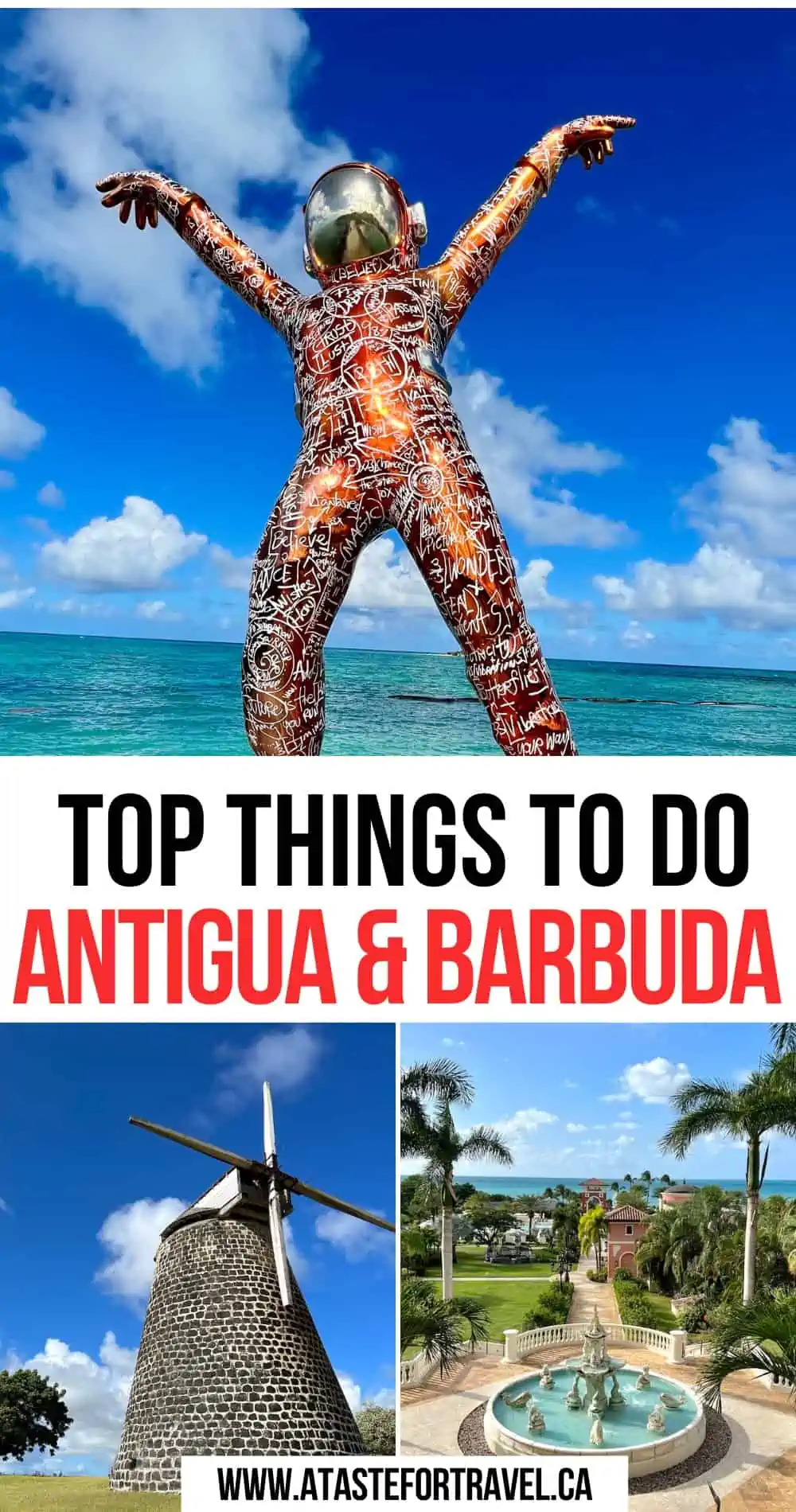 Dividing her time between Canada, Guatemala and Mexico (or the nearest tropical beach), Michele Peterson is the founder of A Taste for Travel. Her award-winning travel and food writing has appeared in Lonely Planet's cookbook Mexico: From the Source, National Geographic Traveler, Fodor's and 100+ other publications.
Read more about Michele Peterson.