We may earn income from links in this post. Please read this Disclosure for details.
Spending a night in a luxury castle hotel in Ireland is a magical experience.
Being away from the crowds of daytime visitors allows you to soak up the enchanting atmosphere of hundreds of years of history and enjoy the romance of incredible scenery, sumptuous suites and amenities galore.
Staying in an Irish castle is definitely a bucket list thing to do in Ireland.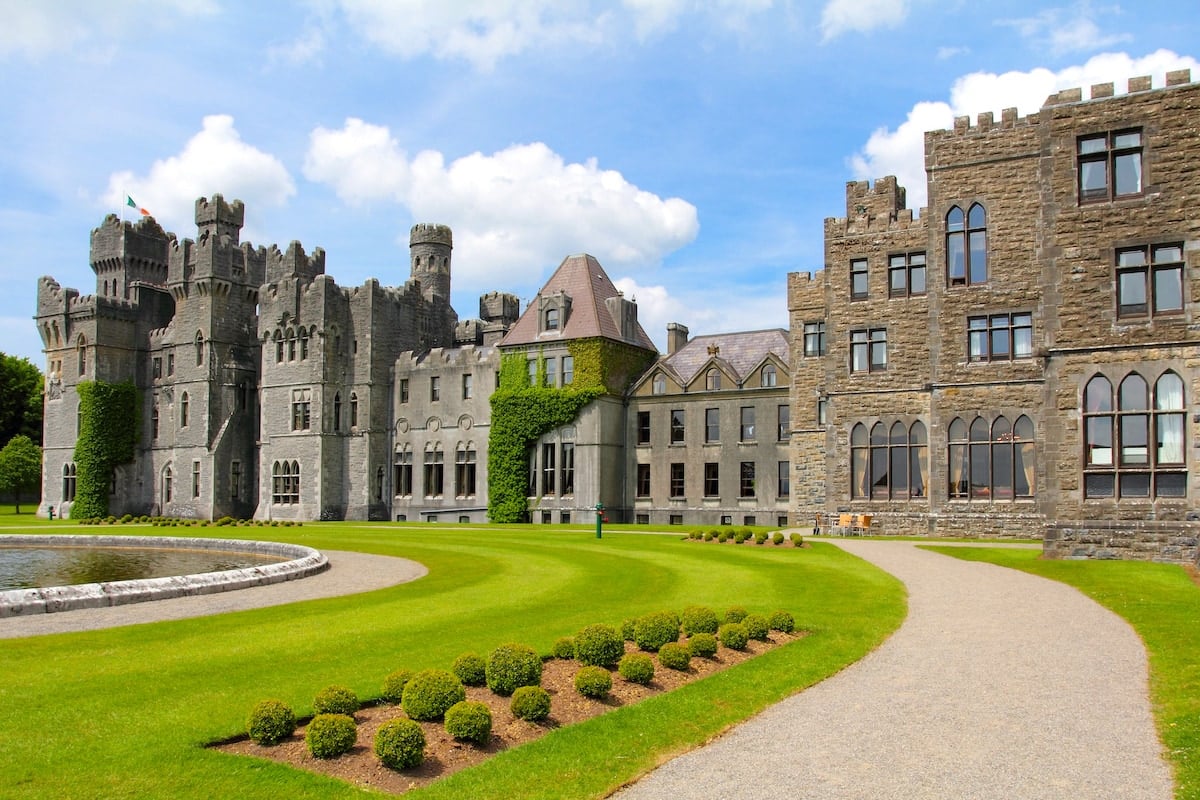 While visiting an Irish castle during the day is a must-do on any vacation in Ireland, you really need to sleep in one overnight in order to experience everything that storybook castle accommodation has to offer.
For culinary travellers, there's the added bonus of great Irish food — locally-sourced and regionally-inspired — crafted by some of Ireland's top chefs.
What is an Irish Castle Hotel?
But, first of all what exactly is a castle? How is it different than a fortress, a fortified manor house or a monastery?
Castles in western Europe date to the 9th century when they were constructed of stone as private fortresses.
Located in strategic positions with vantage points for spotting invading forces they were often surrounded by moats with drawbridges that could be raised for defence.
Originally the living quarters were located within the heavily fortified, interior of the castle.
After the Renaissance, there was a separation between military and domestic castle architecture.
Many manor houses and palaces were designed as a castle-style residences but they aren't officially castles.
Famous Irish Castles
While you're sure to see many picturesque castles on your travels in Ireland, you're not able to stay in all of them.
Some Irish castles, such as Trim Castle (famous for appearing in Mel Gibson's film Braveheart) and Castle Ward (seen in Game of Thrones) are famous Irish landmarks.
But you can't actually overnight in them.
In the case of Trim Castle Hotel for example, guests stay in a modern hotel across the street from Trim Castle itself.
While this can be an affordable option, in this list of the best castle hotels in Ireland, we've narrowed our recommendations to castles you can actually sleep in.
10 Dreamy Castle Hotels in Ireland to Stay in
Not only can you sleep in each of these Irish castles, but they also feature the magical combination of fairytale architecture, antique furniture like four poster beds and perfect locations.
Note: Because castle lodgings are located outside of major cities, you'll need to take an escorted tour that includes a castle stay or rent a car to get there.
To get the best deal on your car rental in Ireland, compare rates and reserve at Discovercars.com an online car rental website.
Whether you're planning on spending 7 days in Ireland or you're just visiting for a few days, there's definitely a castle hotel to fit your budget, interests and schedule.
1. Ashford Castle in County Mayo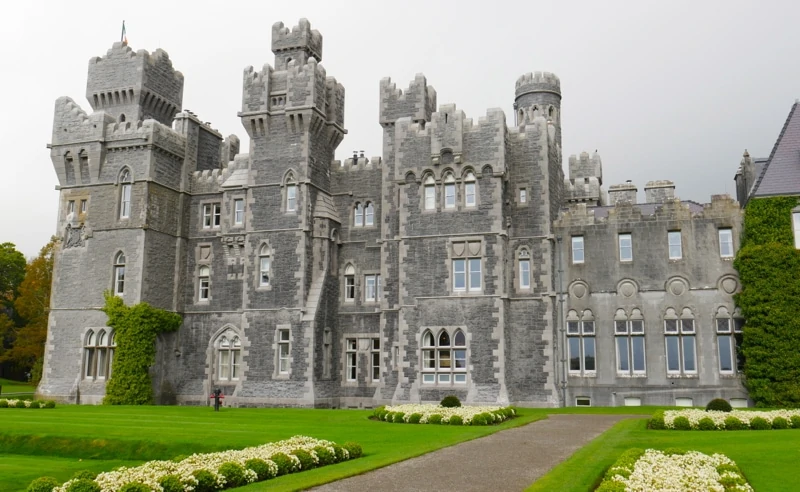 Set on 140 hectares within an archipelago of lakes, streams and woodland forest, this opulent hotel near Galway in County Mayo is at the top of the list of luxury castle hotels in Ireland.
Ashford Castle's silhouette has evolved since it was first built in 1228 as an Anglo-Norman stronghold.
Reinvented as a French chateau in the 1700s and then as a summer residence for the Guinness family from 1852 to 1939, the estate is set on Lough Corrib the largest lake in Ireland.
It's one of the top places for fly fishing in Ireland. You can expect to catch wild brown trout, salmon and pike in the area. The Ashford estate stretches north to the village of Cong.
In 2013, the Tollman family of The Travel Corporation (which includes Insight Vacations, Uniworld, Trafalgar and more) purchased Ashford Castle.
They upgraded the interior's plumbing, electrical and 826 windows, while adding opulent antiques, gleaming oak woodwork, lavish guest rooms and contemporary amenities such as a luxurious spa.
It's now one of the world's top hotels and one of Ireland's most luxurious (and most expensive) castle stays. Visiting Ashford Castle is definitely one of the top things to do in Galway.
🌟 Insider Tip: While one of the top experiences is enjoying the posh afternoon tea at Ashford Castle , foodies also won't want to miss dining at the onsite restaurant.
The elegant George V Dining Room sparkles with Waterford Crystal and Murano glass chandeliers. Under the direction of skilled Chef Philippe Farineau, the cuisine celebrates the land's seasonal bounty.
Highlights of the 12-course tasting menu include wild venison with sweet black current gel and Mrs Tollman's own recipe for creamy Billi Bi Mussel Soup.
Check prices and availability for the Lodge at Ashford Castle (located BESIDE Ashford Castle) on Booking.com
Click here to check prices and availability for Ashford Castle Hotel on their website.
2. Kilkea Castle Hotel in County Kildare
Purchased a few years ago by Boston-based builder Jay Cashman and his actress wife, Christy, Kilkea Castle is Ireland's oldest continuously inhabited castle. It's also one of the most beautiful castle hotels in Ireland.
Set on 180 lushly landscaped acres in County Kildare, the medieval fortress was originally built by Sir Walter de Riddlesford in 1180.
His granddaughter eventually inherited the property and married Maurice Fitzgerald, the 3rd baron of Offaly. From that point on, Kilkea Castle Hotel remained in the Fitzgerald family for over 700 years.
Now the castle has been completely refurbished, and "posh" is the best way to describe the new interior. From the welcoming bar and intimate private dining area to the fantastic restaurant and lovely English gardens, Kilkea Castle is a very memorable stay.
🌟 Pro Tip: On a honeymoon? Opt for the Ernest Shackleton Suite (named after Kildare's famous explorer) in this castle hotel. It boasts a massive king size bed, a gorgeous sitting area with a window overlooking the verdant grounds, a romantic fireplace, and luxury toiletries.
Click here to check for lowest prices on Kilkea Castle Hotel on Booking.com
Bret Love & Mary Gabbett, Green Global Travel
3. Abbeyglen Castle Hotel in Galway County
Ever want to feel like royalty for a day? Well, you can have your chance at Abbeyglen Castle Hotel in County Galway, one of the best counties in Ireland for culture, pubs and music.
This property, which was constructed in 1832, has a variety of classic bedrooms available. But there are also nine luxurious suites available fit for kings and queens.
Right from the warm welcome you'll receive upon arrival to the amazing services and amenities, you'll feel pampered and relaxed.
On site, you'll find a wellness centre, fitness centre, tennis court, a lounge, a four-mile walking trail and a piano bar that often hosts live music and storytelling.
The castle restaurant features traditional gourmet dishes showcasing local seafood and produce. Abbeyglen Castle is only a short walk away from the tiny coastal town of Clifden, known for its Connemara ponies and selection of charming pubs and shops.
Abbeyglen Castle Hotel is one of the best Irish castle hotels for families.
🌟 Insider Tip: Communal bonfires are held outside each night. They're a fun opportunity to meet new people while singing songs and telling stories under the night sky.
Check rates and availability at AbbeyGlen Castle Hotel on Booking.com
4. Kilronan Castle Estate & Spa
Situated in County Roscommon in western Ireland, Kilronan Castle Estate & Spa is a beautiful property built in the 1700s. It's one of the best castle stays in Ireland.
It looks like something you'd see in a fairytale. But behind the huge gates and sturdy walls is a world of modern amenities, luxury accommodations, fine dining and relaxing spa experiences.
Inside the thoughtfully restored guest rooms and suites, you'll find a wealth of antique furnishings. The on-site dining experiences include the exquisite Douglas Hyde Restaurant, the drawing room and Palm Court, where Afternoon Tea is served daily.
🌟 Pro Tip: This castle hotel is located on 40 acres of secluded woodlands. The meandering forest trails are the perfect place to get away from it all and be one with nature.
Check rates and availability at Kilronan Castle Estate & Spa on Booking.com.
5. Lough Rynn Castle and Estate in County Leitrim
Once the family home of the Clements family and well-known Lord Leitrim, Lough Rynn is now a luxury castle hotel in County Leitrim and one of the best castle accommodations in Ireland.
With a unique marriage of old-world grace and modern opulence, walking around this beautiful and historic property is like taking a walk into the past.
Outside, you'll find walled gardens, hundreds of acres of stunning vistas and an abundance of secluded areas where you can just be one with nature.
Inside, you'll find several dining options including the Dungeon Bar and the award-winning Sandstone Restaurant where you'll enjoy delicious dishes made with fresh produce straight from the on-site garden.
No need to worry about sleeping in a drafty castle room! At Lough Rynn Castle your luxurious guest room or suite features underfloor heating.
🌟 Insider Tip: Afternoon tea is served each day between 1:00 PM and 4:00 PM in the elegant drawing room.
Check rates and availability at Lough Rynn Castle on Booking.com.
6. Castle Leslie Estate in County Managhan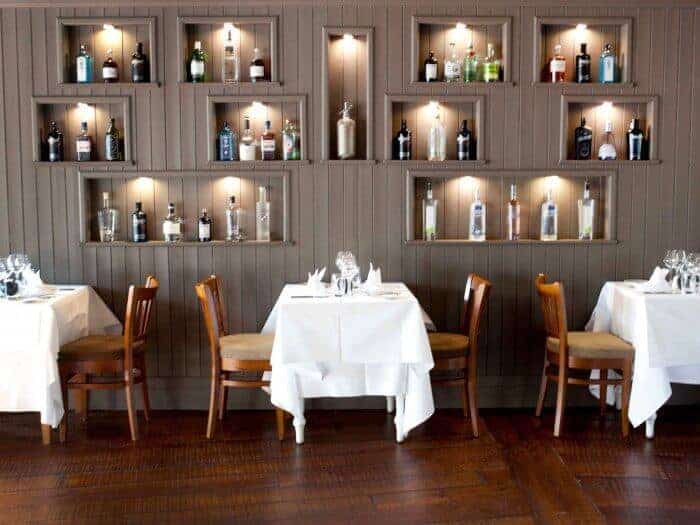 Raise a glass to Castle Leslie Estate, an Irish castle hotel in Monaghan that has scooped many prestigious awards.
In addition to the castle's acclaimed past, the odd secret passage or two and a guest list that includes Sir Paul McCartney (who married second wife, Heather Mills here), Castle Leslie Estate is known for its fine-dining restaurant, Snaffles, a spacious brasserie with a wood-burning stone oven and a hand-carved ceiling.
It's also surprisingly affordable.
🌟 Insider Tip: Castle Leslie's restaurant has a newly-expanded gin menu that lists more than 80 gins. One to try? Bertha's Revenge, a small batch Irish milk gin made with 18 different botanicals such as sweet woodruff, cardamom and cumin.
Check rates and availability for Castle Leslie Estate Lodge Ireland on Booking.com.
Carol Perehudoff, Wandering Carol Luxury Travel Blog
7. Clontarf Castle Hotel, Dublin
If you're looking for a castle hotel in Ireland that's close to Dublin and family-friendly then you won't be disappointed with Clontarf Castle.
This beautiful luxury castle hotel is only 15 minutes outside of the heart of the city and north of the quaint fishing village of Howth. It's one of the best day trips from Dublin.
There has been a castle on the grounds since the Viking days, but the current castle was built in the early 1800s. The interior is beautifully designed, but quite commercial and busy.
If you go, be sure to check out the beautiful wooden bar and eat in the restaurant which was full of locals willing to talk with us.
🌟 Pro Tip: Clontarf Castle Hotel is one of the best castles to stay in for families. Here are some suggestions for things to do if you've got 48 hours to spend in Dublin.
Click here for the best prices on Clontarf Castle Hotel near Dublin, Ireland on Booking.com
Jamie Italiane, The Daily Adventures of Me
8. Lough Eske Castle Hotel in County Donegal
Ideal for a foodie escape, Lough Eske Castle is a 5-star castle hotel located in County Donegal. With every guest room unique and beautifully restored and decorated, this castle accommodation is especially popular for weddings.
But a highlight of this Irish castle is its cuisine. Lough Eske is worth travelling to just for the food. At Cedars, the castle's on-site fine-dining restaurant, you'll enjoy first-rate hospitality while dining on expertly prepared dishes such as salmon with sea herbs inspired by the Wild Atlantic Way.
Vegans will be pleased with the special vegan menu with plant-based treats like salt baked beetroot tartare and cauliflower risotto.
When you're not dining or relaxing in your cozy private space, there's plenty to do on the castle grounds. Book a spa day at the CARA Organic Beauty Spa and wash all your stress away with access to a jet bath, steam room, thermal suite, sauna, heated benches and a lovely infinity pool.
Keep up to date with your fitness routine in the fully equipped gym. Enjoy all this while surrounded by incredible views of the stunning landscape all around you.
🌟 Insider Tip: A free history tour takes place every day at 11:00 AM. Learn about the history of this beautiful Irish castle and the O'Donnell family who built it back in the 15th century.
Check rates and availability at Lough Eske Castle Hotel on Booking.com
9. Dromoland Castle Hotel, near Shannon
From the moment one enters the magnificent grounds of Dromoland and first sets eyes on the stunning castle, it's evident that guests are in for an amazing experience.
The inside of the castle is like stepping back in time with its old world feel and traditional décor. Dromoland Castle has retained much of its original style and features. There's a feast of nooks and crannies waiting to be explored and enjoyed.
Set in Newmarket-on-Fergus north of Shannon, this 5 star castle has been welcoming guests since the 16th century and it's a real treat to experience a luxury stay within the historic castle walls.
Everything about Dromoland Castle is world class from the lavish rooms, the renowned golf course, the beautiful grounds and the indulgent dining. It's definitely one of the best castle hotels in Ireland.
A stay at Dromoland is the quintessential Irish castle experience. It's a must-do on any travel itinerary through Ireland.
🌟 Insider Tip: Don't miss Mrs. White's Afternoon Tea. It's one of the best afternoon teas in Ireland.
Click here for the lowest prices on Dromoland Castle Hotel on Booking.com

Elaine and Dave, Show Them the Globe
10. Ballyseede Castle Hotel in Limerick, County Kerry
Located in County Kerry, famous for the scenic Ring of Kerry drive, historic Ballyseede Castle offers well-appointed accommodation surrounded by 30 acres of beautiful gardens and lush forest.
The striking oak staircase in the lobby is your first taste of what the rest of the interior looks like. Marble fireplaces and lavish drawing rooms are just some of the elegant touches you'll see as you wander the halls of this grand hotel!
Built in 1721, the castle's 45 luxurious suites are just as dreamy as the public areas of the hotel. It's widely considered one of the most romantic castle hotels in Ireland.
Cuisine at the onsite restaurant, The O'Connell, is a delicious assortment of Irish fare. Enjoy expertly-prepared mains such as slow-braised lamb and East Kerry striploin with tarragon mustard followed by treats such as apple pavlova with honey-toasted oats.
This is definitely one of the best hotels near Limerick, Ireland.
Pro Tip: Unwind after the journey to Ballyseede Castle with a welcoming afternoon tea session.
Check rates and availability at Ballyseede Castle on Booking.com.
Originally published in 2018, this article was researched, updated and expanded in 2023.
Travel Tips for a Vacation at a Castle Hotel in Ireland
Packing
Be sure to bring clothing with plenty of layers. Temperatures can fluctuate even within modernized castles.
You'll also want to exploring the castle estates so expect rain, wind and fog — all part of the atmospheric Irish experience!
Getting Around
In order to do any exploring, you'll need to rent a car.
We rent our cars on Discovercars.com. It's an online car rental booking site that compares rates from several companies to find the best deal.
Check for the best car rental rates at Discovercars.com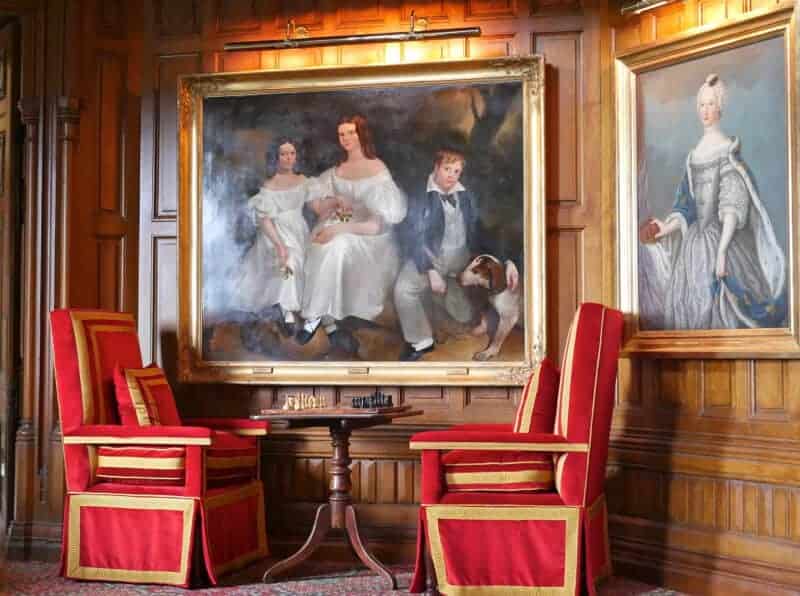 Pros and Cons of Castle Accommodation
When planning a castle vacation in Ireland, it's worth considering the pros and cons of staying in a castle.
While staying overnight in an Irish castle can be an unforgettable and unique experience filled with character, there are important considerations to think about when choosing among the best castle hotels in Ireland for your stay.
If you're planning a honeymoon, special birthday or anniversary, this is not the time for a budget castle hotel.
If a castle is not well maintained or modernized you can be in for a drafty, chilly night. Rooms may not be as soundproof as you might expect.
You also need to consider the location and the variety of things to do at the castle of your choice.
Things to Do on a Luxury Castle Vacation
Horseback riding on guided journeys across the moors or along forest trails
Sightseeing during a scenic boat tour of a nearby lough (lake)
Fishing for salmon or fly-fishing for brown trout in the small mountain streams, rivers and loughs of Ireland
Experiencing the art of falconry featuring aerial acrobatics by birds of prey such as falcons, hawks, eagles and owls.
Basking in a luxury spa. Plan ahead and book a wellness treatment in advance to avoid disappointment.
Official Ireland Tourism
Check out www.ireland.com for trip ideas, maps and other handy resources for planning an Irish castle vacation or other experiences in Ireland.
More Travel Inspiration in Ireland and England
Save to Pinterest!
You Might Also Like:
Dividing her time between Canada, Guatemala and Mexico (or the nearest tropical beach), Michele Peterson is the founder of A Taste for Travel. Her award-winning travel and food writing has appeared in Lonely Planet's cookbook Mexico: From the Source, National Geographic Traveler, Fodor's and 100+ other publications.
Read more about Michele Peterson.